Export Motorcycle
I decided to export one of my Phantoms to Australia so I would have something to ride both there and here. To satisfy Aus Customs import requirements you need to own and use a motorcycle overseas for 1 year prior to importation so I sent the Blue 2004 TA 200C, first registered here new in Oct 2004.
It was quite a process and I have detailed all the requirements here for anybody considering doing the same. It was also quite expensive although considerably cheaper than selling and buying the same in Australia. Requirements are set out on the Australian Customs / Transport website,
www.dotars.gov.au/rvcs
1. Customs Approval. Before shipment Aus Customs approval to import into Aus is required. To do this you download the application Form from the website and fill it in. $50.00 fee. It took about 3 weeks for approval and it will only be posted to an Australian address.
You will need to enclose copies of;
Passport
Statement of Travel. Details of travel during qualifying period.
Purchase Invoice. Copy of original Thai Invoice plus translated copy
Thai Language Registration Book. All pages of Green Book
English Language Translation of Registration Book. Certified true translation.
Vehicle Registration Certificate
Drivers Licence
Current Registration and Insurance stickers.
Evidence that the owner was present with the vehicle and owned and used it overseas for 12 months prior to import.
Thai End. Once approval is granted things can start moving at the Thai end;
2. Transport Office. For the Shipper to get export clearance, the bike will need to be de registered at the office at which it is registered. You need to front up with all the same documents you needed to register the bike ie Passport, proof of residency, green book. They will then issue a "Permit to Export" form, and Stamp and give you back the Green Book and 2 White Registration cards like the renewal card you get when you renew registration on the bike.
These all need to be left with the Shipper.
3. Shipping. Shipping was taken care of by Wrang Mark Corp Ltd who handle everything from the time it is delivered to the wharf until it arrives in Brisbane. Contact person Chanchai ([email
[email protected]
]
[email protected]
[/email])
4. Boxing. To reduce the size of the box I removed the front wheel and mudguard, handlebars and rear no plate bracket. The dimensions of the box are 190 x 65 x 1.0 = 1.273m3 and it weighs about 300kg. You pay by size not weight. I made up a wooden pallet by joining 2 old ones together to give me the length. I put some new full length pieces in also to maintain strength. I reduced the width also to 65cm. The bike was then tied down to brackets on the pallet with 4 ropes and a bracket over the front axle. I used dexion angle for the corners and used 3 ply for the walls. If I was doing it again I would use heavier ply because the 3 ply here has a soft centre and I think it might crumble when wet. A couple of braces were put inside to try to prevent sideways movement. The front wheel was tied beside the bike and I bought 2 new tyres which were useful for packing. The ply top was screwed on with a plastic cover to keep it dry. The box cost me about B800 and took about 3 days to complete. It will be OK so long as they don't drop it or tip it over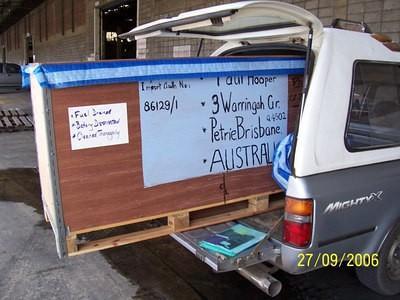 5. Costs
Below are all expenditures to ship your motorcycle to Brisbane.
Export customs clearance = Bht. 3,500/shipment (B5200)
Export documents = Bht. 1,500/shipment (B1500)
Forklift charge = Bht. 1,000/job (B1000)
Fumigation charge = Bht. 6,500/shipment (B6500)
Phytosanitary charge = Bht. 1,500/shipment (B1500)
Seafreight = USD 50/cubic meter (outer size) (B2390)
Bill of Lading fee = Bht. 500/consignment (B500)
Marine insurance = 2% of the declare value (B1000)
Conditions :-
1) Above rates are covered for shipment port to port only.
2) Above rates are not including of all destination local charges which will be incurred in Australia such as Australian port charge , CFS , THC ,documentation fee , import customs clearance , import duties and etc.
There were also a few extra charges which took the total to just under THB20 000
5. Delivery to Wharf This was another drama and I tossed up whether to rail it or send it by trucking company. Considerations of security/theft, damage, delivery time convinced me to deliver it personally by ute to Bangkok thus reducing its exposure to outside tampering. So a couple of Thai friends and myself left late at night and drove the 600km to Klong Tuay arriving at around 0530and at 0730 delivered it to Shed 14 Export Terminal, Arj Na Rok exit. After more drama with Chanchai not able to attend and his stand in late, we got away from the wharf by 10 30am. I handed in the Green Book, Permit to Export, and showed them my Passport and paid them cash. They then took care of export documentation fumigation etc and and I got all the documentation by email about a week later.
6. Brisbane End They have a shipment going to Brisbane every week and estimate a 21-22 day delivery time. My brother who lives in Brisbane will be on hand with the trailer to pick it up. He also has the Dotars approval documents. I am not sure what costs will be involved there but will add those to the report when I know.
It's on the water now
Cheers Peter
"The Journey is the Destination"