After all the dirt biking Davidfl and I have been doing lately I decided I wanted my own 250. To make a long story short, I found one freshly listed on the Siam Superbike Website
http://www.siamsuperbike.com
. I contacted our friend Peter Reid there and discussed the bike. I then went to BKK and we negotiated what I thought was a fair deal.
Peter advertises almost all his bikes with a Book and Plate. If one is not available for some reason he also lists that up front. I took off for two weeks in China and Peter kept the bike until I returned. He then had the bike delivered to my home in Chiang Mai.
Peter told me he would have a new book and plate for me before the end of June (about 1 month). Although there were many disbelievers, my paperwork and plate arrived today as promised.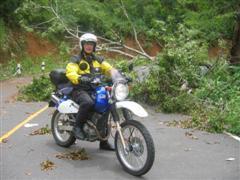 If you are looking for a bike, of any kind, I would contact Peter. If he does not have it in stock he will try and locate one for you. For you F650GS fans. Siam Superbike has on the floor a Suzuki Freewind 650 which is similar in style and purpose as the GS 650 but is half the price of a GS. Check it out!
Thanks Peter.
Dave Early
Ever notice that "What the Heck!" is usually the right answer?