Whilst at Sepang last week, did the "Roving Reporter" thingy, and this is what I came up with:
Had a long chat with the guy organising the Bike Expo in Singapore next April. he said all is progressing well, and they are even trying to get permission for camping there as well.
I have a few posters, as per below, perhaps we could stick one up in the Kafe/Joe's etc. Also have a few stickers as well, for anyone interested.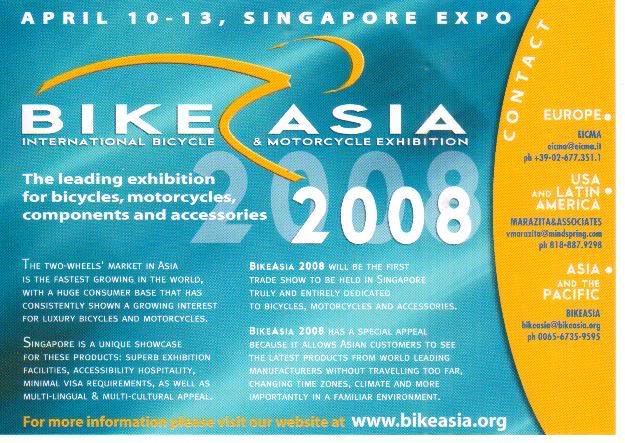 As mentioned in a previous post, the Bike Expo in K.L. would have been better held at the circuit. The Expo had a really nice stand full of most of the Ducati models, (that's bikes not broads), and so no Ducati's on show at circuit.
On Thai tv last month, they had a large segment on MotoGP at Sepang, Sumon from Ride Thailand was chatting to reporters, then a Farang from the Bangkok Harley dealer said some 2008 models would be displayed at Supang, but none were there. (Perhaps they had changed their mind and used the bikes for the "Traveling Road Show" in Northern Thailand.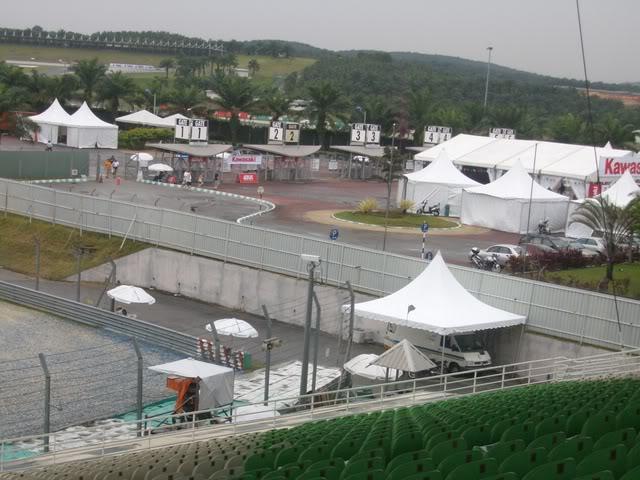 This shot taken midday on Friday and as you can see not all the display tents are open yet.
Kawasaki had the best display by far, heaps of models on display, a 2,000cc cruiser, sports bikes, trail bikes etc. The Versys was on display, which is the replacement for the KLE. Nice low seat, and the price was RM 46,900 not sure if that included Malaysian rego or not.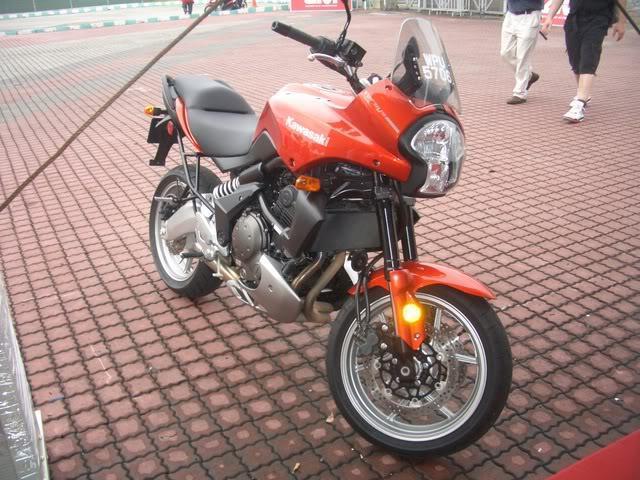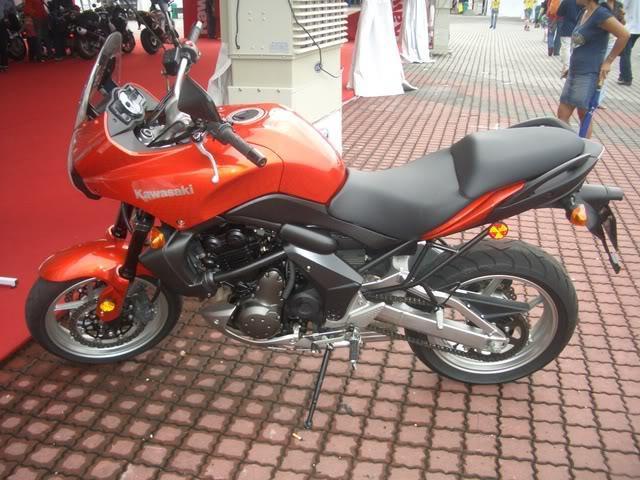 The details of the Versys for those interested, Liquid cooled, 4-stroke parallel twin, 649cc, DOC 8 valves, max power 64ps/8,000rpm, max torque 61 n-m/6,800rpm, fuel injection, 6 speed, tank 19 litres, seat 840mm, 181kg
What didn't look that good was the way they run the brake hose up over the mudguard from one caliper to another. The dealer there informed me that the Versys has been for sale in Bangkok since March 07.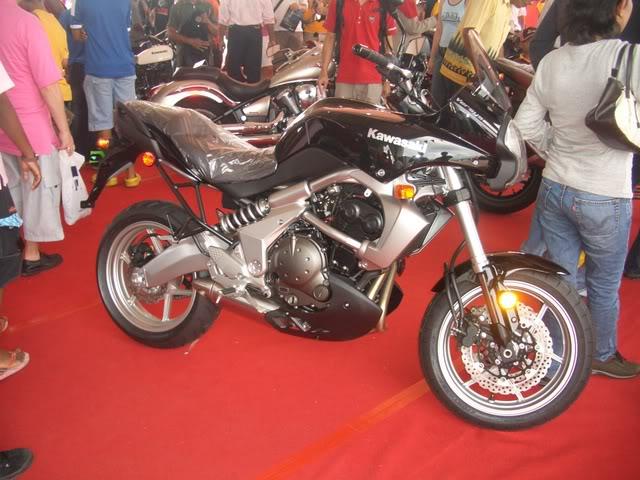 Check they way the brake hose runs over the top of the mudguard.
Met the guy who organises the tents in the camp ground. Whilst there were only 4 tents of our crowd, Modenas had laid an event for their owners so they had all their tents set up, a food tent and entertainment tent. The organiser said he is happy to arrange any tents for us if we need them, he can also lay on food, and a minibus to collect people from the airport and we have use of the minibus over the week end to drive in KL for some R&R. Jay an Aussie from Melbourne camped next to me was saying that when he went to Phillip Island the previous week, he was chatting to the guys from Sydney/Brisbane, and what it cost them to ride down to the Island, plus entrance fee/accom etc, you could almost do the Sepang trip for a similar amount, so he is going to try and get an Aussie contingent together for next year. Jay mentioned that at the Island all his mates drive down with box trailers full of grog etc.
This year at the circuit, when it was time for the pit lane walk about, most teams pulled down their shutters, and you weren't allowed anywhere near the pits, had to stand a long way back, so you didn't see any more that we could, sitting in grandstand opposite, with bino's, a bit of a rip off there.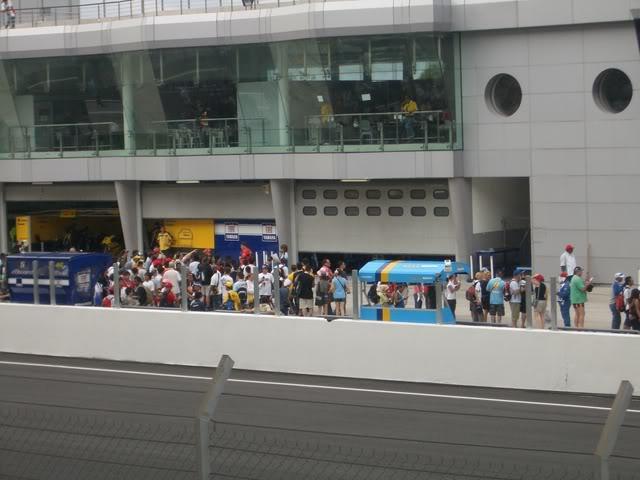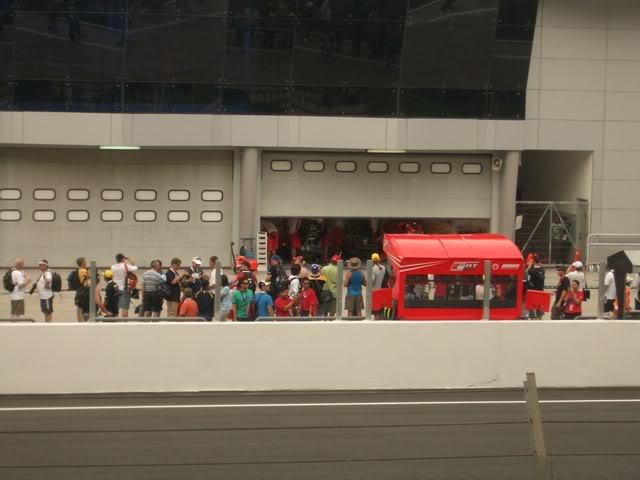 Notice how far back they kept the crowds, the previos year's you were allowed to stand right outside the OPEN pits.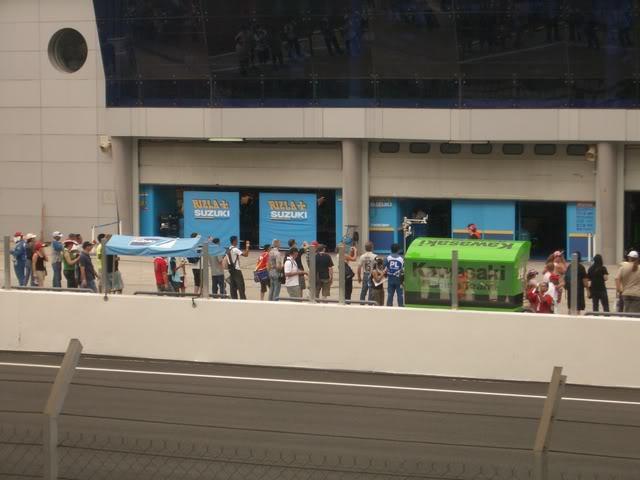 And Suzuki kept their shutters up, but put screens in front of their pits so you couldn't see anything
Peter and Dean were there camping again same as last year, but this time they rode down, Peter (who is 66) rode his Phantom 200cc cruiser, all the way from Mai Sai, and Dean also on a Phantom rode down from Surin. Peter's wet weather gear consisted of a plastic raincoat, and we had so much rain on the way down and back, both guys got pretty wet. Plus Sunday nite around 3am (Monday morning), we all got pretty well flooded out, so had to pack the gear up in the rain, but luckily we had a large shelter to hide under. Last year we camped in the same spot by the fence, directly in line with the 'river' that flows past when it rains, I think next time we will move up the hill a bit.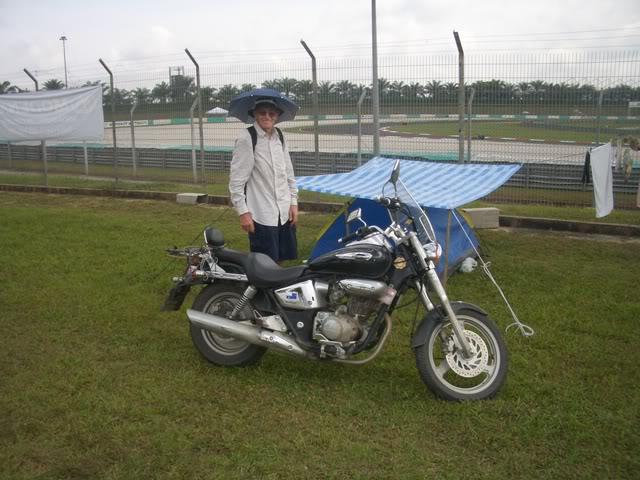 Peter from Mai Sai, gee they wear some funny head gear up there....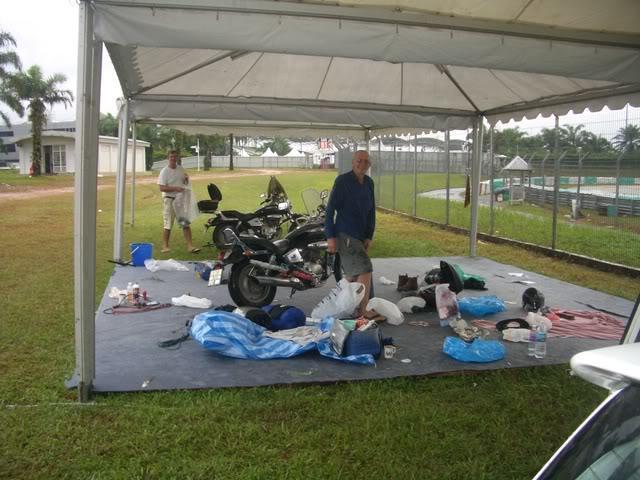 Packing up Monday morning, luckily the guys had this large canopy to shelter under as it was pouring down. Peter somehow managed to get all that gear back on his bike.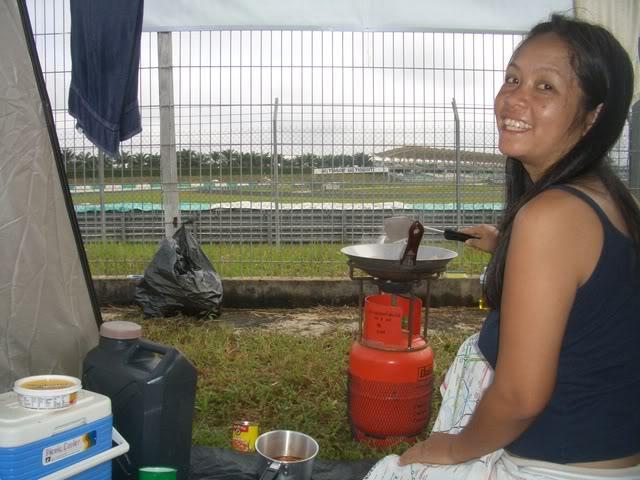 I took the 'chuck wagon', Honda Jazz so had spare tent, 2 cookers etc so we managed to eat well, especially as Peter had a stash of tinned food with him as well.
Dean will be writing a trip report soon, so you will be able to read about Peter getting his helmet stolen at the Thai border, having to get another visa etc etc.
Once again it was a good week end down there, in the evening the 4 of us, plus Jay from Melbourne would sit around thecapmfire, (gas bottle with burner on top), we would be having tea/coffee etc, and Jay supping his stash ov VB's he bought with him from OZ
So how about a few more guys next year, saw Gus from Chumpon, Jean-Marc from Hang Don, and I believe a few more others were lurking around there.