Sep 19, 2006
2,294
286
83
Not Bike Related but worth a Show I thought!!!
Had a Real Freak Storm come through the Mae Rim Area of Chi­ang Mai North­ern Thai­land Yes­ter­day the 30th of March. We had a Big Hit at the X-Centre!!! While Storms are quite Com­mon dur­ing the first few Weeks of April they Nor­mally pro­duce almost Cyclone force Winds and Heavy Rain which some­times pro­duce Hail Stones!!! In this Case First We had the Very Strong Winds then Rain and Fol­lowed By an Incred­i­ble Hail Stone Storm!!! The Shear Size and Force of the Hail Stones Shred­ded and Destroyed a Huge amount of Gar­dens and Trees in the Area and left it look­ing very Much Like a Win­ter Day from some other Euro­pean Coun­try??? I had the Cam­era Handy so clicked off some Shots for Proof. Check them Out:
Hail­stones Filled the Drain in front of the X-Centre.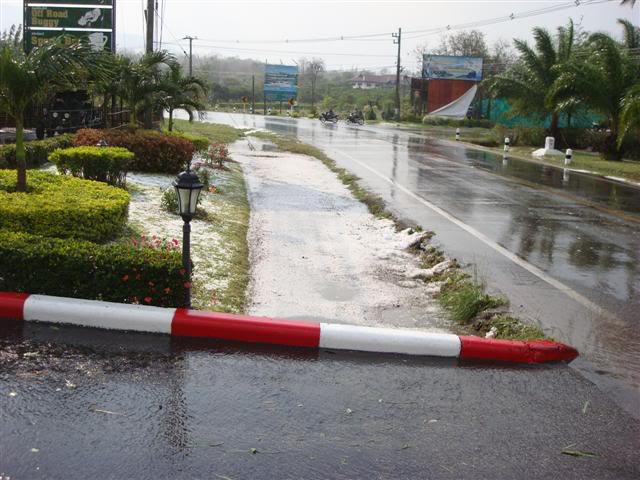 Long and Piles of Hail­stones off the Roof of the X-Centre.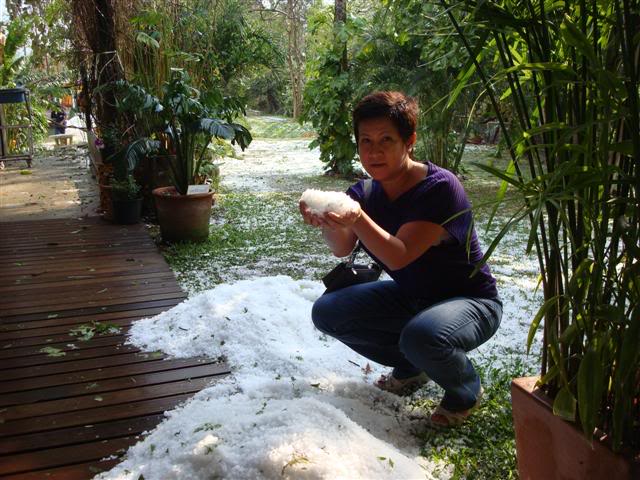 Hail­stones Cov­ered the Ground Like Snow, Hard to Believe this is mostly a Trop­i­cal Coun­try! Global Warming???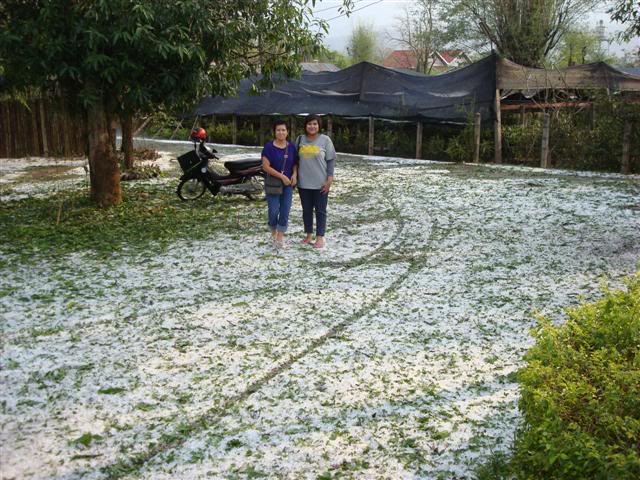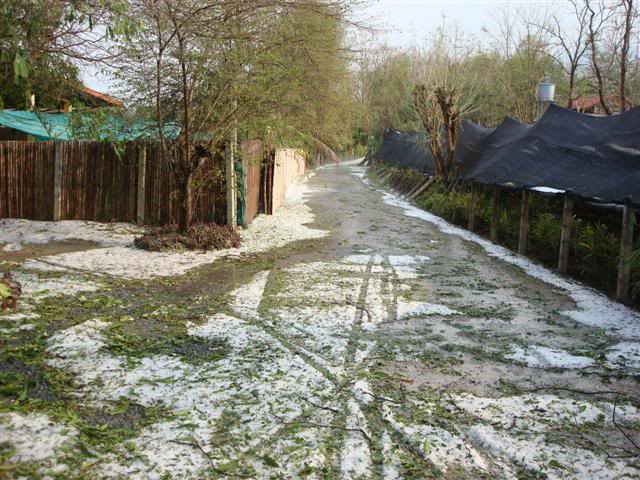 The Hail­stones Piled Up where ever they Fell off Roofs.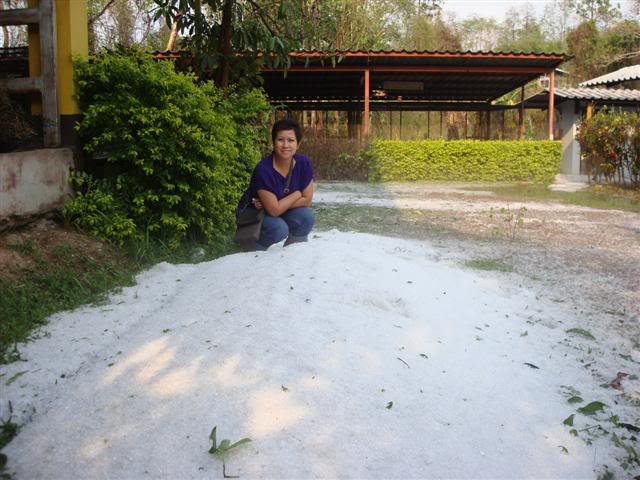 The Mae Sa Val­ley Road was cov­ered! Looks Like a Euro­pean Winter!!!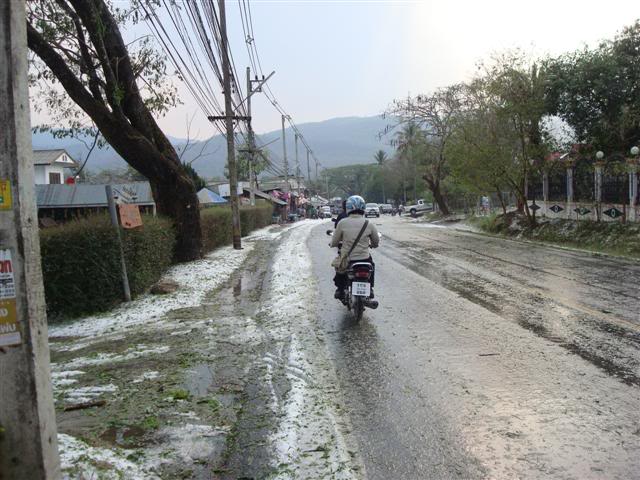 Lots of Local Peo­ple stopped to Look and the Chil­dren started Play­ing in all the Ice.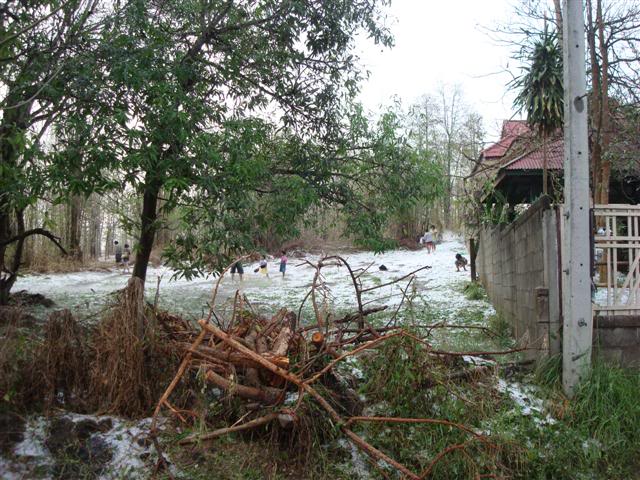 Even My Chil­dren Aaron & Amanda Loved it and had a Lot of Fun!!!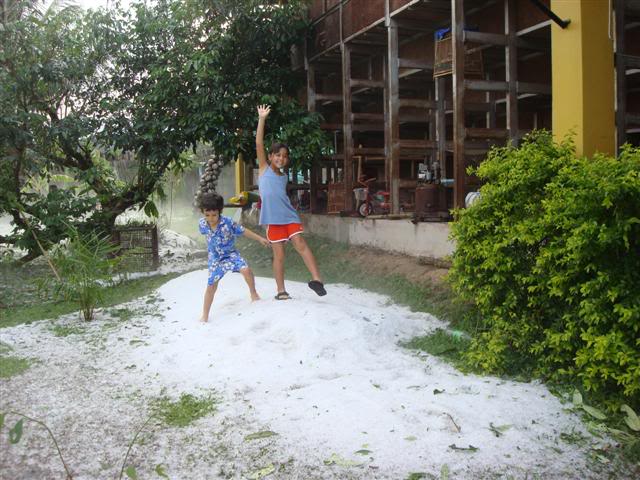 So the Weather is Cer­tainly Strange and Chang­ing in the Dif­fer­ent Coun­tries? My Fam­ily at Home in New Zealand have Had a Very Hot Sum­mer with Hardly any Rain from Christ­mas till Now!!! In the Future Maybe We can Go Snow Ski­ing here in Thai­land and Go to the Trop­i­cal Beaches in New Zealand??? Now there is some­thing to think about???
Have a Great Day and Stay Safe!!!