0
Staff member
Subscribed
Jan 16, 2003
13,839
4,801
113
69
Hanoi decides to ban motorbikes from inner areas by 2030
Hanoi authorities have passed a resolution to prohibit all motorcycles from the inner city by 2030.
The municipal People's Council agreed to the proposal during a regular meeting on Tuesday morning.
Speaking at the event, Vu Van Vien, director of the Hanoi Department of Transport, asserted that the number of personal vehicles in the Vietnamese capital has increased at an alarming rate.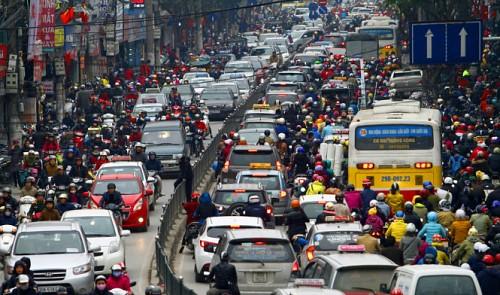 Vien presented a plan to enhance management over vehicles to curb traffic jams and environmental pollution in the city for the 2017-20 period, with a vision toward 2030.
The scheme includes a ban on motorcycles from the inner city by 2030.
In order to execute the plan, authorities will start minimizing the use of two-wheeled vehicles, depending on the traffic infrastructure and capacity of each area, before enforcing a blanket ban, Vien elaborated.
The transport official suggested a limit to the number of taxi and similar transport services from Grab and Uber to suit the practical capacity of local traffic conditions as well as infrastructure.
Competent agencies are anticipated to issue a set of technical requirements to monitor the quality of motorbikes, thus evaluating the extent of environmental impacts each vehicle causes, Vien continued.
Public transport systems in the capital city will also be improved to meet the demand of local residents by 2030, he added.
In related news, the People's Committee in the central city of Da Nang on Tuesday submitted to the decision-making People's Council a proposition on personal vehicle control, including the limitation on new car and motorbike registrations, the construction of new public parking lots, and charging vehicles entering the downtown area.
Certain policies will also be promulgated to encourage local citizens to hand over their dilapidated vehicles.
Source:
http://tuoitrenews.vn/society/41903/hanoi-decides-to-ban-motorbikes-from-inner-areas-by-2030