WHEN: 23-27 April, 2011
WHERE: Chiang Mai to Kanchanaburi Province & return
WHY: ANZAC DAY ride & some unknown tracks.
TEAM: D-Tracker, Sonic, BMW 650GS.
WEATHER: We had it all!
KILOMETRES: 1000's!
We set off at 'sparrows', around 5.15am, praying the dark skies portrayed a lack of moon-light rather than rain filled clouds. 'Blasted' down H11, the Sonic with throttle fully open clocking around 80km/tank rather than the standard 130km (!) - many an unprogrammed but enjoyable capuccino along the way. Onto H1 at Lampung & charging on towards Tak.
We stopped roadside for breakfast just north of Tak having averaged over 100kph on the bitumen though slightly less overall given the coffee/fuel breaks. Can you beat it - breakfast for 3 for 80thb!
With bellies happy & charged we 'roared' on down just south of Kamphaeng Phet where a U-turn is required to join our planned route to Kanchanaburi - R1117, 1072, 3504, 3456, 3282 (via 3438), 333 (via 3011), 3086 & on to 323 (via one that escapes me). R323 of course runs between Kanchanaburi & Sangkhlaburi out near the Burmese border.
A good run ducking heavy showers we swung left off the 1117 in to 1072 until down it came raining 'cats & dogs'....we decided on an early lunch: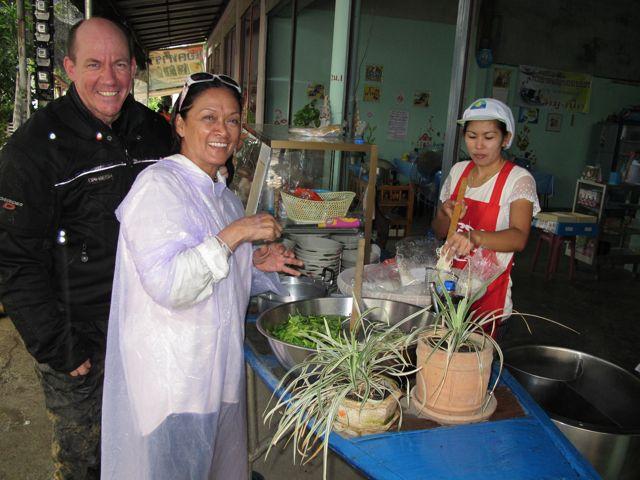 Intriguingly the bill was again 80thb for 3 - magic!
Stu decided to press on in the rain: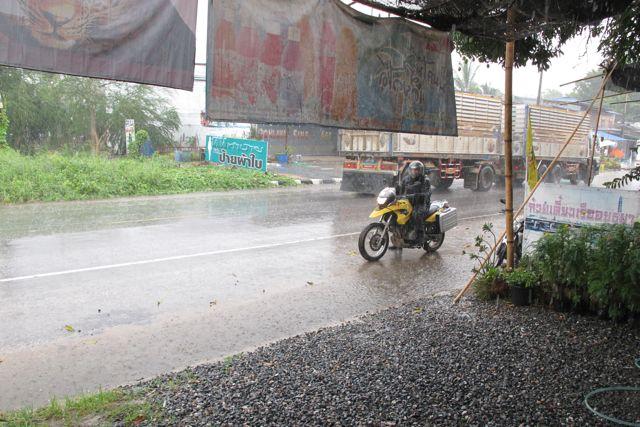 The rain eased shortly thereafter & we followed.......funny how 'just around the corner' it can be perfectly sunny with the roads showing no sign of rain.
Stu was charging on ahead giving 'the beast' a good work-out. We managed to catch him having coffee at Ban Rai after he'd mistakenly taken a right rather than a left at Lan Sak. There are some nice rides down around Ban Rai. Stu then missed the 3086 turn out of Dan Chang continuing down the 333 to Kanchanaburi; it showed as when we arrived at our hotel, the BMW showed just short of 900km (+ 1 flat tyre) for the day versus 771km for the Sonic - great riding Myriama on your trusty stead!
We bunked in at the Pung Waan Resort, 44kms from Kanchanaburi but close to Hellfire Pass. The rain will clear 'just around the corner' - wrong, we arrived drenched.
(To be continued............)