17[sup]th[/sup] May 2012-
Honda CRF250L
Off road test-ride courtesy of CP bike rental Chiang Mai
Ok, well what a wait it has been and I think we were all questioning if it was ever going to happen- it's arrived the Honda CRF250L (I believe Thailand manufactured) and hoping to knock the KLX250 off the top and bottom of the 250cc dirtbike or to be correct dualsport market here in Thailand.(sorry Allan and Neil and the other 2 Lifan owners they're not a 250cc!!! phew)
For the record:
After owning in the UK, Husky TE610, GAS GAS FSE 450, Husky EC200 and EC300, KDX200,TY250, TY175, TS185 etc etc
I have been the proud owner of my KLX250 for 2yrs and 8 months, throughout this time have been really happy with my not too fast, not too light, go anywhere anytime, cheap to maintain. All legal dirtbike, after a few mods of course, exhaust, 48t rear sprocket, dirt tyres, hand guards, de restict, bigger footpegs, larger seat, rear carrier.
I am a non competitive, safety 1[sup]st [/sup]average adventure dirt rider, I like to ride maybe 2-3 times per week (80-160kms per ride, I don't bounce that well anymore, @ 110 kgs (yes that's 2 fat thai girls) and 5ft 10ins (175cm) tall, am built for comfort rather than speed, so the scene is set!!!!!
I had a quick chat with my very good friend of 3 yrs Lan at CP bike rentals who then agreed to donate his brand new CRF250L to me so that I could give him some feedback!! All I had to do was pay 800 baht, give him a copy of my Thai driving licence, let him take care of my passport whilst I was away, temporarily loan him 10,000baht (deposit) and leave my bike at his shop with the keys and documents!! It's just great that true friendships and business relationships can be built so quickly here in Thailand!!!!!! So with my nuts firmly in his palm he then covered the fuking thing in gaffa/duck tape, no ducks were harmed in the production of this tape! What did he think I was going to do? It is a dirtbike after all, it reminded me of my old aunty who kept the plastic bags on the seats of her posh dining chairs for 5 years, sweaty **** syndrome was created there I'm sure!!!
So off I went on the 16km journey home. I was excited, I got the horn 3 times last night and 7 times today, that bloody horn button!!!!!
My plan was to be up early (7am) leave at 8am on a loop route to Mae na chon (25kms north of Mae Chaem) and back, I posted my plans on fb and although there was considerable interest (in taking the piss) I started my ride alone at 8.15am, the journey would be hopefully 80% dirt.
The bike in my opinion:
Very smooth power delivery, with no delay in power delivery or flat spots, it felt smaller than my klx and lighter too, the handlebars were closer to me and no I haven't put more weight on!, my knees were higher too, standard footpegs felt good. Tyres felt great on the hard surfaced roads, almost felt like a road bike!!
Gear lever needed adjusting for my size 10 Alpine star tech 8's, but within 30 minutes I had forgotten and adjusted my method!!! Front and Back brake felt good with no frights, although I was apprehensive as the front brake had almost no free movement, I actually thought it would be an issue in the dirt, it wasn't.
The gear changing did feel abit clunky but as an ex owner of a GS1200 this was a non issue. (it did become one though!!!)
In the dirt the bike felt lighter again, positive steering, very forgiving in the ruts and rut changing style of my riding!!! Never once did the bike feel unstable, even with my arms and legs flaying it was only me that was not planted!!! Tyres were superb in the dry and ok in the wet! The seat also felt more comfortable than the standard klx seat.
In summary my opinion after 1 test ride.
Thoroughly enjoyed the bike
As a standard set up they have many things right
I didn't feel comfortable riding stood up (distance between pegs and bars is about 4 inches less than the klx) too low for me I could feel my back start to ache.
Great motor, smooth and felt capable
Superb tyres and brakes
Good seat
Clunky gears
I'm going out tomorrow on my klx to see how it feels!!!
Would I buy the Honda? Definitely yes
Don't think it would suit anyone taller than me
It will be very popular with thai's I think
It didn't feel as macho as my klx
It was nimble and felt safe
Would I recommend the bike, yes definitely
247kms
420 baht fuel
8 hrs total
I stopped for 1hr total-25 mins hot coffee mae na chon+30 mins in a friendly Mhong familys home whilst waiting for the storm to lessen. Plus fuel stops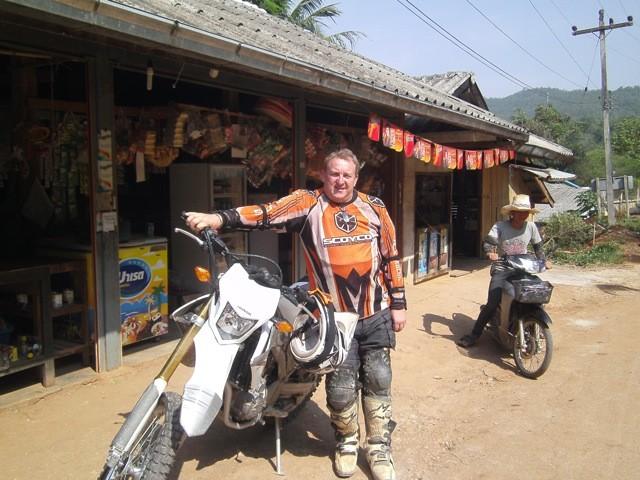 My route very roughly was
(and no I don't use a gps, the rain here fuks them)
Nam Prae (home) in the dirt
To
Near to Op khan nat park in the dirt
Across to mae wang –road and some dirt
Onto Mae win on road
After Mae win, on the right hand bend with the temple in front, turn left, 500m turn right down the hill over the bridge and then up and through the Mhong Village and into the dirt, after a few kms over the tree trunk bridge, up the single track over a few more small bridges and continue in the dirt until the main road (1284) turn left along pot hole alley until the Royal project on the right is reached, straight on (right) up the dirt track!! This eventually turns into a brand new concrete road for a few kms then back into the dirt again, all the way to Mae Chaem to mae na chon rd, (approx 4kms south of mae na chon)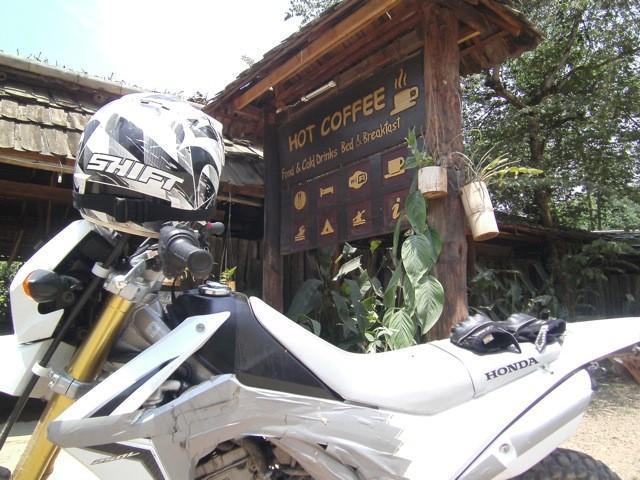 Coffee stop at my favourite place, HOT COFFEE/coffee shop, bamboo bungalows/ orphanage/beer and food too!!
Arrived 11.05am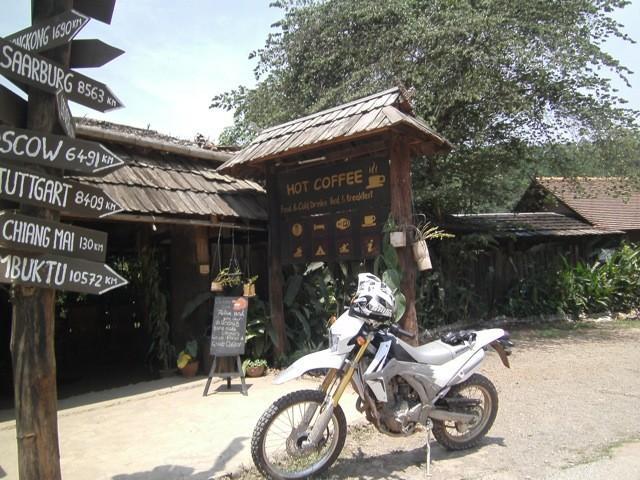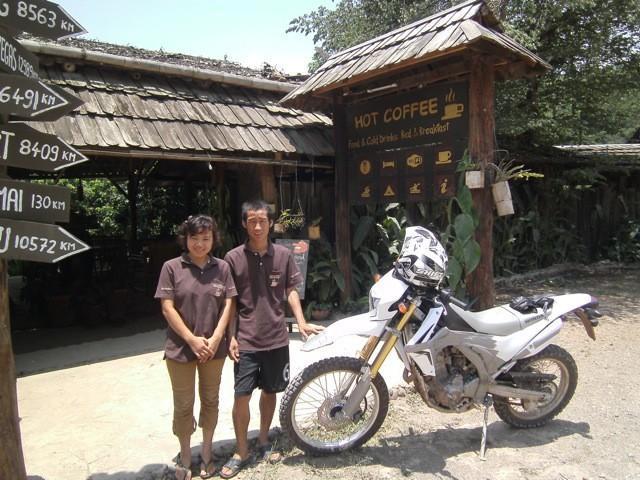 I was riding back from Mae na chon a different way when I saw a track that looked interesting!!!! Everything told me not to do it, I was alone, on a new bike, on a new track to me!!! The clouds were building and it was getting blacker by the second, so what did I do? Yep I took the unknown new track back to Hoy Kao Lip area.
The track got narrower and ruttier and steeper and slippyer!!!!! And then the thunder and lightening started, fuk! My sphyncter was twitching more than a tourettes sufferers head, and I should fukin know!!!!!
So then it pissed down!!! Torrential tropical storm!!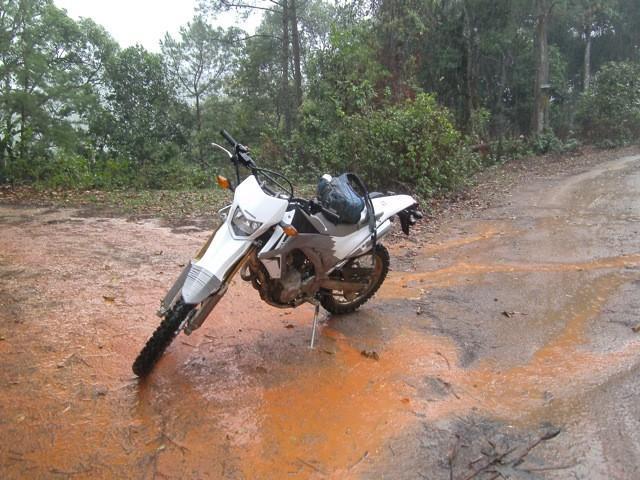 The bike was awesome, so forgiving, due to being low and light enough to stop myself hitting the floor on 3 occasions!!
I eventually arrived at a mhong village like a drowned rat, I saw a few faces at an opening (sure I heard them say something like farang bah bah boh boh) but anyway I parked under their roof overhang for shelter waiting for them to invite me in for tea and scones, so I was sat there for ages so I thought I'll invite myself in! took my helmet off and walked to the front door(corrugated sheet) looking sorry for myself, the family were home!!mama, pappa, son and 2 daughters and 3 grandkids, dirt floor, 1 room that was also the rice store too!! Cozy eh but all with fukin great smiles, it really was great to see, they offered me in, the girls were sewing, the son was doing nothing, mama was teaching the sewing and pappa was helping the son!!!! The kids were playing in the dirt, happy as fukin larry!!!!!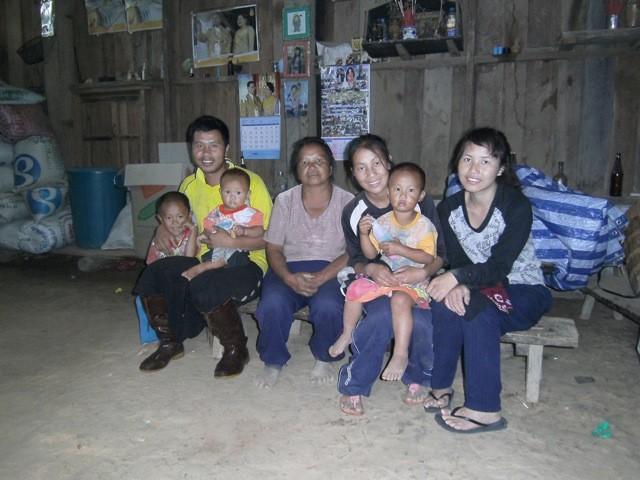 So I gave them my cans of coca cola and my tonic water, they were really impressed with my generosity!!!!!!!
I then got out my plastic bag with my camera, phone and cash and ATM cards!! They were now looking very happy and excited!! All this for a photo what lovely people!!!
The storm stopped ish so we said our sawaiddie kaps (no krap from me) and I left for home.
After about 15kms I joined the Samoeng to hoy kao lip rd, took a right back to mae win and mae wang and then Chiang Mai.
During this section of the ride a metallic noise started when I shut off the throttle, like a loose gear or something, it was worse when I changed gear too!!
So I limped back via sanpatong
The noise is being investigated, but I do have all my belongings and cash and documents back off Lan, he's so understanding and fair!!! Especially as the bike is under warranty!!!!!
Arrived Chiang Mai 5pm ish
Another great adventure!!!