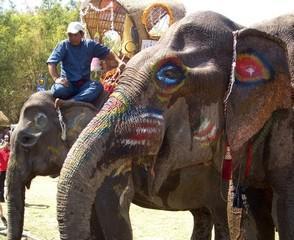 Destination: Hongsa Elephant Festival
Riders: David Unkovich (Africa Twin 750), Armin Schoch and Som (BMW 650 Dakar), David Early (Suzuki DR650)
Date: 14 Feb 07 -19 Feb 07
The small group met on Rte 118 near the outer ring rd.,rt 121, (CNX), and were on the road shortly after 8:00AM which is an early start for us. The usual route and stops to Chiang Khong where we cleared Customs and Immigration without a hitch.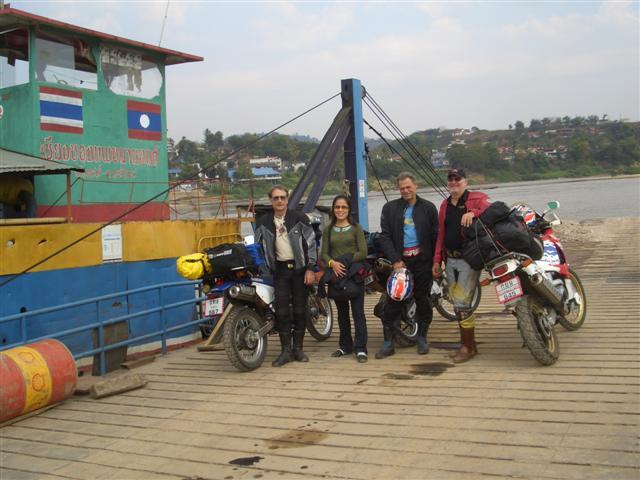 We ferried across to Huay Xai after being charged extra because they had made the "last trip of the day" already. Of course after we were across we saw them make at least two more trips, a common rip-off by the Mekong Mafia. I believe we paid about 550bt each.
Into Huay Xai Customs next; go up the steps and turn right to the office buildings will the glass windows and counter. Enter the room that says "Computer Room". We had no problems with the paperwork and had a light hearted conversation with the Immigration guys. A total cost of 240bt.
Next we buzzed into town and cleared Immigration and came back to negotiate a price for a boat for the next morning. Even with Armin and David's language proficiency the best we could do was 10,500 bt for a boat straight to Thaxoang bypassing Pak Beng. Not bad really as we thought we may have to spend the night in Pak Beng first. This saved us a day.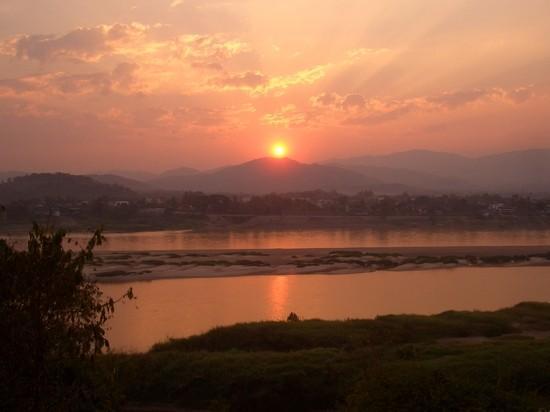 A night in Huay Xai watching the sunset and we were on the river shortly after 8:00AM on the 15th.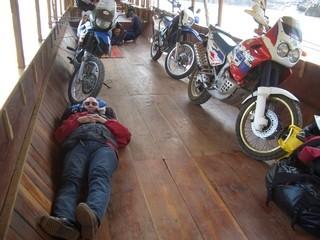 David in a more relaxed state
We arrived Thaxoang late afternoon and had to climb a sandy hill at the boat landing. I tried a shortcut which nearly buried me had to power and paddle my way back onto firmer ground. This was the first of my ill chosen short cuts.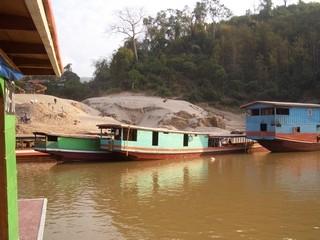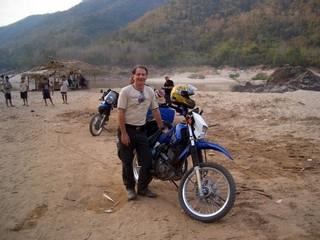 We stopped at the checkpoint which was squeezed between half a dozen wooden houses and apparently a guesthouse. The Immigration guys checked all our paperwork but were pretty emphatic that we should not try and stay there but continue on to Hongsa.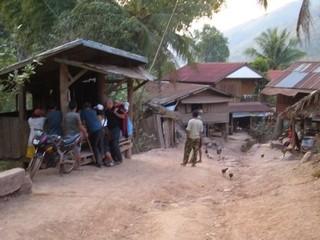 At this point I should mention that the Immigration guys were quite surprised at our paperwork. Armin, who has been in the tour business for many years in S.E. Asia, had managed to get us special permission to exit Laos via Nam Ngeun which is about 37Km south of Hongsa and not an International border crossing. As we all had long term Thai visas, the Thai Immigration was on board as long as the Lao's approved it. Thanks to Armin's efforts this was all approved in advance and we were supplied with some impressive formal documents. Thanks again Armin.
The road to Hongsa was a twisty dirt mountain road and was about 26km. The sun was setting fast and we arrived at dusk. There were only about 5 guesthouses in Hongsa. We were able to find a cheap room for one night but everything was booked for the following days. We did find one room that was available and we all agreed Armin and Som should take that one. $20 per night, but a nice new Gh with hot water, comfortable beds and quite a character of an owner (Patthada GH).
The following morning, 16 Feb, we went on to Viengkeo, about 4 km from Hongsa, which is the actual site of the festival.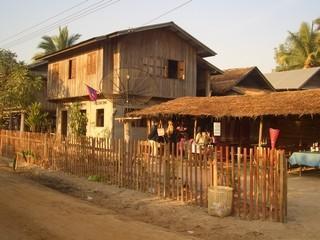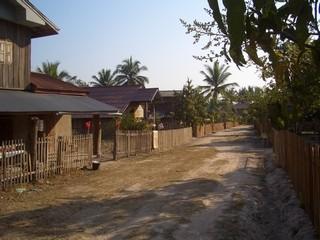 This was a really quaint little town and they were going all out for the festival. As you entered the main street, where they had constructed a large gate over the road, the organizers had set up tents for emergency first aid, security and visitor information.
Checking in with information they took your name and matched you with a list of homes that were doing home stay. A couple kids acted as guides and led us to the home from the back of our motorcycles. Each home had a checklist in Lao and English which stated the agreed upon length of stay, cost, and if you desired any meals. Quite well organized.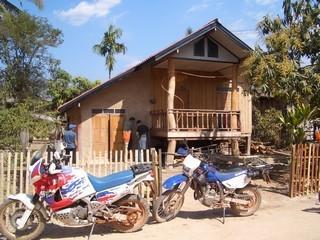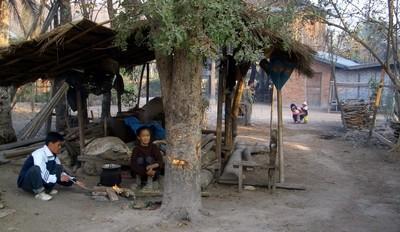 Our home stay family consisted of an old Lao husband and wife, and a family of about 7 who lived on the adjoining property. David was able to communicate without much problem, but when I later found myself on my own communication became more difficult.
We decided we would all head out for a ride as we had a day to kill, and would go down to the border to confirm our arrangements and then do some more exploring. The guys at Thaxoeng chechkpoint had told us it was a good road and should only take about 35 minutes. WRONG!
The road was hot and twisty, with extremely deep dust on many of the corners and hill sections. As for what exactly transpired from the riders view read David's first hand/one handed report:
DATE; Friday 16th Feb 2007 Dropped the Africa Twin whilst riding it! It's only taken 180,000 kms. Result lots of pain – a broken arm, plus a broken mirror & turn signal on the bike. Not much eh. What happened – riding down a steep descent & hit a rock in bulldust, which tucked the front wheel...

www.gt-rider.com
I came around the turn and there was David's AT laying on it's side. We always say "first get the photo, and then go get the bike". True to form David jumped up and was taking out his camera as I arrived (we had ridden 'stretched out' to avoid each others dust) and shooting a photo with one hand. It didn't take long for him to realize something was terribly wrong with his left arm and the pain was intense. (Again covered in his post.)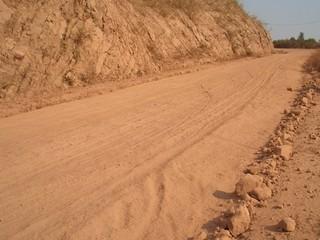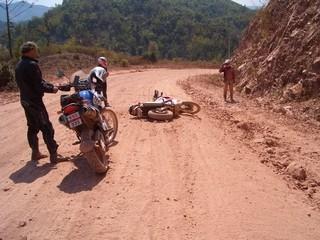 David taking the photo, note the limp left arm.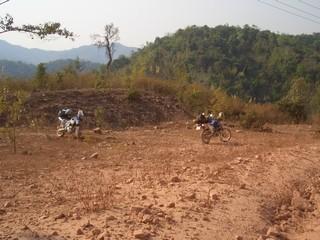 You can see what was on the side of the road to get an indication of what was also laying under the dust in many places.
THE HONGSA HOSPITAL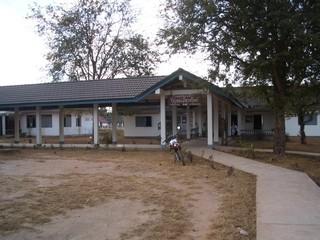 The photos tell this story the best. I will say that I thought I had bad dreams after seeing Pikey drop his pants to show us his riding shorts, but undressing David is a truly traumatic event from which I am not sure I will be able to recover.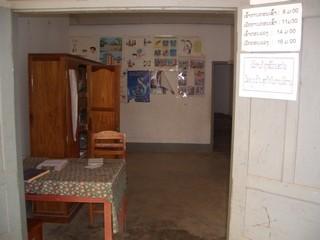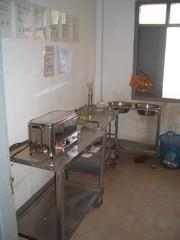 Reception and the Emergency Room
David received some very poor bandaging, about 3 IV drips, and some injections for pain. We had to cover him with his sleeping bag for the night and of course bring him his meals. There were no nurses, and only two young men, who I guess were the equivalent of interns, but they did do their best to help with the little they had to work with.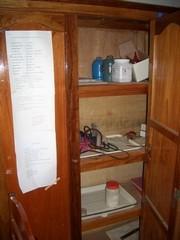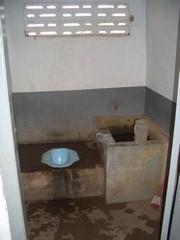 The only supply cabinet and the ONLY toilet
.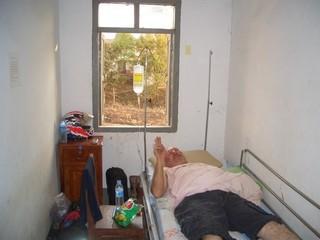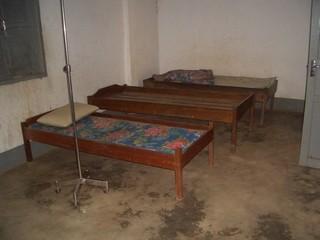 David's Room, the only one with a mattress and real bed.
David remained remarkably upbeat throughout the whole ordeal and I am sure I would not have handled it any where near as well.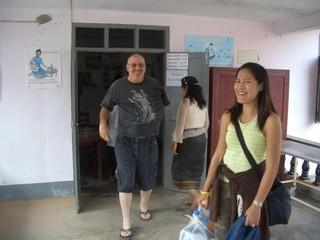 HOME STAY
It was an interesting visit. It was at first difficult to crack the ice as there was some misunderstanding about how many were staying at the home. Apparently the organizers had led everyone to believe each home would have 6 people. This was not the case anywhere, and not only that, we were now down to 1.
I was still made to feel welcome and we had fun snapping photos of the kids and the family and the neighbors. They all loved watching the falang trying to take a bath from a bucket of cold water dressed in only shorts. Even the neighbors came to see that one (no photos fortunately).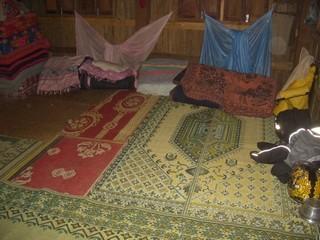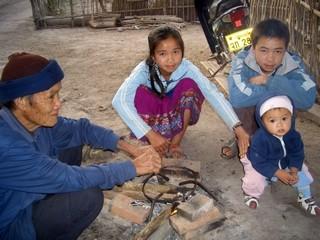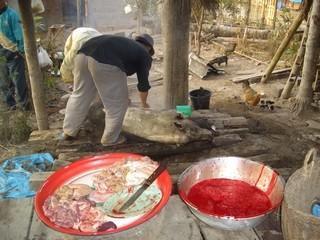 This was being prepared by our neighbors at breakfast.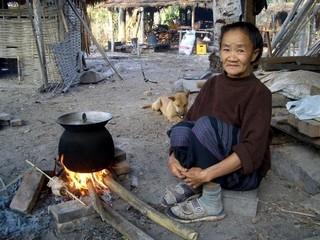 In the end I was able to move to Armin's guesthouse for night three and a nice hot shower and soft bed. (I had slept on a mat on the floor).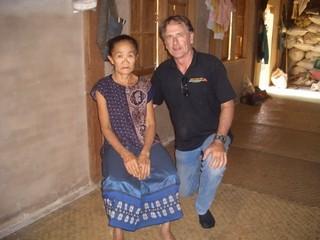 Trust me! For her this IS a smile.
After I told them I wanted to pay for the full three nights, x 2 people, as we had originally agreed, I finally got a true smile out of everyone and an invitation to return any time. I also promised I would send them all the photos I had taken. The total cost 150,000 kip. Approximately 540 Baht…
THE FESTIVAL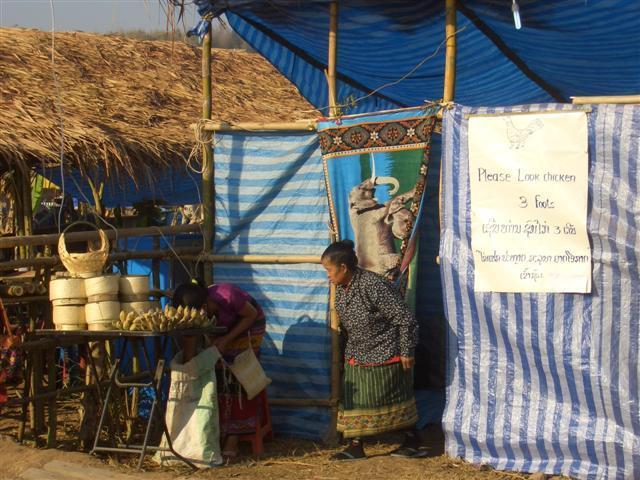 The festival itself was a little disappointing. It was a typical Asian festival with games, food and many types of booths selling merchandise. The food stalls were slow but the food pretty good.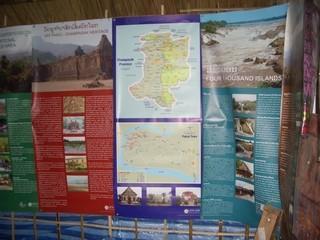 Ironically one of the tourism booths had David's map of Chompasak Province, which he had made for them back in 2004, on the wall.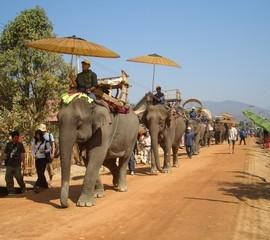 The elephants paraded down the mains street and did brief demonstrations but were absent more than they were there. As I said before, the organization of the event was good and the overall atmosphere of the town really nice. As for elephants, the typical elephant camps offered much more.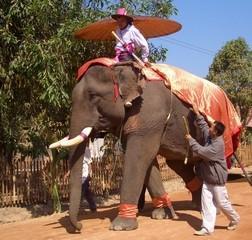 Voted Best Elephant.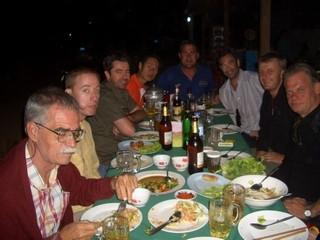 The final evening we had dinner with the heads of many elephant camps and hospitals from Thailand. It was like the who's who of the elephant business and quite a nice night.
Ran into many fellow riders from Laos and some from Thailand. Hopefully they will post about the various routes they took to get to Hongsa. Some pretty good rides.
I did hear that another rider (French) had gone down and possibly suffered a broken leg. This was not confirmed and I hope it is not true.
THE FINAL STUFF UP'S
Armin/Som and I rode out the following morning and made the border in about 50 minutes of riding. The immigration process went smooth and was polite and congenial. We dropped a bottle of whiskey at each side of the border in hopes of paving the way for future contacts.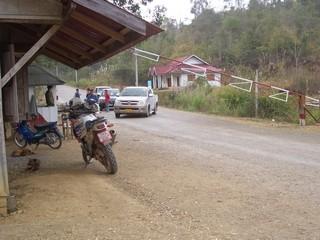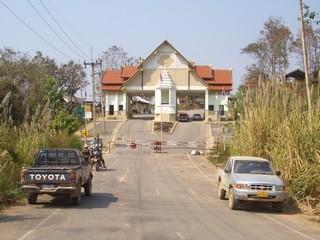 Exiting Laos and entering Thailand.
We decided to take the Hwy 1081 around the back of Doi Pukha and cut back over to Pua before heading home. This was a bad decision as it was already around noon and we would not make it back to Chiang Mai in daylight.
The road was twisty and in pretty rough condition with potholes and each curve presented a new obstacle, fresh tar being applied in two spots, washed out highway, cows, and the usual obstacles.
As I rounded a curve which was a tight switchback and covered in loose sand and gravel, there was Armin pinned under his bike by his foot. I lifted the bike enough for him to get out and up and fortunately he was OK. Som had suffered some scrapes to her fingers and knees and probably quite a few bruises. Armin had mostly a bruised ego.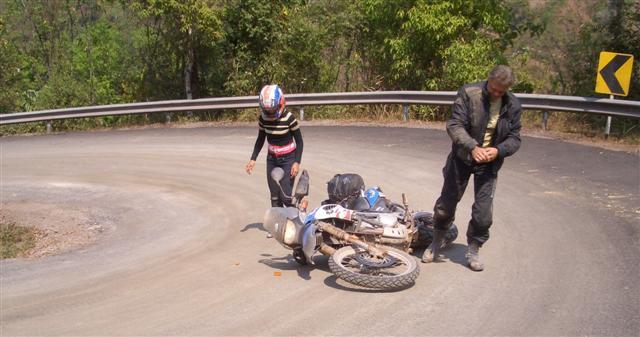 Note Som's riding gear. Sorry to be critical but she is lucky it is not a lot worse..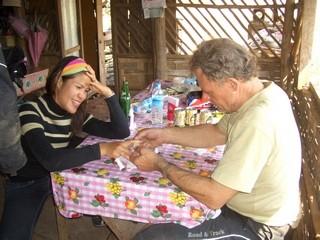 We were able to continue and stopped at a noodle stand to patch up the scrapes. I must say Som carried one of the most complete first aid/medicine kits I have seen.
AND THEN….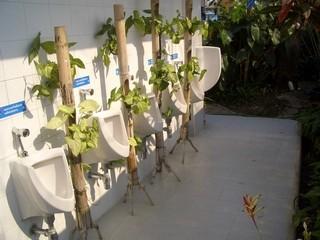 A refreshing stop at Pua
After a few rest stops Armin suggested near Phrae that I ride on ahead and they will catch up. I cleared Phrae and reached the junction of Hwy 101 and Hwy 11 to Lampang. I stopped on the side of the road to ditch my sunglasses and put on something warmer as it was near dark. I got back on my bike and continued riding as Armin had not yet appeared.
After about 15 minutes of riding, apparently with my head up my #$$, I realized I was not on highway 11. Don't ask me how I did it but I was now on my way to Uttaradit. It was 25kms back to hwy 11 and I looked at my map and saw a shortcut that should loop me back to hwy 11 about 36km west. I looped alright. It was dark and cold when I reached the T-junction. But the T-junction was not Hwy 11 but 101 again. Now 76km from hwy 11. A nice night time ride back to 11 where I had to again back track to fuel up as I knew there were no gas stations from the junction until Lampang and I couldn't make it.
A long story short, Armin phoned to check on me when he reached Chiang Mai at 7:30PM. I was still in the mountains. That's what happens to your concentration after more then 10 hours of riding I guess. I arrived home at 10:00PM cold and tired and feeling pretty stupid. By the way for those that asked, the seat on the DR isn't too bad.
THE FINAL and TRUE TRAGEDY
When David was getting ready to leave the hospital, a Lao family brought in a middle aged women in the back of a pickup. She was screaming incoherently in pain and placed in the room you see above with the mattress less beds.
It took a while to find the doctor and we learned she had fallen off her Honda Dream/Wave, or whatever, near town. Of course helmet less. As we left it was said she was bleeding from her ears and needed to go to Vientiane as she was in dire need of a CT Scan and x-rays that were not available (obviously) in Hongsa. Later in the day we learned she had died…………….
I usually try to keep these reports upbeat. But, read between the lines in this post and also look at the obvious. Guy's we need to start doing some things differently. Counting the number of crashes this year, the toll is getting
too high!
Last edited by a moderator: