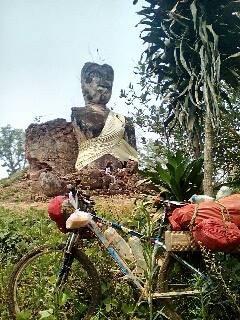 This is my first report for GTR so thought I would just tell you about a short segment of a trip I did in Northern Laos recently. Ironically passing through the Golden Triangle and being saved from Burmese smugglers on the Mekong.
Started out from Houei Xai in search of a seven and half metre sitting Buddha overlooking the Mekong. Backpackers asked me in Houei Xai where I was going and when I told them none had heard of it. Most people in H. Xai are here for the slow boat, gibbon experience or visa run.
Anyway started out of H.Xai mostly on tarmac for around 50 km. The longest stretch of asphalt I had found in Bokeo province so far. When you arrive at a place called Simuangngnam look out for a sign about 1 km out of town to a village called Ban Done That on the left. Follow main track for around 12 km. Very dusty and bumpy through depressing Chinese banana plantation but you will be rewarded.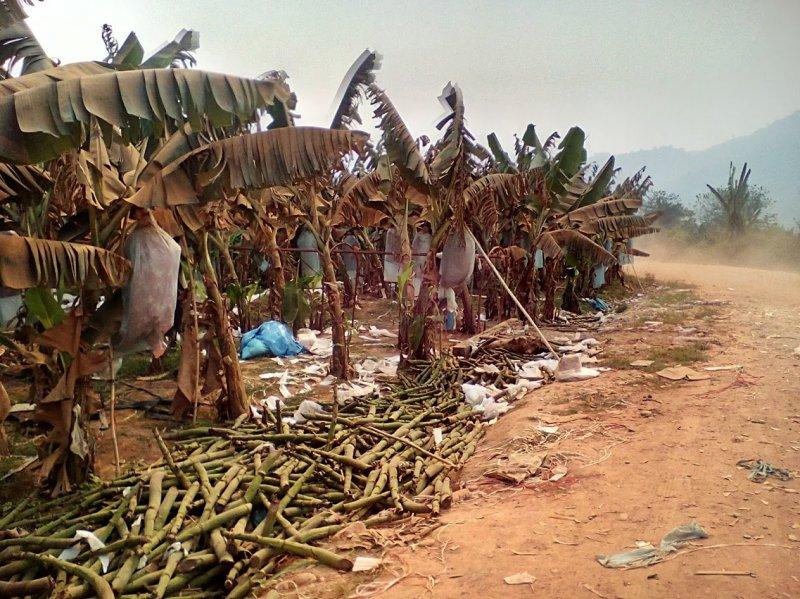 Check out photos with this link:
https://goo.gl/photos/
oYMFtaDMpgehfRzh9
Unfortunately this is all that is left which is worth seeing.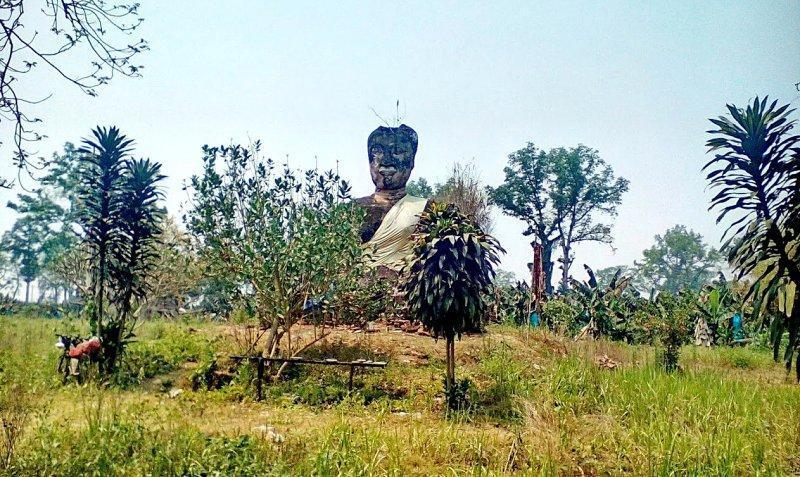 I've heard there was more until the Chinese bulldozered the area for their banana plantations. There is an ancient stupa but unless you know it's there you would miss it. It is so overgrown.
Decided not to explore anymore and continued on to the Golden Triangle Economic Zone.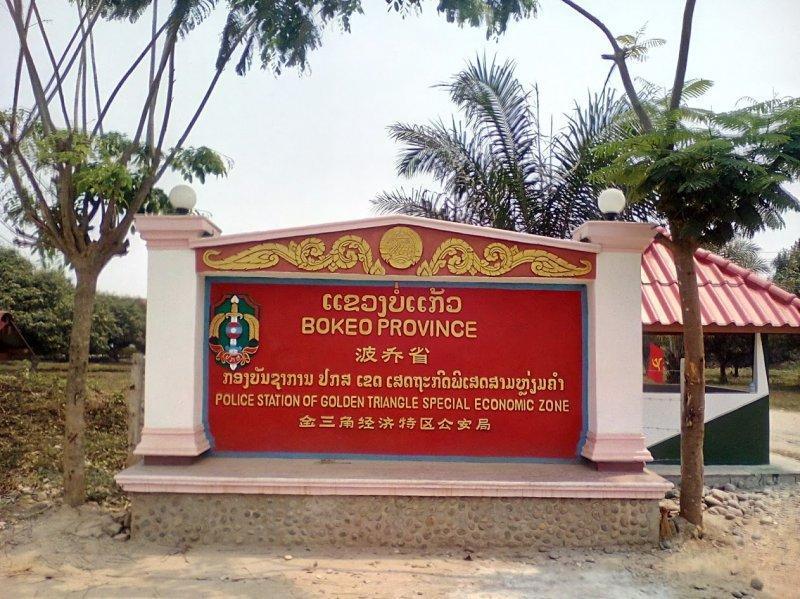 Here after going through Tonpheung you ride on very good concrete road system. All very nice but the place seems deserted. Took me a while to find somewhere for lunch. Accommodation is quite expensive so I continued along the Mekong soon leaving the concrete behind and back on to dusty dirt and gravel. Found a place to pitch my tent and called it a day. Had a few tribal people pop down the hill for a visit so I shared my 3 in 1 coffees with them.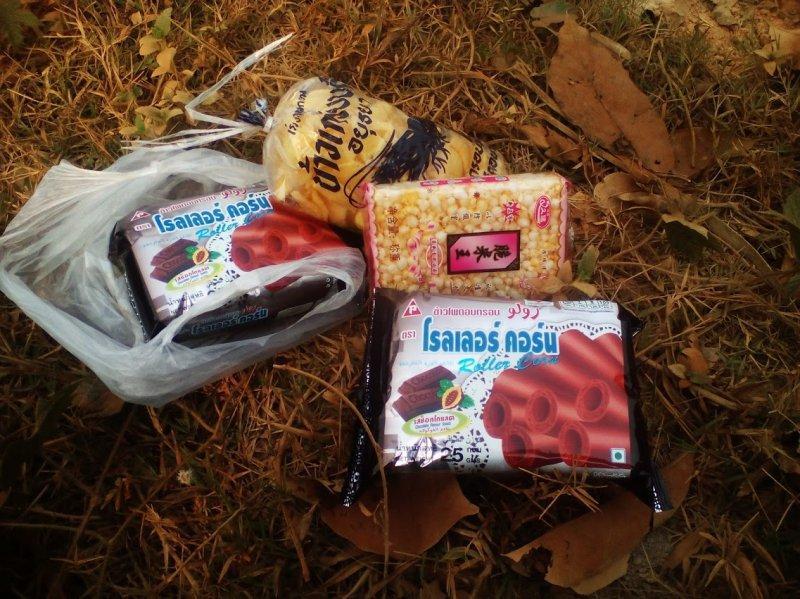 Later on I had 2 more visitors. Policemen in combats toting AK-M's! I know the drill now having experienced this a few times in Laos. They ask where from, where going, you speak Lao. They phone the boss. Ask again you speak Lao? Phone boss again. If they are not gone by 15 minutes you can be sure of a free nights accommodation at the local police station. This time I had to speak to the boss. He told me to come to the station for my own protection against Burmese smugglers! I don't mind going with them but it's packing up the tent and stuff in the dark. And this time they had no pick up so I had to cycle around 6 km in the dark on a bumpy road. Not much fun. Arrived at station and was given a spot outside to sleep and a bottle of water.
Slept quite well and had breakfast with the cops. Pork,snake and sticky rice. Got on bike and seat came off. The bolt and broke a few weeks ago. I had it welded but the weld had eventually broke. What to do? Fixed seat back in with hose clips and started heading back to Houei Xai. Came to a small town with a hardware shop and after half hour rooting around in various boxes of nuts and bolts found suitable one. Was back on the road and heading for the Mekong again. It's a great ride along the Mekong river tracks. Little traffic,cargo boats going up and down and no tarmac for miles. Passing through small Akha villages.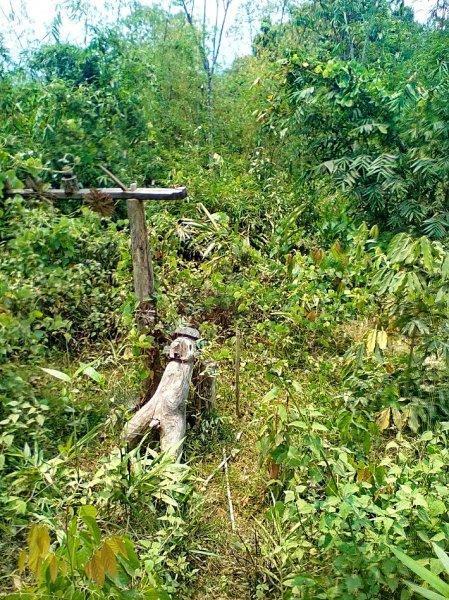 No guesthouses on this stretch so I cycled up a small track into a National Protected Area about a kilometre well away from passersby.
Only visited by two locals out foraging in the forest. Tried to pump tyre up for them but it was no good. Had some dinner and got my head down.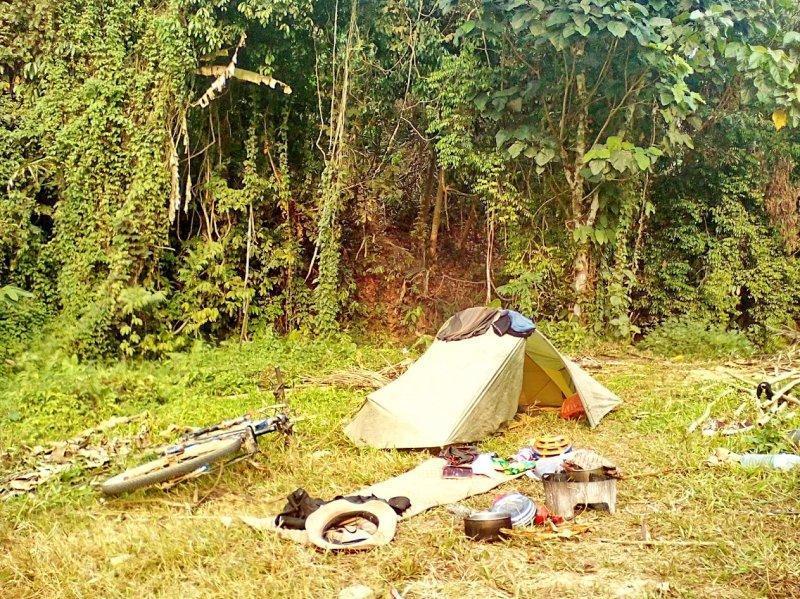 Woke at two to see a flashlight in the distance. Surely it can't be the cops this late. The light got closer until right outside tent. I said sabaidee. Someone mumbled something then walked off in to the forest. Must have been a poacher.
Next morning headed back to the Mekong.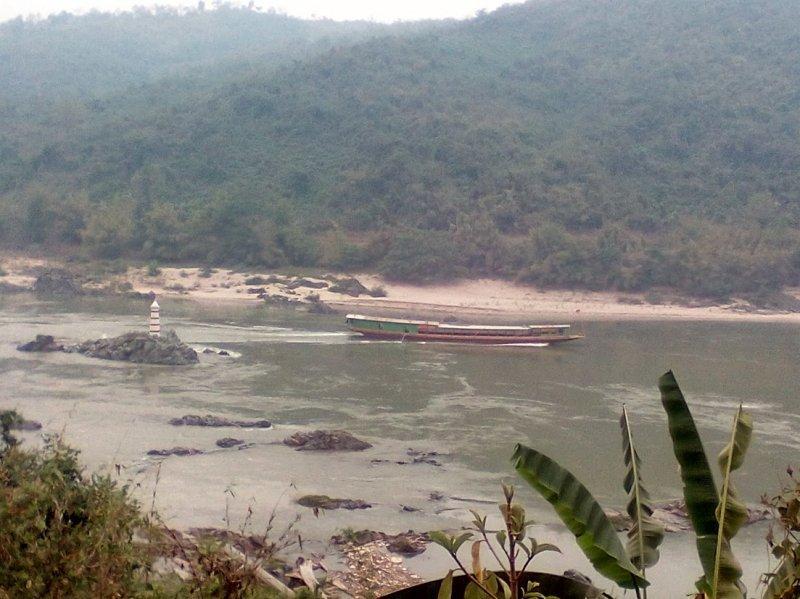 Was heading to Xieng Dao where I had found a noodle shop on the GPS. Lots of up and down hills through stunning scenery. Demanding my full attention. Made a schoolboy error and glanced at the view on my right. Was soon flying through the air leaving my bike behind. Landed on my face.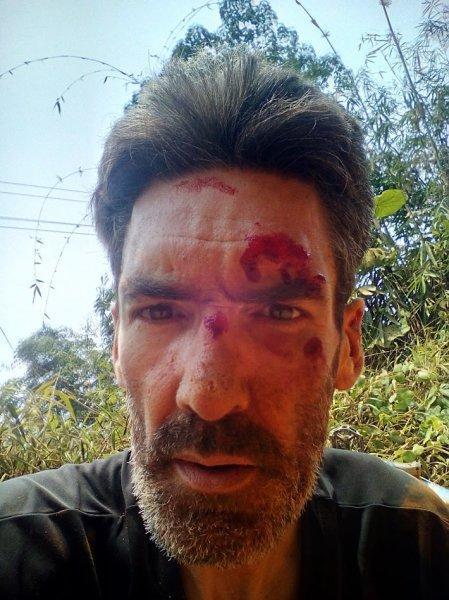 It bloody hurt and I was bloody. Every time I put my hand to my face it was covered in blood. My shoulder was also smarting and there was a nasty gash just above my ankle.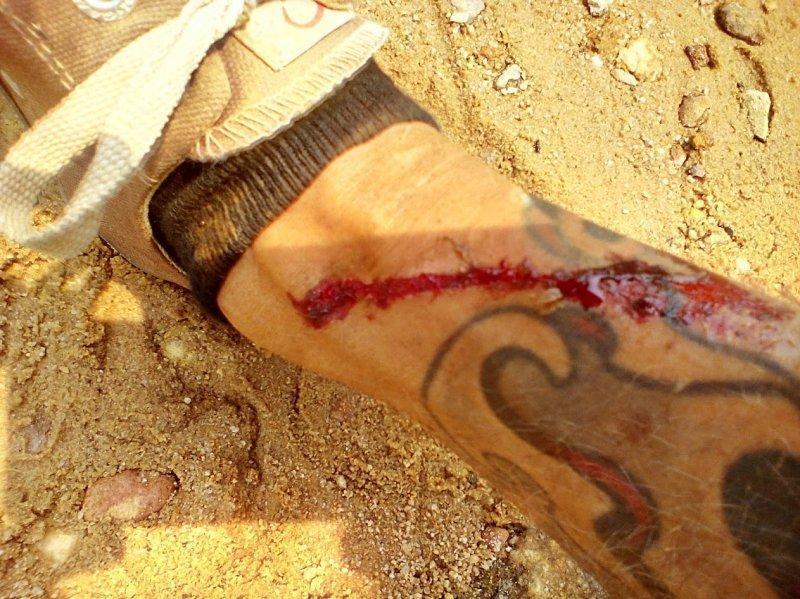 Muang Meung was only 12 km away so headed there to get cleaned up. Stopped at a river to wash my face along with two Akha ladies having a bath! Guy on motorbike told me there was a hospital in M.Meung so headed there.
Made to the hospital and got all my cuts and grazes cleaned out and covered in iodine. No serious damage but could feel my face swelling. Doctor told me to be careful because the roads are dangerous. Thanks. Bill was 37,000kip($4) for treatment and a bag of pretty coloured pills. Found some lunch and a guesthouse and decided to stay the next day to rest. The locals were very interested in my accident and by the next day everyone knew about me.
Had a lazy day in M.Meung and got back on the road early the next day.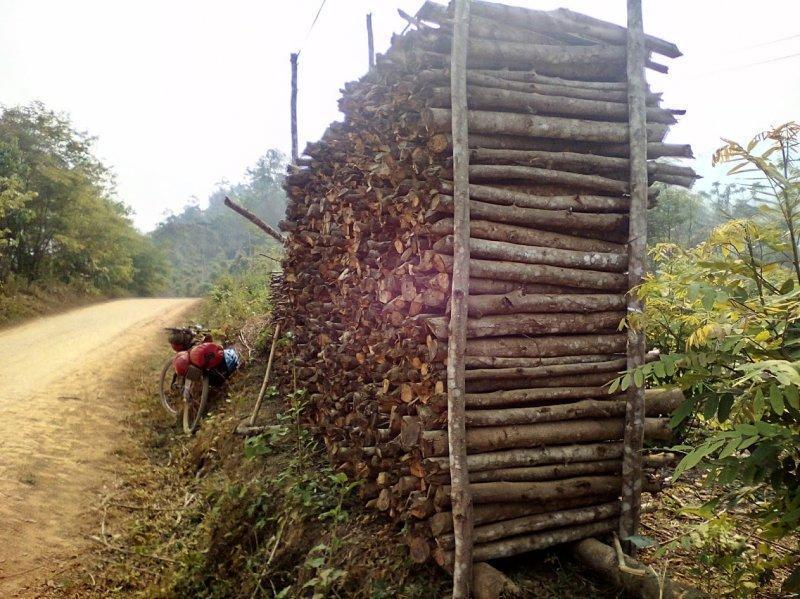 There are only two guesthouses here with limited food options but there's tarmac!
Soon back onto dirt and cycling along the Mekong. There's something about cycling the Mekong. I really enjoy it and would recommend it to anyone. This ride to Ban Xieng Kok is beautiful. No traffic in fact more traffic on the Mekong itself. Only saw a truck with some strange looking Lao workers playing techno music. Friendly enough though. There were no landslides as had been reported by Brian Moto Mania in December. They've done a good clearing the track. When I arrived at Xieng Kok I could see some soldiers in the paddy fields. I stopped to watch but was told to move on by policeman. Saw more soldiers pouring out the village on my way to the noodle shop. They all waved at me. Ordered my soup then the shooting and explosions started. First time I have eaten noodles to the sound of gunfire and grenades. Luckily it was only an exercise.
Eventually I crossed a bridge then a ford and was back on tarmac to Ban Xieng Kok. Found a small shop and scoffed five ice lollies while two old ladies gave my bike the once over.
Here's a link to pics of the river track:
River track Mekong
Stopped in Xieng Kok town and continued along 17B the next morning. Tarmac soon finished then it's a rough graded road through banana plantations. When you enter Muang Sing district the road is good once again.
I camped in Nam Ha N.P.A. for the night. Had an impromptu piss up with some Lao lads. They had a guitar so there was some singing and banging of beer cans involved. Luckily it was weak chinese beer so only a little tipsy.
Next day was short climb to start then mostly down to Luang Namtha on a good road. Was in Luang Namtha by half eleven for breakfast. A German N.G.O. came up to me and asked if I needed any help as I still looked like I had been in a fight. I said I was fine.
Decided to catch the bus to Luang Prabang for visa extension. Was killing time in a bakery when David from GT Riders came round the corner! What a surprise. So decided to get the morning bus instead and had an interesting evening with David and Talking Tom from Germany.
The perfect end to a great trip.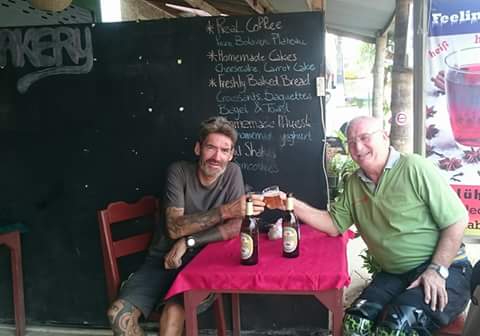 Last edited: