Finally, following a bout of ill health and a few other commitments, I was able to get a 'proper' motorcycle trip in. December period was pretty much ride free and January saw me take on just a couple of day rides. So, was great to get back on the bike and get out again. This ride is in two stages. Originally I had planned to make it one full ride trip, but some timings were out. Mainly due to a friend flying in to Chiang Rai to attend the Chiang Rai International Jazz Festival, which I decided to attend also. So, I cut my trip in two parts.
Not so long ago I was looking at google maps around the Doi Ang Khang area, wondering if there was some areas around there that I had not been to before. Spotted an interesting looking border road and figured it was worth seeing if I could ride this route (there is a similar border route closer to Mae Sai, which I have ridden along before some years back and planned to ride again a few days later). As I was looking at the route on the map, I also noticed a road going up to a viewpoint (Huamereng), which turns out is the 2nd highest peak in Thailand, after Doi Inthanon. It piqued my curiosity. So, as I had a visa run/border crossing to do, I decided to get on my bike and investigate.
Part 1, Day 1:
(google map link)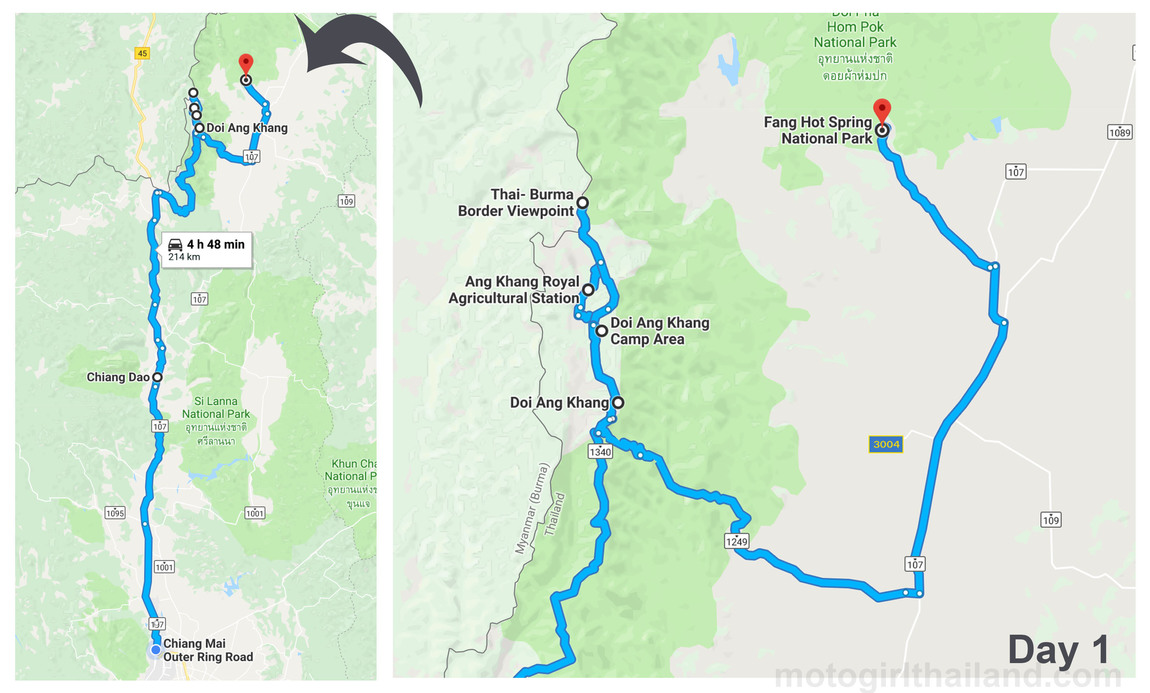 I initially set off fairly late from Chiang Mai (at around 11:30am). I did plan to head off earlier, but I had a bad sleep the night before and so when my cat decided to sit on me after I woke up, I was lured back into sleeping! So anyway, I set off from Chiang Mai to Doi Ang Khan, with the intention of riding along the border, if possible.
My first stop was a late ice coffee at
กาแฟในสวน.
A nice relaxing venue with a great view of Chiang Dao
(but next time I will remember to ask for the coffee not to be so sweet. A few sips and i felt my teeth were going to fall out!)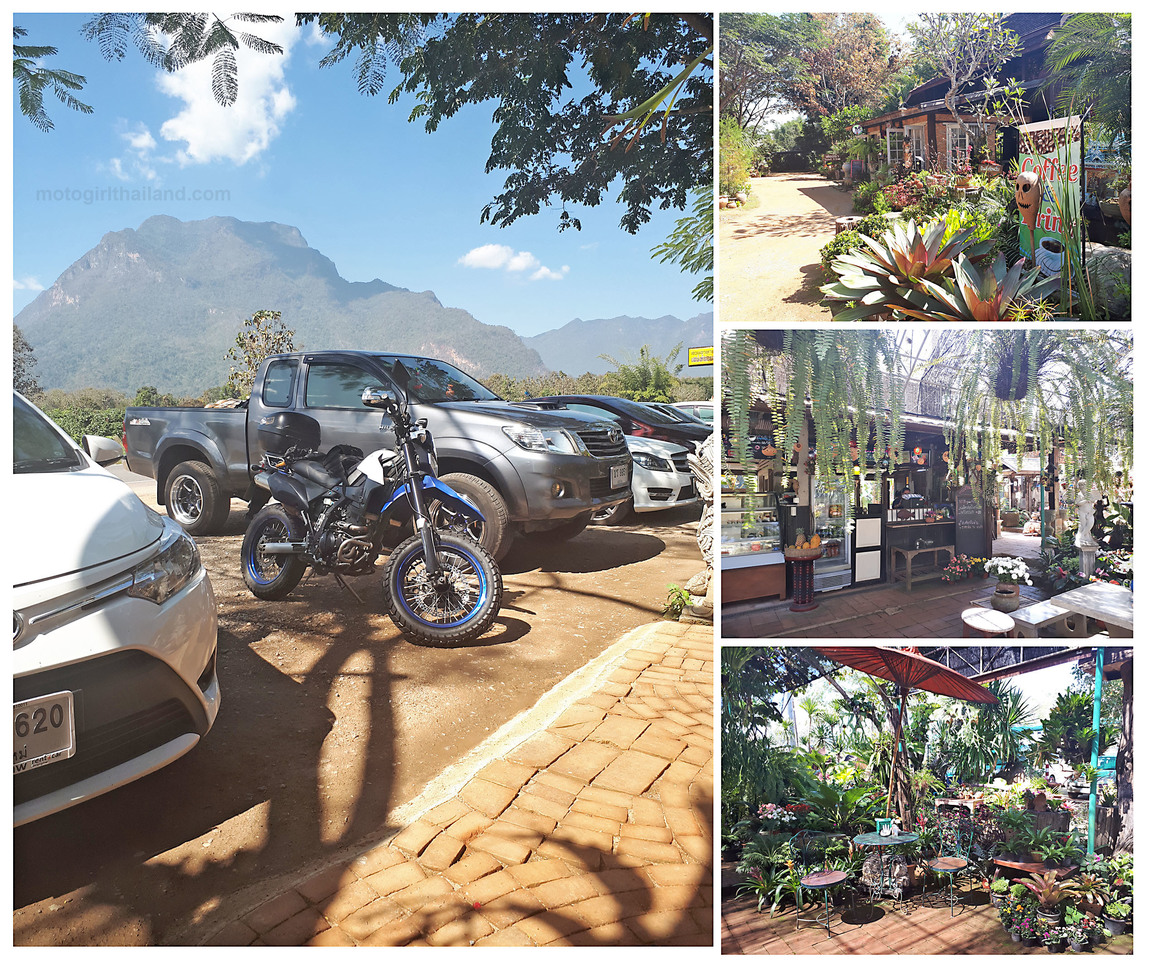 After the caffeine hit I got myself back on the bike and up the R1178 straight to
Doi Ang Khang
, which is always a fab route to take. I rode passed the viewpoint at the campground and headed to the the
Royal Agricultural Station
(50 baht entry) where I had a quick look around. It was a little crowded for my liking but to be expected, particularly as it was a Sunday.
I then headed up towards the border region, passing through an interesting small village which turns out is officially on Burmese soil.
(Also has a military helicopter landing area).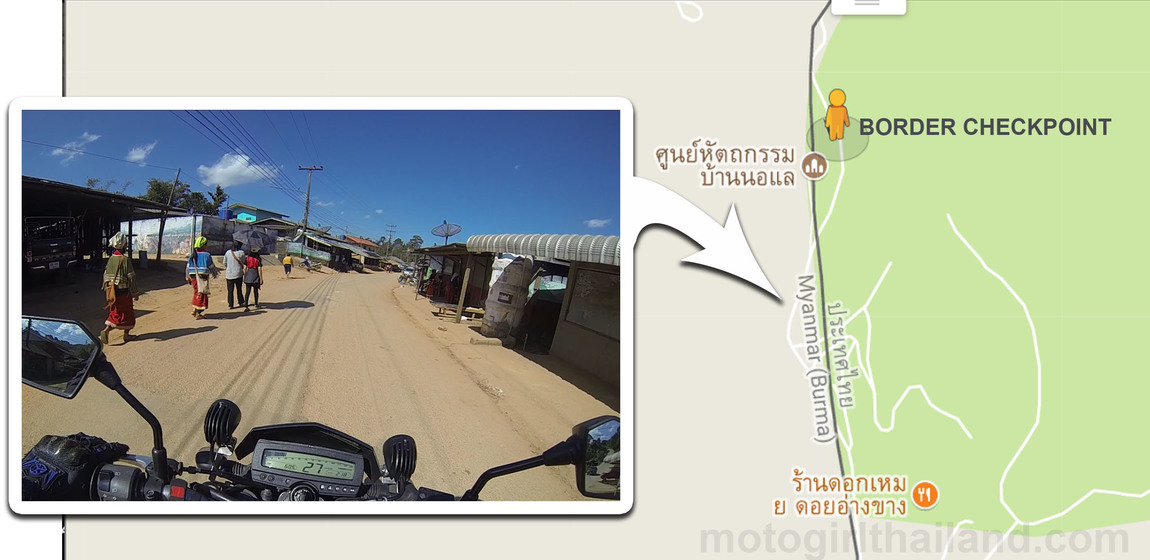 When I reached the checkpoint, sadly it was a no go though.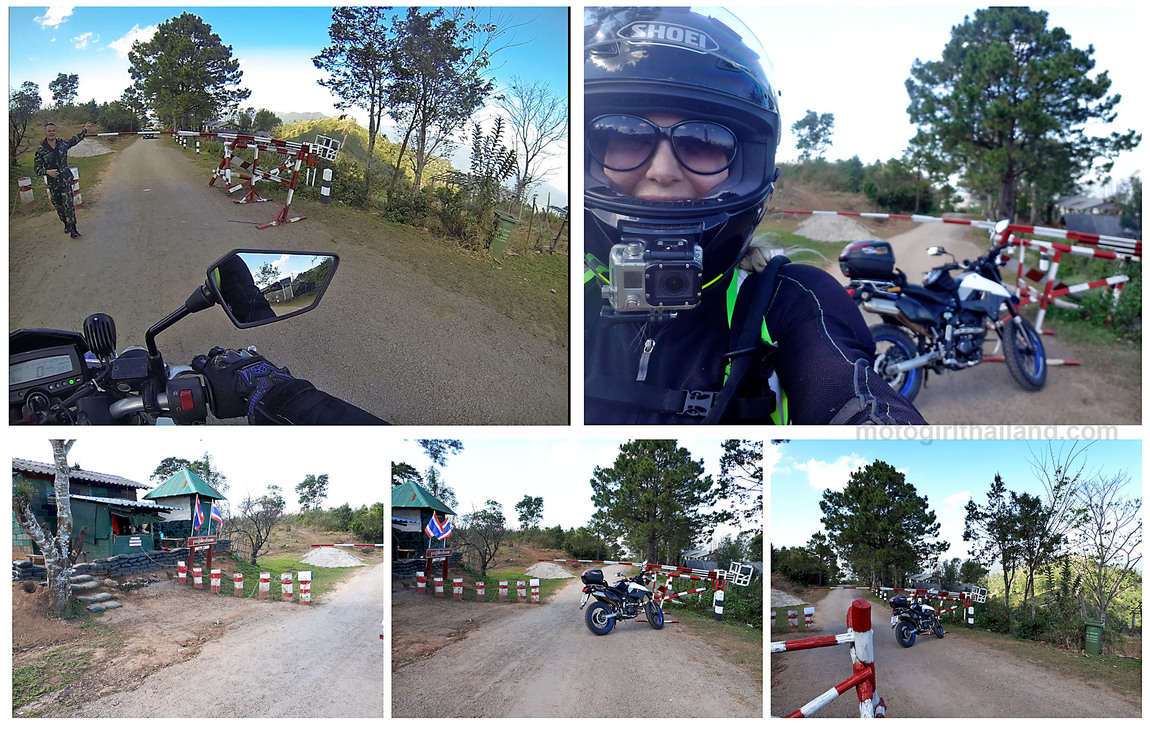 *NOTE* I have an idea up my sleeve about this border region, so I am going to provisionally write "watch this space", because this chapter isn't shut yet and will be investigating this area again down the line.
The soldier was lovely, but I wasn't permitted to pass as it entered into Myanmar/Burma territory. This seemed a little strange because the checkpoint seemed still a bit far from the border, but I wasnt going to argue the point on this one. It did also mean that my Plan B route needed to be scrapped also, sadly. As this route was after the checkpoint (even though still well within Thai soil).
I did a u-turn and headed back through the village, where the odd stares made me feel a little like I had dropped right out of outer space, haha.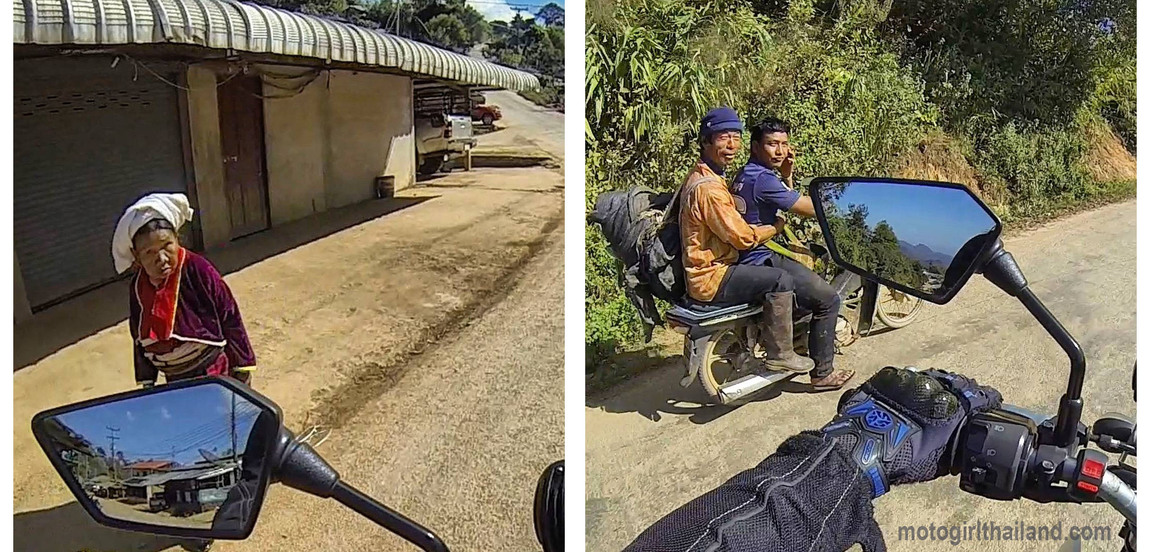 I headed back to visit the
viewpoint at the campsite
and ask at the information desk about
Huamereng
and
Kiew Lom campground
.
The view was great..but the news about Huamereng not so much.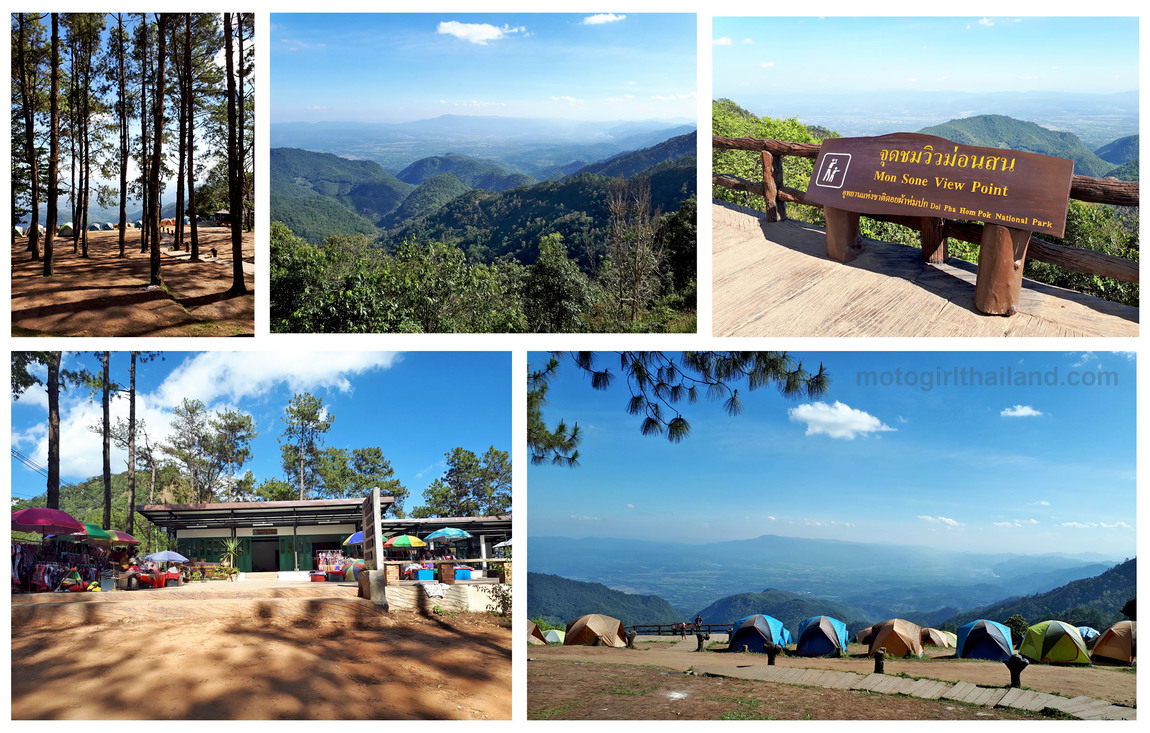 A new law has passed that big bikes aren't allowed to enter into this area. I explained that my bike is only 250cc and standard exhaust, but the officer wasn't certain if i would be let through.
Feeling a little deflated (but not deterred), I headed back back on myself and headed towards Fang, weighing up what to do next. It was around 4pm and as it normally gets dark around 6pm I needed to make a concrete decision. In the end I decided to stop in for the night at
Fang Hot Springs
, then see if Huamereng might be possible tomorrow instead.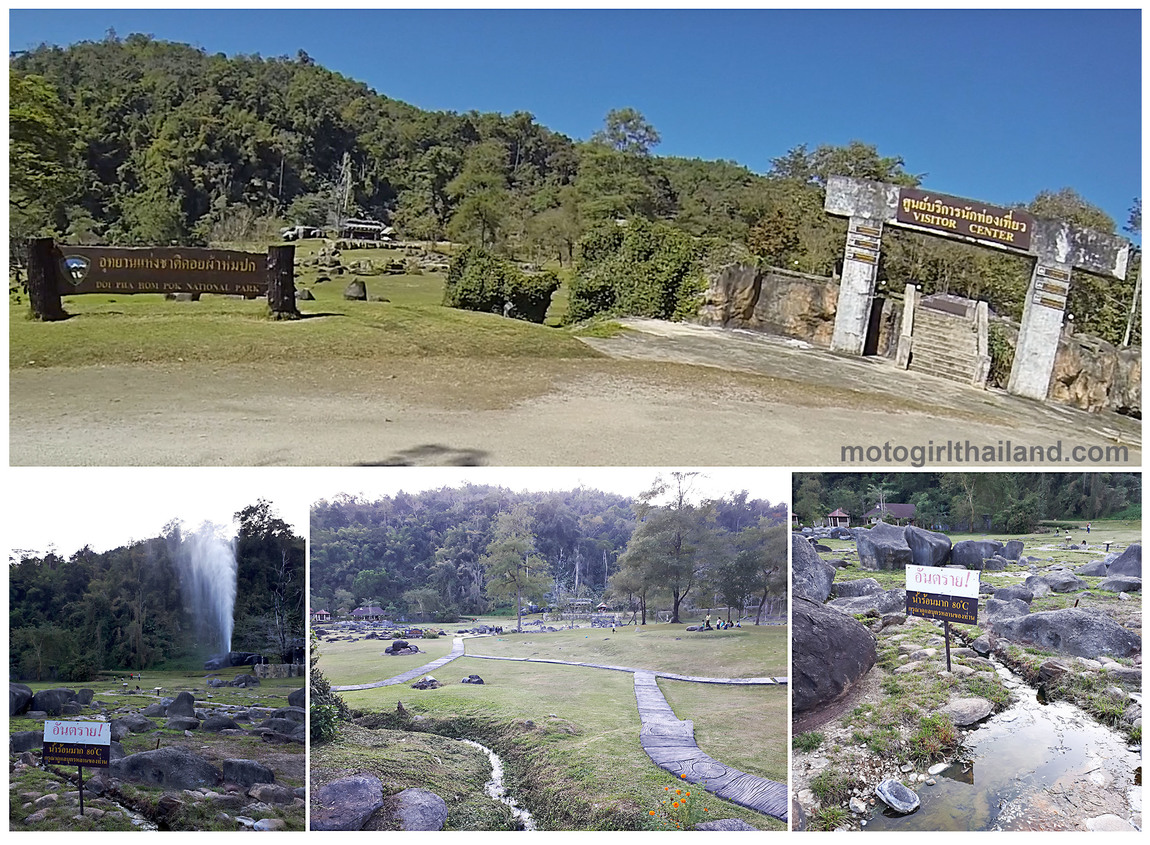 I got to the entrance of the hotsprings, which is part of
Doi Pha Hom Pok National Park
. The dual pricing is hefty (300 baht for adult foreign national) but after a bit of a chat in Thai the guard charged me the foreign child rate (150 baht).
I headed straight to the information section first and inquired about accommodation. Pricing as follows
(click to enlarge)
: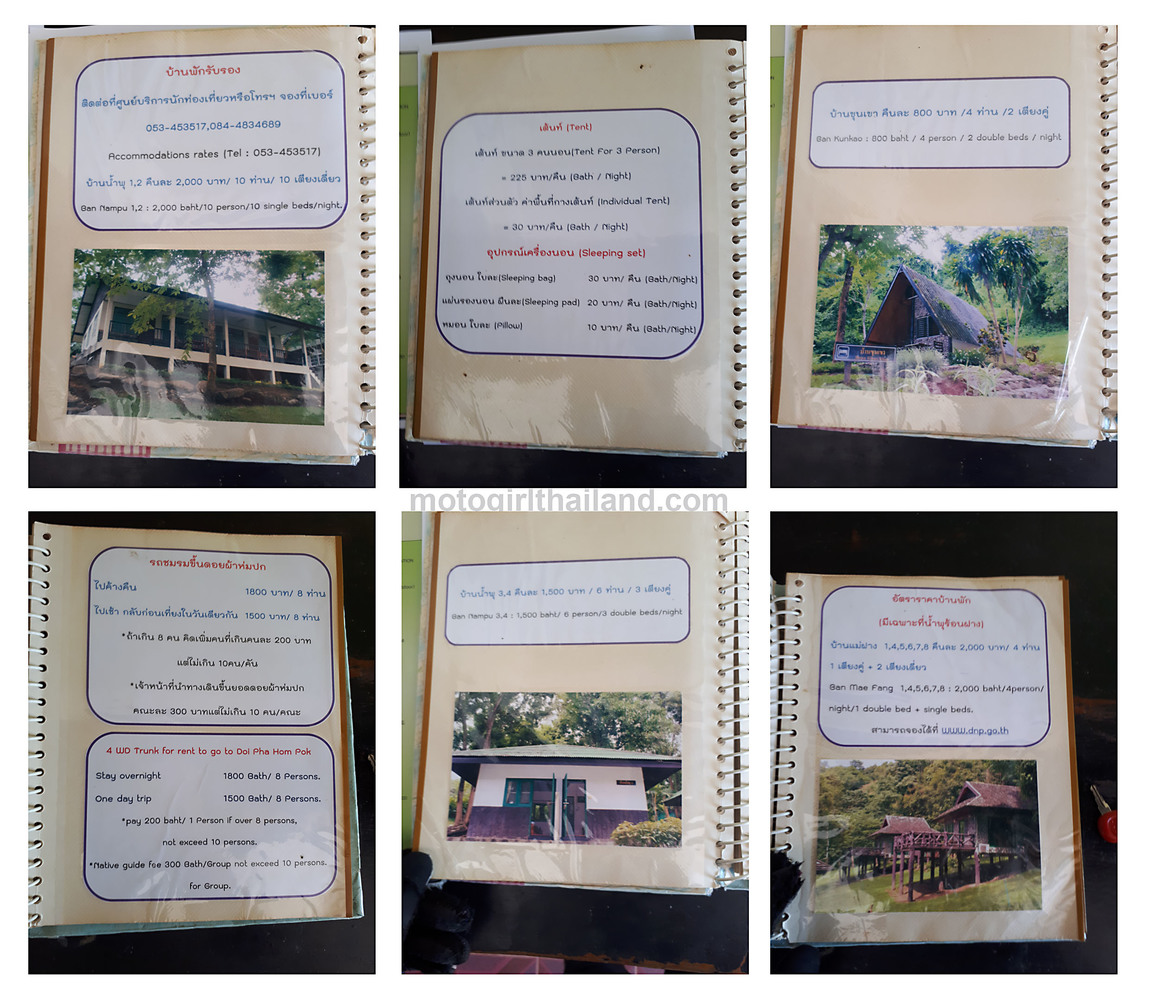 I chose the stand alone bungalow for 1500 baht.
I was given a map to the location of my accommodation, but it wasn't too clear and I went the wrong way initially. Ended up in another accommodation section and slap bang into what appeared to be two army/national park officials having a intense and heated argument!
Was very surprised!
When i headed back on myself I had a quick explore of the park on my bike first and when I returned back the way I came I found them still arguing and it was getting physical, for now she was lashing out at him… !
Not such a good look for the park, but hmm…. sometimes emotion gets the better of people.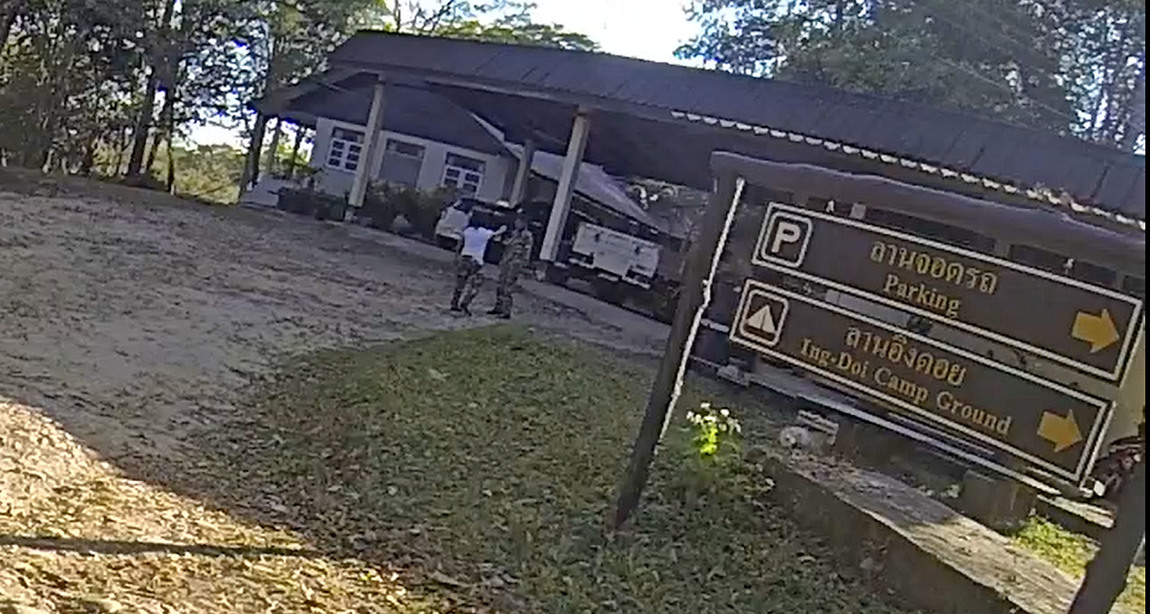 Eventually I found my bungalow, which I was very happy with.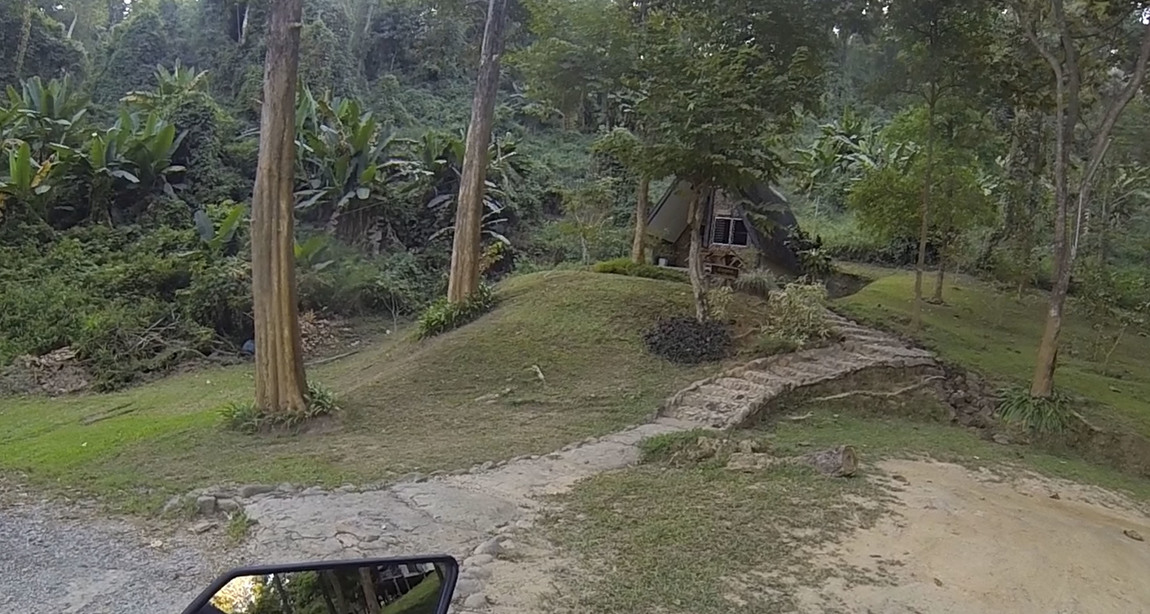 I cleaned up and walked up to the restaurant area where I enjoyed a freshly barbecued fish and some sticky rice.
I took a walk around the park as the sun was going down and soaked in the hot springs for a while. Ended up walking back in the dark thinking I was smart to take a short cut…
Hah..lesson learnt.
Got back to my bungalow and headed to bed early, to the sounds of near silence, with just the clacking of lizards. One of the most blissful sleeps I have had in some time.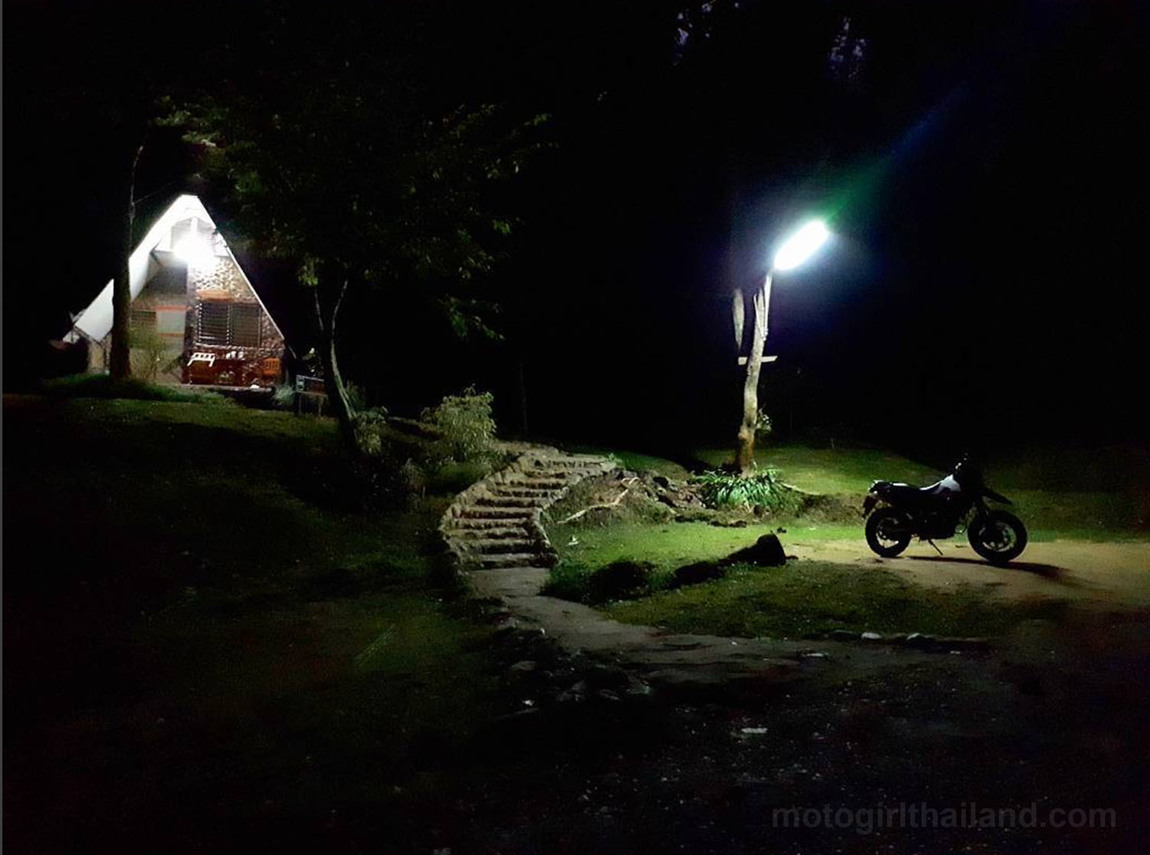 Day 2:
(google map link)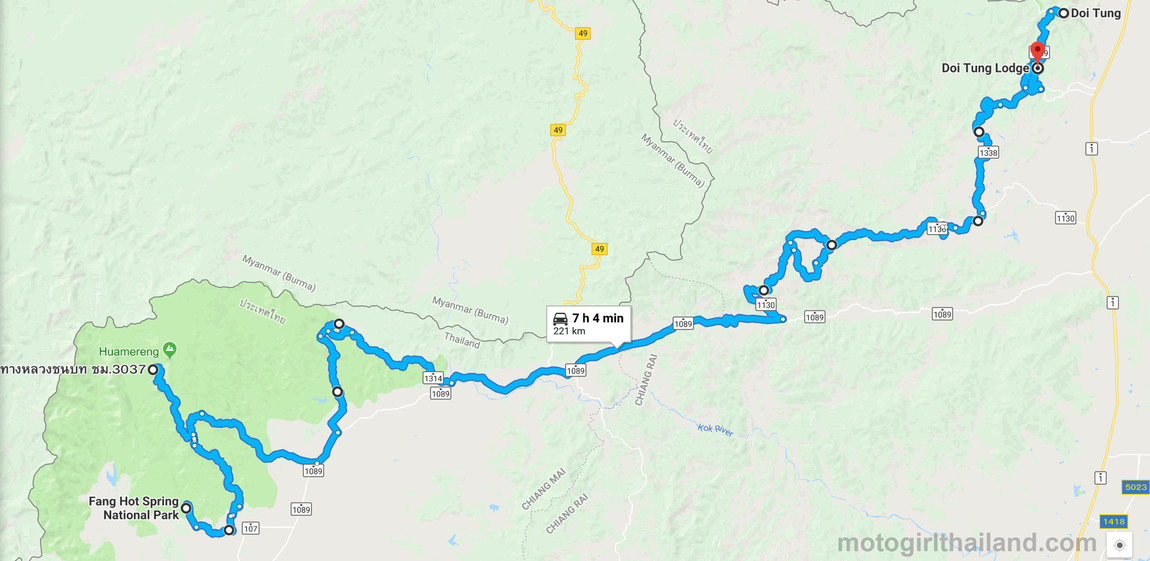 I had a leisurely morning the next day and enjoyed the hot springs until around 11am, then went to finally check out. I savored every moment of that accommodation and hot springs, and will be back again some time, despite the dual pricing
(which I really dislike)
. If you decide to go, then I suggest you take full advantage of having to pay this fee by staying overnight, as I did.
By midday I was on the road towards
Huamereng
and
Kiew Lom Campsite
(the highest campsite in Thailand)
. I took a dirt road that veers off from the Hot springs initially, as i wanted to carve out a more interesting route than straight along the 107 and up. However, within a short time I had a bit of a knock to my confidence. I spotted a truck coming down towards me and had a panic moment, which resulted in a fall. A case of target fixation and choosing the wrong rut.
The driver of the truck was lovely though and tooted at me to wait for him rather than me picking up my bike on my own. He came out and we lifted my bike up together. I was very grateful and also rather embarrassed. Plus i now wondered if I was capable of doing this route on my own or not (as i am not strong on dirt). I decided nothing ventured nothing gained and I needed to tackle my demons and fears head on. So, i picked myself up, dusted myself off, and headed back on the trail.
Turned out that this route led to a village and had a moment of being sent on a wild-goose chase.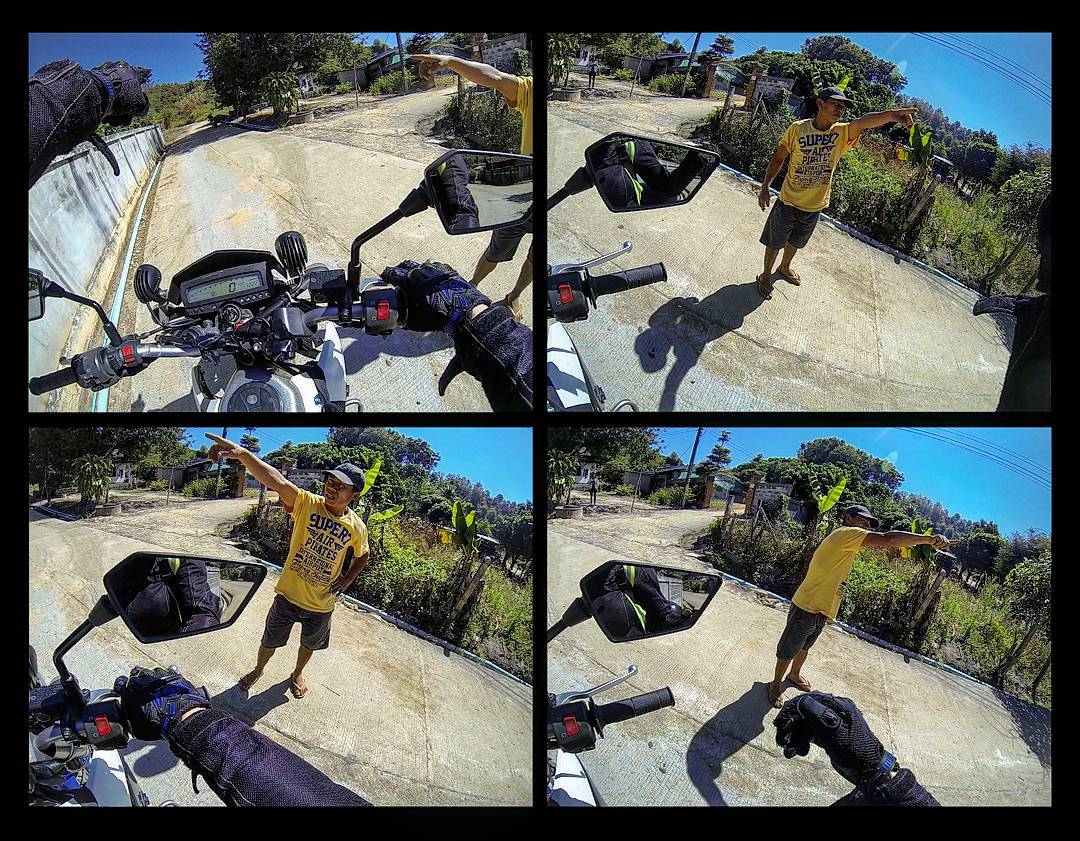 In the end I did finally find the route to Huamereng. I rode up to the national park checkpoint and mentioned that i had a ticket for the hot springs and was waved through. No check on bike and no issues taking it in. Nice!
Intially the road was paved and no drama, but a few kms up it turned into dirt. My nerves were getting the better of me a little and a combination of a variety of things led to this:
One great thing about this fall was that i realised I can get myself back up. That might not always be the case in future if I were to fall badly, but in this case all was fine. Falling is always a risk when riding on dirt and I don't want to be a helpless victim. Getting myself up and back on the road actually gave me MORE confidence rather than less. It helped me to let go a little more and after that the ride was less fearful for me, and more enjoyable.
All i can do is set myself tasks and try to overcome fears and learn from it all.
After around 15 km i reached Kiew Lom (highest campground in Thailand).
By now it was around 1:30pm. I inquired about the viewpoint and was told it would be a 2 hour trek.
Ouch! I wasn't expecting that.
I decided to give it a shot anyway and headed off into the forest.
However, at around 30-40 minutes into the trail the route disappeared. I couldn't see anywhere to go. I pushed forward for a while in the hope to find an obvious sign of a trail, but realised that i would soon end up lost if i continued. So, given the time constraints and the lack of trail I made the decision to return to the campground. Was a touch frustrating.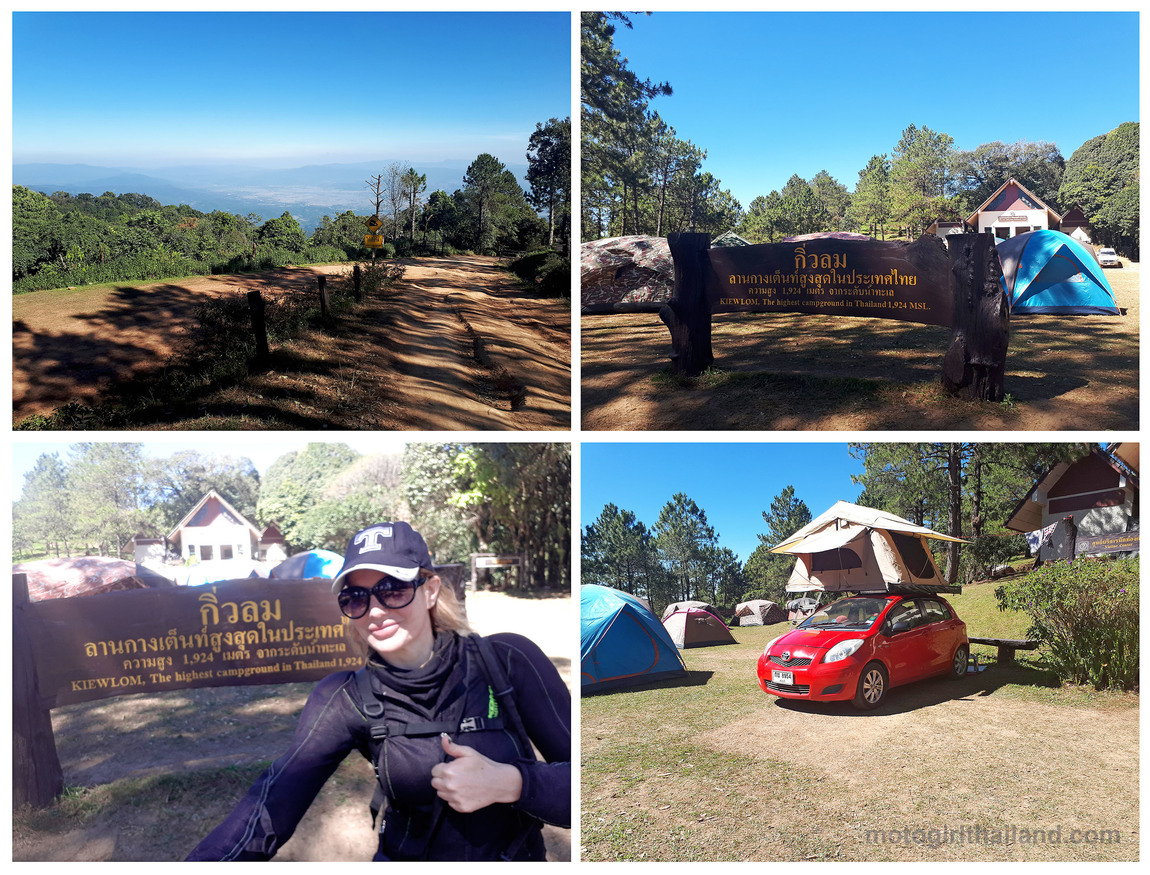 On the return I met a birdwatcher/photographer with binoculars and a camera and asked him if he had difficulty on the trail also. Seems he had given up too, so i wasn't the only one.
At the campground I bumped into some nice tourists that had arranged for a guide in the morning, who welcomed me to join them if i wanted to. I weighed up about staying over in the camp or heading somewhere else.
Given that I did not have appropriate shoes for walking and a few other factors I decided to head back down the mountain instead and ride as far north as daylight would take me.
The ride back down was easier for me than I had anticipated and no dramas aside from a few vehicles coming up (the road was not very wide and the drop on my side was sheer at times). I headed out of the national park and onto the 107, then headed for the
Doi Tung mountains
.
I absolutely love this mountain range and ranks right up there as one of my most favorite places to ride in N.Thailand. The sun was setting and it was a bit of a race against time to find some accommodation before nightfall.
Initially I went to
Doi Tung Lodge
but was not impressed by the rooms nor the prices (3000 baht for a rather unimpressive room!). So i headed a bit further to a resort I once found many years back whilst escaping a dramatic thunderstorm.
I was happy with the rate and the rooms are absolutely beautiful. So was the perfect place to stop, even though I had to ride a little in the dark to get there.
(Sorry, but I wont be sharing this place…)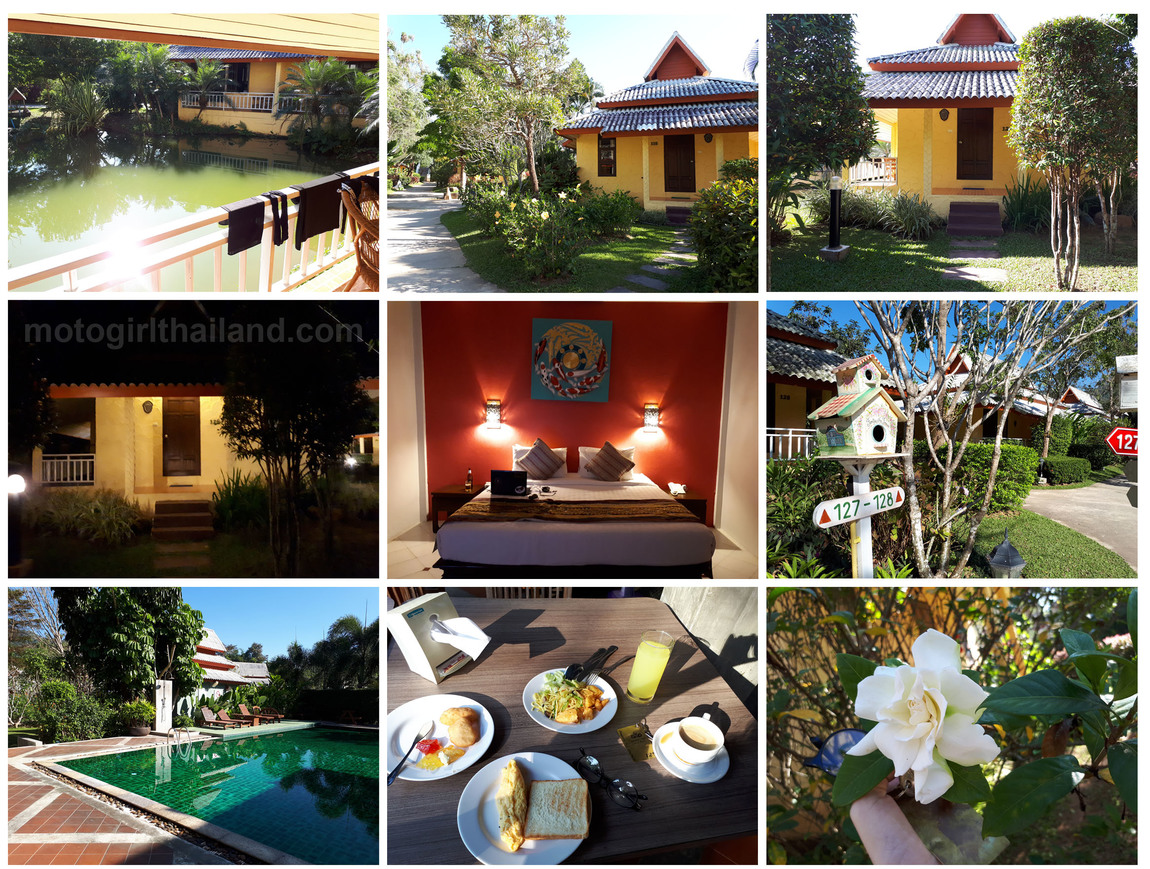 I enjoyed a nice meal at the resort then headed back to my room for a good rest.
Day 3:
(google map link)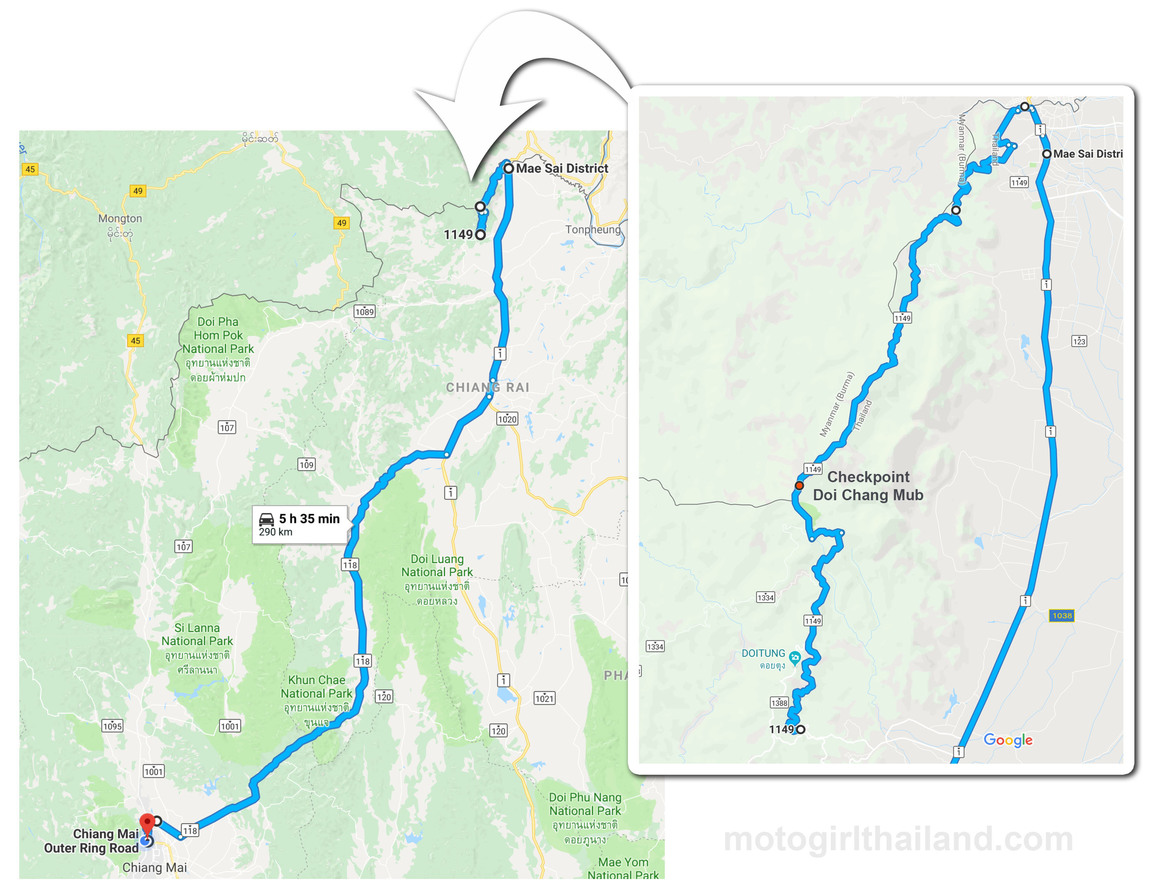 In the late morning, after checkout, I headed north on the 1149 border route. I stopped in at
Doi Chang Mub viewpoint
where the soldiers have created a little outpost and coffee shop. Felt pretty cool to have a coffee made by a soldier whilst sitting on the border of Thailand and Myanmar!
After coffee I headed through the checkpoint and grabbed myself an opportunity to have a "selfie" with the soldiers. Haha.

I was really looking forward to this road, as I had previously ridden it around 3 years ago, not long after I first got my bike. I recall the road being broken up and gnarly and a bit muddy in sections, so was looking forward to rating how much my riding had improved since then. Turns out I didn't get that opportunity though, as the road has been almost completely resurfaced! Obviously that is wonderful in general, but it did mean i didn't get a chance to compare directly to my previous experience of the road. So, was actually a very easy ride and fairly speedy.
How the road looked three year ago (now completely resurfaced):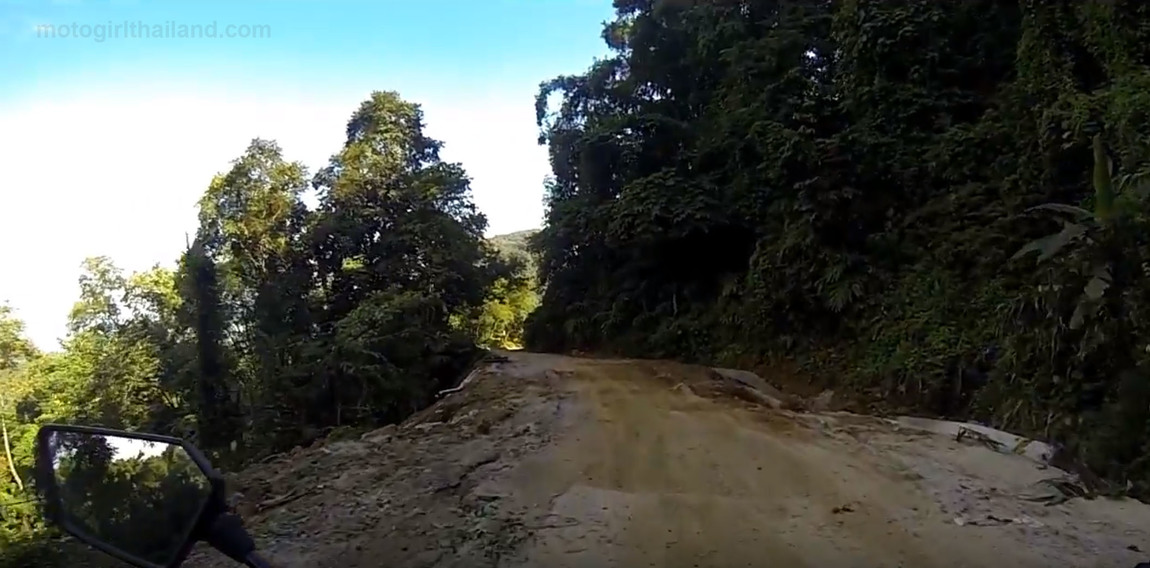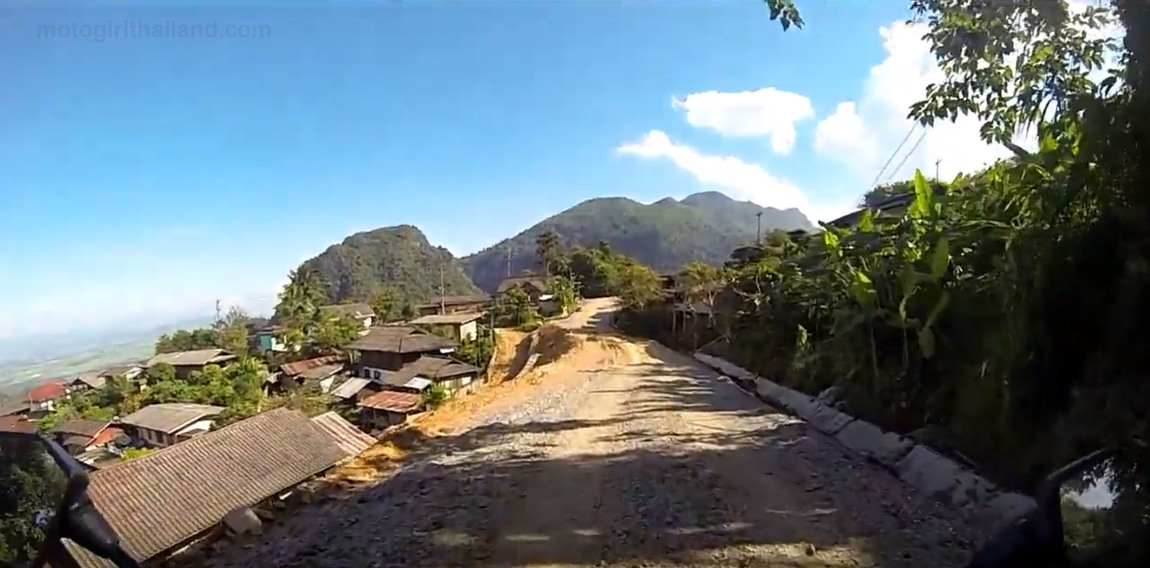 My video of how the road before it was resurfaced can be viewed HERE
After I came out of the checkpoint area I continued along the 1149 to the border market at Mae Sai, where I parked up. Had a bit of a 'small world' moment when two men in motorcycle gear came over to say hello to me, and I noticed they were wearing
TBB Tour
tshirts. TBB is a tour company based in Chiang Mai and I know the owners well
(I was even invited on one of their official Mae Hong Son tours in November 2017, which you can read about HERE)
. Turns out these guys were on a TBB Tour of the North and Jeff (one of the owners) was leading it. Took the opportunity to grab a photo with them all before heading off over the border to get stamped back into Thailand.
Once I had finished at immigration and back over on to Thai soil it was already quite late. I had dawdled quite a bit and didn't bother to think about the time. I decided to head south towards Chiang Mai and play it by ear. I had originally planned to head to Chiang Rai and then explore the
Doi Wawi
area, but an old friend was planning to be in Chiang Rai for the International Jazz Festival a few days later. I decided the best plan would be to head straight back to Chiang Mai, save some money and leave the exploring for later. Plus I had other commitments that needed taking care of too.
Part 2, Day 1:
(Google map link)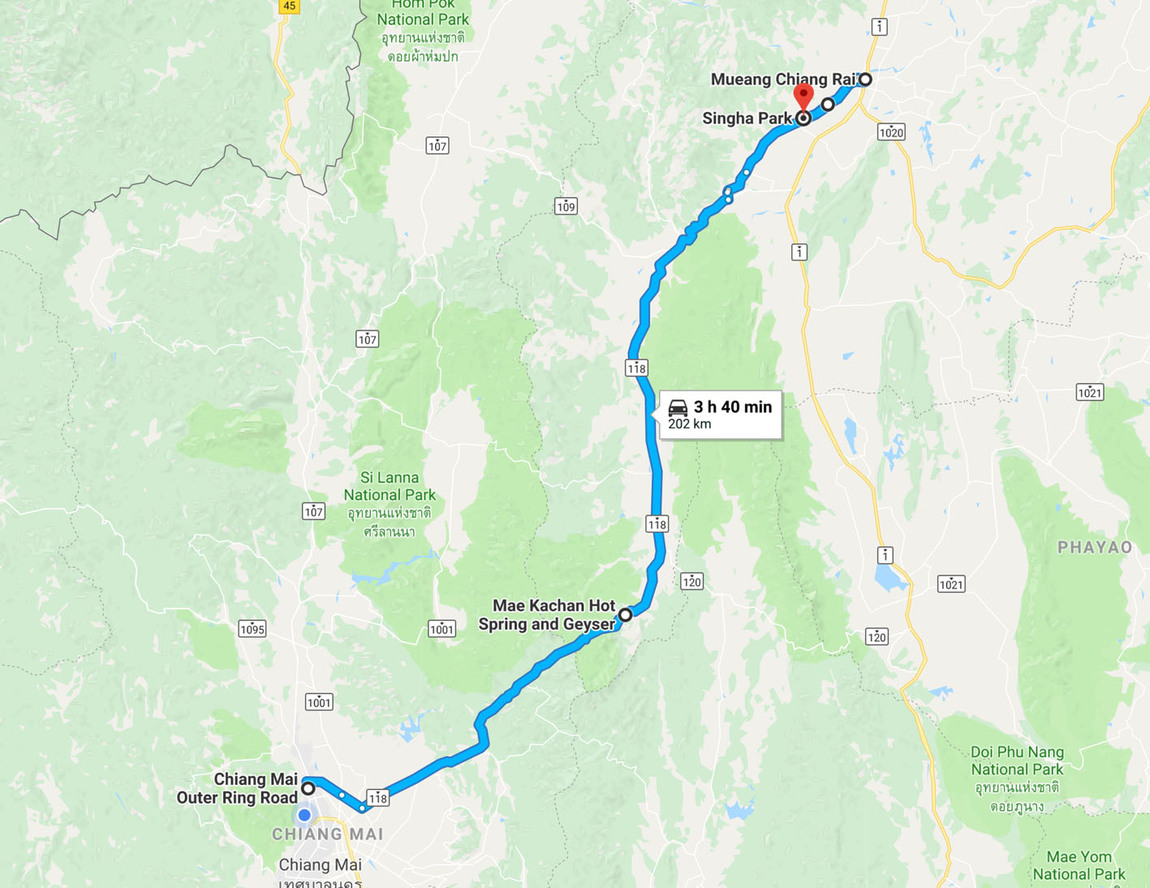 This ride was originally meant to bridge my previous ride earlier in the week, but some timings were out, so this is the continuation.
From Chiang Mai I headed up the 118 to Chiang Rai.
Not my favorite road, but it did give me an opportunity to stop in at the fantastic abandoned building that appears to be modeled on Angkor Wat, at
Mae Kachan Hot Springs.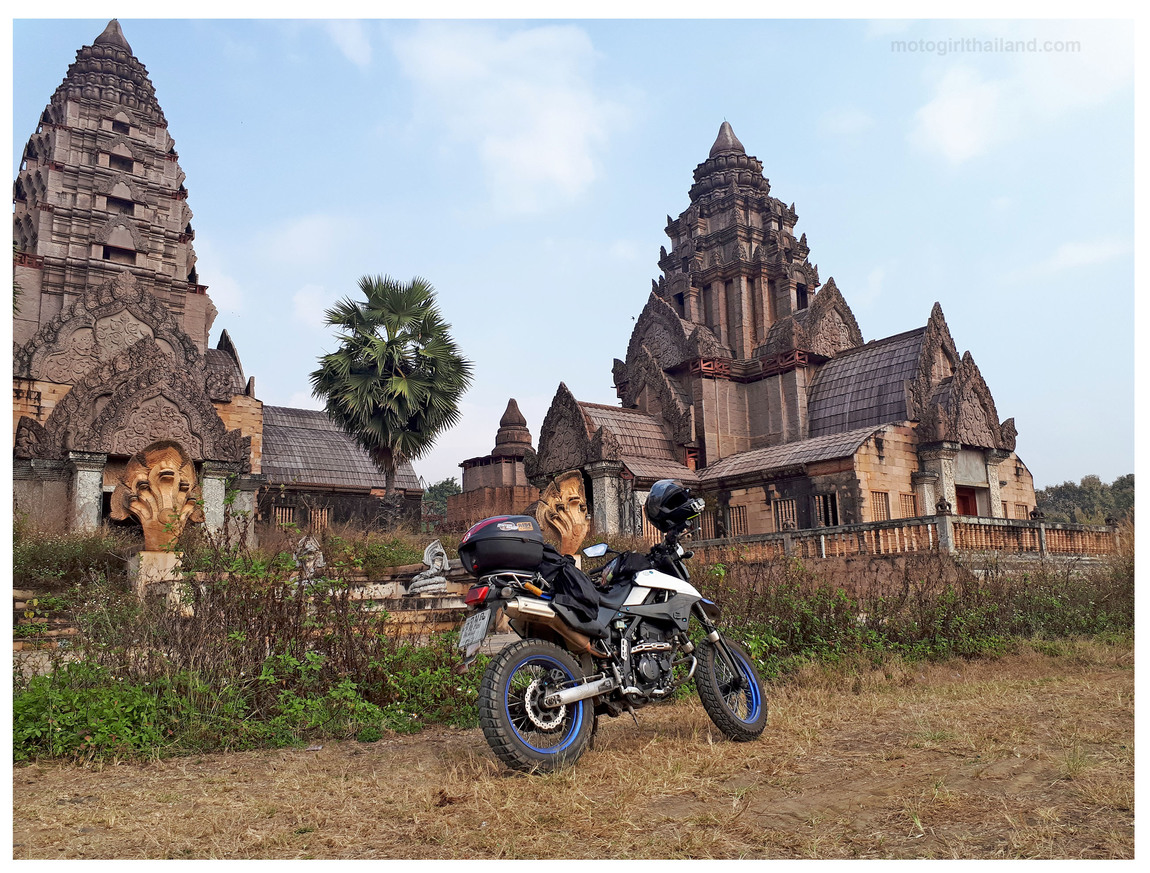 After a short stop there and walk around the old building, it was a straight ride up to Chiang Rai.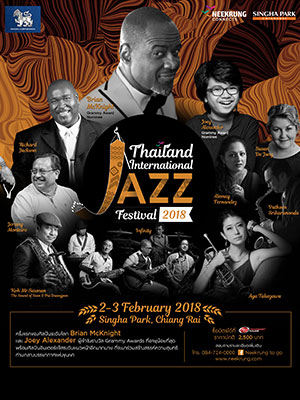 I checked in at the
Cordelia Hotel
, which I found to be clean, fairly quiet and of good value, then headed off to meet my friend and to attend the International Jazz Festival at the fantastic
Singha Park
.
I confess that I am not a huge Jazz fan, so I am not sure how the concert rated to more attuned ears. I enjoyed a band called Infinity and of course Brian McKnight (however, he is R&B, rather than Jazz). There was also a 13 year old Indonesian contemporary jazz pianist and child prodigy that played, and he obviously was extremely talented.
The presentation, food and drinks and the location was excellent.
A very good evening was had.
Later on the evening my friend and I stopped in at Cat Bar in the city centre. Here I spotted an odd looking bike, and was able to have a chat with the owner. Turns out he modified the bike himself. He let me sit on it and see how it felt. Verdict: It felt odd!
Had a good sleep at the Cordelia and then met up with my friend for coffee the next morning.
Day 2:
(google map link)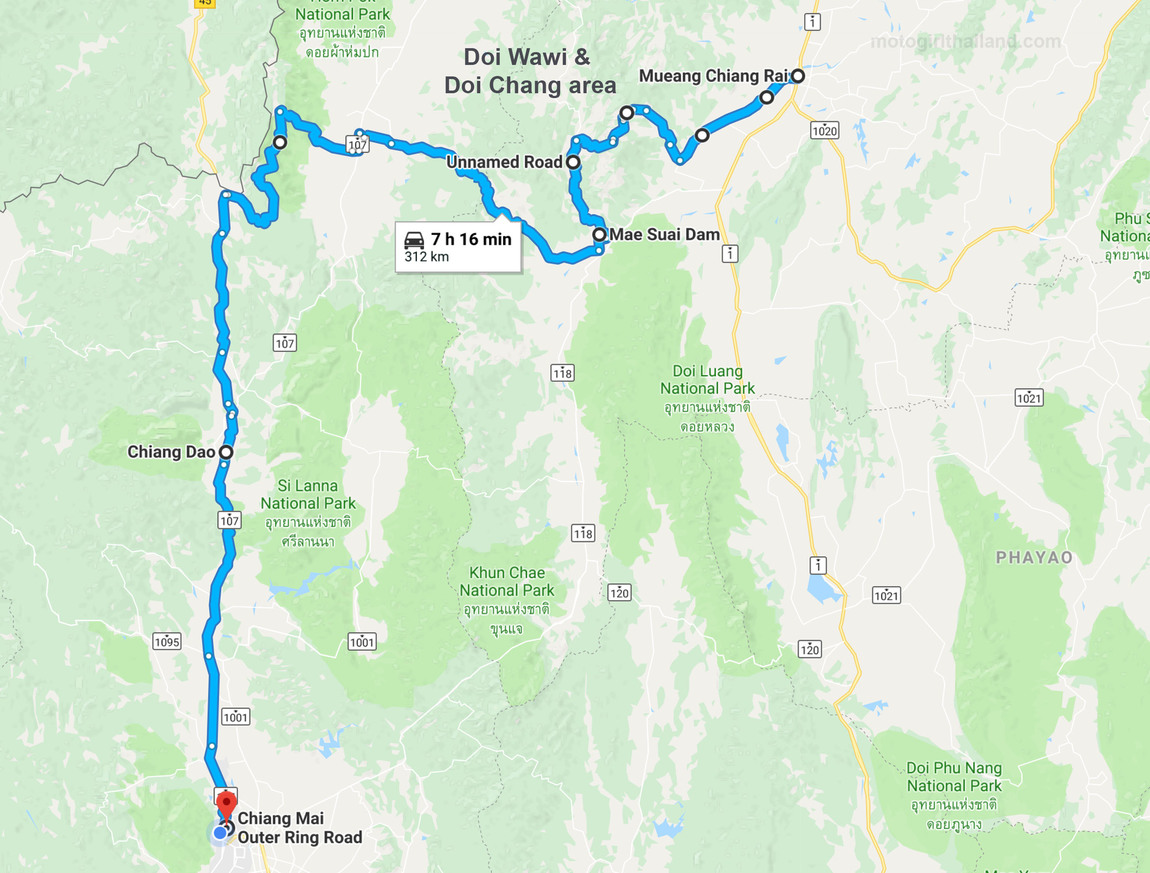 At around 11:30 am I left Chiang Rai and headed towards
Doi Wawi
. A quick stop in at Singha Park and then on to the scenic routes and b roads.
I soon found myself in some chilly and misty mountain areas, which also included the mountain ranges of Doi Chang. These regions are famous for coffee plantations. There was even some leftover Sakura/Cherry blossoms. Breathtakingly scenic!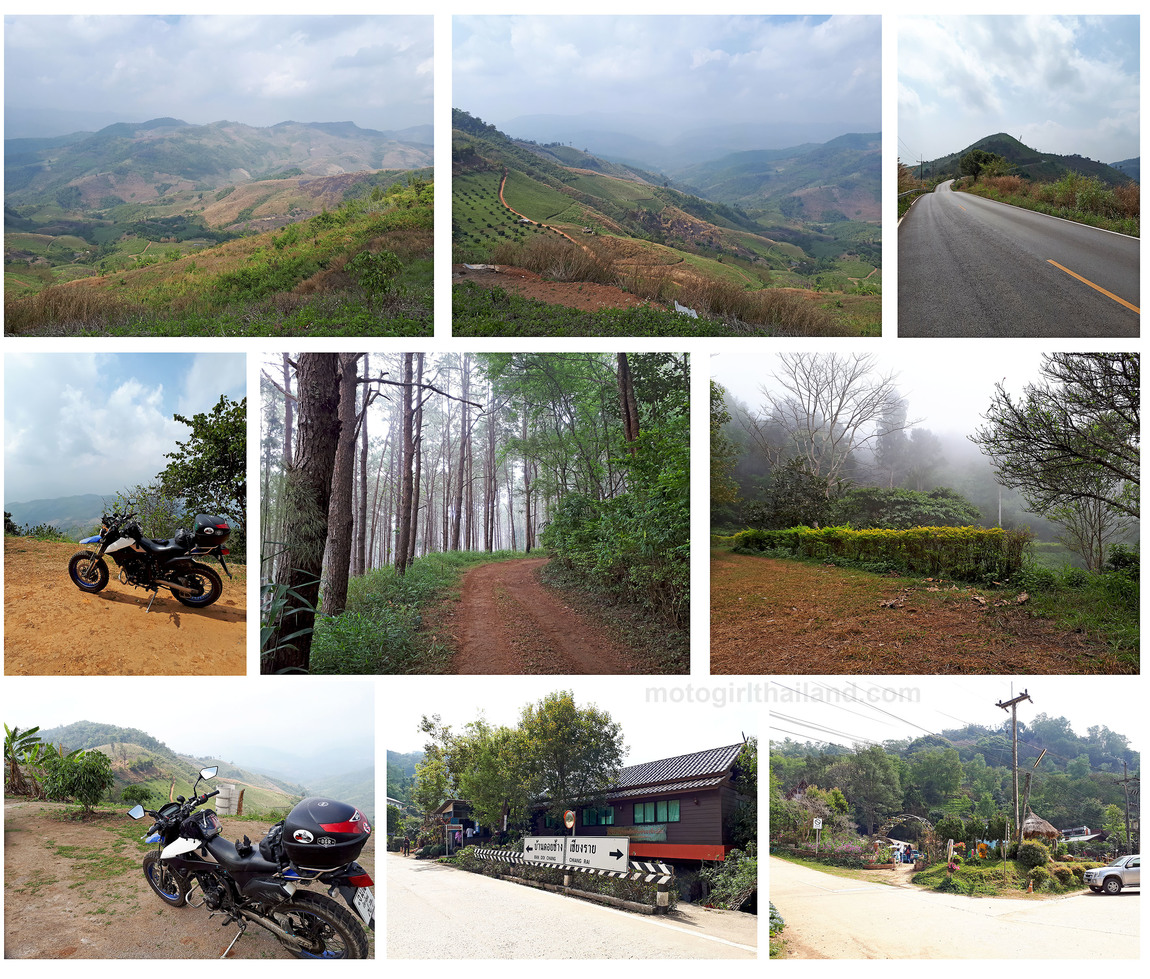 Got myself a bit of a giggle too, crossing over
Ang Kep Nam Huai San reservoir
.
Video here
(the forum doesnt let me embed instagram videos)
:
ZedCM on Instagram: "Fun! Crossing over Ang Kep Nam Huai San reservoir. . . . #zedcm #reservoir #river #rivercrossing #motorcycle #thailand #angkepnamhuaisan"
I then took the twisty 109 and cut through the mountain over to the 107 which leads to Chiang Dao.
Spotted these guys on the 109 when I stopped to take a photo/
Video here:
ZedCM on Instagram: "Spotted on the R109 yesterday. Stopped to take a photo and heard the sound of bikes approaching, so started to video. . . . #zedcm…"
My last stop was at
Chiang Dao Nest 2
for a bite to eat and a cool drink.
(The kitchen was officially closed but they kindly knocked me up something)
After that was a straight ride back to Chiang Mai.
Absolutely fantastic ride
A few other images from the trip: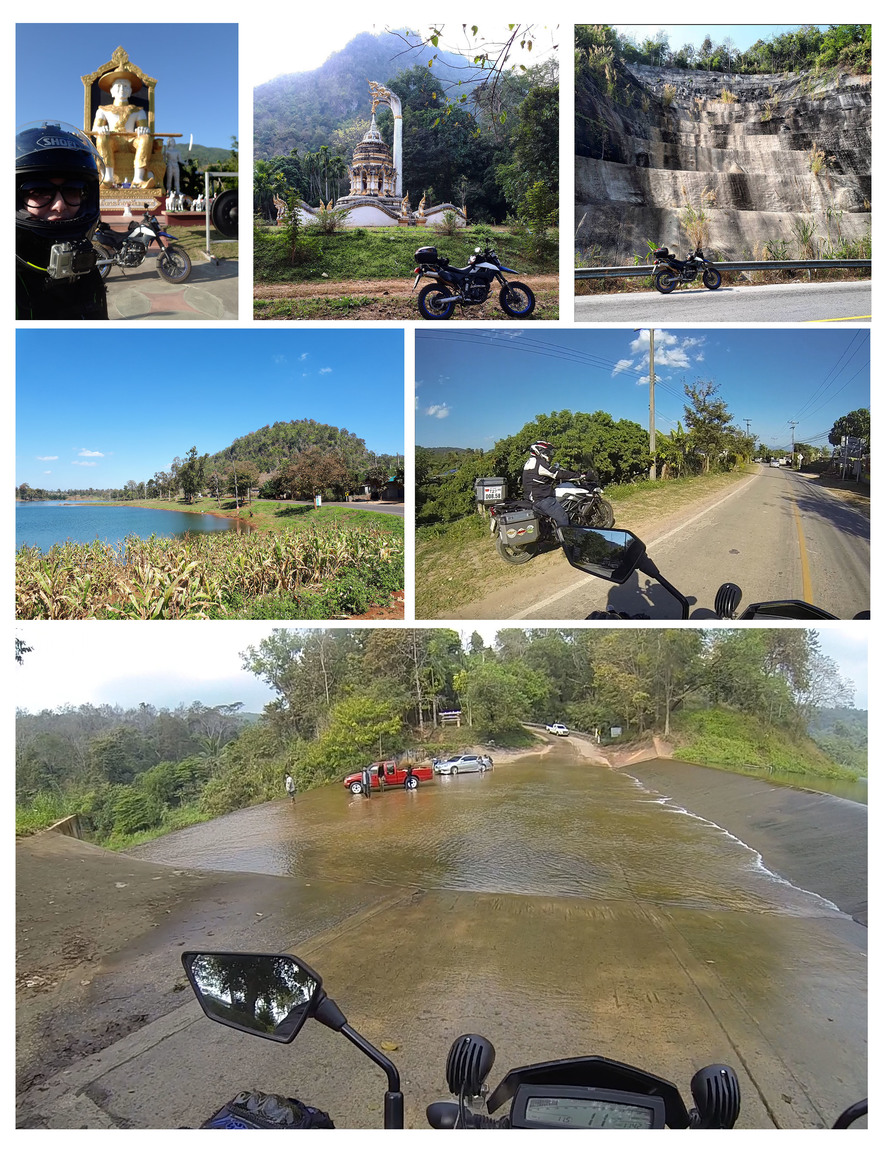 Hope you enjoyed this trip report.
If you liked it, please subscribe to my pages!
www.motogirlthailand.com
Zed CM
Zed CM
ZedCM (@motogirlthailand) • Instagram photos and videos
Thanks for reading.