This could be read as an extension of "BJtravel's" excellent recent report as unbeknown to us, we were following in his wheel tracks for a lot of the trip.
Date: 1 – 3 June 2009
Riders:
John (Rhodie) – Triumph Scrambler
Dave (Silverhawk) – Suzuki DR650
Jeff (Pikey) - Triumph Bonneville
David Learmonth & Fon – Triumph T100 Bonneville (one day)
Weather: Hot, humid, overcast but only a few light sprinkles of rain throughout the trip.
Photo credits: Dave & John as I forgot my camera and anyway, they are much better than me. ;-)
I had to do my 90 day visa run to Mae Sai and as myself and Rhodie had discussed this trip before, he timed a visit to CNX to coincide with my visa run. Silverhawk was also recruited and the 3 amigos were off. Well, not exactly, as I chose to ride up Monday afternoon to Chiang Rai and then onto Mae Sai to get my visa stamp then so as I did not delay Rhodie & Silverhawk in the morning. Unfortunately, due to delays in CNX which saw me leaving about 1:30pm, I calculated it would be a rush job at Mae Sai/Tachilek and I wanted some time at the market to pickup DVDs e.t.c as gifts for my imminent UK trip. So, I arrived around 4pm at Orchids GH in Jed Yod Rd and waited for the other 2.
Orchids was recommended a year or so ago by Beddhist and I've stayed there 3 times now – friendly staff, clean rooms with bike parking right outside and a night time security guard all for 350THB. (
www.orchidsguesthouse.com
) We hooked up later and keeping in the same area (near the Wiang Come Hotel) headed up Jed Yod Rd towards the new clocktower where there is a Mexican resto on the right that does a pretty decent feed at a reasonable price. Don't remember the name, but it's about half a dozen shops before the clocktower junction on the right. Recommended.
So, next day we hooked up with another Triumph owner, David and his wife Fon at Mae Sai, I do a quick visa and DVD purchasing run and we set of on the trip proper. The plan was loose but basically involved hugging the Thai/Burmese border as much as possible, calling in at Thoed Thai, Doi Mae Salong & an overnight at Thaton.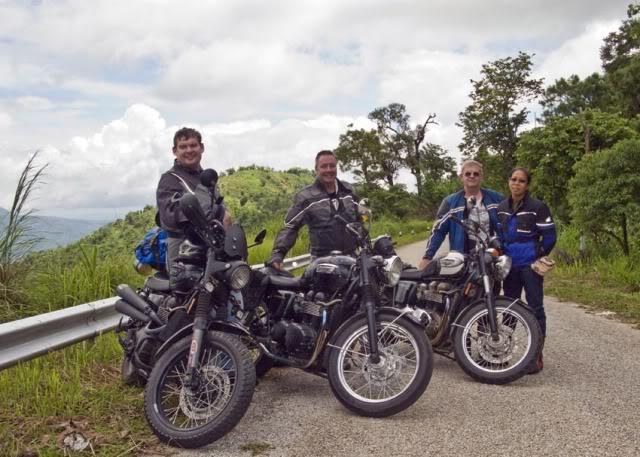 On the 1149 between Mae Sai & Pa Mi checkpoint.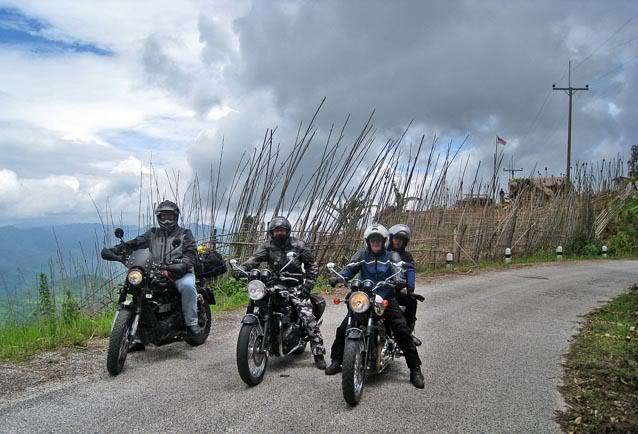 Note Burmese Army post in the background.
The roads were pretty steep and some cut up with potholes in places, particularly the last stretch to Thoed Thai which included the tightest set of hairpins I have ever ridden on.
After a lunchstop in Thoed Thai and an inspection of Khun Sa's camp (sorry, no pics), we cracked on to Doi Mae Salong where we stopped at a beaut coffee shop called "Sweet Mae Salong". It's on the left coming into town from the Mae Chan end and apart from it's very welcoming Thai owners and good coffee, the place features outside decking cantilevered into the hill and offering spectacular views. I've got the GPS refs at home and will update with them at some point. Now there are just pics: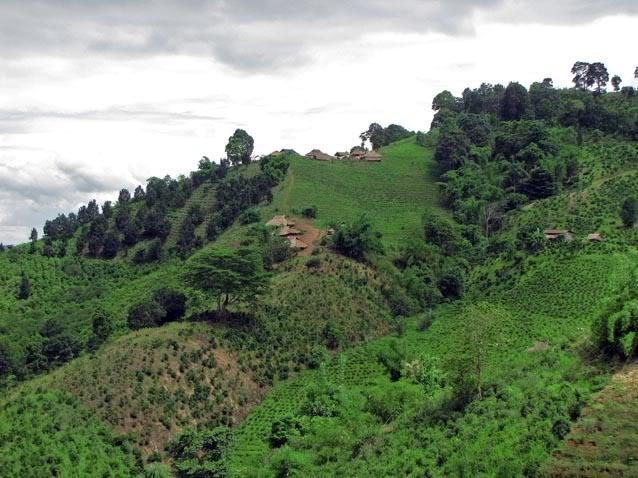 View from the decking at "Sweet Mae Salong" coffee shop.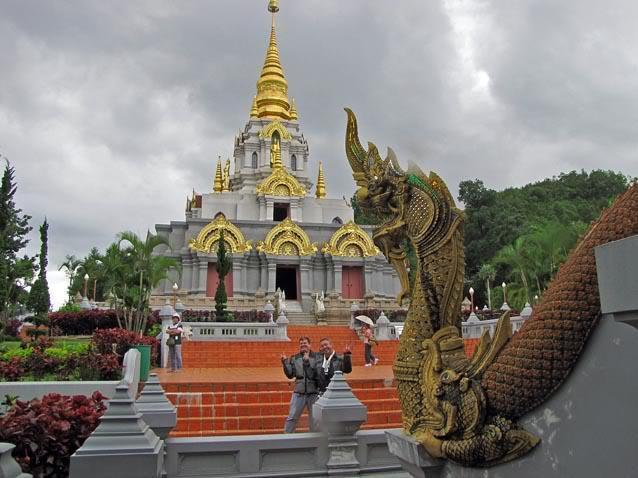 The shrine at DMS with myself & Rhodie taking the piss because all Asians seem to give the "victory V" sign when being photoed. When in Rome……..
Panoramic view of DMS from the shrine.
Doi Mae Salong saw us saying goodbye to David & Fon as they had to get back to their home near Mae Chan to take care of their piggies, so myself, Dave & John left DMS and headed for our overnight in Thaton. We hit a little rain coming down to the checkpoint from DMS but then the 1089 from there to Thaton was a ripper ride as usual.
After a fruitless search for reasonably priced riverside accommodation in Thaton, John called in on the very upmarket looking "Chalet" where he had stayed before. Pleading poverty on behalf of his fellow riders, he managed to negotiate a substantial discount and we plotted up there for the night. Thaton in low season (particularly this one!) is so quiet you can hear a pin drop and we ended up eating riverside at the Chankasem and it was not half bad. A few beers at Kwans resto/GH and an early night.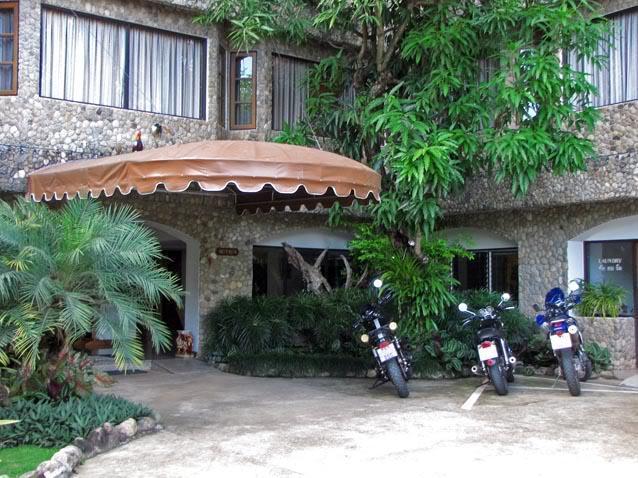 Wednesday dawned clear and warm and after a visit up to the second temple on the hill (I think), we took the first right out of Thaton and headed up the road to Pang Ton Kong and Pang San Khrua, passing a couple of army checkpoints along the way before looping back onto the 1089 south of Mae Ai via Doi Laem.
The "3 Amigos" on the Doi Laem loop.
A quick sprint south down the 1089 then onto the Fang bypass. After a few KM, hook a right at a crossroads towards the village of Wieng Wai and the temple there. Follow the road past Nong Tao and the checkpoint before the highlight of the trip for me – ascending the "road" to Nor Lae.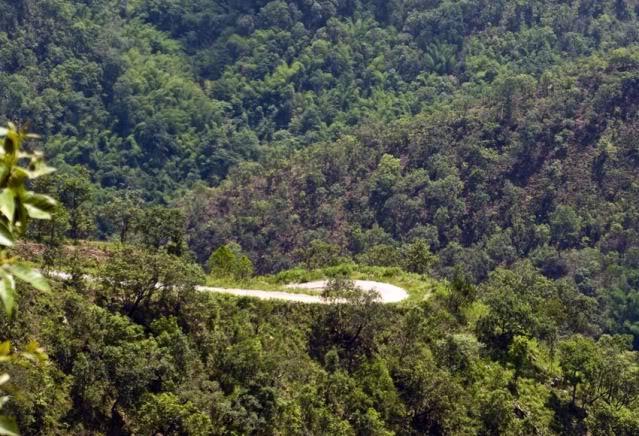 This is a spectacularly steep and cut up road leading up to the tactically important village of Nor Lae which sits on the ridgeline that forms the border between Thai & Burma. Here there is a Thai Army camp which monitors the 3 Burmese Army camps.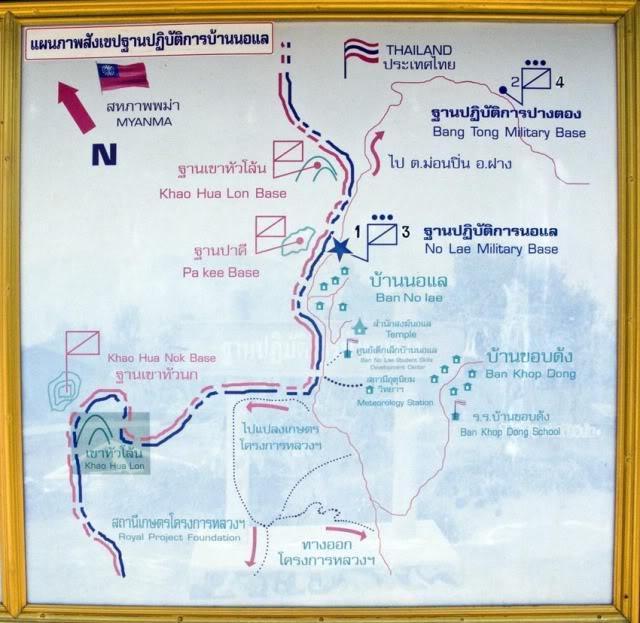 Pic of the Thai Army map at Nor Lae camp
Anyway, the road to Nor Lae has definitely seen better days and Dave said it was the most cut up he had seen in during his trips up here. One steep corner looked a bit tricky and as I was on my Bonnie shod with road tyres, thought it prudent to "walk the course" first to plot a line of least resistance (i.e. no big rocks!)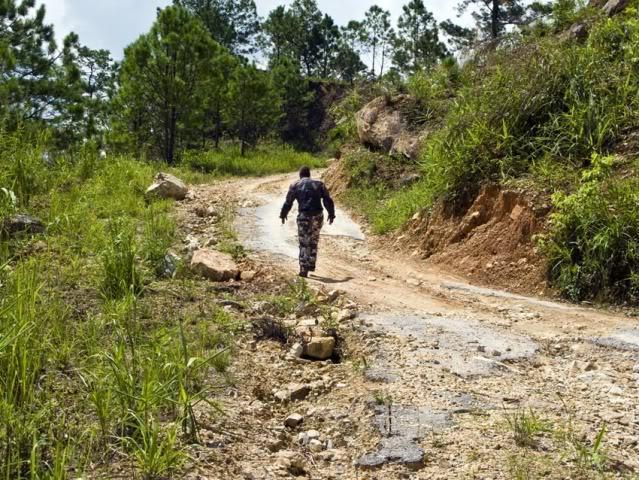 OK, route plotted and I'm the first to go because a) the other guys both have cameras to catch any potential f*ckups, and b) if I do screw up, they can help push me!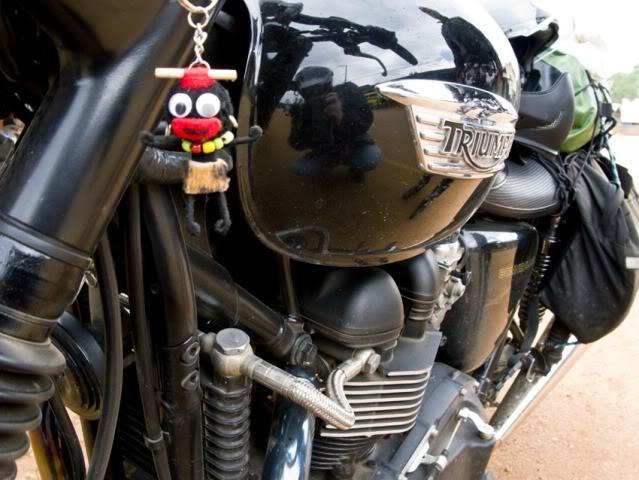 This is my mascot/good luck charm – "The Flying N*gg*r", named as when the key is in the ignition on the fork leg, she "flies" in the windstream. The name is not very PC but she works a charm!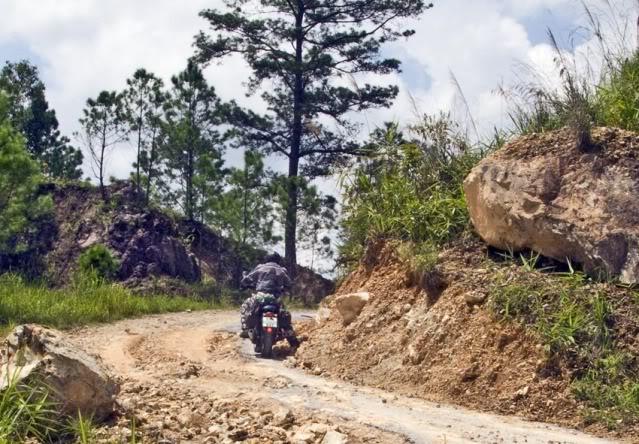 A couple of dabs and a bit of wheelspin but no real probs.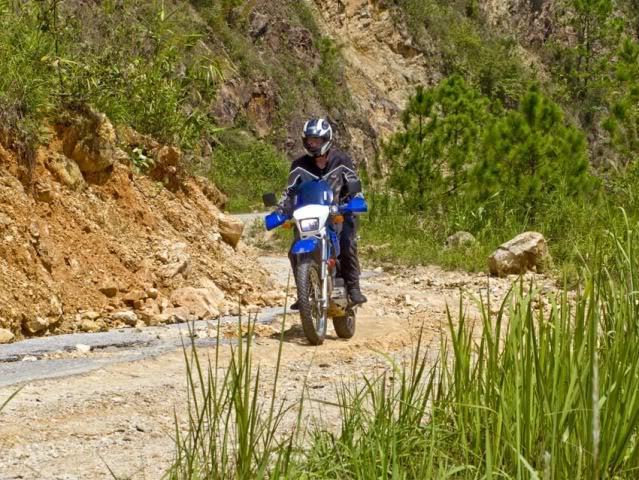 Dave "wafting" up the hill on his DR650.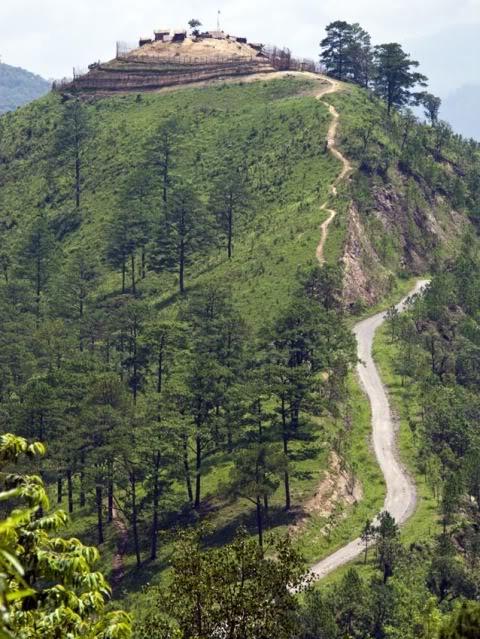 A couple of KMs further saw us in Nor Lae looking back at one of the Burmese camps – Khao Hua Lon.
The Thai guys were pretty nonchalant and let us wander freely about the camp. Not so sure what they would have said if they saw us messing about in the gun pit with the .50 caliber pointed at Burma though!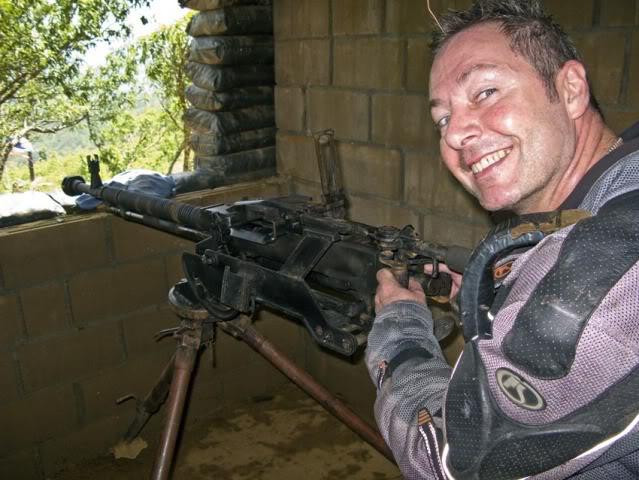 Me, being the youngest and stupidest, was commandeered by the pro photographer Rhodie to make a fool of myself clambering down into waterlogged foxholes
Dave didn't get off scott-free though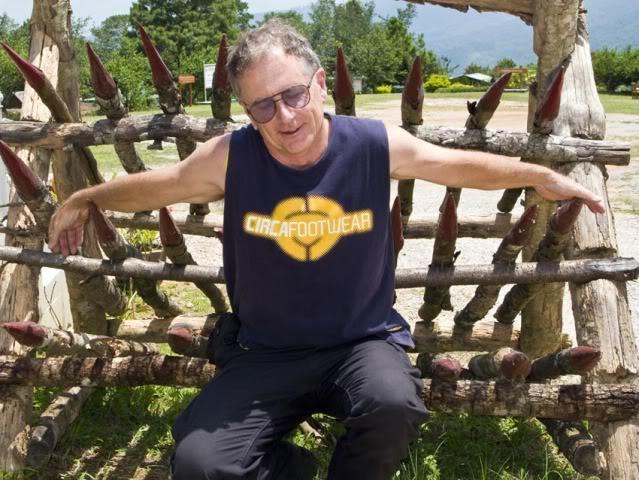 After the Army cap it was a beaut run "the back way" through to Doi Ang Khang passing Royal botanical projects and more spectacular N.Thai scenery. An early lunch was taken at DAK then pushing south on the 1340 to Arunothai before turning west and heading over to Wiang Heng via the 1178 to Lin Luang. I was unsure whether to include this part as John & Dave had told me it involved 25km of offroad jungle trail and the skies were looking ominous. However, I'm glad I did as it was great fun blatting the Bonnie along the deserted trails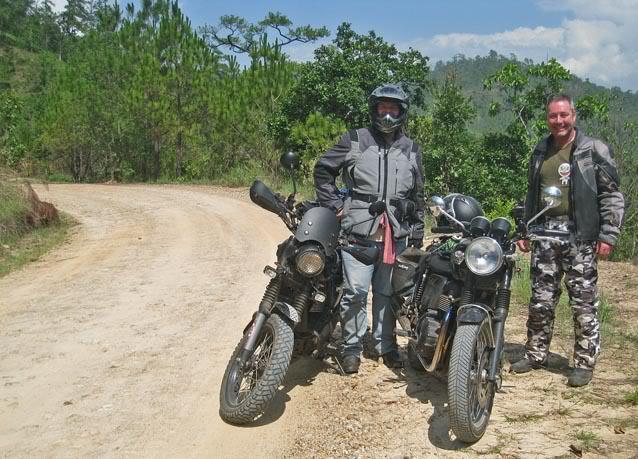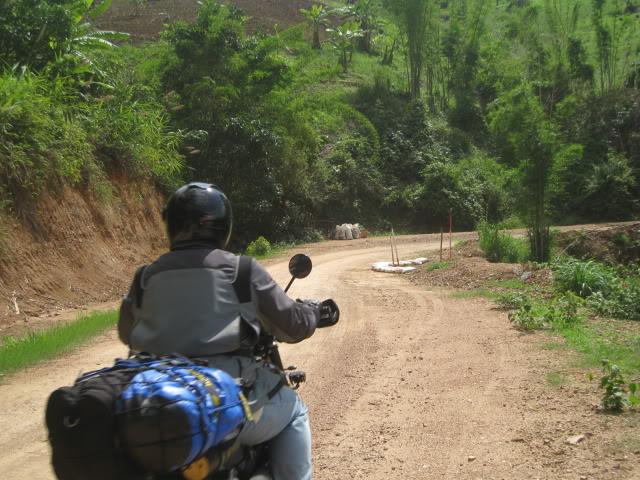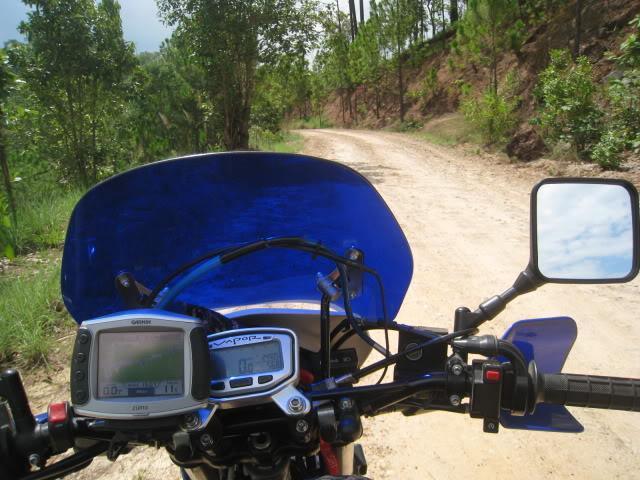 A refuel and drink stop at Wiang Heng before taking the magical 1322 to the 1178 and finally the 107 back to town via Chiang Dao. Thaks to Dave, John, David & Fon for providing excellent company throughout the trip and thanks to Buddha for not letting it rain on us!
Total trip about 750km and highly recommended as a 3 day/2night outing.
Cheers,
Pikey.