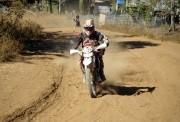 Mar 30, 2010
2,141
278
83
Great Sunday riding with the Sriracha Enduro Guys...
Met the guys on another trip exploring Khao Khiew and they invited me to ride with them on Sundays.
They are good and I need to get fit.. Boy was I knackered.
Here is a very short / compact video riding through the Jungle trail (The camera lies again, very steep, downhill and lots of rocks and tree roots, other obstacles... Will be back again and again for more of this..
You wouldn't find this trail with out local knowledge.
The Sriracha Enduro gang
Entering the Jungle Trail
Day turns to night.. well almost..
Feet in the air as we bounce over the rocks going down the mountain
End of the trail
The day wouldn't be complete with out dropping the bike