Administrator
Staff member
Jan 16, 2003
12,533
2,964
113
67
Alay border checkpoint to become international border

(KPL) Alay border checkpoint in Samuoy district of Saravane Province is now undergoing improvement to become an international border checkpoint by June this year.

Mr Bouaphengphet Phosay, Deputy Head of the Saravane Public Works and Transport Office briefed the progress of the improvements to Mr Bounkeut Sangsomsak, Deputy Minister of Foreign Affairs, during his inspect tour to the province.

According to Mr Bouaphengphet Phosay, a number of old buildings have been renovated in order to prepare for upgrades, while the new building is also under construction and expected to be complete by the mid-June.

On this occasion, Mr Bounkeut urged all provincial and district leaders to focus on constructing infrastructure in the border gate area as per the plan. He also asked the provincial level to work hard on overseeing the project, while the district authorities must build their own plan to attract tourists in order to generate income for local people. The opening of the Alay International border will allow Saravane to exchange other countries and will give foreign tourists the chance to visit the beautiful landscape and fine culture of Saravane Province, especially in Samuoy district.

Source:
& the road sings for Laylay, as it might be called.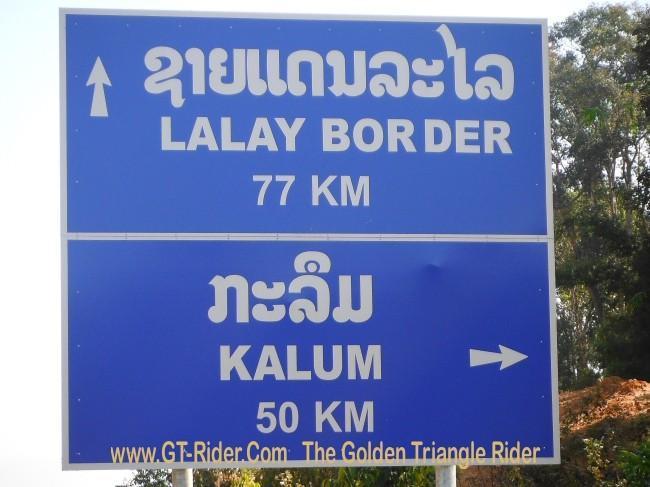 photo from Moto-Rex who was out that way recently.
Cheers Rex.