Dec 9, 2008
1,070
829
113
The Bangkok members of the Lanna Independent Classic Motorbike Endeavour got itchy throttle hands. It was time to meet up and make some classic bike engine music...
Prologue;...........
Someone had made up T-shirts;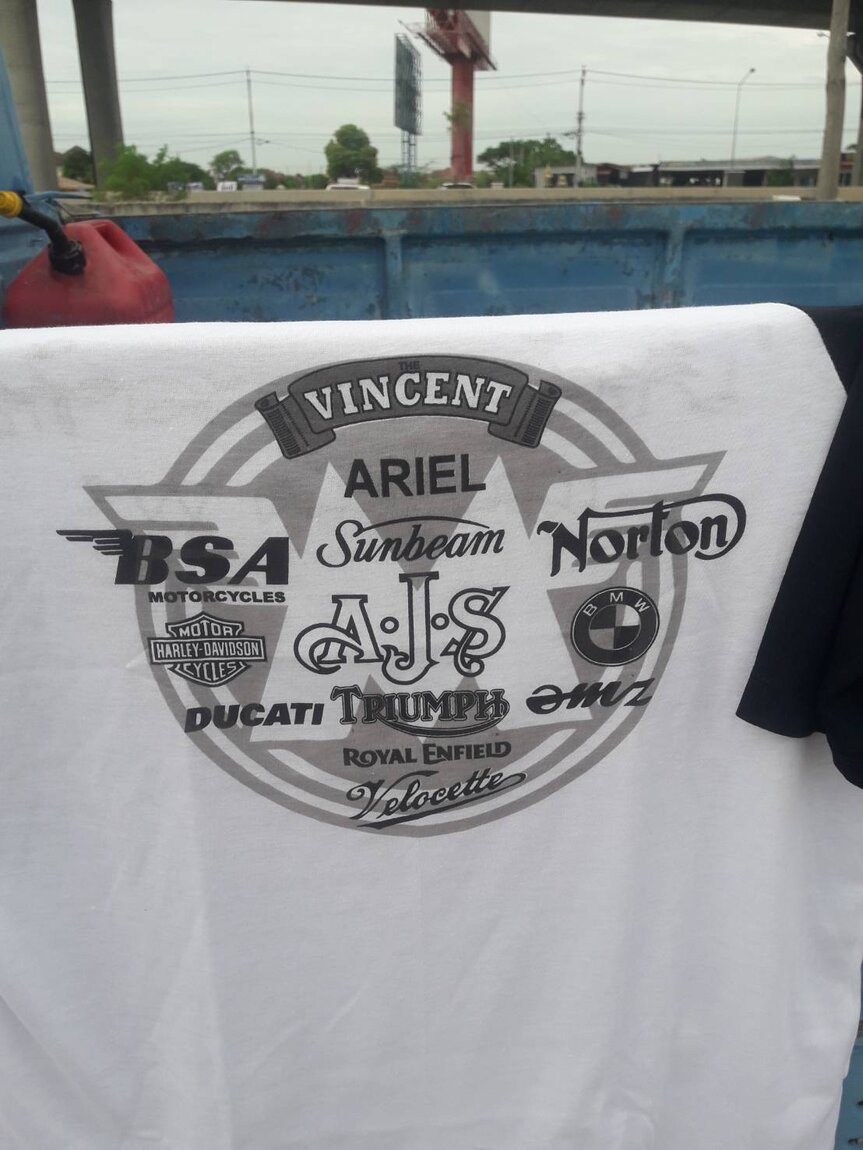 ''Gear right, brake left... So What!!''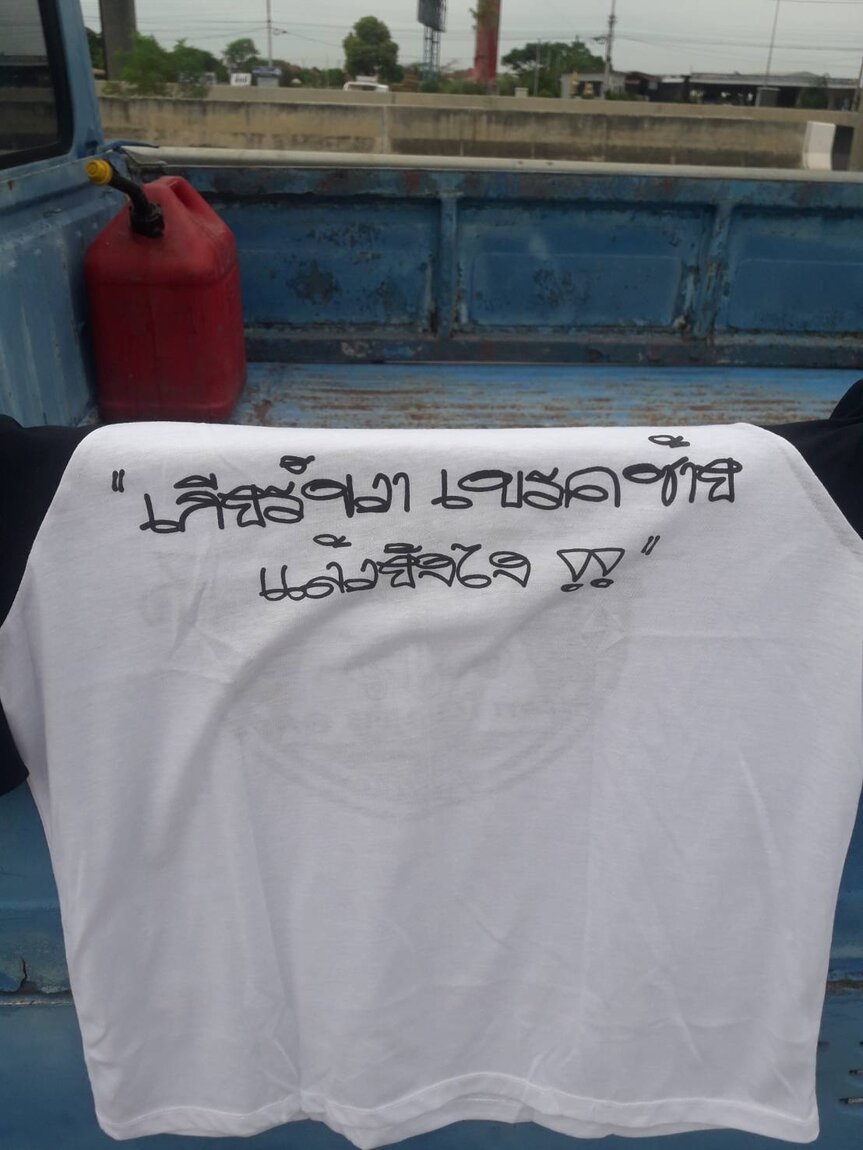 Khun Ming was all ready..
I was packed and ready too.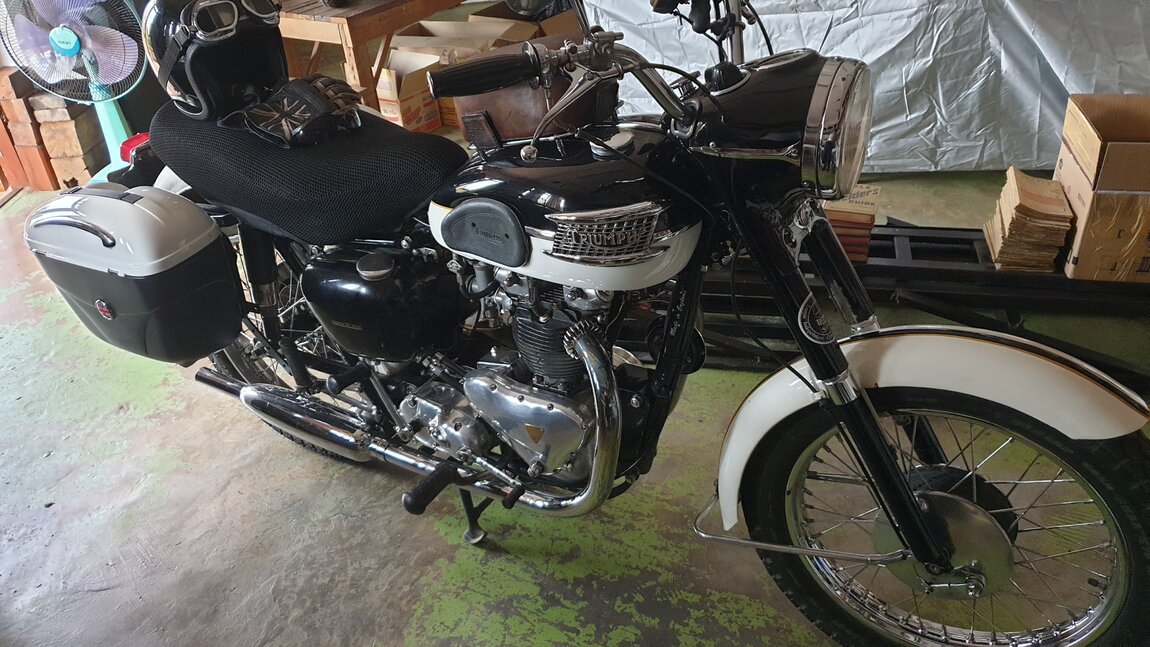 The guys left Bangkok around 03:00 a.m. They had a long long ride ahead on main roads.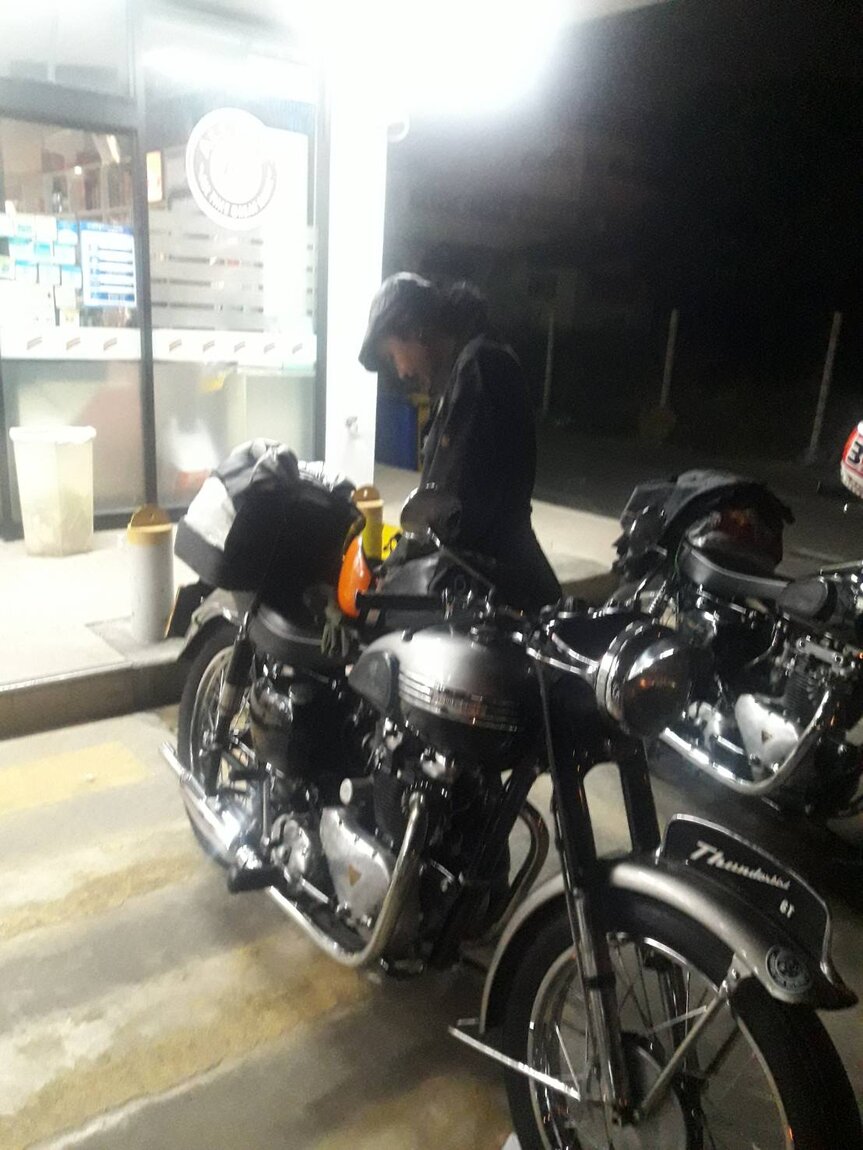 I left at about 06:30 a.m., as I didn't have too far to ride.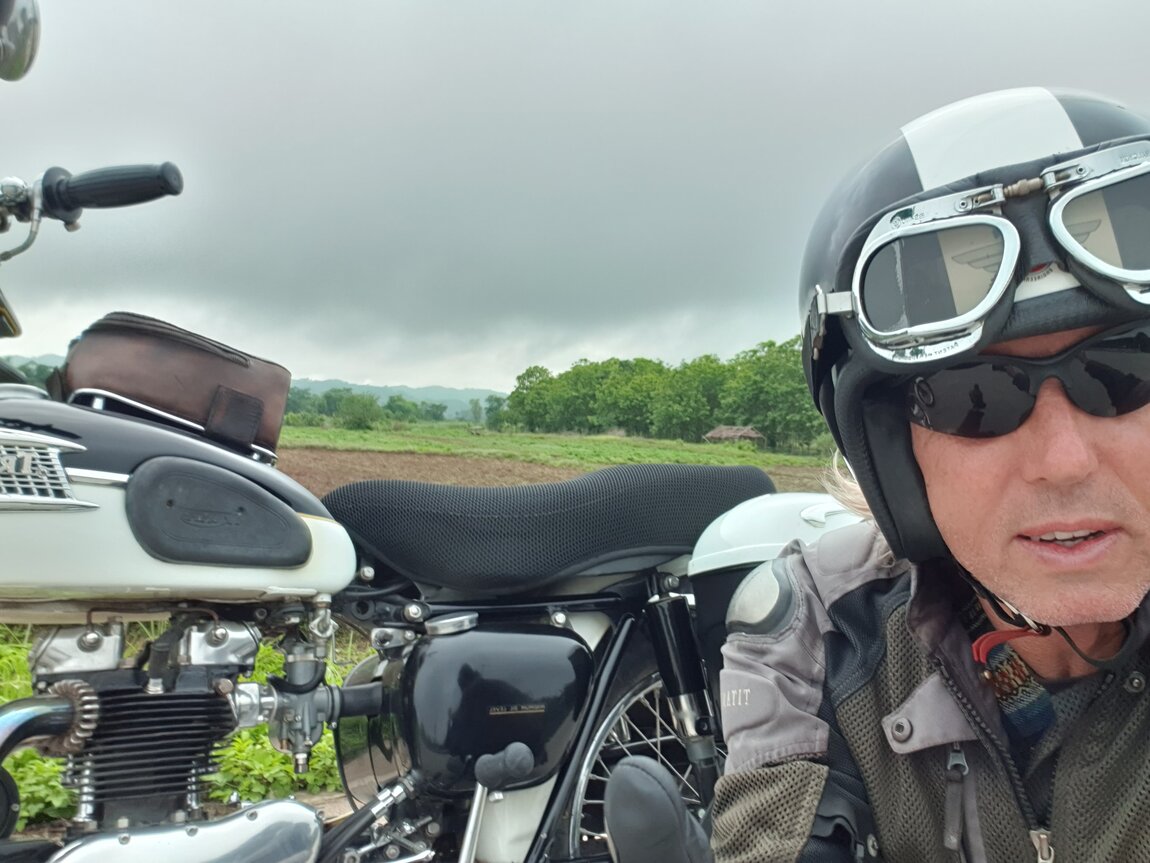 By mid morning, the BKK team were well north of the Big Mango, but already doing the first running repairs. Par for the course, if your want to ride ancient machines.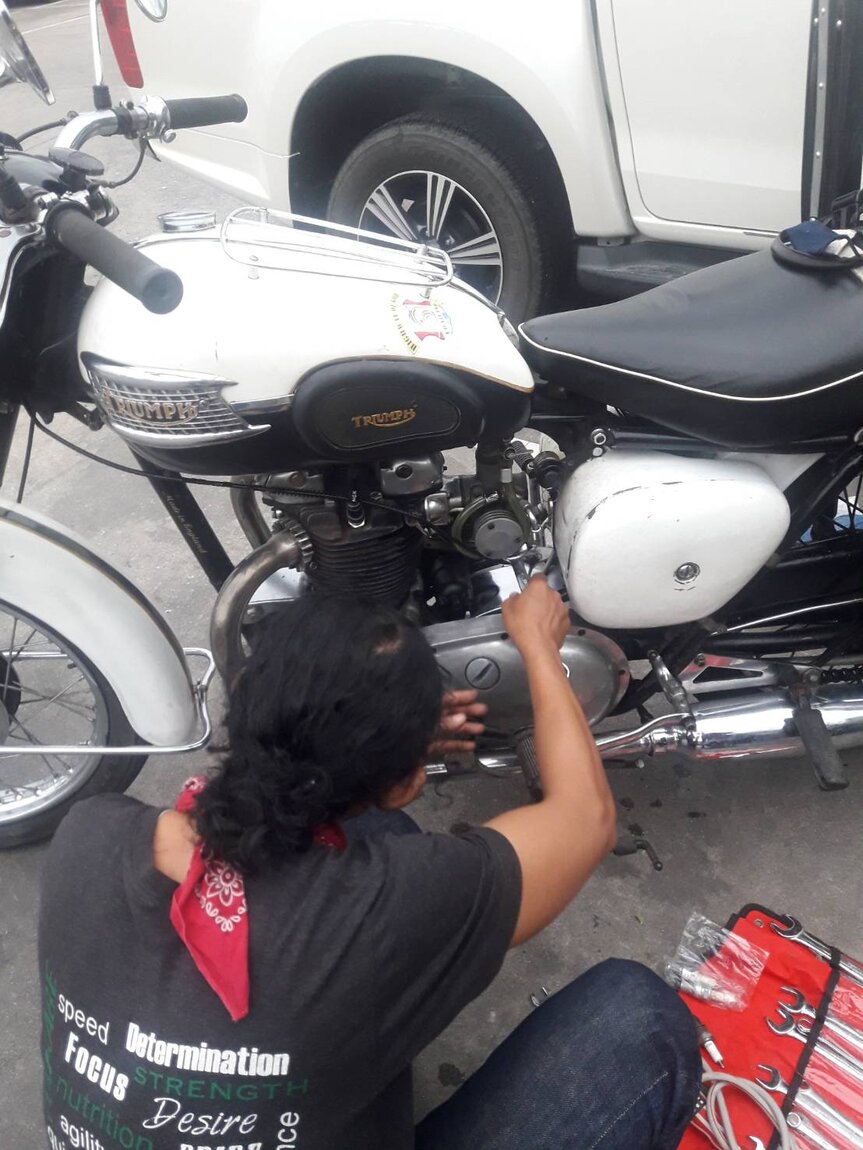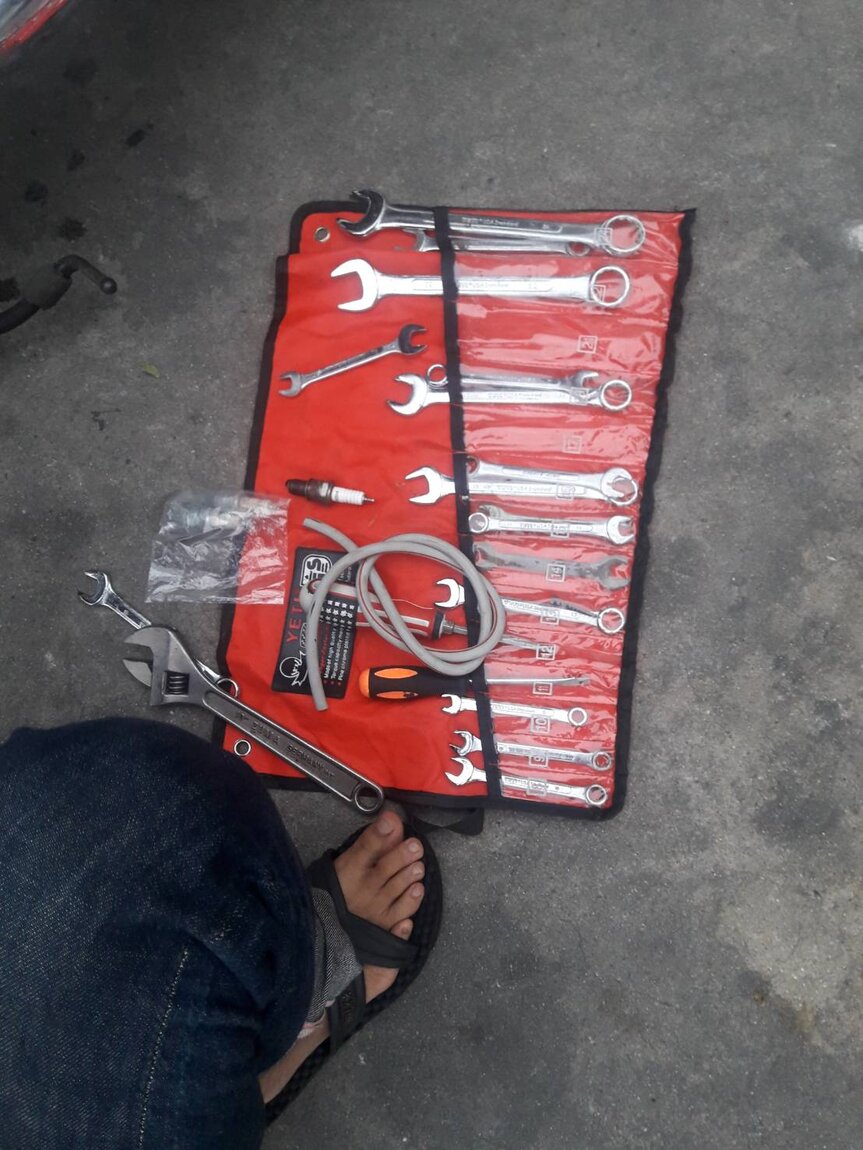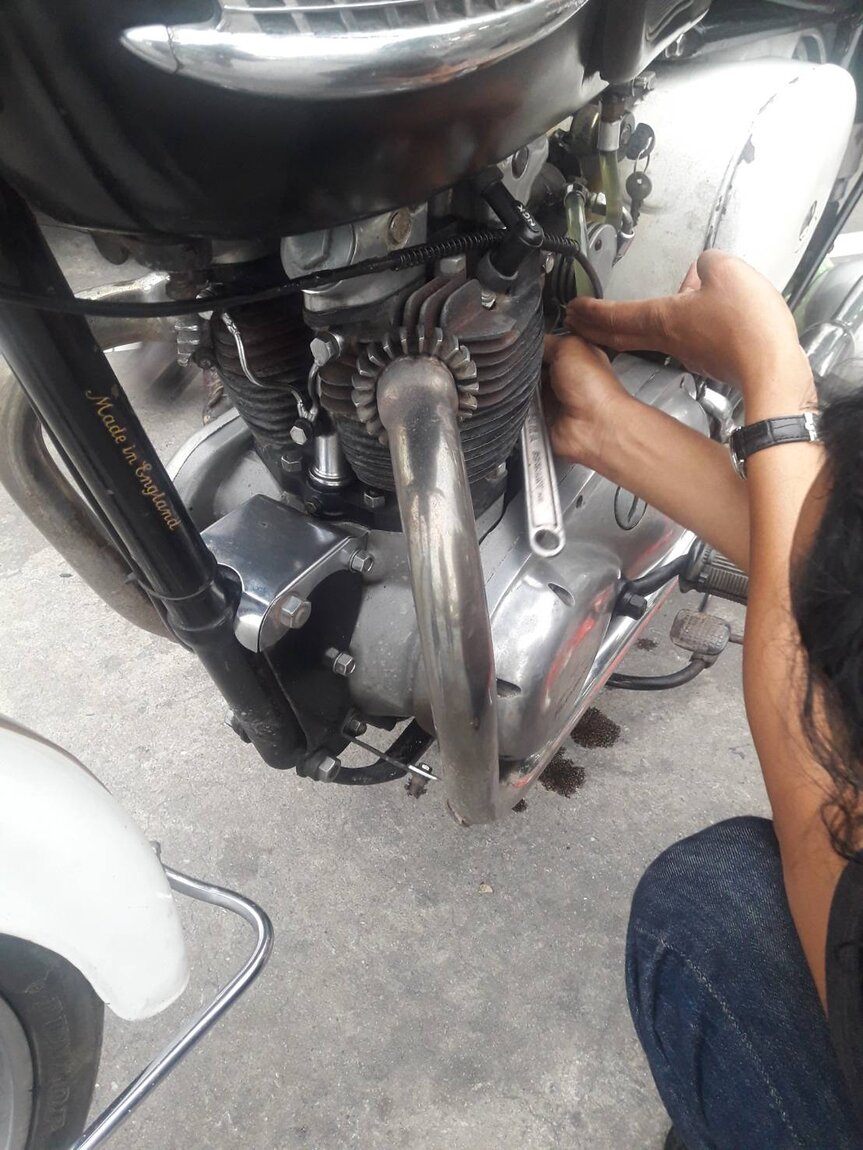 I met up with Nigel at Charin Garden Resort on 118.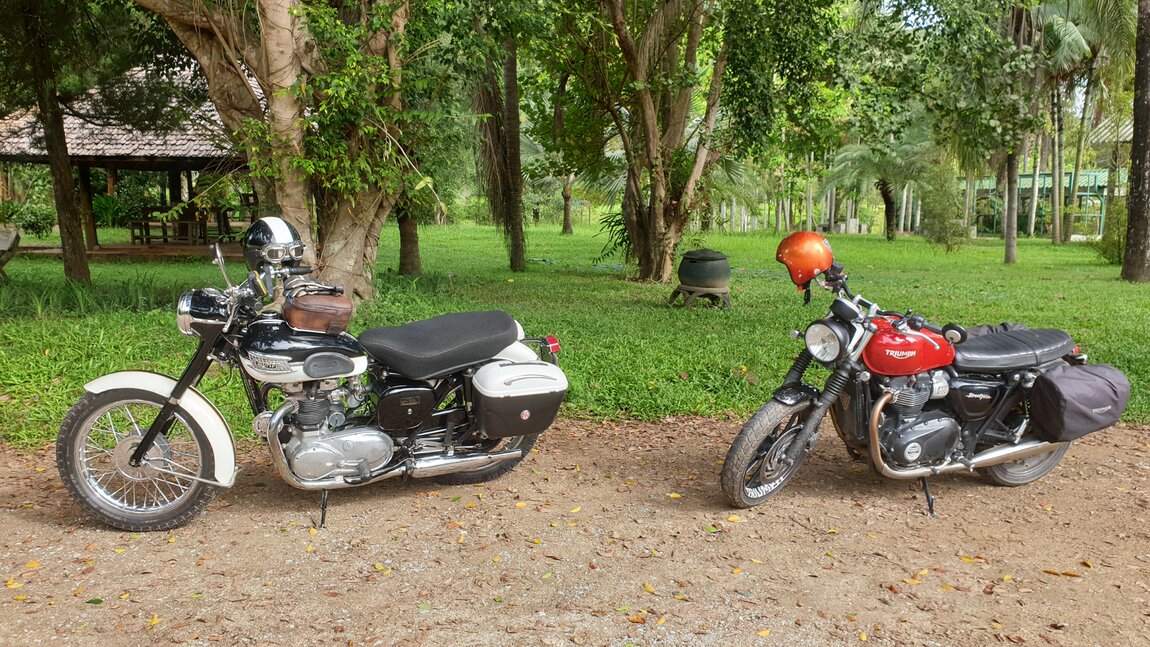 We rode down to Wiang Papao for a quick spa session at the Thung Thewee Hot Springs, recently re-opened.
Then rode the lovely 1150 through Phrao across to Chiang Dao.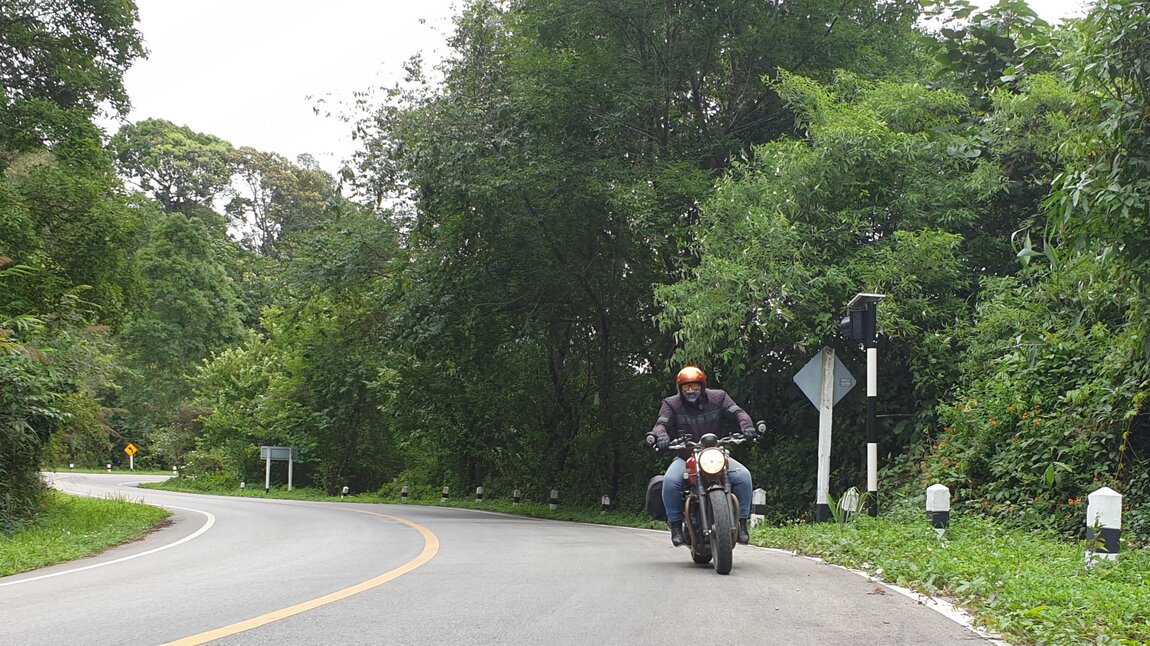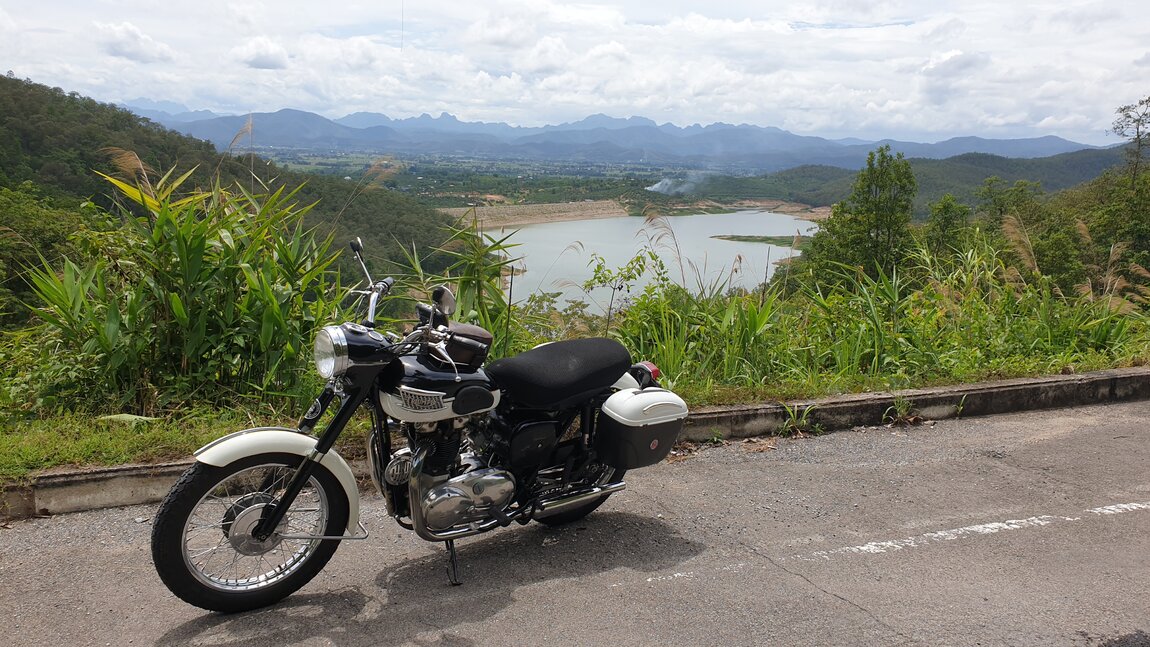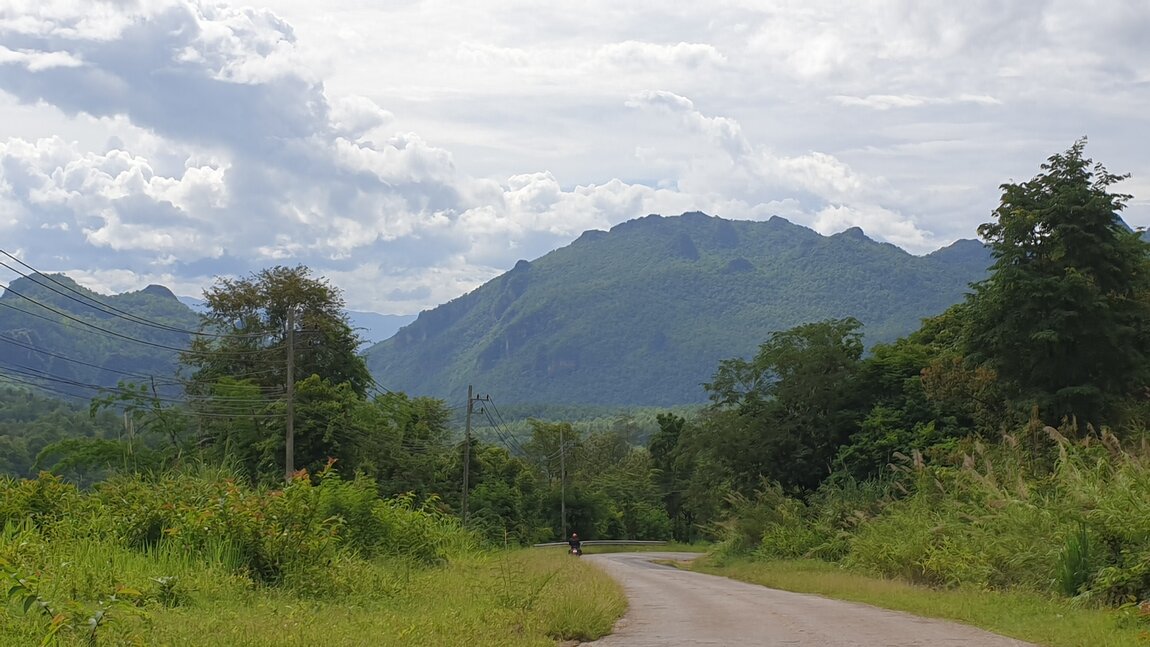 The Bangkok team had already hit rain.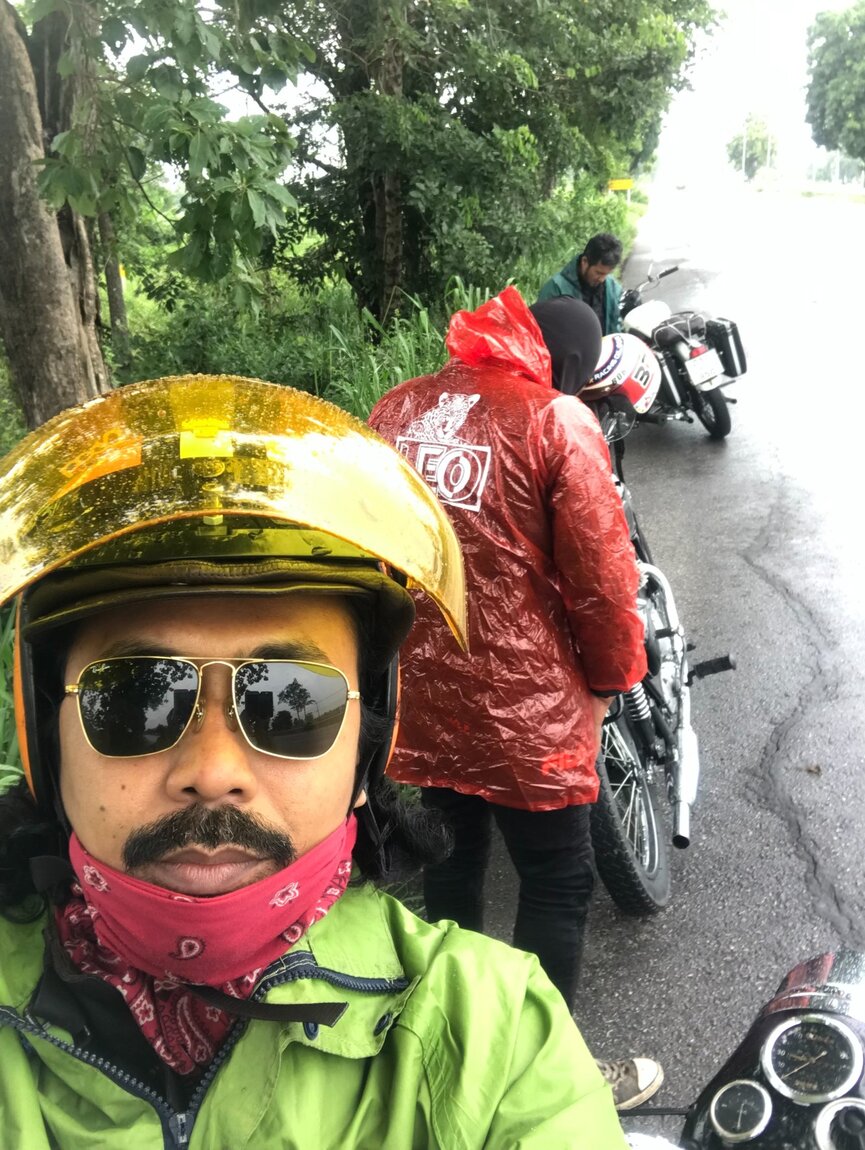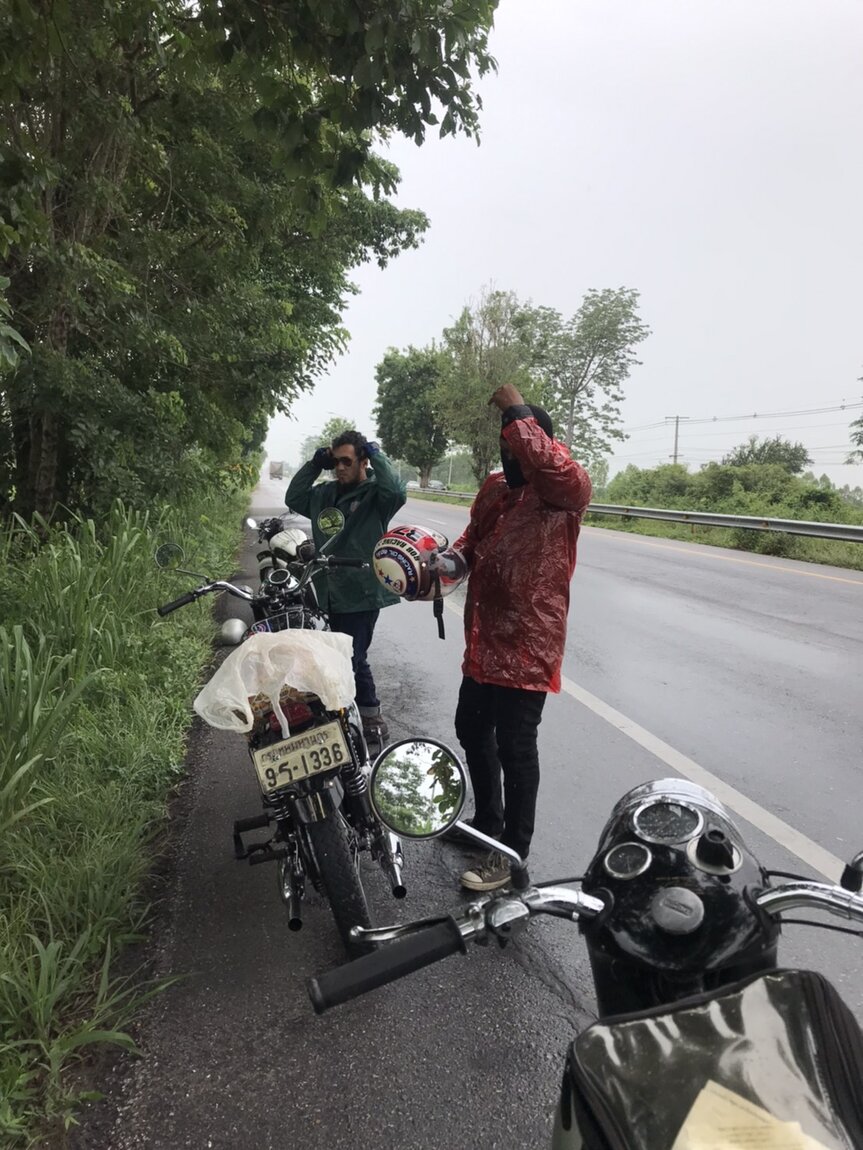 By mid afternoon, Nigel and I were in Chiang Dao.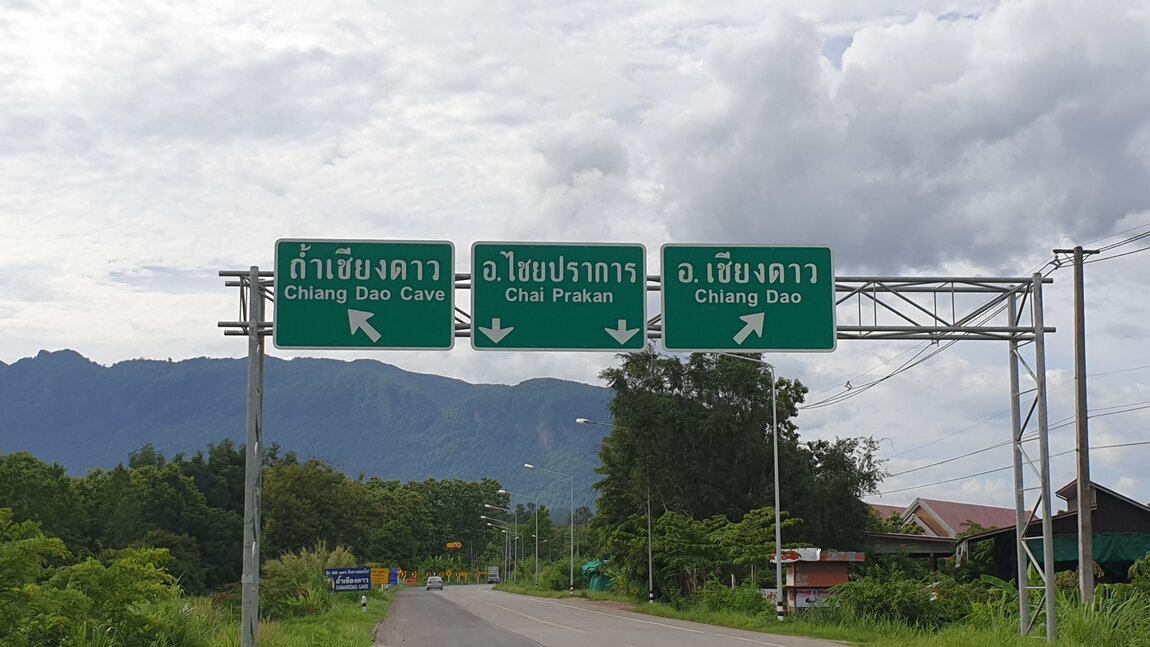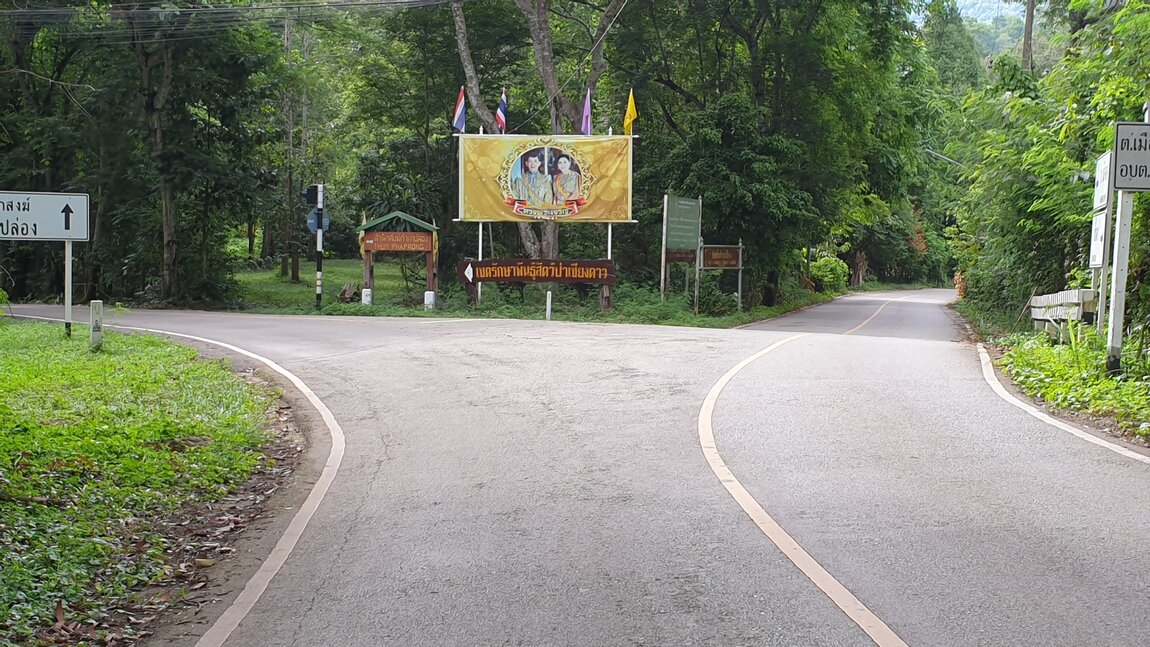 Malee's Nature Lover's Bungalows is a super place to stay and was to be the LICME rendezvous point with the Bangkok team.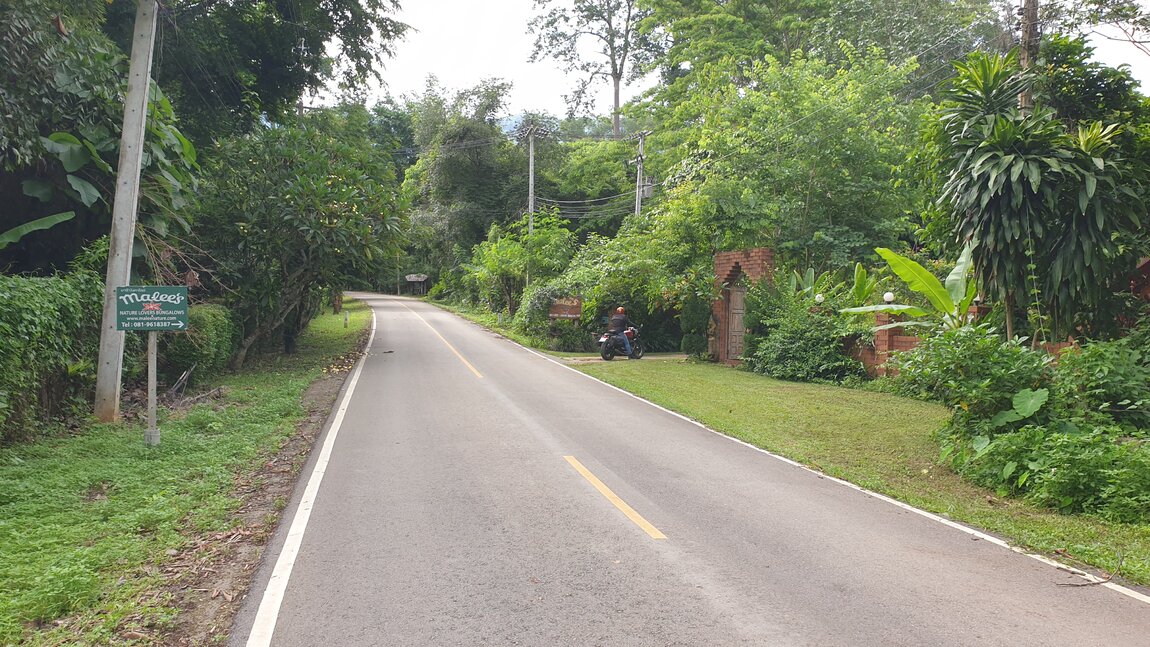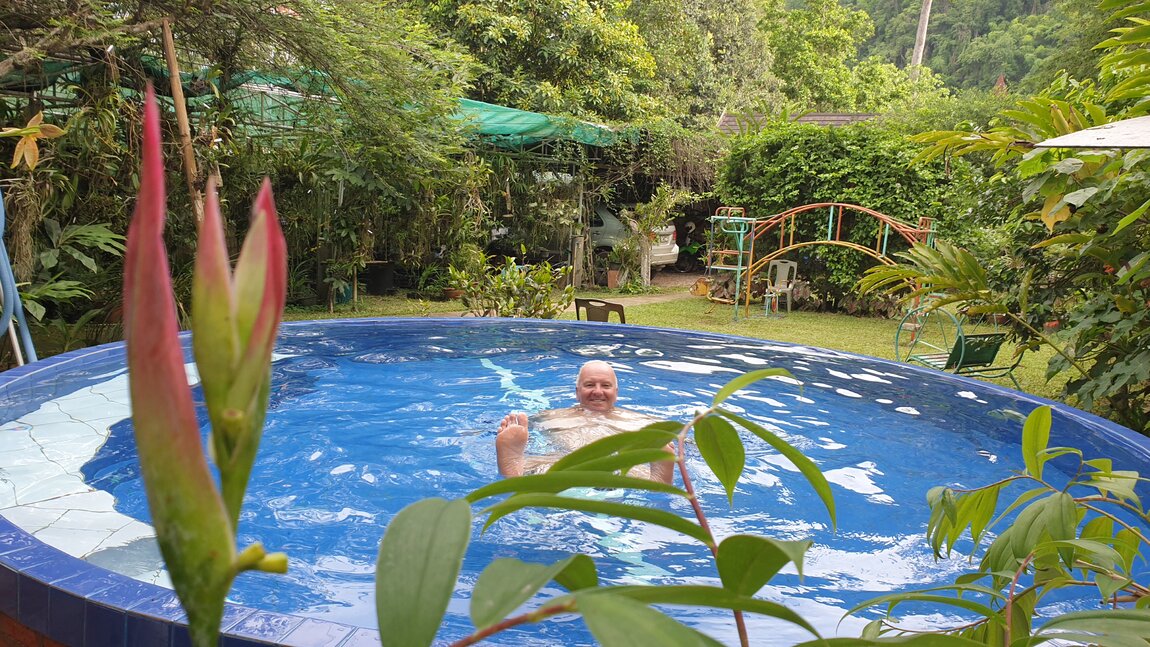 The obvious place to eat in Chiang Dao is Jern's burgers..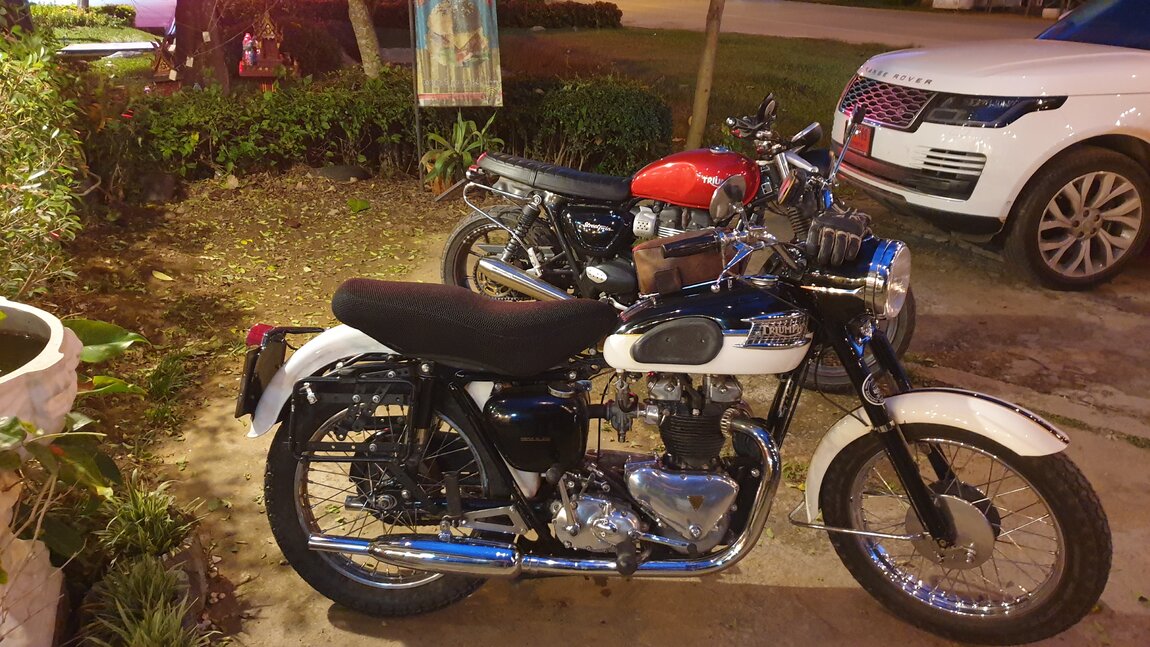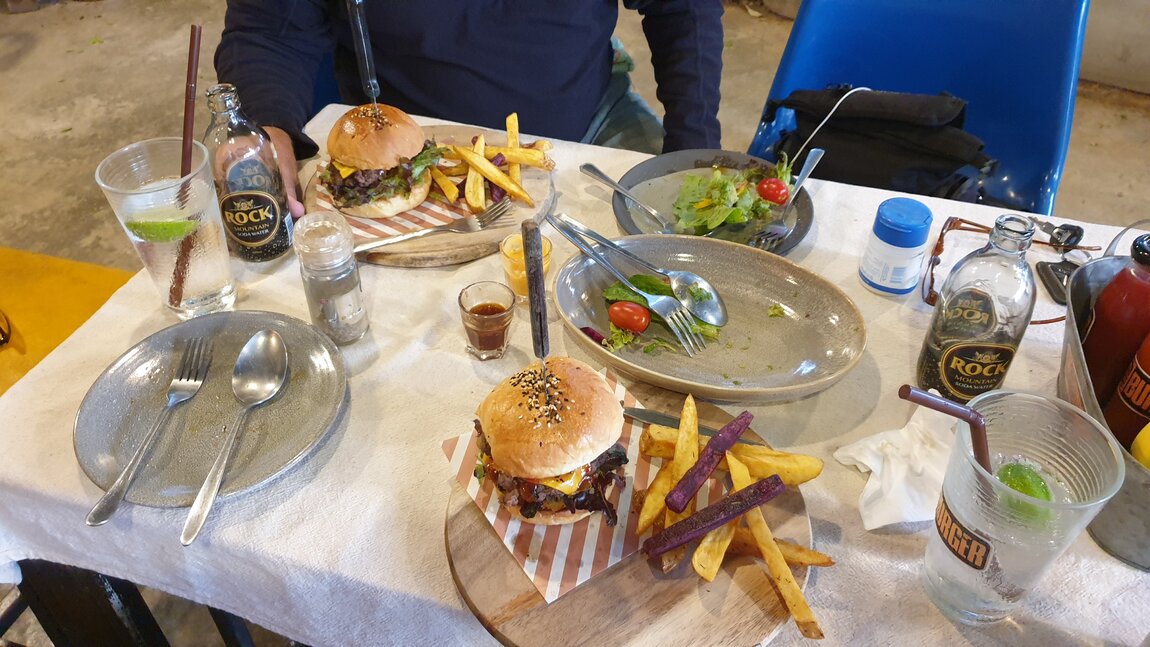 Meanwhile we got news that the other guys were having some issues, Khun Berm had grit in his eye. They planned to stop in Lampang.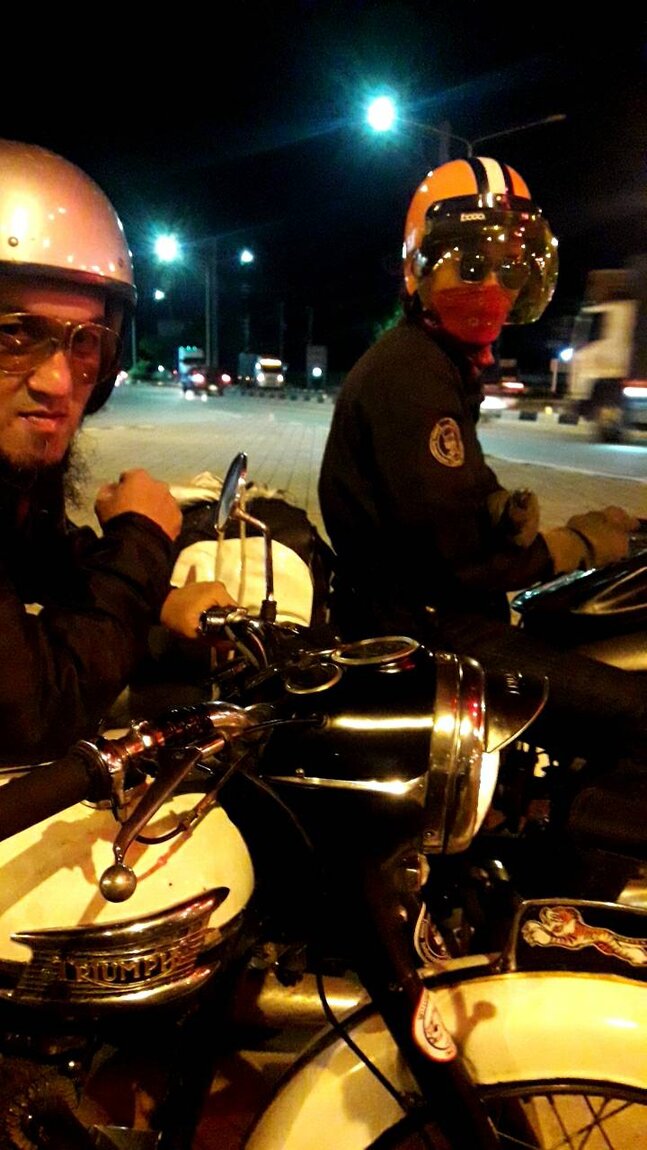 But later, they decided to ride on to Chiang Mai, arriving after 10.00 p.m and getting to bed around midnight.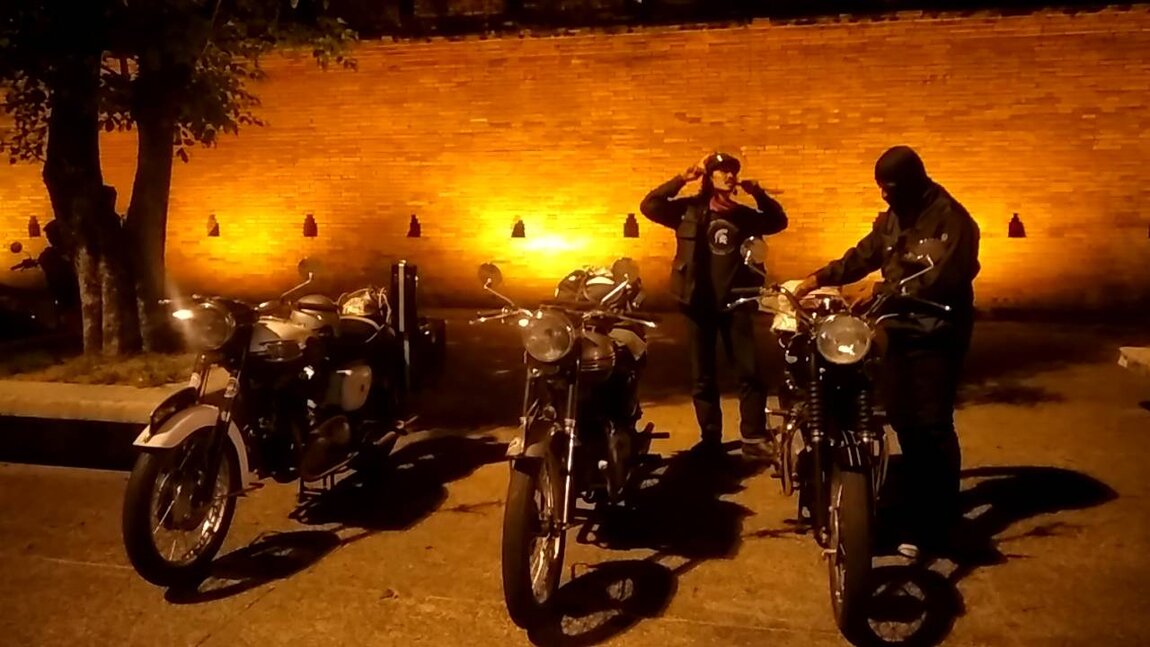 Riding Bangkok to Chiang Mai........ on 60 year old plus Triumph Thunderbirds,........ in one go......... is quite a feat. Well done those guys..!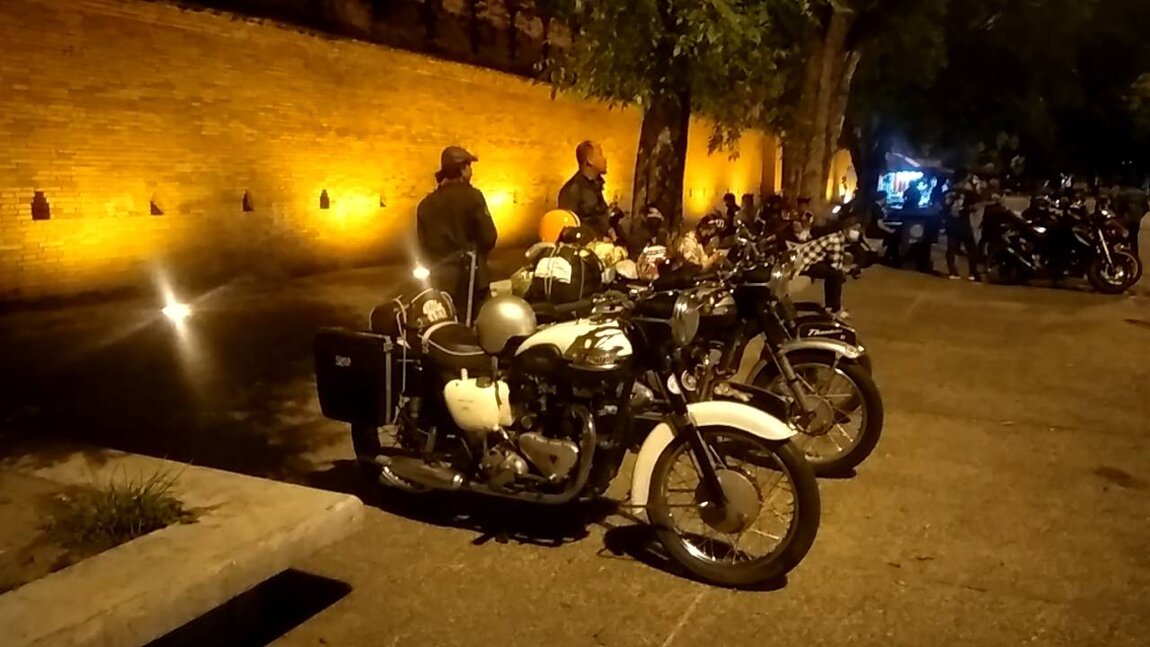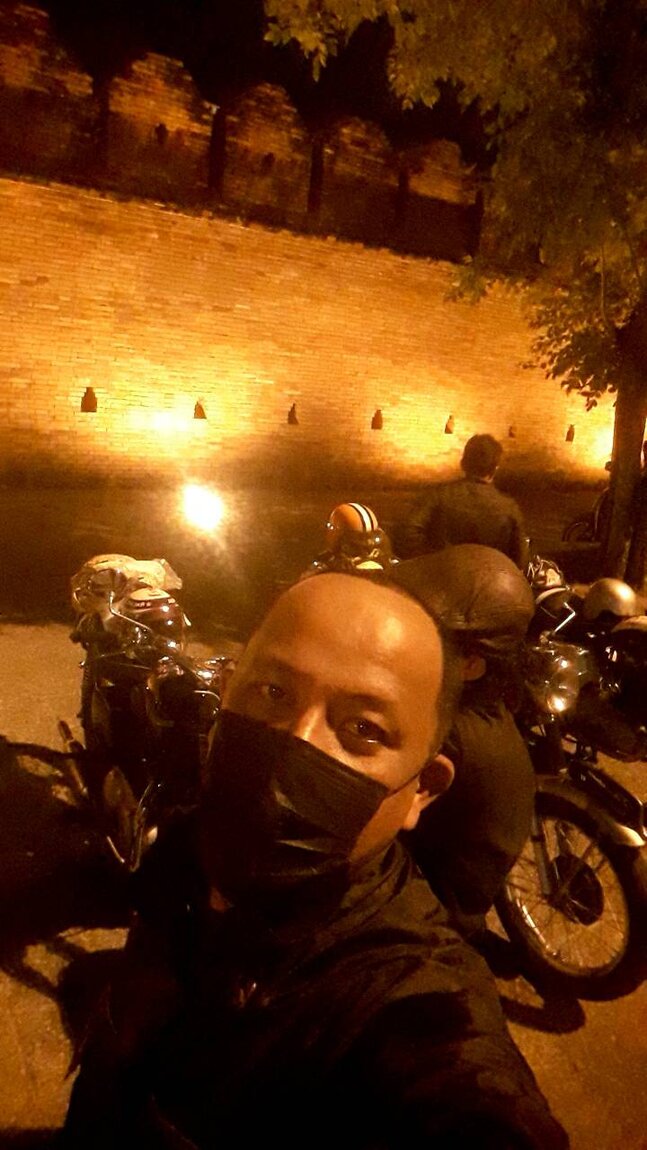 Next morning, the rain started and we realised that tropical storm "Koguma" was upon us.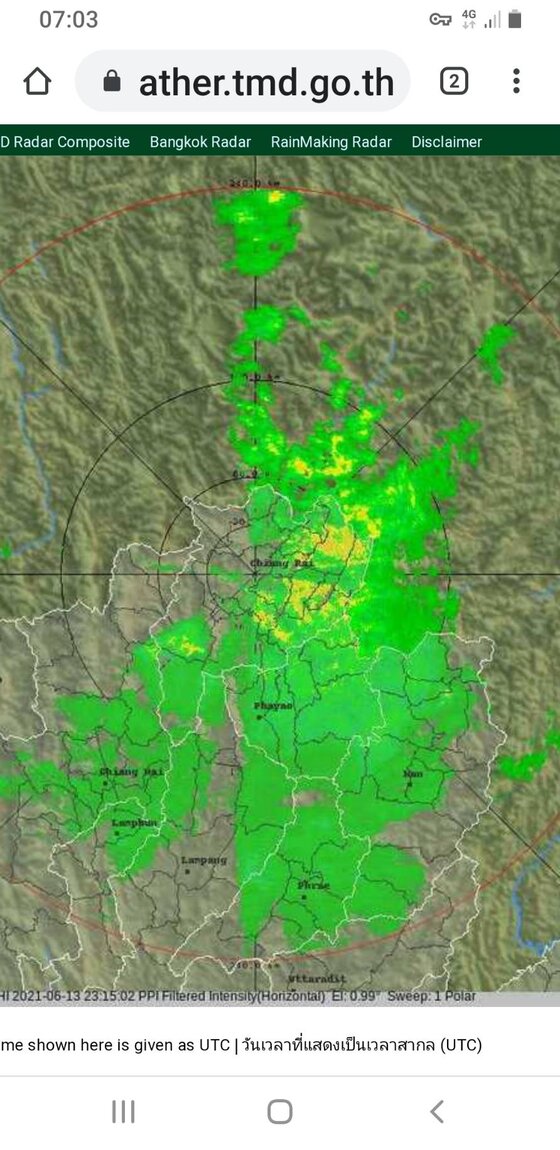 Nigel and I made our way down to the super Pronto coffee shop on the Chiang Dao cave road.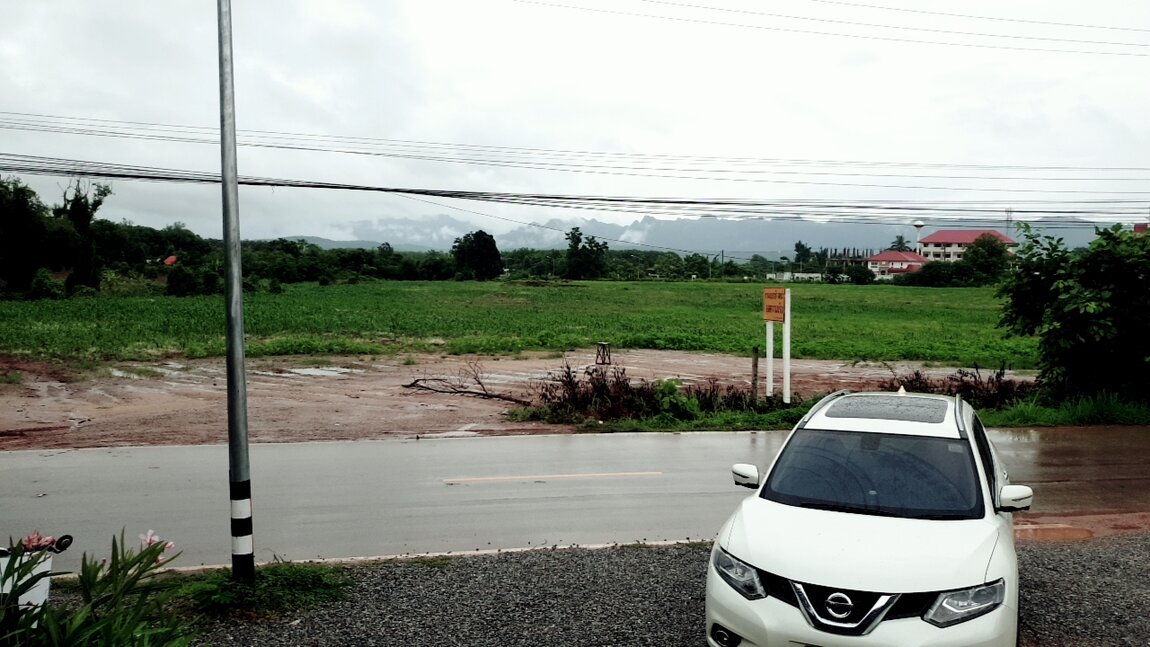 It was clearly going to be a wet riding day...
The other guys put the raingear on and left the Hop Inn, Chiang Mai and headed up the 107.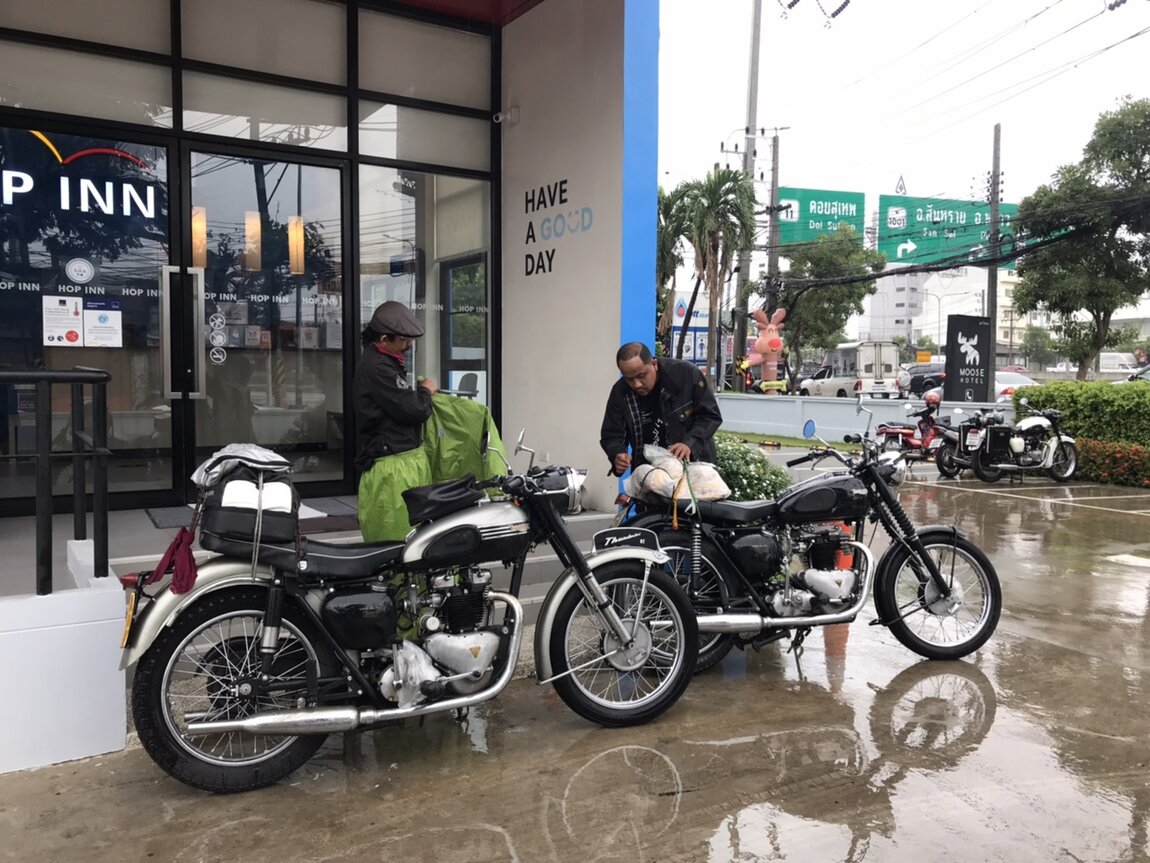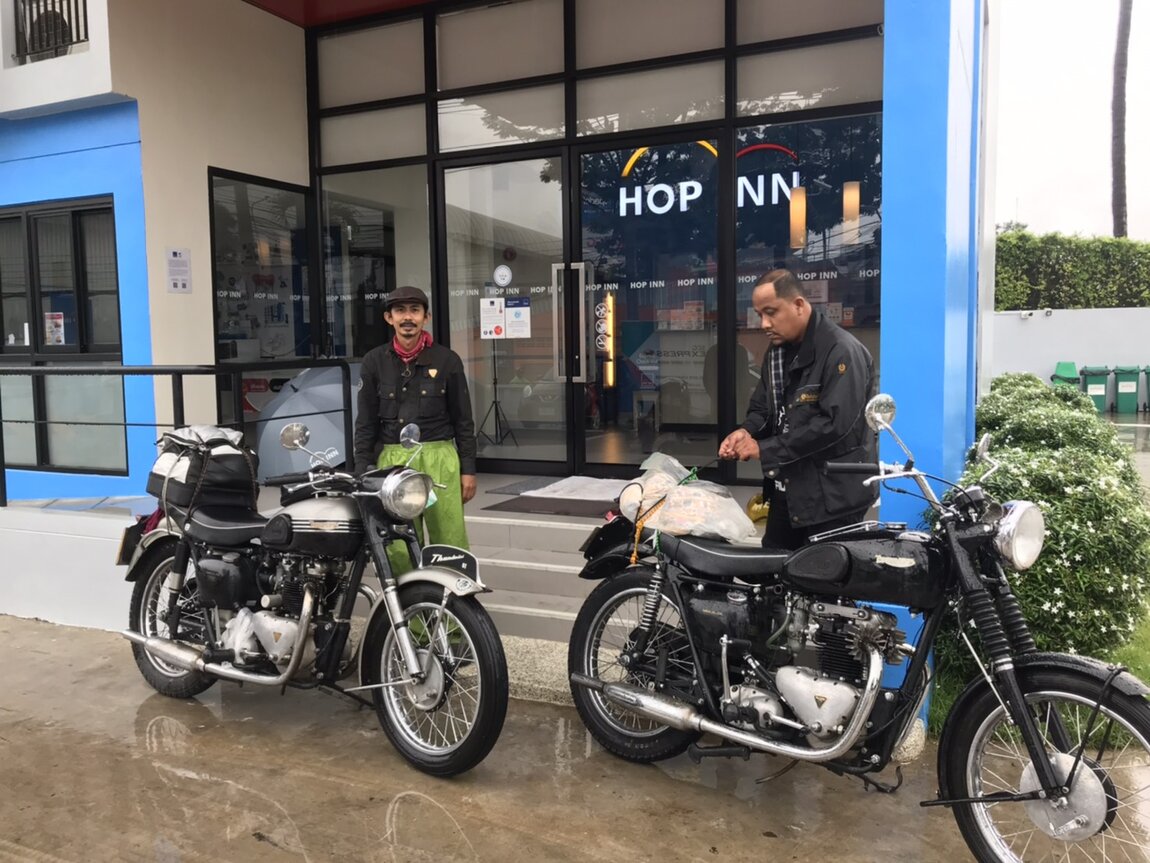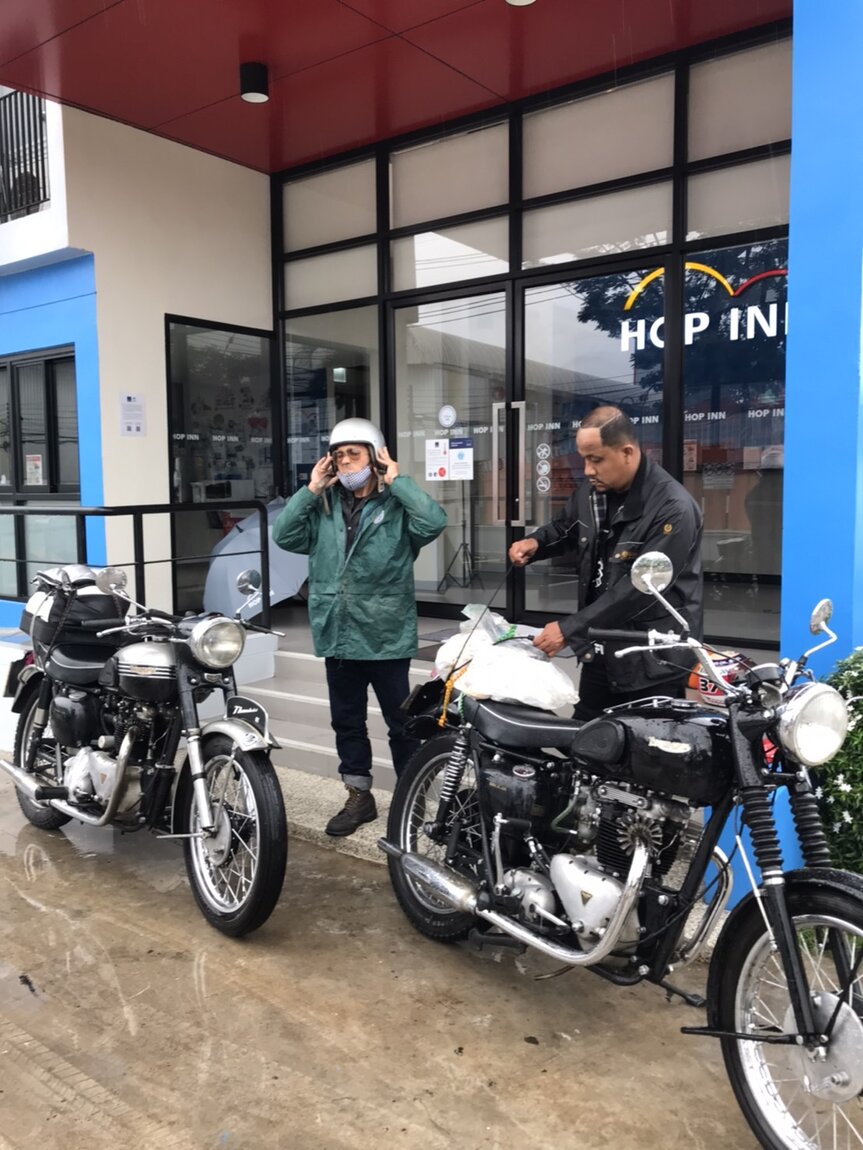 The new rendezvous was at the Por Piang Home Stay resort and coffee on 107, just south of the 1150 turnoff.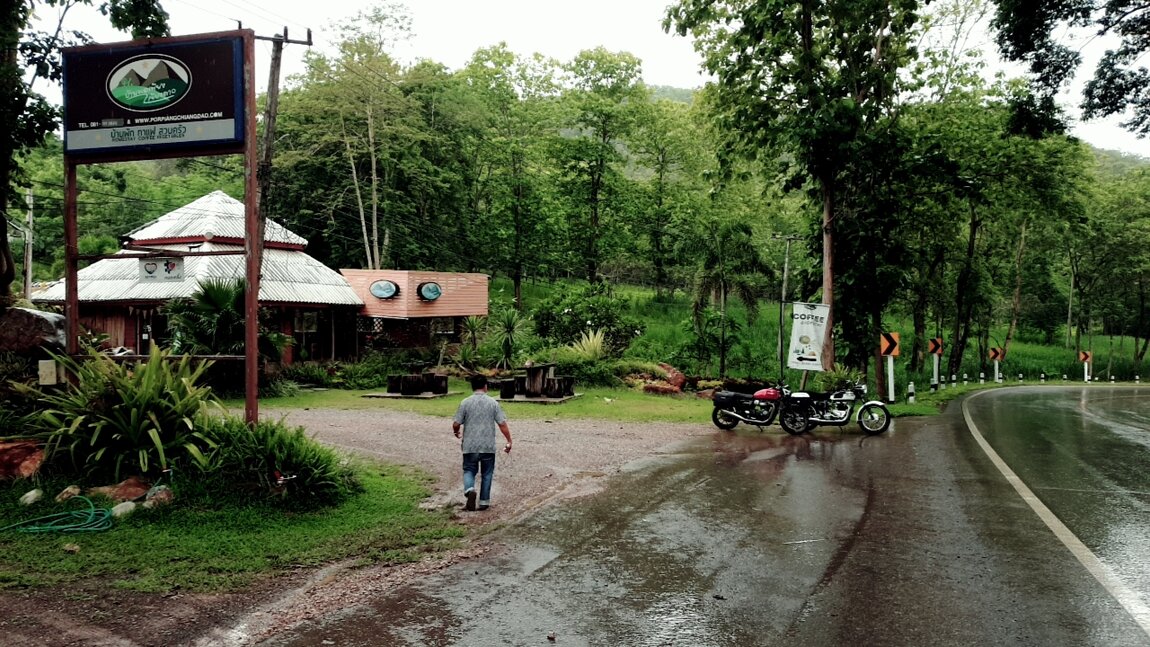 Main story;............
We finally met up around midday.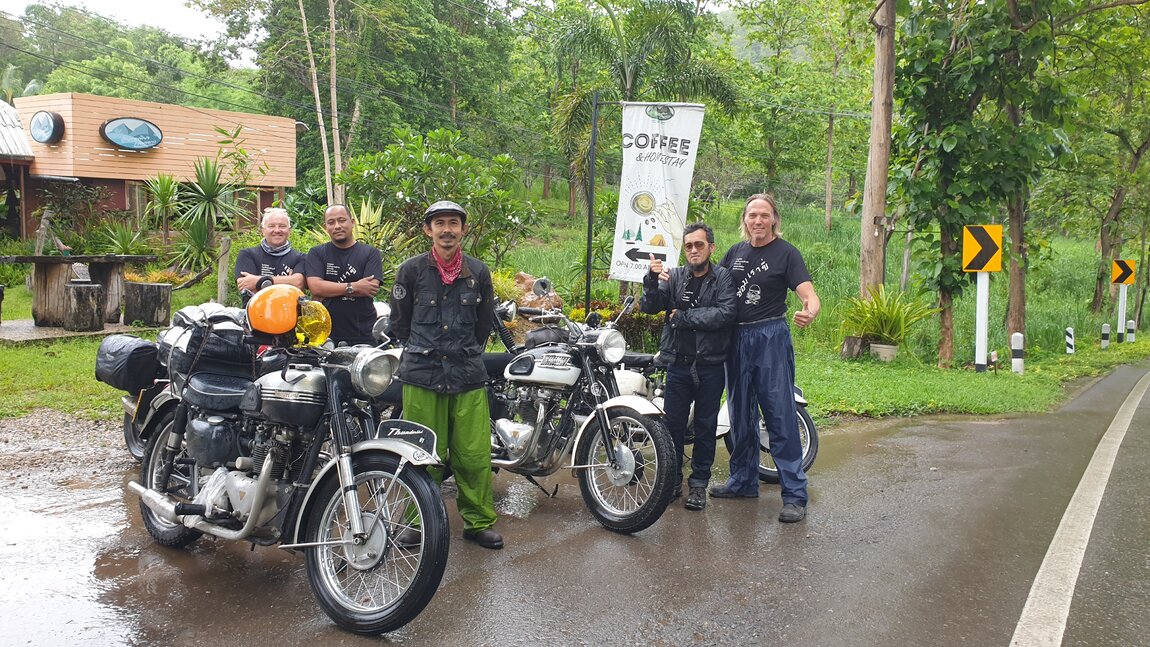 It was great to meet up again, as we hadn't ridden together for over a year.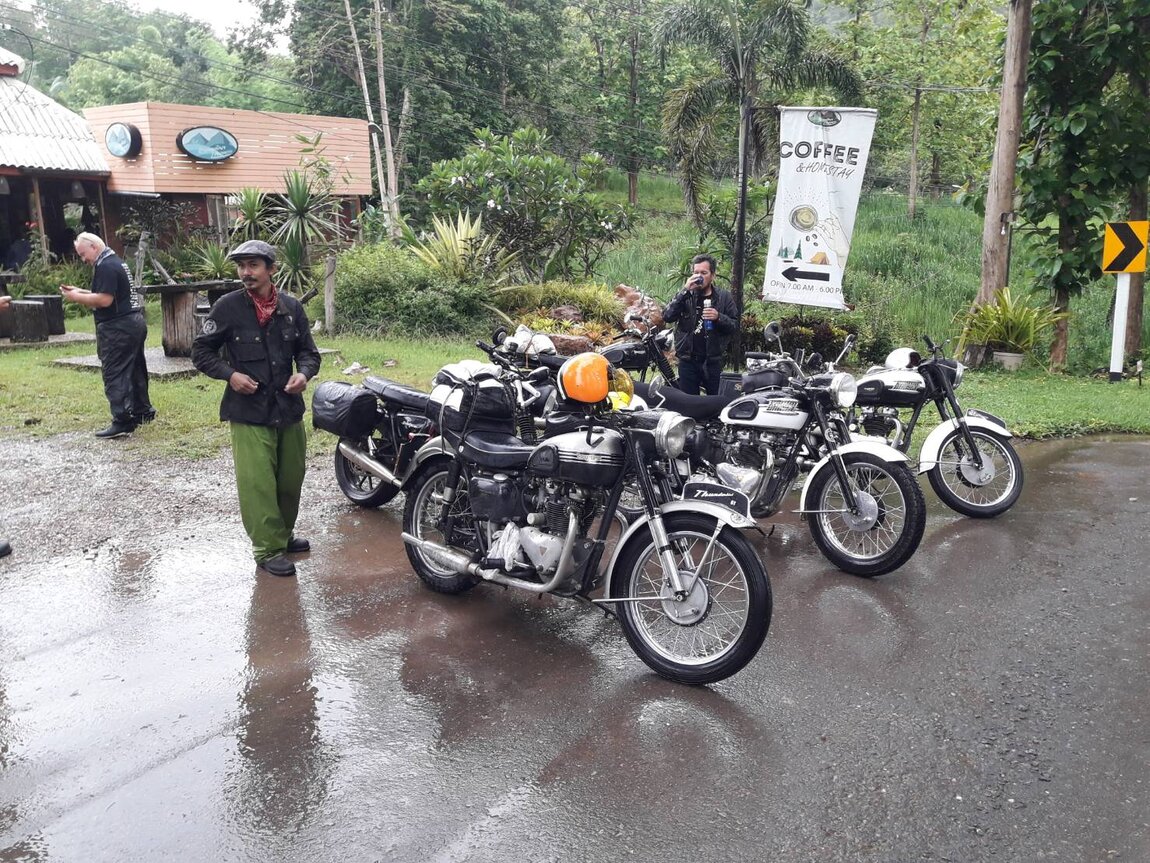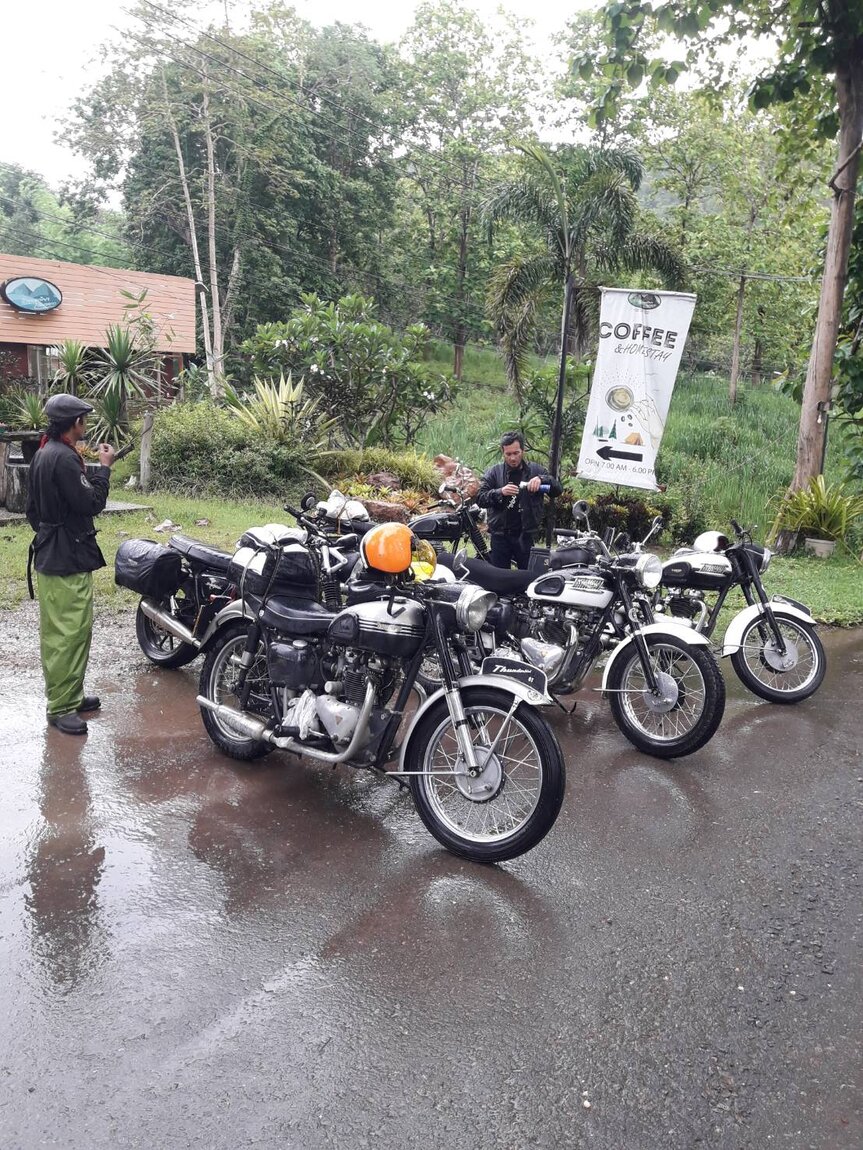 The LICME motto....... "We fix em, we ride em!"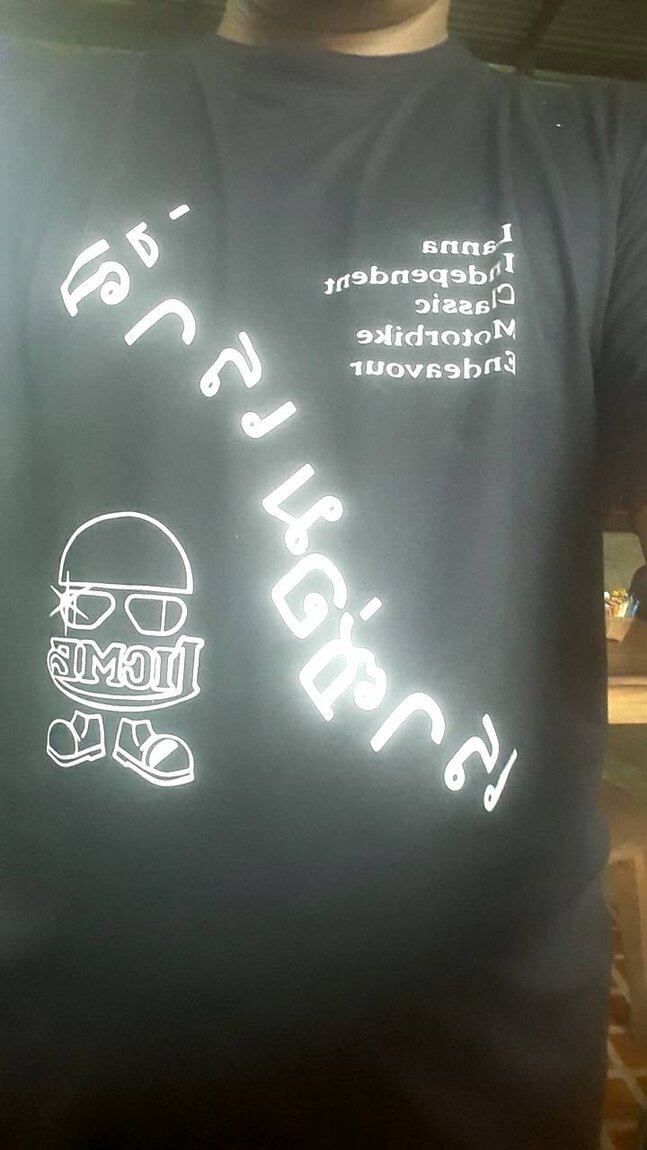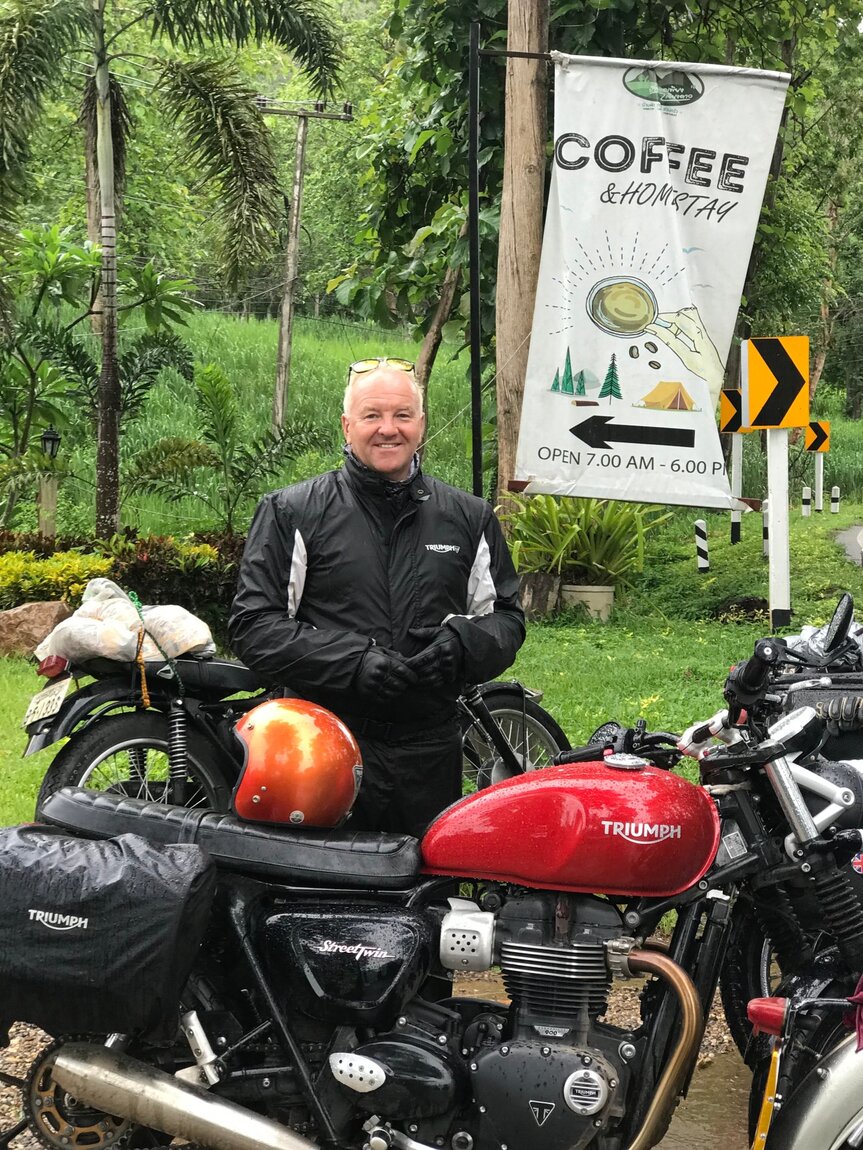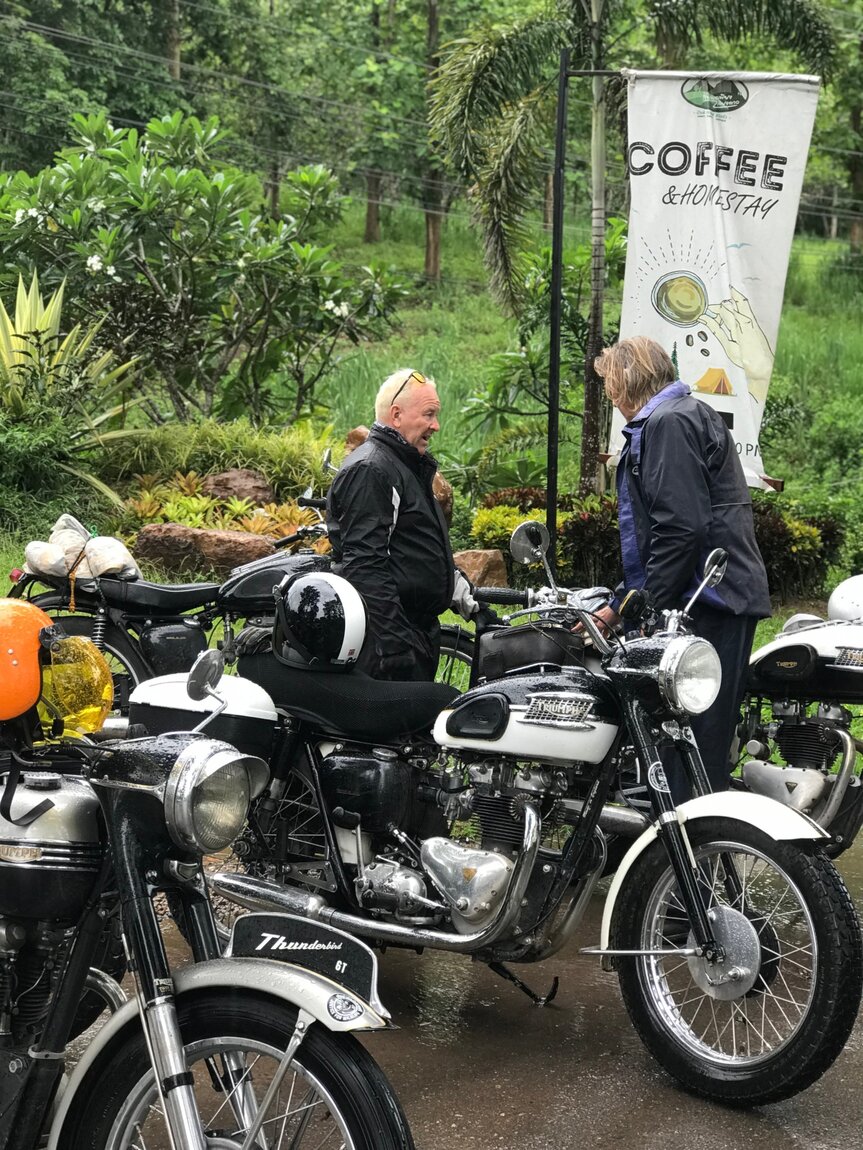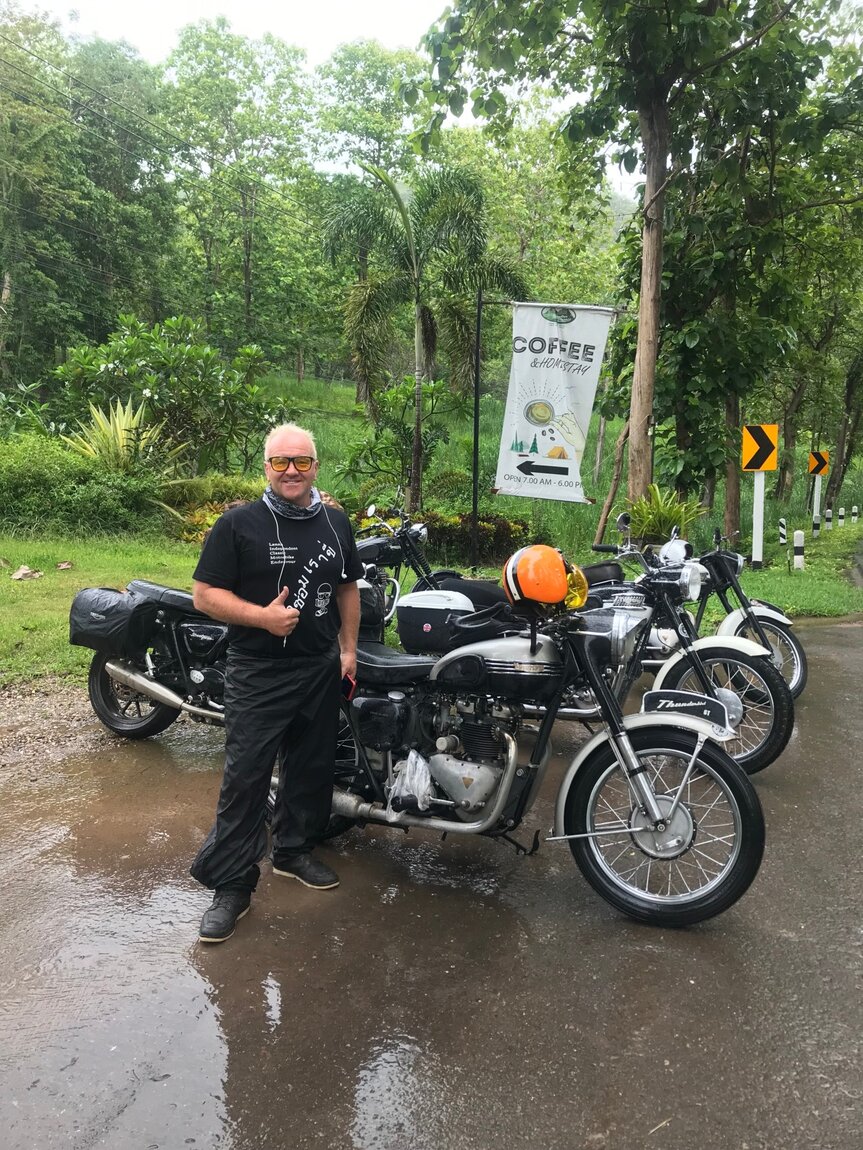 LICME club rules;
1. Bike + rider must be more than 70 years old.
2. "Don't panic".. mountain descent and drum brakes.... no problem?
3. If it ain't broke, don't fix it.
4. Bike won't start ?........ 100 baht fine.
5. A part fallen off and lost ?........ 100 Baht fine.
6. Failure to meet at the rendezvous point ?........ 100 Baht fine.
7. Get to the rendezvous point, but in the back of a pickup ?....... 300 baht fine.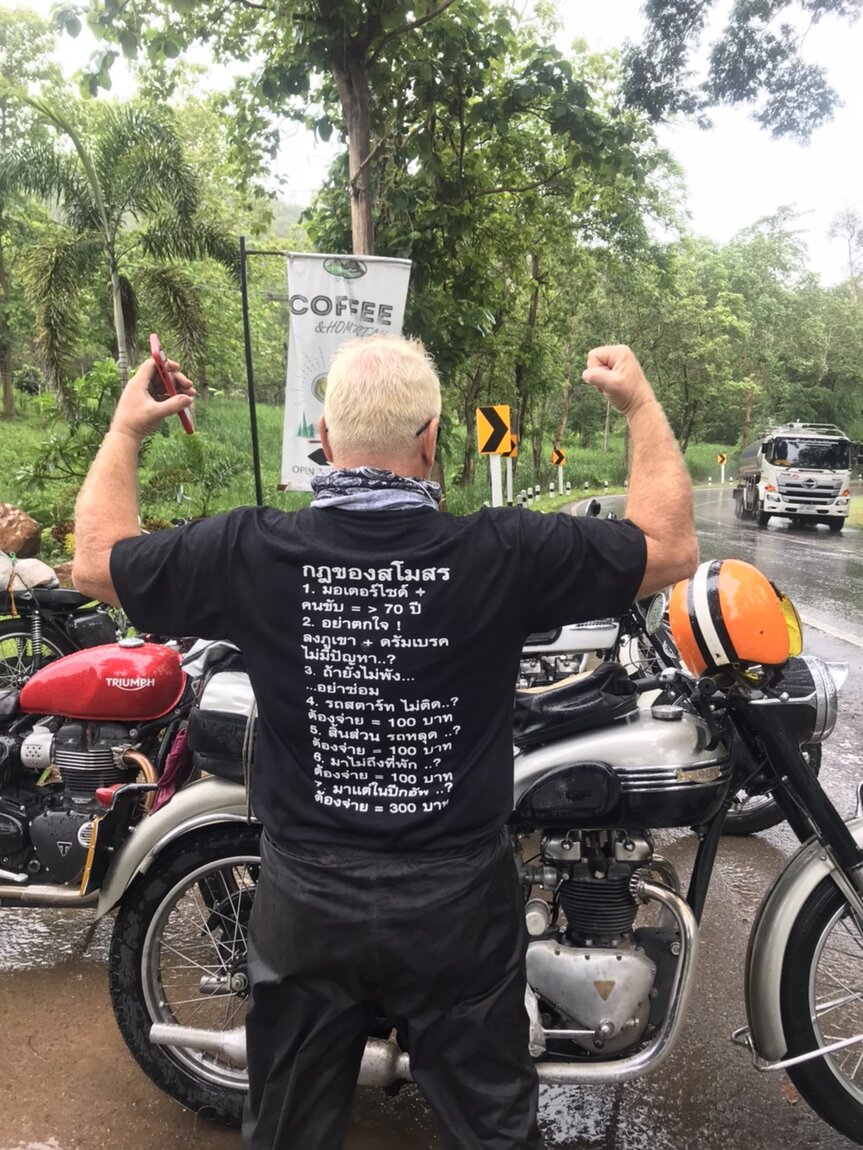 Then it was time to make music together....
We rode the little 3002 across onto the 1178 and headed north........ in steady heavy rain.......
Break time near the army checkpoint, junction with 1340, at Bahn Rin Luang, south of Arunothai.
Khun Manat, in a freebie Leo beer rain coat, no gloves, no rain trousers and no socks.....!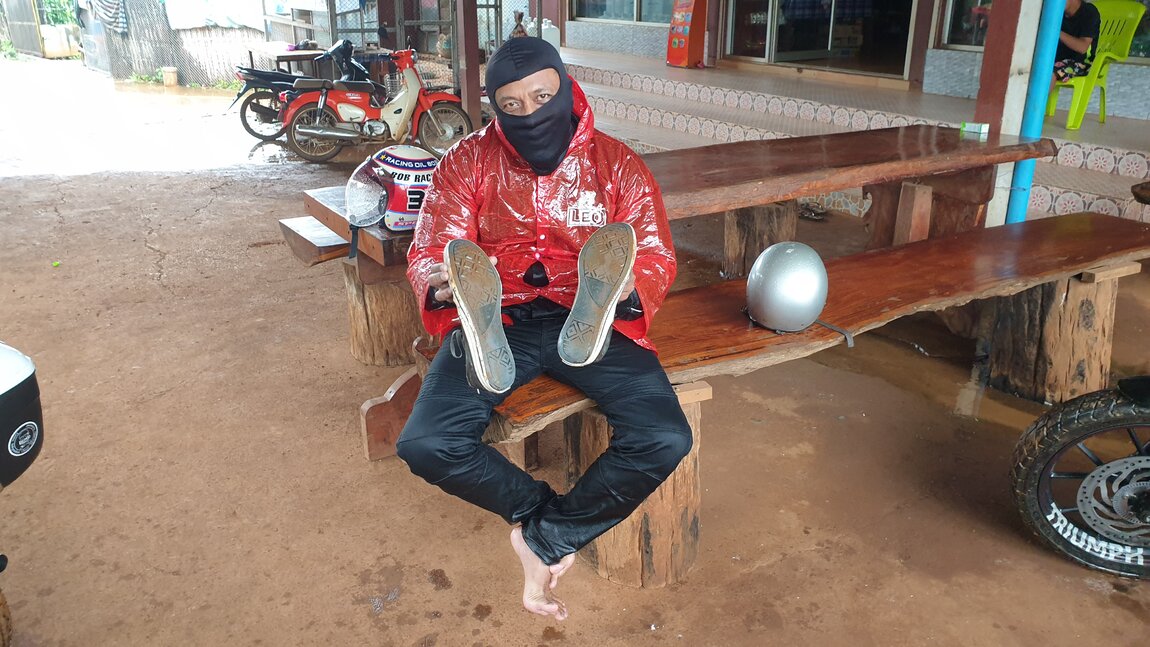 So, for LICME this year we had 4 Pre-unit Triumph Thunderbirds riding together. Fantastic....
Khun Ming's 1958 Triumph Thunderbird 650cc, "Singhakraipop".. .. "The greatest lion in the world"
Khun Berm's 1954 Triumph Thunderbird 650cc, "Mahseemon".. .. "Elite misty grey horse". He had lost a gearbox filler cap enroute, hence the plastic bag over the box.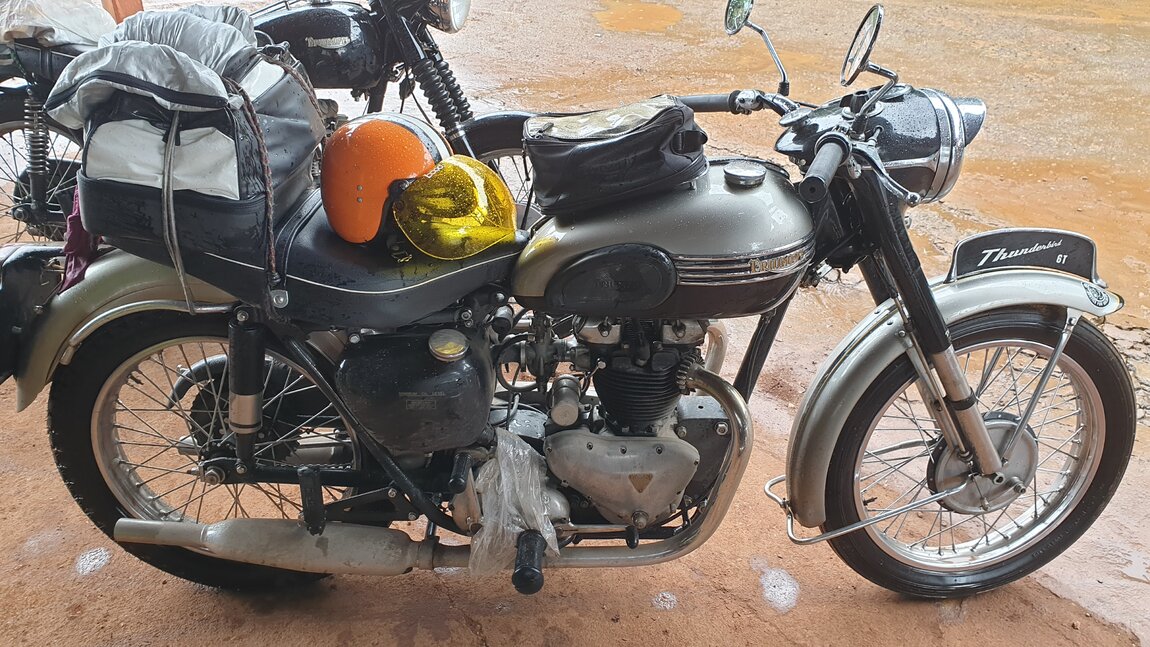 Khun Manat's 1956 Triumph Thunderbird 650cc, "Sirinapa".. .. "The most beautiful lady in the world"..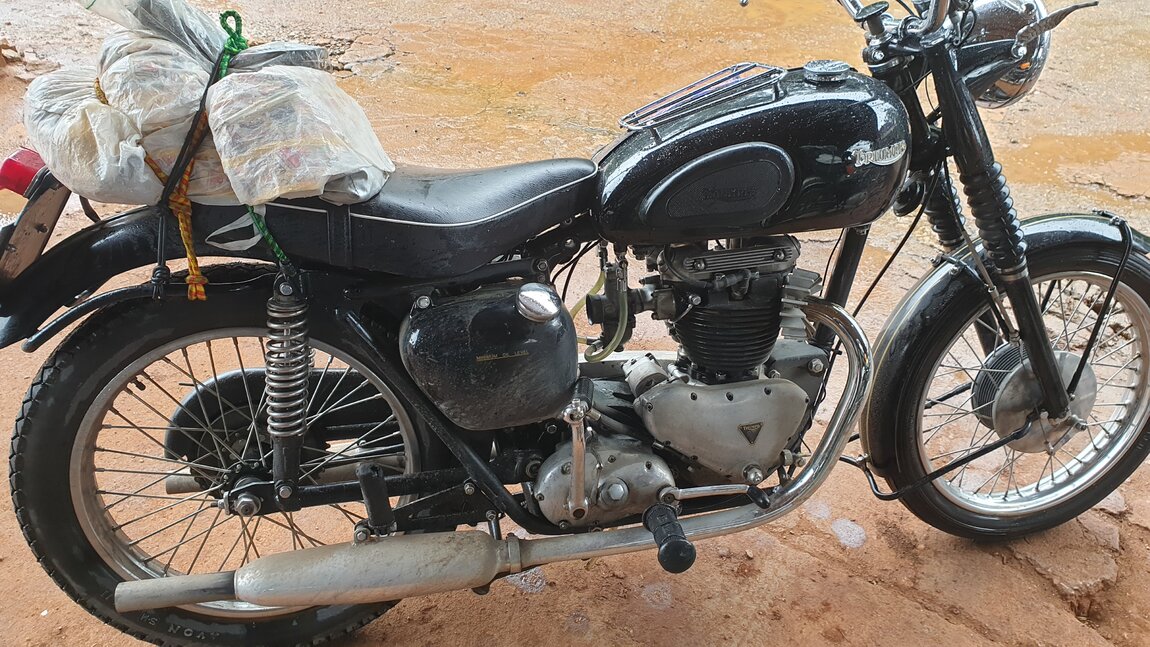 Mr Ian's 1959 Triumph Thunderbird 650cc, "Trevor the Triumph".. .. .....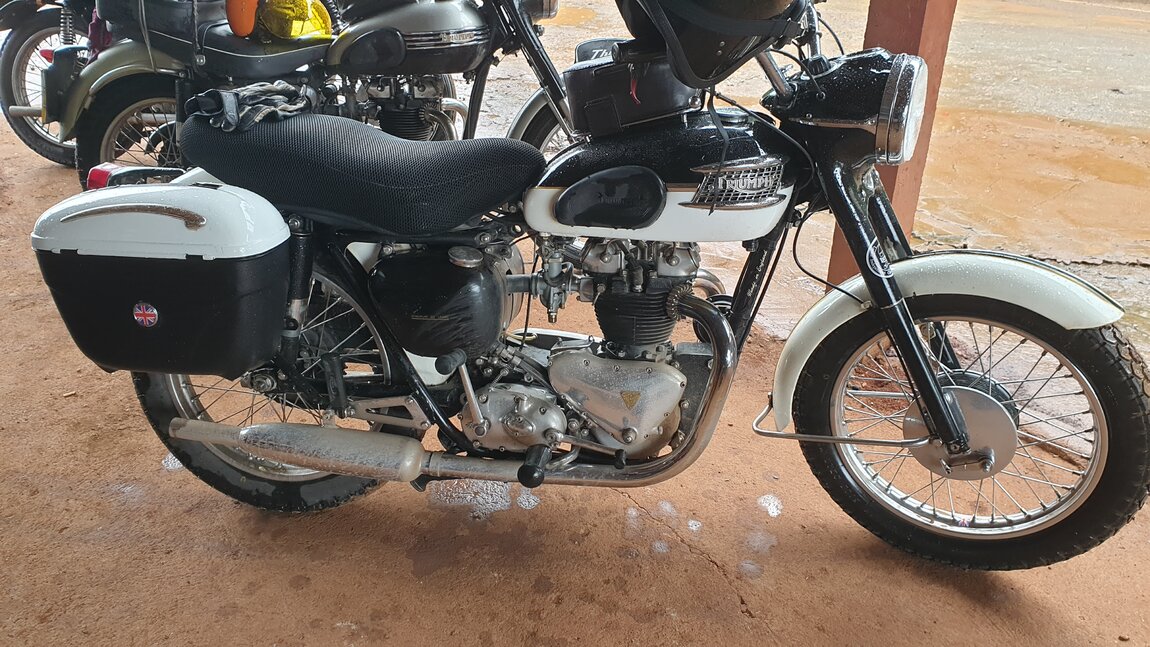 Mr Nigel was on his 3 year old Triumph Street Twin (ridden 105,000 klms), now an honourary LICME member.
K Ming had a special rear lens on his bike. Most of us only have a LUCAS rear light.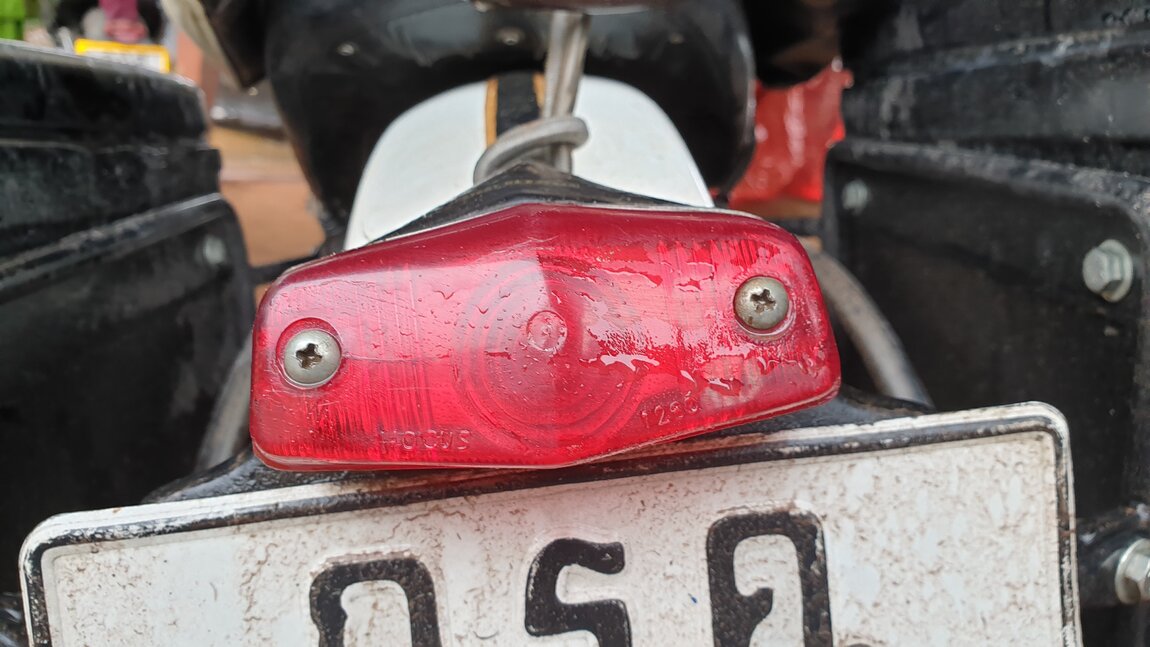 But this one is a rare item........ (Indian probably)..... HOCUS... 555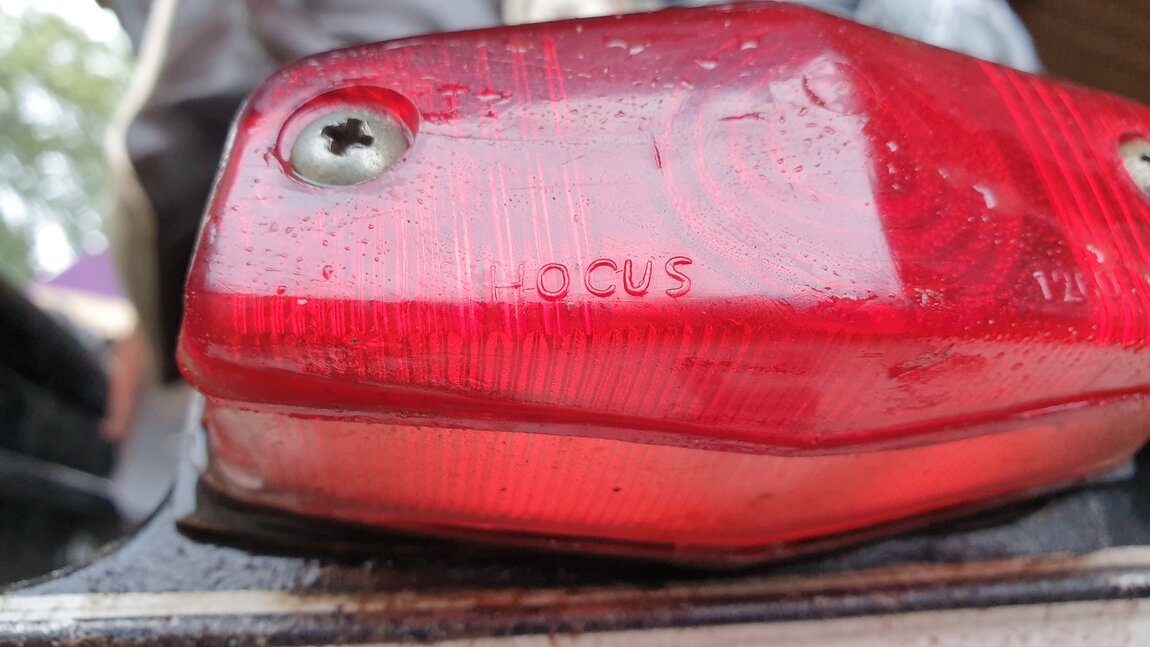 We then rode the 1178 over the mountains to Bahn Jong.... in the rain from Koguma.....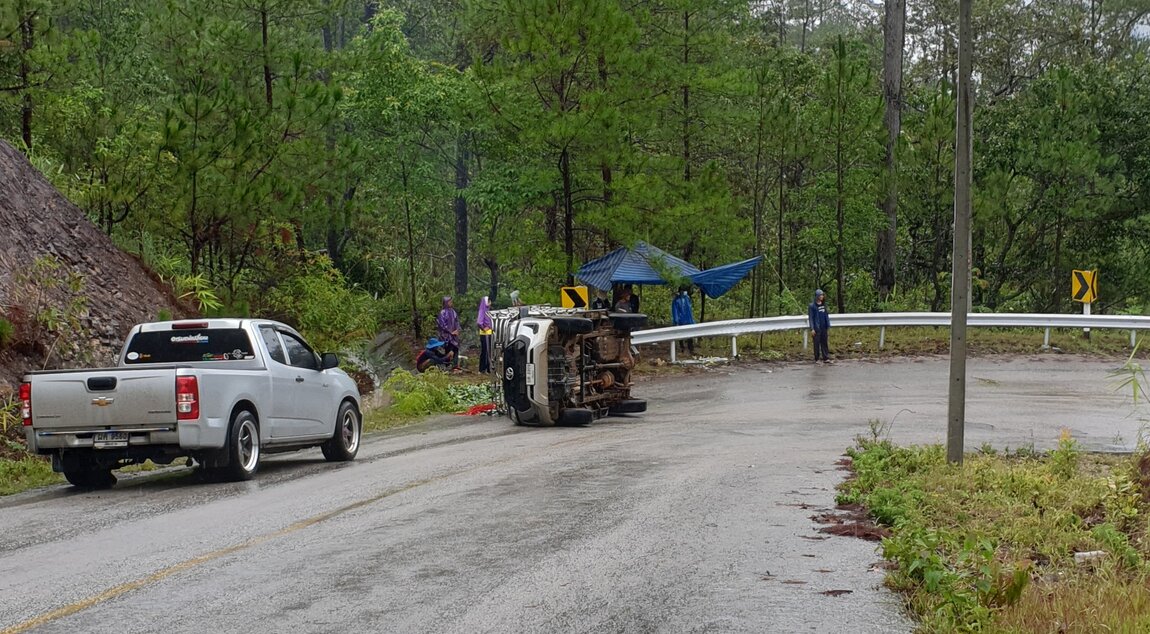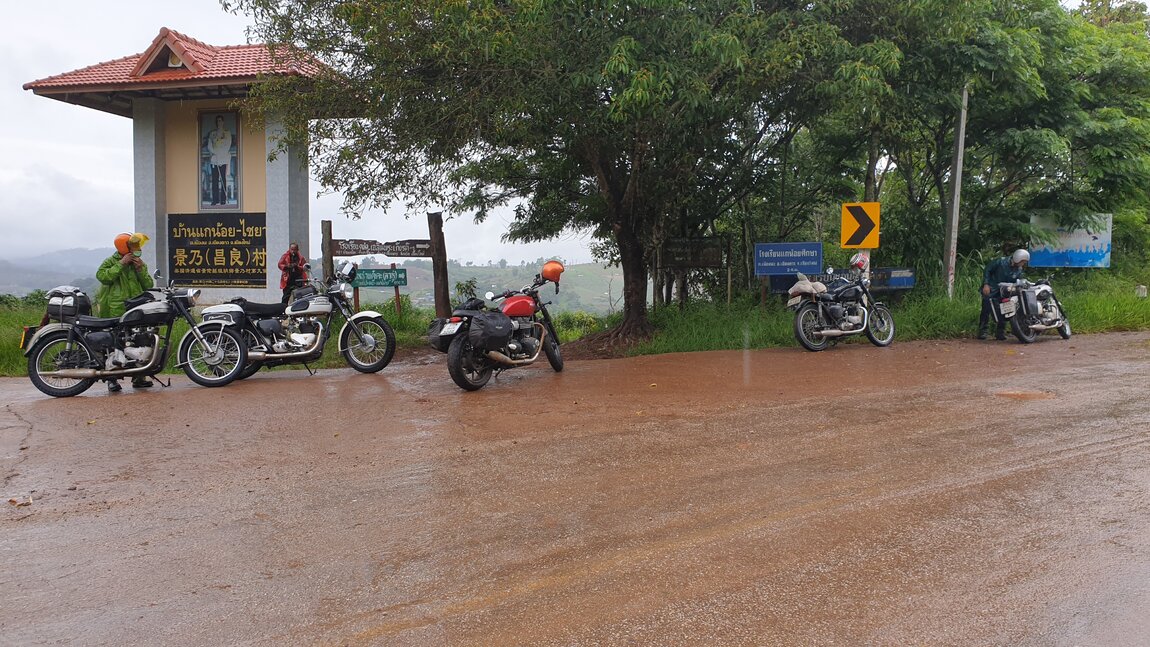 At some point K Ming managed to ride through a large pile of wet cowshit... while riding through mist over a mountain pass.
We rode up to the Lak Taeng Burma border crossing.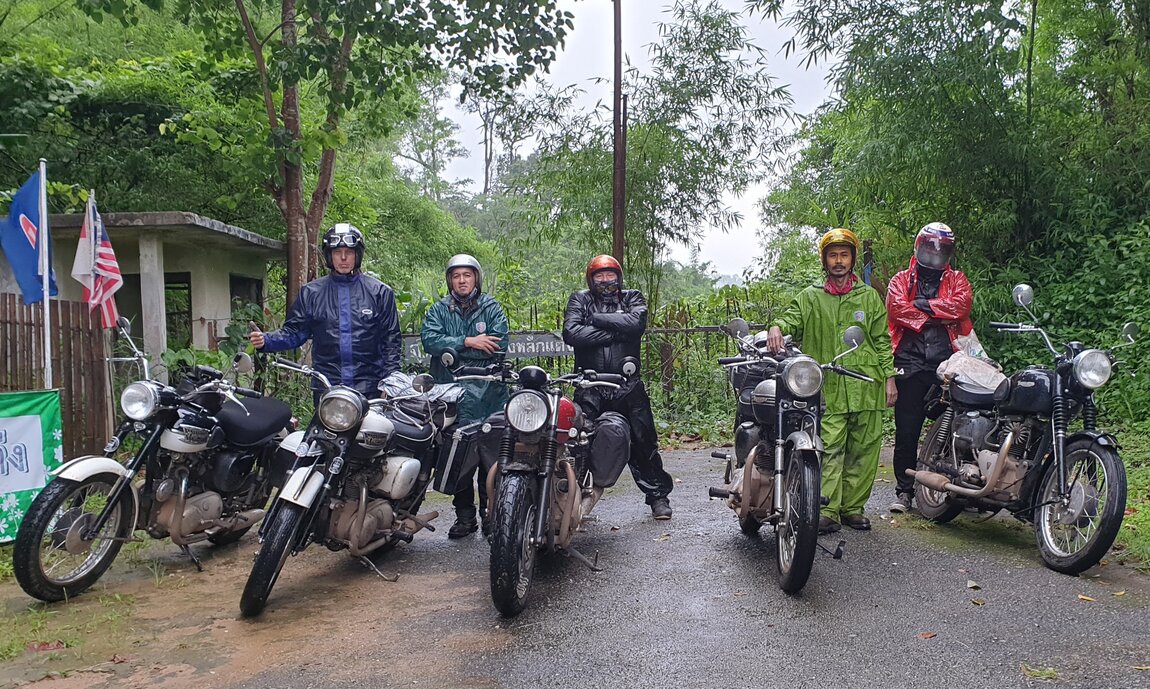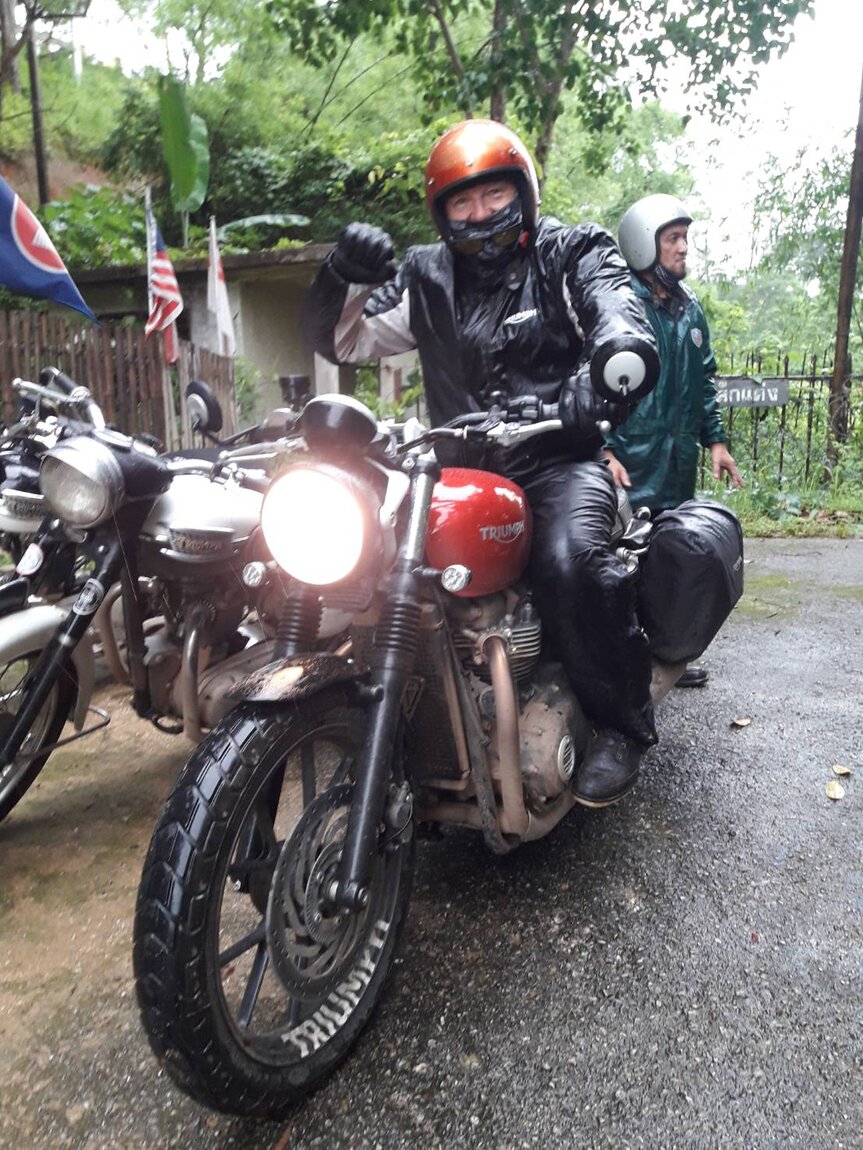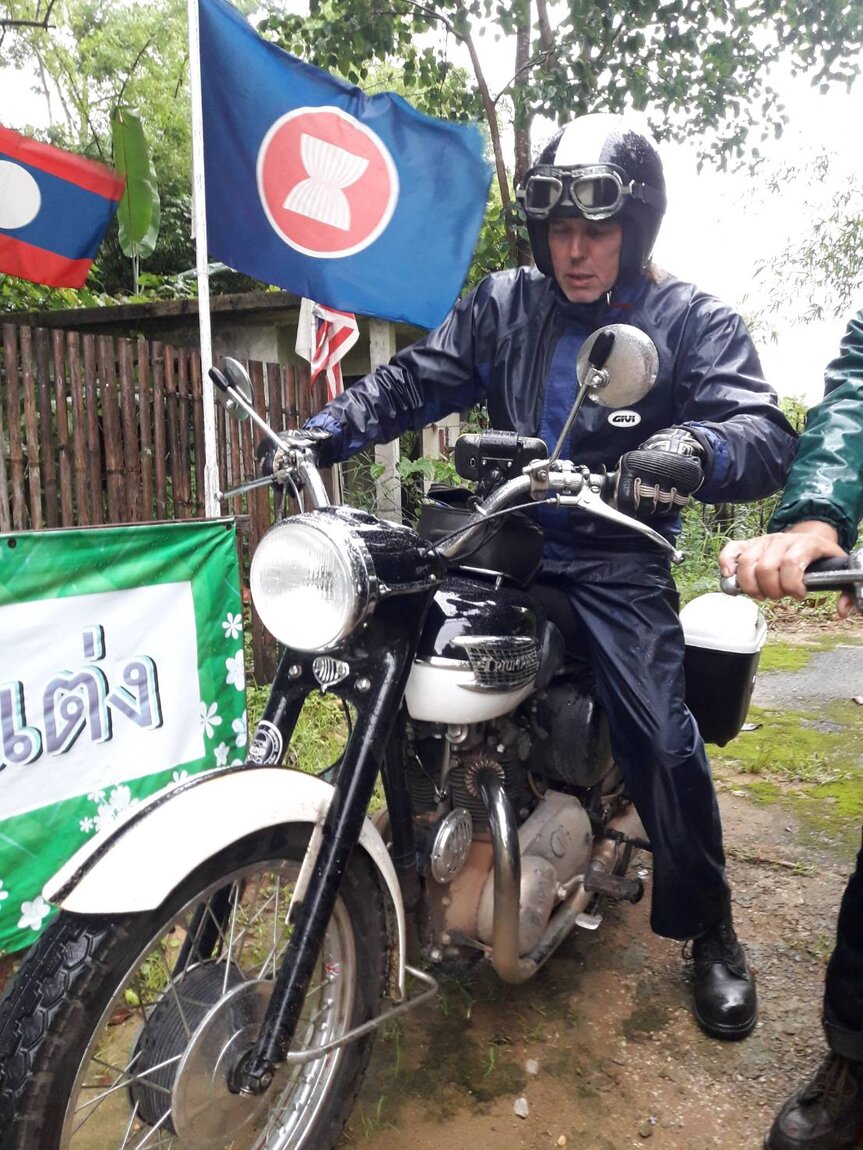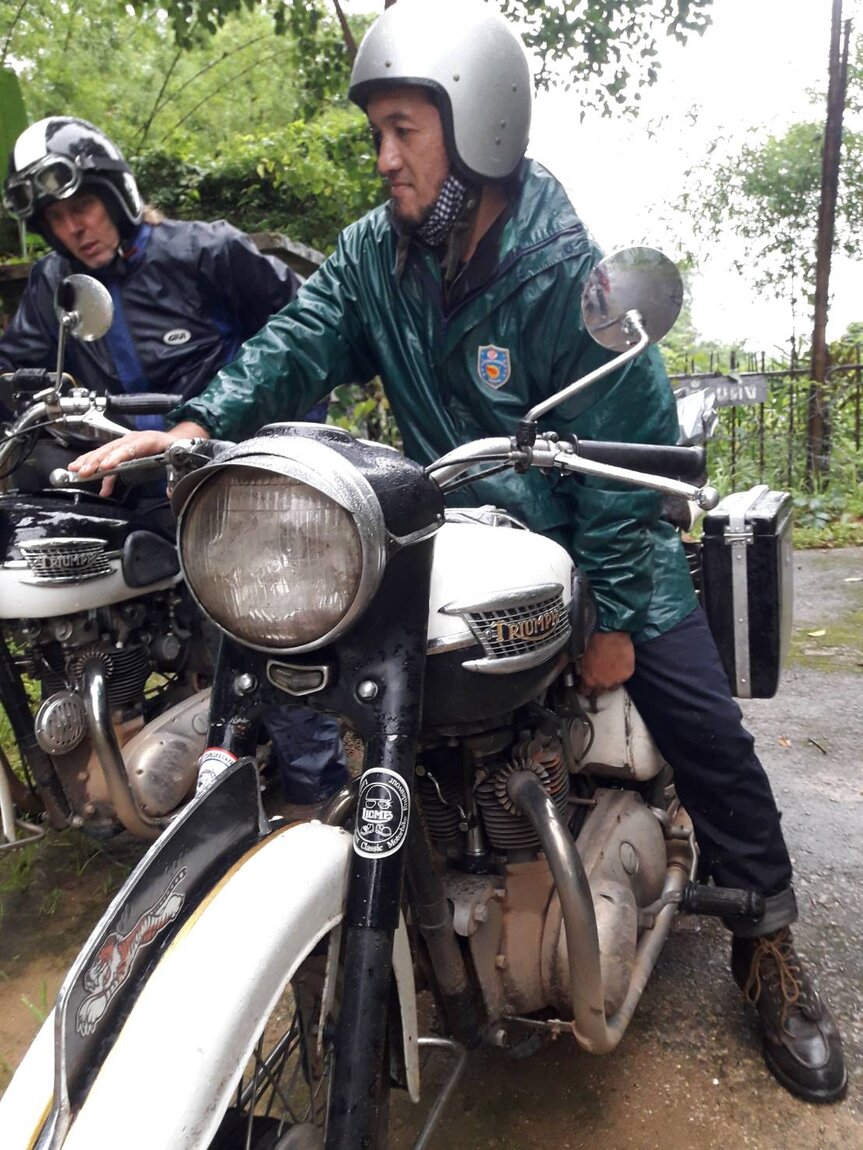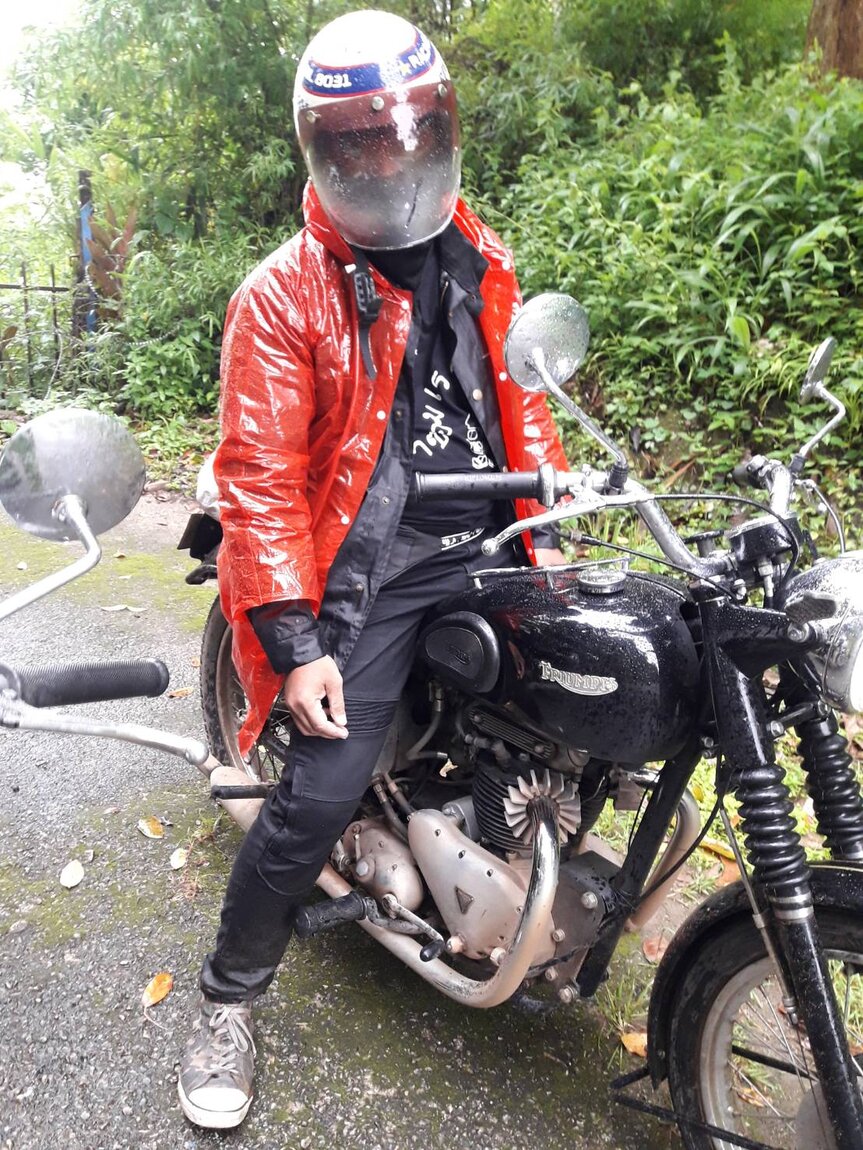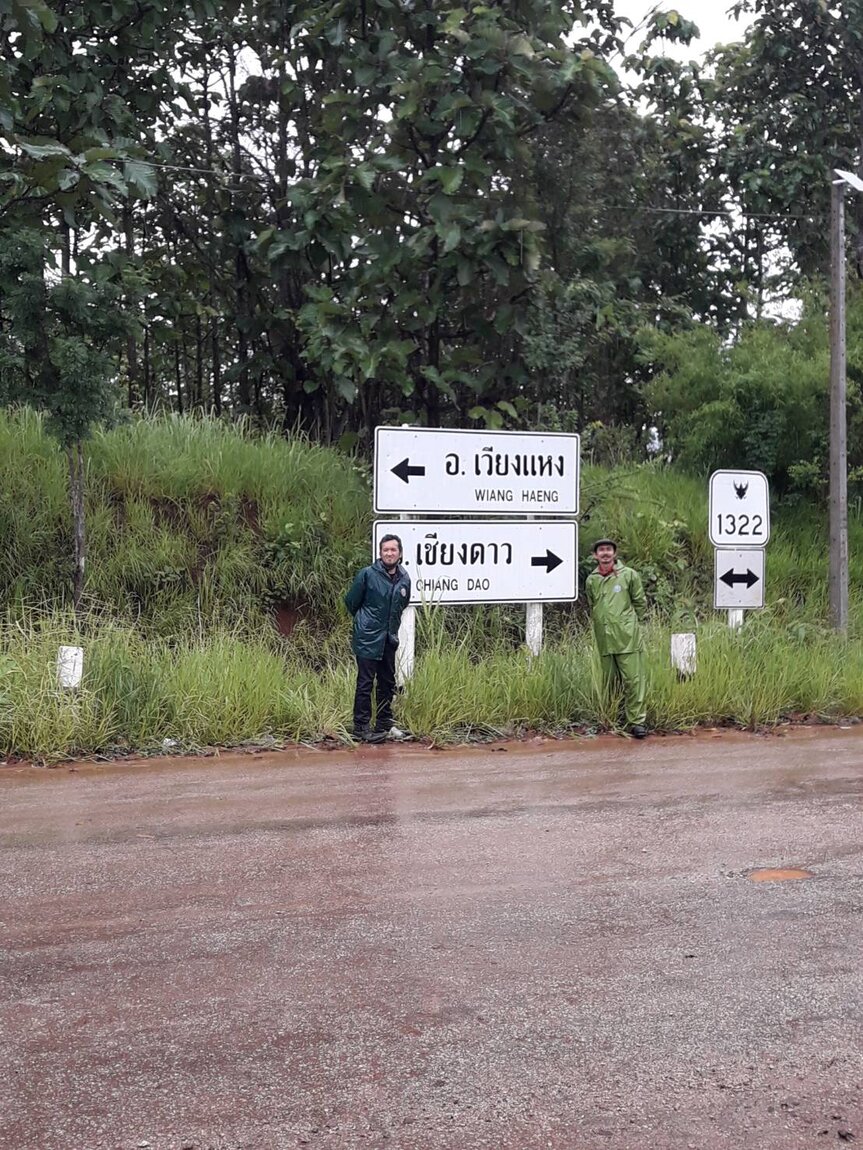 After heading back south, we stayed at the Garden Farm Resort in Wiang Haeng.
Next morning, the heavy rain had passed on, giving way to occasional showers.
Some people think classic bikes are for polishing and keeping in the garage, maybe take to a show.
We don't believe in that..... "Ride em, Don't hide em.."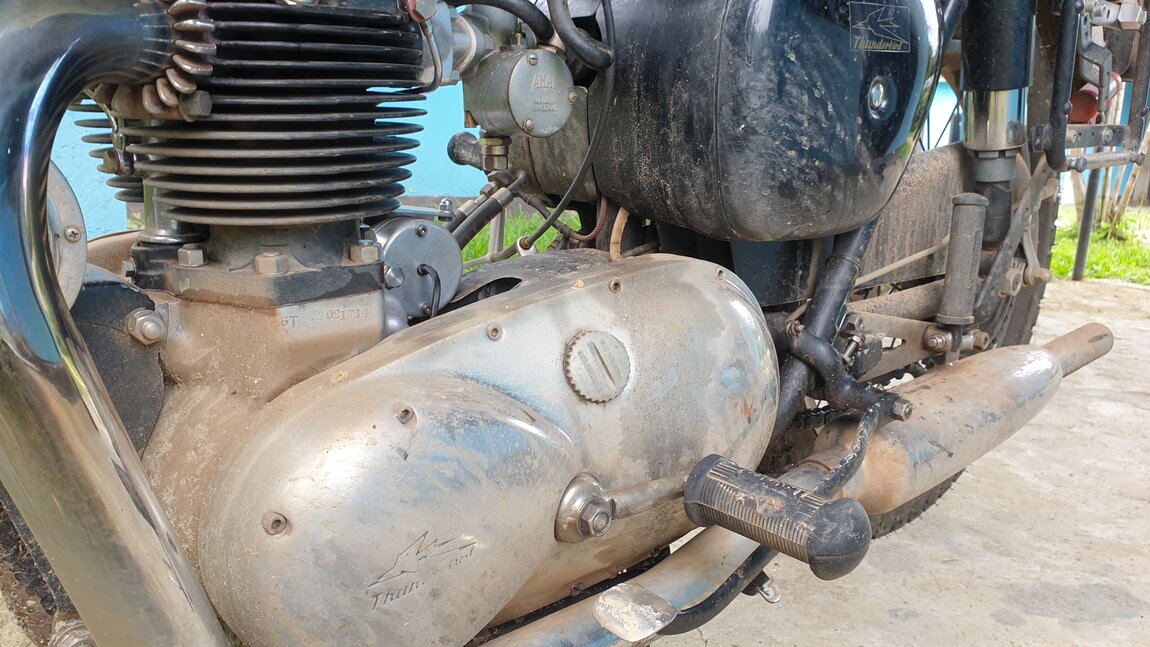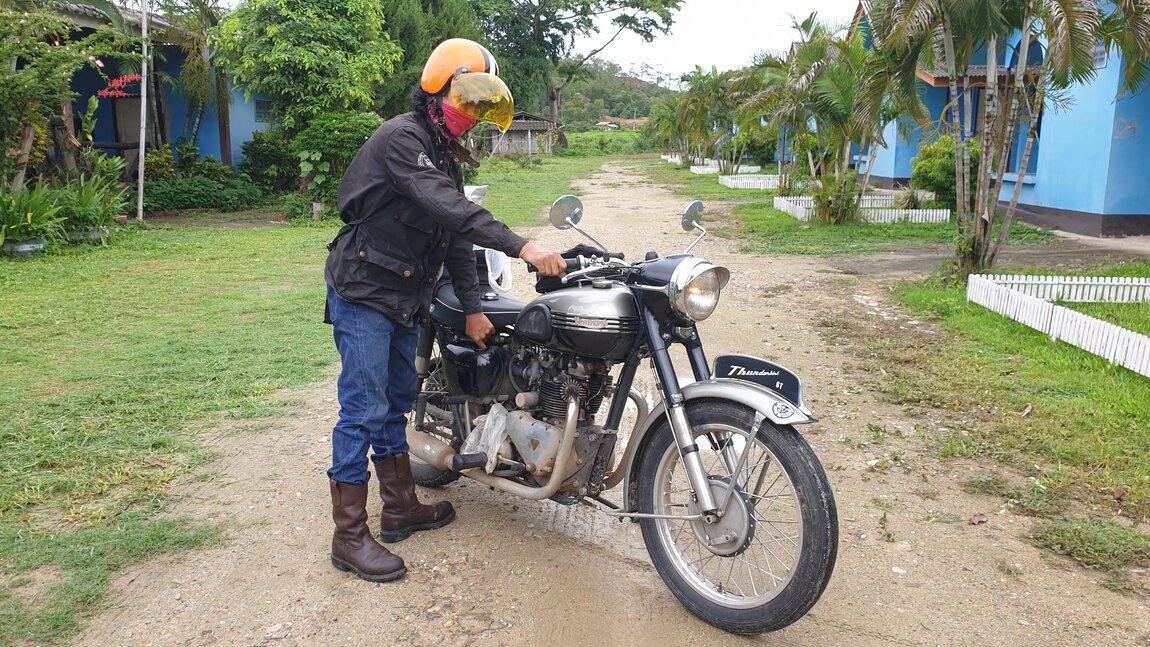 When riding the wonderful 1322, you have to stop at the Lisau coffee shop at the "Gates of Wiang Haeng".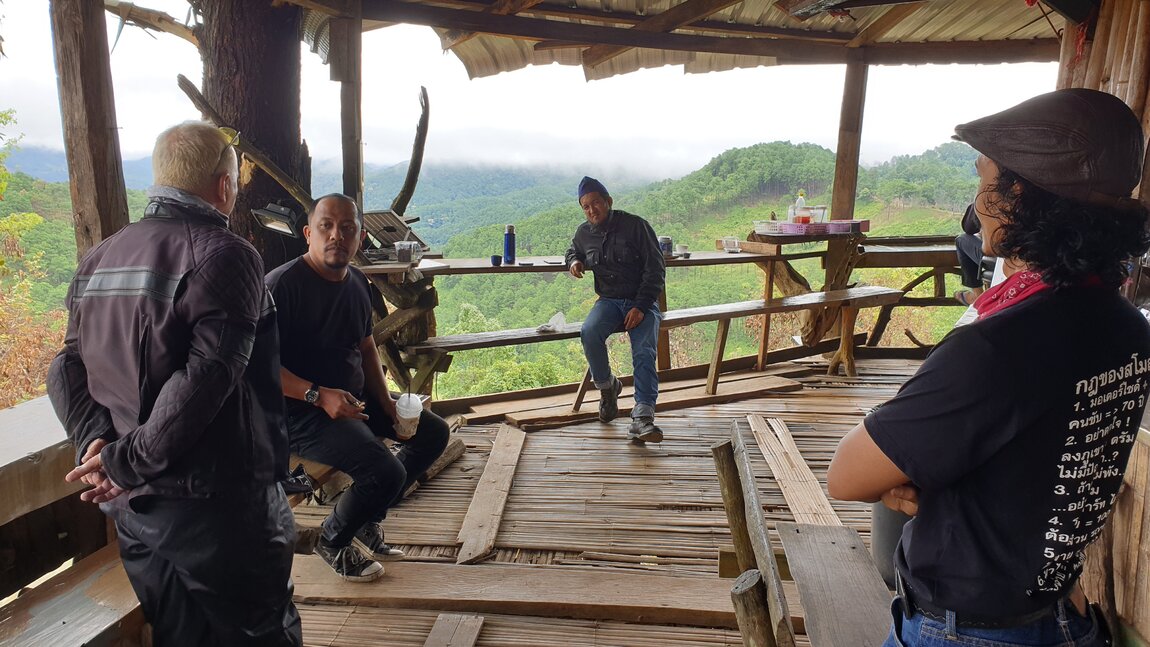 Views of Chiang Dao..... "obscured by clouds...."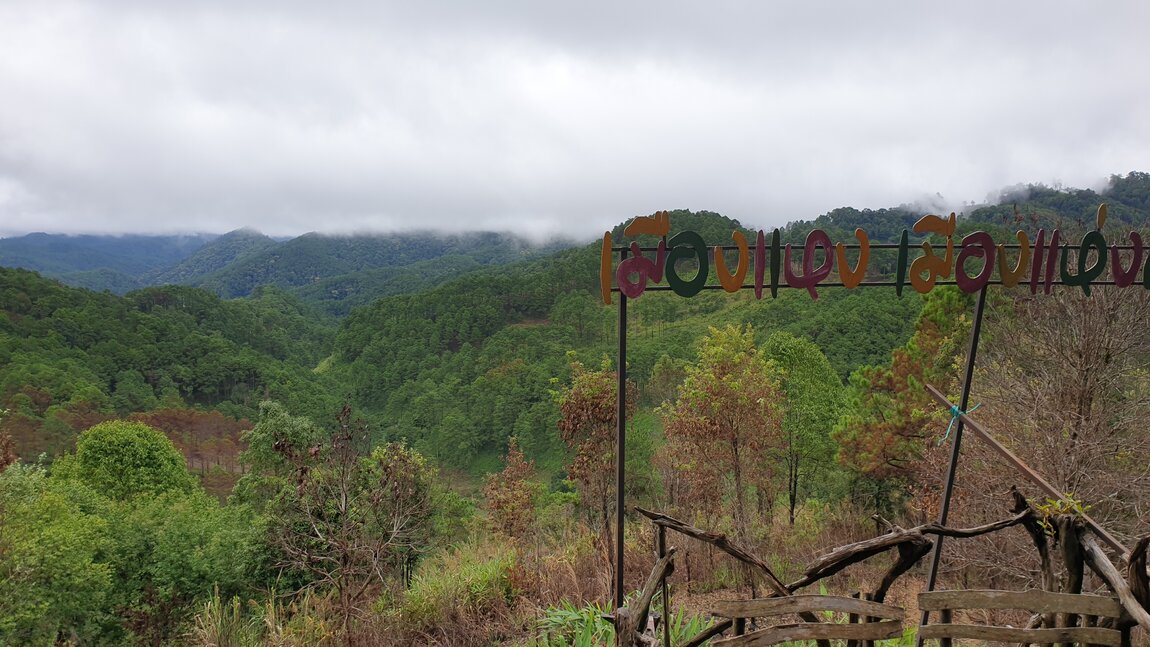 'Birds in a row....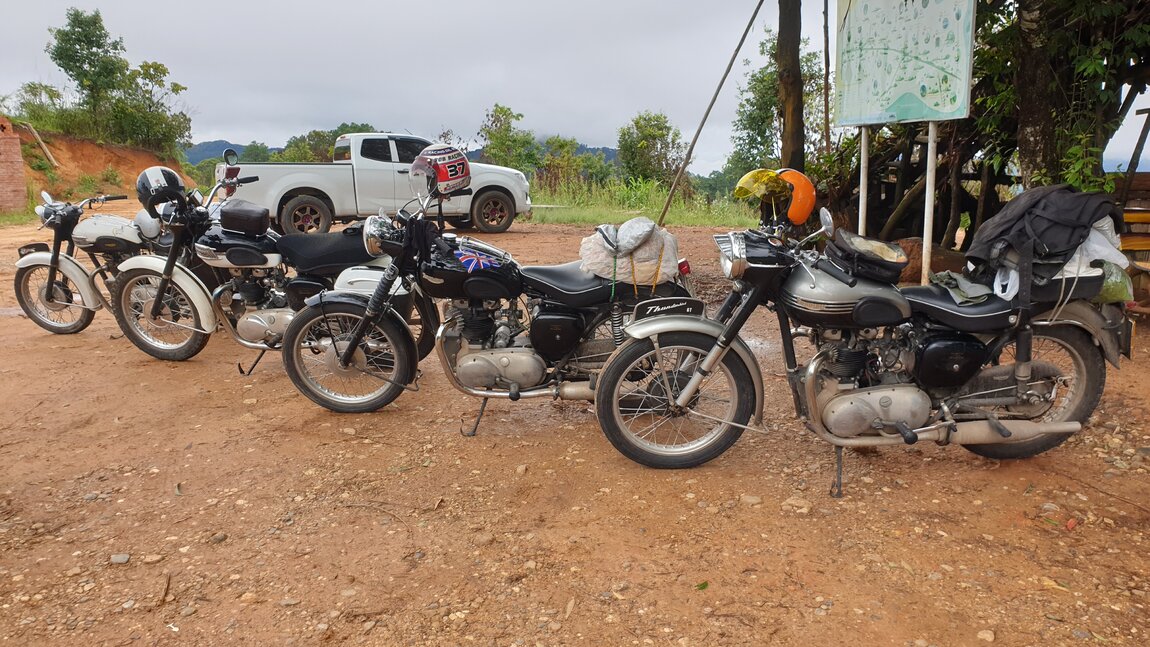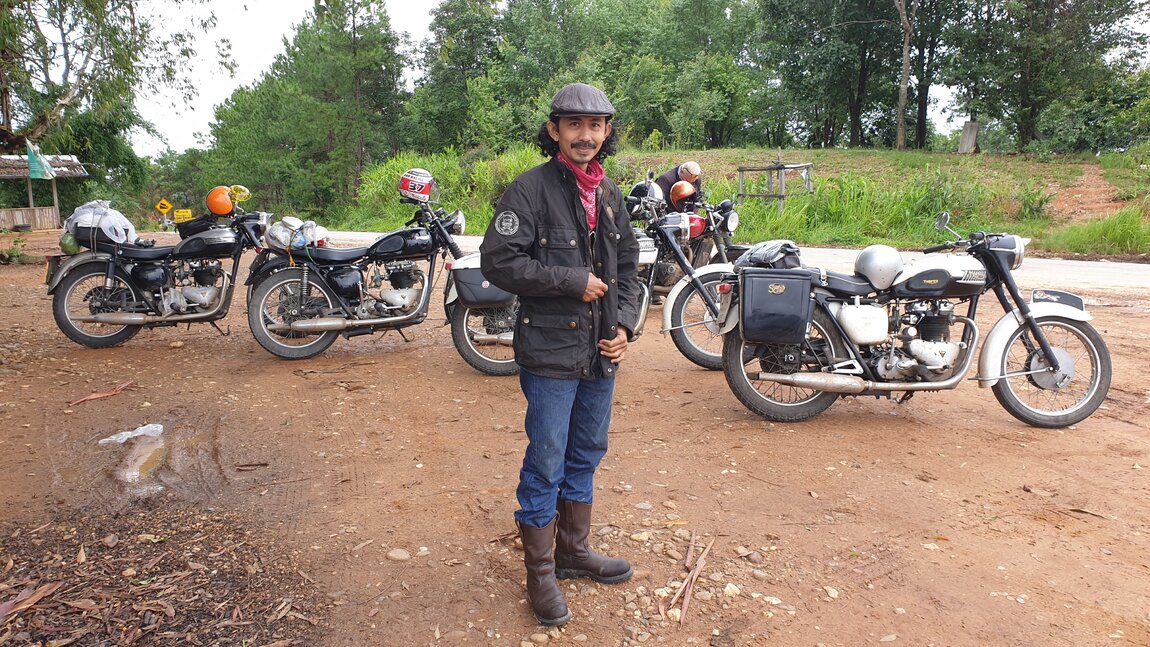 We crossed back over the 107 and onto the 1150 through Phrao.
We had a bit of a hold up, as one of the bikes had run out of "oil"... what...?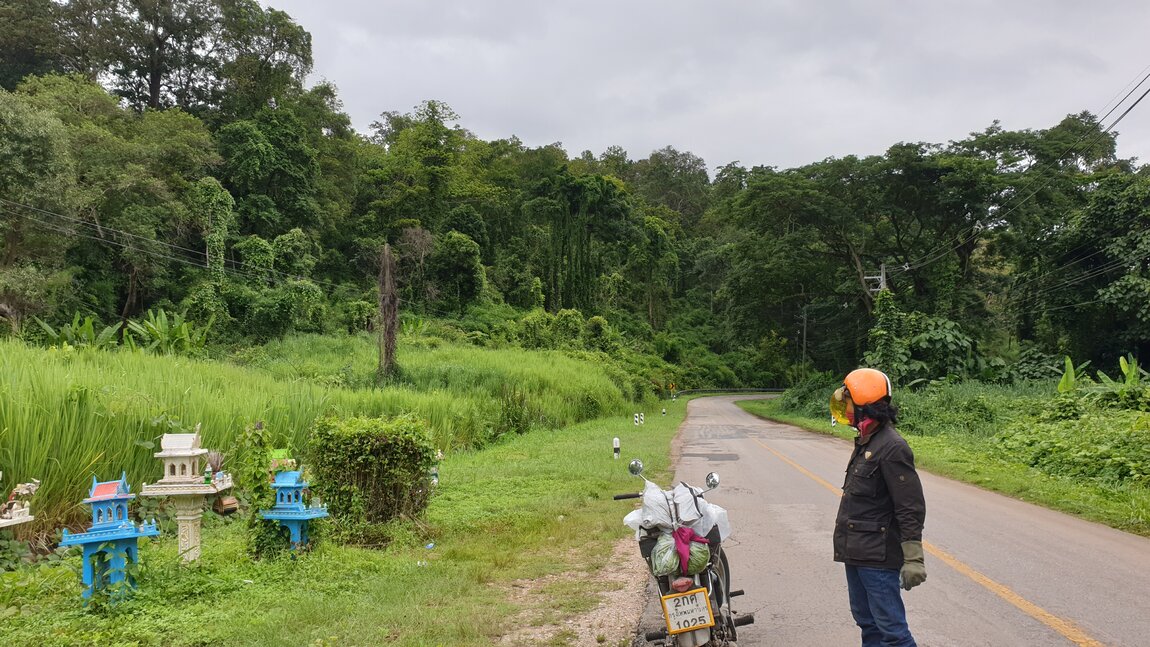 Something lost in translation.... 'twas ran out of "petrol"...... ah, that's better....
At a lunch stop in Phrao, we came across this wonderful 1970 Oldsmobile Cutlass Supreme, from Chiang Mai.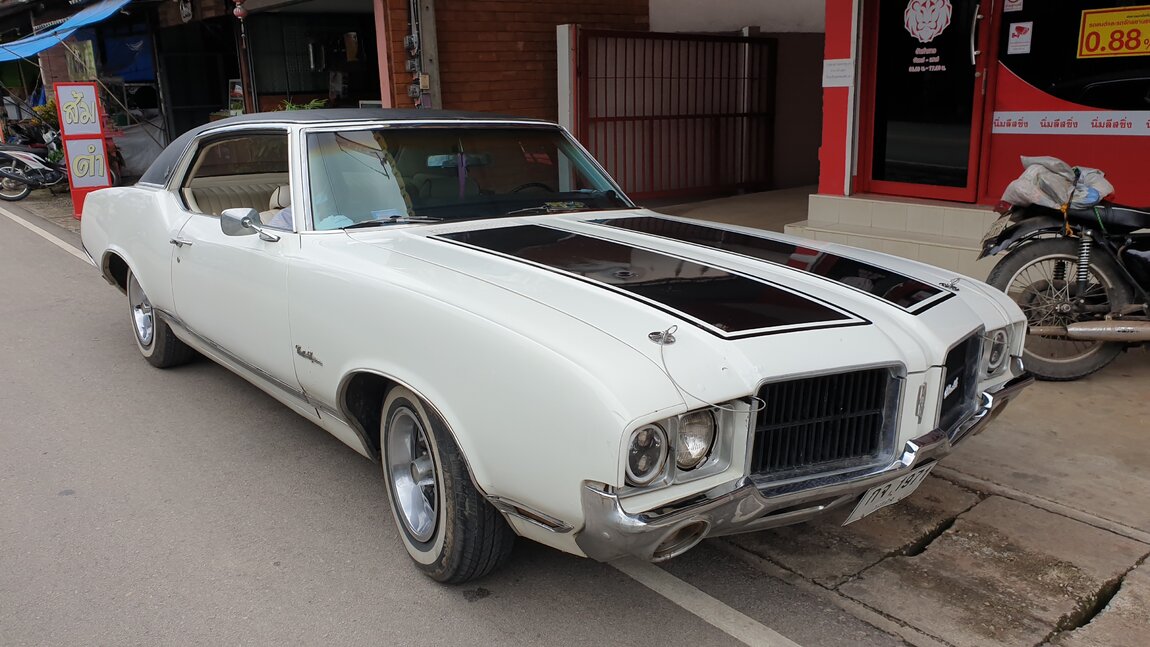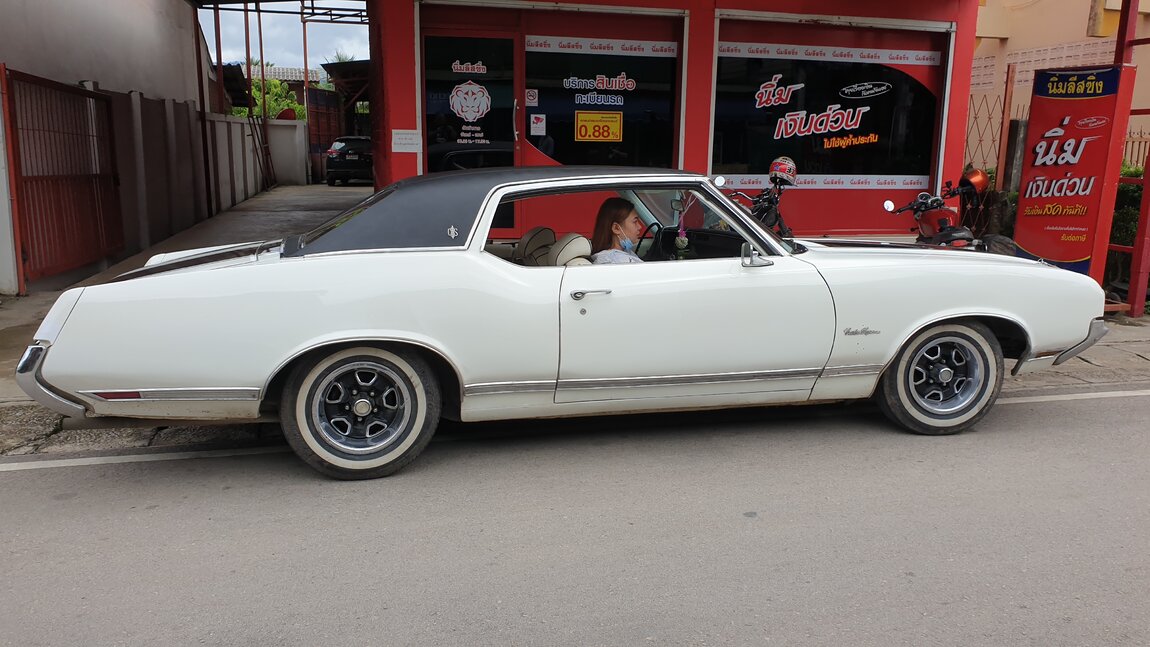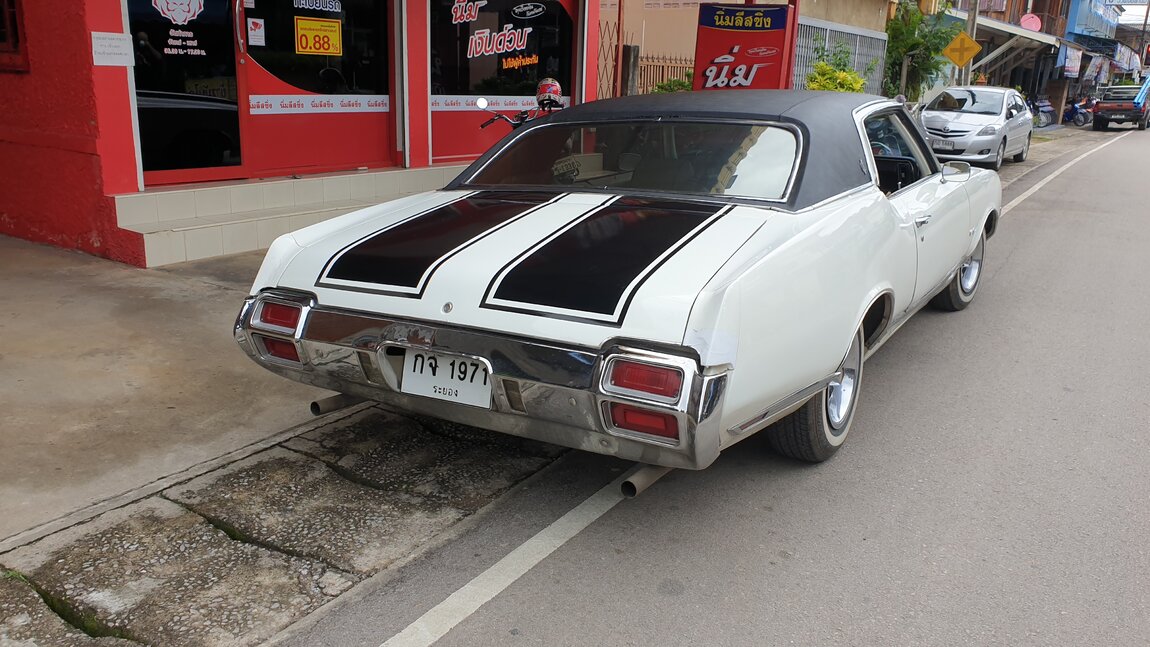 What a glorious V8 sound, when it left,, shame it wasn't a burn-out up the road....
Next stop was a return to the Thung Tewee Hot Spring spa, for a dip in the outdoor hot pool.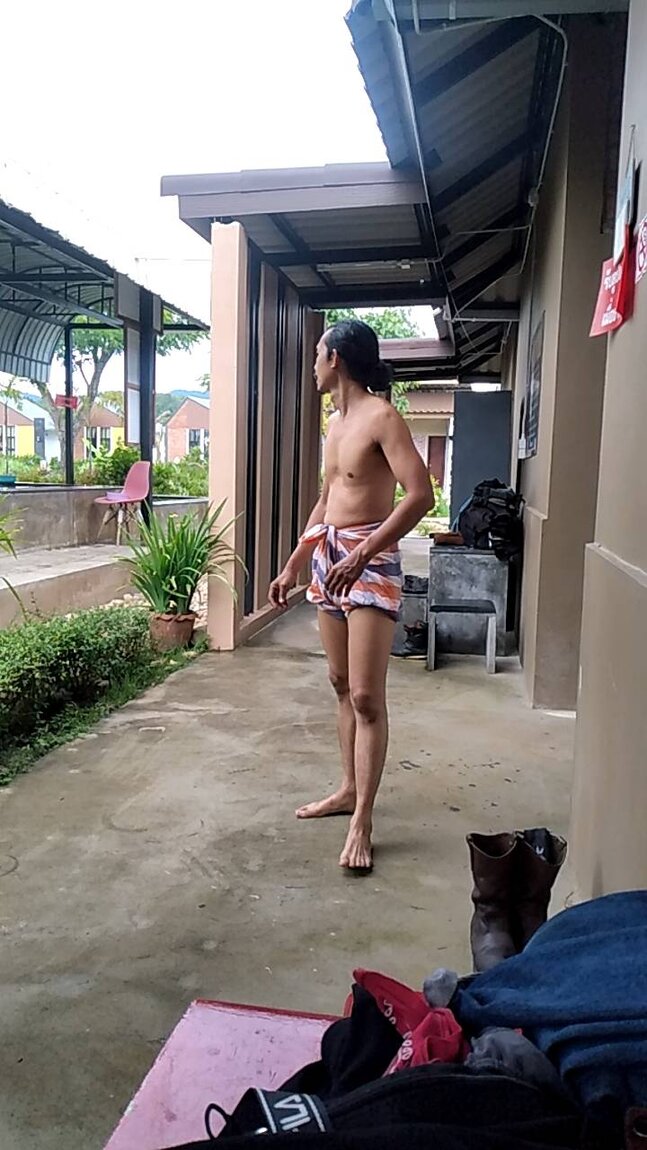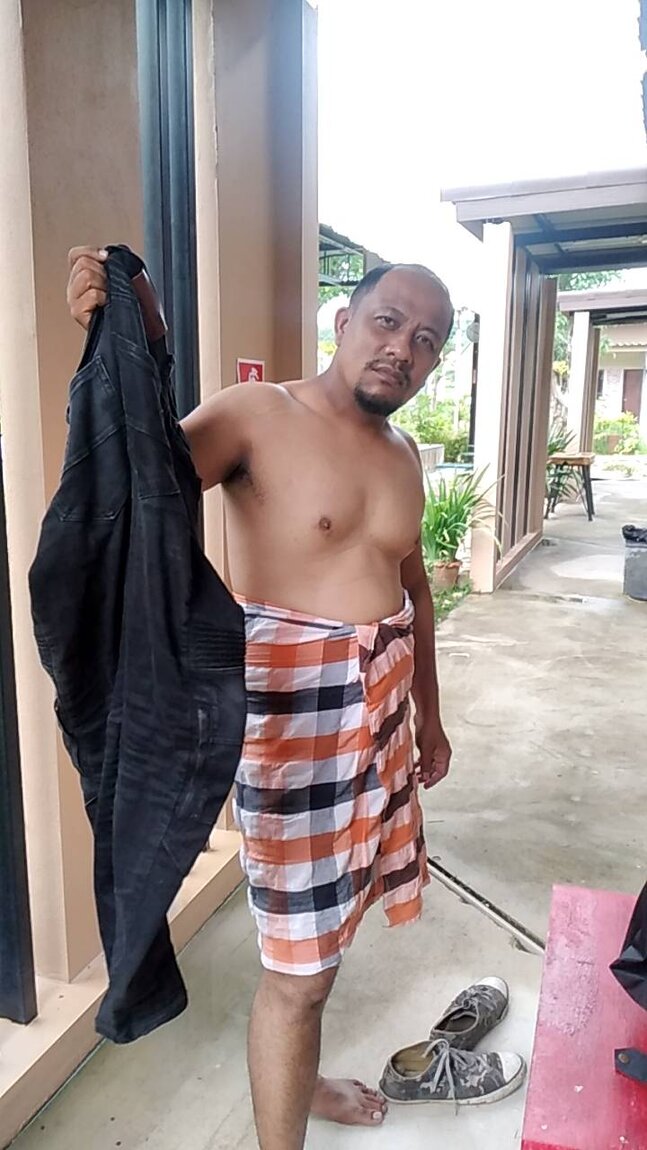 We then headed down the 118 and onto the 120 to stop at Wang Nua for the night. The Ching Tawan is a pretty new place. The landlady had locked herself in the reception office, hidden behind a screen to talk to us, such was the fear of the lurgy. A bit sad....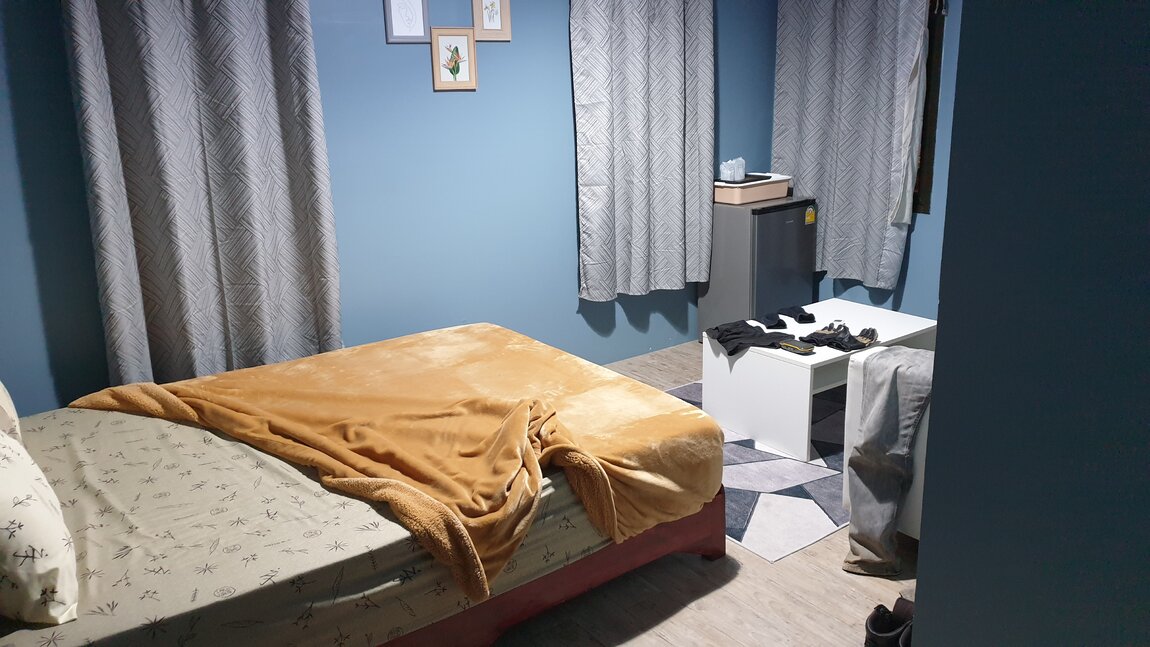 K Berm showed us his tyre pump. Pop out a sparkplug, screw in the adaptor & hose and use the engine as a compressor....... clever....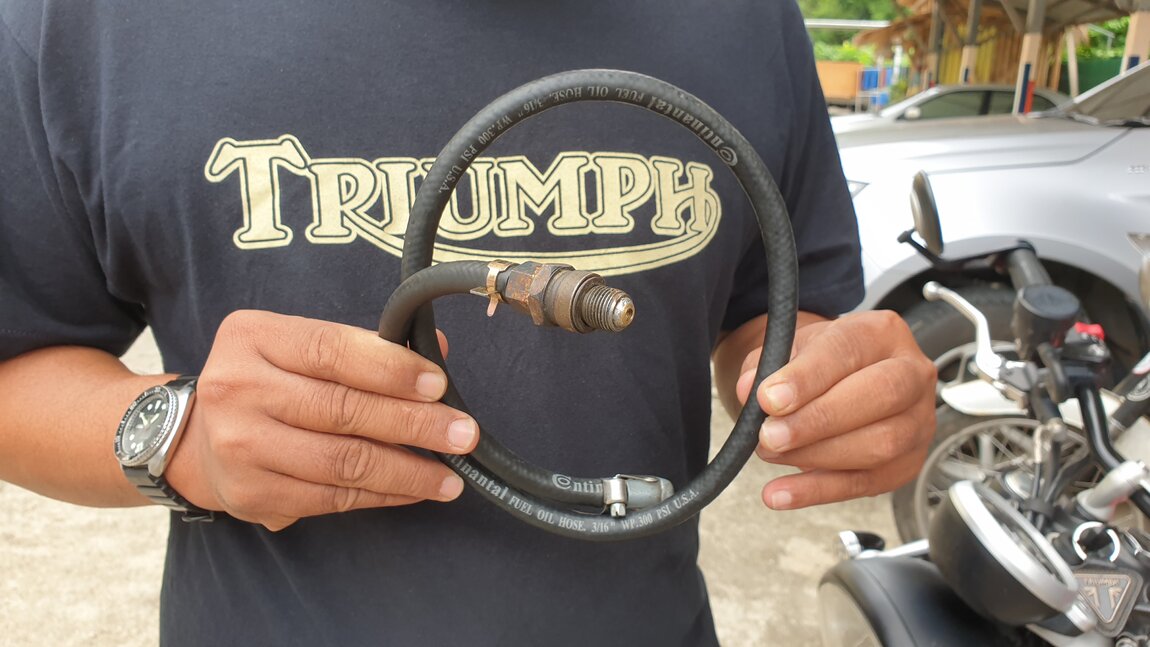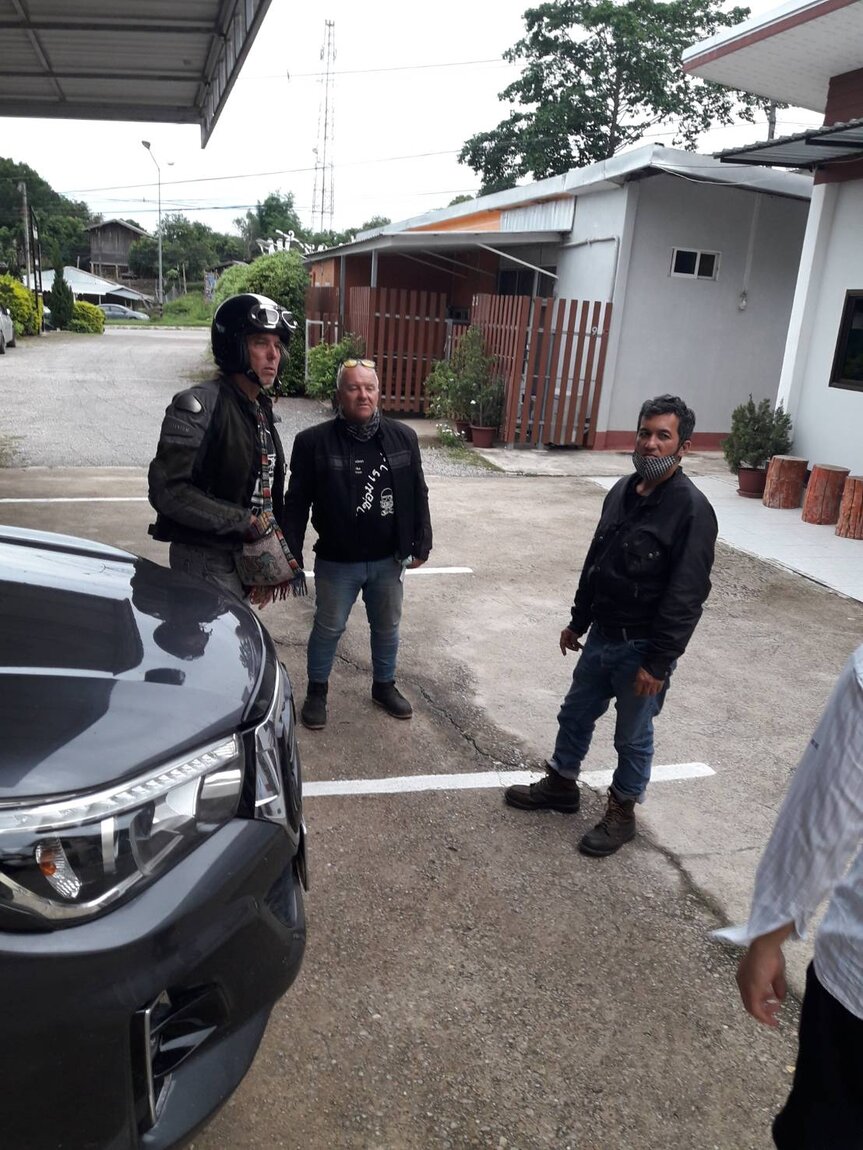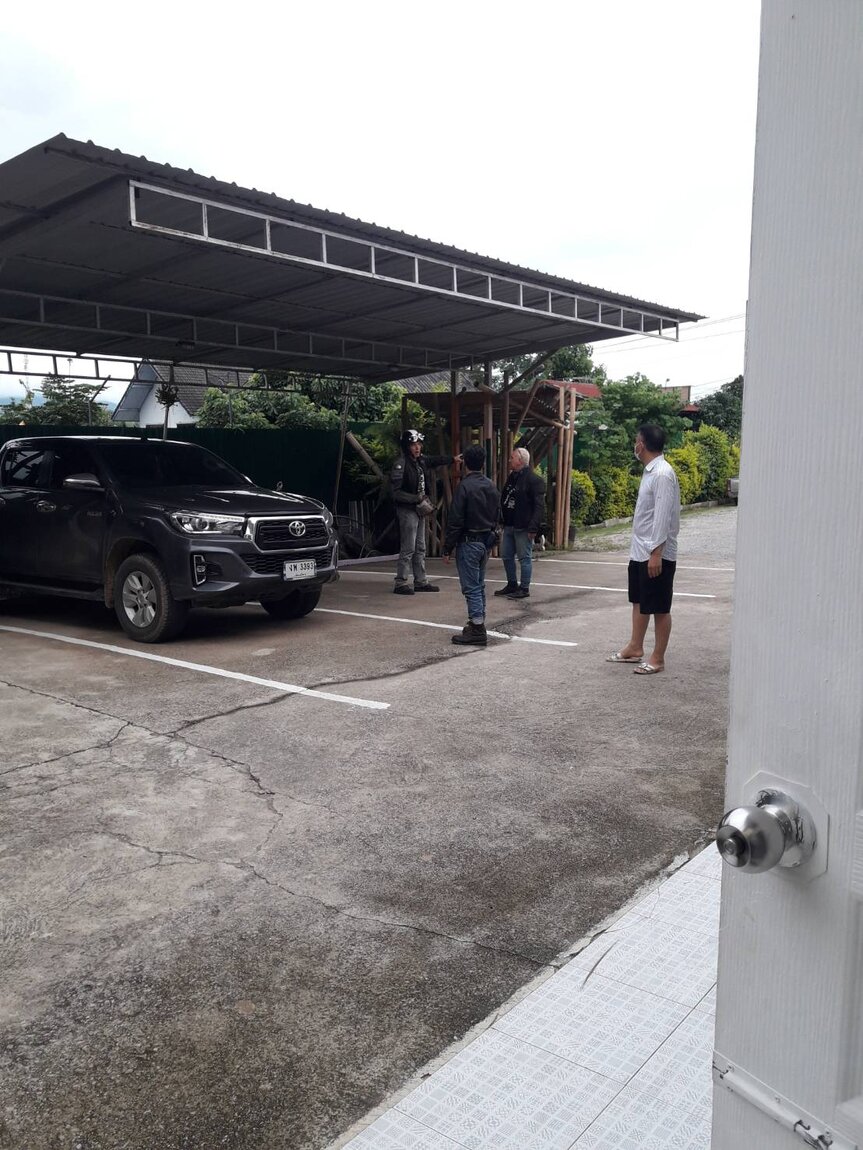 Next morning, after leaving Wang Nua, we dropped in to pay our respects to Khun Sanae, the Phu Yai Bahn at Pong Tham. We then took a walk around this wonderful tradtional Thai Lue village.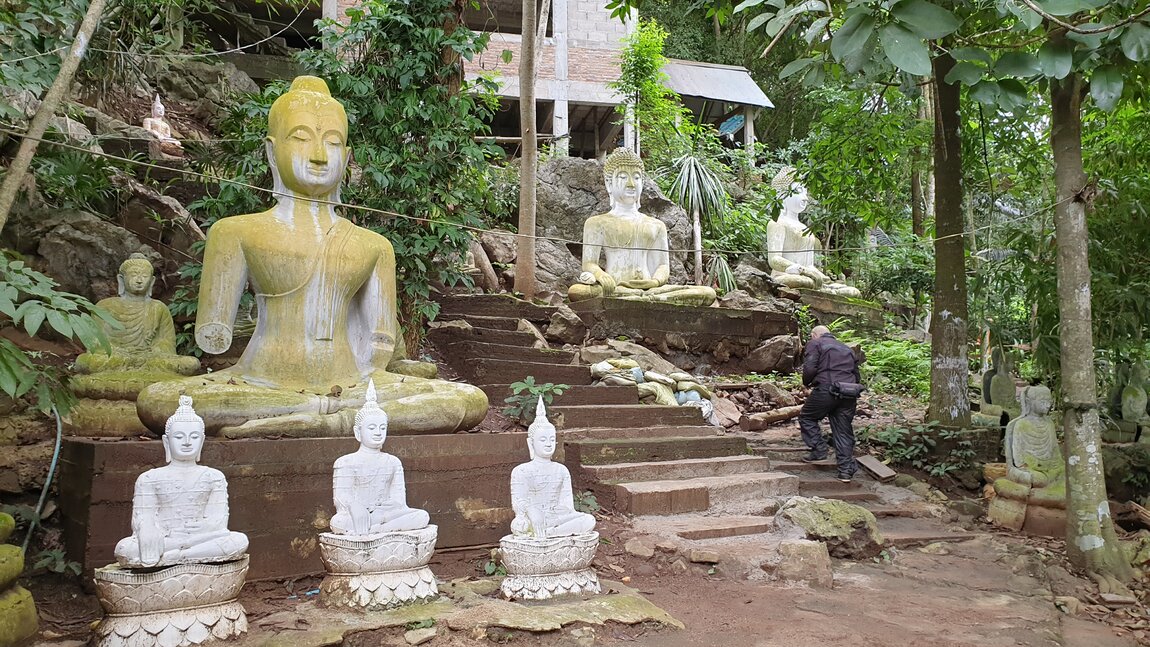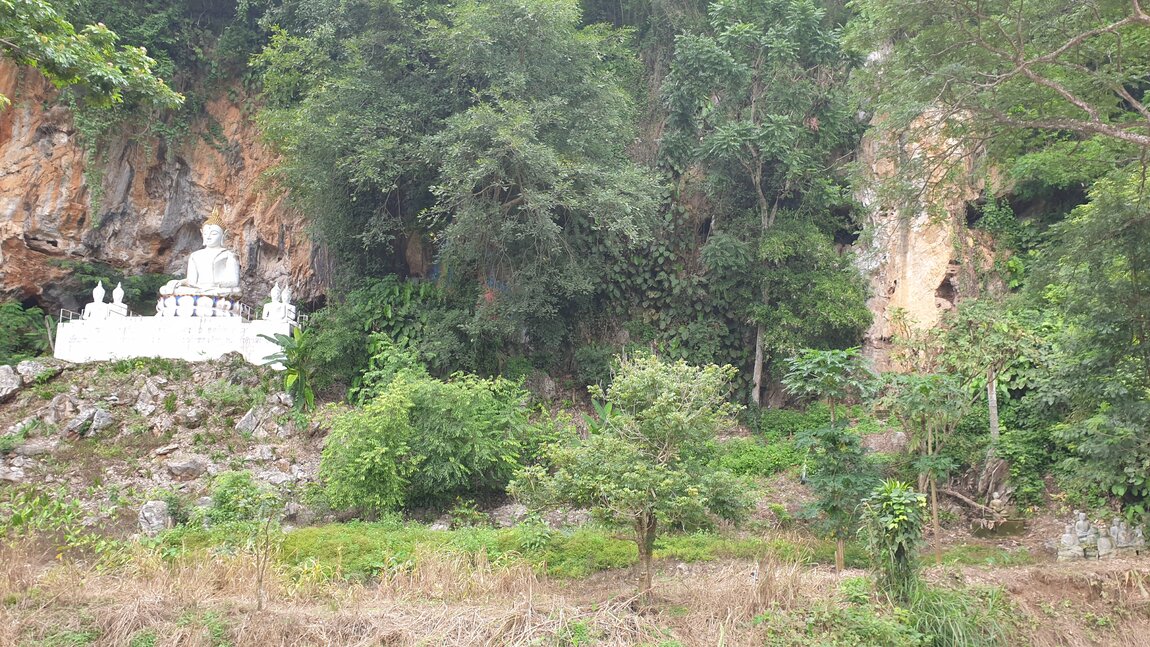 No views of Doi Nork on the Lampang-Phayao border mountain ridge, due to mork.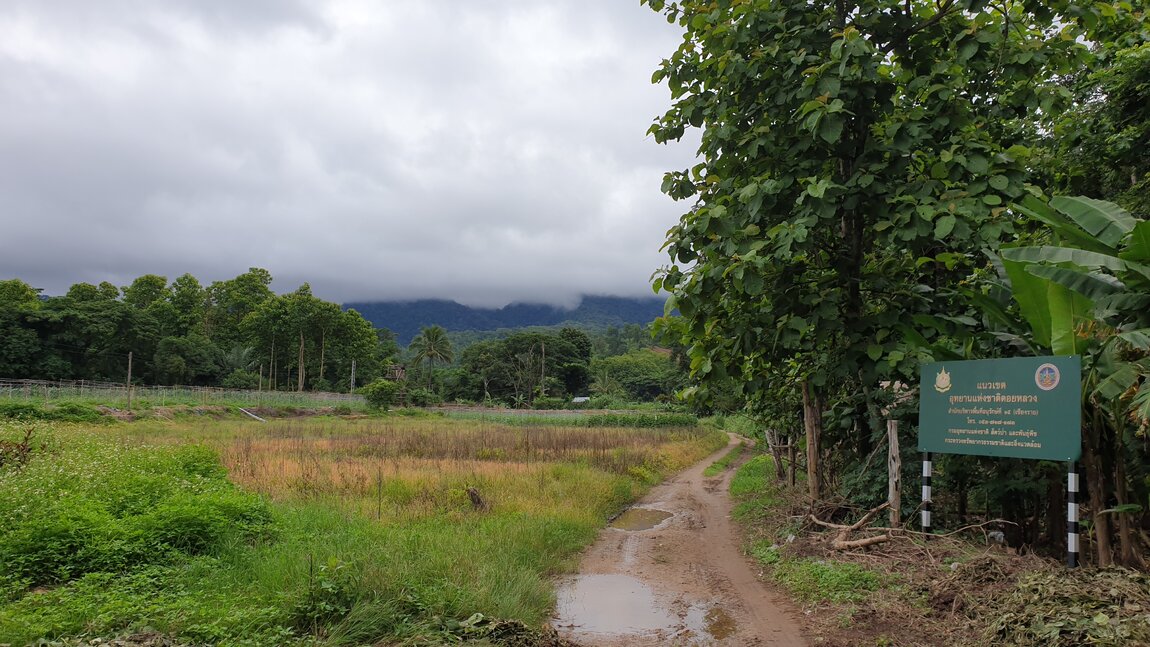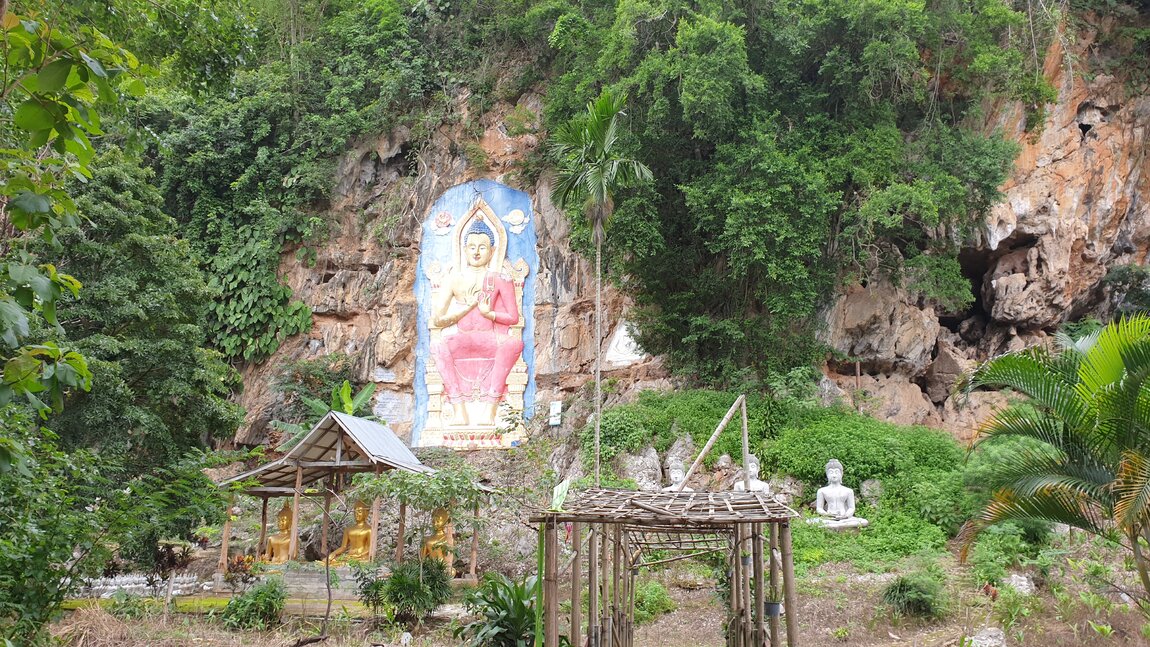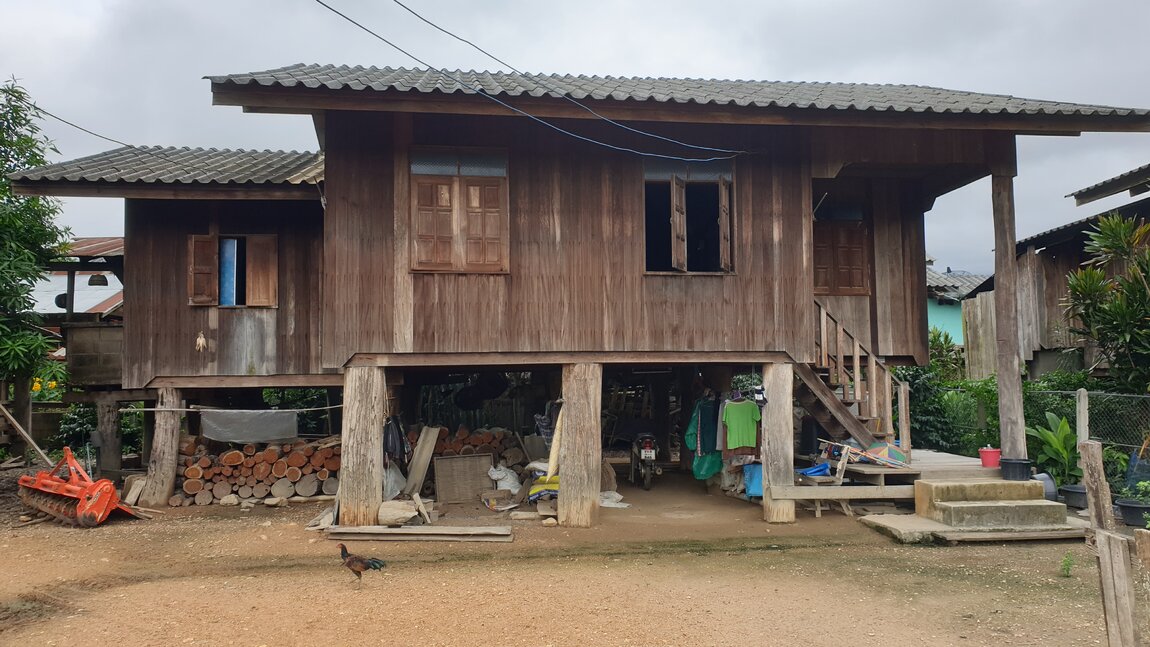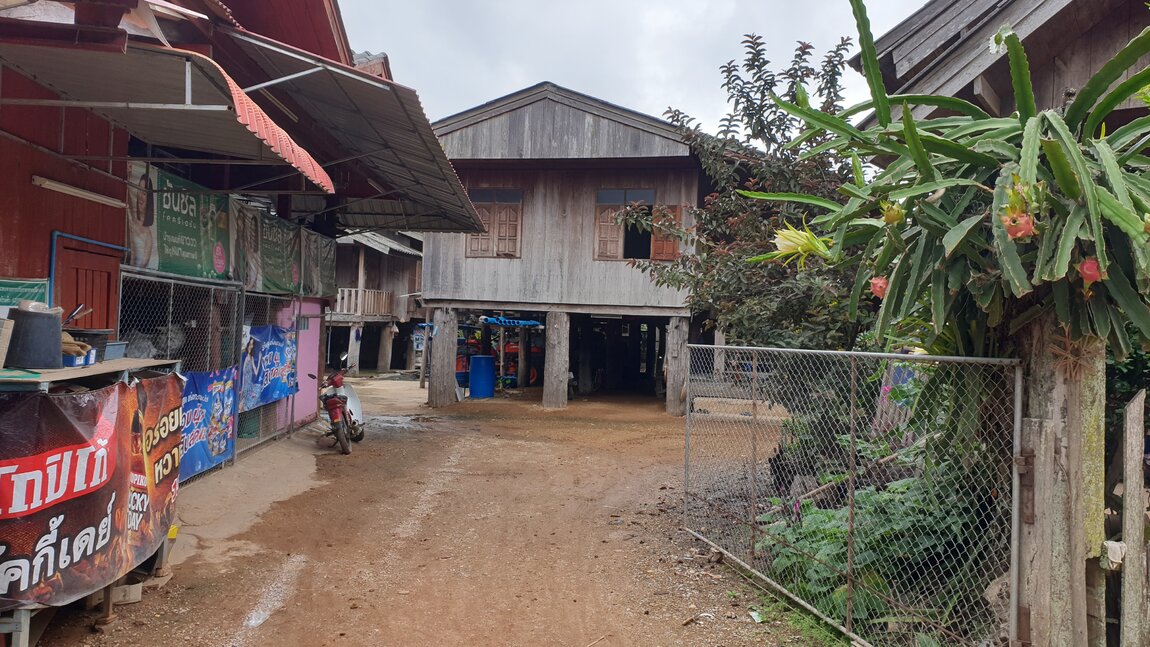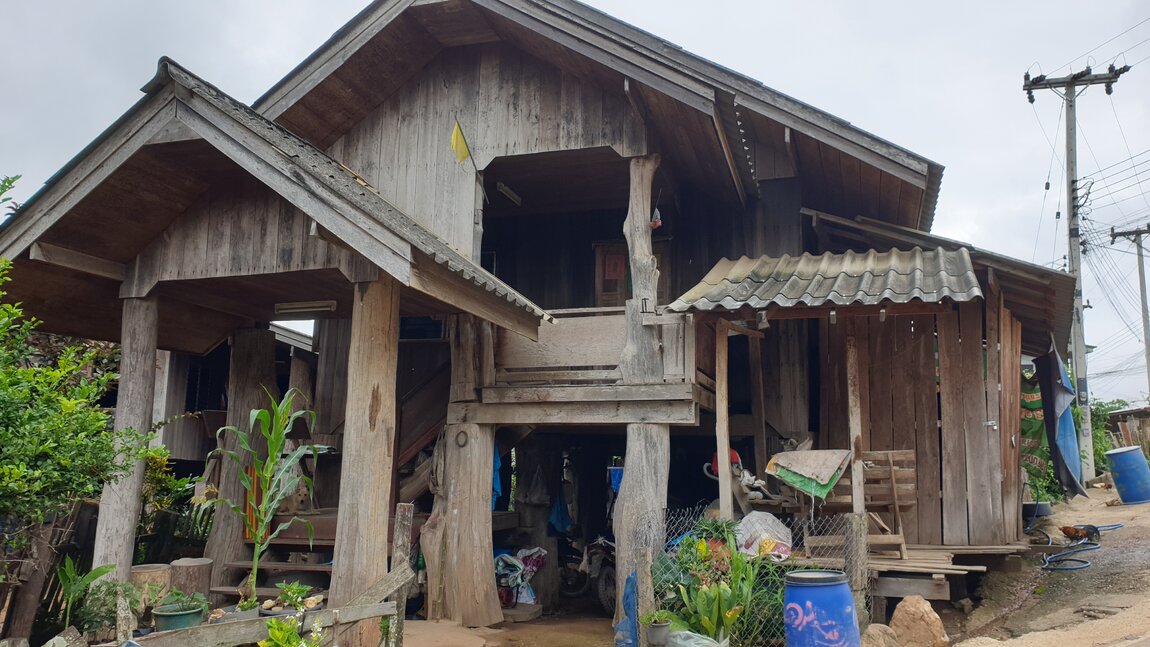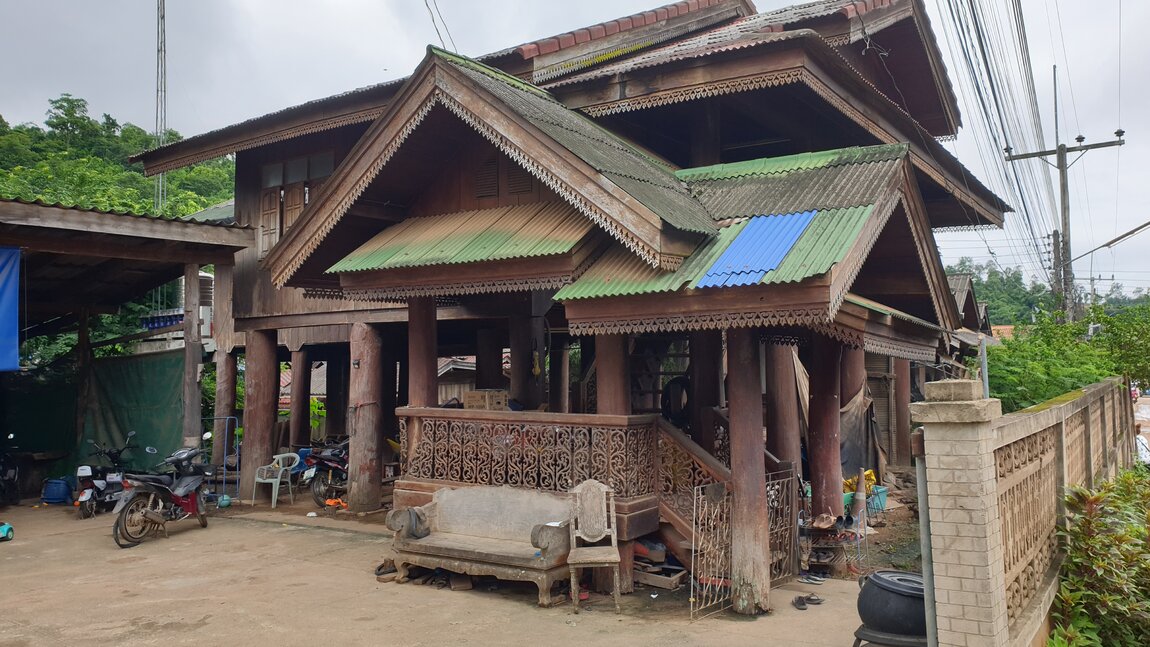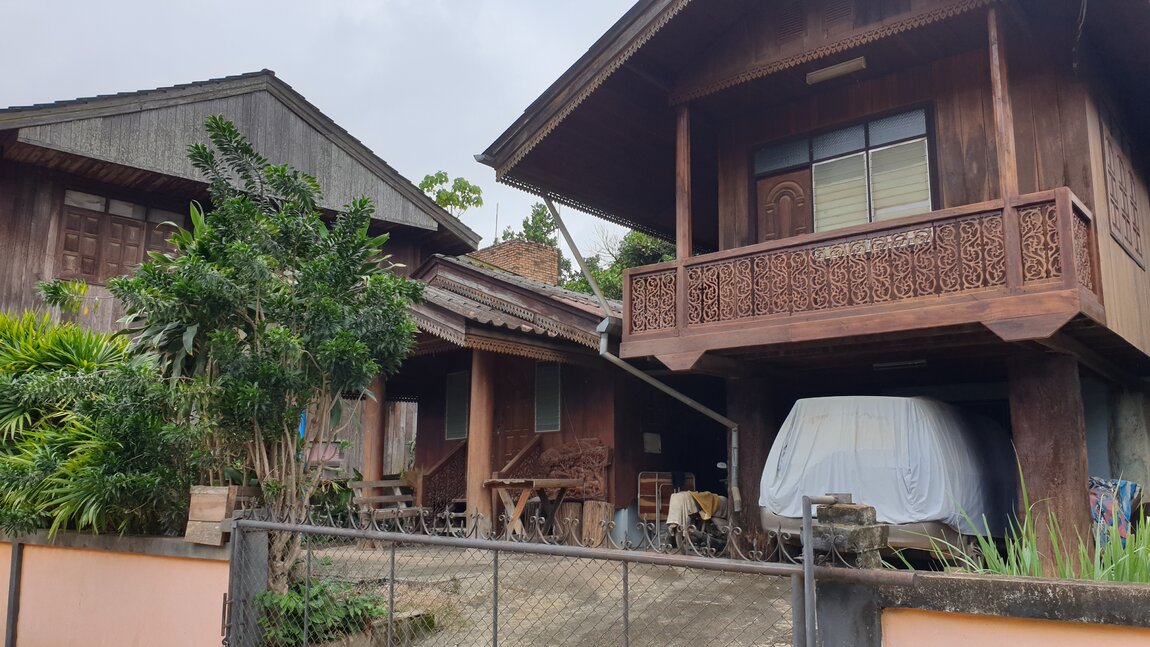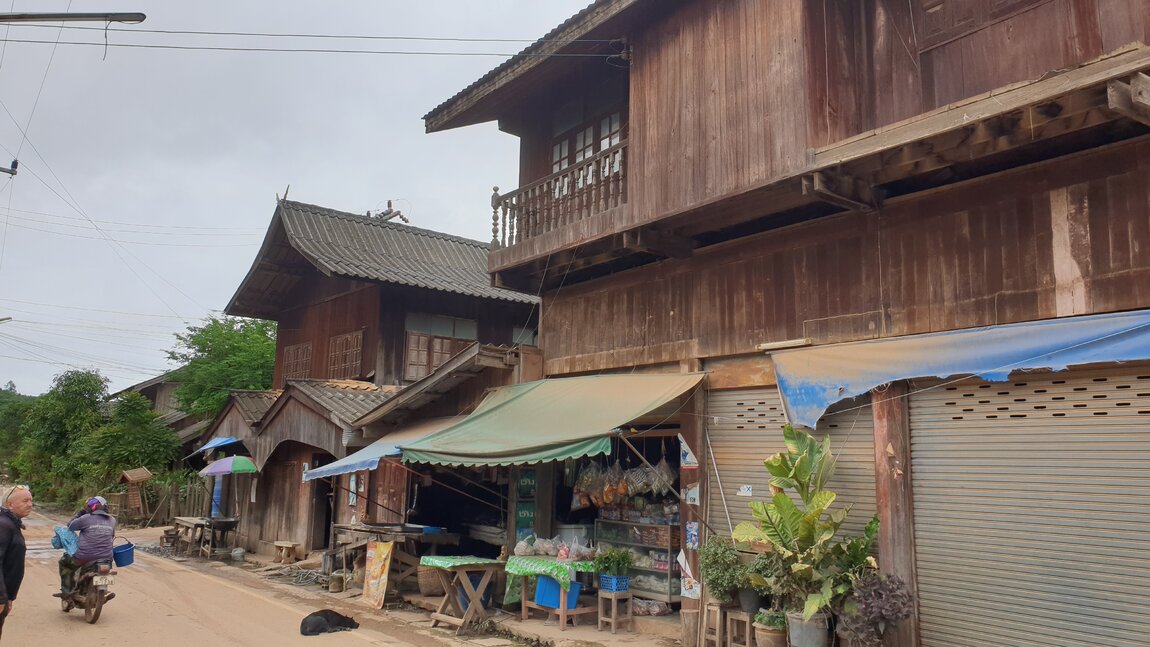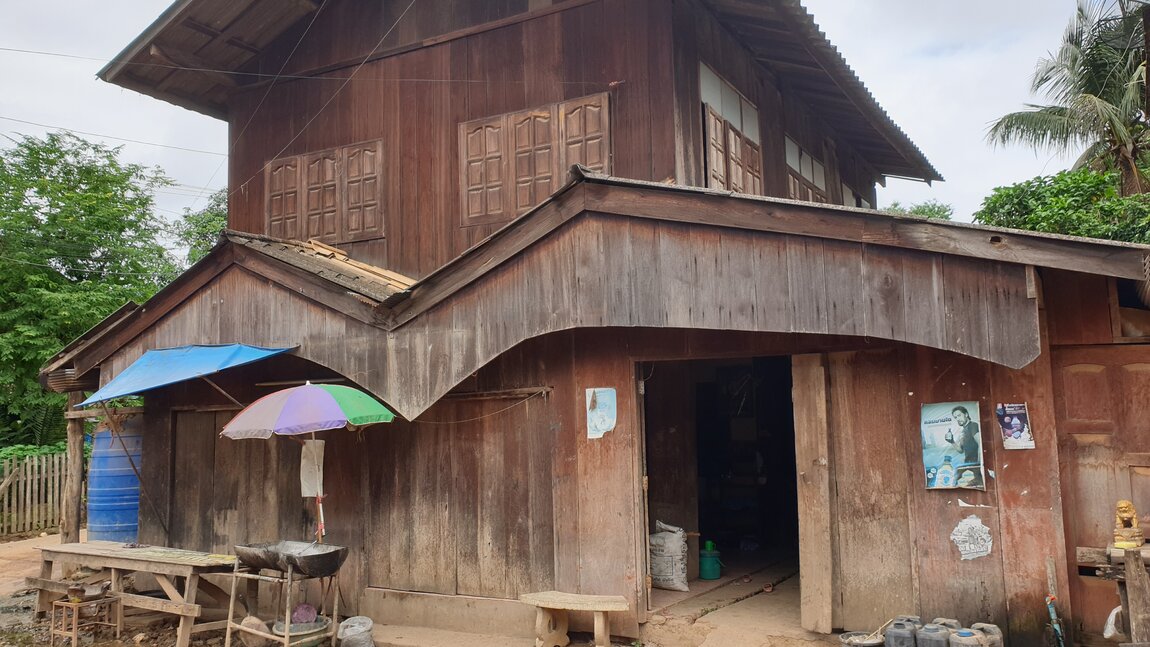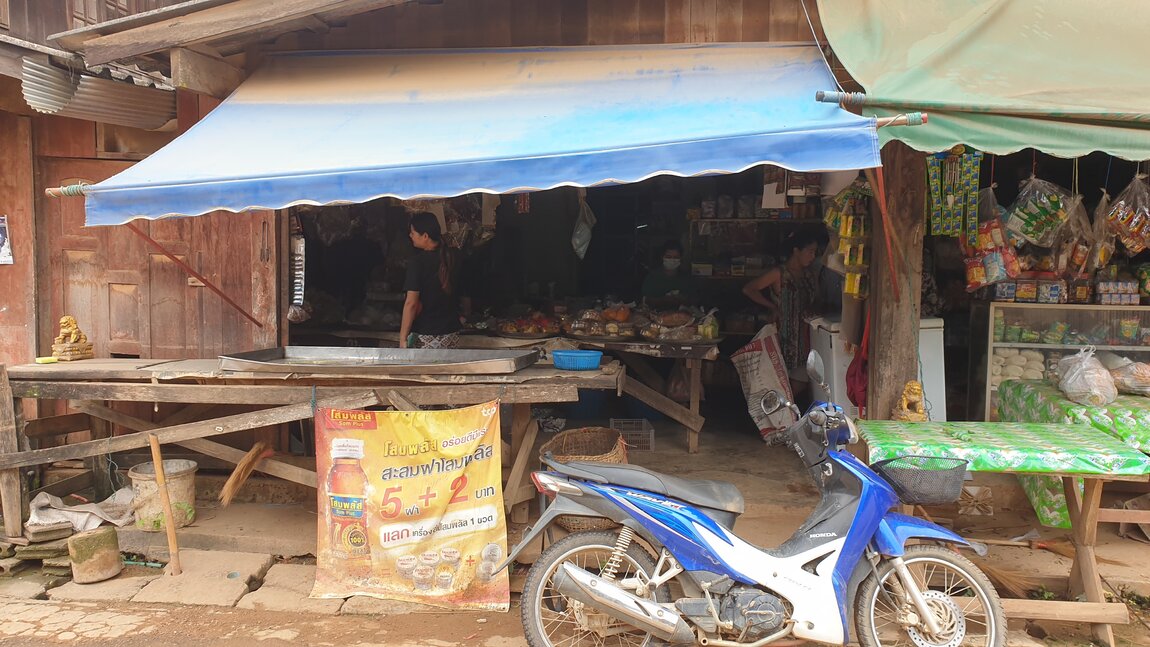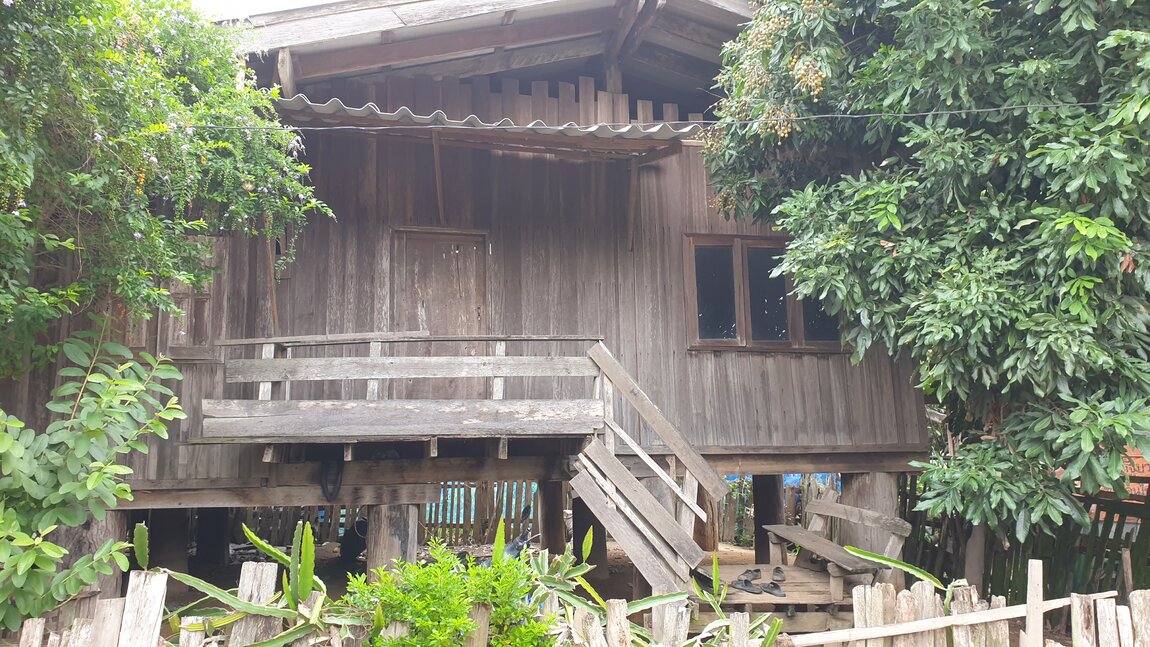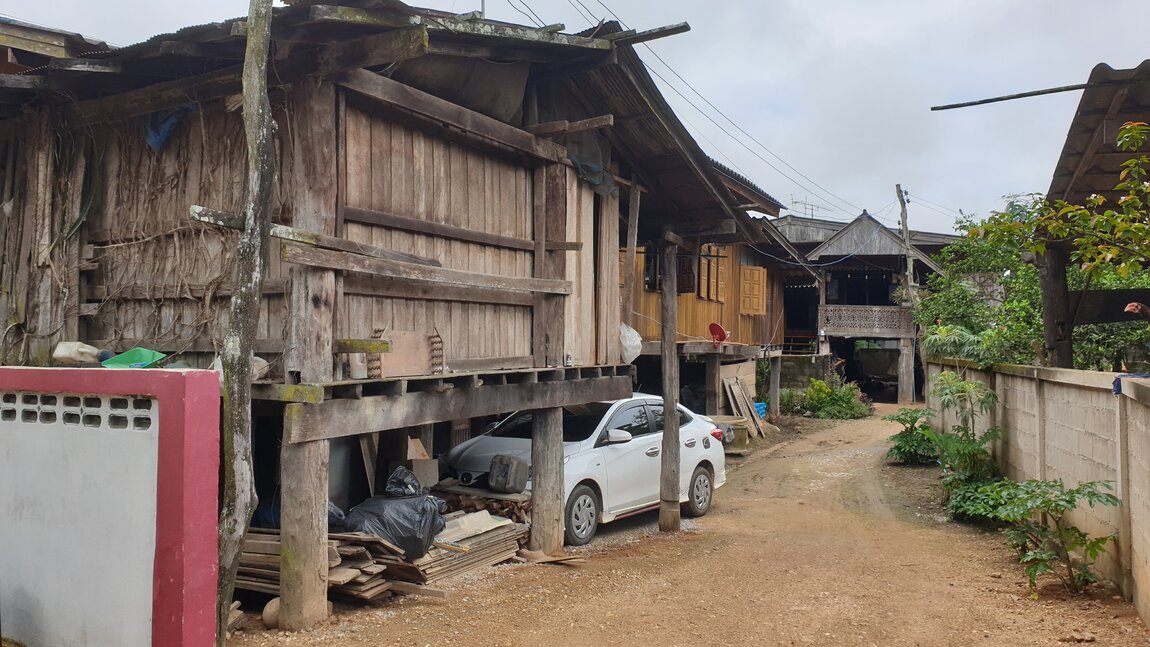 We rode out the 120 east and then down highway 1.
The next essential stop was at the Captain Jensen Memorial, south of Phayao.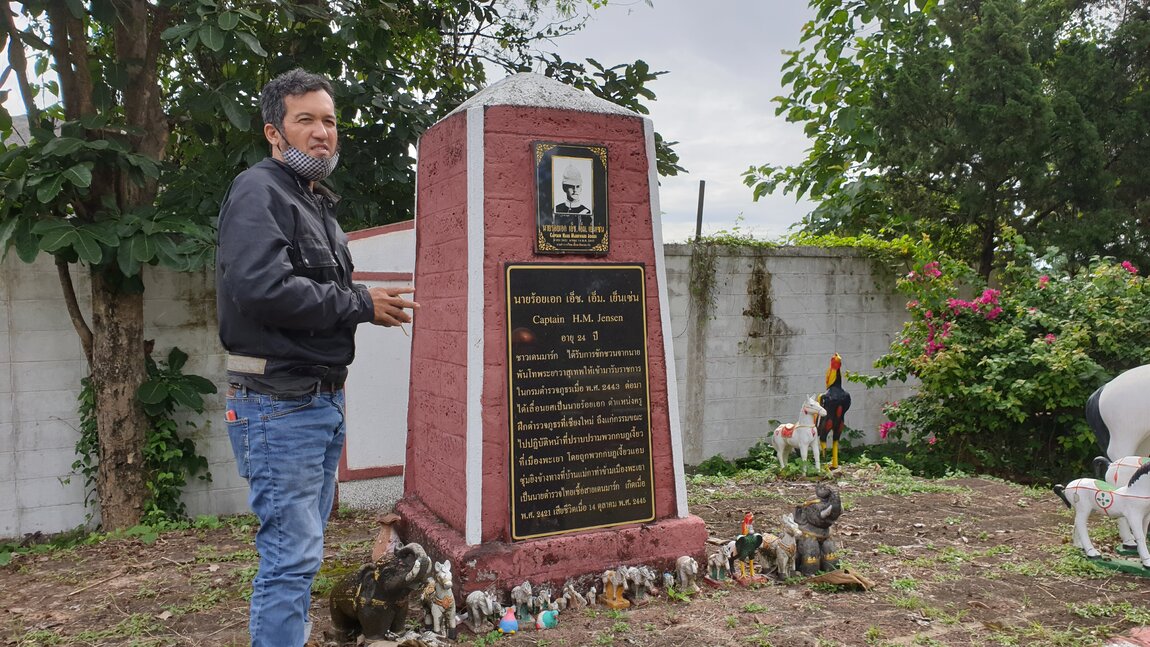 He was just 24 years old and died leading a Thai force against Shan rebels in 1902.
One has to wonder what the area was like back then. No roads, cars or 7-11s. Travel by elephant, bullock cart or maybe horse, with thick jungle all around.
Probably highway 1 was a cart track back then.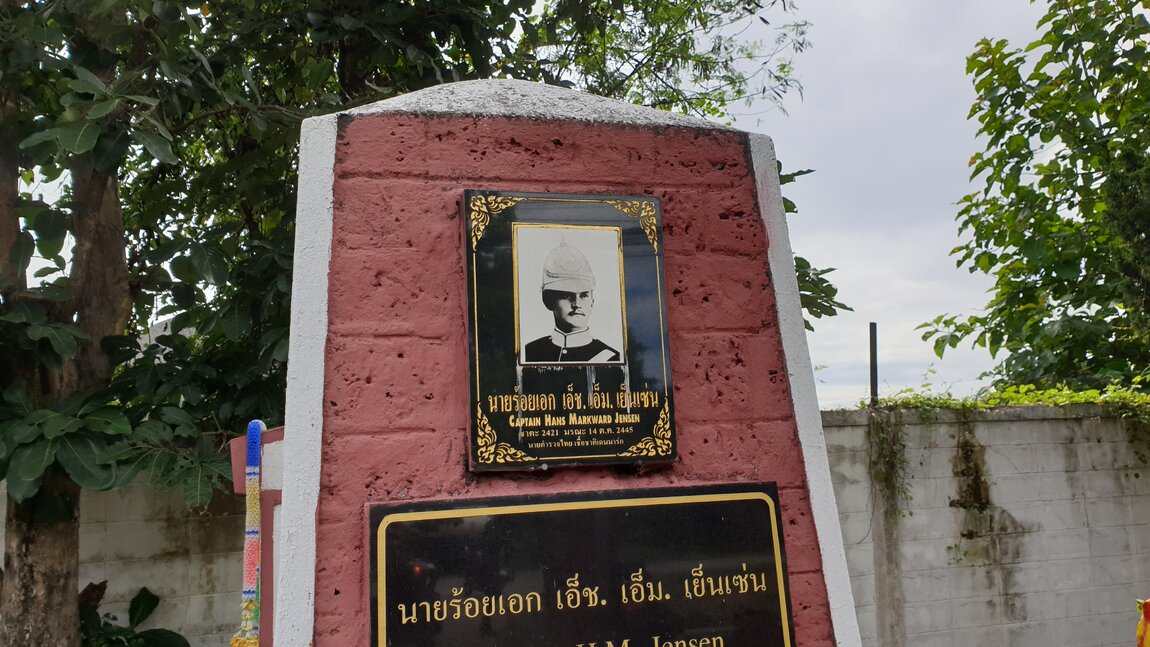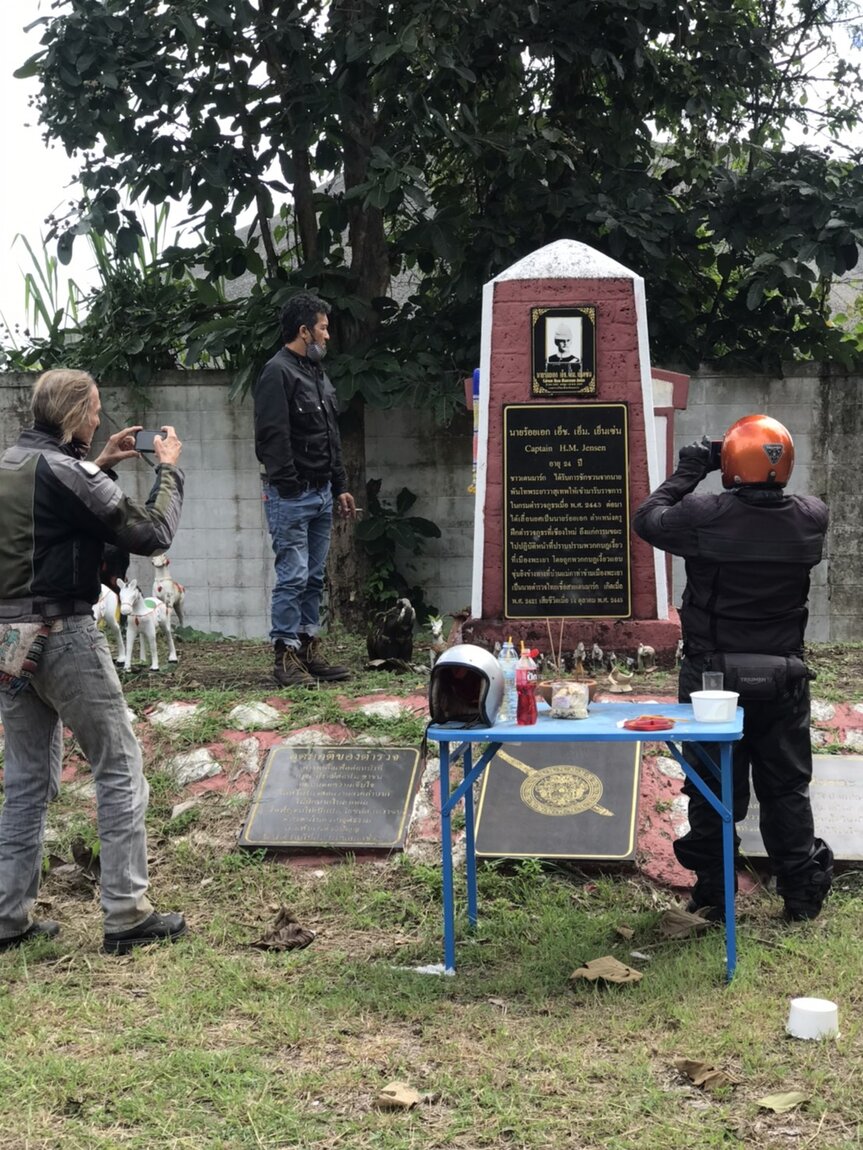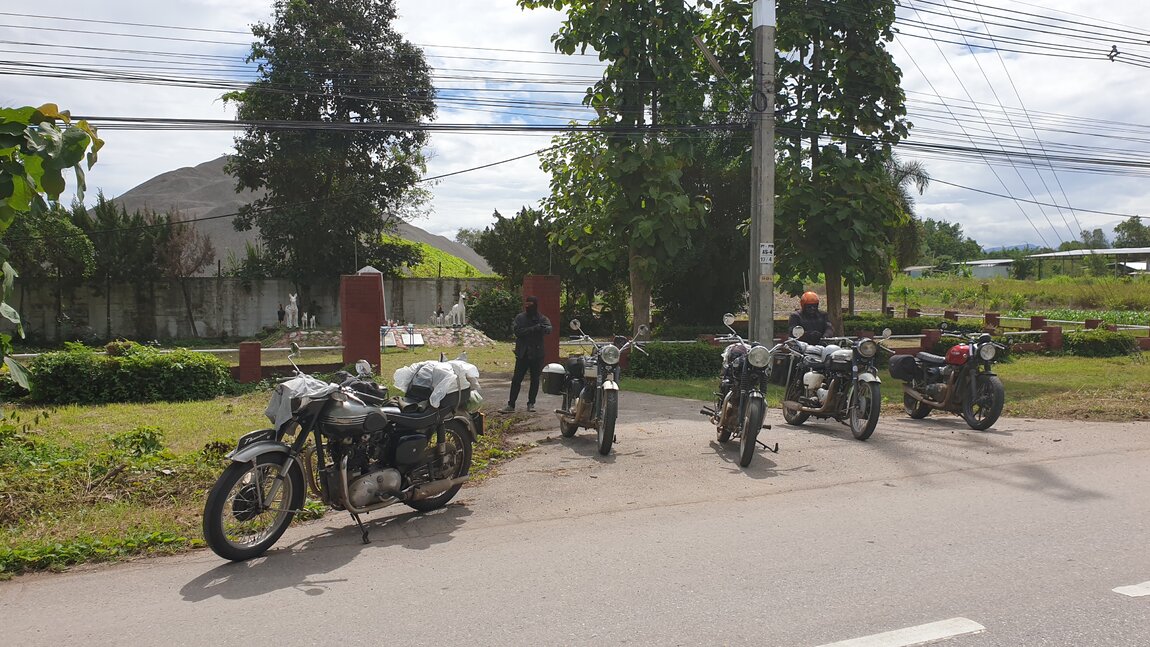 We then rode south to Ngao and took the road out west to the magical Lompukiaow.
There is a higher flat dirt road to get there now, no need for water crossings for access anymore.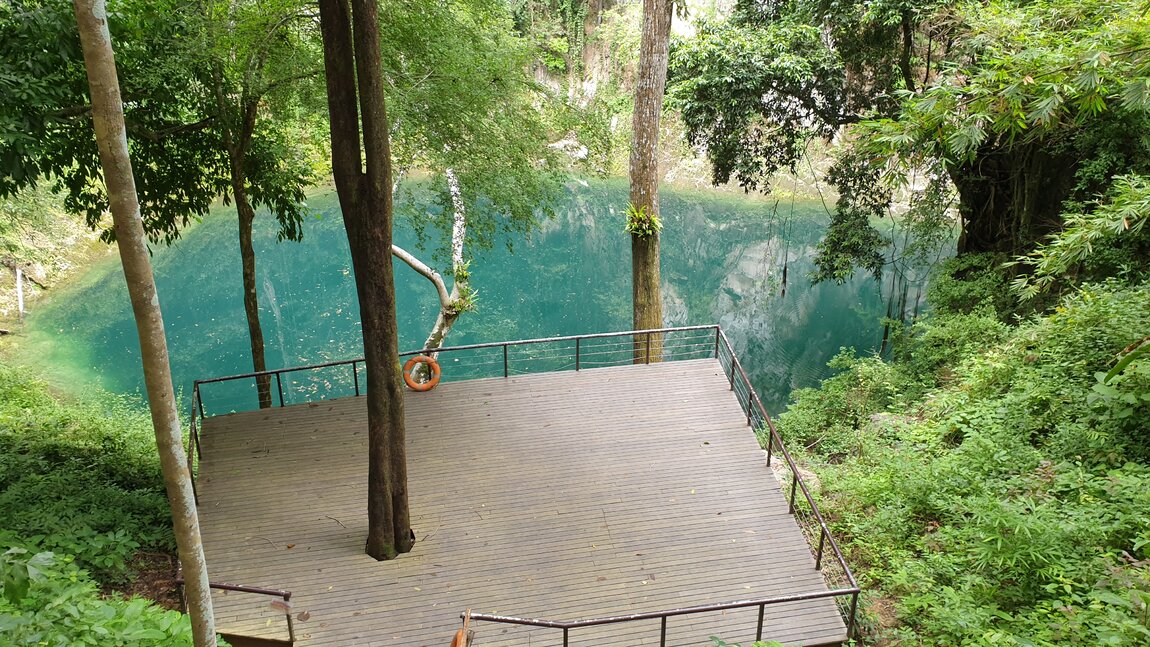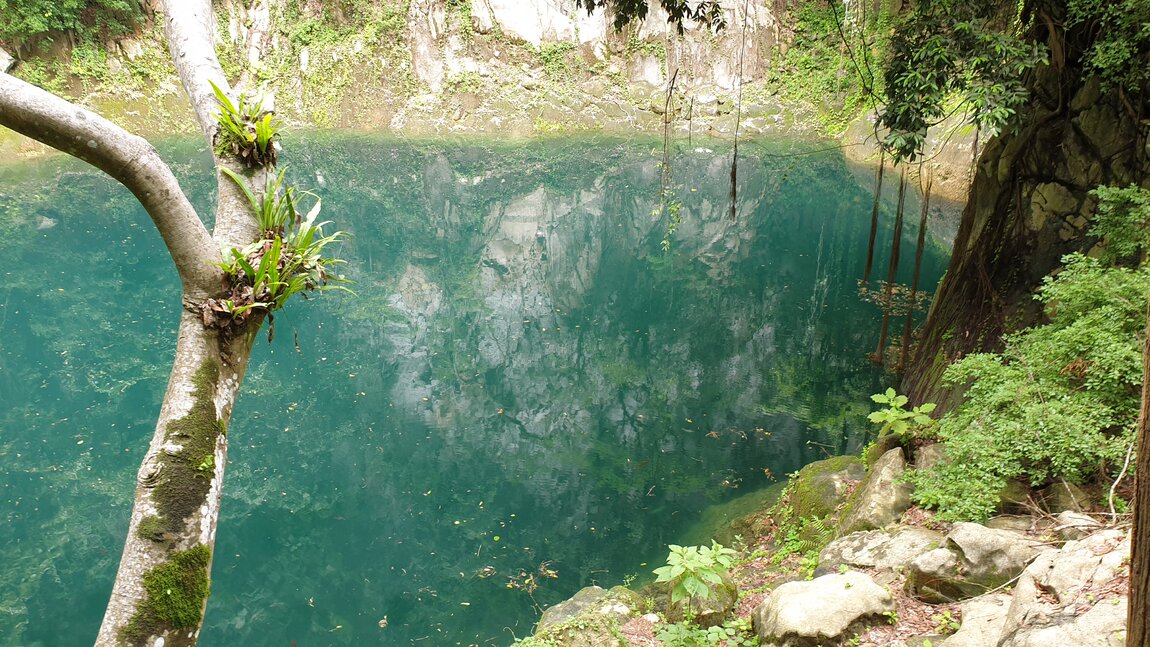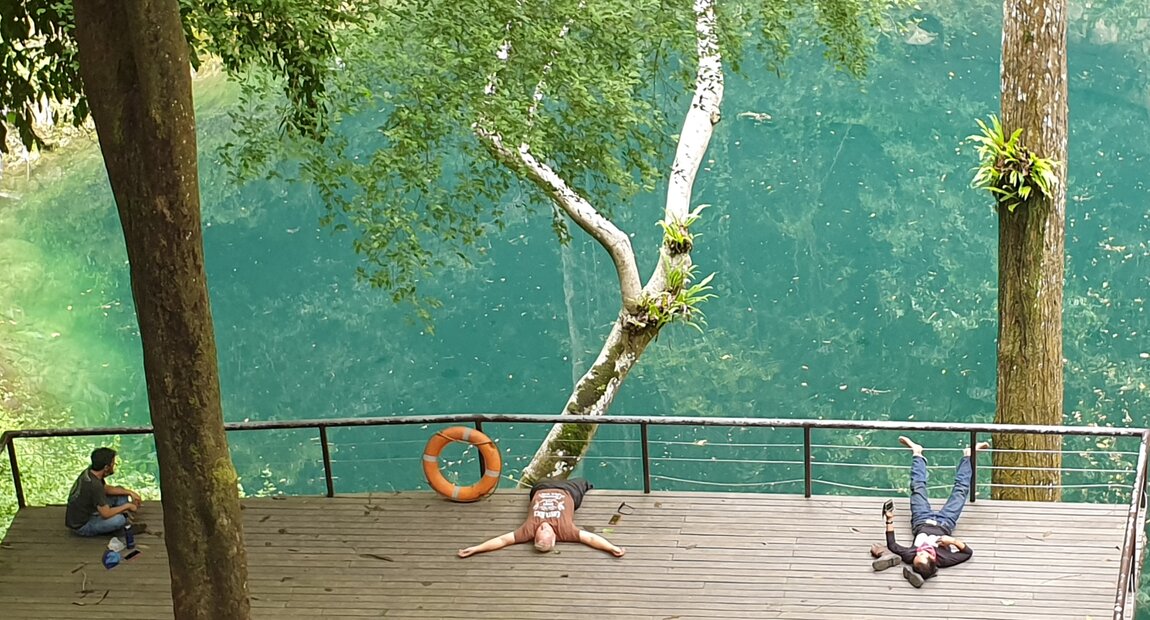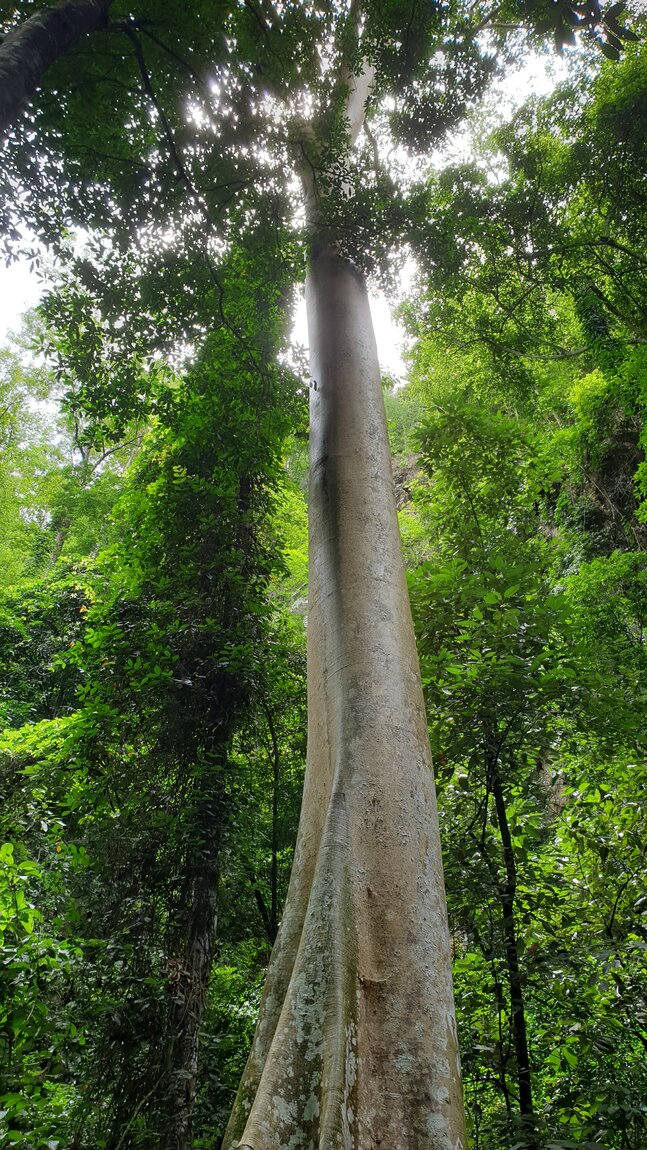 This is the most serene and magical spot I have been to in Thailand...
The petrol tank on K Ming's bike was coming loose, so repairs needed before riding on.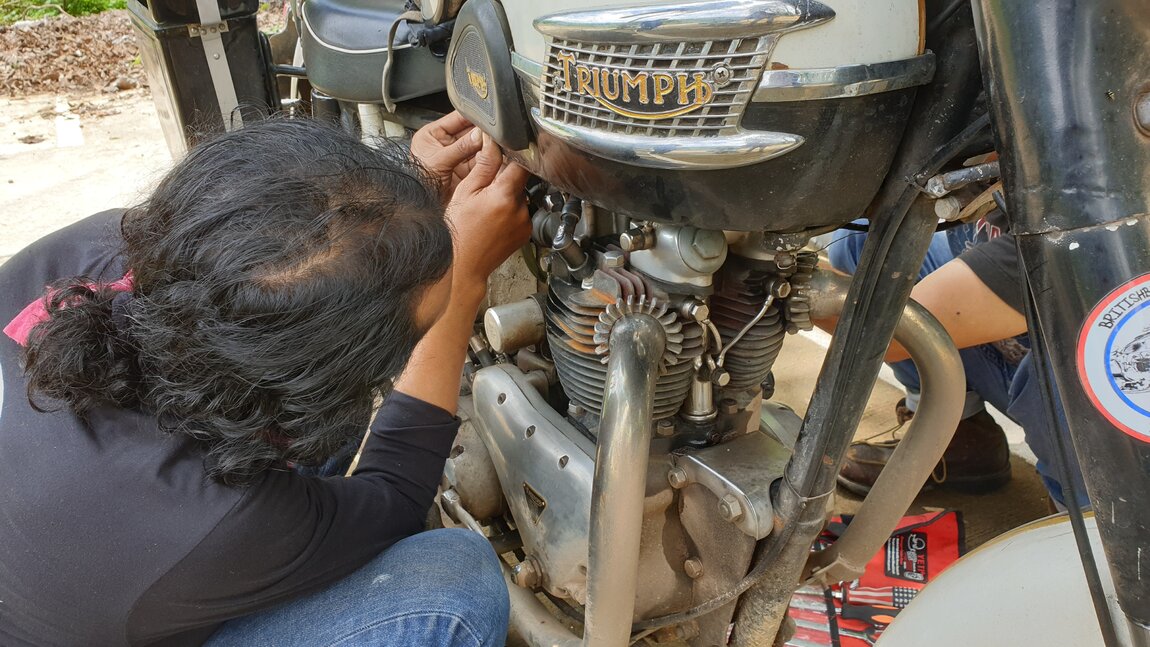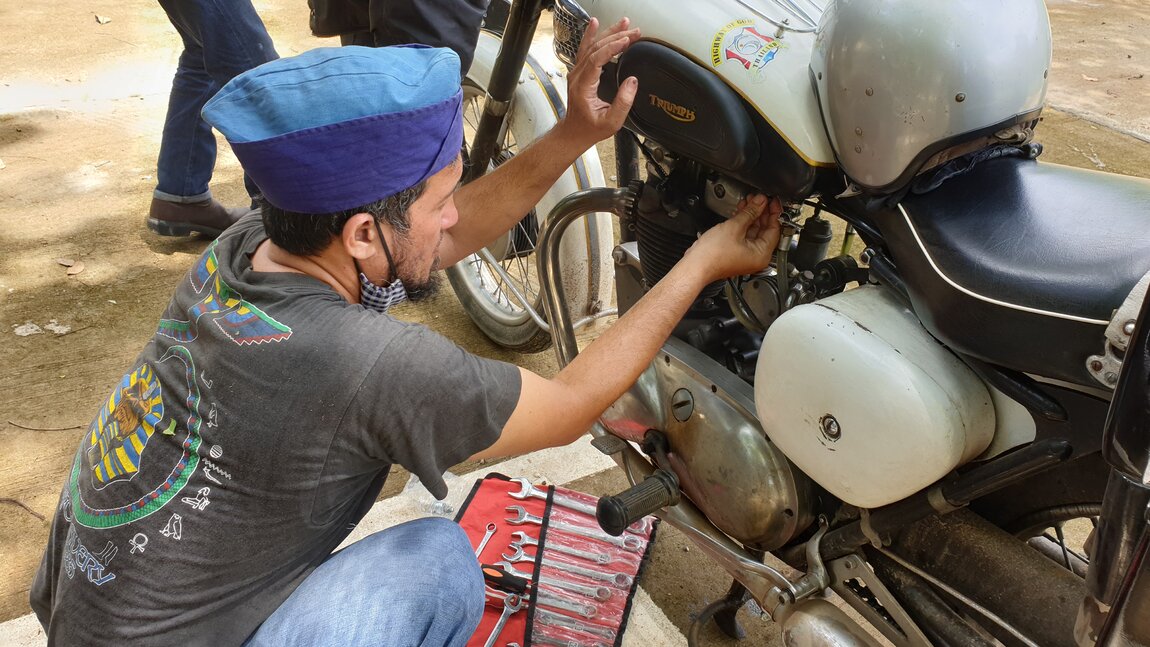 Next stop was Ngao town. It is a lovely traditional town and has the only example of this type of suspension bridge left in the country. Built over 100 years ago, by German engineers, it took over a year to complete.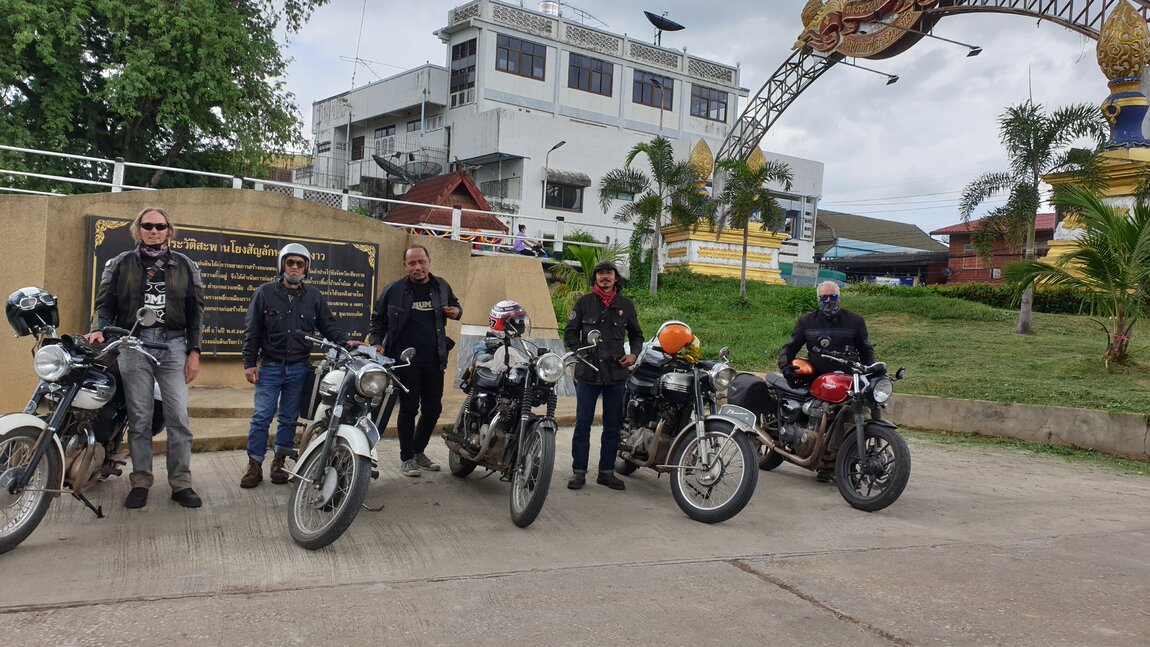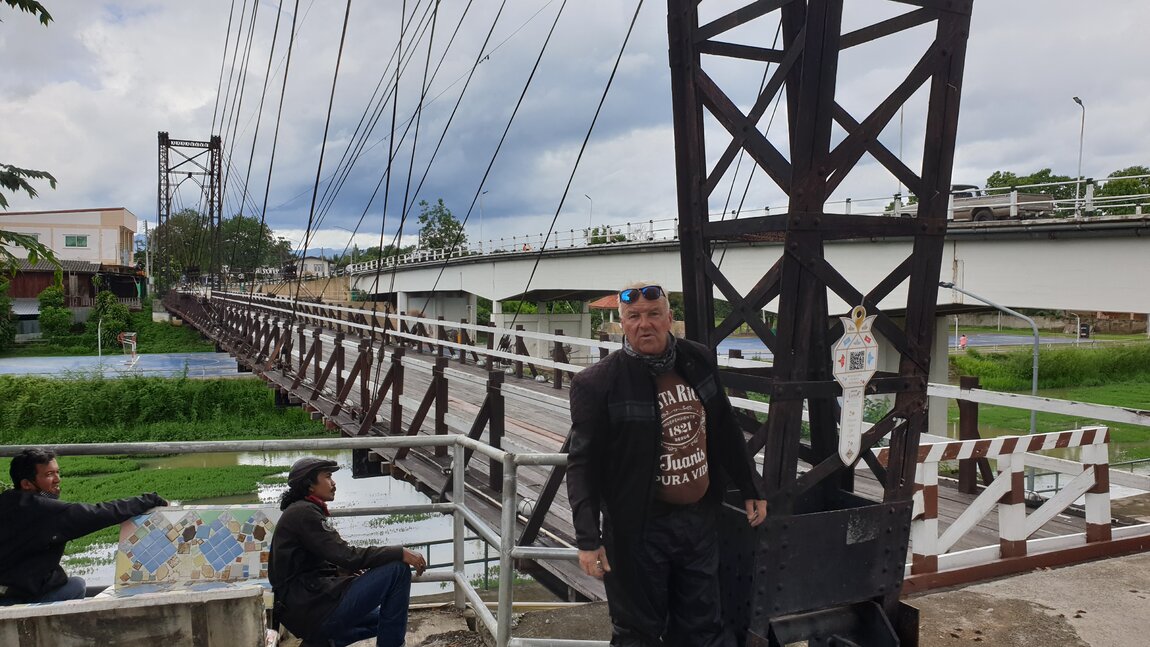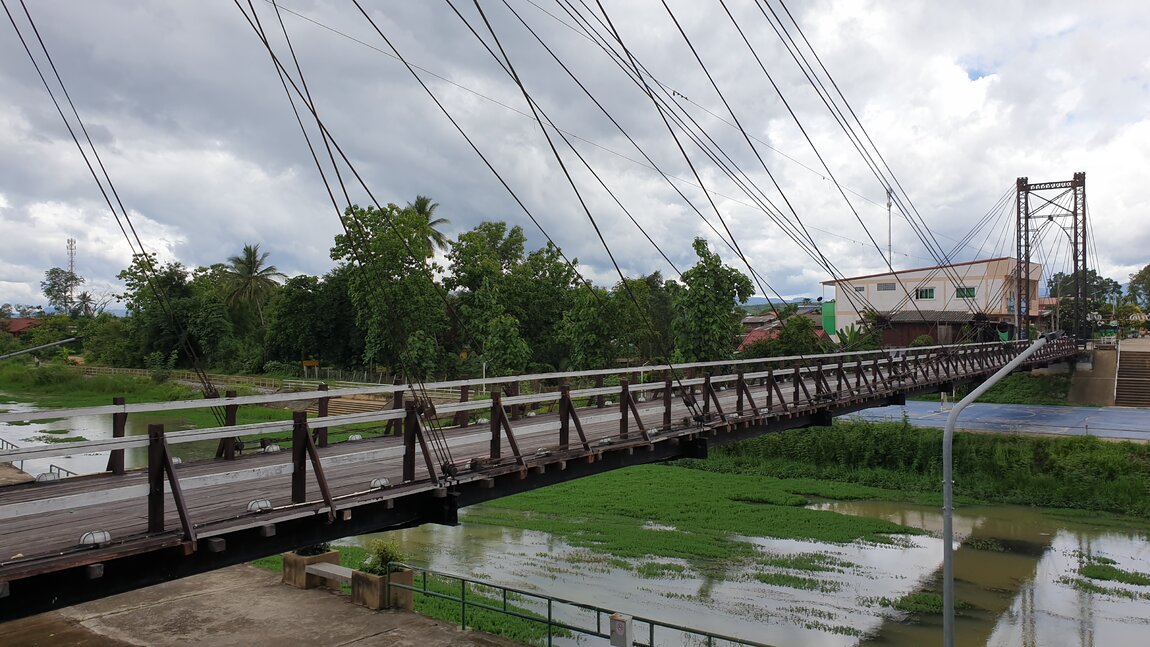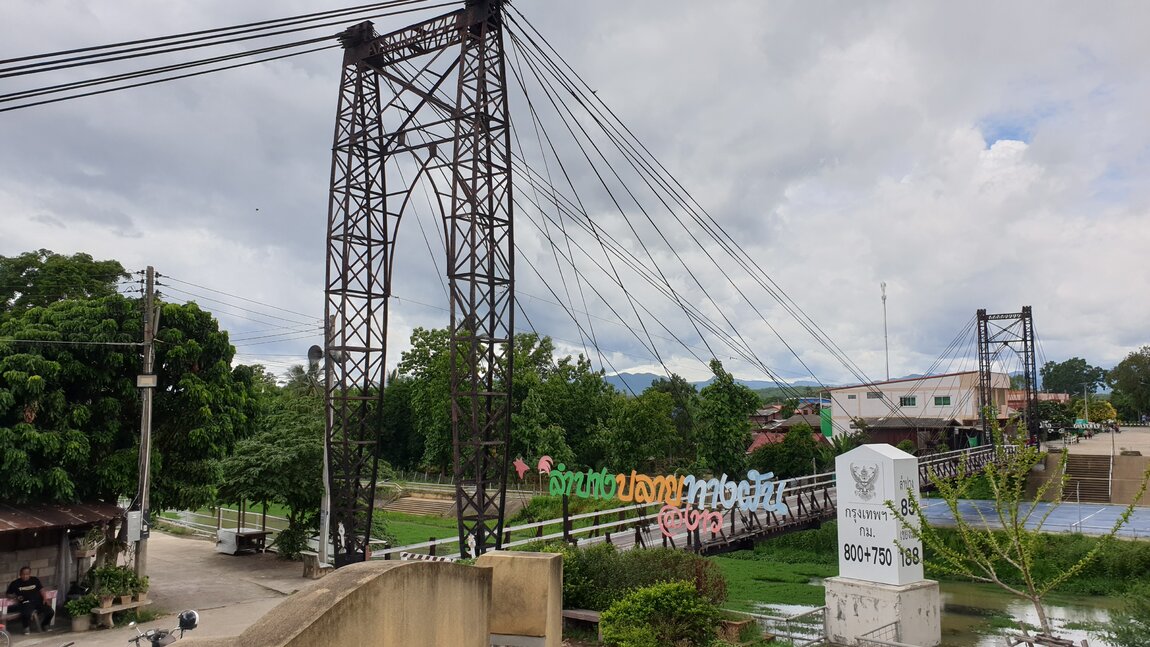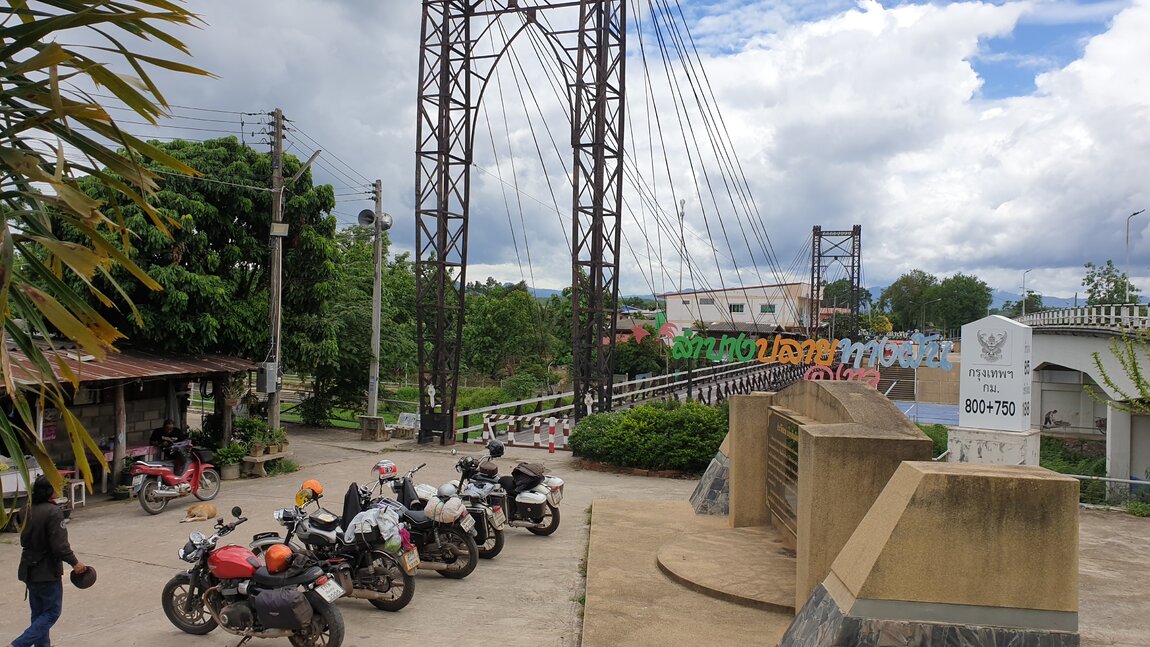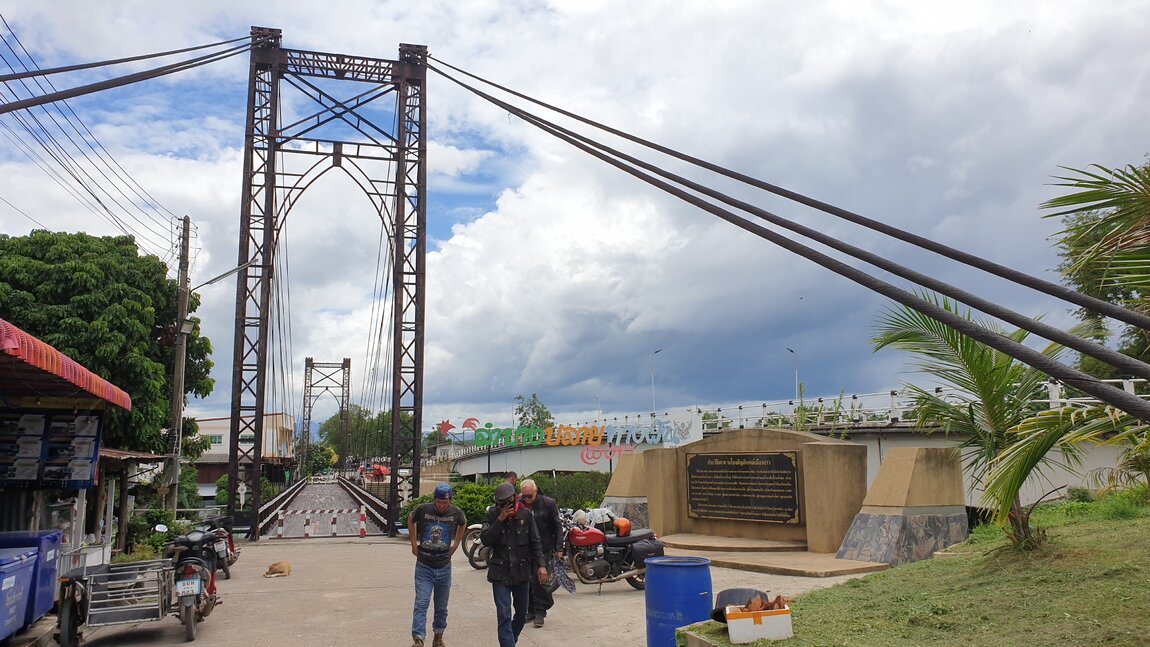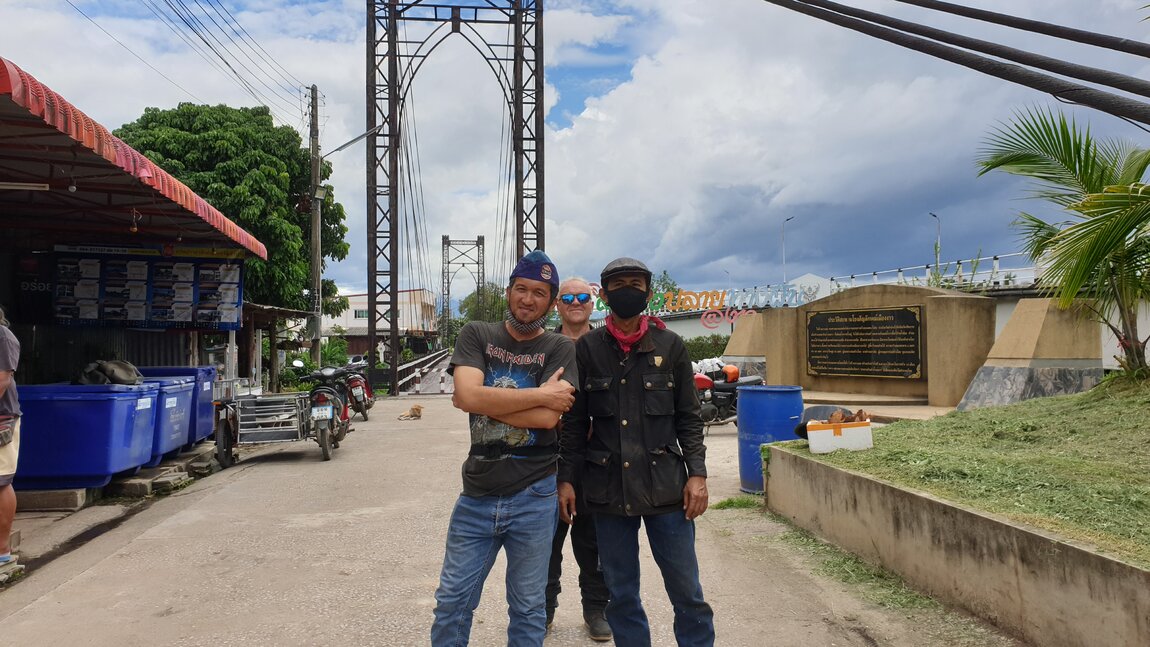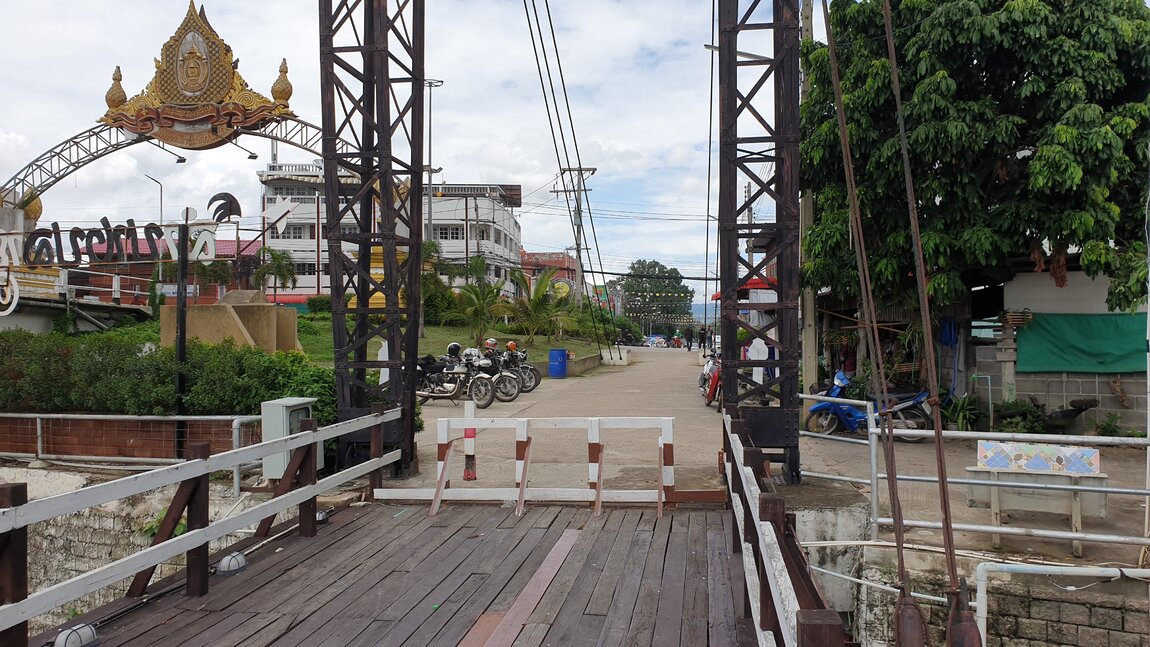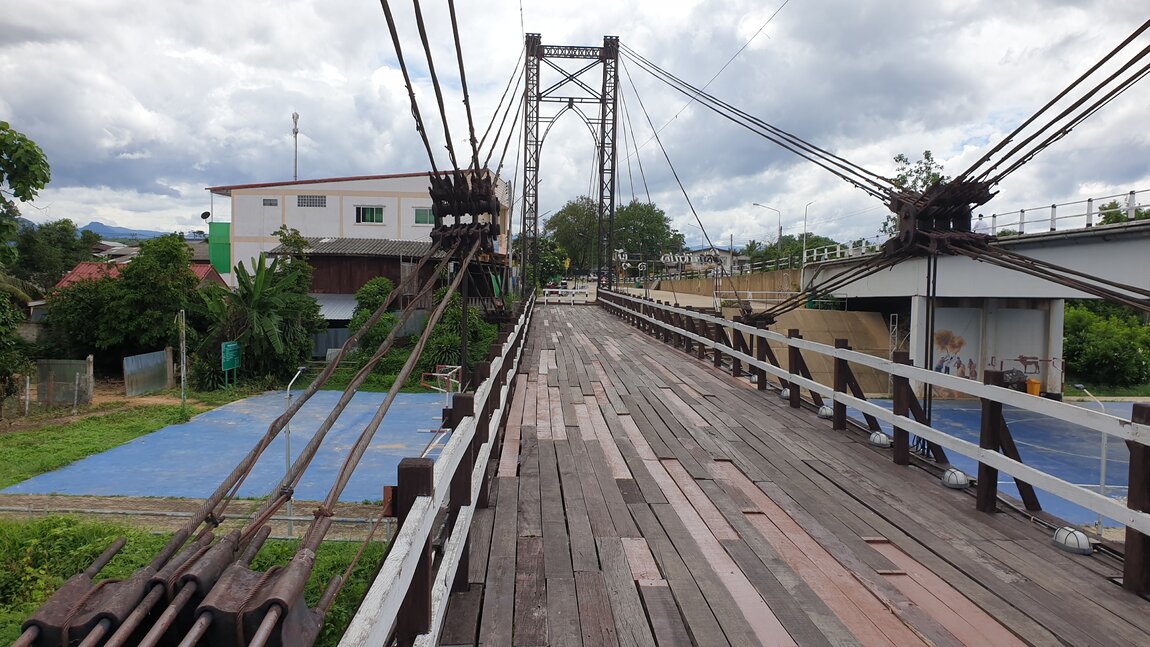 Out of Ngao, we rode through the Mae Yom National Park on the 1154. This is a fantastically peaceful ride, recently re-surfaced and has almost zero traffic, because the busy 103, running adjacent on the other side of the Yom river, takes it all.
Into Song for a coffee break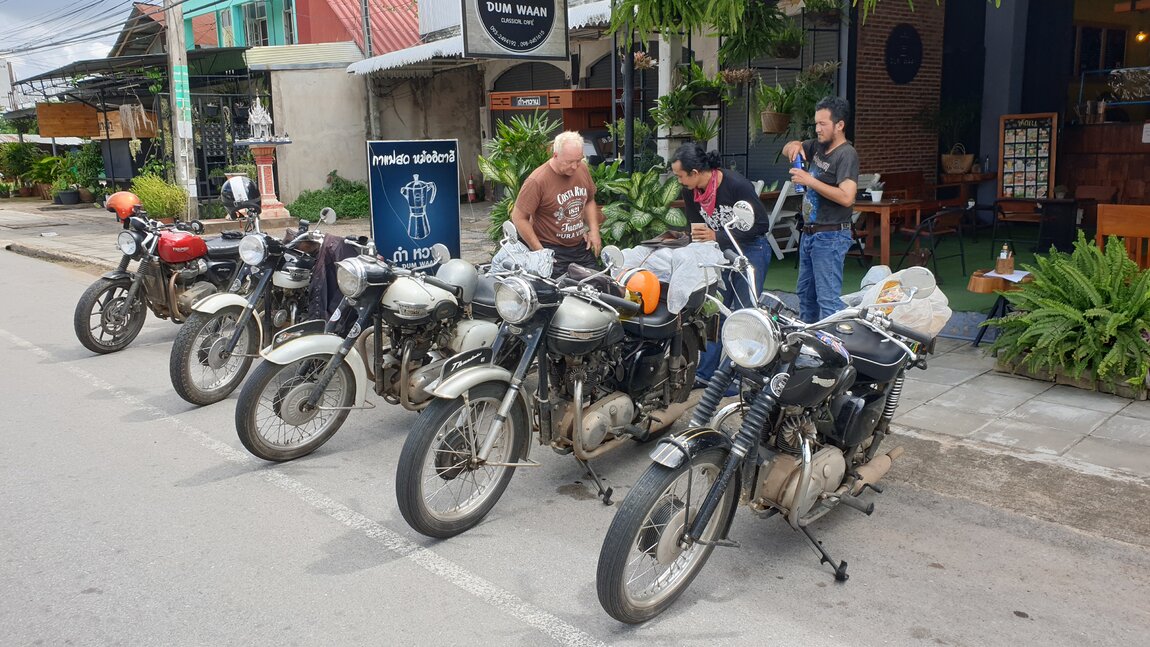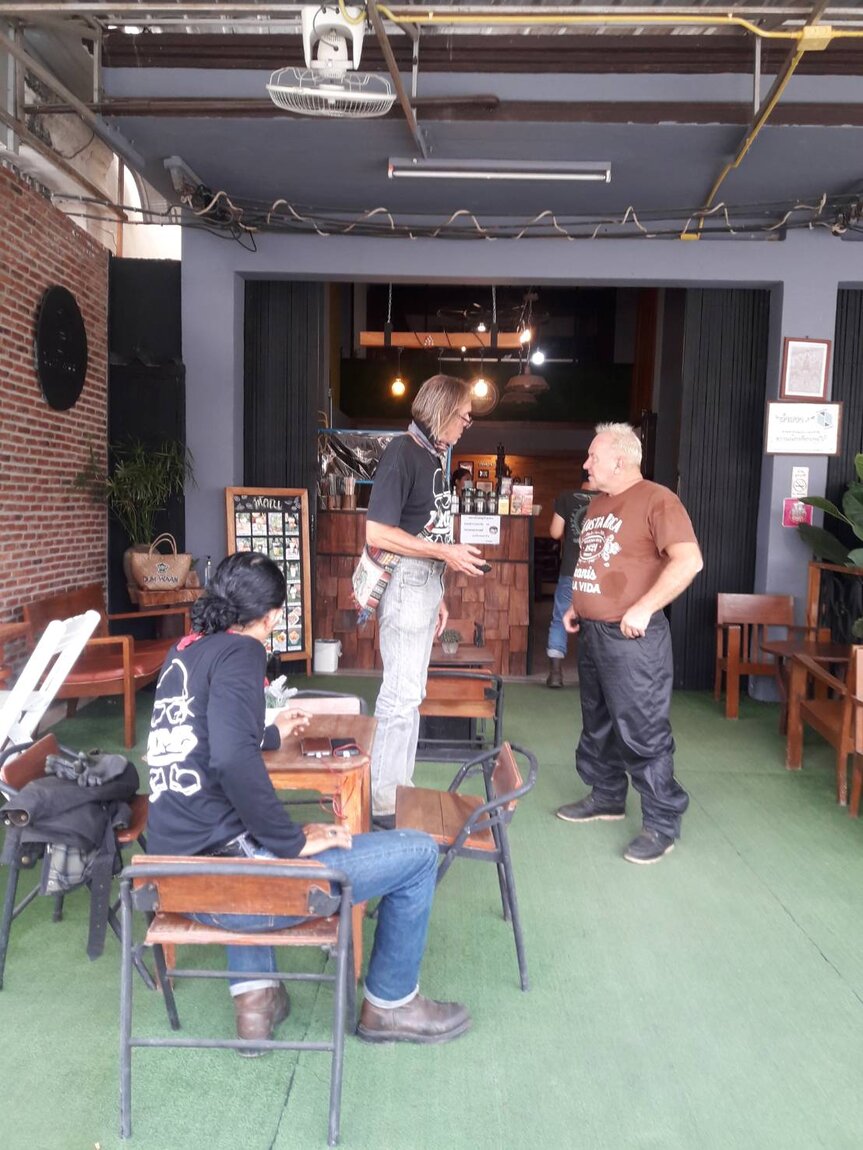 Prayer time.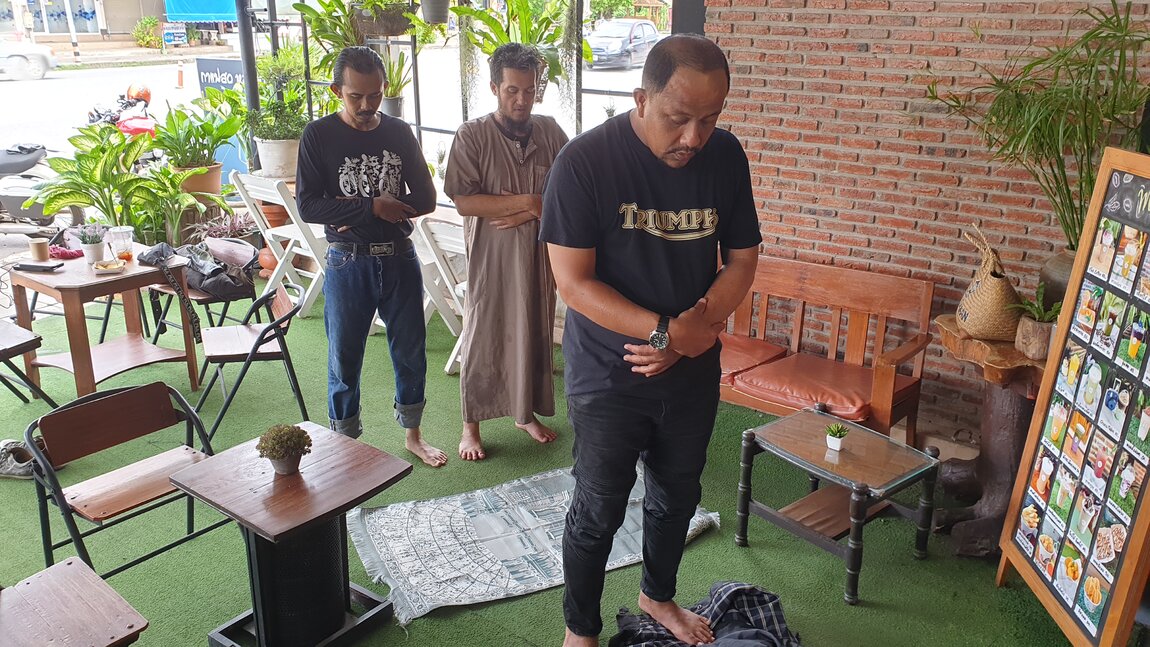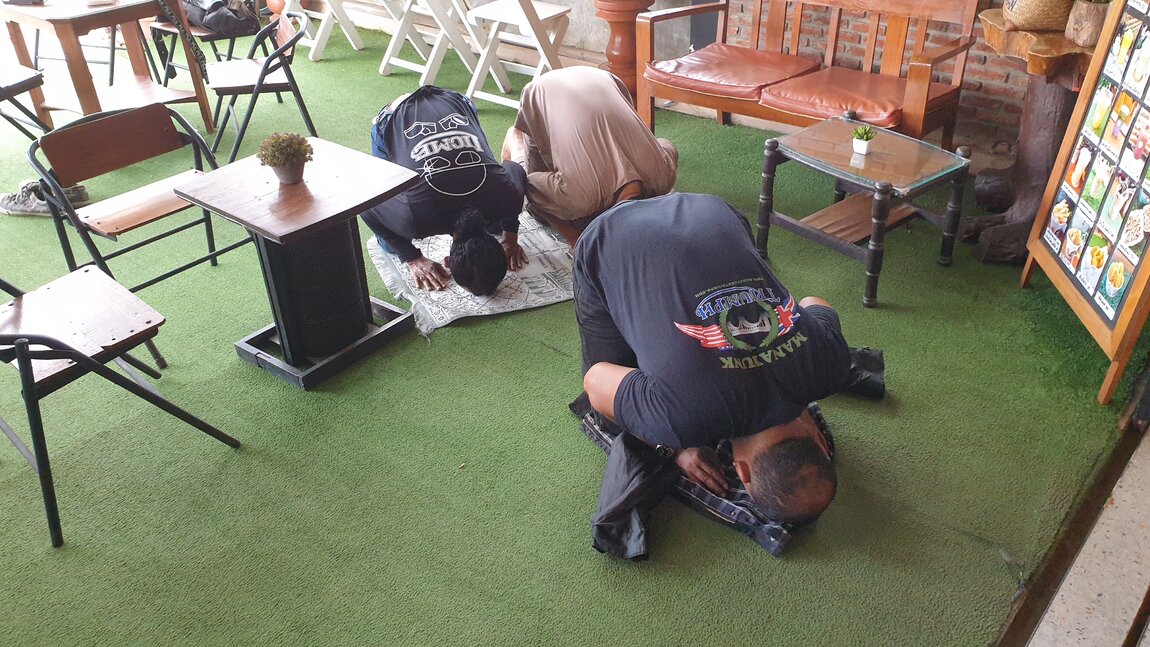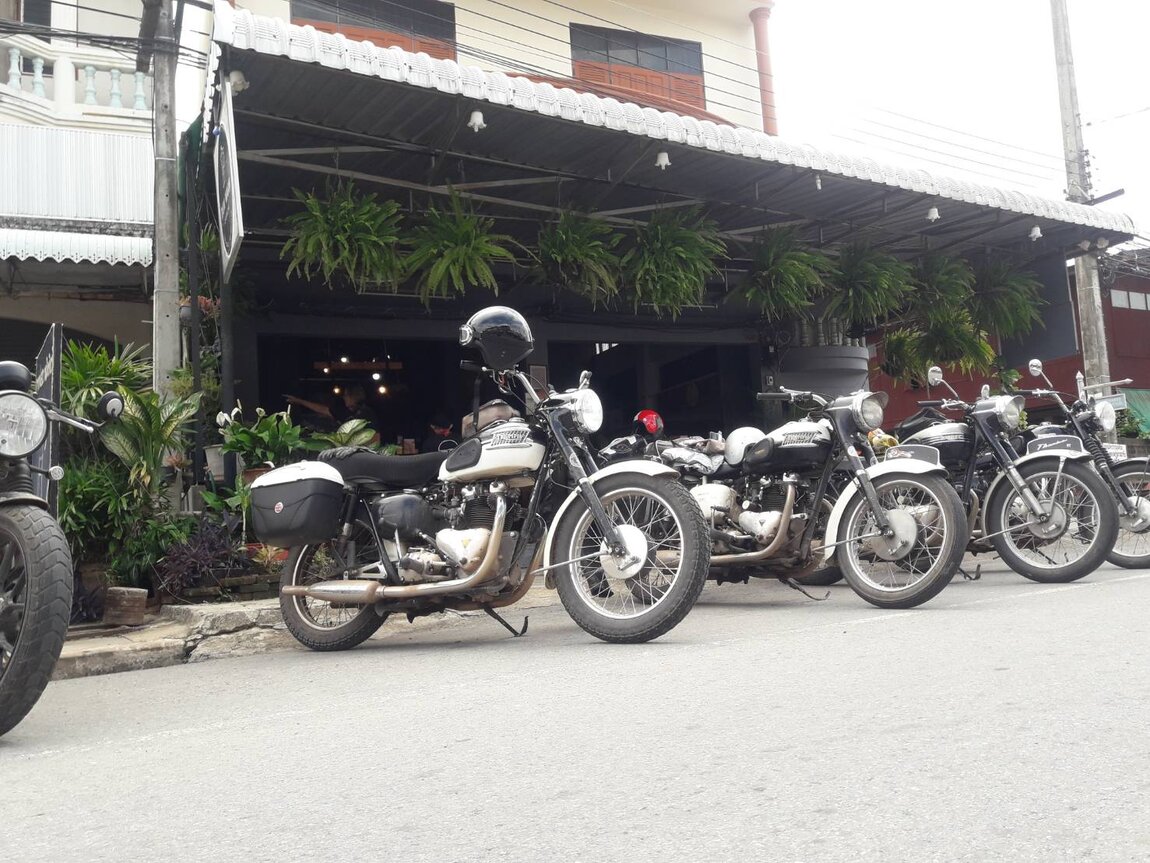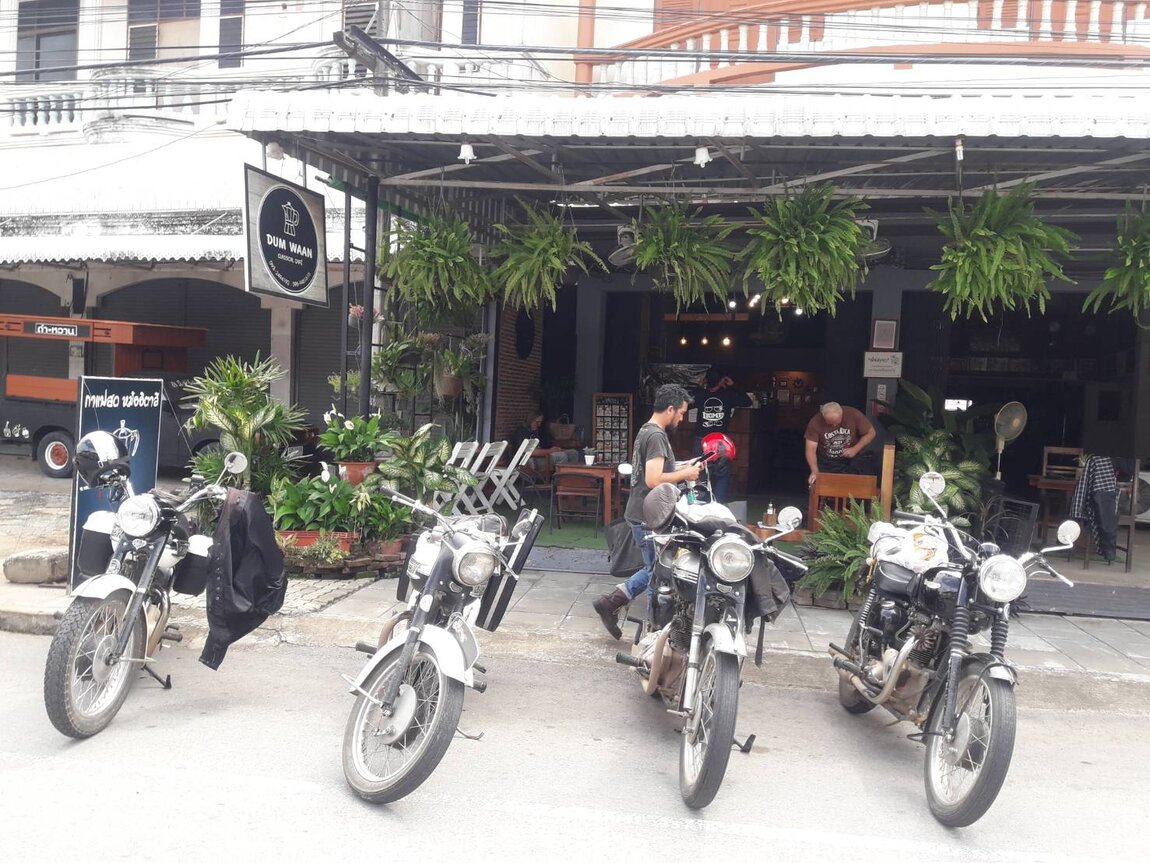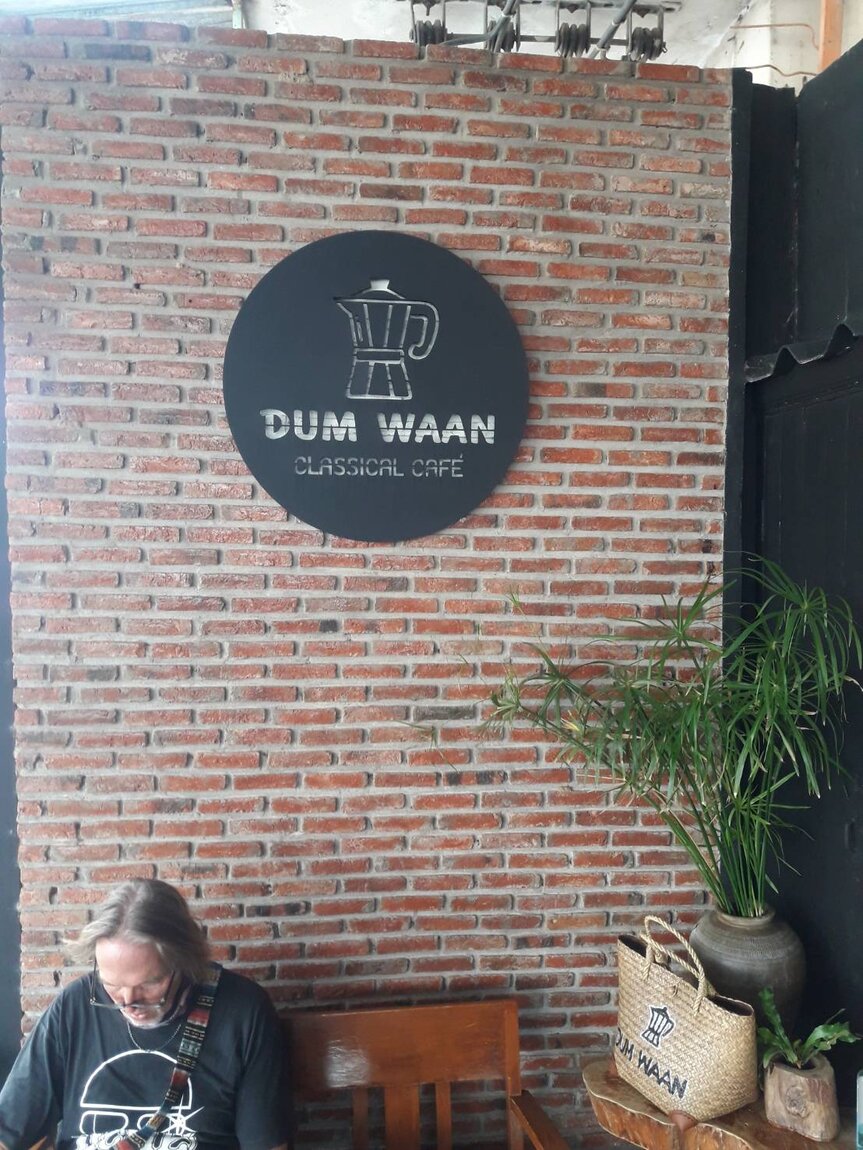 After Song, we took the nice quiet Seri Thai road.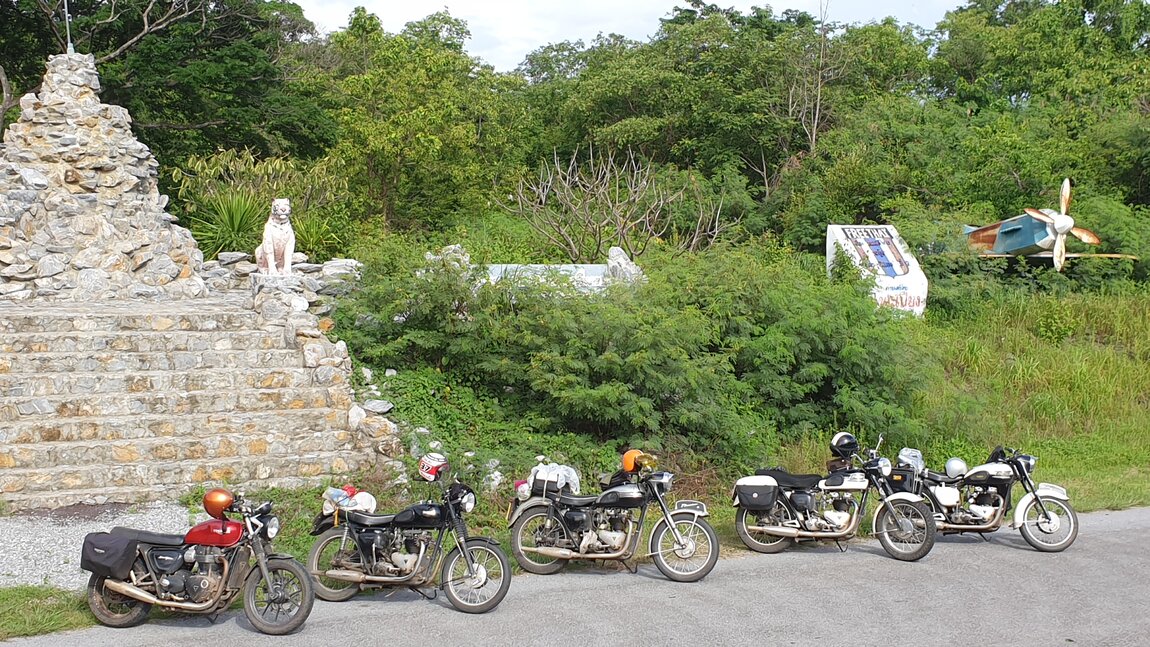 A stop at the memorial....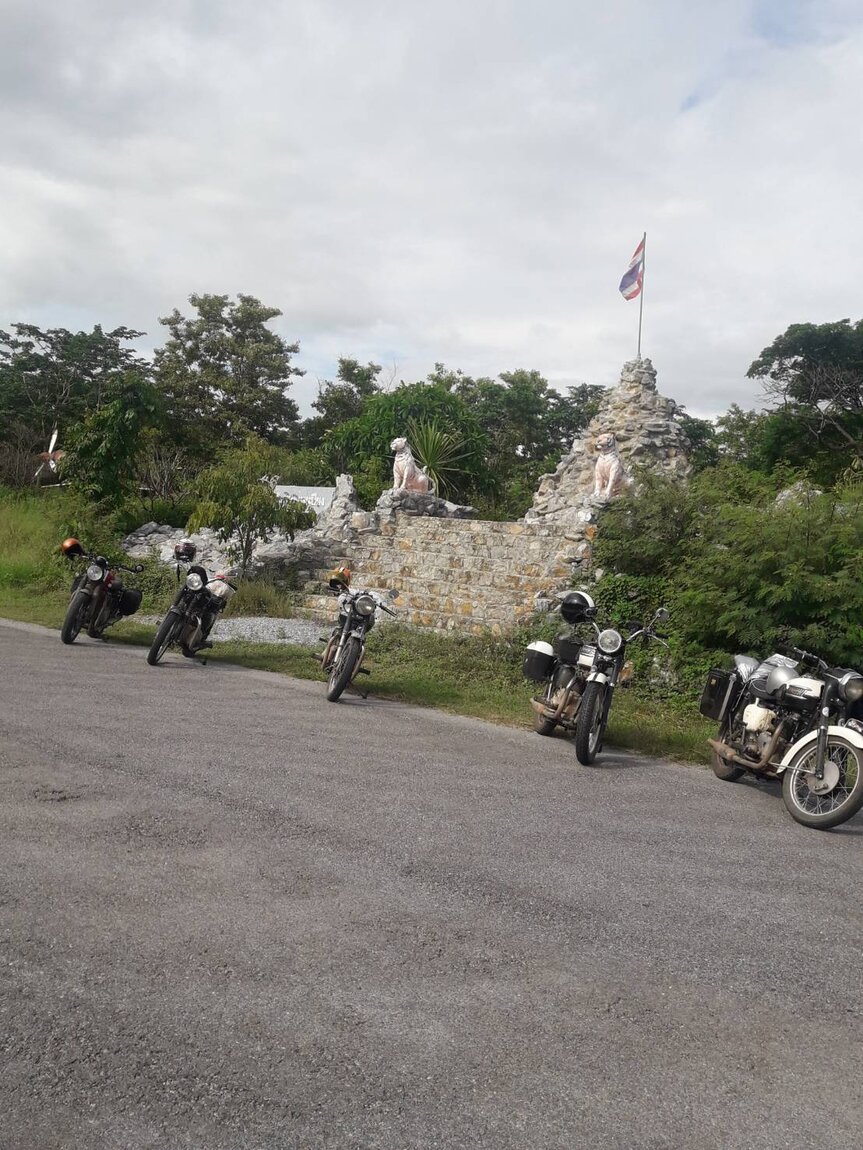 ... and at the Japanese grave.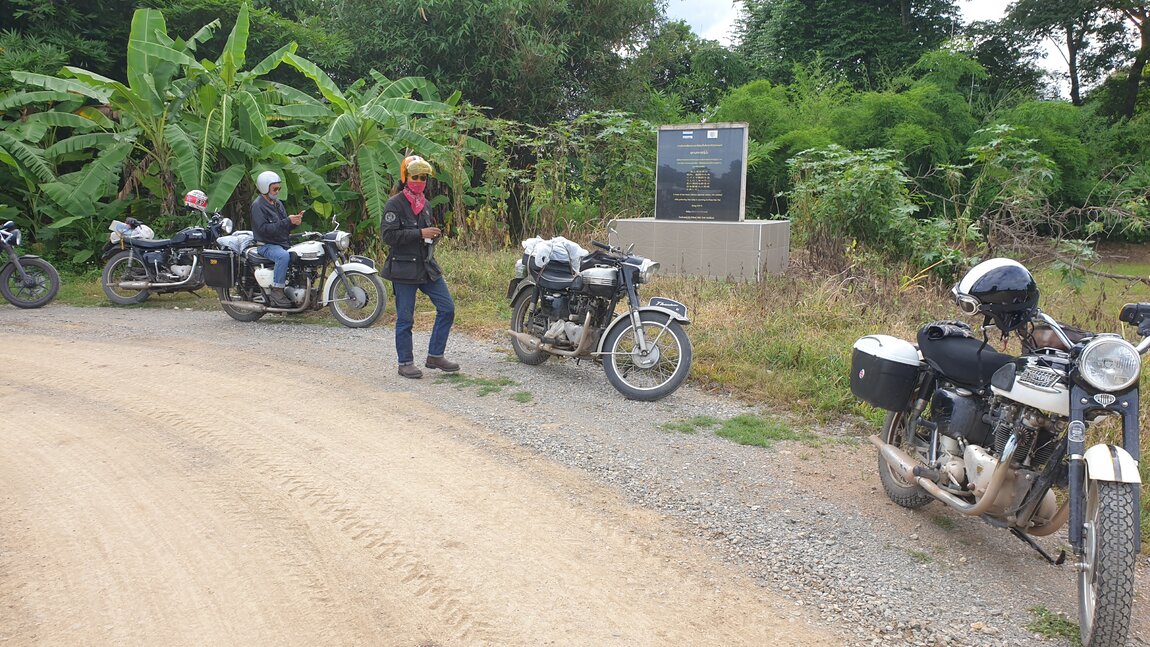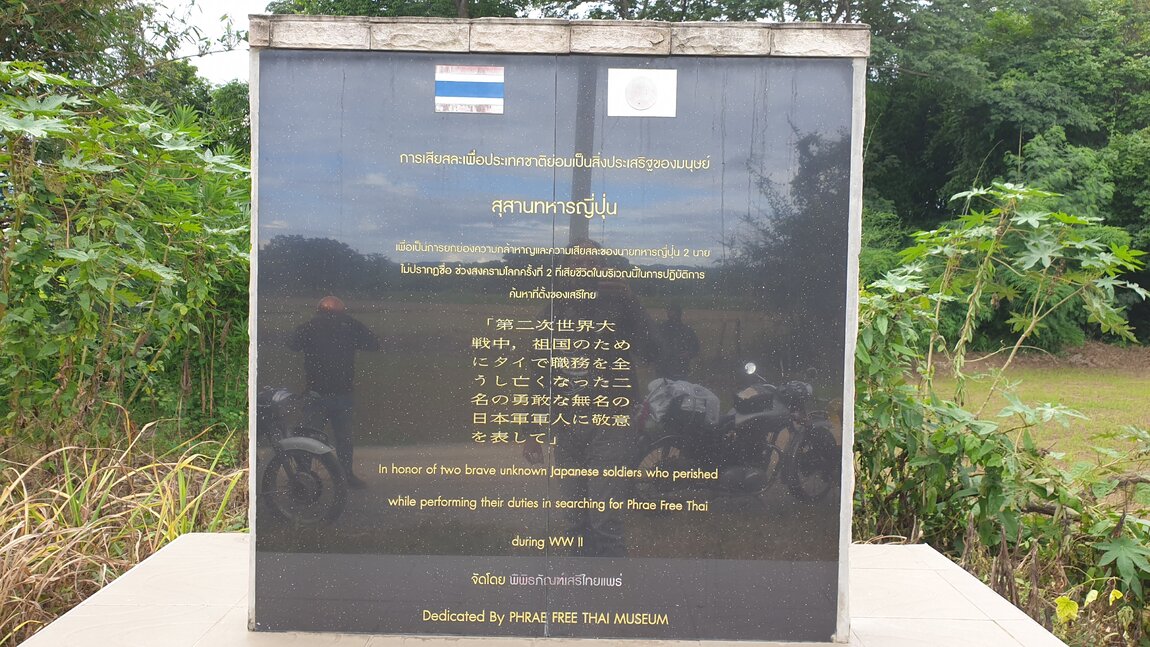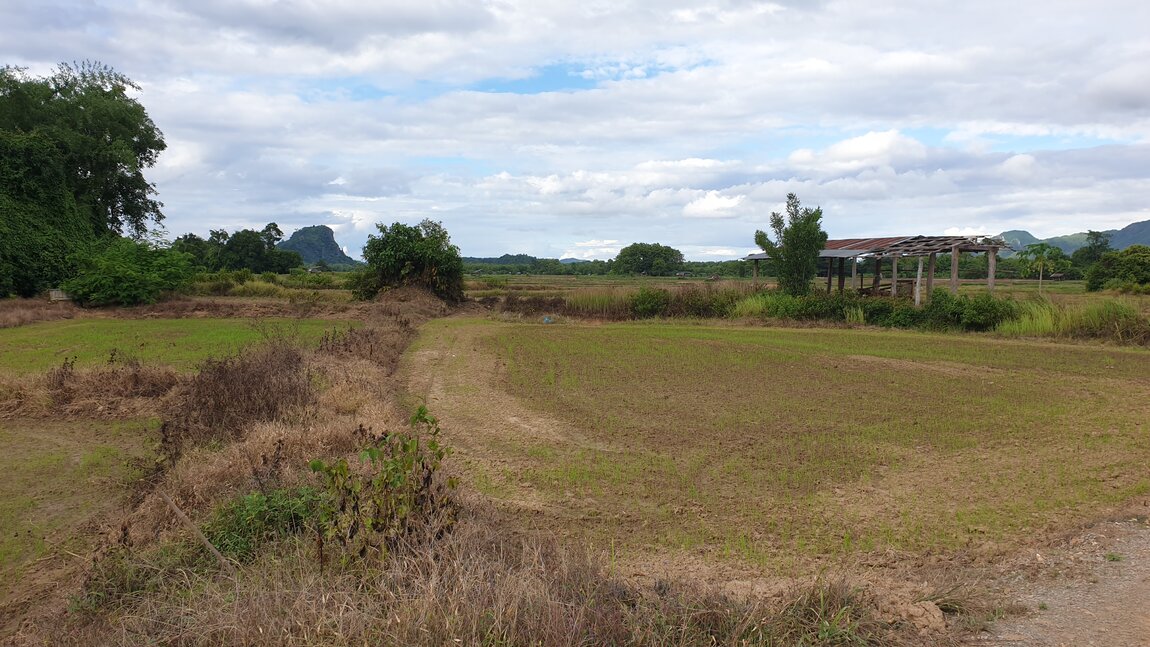 The night stop was in Long, a small hotel in the back steets. Rides in rainy season usually mean you put wet kit hanging all around the room..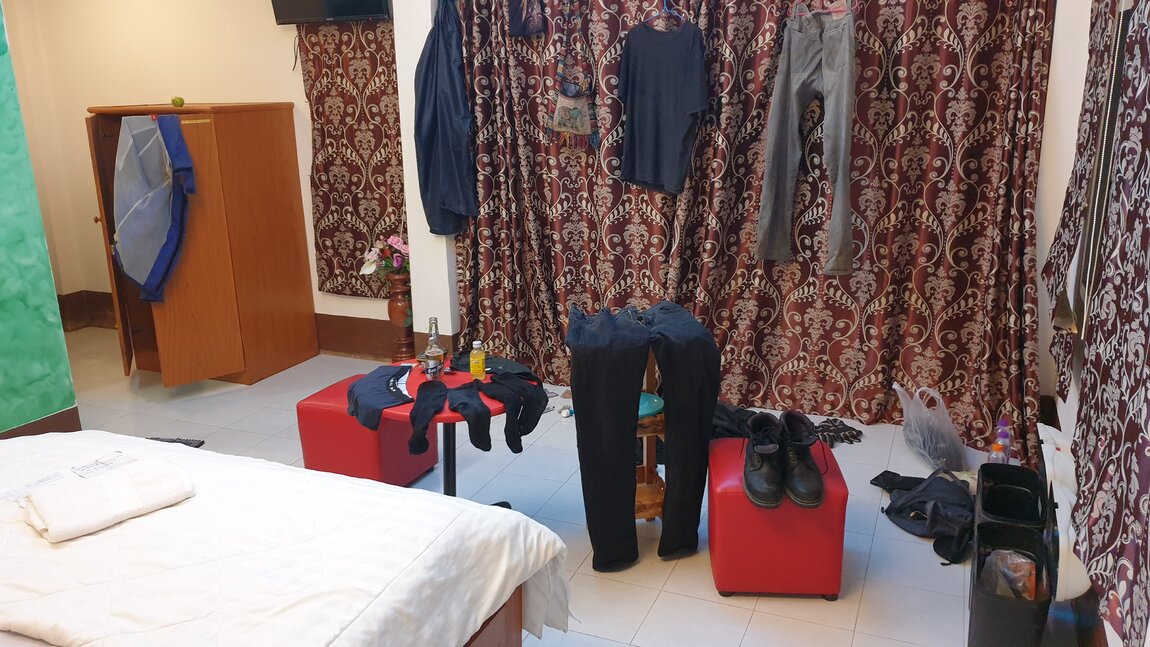 In the morning, we did some tyre comparison;
K Ming is running an F14 Dunlop 3.00 x 19 on the front.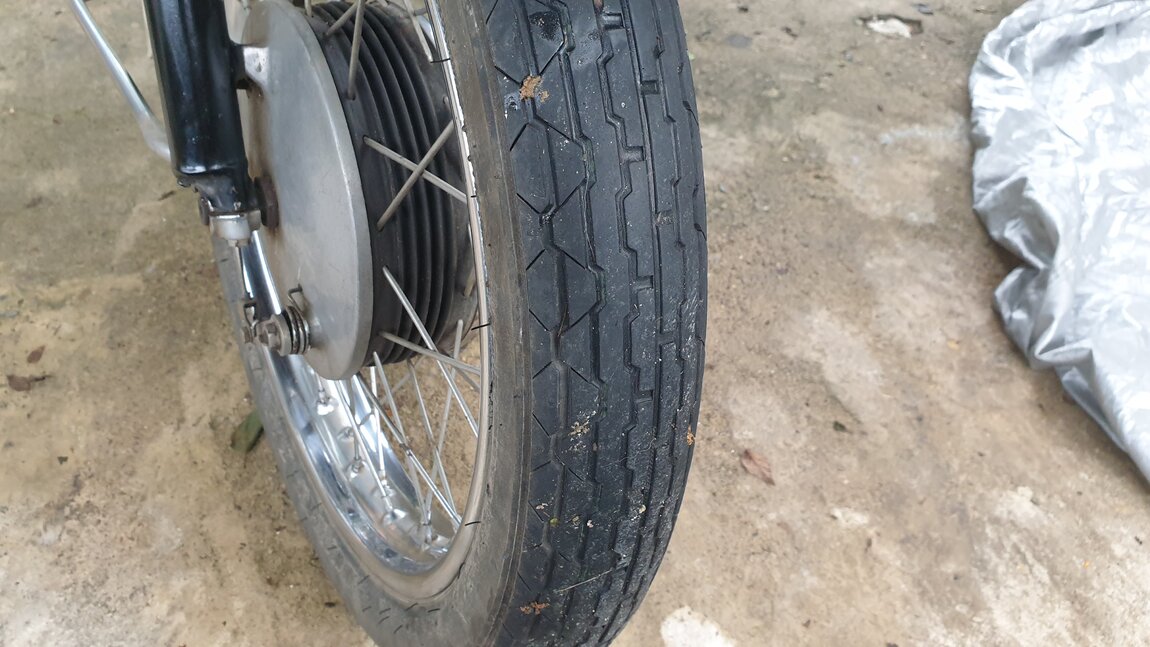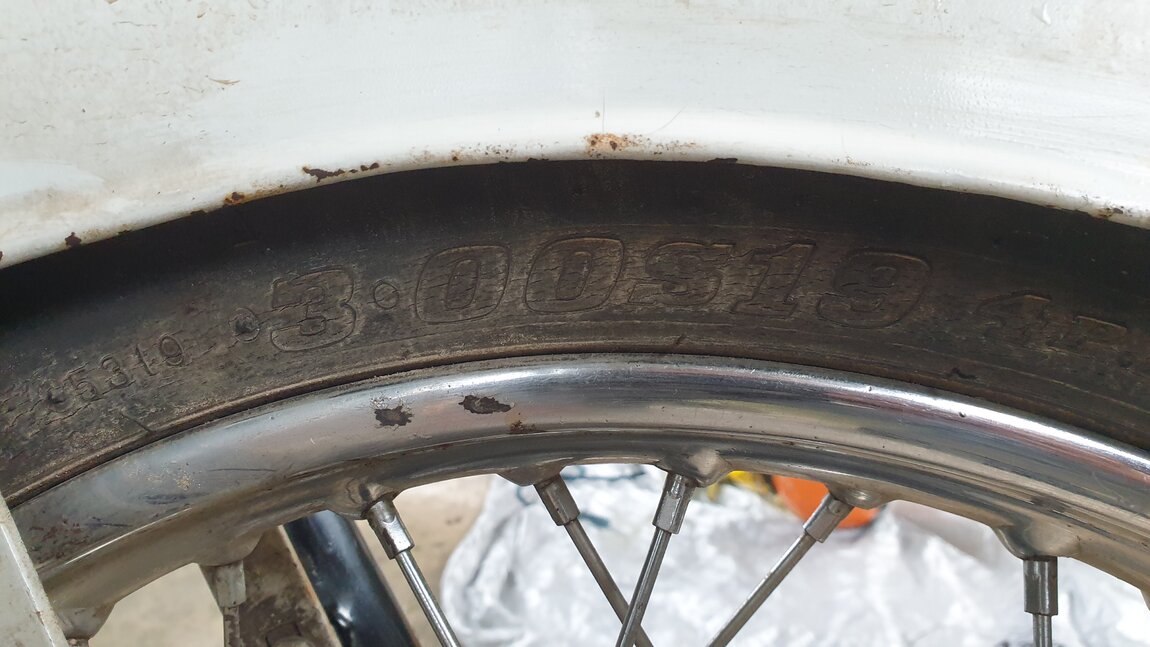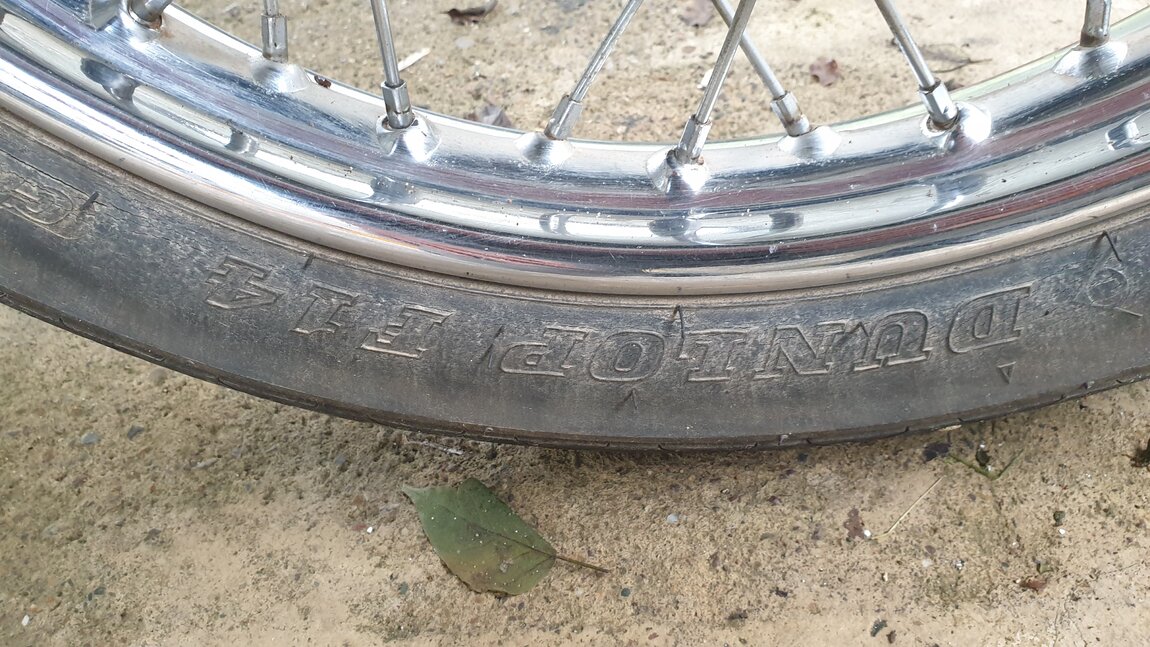 K Berm & K Manat both have old style ribbed 3.25 x 19 Avon Speedmasters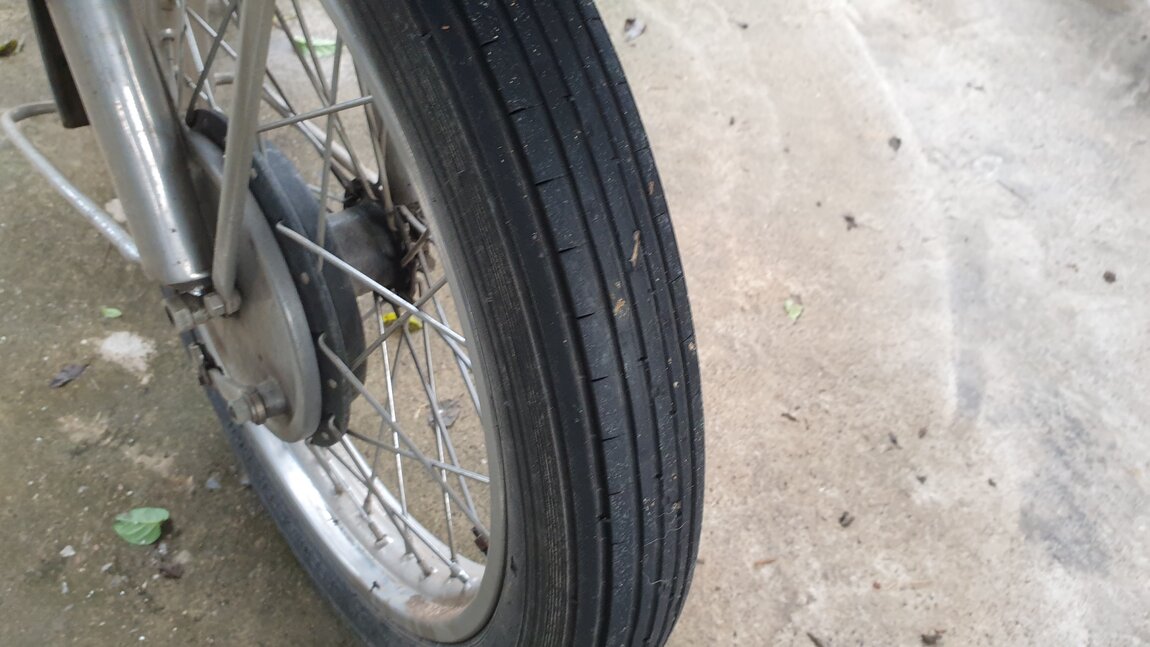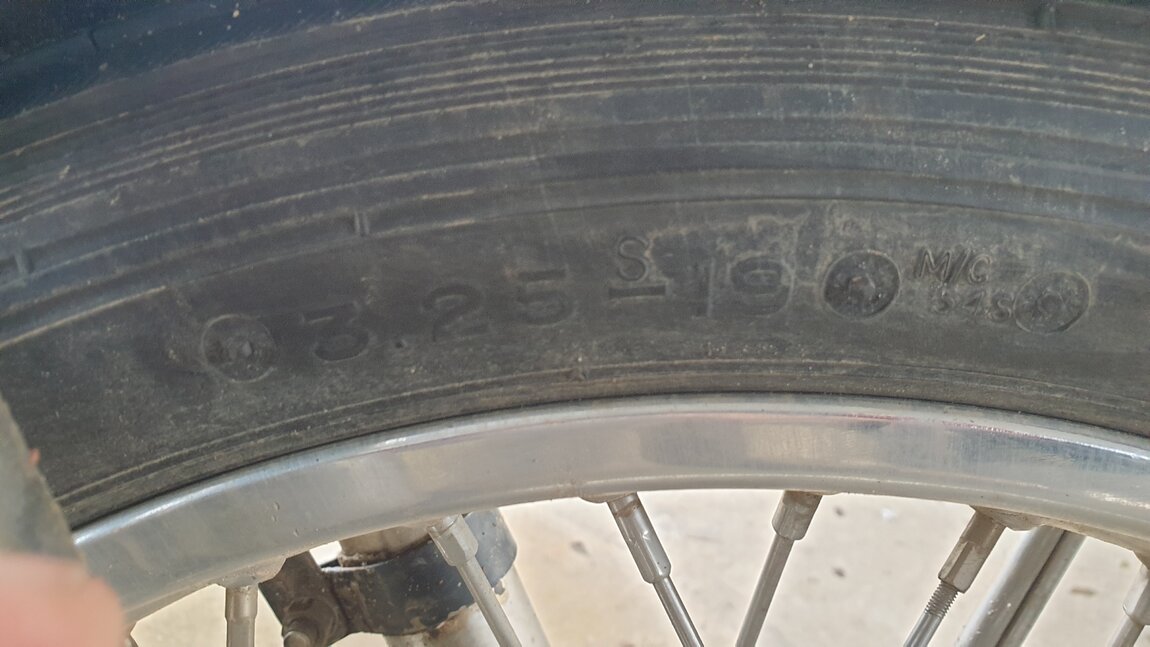 I am still using a Dunlop K70 3.50 x 19 on the front. It is a bit wide and rubs on the mudguard bracket sometimes, but I like the blocky tread, good for dirt roads.
Three bikes have the later 5 full fin cylinder head ( as does Nigel's modern Street Twin).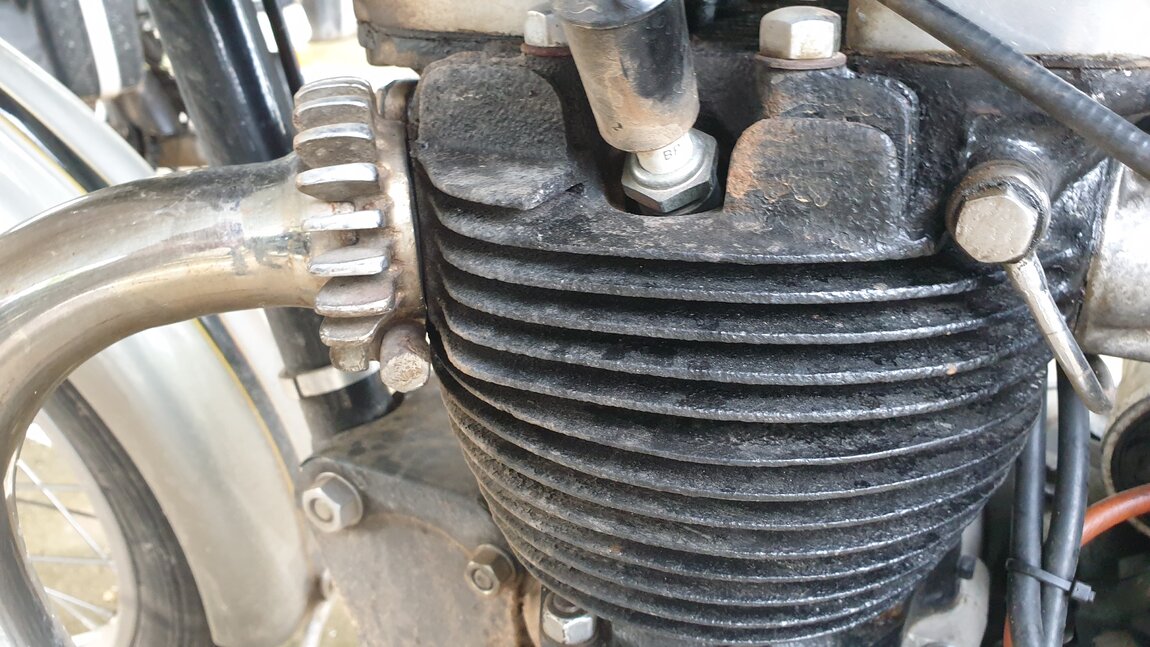 But K Manat's bike is using an older 4 full fin head.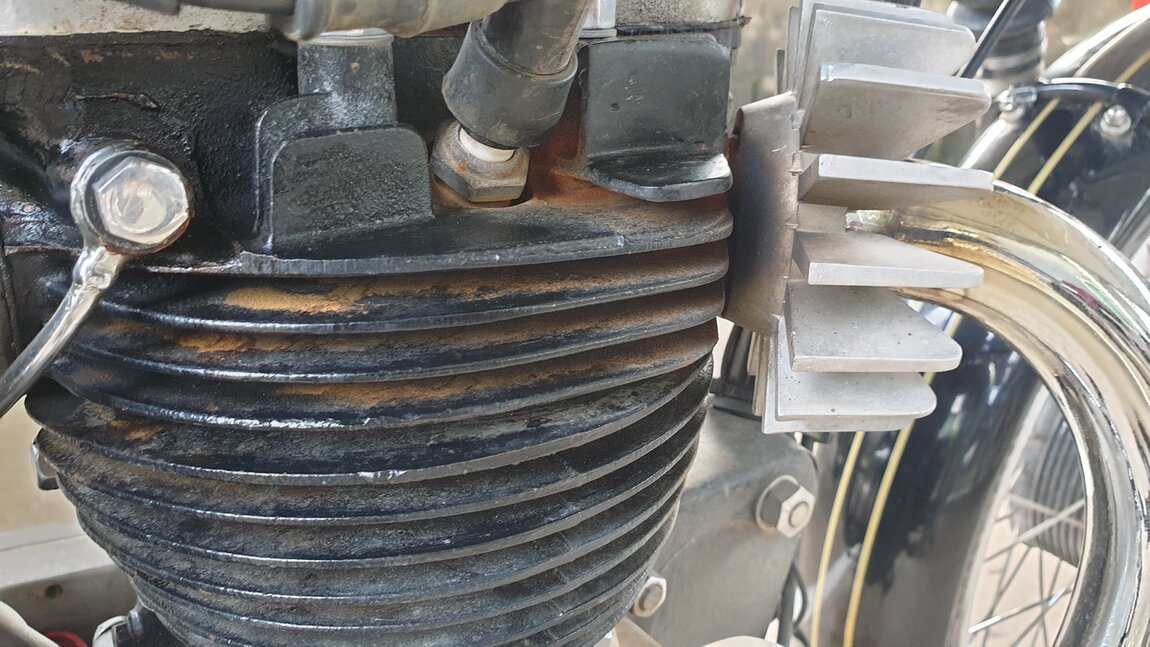 While in Long, we had to visit the Bahn Pin railway station... we like old stuff on these classic bike rides...... 555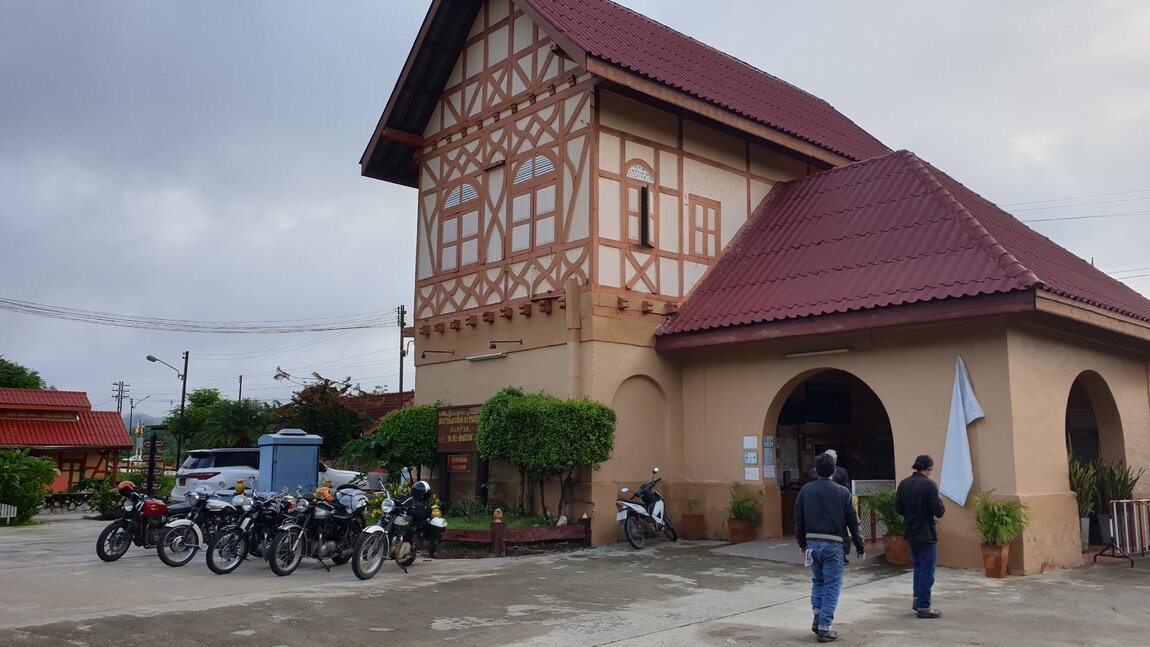 Still fully functional, the signalling unit, was made after 1923, during the Raj, in Calcutta.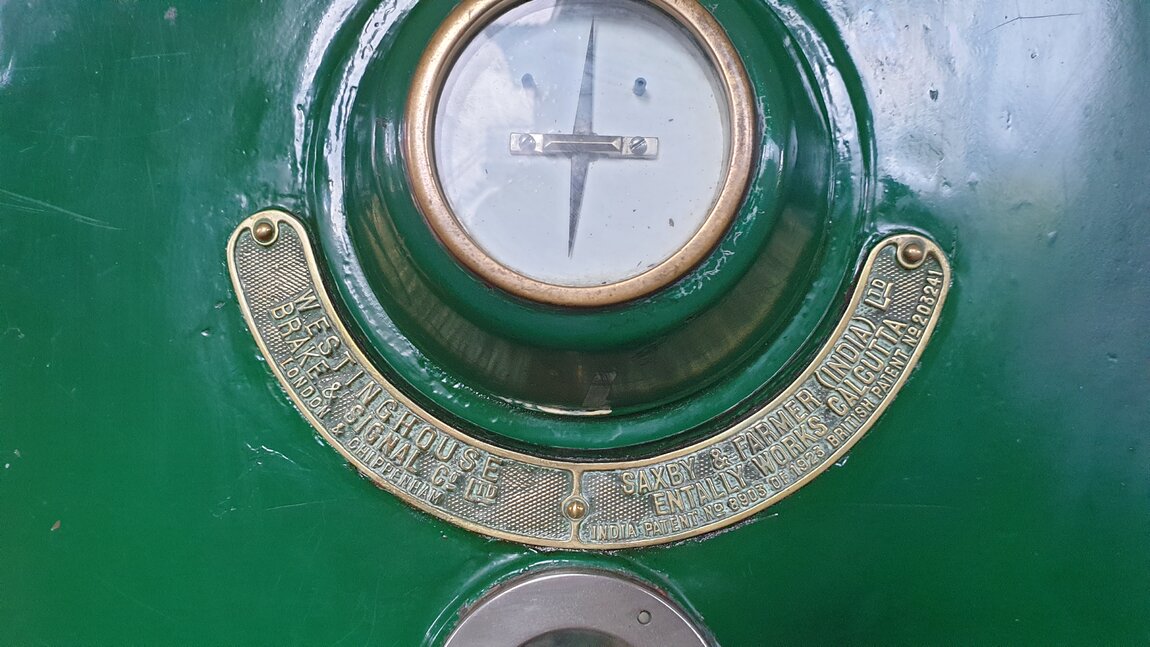 These are all functional too, for moving the change rails from straight through, to platform rail.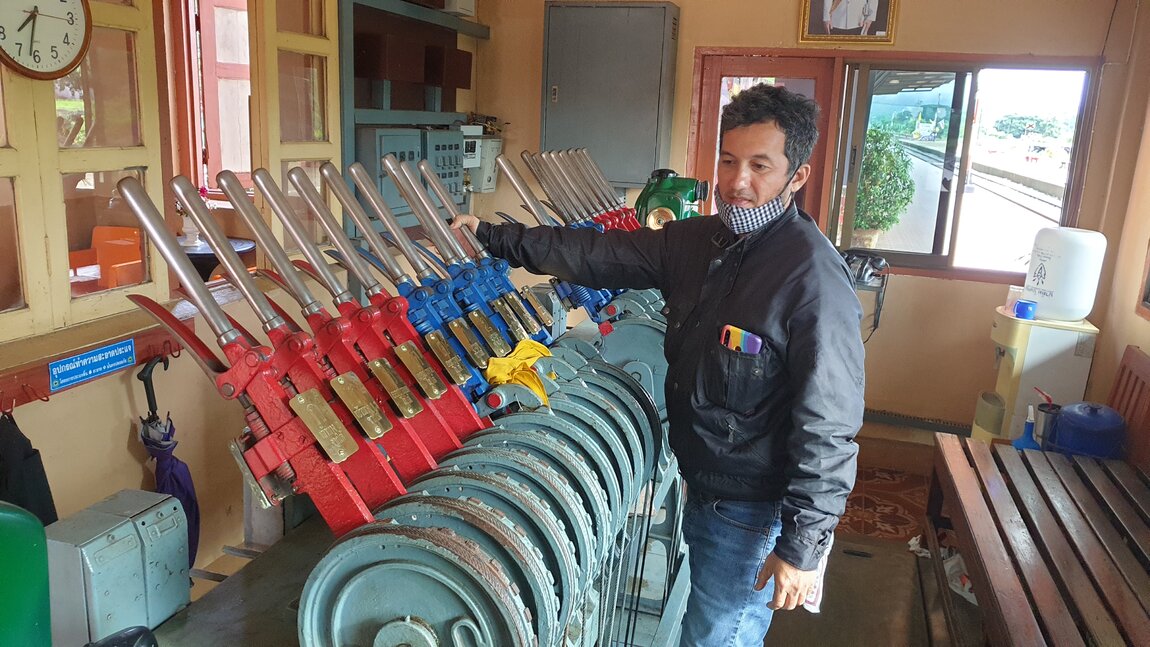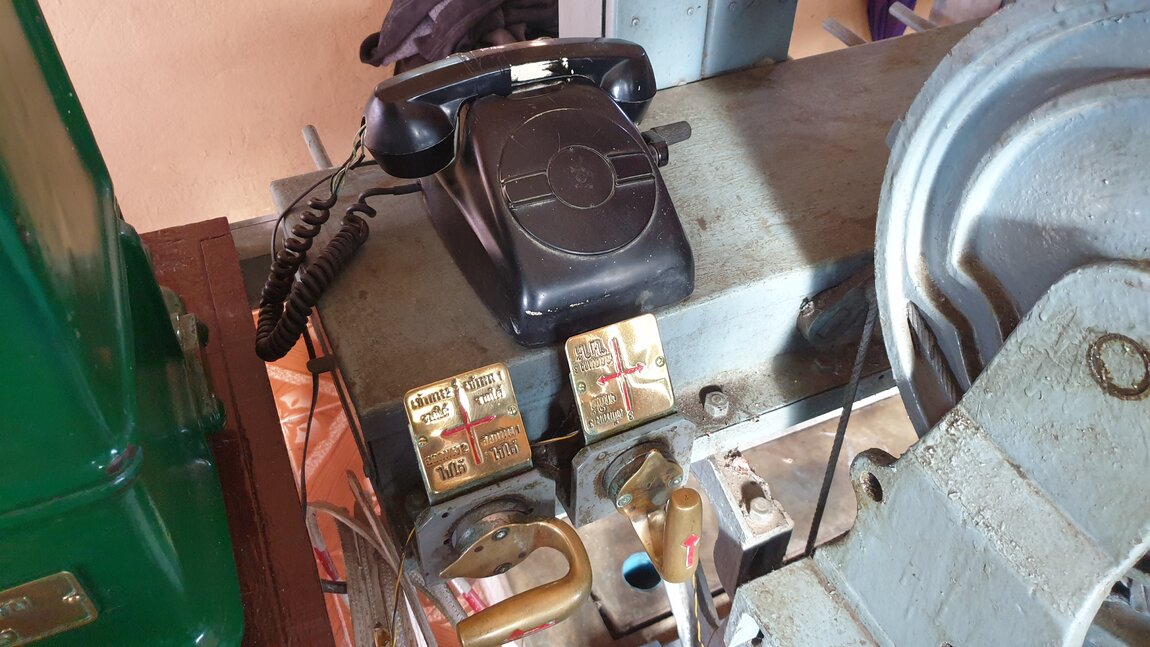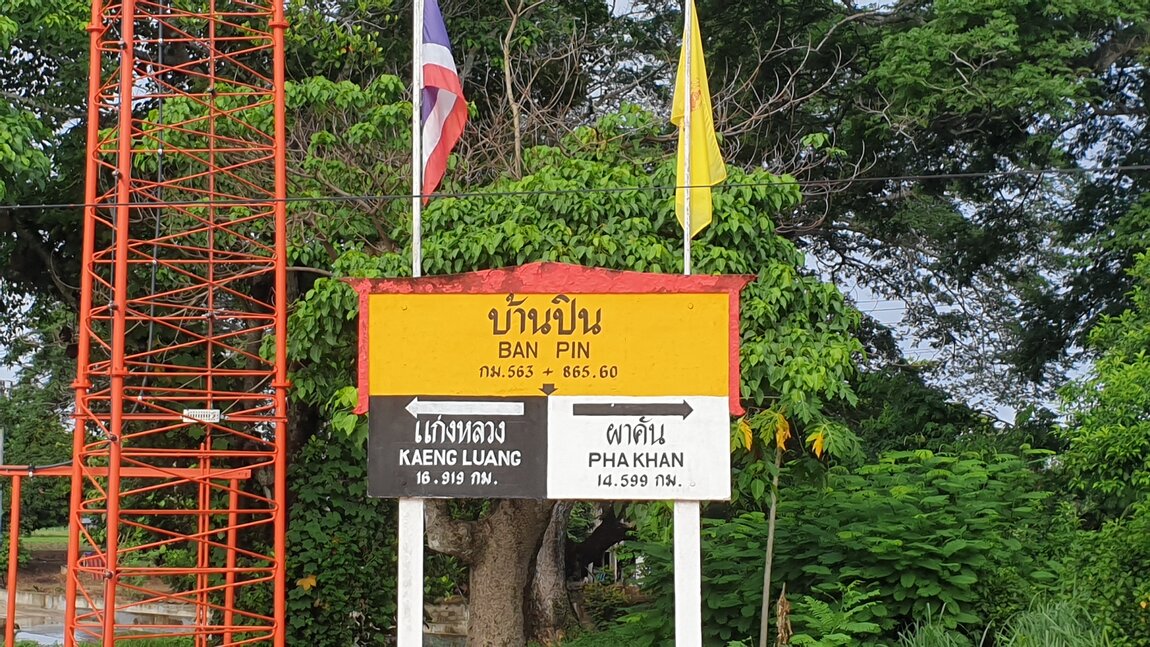 The water tank is ancient too, all rivetted steel construction. Built prior to welding technology...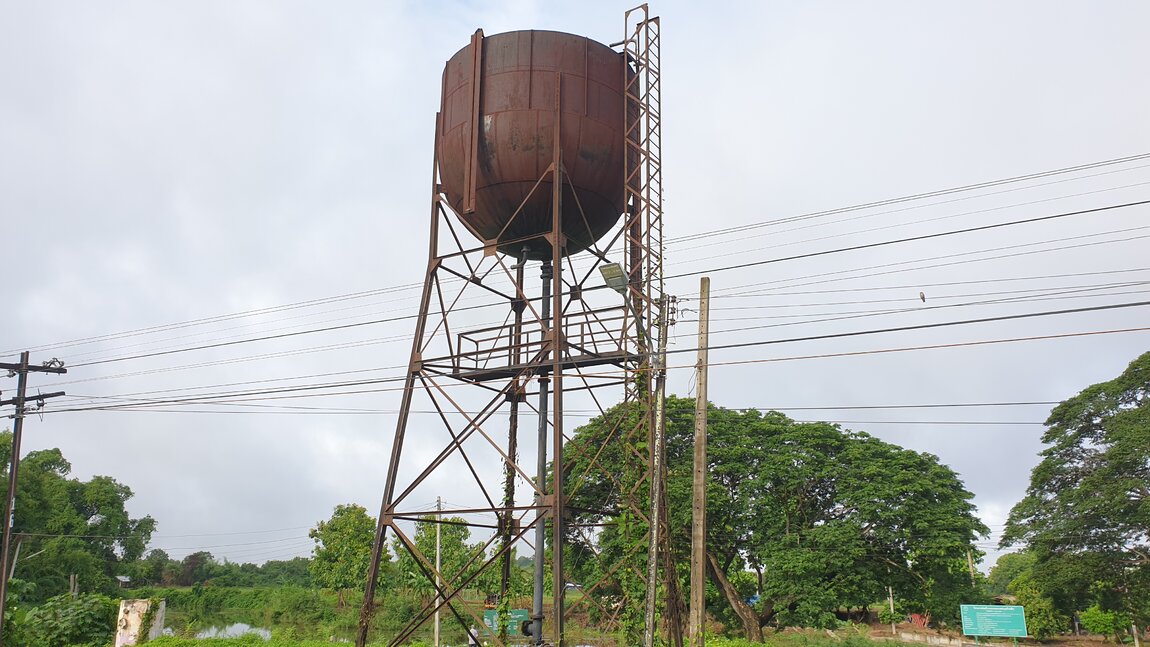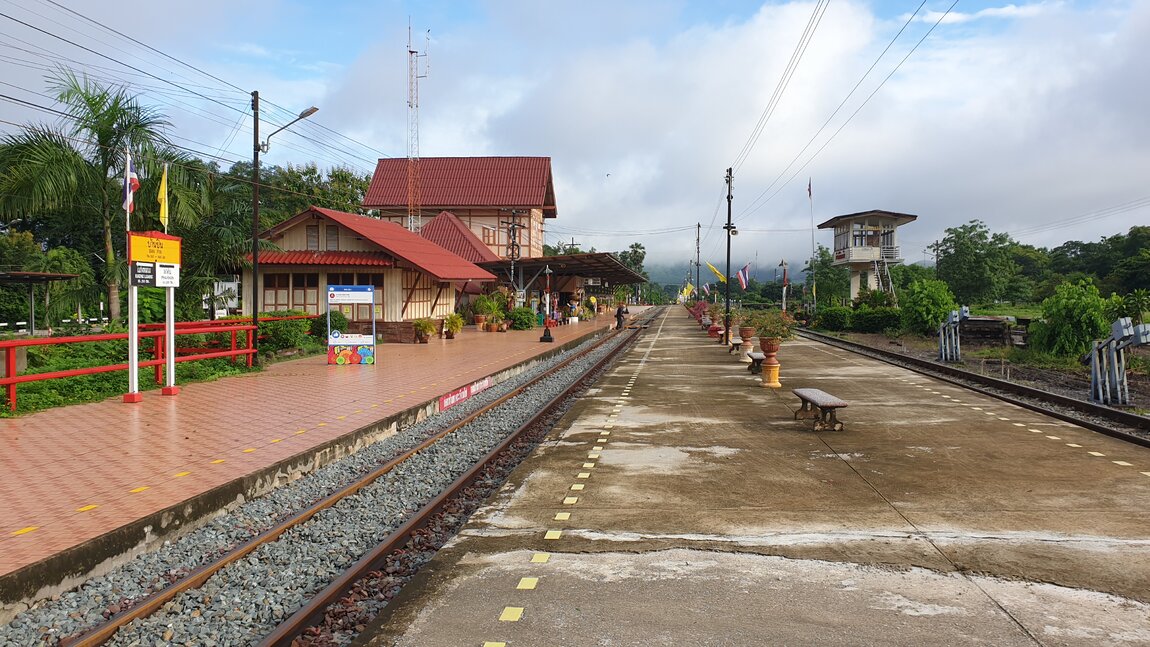 Two guys arrived on this maintenance & inspection vehicle, while we were there. It runs on a small diesel engine.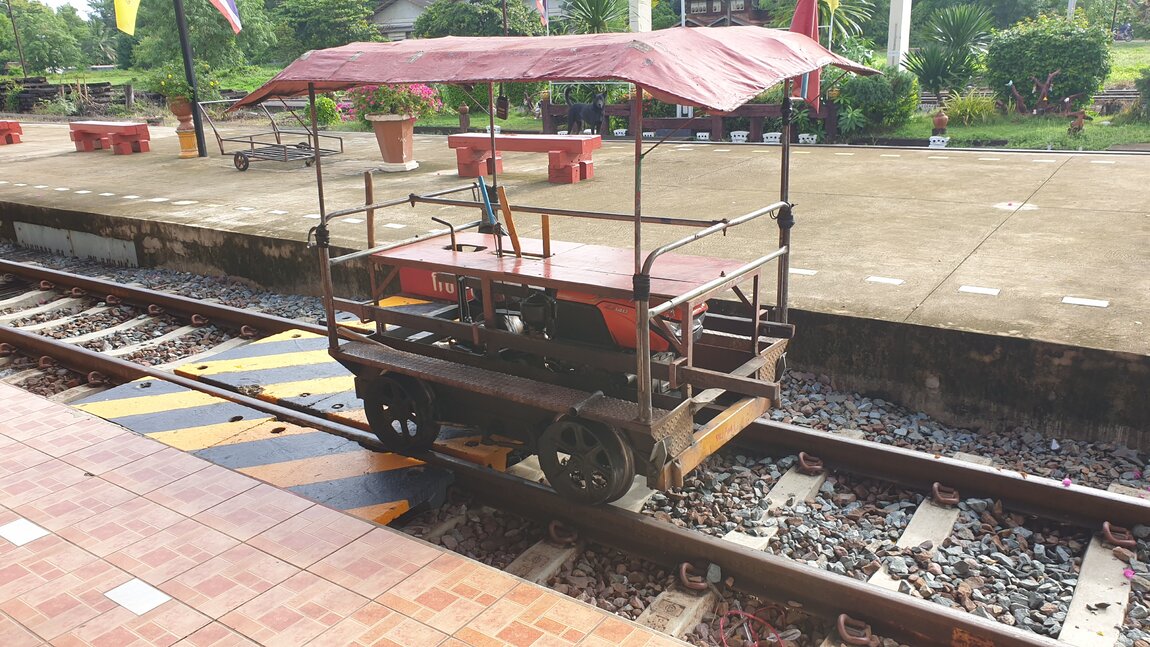 Is Nigel contemplating his weight loss program progress...?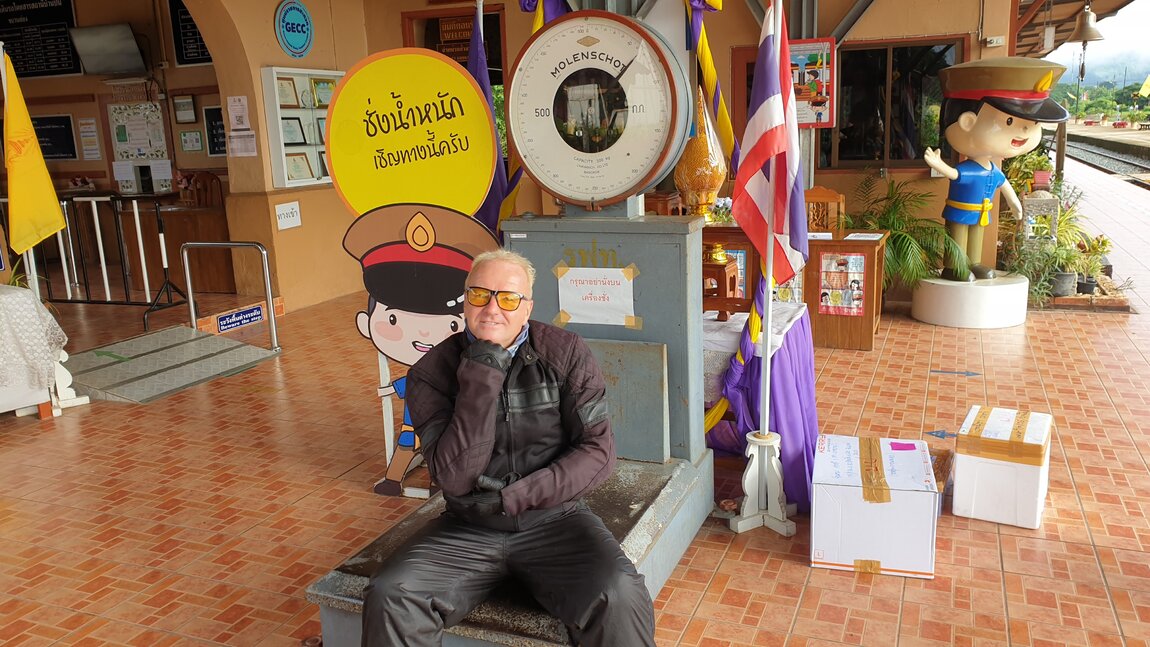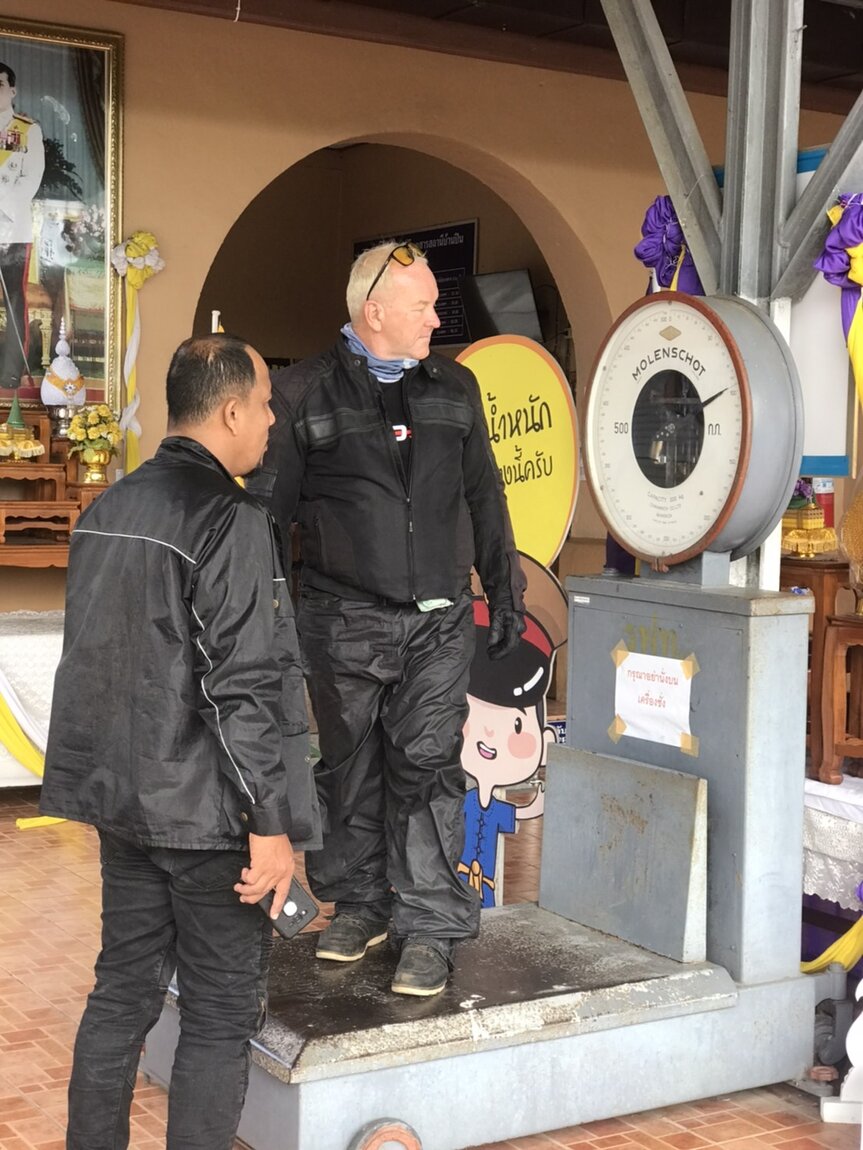 While Ian struggles with a jammed jacket zip issue...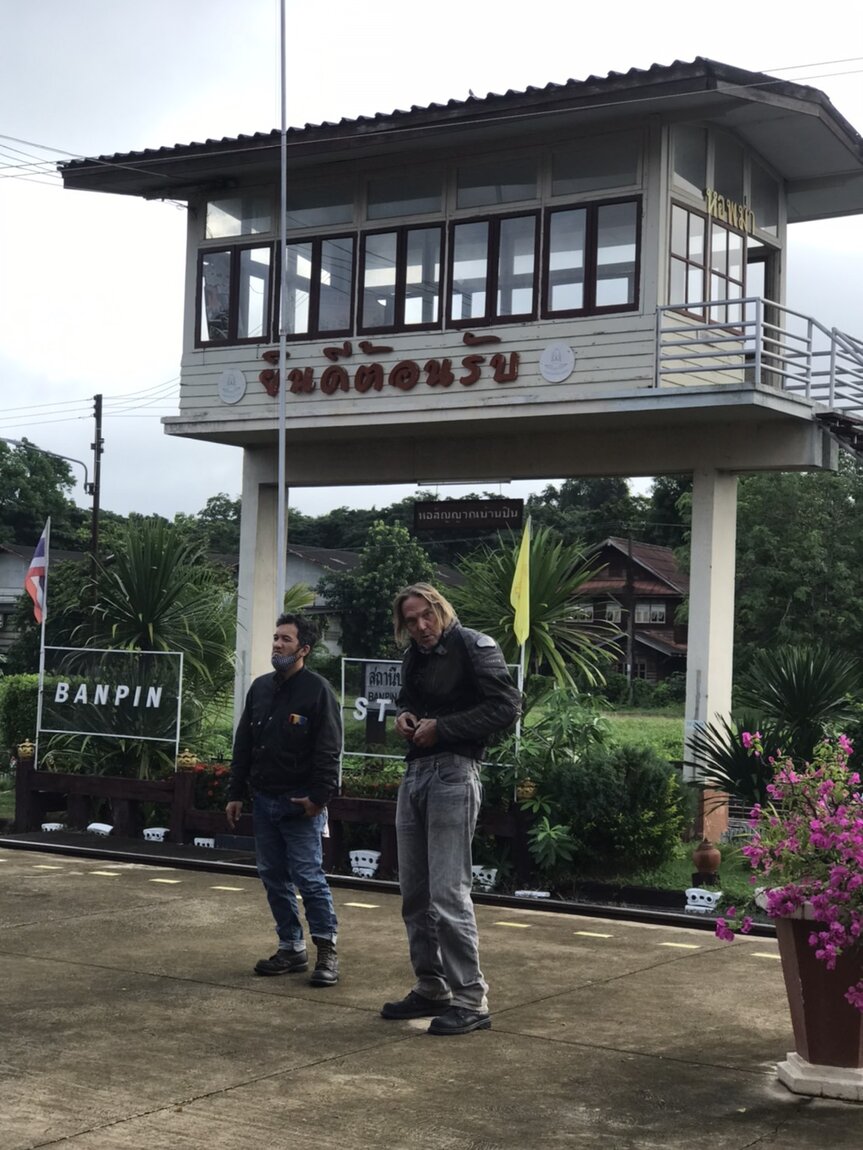 The Boy Band are in town...... 5555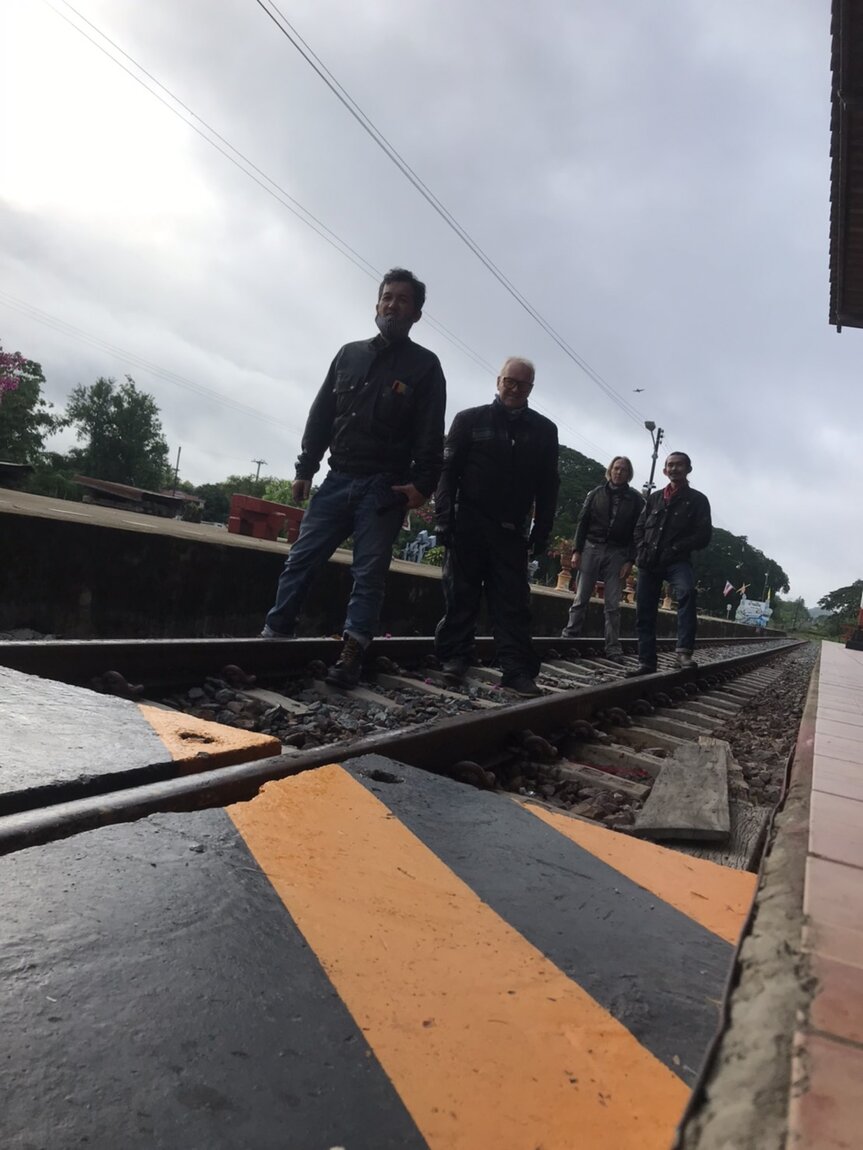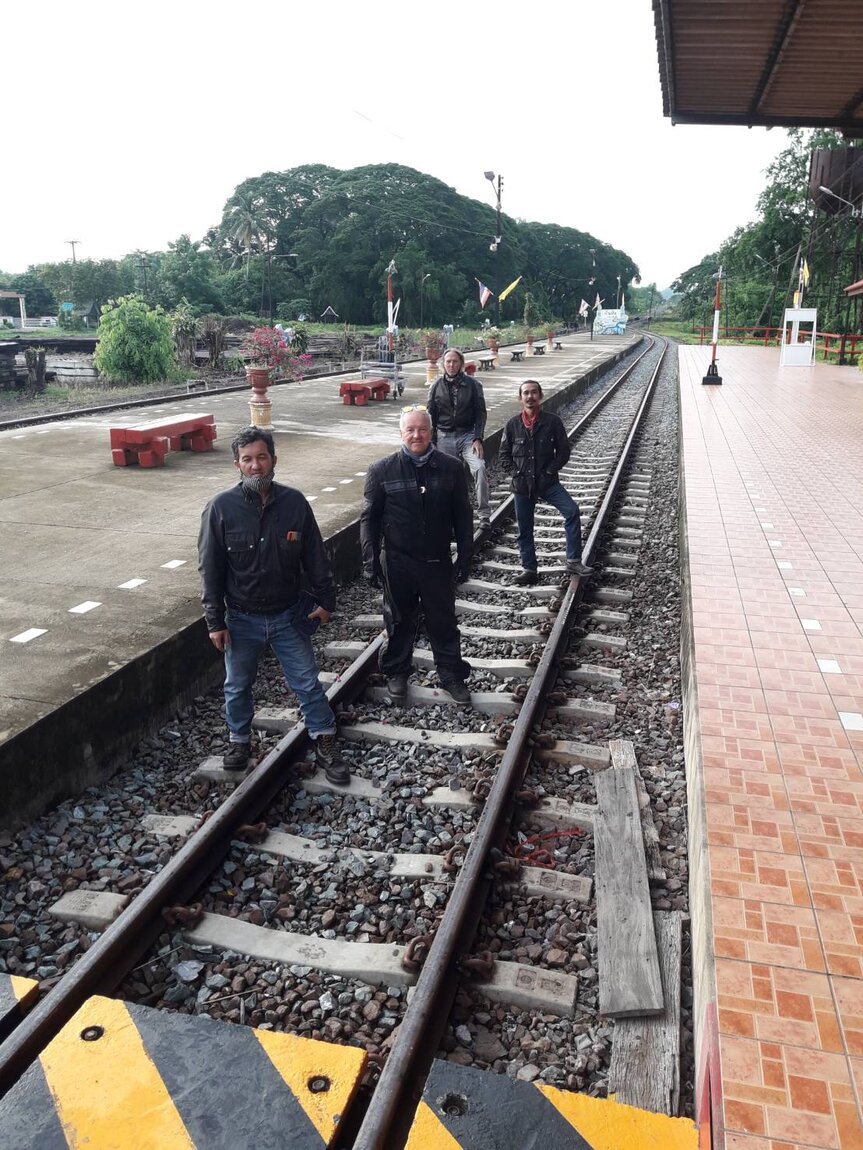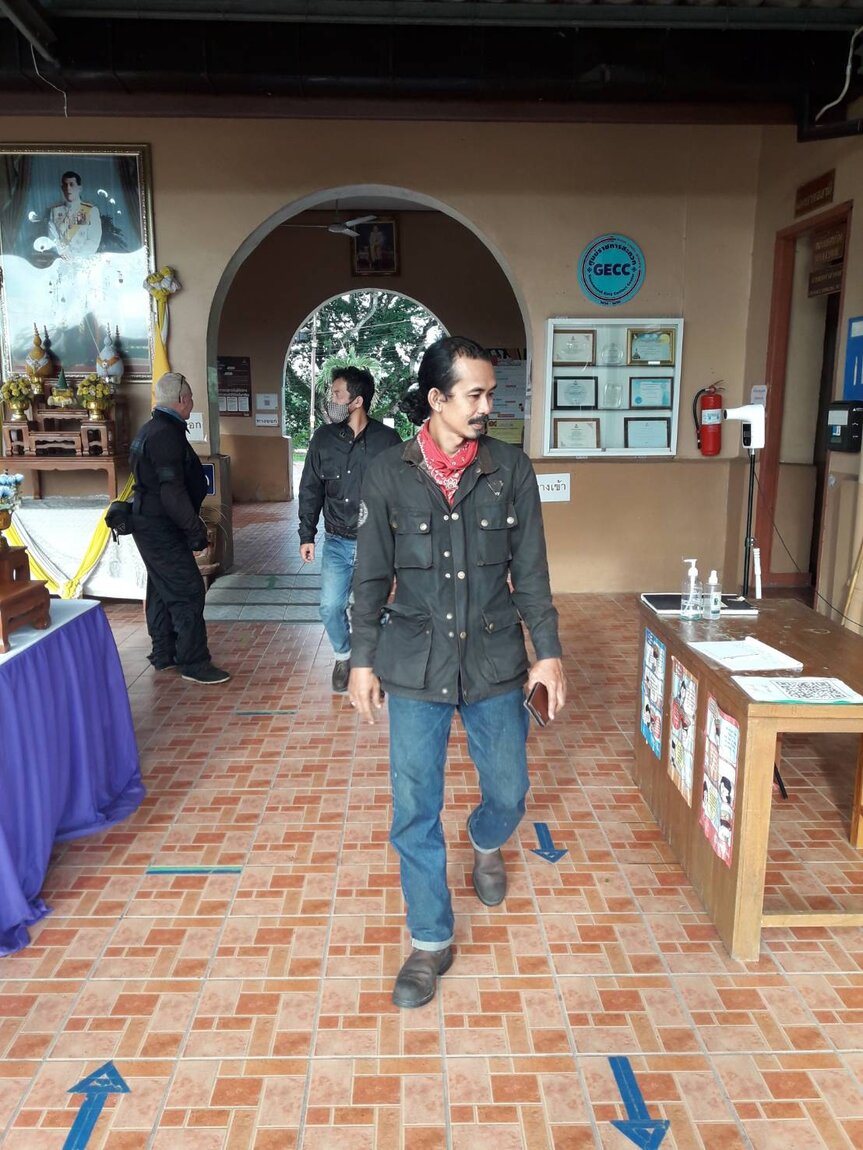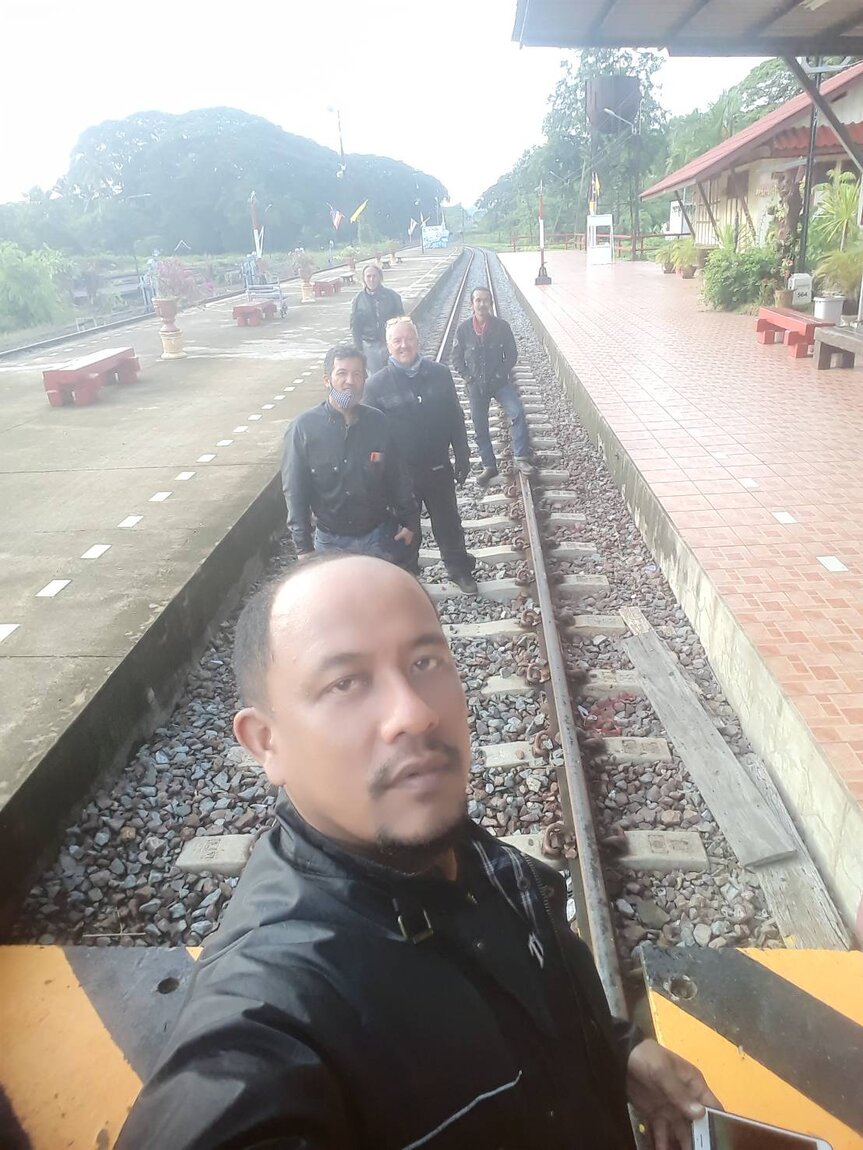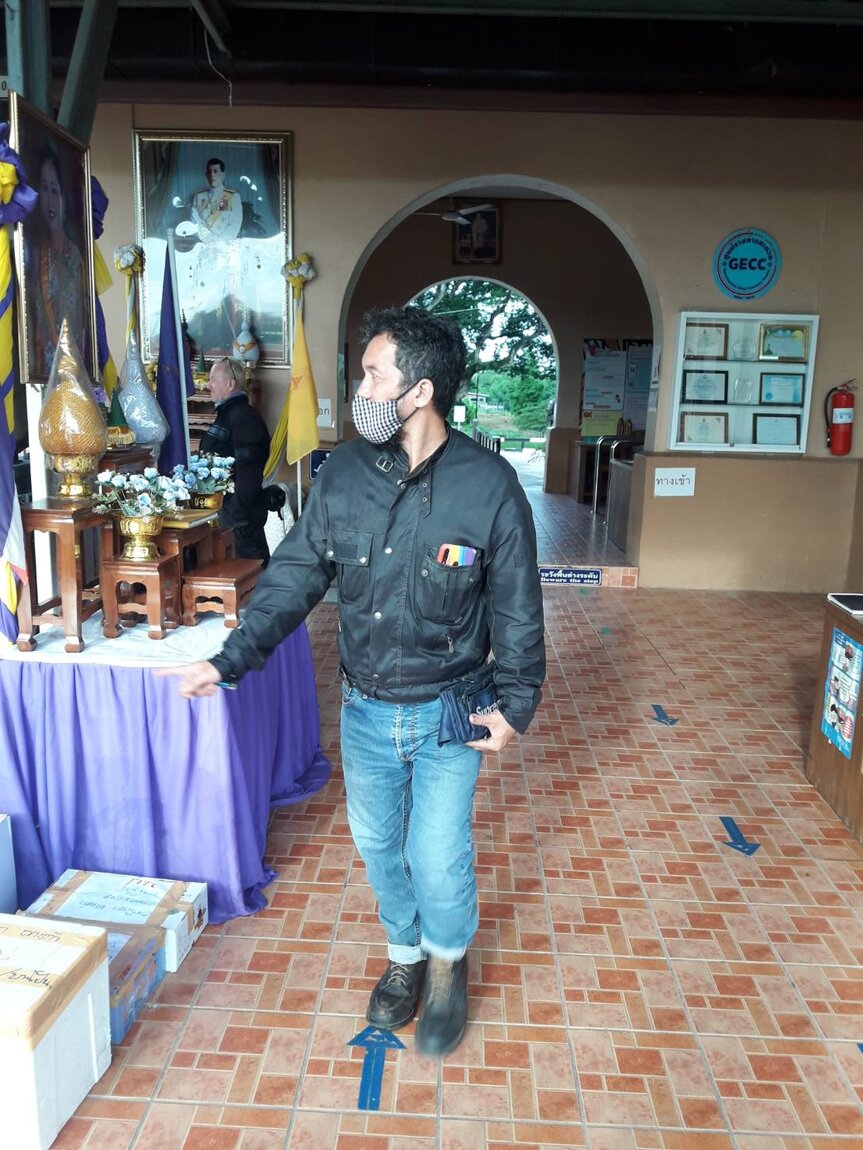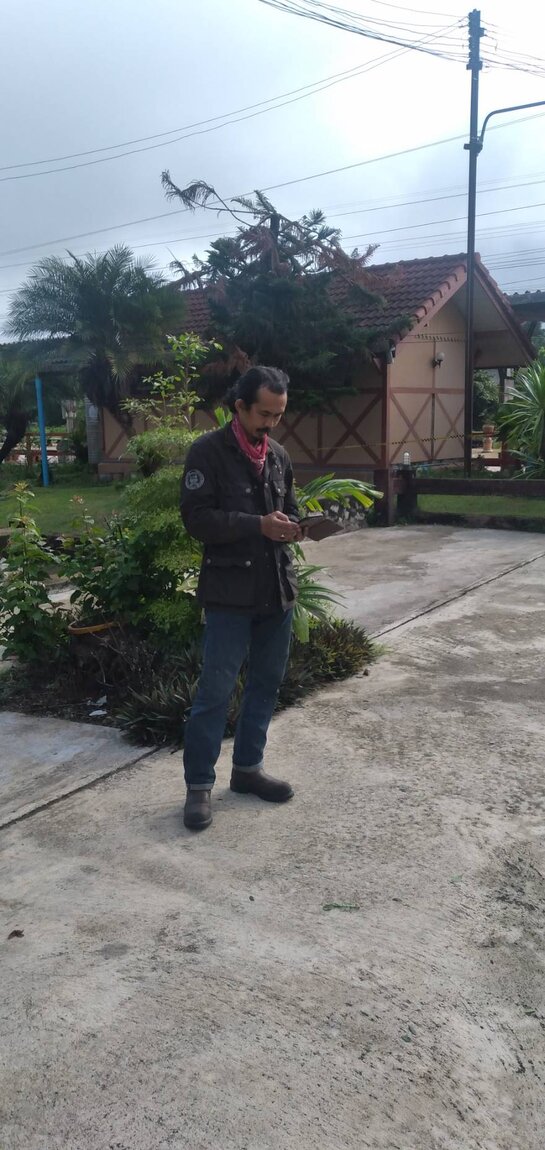 Then it was time for "Goodbye".
Three Thunderbirds were heading down 1023, 1124 and highway 1 to Bangkok.
Nigel and I were heading back to Chiang Kham and Chiang Saen.
Epilogue;.........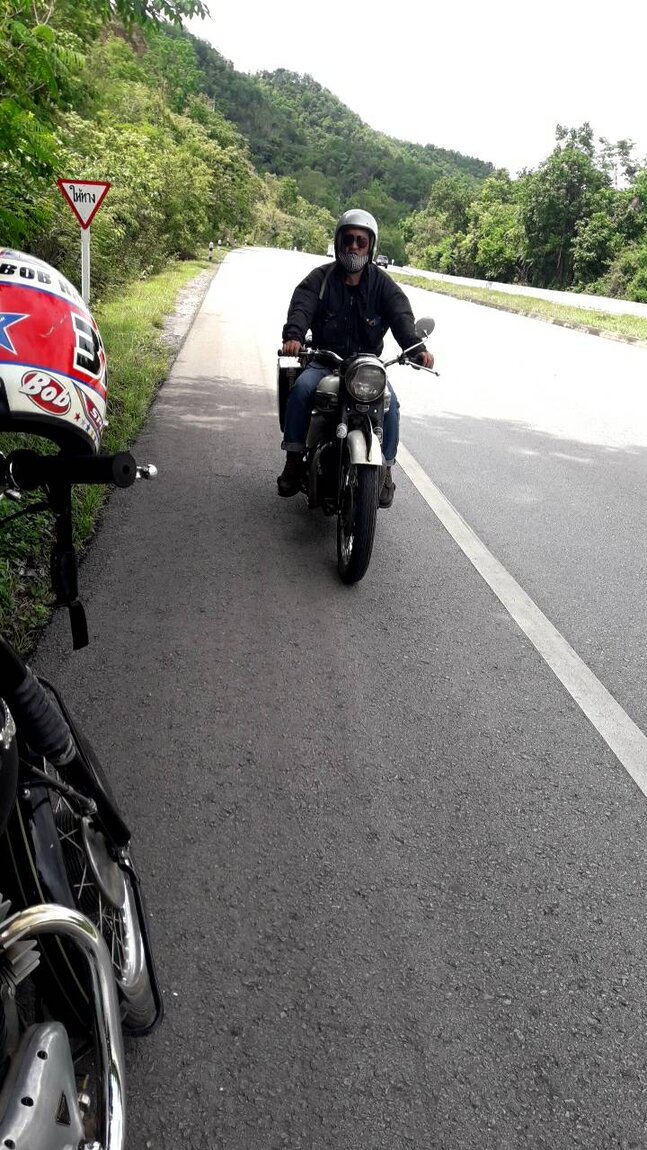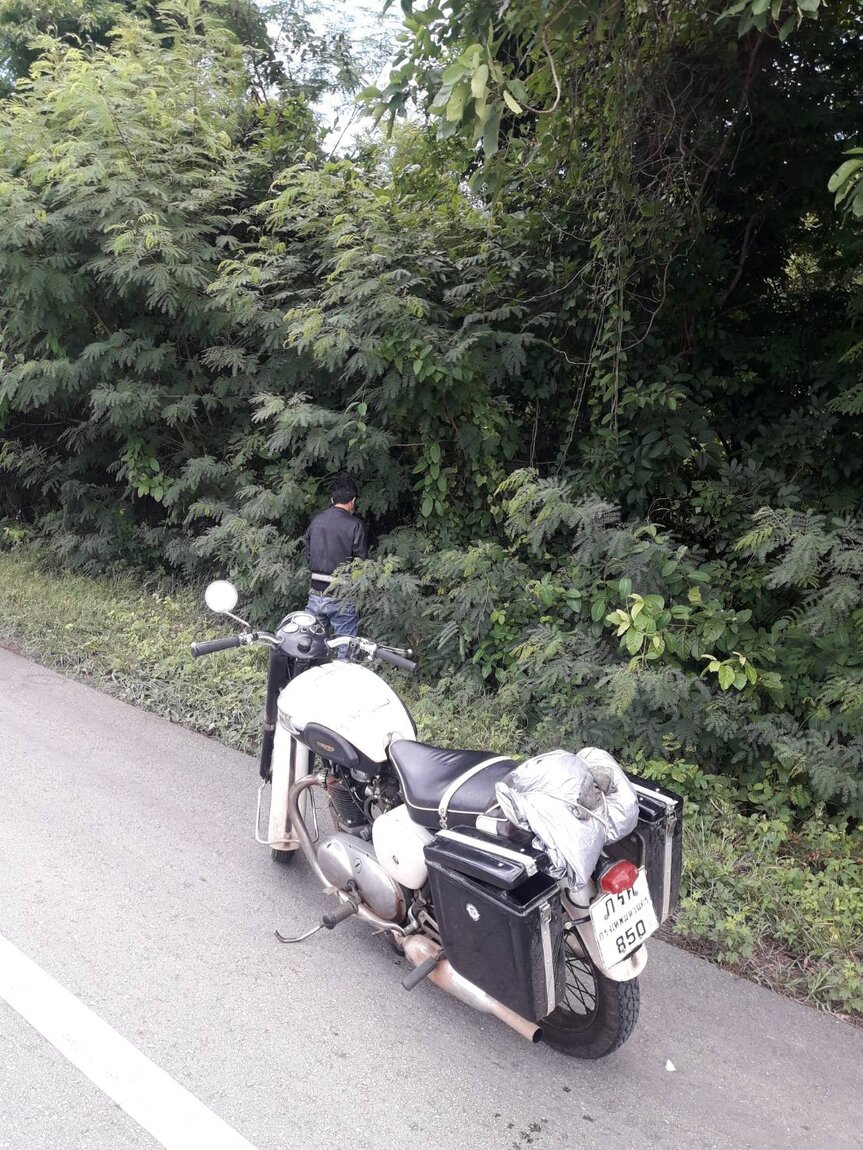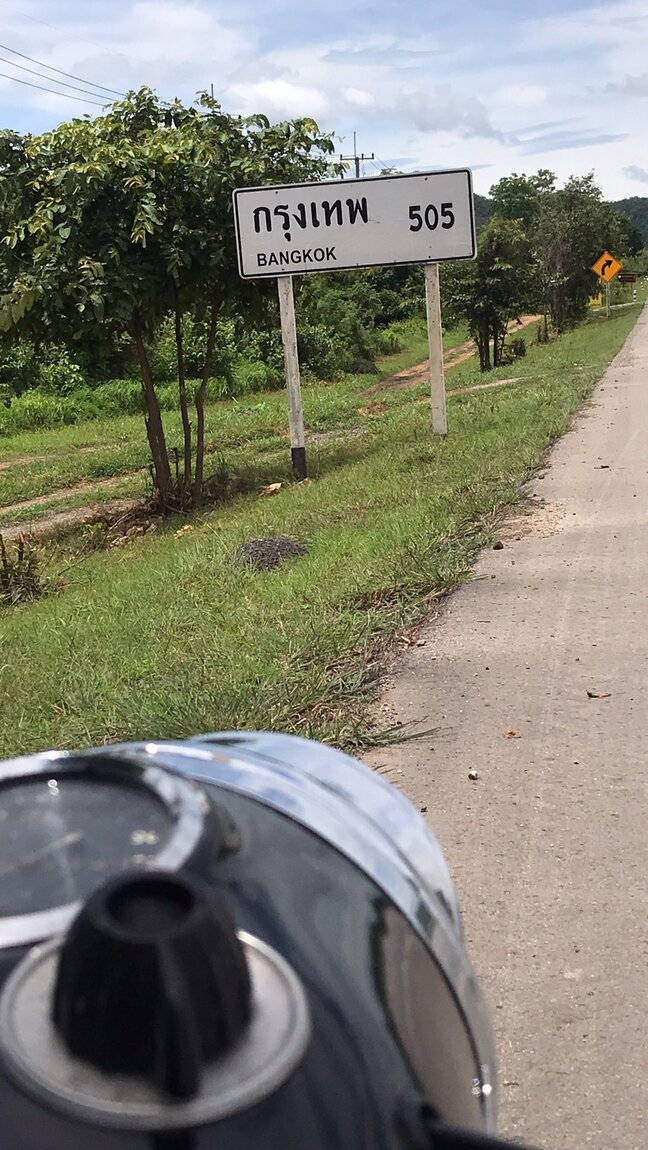 Meanwhile up in Chiang Rai, came across a new coffee shop..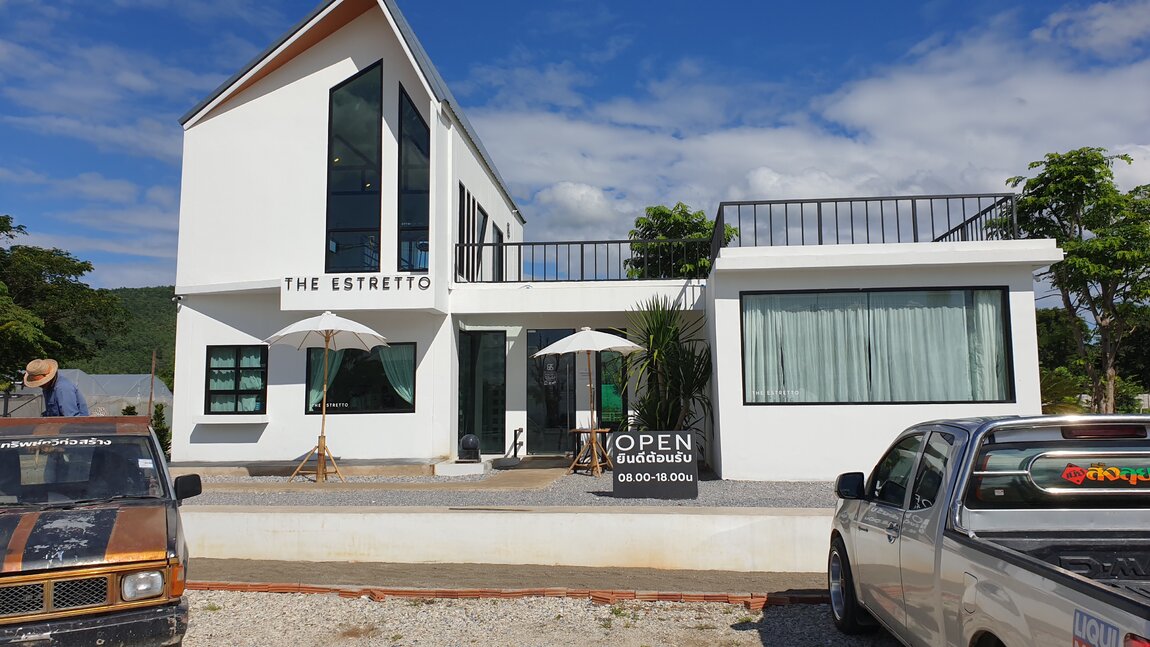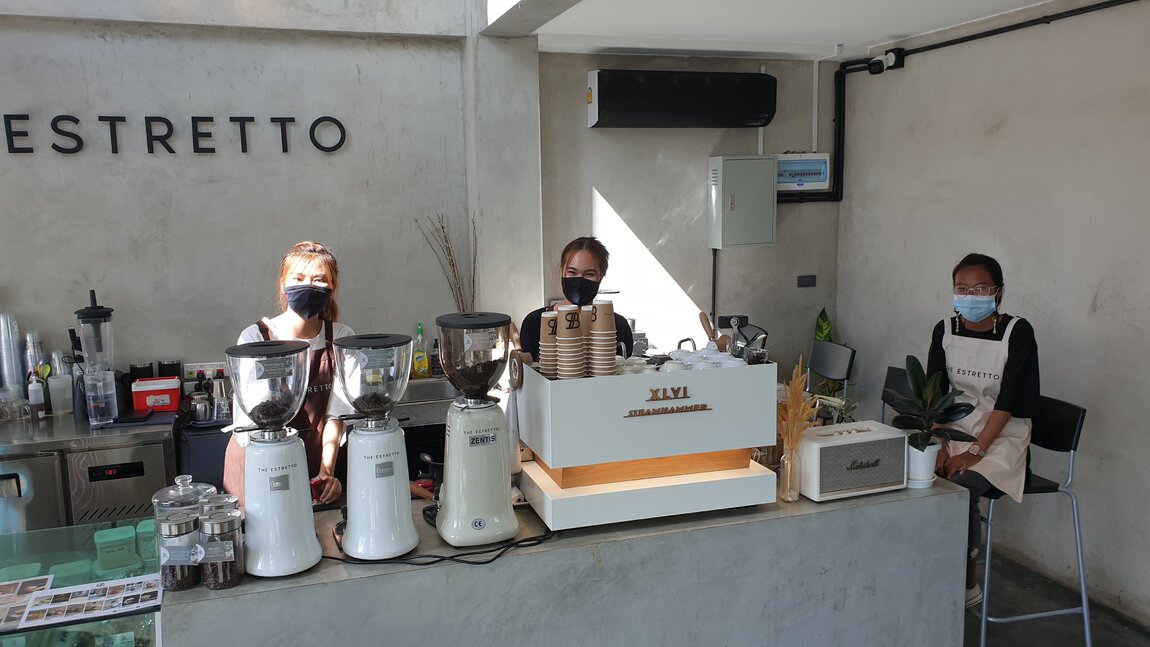 Very fancy..... the shop too....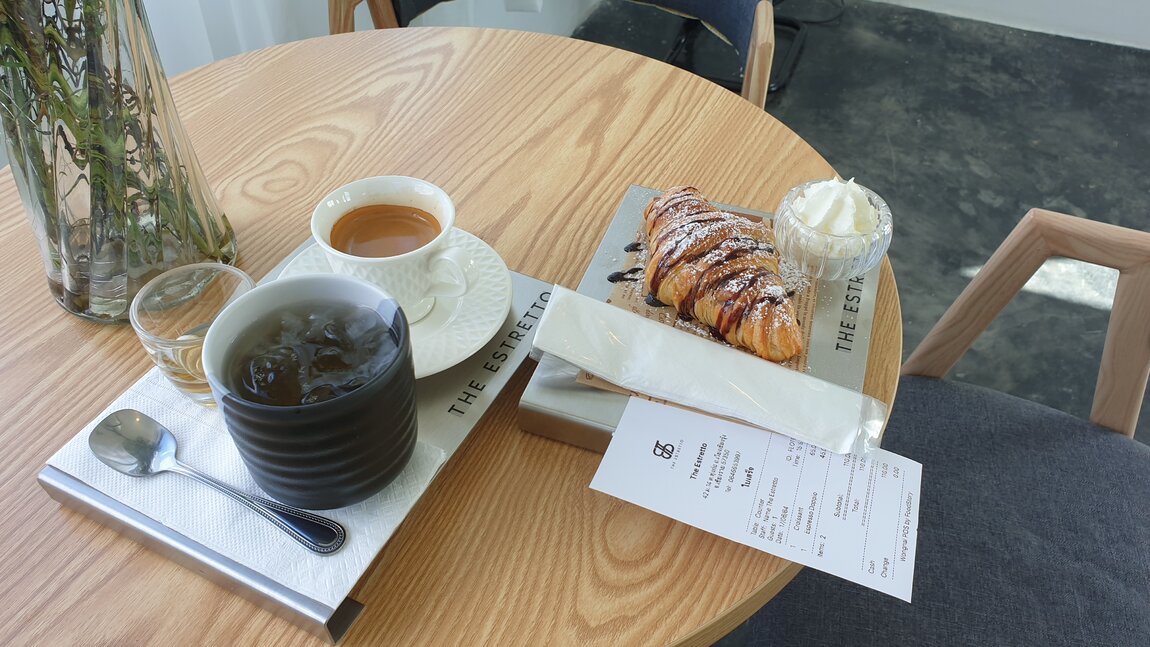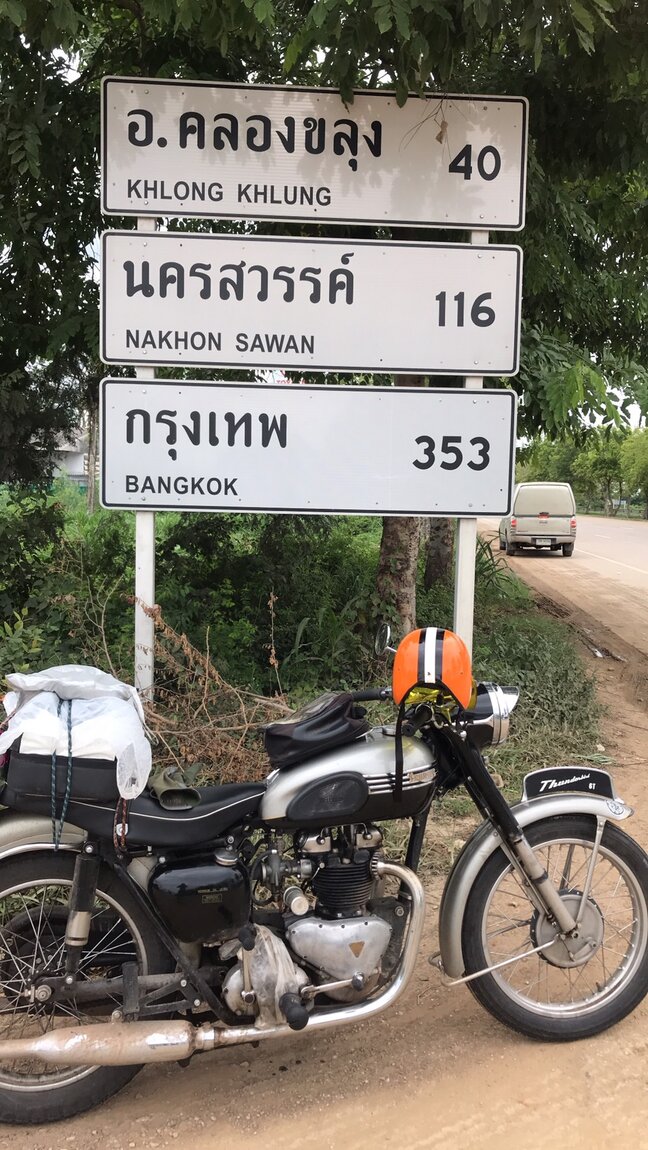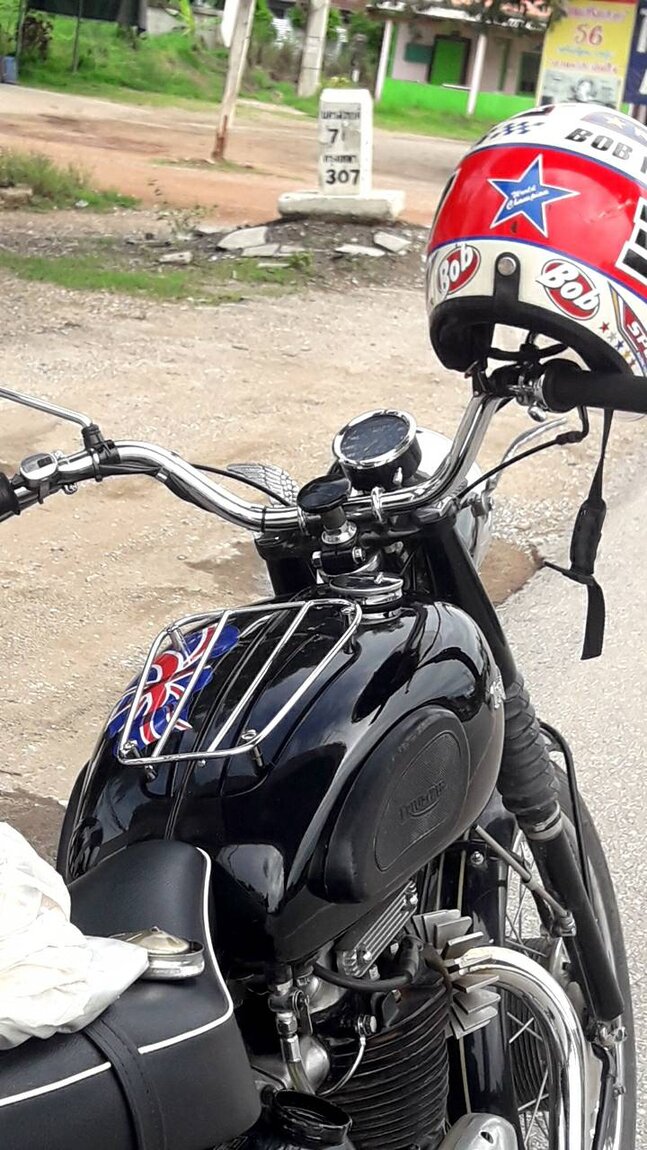 The petrol tank had come loose again on K Ming's bike, but this time, it was dripping petrol from one of the securing bolts.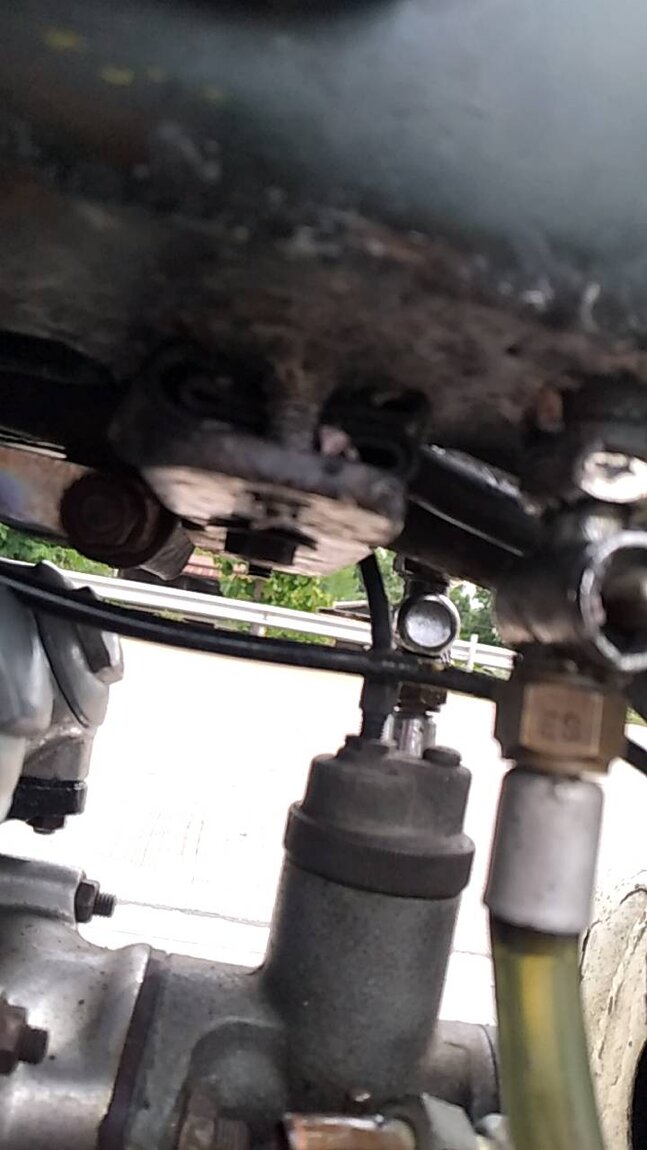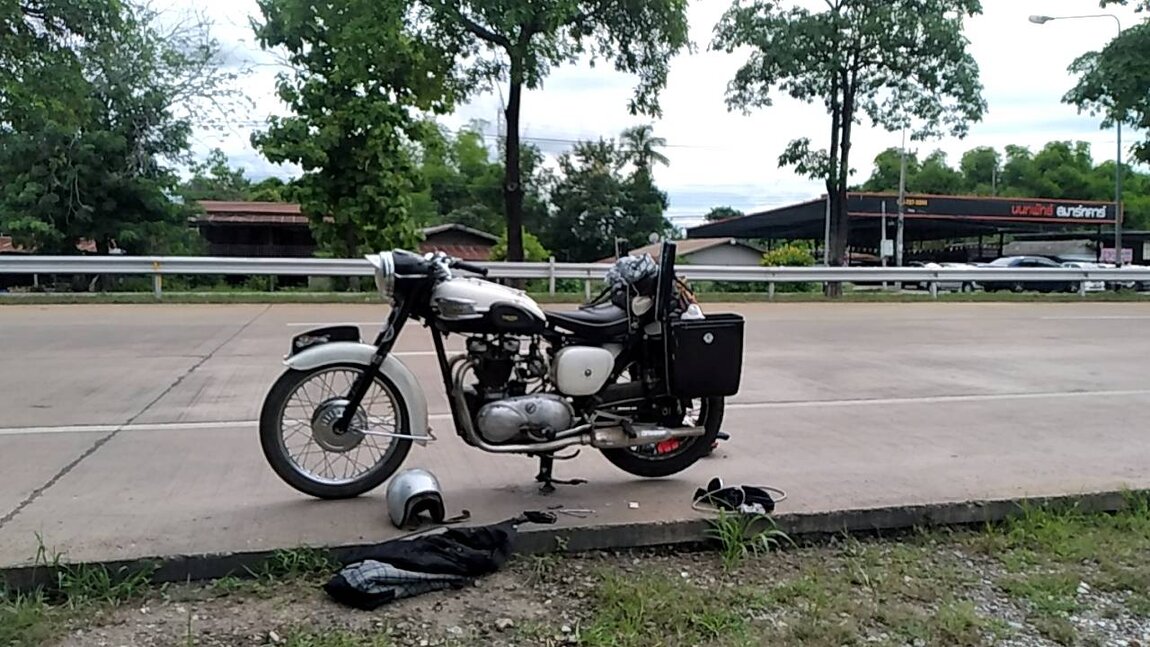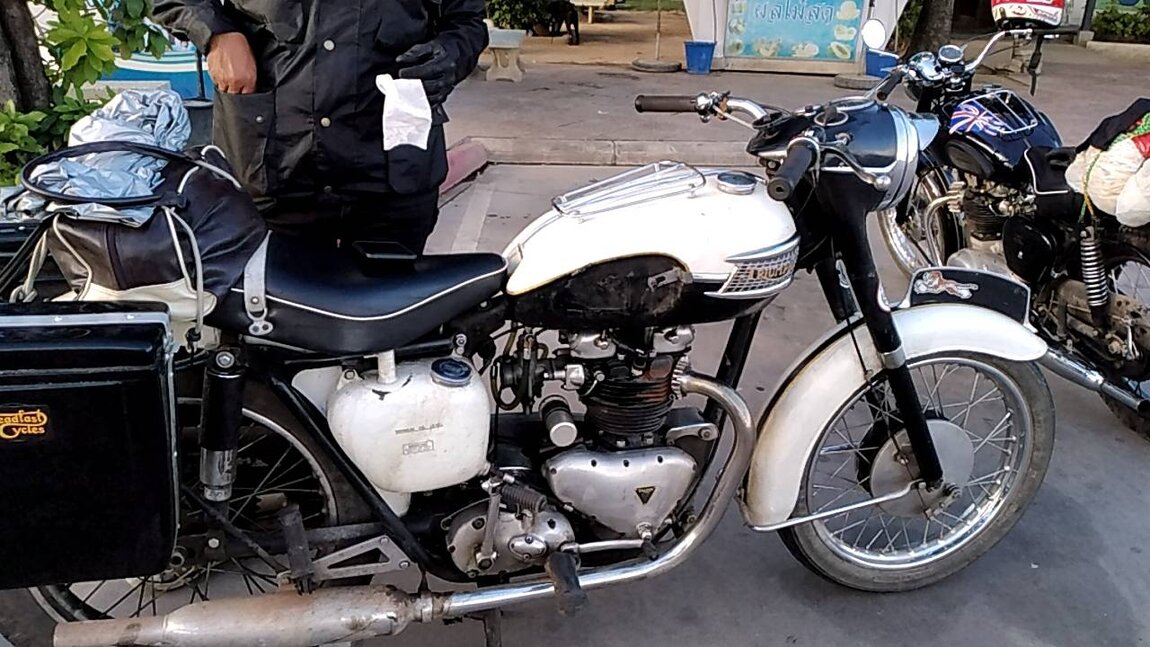 Gosh... pushing all the way to Bangkok...??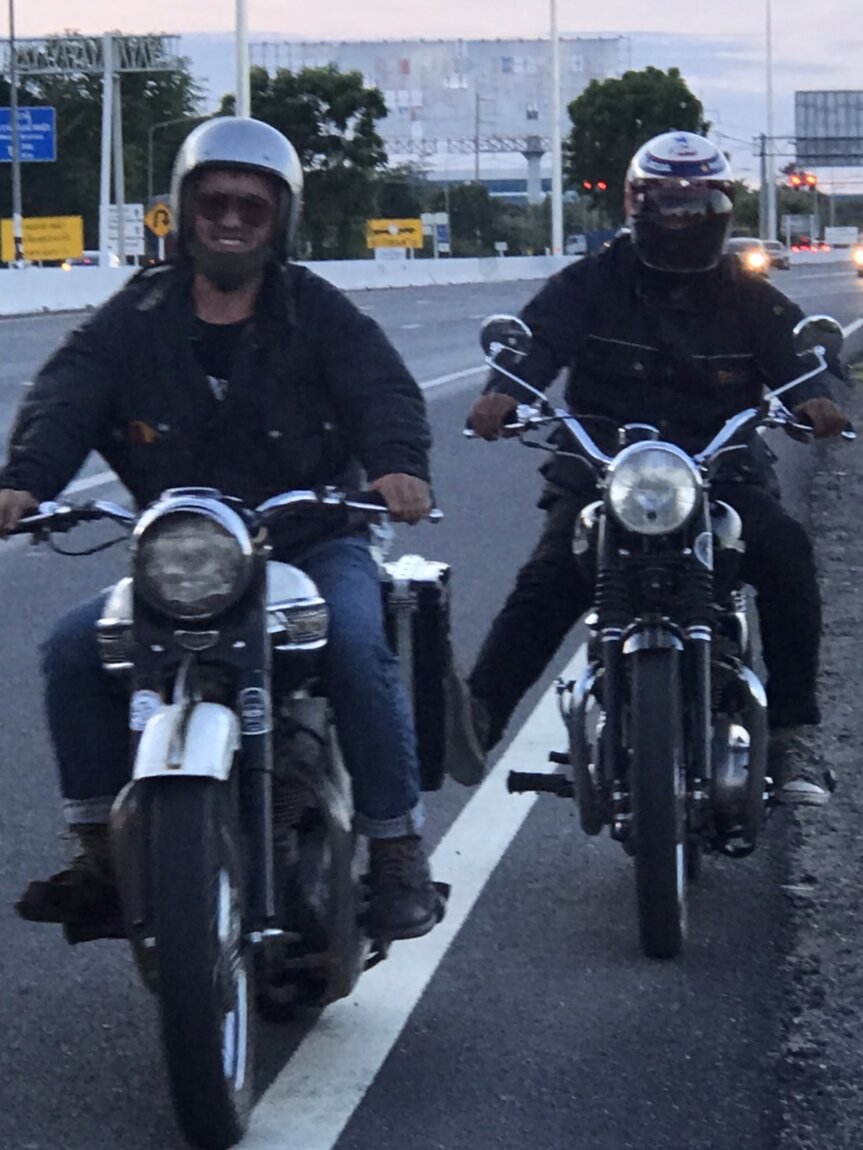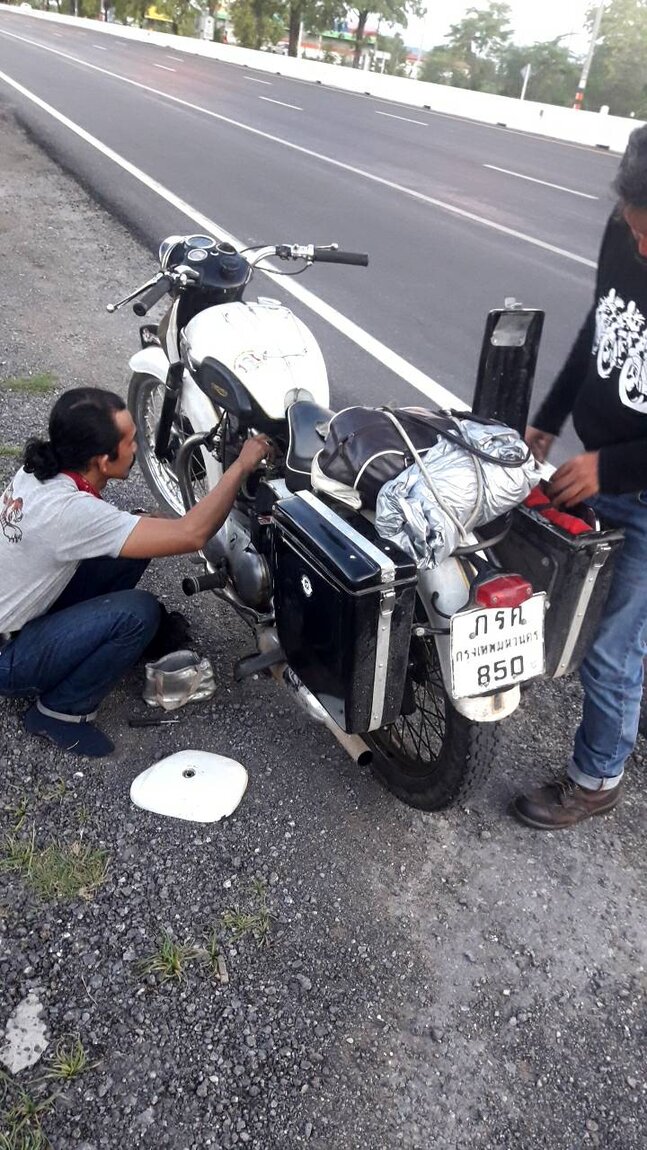 Finally, the guys got home around midnight.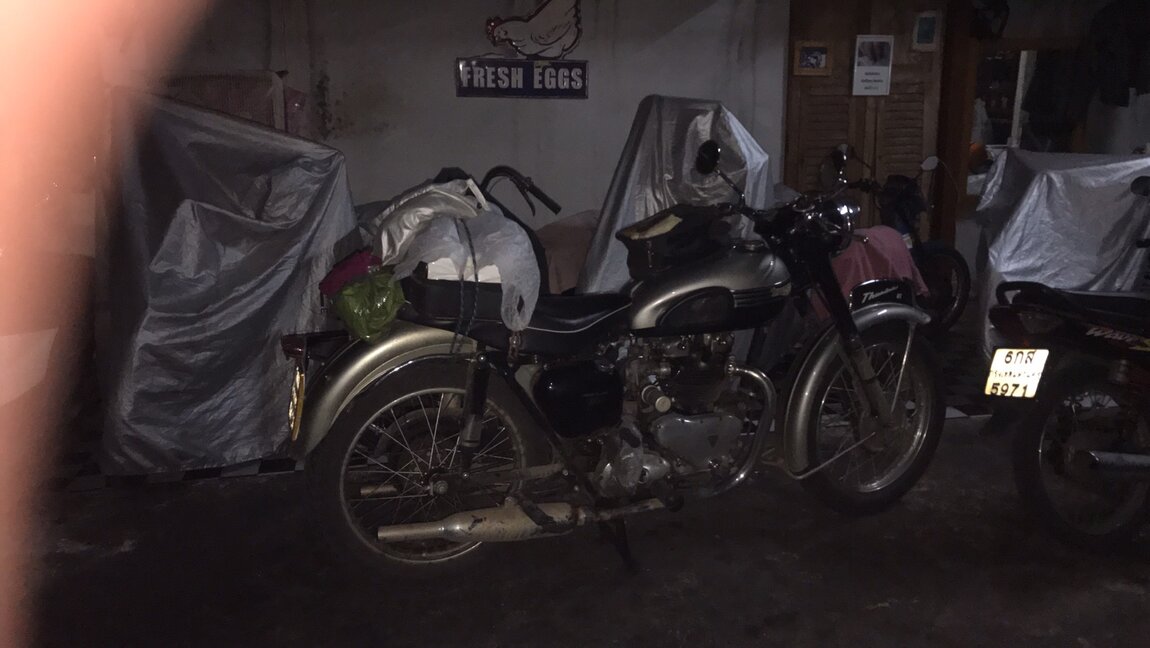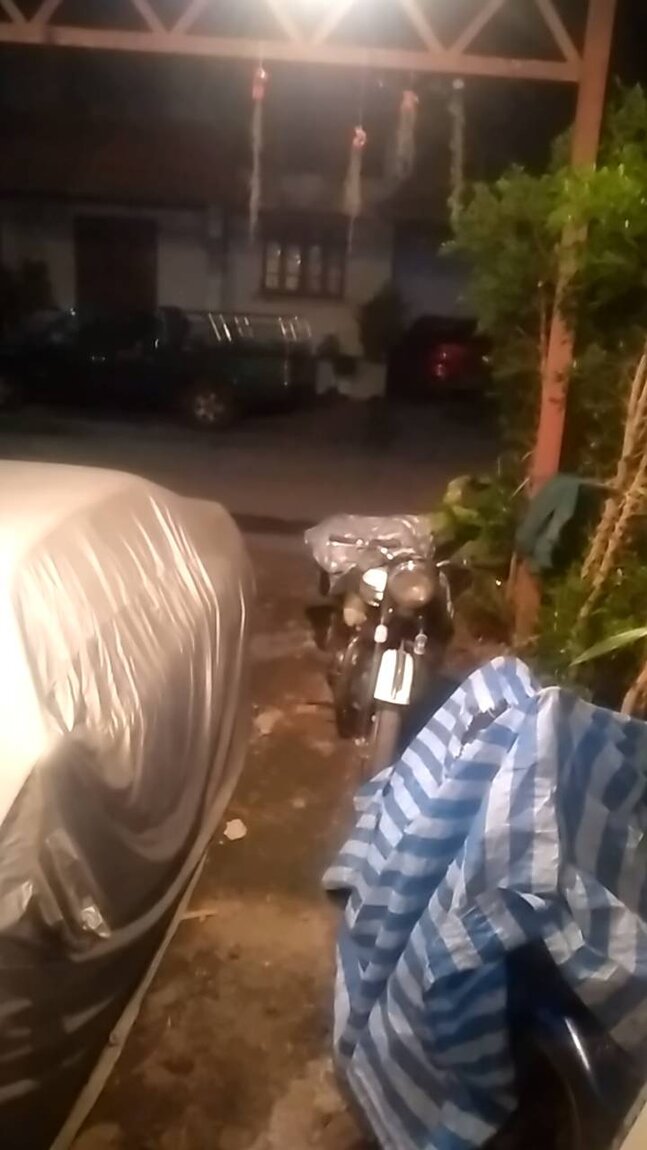 Over the next couple of days, we looked into maintenance & repairs.
Khun Ming got his petrol tank welded up, after filling it with water.
He also needed to repair a rear shock.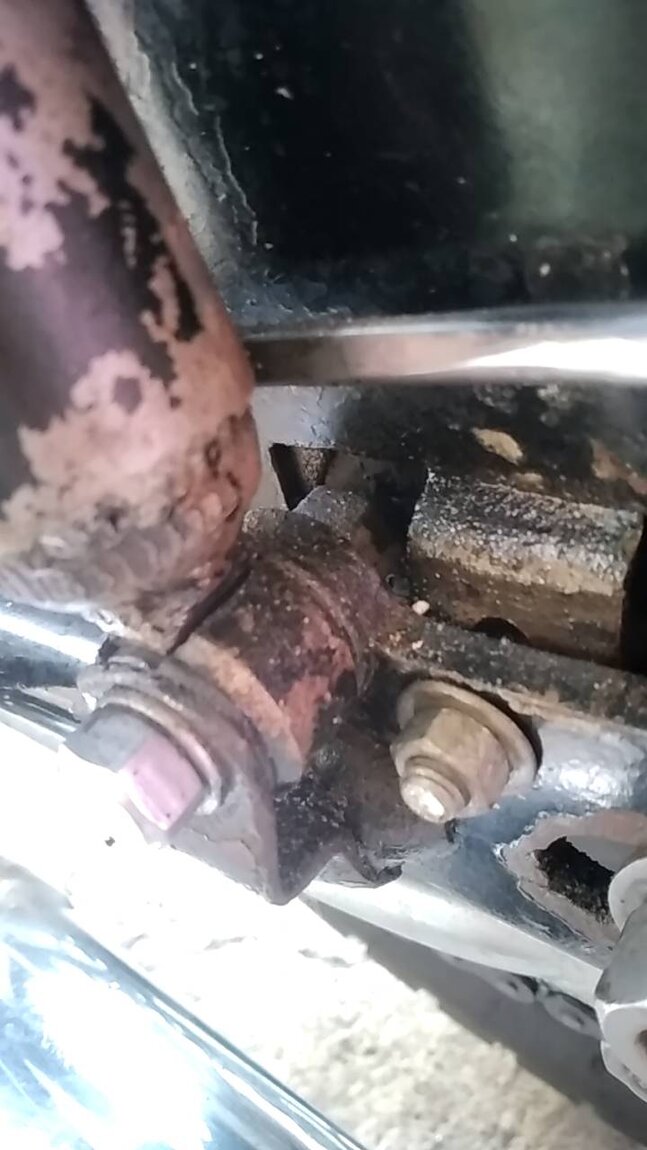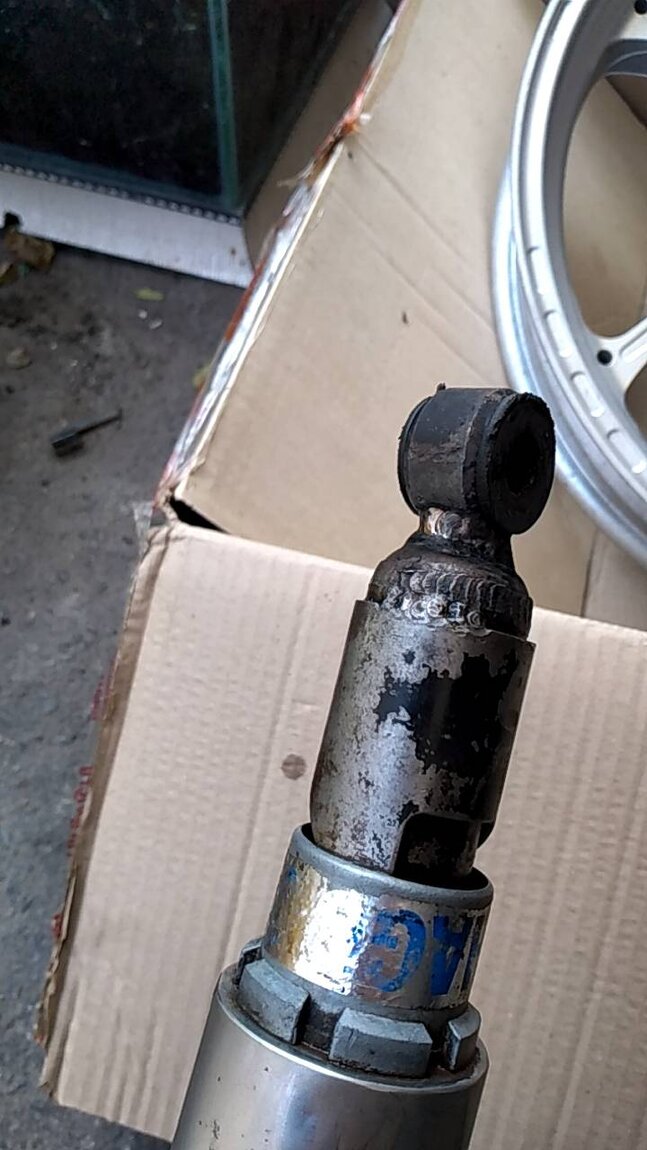 Khun Manat needed to get his front wheel rebuilt.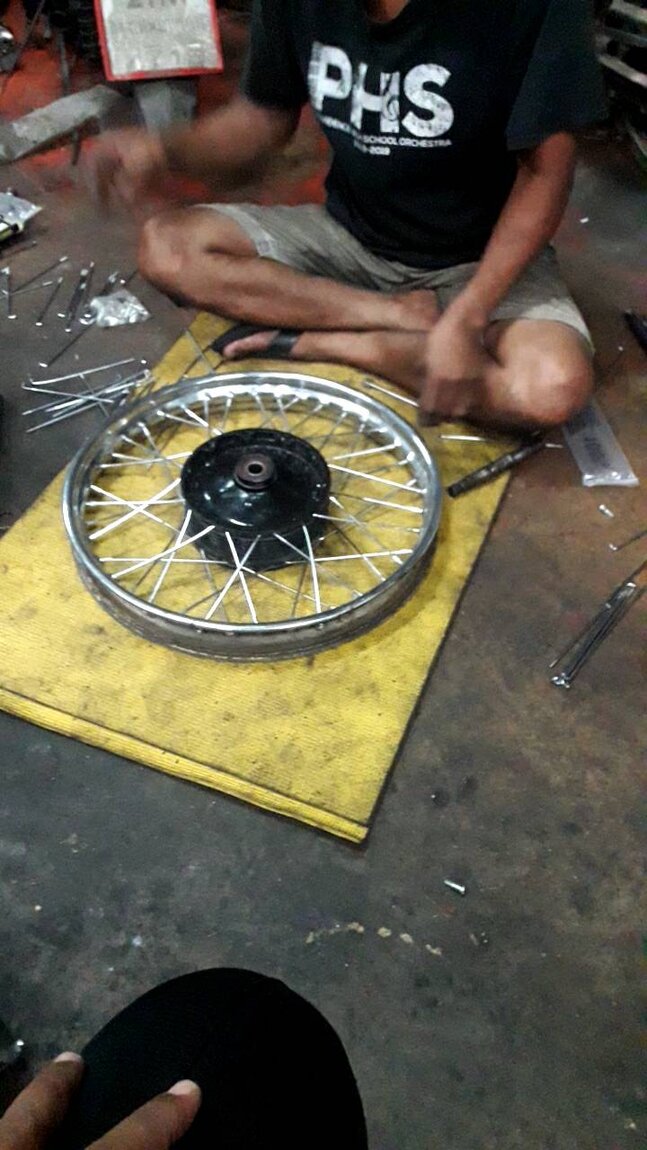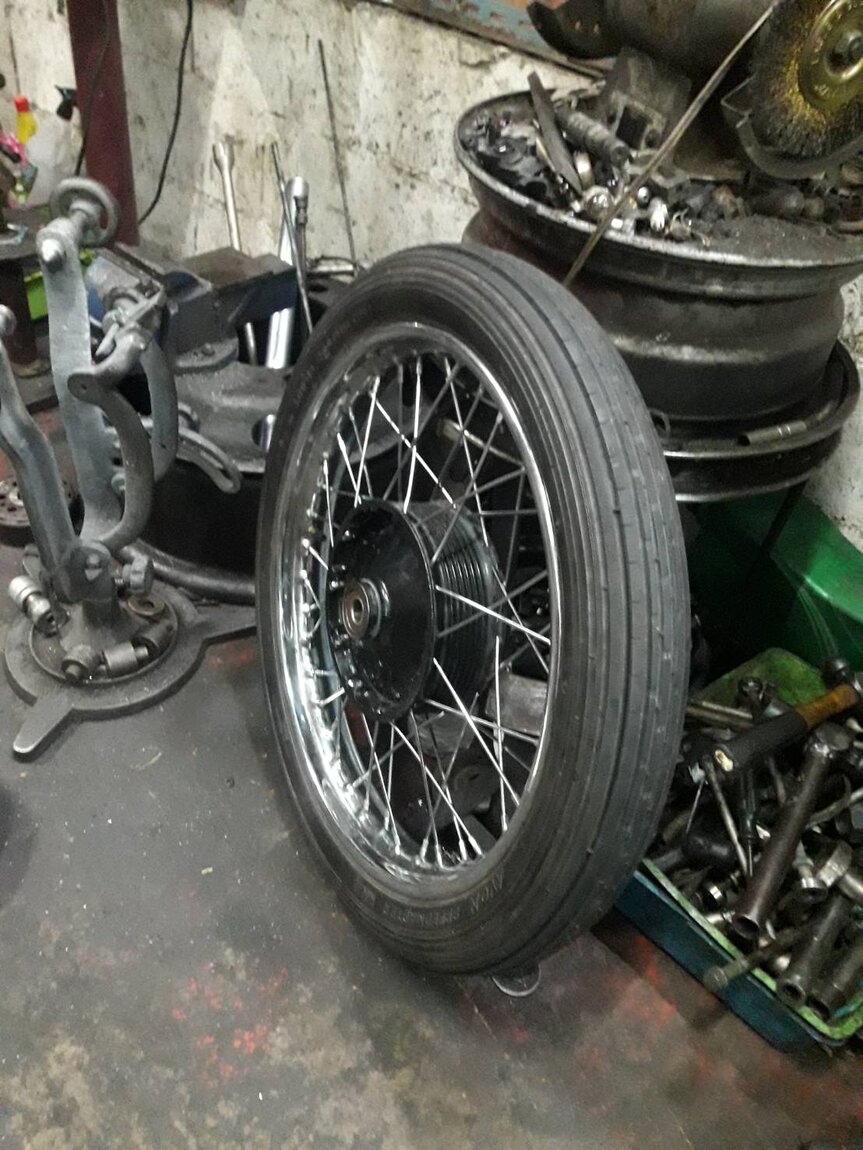 Ian has ordered replacement engine sprocket and clutch chainwheel and will fit those with a new primary chain.
That is what we do in LICME.......
เราซ่อม เราขี่
We Fix Em, We Ride Em.....!
Great ride guys...... looking forward to the next one....!
ขี่ดีมาก......ตั้งตารอคันต่อไป....!
Last edited: