The Mae Hong Son Loop (MHSL) 3 Nights 4 Days & 1,000 corners. Approx 750 kms, June 04.
The trip started off well, with David FL on his 750 Africa Twin, Bob B on his TDM 850, and me (Scotty) on my BMW R1100- jinxed-GS.
We had a fairly late start at 09:30 and headed off towards Hot, every time I go down the 106 to Hot there is a few dangerous moments, the road is in good condition, and also there are still roadwork's on the far side of Hang Dong.
After Hot the twisties start as you ride along side the Hot River, then gradually rise up into the hills into a cooler atmosphere, and a few pleasant rain showers (working in Saudi Arabia I don't see much rain) the road condition is good all the way thru to Mae Sariang which is about 190 kms from CM.
At Mae Sariang we had lunch at the Inthira restaurant, then booked into the Riverside GH. To fill in the afternoon, we rode out to Mae Sam Laep. This is a lovely ride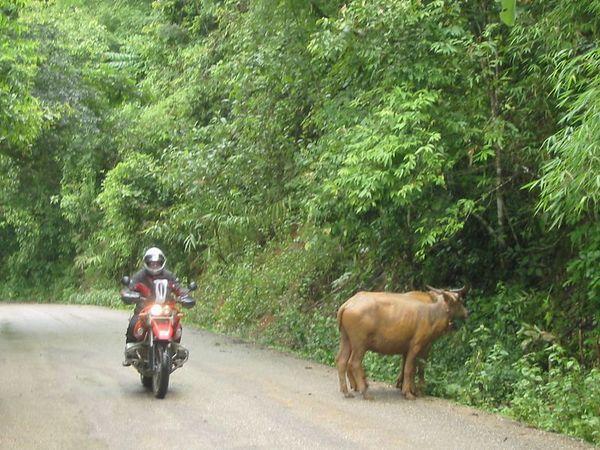 about 50 kms along a fairly narrow road with beautiful valleys with rice fields and jungle.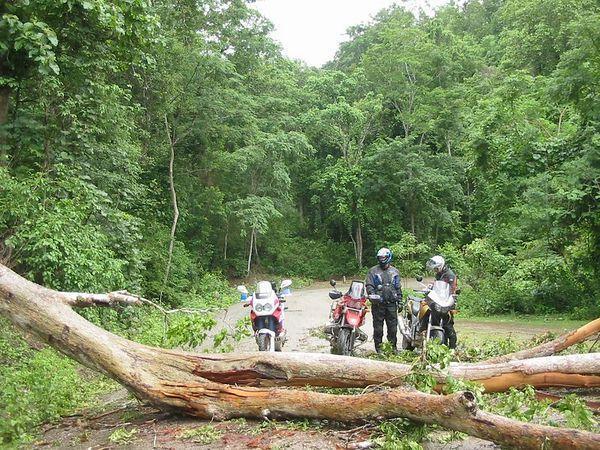 It was bucketing down with rain in Mae Sam Laep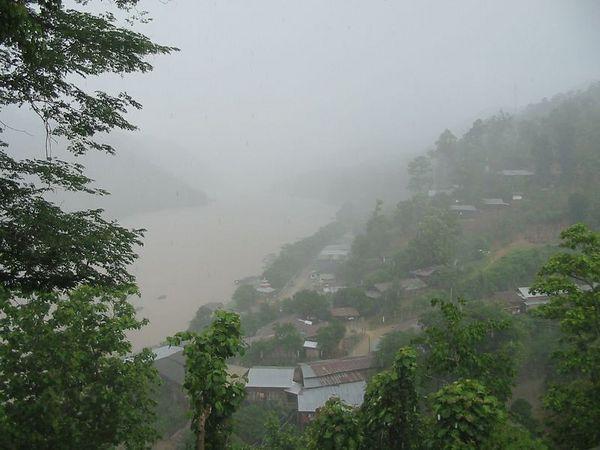 and I was not enjoying the rain so much! as it was getting cold and uncomfortable, we stopped for a few coffees and took a few pictures. Mae Sam Lap is quite picturesque but is definitely not set up for the average tourist!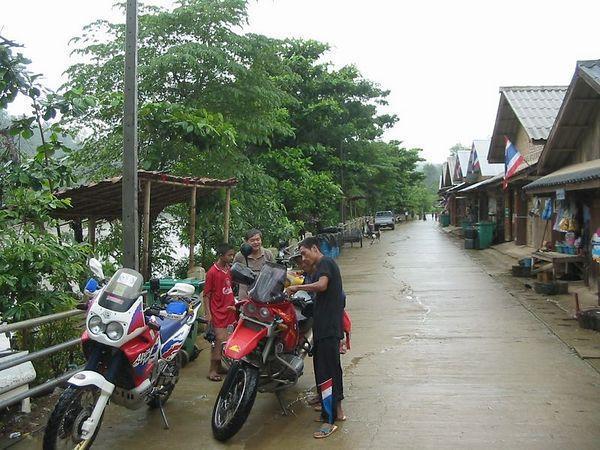 Didn't even see a GH! Great ride back to Mae Sariang with a few stops for pictures on the way back.
The next day we set off towards Mae Hong Son, Dave had a few side trips planned for mapping, and to fill the day in. There is lots of interesting side roads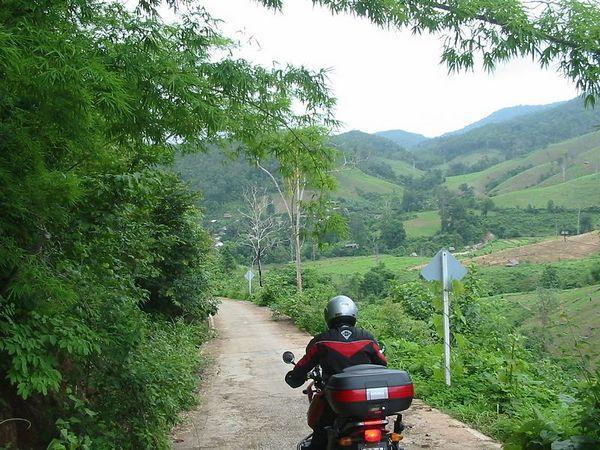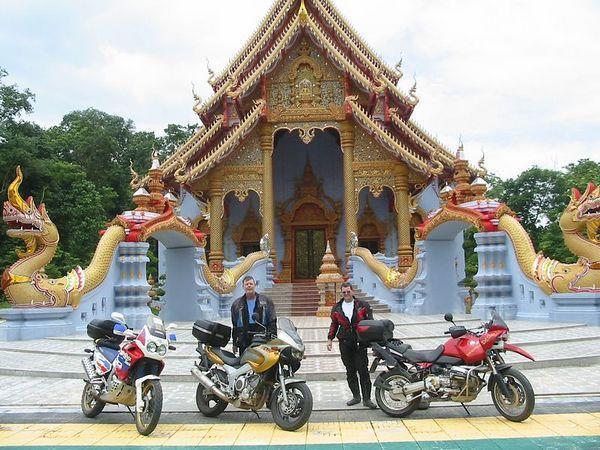 to explore, but Bob and I lost interest after the first three and blasted thru to Khun Yuam for lunch at the Ban Farang. After Dave caught us up we had a great blast thru the twisties to Mae Hong Son. The road surface from Mae Sariang thru to Mae Hong Son (MHS) is very good, just a little bumpy in some parts.
At MHS we booked into the Piya GH, good value bungalows with aircon and hot water, then off to the Lakeside restaurant for a few refreshing Heinekens, and then to Salawin Pub & Restaurant for tea, Alan's the owner and the food is absolutely top notch.
In the morning we had another slap up meal at Salawin Pub & Restaurant, and watched the rain pissing down! Then off to Pai in the wet, luckily for us it stopped raining outside of MHS, but the roads were wet and shiny for most of the way to Pai, which is a bit of a shame as it is very twisty most of the way.
Dave decided to leave us at Pai as his right leg was very swollen and painful from what was probably an insect bite, and this was making life difficult for him. We checked into the Charlie GH, then went for a ride round town, Pai is definitely very popular with the backpacker tourist, and seemed to be very busy considering it was the rainy off season. There is probably better value accommodation than Charlies to be had nowadays, and we didn't feel particularly welcome there.
We had some food and beers at the Drop Inn restaurant, which was pretty good (Swedish) then at 8 O'clock headed to the Bebop, we were a bit early, but when it all started happening at 10 O'clock, it was well worth it, the music was excellent. A trip to Pai for a night just to see and listen to the music is a definite!
[
]
Things were a bit blurry the next day, and the trip back to CM on the still damp roads seemed interminable, I won't drink that much again, well not until next time! The roads were in good condition all the way back to CM.