Administrator
Staff member
Subscribed
Jan 16, 2003
13,363
4,308
113
68
A short blast to MHS to check out another road up to the Burma border – R1285 & the Huay Phueng checkpoint.
DATES: Thurs 28th – Friday 29th July 2005.
THE WAY:
(1) Chiang Mai - Mae Malai - Pai - Soppong - Mae Lana - Mae Hong Son.
(2) Mae Hong Son - Huay Phueng - Soppong - Pai - Pai - Chiang Mai.
THE ROUTES:
(1) 107 - 1095 - 1226 - 1095
(2) 1095 - 1286 - 1095 - 107
THE WEATHER: Sunny & "multi-cultural" with dry white & wet black clouds.
Pic below: White multi-cultural weather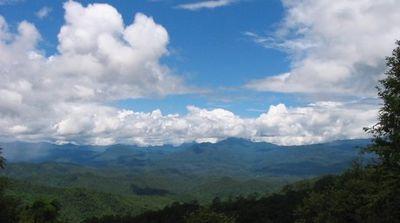 Pic below: white & gray multi-cultural weather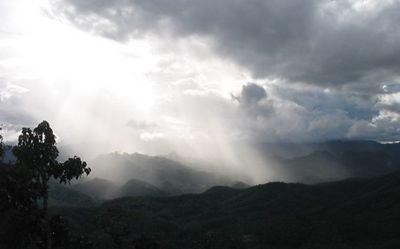 THE RIDERS: just David Unk on his trusty young (almost registered) Africa Twin
THE TRIP:
Got away from the super around 11.00 pm after stocking up on dried squid for the monk father-in-law.
On R107, the 4-lane going north to Mae Malai is still progressing ok, & its foreseeable that it might actually get finished in a couple of months. This will be something of a noteworthy achievement if you consider the stuff up with the super highway underpasses around the city!
The run out to Pai was basically dry & sunny with the road wet in just a few places. There were a couple of light sun showers but nothing to warrant putting the waterproofs on.
Pic below: wet road Mae Sae - Pai. (1 of these cows actualy chased the bike as I passed.)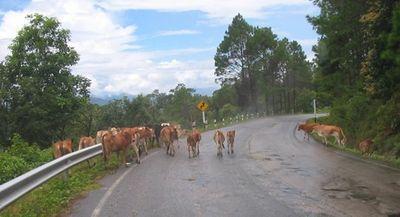 Of note on R1095 is the terribly inconsistent road surface – sometimes totally brilliant race track quality, for just a few kilometres, then bumpy rippled double or triple "patched" asphalt.
Pics below: Inconsistent road surface.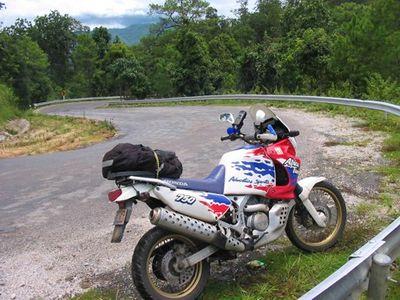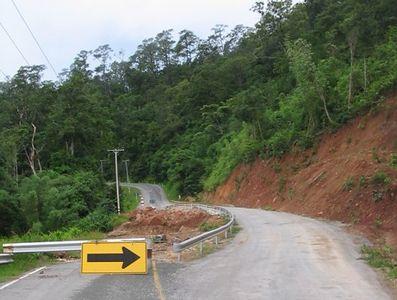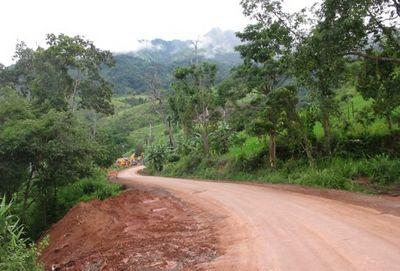 Chuck in a few landslides with sand / gravel on the road & you never quite know what to expect around the next blind corner & as we all know there are hundreds of them (blind corners) on the MHS loop.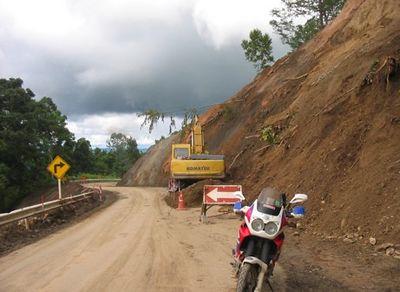 All this makes for a pretty tiring but nonetheless awesome ride. Overall I don't think I enjoyed the actual ride as much as usual this trip, but the fresh air was a total delight after being stuck in the city for a bit too long.
Pic Below: R1095 the good stuff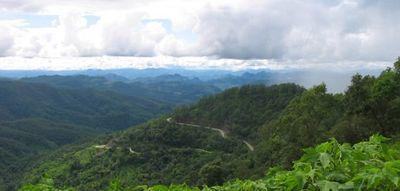 Pics below: fresh country air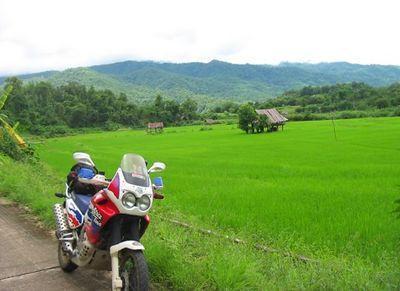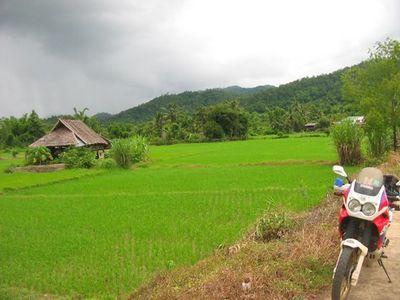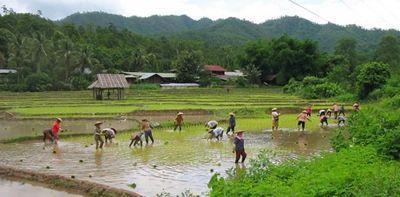 It was a brief pit stop at Mae Sae for some sponsor & a chocolate bar, then straight onto the temple & see the father-in-law, just out of Pai.
Late lunch was taken at the Baan Pai & this developed into a bit of lengthy one (nothing changes eh BobS?) due to the presence of Pookie the owner, plus the vivacious Tong from Chiang Khong & back in Pai for a few weeks. I managed to drag myself away eventually after over dosing on cappuccinos & hit the road for Soppong.
On R1095 between Pai & the sala viewpoint en route to Soppong, there's quite a bit of road works – road widening & chopping out of hills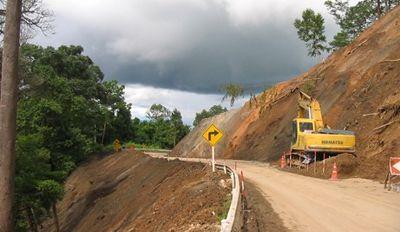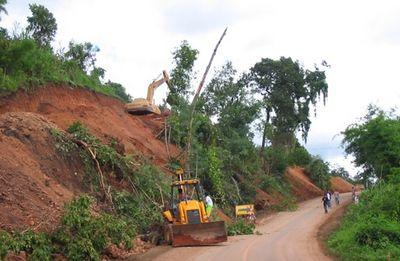 to give you a bit of a buzz when you come across them quickly around a corner.
After the ridgeline the road down into Soppong is good, but this is where I got caught in a really heavy sun shower – it was torrential for about 7 minutes & I had no idea where the rain come from. It was unreal, without any warning & somewhat nerve racking on that steep twisting downhill descent!
I blasted straight on thru Soppong & back up onto the sala viewpoint west of Soppong. The sun was shining brightly here & it was impossible not to make a quick Kodak stop for some snaps.
At 4.15pm I thought it was getting a bit late to try R1285 & the Huay Phueng road, so chucked a "righty" & headed North on R1226, the Mae Lana road. I thought I might as well take a quick peak at this one & see how far the asphalt runs out.
R1226 is in perfect condition & the asphalt runs out 4 ¼ kms after the actual Mae Lana village turn off. R1226 is very steep in places & when you consider that the scenery is pretty impressive then there's enough reason to slip into Mae Lana for a quick look if you en route to / from Pai / MHS.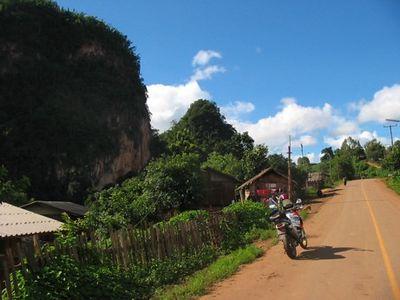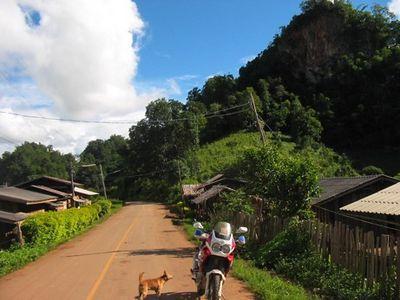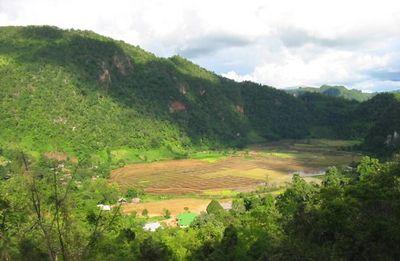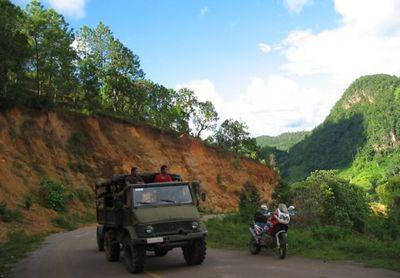 30 minutes later I was back on R1095 & heading for MHS.
I got hit by another couple of sun showers before MHS but nothing anywhere near as bad as the Soppong downpour.
In fact it was great riding this section, increasing & decreasing speed, trying to gauge whether I should speed up or slow down to avoid the showers.
Pics below: showers to dodge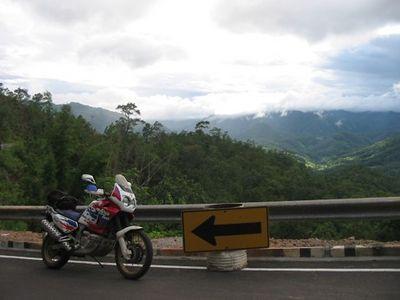 I also had several photo stops before MHS & so did not arrive in town until 6.10 pm. 1 ½ hrs from the Mae Lana turn off to MHS is considerably more than what it takes for the entire Soppong – MHS.
My night in MHS was a quite one, whisky / newspapers / foot massage (combo), then dinner at the Salween & into bed at 10.30 pm – no disco at the Baiyoke Chalet or music at the Mom Sabai. Something of a record for me!
Next morning it was up at 8.30 am, brekky at the Lucky, then chugging around MHS checking new asphalt / concrete roads to GPS & back on the road again, heading home for Cnx at 1.00pm!
30 minutes after leaving MHS I turned onto R1285, the Huay Phueng road that runs out to the Burma border, a border market & Shan / Thai Yai camp.
The road out here was closed for a couple of days a few weeks ago due to torrential rain & landslides so I thought it might be checking out.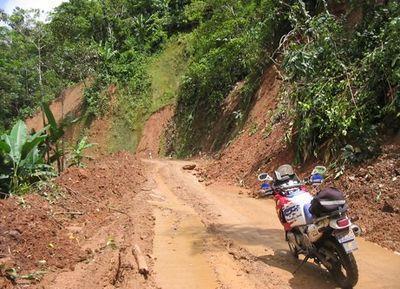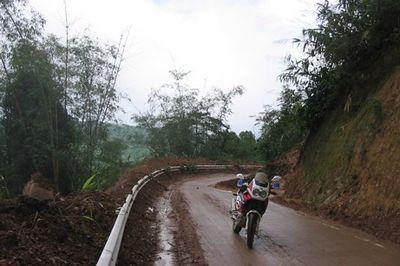 The start of R1285 really is a gorgeous ride on twisting undulating, sometimes tight, but flowing asphalt.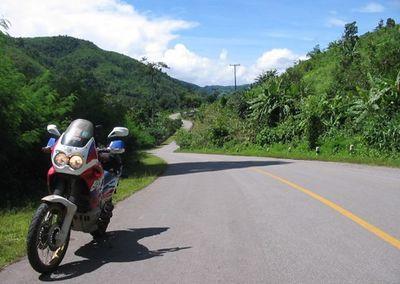 Pic below: Scenery on R1285 to Huay Phueng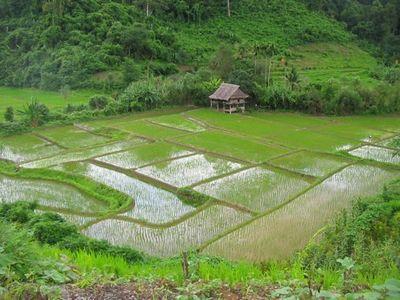 Eventually you come to Sai Khao, 3 ½ kms after Huay Phueng. In Sai Khao, there's an army checkpoint but I had no trouble getting past.
Immediately after the checkpoint the road gets steep, tight & narrow – but it's all concrete,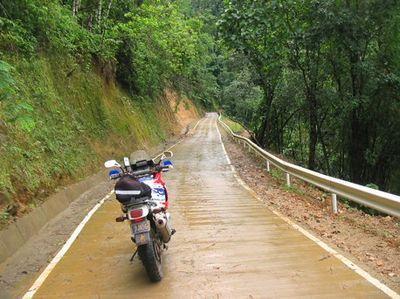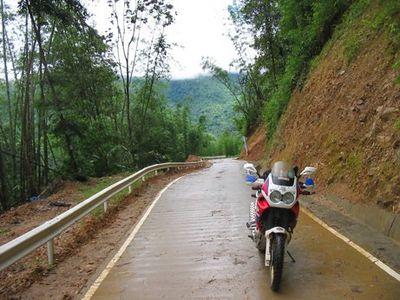 although it was all wet for me & sometimes slimy with dirt washing down the road.
The scenery in here was / is fantastic- wonderful lush forest.
Eventually you get to "the end of the road"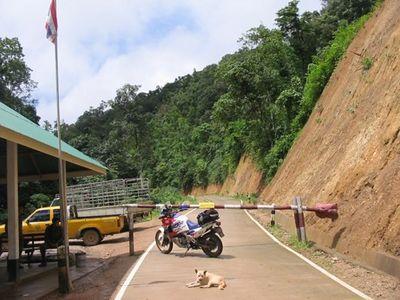 at least on the Thai side & you aren't allowed any further, or you are in Shan territory & in Burma.
After a very quick photo stop it was turn around & head home to Cnx.
A planned brief stop in Pai again turned into a lengthy one, although not on solely on account of the Baan Pai staff, but because of meeting up with an old riding buddy Art Halibsen on his Honda X4 1300. We swapped road notes, talked bikes & some not so good bike mechanic stories in Cnx to keep ourselves amused for too long.
It was almost dark when I left Pai & the ride back to Cnx was a bit of a horror one on the inconsistent road surface with alternate wet & dry roads, plus the passing showers. Riding at night in the mountains in rain is not a lot of fun I can tell you........I arrived home in Cnx at 8.30 pm pretty much knackered.
Davidfl
Keep The Power On