Well it's the last/only trip report from me - been on
oapillion
duties for the last couple of months -
before making my way back to the UK, and what a wicked few days it was!!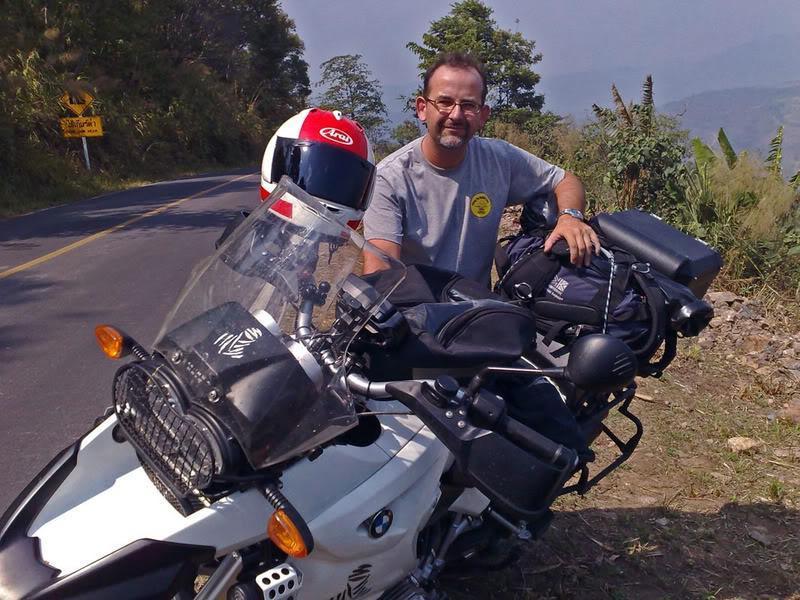 Picked up Rhodies BMW R1200GS in CNX and road down the highway 11 then onto route 1 into Tak for my first night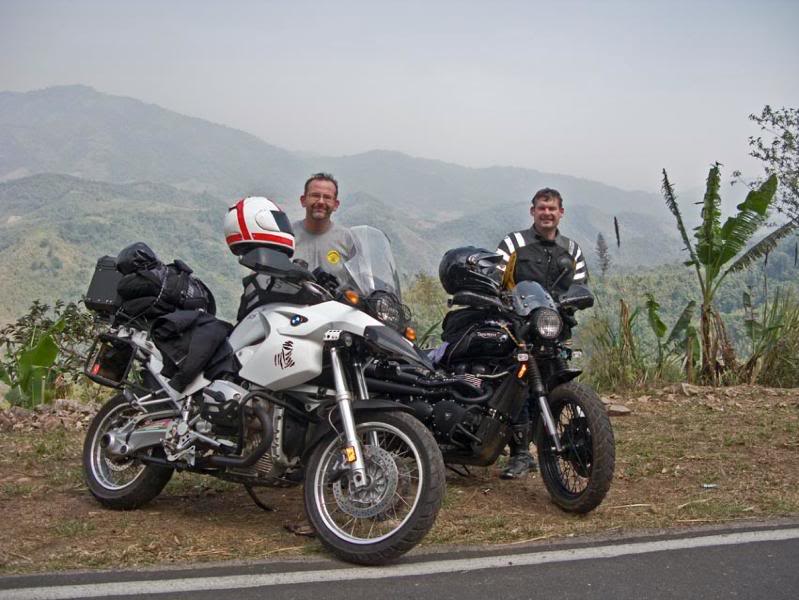 and to meet up with Rhodie on his Triumph Scrambler!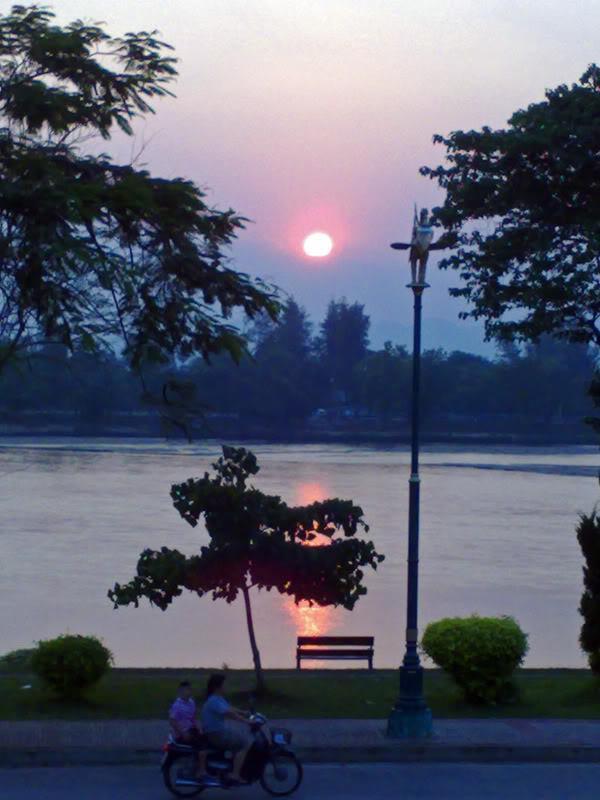 We stayed at the Viang Tak 2 Hotel, a big corporate impersonal Thai number overlooking the Ping River.
The highlight was the ancient massage in the basement or lack of it after seeing the staff!
You walk through the doors to be confronted by a glass panel on your right with around 8/9 old biddies perched behind it!
I kid you not there wasn't one there under 50 and the conversation must have been about denture paste and zimmer frames for sure;
needless to say we made a quick exit.
OK back to the road and the next day was a nice ride down the 105, great fast road threw the mountains and down to Mae Sot.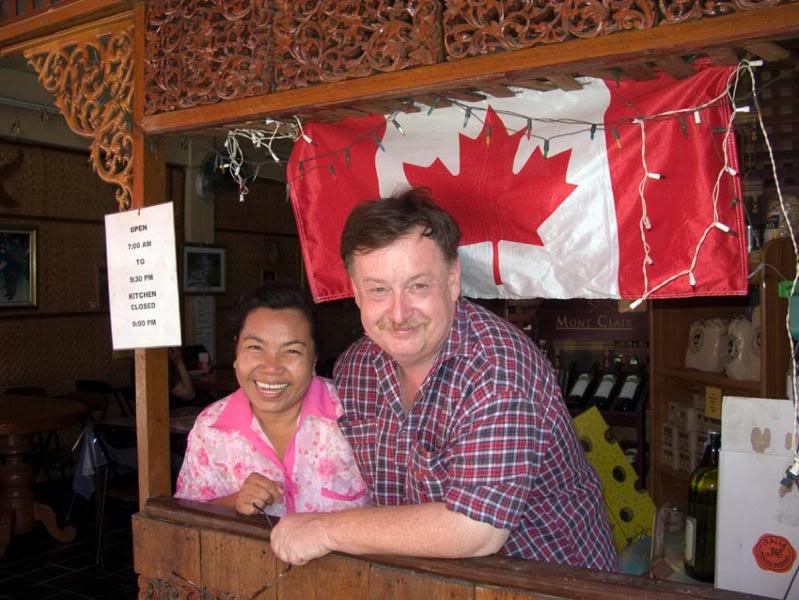 Big late breakfast at Krua Canadian, Dave and Chulee, his wife, serve great coffee and know the area well.
Next destination Umphang and the infamous highway 1090 "the death highway" this winding,
twisty up and down road with some great surfaces and some shoddie bits, stretches over 160 kilometres!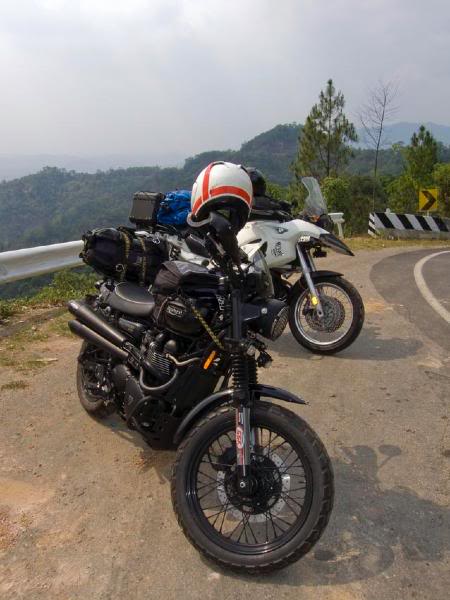 We would pull over for a break where we could see through the burning haze the villages below.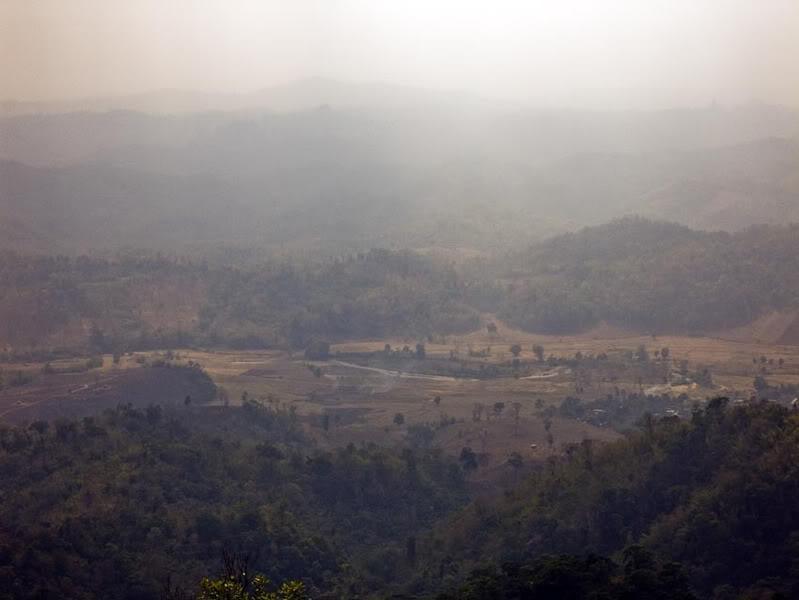 At times the fire was right by the road.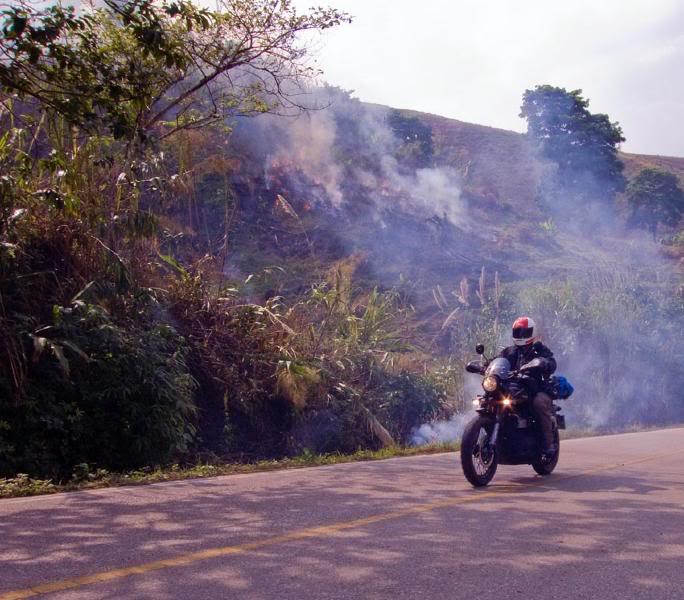 Rhodie had me roasting in the name of
art
- but it was
his
bike!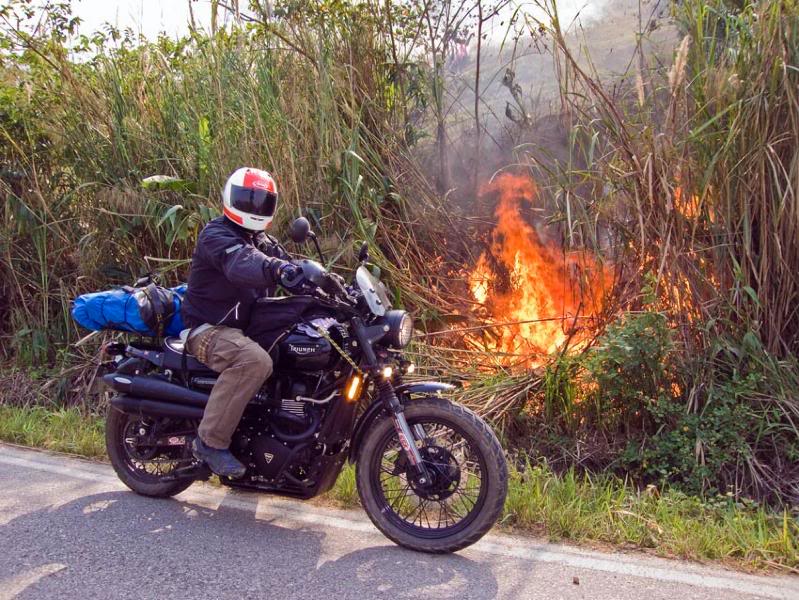 The 1090 could be done on any bike with time but any thing over say 250cc and you can have a blast as we did!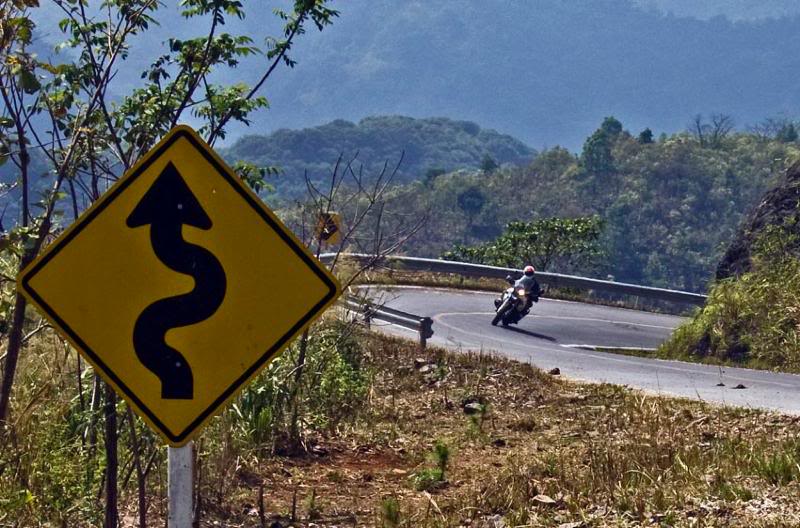 Using the torque of our engines to point and squirt our way around the many corners, and shortish straights to pick up speed!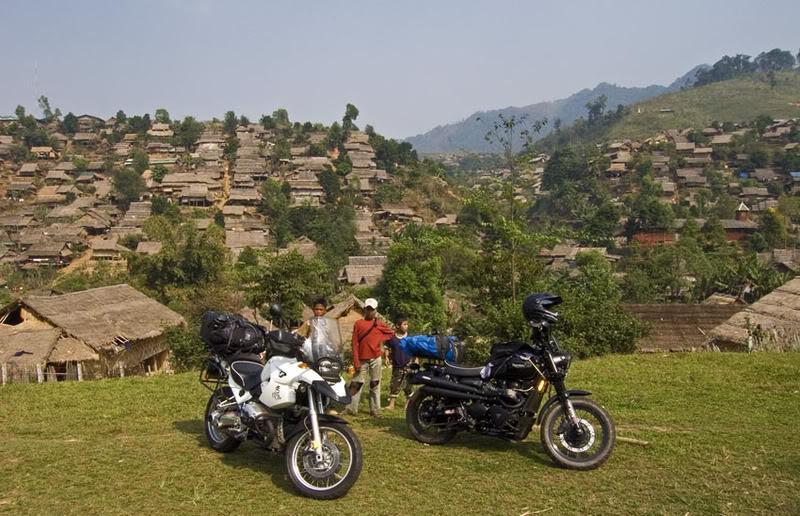 Perfect stuff and I had a huge grin on all afternoon only wiped off by passing through the couple of large Burmese refugee camps!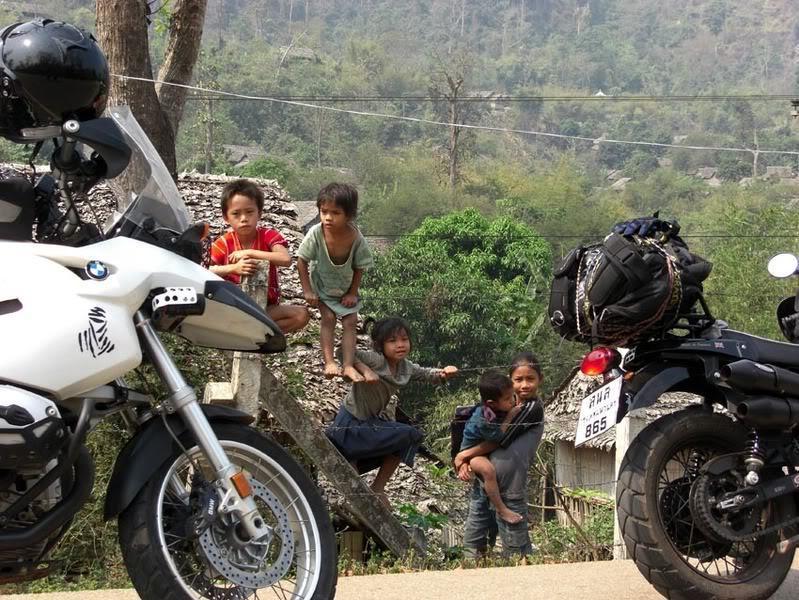 Just pulling over when past the Thai check points kids would run up to the barb wire fence penning them in with the biggest smiles and inquisitive faces at the two aliens who had just turned up on large rocket ships!,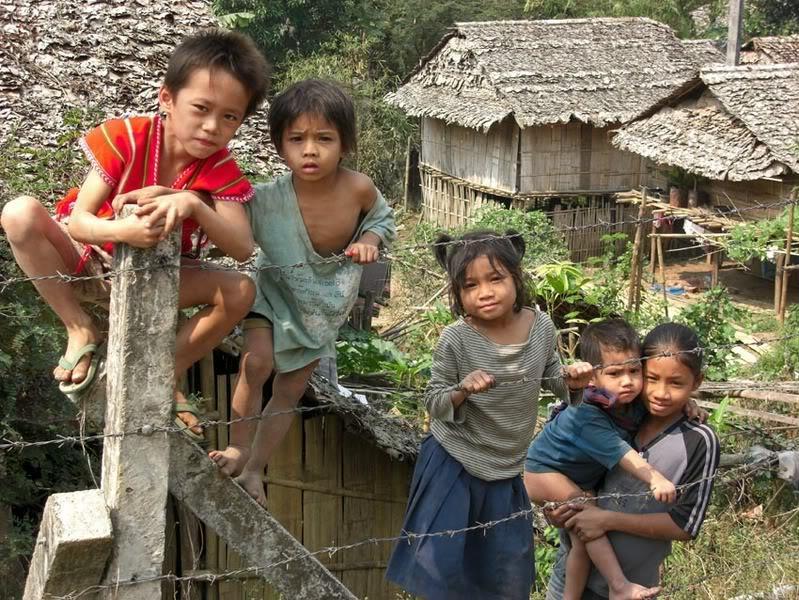 only wish I had pens/paper etc I could have handed over the fence as the chewing gum I offered,
which was promptly chewed for 30 secs then saved in one of the kids hands.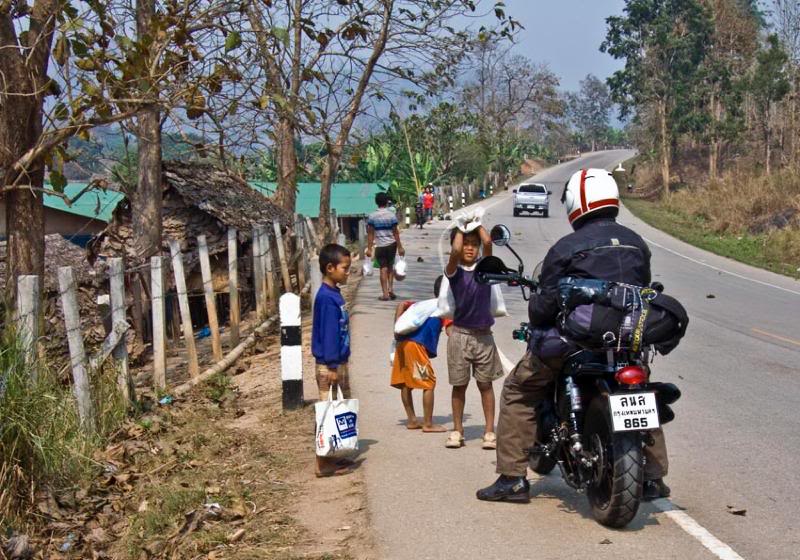 OK enough of me being soppy.
All I can do is recommend any biker with wheels to try out this bit of tarmac,
there's every service you could want and in low season bugger all traffic.
Umphang was definitely in low season, and the better places to stay are down by the river!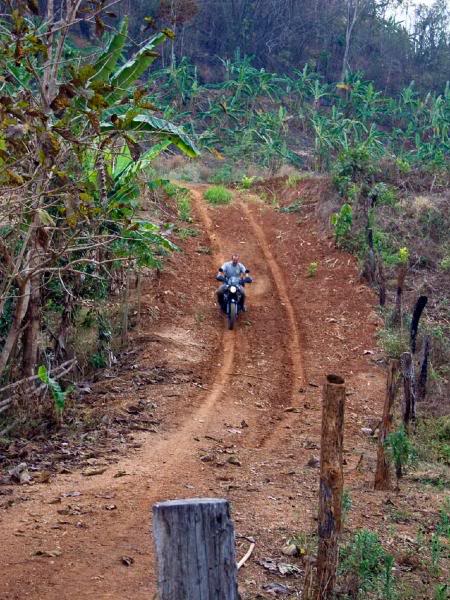 I only wish we had stayed anywhere but the Napa Resort we were recommended.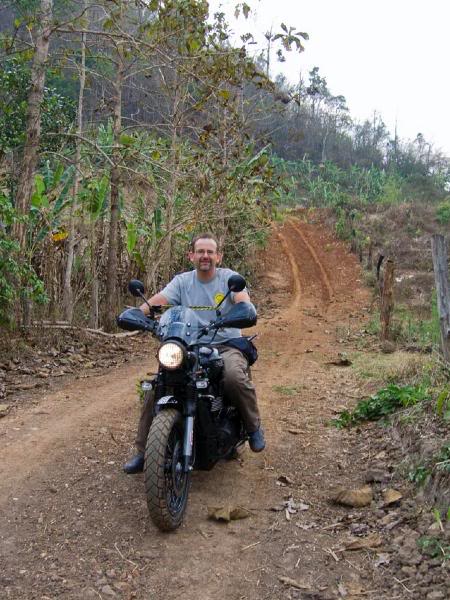 Popped into one place the Monkrating and Umphanghill resort and had a chat with the owner - Police Captain Sombat Panarong!
Who reliably told us his place was the best in town.
We had some great grub by the river only spoiled by the stinging chilli paste in the air as the chef tested our eyes/nostrils to the max!
But gave the locals something to giggle about as the
farrangs
clutched there throats and stuck tissues up their noses.
Following morning we hired a pick up for the 30 kilometre drive to the Teeralsor waterfall! 1600Bht!!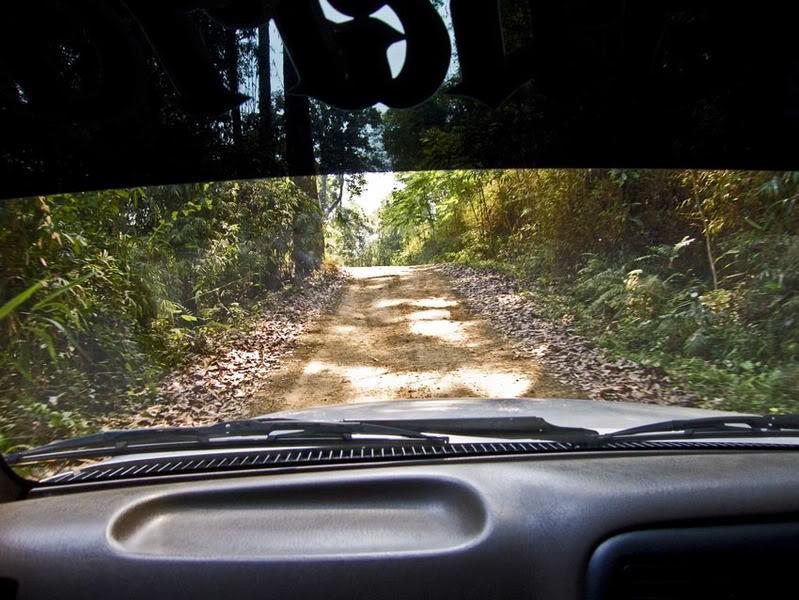 This could be done on duel purpose bikes with suitable tyres in the dry season!
Just pay your
farrang
entrance fee 200b,or, like us, have a little discussion,, show your thai drivers licence ask for the thai rate!,
Only to be told everyone pays 200b, get shown the ticket stubs, pay up.
Then watch as a Thai turns up and a new ticket book is whipped out, and they are charged 30b.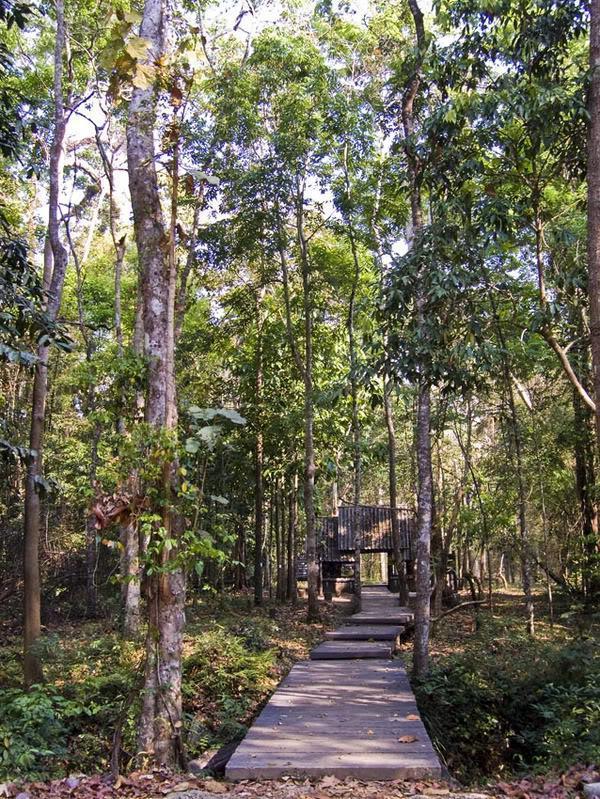 From the carpark it is a 1.5 km stroll through the jungle on a concrete walkway.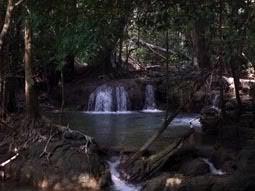 First thing you see are these beautiful pools with gushing water
But all I can say even for the farrang price it was worth it,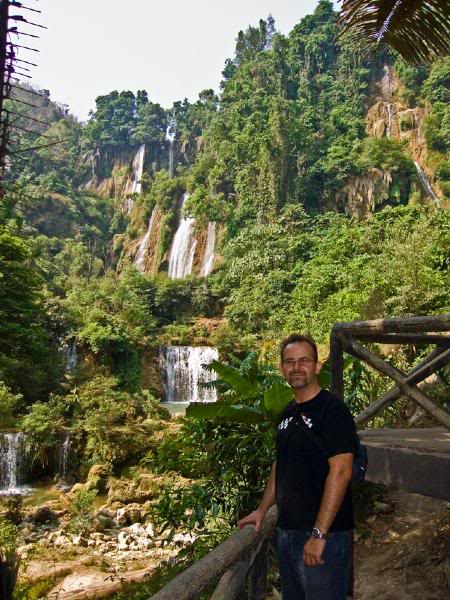 as it's a beautiful waterfall with different layers, no one in site and very picturesque.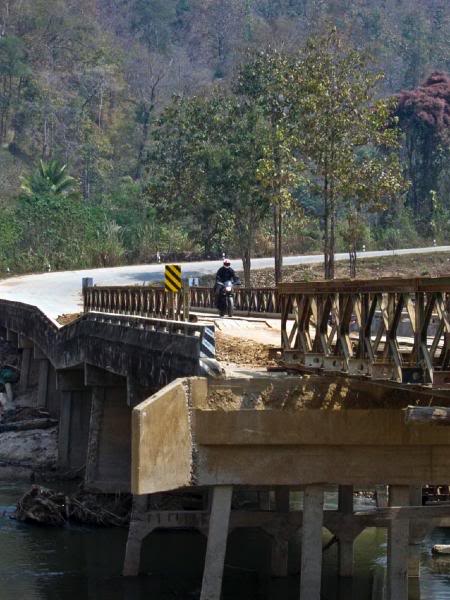 Back on the road and reverse rout back to and through Mae Sot, Mae Sarieng,etc..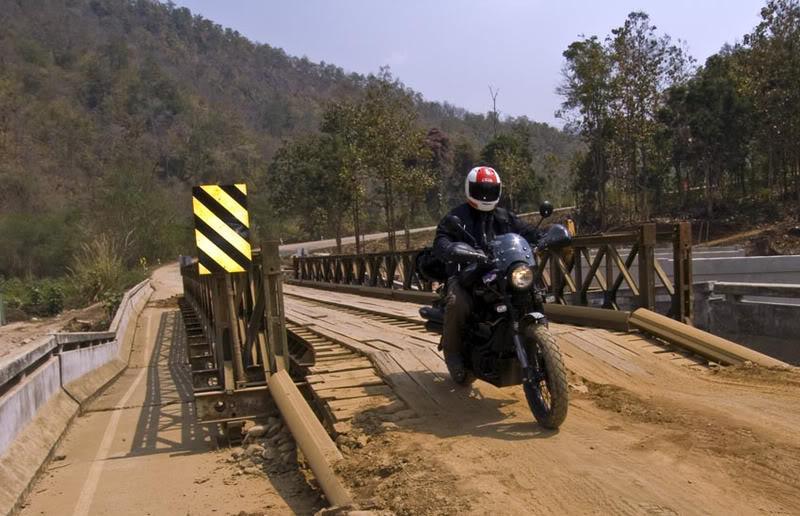 and on to Mae Hong Son.
Spent the night at Piya guest house by the lake, a great little cheap number and is always on my list of places to stay.
Then a couple of nights in Soppong to meet the some fellow GT-Riders for Lahu New Year.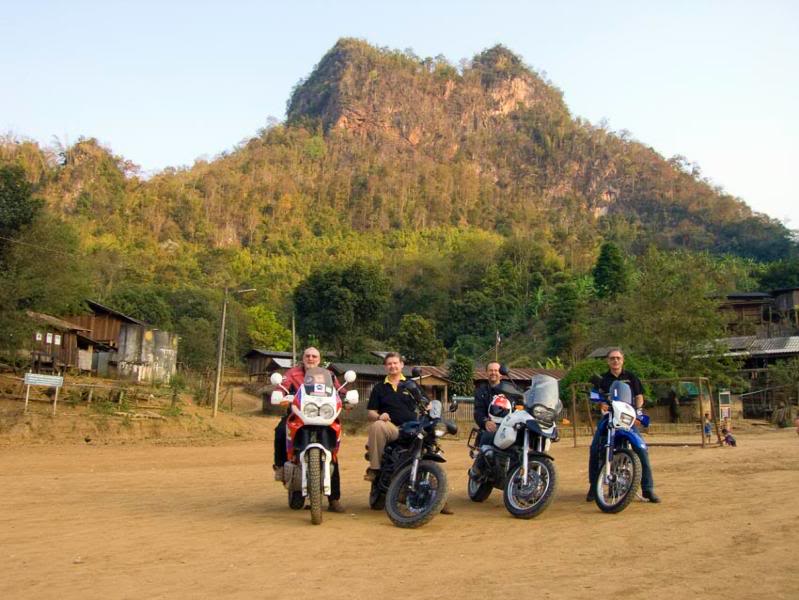 Think I have bored you all enough, many more things happened on route and as always made new friends and will keep these memories as cold/damp UK beckons.
Big thanks to Rhodie for the use of his bikes and great company.