Yesterday morning I'd arranged to meet SuzukiLuke at the Kafe for various bike related tasks. Whilst sitting there slagging off a fellow rider, the fellow turns up - Justin/Big & Tall. We fanny around for the morning, getting rental bikes sorted with Joe and Tom for tomorrow's planned 1252 ride, dropping my XJR1200 off at G3 hopefully to sell and generally mincing around. After a wholesome lunch at a little BBQ chicken restaurant (next to the 7-11 on Boonrungrit road just before Chiang Mai Ram hospital - highly recommended) we decided to do a small loop out to the N.E of CM and headed out via the Superhighway/inner ring to the 1006. It was on the inner ring that I asked B&T to GPS the speed of the super Tiger (all 125cc of 4-stoke power!). I knew that the speedo was probably a tad optimistic but imagine my utter disgust and dismay when B&T gleefully informed me that my indicated 100kmh was actually a true 77kmh! Pah, pathetic and I am now determined to "tune" it in an attempt to get at least a true 100kmh!
So, out on the 1006, through Sankamhaeng and onto the 1317 which as most local riders know, is a small but picturesque little road which leads past the hot springs. Why is the title of this post "misfits". Take a look at the eclectic assortment of machinery and it becomes obvious: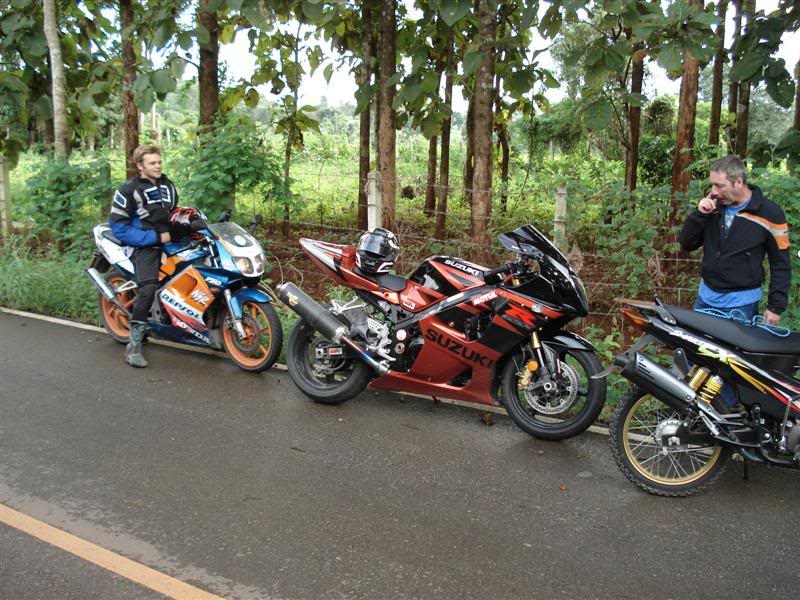 Fromleft to right: NSR150R (B&T), Gixxer 1000(Luke), Tiger CX125 (Pikey)
After going through Huai Kaeo there is a turn off to the right where the road is unnumbered but it is signposted (I think) for Pang Klang. Either way, there is a signpost on the main road for Ban Pong Din 4km ahead and the turn is just before that. Turning in reveals fresh tarmac and nice curves, something that Luke on the Gixxer and B&T on his rebuilt NSR150 can appreciate better than me on the Tiger where everywhere is taken pretty much flat out to keep the momentum up. The road changes between fresh tarmac and older stuff but the condition is generally good as it winds it's way upwards through little villages.
At about 12km the road ends in a T-junction with the 1252 - right to Chae Hom and left to Kamphaeng Din. As we are scheduled to ride the 1252 tomorrow with Silverhawk and BarryBBQ (adding more diversity to the pack with a 250 Djebel and a 1200GS - God help me and my little Tiger!), we sling a left but not before a quick pic: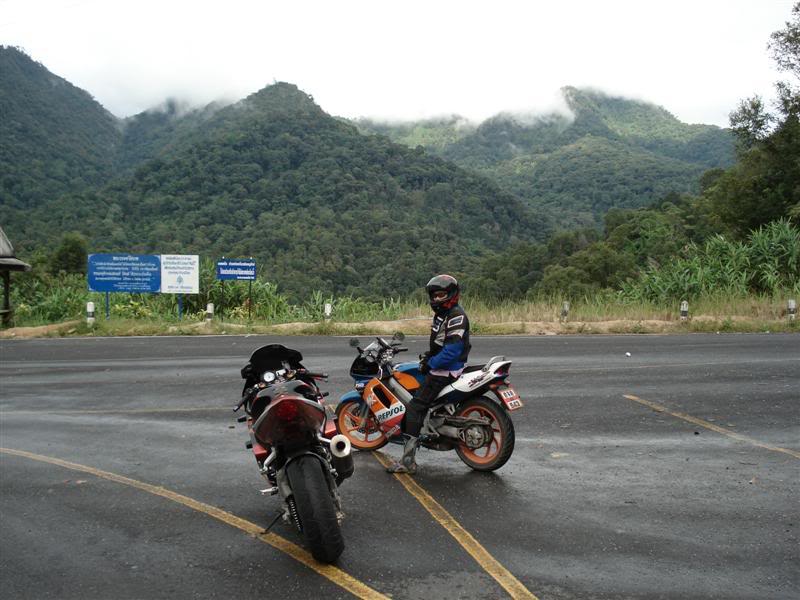 The Tiger arriving at the same spot some "moments" later: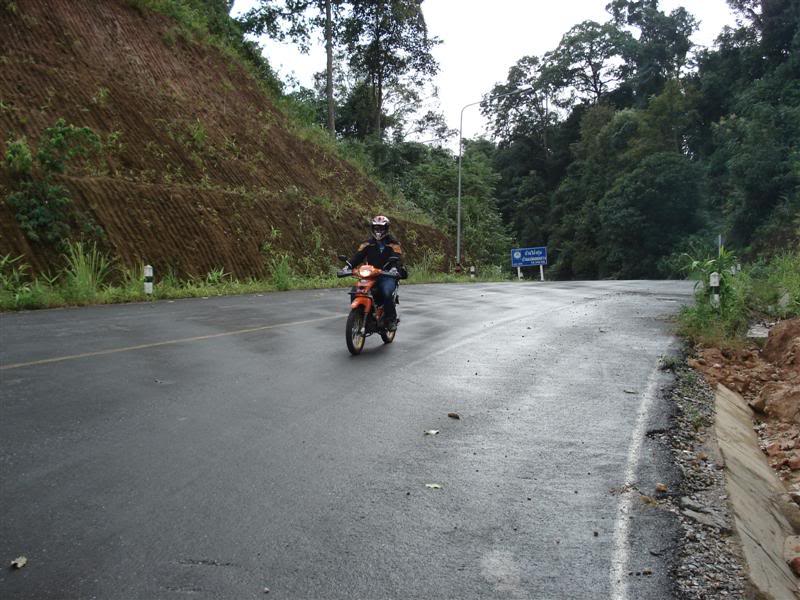 The road now undulates up and down with sandy cliff on the left and fantastic views on the right. Recent rain meant that there was a fair bit of crap on the road in the form of leaves/twigs and also minor landslide debris but nothing to really catch you out. It was here that the first of the Tiger's potential problems reared it's head. Unlike Luke with 160+ BHP on tap, and B&T with about 17, the Tiger growls out an awesome 4 or 5 BHP (guestimated from my inbuilt arse-dyno). So, whilst inclines can be dispatched with a quick twist of the throttle by the other guys, I frantically start banging down gears. However, seems that from 3rd to 2nd is a very hit and miss affair when the engine is under load, more often than not, the Tiger decides to scoot through second straight into neutral. On steeper hills, this results in complete loss of forward momentum, riders legs flailing, engine screaming and finally, an ill-tempered stomp on the lever to engage 1st and start the dreary process of gaining all that lost momentum!
Worth riding slowly though just to check out the views: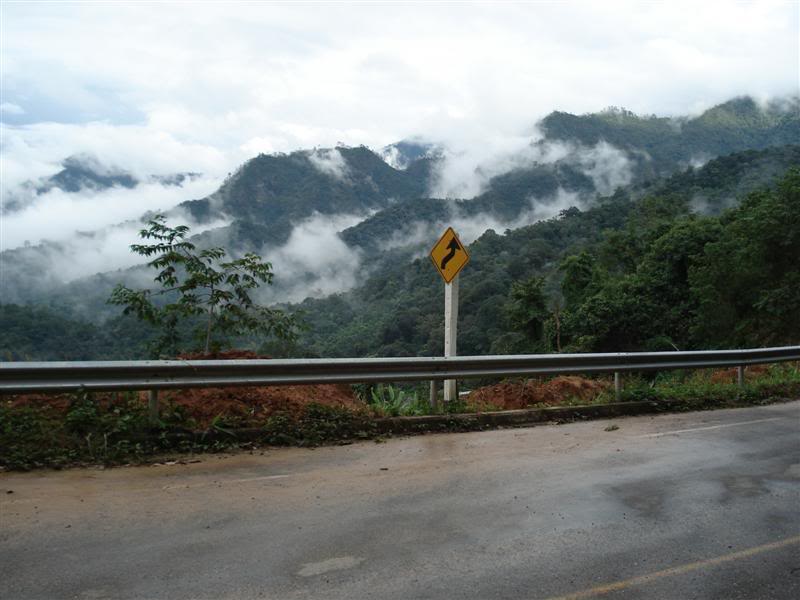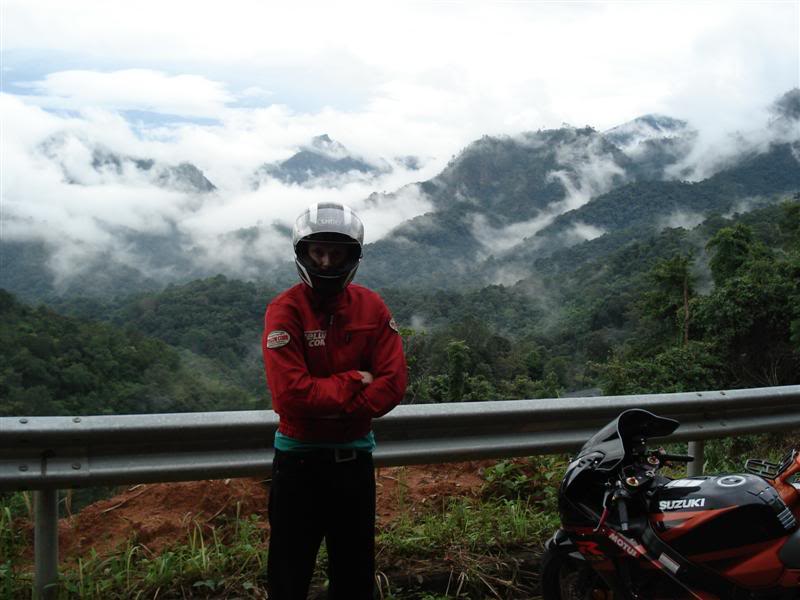 The road winds westwards for about 15km with quite a few hairpins and eventually pops out on the 118 around 46km north of Chiang Mai. It was there that I said goodbye to Luke and B&T, not wanting to embarrass them with the Tiger's high-speed prowess through the sweepers back to the city.
Roll on tomorrow and the full 1252 run..... (help!)
Pikey (10/10/06)
"No matter how hard you try, you CAN'T polish a turd!"