This is a repost as it was put up during the transition.
I only had a rough plan for this trip, cross over the O'smach border crossing, head east, maybe to Ban Lung, really depended on time and weather/road conditions. I have been to Cambodia a few times before but by no means would I say I am an expert on different areas. I was also riding alone so I planned to take it a bit easier than I normally would, but that is always easier to say than do when you see some of these roads, some great off road rides.
Day 1.
Prasat, Thailand - Siem Reap, Cambodia.
Chom Jom, Thailand / O'Smach, Cambodia Border crossing.
Woke up early and did my final bike check, got a new off road tyre put on yesterday before I hit the dirt. So I was ready and eager to hit the dusty roads of Cambodia.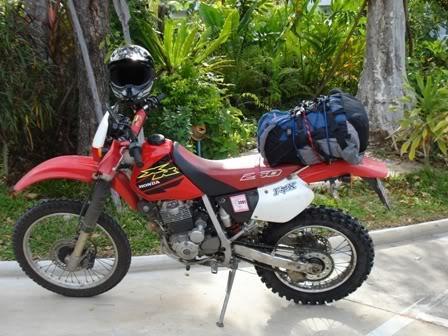 Thai customs were great, checked me and the bike out with unusual speed and efficiency.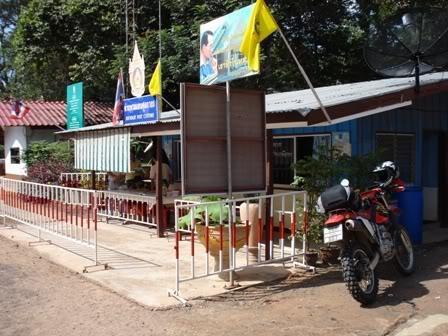 I got my 1 month Cambodia visa and was told to go to the customs officer to get my bike import stuff done, unfortunately the Cambodian customs official had other ideas, he told me that I need to have permission from Phnom Penh before he can let me through. I offered to pay the usual fine and I was told that they don't want my money, but this is Cambodia, maybe he is just trying to get the price up a bit, I thought. Anyway after about 1 hour of some pretty intense discussions and me sucking up the best I could, I finally got permission to take my bike to the next town(Samraong) where I could leave it at a guest house and make my way to Phnom Penh to get the proper permissions, once I have this then I could return to the border where he would approve it and all would be merry.........he told me that if I took the bike any further than Samraong and was pulled over they would most likely confiscate the bike. Anyway, I rode to Siam Reap (a bit further passed Samraong) where I left my bike at a guest house where I know the owner, and off to Phnom Penh I go, by bus, to try and grease the wheels of Cambodia bureaucracy. I did think about running the gauntlet and riding all the way to Phnom Penh but I thought maybe the customs office had a mate down the road waiting to become the new owner of an XR.
The ride to Siam Reap from the border was excellent riding, very fast dry dirt with the odd deep pot-hole and detour that jumped out at you just to make sure you where paying attention. On leaving the border area you go over a small mountain and over a few bridges where the local kids looking to scam a few riel out of you for the privilege of using their bridge.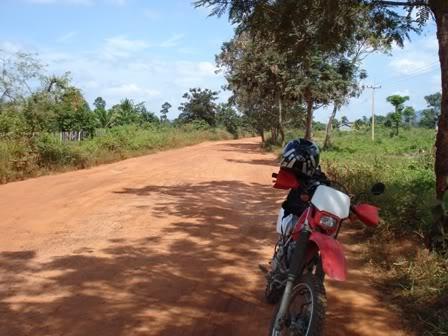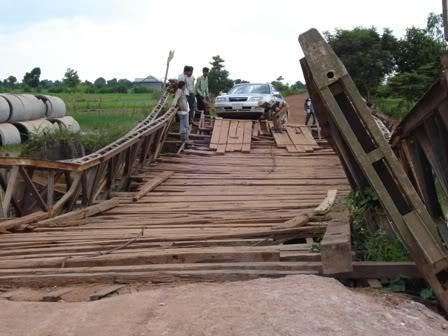 There are some roadworks on the NH6 that made it dirt riding for most of the journey in Siem Reap. The day had perfect weather conditions until the last 20 kms where it dumped down and I got soaked. I could see the end of the rain cloud and tried to get ahead of it but it was just too quick for me. The rain turned the roads to slippery clay which is always good fun to ride on when you have got buses and trucks driving at full speed all around you.
By the time I got to Siem Reap I was knackered so I checked into a Guest House got cleaned up and went and had a Pizza and a few beers on Bar street. The night ended pretty late as I got distracted at Temple bar by a couple of lovely Khmer ladies.
*Note – when I did get permission from PP they told me that the customs guys at O'smach do have authority to let Thai registered bikes into Cambodia, not sure what they were playing at with me. If you plan to cross at this border either get prior permission or tell Khmer Customs that you only plan to go as far as Samraong and then just continue on.
Day 2 to Day 9
Siem Reap – Phnom Penh – Siem Reap
After having a lazy day in Siem Reap. I got the bus down to Phnom Penh and set about getting the permission for the bike and also my Thai visa. I arrived on a public holiday and then had a weekend so it took a few more days than expected, but I managed to find some entertainment at a few bars, Walkabout, Martinis and Sharky's being some of my favorites. I also managed to catch up with Jim at California 2 Guest Houst (Great Location, Rooms, Food and cheap beers), even managed to be there on a day where they were having a 50c beer day, which meant a very messy night.
I finally got my Thai visa and permission for the bike. For the customs permission I had to take a letter to the Customs office spelling out the details (bike, passport, dates etc.), it took them a day to process and five rubber stamps later it was all done. The next morning jumped back on the bus and headed back to Siem Reap to start the adventure.
*Note – I saw a number of farang get turned down for their Thai visa's at the embassy, it may not be the best place to do a visa run. As this was my first one, I got through ok.
Day 10.
Siem Reap - Anlong Veng
Distance: 142kms
Ride time : 2.5 hours
Petrol Availability: Many Villages, Max 50kms between fuel stops.
Road Conditions: Asphalt first 45kms, then good dirt, very dusty.
Traffic Level: Max 5 minutes before seeing another vehicle.
Scenery: Bush with lots of small villages.
Date: November 2007
Weather: Dry, 32c
Riding difficulty: Easy
Accommodation : Anlong Veng, Monoram Villa/Resturant, Good clean rooms, $5 - $15 (fan/Air), Satilite T.V., Bike Parking, Good Khmer food, beers.
Route:
Route 6 towards Phnom Pehn.
Left at main Road (N13'21.573 / E103'52.776)
T-intersection, right turn (N13'24.852 / E103'53.131)
T-intersection, right turn (N13'25.945 / E103'54.121)
Right turn (N13'26.611 / E103'55.286) - Towards Banteay Srei.
Left turn (N13'26.655 / E103'56.311) - now on route 67.
Road turns to Dirt (N13'36.030 / E103'58.057) - Follow to Anlong Veng.
Ta Mok's residence (N14'14.442 / E104'04.882)
Pol Pot's Grave (N14'20.551 / E104'03.462)
Description:
The road(67) turns to dirt after about 45kms and from there on it is all maintained dirt road, pretty good condition although very busy which means you end up eating a lot of dust.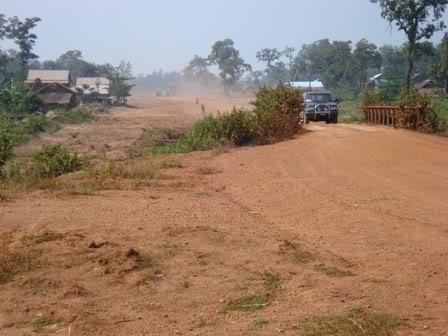 On arrival at Anlong Veng and getting a room I thought I would have a bit of a look about. I went out to Ta Mok's, aka "the Butcher"(military chief of the Khmer Rouge) residence, $2 entry fee. It's a large place set on the edge of a swamp, just a shell of a place now as apparently it was looted by government soldiers, but there are still a few things around to see like old trucks etc. Across the swamp on an island you can see the remains of Pol Pot's residence, only a toilet outhouse now.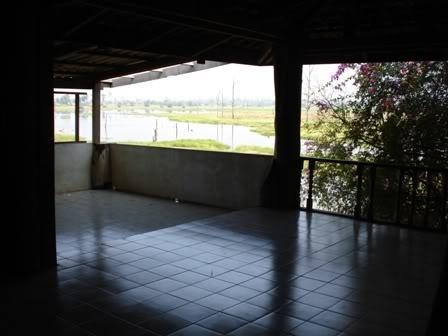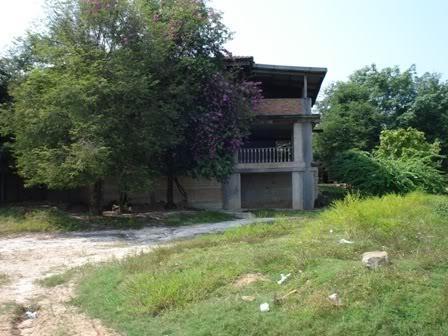 Then I headed off to find Pol Pot's cremation site, North towards the Thai border. I had a bit of trouble finding the site at first so I asked a couple of school kids who were on their way home from school if they could help, they pointed in the direction they were walking so I offered them a lift up the hill on the bike. It turned out that they lived in the house next to the grave. The grave itself is a bit of a shit hole, a suitable resting place for this guy.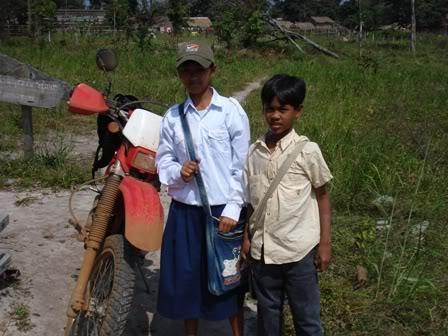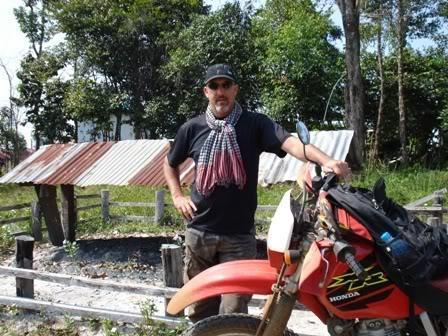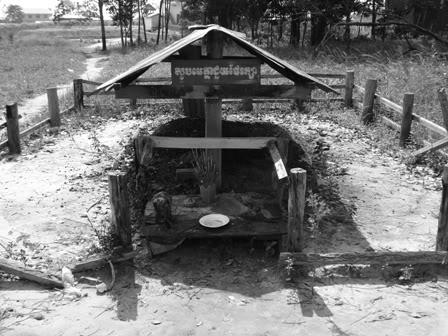 I am not sure if the border crossing up this way is an international crossing or not, it was like a ghost town when I got up there.
*Note: I was told by locals that this area is heavily mined so it maybe wise to stay on the tracks.
Not much in the way of night life in Anlong Veng, a few restaurants around the roundabout serving Khmer food, but the food at the Guesthouse was the best I found. Early night for me…….nice for a change.
Day 11.
Anlong Veng - Tbeng Meanchey(TBY) via Prasat Koah Ker.
Distance : 240kms
Ridetime : 5 - 6 hours
Petrol Availability : Many Villages, Max 50kms between fuel stops. Johnny Walker Bottles.
Road Conditions : Hard Dirt, Dusty, Large pot holes and Ruts
Traffic Level : Max 3 hours before seeing another vehicle.
Scenery : Bush with lots of small villages, went past a few hills and rice fields
Date : November 2007
Weather : Dry, 33c
Riding difficulty : Easy/Moderate - Not sure if you could get through this route in the wet season, maybe fun to try but I would plan for a 12+ hour ride.
Damages : Broken back spoke, broken brake line bracket, sore ass.
Accomodation : Tbaeng Meanchey (N13'48.709 / E 104'58.703) Prom Tep Guesthouse. $5 - $15 (Fan/Air), Satilite T.V., Bike Parking, Cold water only.
Resturant : Tbaeng Meanchey - Mlop Dong resturant, Left on the main street from the GH, Left at next road, on right. OK khmer food, best I found.
Route:
Start Anlong Veng Resturant (N14'13.942 / E 104'05.107), towards Preah Vihear.
Roundabout - Left turn (N14'11.637 / E 104'21.325)
Right Turn (N14'11.873/ E104'21.380)
Straight Ahead (N14'17.050/ E104'27.388)
Right Turn (N14'14.323/ E104'43.903)
At this point (N13'49.114 / E104'48.520), you can go
Straight on for Tbaeng Meanchey (N13'48.709 / E104'58.703) or
Right Turn for Kulen(12kms) and Prasat Koah Ker (40kms)
Left turn at Kulen for Prasat Koah Ker (28kms)
Description:
I may have missed a few turns on this route as I got a bit lost a few times and was given wrong directions, I think. At one point I was told Kulen was in three different directions. If you follow this route and come to a fork that I missed, either ask for directions or take the bigger road, not necessarily the better road.
The first few km's out of town are smooth roads but from here on it gets worse with deep pot-holes, some big enough to hide an ox cart in. Slow going most of the way, but there are some stretches you can open up on for a few km's. It was pretty hard to get good directions as well, not much English spoken and a lack of knowledge from the locals of anything further than a few villages away. I'm pretty sure that my pronunciation of the town names didn't help much either. If you are using the Gecko map (seems to be the best one in Cambodia), it shows the turn off to TBY in Kulen, if fact it is 12kms before Kulen. Unfortunately by the time I got to Kulen the shadows were getting long and my patience with the roads was getting short so I didn't make it to Prasta Koah Ker and I headed straight for TBY and a nice cold shower. I did notice a Guest house in Kulen that maybe a good base for some exploring the Temples, but don't expect too many comforts if you stay here.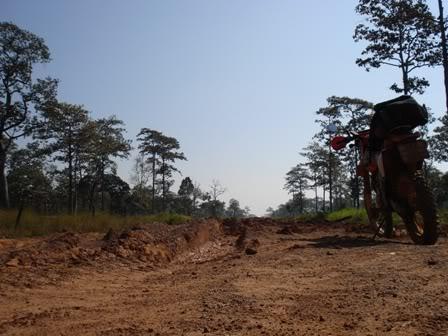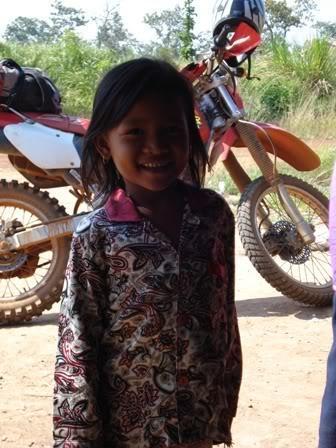 A bicycle spare parts salesman that finally give me some half decent directions, all in English as well.
Day 12.
Tbeng Meanchey(TBY)- Phum Deik via Preah Kham (loop ride to Preah Kham)
Distance : 250 - 300 kms, not really sure how far it would be if you went on the direct route, I took many wrong turns.
Ridetime : 10 - 12 hours, take enough gear to sleep out, just in case, food, water, hammock.
Petrol Availability : Tbeng Meanchey, Phum Deik, Ta Seng. Not much fuel out here.
Road Conditions : Dirt, Mud, Deep Sand, River crossings, Single overgrown tracks, bike high grass, rocky spots, it has everything.
Traffic Level : Once you turn off the main road(route 64) don't count on seeing any traffic apart from the occasional ox cart, on route 64 max time of 30 minutes between vehicles.
Scenery : Jungle, some very basic villages. Great temple sites.
Date : November 2007
Weather : Had a few light showers early in the day then again at night.
Riding difficulty : Moderate/Hard. Take food and water and camping gear in case you get stuck. A couple of the river crossing were touch and go (deep) and it was only local knowledge to point me to the shallow path across that got me through.
Damages : My pride as I came off with a local on the back, shin scrapes, cut hands, exhaustion.
Accomodation : Phum Deik, I stayed in my hammock under a tin roof, sort of a Khmer truck stop I think. Not the most comfortable place but kept the rain off my bald head.
Resturants : There was some food at Ta Seng (very basic shop) and the place I slept opened at 5am for breakfast, I hadn't eaten for some time by then so it was some of the best food I have ever eaten.
Route:
1.Start TBY Guest House (N13'48.709 / E 104'58.703) - Head south out of town.
2.Straight over roundabout (N13'47.485 / E 104'58.650).
3.(N13'47.485 / E 104'58.650). Right turn down track between houses, hard to spot, looks a bit like a driveway, I had to ask about 10 different locals before 1 new one knew where this track was.
TA Seng (N13'24.306 / E104'46.862)
Prasat Kham (N13'24.730 / E 104'45.423)
End Point after loop (back to main road, Route 64) (N13'29.537 / E104'45.423)
I've saved the track to Ta Seng and back but I need to get a cable to connect the GPS to the laptop. Drop me an email if you want it, but expect to have to work out all my wrong turns. You could do the loop in either direction, it wouldn't make much difference. The way I came back is probably the easiest as there are more villages to ask when you get lost.
Description:
This is one of the best rides I have ever done, it is in a pretty remote area of Cambodia. Probably good not to do this ride on your own, I could have been in some pretty serious trouble if I had a major breakdown or injury. But, in saying that, it was a lot of fun and a great adventure.
After the easy ride from TBY to Phnum Deik, I set about finding the track between the houses that leads to Ta Seng, I had to ask about 10 different people all pointing me back 40kms to the route that goes over the mountain (my return journey) until finally one bloke pointed down a narrow track between a couple of houses. As soon as I got on this track it turned into an Ox cart track, having to pull over a few times in the first few km's to let them pass, but the further I went on the less people and ox carts I saw.
The first water crossing is about 5 km's into the trip, not really a river crossing more of a swamp that has overflowed onto the road for about 100m, I could see motorbike tracks going into it, so I just went for it, as it turned out the water was only knee high but unfortunately I hit a rock and lost my balance half way through and filled my boot with water. Great, wet socks for the rest of the day.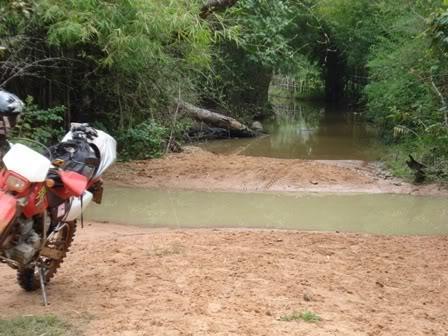 From here the track goes off in about 10 different directions, I tried a few of then but each time I did, it would disappear or become so overgrown that I thought that no one has been on this trail for a for a long time. After messing about for an hour or so I finally came to my senses and decided to head back as there ways no way I was going to find my way with all these tracks, so I turned around and headed back for the water crossing, as I arrived there was a group of 7 Khmer blokes that had just crossed the water. I got chatting and it turns out they were police, so they said. Anyway, after some discussion about what track to take they offered to show me some of the way if I gave then a few dollars to pay for there fuel, so I grabbed the chance to be led through this overgrown jungle.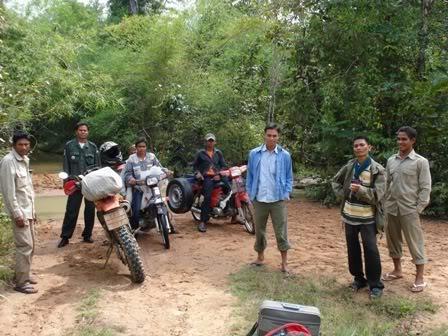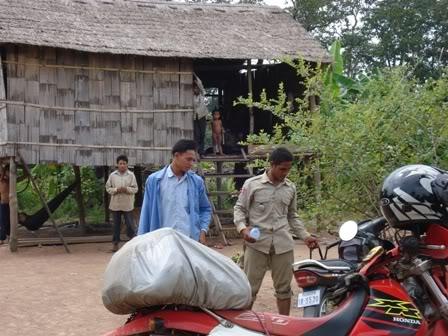 The path they took me on went from a reasonable ox track to a single path with bike high grass and dense jungle, at times the handlebars were hitting vines and scrub on both sides, after about 2 hours of riding I started to wonder if they knew where they were going, finally we reached a river crossing and they said this is where they would leave me as it was too deep to get their bike across but it is only 5km to Ta Seng over the river and I should have no problem. I started to get worried as there was no way I would find my way if the track was the same as I just been through, but they insisted it was ok and it opens up a bit. I got across the river with some guidance from a local (in his underpants), and on the other side it was all smooth sailing to Ta Seng.
Ta Seng is a sleepy little town with a shop and they also have some fuel here, so I stocked up on fuel, water and a packet of stale biscuits (hadn't eaten all day) and then went out to the temple 3kms away. The temple was very overgrown and it had a great atmosphere about it. There are heaps of other temples in this area but unfortunately I did not have time to do any proper exploring. Next time I will plan it a bit better and probably camp out at the temple site.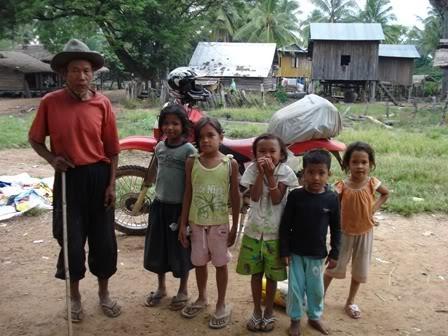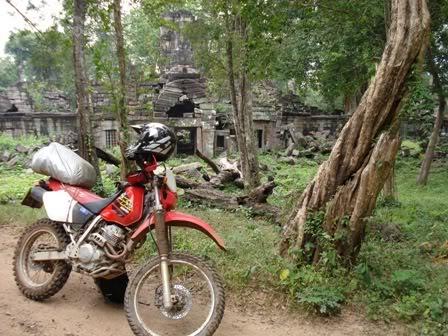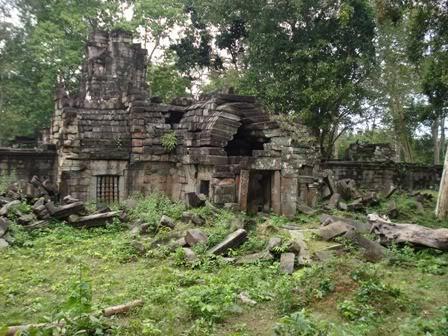 I decided to go a different route back to the main road (over the mountain as they called it) hoping that it would be a bit easier and quicker to get back, I was very wrong, again. These tracks are even more confusing than they way in with trails leading in all different directions. I was back and forth over my own tracks a number of times, looking for the bigger paths or someone to ask. I came to a huge river crossing that made my heart sink, this one was deep. I walked it first and the water was up to my groin, oh shit, what am I going to do..........there is no way the bike will get through here. After about 10 minutes some old bloke, with skin like leather came walking out of the jungle down to the river for his daily bath, he saw what I was planning and immediately started waving at me as if to say, 'no way can you get across there. He then took me about 50 meters down stream and walked with me up stream slowly making our way across the river, it was still bloody deep but I thought this was the better option and the old guy seem to have a lot of confidence in me. I unloaded all my stuff from the bike and hit the water, half way across the engine made a sound like it was about to die but the good old XR came through for me again and I was back on dry land the other side, all I had to do now was to go back and get my stuff. So back on the bike soaking wet from my waist down, (nothing worse than riding in wet jocks) I hit the track again.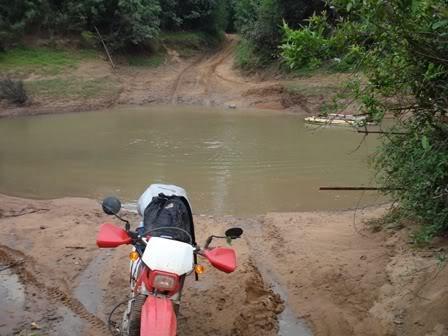 It was about 4pm by this time and I thought I'd better do some hard riding if I was to get out of here in daylight, but the track turned to deep sand, my least favorite type of ground to ride on and I was completely lost and exhausted in 10 minutes. I found another local and he seemed to say that I was way off track, so he jumped on the back and started to show me they way but it only took 10 minutes before both of us were laying on the ground after I hit a deep sand rut and losing my balance, my pride shattered and leg under the bike I just had to lay there for a few minutes before I had the energy to get the bike back up. The Khmer guy then decided it would probably be easier if he pointed in the direction to go rather than show me. I don't blame him as I think he got a bit of a fright when he hit the dirt.
5pm and once again lost, I could see on the GPS that I was only 15kms from the main road but all the tracks went off in different directions, which one to take? I would choose one only to go a few km's and it would either end, or go back in the way I had just come from. 6pm and dark now I threw in the towel and put up my hammock across a path, finished off my stale biscuits, drank most of my water and decided it would be easier to wait until daylight, maybe things would look clearer.
After about 2 hours of laying in the hammock I could here a couple of small bikes coming my way so I thought I must be close to the main track, unable to sleep anyway(the thought of being attacked by tigers in my head) I thought I would go and try to find them. I packed up my gear and headed off in the direction I could hear them coming from, and yes, one of them spoke Thai (I can speak enough to understand directions) and for $5 (I would have paid $50) he would take me to the main track road that goes to Phnum Deik, so at 8pm I am riding through the bush at 50kms an hour following a bike that has got no headlights and only a flashing indicator to see the road ahead, he lead me almost all the way to the main road and I was very thankful to finally be on a half decent road again. Once I got to the next main village I woke some villager up, got some fuel and headed down route 64 to Phnum Deik. By the time I got there almost everything was shut except for one house that still had its generator going and a few lights on. I found the owner and asked if I could sleep under a tin roof he had out front, as it turned out it was a restaurant / Khmer truck stop and I was woken every hour by another truck arriving and setting up his hammock next to mine. The restaurant opened at 5am the next morning and I ate some of the best tasting food (rice with meat and soup) I have ever had, keep in mind I had only had eaten some stale biscuits in the last 24 hours.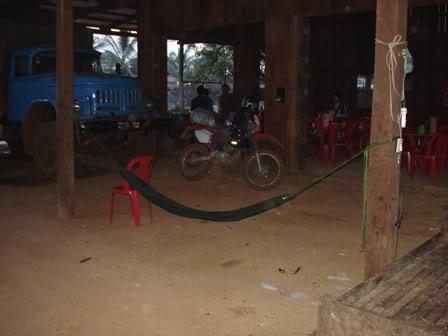 All in all, it was a great ride but I did get a little worried at times and if the bike had broken down or I had been injured I would have been in some serious trouble. Next time I do this area I will definitely be going with a riding buddy (GTNZ, next year mate, and anybody else that wants to join) and enough food / water to stay out in the bush. It would also be worthwhile to do this ride over two days to give you enough time to really explore the temples. I only just made it through two river crossings so if you are planning to go make sure you go in the dry season. This is a fantastic area if you like to do a bit of exploring on the bikes and not too worried about sleeping rough. I believe that part of this route is actually the famous route 66 that heads all the way to Boeng Mealea and then to Siem Reap, another ride for next year.
Day 13 to Day 17.
Phum Deik – Kampong Cham - Kratie
From Phum Deik I headed for Kampong Cham, deciding I needed a couple of lazy days to let my ass recover. Stopped for a piss and a smoke about 20kms out of Phum Deik and on looking around I saw these signs, better find a better spot for a piss, I think.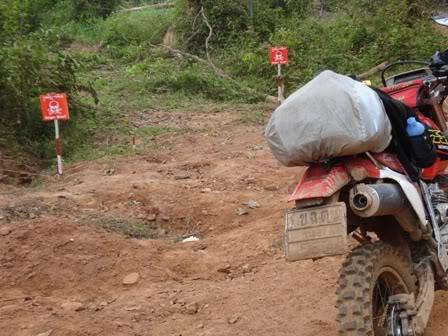 I found a nice hotel overlooking the Mekong and an even better bar on the river front called 'Lazy Mekong Daze'(the bar closest to the bridge) great food, beer, pool table and the friendly owners, Simon and his wife are a good source of information on the local area. Simon also has an XR250 so he knows a few good rides around the North East of Cambodia.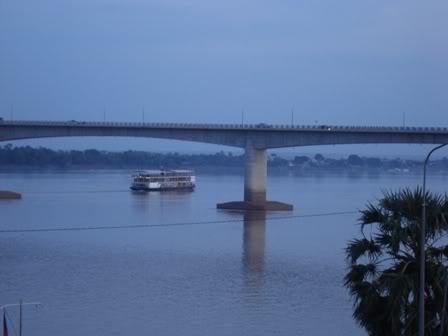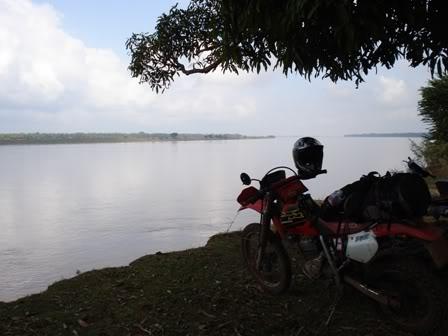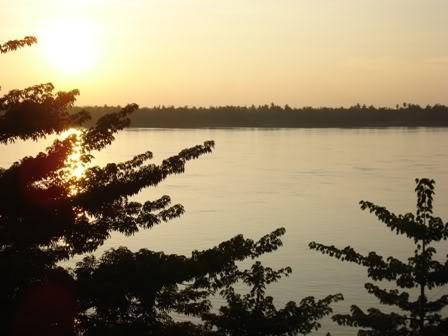 I spent another day in Kratie, getting there by riding along the river, a nice easy ride with lots of little villages, the road is not bad but lots of traffic and my number 1 Khmer safety device stopped working (the horn), so I had a few close calls with dogs, chickens etc.
Just happen to run into a German bloke in Kratie that is a motorbike tour guide, so we ended up drinking beers and swapping war riding stories long into the night. He also gave me some good suggested routes for the next time I am over that way. If you need a good guide in Cambodia this guy maybe worth trying (Reini : [email
[email protected]
]
[email protected]
[/email]) I also got to check my email in Kratie and to my disappointment found that I had to get back to Chiang Mai to attend to some stuff. So the next day I jumped on the bike and headed for a last few days in Phnom Penh (but those stories are probably not suitable for this site).
A good bike shop in Phnom Penh for parts is
Dara Bike Shop
339E Russian Confideration Blvd.
Sangkat Sra Chork
Khan Daun Penh,
Phnom Penh.
The guys at this shop showed me a DVD they made of their riding, really crazy stuff, looked insane.
I crossed back over the O'smach border crossing, completely ignoring the Cambodian customs officers and back to the land of tarmac and 7/11's.
Overall the trip was excellent, no need to go looking for dirt roads/tracks in Cambodia, they seem to find you. If you are planning on going, think about doing route 66, the part I did was an experience. I have also been in the Ban Lung area before (not on a bike) and it looks like a great area to do some exploring. Ban Lung south to Sen Monorom would also be a great trip, lots of tracks to explore out that way.
A few more random pics of Cambodia.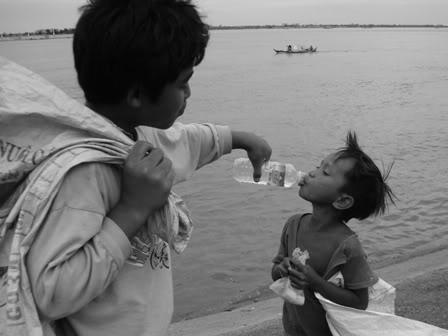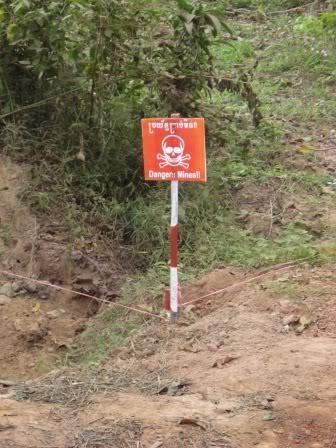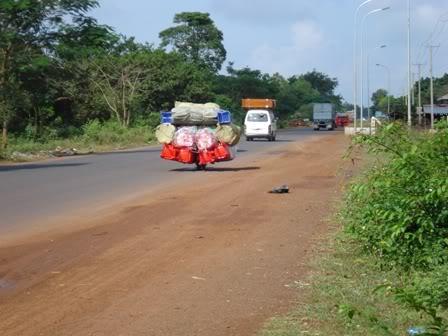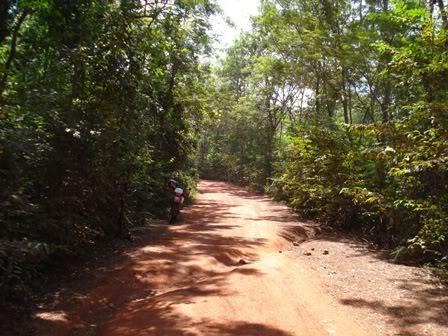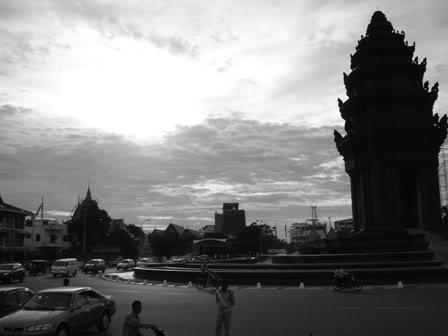 You can see a short slide show of the trip at:
and another one GTNZ and I did a few months ago around Chiang Mai:
Hope you enjoyed the report, let me know if there is any more information you would like to see in further trip reports I do.
Woody
[
]