Excerpt
: Another loop, on the same itinerary, but in the reverse direction - Sam Neua was again the destination of my biking tour. After a first trip to Houa Phan province, two month earlier, I had found another reason to be on this Route again.
Northeast Laos – Sam Neua loop
Part 3 – Epilogue
First part – Luang Prabang and mountain roads:
https://www.gt-rider.com/thailand-motorcycle-forum/threads/35731-Northeast-Laos-1.-Luang-Prabang-and-Mountain-Roads
Second part - Sam Neua and a winding drive back:
https://www.gt-rider.com/thailand-motorcycle-forum/showthread.php/36105-Northeast-Laos-2-Sam-Nuea-and-a-Winding-Drive-Back?p=277117#post277117
My other trip reports about Laos
(see note '9')
1. Introduction – On the loop again!
This story is less about roads, and more about people. It is about mountain folks, the dwellers of hamlets scattered along our biking itineraries, about the locals, amazed and amused, sometimes frightened by our noise and appearance. It is about the encounters with denizens greeting us with joyous "sabai dee", winking, smiling and giggling as we stroll through their places. It is also about the historical past of Houphan and Xieng Khouang provinces, a region with bronze age roots and a prestigious culture crumbled by recent conflicts, and, finally for me, about visual impressions to illustrate many readings about Laos.
When we stop in villages, the first reaction is often shyness, soon changing into curiosity and playful communication. Along the Routes to Houa Phan, I never noted any ill feeling from the inhabitants of this remote area. Recent history had drawn them into civil war, resulting in decimation and forced displacement of populations. Fifty years after the end of the bombings, the third generation of kids is populating the villages, running along the roads, and for many of them, siting a couple of hours in classrooms.
To make my trip more enthralling, I prepared a selection of 350 pictures portraying people encountered during my former loop through Northeast Laos. They were taken at 20 different locations, referenced by GPS coordinates. With an appropriate tool, it would be a breeze to drive back to all these points; but I only own a tracker, and the quest proved more challenging, albeit also more fun.
2. The northern renovated links
A straight drive, without even a coffee stop, brought me from Maerim to Chiang Khong. I intended to put the border crossing formalities behind me as fast as possible; this failed totally.
At emigration, the controller asked me to go back to the city office for the papers, and when everything was cleared, the ferry was gone and it was lunch time.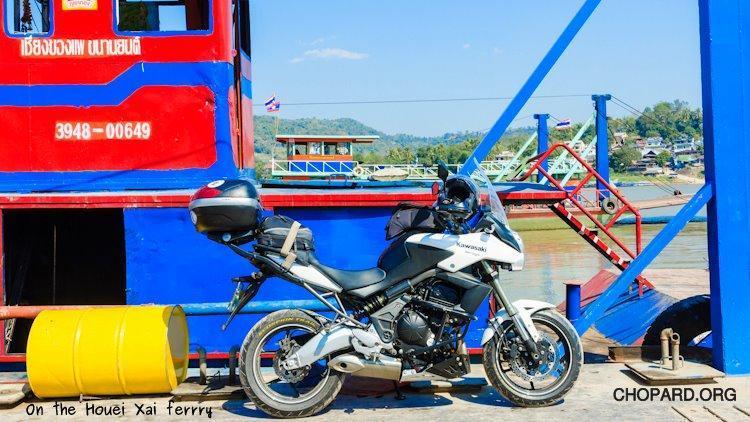 Clearing my bike through Lao custom was straightforward, but at immigration, they failed to find my Thai departure stamp. After crossing back on a pirogue, Thai officials pointed to the exit mark, on a dark decoration of my passport's page. Another run to Laos and, eventually, I became a legal visitor.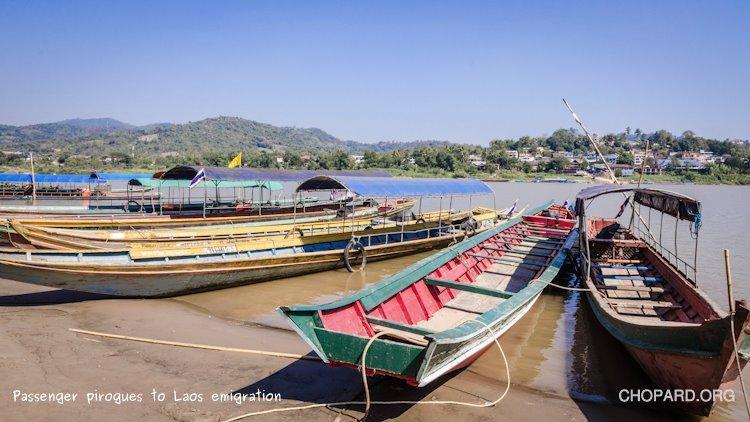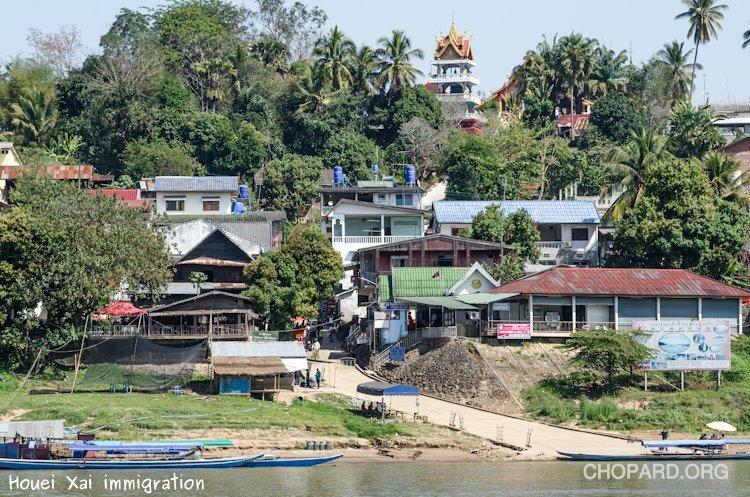 Finding Miss Ying, the friendly AGL insurance broker was the last formality, before starting the journey, on Route 6, a couple of hours later then scheduled.
The pavement from Houei Xai to Luang Namtha is now totally updated and allows a smooth and speedy drive. I could have completed the itinerary before dusk, but, as I had to deliver a first set of pictures along the road, I stopped in Vieng Phouka for the night.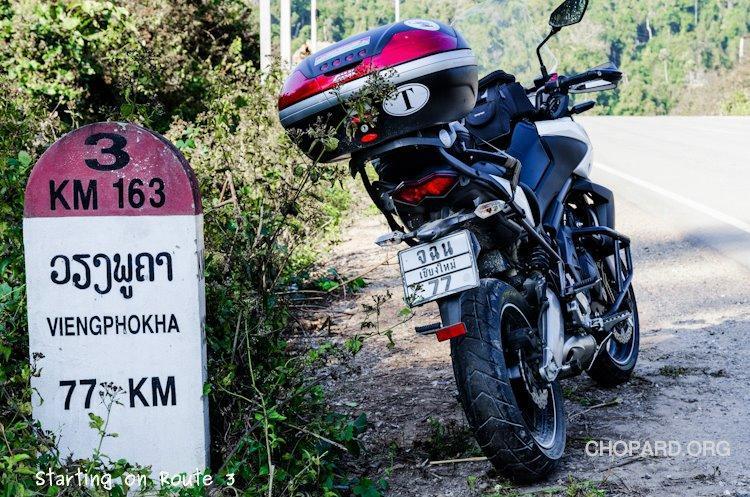 Samlanghai's Bungalow, a guest house on a hill at the entrance of the village became my shelter, and while the lights dimmed over Vieng Phoukha, I enjoyed a "rice and vegetables" set diner. The air quickly cooled down and I slipped under cover, calling it a day and experiencing my freshest night in the region.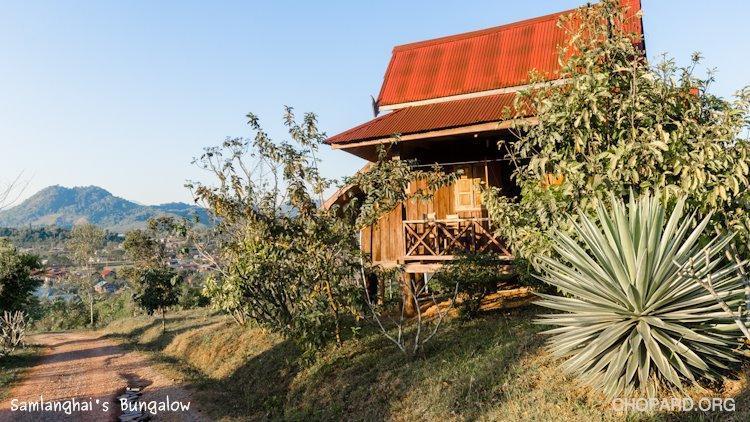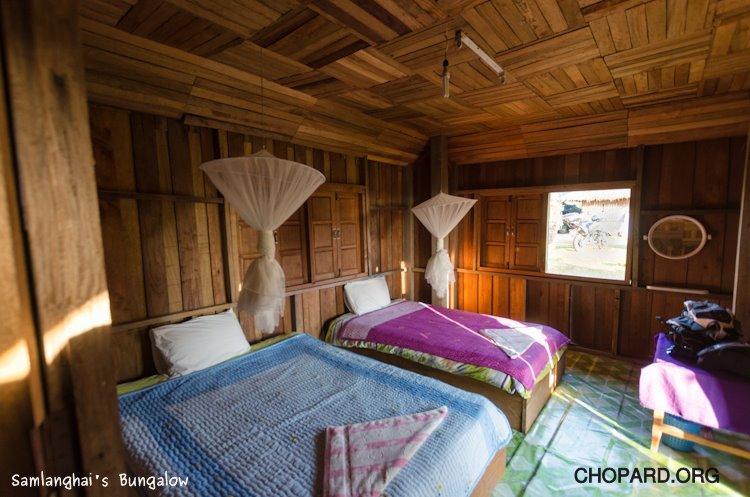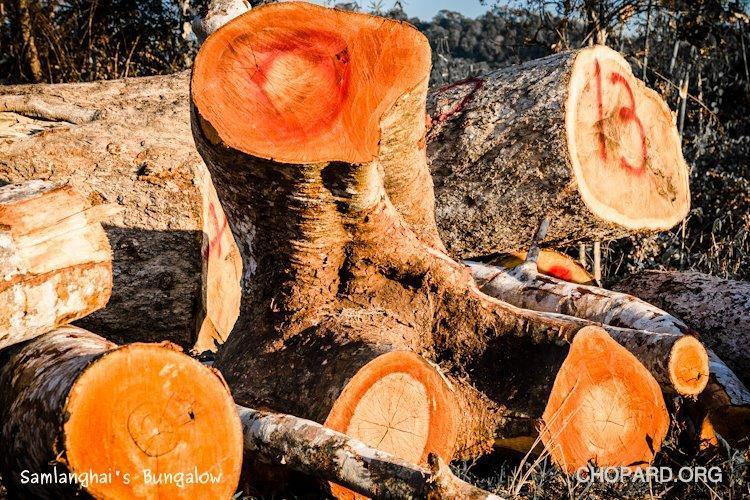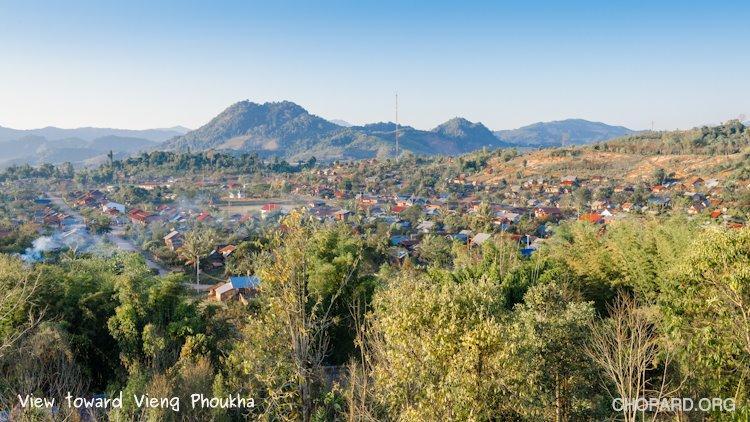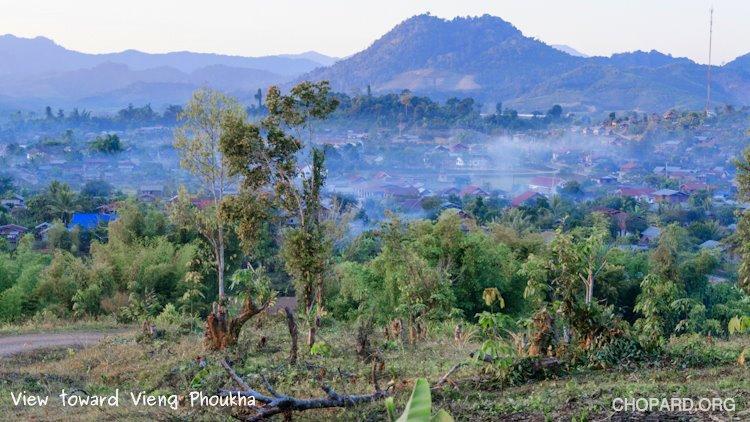 Cold dreams and an icy cushion under my neck woke me up in the pale morning hours. Even the hot shower, pushed to his maximum, was still invigorating. After another set meal of "fried rice and tea", I put on my warmest cloth and braved the dense mist blanket on Route 6, driving toward Luang Namtha.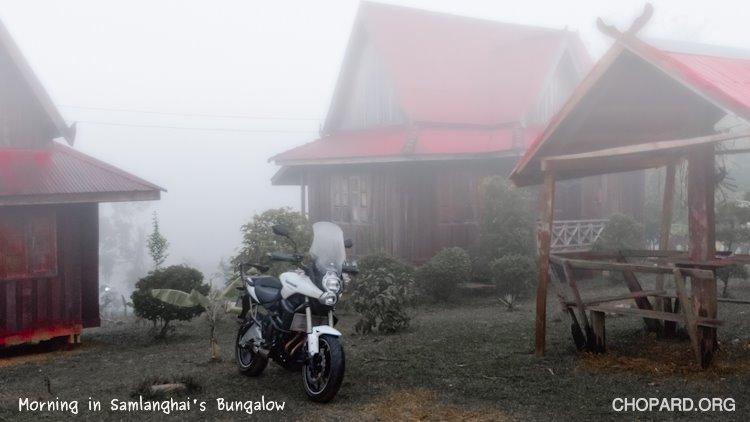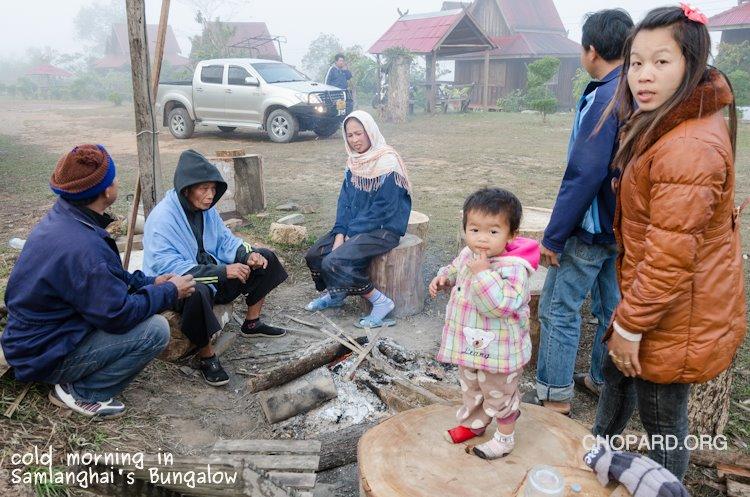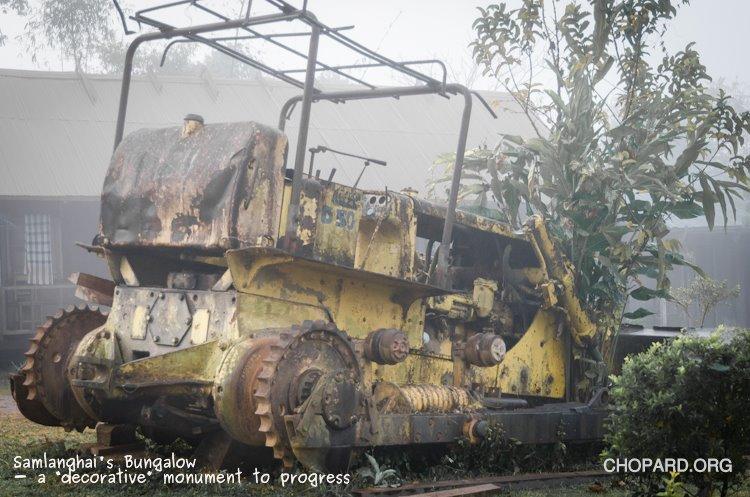 For my first stop, in Nam Sing, I was greeted by a clean blue sky and a pale sun healing the scars of the cold night. My arrival with a pile of prints produced an overwhelming excitement and a large gathering of the village people. Everybody wanted to be photographed again but, in the middle of an enthusiastic crowd, this proved to be a difficult task. After a couple of kids' group pictures I took leave from these amicable Khmu folks and drove on. It was the first of many cheerful encounters during this trip.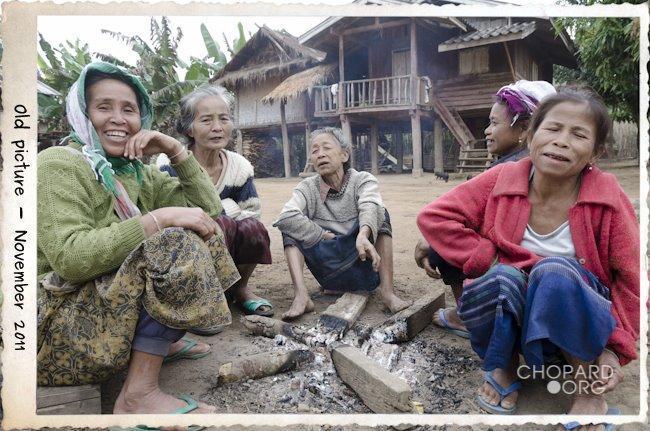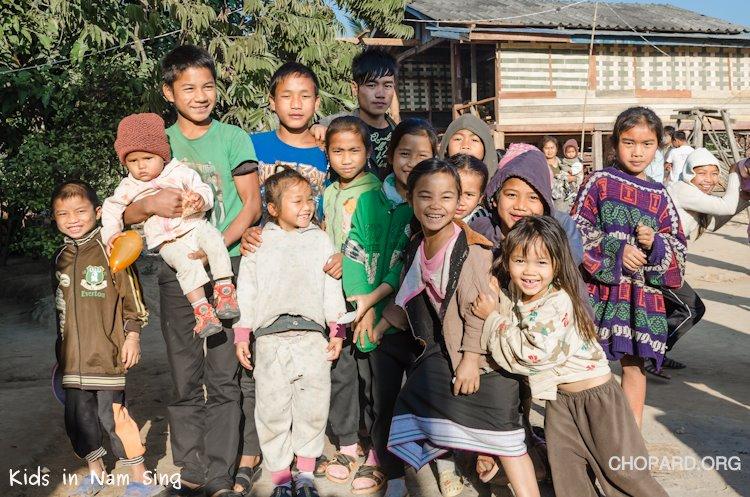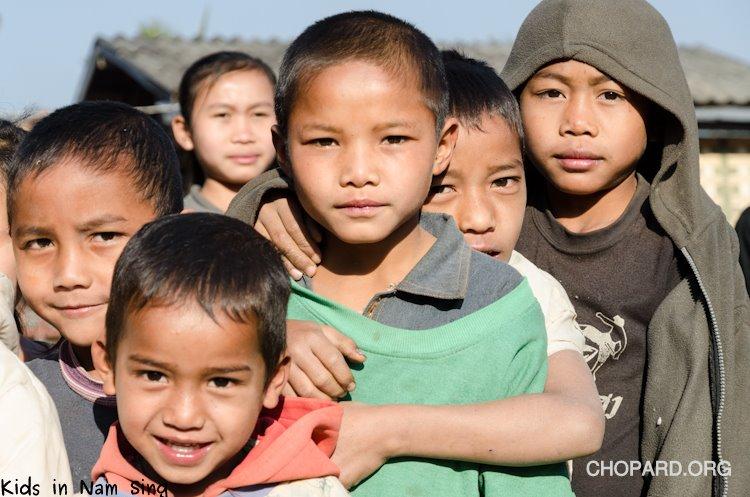 My next halt was at "Manychan Guesthouse", in Luang Namtha, for a consistent second breakfast. Then, after a short drive on route 13B, I reached Na Teuy, the bifurcation to Oudom Xai. Seventy seven kilometers of renovated pavement expected me, providing an hilarious ride through this mountainous sector.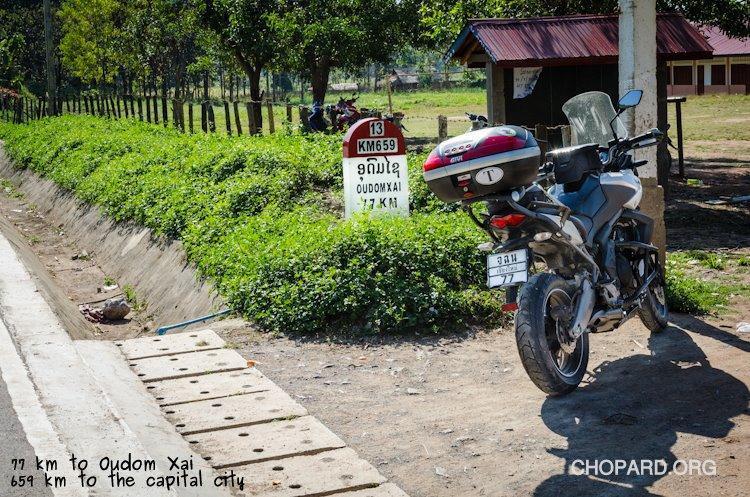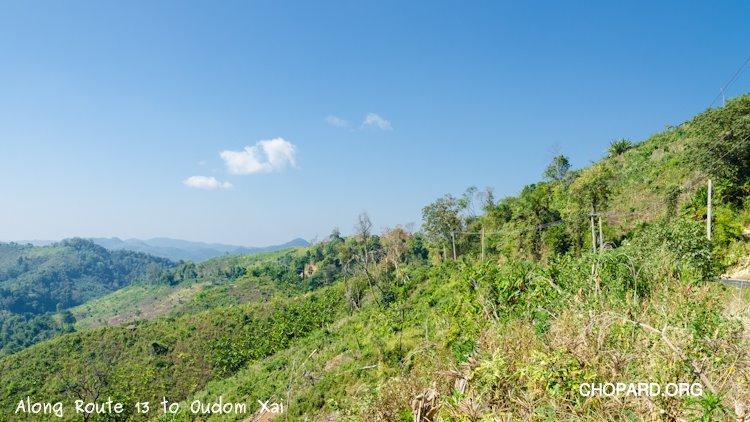 Erring on Route 13

During my previous trip, I stopped in three villages along this itinerary. The time stamps, included in digital pictures, allowed me to roughly evaluated the distances and, for the fine tuning, I relied on my visual memory. Both navigation aids failed, and I had already reached the third spot, when I recognized the village were I had photographed a group of "jumping girls".
Unfortunately none of them was present. During the week they all go to school or work in other villages. I gave the images to grateful family members, with kind regards to the smiling kids in the pictures.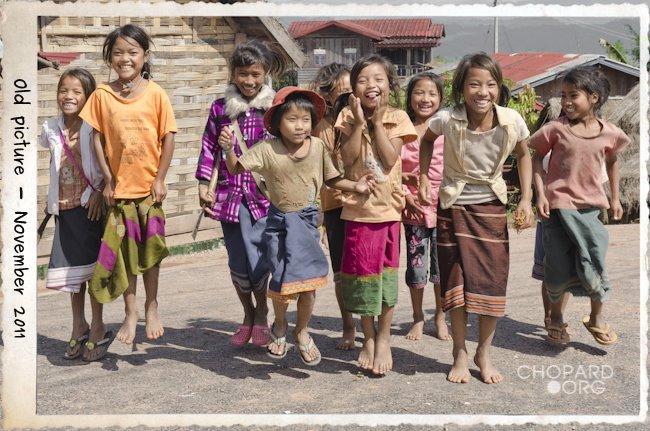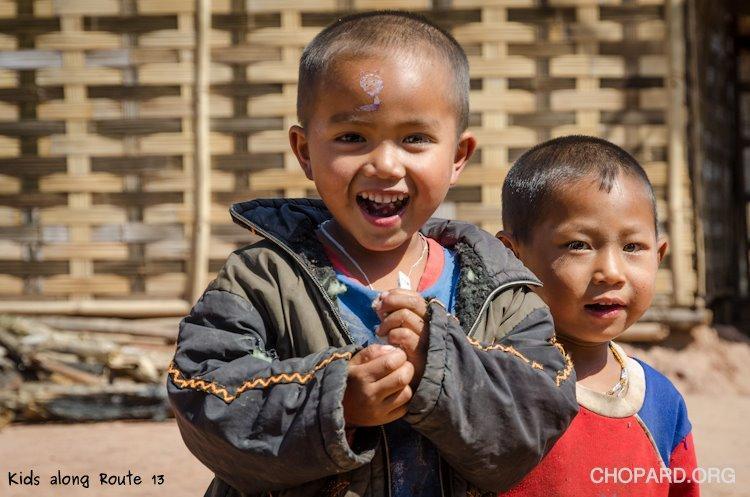 As the first village was probably half an hour behind me, I headed back on the same road. Not far away, just after a sharp curve, I recognized the village were I had taken picture of a Hmong child. The kids were also all at school, but, in the grocery shop, I met the the little girl's grandmother. She was ravished to take care of the pictures, and, next door, a young mother was equally delighted to get the images of her two daughters.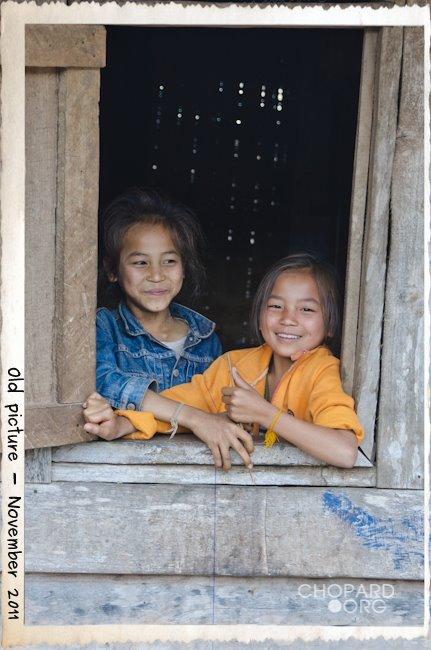 To find the last village, I drove back for quite a distance, without recognizing anything. Turning again, I controlled my positions on the GPS tracker. When I eventually matched the coordinates, I realized that the place was under construction. Finally, with the villagers' help I located the kids in a ramshackle bamboo hut; they were not at school.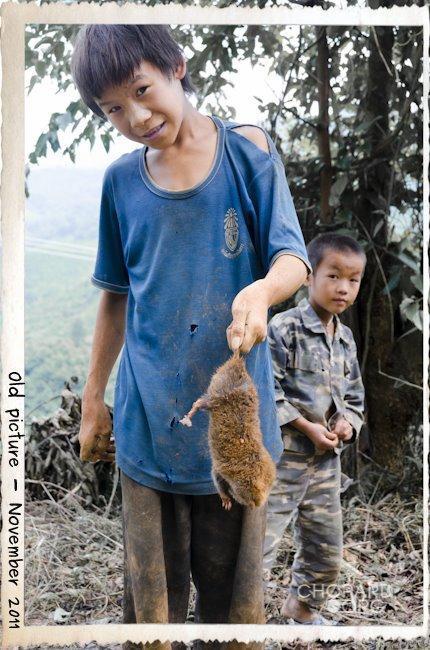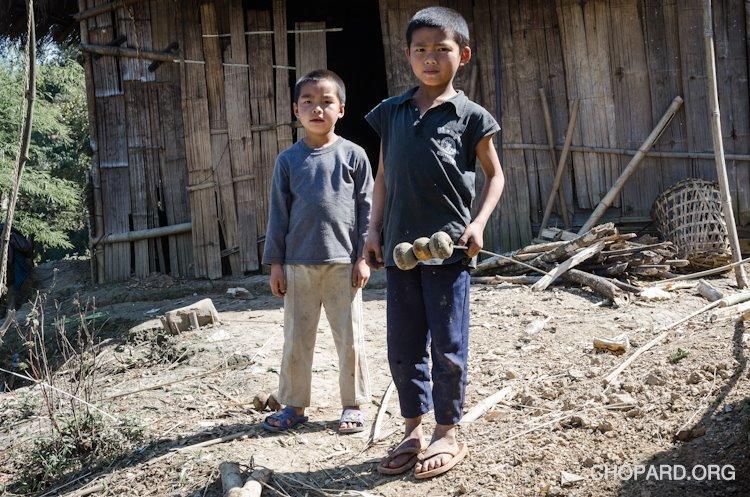 The traffic on Route 13 was heavier than usual, as it was Chinese New Year holiday.
Caravans of blue plated "mainland" cars, mostly upmarket models, were ambling to and fro along this itinerary. Together with investments to improve the northern Laos road network – a mean to foster Chinese commerce in the region - immigrants from the big brother's country have flocked Oudom Xai province.
The crumbled track to Pak Mong
My last important stop for the day was at "Lak Hasip", a friendly Hmong hamlet were I had spent time during my previous trip. People were in cheerful mood, watching the photographs and keen to be in the pictures again.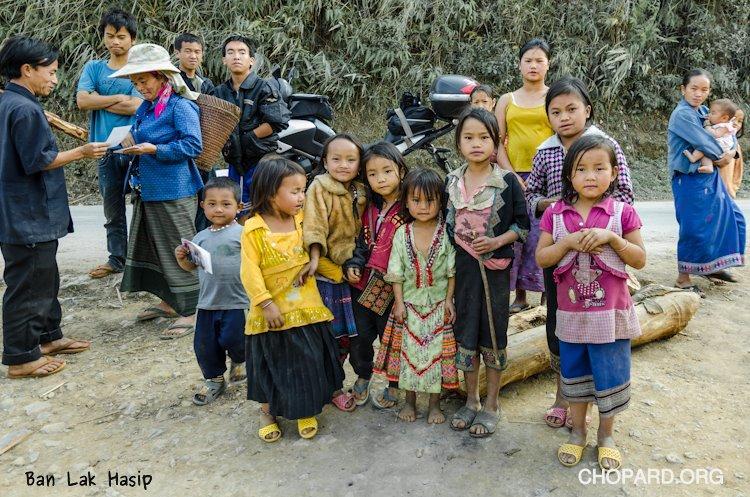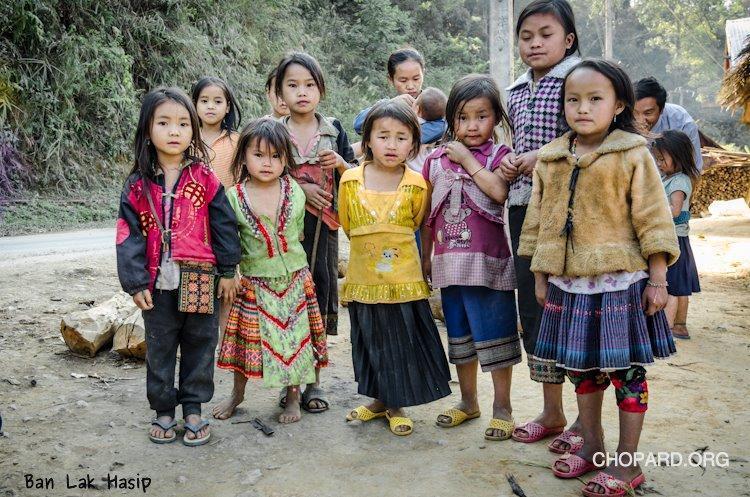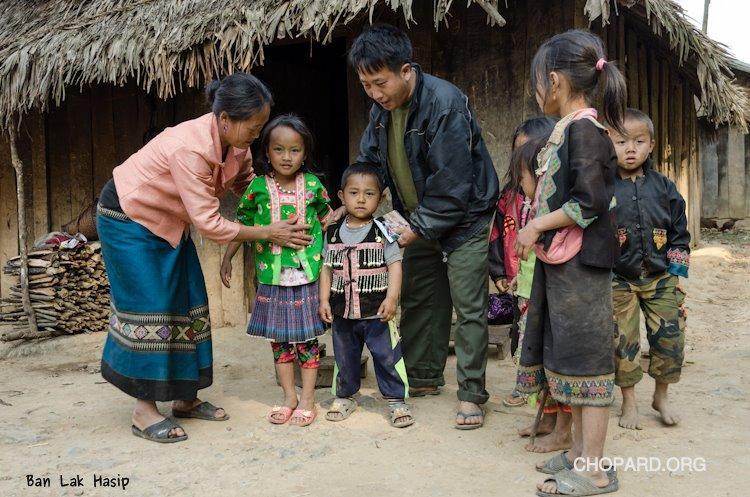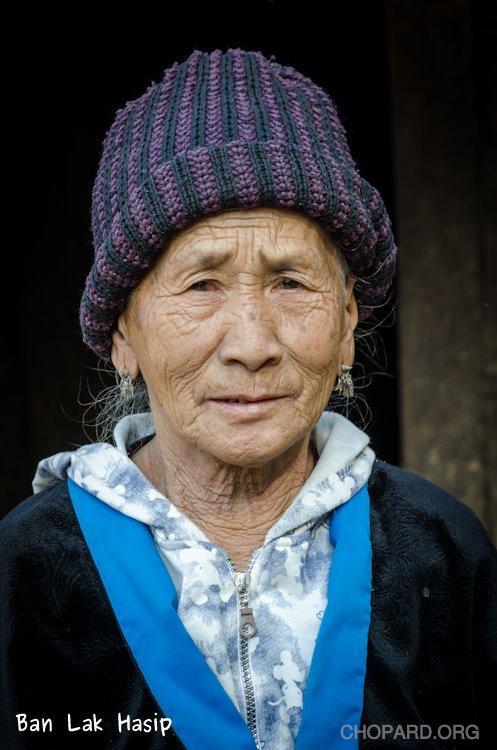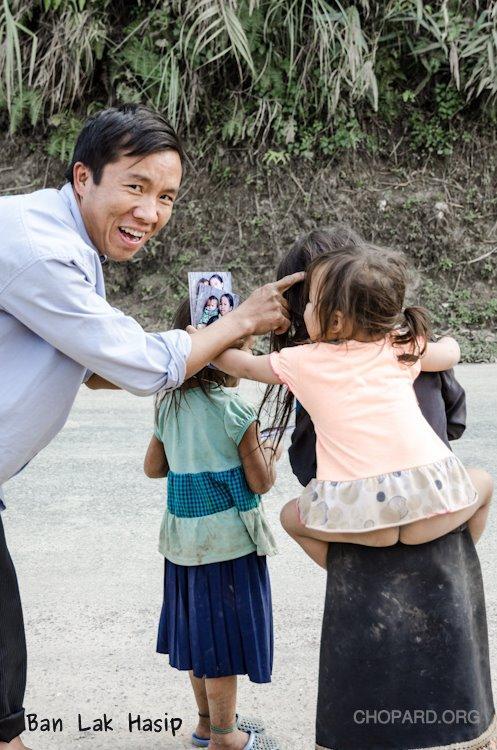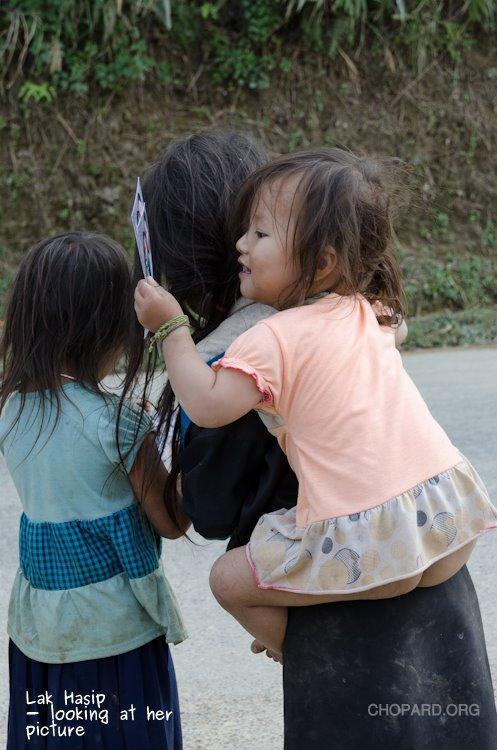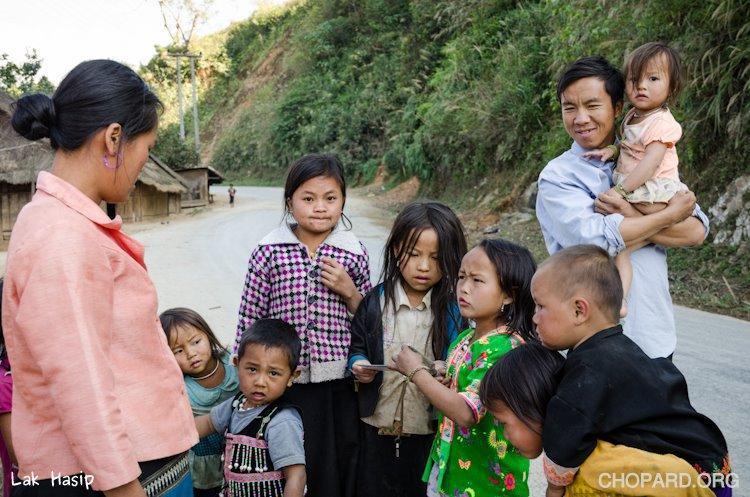 While I was chatting with the Hmong people, a group of twenty BMWs rushed through the village. I followed their trail, a couple of minutes later, and connected with the last bikes in a heavy cloud of dust, sprayed into the air by their mounts as well as by lorries – mostly large trucks trailing log roots - driving in both directions. I was unprepared for such an intense sand storm and came out coated with red earth. Cleaning the mess was an unpleasant chore in the evening, without even counting the particles definitively lost in my lungs. For my next trip on this sector, I would hide under waterproof gear and limit the contamination.
Eventually I reached Nong Khiew, my relaxing destination. "CT Guesthouse and Restaurant" became my home for the night, and I enjoyed dinner on the balcony, facing the grandiose twilight panorama of karst peaks boarding the Ou river.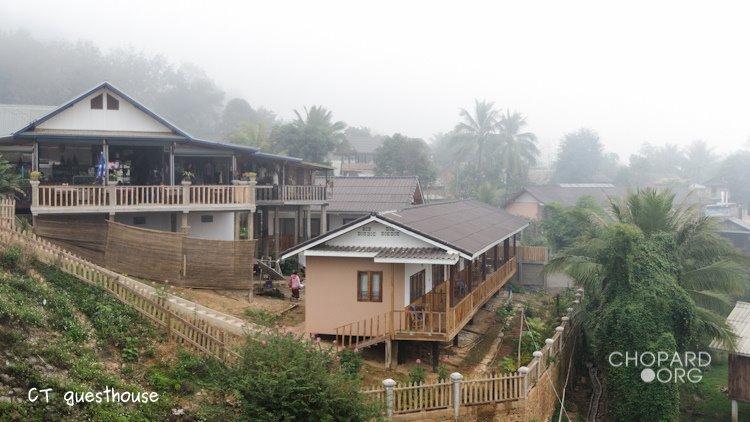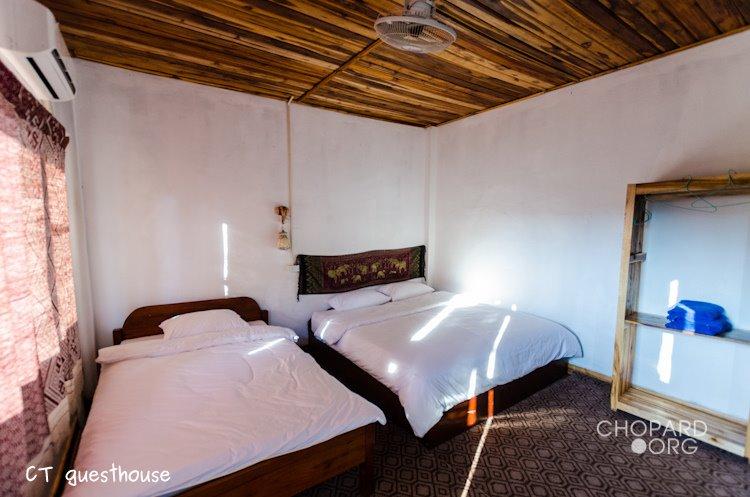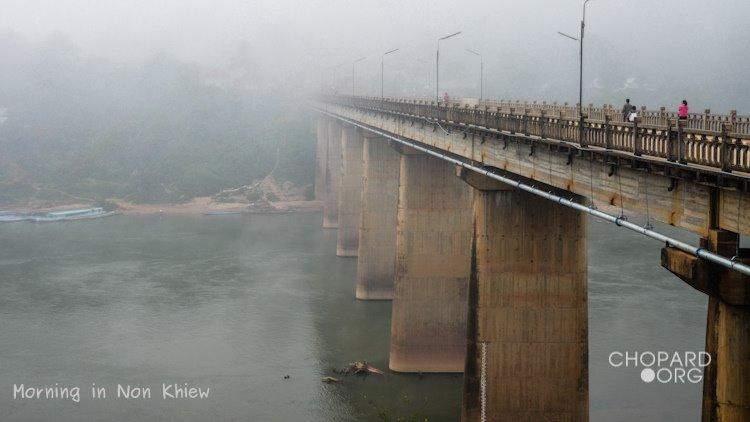 3. Nong Khiew to Sam Nuea, a sylvan ballade
Mist lingered around Route 1C when I started my journey toward Vieng Thong. Soon, however, the visibility became clear and the drive was very pleasant.
From Houei Xai, all along my itinerary, I noticed people collecting «dok khaem». It was the harvest season for «broom grass», a raw material used to make different types of brushes. Taken from shaded slopes, the flowering stems of this plant are hit on the pavement to remove the seeds and sun dried for a couple of days. They are exported to Thailand, China and Vietnam, and, as an important «Non Timber Forest Product» provide some cash to dwellers along North-Laos roads.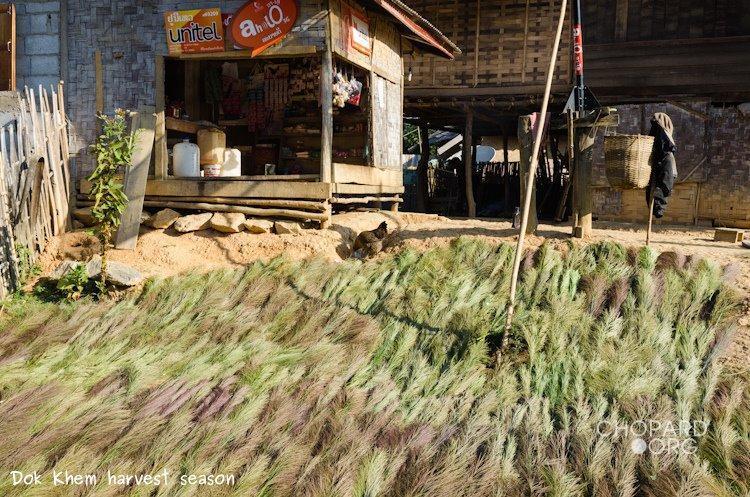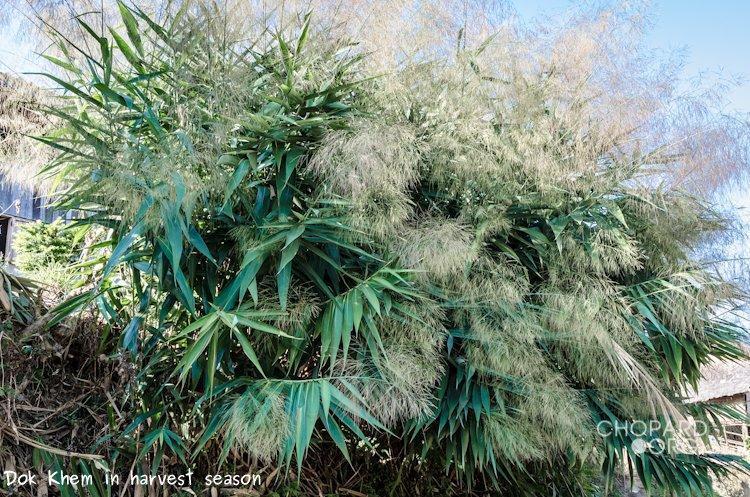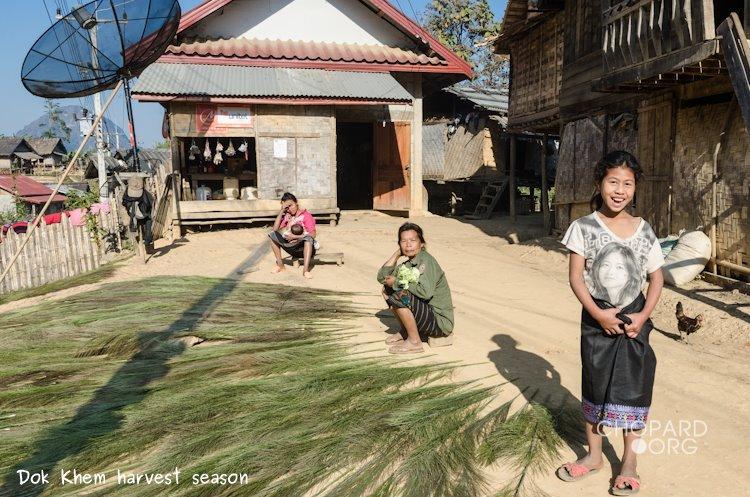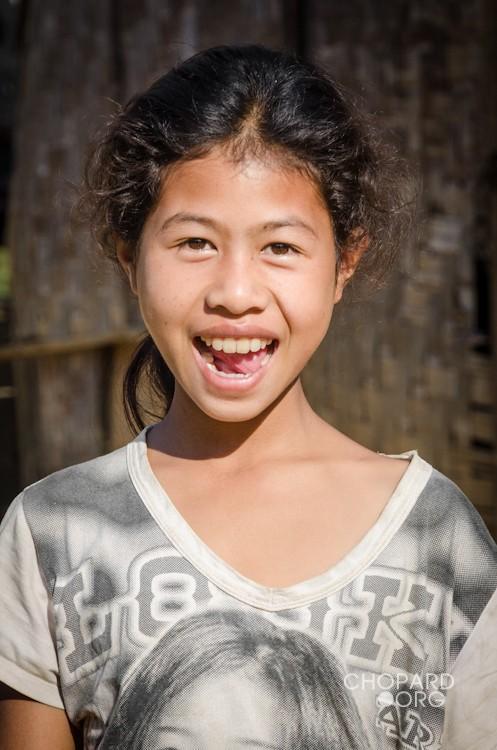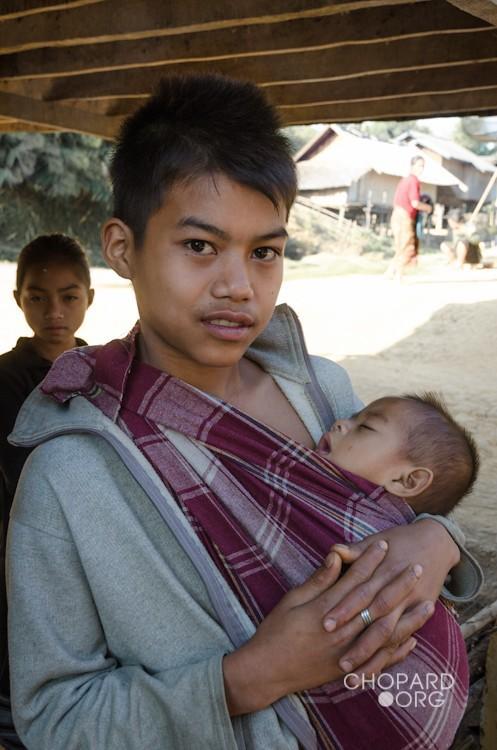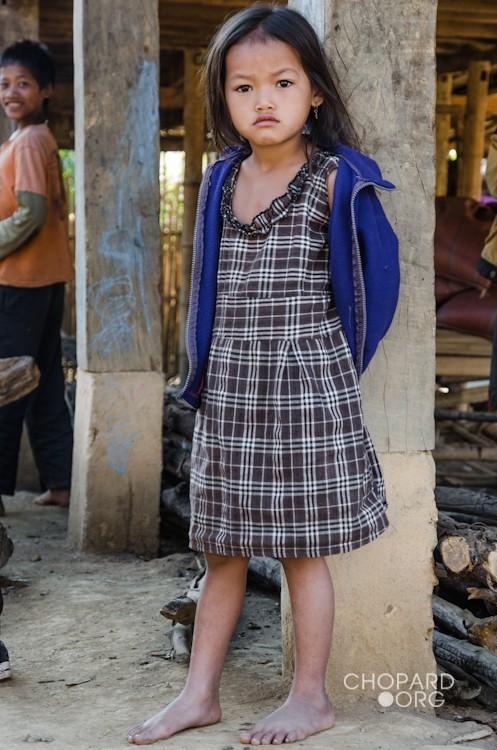 Village after village, denizens of all ages are busy harvesting the «dok khaem». Some use fire to foster the drying process of the stems.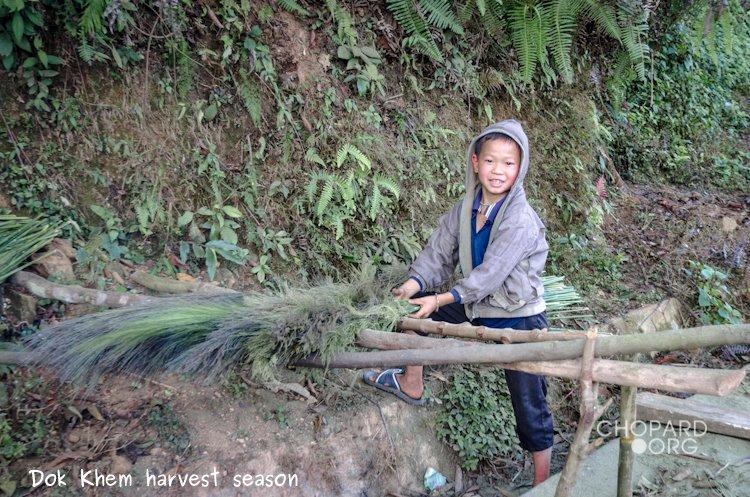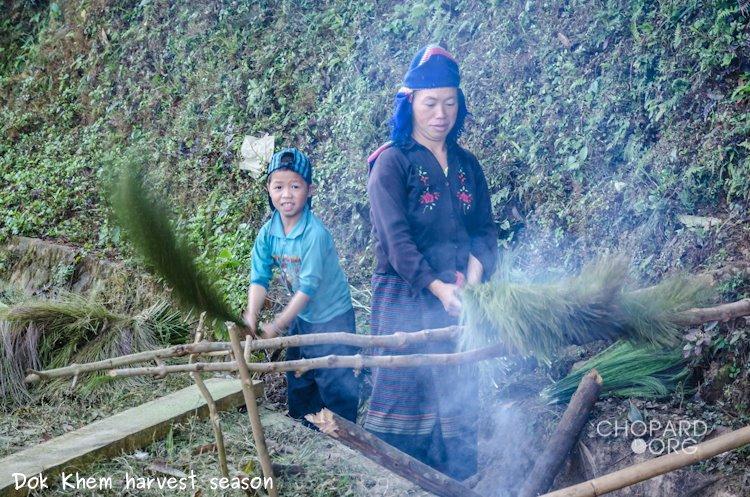 Numerous dwellings and a couple of bridges punctuate the mountainous itinerary of Route 1C. People are everywhere, attending to their daily chores, and the younger generation is keen to run toward foreigners and get a close-up glimpse.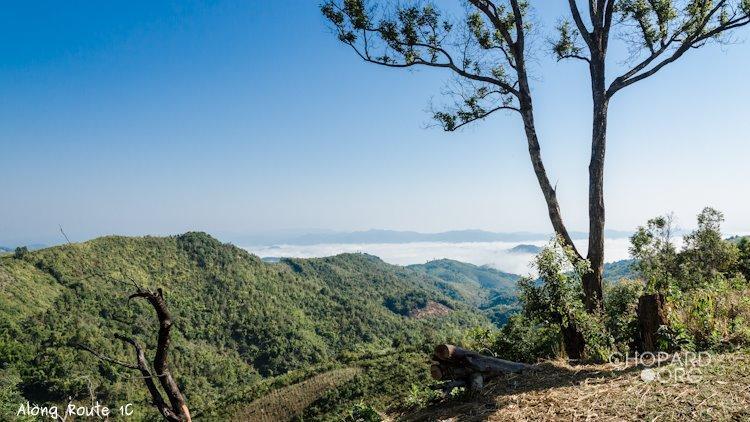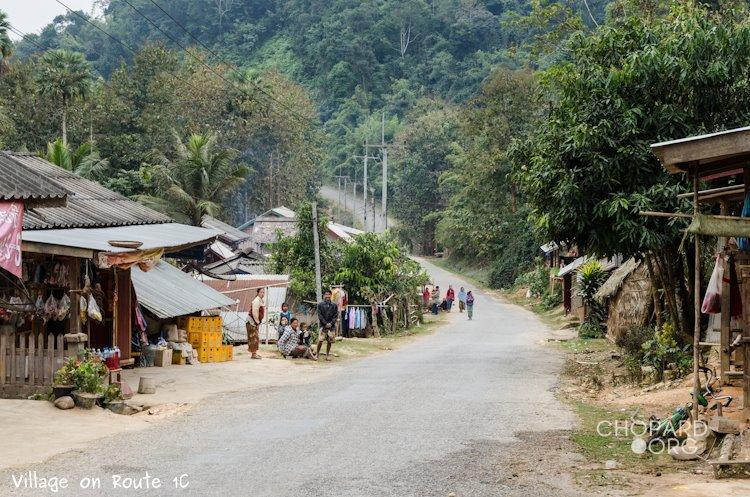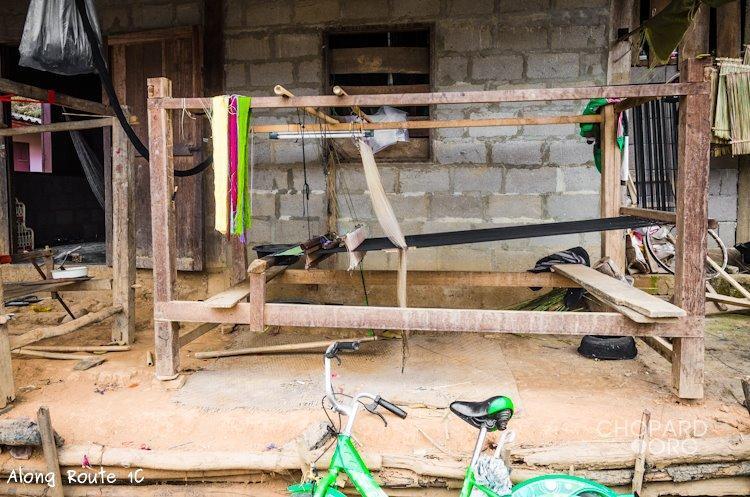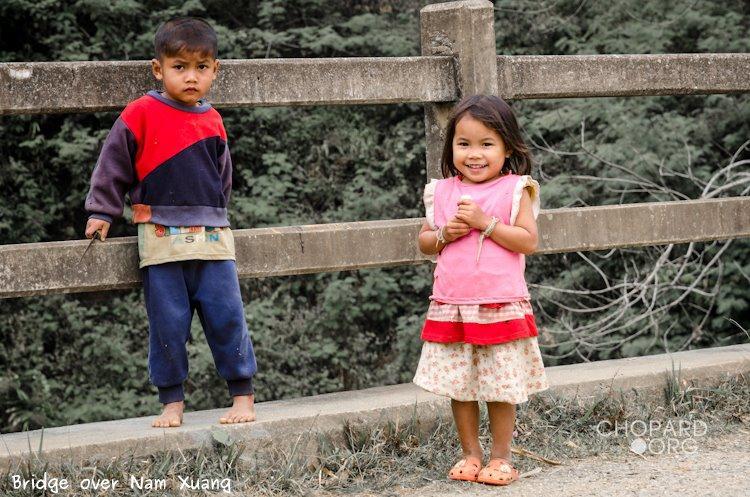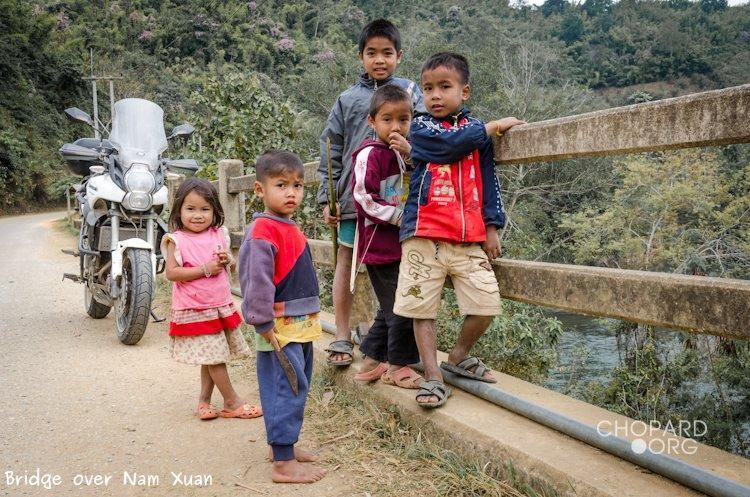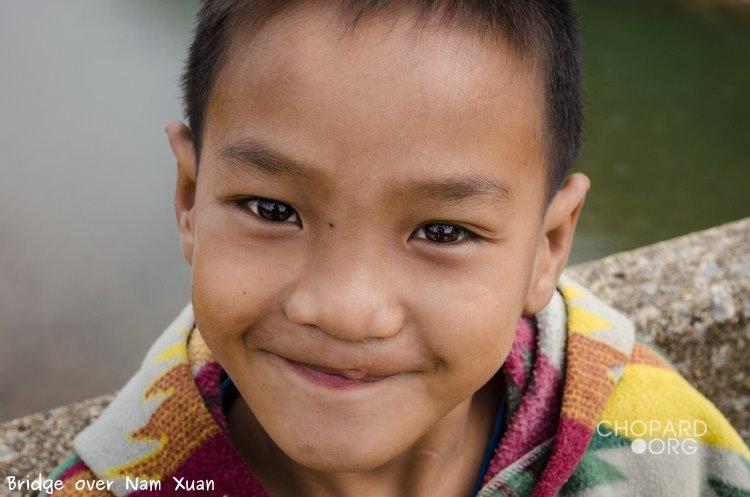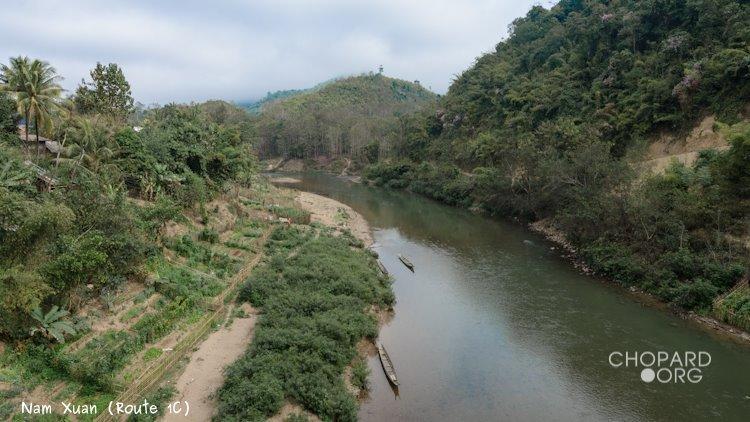 With so many friendly hamlets, populated by colorful and smiling folks, it is difficult to rush. Chatting with locals (they usually speak enough Thai to communicate) provides a rewarding lapse back in time, to a long forgotten slow pace lifestyle.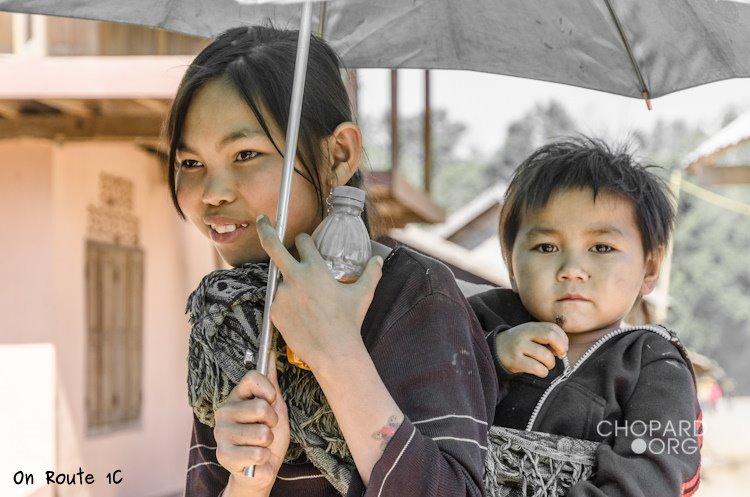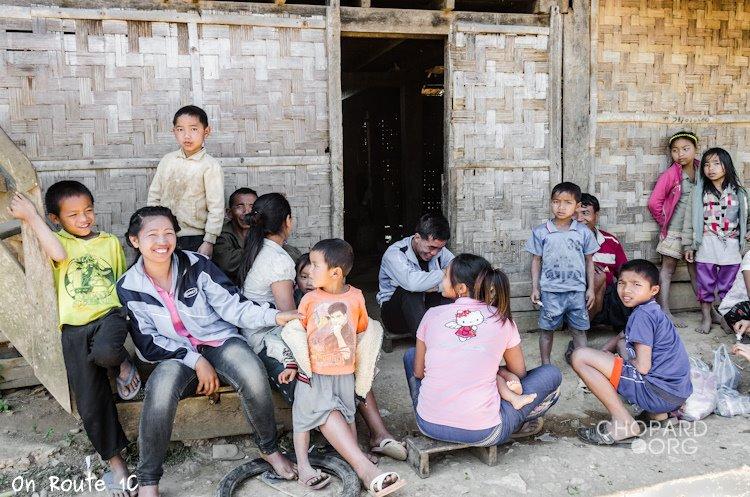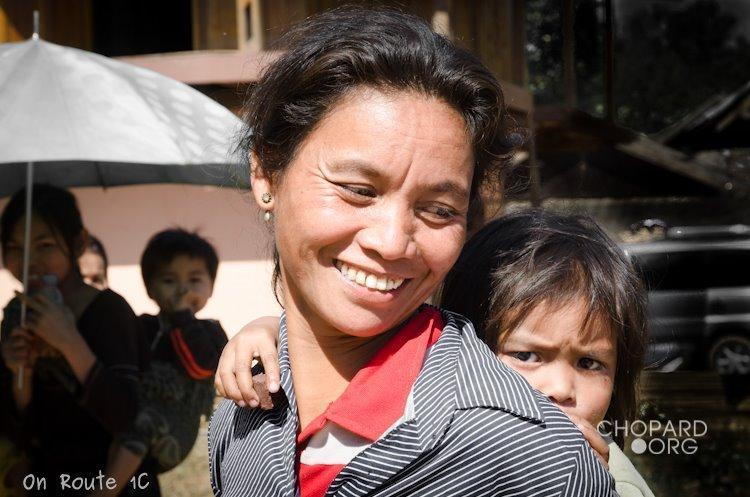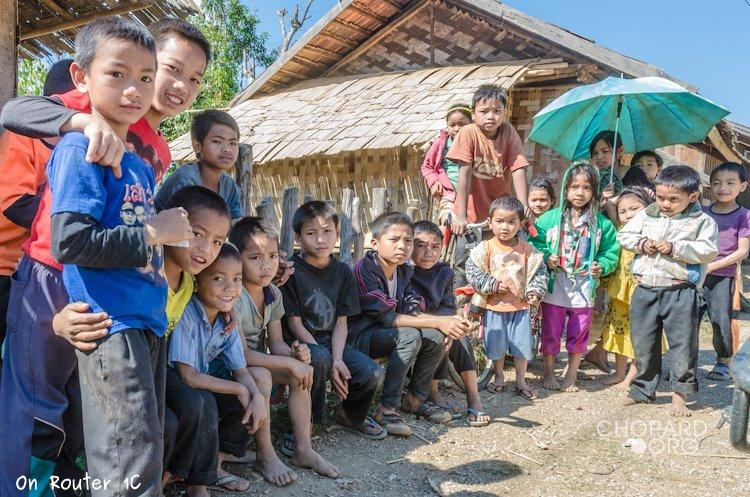 Amazing activities can be observed along this itinerary: people searching gold in the river, sun-drying bricks for houses and, during winter season, collecting "broom grass" everywhere.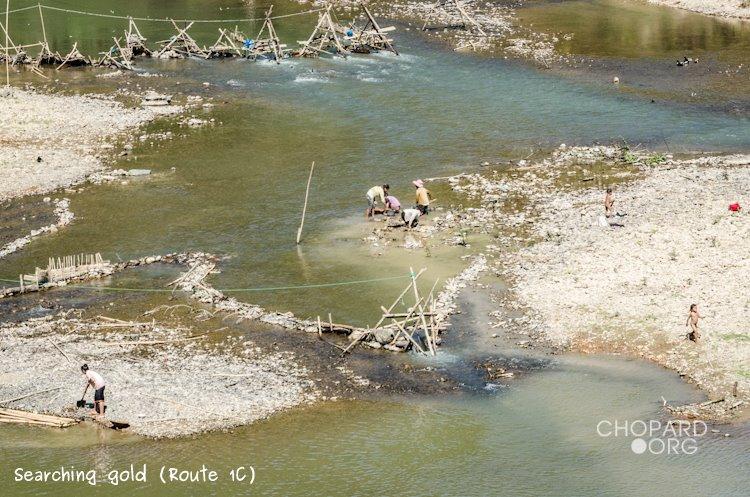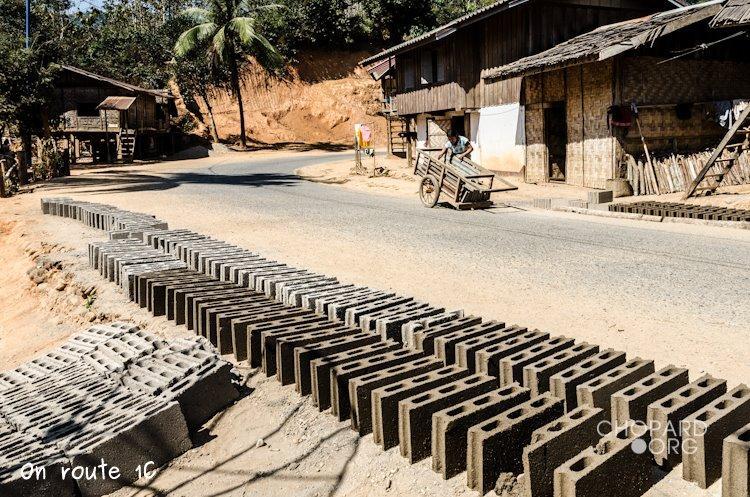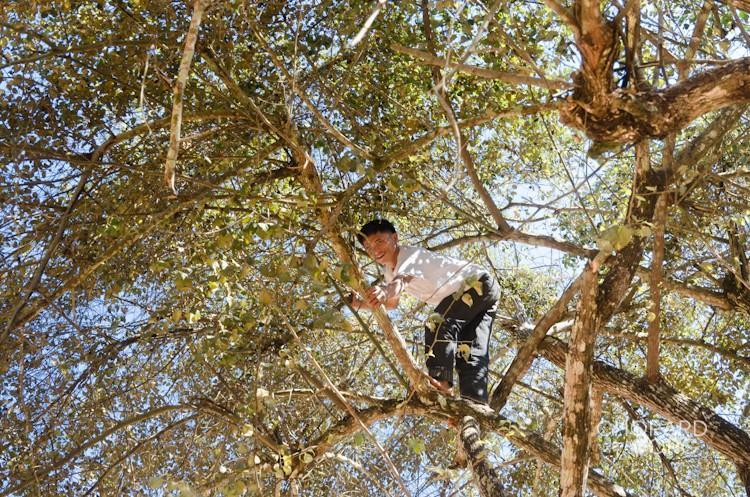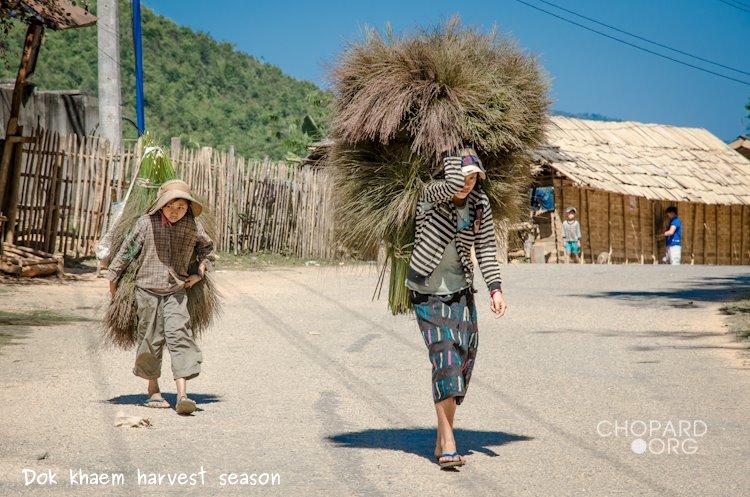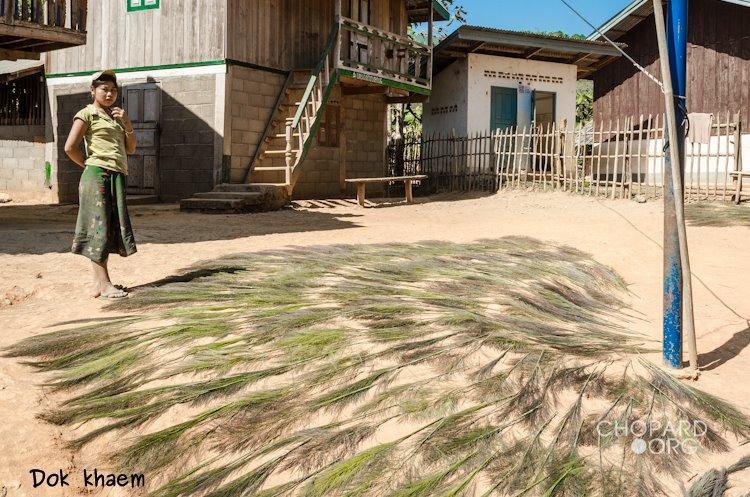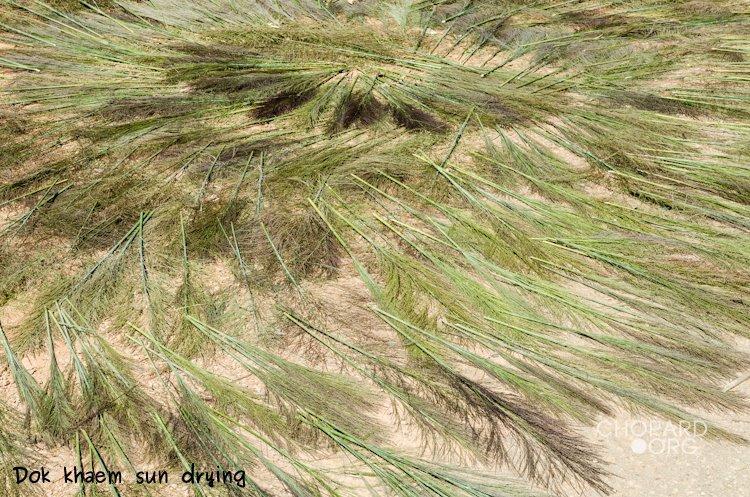 According to the pictures' time stamp, I should soon reach a place were I portrayed a father and his child. In the next hamlet, I recognized the washed-out panel with a tiger illustration. When I showed my print to a small crowd of locals, they murmured the word "Viet", without too much enthusiasm. "He is gone now, when did you take this pictures", they asked. Then I noticed a bashful women in the last row pointing to her child. She was the wife of the Vietnamese. When she saw the picture, her radiant joy was touching and it was one of my greatest rewards.
Before leaving this dwelling, I admired the work in progress on a small open air loom. Weaving skills are still kept alive in some places, often to produce textiles used locally.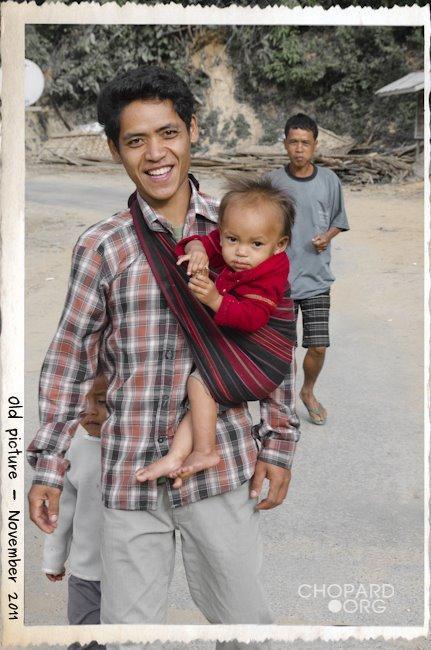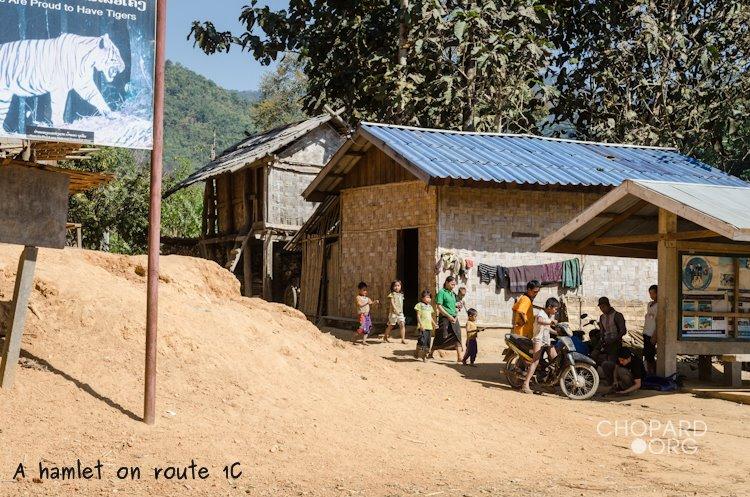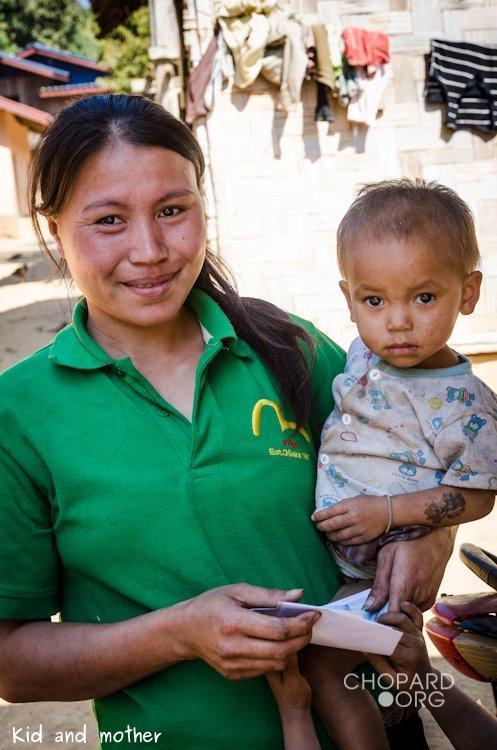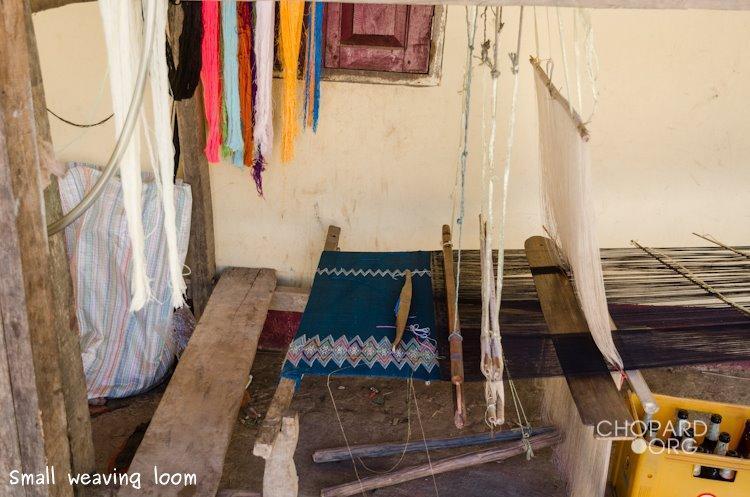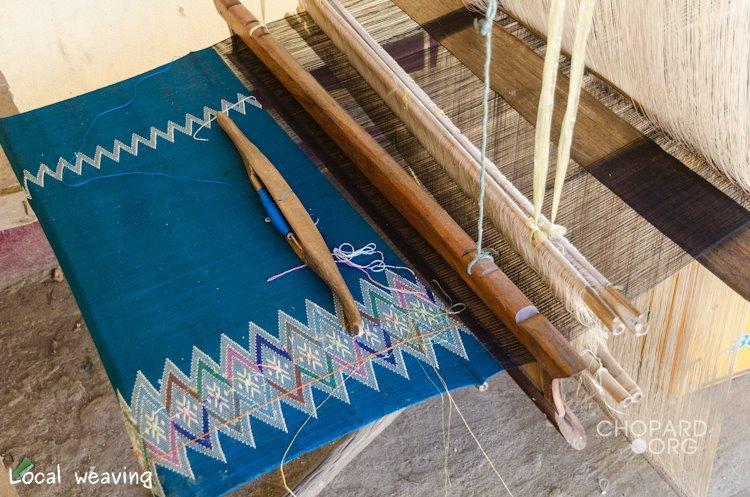 In Vieng Thong (formerly called Muang Hiam), I checked in again to Souksakhone III guesthouse.
About one kilometer outside of the center, I had taken pictures at a small makeshift Khmu market. Finding the strip of pavement was easy, but nobody was selling gatherings on the tarmac. This showed the serendipity of travel pictures, were being at the right place is often a matter of luck.
Eventually, I found one of the families, thrilled to see their photographs and happy to deliver the other images to their friends.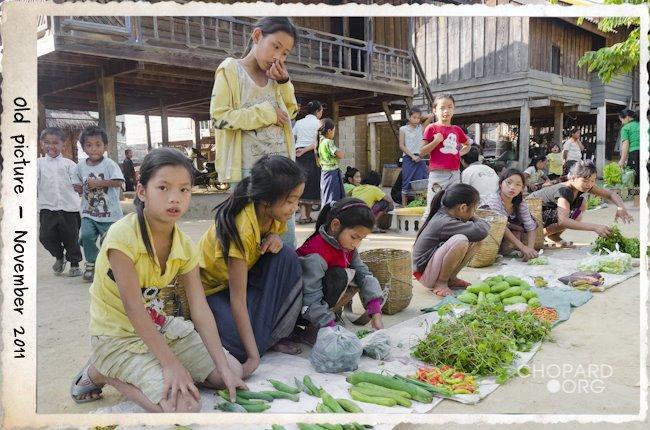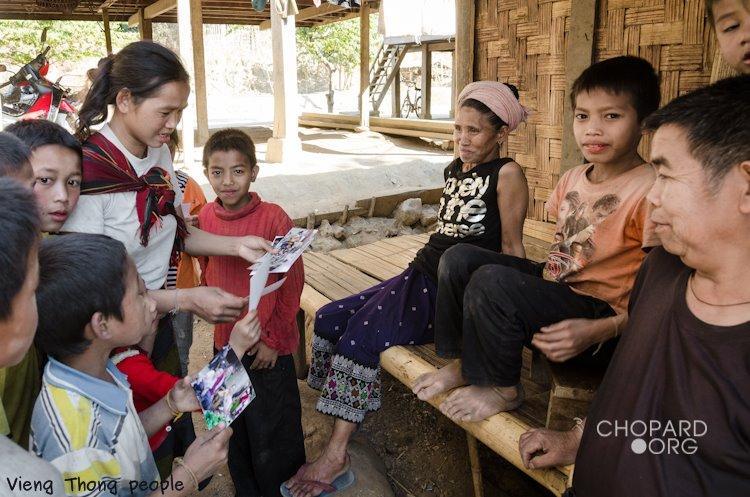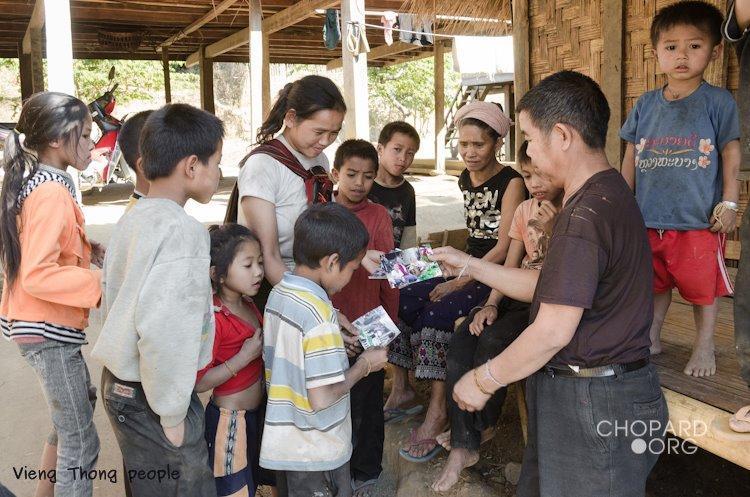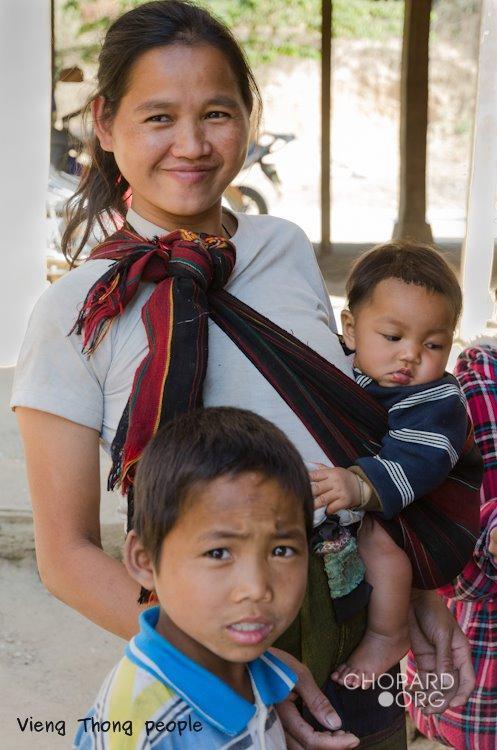 My other shots were made in the dry market, Vieng Thong's actual center, near to the main guesthouses. It was easy to find the people and to hand over the prints to a happy grandmother.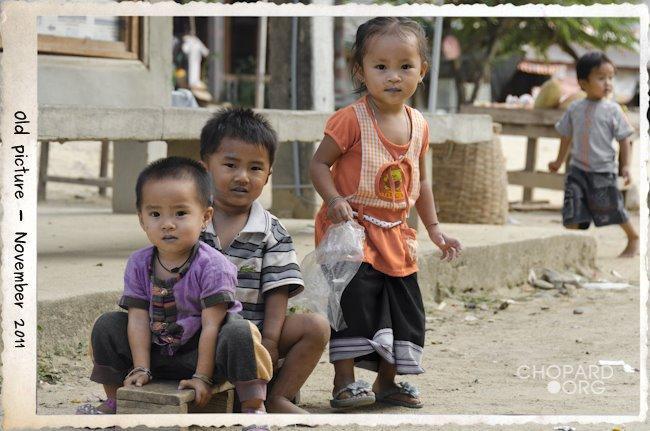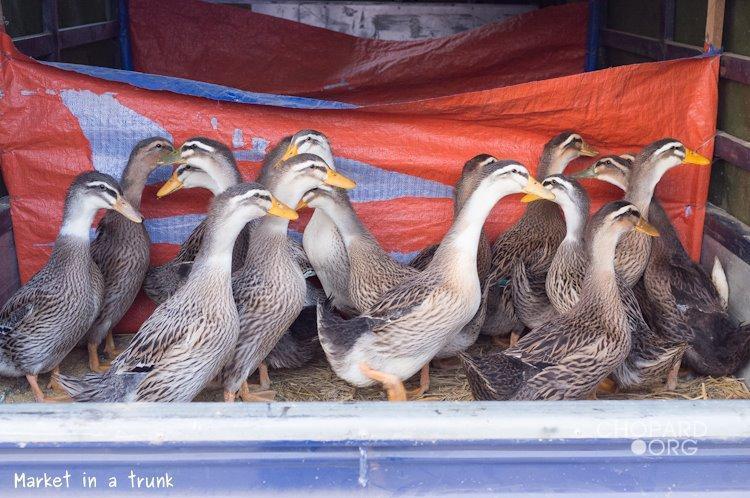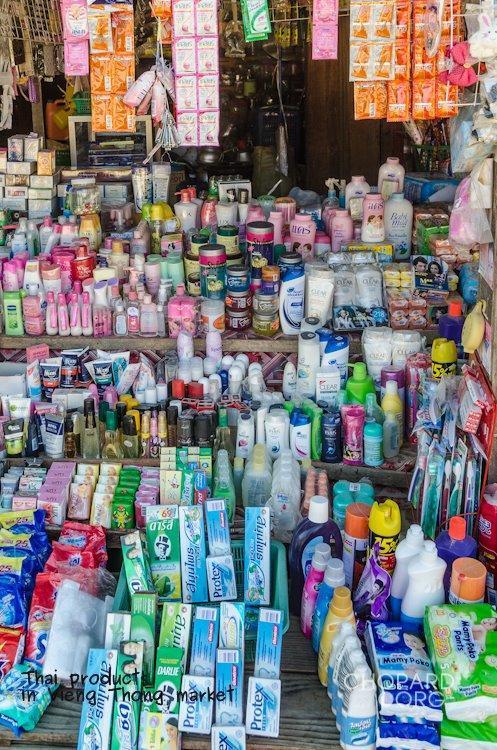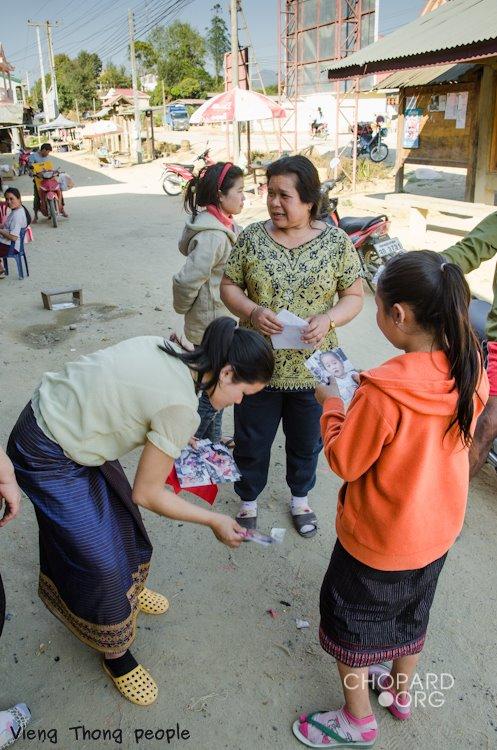 After rambling through the neighborhood and visiting the hot springs, I strolled to Tontavahn restaurant, probably the only eatery in town. Again – as in my former trip – power was cut down in the whole city, this time during dinner. A couple of candles, and a welcomed electrical torch - borrowed from a foreseeing tourist - helped through the evening. The "romantic" dinner was served normally, as cooking is done with firewood and beer stored on ice blocks.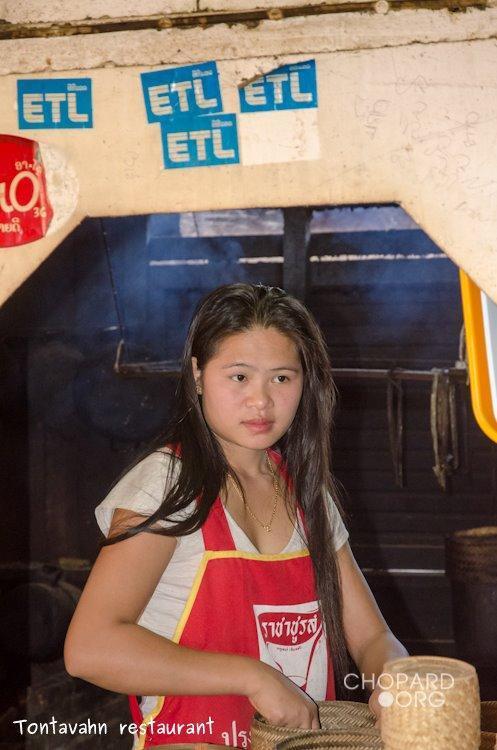 Under the meager glow of a small torch and an iPad, the evening entertainment was short lived.
At six thirty in the morning, the electric power came back, just in time for the shower.
After "rice and Nescafé", I left Vieng Thong, again on Route 1C, toward the west. The air was cool but less chilling than in Vieng Phouka and a pale sun filtered through the haze.
After a few curves uphill, I reached another hamlet where I had taken pictures. Enchanted and amazed, the locals watch the images and were happy to stay again in front of my camera. Unfortunately, as I had several other places to visit, I did not spend enough time with these cheering people.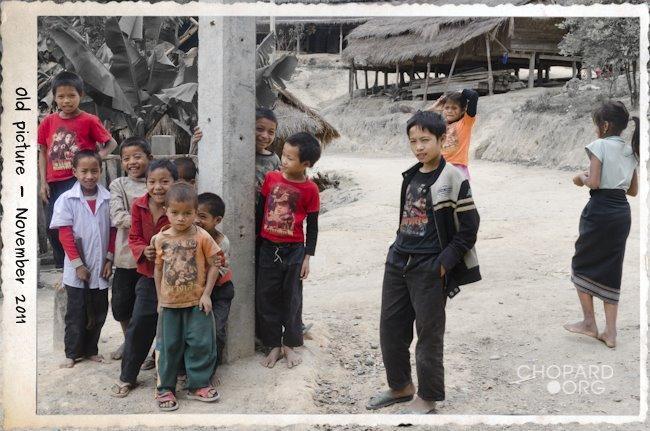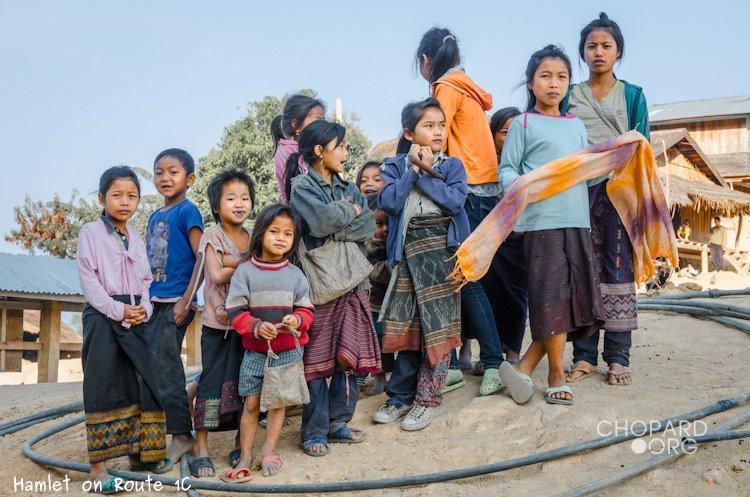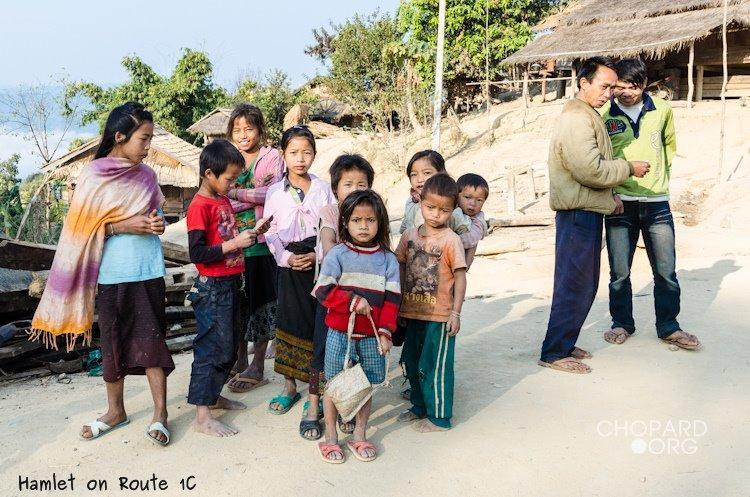 During all my encounters, and despite the willingness of the people to be portrayed again, I always felt reluctant to take advantage of the situation. I might not return to this region soon, and feared to deceive them or give the impression that my photographs were just a mean to push them in front of my box again. Sharing the pleasure of mountain folks, who have few opportunities to see their pictures, was my highest reward.
While climbing Route 1C, the mist progressively veiled the landscape and when I arrived in Hong, the next village of my itinerary, the fog was already dense. My prints, however rapidly attracted a big crowd. During my former trip, I had taken many portraits in this colorful Khmu village.
One image showed a child in the arms of her mother, this time, for a similar picture, the kid was in the arms of the father.
When I was ready to jump on my mount, an elderly person came to shake my hands, saying "thank you for our village". I noticed signs of respect from the others; he was probably the headman.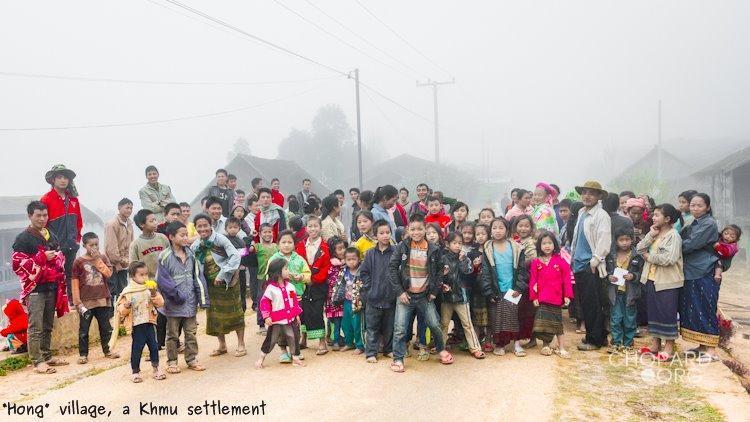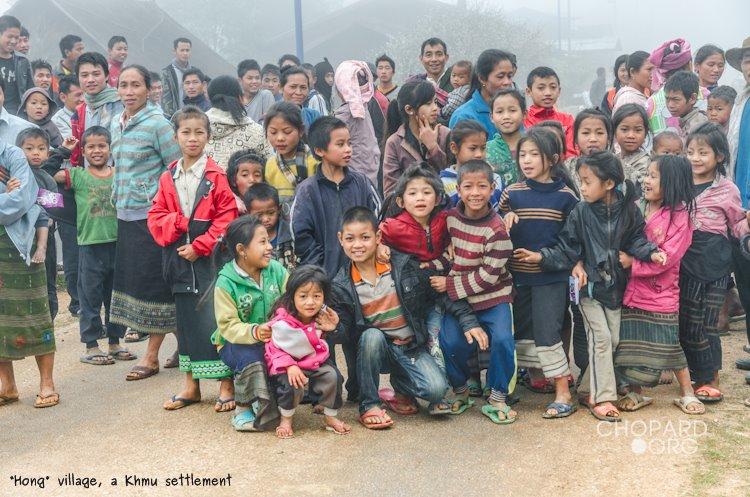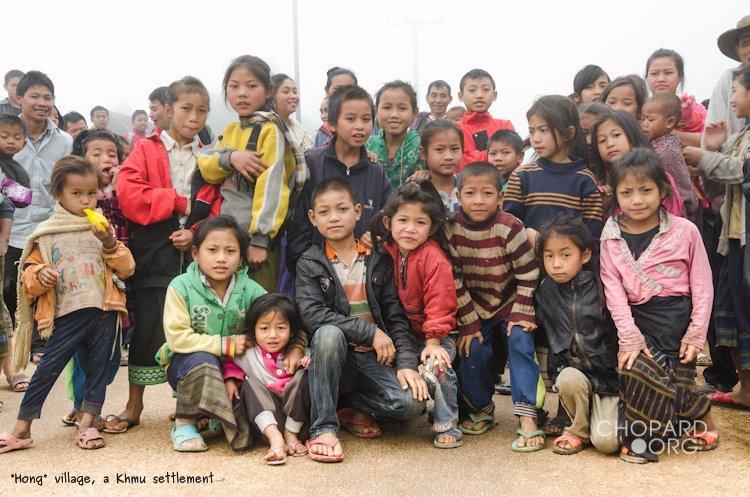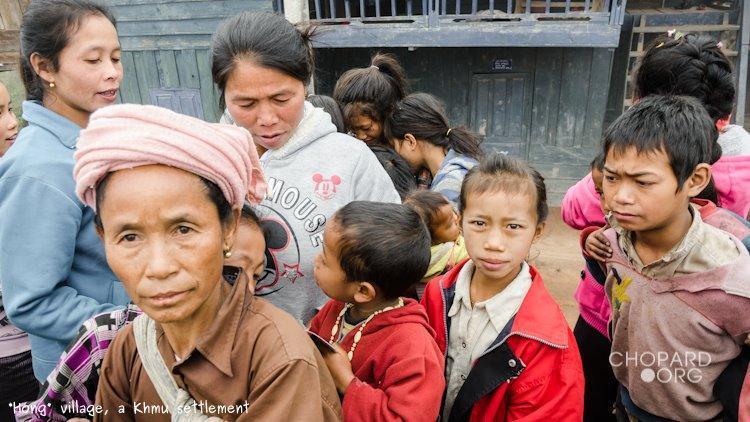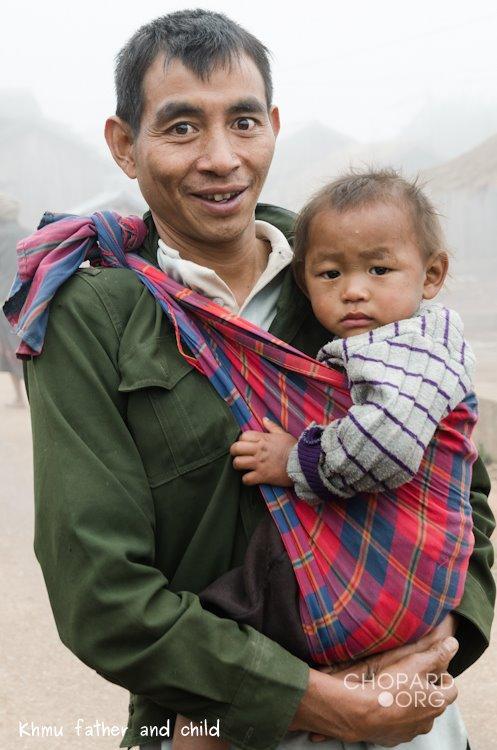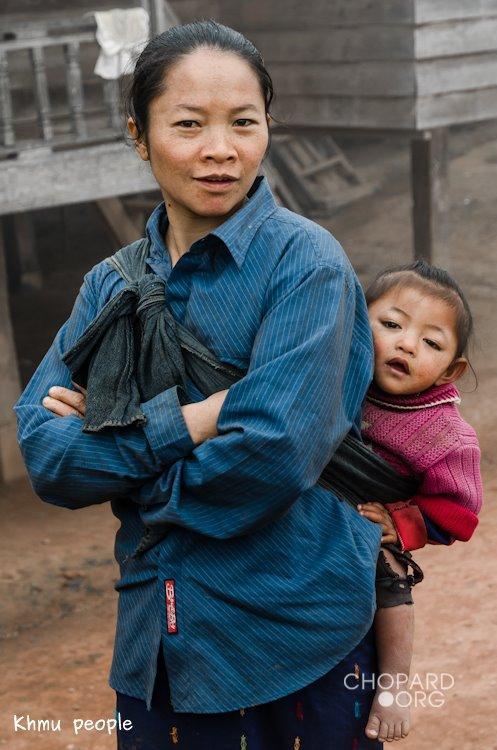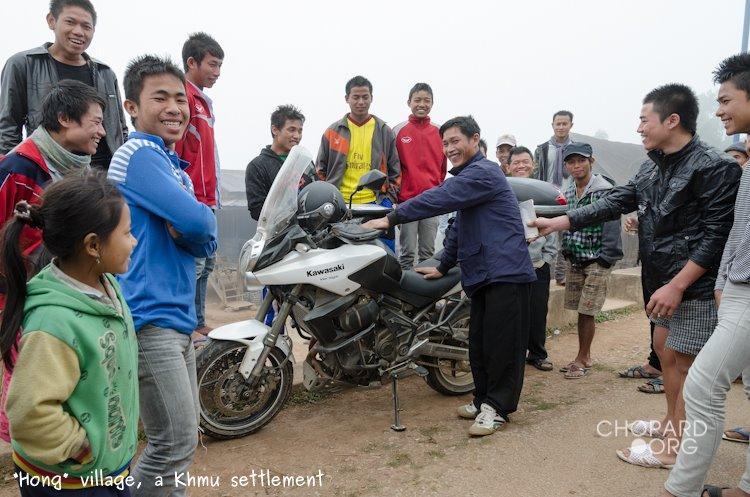 Khmu people, the most frequent dwellers along North-Laos links are gentle and friendly. They are called "upland inhabitants (Lao Theung)" and live along trails following valleys and mountain rims. The "highland tribes (Lao Soung)", like the Hmong, the Yao and other Tibeto-Burman ethnies, have also settlements along the same roads, and, from hamlet to hamlet, other ethnic groups can be met and observed.
Migrations often flew into Laos from the North, with the Tai from Yunnan and "mountain folks" from Tibet and Burma. The Khmu, on the other hand, are of Môn-Khmer origin; they are considered to be indigenous and pre-dating the Tai.
Christopher Kremmer, in "Stalking the Elephant Kings" (5) makes the following comment:
"When the Tai peoples began to arrive from the north during the twelfth and thirteenth centuries, the Khamu were driven into the upland regions, where many still reside today. Most Laotians, however, believe the Khamu to be the original inhabitants of Laos and, as a strange form of respect, the king traditionally recruited them as his personal guard"

Winding and undulating, Route 1 is a gentle sylvan ballade, a trail to enjoy the panorama whilst keeping an eye on scattered potholes.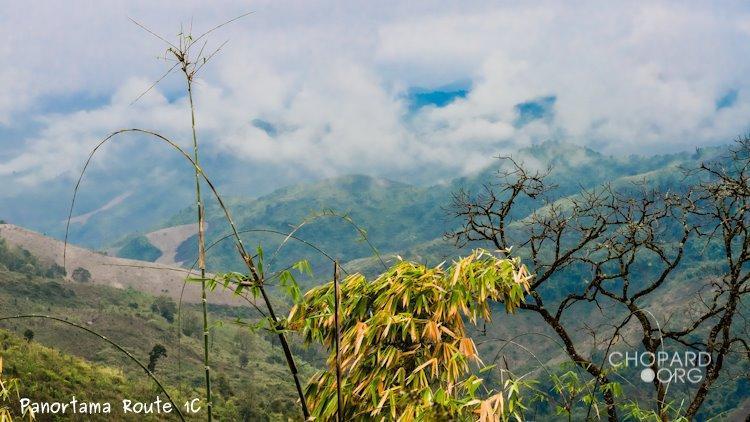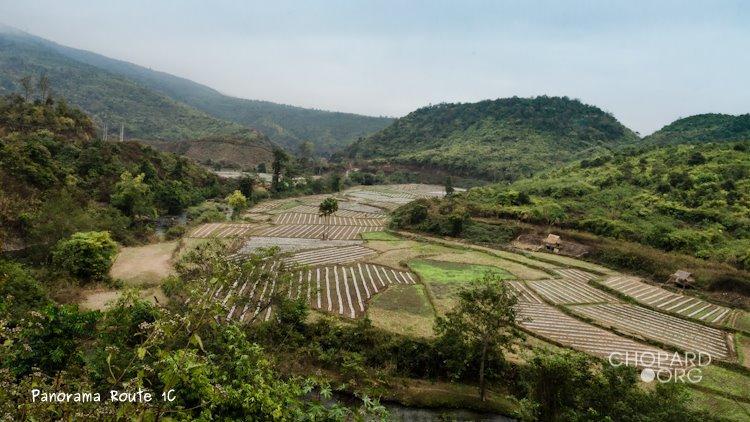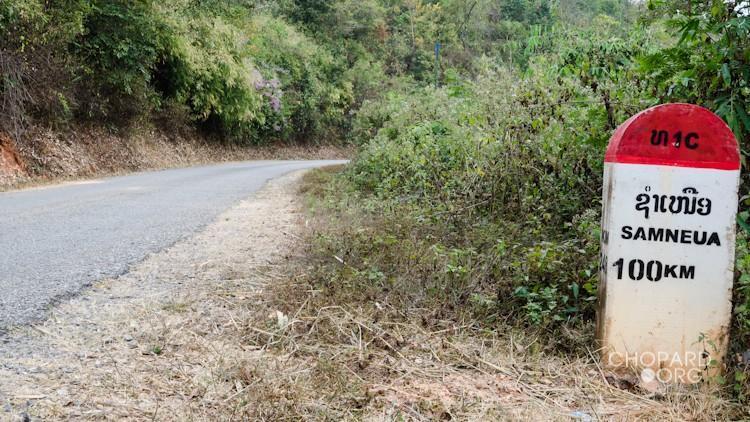 In Home Phan village, I had shot pictures of jubilating kids, running out of the classroom toward a biking Farang. This time, they gathered around me, commenting the photographs and delighted to keep them.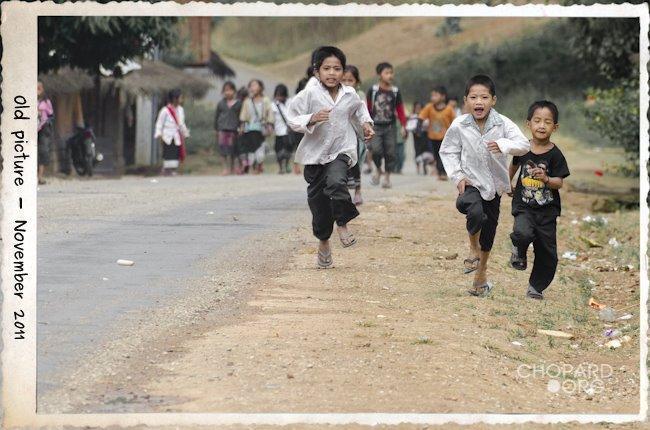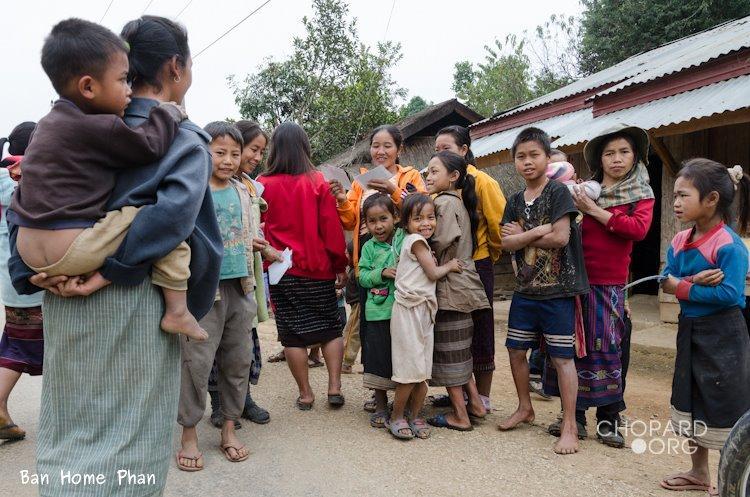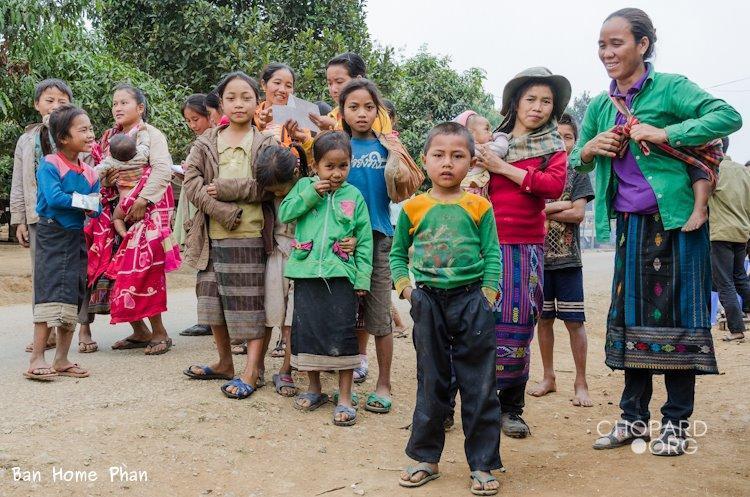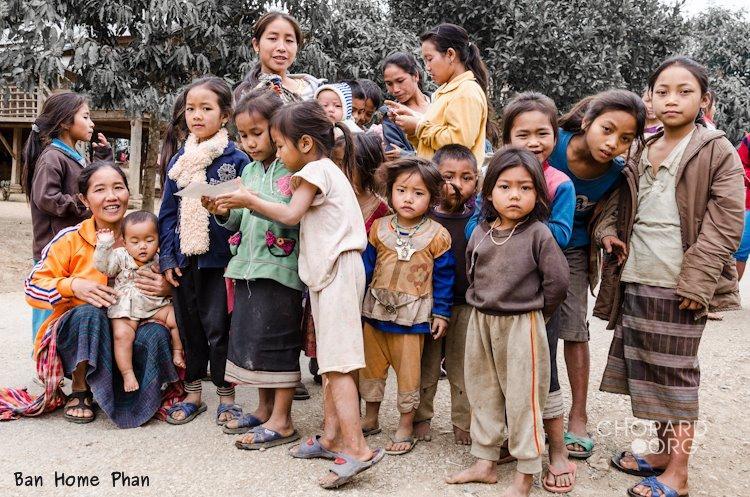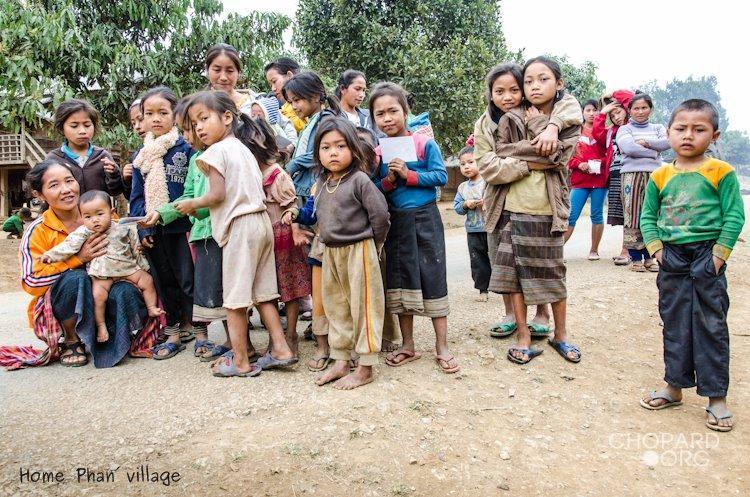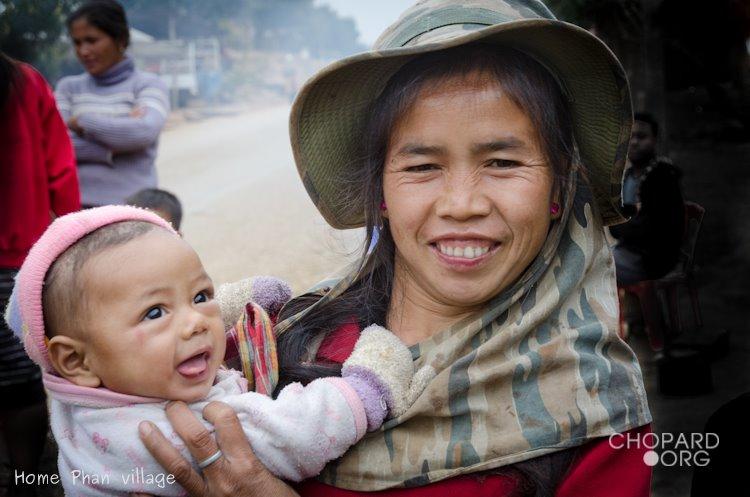 Further down, the road crosses the Nam Neun (Neun river). I stopped at this scenic location, as I had shot some photographs during my previous trip. Some portrayed people were again present, and for others, relatives took care of the prints.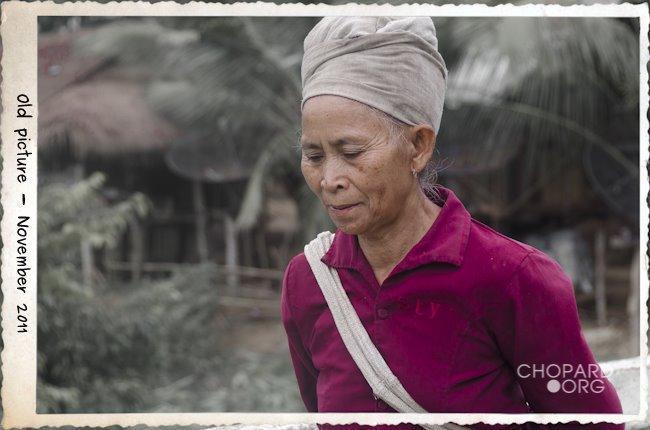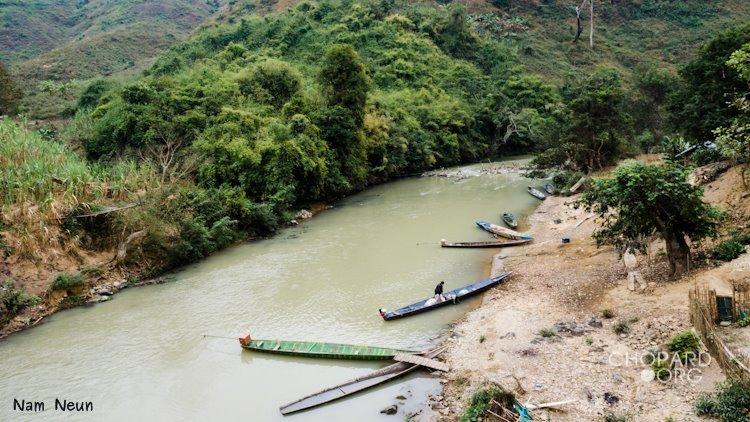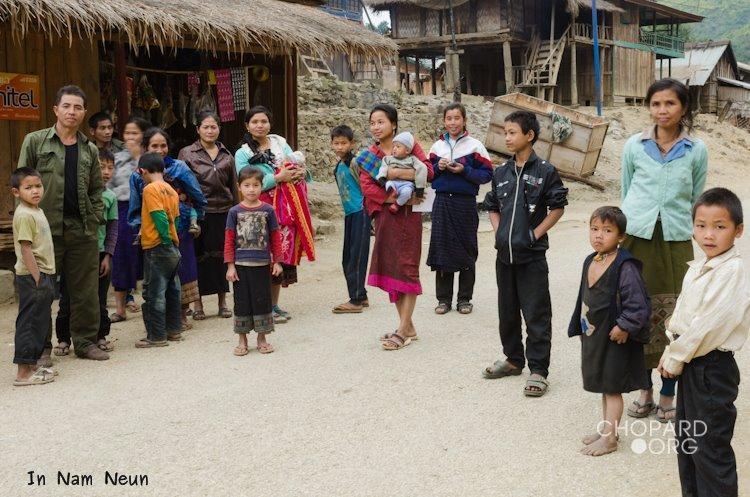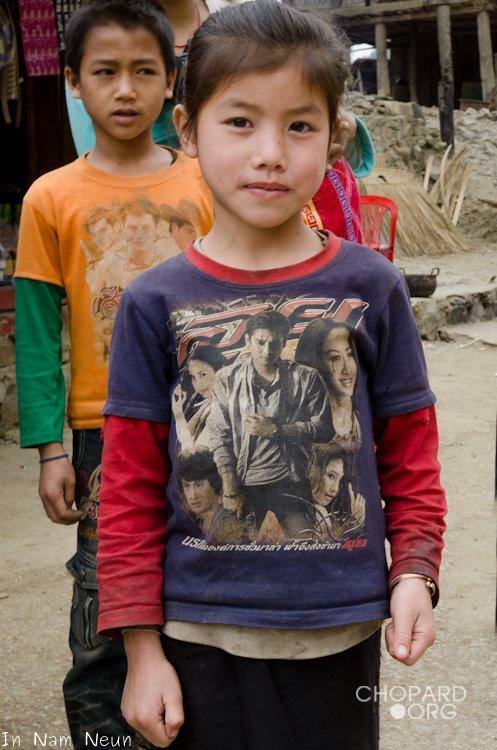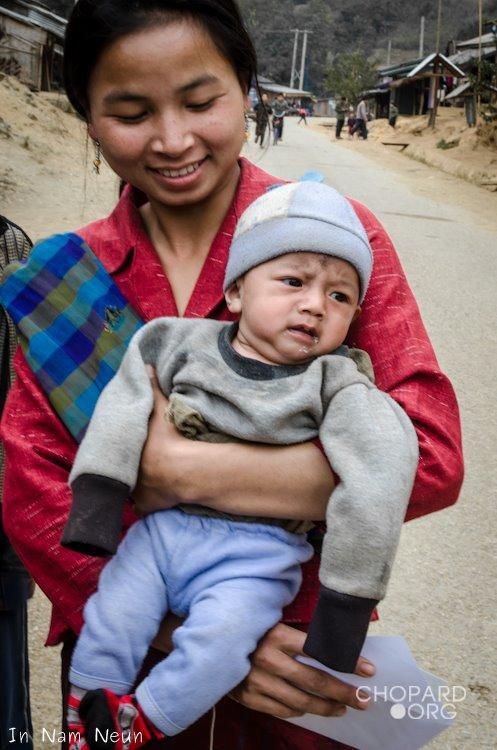 The last stretch on Route 1C, before Phou Lao, affords some gorgeous panoramas toward the Anamite Mountain Chain. Heavy mist at the horizon, however, signaled another slide into the fog.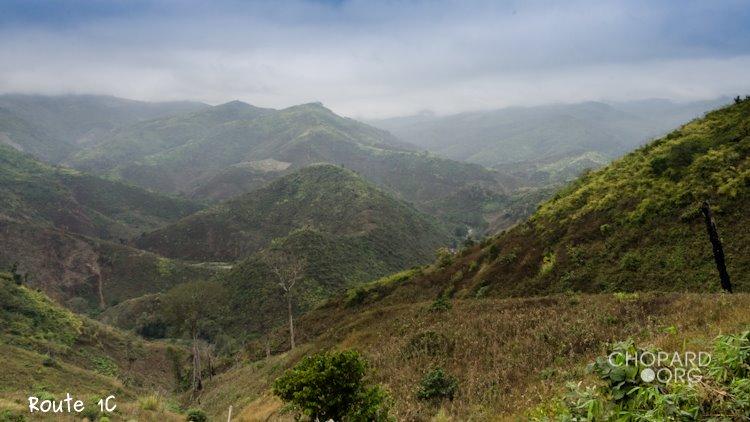 The lady, portrayed in my former picture in Phou Lao, was sitting in the middle of a children's crowd, at the rim of the road. She was surprised to get some prints and watched them with amusement while cheerful kids added their comments.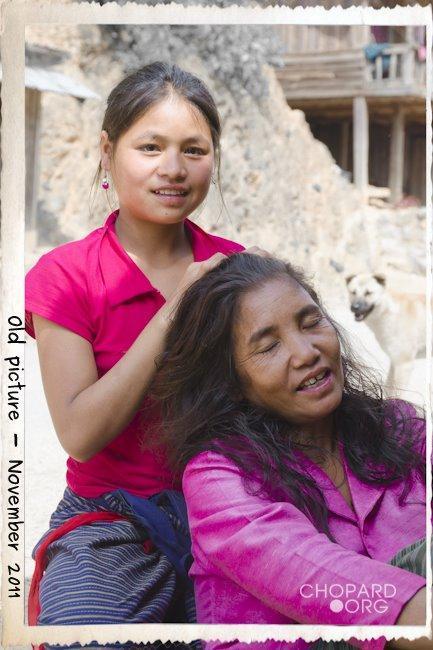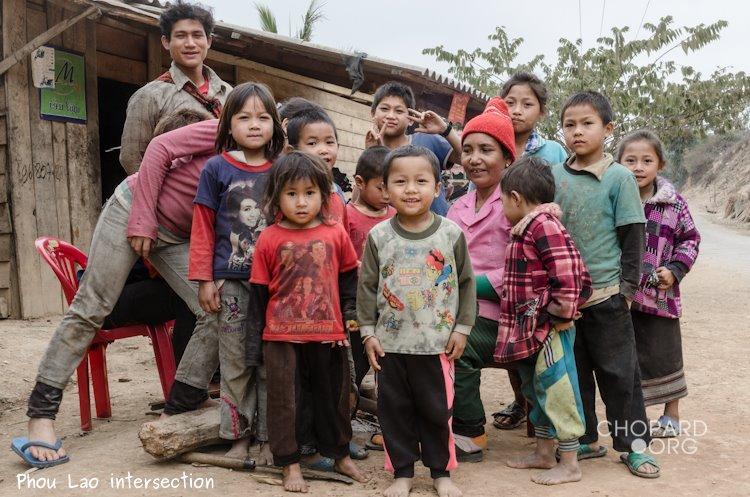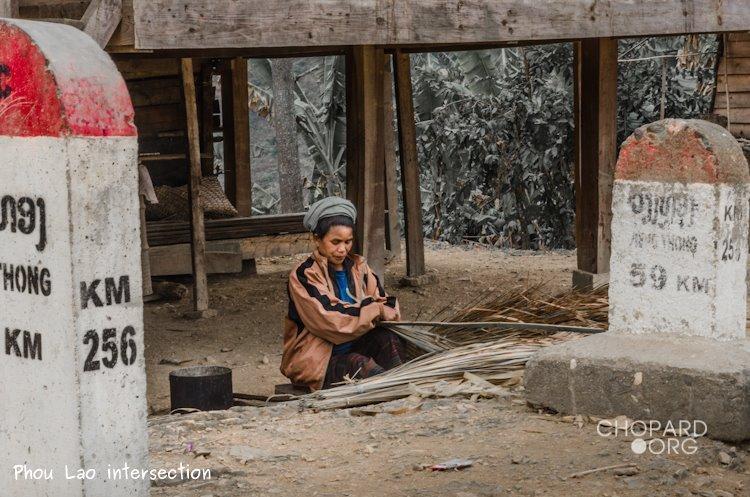 At Pou Lao's intersection, I left Route 1C and headed north, toward Sam Neua, on Route 6. As expected the fog became heavier, but I had only 77 kilometers left until destination.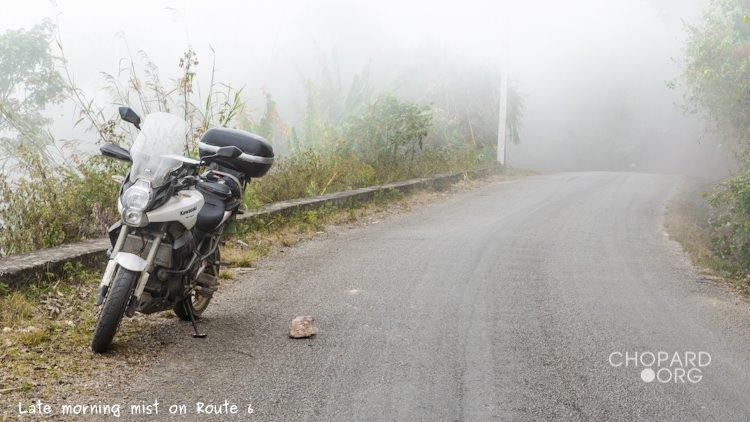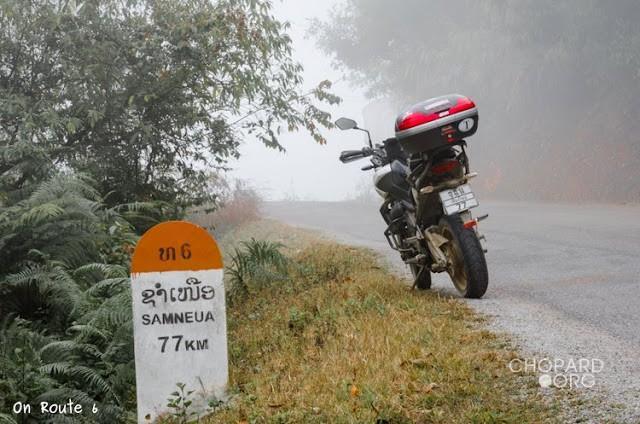 In Ban Long An people were building houses and I stopped to watch their work. A lady gave me a lesson in ethnography: pointing to her dress she said "Hmong Kao". She was proud of it, stating that "Hmong Lai", were living somewhere up-hill. I could only agree, as I had never heard about these differentiations.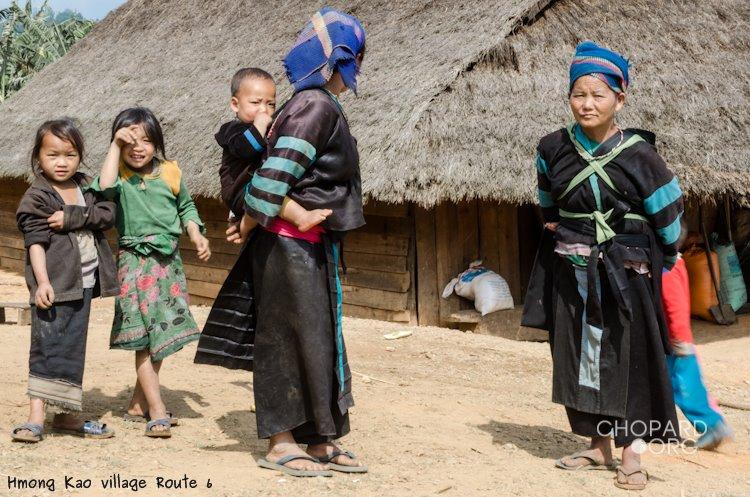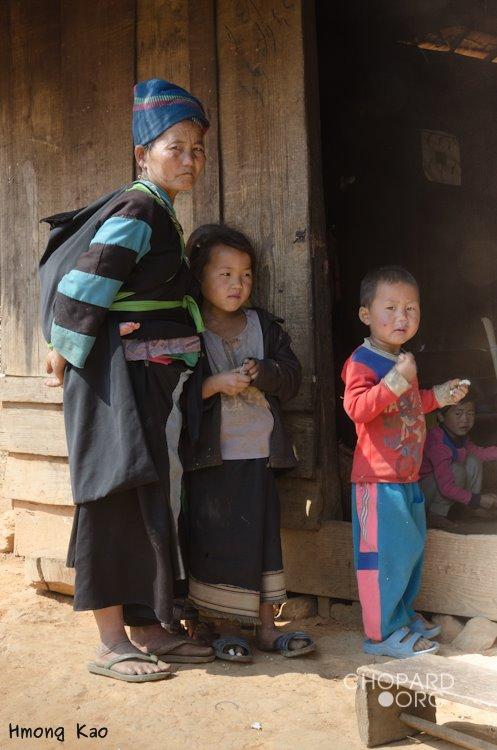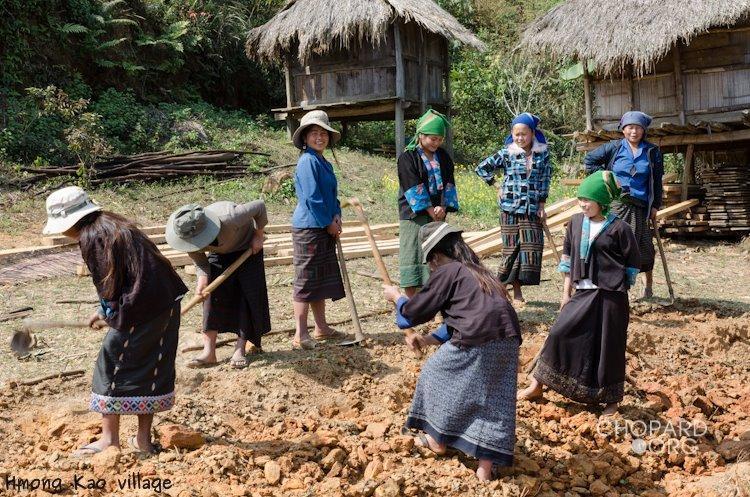 From Huay Na Tok, a six kilometers dirt road leads to Suan Hin (Hintang Archaeological Park); it was a dusty trail, but practicable for my bike. This time, I reached the amazing graveyard dating from the iron ages. This trip report is already heavy on text and images, and I will relate my encounter with Madeleine Colani's "Megalithes du Haut-Laos" in my next publication, together with another visit to a "jars site".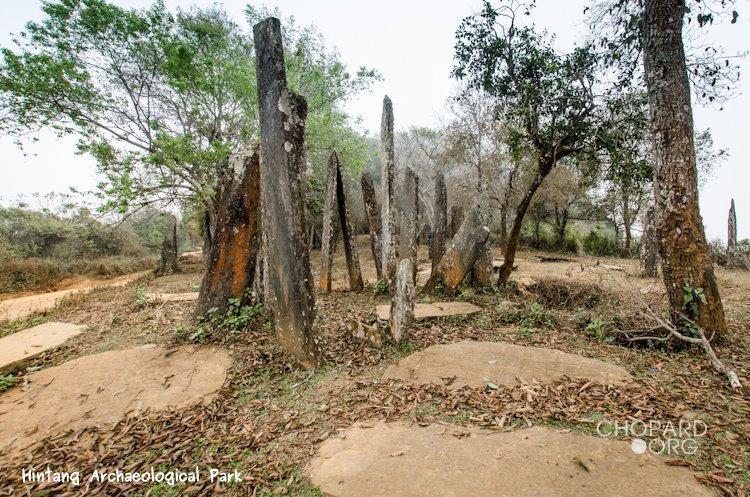 While several Laos' secret war accounts are written "from the sky", Dr. Charles Weldon's anecdotal narrations [Tragedy in Paradise (3)] are painted from the fields. As a medical (USAID) doctor he devolved his time to heal wounds, in the middle of fierce battles. In his book, he often relates the situation in Houa Muang, a strategic stronghold along Route 6:
"In the sixties, when the struggle for control of Sam Nuea was at its height, the center of resistance to the Vietnamese invaders was at Hua Muang. Before its destruction, this large Lao village was located about eighty kilometers southwest of Sam Neua City, in one of the deep valleys that had a small area of flat, alluvial land that the villagers used for paddy rice farming.

… A Sheer cliff rose 200-300 meters immediately from the east bank of the river, to a small plateau on which a dirt airstrip about 400 meters long had been built by the people of Hua Muang so the Corsican opium buyers from Vientiane could pick up the opium produced in the area".
To get a visual impression of the valley I took the six kilometers branch out, a charming winding road, toward Houa Muang. As expected, nothing remained from the recent past. A couple of official buildings, some rebuild shacks lined up along a well paved road, it is a humdrum dwelling, setup in a striking mountain circus. I found solace, however, in a visit to Po See hamlet. Here some houses are built on stilt, even with working looms underneath.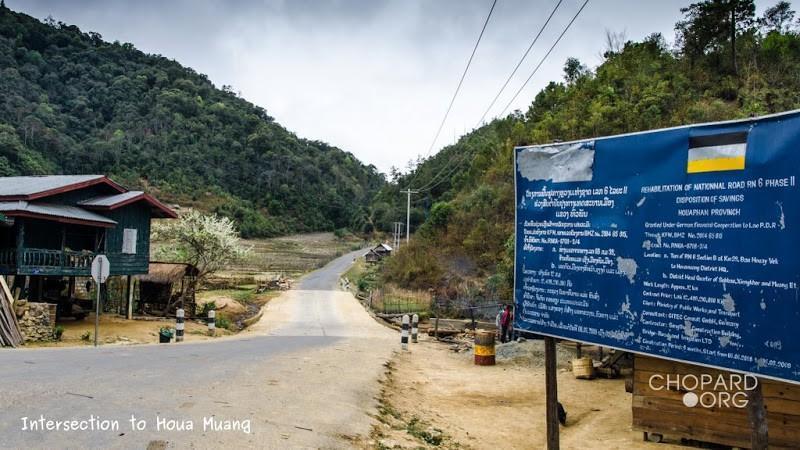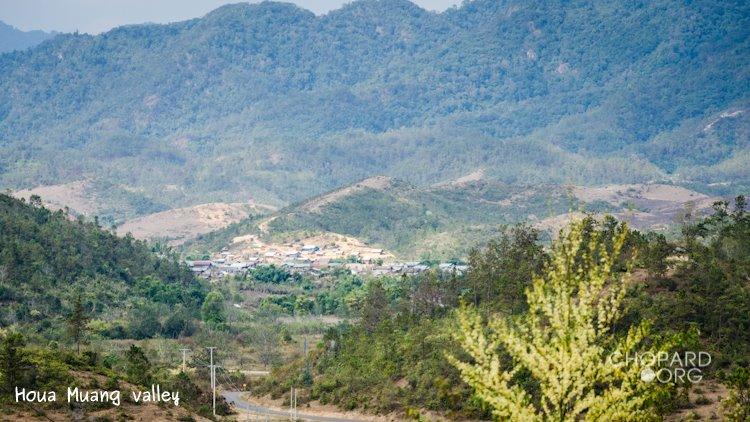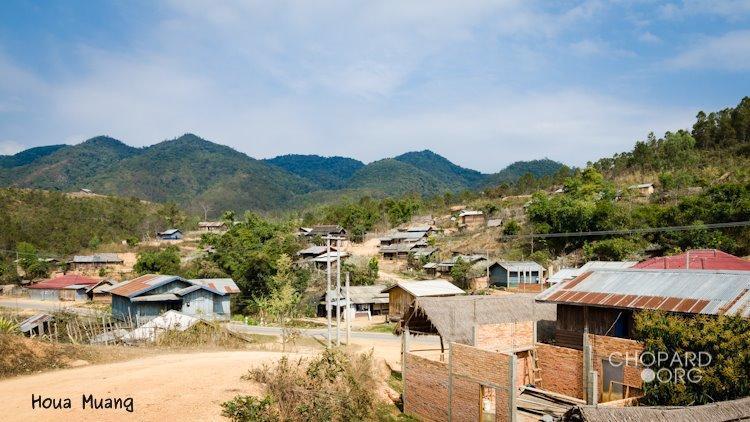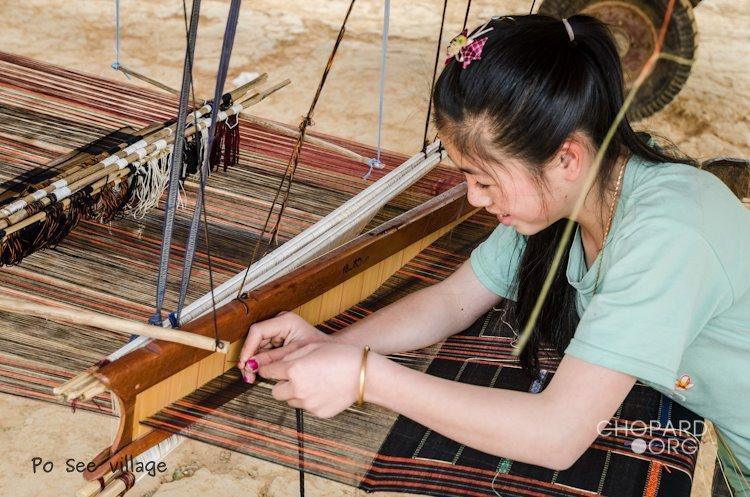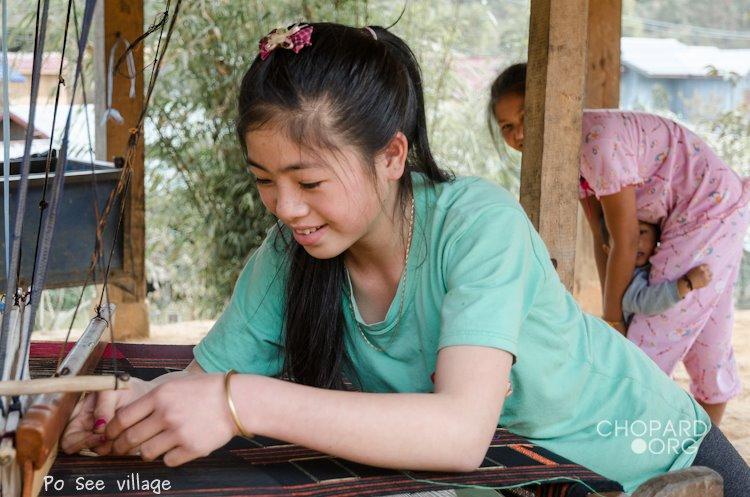 A last drive on foggy Route 6, and the view opened suddenly toward the valley with the charming city of Sam Neua encircled by hazy mountains. After a long ride through hills and forests, it felt like a return to civilization. It was only mid-afternoon, but the overcast sky had kept the temperature down; a typical winter day in the Annamites.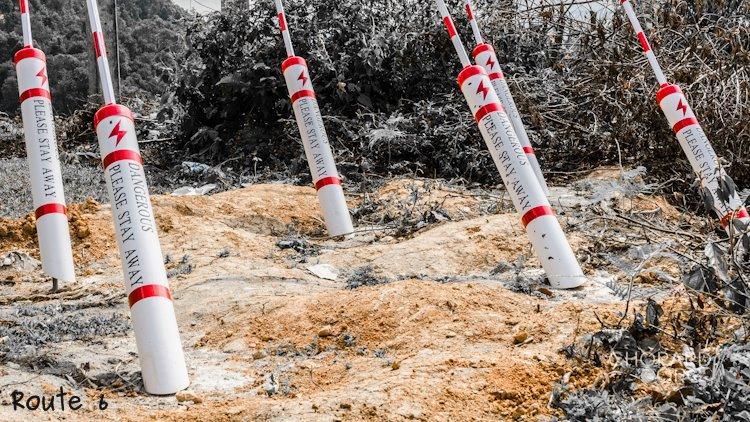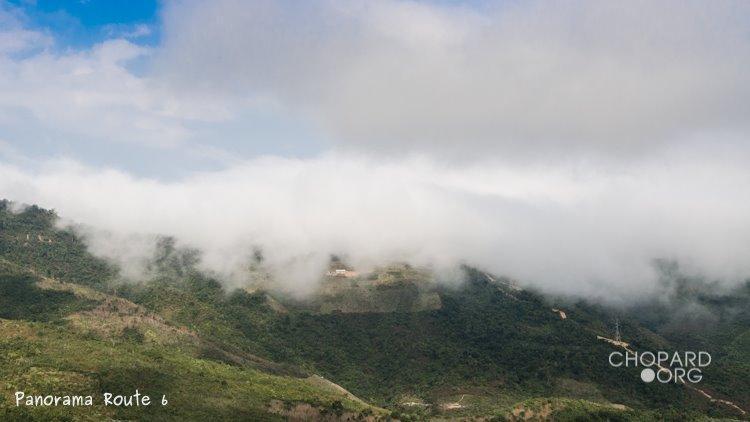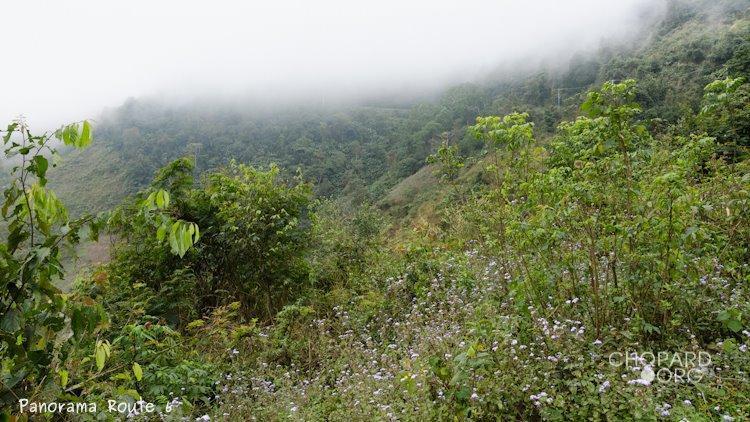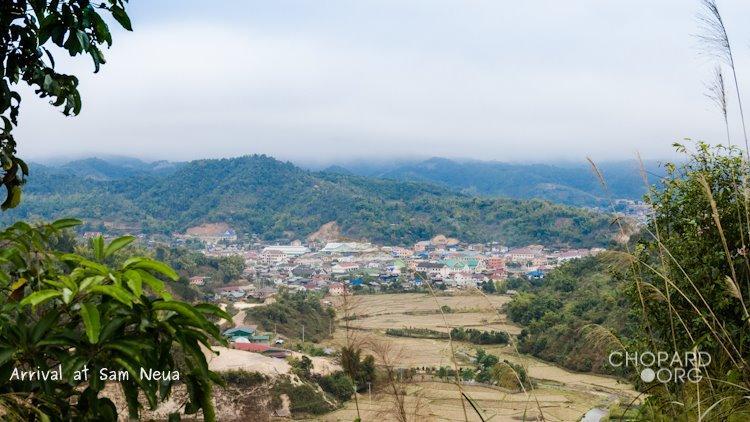 Again, I checked in to "Sam Neua Hotel", choosing the same room as during my former stay (120000 Kip, wifi in the room, no food).
My first visit was to the house of Miss Mee, a weaving girl portrayed during my last sojourn.
She loved the pack of pictures prepared for her and, as her mother was out of town, asked me to come back the next day to greet her.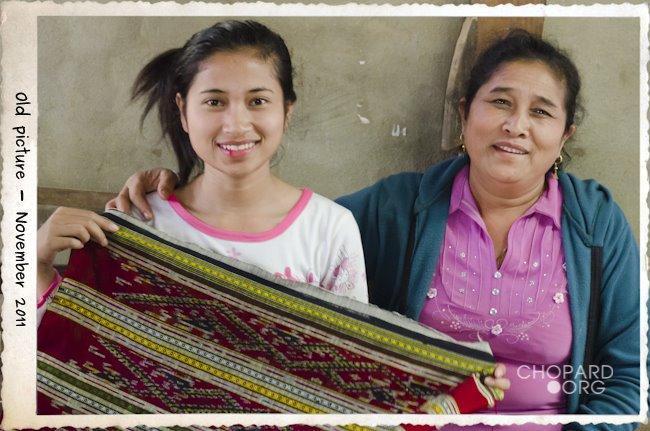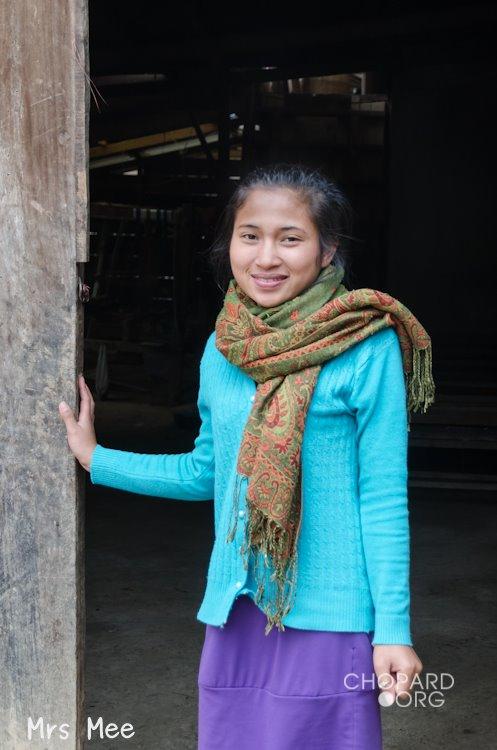 Covered with most of my available clothes, I walked to my dinner place, "Dan Nao Muang Xam Restaurant". This small eatery is my favored hangout in Sam Neua. Meals are basic, Beerlao is cold enough and it is patronized by Farang on special assignments, often sharing interesting stories.
The weather in the region had been overcast and foggy since one week; such atmospheric conditions often last for a month, a bleak perspective for my «blue sky» pictures.
As expected, grayness wrapped the next morning's landscape and a cloudy sky was the best I could hope for during this day. My project was to visit Vieng Xai's neighborhood, but first, I had another series of pictures to distribute.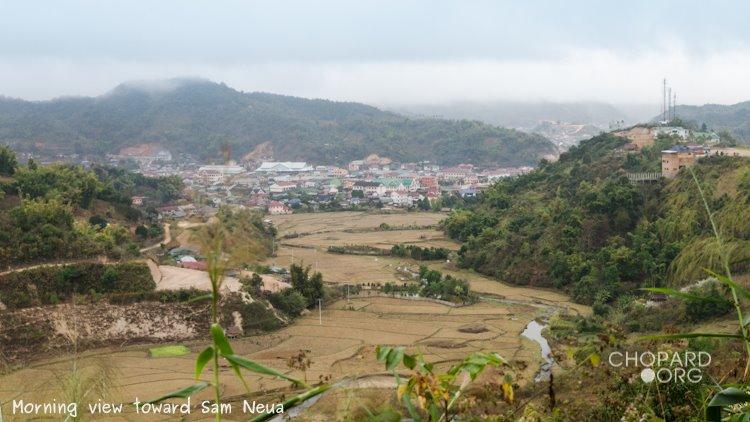 A "welcome arch" greets travelers just before Sam Neua. Here I portrayed a couple of girls during my previous trip. They were walking to school and I would probably meet them at the same place.
It was Monday morning, but nobody was at the horizon. When I showed the pictures in a small shop, the sales lady recognized the students. It was a school holiday and they were in their village, six kilometers up-road.
It's a short distance on a bike and I rushed to Hin Dam, a small Hmong settlement. My pictures generated a lot of excitement and a whole family gathered around me. The girls were living slightly up-hill and, despite the help of a young guide, my biker's shoes refused to climb the muddy trail, threatening to throw me ass over tit. I handed the prints to the kind messenger and drove back to the city.
The Hmong girls in my photographsictures deserve a lot of respect. They appeared neat and well groomed and I could never imagine their simple living style and long walks to school.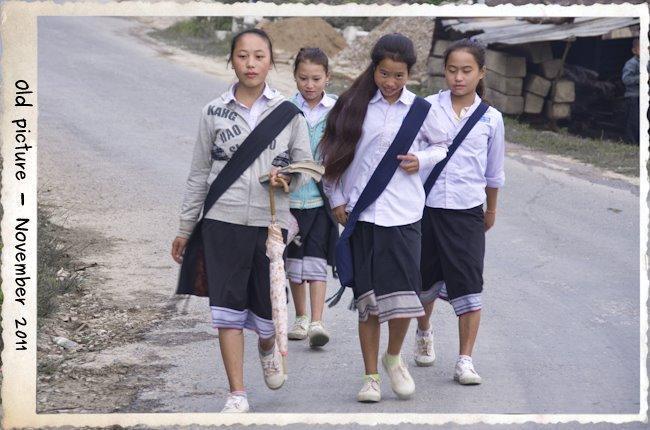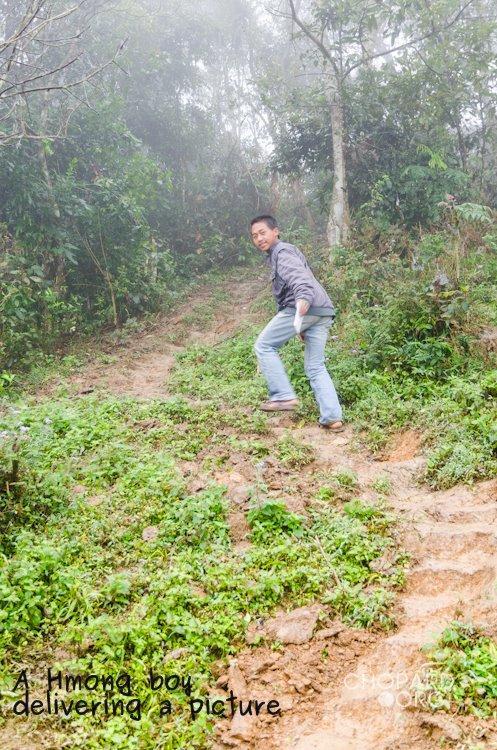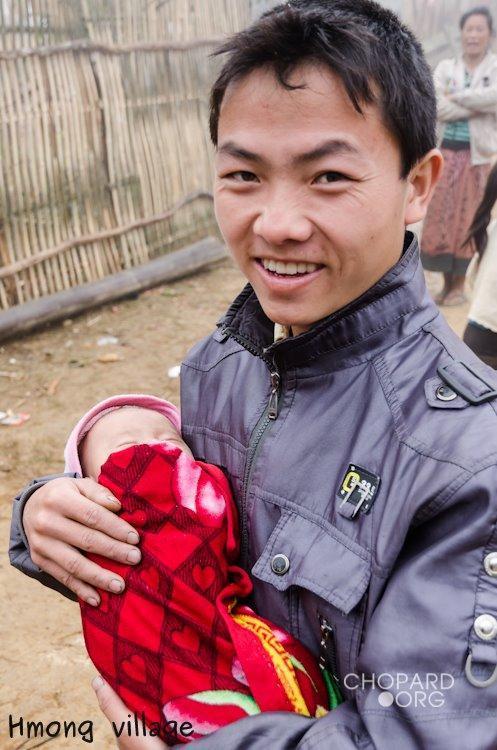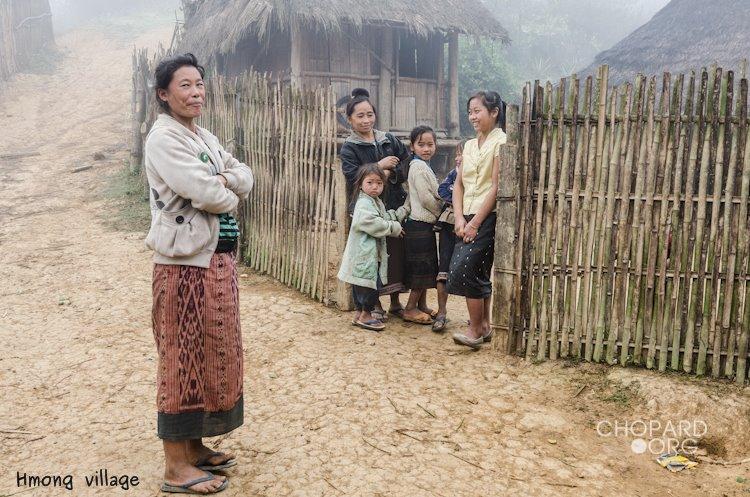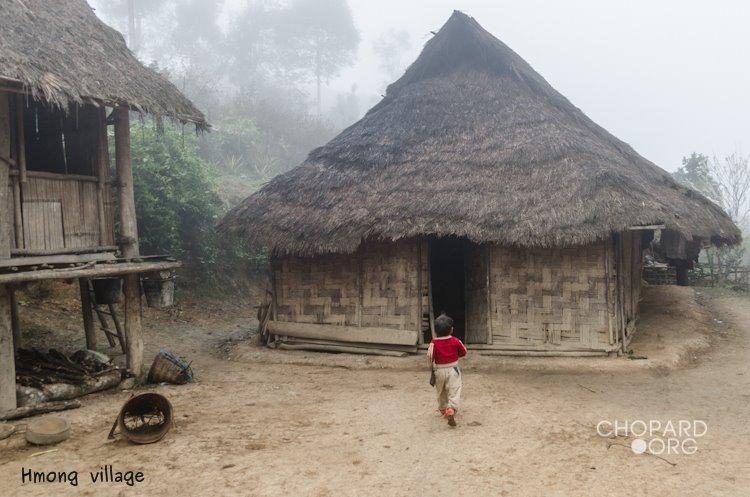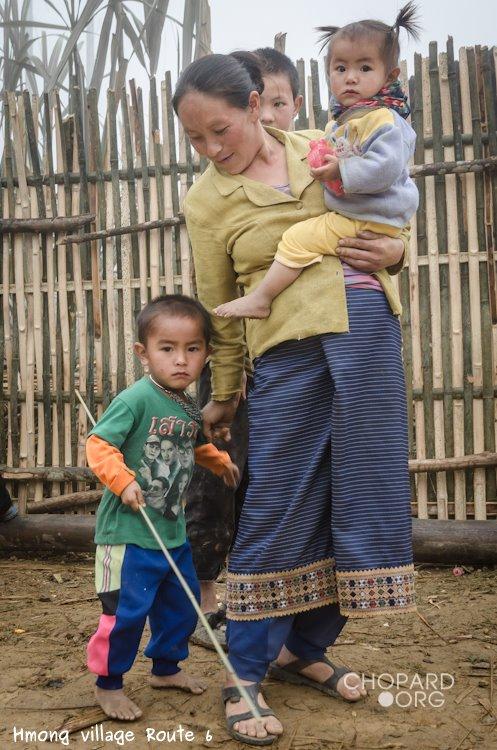 My next stretch was up Route 6 again, this time toward the East, toward Vieng Xai, the revolutionary capital. I stopped in Baan Houa Khang (Khangto), which is probably a Hmong village.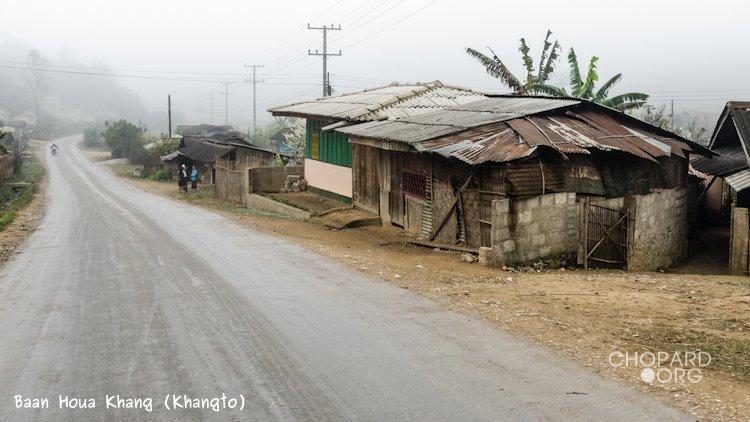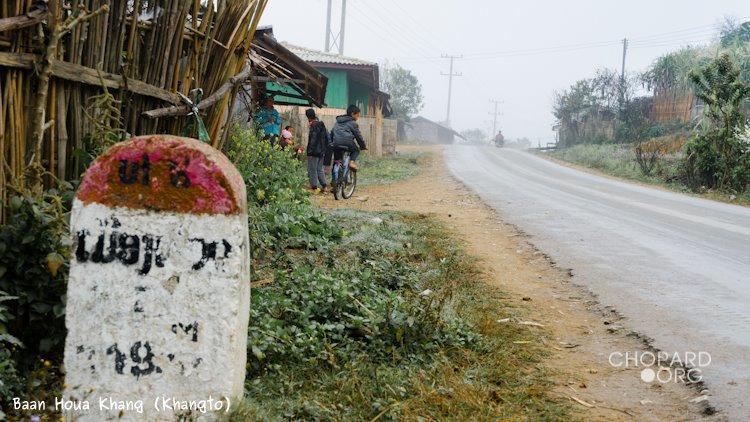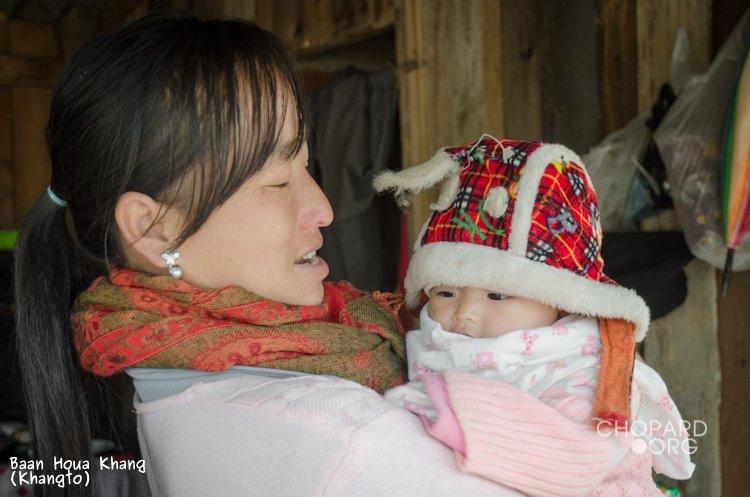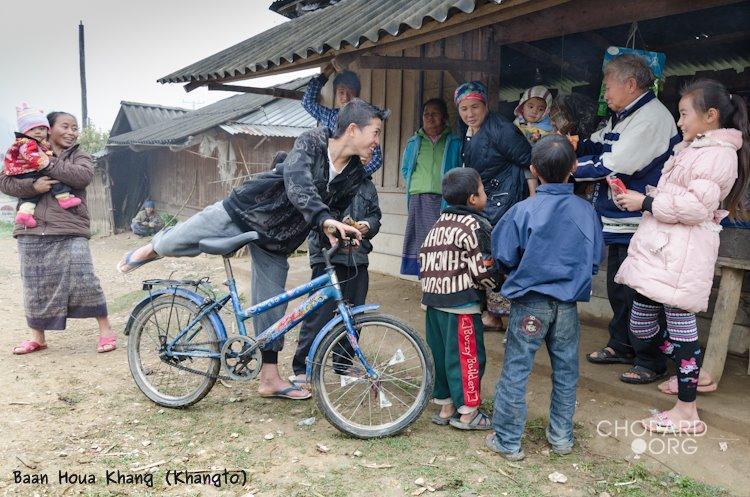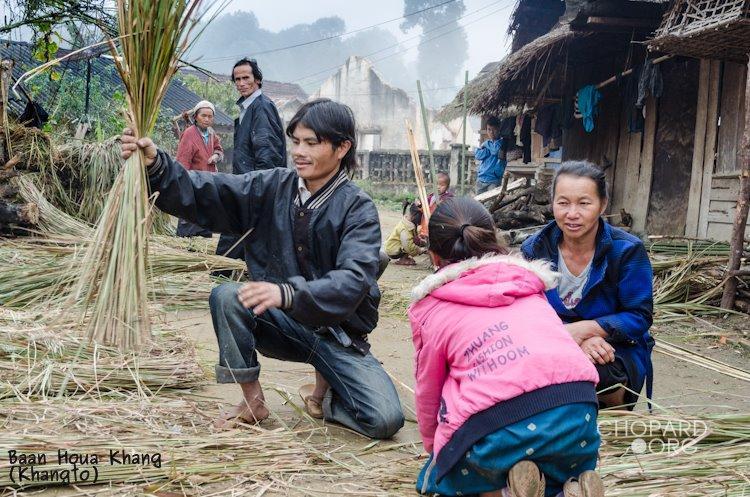 I have never seen ruins in North Laos, apart from remains of old temples and bomb craters. House were mostly built in wood and burnt to ashes while stones, even crumbled, became raw materials again. I was puzzled to find a half demolished house in this hamlet but, as my means of communication with the locals were limited, I got no explanation. Are these houses kept as a "monument", as a playground for children?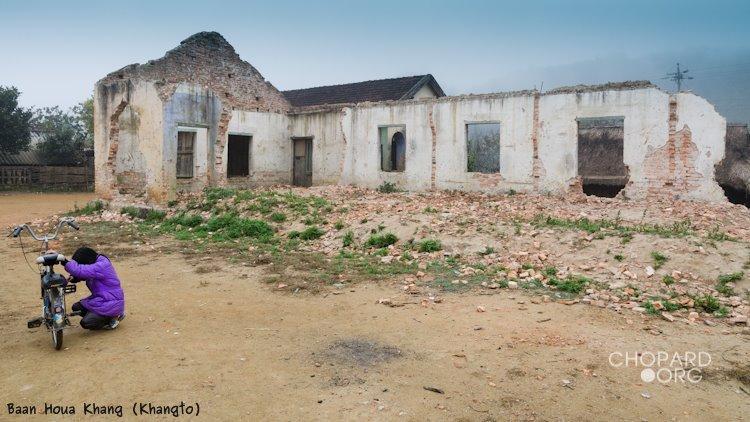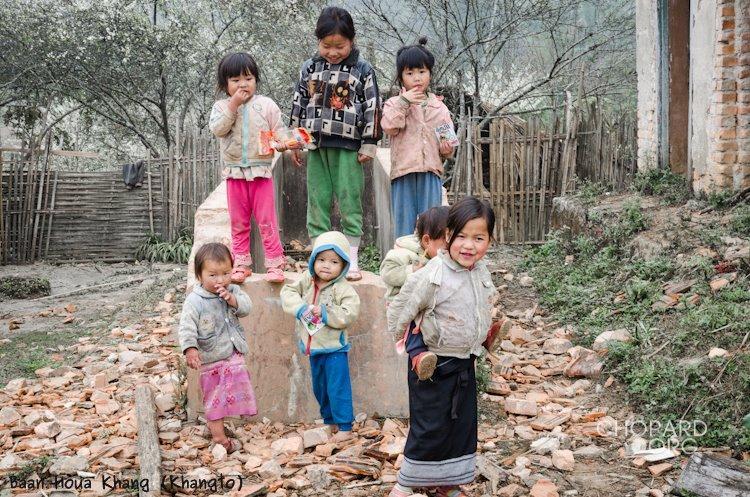 The wounds of the bombings are slow to heal. Unexploded ordnances (UXO) remain an important problem in many Laos' provinces, keeping fields off limit and still killing people, particularly playful children, unaware of the risk. With the time, the craters become less sloppy; some are filled with water and used as pounds, others are carpeted by grass and bushes.
When I see a frail shacks build on the rim of deep explosion cavity, I imagine the fate of a former dwelling located at the same place – a chilling thought.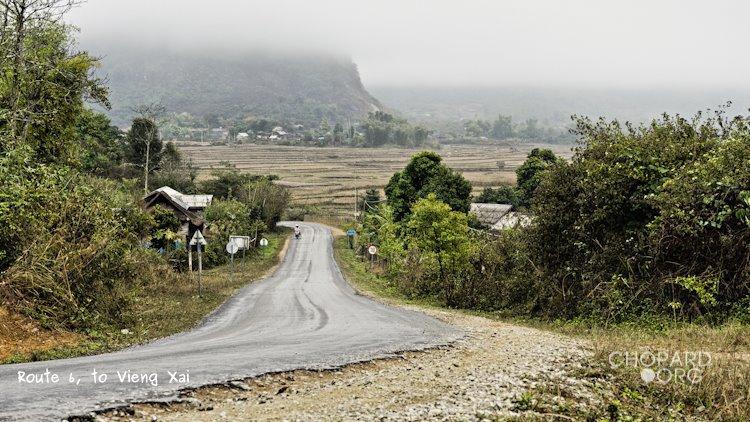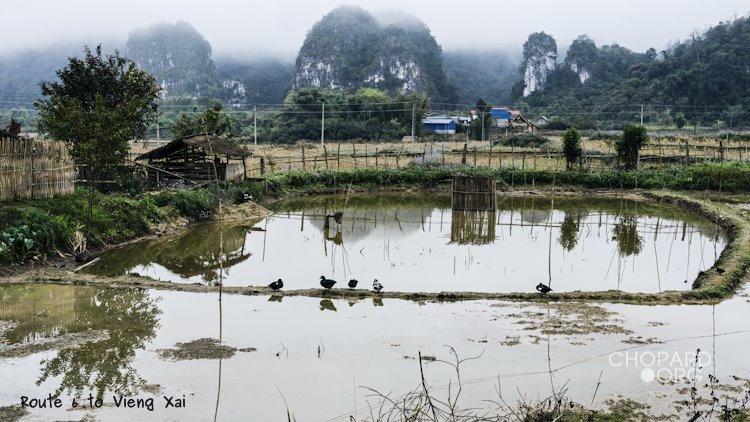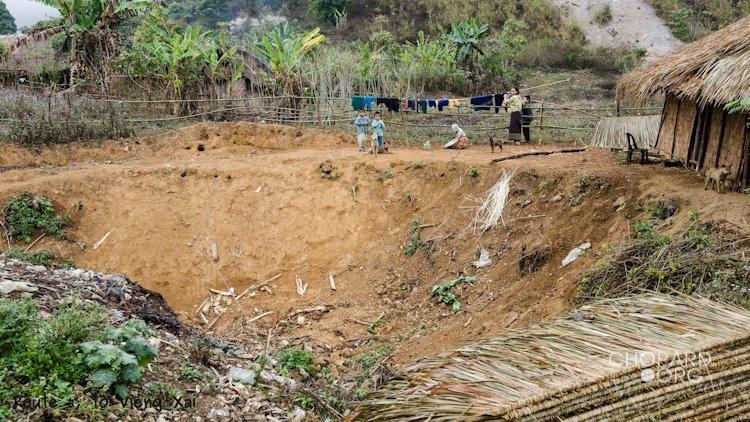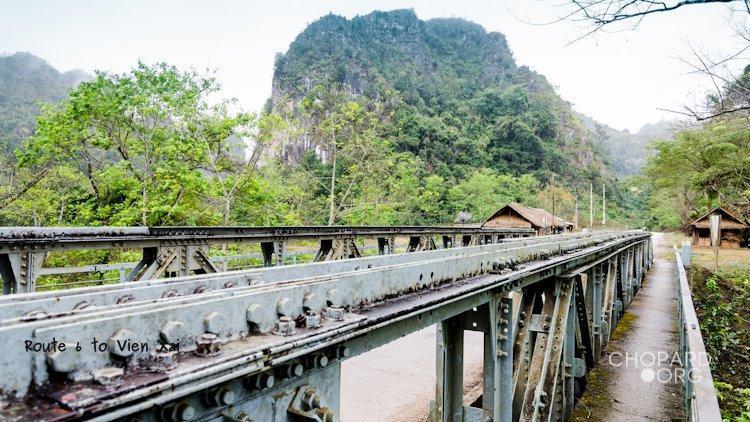 In Vieng Xai, the first landmark is the new Kaysone Phomvihane memorial, with its august nation's father statue dominating a 13'000 square meters esplanade – a hefty 12 billion kip realization. In the cradle of the Lao PDR, infrastructures are good. Roads are smoothly paved, the school compound is large and modern and even temples are now under construction.
As poppies were grown in the country on a large scale, religion could not do more harm to people than opium and Buddhism was never banned in Laos but – with mixed success - channeled to a supportive ideology. Some of the "freedom fighters", embraced that philosophy ad the end of their life [Stalking the Elephant Kings (7)]:
"On 9 January 1995, Souphanouvong died of a heart attack. He was cremated on That Luang esplanade in Vientiane. The monks accorded him full Buddhist rites, as they had done for Kaysone in November 1992"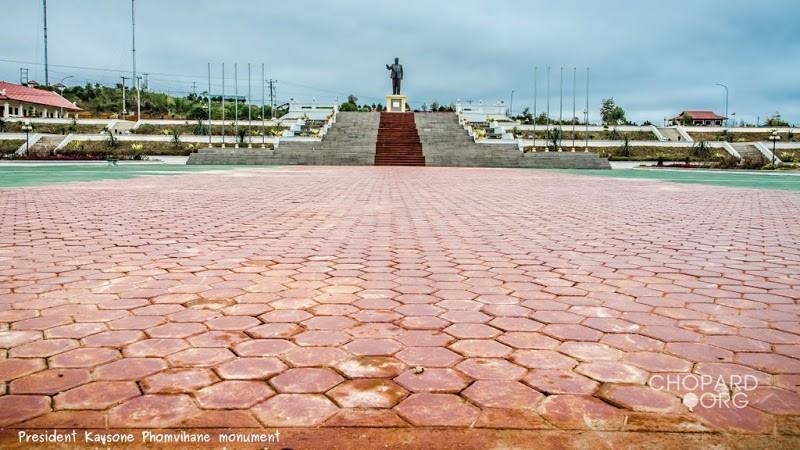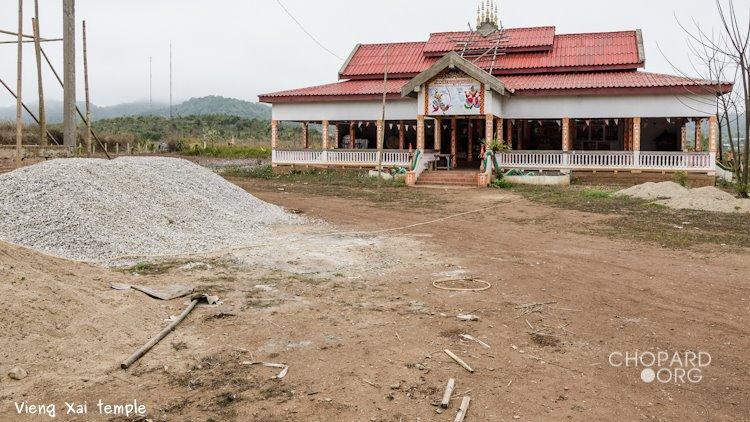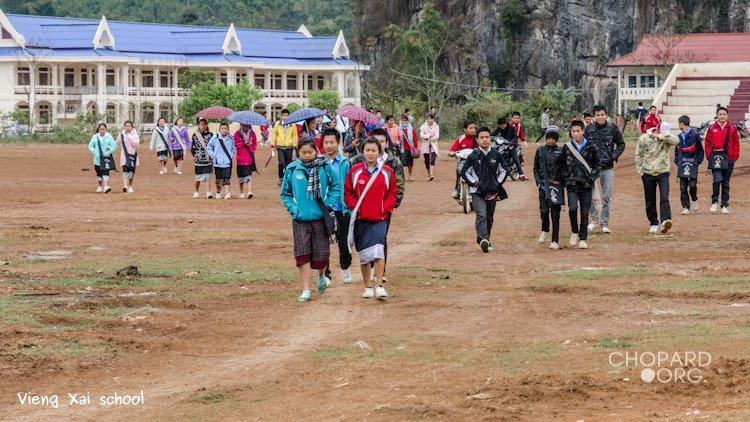 The main touristic attraction, in Vieng Xai, is the hidden city, the complex of caves sheltering the Pathet Lao Politburo, and another 20'000 people, during the bombing years.
I have taken the organized tour of this compound during my first trip (report:
https://www.gt-rider.com/thailand-motorcycle-forum/showthread.php/36105-Northeast-Laos-2-Sam-Nuea-and-a-Winding-Drive-Back?p=277117#post277117
)
Another - less known - building, is of historical, if not historic value: the "Thavisay Hotel". From kings to prisoners, this unimpressive and bland box has catered for all type of visitors. First a local "Hilton" for foreign dignitaries, it became and officious palace before being used as a high ranking prison.
This is how Christopher Kremmer describes the place [Stalking the Elephant Kings ('5')]:
"'Oh, here we are', said Sousath, guiding the jeep past a small lake and football field into the driveway of a compound dotted with pines. 'Welcome to the Number One Re-education Guest House!" ...

"One such building, a two-storey brick and stucco structure, was referred to as 'the king's palace at Viengsai'. It was there that the king stayed during his visits … Ironically, it was the same building that Savang Vatthana returned as a prisoner in March 1977."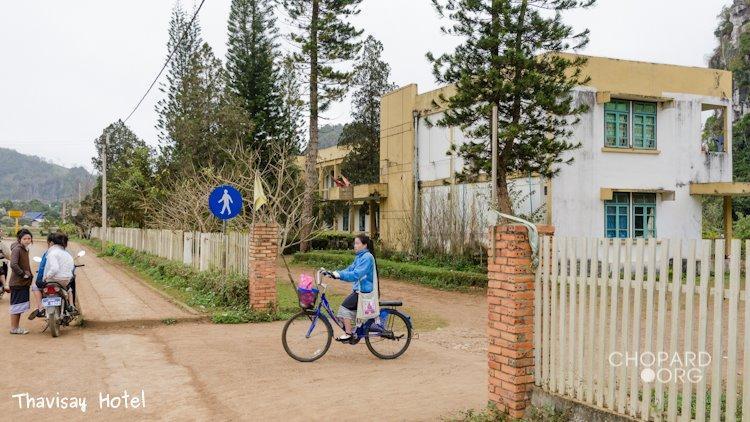 Historical souvenirs of the revolutionary struggle are only a part of the region's assets. This valley is a circus of karts limestone, a striking setup reminding the boulders of Guilin or Halong Bay. It is a scenic backdrop for a ramble through villages and to meet friendly people.
During my previous trip, I took pictures of funny kids, elegantly jumping over an elastic. It was in Baan Phou Xay, a Hmong hamlet. When I went back to distribute photos, only some "actors" were present, but I let them enough copies to be handed out to the others.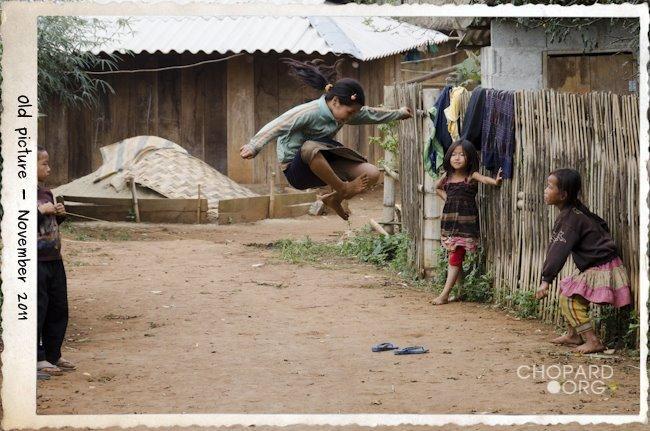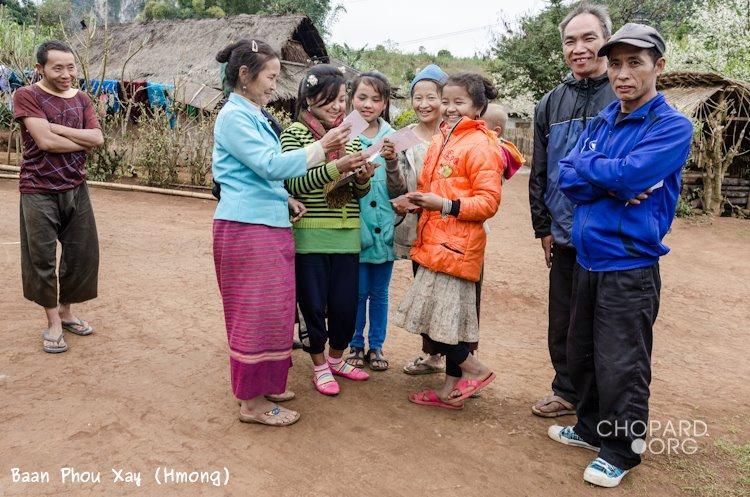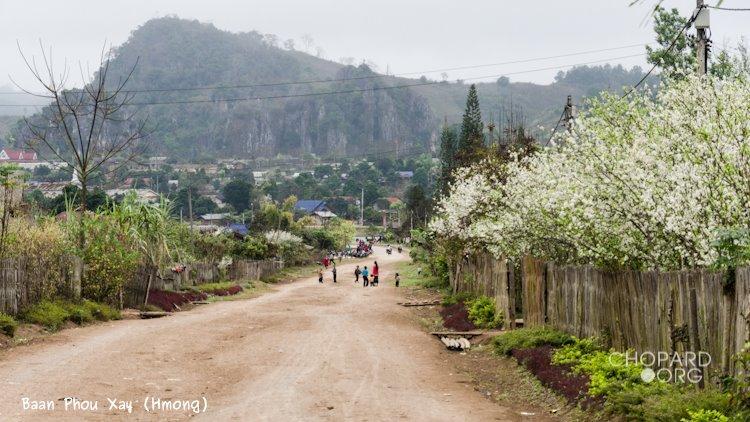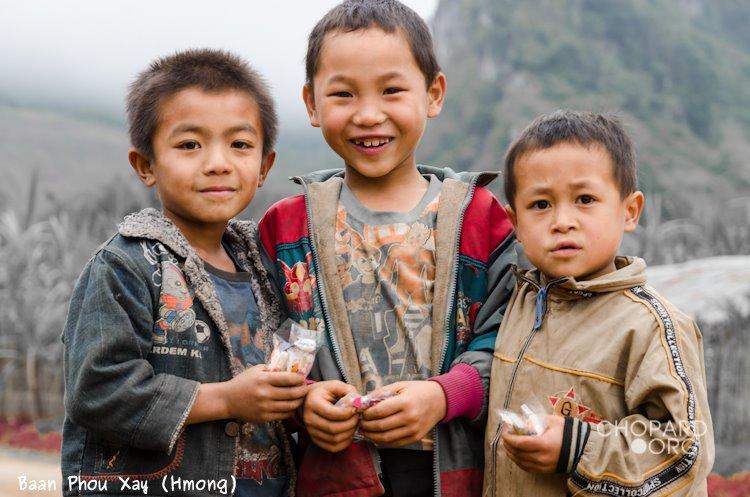 Route 6 leaves Vieng Xai in direction of Na Meo, I wanted to get an short impression of the trail and went on to visit a couple of villages.
My first stop was Baan Na Mone, were a small temple was under construction.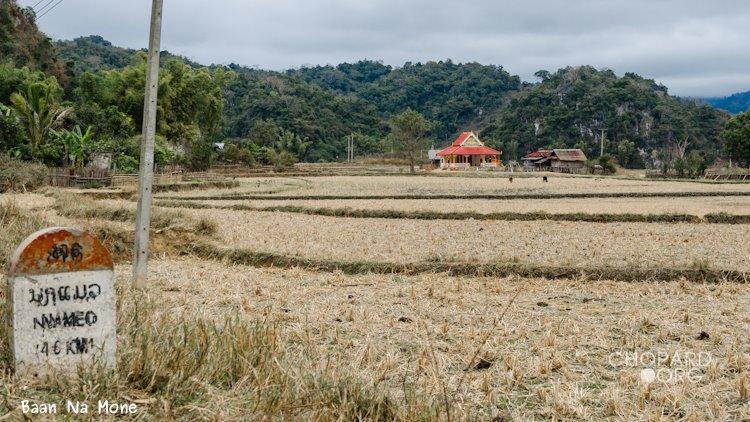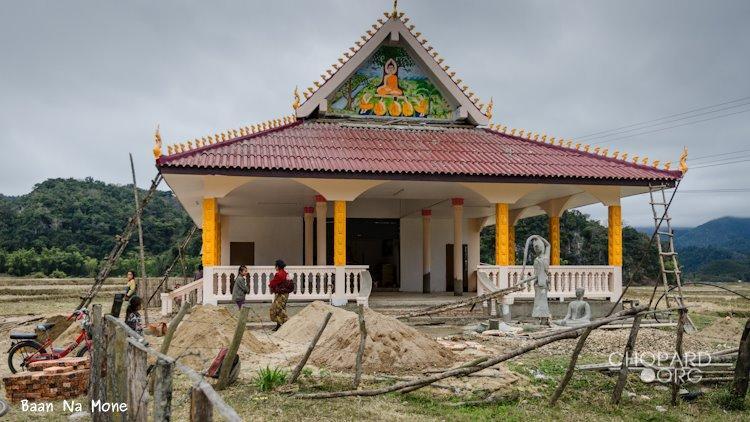 In Baan Poungnakao I spotted a fun grocery store and friendly people.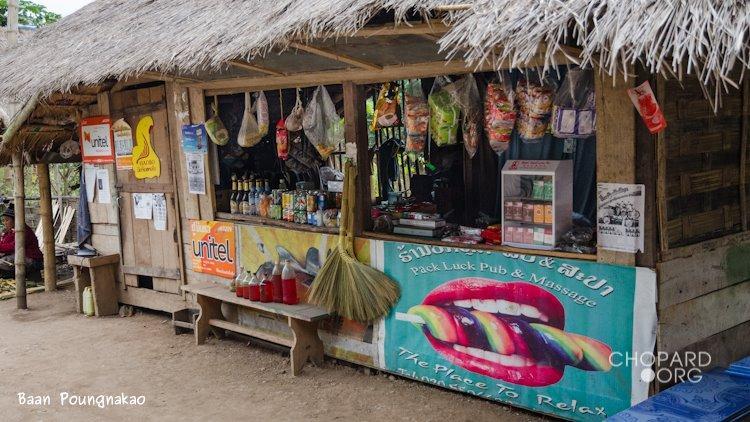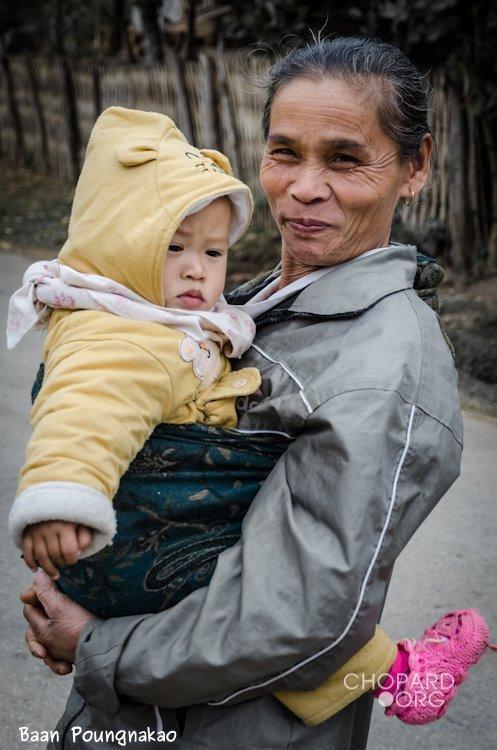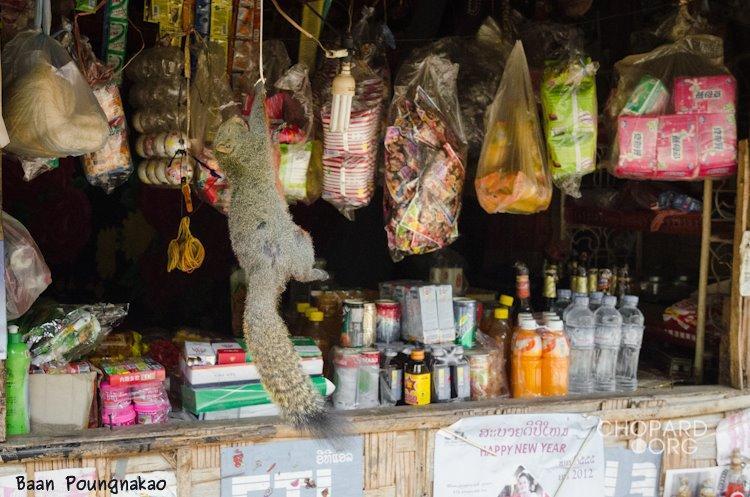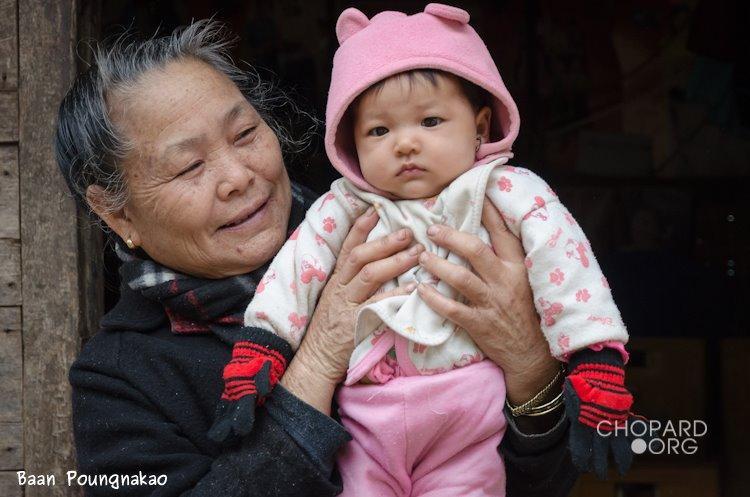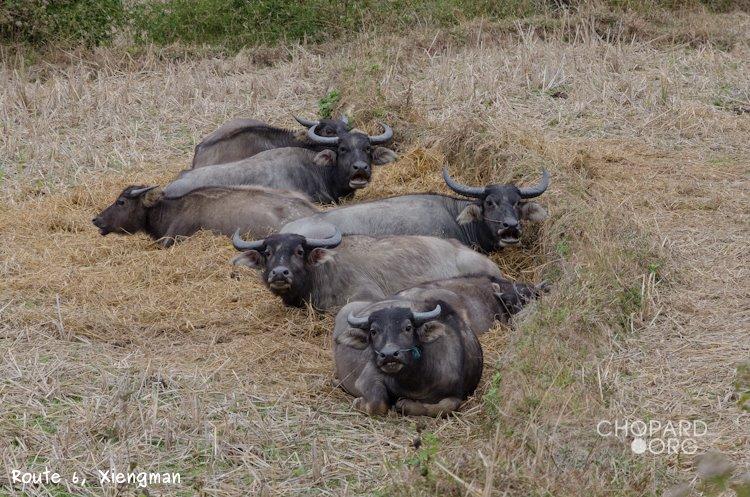 A signboard promotes Xiengman as a « Cultural Village », it gave me an opportunity to stop and meet the locals. Cheering kids accompanied me for a visit to the temple (Khoun Xaysiboun Meuang).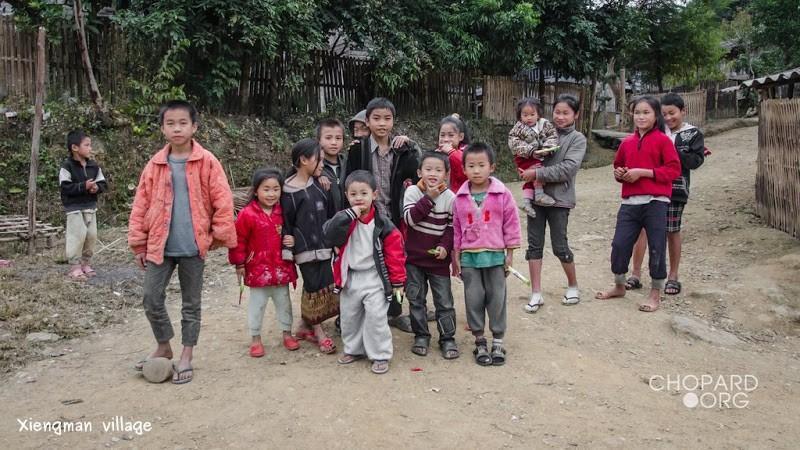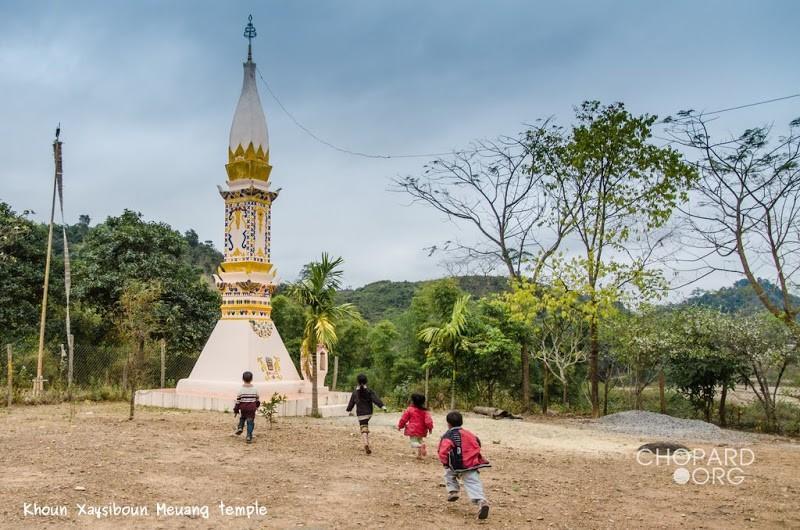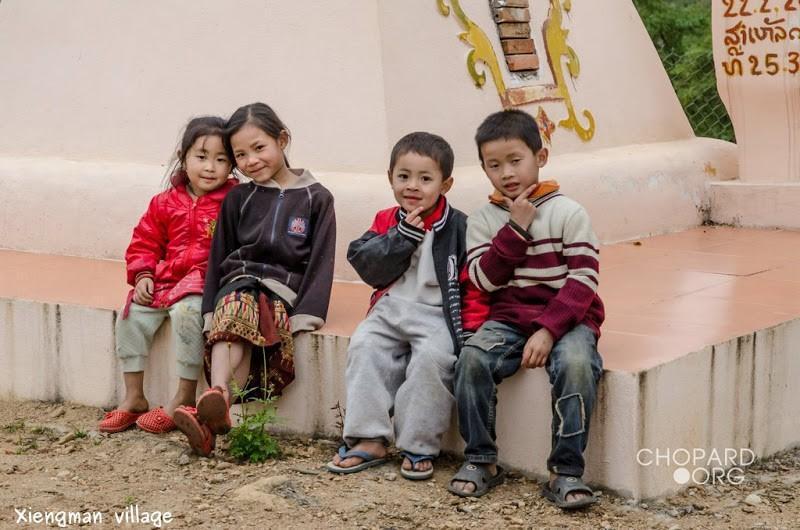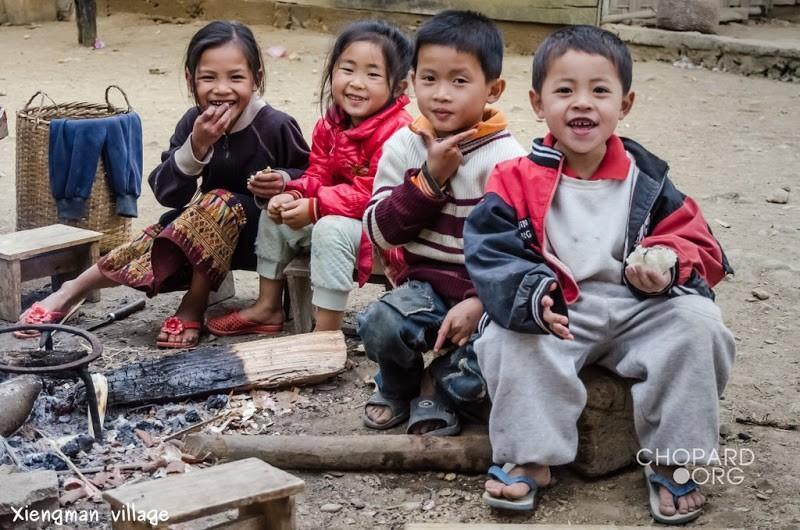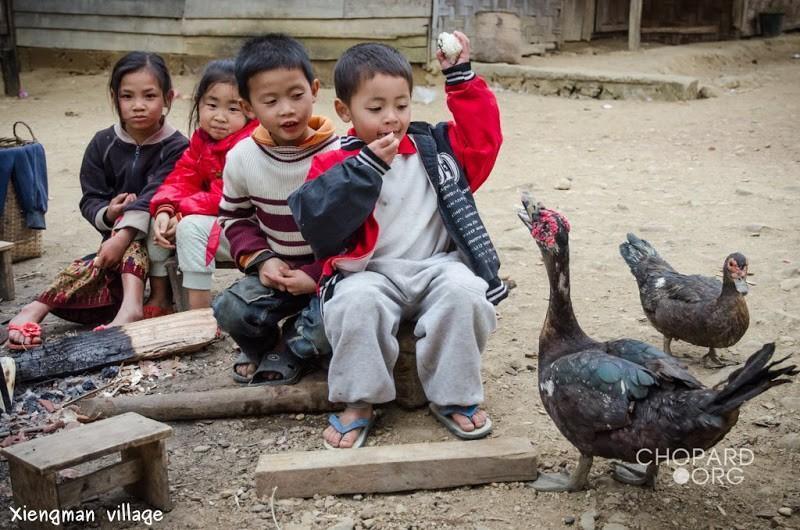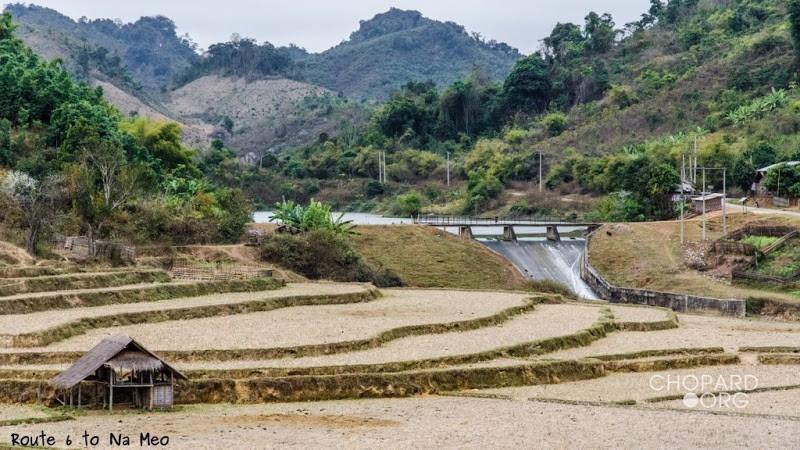 Back on the same road, I stopped again in Xieng Louang to have a glimpse at an impressive karst wall with a cave at his bottom. In the village, families were operating weaving looms, and, as usual, kids were naughty and smiling.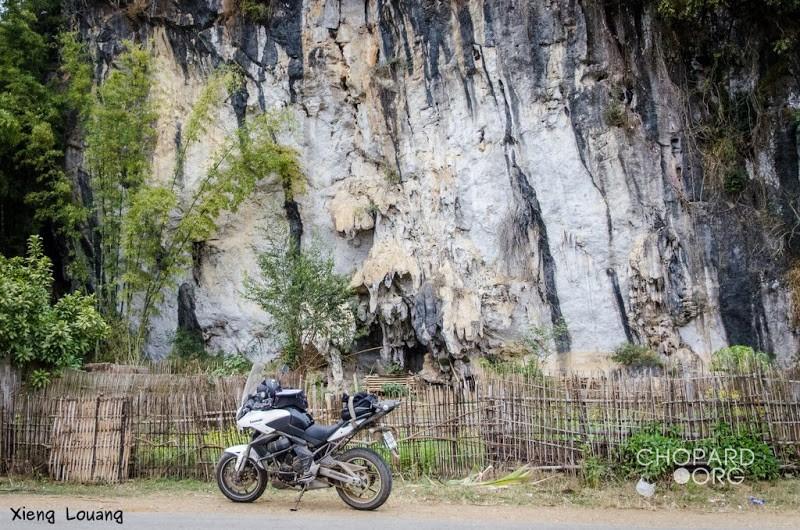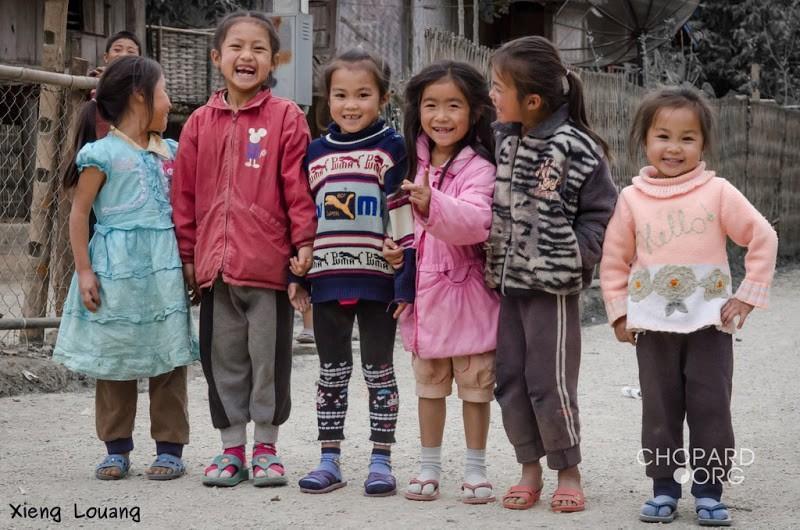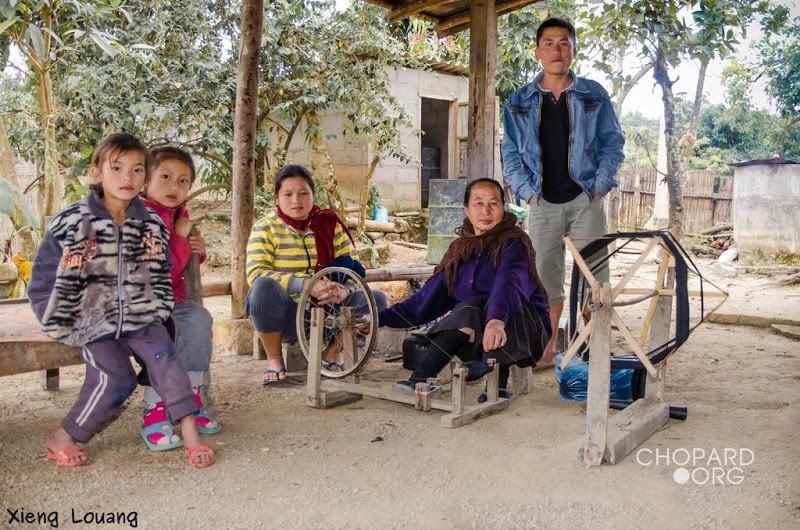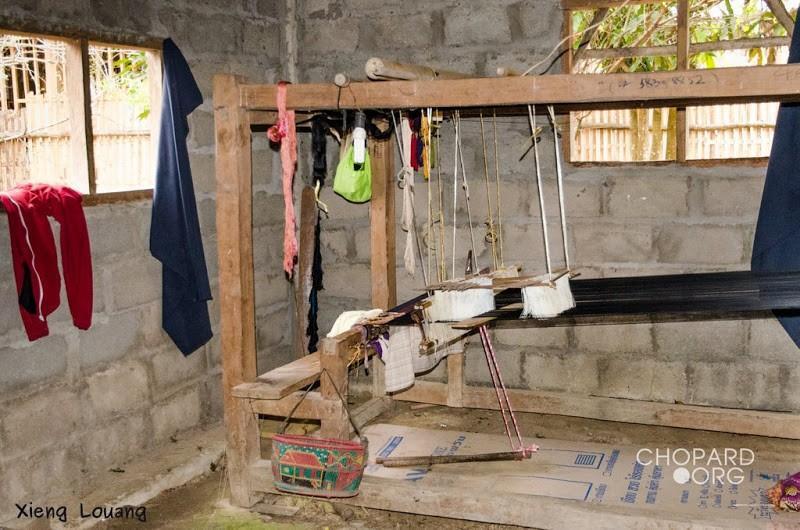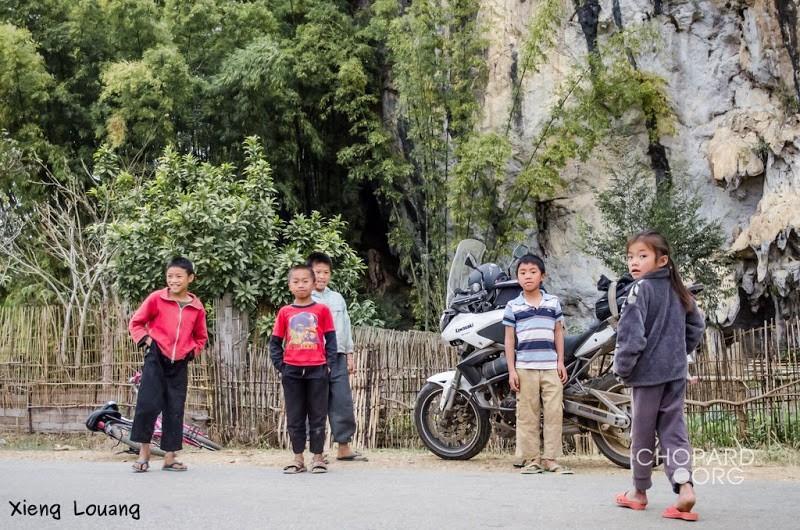 Suddenly, in a curve, I spotted 3 youngsters equipped with crossbows. A quick U-turn to take pictures, and, like by magic, they had vanished. At the verge of the road, I noticed a small entrance to a cave and could just see the last boy watching up to me. Other kids, arrived on bikes and showed me the way to the hollow, a place for hunters chasing bats and cave-rats.
In the evening, I met a group of foreigners working on the inventory of caves in Laos. They recognized the place as being Tam Ma Liong, a 1,6 kilometers long cavity.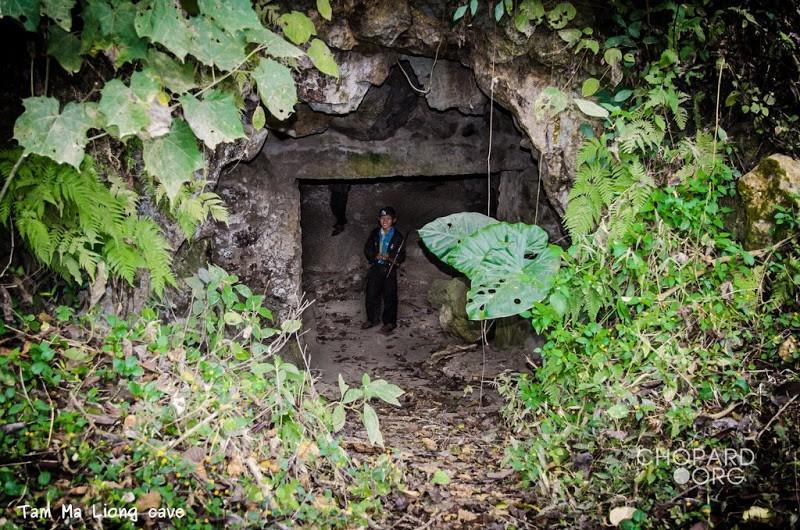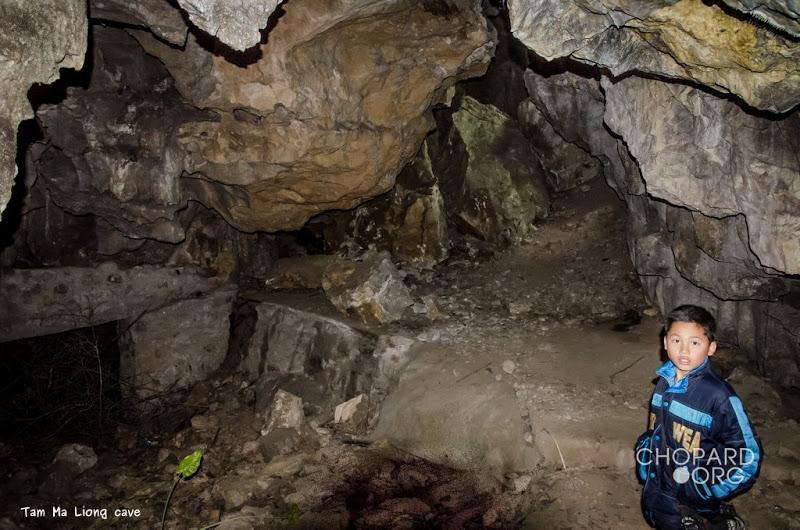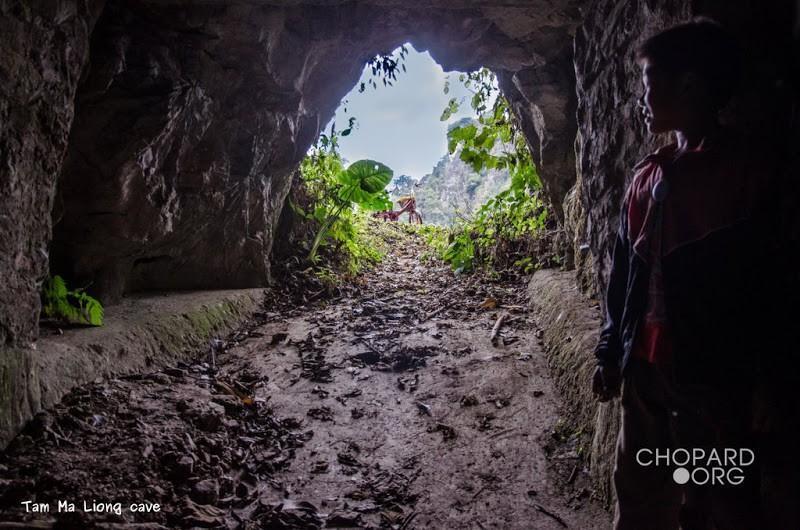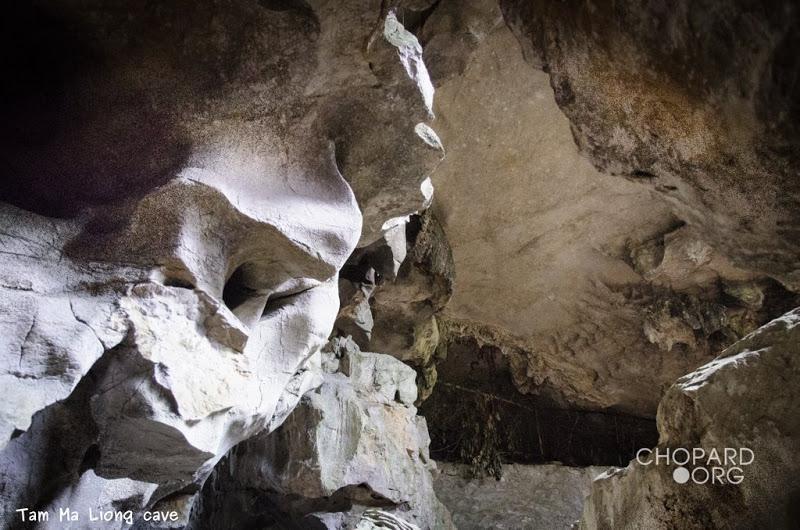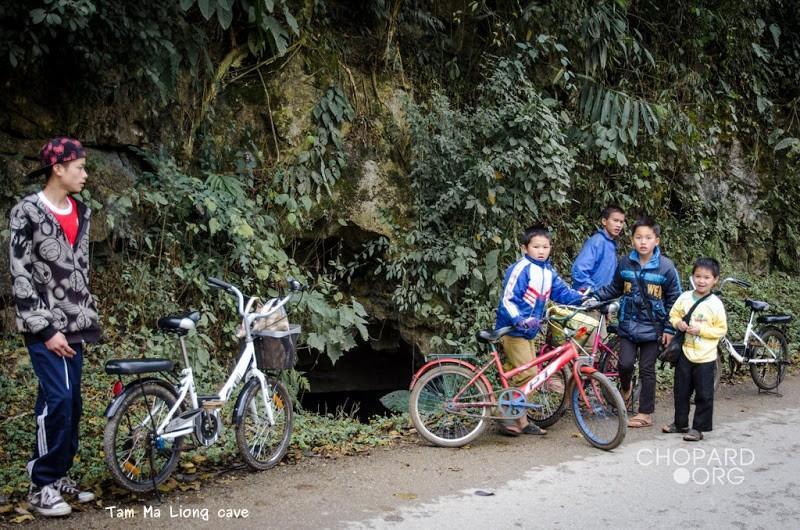 On the way back to Sam Neua, an intersection leads to Route 6A and to the dreaded region of Sop Bao and Muang Et, infamous for their re-education camps. Till recently, this sector was off limits to foreigners, but nowadays, its just history, even if people dislike to elaborate about it.
Curiosity pushed me on this road, but only for a short stretch. This trail is partly paved, partly dirt or under construction. In Phu Lek (Iron Mountain village), I chatted with locals and finally turned back, enjoying a majestic, but heavily overcasted, panorama.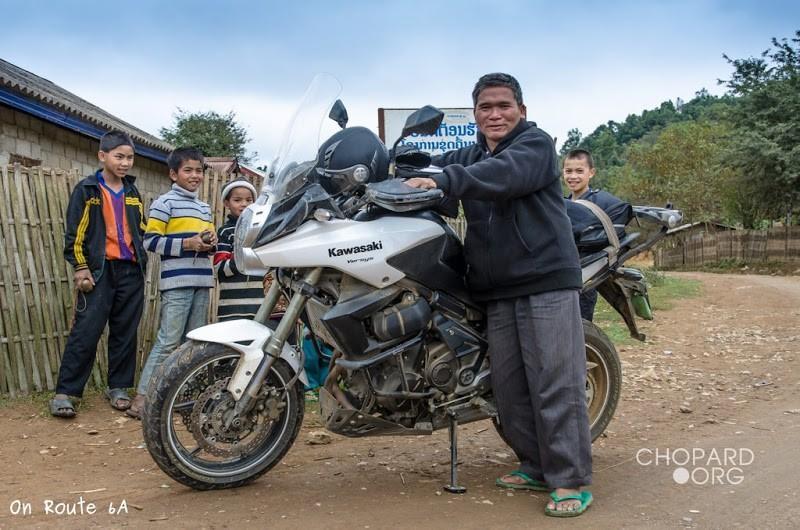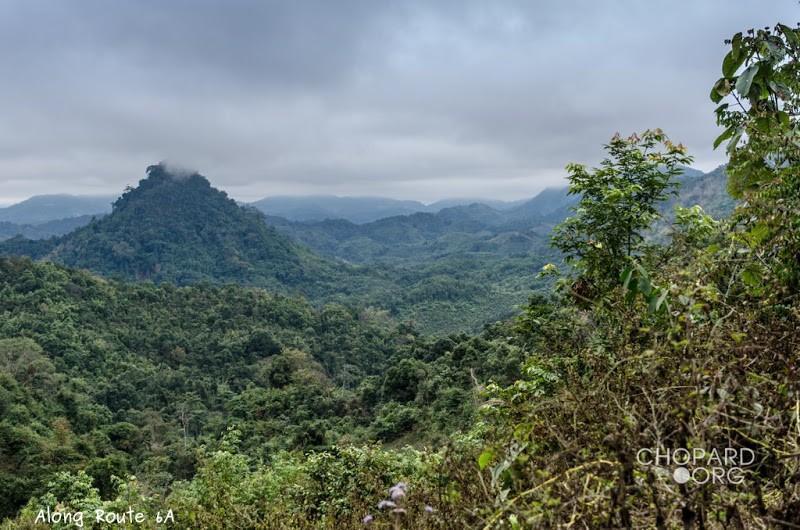 Back in town, I made another call to Mrs Mee's house. Her mother was back, and they invited me to a "kao tom" meal.
I was happy to buy another handiwork from the young weaver as she kindly demonstrated again the techniques of her craft. There is no relation between the small price and the patient work of these skilled people.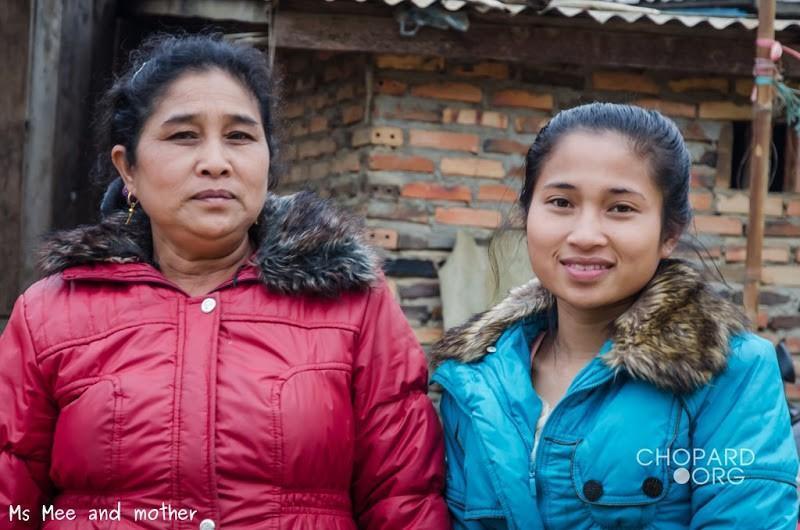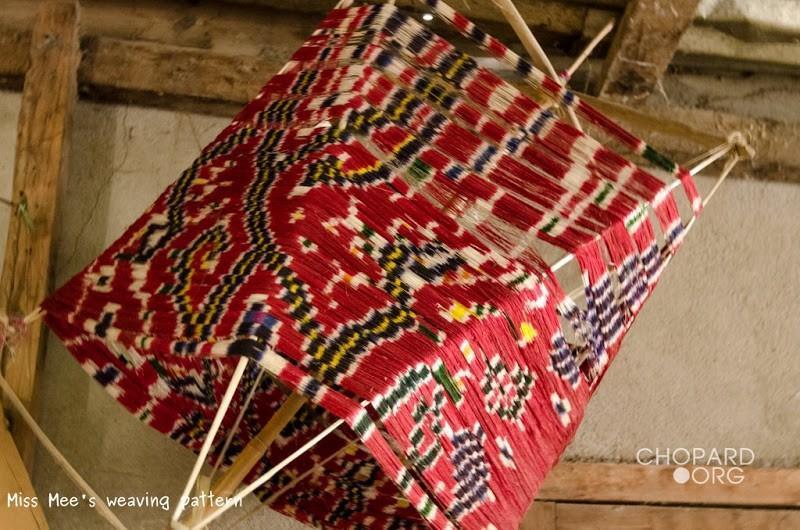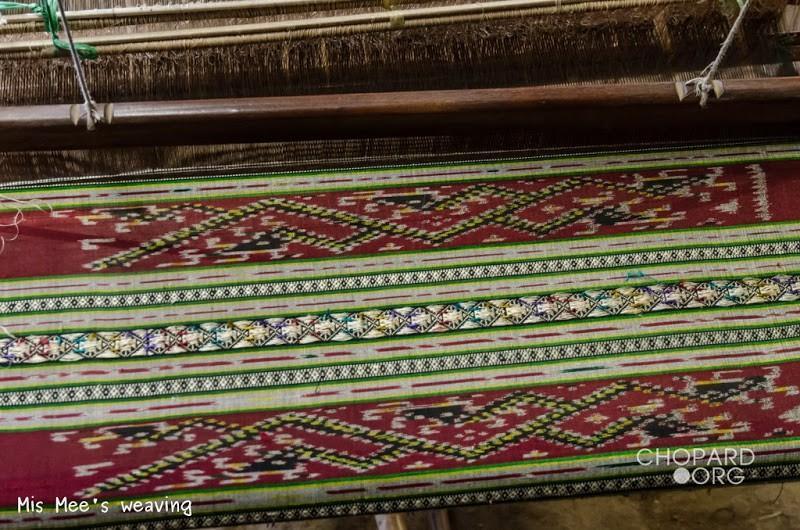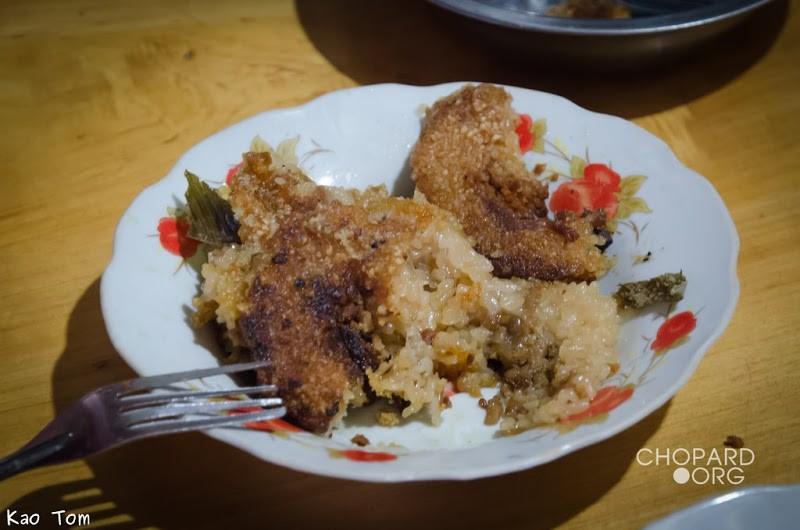 On my way to the hotel I visited the tourism office and was pleased to see a GT-Rider map adorning the wall, a great piece of information for travelers.
Strategic Route 6 and Phonsavan
"Route Colonial 6", starting in Hanoi, and "Route Colonial 7" are the main links with Vietnam. The provinces of Houaphan and Xieng Khouang themselves were often part of Annam in the past, and the region played a strategic role in the Indochina wars.
Driving along these two roads was on my itinerary for the day, and I bid farewell to Sam Neua, climbing the hill toward the South. Despite my hopes for a blue sky, the dull weather did not spoil my second sojourn in this attaching and remote corner of Laos.
While I gained altitude, the fog also became thicker; I would have to cope with mist during most of the trip, as it is a common mid-winter feature in the Annamite Chain.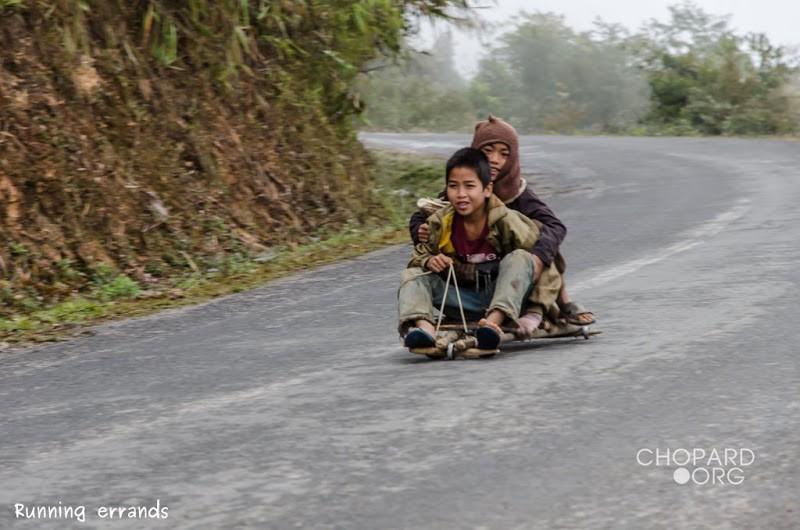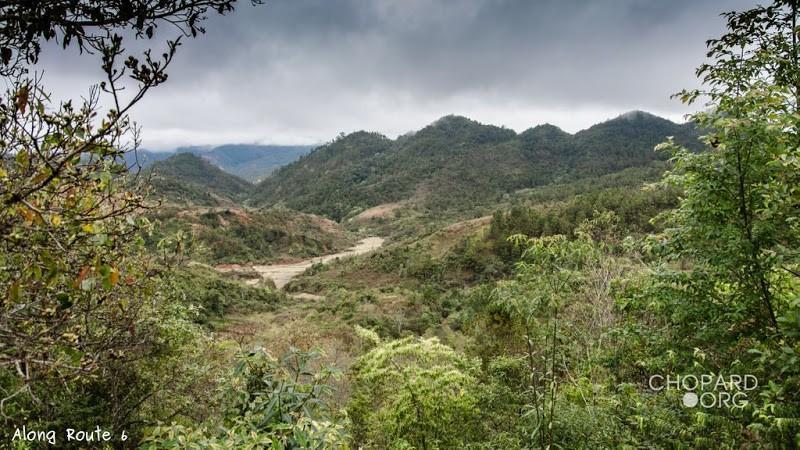 Bunches of birds, some tied together, some free but remaining on their branch, waited for their uncertain fate at the entrance of a village. They were probably bound to end in a wok, but I refrained to inquire about it.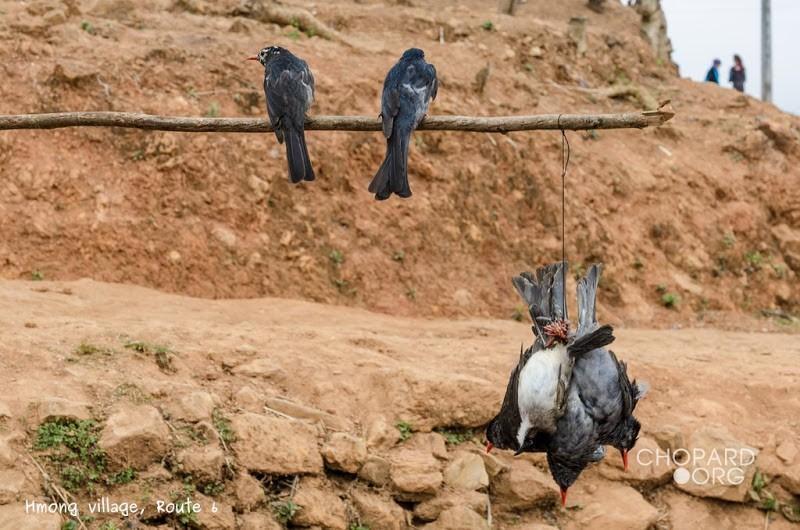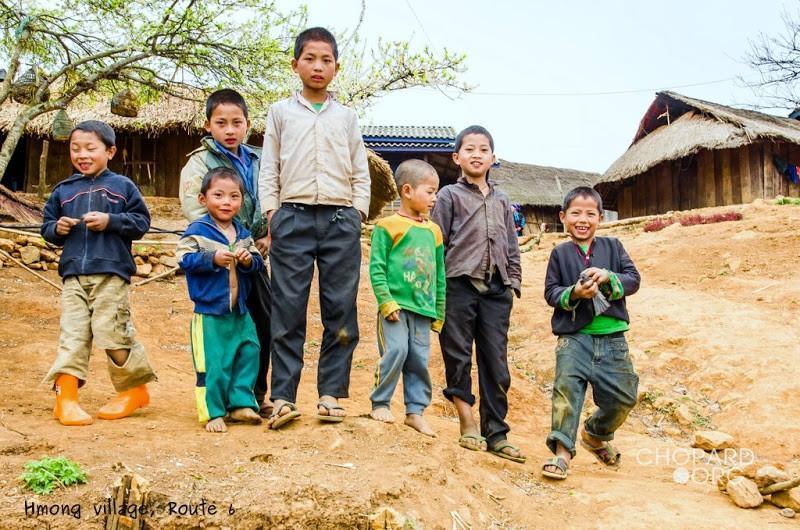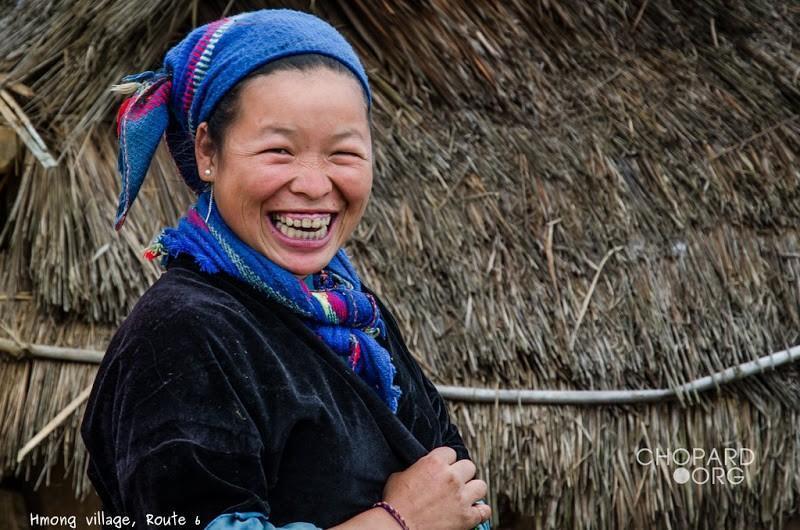 The dense fog became an hindrance, slowing down my already reduced pace. On this narrow and winding road, I erred on the side of caution, as surprises are unpleasant; the worse being the trucks, fortunately these are infrequent encounters.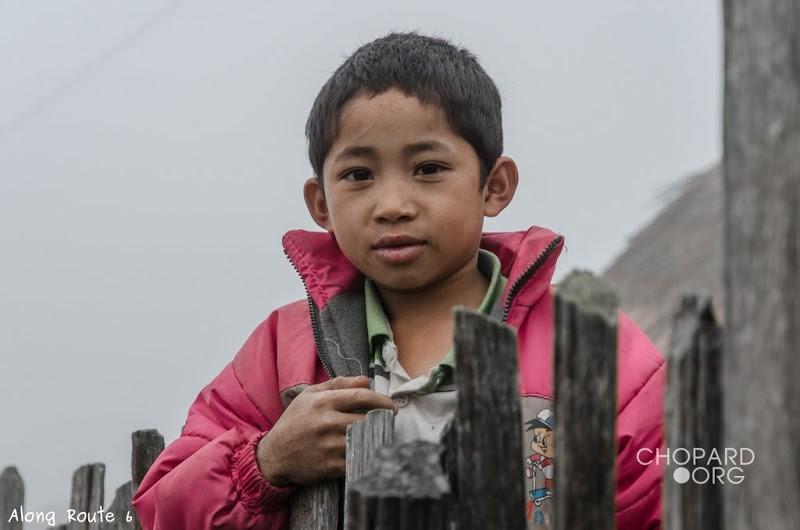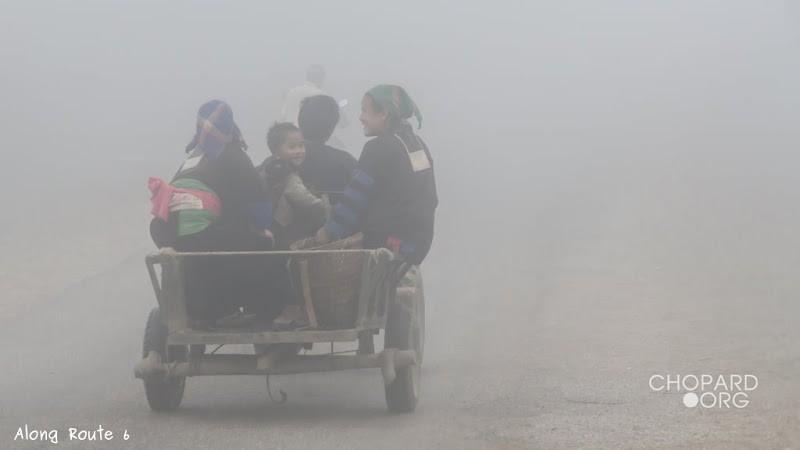 In a Hmong Lai village, people worked on a thatched roof. It seemed a collective chore, with neighbors helping each other.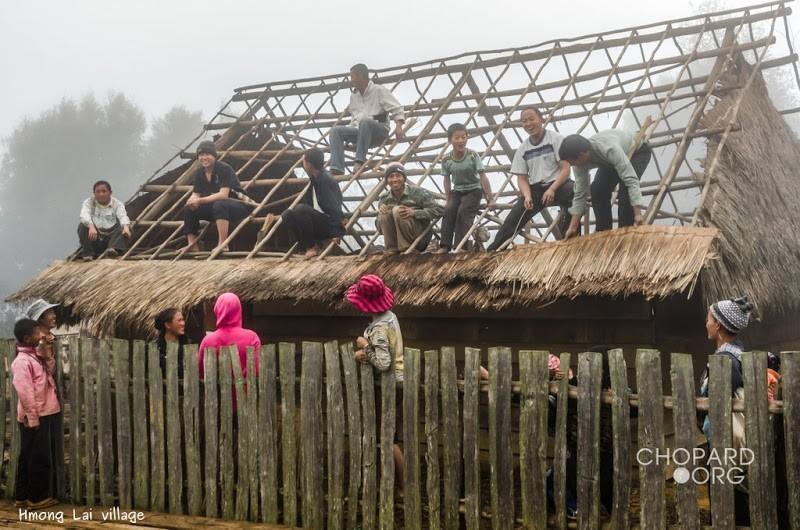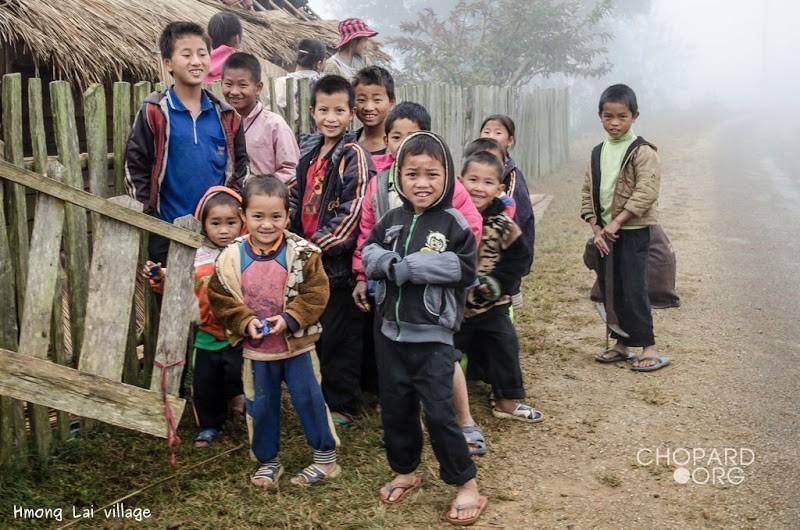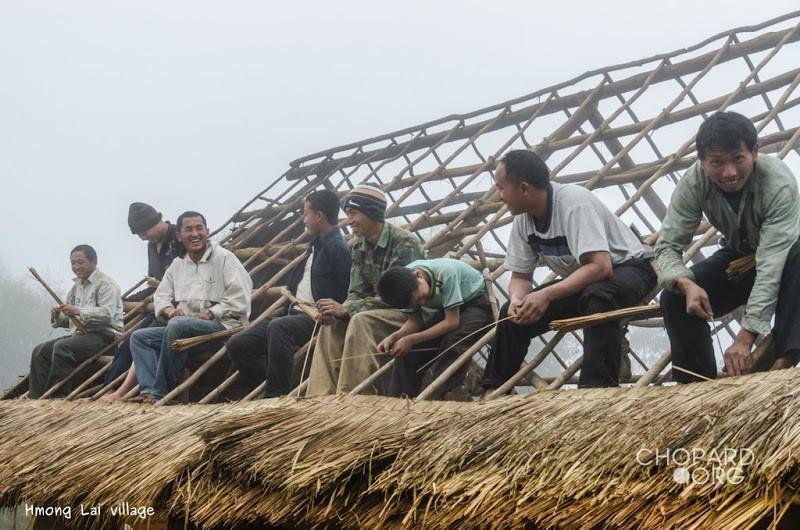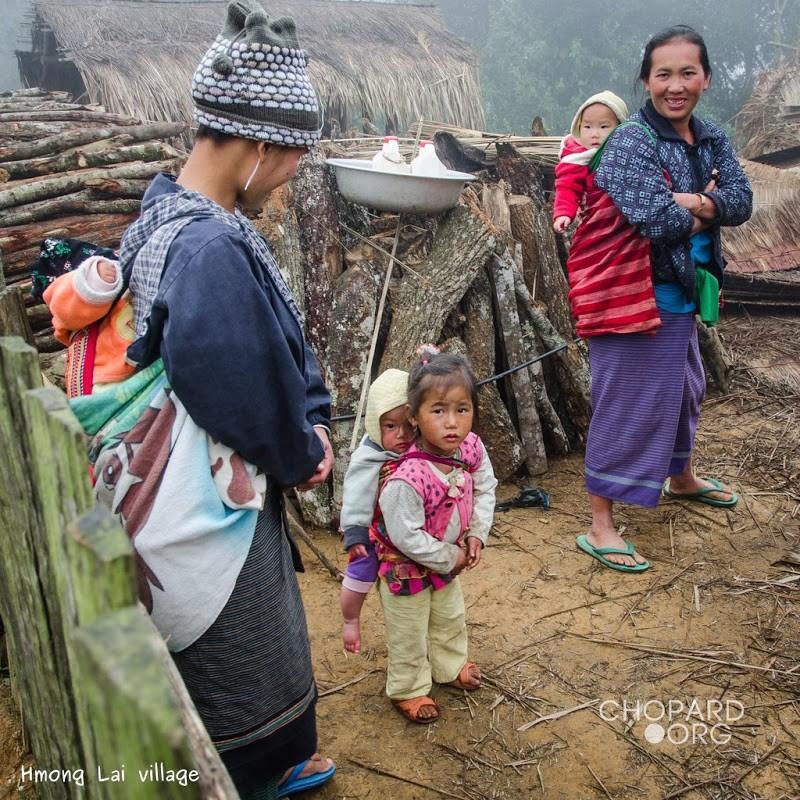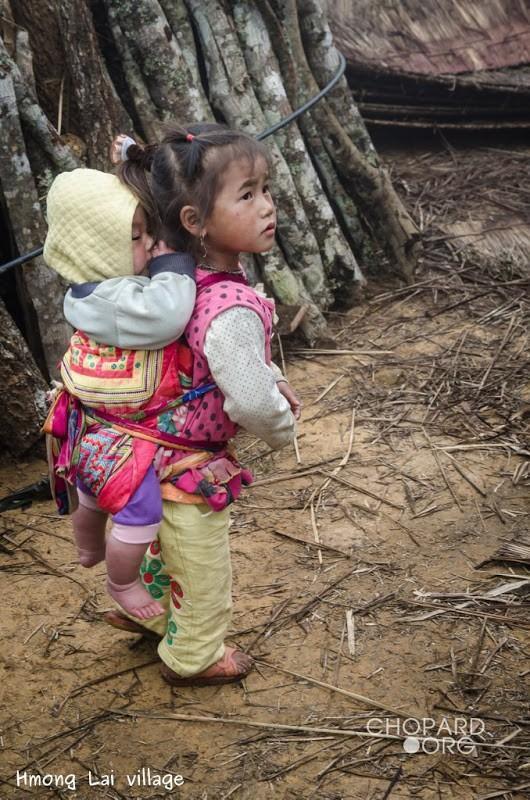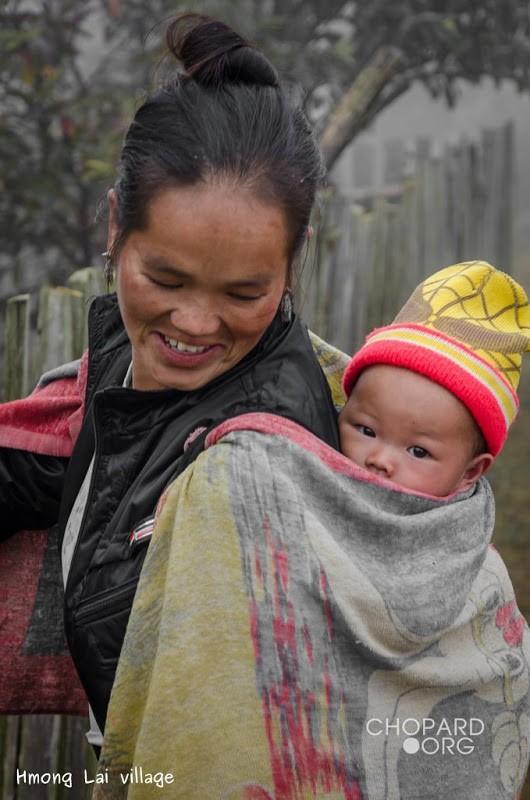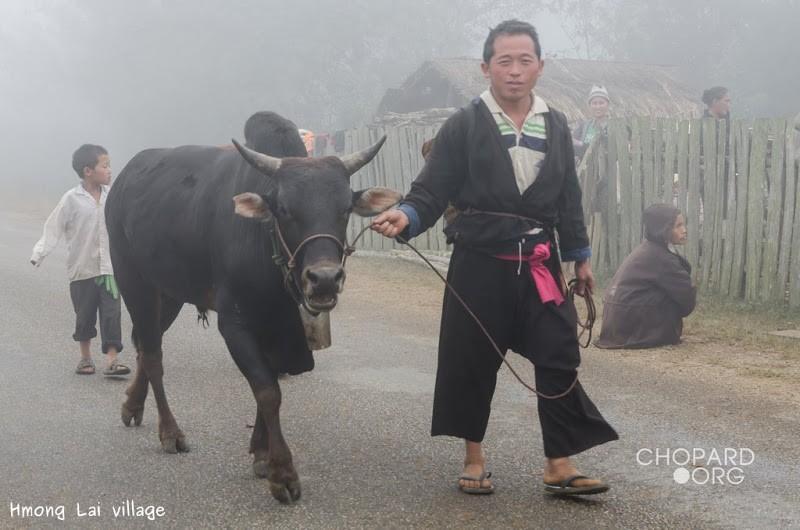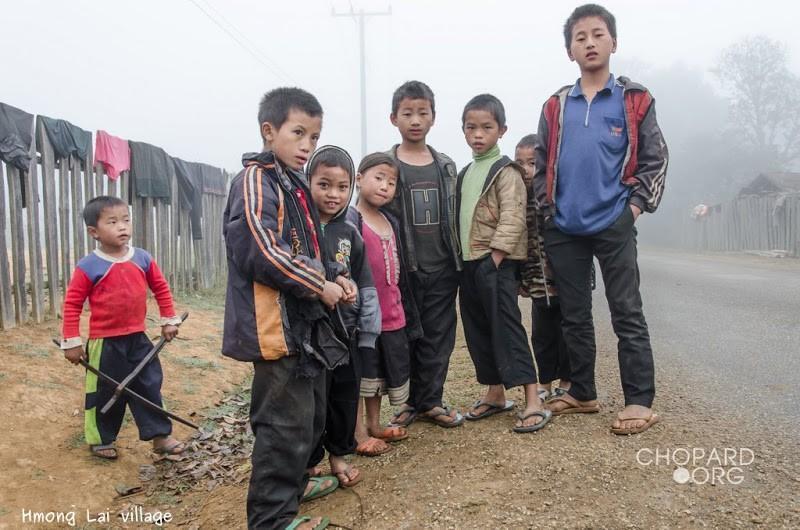 Most of the itinerary was veiled in a compact fog and I passed Phou Lao without stopping. As I approached Nam Neun, the view opened toward the valley, and I could poke down to the city with the Russian built bridge.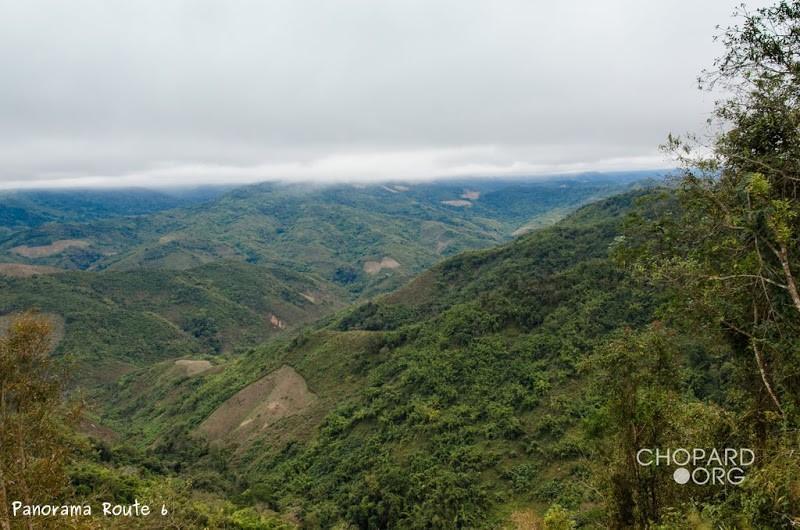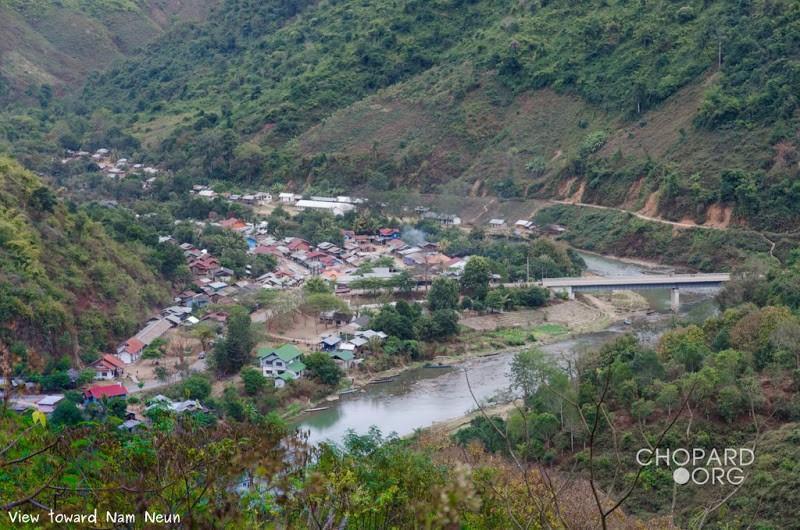 In Nam Neun, the border town between Houphan and Xieng Khouang provinces, I had a couple of prints to distribute. My pictures showed a joyous lad riding a makeshift car. Unfortunately, this time he was at school and I only met with his mother.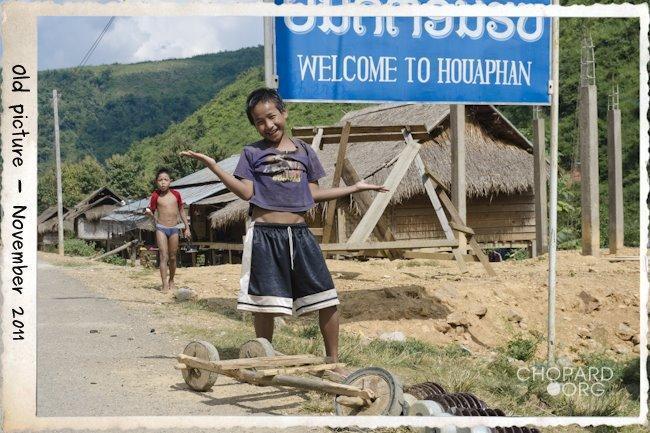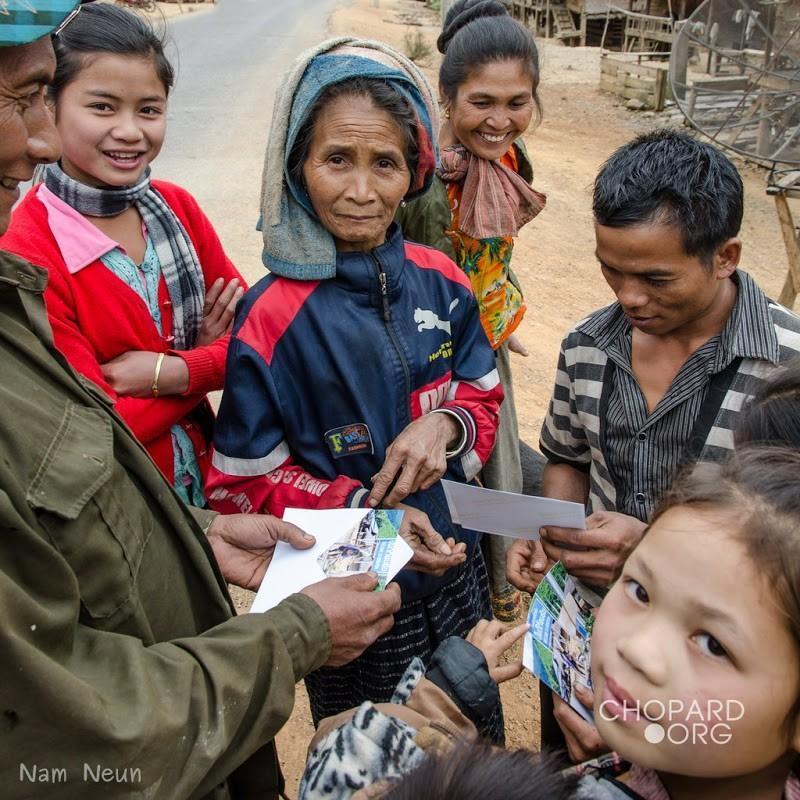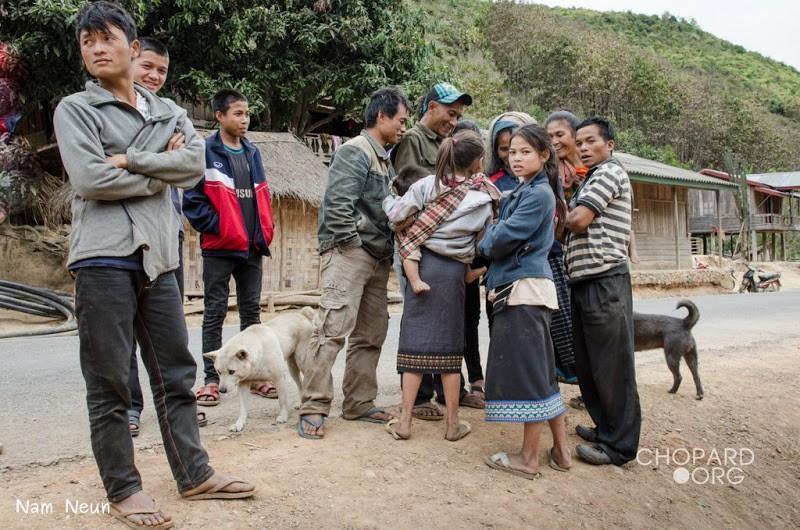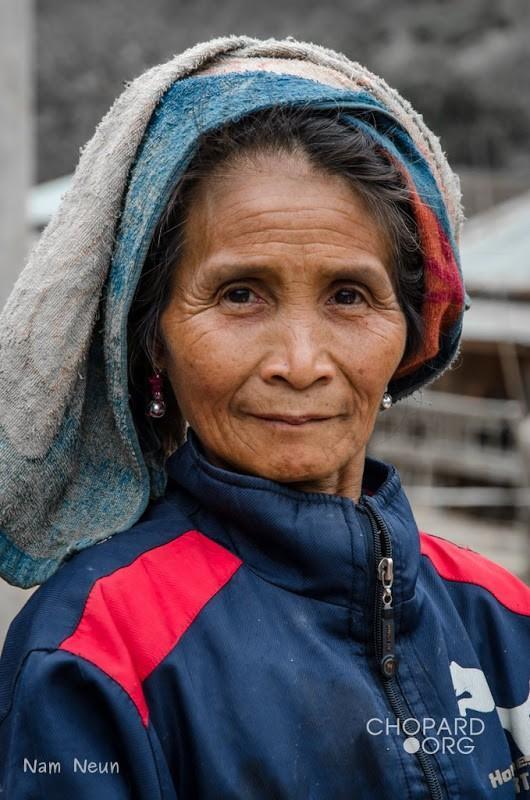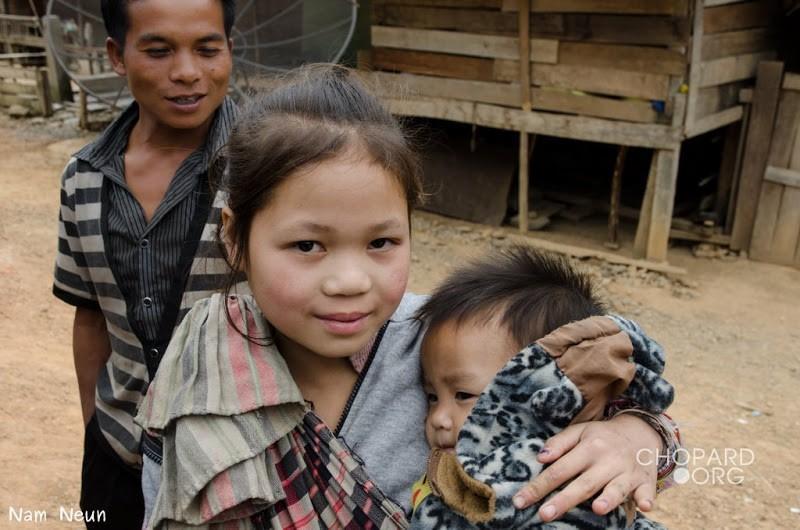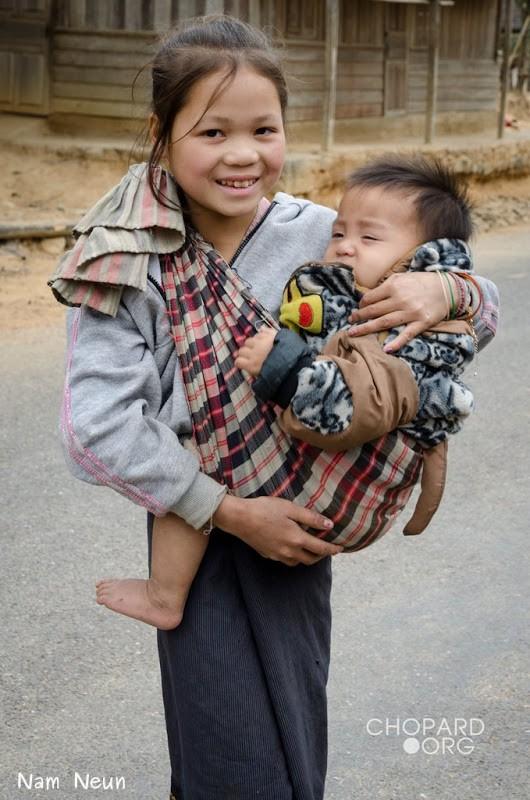 The distance to Muang Kham was now only 77 kilometers. Amazingly, the inscription on the road-stone is "Route 1", but I had already passed Phou Lao's intersection and this link should be Route 6.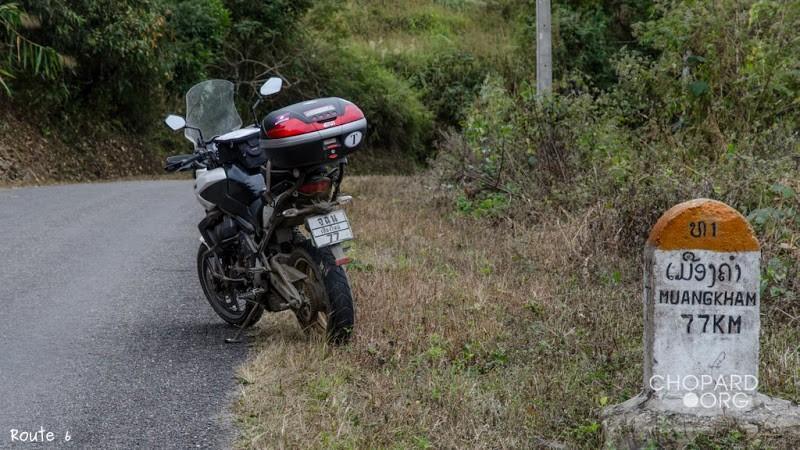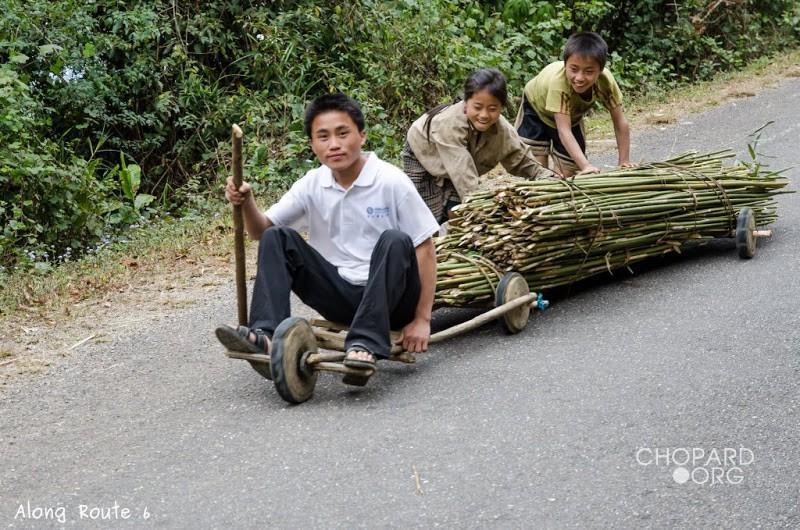 Before arriving in the valley, I made a last stop in a Ban Na Pang, a lovely hamlet were I had to distribute some prints. The mother, portrayed during my former trip, was absent from the village, but I found her kids. While they made cheerful comments about their pictures, others were standing in line, keen to be photographed.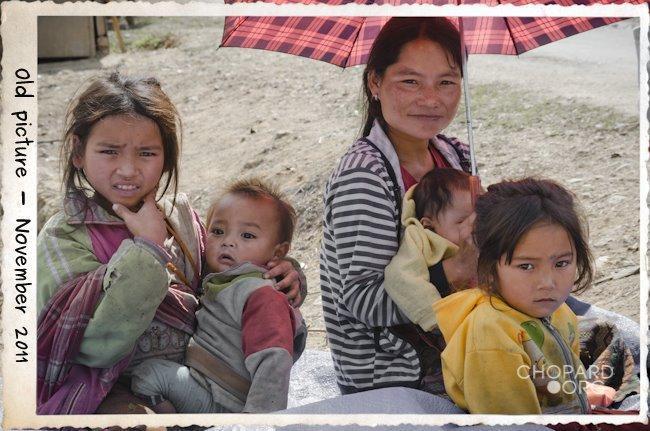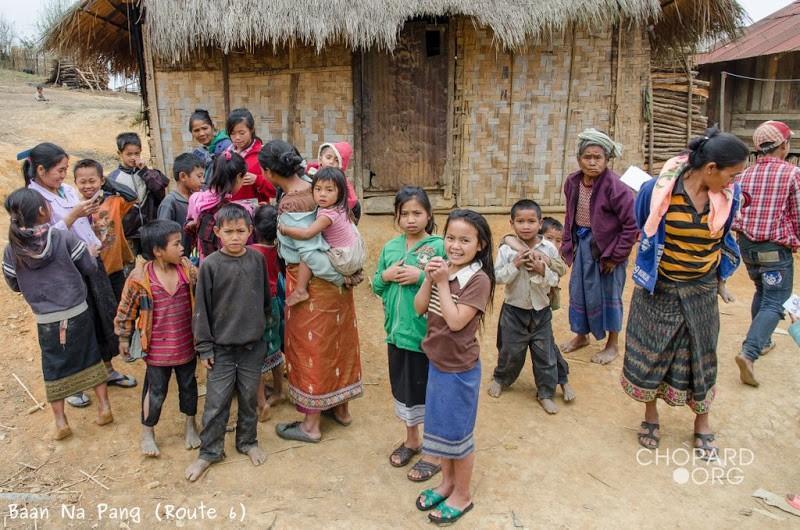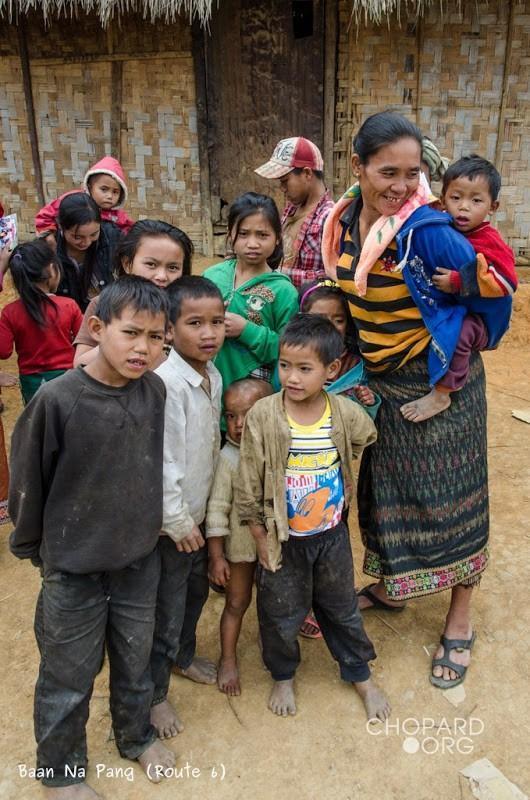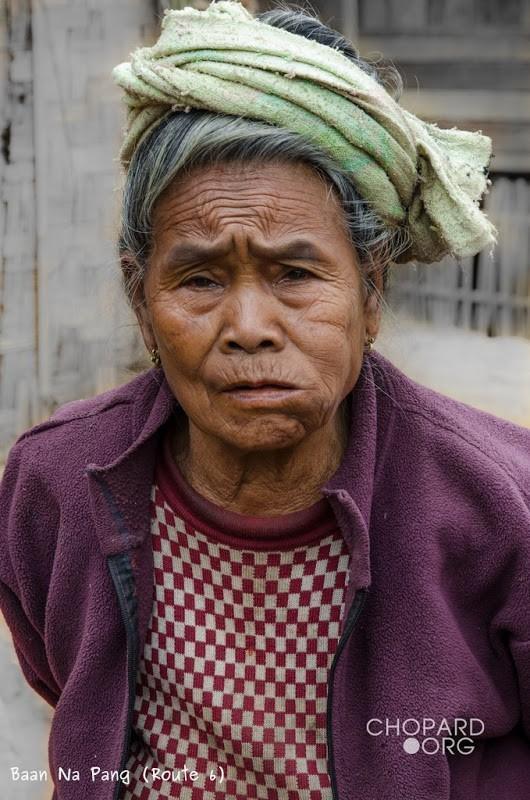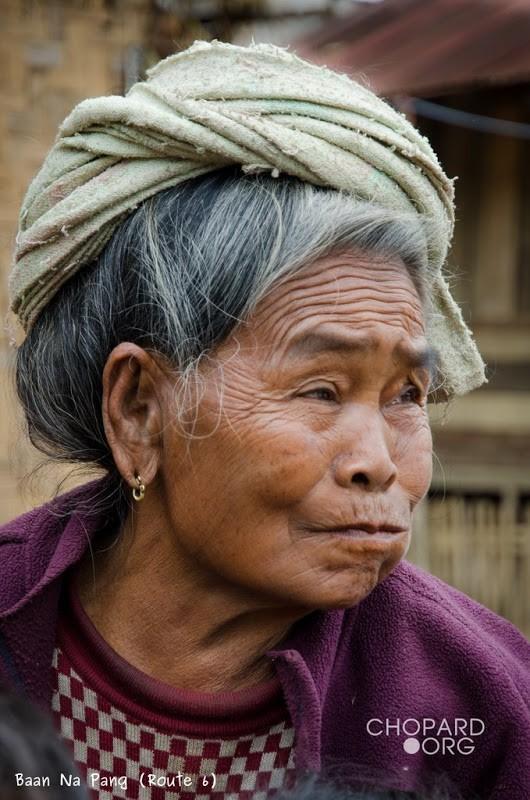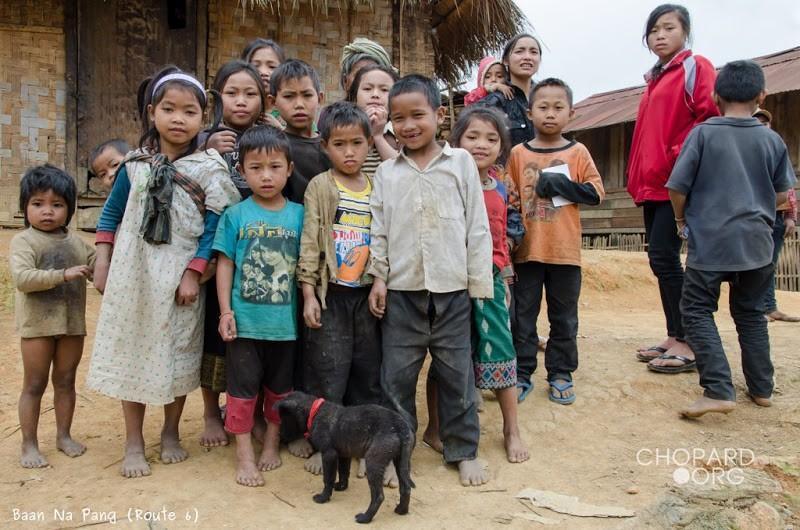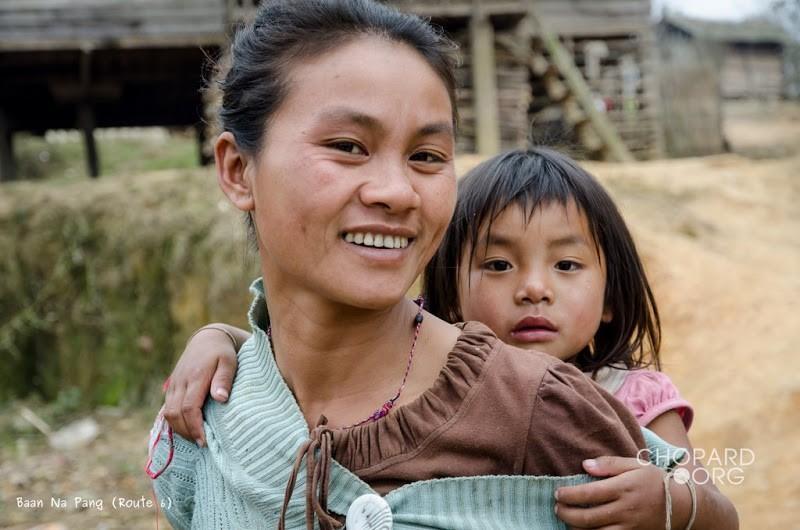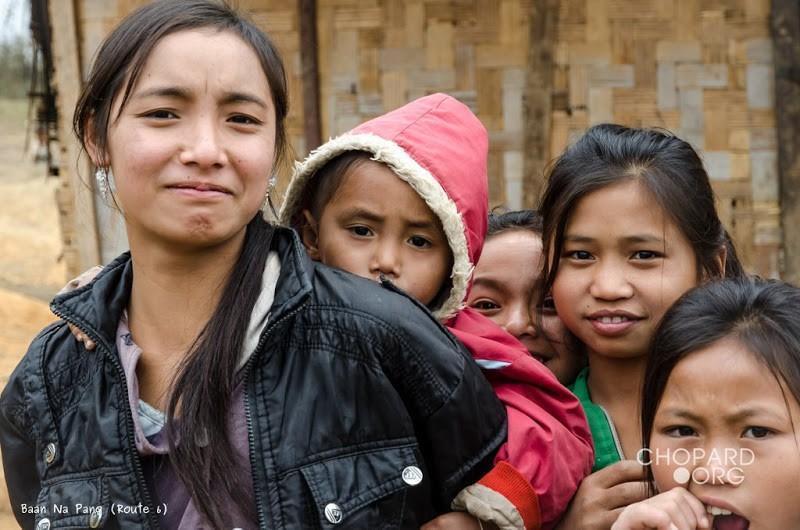 Humidity added another slippery layer to rolling gravels and scattered potholes, making the blind drive more hazardous. Eventually, the view opened with a panorama toward on overcast valley.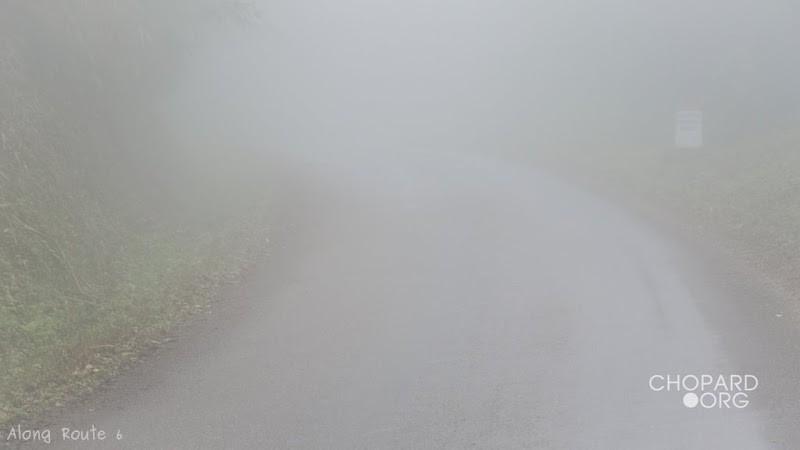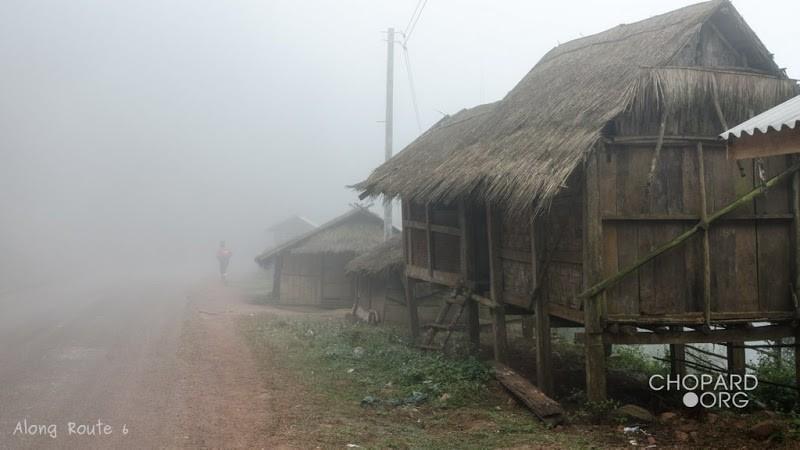 Muang Kham, formerly known as Ban Ban, was a key crossing during the war; the intersection of two important colonial Routes. Leaving foggy Route 6 behind me, I followed Route 7, for my last stretch toward Phonsavan.
The nearby cave of Tam Phiu is sadly famous, and I hesitated to visit it. Finally, I drove on, skipping this sorrowful place and heading toward my day's last stop to distribute pictures.
The cave bombing tragedy is described in many books, this is the account of Dervla Murphy (2):
"When Muang Kham's populous valley was Carpet-bombed uncounted thousands died and eventually 365 villagers from Ban Na Meun decided to take refuge in Tam Phiu, a vast limestone cavern similar to the Vieng Xai caves.

... reconnaissance planes spotted the entrance in February 1968 and, allegedly, the Americans military commanders suspected that here was a Pathet Lao hospital. ... Two T28 fighter-bombers attacked Tam Phiu. No one survived"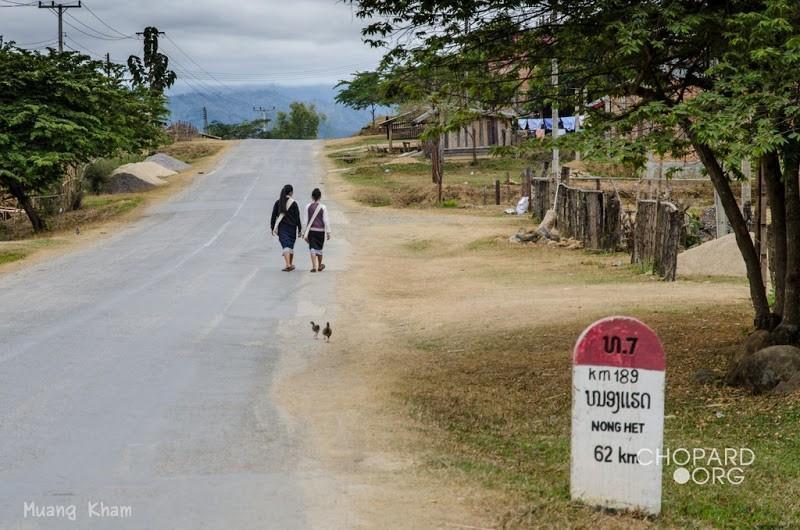 Ta Jok - The bomb village
As the afternoon temperature became more chilling, I was eager to reach my destination. Again, I counted on my visual memory to localize the village, and passed it by twenty kilometers, before asking my way. My distraction cost me a back loop to Ta Jok, a small Hmong settlement nicknamed "The Bomb Village". Actually I found only few bomb cases displayed or used in constructions. Metal scrap, as I reckoned, has probably a higher sales value than the attraction of war souvenirs.
When I exhibited my collection of images, I initiated again jubilation. The kids gathered to watch the prints and to be included in group photographs. "Kop djai lalai, Kop djai lalai" everybody wanted to thank me for being back. These are rewarding moments and I enjoyed meeting the cute boy from my pictures again. He had a totally different look and I hardly recognized him. Again, I could have spent a lot more time with these friendly Hmong people.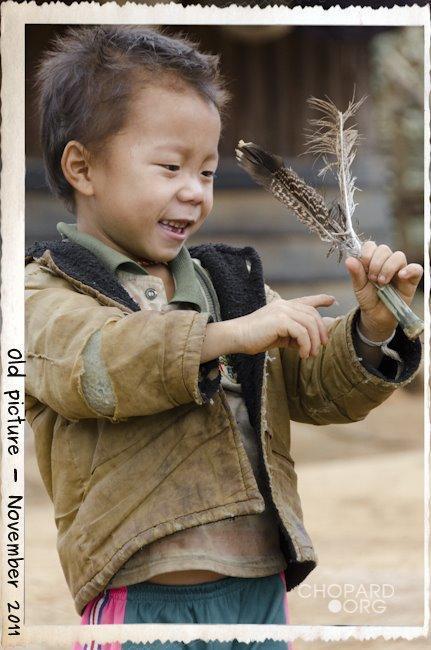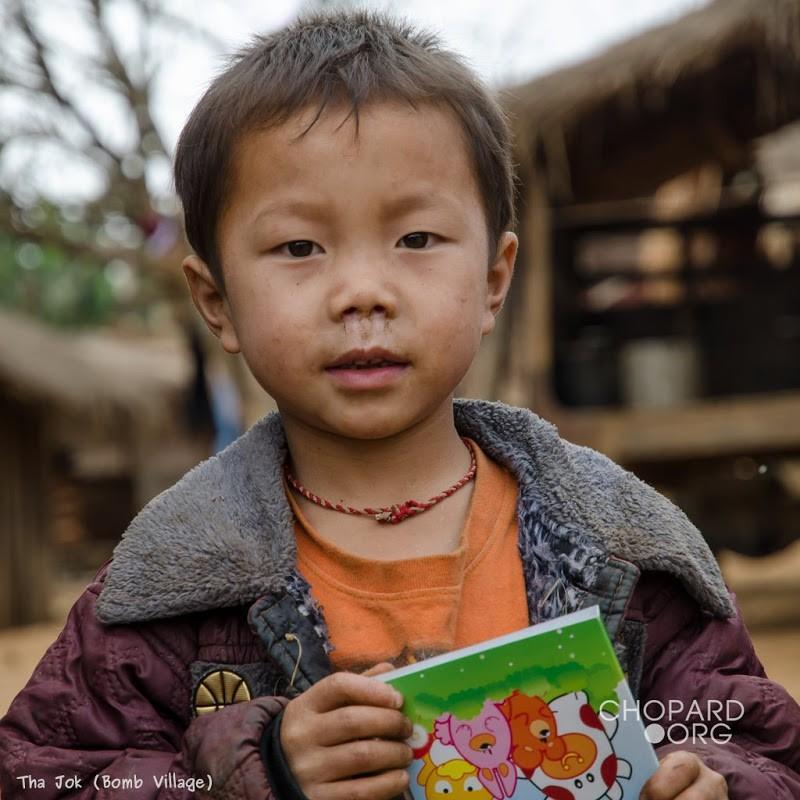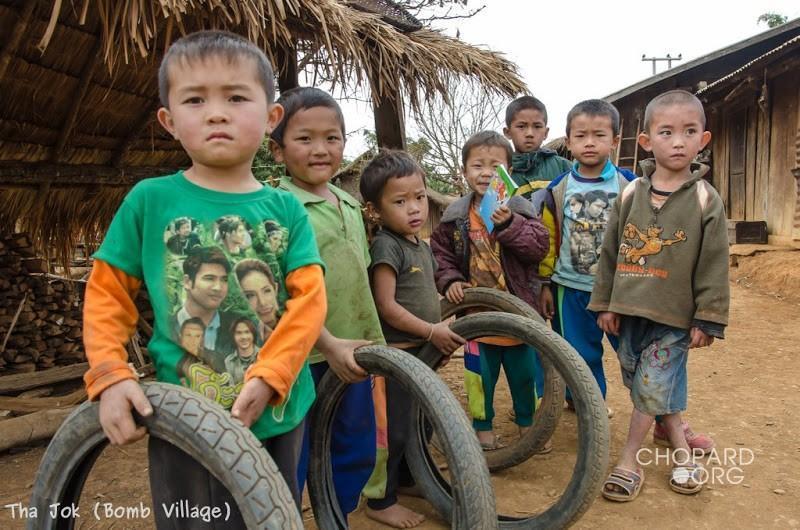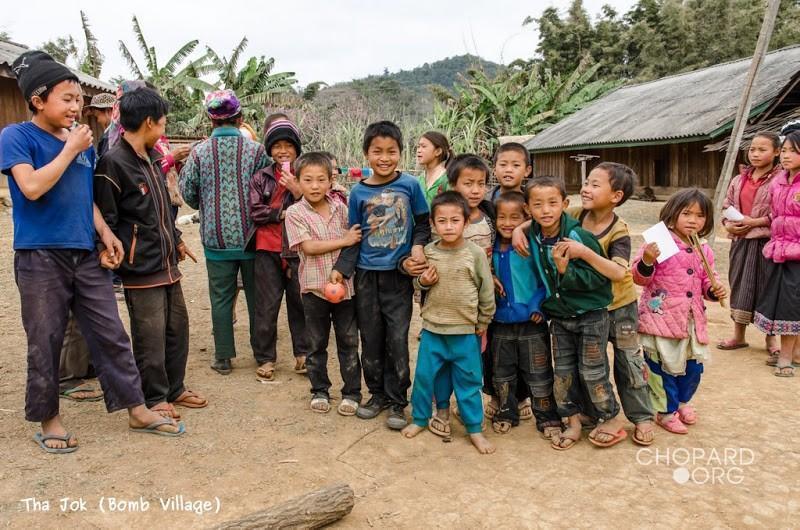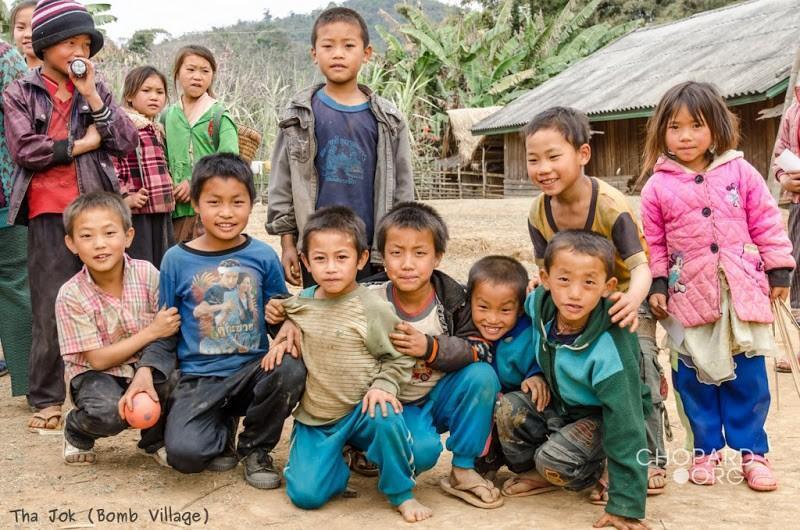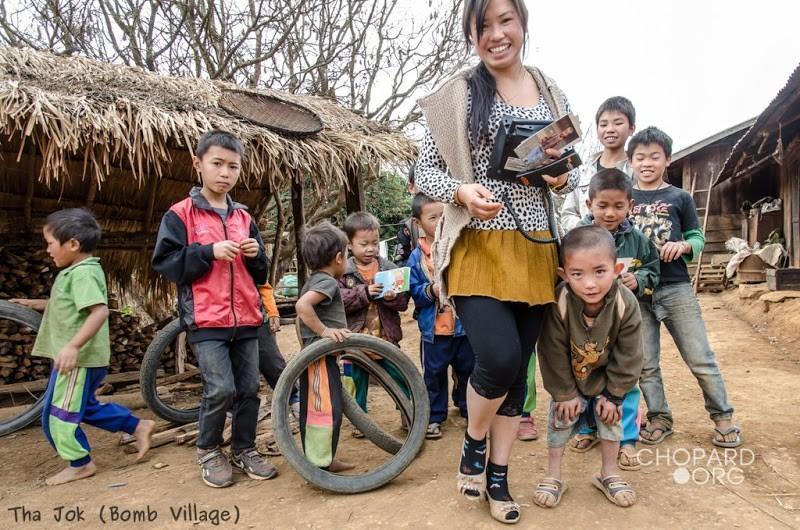 The journey from Sam Neua to Phonsavan is only 240 kilometers long, but it took me eight hours to complete it. In Laos, a "lak", a kilometer marker, is well worth double, when taking into account the roads' conditions, the never ending curves, the narrow trails on rugged or potholed tarmacs ... and the time needed to enjoy it all, while putting digits on the odometer.
7. Ruins of an old Kingdom
My first destination in the morning was Phonsavan's tourist office. They have only few documents to distribute, but told me about their recent car trip on the new road to Pakxan; it should be completely sealed in 2013. This would provide another great link toward Northeast Laos. A GT-Rider map was also prominently displayed on the wall, as an accurate information source for tourists.
Rusting war junk decorates the parking lot, probably a leftover from a strategy to promote Xieng Khouang as an "explosive " province.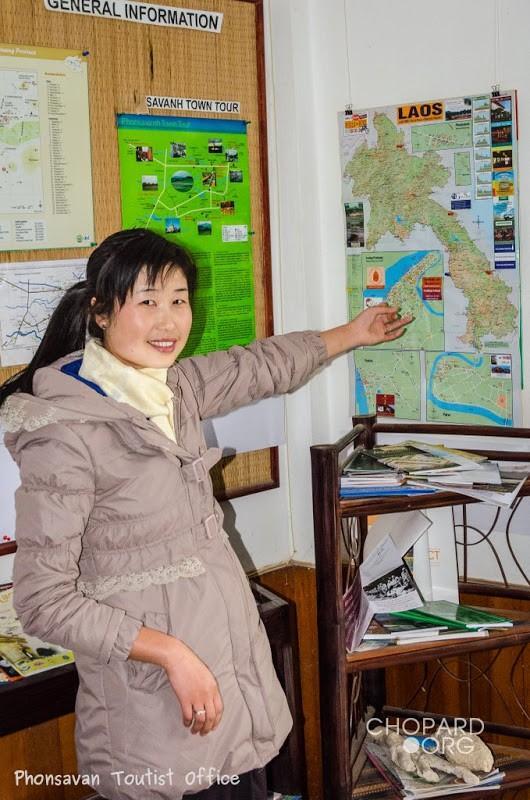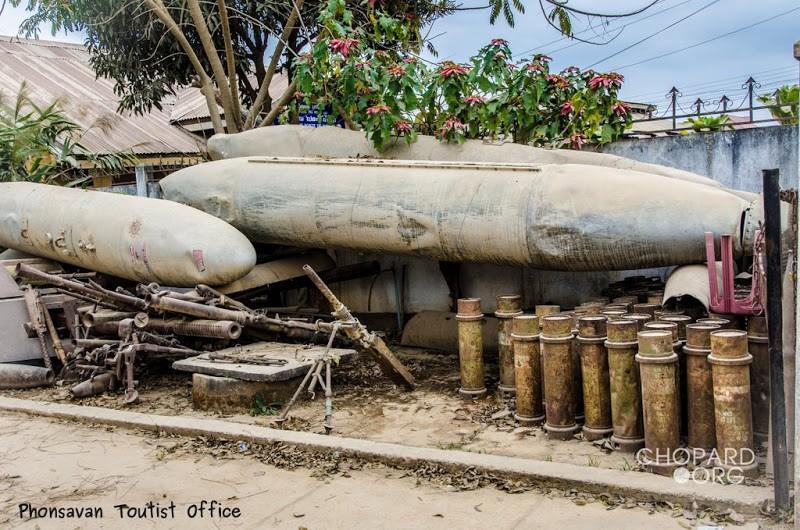 The weather was a mixed blessing; an horizon charged with mist and clouds, but no rain and a pleasant temperatures for the drive.
Muang Khoun (former Xieng Khuang) is located 30 kilometer outside Phonsavan, on Route 10. Former Xieng Khuang, the capital of the Phuan kingdom, was strategically located between Thailand and Vietnam. When hordes of Haw marauders sacked it, the French colonial power took the region under protection. Finally, during the second Indochina war, it became Laos' most important battlefield. Its devastation was described in books like "The Ravens" (6):
"« We completely annihilated the area around Xieng Khouang ». In the town some fifteen hundred buildings were flattened, and as many as two thousand more all over the Plain of Jars ... By the end of the year there would not be a building left standing."
Another account is from Mervyn Brown [War in Shangri-La ('8')]:
"... In response American bomber obliterated the towns of Sam Neua and Xieng Khouang and the Phatet Lao headquarter at Khang Khay, leaving not a single building standing. The destruction of Xieng Khouang, a former royal capital with many beautiful temples and other buildings of historical and artistic interest, was a particular act of cultural vandalism. With nothing left but piles of rubble it was later decided that it was not feasible to rebuild the town, and the provincial capital was moved to Phongsavan on the Plain of Jars."
Throughout the calm valley leading to Muang Khoun and when arriving to the city, few scars from the tumultuous past remain visible.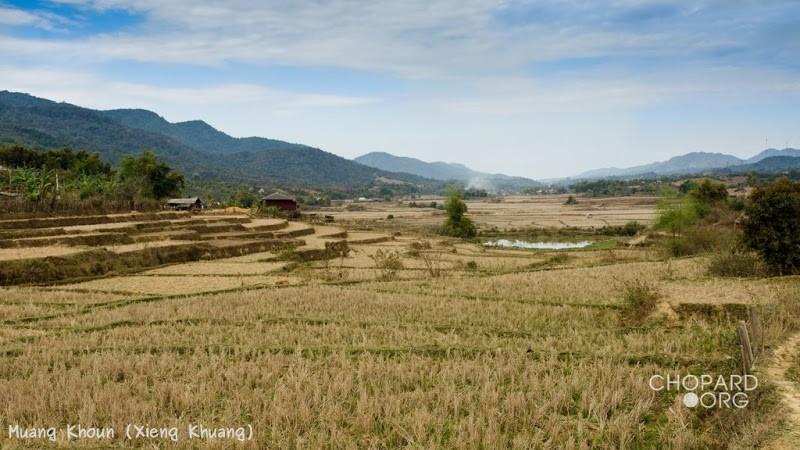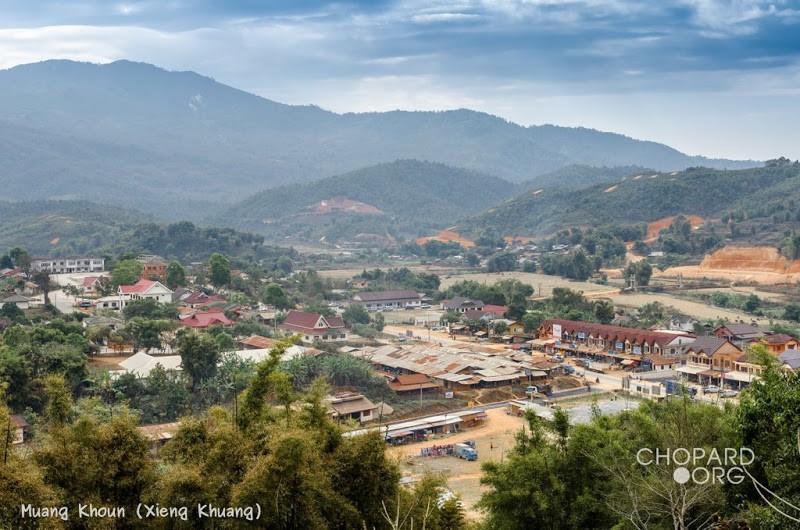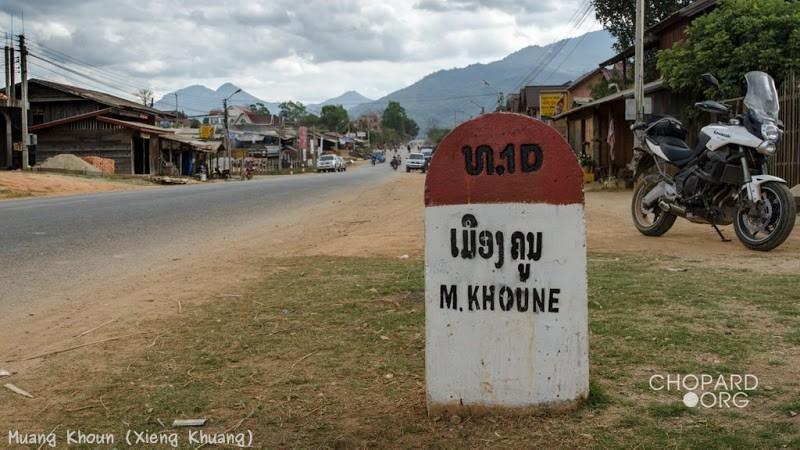 My first visit to antique stones was for That Foun (That Chomsi), a hillside stupa dating from the 16th century. Leaning but standing, it is covered with vegetation and can be entered through a cavity made by Haw marauders searching for Buddhist offerings.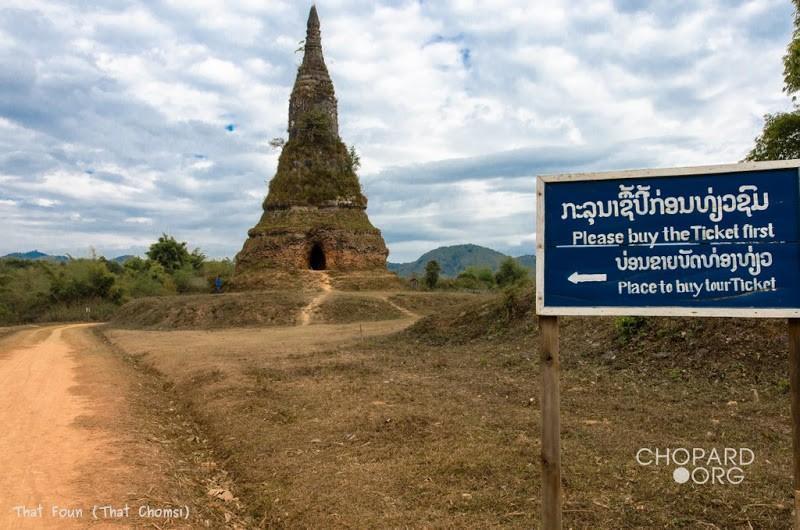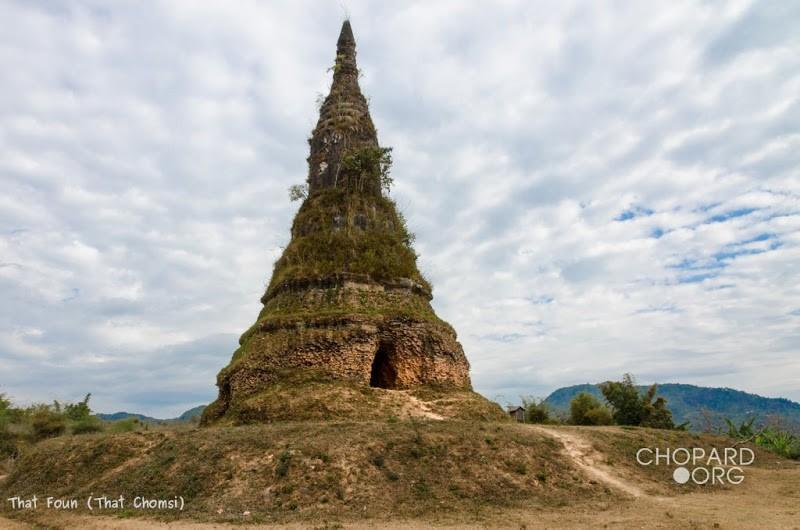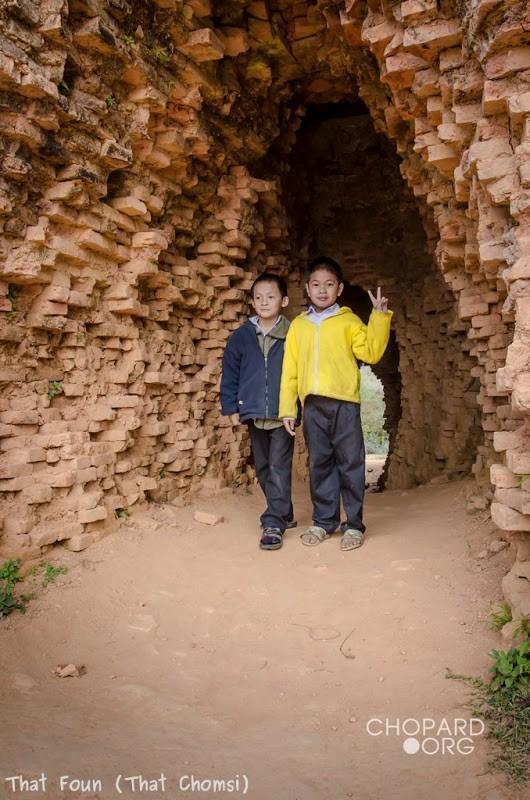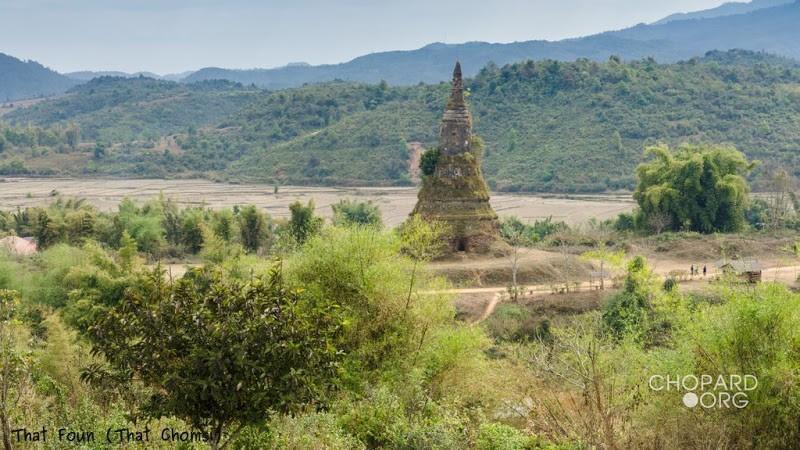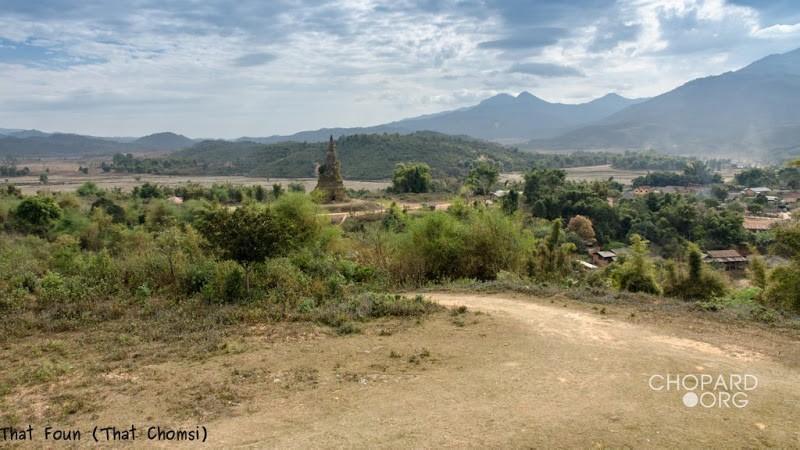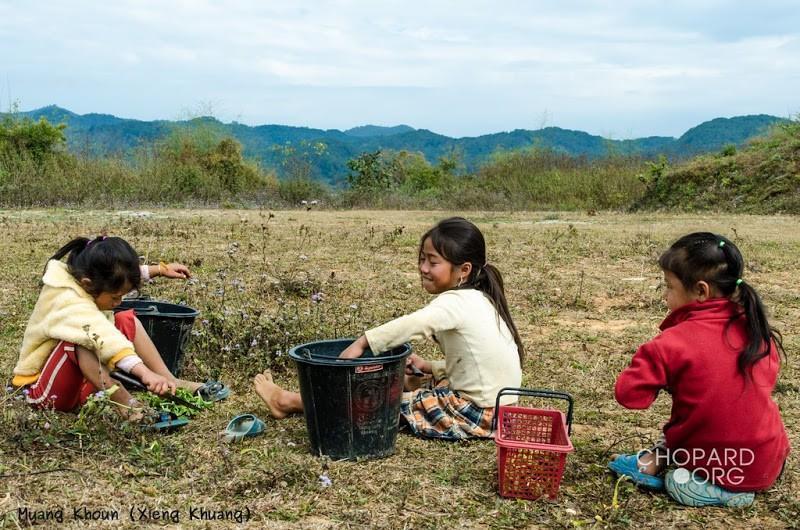 At What Phia Wat a serene Buddha image meditates over a prestigious temple's fragmented pillars . It could be an illustration of impermanence, of the pointlessness to clench to the material world. For me, it is a sorrowful reminder of humanity's slow progress toward understanding, lest there is insufficient time left.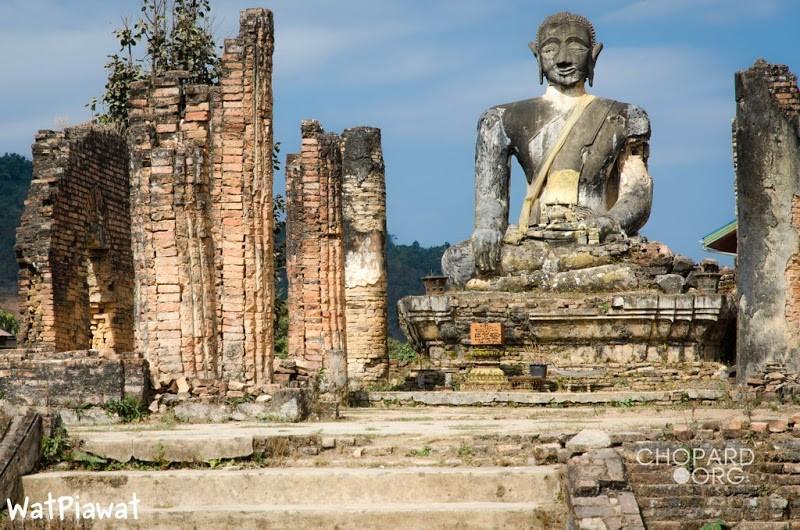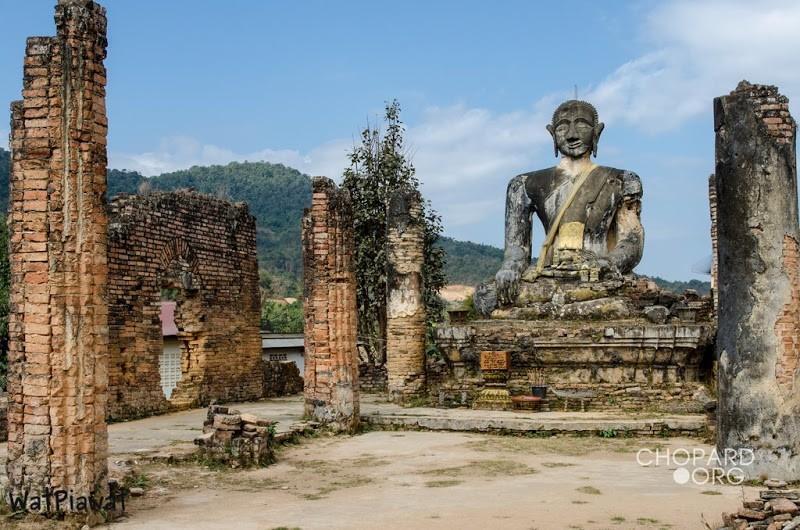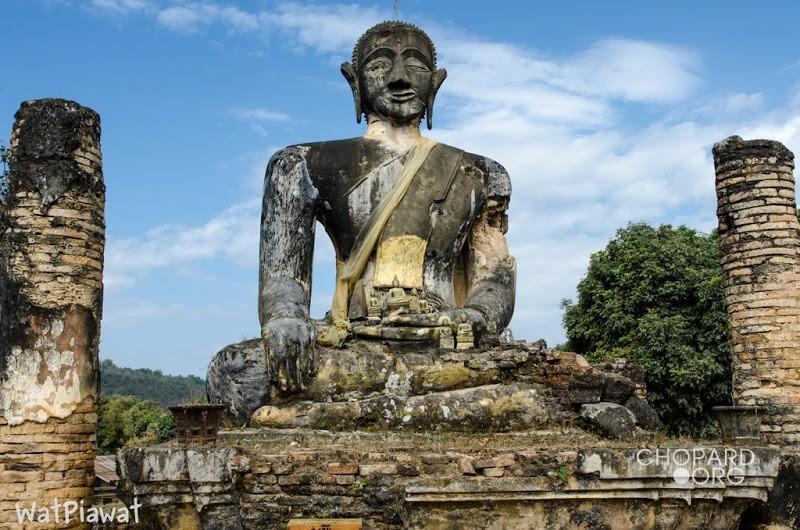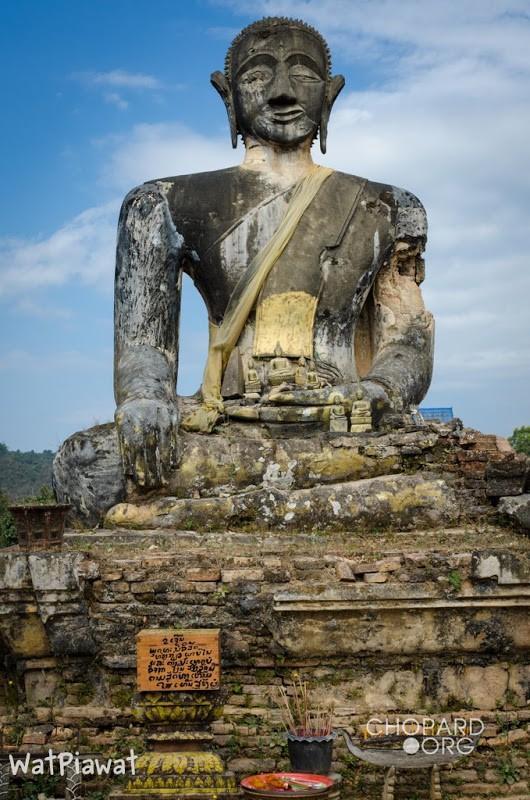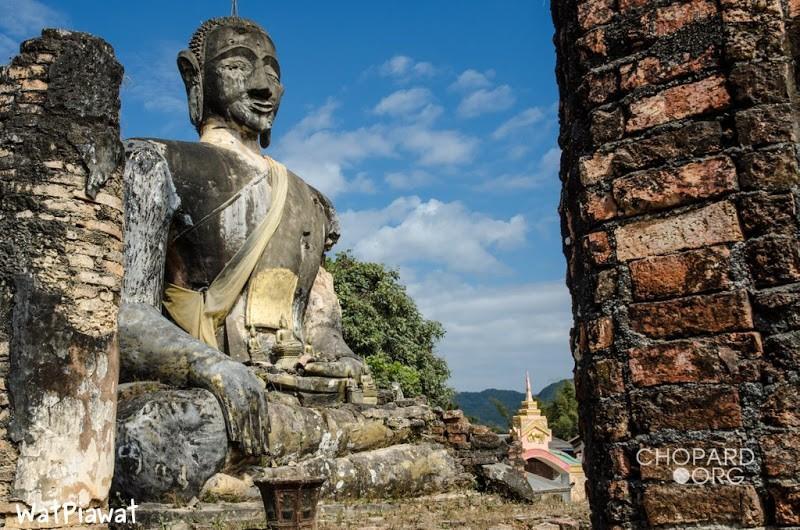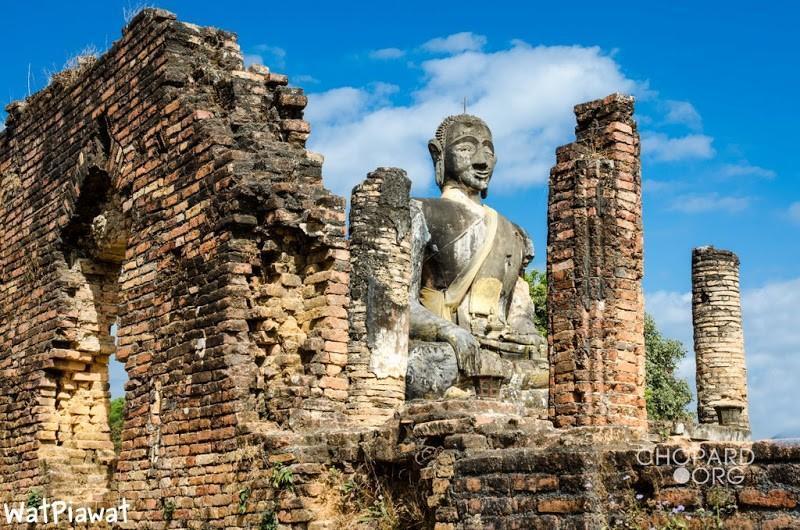 Following information from the tourist office, I decided to explore the new road to Pakxan, at least for a short distance. It began on a smooth pavement, but after twelve kilometers became "under construction", with the usual dust trail produced by heavy building-site trucks. This 200 kilometers road (which should be completed in 2013) will provide a great connection to South Laos and Isan. If the projected "Fifth Mekong Bridge" is build, it will also be linked to a convenient crossing toward Bung Kan.
Slightly uphill, I could see a village veiled in a dust storm and I decided to make it my turning point.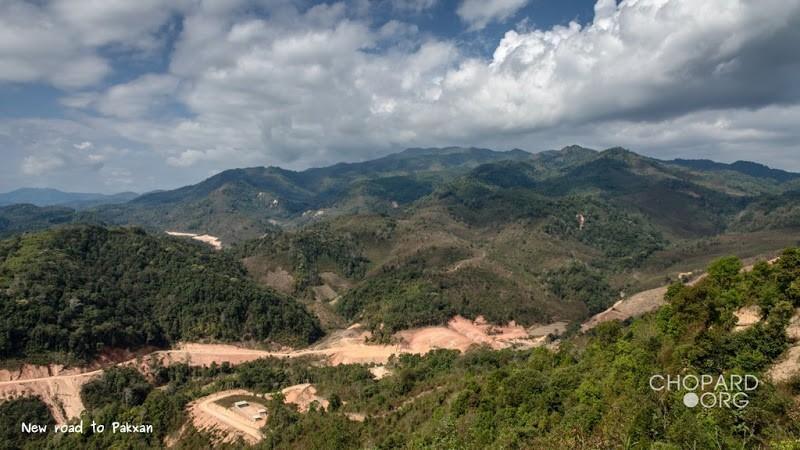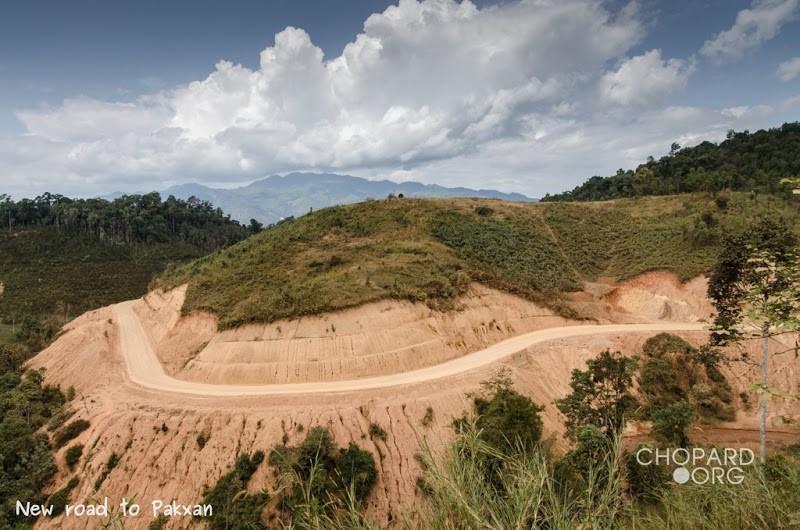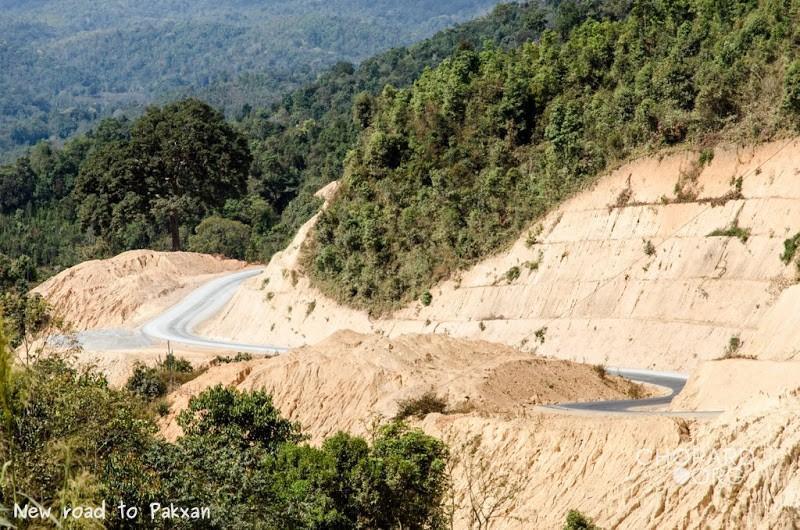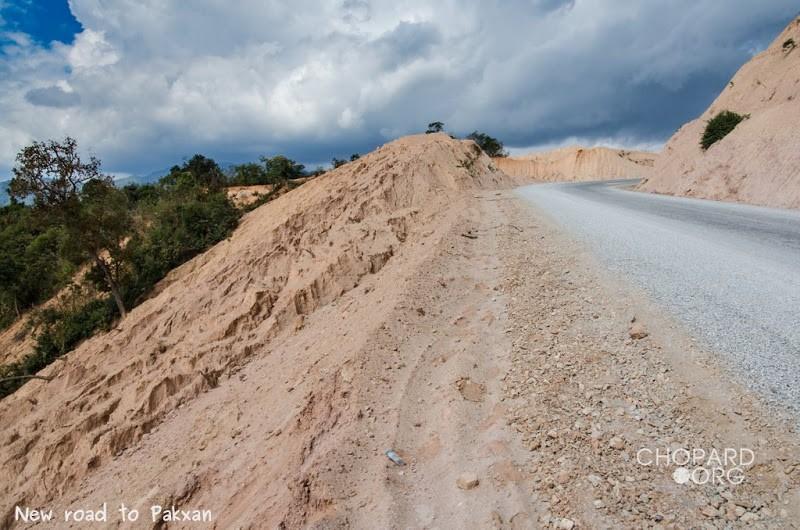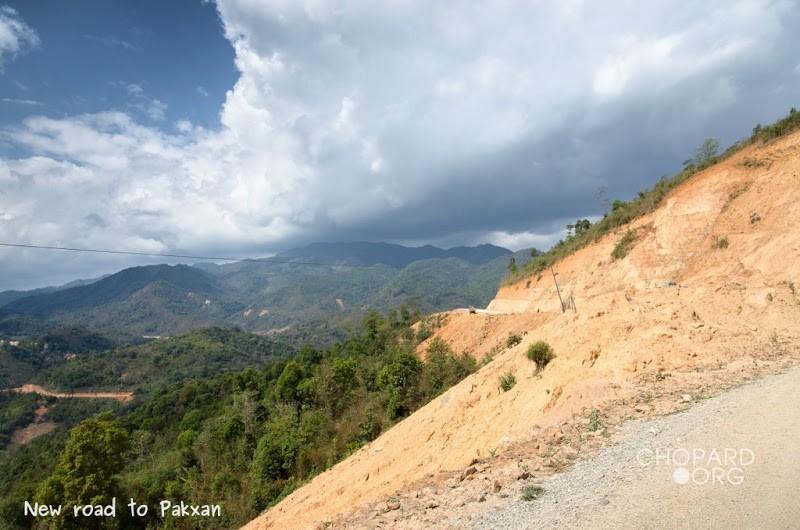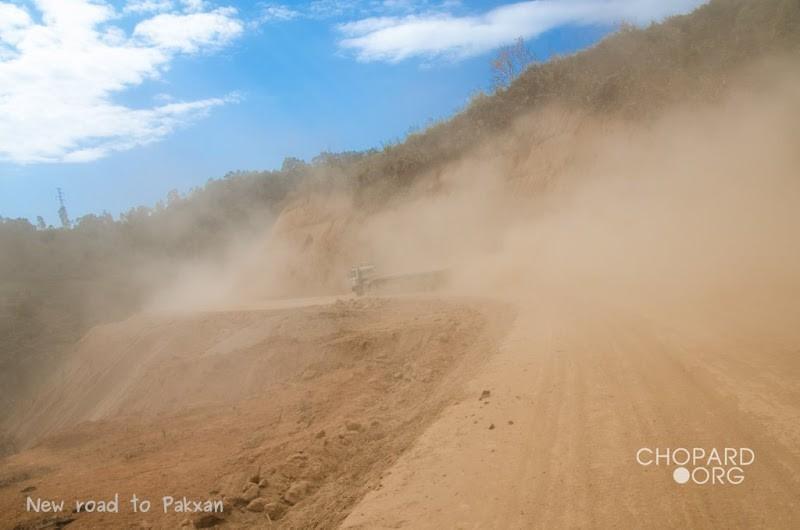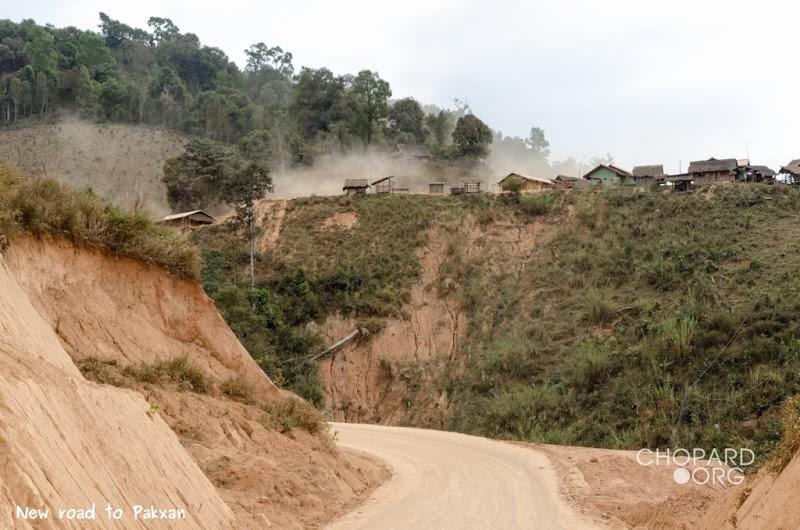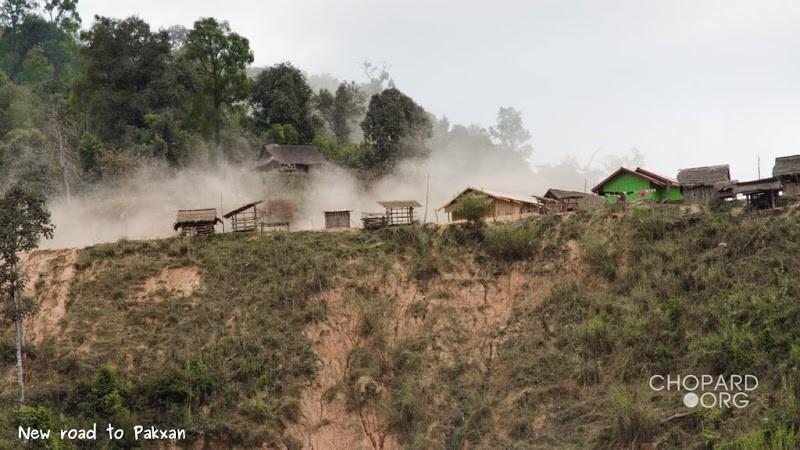 The small village is a Hmong settlement called Ban Keo. It has a couple of houses and a two classrooms school. I spent some time walking around the compound and had fun with the kids, before retuning on the dusty trail, back toward Phonsavan.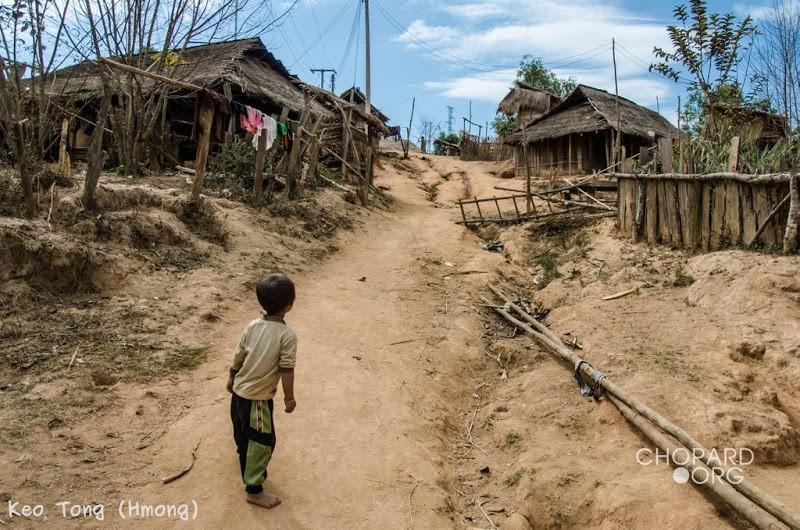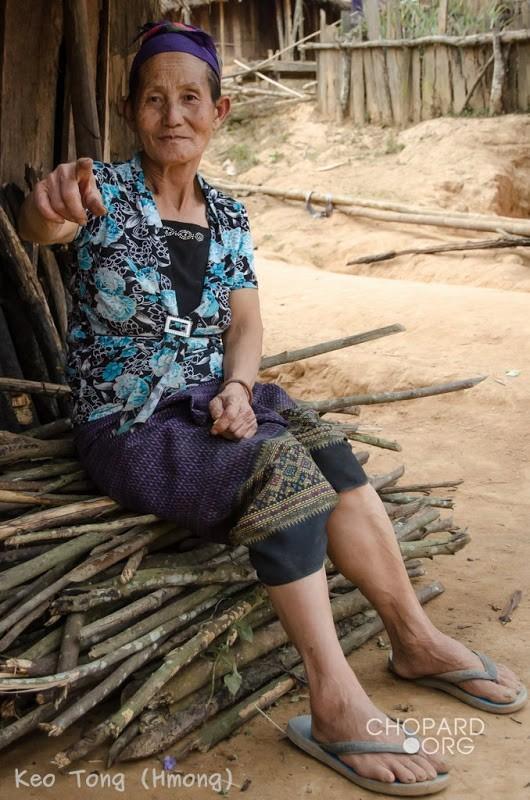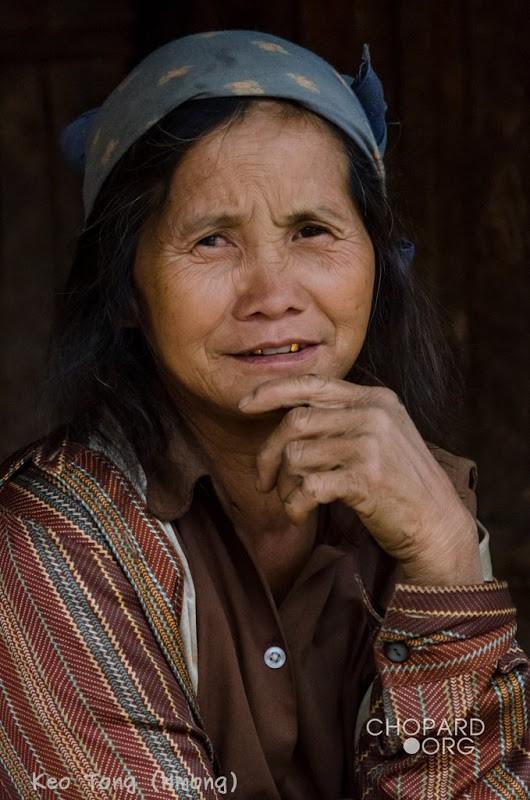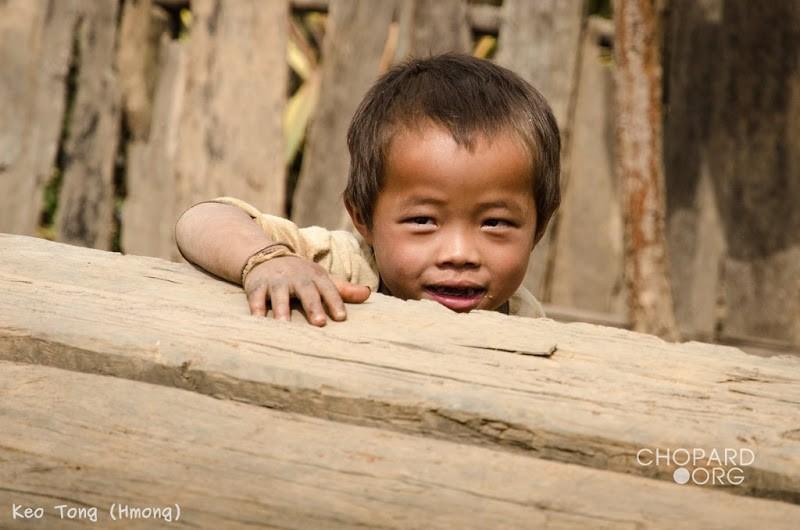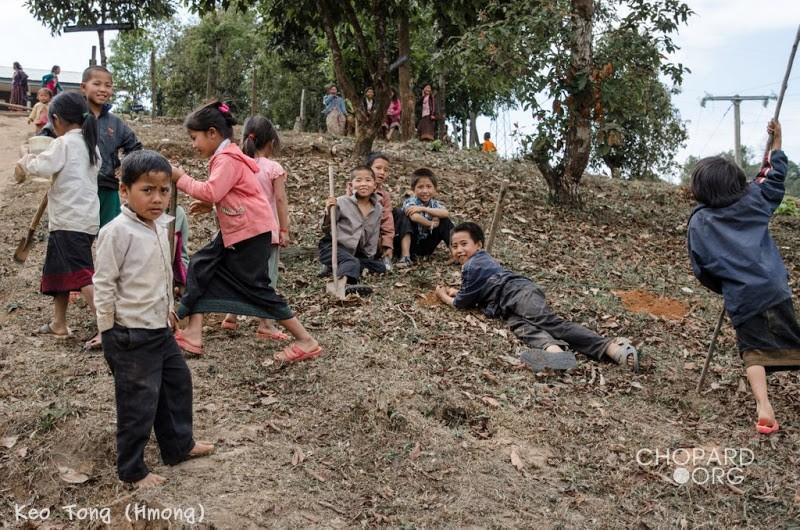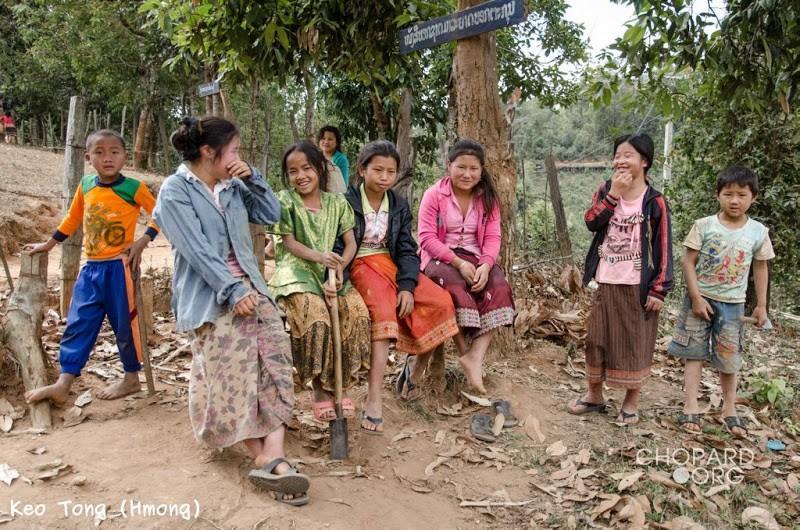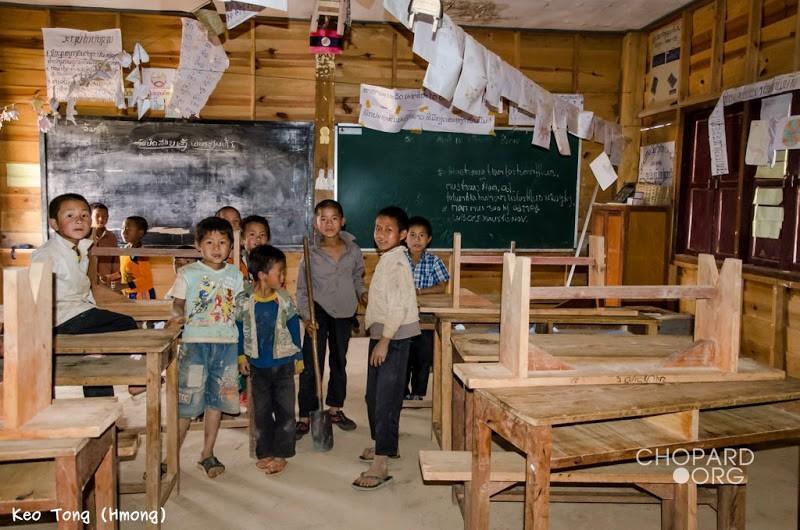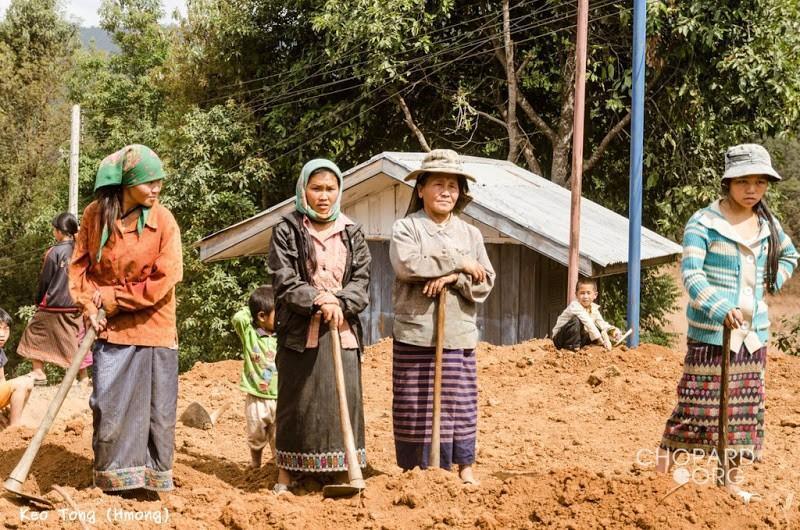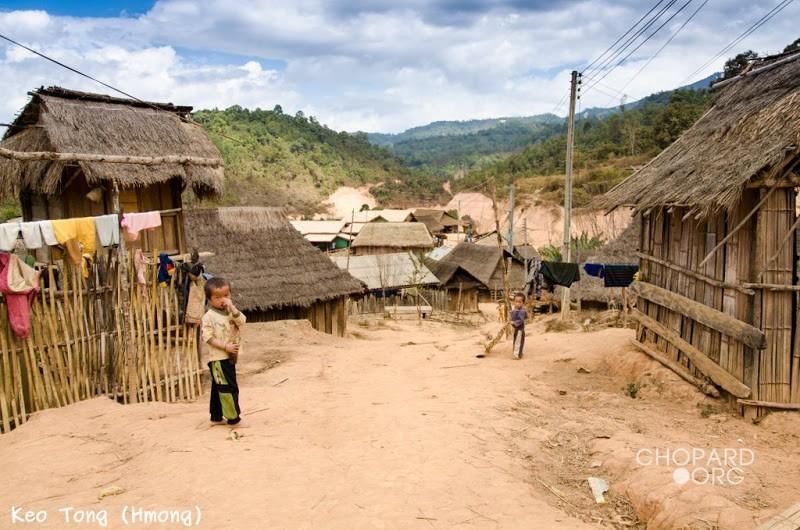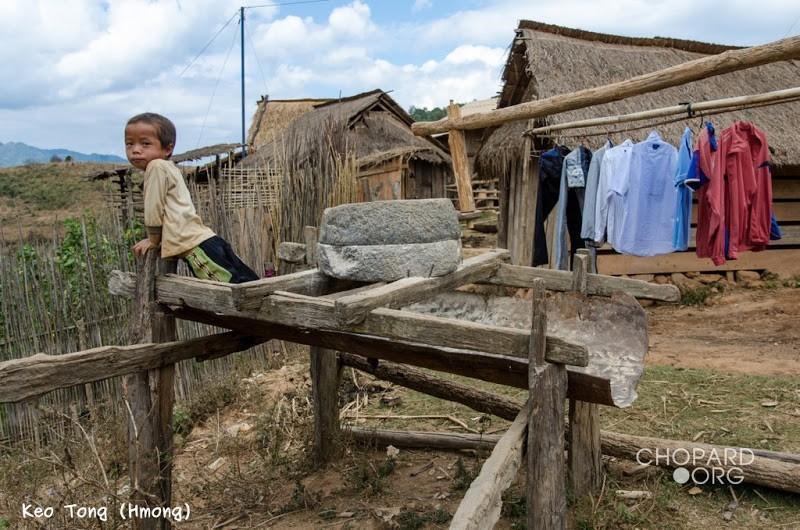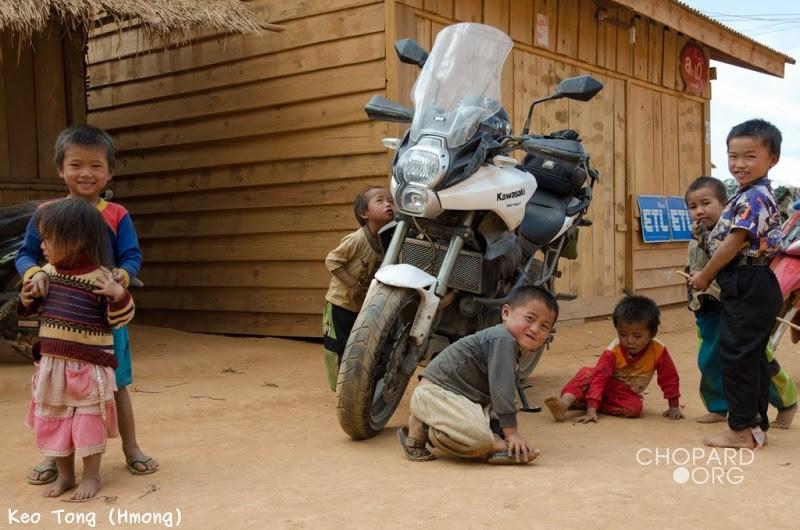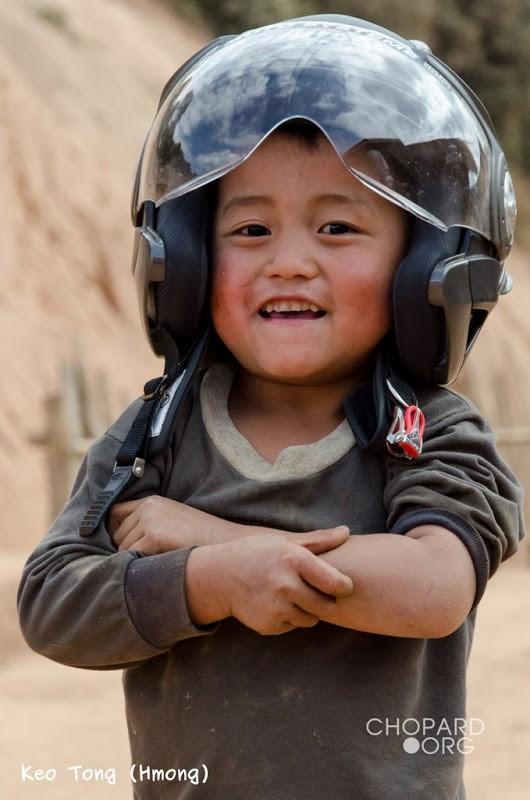 On my return trip, I stopped at the "Jars site 1", in Huay Hin. I had visited this place during a former trip, but wanted to check it again. My pictures and story about this call will be published in a next report, together with the account of "Hin Tang Archeological Park.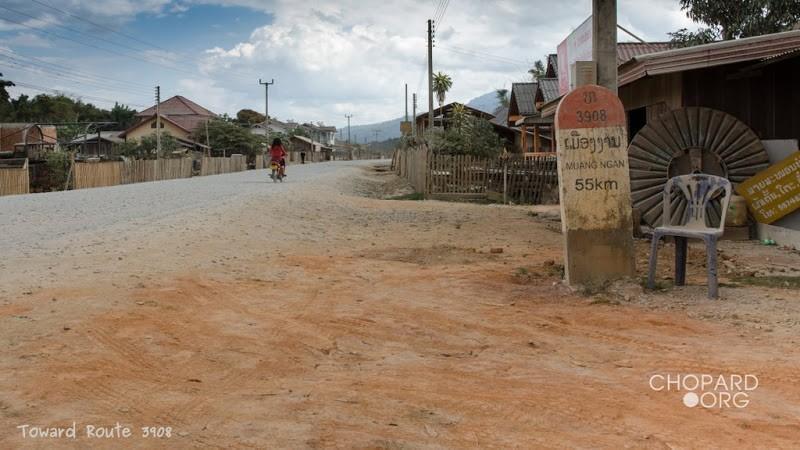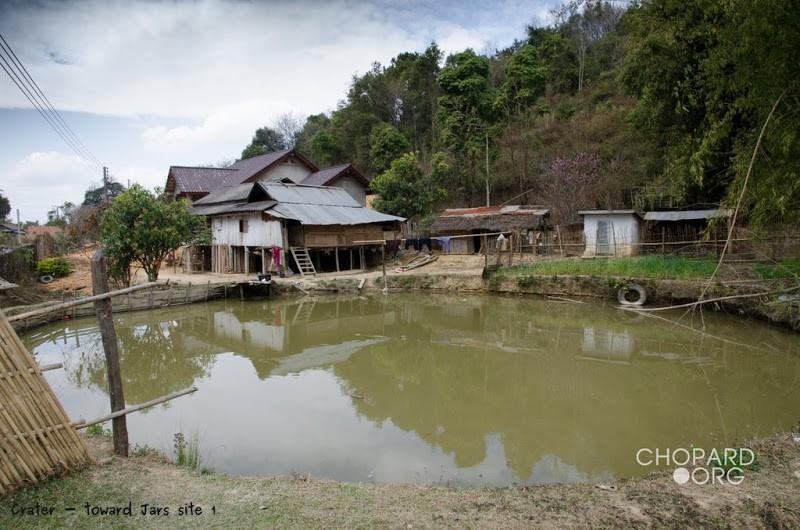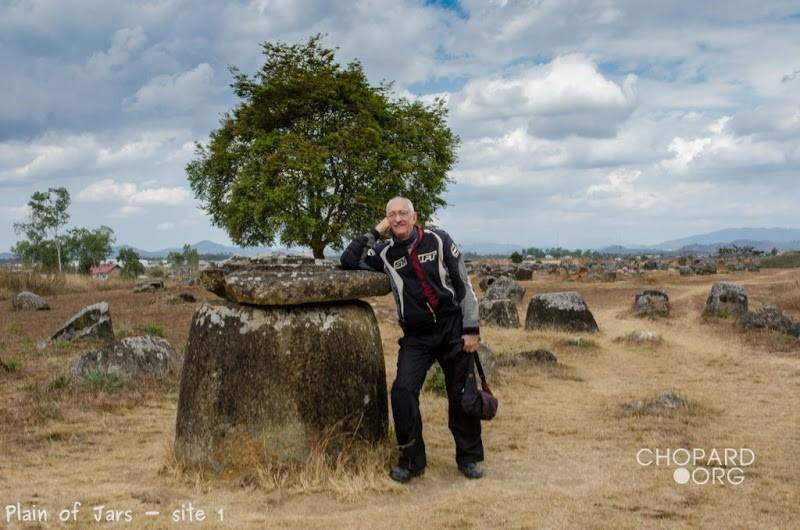 Back to Luang Prabang
The morning started with a dry road, a cloudy sky and a promising orange line at the horizon. A quick "Craters" breakfast and, at seven o'clock, I was heading east, on Route 7.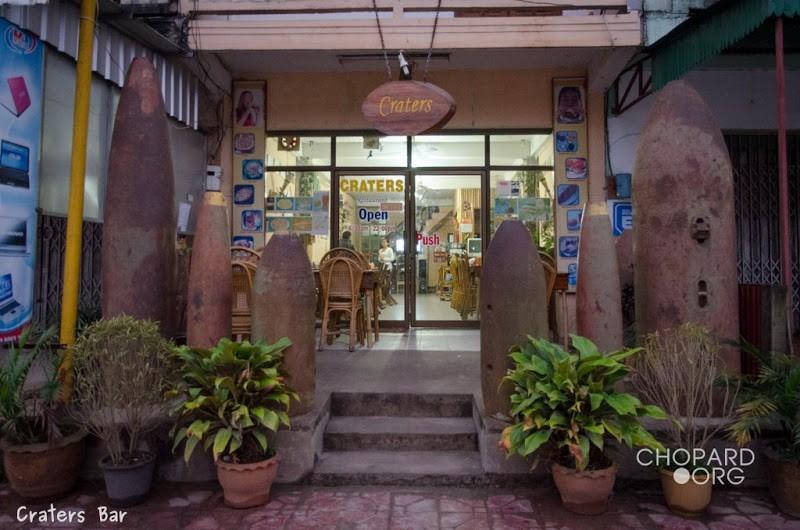 After 10 kilometers, a branch out leads to Phu Kheng, a newly promoted jars site, actually the quarry were some of these stones were extracted and carved. It will make an interesting visit for a future trip.
Morning mist and sunny stretches alternated for a pleasant drive. The itinerary is less hilly than on Routes 1C and 6, and the reinvigorating freshness of the early hours pushed me non stop to Non Tang.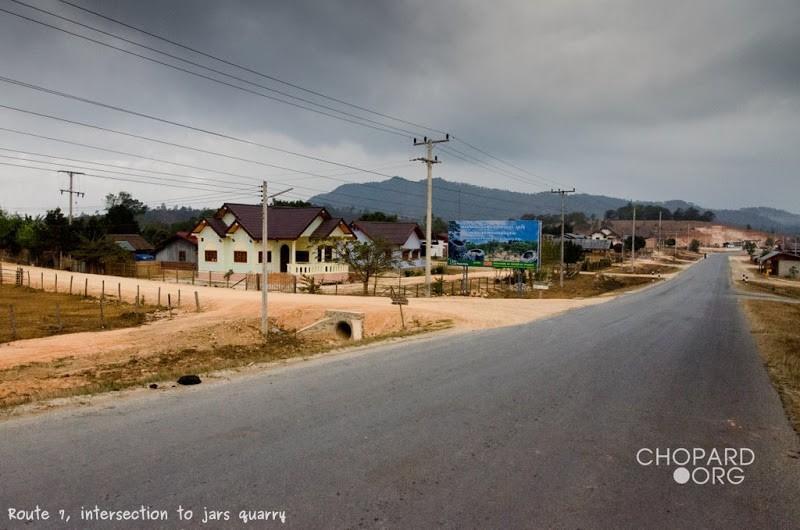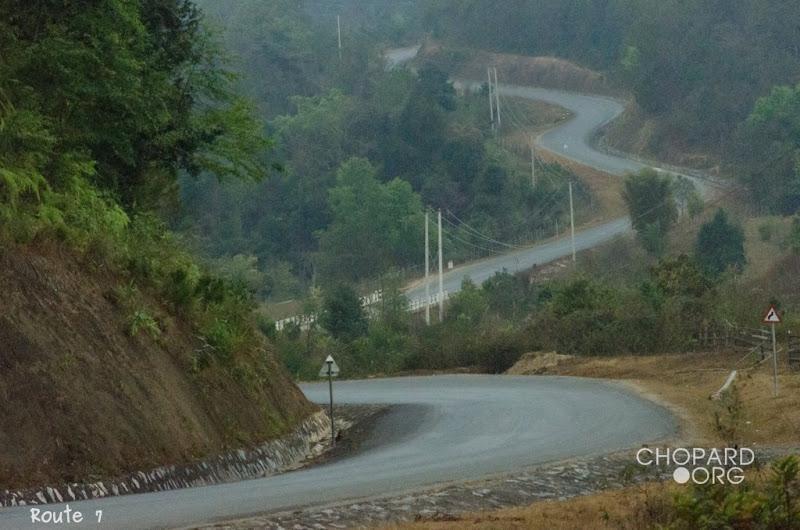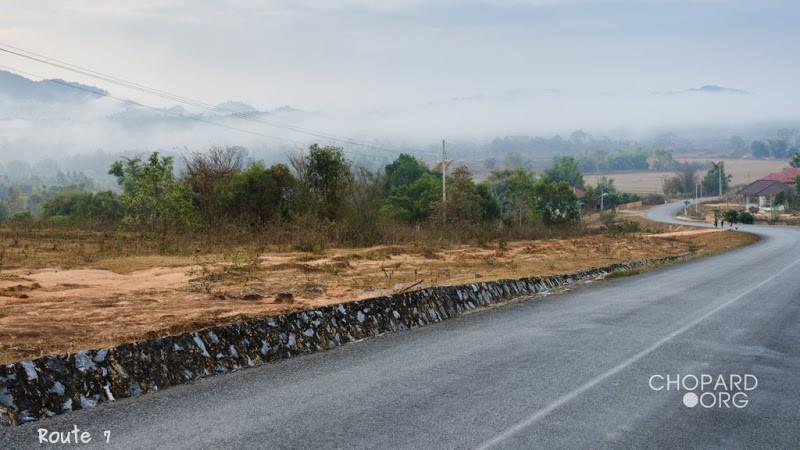 Countless places, particularly in Houaphan and Xieng Khouang provinces, have been "obliterated" during the war.
Brett Dakin (Another Quiet American) reflected on the suitability of this statement when he corrected an official brochure (4):
"The phrase - almost totally obliterated - was dead on. But was it appropriate for a brochure intended to appeal to Western tourists, potentially Americans? ... I decided to leave the text untouched."
This expression is cutting precise to describe the complete destruction of a settlement, its demolition, annihilation, and crumbling till it is erased from the map; often villages where relocated when rebuilt and changed their names. The devastation fires came from both sides; leftover from air strikes being cleared by the opponents' artillery.
Muang Soui, now renamed Nong Tang is such a village. It hosted the landing site "Lima 108" and for a time, the head-quarter of the Neutralist Faction. When the Roal Laos Army evacuated it, the North Vietnamese army razed the place.
As described in "The Ravens" (6), this was a strategic location:
"The town of Moung Soui was the gateway from the Plain of Jars to the major road connecting the royal capital of Luang Prabang with Vientiane, its fall would imperil Long Tieng"
A google map picture still shows the landing site L-108. It is now only a sand stripe, but the locals are aware of its existence, as I noticed when I asked for my way.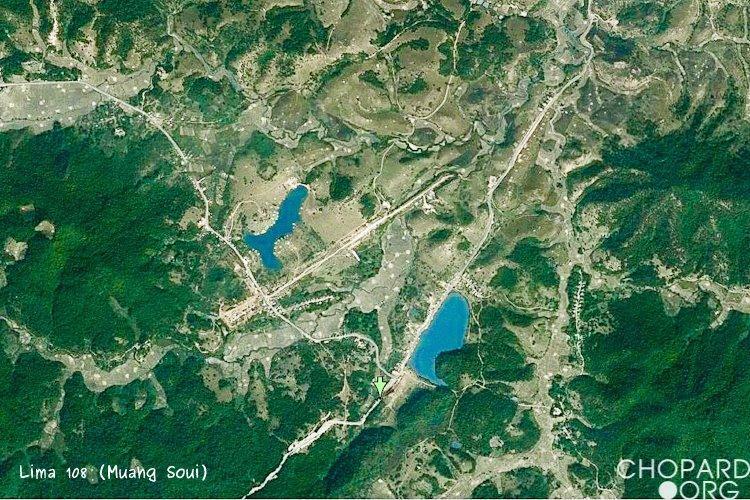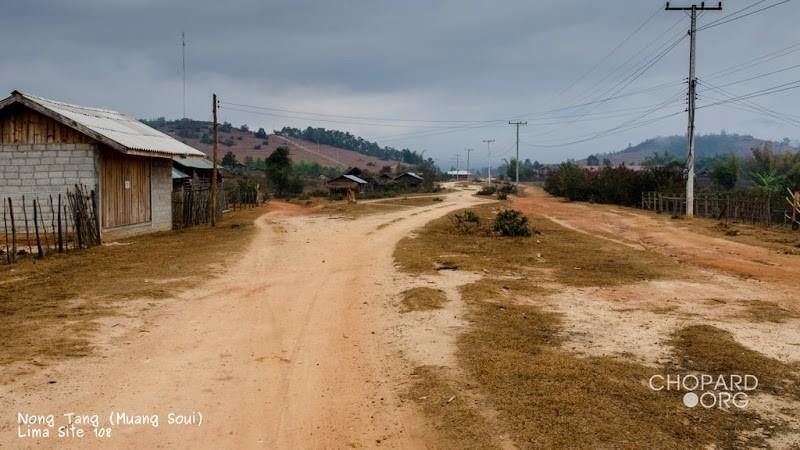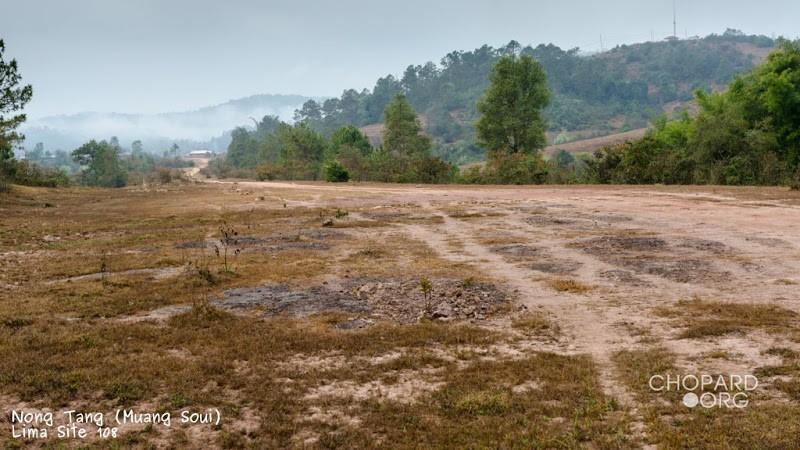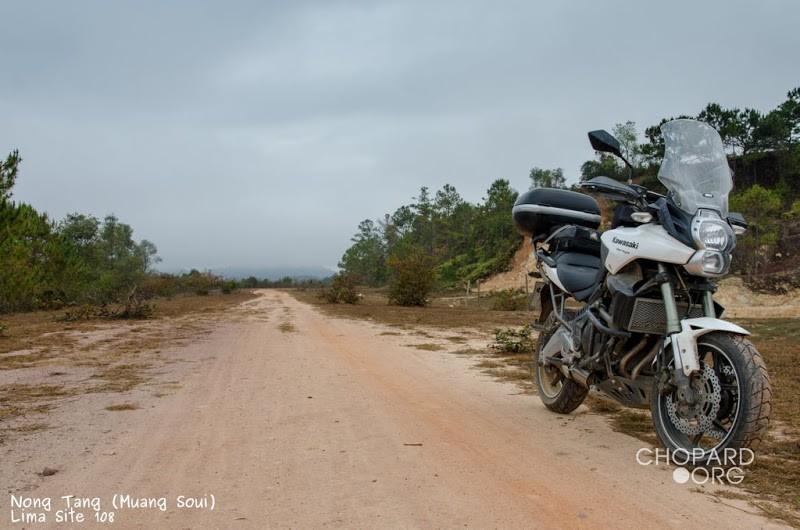 Lite morning fog draped the landscape in a charming veil, with here and there people harvesting « dok khaem » stems poking out of the haze.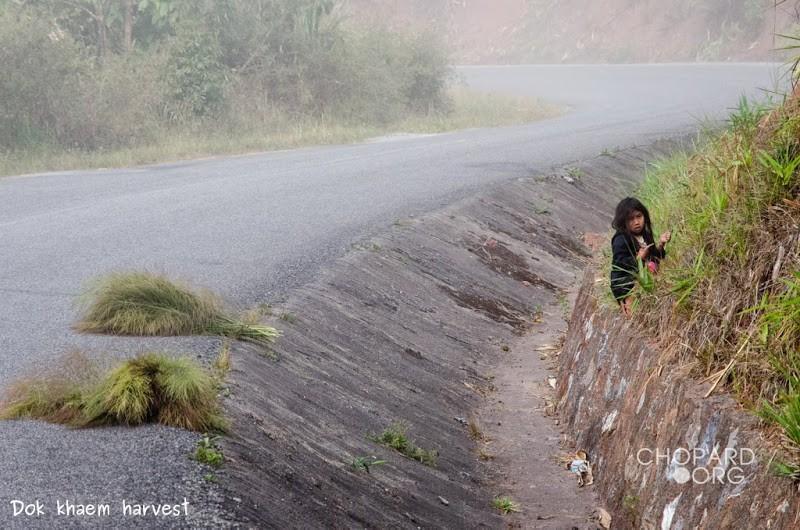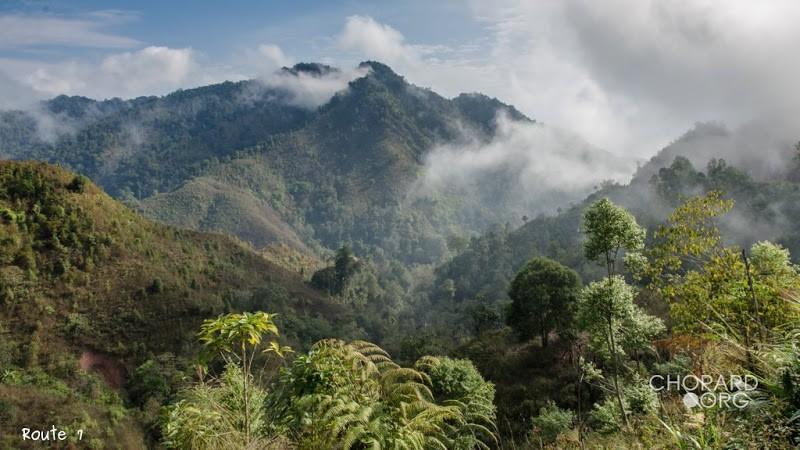 Before leaving Route 7, I had one more village to visit and stopped when I saw kids preparing harvested "dok khaem" on the pavement. Unfortunately it was the wrong place, as nobody recognized the children in my photos.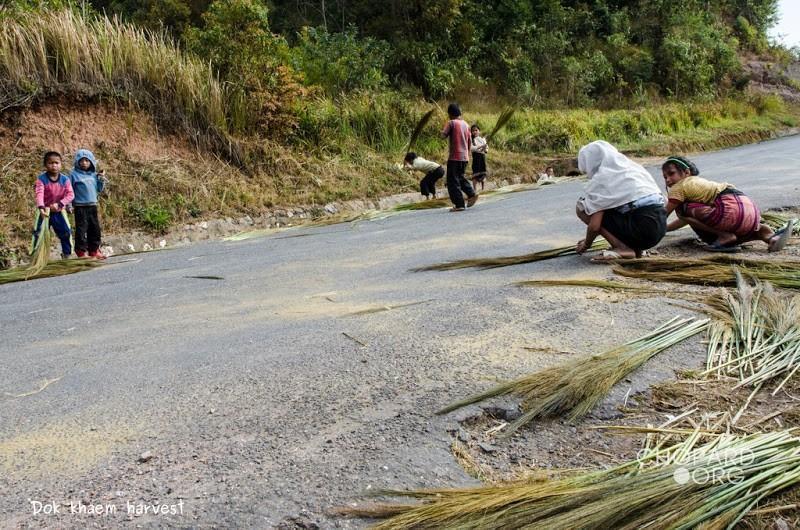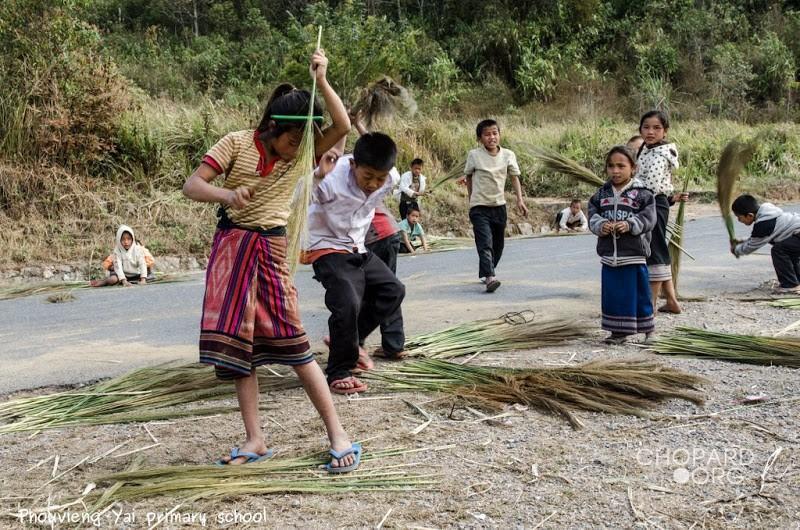 I had reached Phouvieng Yai Primary School, a center supported by AEON and Unicef; it was well worth to make a call to this neat place.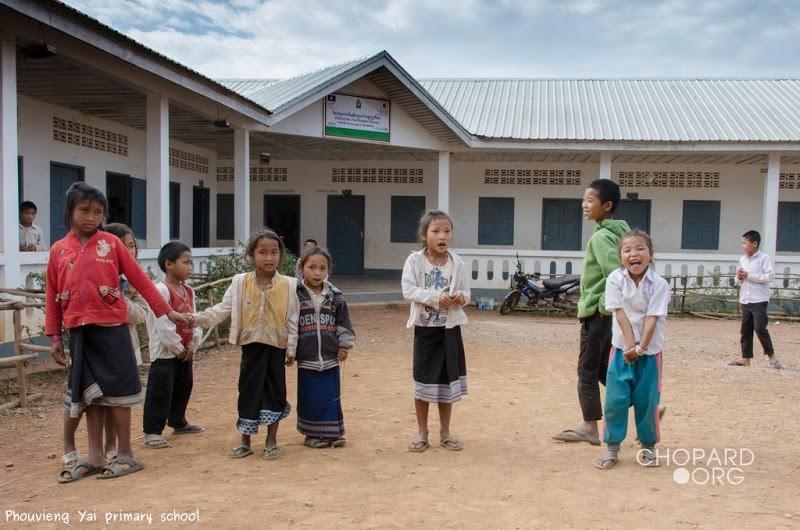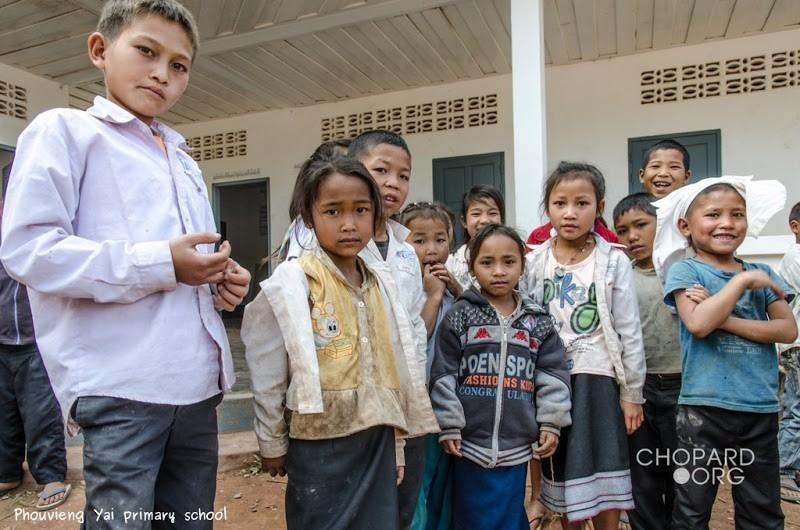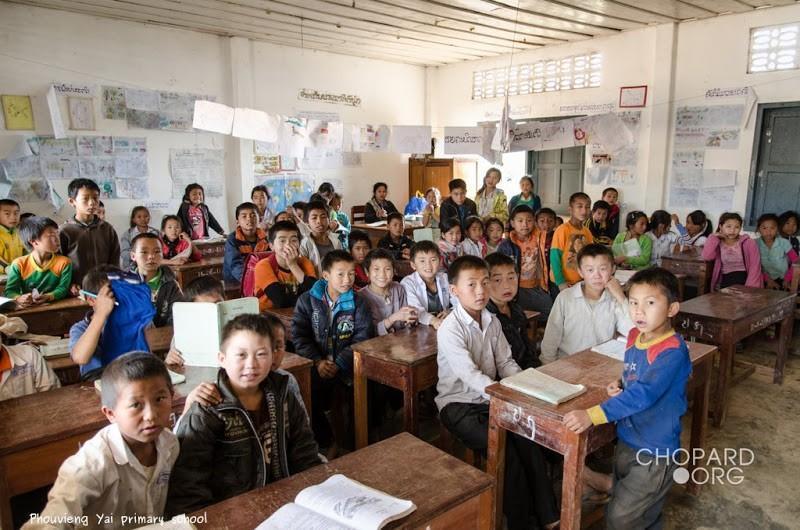 During the morning break children get physical exercise by jumping over an elastic. This game seems still very popular in Laos, as I have seen kids practicing it at various places.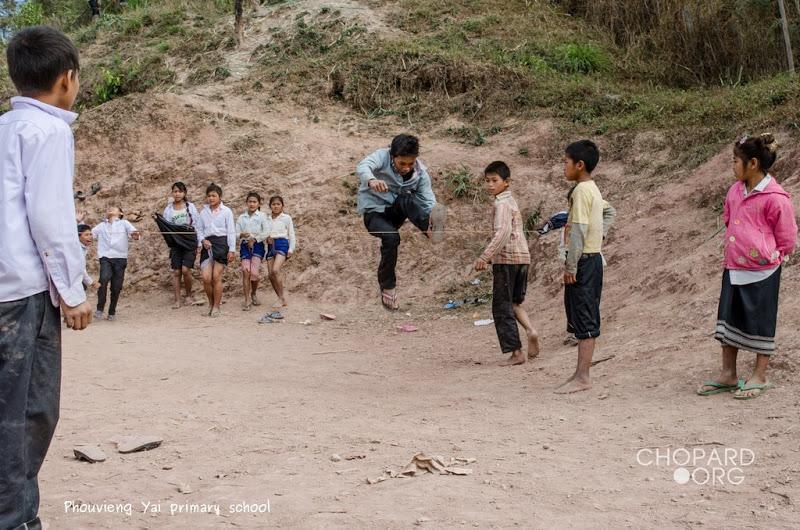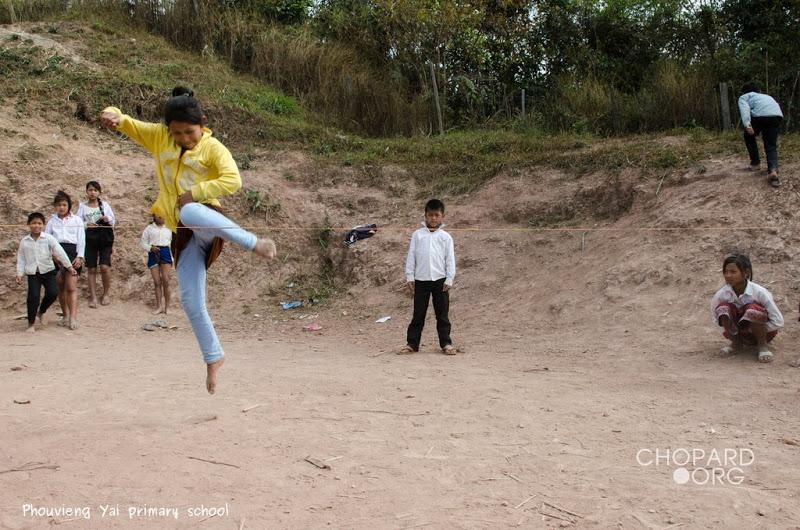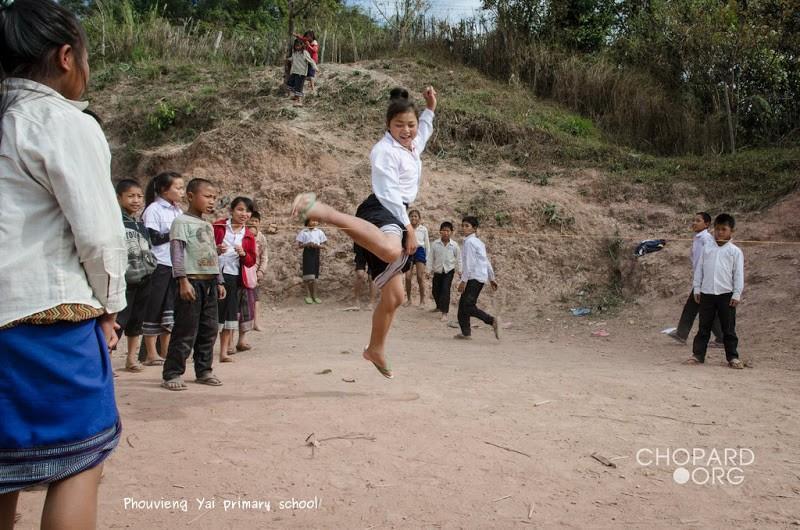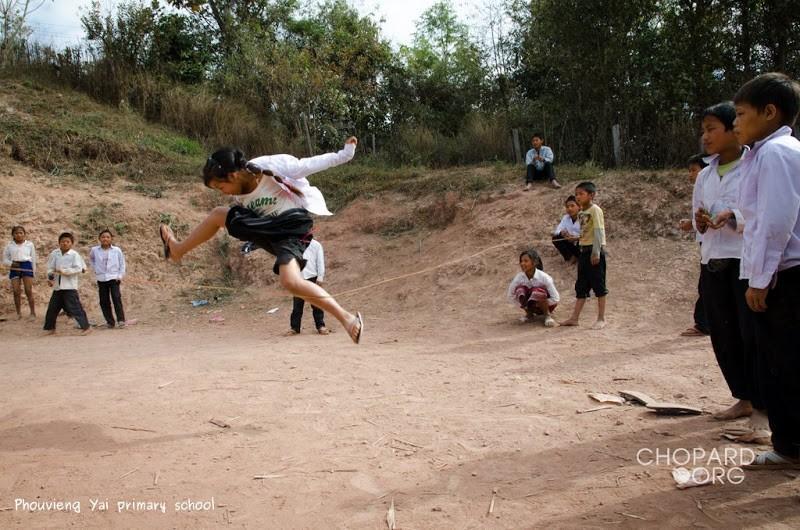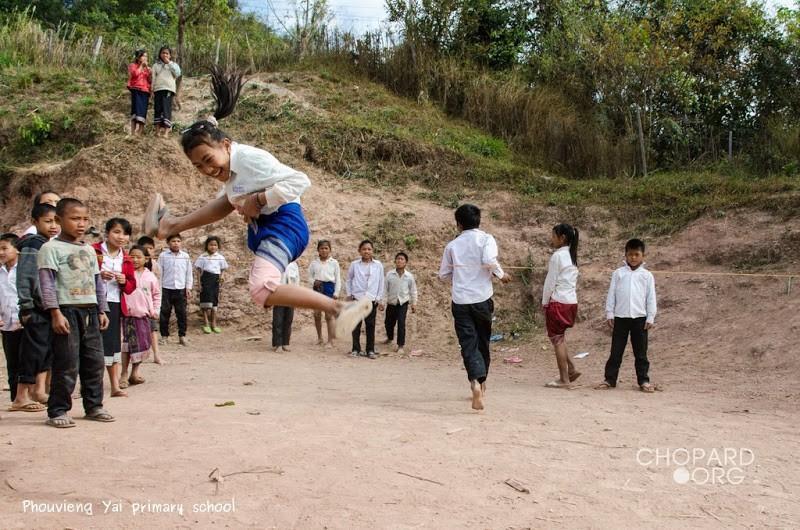 Children are always great photo motives and often keen to be portrayed, particularly when they are in groups.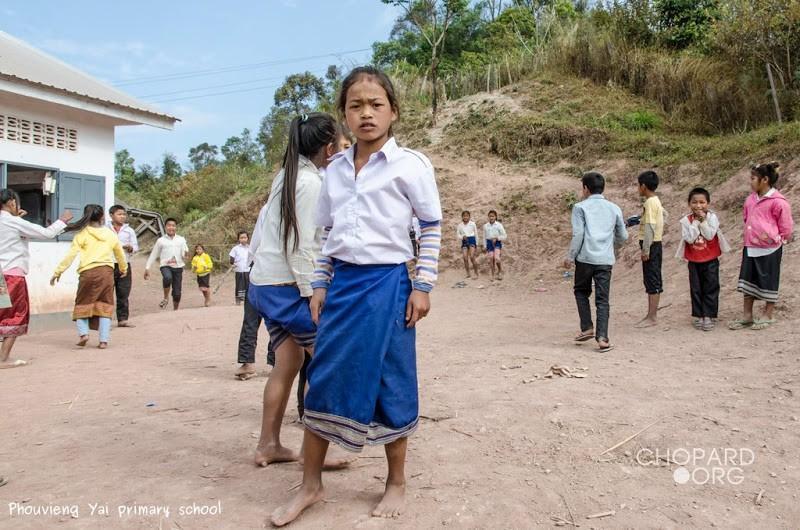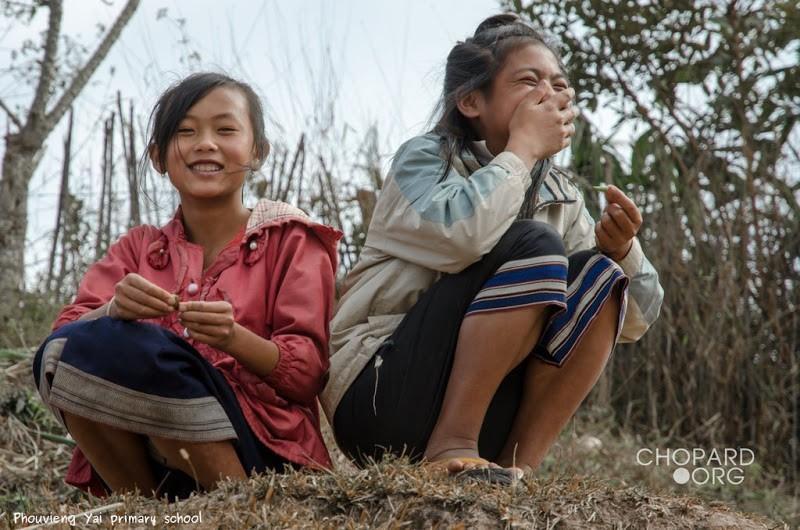 After crossing into Luang Prabang's province, the road became more worn out; it is, however, still good enough, compared to stretches on Route 13.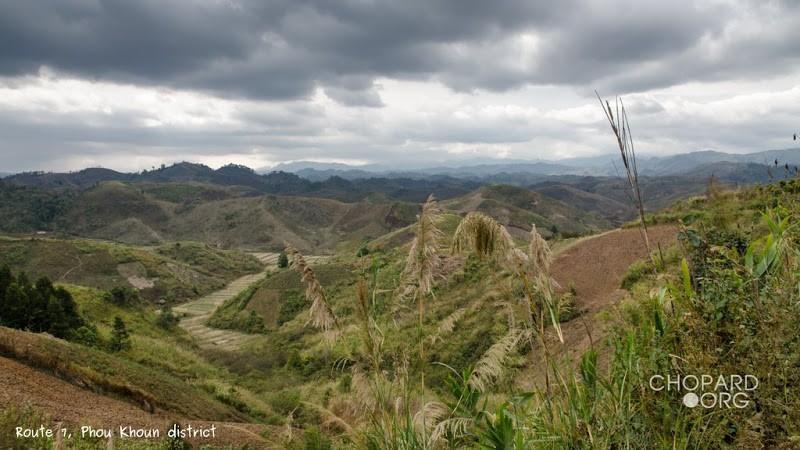 Eager to find my last village on this sector, I stopped in every hamlet to shaw the images to locals. The trackers' GPS coordinates were different from the one in the photographs, an insufficient information to evaluate the direction. Finally, I stopped at the right place and met the "jumping kid" from my picture.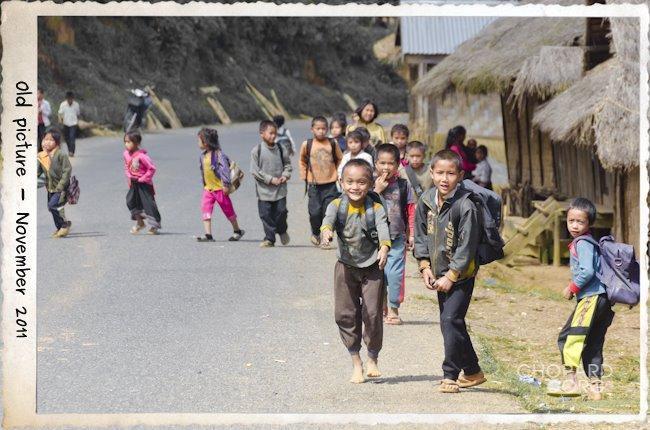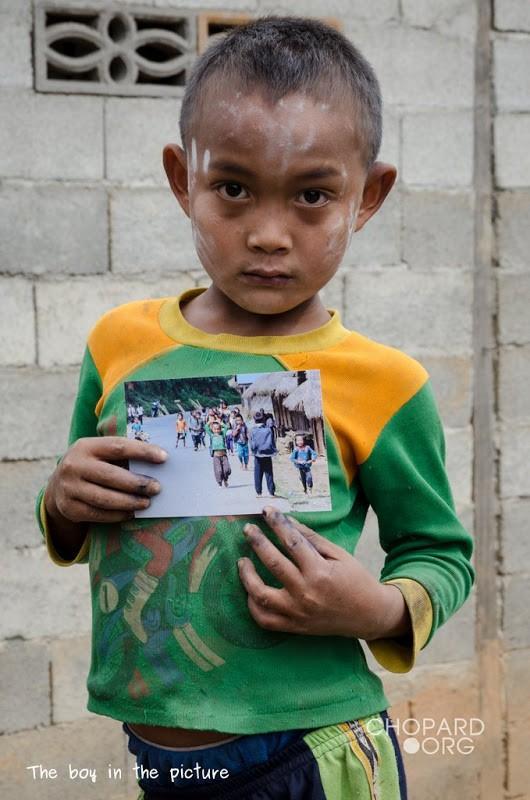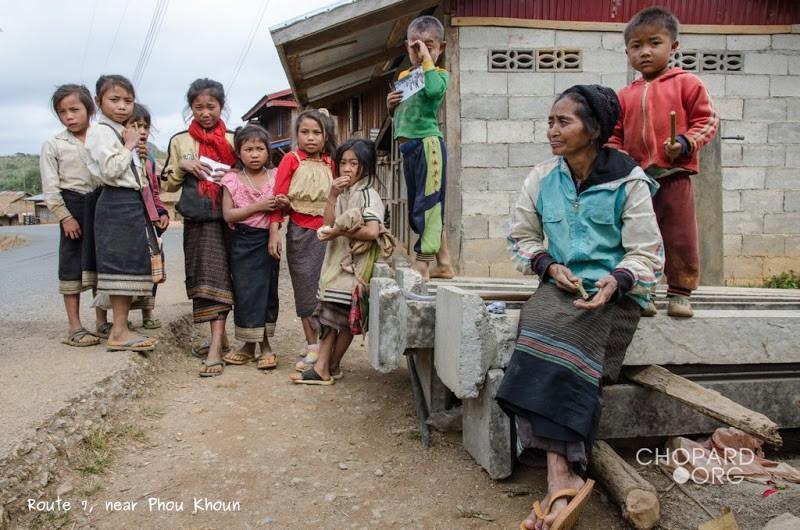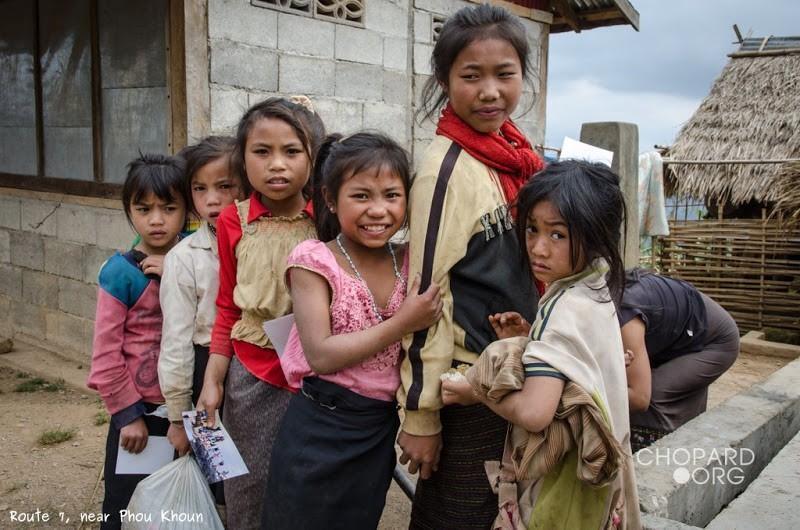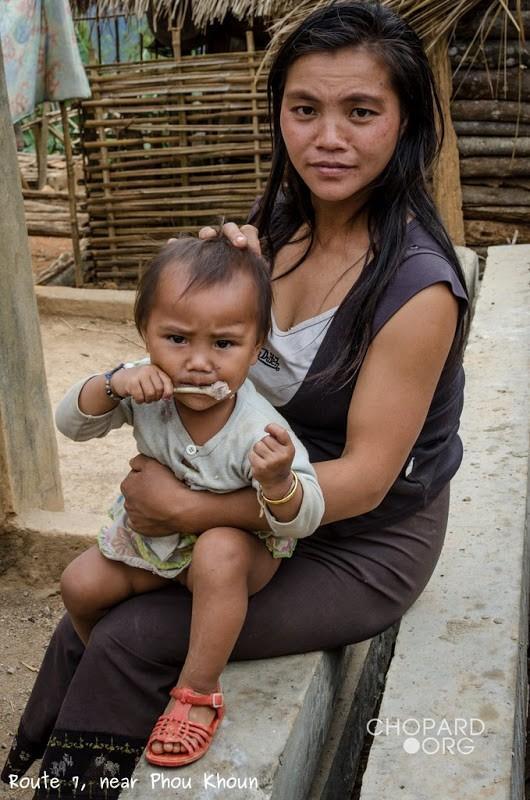 A couple of kilometers later I reached Phou Khoun, a dramatic historical site were the Hmong lost their illusions and many lives, a strategic broken keylock, opening Vientiane's road to the victorious armies.
Information can be found on a website relating the onslaught (7):
"After the disastrous defeat of two major Hmong armies in March and April 1975 at Sala Phou Khoun by North Vietnamese and Pathet Lao forces, the United States evacuated Vang Pao from Longtiang to Thailand on May 14, 1975. Thousands of his followers were left to their fate because the United States evacuation aircraft requested by Vang Pao did not materialize".
February is high season in Laos and, at noon, I met with a cluster of tourists' vans and buses parked near restaurants. Some were already on their way and I wasted no time, taking over as many as possible and putting some distance behind me.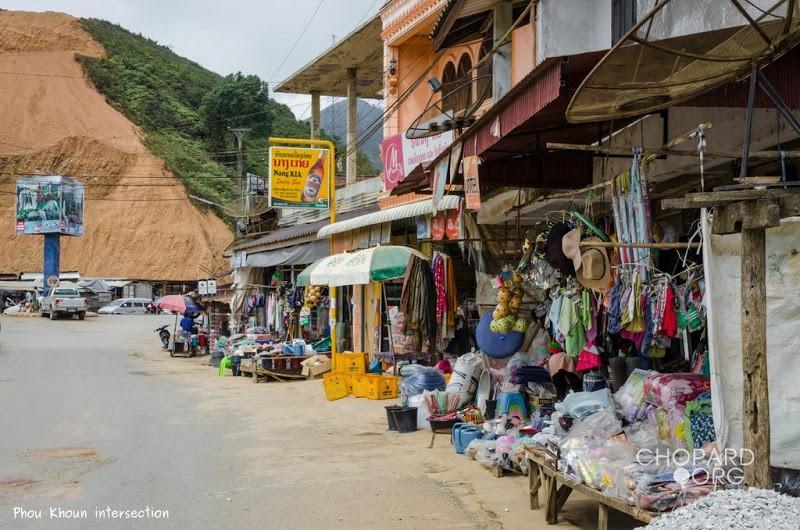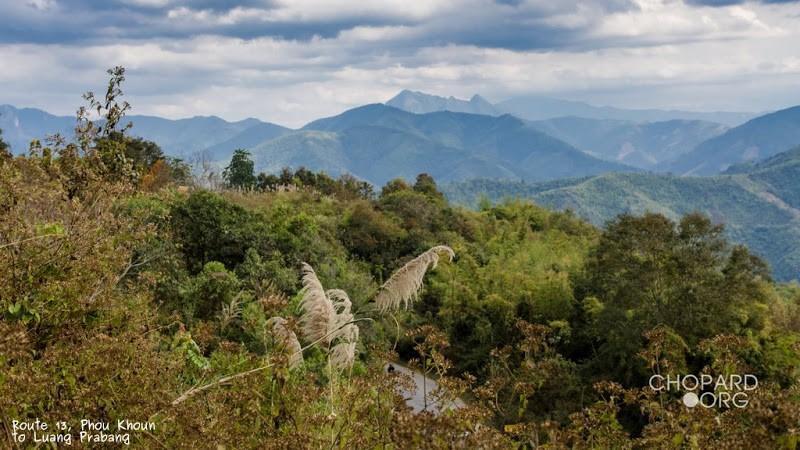 With a reservation, I got the last room in "Oudomsouk guesthouse" and settled in my usual shack. Then I was ready for a city walk, discovering Luang Prabang's busy neighborhoods flocked by a relaxed crowd of tourists.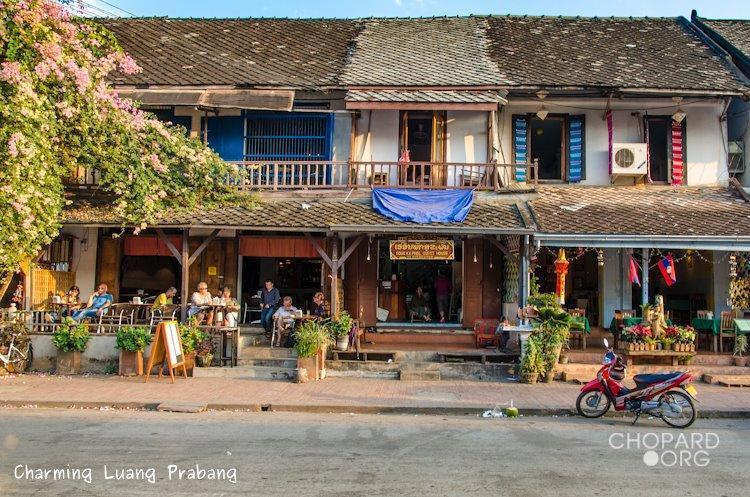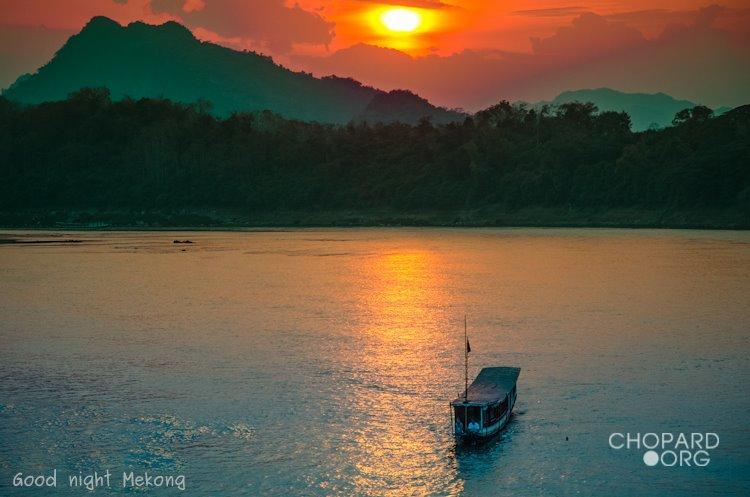 Here, my endeavor to distribute my former trip's pictures came to his end. I had fulfilled my pledge and distributed 350 photographs at 20 locations. Actually, I had one more village to visit, but on the way up to Oudom Xai.
Luang Prabang is rich in cultural diversity and my next project, during my sojourn and for my trip back to Thailand, was to visit weaving places, particularly in Lue settlements.
Two days later, on Route 13, I found my last village without much difficulties. As always, the kids were delighted to get their photographs. For me, this adventure was a gratifying experience. Amazingly, I took few additional pictures in places where I distributed the images. I could have spend hours with all these gentle folks, but was reluctant to exploit their benevolence. They would expect me to come back, and, for the time being, I had no plans to be on tis itinerary again. Of course, if my mood drives me to Northeast-Laos, I will again take prints with me.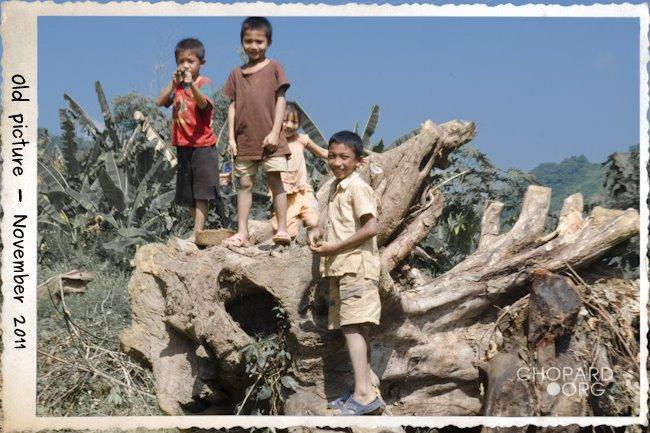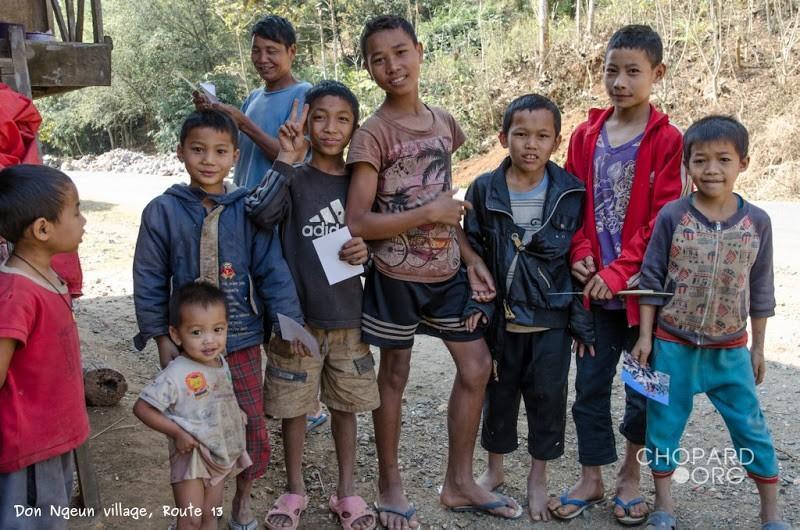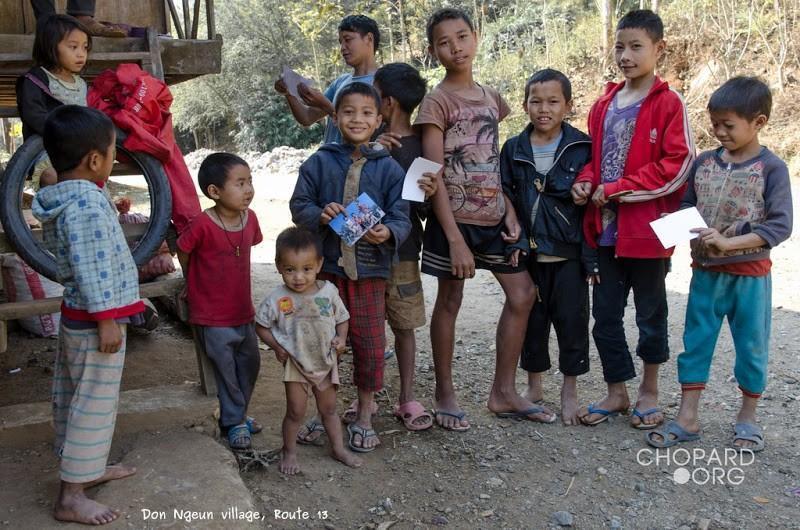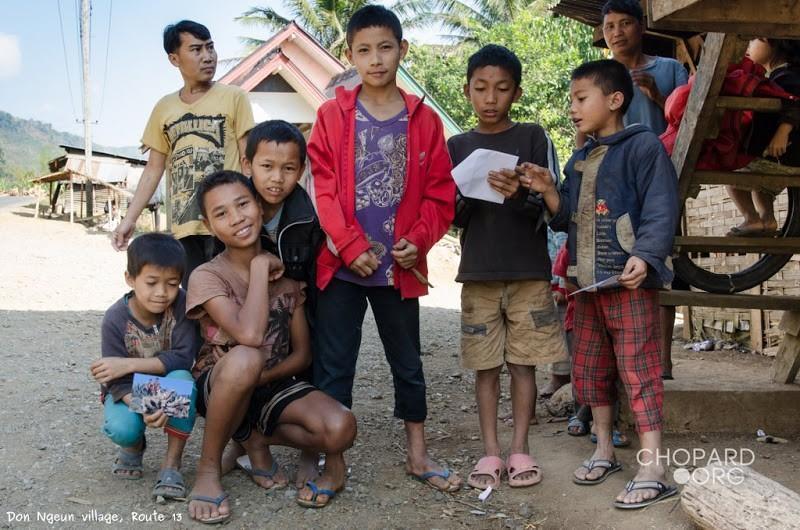 The comprenhensive pictures album is located here:
https://picasaweb.google.com/111845057494533452431/LaosNortheast
(1) Ant Egg Soup
Natacha du Pont de Bie
Holder and stoughton, 2004
(2) One foot in Laos
Dervla Murphy
Flamingo, London 2000
(3) Tragedy in Paradise
A Country Doctor at War in Laos
Charles Weldon M.D.
Asia Books, Bangkok 1999
(4) Another Quiet American
Brett Dakin
Asia Books, Bangkok 2003
(5) Stalking the Elephant Kings
In Search of Laos
Christopher Kremmer
Allen & Unwin, 1997
(6) The Ravens – Pilots of the Secret War of Laos
Christopher Robbins
Asia Books, 2000 – Batam Press 1988
ISBN 978-974-8303-41-3
(7)
http://www.mongabay.com/history/laos/laos-the_hmong.html
('8') War in Shangri-La
Mervyn Brown
The Radcliff Press, 2001
(9) References to my other Laos trip reports. All suitable for road bikes and "solo" driving:
North-Central Laos:
https://www.gt-rider.com/thailand-motorcycle-forum/threads/33280-An-Easy-Road-to-Laos-1-Crosing-the-border
https://www.gt-rider.com/thailand-motorcycle-forum/threads/33379-An-Easy-Road-to-Laos-2-The-Road-to-Luang-Prabang
https://www.gt-rider.com/thailand-motorcycle-forum/threads/33573-An-Easy-Road-to-Laos-3-Plain-of-Jars
https://www.gt-rider.com/thailand-motorcycle-forum/threads/33925-An-Easy-Road-to-Laos-4.-Back-to-Nong-Khai
South Laos:
https://www.gt-rider.com/thailand-motorcycle-forum/threads/34187-South-Laos-1-Ferry-Tales?p=264916#poststop
https://www.gt-rider.com/thailand-motorcycle-forum/threads/35164-South-Laos-2-Around-the-Bolevan
https://www.gt-rider.com/thailand-motorcycle-forum/threads/35381-South-Laos-3-Central-Laos
North-West Laos:
https://www.gt-rider.com/thailand-motorcycle-forum/threads/35288-A-Short-Loop-to-Norwest-Laos
Back to Chiangmai from Sam Nuea
If you appreciate GT-Rider website, "like" the page on Facebook:
http://www.facebook.com/the.gtrider
The complete trip report: Northeast Laos – Sam Neua loop

Part 1 – Luang Prabang and mountain roads

11 From Nan to Oudomxai…
12 Royal Luang Prabang
13 Mountain roads to Sam Nuea
Part 2 – Sam Neua and a winding drive back

21 Sam Neua and Vieng Xai
22 Winding roads to Nong Kiew
23 Luang Namtha and back home
Part 3 – Epilogue

31 Introduction – On the loop again!
32 The northern renovated links
33 Nong Khiew to Sam Nuea, a sylvan ballade
34 East of Sam Nuea
35 Strategic Route 6 and Phonsavan
36 Ruins of an old Kingdom
37 Back to Luang Prabang