0
Staff member
Subscribed
Jan 16, 2003
14,193
5,163
113
69
DATE: Thursday 16th – Saturday 18th August.
THE WEATHER: Day 1 appalling torrential rain. Day 2 & 3 damp overcast, but dry (get that.)
THE RIDER & BIKE: Davidfl on the trusty young Africa Twin @ 181,000 kms.
THE WAY: Chiang Mai – Chiang Rai – Mae Sai & return (exciting stuff eh?)
THE REASON: Time (1) for another stamp in the passport, (2) to checkout the wonky left arm again, (3) to do some more GPS mapping & (4) to keep the GT Rider flag waving with Robert H off to China again to complete his epic China ride. Isn't anyone else riding or writing up trip reports (shame on you all.)
ROUTES: 118 - 1 – 118 (pretty varied eh?)
TOTAL DISTANCE: approx 600kms.
THE TRIP. Got away from the super at 3.30pm & the g/f was not impressed. Why so late & such a rush to getaway? Well it was supposed to be a 10.30 am start, but one thing lead to another & that's the way it goes. But when you've gotta go, you've gotta go.
Actually one of the reasons for the late start was an oil & filter change. It should be done every 5,000 kms in my book, but alas my records showed that it had been 7,500 kms since the last one. And it was a bit dirty & that's naughty for me. In order to kill time & 2 birds with one stone I decided to drop the bike off at a bike shop not far from the Kafe, where I would have brekky & read the papers first (you've got to keep your priorities right.) I had a 4 litre container of oil at home that I thought was about ½ full – not enough, so I picked up another 1 litre bottle to cover. 45 mins later breakfast & The Nation were done so it was back to the bike shop to pick up the bike, head home, pack up & hit the road. At the bike shop the mechanic said I needed a "bit more oil." Ok no problem I'd pick up another 1 litre on the way home & top it up back at the house. At home then it was something of a surprise when I dipped the oil to see that it wasn't even measuring on the dipstick! Oops I thought, lucky (1) I'm still not at the bike shop & (2) the bike shop to home was only a couple of kms. Anyway a mere 700cc later she was full of liquid gold – wait for it, Shell Helix Plus 15/50. Yep that semi- synthetic diesel engine detergent oil. Not the right stuff some of you might say but I've been running it in the Africa Twin for a few years now & reckon its ok (by my standards.)
After packing the lap top in the Givi box she was a bit heavy, but I expected rain, & naturally did not want it to get wet. I also cursed my son who had my rain pants at work; & if he didn't have his phone turned off he would have gotten a nice ear bashing. Instead it was a short sharp SMS & I would have to make do with the trusty RJays rain jacket & no pants!
So I got way from the super at 3.30 pm, leaving behind a scowling suspicious g/f. The reason for wanting to get away today (Thursday), was that I planned to be back on Saturday & not miss MotoGP with the lads on Sunday.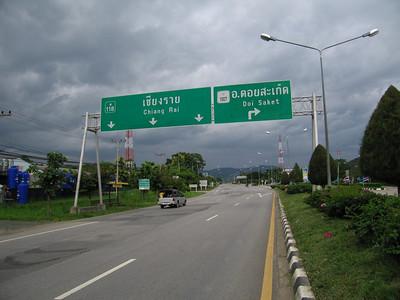 14 kms out the weather did not look to promising & wondered how far I would get before it started to rain & had to worry about whether to or not to put on the waterproofs.
I only like to put mine on if it is going to stay wet & not just be a passing shower or 20 minute drenching that I can handle. I also hate it when I put them on too late & I'm wet already. Now with the wonky left arm it aint easy getting them on so, I decided that if I was going do it, it would have to be early, not in pouring rain beside the road & get sopping wet in the process.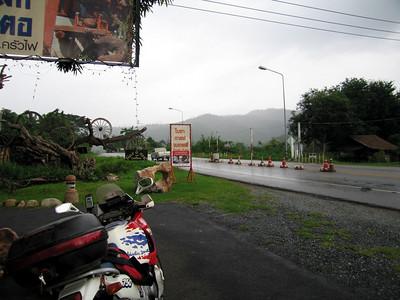 26 kms out then & just starting to climb the rain started to come down. Too far in the valley for my liking so I reckoned that was going to be it – put 'em on now! This was a brilliant move because in another 5 kms it was pelting down & without a scrap of shelter I would have been totally drenched if I wanted to attempt a feeble covering up with the rain jacket.
The mountain peak on R118 heading north to Chiang Rai from Cnx is 53 kms out & the further out I got the heavier it got. Eventually I was passing all the cars in the wet, even in the corners & was wondering what I was doing wrong? By the time I hit the hot springs & the valley on the other side it was serious torrential rain. I'd have liked to taken a few snaps as proof, but the camera was tucked up under the rain jacket & I'm not sure if I would have been able to get it out in the wet with my gloves on – it would have been a major operation & probably not worth it.
The conditions were about as bad as I have ever encountered & I thought that perhaps it might be a better idea to admit temporary defeat & stop beside the road for awhile. Just what you need running in a wonky left arm I thought– aint life fun when you least expect it. It was quite an adrenalin kick for me & I wondered if I would drop it or not.
With the cloud almost down to the ground visibility was extremely poor- low light, fog / mist & torrential rain. The visor fogged & was flipped up, then the glasses fogged up & you really could not see the road surface properly. There was muddy water flowing across the road from the road works, & it was difficult to know where the road went or what you were riding on! Just what I needed for running the arm in.
My speed was down to about 40-50 kph & I thought about stopping. But then I remembered the wet riding pants & the boots full of water & decided what the heck, keep going regardless, don't stop.
I caught up to 3 trucks & was riding blind behind them for a few kms there was so much spray coming up. I fantasized that I was on the first lap of MotoGP for a bit! All I could do was follow the taillights in front of me & hope for the best with the wonky left arm. I made a couple of near fatal attempts to pass the trucks, & twice almost wiped out on oncoming vehicles without any lights. Indeed, amazing Thailand I thought - isn't this a great country to live & ride your motor bike in. Never a dull moment & it's what keeps me alive & ticking.....Eventually the rain slackened off a bit & I managed to get past the 3 trucks. The rain stopped just north of Wiang Pa Pao & I wound the throttle on.
Charin Resort soon came up & it was time for a couple of cappuccinos & a couple of pies (donthold back when you're wet 'n cold 'n hungry). The place was deserted & I ended up having a lengthy conversation with Tim the owner. He didn't know about Lao coffee, so I sent a quick SMS off to Rhodie slumming it in Xam Neua (wonderfully boring Lao town) with his nipper & 2 XR250s from Fuarks, to bring back some Lao. We'll be back at the Charin in 10 days for some cheese cake & a Lao coffee!
At 6pm I rolled into Chiang Rai, after a bit of a thrash down the 4-lane super to test out the wonky left arm. She's ok at speed & able to hang on alright at a GPS (genuine) speed of 162 kph. So the Africa Twin's running alright & 600 kms later back in Cnx not burnt any of that 15/50 diesel oil.
As usual I checked into the Nim See Seng, the fave GT Rider hotel in CEI (Chiang Rai.)
At 500 baht a night I reckon that the place is excellent value for money: air-con, bath tub, carpet, and fridge, and cable TV, roof top restaurant with good food, folk music & massage on tap.
Unfortunately for me I was somewhat knackered & immediately upon entering my room crashed out fully clothed-wet riding gear & all. 3 hrs later I awoke, showered & sauntered down town for my fave foot massage. My 42 yr old foot masseuse "sweetheart" was not there – gone home to look after granny. My pen rai, I'll have the next one in the queue. This turned out to be Nik, a 23 yr old Lahu girl with a classic tight strong hill tribe body & no brains to match. But 1 ½ hrs later & 1/3rd bottle of Ballantines I reckon she was a bit alright. Not that she could drink or speak English, but a bit of a serious ting-tong & "probably" good value for money. I thought Id never seen her before, but she remembered me from 3 years ago, with my long lost brother & demolishing a bottle of Jameson's in 1 1/2 foot massage process. It was a bloody good long inebriated massage & one that my brother firmly ensconced back home in Oz won't ever forget – I always send him an SMS from the same massage parlour in CEI.
After the massage was finished it was back to the hotel roof top for some steamed fish, a couple more drinks & into the sack by midnight! A record for me & clear proof that the wonky arm meant the body or the brain was tiring earlier than it should.
It was 11.15pm when I hit the roof top garden, the singers 'n music had quit for the night at 11pm, so it was just me & a few young college waitresses – all scared to speak to the farang who ordered his food in "fluent" Thai. The highlight of the night for me then was when I'd eaten half the fish – one side & it was time to flip it over & eat the other side. With the wonky arm I was not quite able to get a decent hold of it, so needed a waitress to help me. They were already scared enough as it was, so it was quite an entertaining effort for me to get one of them to get them to understand that lung needed help turning his fish over. I'm sure there was a cheer go up from the other staff when one poor young embarrasses girl managed to understand & complete lung's request to turn the fish over!
20 mins later I was in bed, alone, snoring my head off, a very satisfied man. I was still alive, riding as well as ever, plus eating & drinking as well as ever. Sure beats working 9-5, Monday-Friday back at home in the west, or wherever I reckon.
Brekky the next morning was at ye olde faithful, Chiang Rai Coffee. And with a name like that you know the coffee's going to be good, & so are the eggs, bread &bacon.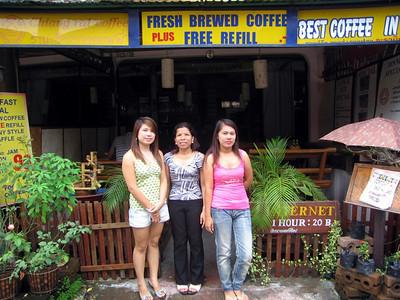 The staff are also easy on the eye. Plus you can park your bike right outside the door, take 5 or 6 paces, sit right down & order your food = convenience plus. I always use this place for breakfast & a quick lunch (if your passing through) in Chiang Rai. There might be better restaurants, but if you're a biker & you want ease of parking, quick access & fast service (with internet), then don't go past Chiang Rai Coffee in CEI.