Starting slowly to prepare for the next trip to Cambodia it is more than time to post a trip report of our last trip. That trip was in February 2008 and before a year has past I want to share our experiences, so here we go.
In October 2007 Murray and myself made a trip of a week through Cambodia on our Honda 250 XR's and our stories and pictures made a friend of us so enthusiastic that he bought a 250 XR as well to be able to join us on our trip. That trip was planned for February 2008.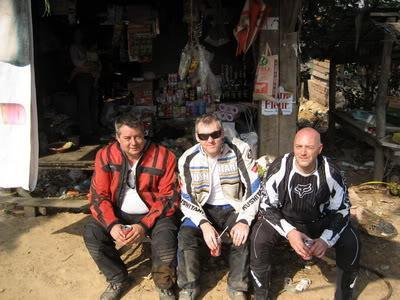 In October last year we tried to get to the Preah Khan temple complex but we never made it more then 25 km in to the jungle due to the rainy season, muddy roads, mud pools, high water and more of that good stuff. We also tried to find the route 66 from Beng Melea to Preah Khan but could not find the entrance of route 66 at Beng Melea. Since we did not like to give up our targets, this time we made better plans to ride the route 66 and get to Preah Khan.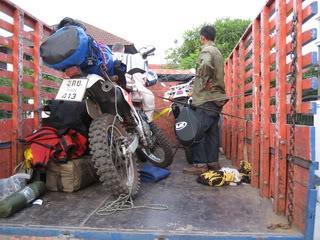 Mike did not have his green book yet but according the shop where he bought the bike, it was no problem to take it over the border in to Cambodia and back in to Thailand as long as you had all the import papers, etc. Although we had our doubts they convinced us and we arrived with 3 bikes at the border in Poipet by truck, unloaded mounted up and tried to get in to Cambodia.
Having learned from our previous trip we had 2 of the 3 bikes over the border in an hour without any problems. Only the third bike was not allowed. A lot of talking, joking, offering compensation for the services or favors, nothing helped. They were however nice enough to advise to park the bike at the parking place close by or at the police station. So we did and Mike took a taxi to Siem Reap.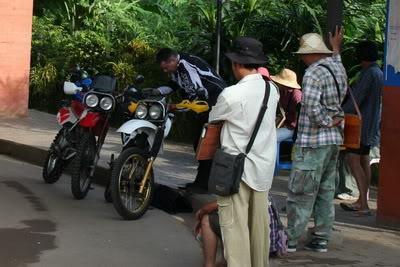 By this time it was almost half past three and Murray and myself had to hurry up to get to Siem Reap before dark. In October it took three and half hours of hard driving to get there. Setting off the first couple of kilometers were the usual potholes and incredibly bad road surface. After some 20 kilometers the road got much better, was scraped smooth and we could make some nice speed.
The last 10-15 kilometers before Sisophon even had tarmac . Between Sisophon and Siem Reap most of the road was scraped as well and compared to the October trip it was a walk in the park. It took us 2 hours and 45 minutes from the border to the red piano bar in Siem Reap and we just made it before dark. We had driven even faster then the Camry taxi's and Mike had not arrived yet. He was heavily depressed that he had to leave his bike behind at the border and the fact that the Camry had no suspension did not make him much happier either. But all those negative feelings disappeared after a couple of beers.
The next day the first task was to find a bike for Mike and get a new clutch cable for my XR. Officially it is not legal to rent bikes to foreigners in Siem Reap but we knew some people from our adventures in October and went over to the bike repair shop which fixed my bike in October and from which I had rented a bike then. The shop is on the road from Siem Reap to Phnom Phen (route 6) around 300 meter before the market (market on right side of the road) on the left side of the road. In October they did a real good job in repairing my bike and this time he made a clutch cable out of one for another bike which worked very well.
This time however he did not have many bikes available. We learned from one of his customers who also had a dirt bike that there was another shop who rented out dirt bikes. When driving out of Siem Reap in to the direction of the Tongle Sap you find after 2.5 kilometers on the left side of the road ma small wooden shack with some 6 or 7 dirt bikes parked outside. Price was 18 US$ per day and although it consumed quiet a lot of oil it survived everything what we tried to do to it the next couple of days.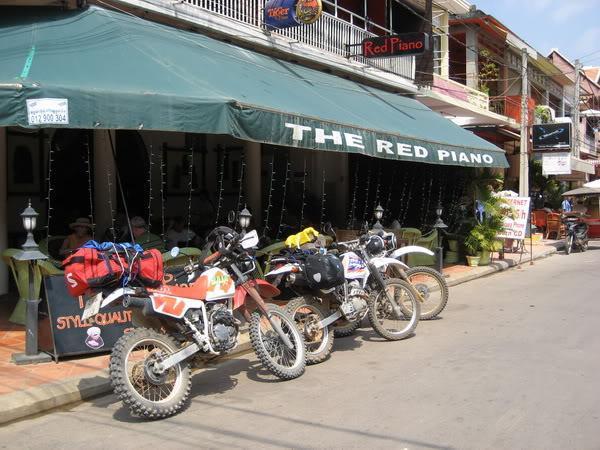 All having a bike now it was time to leave Siem Reap and we followed the route 6 for an easy drive to Stoung. Underway we stopped at the Khmer bridge in Kompong kdei which is around 800 years old and until a couple of years ago still took all traffic including cars.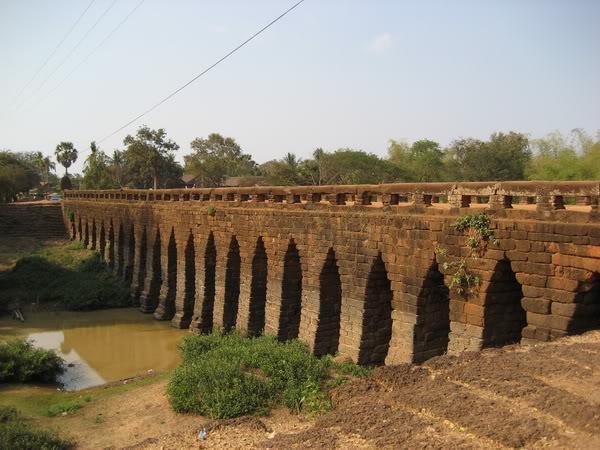 And after admiring the strength and beauty we drove to Stoung. Here we stayed in a hotel in the centre of the village opposite the gas station for only 3 US$ in a air-conditioned room. There was no warm water and the toilets were not the best ones where we ever put our ass on but in the restaurant the beer was cold and the food was reasonable.
As in most of the smaller towns everything closes down at nine in the evening and at 10 it is lights out and sleep. Since we wanted to leave early the next morning this was ok for us and next morning all were up early and ready to go in to the dirt.
From Stoung we drove northwards in the direction of Ta Seng of nice compacted dirt roads.. After some 10 kilometers the road coming from Kompong Thom joins the one from Stoung.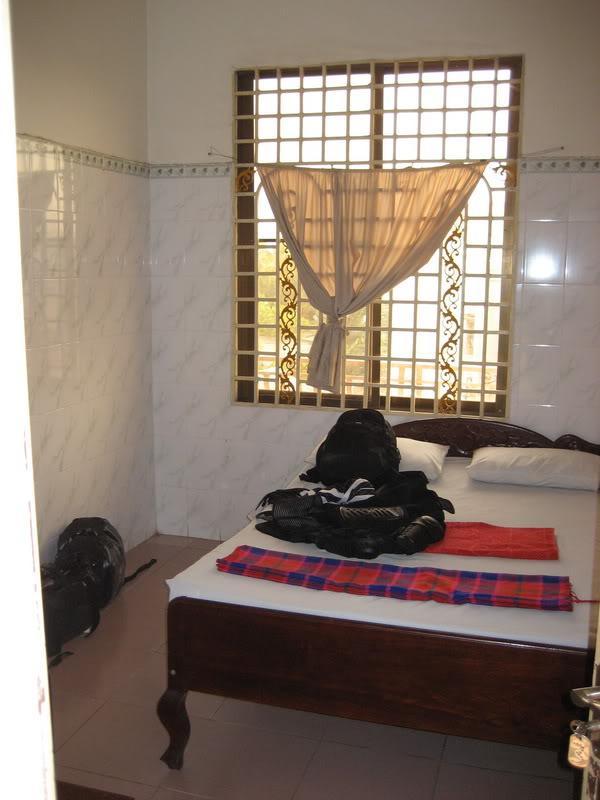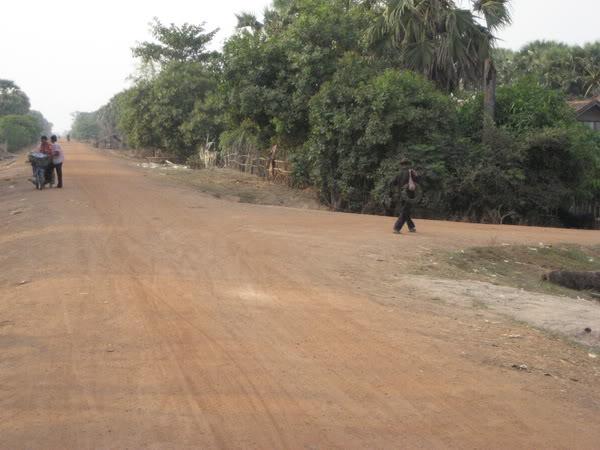 Right to Stoung, straight to Kompong Thom
The first 50 kilometers were over good dirt roads and sometimes we were flying. We refuelled in one of the small villages against the attention which you get as 3 foreigners on motor bikes in places were they not see too much tourists.
We had a GPS map through a tip from Auke (Thanks Auke, was very helpful) and by regular checking we knew we were on the right track. After 50 kilometers the dirt road became a sand track and after a couple of kilometers in to the jungle it seemed to exist only of very soft sand with only some small patches of sand where the tires had grip. This was slipping and sliding for one and half our, with every now and then one of us dropping off.
Wipe out of 2 at the same location
We were happy to arrive in Ta Seng three and half hour after we left Stoung. After having some mama in the local restaurant and some drinks to recover it was time to drive the last couple of kilometers to Phrae Khan.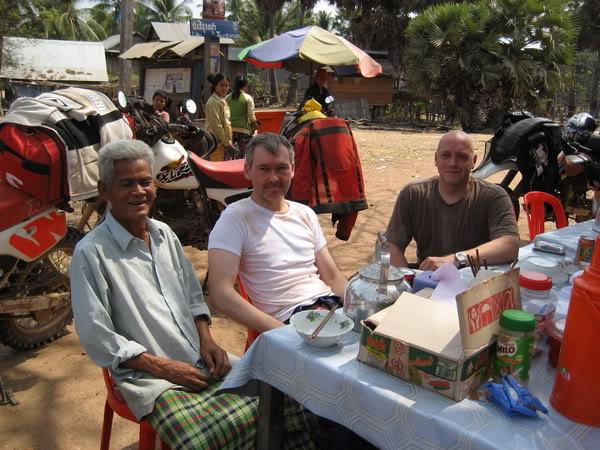 Back on the bike, fully energized we did the last 3 or 4 kilometers to the first temple. It is a beautifull sight when you drive through the jungle and suddenly a temple shows up. The first temple you see when you come from Ta Seng is one of the three temples in Cambodia which has faces on the four sides of the tower (The Bayon is the most famous one).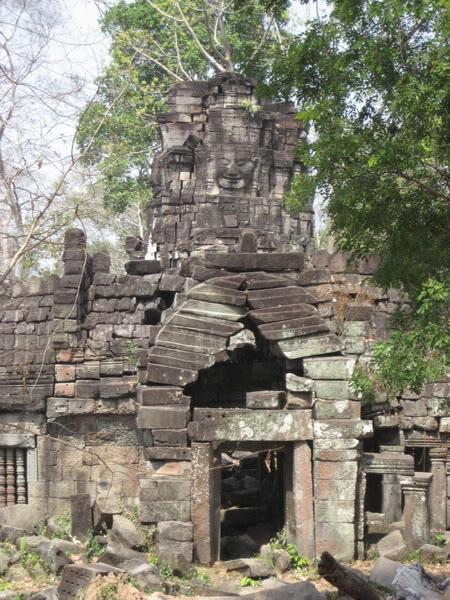 I knew the name but can not remember. After looking around a little we wanted to make our way to the actual Phrea Khaen complex. We drove around until we met a tourist police on a motorbike who was nice enough to bring us to the entrance. The complex is huge and can only be reached in the dry season, therefore there is hardly any tourism and the three of us and a group of Khmer had the whole complex for ourselves.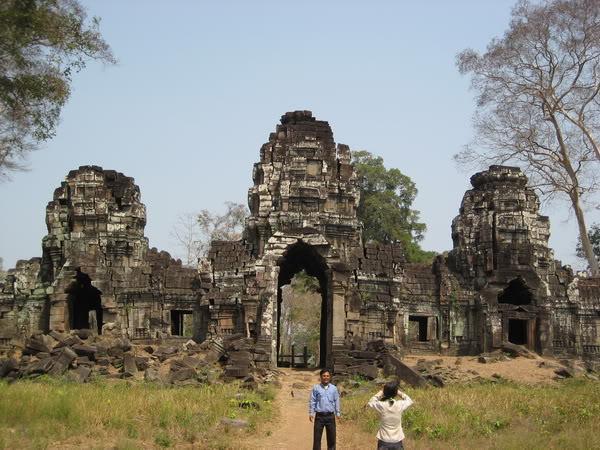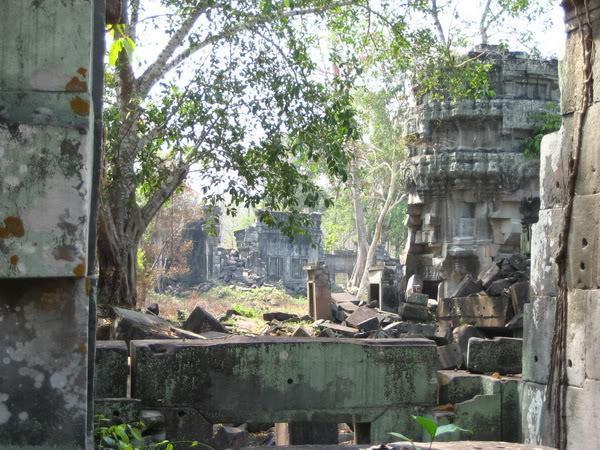 The tourist police showed us around and after having taken many pictures and absorbed many impressions we left our guide after a forced voluntary contribution of 5 US$ per person (it was worth it).
By now it was around two in the afternoon and it was time to make a plan to get out of the jungle. We decided to head for Phnom Dek and from there depending on the time we got out of the jungle decide where we would sleep. The road to Phnom Dek again consisted of area's of very soft and deep sand which was draining our energy. After a 2 hours of fighting fatiques and the soft sand we reached Phnom Dek and the road to Tbeng Mechea just before 4.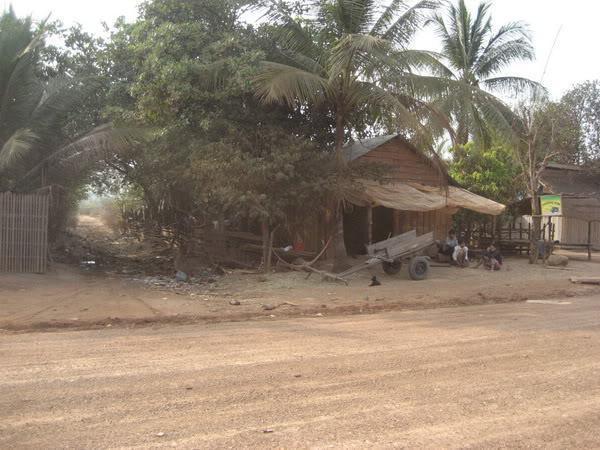 Road coming out of the jungle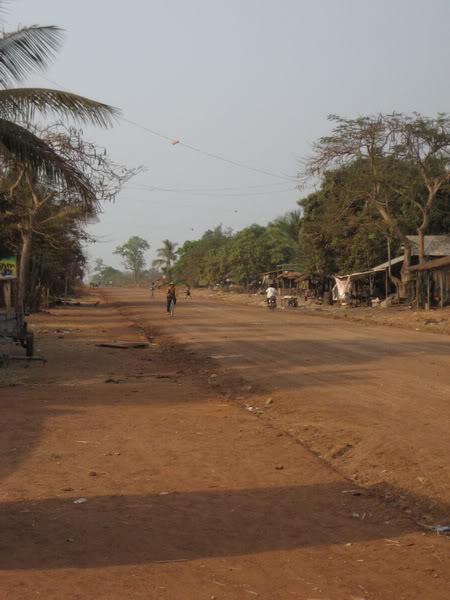 Road to T'beng Meanchay
After a very cold and nice coke we mounted again and enjoyed the wide scrapped dirt road to T'beng Meanchay were we reached speeds of almost 100 km/hr over the beautiful hilly (last 35 km is hilly, really nice road to drive) road. We reached T'beng Meanchay around six. The cold beer tasted good after a dusty and sandy day.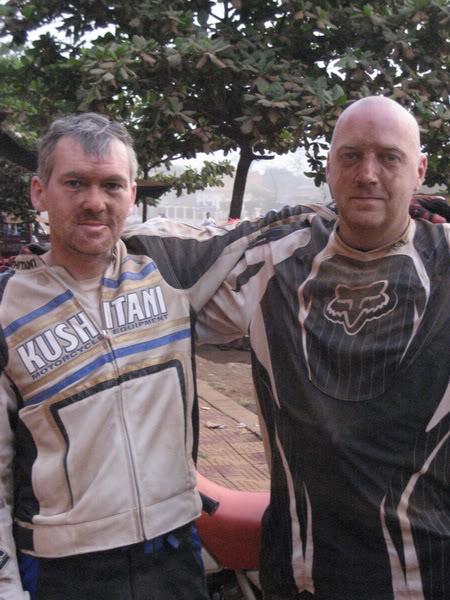 Done and dusted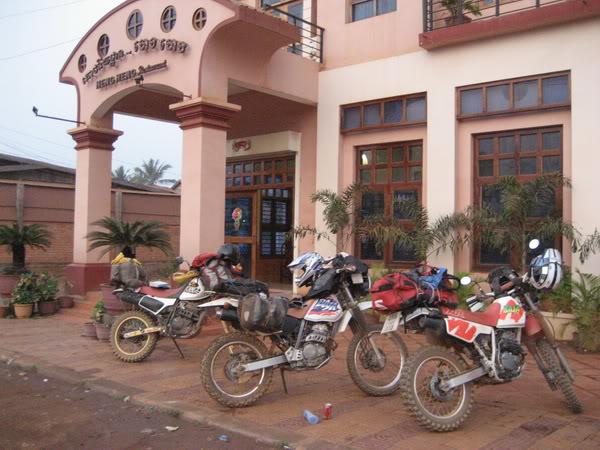 We stayed in the Heng Heng hotel and restaurant for 15 US$ per aircon room and enjoyed a very good dinner in the restaurant where we had been in October as well. Tired and satisfied we went to bed. The rest (and there is much more) will follow soon in part