Sep 19, 2006
2,302
305
83
Friday 19th October.
The Trip this time was for Russ Markowitz the Producer of the Latest Rambo Movie "John Rambo" And Kawee Sirikhanerut ( Seng ) Owner of "SENG STUNTS" Bangkok I have worked on a few movies etc with Seng so knew him quite well. 2 others made up the Group. In addition to this i had two of my Staff: "Deep" driving the Jeep with Spare Bike and luggage and "Tor" one of our Mechanics accompanying me on another Bike. Tor and Myself carried Basic Spares and Tools.
All claimed to be Capable Riders! This was questionable later? After arriving Late they decided to eat so it was 11am before we even left!!! I took the quick way out past Prem Centre then cut off at Pa Tung taking the Dirt Section out to Mokfa Waterfall. This relatively easy section had our first Off with Seng doing so Roadside Clearing.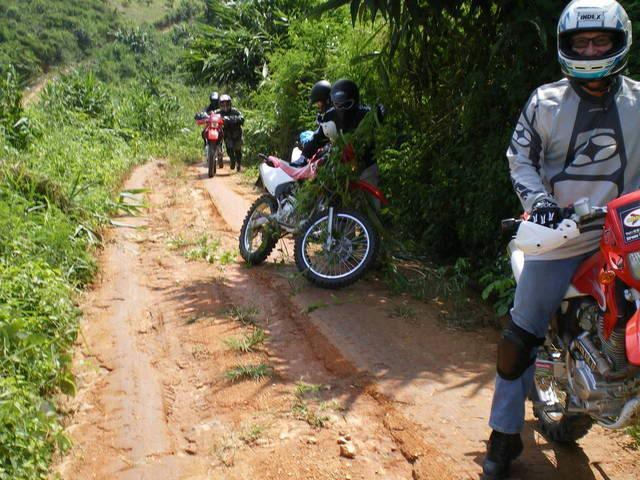 A sign of things to come!!!
It was a nice scenic Ride through here.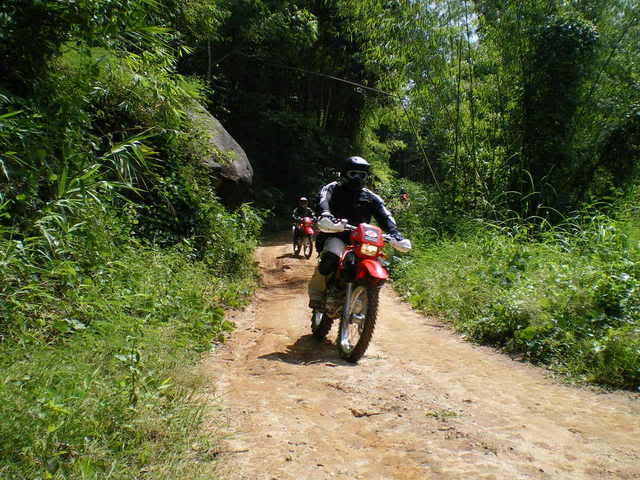 Hope this Bridge survives the next Rain season or it will be the end of this Trail.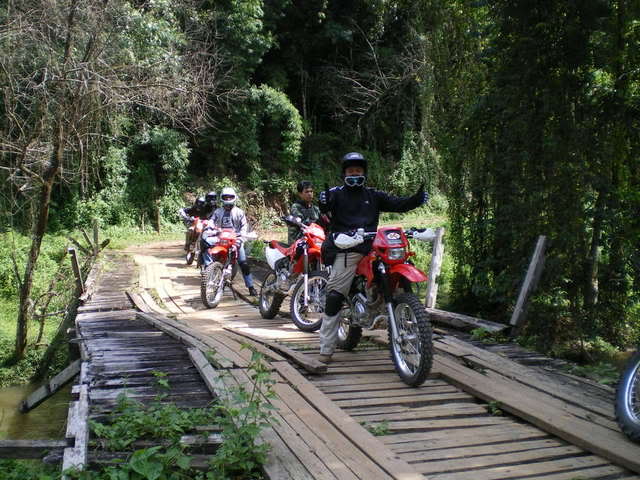 Sagging quite Badly.
On to the Main Road we took it easy up to Pa Pae where we refueled and headed off into the wilds!!! I have done this trip several times before with No real Drama's but this was about to Change!!! All began Ok but once it started to get slippery things quickly went from Bad to Worse!!!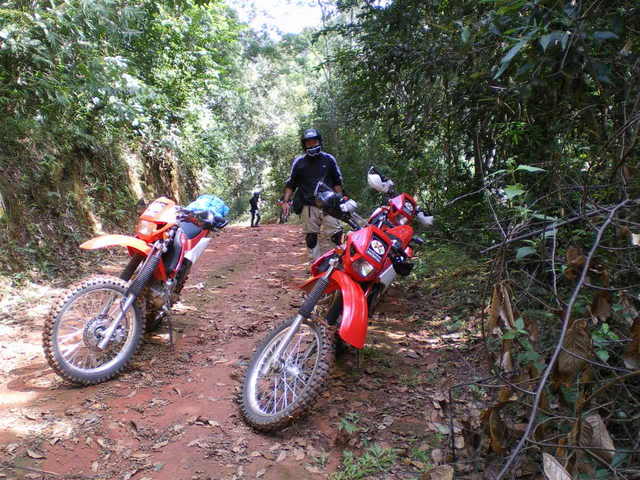 Our first slippery Hill. Only Myself and Tor managed to stay on our Bikes.
As the conditions worsened so did their Strength and Ability resulting in constant Off's!!! While we never actually got Wet we were Chasing the Rain so one Section of Trail was quite Wet.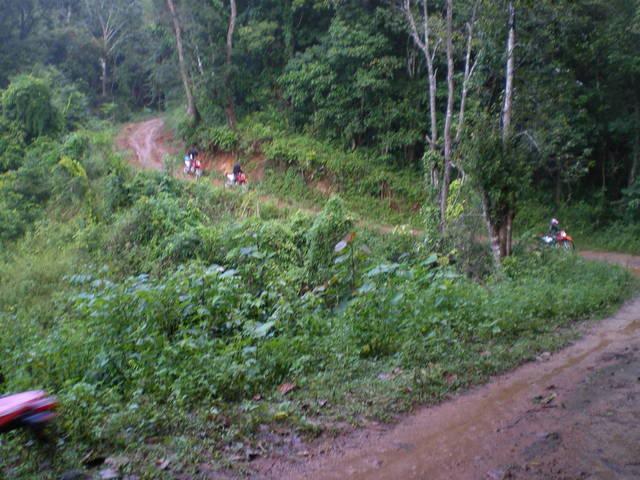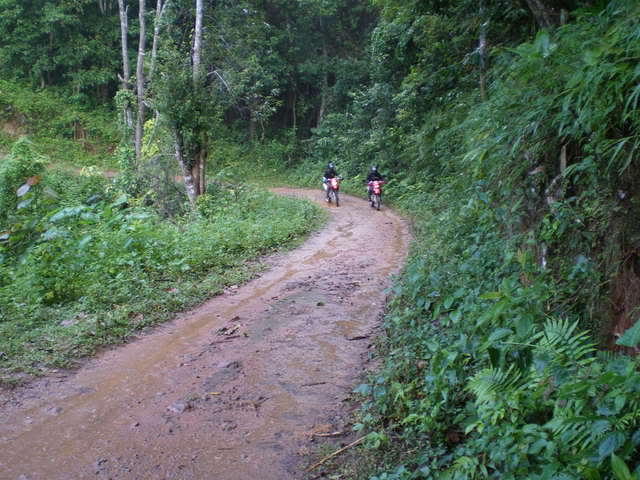 Although Not Slippery combine this with Fatigue and Loss of Confidence we had more Off's.
Unfortunately by this time it was starting to get Late and we were in a Position where turning Back was not an Option, To make things worse my Bike now had an Electric Fault so No Electric Start and they don't have a Kick!!! Hence No more Photo's from me again till Pai as i had enough on my Mind!!! So for the rest of the trip Myself and Tor would
Ride our Bikes up the difficult sections then walk back down to Ride the other Bikes when needed. Then i would have Run start my Bike and on to the Next section to repeat the Process! Turned into a Big Day.
By now it was getting Dark and inevitably we had Injuries. Russ had Hurt his Ankle falling off and Seng had twisted His Knee when he stood on a Log which rolled out from under him firing him down a Bank!!! I have to be Honest it was quite Funny to see but i was Relieved that no one was Seriously Hurt. Not Good, What Now???
Amazingly just when needed bouncing out of the Jungle comes a Karen Guy driving a Beaten up Old 2wd Toyota with Chains on it's wheels.
A quick conversation and two Bikes and Riders are Hastily loaded on the Back and off they go. We finally reached the Wat Chan road in Total Darkness. Another Chat, some Money Changed Hands and the Trusty Toyota now Relieved of it's Chains was off to Pai with 2 happy campers and their Bikes on the Back!!! I had a Slow Ride with the Survivors back to Pai finally arriving at our Hotel "Rim Pai Cottage" about 9:30. We had time for a Beer before the Pickup finally arrived.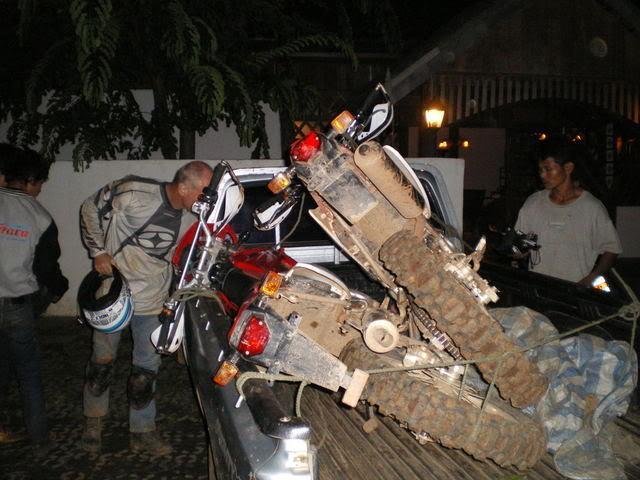 Bikes looking not to Happy!!!
Russ & Seng, Walking ( or Limping ) Wounded but happy to be in Pai!!!
Showered and out for Food & Drinks.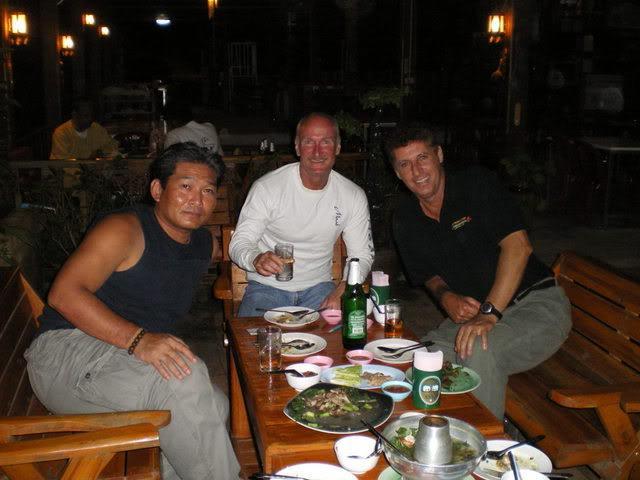 Feeling Better after some Food and medicinal Alcohol!!!
A Big Night followed and we finally got to Bed about 3:30am. I am sure they all Slept like they were Dead!!!
Saturday 20th.
Slept till 9am, had our Breakfast, no sign of the others so i made arrangements for Deep to take care of them while Tor & myself set about Servicing all the Bikes. We took 2 at a time down to the Local Bike Shop on the Corner Near the Market. Great Guys who were very Helpful and have quite a Range of Spare Parts. I can recommend them to anyone. Found the Short in My Bike in No Time so i had a Starter again.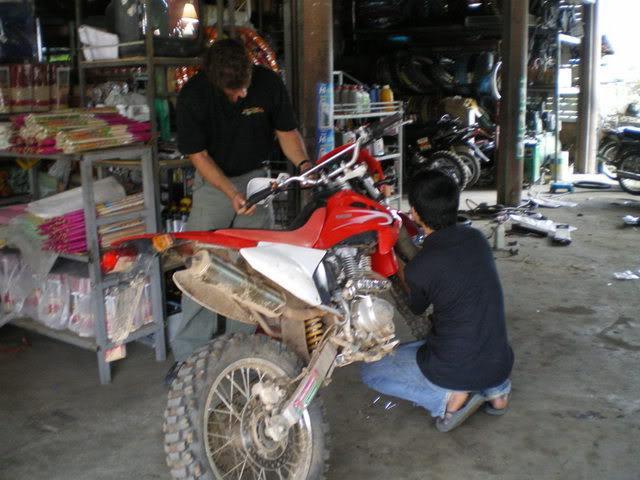 The other Bikes were mainly just Bent Hand Guards & Bars, 2 needed New Front Mud Guards. MTX spares to the rescue. We had an easy fun day working together and were finished by 4pm. Still no sign of the Guys??? Found them Relaxing at Pai River Corner. Russ finished off 2 bottles of Red Wine.
while the others were on Whiskey!!!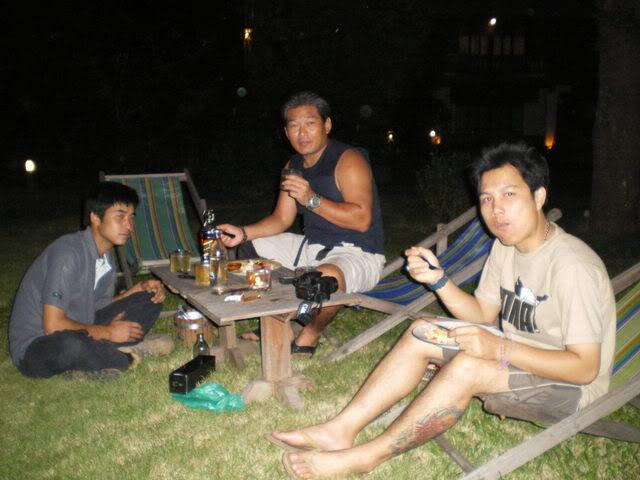 Beaten but feeling No Pain!!!
We stayed here till 9:30. Owner is Darron Peckman and his Wife. He is Australian and very nice person. See
www.pairivercorner.com
. Had an Excellent Buffet Barbecue, fine entertainment and Service. After here they retired for the night will Myself, Tor & Deep stayed out till 1am before i called it a Night.
Sunday 21st.
Up early packed our Gear. Russ didn't want to Ride due to a Swollen Thumb & Ankle so added His Bike to the Jeep.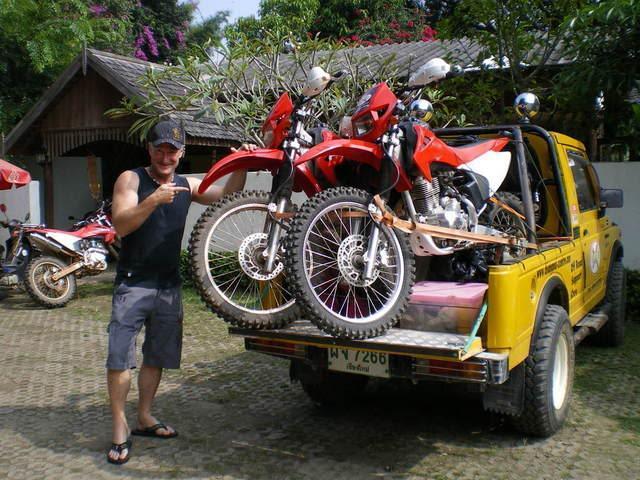 Russ and the Jeep ready to Go.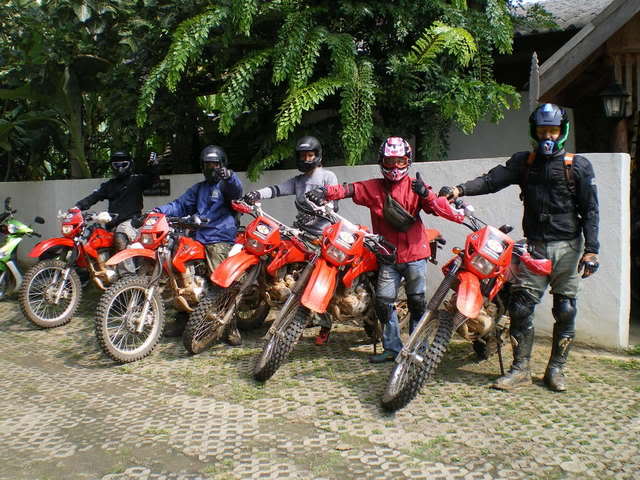 The rest of us ready to go on the Bikes.
We all took the Road back to Mae Rim for a nice easy Ride.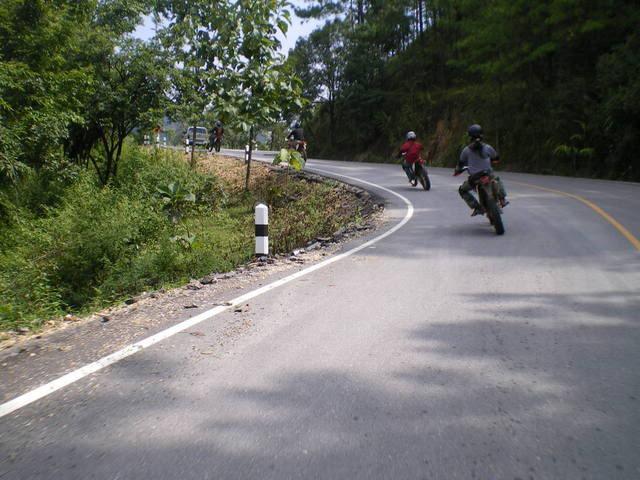 We arrived back at the X-Centre about 1pm to see all the GT-Riders watching the Malaysian MotoGP.
It was an Enjoyable Trip really with Fun Guys, they even had No Complaints after everything they went through. I wouldn't care to repeat the 1st day but the rest was Great plus Beautiful Weather throughout!!!
Keep Well and Ride Safe. Till the Next Time!
Cheers Ian.