0
Staff member
Subscribed
Jan 16, 2003
14,190
5,162
113
69
Continued from Bary BBQ's Losing My Laos Cherry
After Valentines Day in Vte, I somehow managed to recover from the intestinal distress & continued a run down to the Deep South to pick up the happy go-lucky girlfriend singer (HGL G/F S) for yet another brownie point trip (what a "groveller" you might say, but I call it a clever fox).
Anyway the deal was for the HGL G/F S to fly into Ubon Ratchathani, taxi to the Thai / Lao border at Chong Mek / Vang Tao, where I'd pick her up & start collecting merit by the bucket load.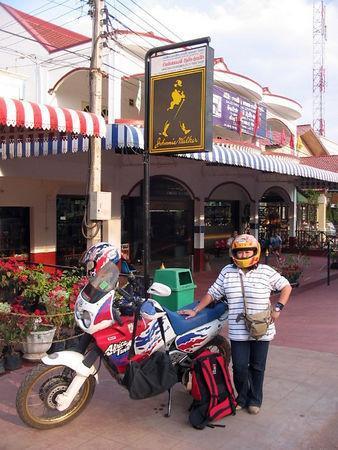 Pic above: On arrival, the HGL G/F S before getting a sore **** on R13S
This indeed worked & was well worth that long boring flat straight R13S ride, south from Vientiane.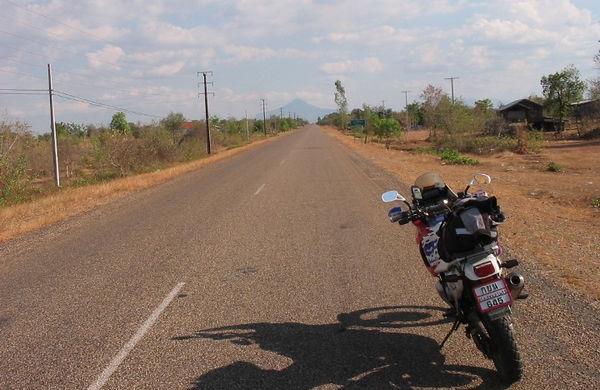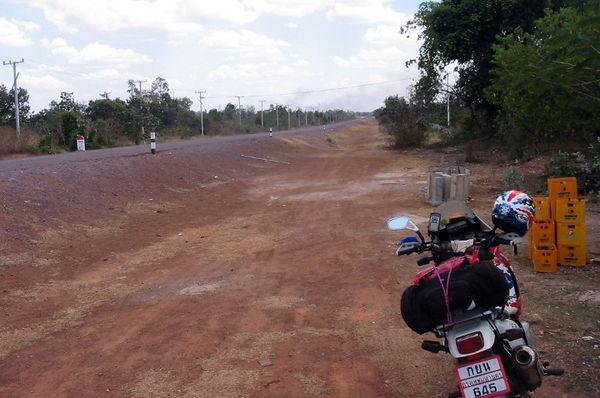 Pix above: R13S: as good as it gets. Twist that throttle is all you can do...
R13S south from Vte is a real drag - only good for full throttle if want to test out your bike's reliability, fuel & oil consumption. I took it easy on the way down & sat on a mere 130-140 kph, so as to save the AT for yet another day. The odd herd of roadside goats, & there seem to be more than ever, strongly influenced the need for a slower speed (& a longer life.) Goats seem to be the most unpredictable and erratic of roadside animals you come across in Laos; & oddly enough you don't see too many / any in North Thailand. I haven't quite worked out why yet- has anyone else got any ideas?
Anyway, Vte - Savannakhet came up in 4 1/2 hrs, with an average speed of 109 kph - not too bad I thought considering the slowish start you always get coming out of Vte.
In Savan the progress on the new bridge across the 'Khong was worth checking out & it seems to be going ok, albeit a bit slow I thought, but they reckon it will be finished on schedule - yeah April Fool's Day more than likely...

The ol Mekong hotel was my place of abode in Savan, but I could but not note, that the disco is now going full bore again & you don't get any real shut eye until 30 minutes after closing time = midnight in Savan. Last trip, the disco was closed & I thought that the Mekong Hotel was a good value for money place to stay, as you can park your bike right outside the door, unload & just step into your air con room. This ease of access & parking is one of my major considerations for selecting a hotel. Often there are better joints available, but sometimers parking is a problem, or you have to walk up a heap of steps to get to your room, & after a long hard day in the saddle this is not on my list of priorities. So up until now, the Mekong has been my Savannakhet hotel tip, but on the return trip I'm interested to check out the Phone Vilay. The PV appears to be excellent value at 200 baht a night for air con / hot water / TV.
From Savan I did a day trip out to Dene Savanh to check on the Lao / Viet border & village names on R9E for a map update.

Pic above: Dene Savanh, Lao side of the border crossing.
I started late, nothing unusual for me, & got back into Savan at around 5.30 pm. I'd been going most of the day - sitting on the bike all the time & only got off once at Dene Savanh for a quick drink & photo stop. Then it was non-stop back into Savan. By the time I got back into Savan the old body was a bit weary & I thought well it would be a quick drink, bite to eat, then crash out for the night. This I managed to achieve quite easily - the drink & bite to eat. But back at the hotel I remembered the disco & booming bass that rattled the ice in your whisky glass. So no chance of a sleep before mid night in that case!
Well the body needed a rest so I called for one of the massage gals & a two hour "Thai" massage to while away the time. I thought this was a good idea, but alas the masseuse was a Vietnamese babe, & wanted to know why I wanted a 2-hour session. Well that was normal I thought? Did I look that ragged? What sort of Vietnamese massage do you have? So I waited in my little cubby hole room, & in 15 minutes the masseuse appeared. She'd changed clothes, and was wearing the shortest mini skirt I'd seen in a long time. One that you'd expect to see Maria Sharapova playing tennis in. The masseuse was also holding a bottle of Johnson's baby oil, not something I'd thought of Maria with. Perhaps it indicated what sort of massage it was going to be? And so it was, the massage never lasted 2-hours & I did get to sleep early.
It had been 18 months since I spent a night in Savannakhet, and there's no doubt that the place is booming, like many other places in Laos. The new "find" for me was the Cafe Chez Boune, a cute little French restaurant with nice salads, steaks & pizzas; plus good cappuccino.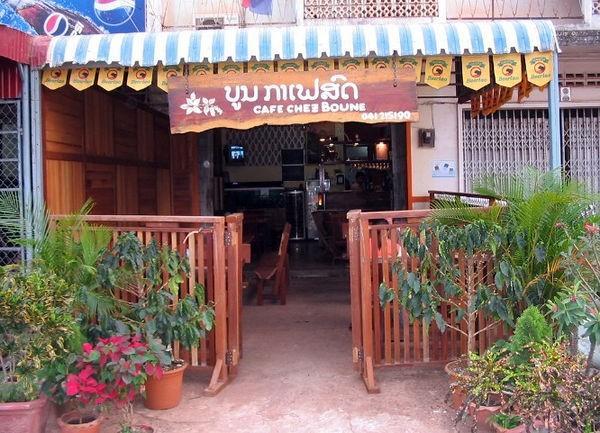 I ate here for 2 nights in Savan & was impressed both nights. Check it out next time you're in town. The prices were inexpensive & represented good value for money I thought.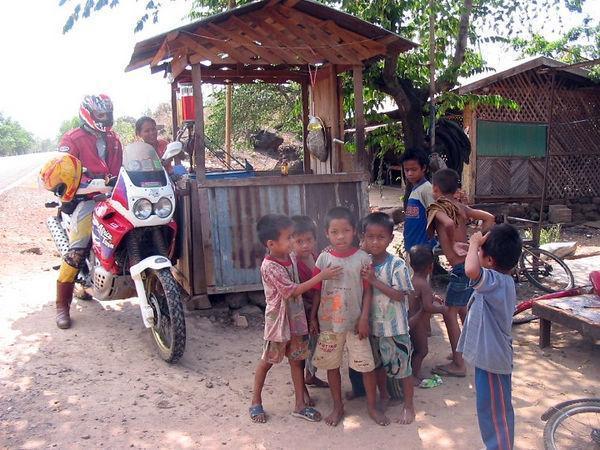 Pic above: Fueling up on R13. My mistake not topping up properly before leaving.
In Pakxe I checked into the bright white spanking "new" Seng Aroon hotel. This was not my regular Pakxe hang out, but it had parking, & more importantly I thought would impress the girlfriend arriving in 2 days time & so assist with the merit making. I also expected to meet Inthy from Kopchaideu / Green Discovery here, but I later found out he had changed hotels due to lack of satisfaction with the hotel staff. He was not wrong & a few days later I too had changed to the Pakxe Hotel, run by French Jerome. Whilst the Seng Aroon might have better rooms, the Paxke more than makes up for it with amiable staff who genuinely make you feel welcome & cared for. Not so at the Seng Aroon. Even the HGL G/F S commented on this & she's real easy going, but as a singer she also knows how customers should be looked after & what service to expect. Oddly enough we experienced this poor lack of service in two other places in Champasak, causing us to have an extra night in Pakxe! Something I'd not normally expect in Laos, or Thailand, were the hospitality industry is generally tops.
If you have not been to Pakxe, then check out the Pakxe Hotel. Rooms start at 550 baht a night with air con/ hot water / TV & Jerome the manager is a great guy & biker.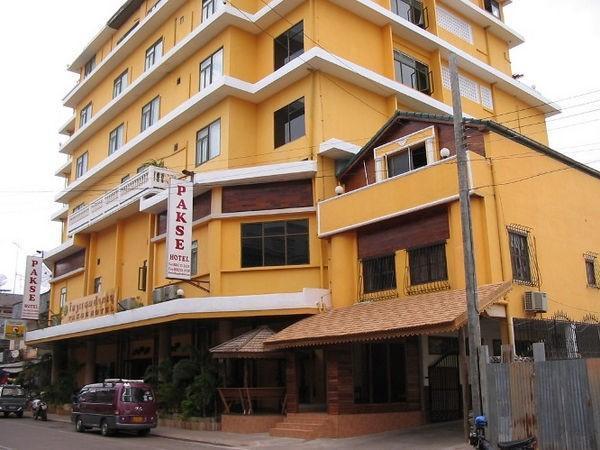 They also have a nice little roof top restaurant, which is not a bad place to get a nice over view of Pakxe city, plus watch the sun go down over the Mekong.
Pic above: Sunset over Pakxe, from the Pakxe hotel

Pic above: Pakxe City from the Pakxe hotel roof top.
The other spot in Pakxe for happy hour & sunset is definitely by the 'Khong where hundreds of the locals go everyday to eat & drink & savour the delights of the day gone by. It's also a nice spot for checking out the local gals if you're interested.....
From Pakxe the brownie point plan was to whisk the HGL G/F S out to one of the big waterfalls for a night, then return to Pakxe for another night, then head south to check out the (1) The Mekong falls, Khonephaphaeng, & (2) over night at Don Khong Island, the (3) Vat Phou world heritage site & over night in Champasak, then a final night in Pakxe & home to Cnx on the plane via Bkk from Ubon (not Udon.)
For the big falls, the options were (1) Tad Fane 32 kms from Pakxe & (2) Tad Lo 80 kms ex Pakxe.
Tad Lo was the first option as the hot tip was that the overall site was more beautiful than Tad Fane, plus the Tad Lo Lodge was well worth a night.



Pix above: Tad Lo & Tad Hung Falls.
En route to Tad Lo we also took in the Phou Souan falls, a mere 20 kms out of Pakxe & a perfect spot for a family picnic or brunch with the the girlfriend.

Pixs above; Phou Souan Falls
We arrived at Tad Lo around 3.00 pm, hot & hungry. After cruising the general area we hit the Tad Lo Lodge restaurant & ordered lunch & cold drinks - three times. It was hot, the power was off (no fault of theirs), so there were no fans, plus the cold drinks were tepid (there was no ice, as it had all melted) & waited for food to arrive. It was a bit slow. So in the meantime we trundled down to the pretty stream & falls to snap away & return - for still no food. A minimum of 45 minutes had lapsed so I asked for the bill & cancelled the food order. Funny how some farang get a bit impatient, but this time it was also the girlfriend - rampantly hungry & getting cranky - so I was losing brownie points! And what a crime that was in the circumstances! Anyway before they could tally up the bill of 2 drinks & 2 cancelled dishes of food one of the food dishes appeared as if by magic. The HGL G/F S immediately plonked herself back down & tucked into the food. 15 minutes later the other food dish appeared & was also scoffed down. The bill was paid & we checked out, without even checking into the resort. Neither the HGL G/F S nor I thought it would be any sort of good idea to check into the place for the night if it took 45 mins to get 2 plates of food, especially when they did not even appear remotely apologetic for the delay & poor service. So option (1) Tad Lo Falls / Lodge was out!
By Tad Lo / Tad Hung , there are couple of other nice looking funky guesthouses / resorts that might be worth staying at, & if I was to return I'd opt for Xaise Restaurant & Resort, but we were generally disappointed with the overall scene there, including the water level in the falls. No doubt it's magnificent in the wet with lots of water around, but not in the hot dry season! (Common sense really, some of you would say - forget waterfalls in the hot dry season.)
Still all was not lost & there was Tad Fane just down the road, approx 75 kms away. We rolled into Tad Fane & the HGL G/F S's jaw immediately dropped, with a huge overpowering lovable smile on her face.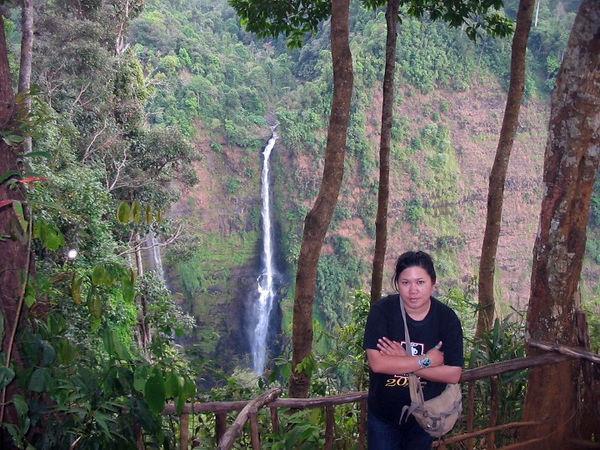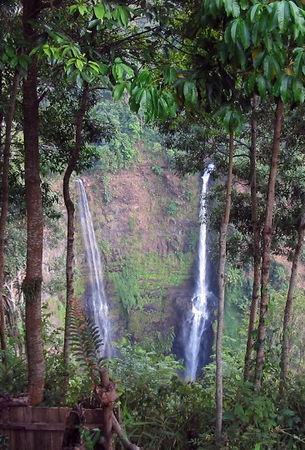 PiX above: missed the smile, but got the falls.
Tad Fane was well & truly impressive, even in the hot dry season! The falls were an incredibly bright milky white colour, tumbling down a few hundred meters into a narrow ravine. Jack pot here I thought. Let's spend a night in one of the bungalows & make whoopee all night, picking up brownie points as we go. It would have to be a win-win situation, as PM Thaksin used to say. The HGL G/F S went off to the horng-nam while I ordered some coffee & sandwiches, & asked if there were any bungalows available for the night. The reply was affirmative & so was the price at US$28 a night. No discounts even for the late arrival. A bit rough I thought, but oh well let's go for it, you'll only do this once. The HGL G/F S returned from the horng nam & was definitely not happy - it must have been a temple toilet, it was so dirty, she said. Don't stay here for the night, especially at US$28 a pop! We re-ordered the coffee & sandwich, they finally came, we scoffed them down & that was it - back to Pakxe 32 kms away. No mega waterfall bungalows that night. Yep the service could be improved at the waterfalls in Champasak! There's gotta be a good one there somewhere - next trip Katamtok will be the go? Anyone else been there for a night?
The next day it was a bit of blast down to the end of the R13S asphalt to Veun Kham & the Lao / Khmer border. Take a look at the pix of R13 below & you'll understand why it is a bit of blast.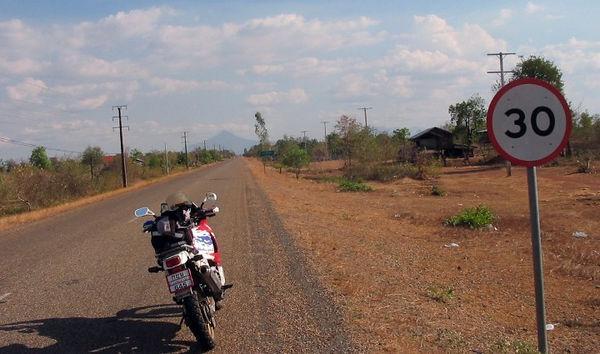 (Dont worry about the 30 kph speed limit. The goats flit around faster than that!)
You do need to out for the goats & village dogs though. I had several instaneous adrenalin flows with goat near misses & the HGL G/F S most definitely let out a few high pitched yelps with dog near misses, that I thought would not even make the loaded up Africa Twin flinch if we did plough thru 'em.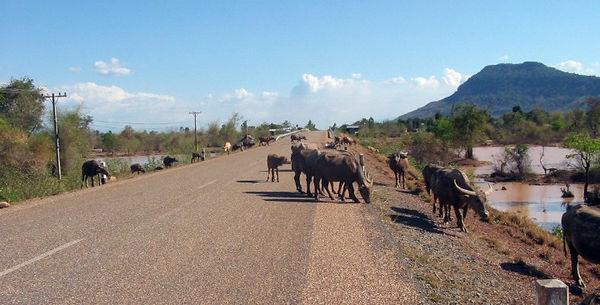 Pic above: Buffaloes on R13 S. A bigger target, but slow moving & "easier" to miss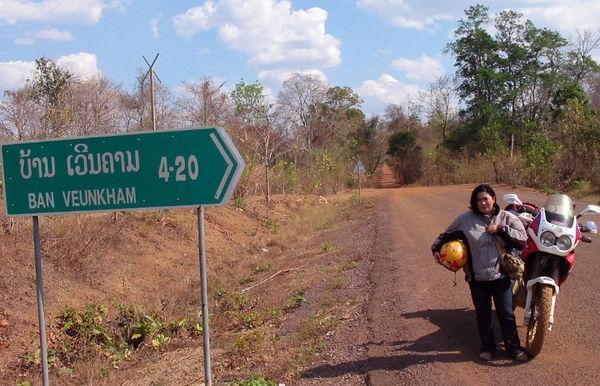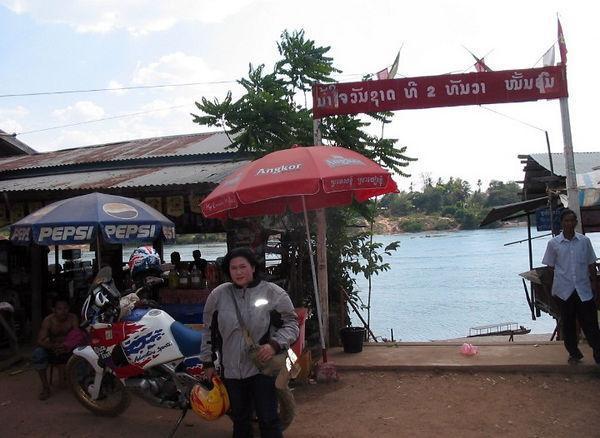 Veun Kham was bright & sunny = stinking hot. But the HGL G/F S was still impressed being right on the Lao / Khmer border, standing on a nice smooth sandy Mekong beach.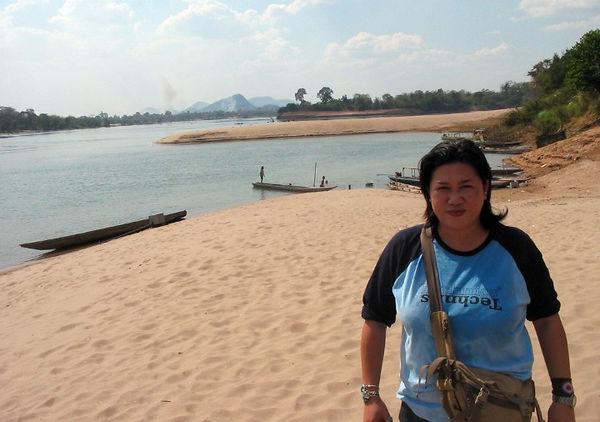 After a quick eat & drink stop, we left hurriedly after some sleazy Khmer officials / soldiers started making smart remarks about the HGL G/F S. I also never understood how the guy did not hit my bike, as he had parked his car so close to the bike - not once, but twice, with no other vehicles in area. It was an almost surreal scene unfolding, but not one that we wanted to be part of. Life is indeed real strange at times, when you get unmistakably bad vibes around you everywhere you know it's time to move on, asap. I've been to Veun Kham once before & had a totally wonderful experience with the locals, but not that day.
Khonphaphaeng falls was the next stop & this one did make the HGL G/F S speechless, after her only word - unbelievable. All she could do was smile.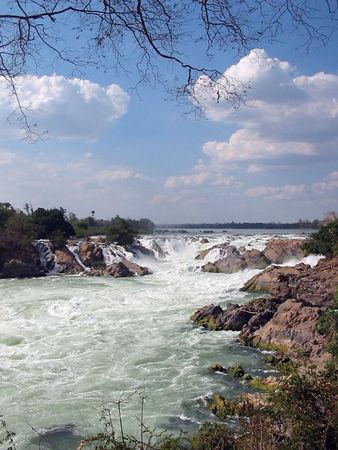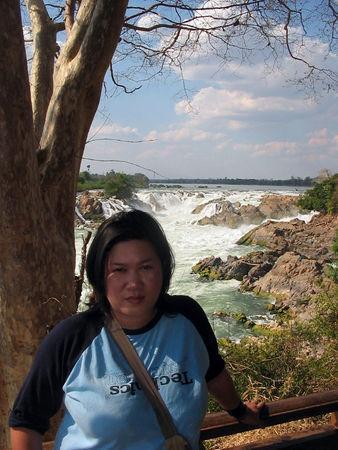 Yet another jackpot. Fortunately there were no bungalows to sleep in overnight so there was no disappointment there.
Exiting the falls, I discovered a short track that takes you down to the top of the falls. Here the HGL G/F S could not contain herself & she had to take a quick dip in the 'Khong to cool off.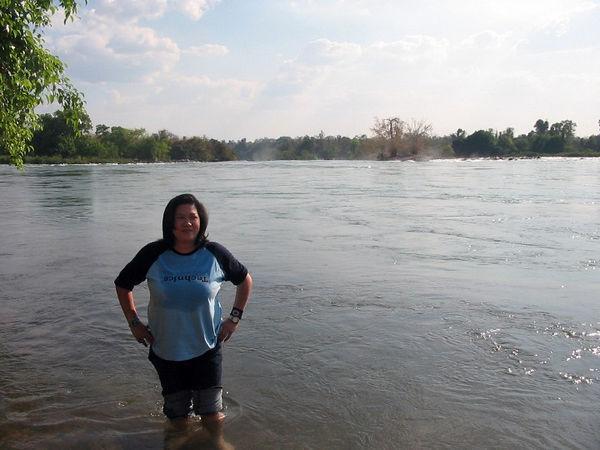 No discussion about it. Off with the riding gear we'd just put on seconds before, & into the Khong with the jeans & T-shirt on. Pretty adventurous I thought - a non swimmer, paddling around in a strong current, less than 100 metres above the biggest falls on the Mekong. I wondered what would happen if she got into trouble - would the GT Rider, fully clad in riding gear - jacket / boots / pants - dive in & make a futile attempt to save her before she (& the GT Rider both) went over the falls?
By the time the HGL G/F S singer had retrieved herself from the river with some difficulty climbing up the muddy bank, she / we were hotter than before the dip. But at least she'd had a dip in the Mekhong right at the Khonphaphaeng falls. Aint life grand when you're having a bloody good time.
Don Khong Island was the spot for that night & the HGL G/F S gives this place the top vote for the trip. We crossed the Mekong on one of those floating wooden planks lashed together, just to give the HGL G/F S another brownie point thrill.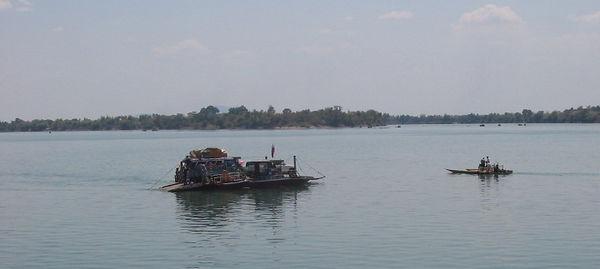 Pic above: Mekong ferries - cars & bikes. Take your pick. The bike one is fun for first few times. Dont know about the insurance though.
All this must have primed her perfectly for a supremely fine happy hour by the Khong, drinking black beer Lao & eating friend fish with garlic & honey, watching the colours of the sky over the Mekong change from orange to pink to mauve to burgundy (or was that the wine I was thinking of?) And the place to eat is Pon's Restaurant.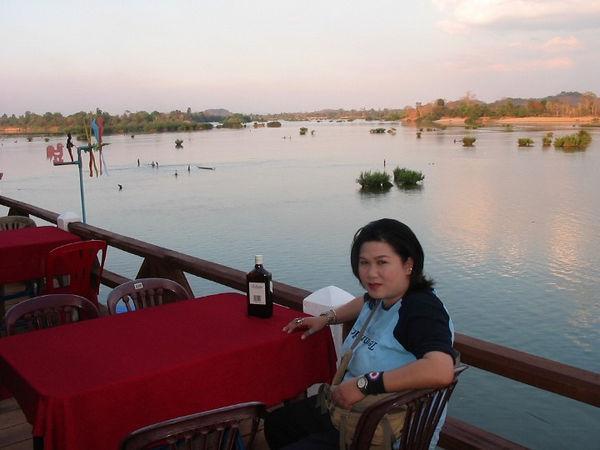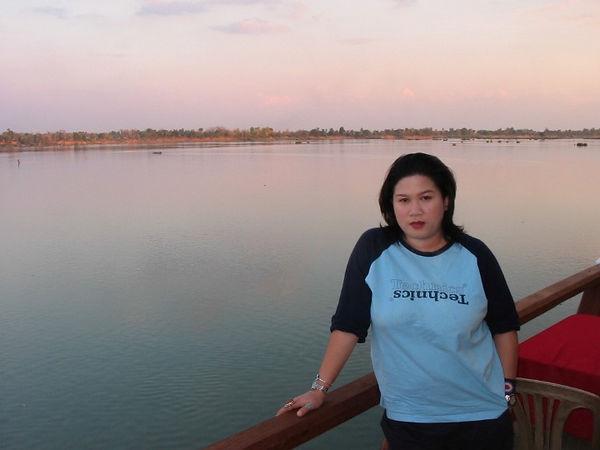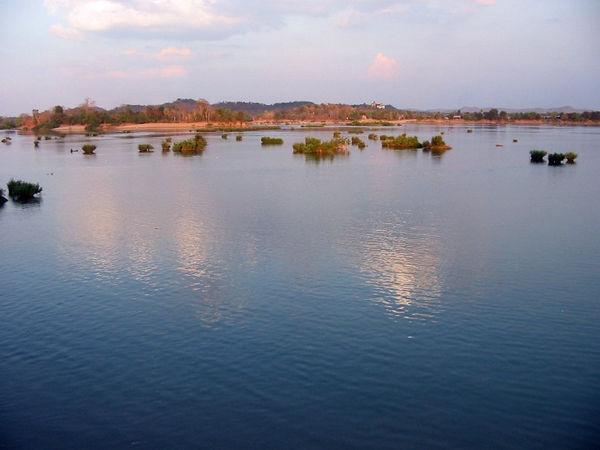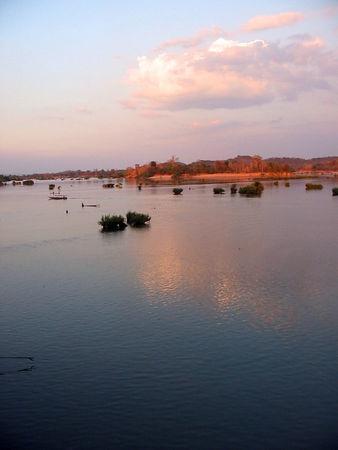 I'm sure that I saw stars in the HGL G/F S eyes while she was savouring this magical evening by the Khong - no cars, no pollution, no noise, just peace & quiet, on the steps to heaven........
On DK we stayed at the Souksan, air con hot water for 400 baht a night. For food & happy hour you can't beat Pon's restaurant for food & incredibly friendly staff / family! Don't miss either of 'em. I'll be back for sure, especially the fried fish with garlic & "honey."
The next day was a lap around the island – about 36 kms - which the HGL G/F S found hard to believe we were still on an island in the Mekong.
Then it was off to Champasak & Vat Phou.
I'd not stayed in Champasak before on account of it's close proximity to Pakxe, but figured the HGL G/F S would not say no to another night by the 'Khong………..
We didn't have a great deal of luck finding the right spot in Champasak at the start. And looking back this was the norm for the whole trip, strange eh?
The first place, the Anou Xa, was the best looking place on the river & also the most expensive – 650 baht for a spartan hospital standard air con room, with no TV or fridge. It cost less for a well-furnished room at the Pakxe hotel in the provincial capital. I pointed his out to the owners & offered them 450 baht for the room, but this went down like a lead balloon & we were immediately offered a 3rd rate room tucked off to the side for the 450 baht. Magnificently we declined & moved onto the next place.
This was the Vong Paseuth, & it was not a great deal of luck here either, where all the nice air con rooms hads gone & only the ratty old fan rooms were available. That's the luck of the game I guess, but it certainly does not go down well with the HGL G/F S who suffers badly in the heat. So it was off to the next one & the last try for me; if no luck, it would be a rush tour of Vat Phou, & then a hasty retreat to the Pakxe hotel 40 kms away.
Fortunately we stumbled across the Thavisab, away from the riverside & not so appealing from the outside, but with nice rooms for 500 baht with air con / TV / fridge – perfect for the HGL G/F S. Plus all the young staff were somewhat awesome & appealing – young gals all with vibrant bubbly personalities. And what a difference they do make - its marvellous how little, happy staff have to do to make you feel welcome.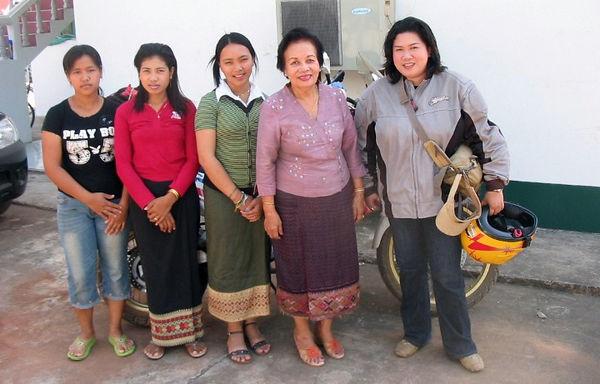 The HGL G/F S was significantly impressed too, especially when she was invited to share some mango salad in the 1st 15 minutes. I settled for a nice cold beer. Then it was off to Vat Phou.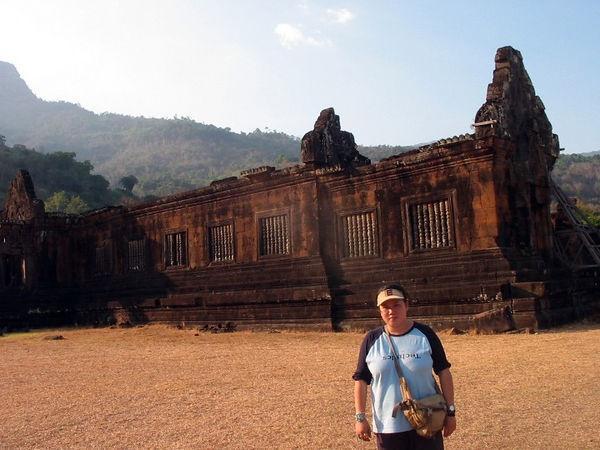 I'd not been to Vat Phou for 18 months, & the site has changed quite a bit since then. (1) the surrounding area is covered with litter & (2) the Italians have started their restoration project for the main entrance / ceremonial road.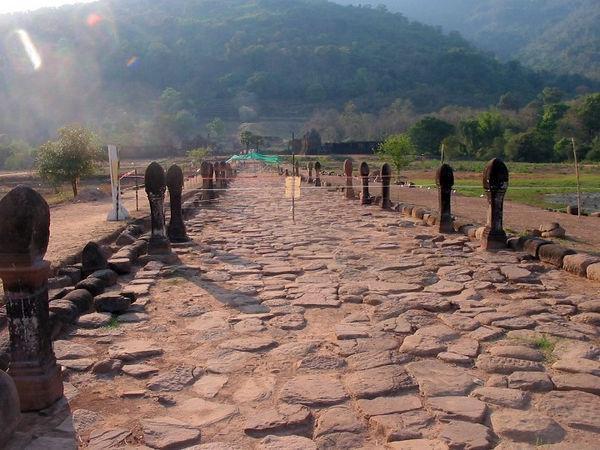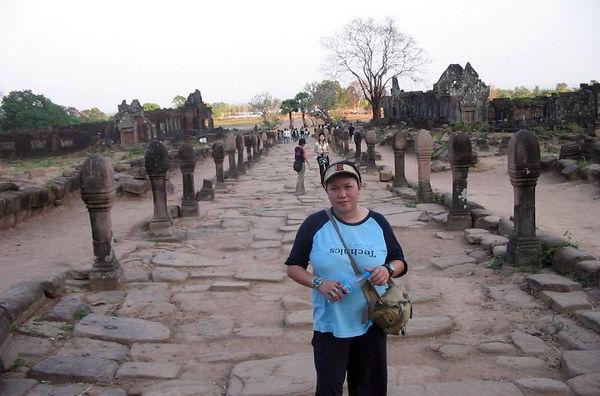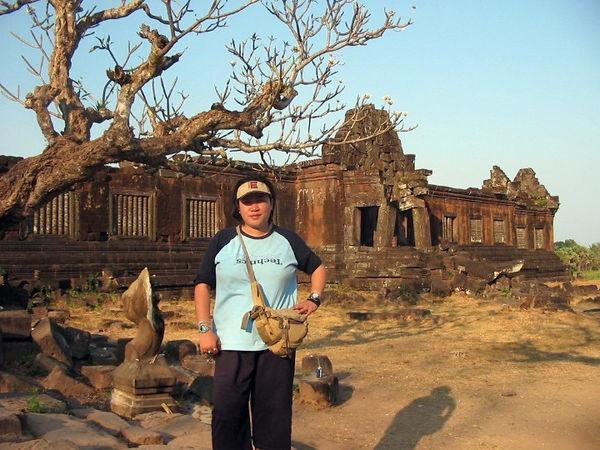 It was also a Saturday, & the site was overrun with Lao & Thai tourists - I'll know better next time. Perhaps not so odd, but the HGL G/F S did not seem that impressed with the site, although this could be due to the fact I made her walk up all the steps to the very top for a so-so view overlooking the crowd & litter & temple complex below.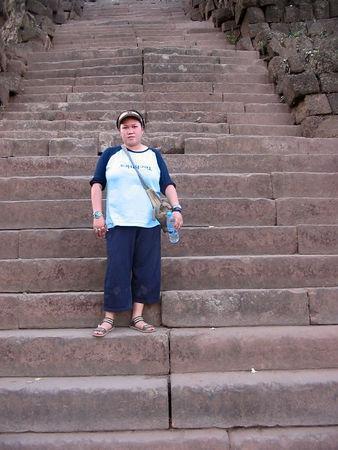 The main Worship Pavilions were also off limits, so all you could do was trundle around the rocks & marvel at what it once must have been. Now don't let this put you off a visit to Vat Phou though, as if you're in the area & never been, then this ancient temple complex is a must – but don't go on a weekend, go on a weekday.
En route back to the Thavisab we took a couple of cold beers beside the 'Khong at the Saythong restaurant, but the gal who impressed me so much last time was no longer around & so it all seemed rather mediocre. You can't win 'em all.
After dinner at the Thavisab it was early to bed with a reminder that neither the girlfriend nor I are as fit as we should be climbing ancient temples & mountains. Both our bodies ached & we were genuinely weary.
Davidfl
Keep The Power On
Last edited: