Photo Credit to Saini
It was a year with a lot more rainy days than sunshine as compared to the previous years and that has limited our choices of destinations for adventurous ride weekends. We had initially planned to ride to Pos Kemar but that has changed when it was raining continuously for the last 14 days and the weather forecast reported it will continue raining for the following 7 days. So we had to divert to a place about 22km from Ringlet, at the foot of Titiwangsa ranges, called Pos Lemoi. This was my
[bcolor=rgb(255, 255, 255)]second visit [/bcolor]
here, where the concrete surface trail will not be as challenging as the one leading to Pos Kemar. Despite having to reroute the destination, this ride has broken the previous attendance record, where 24 person joined including one 4x4 vehicle with Suhaimi and Madi on a Triton.
It was a cold & misty Saturday morning with ambient temperature around 22⁰C when I departed from Rawang around 7am. The traffic on B27 Jalan Batu Arang was normal but the condition was bad with plenty of potholes, unfinished work and sand on its surface. I head straight to our first rendezvous point at R&R Rawang to join 7 others which are Jimm, Ikhwan, Tom, Man, Qamarul, Zadiq and Fred. The newest member is Fred, whom rode an ER6n from Puchong and it is his first offroad attempt.
We took off around 7.55am heading towards Sungkai exit and the weather was clear and visible blue skies around Tanjung Malim area was very beautiful. We arrived at Sungkai 45 minutes later and Man told us that MK, another rider on KTM 690 was on his was to join us. While waiting for him, Usop surprised us when he arrived on his F800 - the Rimba Raid and GS Trophy veteran recently announced that he wanted to sell his bike for a scooter so his arrival was really a surprise.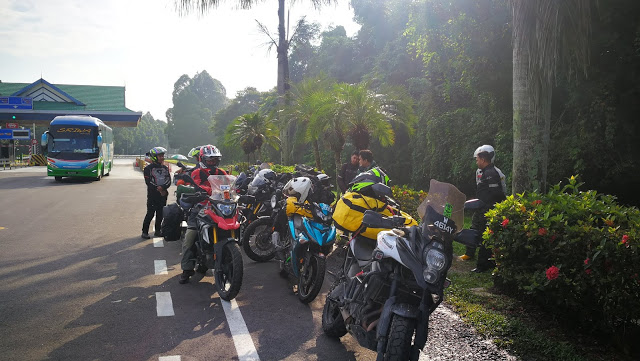 10 riders from central region departed through Route 1 and took a left turn to A189 before making a right turn to Jalan Kuala Bikam.
[bcolor=rgb(255, 255, 255)]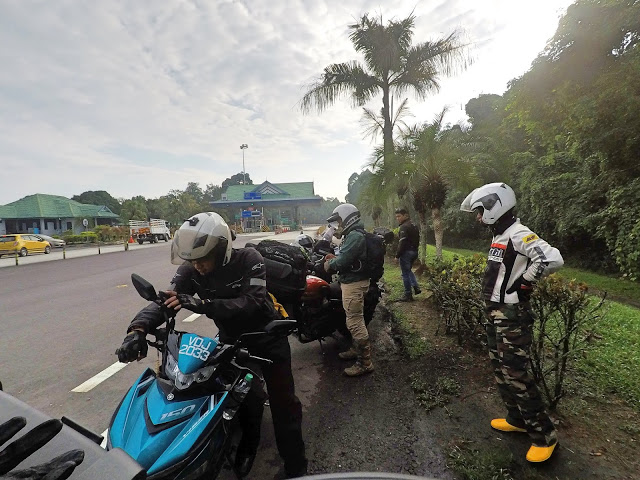 [/bcolor]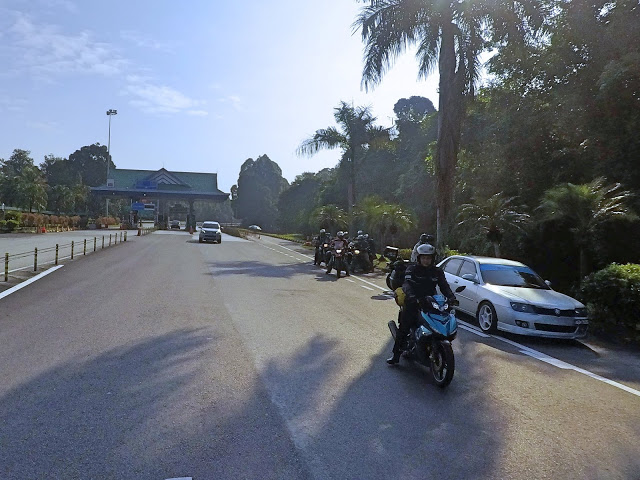 We went to Kg Ayer Hitam and made another right turn toward route A129 Kg Chui Chak and Chikus bypass A122 that run parallel to a vast paddy field. The view was breath-taking with small cluster of mists were still on the treetops, visible from afar.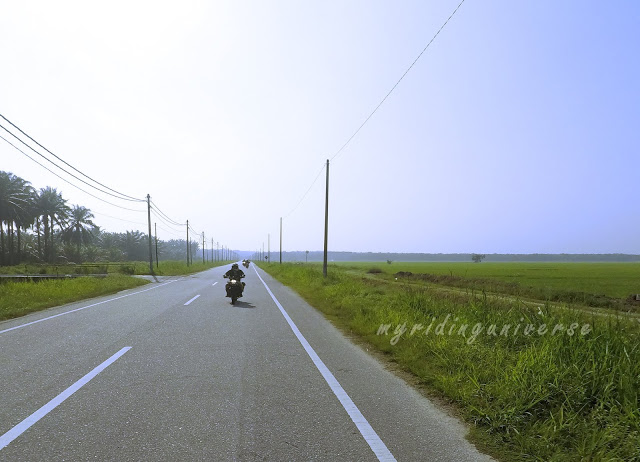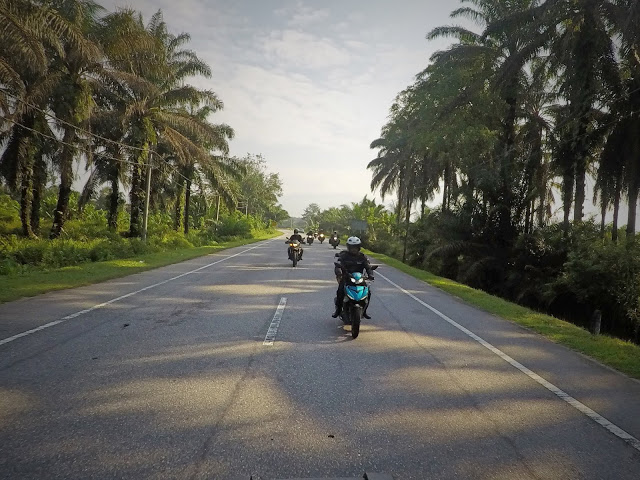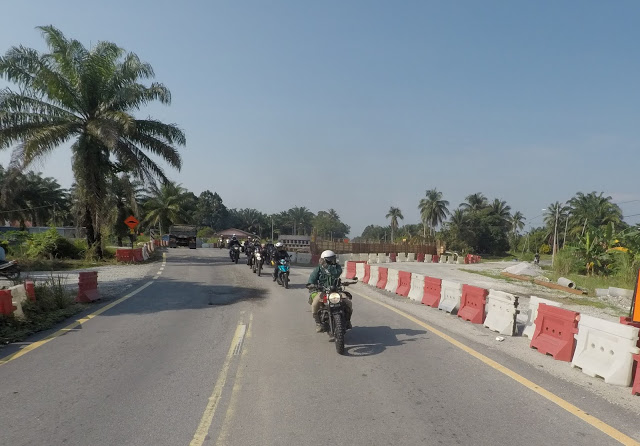 We also rode through a modern orang asli settlement, Kampung Chenderong Kelubi with nice bending road ala-WRC track in between palm oil trees with beautiful tarmac surface and old school Bailey bridges across Kinta River. We then continued through route A110 through Cangkat Tualang Malay reserve towards Gopeng town and our 2nd rendezvous point.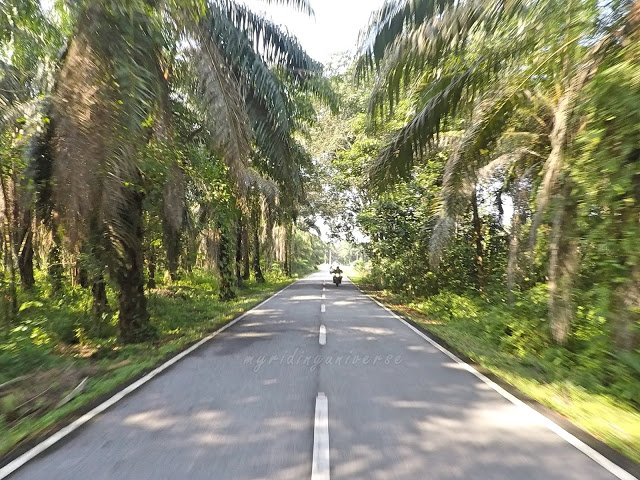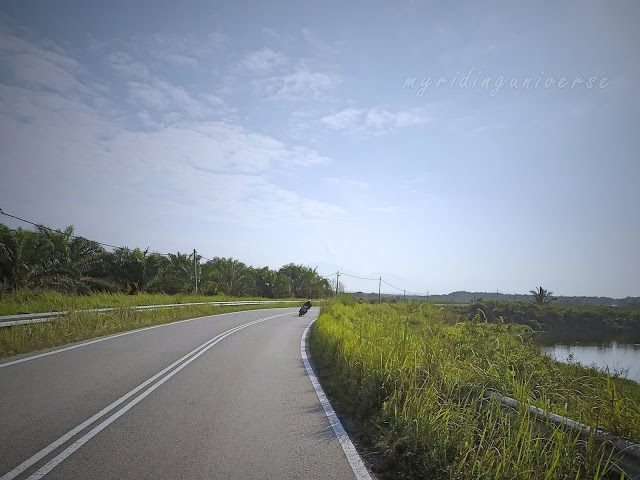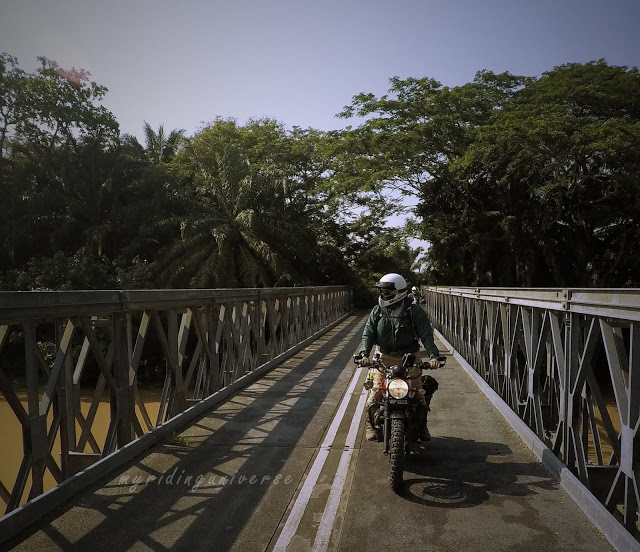 We have arrived at the 2nd rv point around 10.45am and Cikgu Joe with Suhail were already on-site. Also present was Johamly, whom rode all the way from Dungun on CRF250 after spending a night at Seri Iskandar. Shortly after we arrived, riders from Singapore which are Ross, Razzie, Saini and Jalil arrived. They have started riding in wee hours of the morning all the way across the causeway to join us for this ride.
So all 17 riders departed from the 2nd rv towards Mt. Brinchang, where we planned to have lunch but later it was diverted.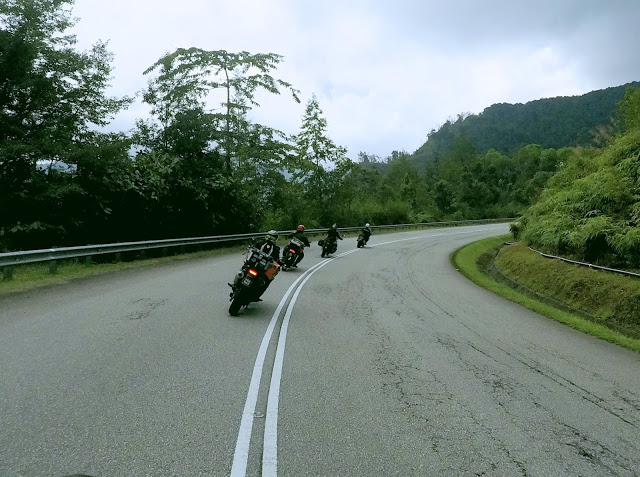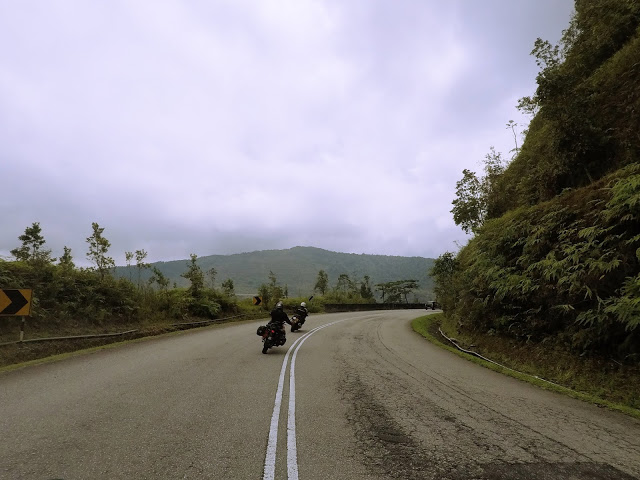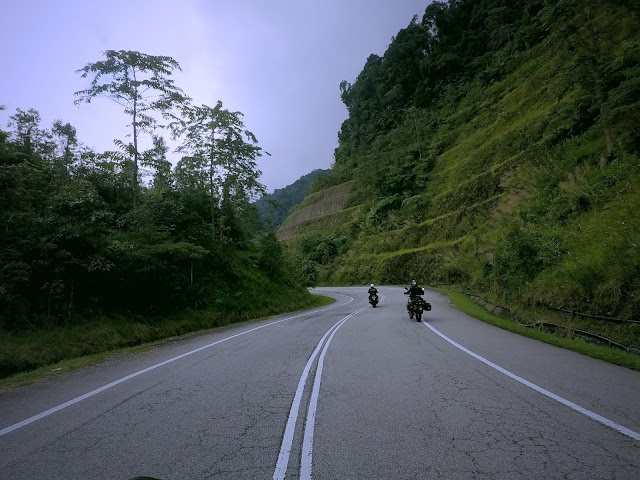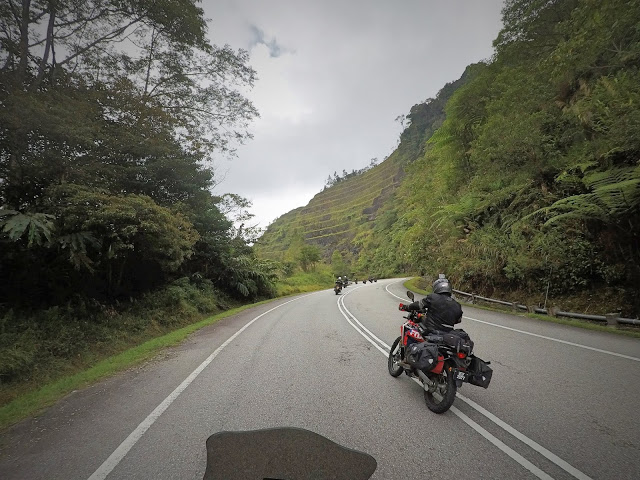 Being a weekend, the traffic heading towards Kg Raja and Tringkap was very busy and a drizzle just after Blue Valley worsen the situation. We stopped to pack lunch at Kg Raja and the rain got heavier from that point. Cikgu Joe, whom led the team to the ascending route towards Mossy Forest informed us about a massive traffic jam heading to the route so we've decided to scrap the plan and have lunch at Ringlet.
Riding from Kea Farm through Brinchang and Tanah Rata was a nightmare. I whispered to myself: this is the last r&c ride through this area and at the same time I pitied Fred, whom has two side panniers to go through this hell. It was raining, space was limited, drivers were impatient and my stomach ached.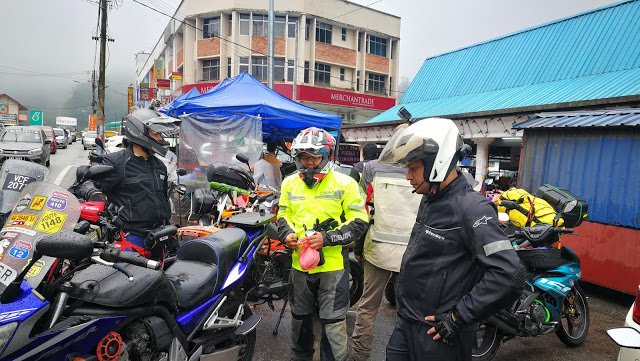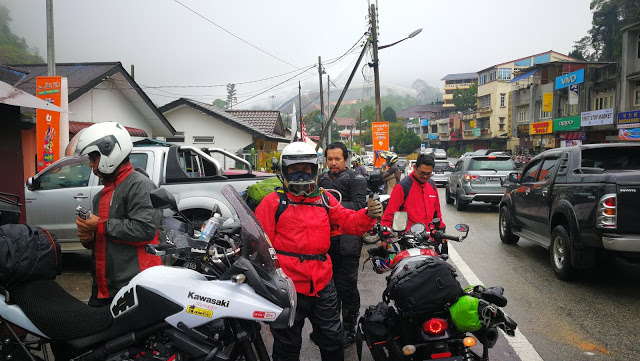 When I finally arrived at the foodcourt, Saidi, Mohdi and Zuki were already having lunch there. The rest arrived shortly after and we warm ourselves with food and drinks. Usop said goodbye to us here and didn't follow us to Pos Lemoi. After lunch, we made a move towards Shell station and ready to ride to the trailhead. Suhaimi & Madi arrived on Mitsubishi Triton shortly after and some of us transferred our bags on the 4x4. At the trailhead, we reduced our tyres pressure to help with grip, especially in this rainy day.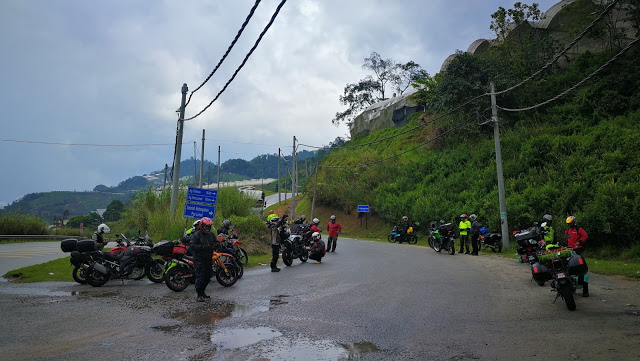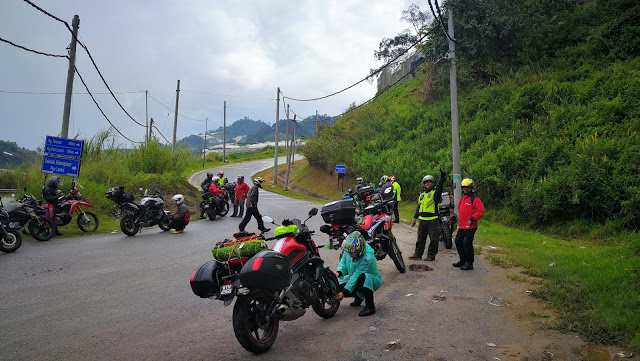 The concrete surface trail towards Pos Lemoi was in good condition in the first section where it passes through vegetables and flower plantations but it began to deteriorate as we went deeper.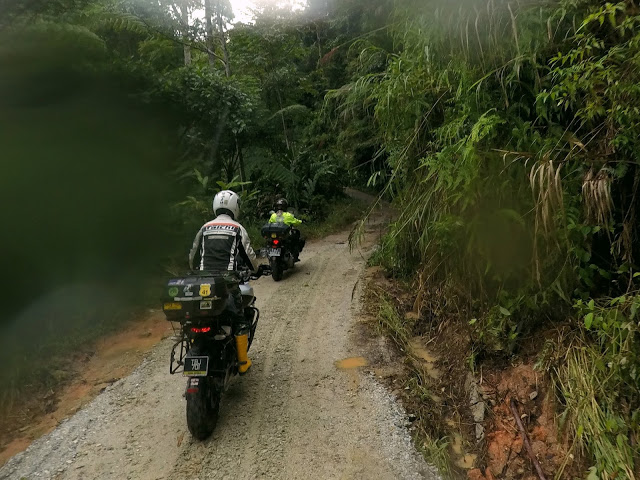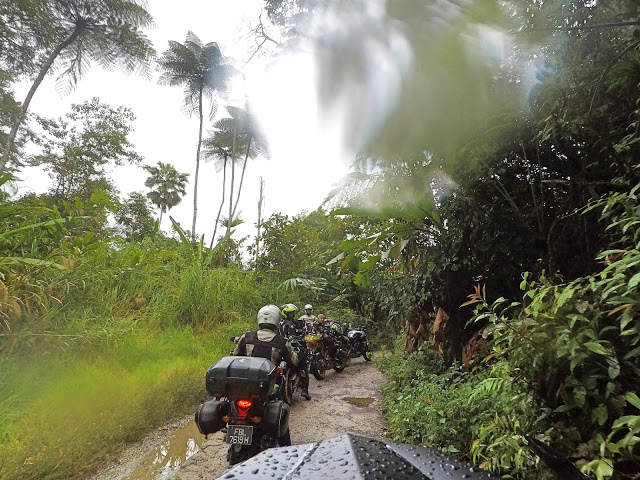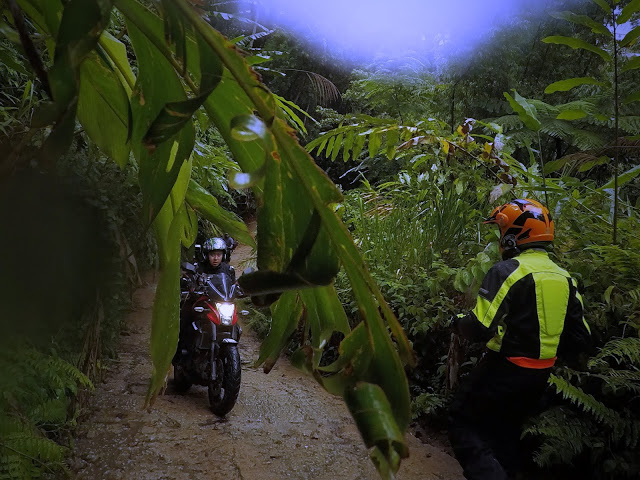 There were a few landslides with red laterite crossings and collapses road shoulders and riding in a drizzle added to the challenge. In one area, there is a repair work and the Triton has to wait until it is finished to pass through because it is too narrow to pass.
[bcolor=rgb(255, 255, 255)]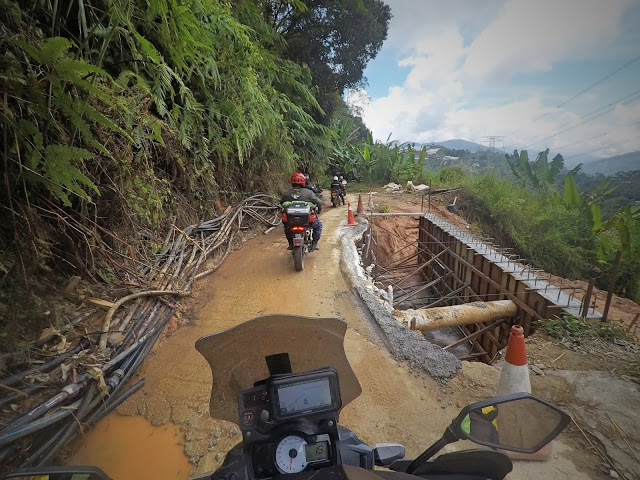 [/bcolor]
In one mudslide area, Jimm slipped his front wheel and took a fall. It took three of us to pull his bike back into the concrete trail but both him and his F8 escaped unscathed.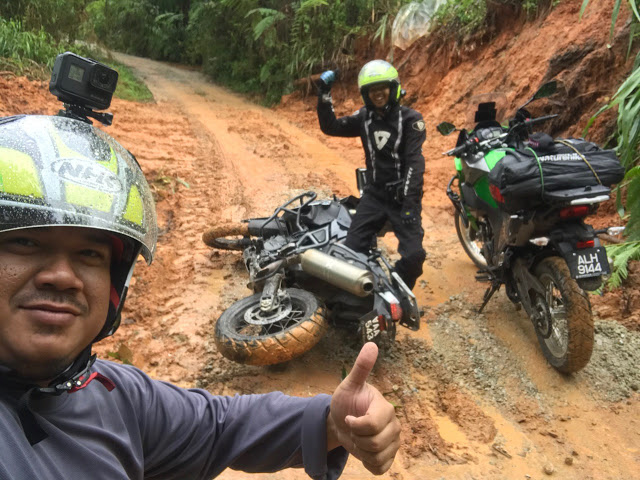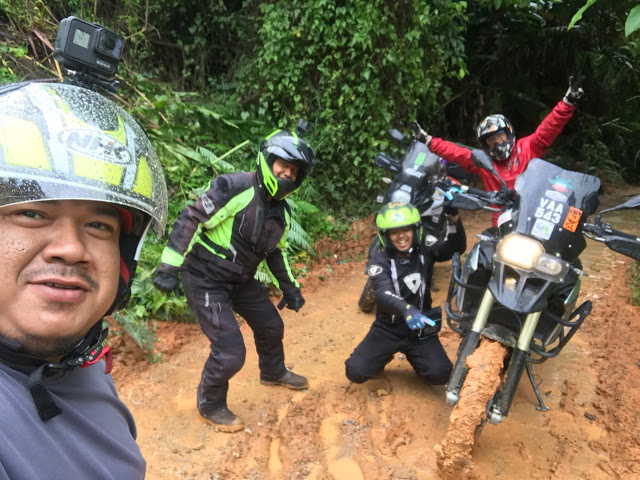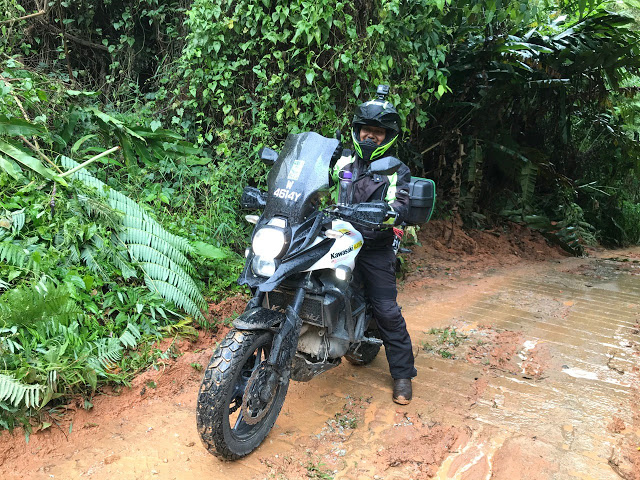 Further up front, during one of slippery climb, Jalil lost traction when he applied front brake and took a fall. His left front foot peg was broken in the process and he has to continue footpeg-less to the campsite.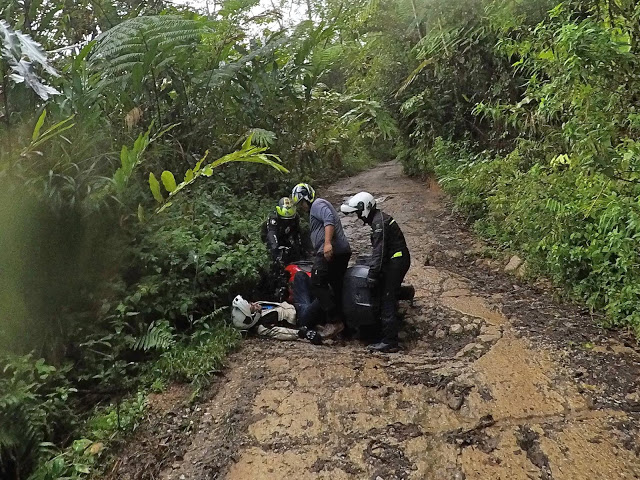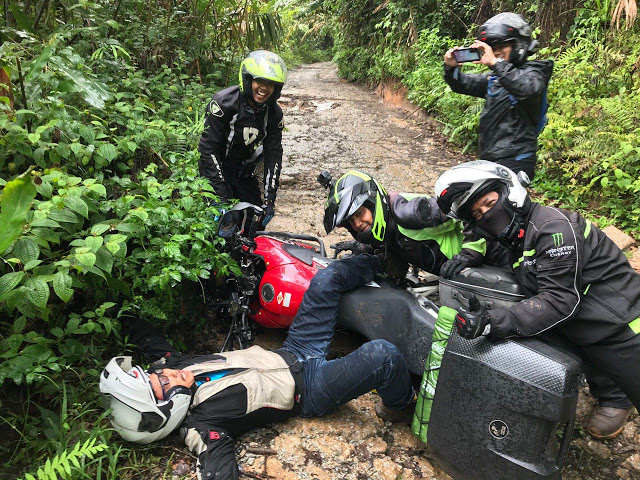 The last section with loose big boulders was now fully covered in concrete surface and it was a lot easier to ride compared to my previous visit here. The steep downhill with a curve was also a breeze for all of us and no further incidents recorded until we arrived at the campsite about 1.5 hours later. It was around 5.00pm when we went to meet Tok Batin Zainal to seek his permission to camp by the river. He nodded and agreed to meet us the following morning around 9am so we could distribute the souvenirs. He didn't seem to age since two years ago and remained cheerful with the ability to crack a joke in between his lines.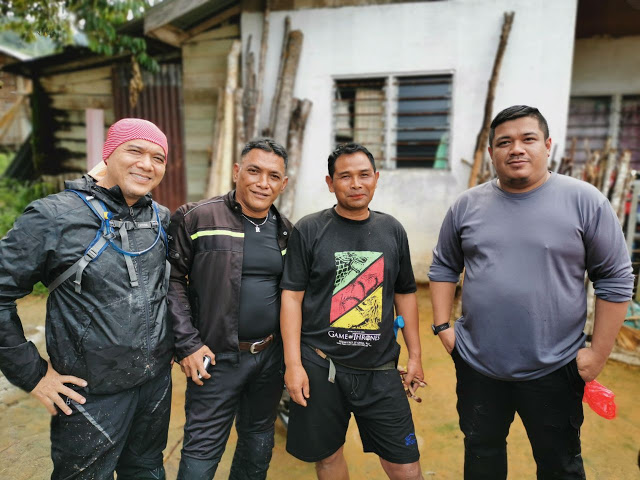 Photo Credit to C.Joe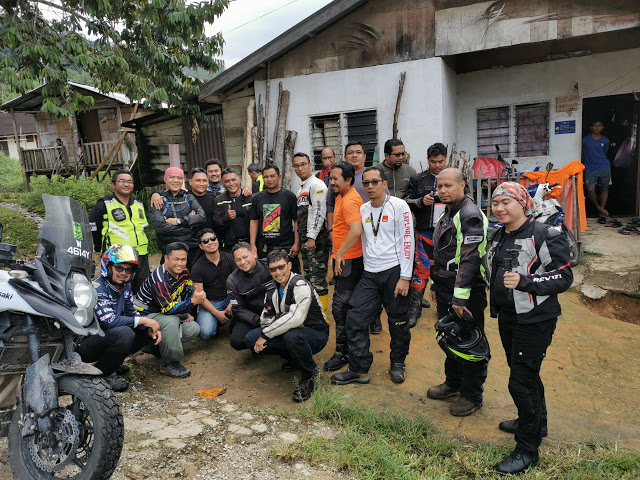 Photo Credit to C.Joe
[bcolor=rgb(255, 255, 255)]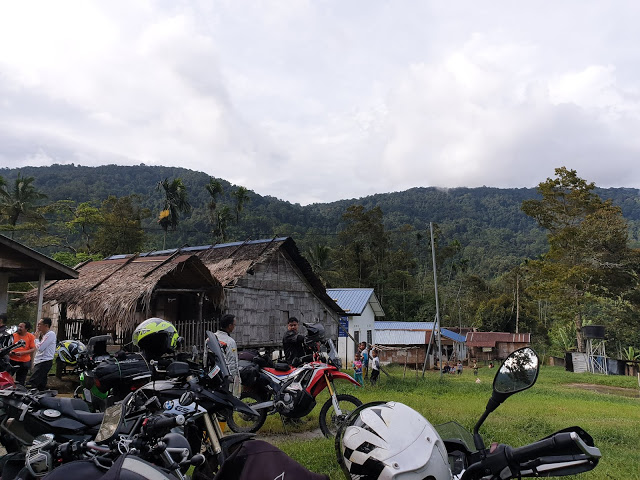 [/bcolor]
Photo Credit to Zadiq
Since we are a big group, we had chosen to camp at the first campsite near Kg Telimau where the area is flatter as compared to the other 2 campsites near Pos Lemoi. One of the campsite is gated and well taken care by the villagers and they impose RM10 per vehicle to enter the area. This is a good initiatives so the villagers could earn some income from this eco-tourism and the place will remain clean.
Campsite 1 - Pos Lemoi
GPS 4.357656, 101.496406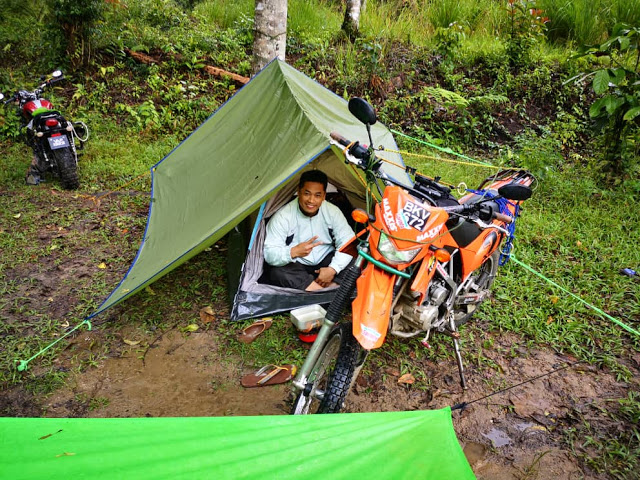 Photo Credit to Zuki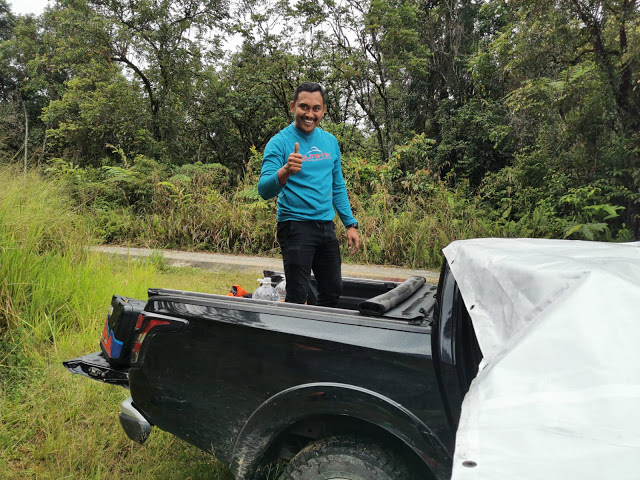 Photo Credit to Khai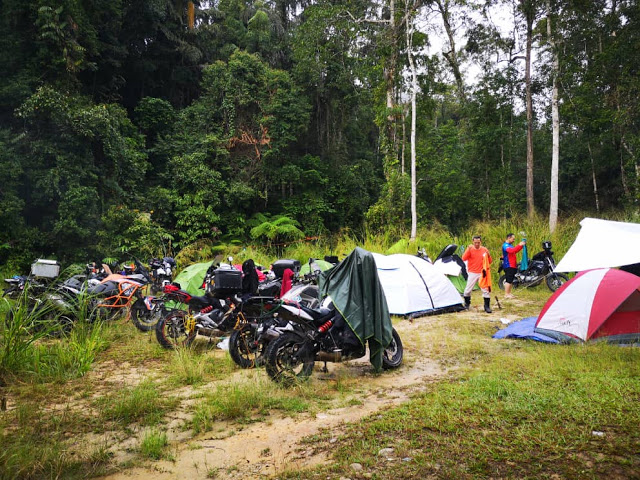 Photo Credit to Zuki
[bcolor=rgb(255, 255, 255)]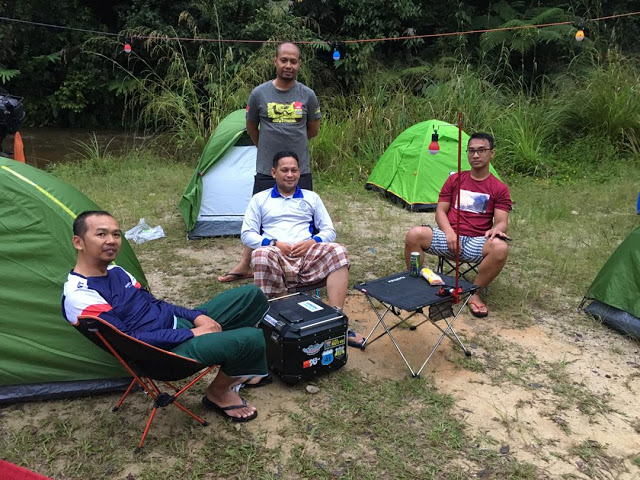 [/bcolor]
Photo Credit to Ikhwan
[bcolor=rgb(255, 255, 255)]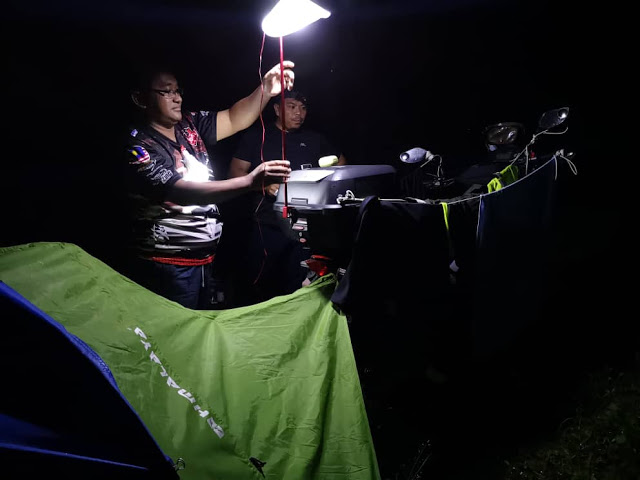 [/bcolor]
Photo Credit to Zuki
It has stopped raining when we were setting up camp but as the sun was dropping, the temperature began to drop. Afterwards, we went into the river to refresh and bath but only briefly as the water was icy cold. The water was slightly dark from the rain but not murky. Suhaimi and Madi prepared hot coffee and deep fried curry puff while some of us ate packed dinner.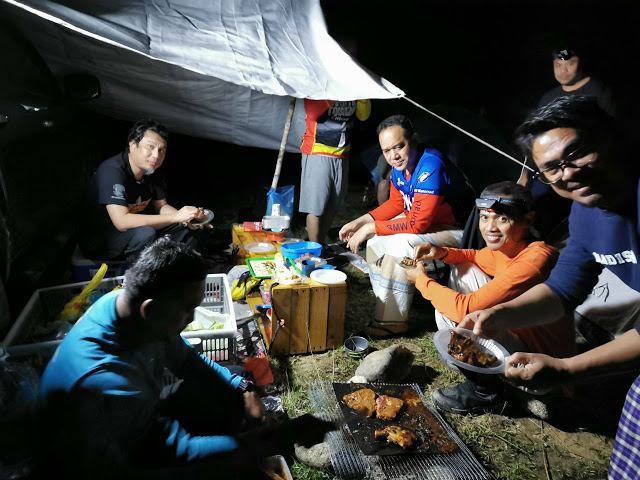 Photo Credit to C.Joe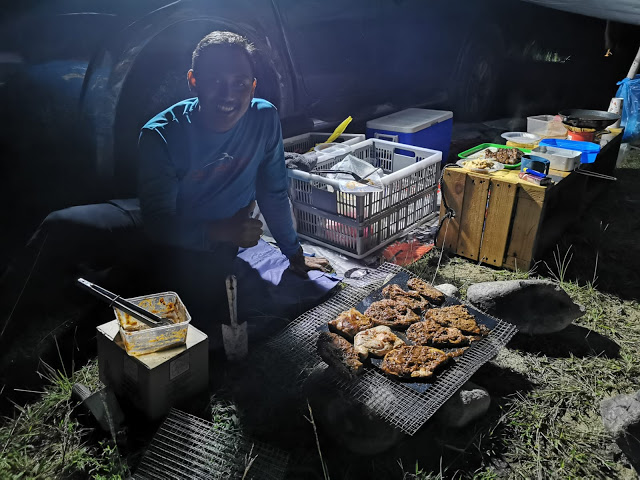 Photo Credit to Khai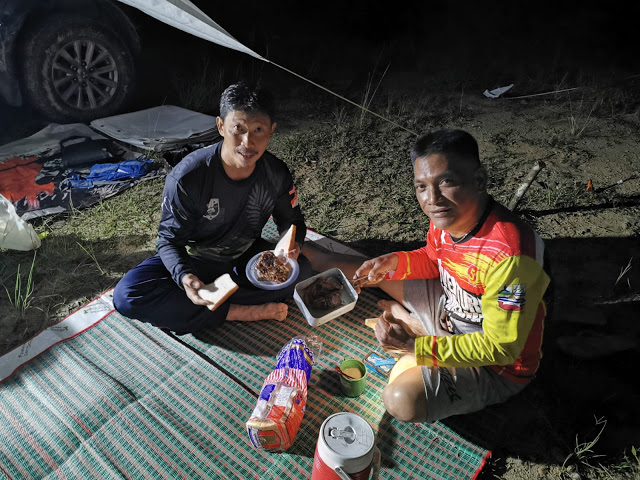 Photo Credit to Khai
The night was clear with visible moon and bright skies. We sat in small groups chatting with each other over hot drinks and Madi started to put sliced lamb shoulder on barbeque.
Photo Credit to Khai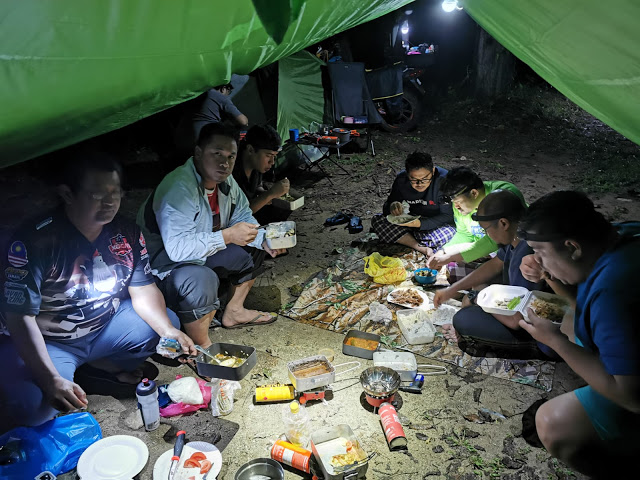 Photo Credit to Khai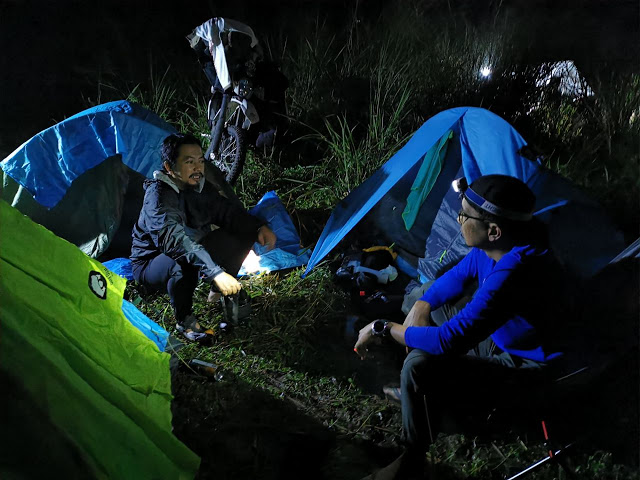 Photo Credit to C.Joe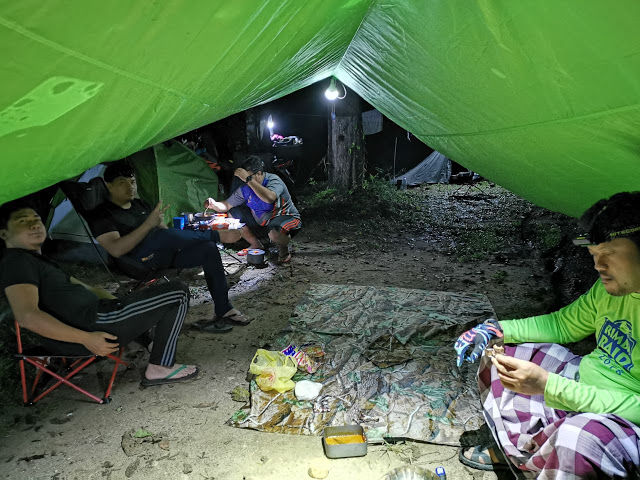 Photo Credit to C.Joe
[bcolor=rgb(255, 255, 255)]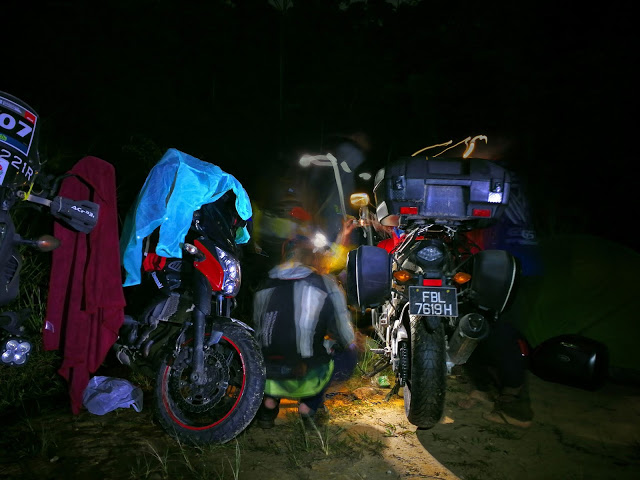 [/bcolor]
We helped Abang Jalil to replace his broken foot peg. The rear one moved to the front with a little bit of ingenuity - problem solved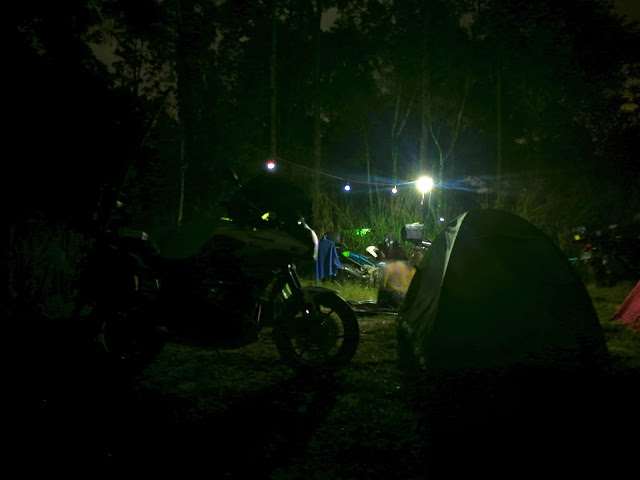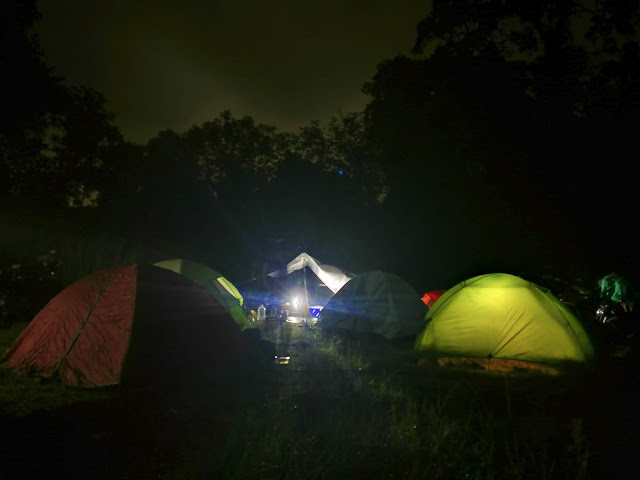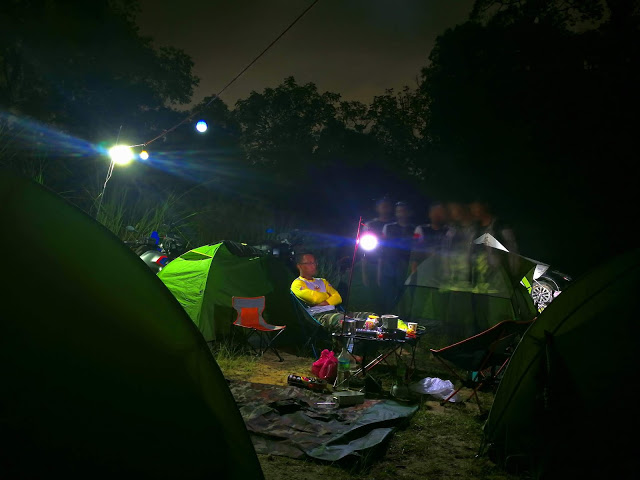 It started to drizzle around 11.30pm and we retreated to our tents to sleep. My bed for the night is 3-inch air mattress and sleeping bag while the temperature dropped to 16⁰C though the night.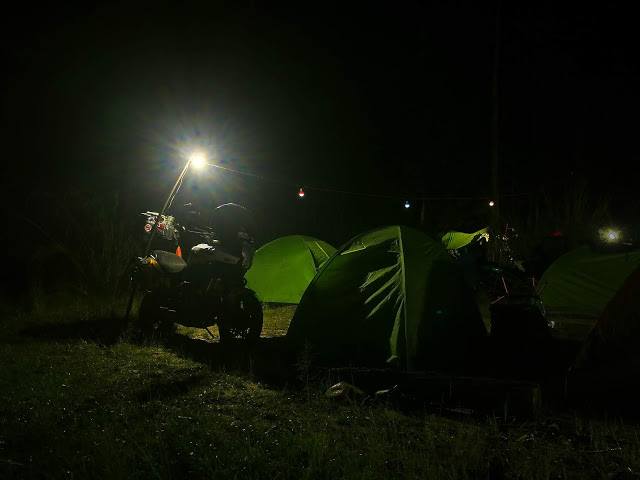 The next morning I woke up early to pee and found that the morning dew was so thick and my breath was like a steam. It started to drizzle around 6.20am and we took shelter underneath a big flysheet while having coffee and breakfast. As soon as it stopped, I wondered around to snap pictures of the area, which was really beautiful.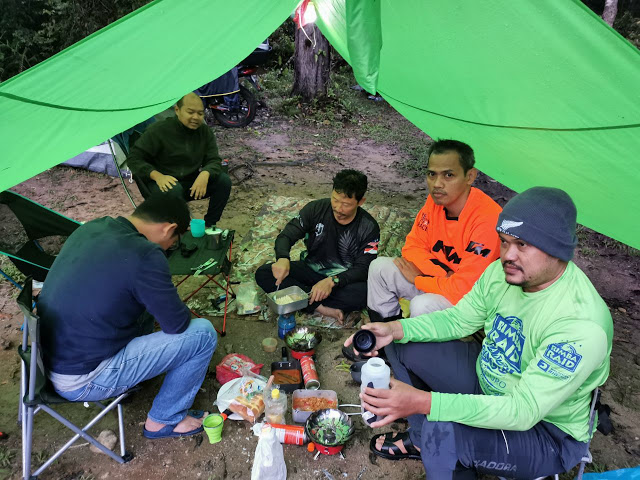 Photo Credit to C.Joe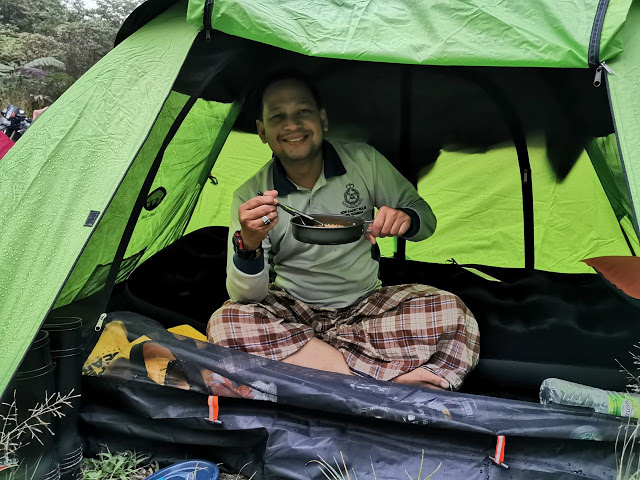 Photo Credit to C.Joe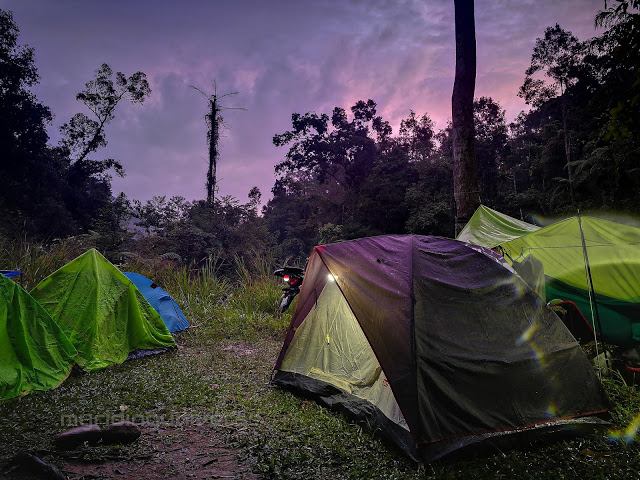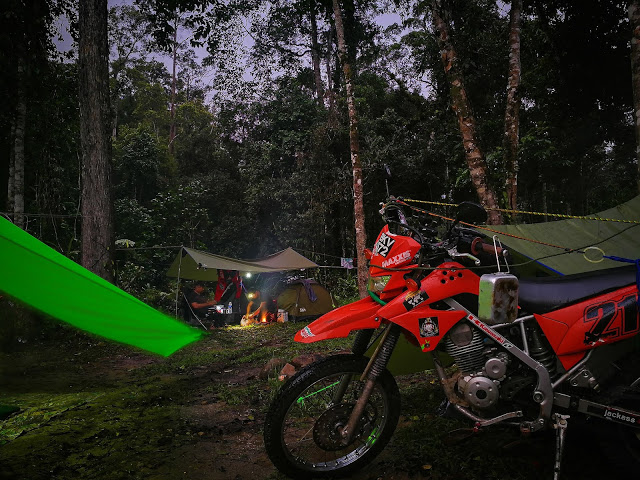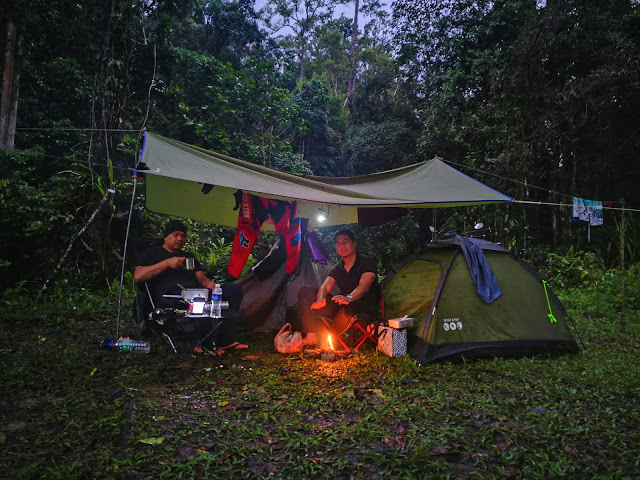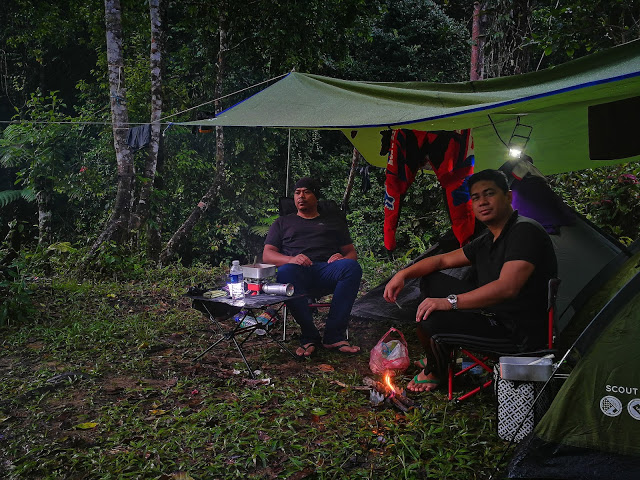 (From left) Johamly & Qamarul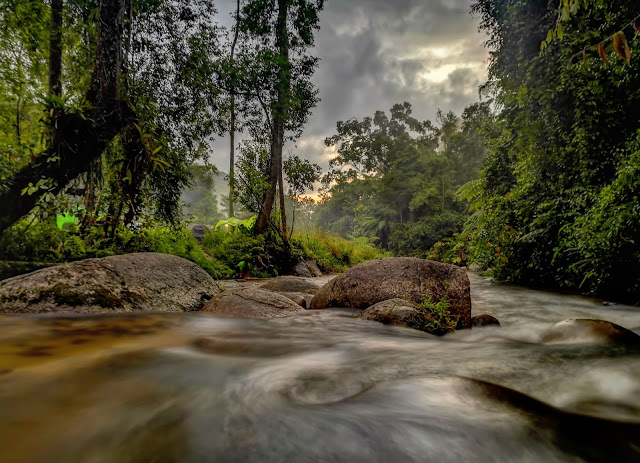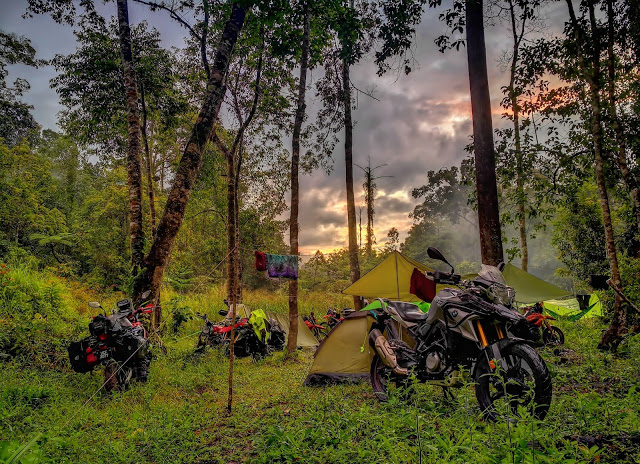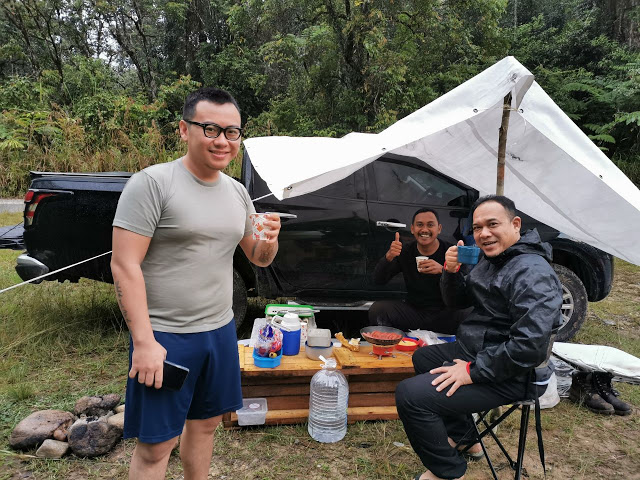 (From left) Freddy, Madi & Khai. Photo Credit to C.Joe
We went into the river around 8.30am to bath and the water quality has improved and it was super cold, Khai said it was the coldest river he had swam.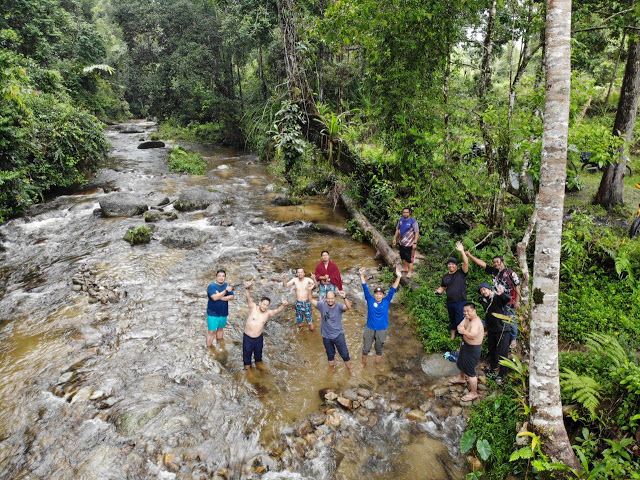 Photo Credit to Johamly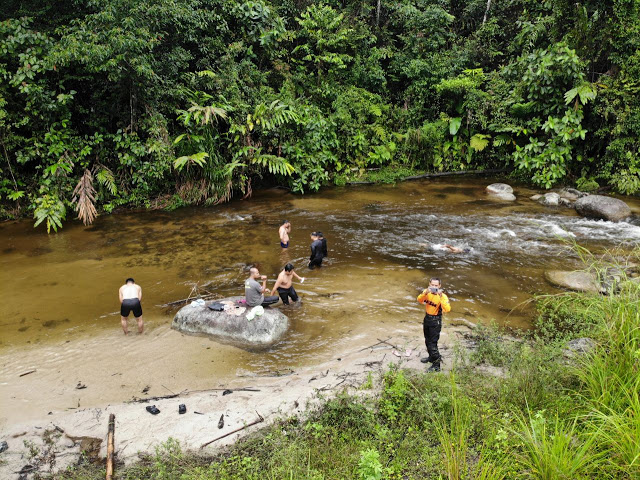 Photo Credit to Johamly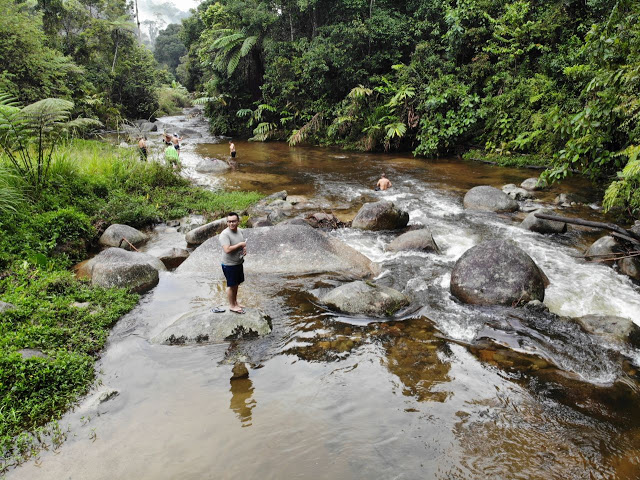 Photo Credit to Johamly
We made a move towards the settlement and found that Tok Batin Zainal was already waiting for us. We began distributing souvenirs to local folks, which consist of clothes, sweet, chocolates and stationary sets.
Signing the quest book. Photo Credit to Saini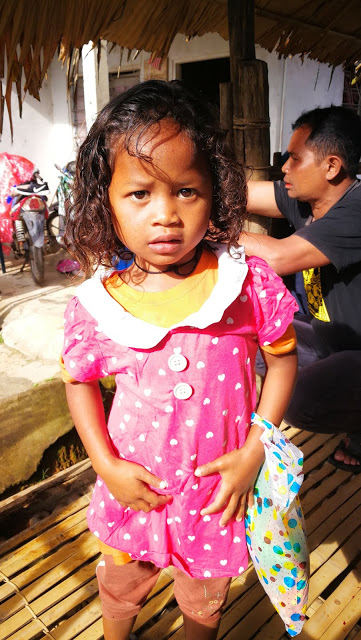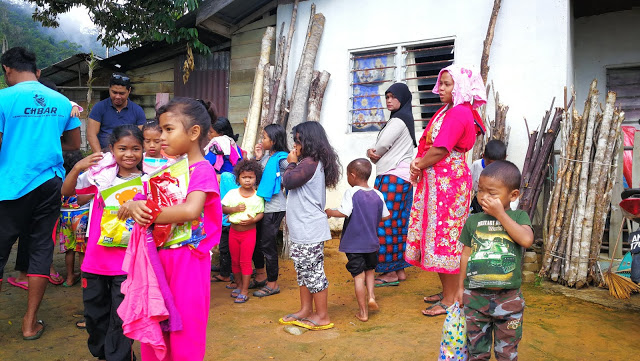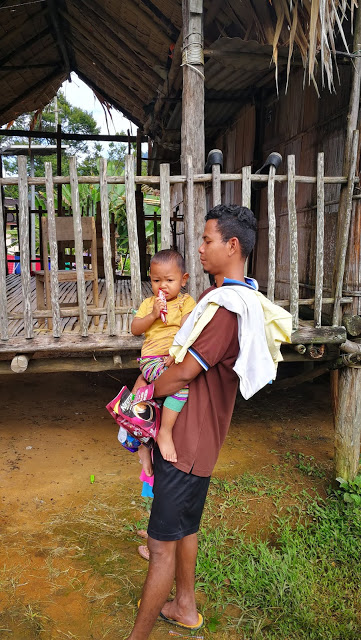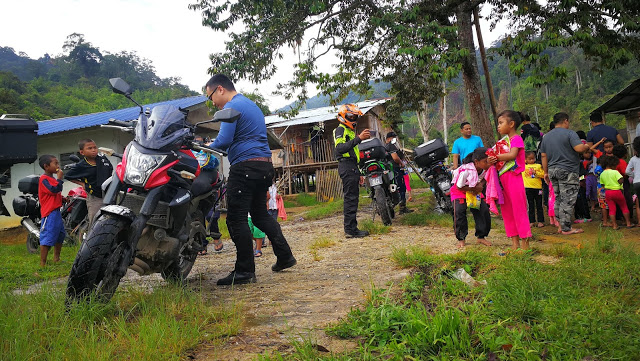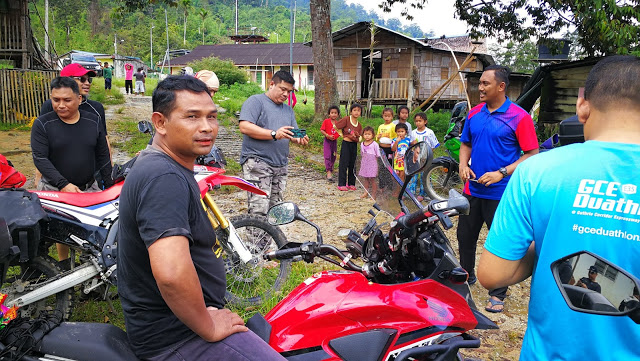 Photo Credit to Zuki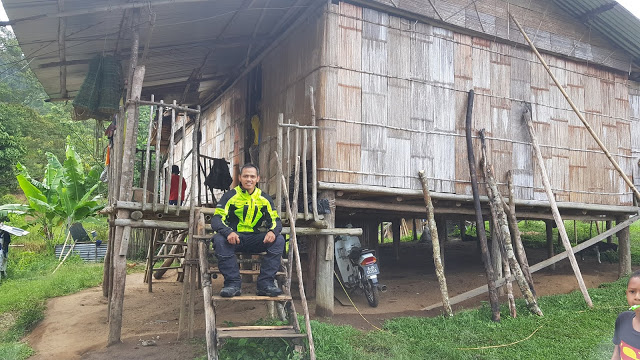 Photo Credit to Saini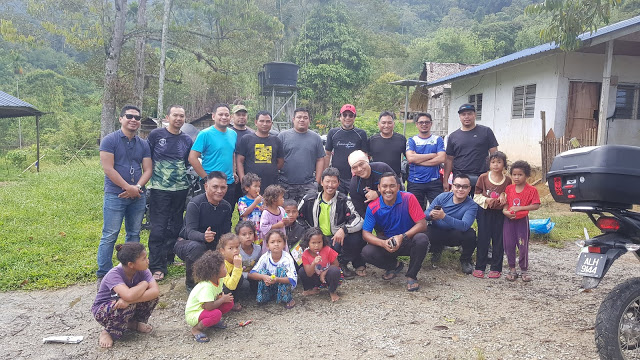 Photo Credit to Saini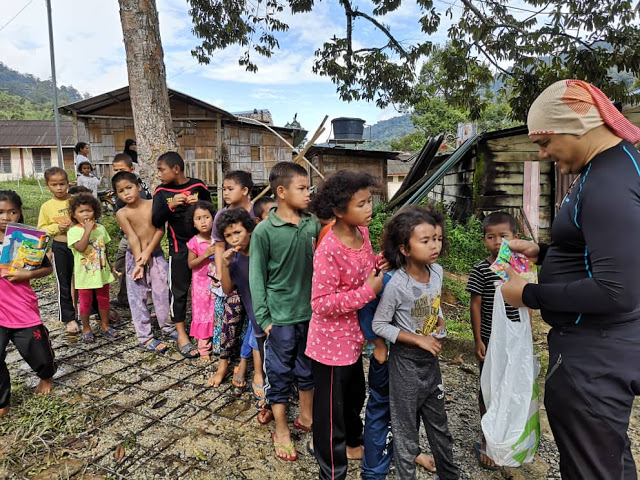 Photo Credit to Zuki
[bcolor=rgb(255, 255, 255)]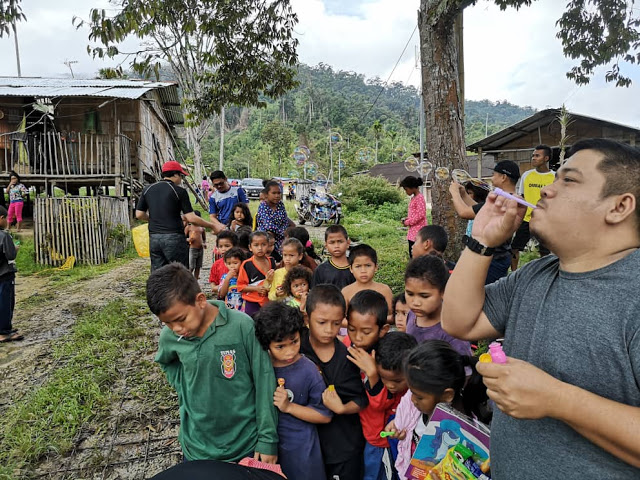 [/bcolor]
Photo Credit to Zuki
By 10am we were back on the campsite to pack and the weather was clear with blue skies. Ambient temperature climbed to 23⁰C and we have cleared the campsite around 10.30am and began to ride back towards Ringlet.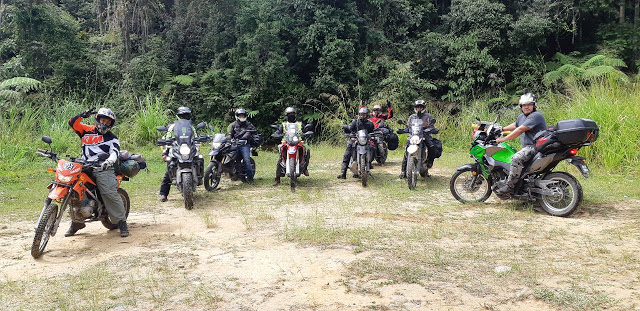 (From left) Mohdi, Myself, Qamarul, Saidi, Zaidi, Man, MK & C.Joe. Photo Credit to Suhail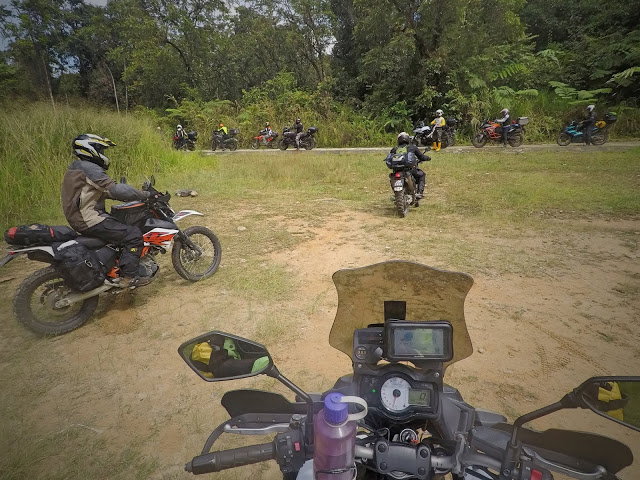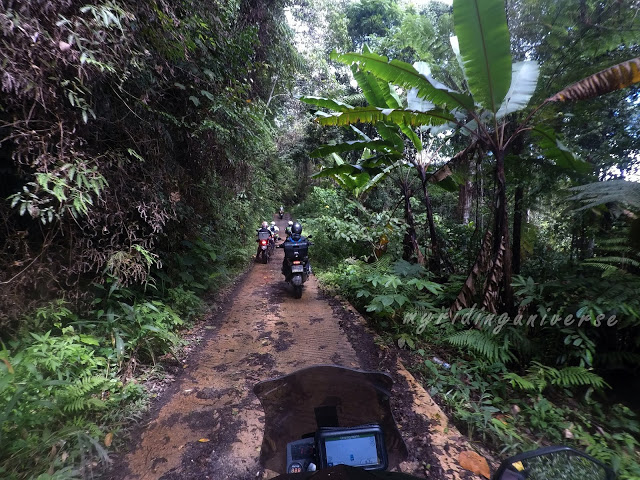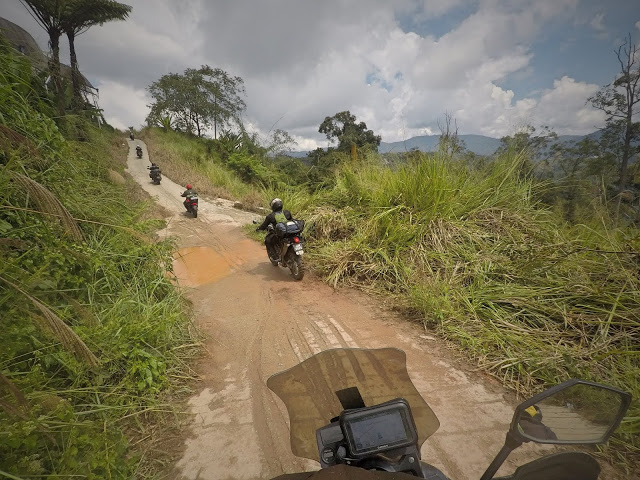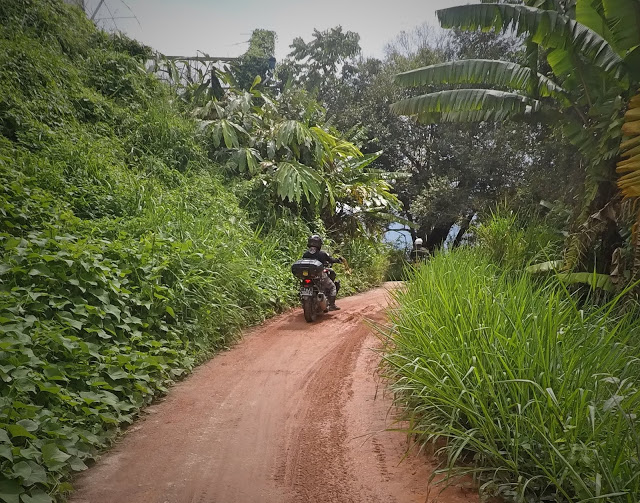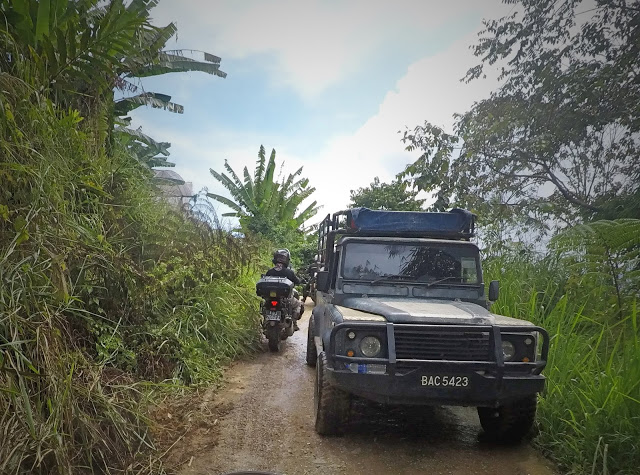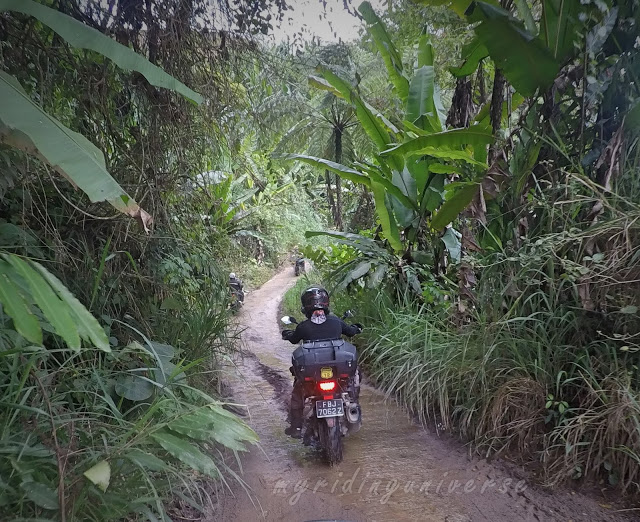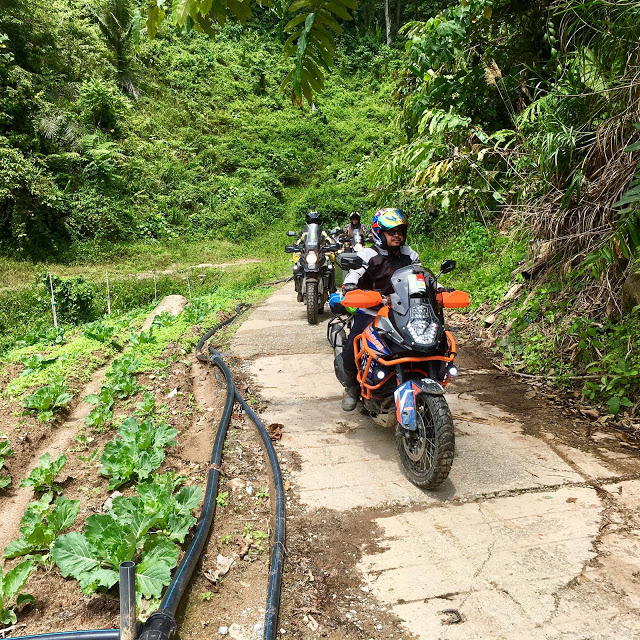 Photo Credit to Razzie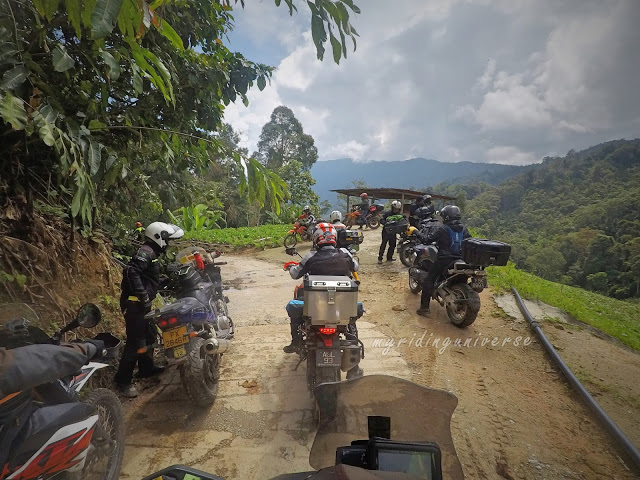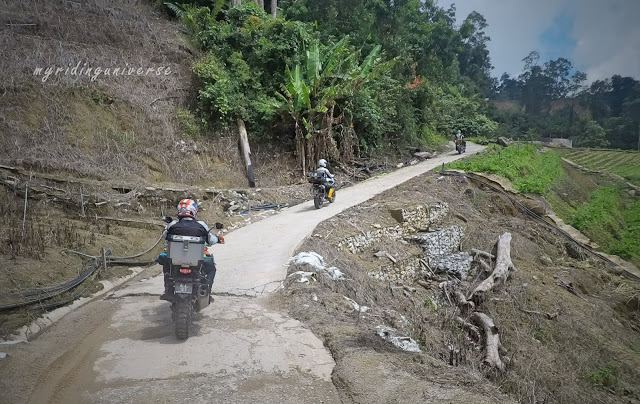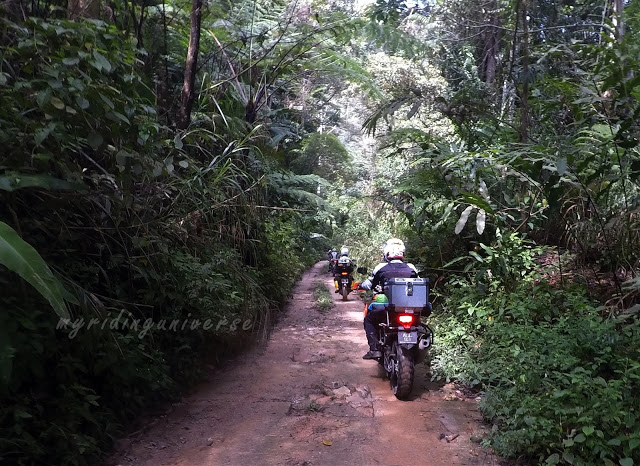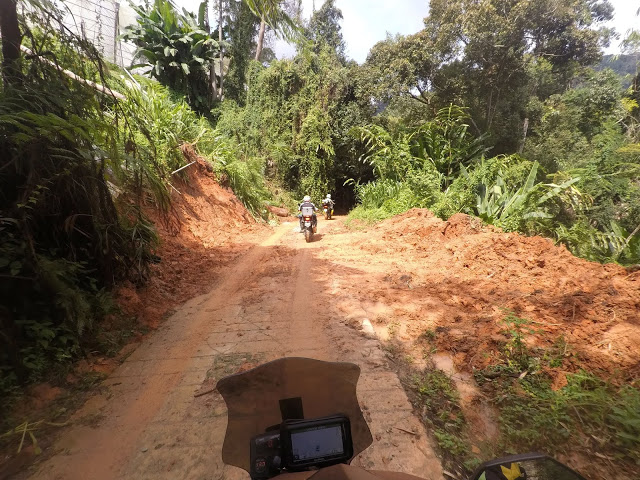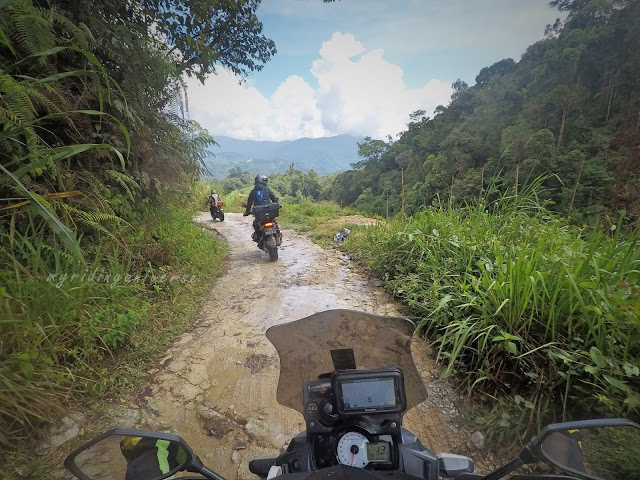 We rode slowly on the trail as there were a lot of crossing water, red laterite and sands on it but it was a lot faster than our ride in. We took about 45 minutes to arrive at the trailhead, before everyone converging at Shell station again. After refilling our tyres and tanks, we continued riding toward Tapah to have lunch at a place called Sup Darat. Johamly however will ride alone towards Sungai Koyan and Gua Musang towards Dungun.
Sup Darat Tapah
GPS N4.21613° E101.27567°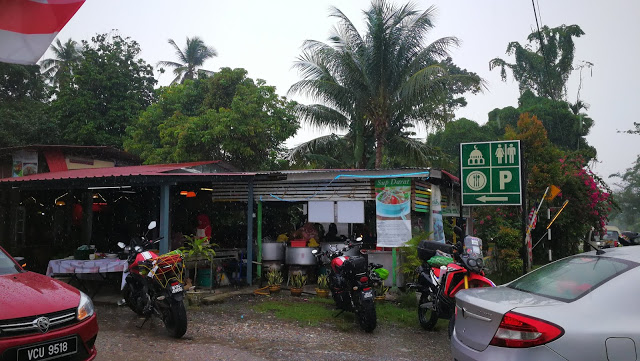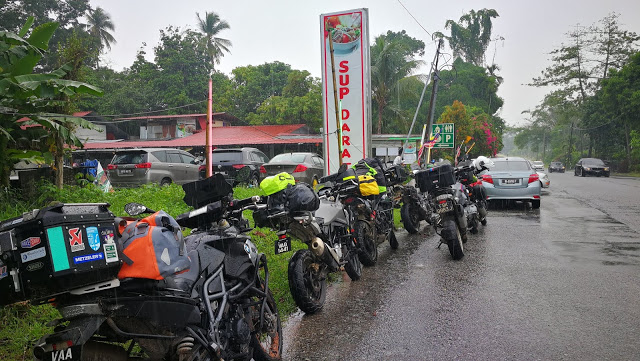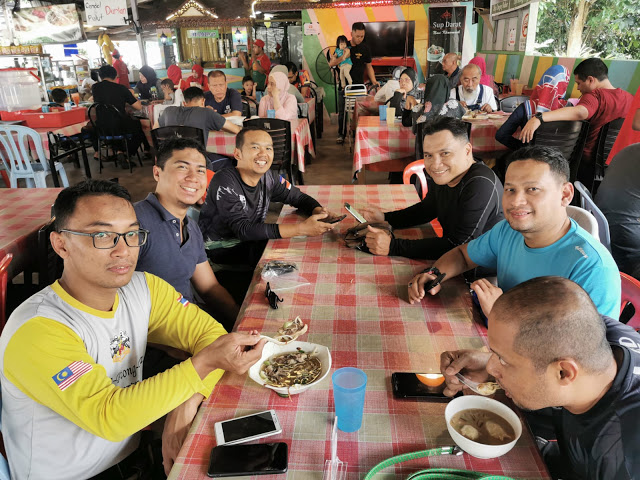 Photo Credit to Khai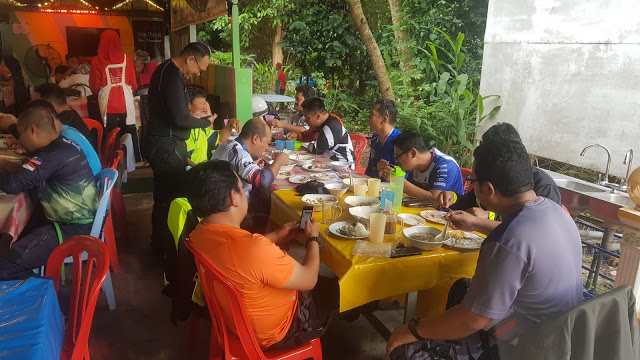 Photo Credit to Saini
It started raining heavily as I prepared to ride back and we said goodbye to each other after lunch. Jimm, Ikhwan, Tom and I departed around 3pm and rode through NSE towards Rawang. It was raining intermittently and the traffic was slow heading the city. I arrived safely home around 4.15pm.
The ride during rainy season can take its toll on our spirit but the group has shown great valour and ridership last weekend. Riders from Singapore and one from Dungun, despite all odds and hardship made it safely to Pos Lemoi and successfully delivered their token of appreciation to the villagers while taking some time to experience the mild weather this campsite has to offer. My congratulation also to Mr Freddy; that has taken the leap into adventurous riding realm and hope to see you again in the future. Not forgetting to Suhaimi & Madi, for providing the lift for our gears and preparing awesome dinner and breakfast to the team.
*********************Originally posted on myridinguniverse.blogspot.com*********************************************************