Here's a story of my journey/s across the mountains from Koh Kong to Battambang, at the end of January 2009.
Also there is the GPS route we took,including some waypoints, I'll link to it
http://cid-a22e6ef9336635db.skydrive.live.com/self.aspx/Public/cardamoms.gdb
See the route(or part of) in Google Earth
https://docs.google.com/leaf?id=0B_76FPviyOedZGZlYTc4OGQtMzY3NC00MTEyLWFiOGMtMzNkNDRiN2RiMGQw&sort=name&layout=list&num=50
Most of the fotos should have gps/exif data, so you should be able to open them in google earth etc., even if I can't link it all up yet, but I want to post this asap
Heres a link to more fotos
http://www.flickr.com/photos/

[email protected]

... 432645264/
I got to Koh Kong and realised how much there is to do /see round there, now before it disappears forever.
So I rented a bike and setoff for camp56 with 2 german guys and nick from Sauna Garden in Koh Kong. As you may know Nick does bike tours into the Cardamom mountains. Camp 56 is by the river crossing, and the start of the real jungle,where theres nobody and the riding gets tricky
It was good riding with people. There were several minor obstacles on the way. Noone managed to clean Lara Croft alley,we all took the wrong line,but all good fun.
It took 3 .5 hrs to get there, so they had to go straight back, but I spent 2 nights there in a tent. The bees were sometimes a problem as they like the sweat and I freak out when they crawl allover me. Masses of butterflies. some bee-eaters, beautiful to watch them hunting, but noone had told them what they were supposed to eat. Also a big black squirrel made a huge leap from the trees on one side of the river to the other side.
Some animal scat(guess bears), and vague tracks, but mostly old. I found some porcupine quills and there were fish tails etc and scat in the morning so I think there were otter that night.
Saw some oriental pied hornbills very close and it was lovely listening to the cicadas , birds and gibbon. Also I got mobbed by some birds with big white fluffy crowns. Was drinking from the river there and no problem so far.
I went back reluctantly on the third day, as arranged, as there was no phone signal. A goshawk flew beside me for a few yards, real close
After a couple of days in Koh Kong, I met Finn, a big danish guy who also wanted to ride through the cardamoms on his angkor bikes xr250 so we got supplies from the local market.
Day1
Eventually we left town, rode to camp56,(cos it's 56km on the GPS from Koh Kong) for the first night.
We got on the right road, and took our time ,the scenery was good, the bridges were out. Every time there was a big gap where the bridge once was,and we had to go down to one side to cross the ditch.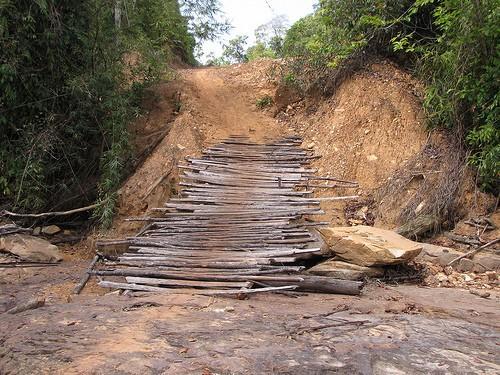 There were a few makeshift bridges of 2" wide sticks, and sometimes rock steps to cross
Finns rear brake faded just as we were going to cross the river and we didn't know how far to the next river so we put hammocks up and built a fire. I rented a hammock with a built in mozzynet and blanket from nick so was quite comfortable.
We'd brought a spare gallon of petrol but didn't need it yet.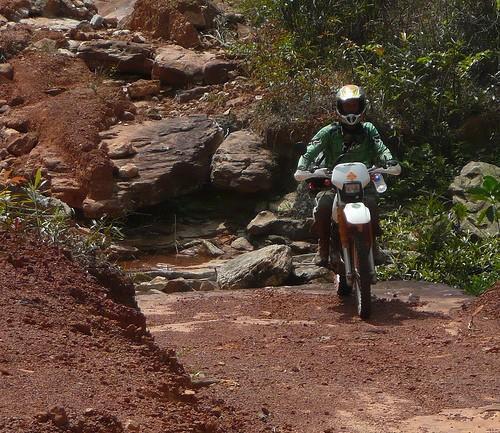 Day 2.
We didn't get away very early.first bridge was OK on the left,packed with dirt,then things got worse.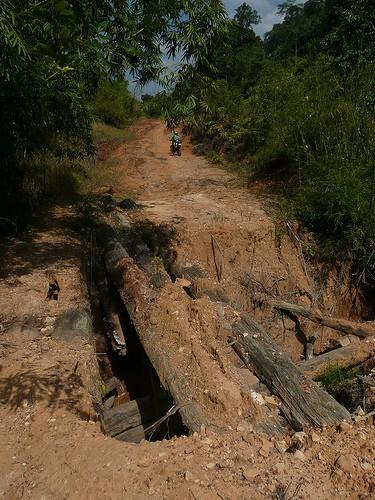 The bridges were now trees over 10+ foot drops, some were rotten,some new with smaller sticks nailed to the side to keep our wheels on. Mostly about 6inches wide, with other sticks beside to put one foot on. We didn't have the courage/skill/stupidity to ride over so we had to manhandle the bikes over, one on the bike, the other holding it upright.Usually Finn as he's very strong and could pick the back up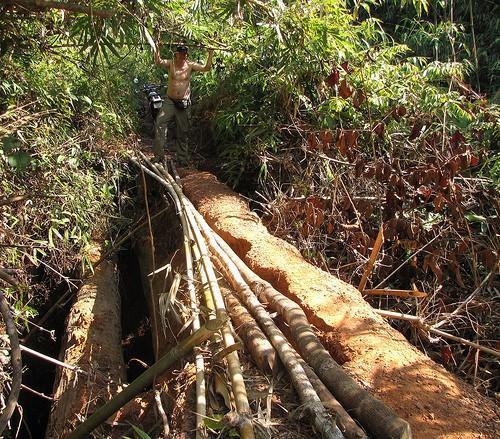 On one bridge I was sat on the bike edging along with my right foot on some poles. Finn lifted the back wheel a bit to get it on track,but this made me lose my balance so I fell off,and disappeared under the bridge, while he was stuck holding the bike on the bridge. I got up quick and we managed to get across.
Another of the bridges the wood was rotten and split, so we spent an hour finding more rotten wood to try to make it half safe before we decided to go for it.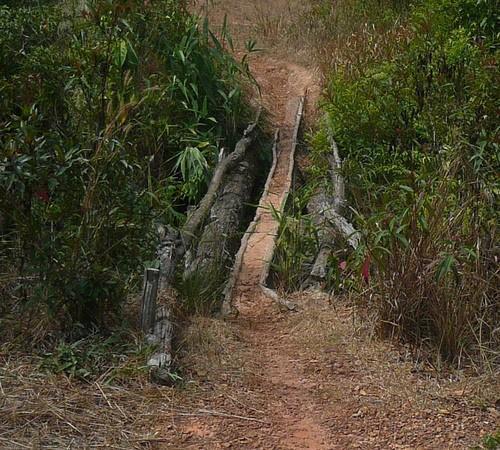 In the hot sun we struggled to get over each obstacle, then soon came to the next There was a lot of the trail up hillsides where the bare red earth
was gravelly but the rain had run deep ruts maybe 1 or 2 foot deep, running parallel to the track, so we had a foot wide ridge to ride on, and had to keep crossing ruts. Sometimes we would slip and fall, and the other would find somewhere to park then rush back to see what the damage was and lift the bike up.
There was a lot of bamboo and shrubs taking over the trail, alot of which had been cut recently by other riders,but we still had to duck and dodge the sharp edges and low branches.This was a lot of first gear stuff and went on for hours, and I got many hard blows on the helmet. One stick almost took my eye out.
There was another hillside with rock steps, we didn't know how hard it was going to be so we took the luggage off, then tried and both got to the top (almost) cleanly.
We had runout of water now, and it was really thirsty work in the hot sun.We both fell off maybe 4 times that day.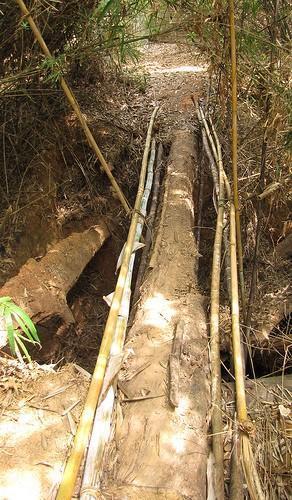 Finn let me take his bike down one ditch after seeing me get through cleanly, but i was too fast and got stuck in there. So he rode it out of the streambed. Or tried to . He had a lot of weight on the back, and gunning the bike up the short steep slope, the front wheel didn't want to go down at the top, instead kept lifting and went over backwards. I thought the bike would crush him, but he got out the way, and the bike got stuck in some bamboo so we lifted it out.
Somehow the bikes kept running, b ut we were both getting bad cramps in our legs.
Finally we got to the 2nd river about 5pm so we camped there,.We slept really well since we were exhausted, but got up every 2 or 3 hours to keep the fire going
There were lots of animal tracks there in the soft sand,but I couldn't tell what they were. A large cat, but not a tiger.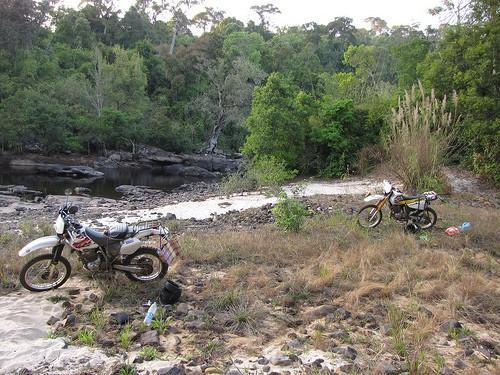 Day3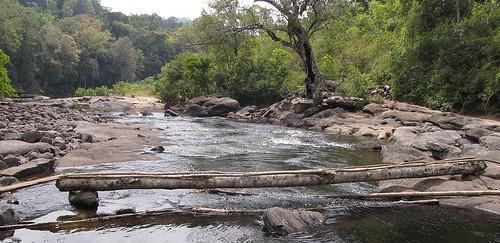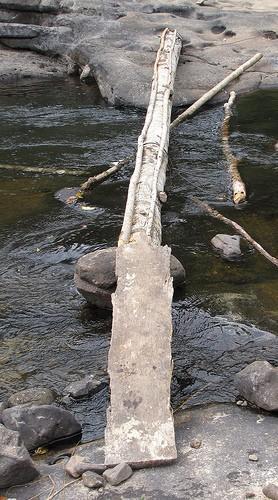 We got up and spent a long time deciding how to cross the river. We were running out of food and didn't know what might be ahead. Again we did not want to try the well-made new bridge,which was 6" wide,20+ ft long. We picked a route across the river bed and filled in some holes with rocks,so it was 18' deep at most .I went first,but used too much throttle,and needed some help to get through. Finn was confident with the idea, and made a much better job than I did. His XR250 was having battery problems so we really didn't want to stall it. It was lunch by then so we got on our way
Thinking it was all over by now, we found more ruts and bamboo tunnels to ride through until we got to river3. There was a local there, and his village,so we picked a route over the stream, and Finn made it look easy.So I followed but dropped the bike twice.
Still, no damage done, I'd left the camera on the bank.
We were soon in O SOM, looked a good peaceful place to stay, friendly locals and a shop, but the guesthouse was full, so we went for pramoia. The track got sandy now and a bit bumpy,we had to pay attention to the trail. through the flatlands. we got to pramoi around 5pm, found a guesthouse for $5 room,got some rice to eat and beer.
I watched the sunset from the roof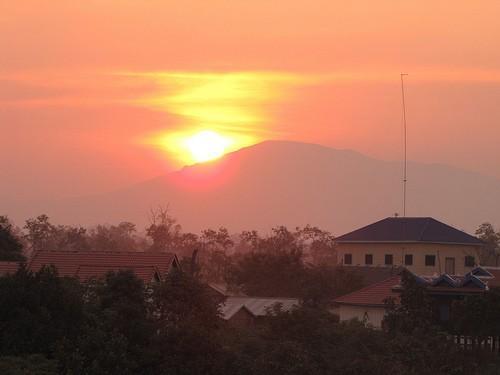 Day 4
After getting some doughnuts and bananas,and redbull, We carried on north over the pramaoy crossroads.
We were trying to follow the route from Ultimate Cambodia guidebook, but it got confusing around Rightfork1,where there was a stream crossing, we needed the gps and we found another fork a few kms later. With a little help from the icecream man, we took the right track,until we came to a junction.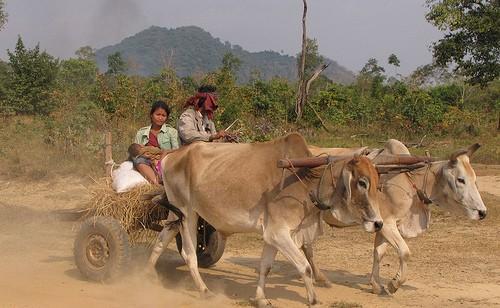 Our route went left, but the locals said go right. We did, and son hit a new chinese road,which went straight north about 20km.onto the old battambang road (not highway 57)
So we got into Battambang about 5.30. We found a good hotel for $10 with hot shower, which we needed, and a good cafe, Blue Gecko, where the food was really good.
I'd like to thank firstly Finn, also Nick and Coralie from Sauna Garden, Thomas from Neptune, and Fat Sam for making it possible[/url]