Trip Report Sa Keao Bike Party 10-11 Nov 07
Riders; Dean from Surin, Peter from Sisaket, Sisaket Riders Club(12), Sisaket Free Life(15). Apart from Dean, Monsterman was the only other GT Rider I met, although there were a lot of Farangs. I met Ray's mate Dell & some others from Udon but Ray didn't come.
Dean & Peter and the two Phantoms in front of the Venue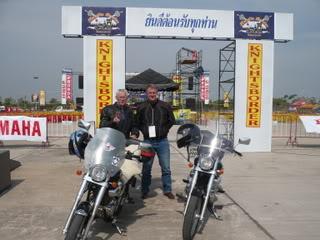 Weather; The weather was perfect, cool in the morning and evening and warm during the day. Some cloud and smoke haze also so not too hot. Quite a strong tail wind outward which helped, but buffeting and not so comfortable returning. Happy to have the windscreen.
Roads; Dry, good condition except for, some oil on the hill referred to in the "off", and
a rough 10km patch North of Non Din Daeng. This rough patch has furrows which could flick you off into the paddy fields if you weren't careful.
Outward; Sisaket-226-Surin-214-Prasat-24-Nang Rong-348-3486-348-Aranyaprathet- 339km.
About 12 bikes from "Sisaket Riders" and 15 from "Sisaket Free Life" left Sisaket at around 0830 and traveled about 5km to a Service Station where we waited for a while and a couple of good looking pillions joined us. They waved me off first because I was the slowest and I was expecting them to catch me quickly. But I had refueled, had lunch and waited for 45 minutes before they arrived at Nang Rong for lunch. It seemed that the old BMW 1000 that did it's rear wheel bearings in last year was having electrical problems. I headed off again and met up with Dean from Surin and we went on to Aranyaprathet. Arriving at around 2.30. Dean pitched his tent at the Show Grounds and I found The Aran Guest House for 200B.[ph 037 230100] Still no sign of the Sisaket Riders. I caught up with them later at the party and they had had more trouble.
Going down the hill just south of Ban Lam Nang Rong. It seems that Alpha male (+ pillion) on the BMW1200 were going down the hill and hit an oil patch. They spun around and came off and another rider on an old Suzuki 400 cruiser crashed into them. Luckily they were wearing all the right gear and suffered only a few bruises and were walking slowly for a while. (A1 is around 55) The guy on the Suzuki had no gloves on though and got all his knuckles scratched and had to be bandaged. I have a photo of the helmets which I have posted on the "Open Faced Helmet" thread. The BMW has scratches down both sides but apparently nothing too serious. Not sure yet about the Suzuki.
Burns on BMW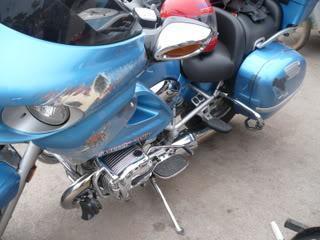 Homeward; Aranyaprathet-Rong Kluea at Border-348-3486-3486-348 -Nong Din Daeng-2075-Phanomrung Historic Site-2075-Prakon Chai-2208-Burirum-226-Surin-226-Sisaket-346km
Dean & I had breakfast out near the border and had a look through the Rong Kluea market. Which is the big and getting bigger market just at the border with Cambodia. We met up with the Sisaket riders there also before we headed off. I never saw them again so hope they made it back without incident. We turned off the 348 and on to the 2075 and then Dean who's girlfriend comes from there, weaved us through some pretty ordinary side roads to the Phanomrung Historic Site & Temple. It is sited impressively on top of a hill and attracts a lot of visitors. We had a walk around and looked through the museum but didn't go right up to the temple. We then had lunch at Prakhon Chai and came through Burirum to Surin. Dean likes to travel at around 100kph which suits me and means you can enjoy the scenery. After a cup of tea with Dean I then headed back the 107km to Sisaket arriving at about 5pm.
Bike Party
They really know how to put on a party at Sa Kaeo. It was held at the town Showgrounds same as last year. It has a good stage area, enclosed spectator area and lots of concrete to park the bikes. My guess would be around 1000 bikes there. Honda had a stunt team display and Yamaha had some new bikes for sale
They had a Drag Star 400 there which looked new. They told us it was 675 000B which I thought was pretty rich. It looked good though.
Dean & Dragstar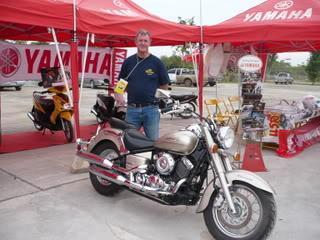 There were also the usual Choppers the most interesting of which was one with a long single steering column – pretty spindly!
Remote Steering.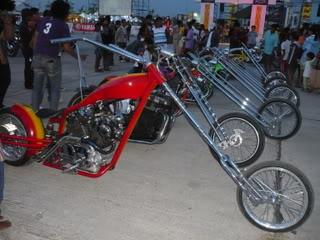 The programme was long and consisted of various singers dancers and musicians and the Sa Kaeo promotional video. The colour presentation took over an hour & I guess there were over 100 Clubs represented. The only glitch was a 30 minute power failure at 1130 which was not surprising considering the wattage they were putting out. This delayed Caribou's appearance and Dean told me it finished at around 2.30am with bikes roaring of by the hundred and riders falling off and being propped up and pushed on their way. His tent was nearby so he had a good view but not much sleep. By this time I was well asleep. Jerry said that the Friday night show was also good.
Colour Parade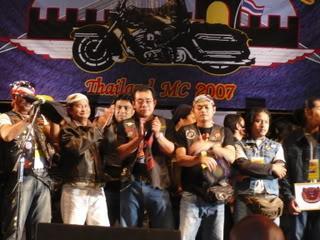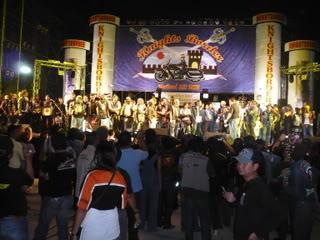 Sisaket Gang. The guy on the right in the blue shirt is the BMW man.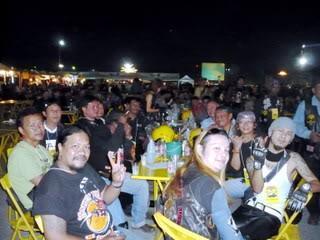 All in all a very enjoyable weekend with good company, good riding, comfortable distances, and a safe return. The Phantoms performed impeccably as usual. God is good.
Cheers Peter