Rob Hiekel and I spent the weekend riding from Sangkhla Buri to Umphang, completing the "missing link" between these two towns. My photos and trip report follow. Hope you enjoy them as much as we enjoyed the ride! I think Rob will be posting some pix and notes as well, and maybe a vid or 2...
BREIF NOTES
(I hope to expand later…)
Day 1, Friday, Feb 19:
Rob left Bangkok early and went ahead to secure our paperwork to enter the Thung Yai Naresuan Wildlife Sanctuary, which is a World Heritage Site. I worked the morning, and left Bangkok at noon, meeting up with Rob in Kanchanaburi Town. We then rode the rest of the way up to Sangkhla Buri, arriving at the P Guesthouse about 7:30 or 8:00 PM. The last 40 km into Sangkhla are twisties, and it was fun to try this in the dark...
Jack and his new wife Fa (married the week before on Valentine's Day) came to meet us at the Guesthouse. I met Jack on my previous trip to Sangkhla. He is a young Karen man from Jae Kae Village, now living in Sangkhla, and he's an offroad motorcycle enthusiast with some serious skills. He told us that his dirt bike was broken (the rear sprocket was almost completely smooth...) but that he would be joining us anyway, on a Honda Wave 125...
We watched the fireworks from a Mon festival across the reservoir and then went to bed early.
Day 2: Saturday, Feb 20th.
We met Jack at the 7-Eleven, stocked up on water, hit the PTT to fill up on Gas, and then departed for the trailhead just short of Ban Sane Pong. We presented out permission papers to enter the W.S., paid the entrance fee (200 baht per person, 20 baht per motorcycle) and we were off on the adventure, heading out of Ban Sane Pong about 9:00 AM.
The track basically follows the Songkaria river from Ban Sane Pong to Gosedang and then on to Thilaipa, all Karen villages. It's double track, with numerous fords of the river, with plenty of single track "shortcuts" to avoid some crossings, and several foot bridges built by villagers. An absolutely beautiful morning ride, through the jungle, eventually arriving in Thilaipa in time for lunch. A challenging ride, but nothing too tricky, except for a couple of slippery, rocky river crossings.
After lunch and a bit of a rest it was on to Puchu village, where we arrived about 3:00 PM. The track here continues to be mostly double track, and pretty much follows the Burmese Border.
Having gotten to Puchu by 3:00, we decided to press on to Ban Suriya, which is basically a farmhouse just across the border into Burma and not far from the point where we crossed the Suriya River. The track here is still double track, but is rarely traveled by any four wheeled vehicles, and cuts through incredible bamboo forests. Jack took several "short cuts" as well. The tracks were completely covered by dead bamboo leaves, really, very beautiful, but slippery…
Getting close to the river, Jack stopped, scanned the jungle, and decided it was time to turn off the road and head directly into the jungle. No track. Just forest, and up a steep hill to a plateau and then across two streams. This section proved quite tricky, but we managed, and after criss-crossing an overgrown field, we eventually found a double track through high fields that took us into Burma and over to the farmhouse, arriving just before dusk.
We spent the night here at the farmhouse. An old Karen woman made us a delicious dinner of rice, vegetables, and a little fish soup.
In total, about 8 hours of hard riding, and about 100 km of dirt for the day.
Day 3: Sunday, Feb 21:
Up with the roosters at first daylight, we had a nice breakfast of fried eggs, vegetables, and rice, and then headed out early about 7 or 7:30. It's not far to the river, but it's all single track, an excellent, excellent ride down to the river crossing, which is about 1km into Burma. A sharp bank leads down to the river's edge, where there was a raft to ferry our bikes across the river to the North Shore. Once across, we continued on, all single track, over a steep mountain and then down into the valley of Lay Tung Ku village.
Lay Tung Ku is a very old, maybe 300 years, traditional Karen Village. It is really very charming, although we didn't spend much time exploring. We did stop by the Lay Tung Ku waterfall, which is very impressive. Jack also took us round to see a sacred shine of the Karen people that houses some huge ancient elephant tusks with carvings of the Buddha…
Leaving Lay Tung Ku, it's not far on to Peung Kleung, a border village where the road starts again, 1288, that goes on to Umphang. However, it's completely single track to Peung Kleung, and it's over a very steep mountain, which definitely gave us a challenge. We managed to reach the summit and then roll down the other side and eventually roll in Peung Kleung about 12:30.
About 4 hours of riding for a total of maybe 20 km, most of it single track over steep mountains…
We had a wonderful lunch in Peung Kleung to celebrate, said goodbye to Jack (he was getting his motorcycle fixed and then heading back to Sangkhla…) and then rode the rest of the way into Umphang, arriving just after 4:00 PM. Shower and massage at the Garden Hut Guesthouse and then off to dinner, and early to bed.
Day 4, Monday, Feb 22:
On the road by 6:30 AM. 650 km for me, from Umphang to Mae Sot, then Tak and on into Bangkok, arriving back at home at 4:30 PM. Rob had a few km less on his day's trip up to Chiang Mai. The road from Umphang to Mae Sot, or the first 100km of it anyway, is truly of the world's majestic highways. I had such a blast in the mountain twisties, enjoying the scenery as the sun came up. And the ride from Mae Sot to Tak is also a LOT of fun. What a great way to close out the journey, although Tak to Bangkok is really lame…
An AWESOME, AWESOME experience. We never would have made it without Jack, so a HUGE thanks to him for showing us the way, and for such wonderful hospitality from the Karen people along the way.
Anyway, pictures are worth 1000 words, so here they are: (captions ABOVE the photos)
Map of the trip. Highway 323 from Bangkok up to Sangkhla Buri - 115 km of dirt tracks (and wilderness) from Ban Sane Pong to Peung Kleung, then back on Road 1288 to Umphang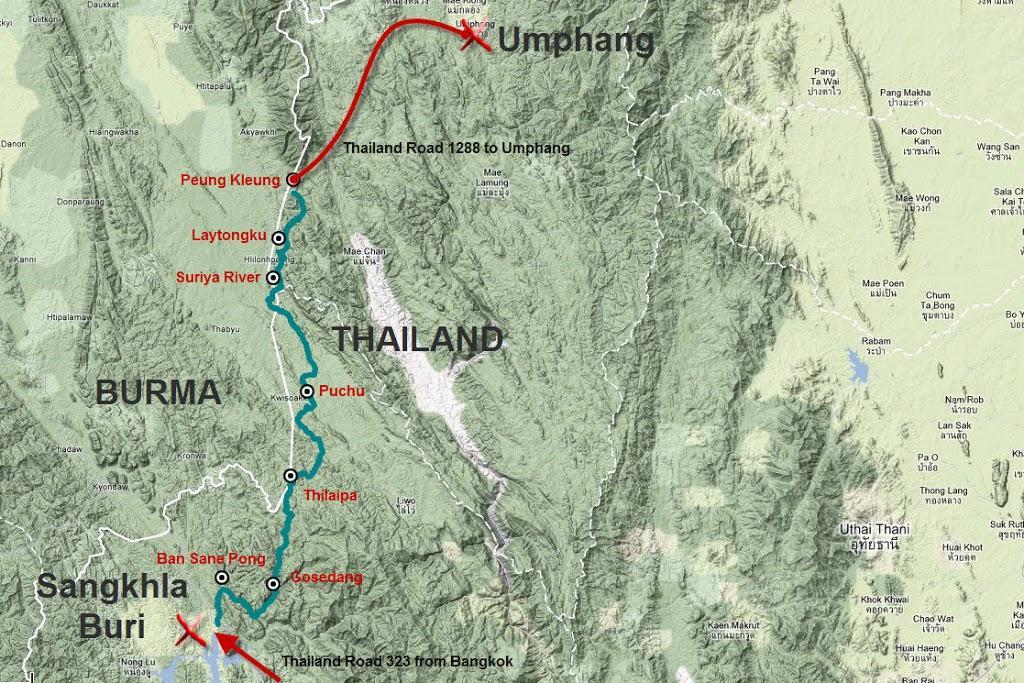 We arrived at the P Guesthouse in Sangkhla Buri about 7:00 PM Friday night. They were having a Mon festival across the reservoir at the Pagoda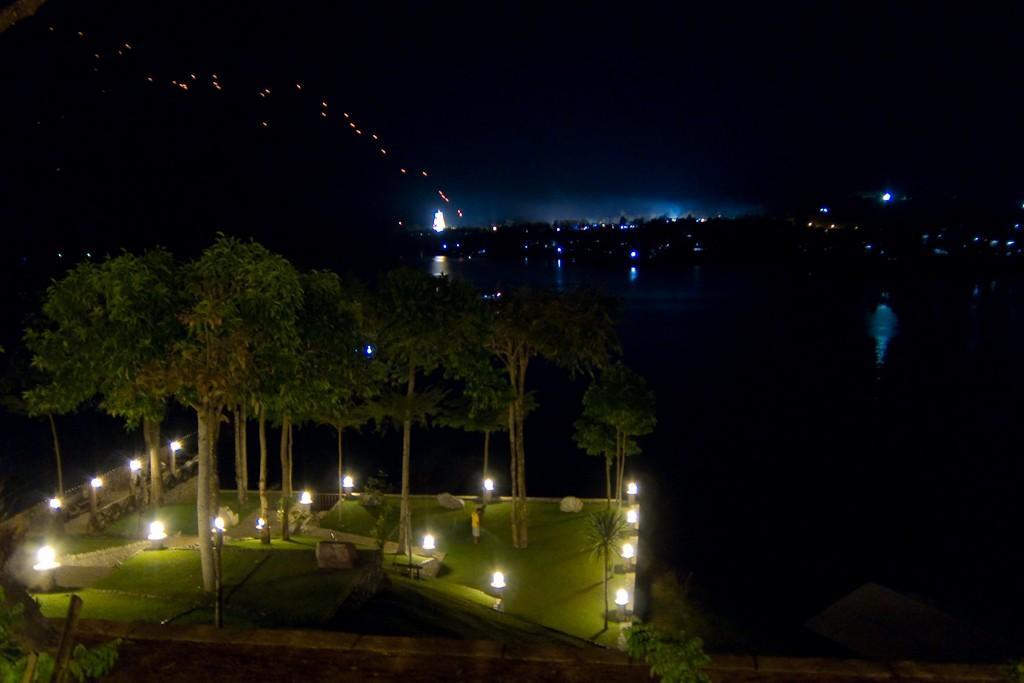 Departing Highway 323 for Ban Sane Pong - the journey begins... Look how clean my bike is (and me!)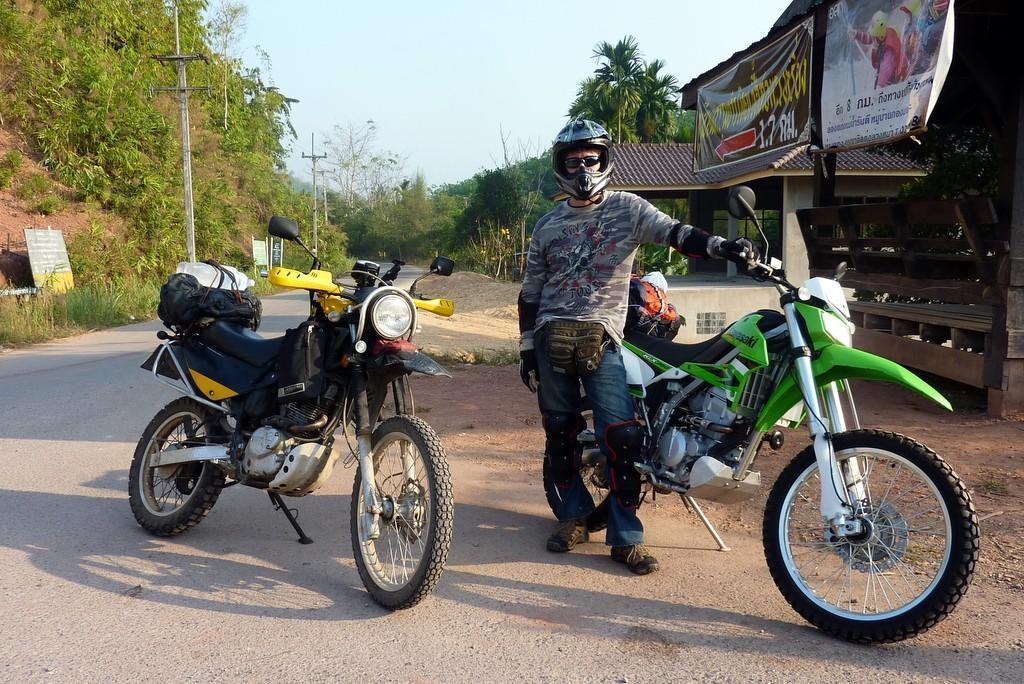 Checking our papers at the Forest Dept Checkpoint entrance to Thung Yai Naresuan Wildlife Sanctuary.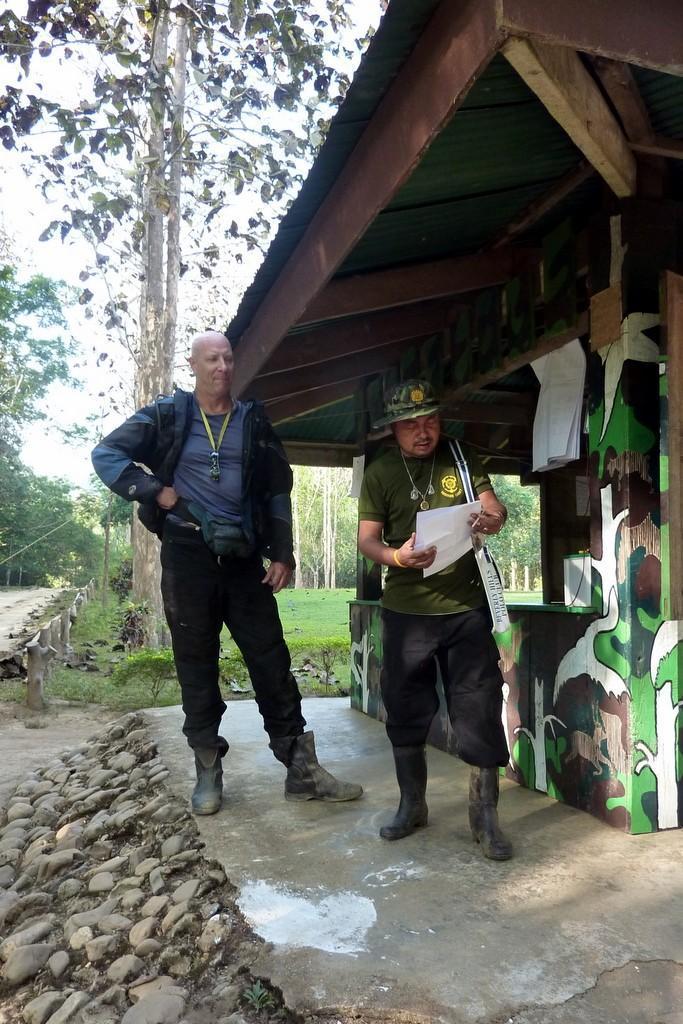 Rob making our first river crossing, leaving Ban Sane Pong on Saturday morning. There were many "bridges" like this on the way to Thilaipa, one or two that barely held our weight..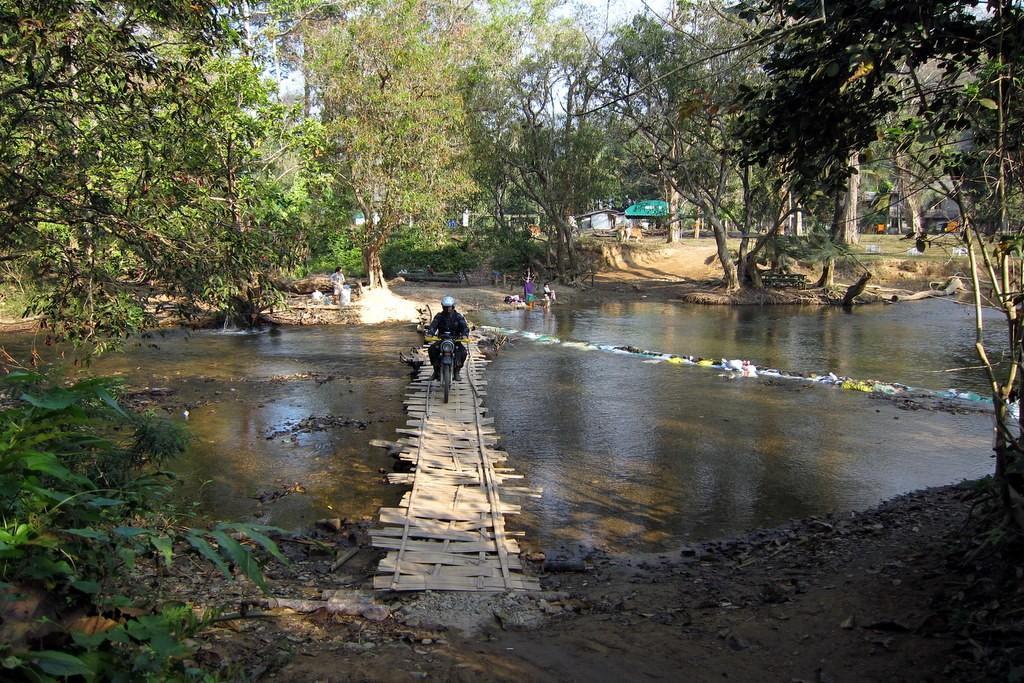 We crossed this section of the Songkaria river without a bridge. Shallow though, and beautiful... the track mostly follows this river for a ways.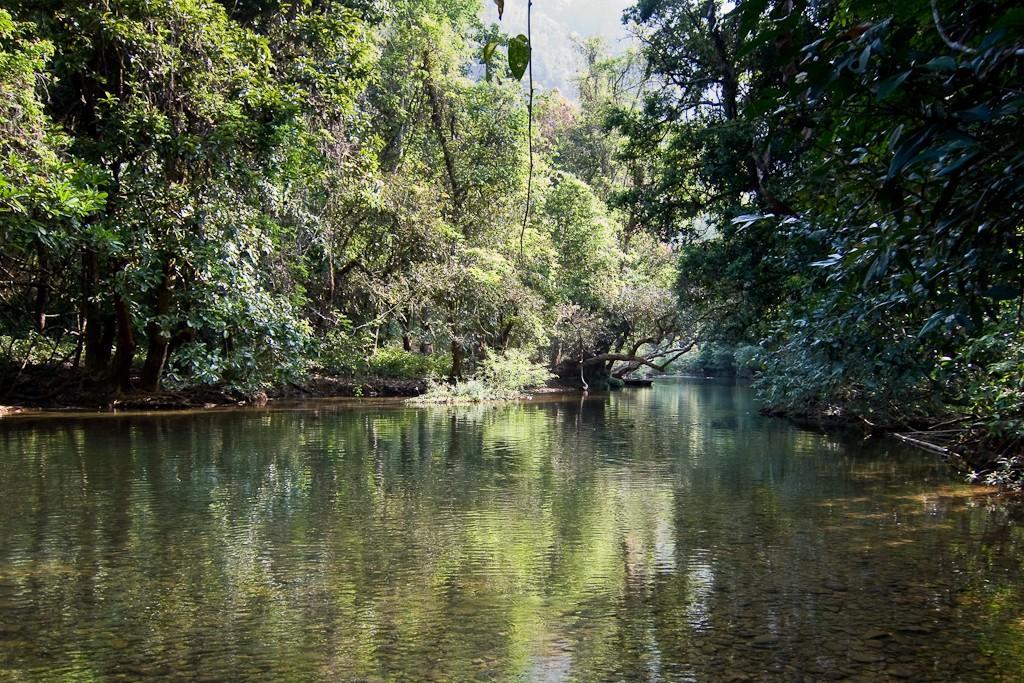 Me crossing a river... damn, where is the exit point?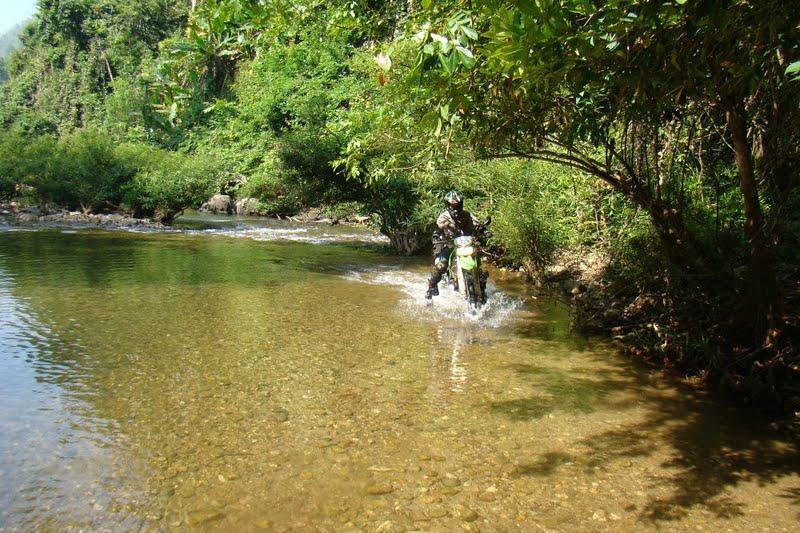 Rolling into Thilaipa about lunchtime on Satuday, Jack and then Rob.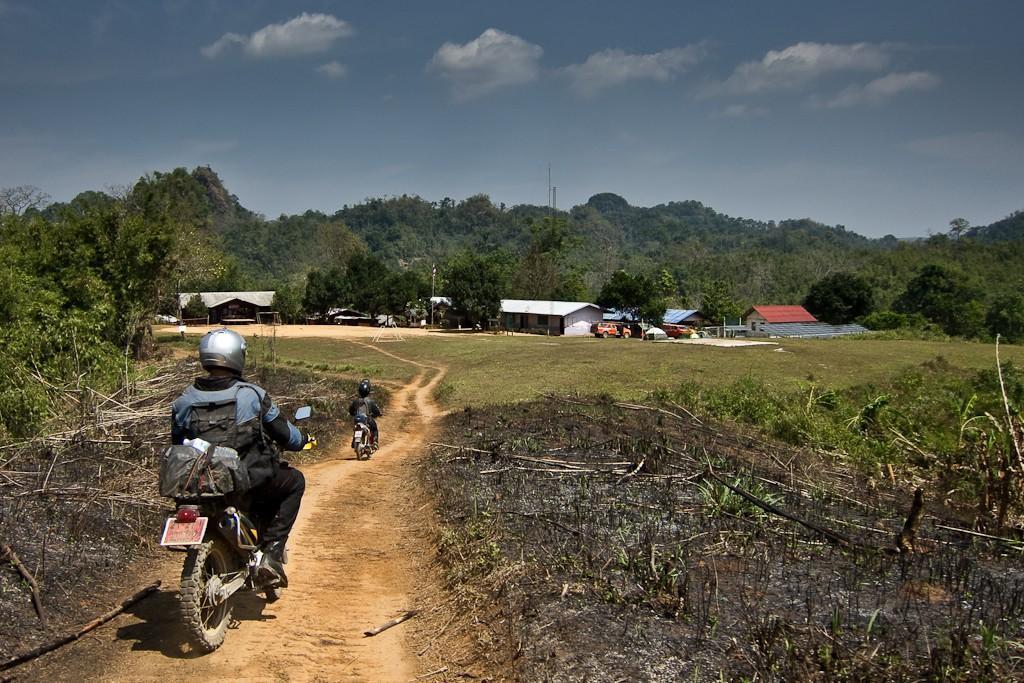 Another bridge crossing, outside of Thilaipa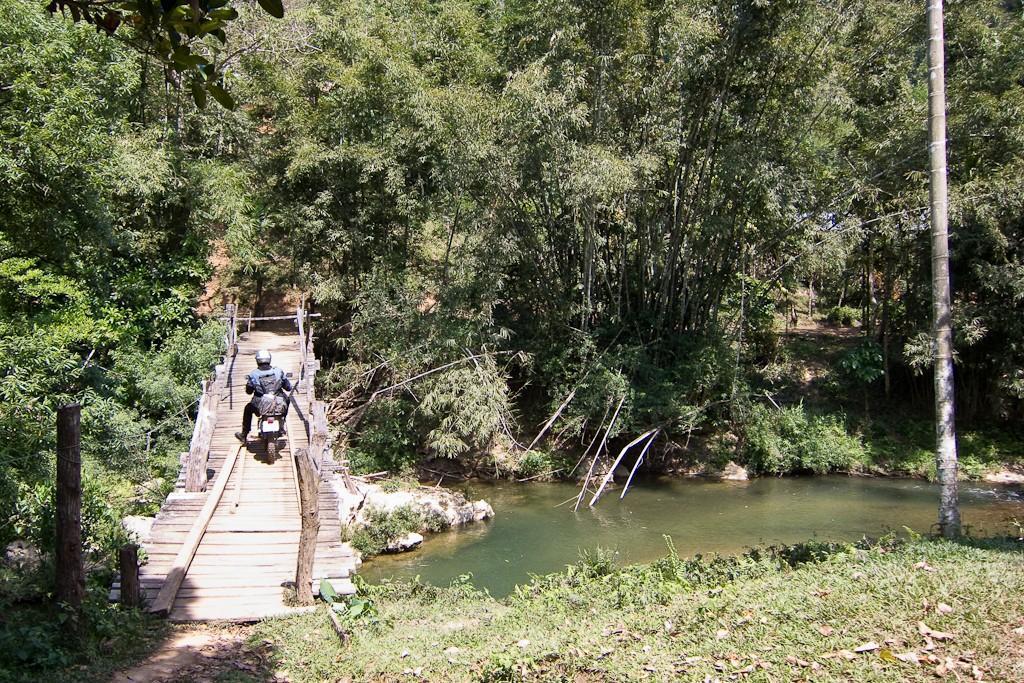 Water wheel used to mash grain. Outside Thilaipa. Note kids playing in the river.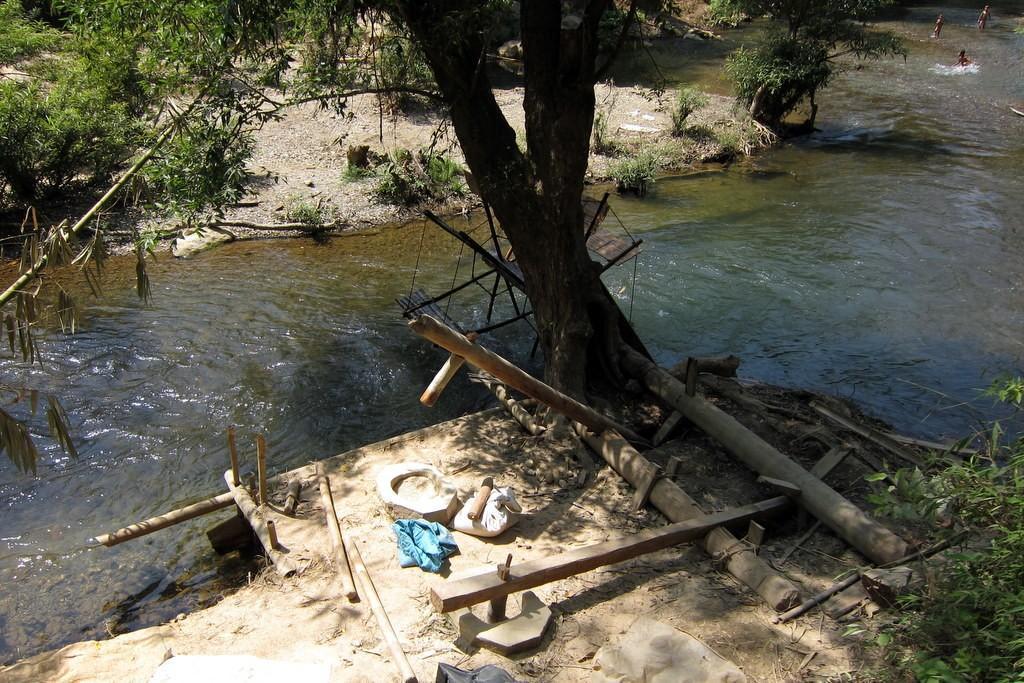 One of several log bridges we had to cross. This one was pretty sketch.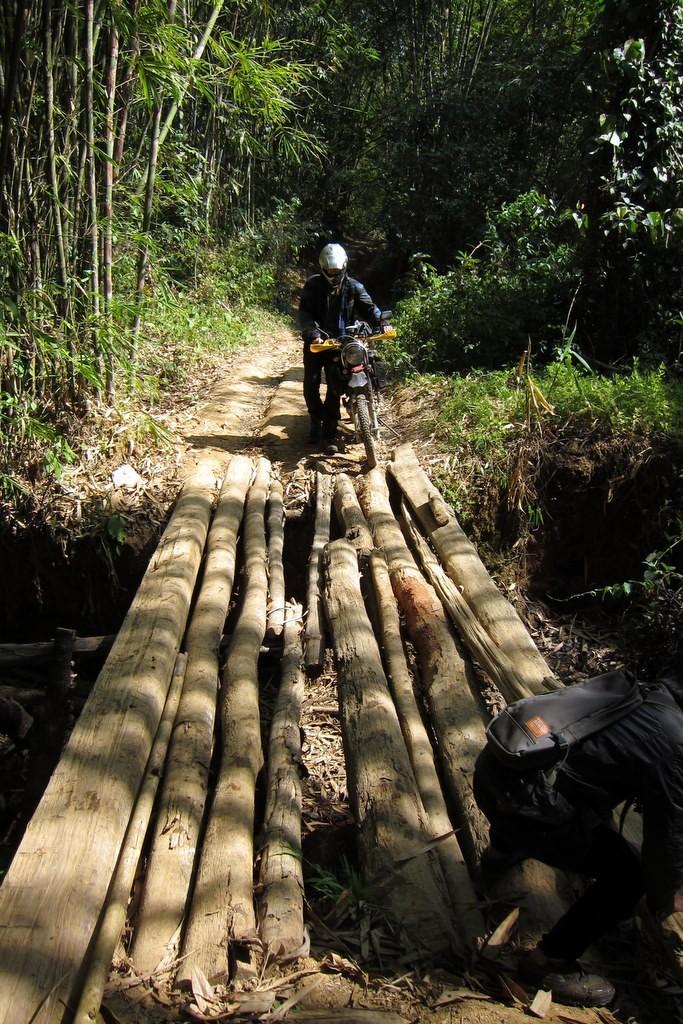 Rob close to the Border Patrol.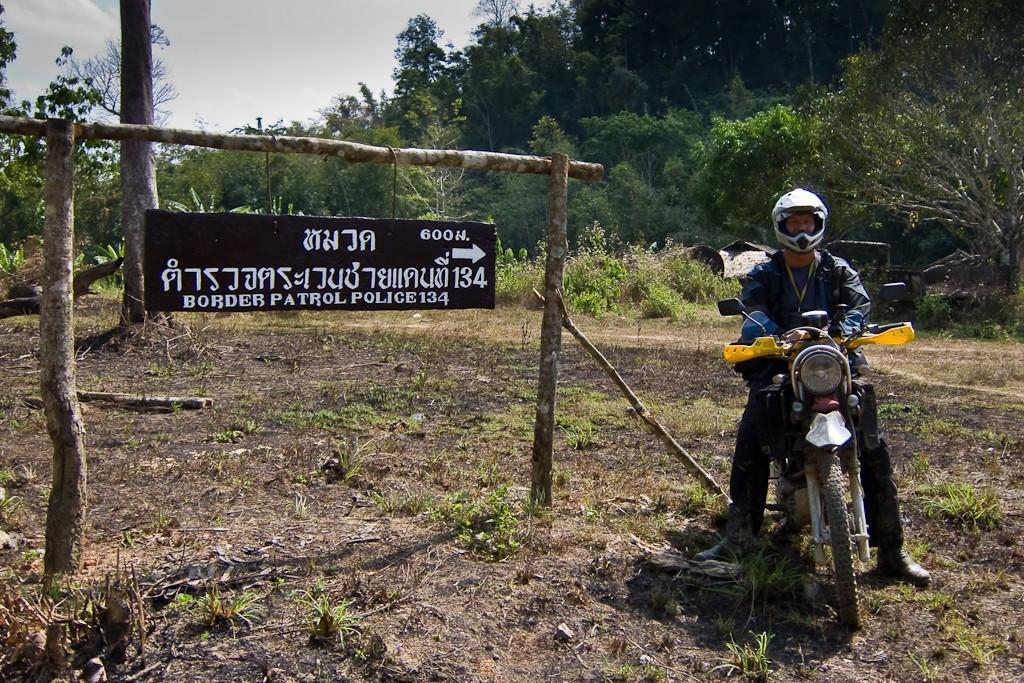 600m to the Burmese Border and the Thai Border Patrol Police checkpoint. We did not stop by to say Hello... why look for extra trouble?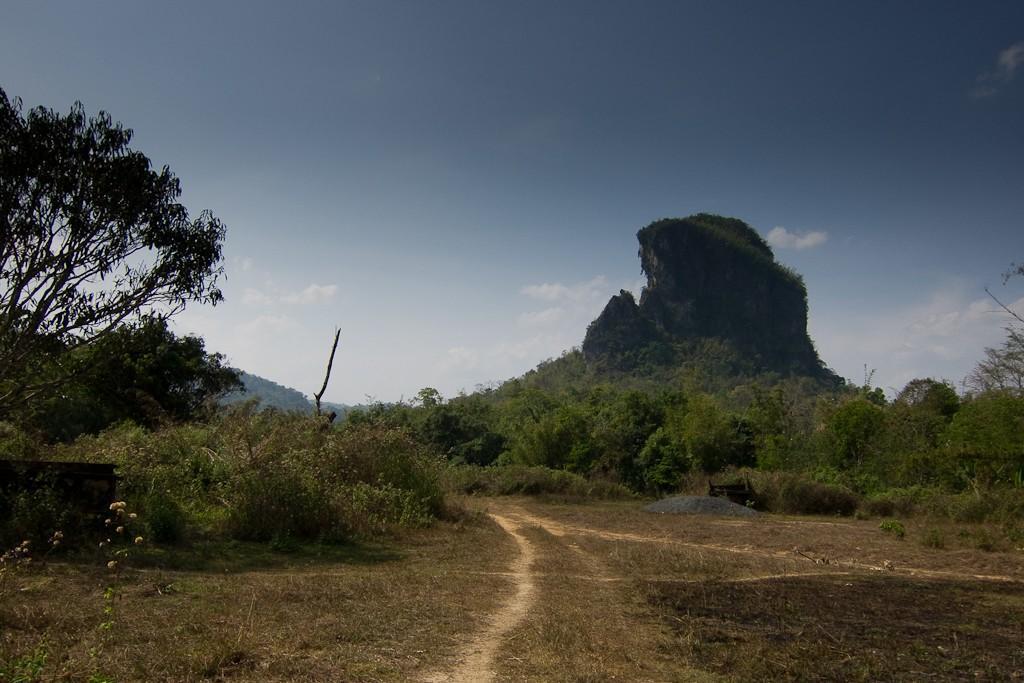 Up a hill in the forest...
Rob pointing into Burma. According to our GPS maps (later confirmed by a local) those stumps left and right mark the Burmese Border... Jack told me, "Don't worry. No Burma Army here..."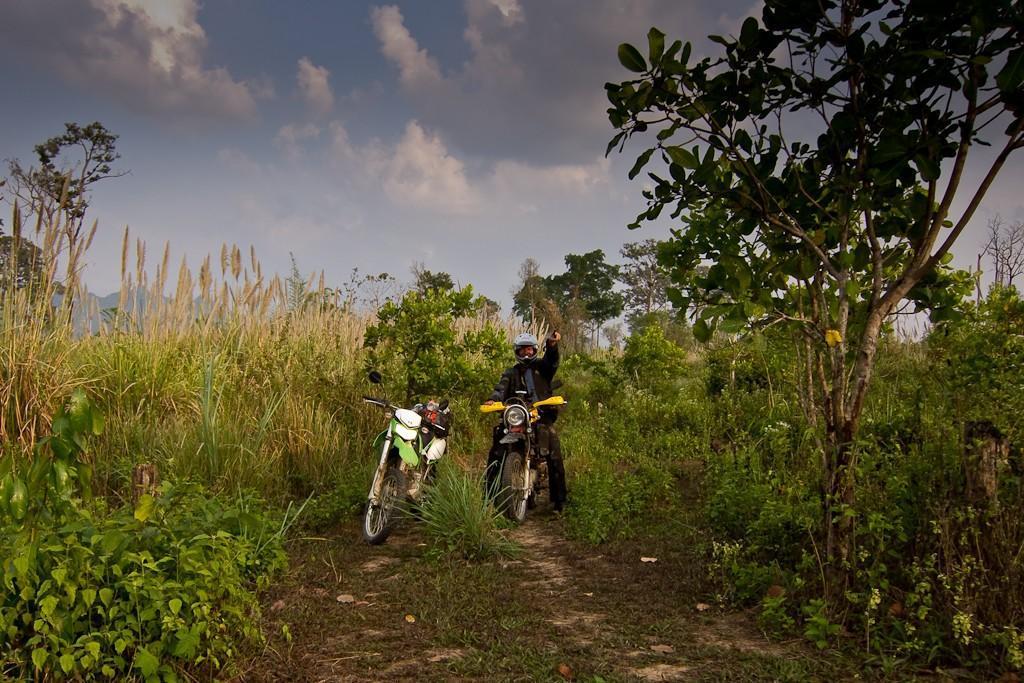 Arriving at the small farmhouse where we spent Saturday night. 500m inside Burma and maybe a 20 minute single-track ride to the Suriya River (Suriya means "sun" in Thai)...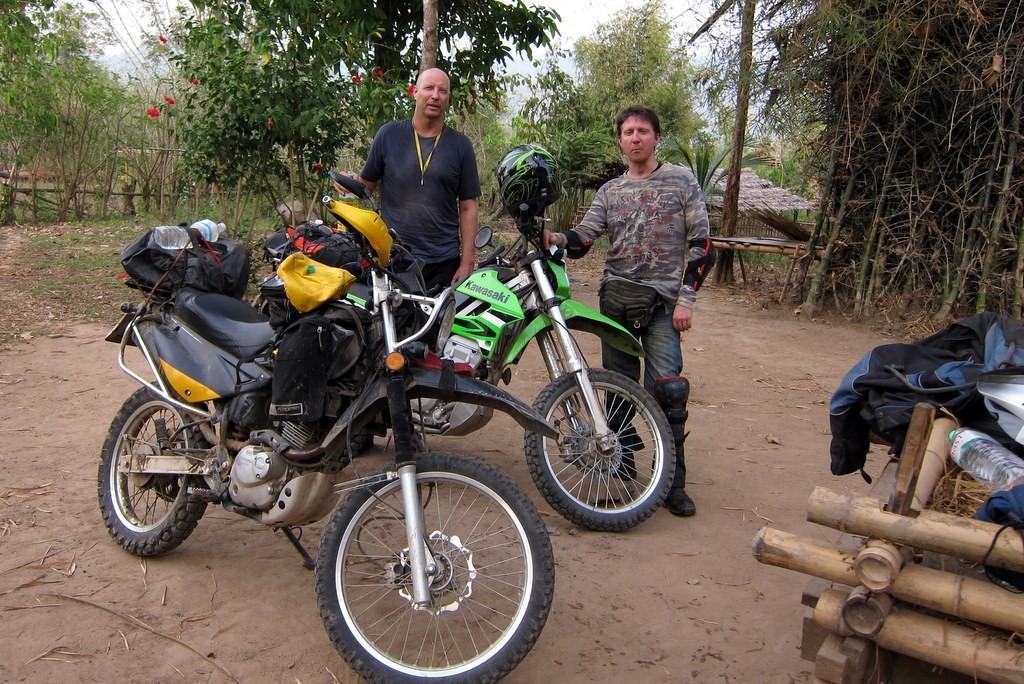 Farmhouse where we spent Saturday night. It's a workhouse, not really someone's hut. And there were several people staying there that night... an old Karen woman made us dinner (and breakfast), rice, fried vegetibles, some strange type of cucumber, and fish soup... Delicious.... No electricity for many many miles. The stars were incredible!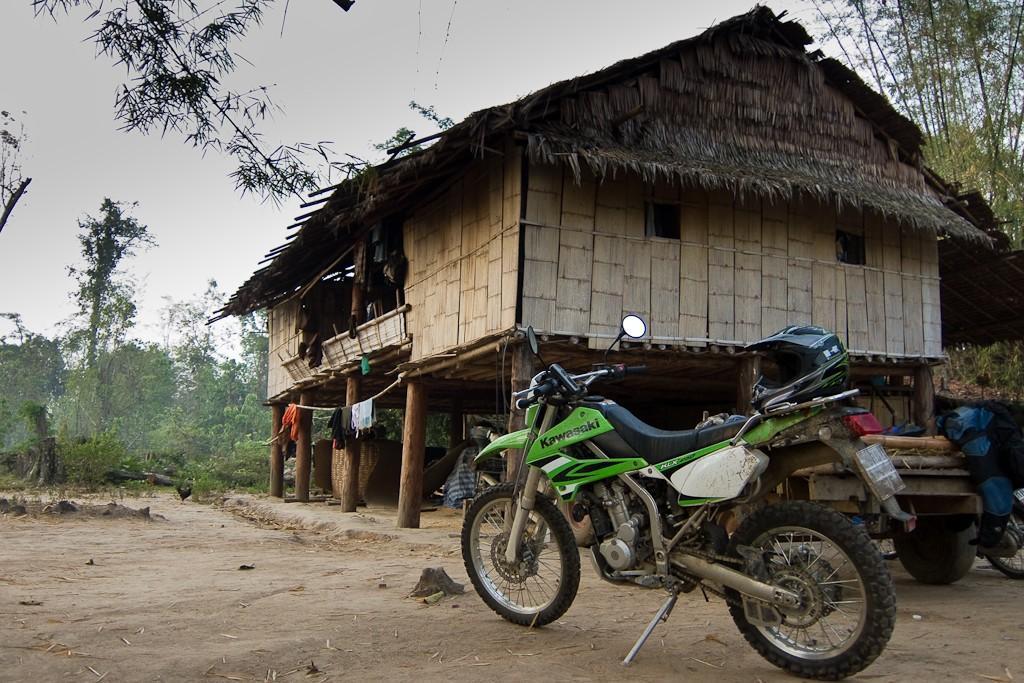 Where we slept Saturday night. Under the watchful eye of Jesus. The Karen people are Christian, and foreignors have been to this village before, but only missionaries..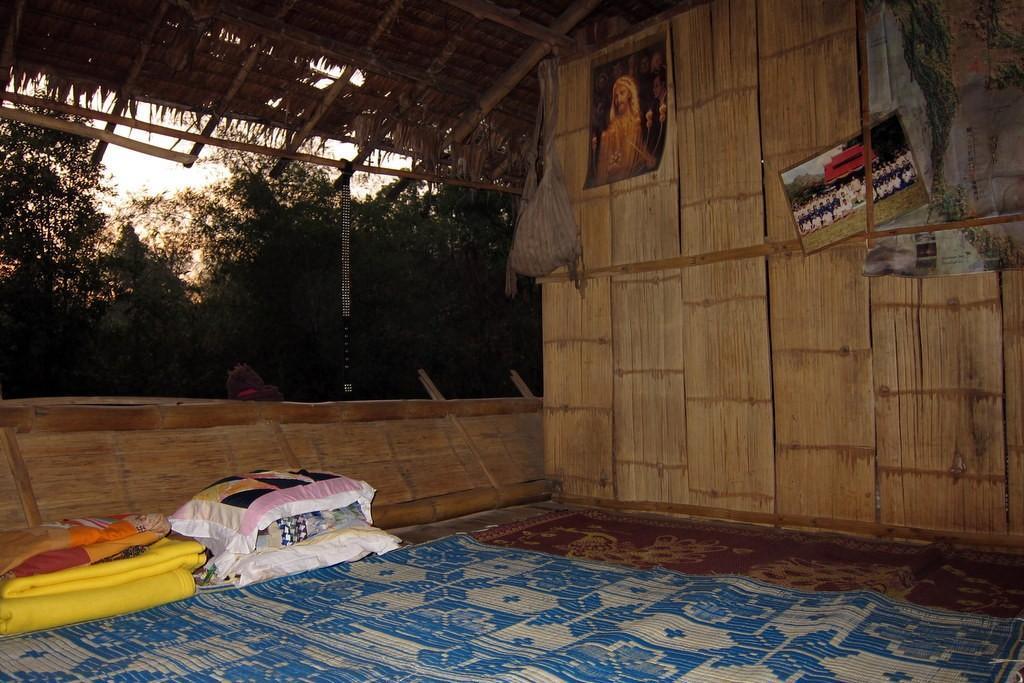 Young Karen girls crushing rice to make rice meal to feed the ducks and other farm animals. This one is human powered... My wife is from a small village south of Roi-Et, and said she did this when she was a girl...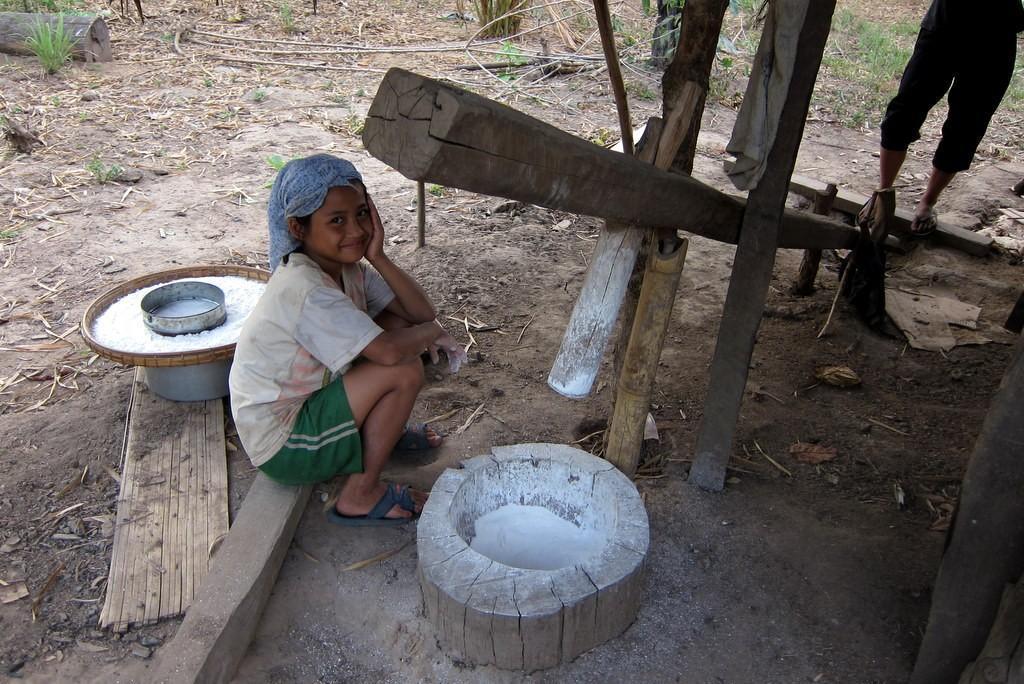 Jack and the Suriya River raftman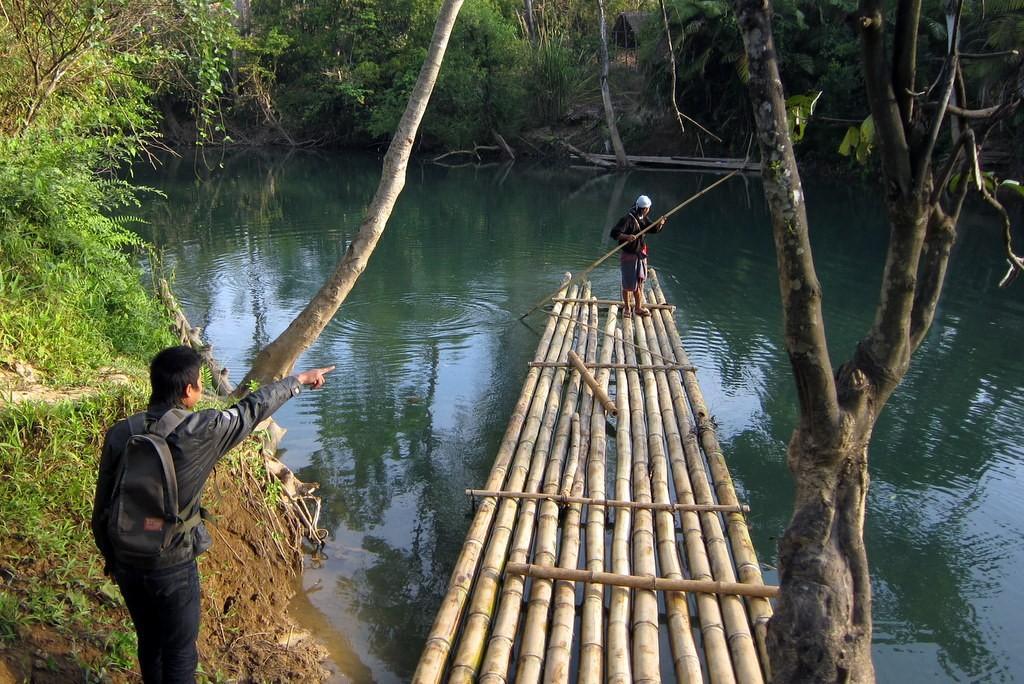 Rob with my bike on the raft. The raftman came with us from the River all the way to Peung Kleung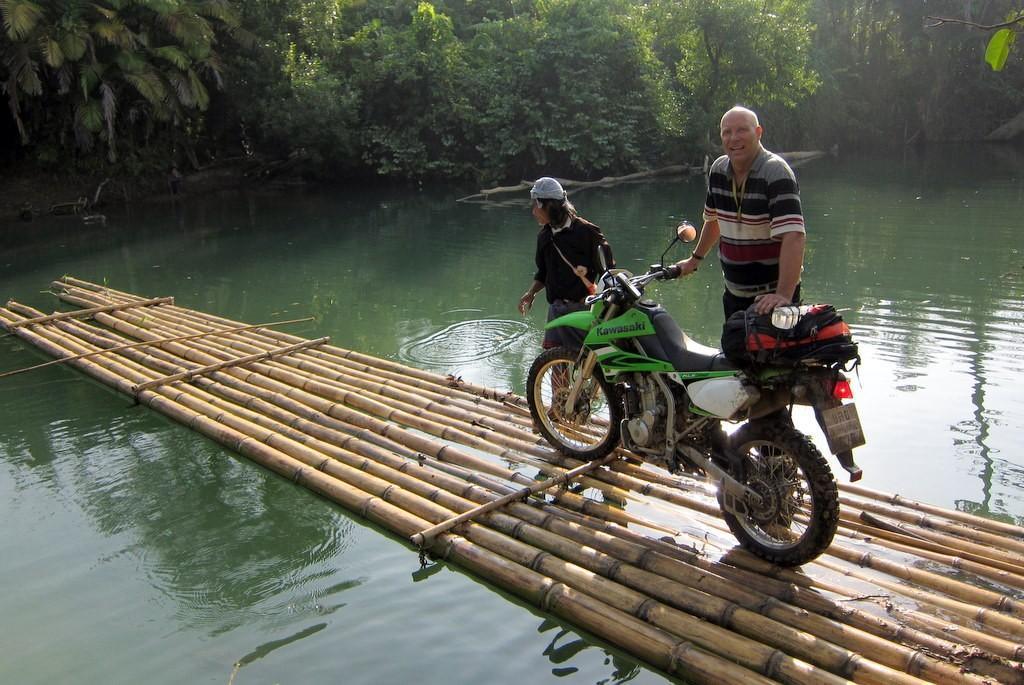 Crossing the Suriya River by raft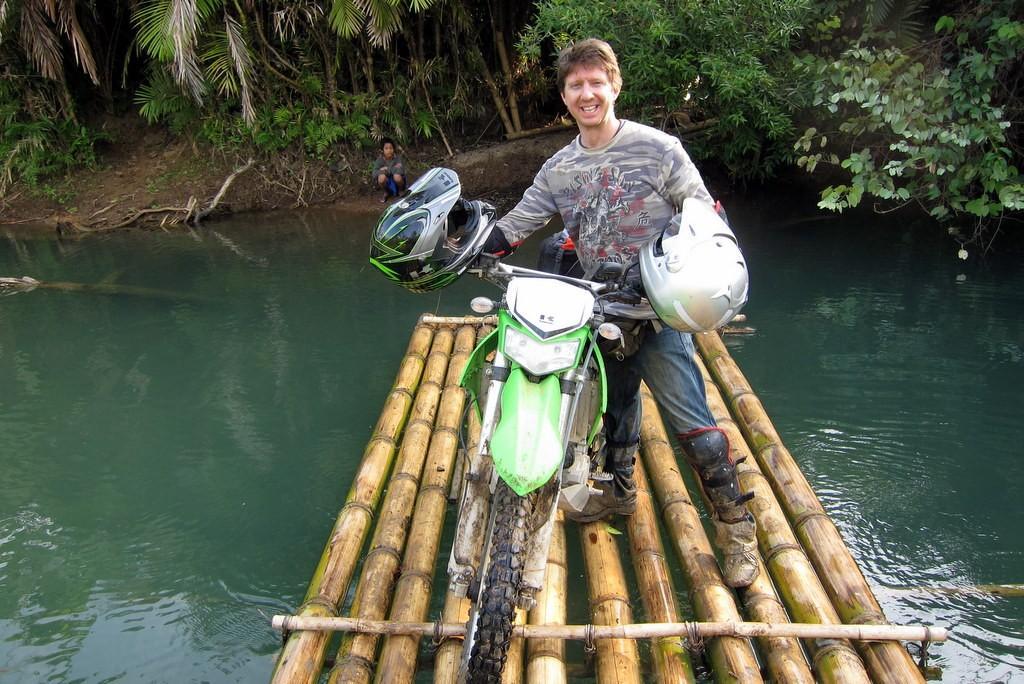 Jack coming across the river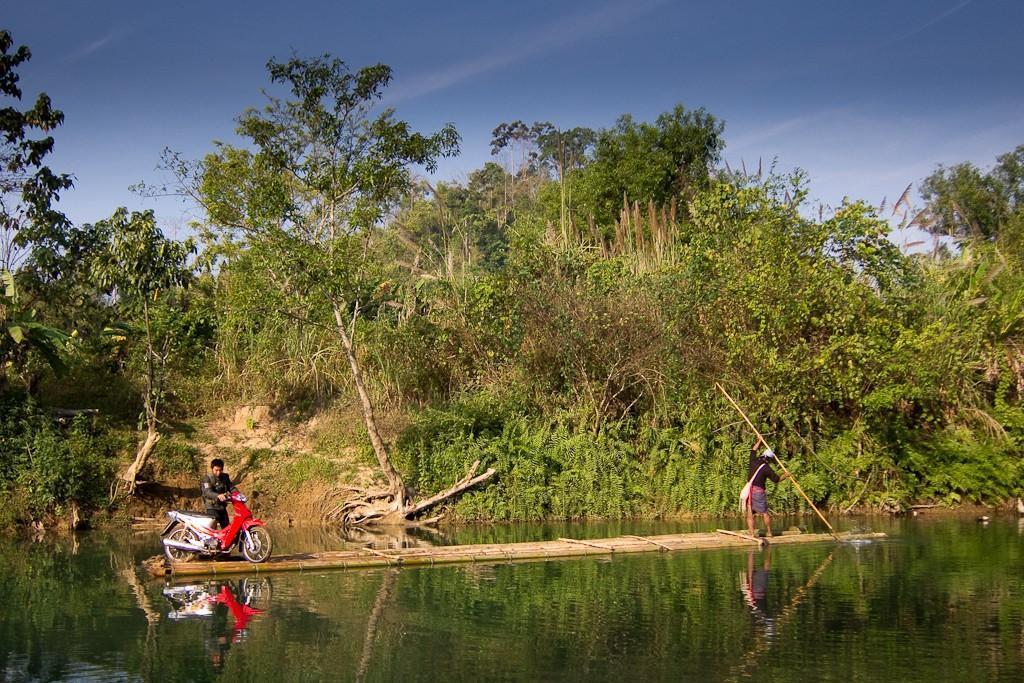 Landing on the North side of the river. Note the bamboo cross..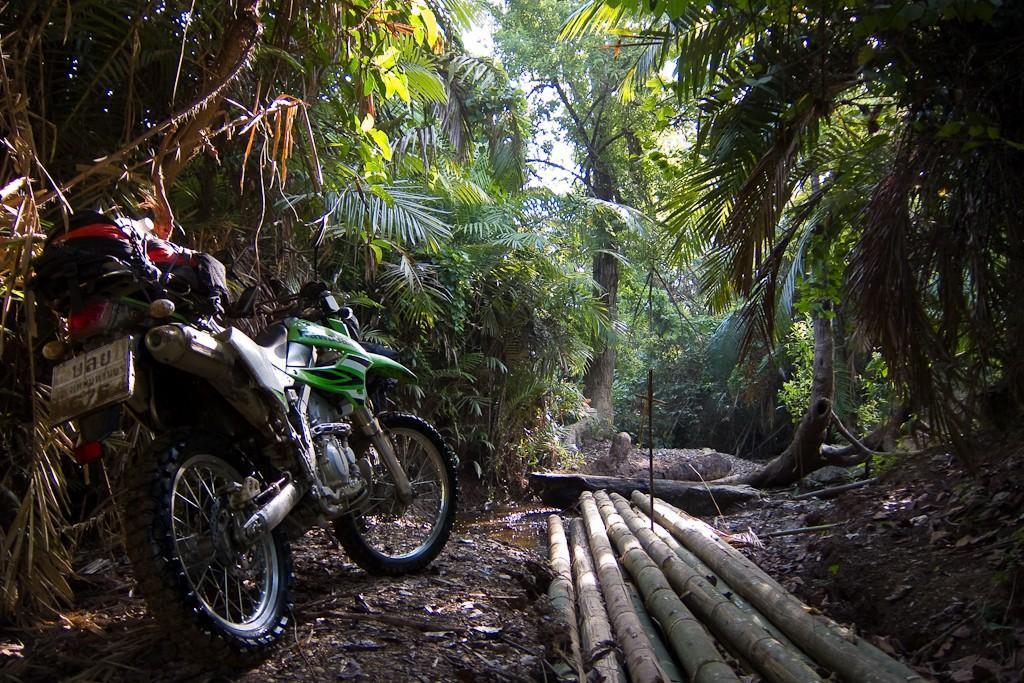 Single-track past the river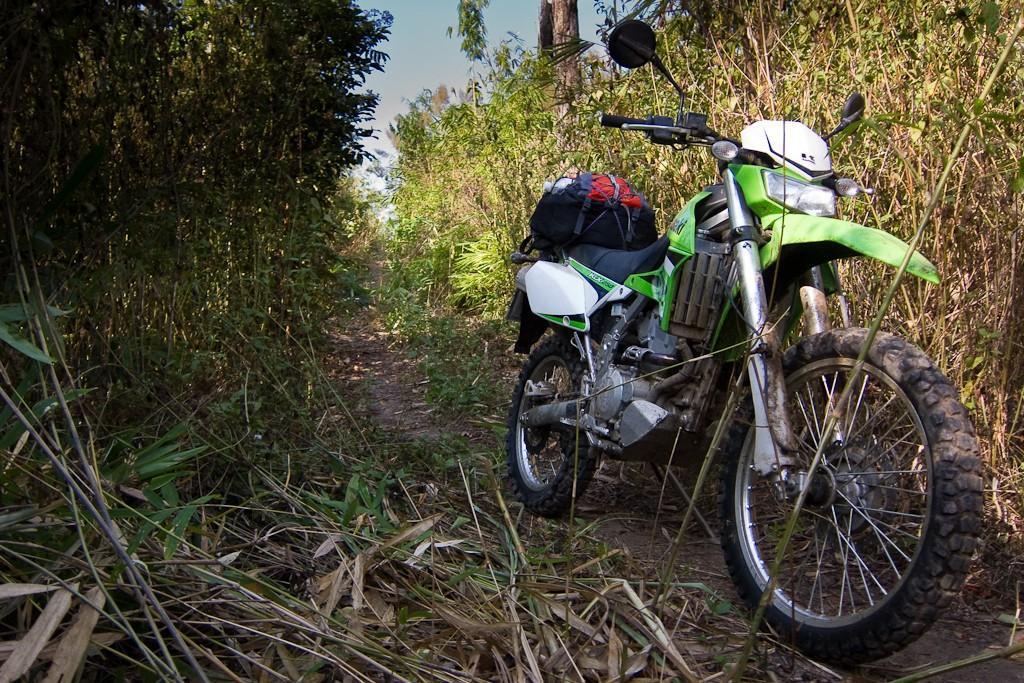 It's all single-track from the river to Lay Tong Ku
Single-track "tunnel" through the jungle..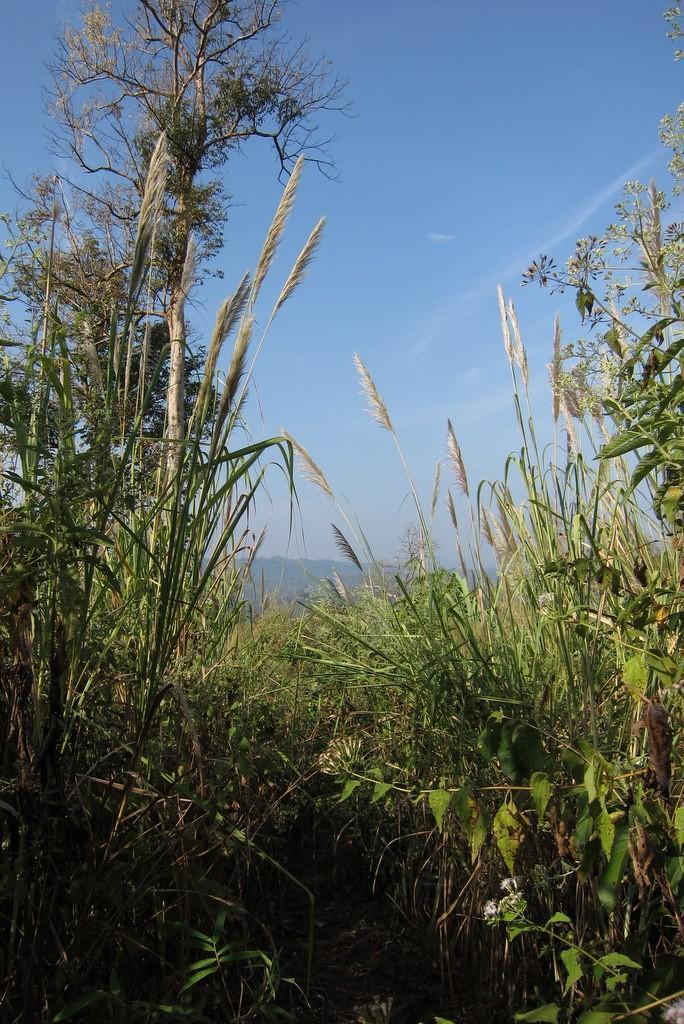 On the road outside Lay Tung Ku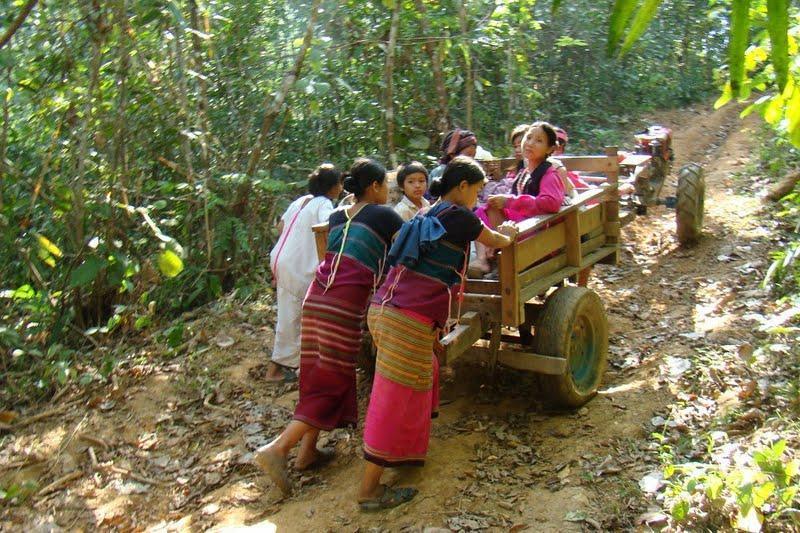 Waterfall at Lay Tung Ku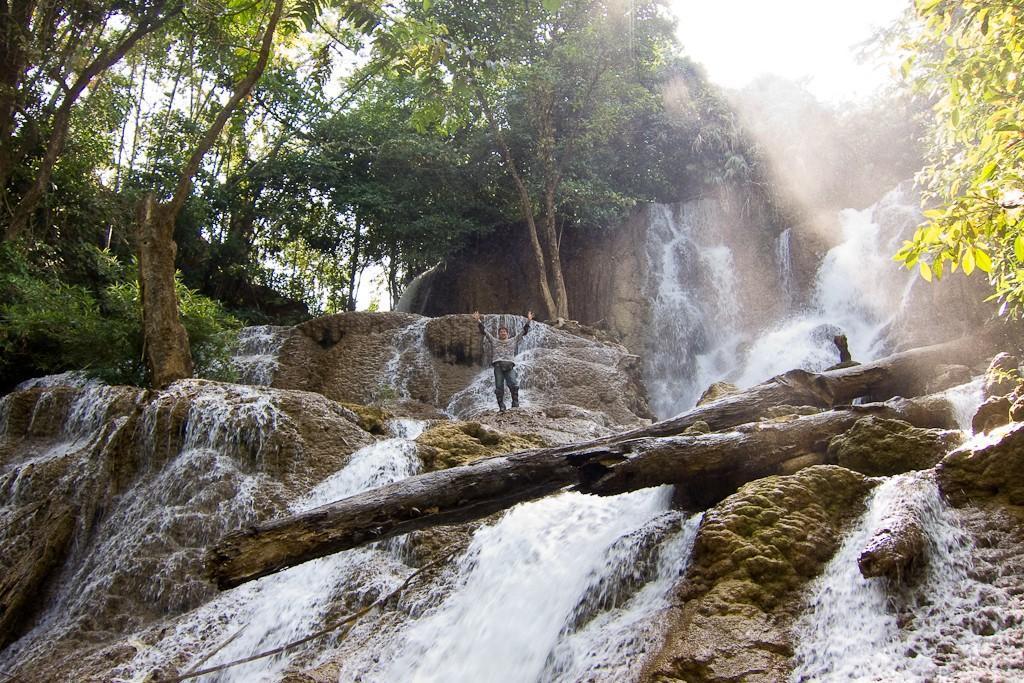 Sacred tusks of the Karen people, about 250 years old. They are carved with images of the Bhuddha. I wonder what the Christian missionaries think of these..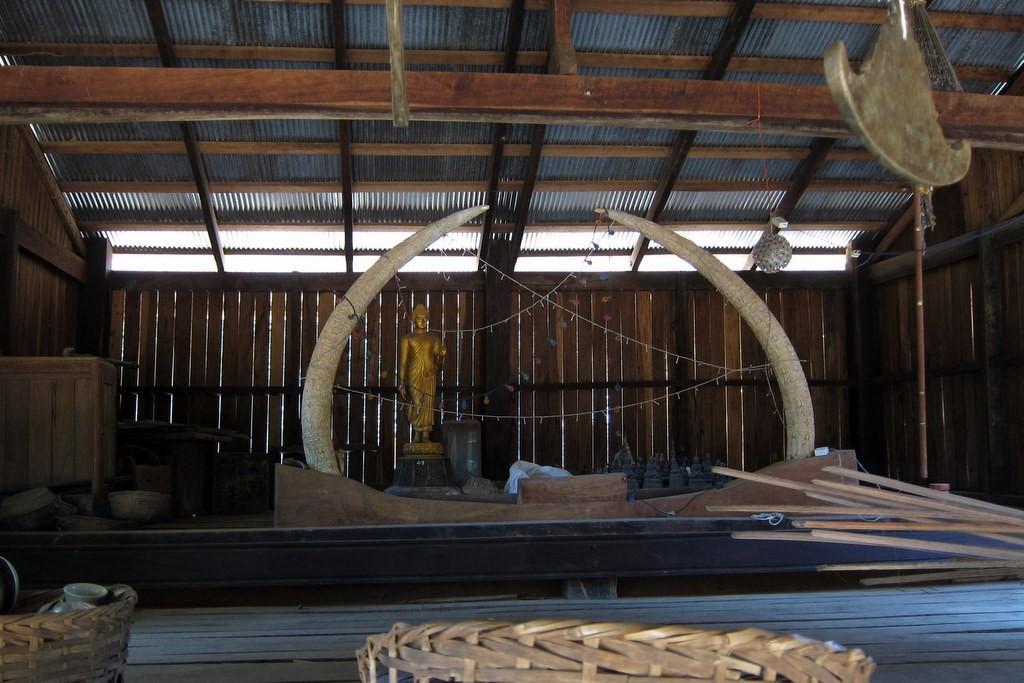 With some Karen young people outside their sacred shrine - note topknots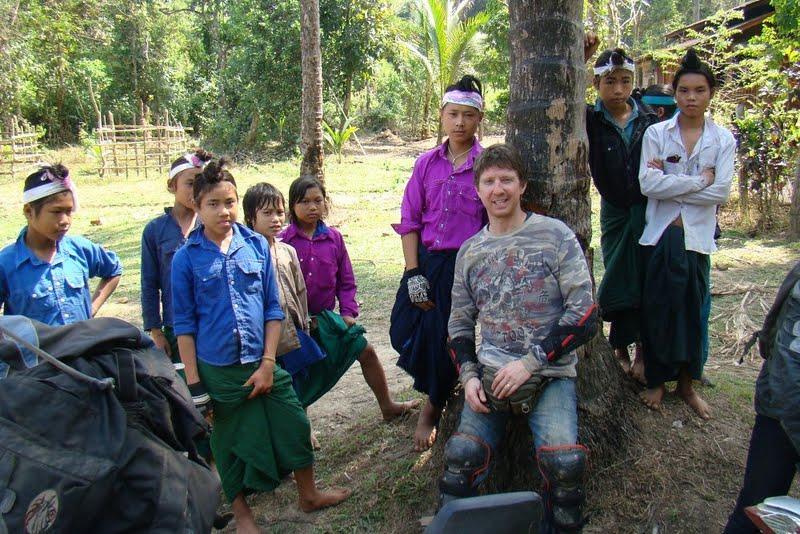 Nice single track between Lay Tong Ku and Peung Kleung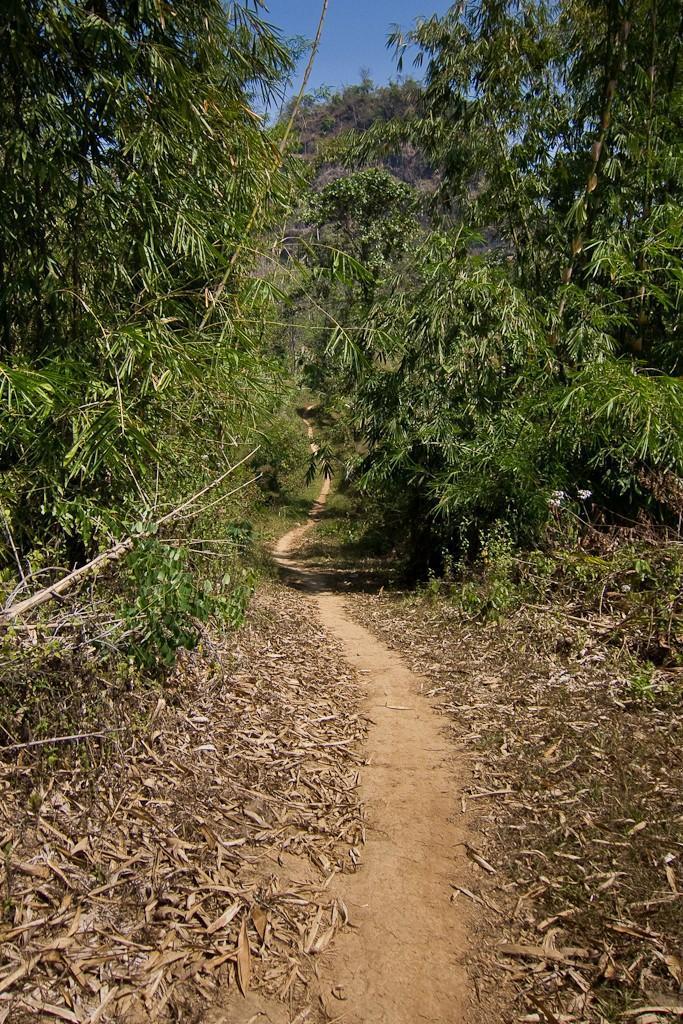 Single-track through the jungle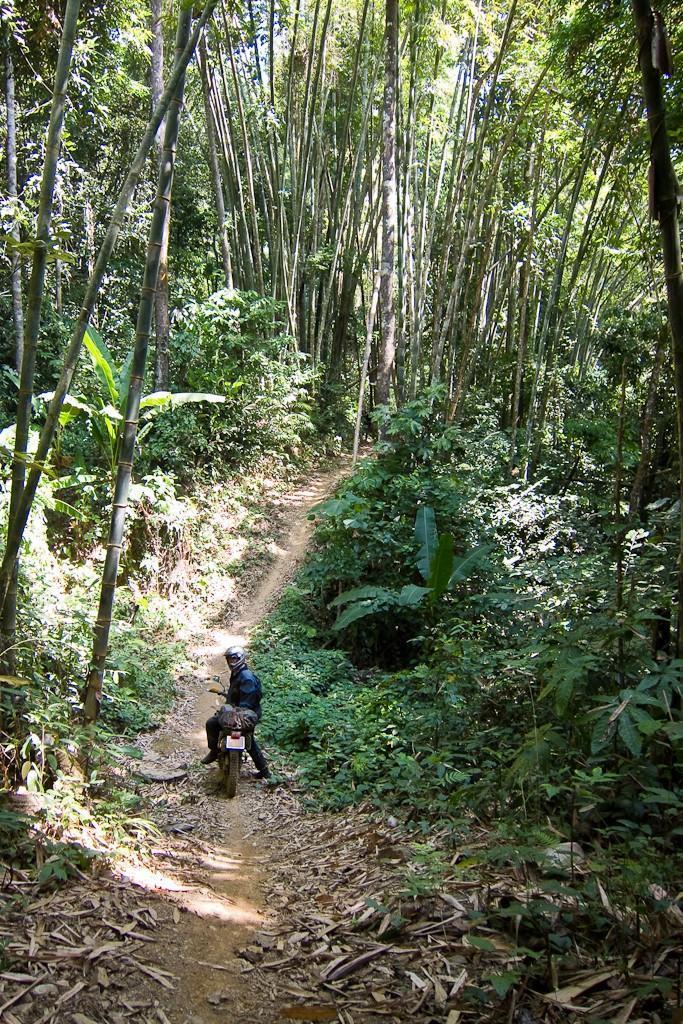 Wipe-out! There is some seriously steep parts just before Peung Kleung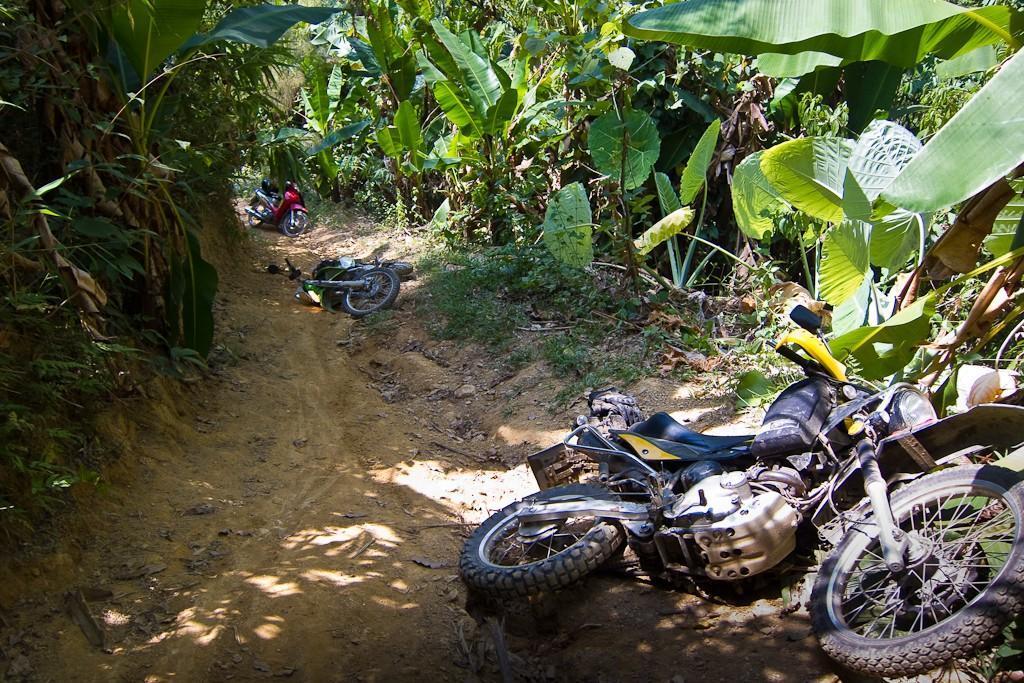 Arriving back on the road at Beung Kleung. We made it!!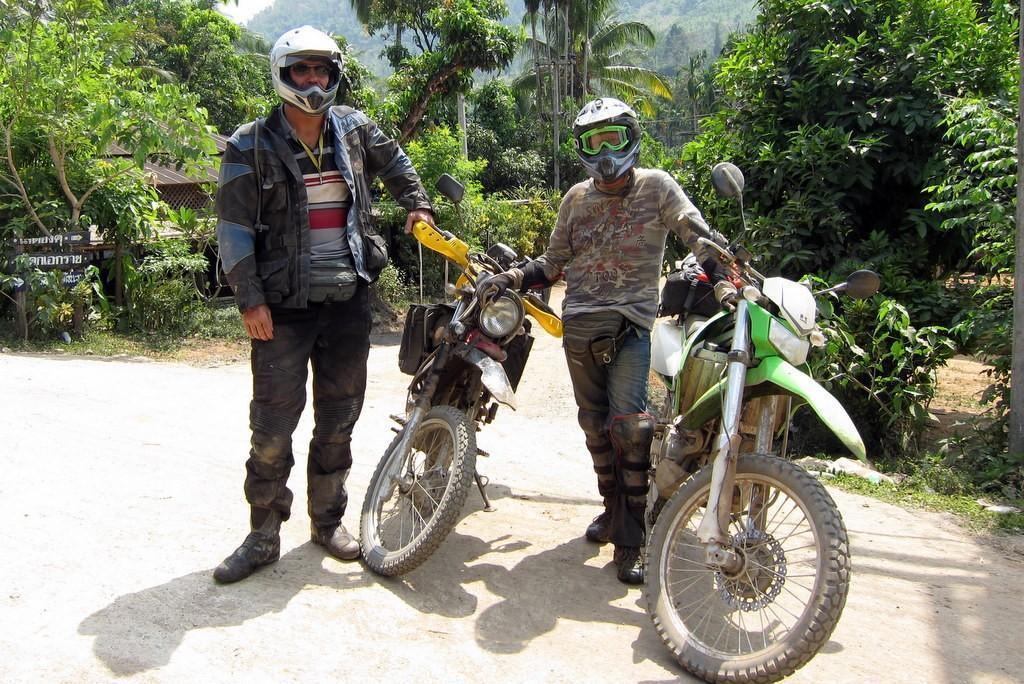 At the border crossing at Peung Kleung with Jack and the raftman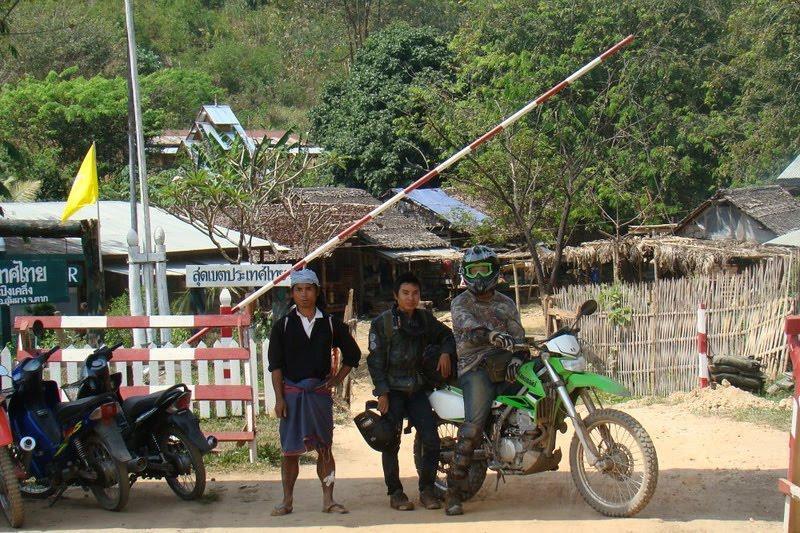 Lunch in Peung Kleung. This young lady speaks Thai, Nua, Lao, Karen, Mon, and Burmese (but not much English...
)
Lunch in Peung Kleung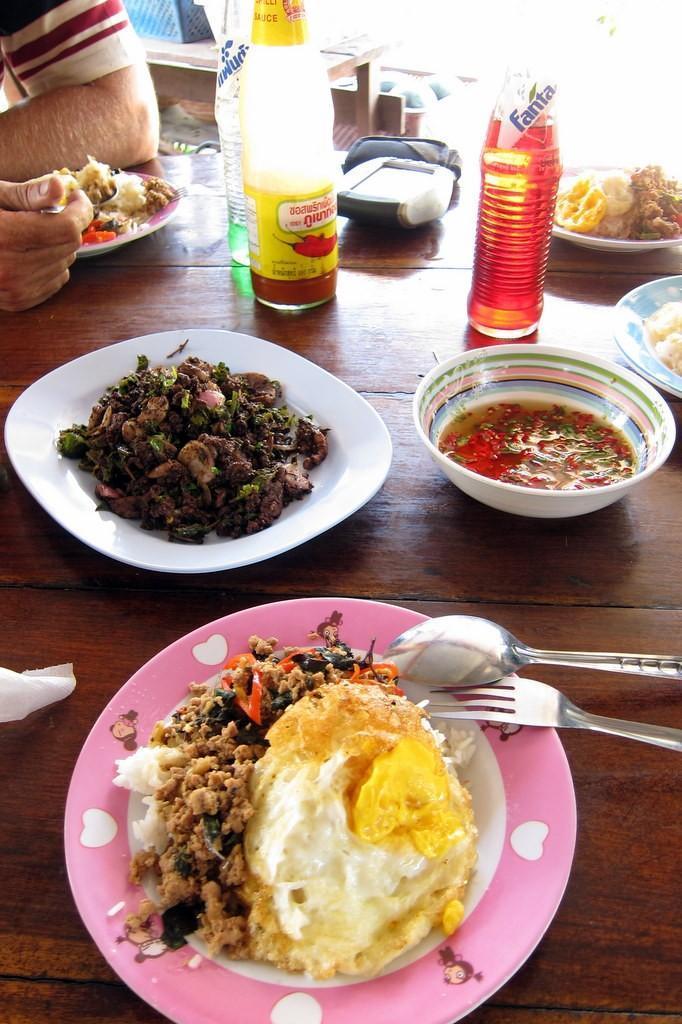 On the road from Umphang to Mae Sot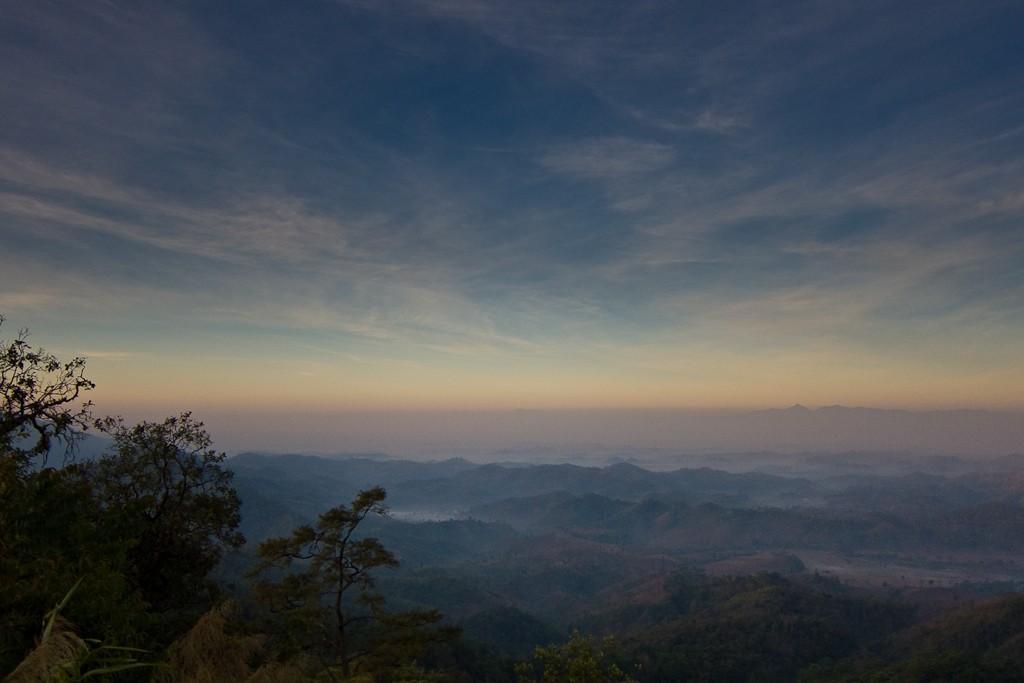 On the road from Umphang to Mae Sot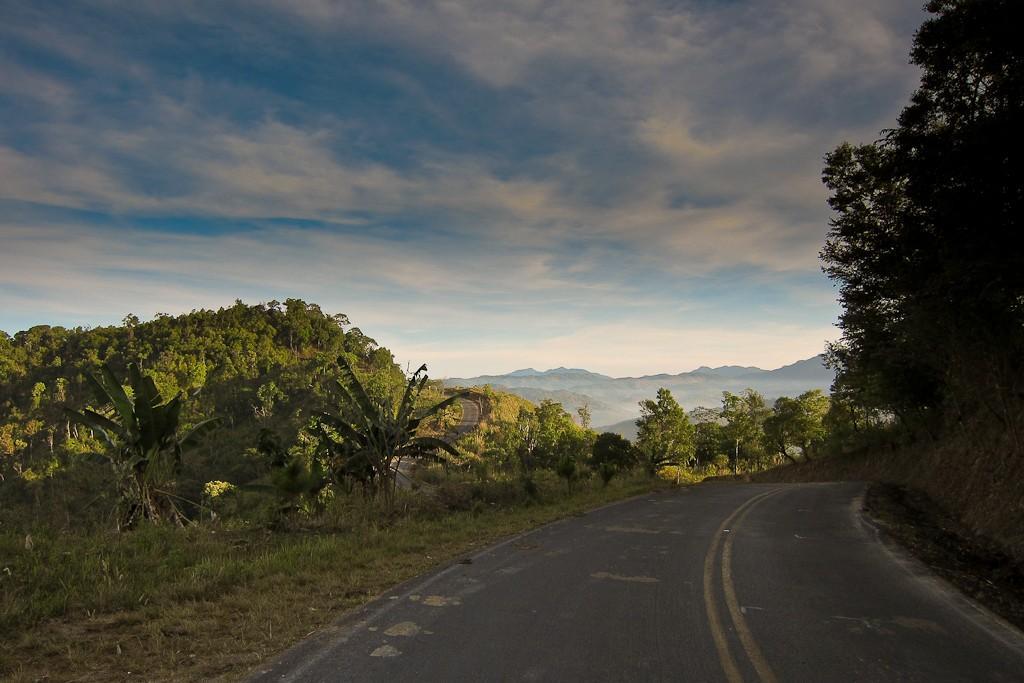 On the road from Umphang to Mae Sot. A village nestled in a valley. This road is truly one of the world's most majectic highways..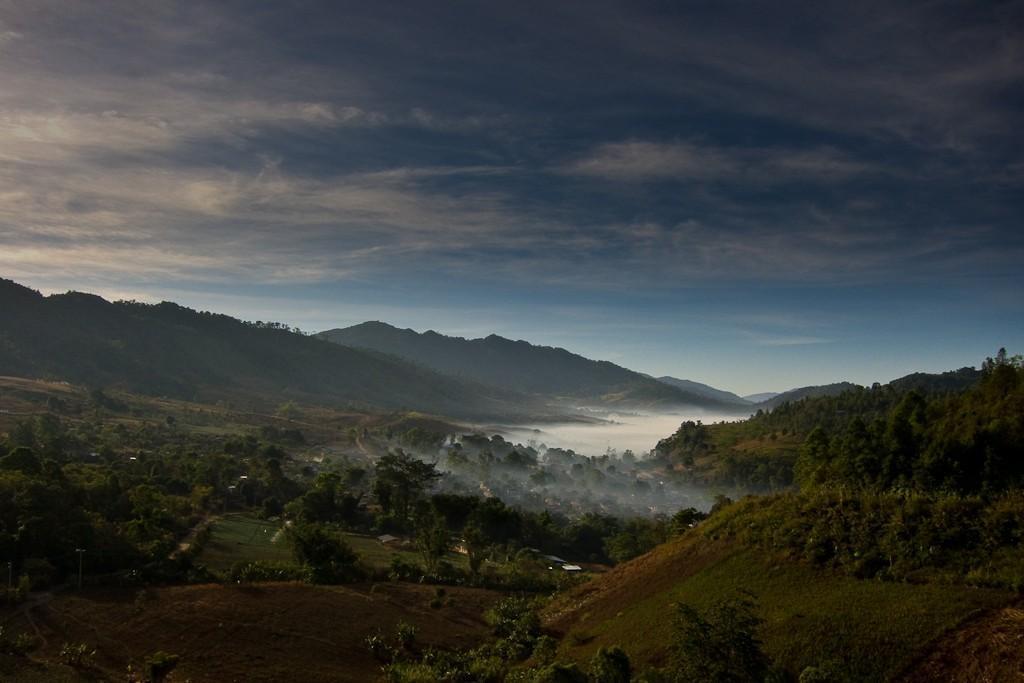 Here are some ideas for future rides:
First to do it in 1 Day
First to do it solo
First to do it in Rainy Season (likely impossible)
Anyone who can hit that trifecta would be godlike...
I also think is would be seriously fun on a mountain bike, if that's your thing....
Hope you enjoy the post!
Mike