Sankamphaeng-Mai Takhrai Nat Park Loop
Routes #1006-1229-1230-1317 (Half Day trip)
Five of us set off from The Kafe to check out a Sankhampaeng/Mai Takhrai loop with David U. An assortment of bikes with 2 TDM's (800&900), a 250 Honda, Trans Alp 600 and of course the African Twin made an interesting group.
Heading out 1006 towards Sankhampaeng is it's usual busy self. Quite a lot of traffic and trucks. Depending on the day and time this area can also be busy with tour buses heading for the shopping in Bo Sang areas.
When arriving at Sahkhampaeng you must carefully watch as you go through town and come to a "Y" in the road. Stay left as 1006 branches off and there are no markings whatsoever. Only another Kilometer or two farther there is another "Y" and this time you stay right. At this point there is a hand painted sign pointing right to the Hot Springs which is the way to go. From there on the route is clearly marked.
The 1006 is good two lane asphalt winding through nice country villages. You won't set any speed records here but the scenery gets better the further you go. Stay straight and cross 1317 again heading for Mae On. After a short distance of a somewhat potholed road you reach nice pavement winding through mountain views.
Just before Mae On, 1229 turns right into Mai Takhrai National Park which is clearly marked. There is no fee for entering and this is where the fun starts. A barely two lane asphalt road starts climbing with some sharp turns and switchbacks. Traffic was minimal consisting mostly of oncoming motorcycles. I wouldn't call the scenery spectacular but it is pretty and relaxing with a lot of greenery. The road ends at a "T" intersection at Ban Mai where you turn left towards Huai Kaeo, route 1230.
After passing some homes and shops along the way the road becomes two lane asphalt with paved shoulders and actual curbing. Someone commissioned a major road project here gouged and blasted through the mountain side. As the road is mostly useless as a major thoroughfare (the reason later on) you can tell it is little used by the litter of fallen leaves and other natural debris. Racetrack smooth pavement winds and dips through the mountains for about 10 kilometers. A lot of money was wasted on this project. As things can never be perfect, you will find yourself weaving through some of the biggest 'cow pies' I have seen.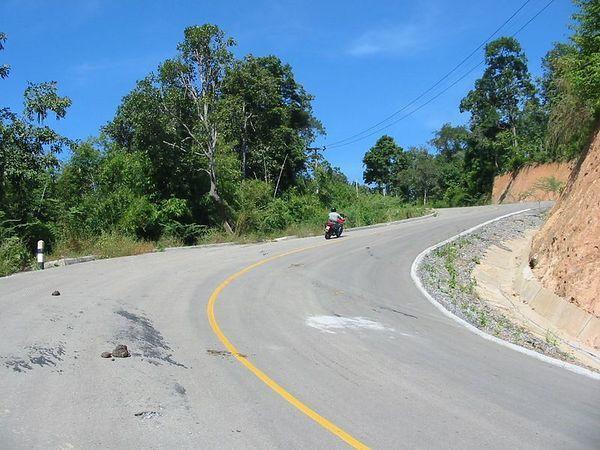 Either these cattle and buffalo are VERY well fed or there is some new breed of giant cattle being bred here.
Don't get carried away with road racing through these curves because when you least expect it, all of a sudden it ENDS. Instantly you find yourself facing a dirt, almost single lane, road leading into the trees. You can either turn back or prepare for some pretty tricky riding. Although the road was not overly rutted or eroded it is covered with very loose and dusty rocks and gravel.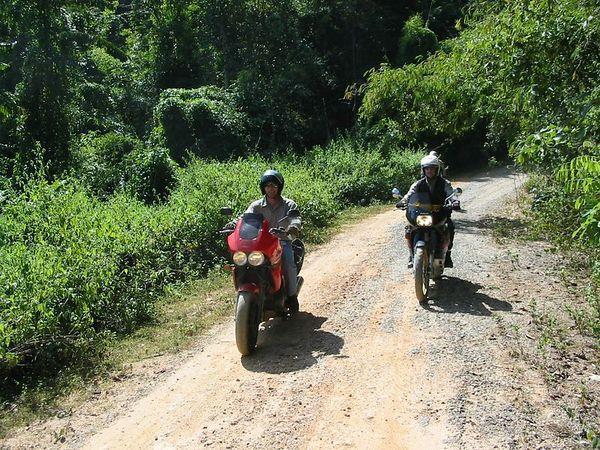 The downhills become very steep. The TDM's seemed to have the most problem with the back wheel wanting to slide around and pass the front. Finally, with discretion being the better part of valour, we walked one TDM down one of the grades. On the uphill, the Transalp I was riding decided it no longer liked the surface and put on quite a fishtailing, rock spewing display as I gassed it up the hill. This section was only about 4 kilometer, with a nice viewpoint about midway for a break. The Honda 250 seemed to be the best choice for this section and may be one of the best choices overall. For those of you looking for a good loop for a 250 rental bike, this route is a good choice.
Clearing the dirt, VOILA, instant racetrack two lane asphalt again with no traffic.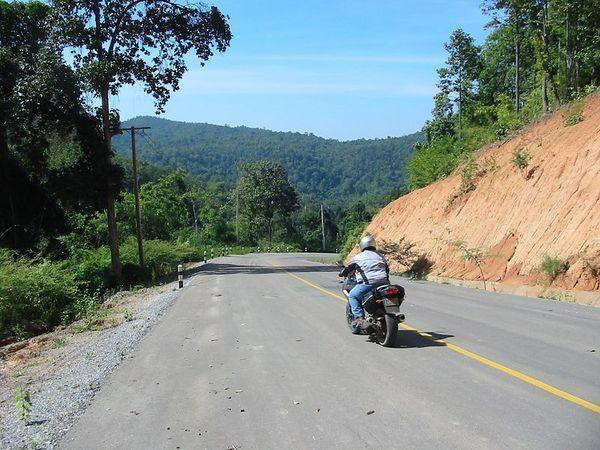 BUT watch out for cattle being herded up the road. About four Kilometers on you come to a downhill section that bottoms at a bridge with a small road leading to the right. A myriad of signs in Thai point up this road with the only readable one being "Moncom on Camp" and also a couple waterfall signs.
This road is 4 kilometer of relatively good dirt and some concrete leading past what someone is trying to make into a small camping area with bamboo huts and a rather messy looking grounds. The only waterfalls I found were less that two meters high where the roadside stream ran over some rocks. It ends at a very small village where I did not see a single person. Personally, I wouldn't waste my time checking this out.
Continuing on 1230 there are some great twisties as the road starts to narrow somewhat leading through some small village areas before finally coming back to 1317. A left on 1317 and you have a 35 Kilometer straight shot back to Chiang Mai.
This was a nice half day ride with other roads one could explore if you wanted to take more time. I wouldn't put this at the top of my list for Northern loops, but if you have already done some of the others and just want to do something different for a half day this would be good choice. For some fun ringing out a rental bike with pretty good scenery and a little bit of excitement on the dirt you may also like this one. Be careful though as I think it would be pretty easy to get "over your head" and get hurt on the dirt section.
[:I]Speaking of getting "hurt", I am writing this after turning in my rented Transalp and within a half hour dumping my Tiger Joker 120 on a Soi in town. Thanks for the offer of the doctors and the visiting nurse David, but it is only a bruised knee and deflated ego. Maybe I could make something up though if you really would send that nurse!
(BTW I later went back over the loop in a 4x4 as I was just playing "follow the leader" with David and really didn't pay that much attention to the route on the first trip. It's not a bad trip on 4 wheels either, but 4 wheel drive is needed in the dirt section).
Dave Early
Ever notice that "What the Heck!" is usually the right answer?