Sepang Trip Report by Dean Hobden Surin
I left Surin Tues Oct 16th at 5am. Got to Buriram about 6am just as the sun was coming up, not a cloud in the sky, so was hoping for an enjoyable days ride. Rode to Ayutthaya arrived about 1.30pm, to meet up with Peter Warbutton, who was riding down Highway 1 from Mae Sai.
Peter left Mae Sai at 3am, said it rained until day break. Peter arrived at 2pm, and we then had lunch together. After an enjoyable lunch, we continued on together, down to Bangkok, for the dreaded Ring road 9 'woes' We road around Don Muang Airport for a while before finally finding Route 9. Then somehow we got lost again so stopped a motorbike taxi and told him to take us to Route 9. This he did, but unfortunately took us to the R9 heading north, when obviously, we were trying to find the R9 south. As the traffic was getting pretty heavy by now, we decided to call it a day, so searched around for a while and found a hotel for 600baht a night. Turned out to be a 'short term' place, but at least the bikes were safe being parked (hidden) off the street.
We got going early next morning, and spent/wasted quite a bit of time, trying to navigate our way around Bangkok. Finally found the way south, and rode down as far as Thap Sakae where we found a hotel for 200baht a night. Great hotel and the meal we had there that night, was the best food of the whole trip.
As we were now running quite a bit behind schedule, left the following day at 4.30am. The first two hours really heavy rain and lightning. The heavy trucks were really polite, indicating when safe to overtake or stay behind. I was glad Peter and I had wind shields on the Phantoms', I would certainly not want to ride long distances without one.
Finally arrived at Sadao, the Thai/Malaysian border at 5pm. I said to Peter that I will go and get stamped out of Thailand first and he stay and look after the bikes. After getting stamped out, went back to the bikes and waited there whilst Peter got stamped out. Oops, it turned out Peter had the wrong visa in his passport, and would have to report to the Immigration Office in the morning to get his visa corrected. As I was already stamped out, I continued on into Malaysia, getting a room by the border in a really bad/awful guest house, while Peter was able to stay in 'downtown' Sadao.
The next morning rode back to the border at 8.30am, waited for Peter till 11am, and when he finally turned up was in a really bad mood. As well as having to pay 3,800baht to correct his visa, someone had stolen his helmet off his bike. The Thai customs asked him where his helmet was, and when Peter told them, the officer lent him his. Peter offered to pay for the use of the helmet whilst in Malaysia, but the Officer wouldn't take any money, just asked that Peter returns the helmet on his return into Thailand.
We fueled up at the first gas station we came too, fuel a lot cheaper in Malaysia, and we would need only one more fuel stop before Sepang.
For those of you who have not yet ridden in Malaysia, the roads are great, really smooth, no crazy drivers driving on the wrong side of the road, and no cars doing 'u' turns. Also under every bridge/overpass, they had made a safe area, behind the crash barriers, for motorbikes to either shelter from the rain, or just to be able to stop and put wet weather gear on, without the fear of being run down. Peter and I were now cruising at 110kph, the big bikes would come flying past leaving us for dead. The 'big boys' would have to stop more often for fuel, so quite often we would have the same bikes passing us a few times. Even the locals on their Honda/Modena scooters were able to keep up with us for a while, gee those small bikes certainly get a good thrashing, but you very rarely see one broken down at side of the road.
We finally arrived at Sepang at 7pm, after heaps more rain/thunderstorms. It was good to see John and Elle, already there, and they helped us put up our tents, many thanks. Peter and I paid for the Pit walk on Saturday, and as has been reported already on this post, a large rip off, afterwards, we gave out tickets to John and Elle to use, and they weren't allowed in, even though there was another 15 minutes to go before the end of the pit walk. The Saturday and Sunday Motogp was great.
It poured down, big time Monday morning, but luckily we had a large food tend to shelter under, whilst packing up the bikes. John and Elle left around 9am, and Peter and I managed to get away at 10am. Poured down with rain all the way back to the border, (500kms), we managed to keep to 110kph, John said later that he was down to 80kph in his car as the rain was so bad. When we reached the border I had no paperwork for the Phantom. Went to immigration, they just stamped me in to Thailand. Then rode up to the customs counter, and the customs officer, just waved use across. Didn't check a thing, said he had never seen two old men with so much camping gear on bikes, and the officer asked if we were from Oz.
From the border we rode up to Hat Yai, and met up again with John and Elle for dinner. Left early the next morning and to our surprise, no rain. Near Phatthalung, Peter got a flat on his Phantom, went to a Honda shop and they said cannot fix tubeless tyres, we find a tyre shop, and they were able to fix flat no problem. Now more rain, but pushed on, and managed to make Thap Sakae at 7pm, where we stayed for the night. Up early next morning as we said we wanted to make it back to Surin that night, and arrived home at 8pm. Peter stayed a couple of nights with me, then made his way home to Mae Sai. Peter rang to say he made it home safely, doing 7,400kms.
I think for next year's GP, if it looks like a lot of rain, we may well put the bikes on the train in Bangkok, then get the sleeper train to Hat Yai, then ride to Sepang from there.
Peter and I love to ride, we may be old, Peter 66 and I am 58 but we still have a great time on our bikes.
ALL THE BEST
PETER AND DEAN.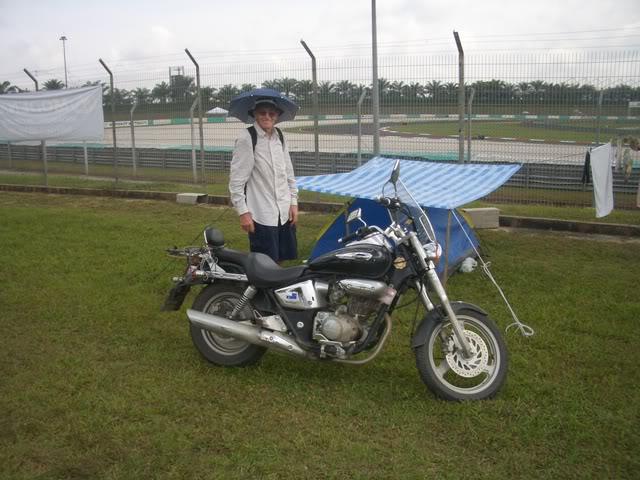 I've told you before Peter, no way am I going to ride with a guy that insists of strutting around with such a silly hat on.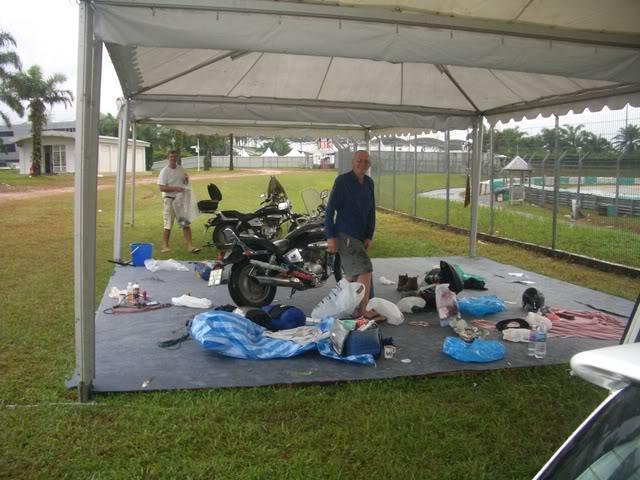 Hey Dean, you sure we bought all this stuff down with us, how is it all going to fit on my bike......