0
Staff member
Subscribed
Jan 16, 2003
13,841
4,802
113
69
From
5-6-7 December 2010. Best day will be the 6th December. What to expect Photos from Shan New Year 2008 prince-of-death-road-trip-khun-sa-memorial-t3096.html#p18559 More info contact John at Rim Taan Guesthouse in Thoed Thai THOED THAI

www.gt-rider.com
Dates: 5-6-7 December 2010.
A bit of a brownie points trip for me with Meow aka Happy-go-lucky. Its been awhile since she could get satisfactory time off work for us to go away & do something constructive together.
The way up & down R107-1089-1234-1130-3051 & return.
DAY 1 5TH DECEMBER 2010
The Kok River & Tha Ton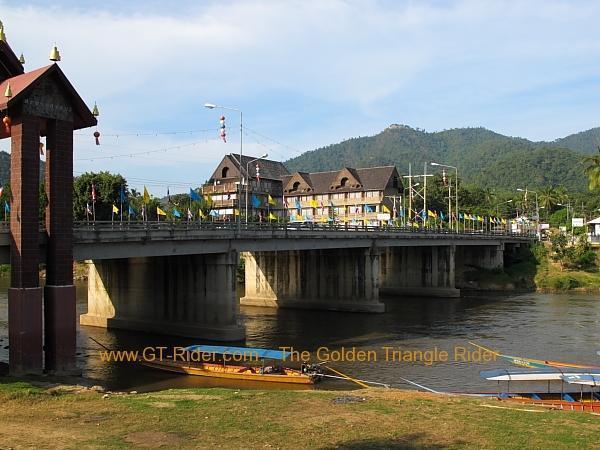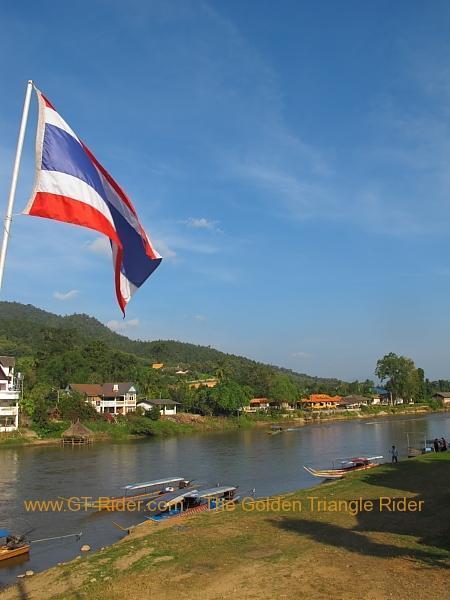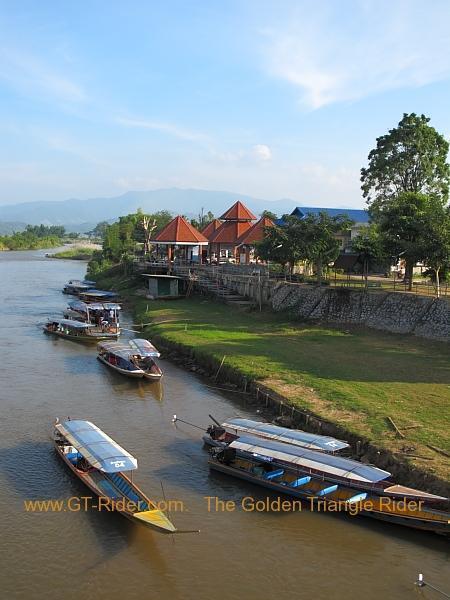 HGL with her new car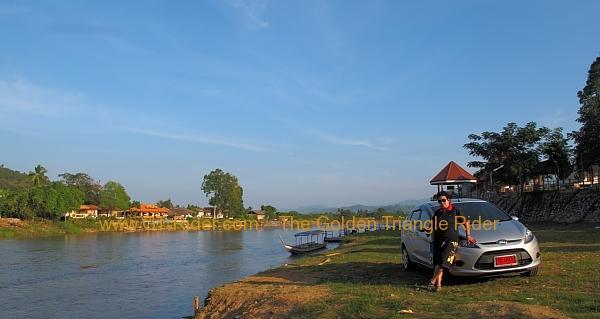 a Ford Fiesta, for those who maybe interested. Note too that I'd rather be on the bike, but as I'm off to Laos this was an excellent brownie points trip.
Happy-go-lucky at Sweet Mae Salong, savouring the view & some sweet Mae Salong cookies.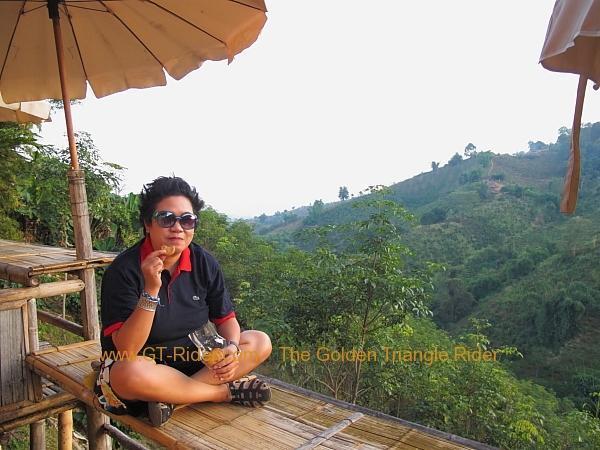 True to form I / we were late arriving in Thoed Thai around 7.15PM. Dinner was underway at the Ting Ting, next door to the Rim Taan Guesthouse.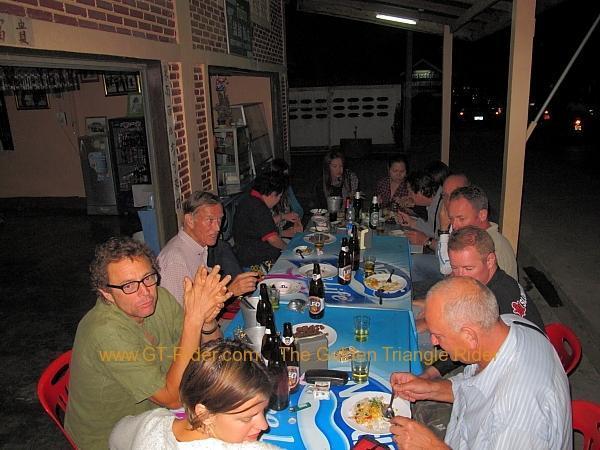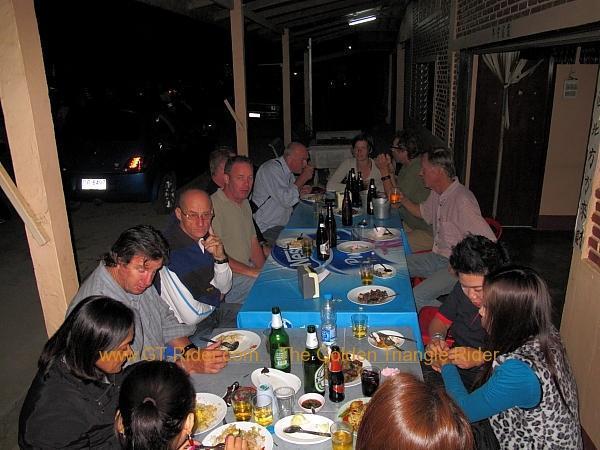 it was good to see so many guys there, especially with their "better halves."
Meow made up for our late arrival by immediately jumping into the kitchen to make somtam for the gals.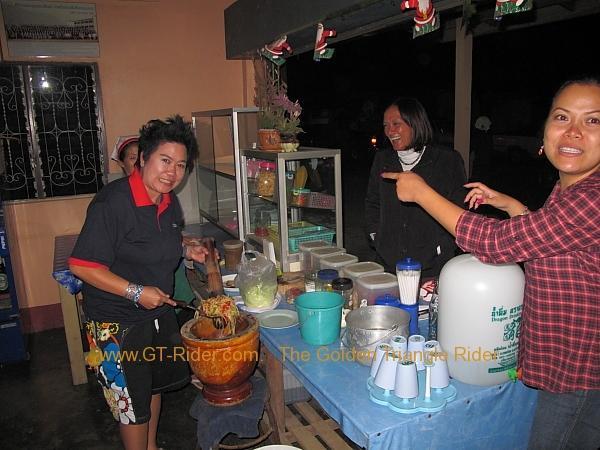 don't you just love this country, being able to do that.
This year's Shan New Year celebrations ran for 3 nights in Thoed Thai & coincided with the King's Birthday celebrations & long weekend; & Thoed Thai ran their annual winter fair at the same time.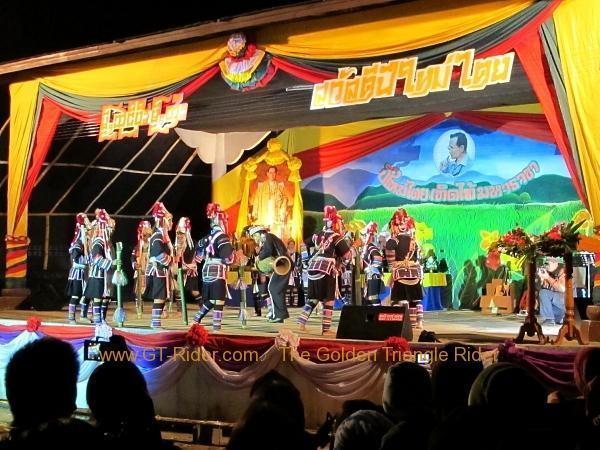 Being way up-country in one of the more remote out of the way places populated by various ethnic people there were some real interesting characters around. This is one of the reasons why I like Thoed Thai so much & it has a real wild west feeling to it. I just love sitting around observing the many different people out & about for the New Year & Fair. :thumbup: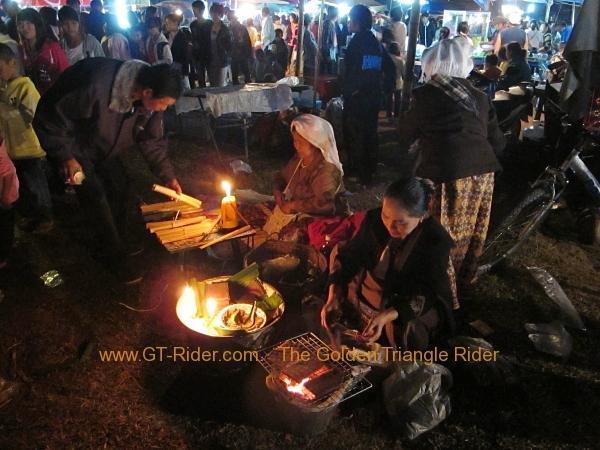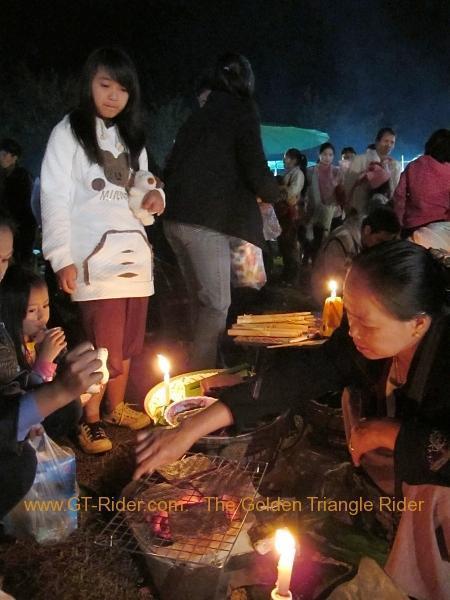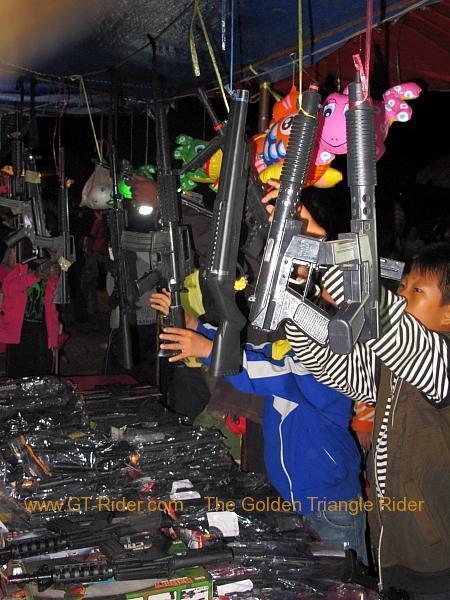 The Toy gun stand was big with the kids
BIngo it was for others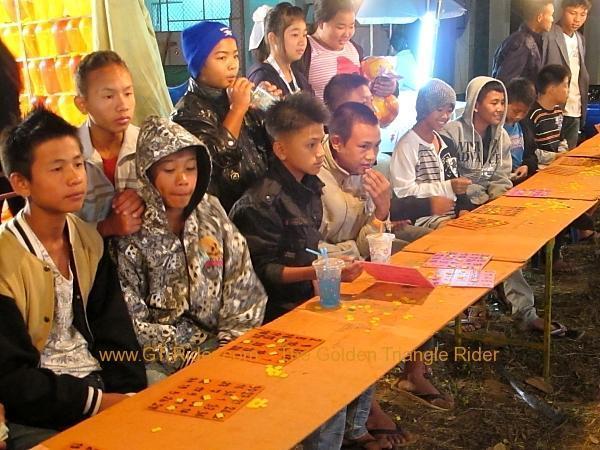 This lady lived dangerously at the dart throwing - balloon popping stall.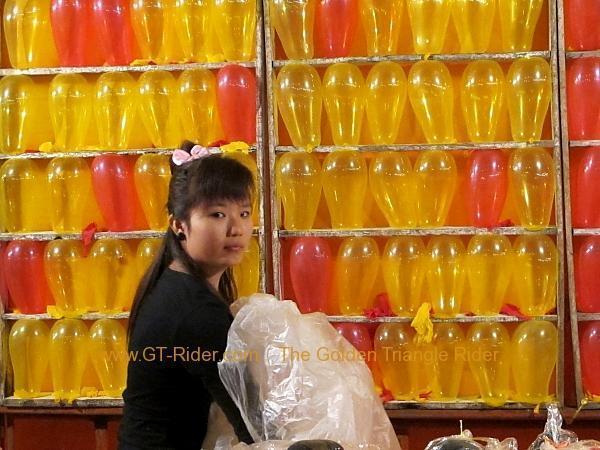 BIson? type hats were also popular with the kids.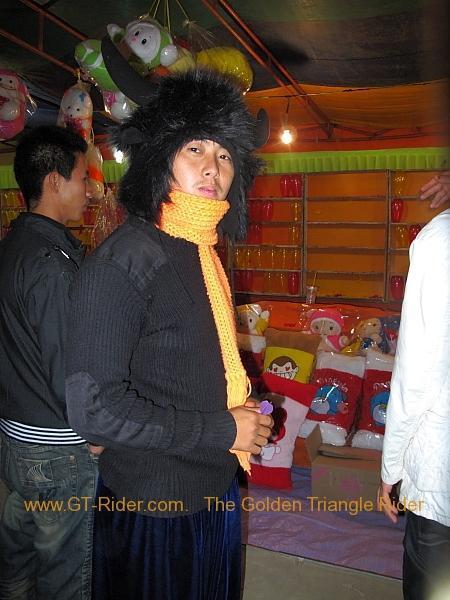 Some cool guys, excluding the fat old farang.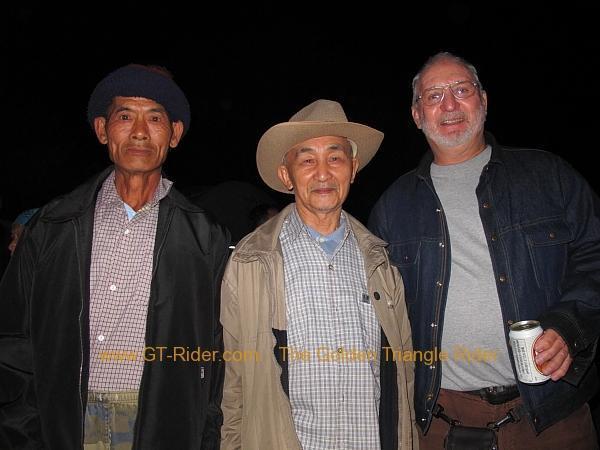 DAY 2 6TH DECEMBER 2010
1st night down & the morning after residue.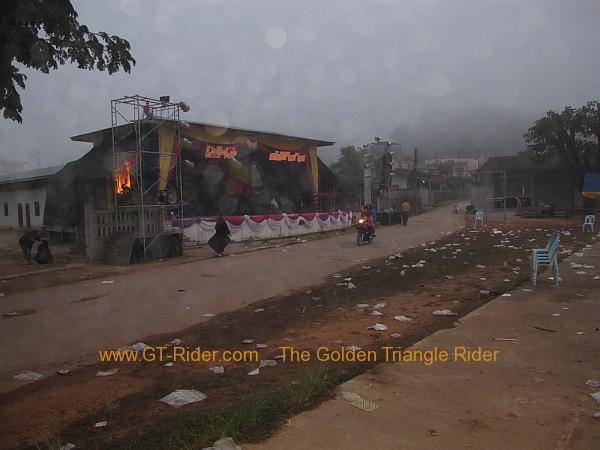 a fairground littered with plastic bags. But by 10AM they were all gone. :clap:
It was a busy time & cold: the festival staff got to sleep on stage in their tents.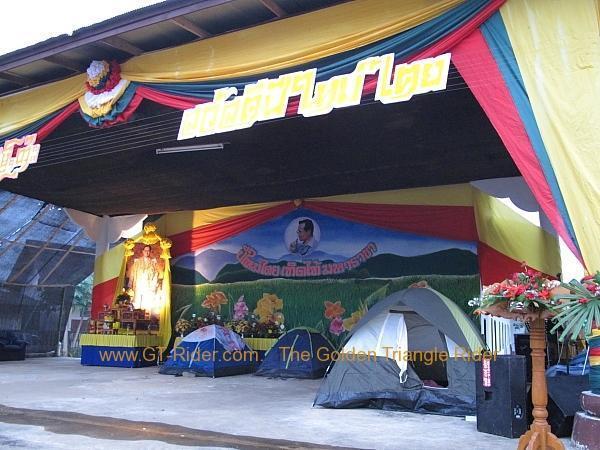 HGL in the morning fog on the swinging bridge over the Mae Kham River alongside Rim Taan Guesthouse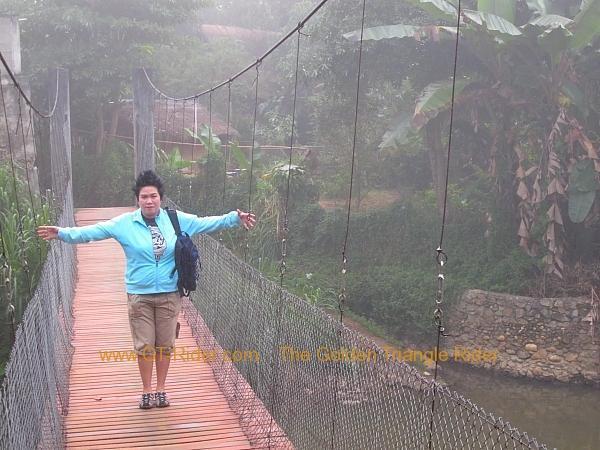 The main parade was scheduled for 5PM so with a bit of time to kill TT sightseeing was the order of the day.
1. Khun Sa, the late opium warlord's HQs.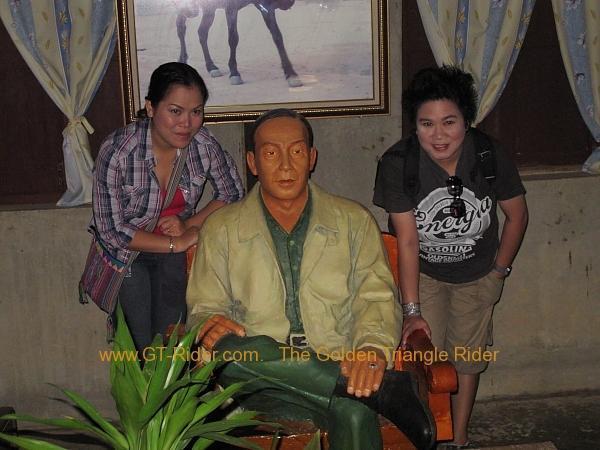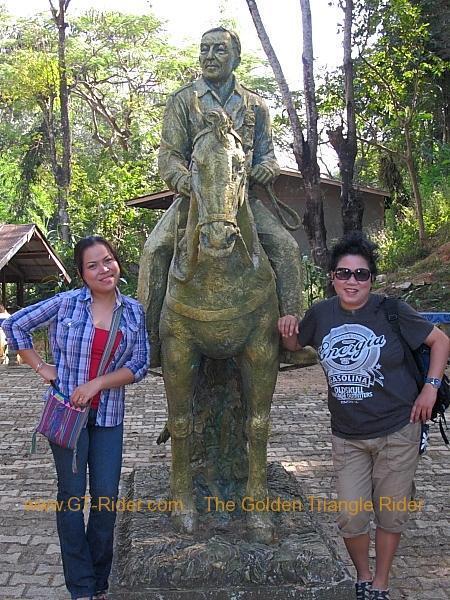 I've obviously been here too long & am amazed that some newcomers don't know about Khun Sa - the man who gave the Golden Triangle it's name.
Check out
http://www.doi-mae-salong.com/thoed-tha ... um-warlord
for a brief bio f Khun Sa.
And
prince-of-death-road-trip-khun-sa-memorial-t3096.html
PLUS the GT Rider KMT - Doi Mae Salong drug history, & all very relevant
http://www.doi-mae-salong.com/information/history
2. The big Bronze Buddha. Phra Song Chai Rattana Palang Paen Din.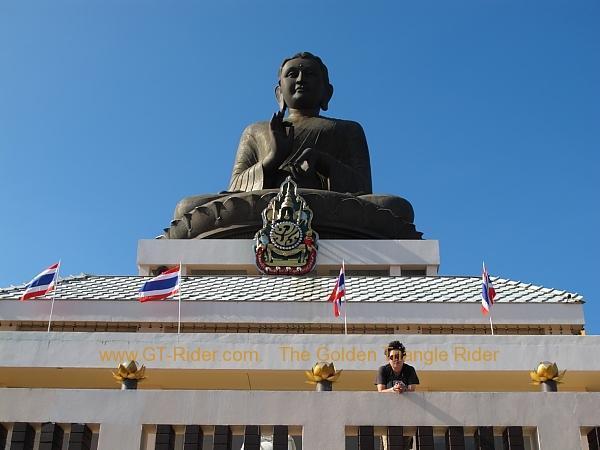 3. Wat Kha Kham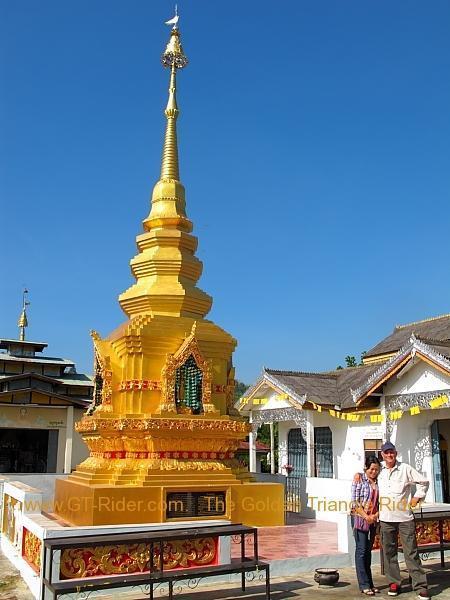 The parade started from the same place as last year, but seemed much later & with less participants.
It is still very folksy & colourful, allowing you to get right in there & take photos. :thumbup: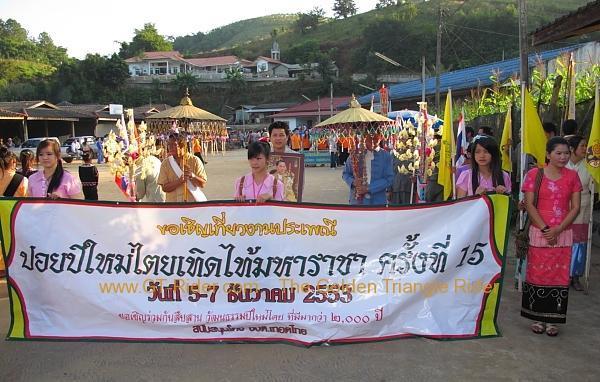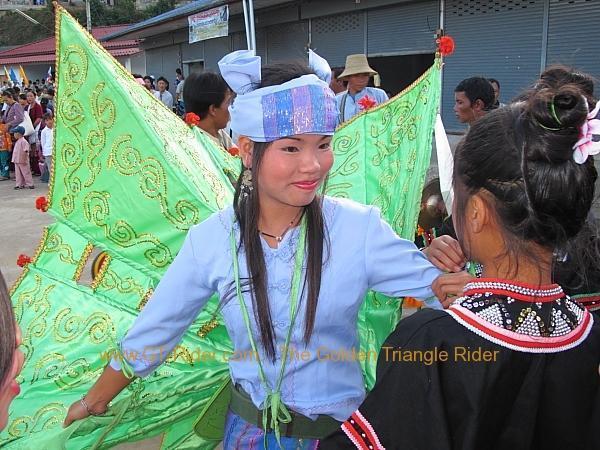 I think some of the participants may well have consumed a few beverages earlier on in the day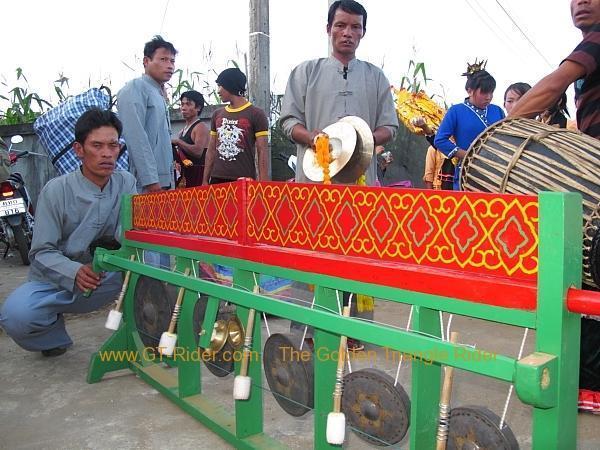 well it was New Year. :thumbup: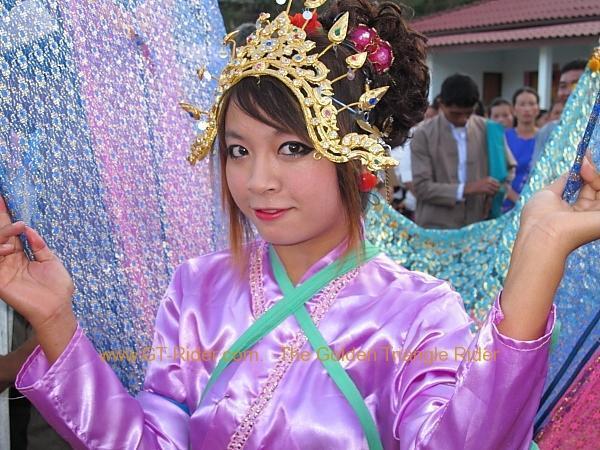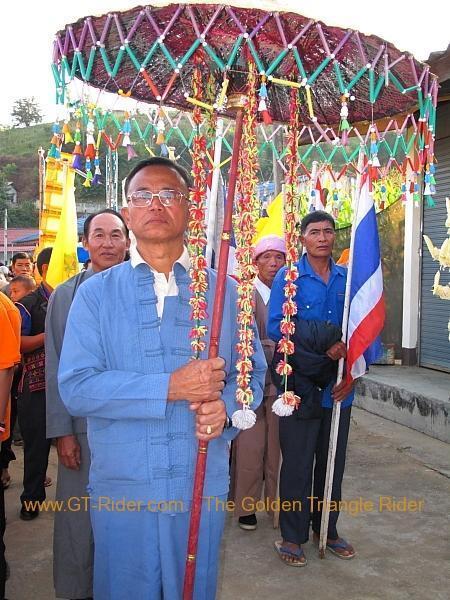 Red Lahu & HGL, not easy to find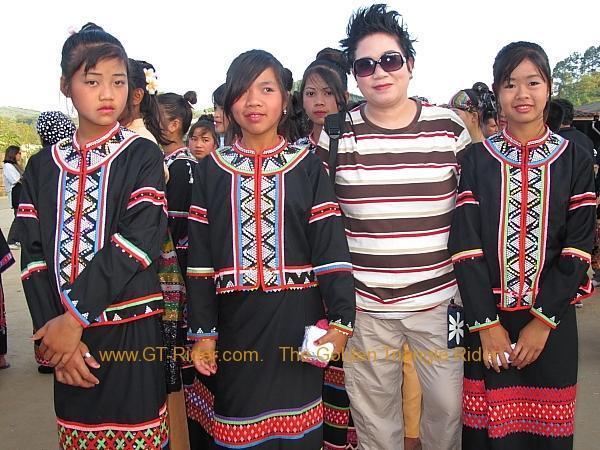 Red Lahu, that is.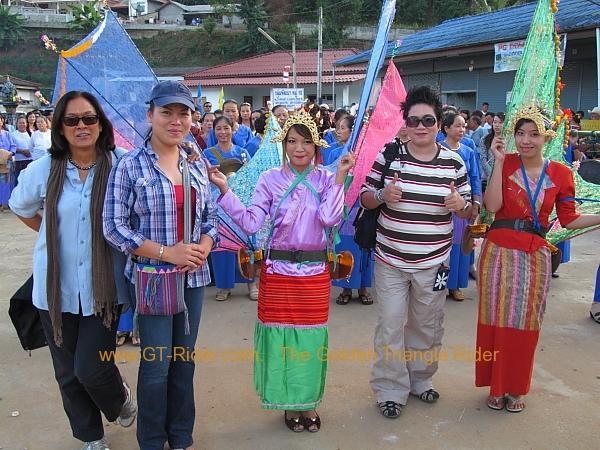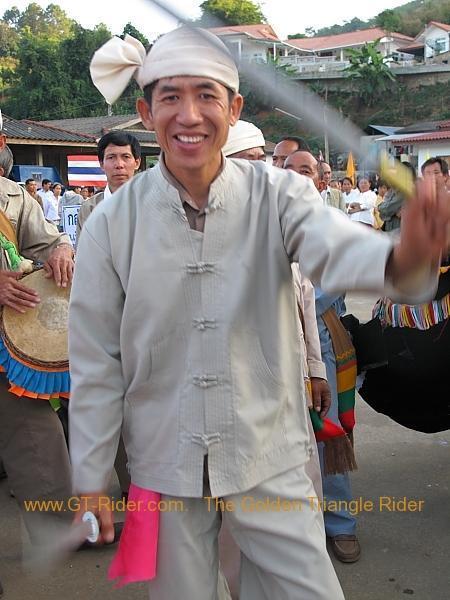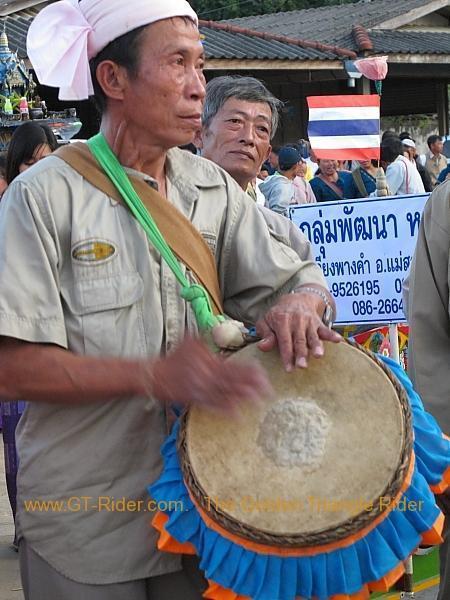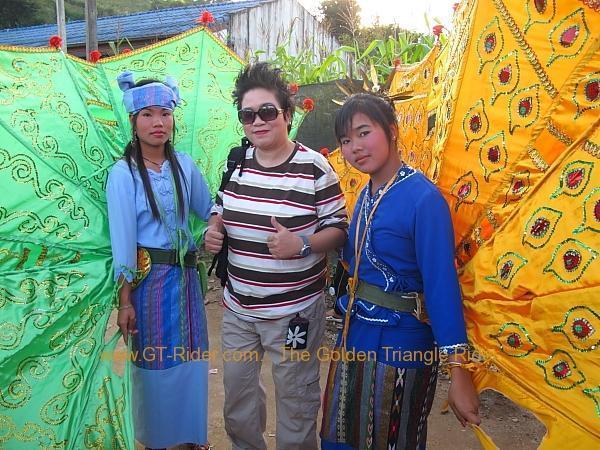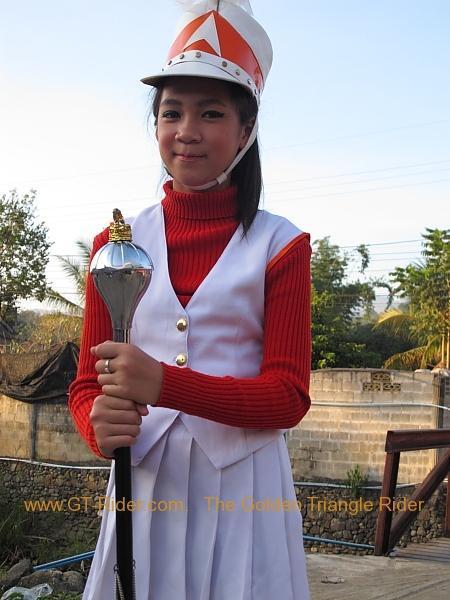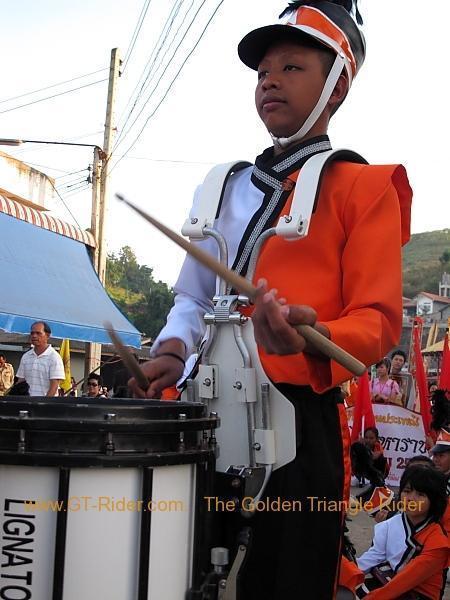 The start was delayed, true to form, & not everyone was amused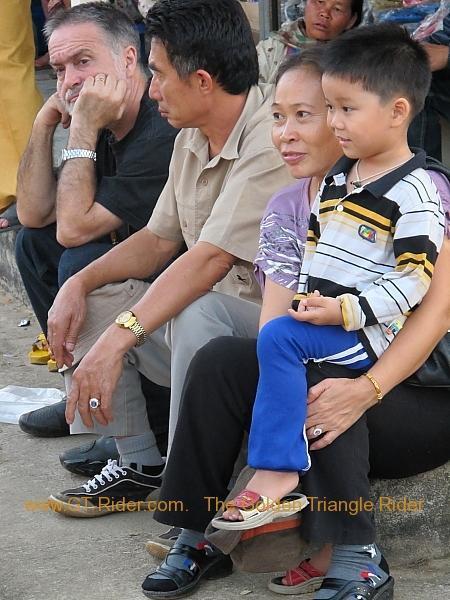 it eventually got underway, & they took off like a rocket. Making up for lost time I guess & to appease government officials waiting at the official opening site. It was therefore a bit of frantic snap as the sped by effort thereafter.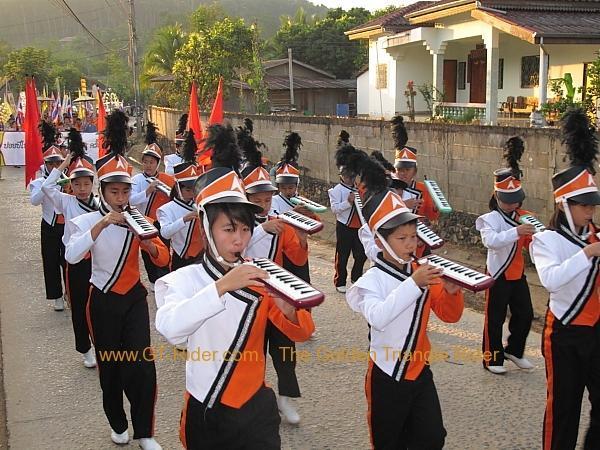 Red Lahu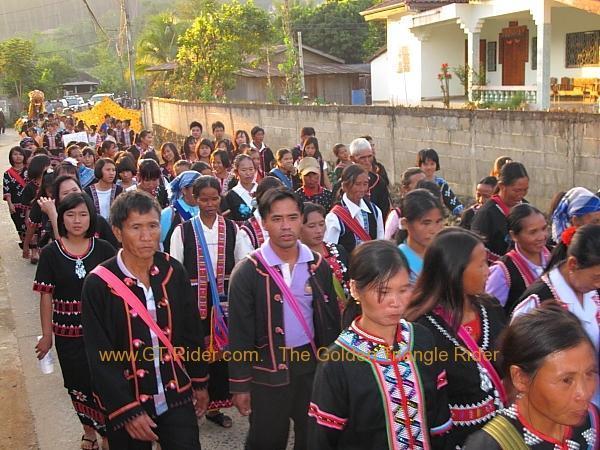 Leo the Lion dancers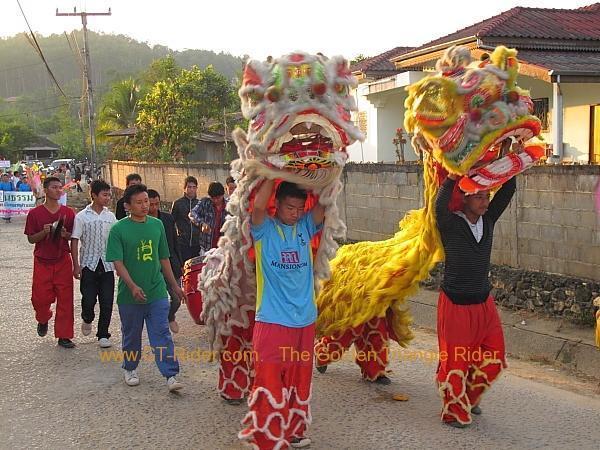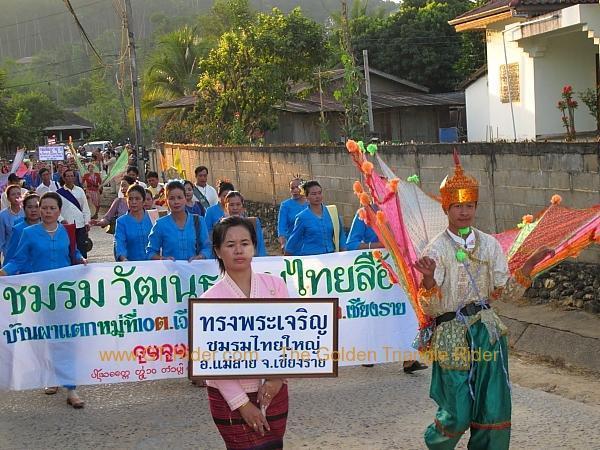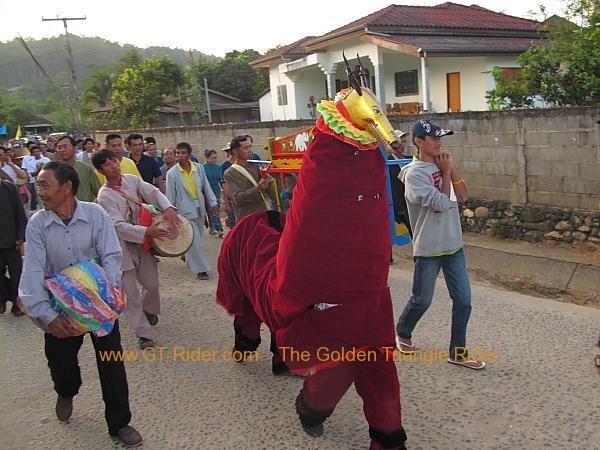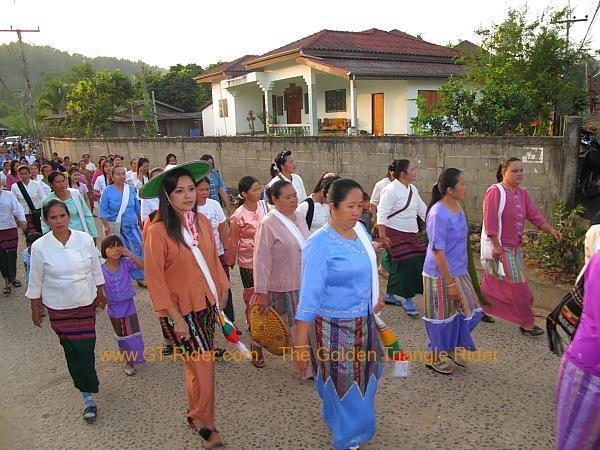 The Akha, & the reason for the delayed start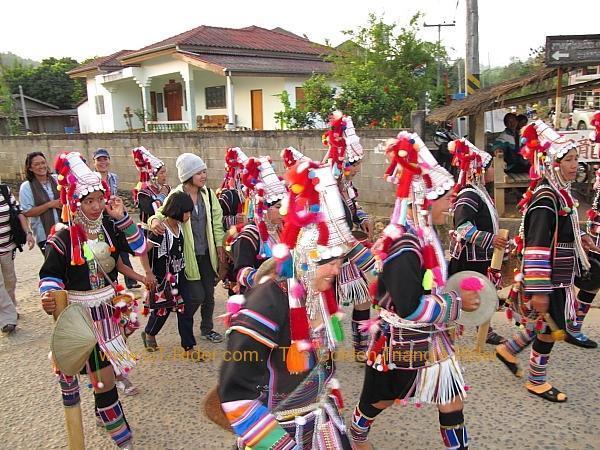 they arrived very late.
and the band played on as they went off down the main street of Thoed Thai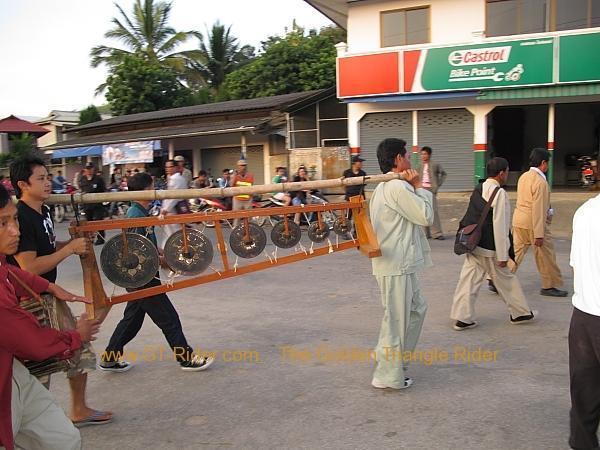 :clap: :clap:
I'm sure some of you other guys have good photos of various characters & events - please don't be shy - stick 'em up.
Last edited: