SOG'S TOUR April 2008 Phuket-Chiang Mai and back
11 Days…
Lusting after the stories of the north for so long, it was time to check it out for myself. A little excuse in the way of a new bike to collect in CNX and it was all go. TJ graciously offered his services to ride back with me…on my other bike…. Noel said right mate, lets go.
Day 1-Phuket-Bkk(intended?)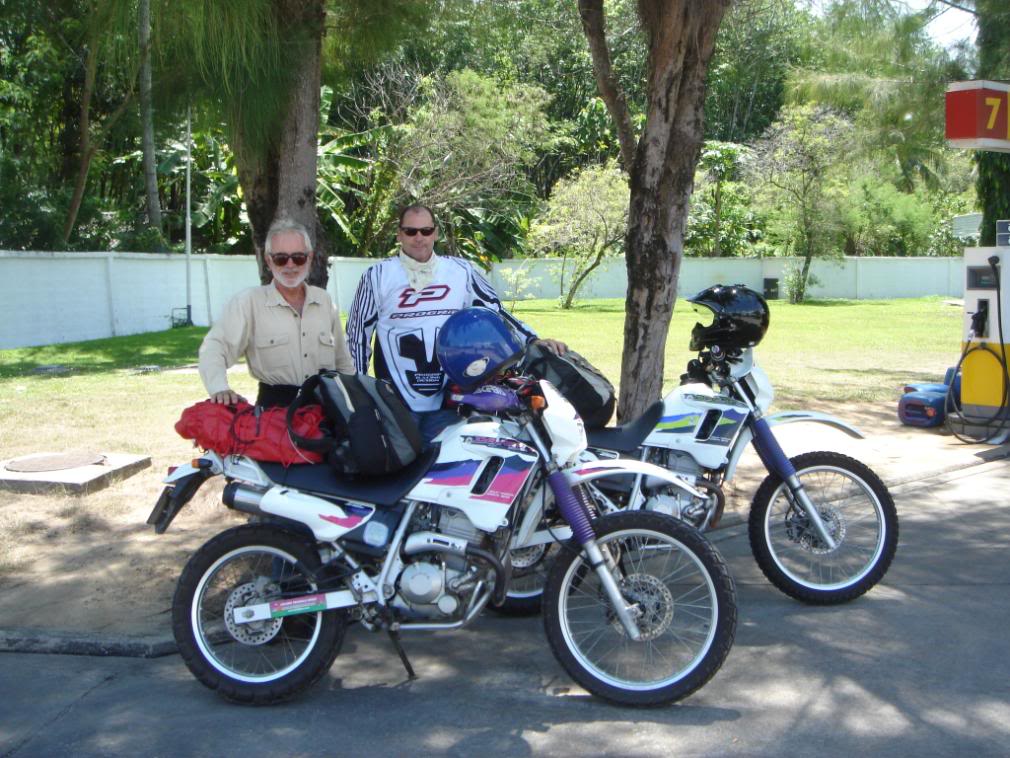 Not giving too much consideration to the capacity of Thai trains over Songkran, we(I) decided the 2 Degrees would ride to Surat Thani and just hop on the train to BKK overnite. Great theory…..3 and a bit hours from Phuket and needing a feed we found the train station…I think the only directions TJ got right for the next 10 days(more on that later).Hadn't even got the camera out of the back pack since leaving.
"That'll be 2 tickets in a sleeper and 2 bikes to BKK, krapp." Pointing to a page full of 0's on his computer, the clerk tried to explain that everything was full…I wasn't having any of it…then his boss came over….pointed to the 0's and said "all completely full sir" Bugger! Noël," So which is the road to Bkk then?!"
So, not a good start but hey we were on the road and having a laugh.
Motorway bashing on an XL250 is painful…not just in the butt. A few hundred kms later we were heading off the HWY and looking for a bed.
No real plan, just head for the coast and we're bound to find some bungalows….!
First bend and whoosh…a reminder that out in the sticks Songkran has an extended life span….it was bloody hot so quite welcome.
Getting dark,…lost Noel, …ah he says thought I'd better take the sunnies off !! Managed to ride right through a local Thai funfair by the beach, Noel decided the beach was better option. Still no bed in sight…."Lets head for those lights along the coast there…..good plan!"
Bloody lights turned out to be fishing boats and the Degree is not equipped with flotation devices…A few words with a local bar hostess and we found ourselves a bed ! A hotel down the road!! Ban Nong Khwai Tai (1200b-Songkhran!!)
Bar and food still on the go….this is alright then !! Not a common sight I don't think..2 Farangs on bikes and very thirsty…delayed check-in to test out the beer from the bar. Dinner was a laugh…Thanglish not having the slightest effect in getting 2 plates of dinner…sharing is good!.....Then desert….ahhhh the Russian veggie juice….day one and we have things under control…or so we think.
TJ meanwhile is bussing from Issarn and most concerned about our inability to keep to schedule. We are beyond such things…..and can't tell the time by now anyway!
Day 2-somwhere –Bkk (hoping)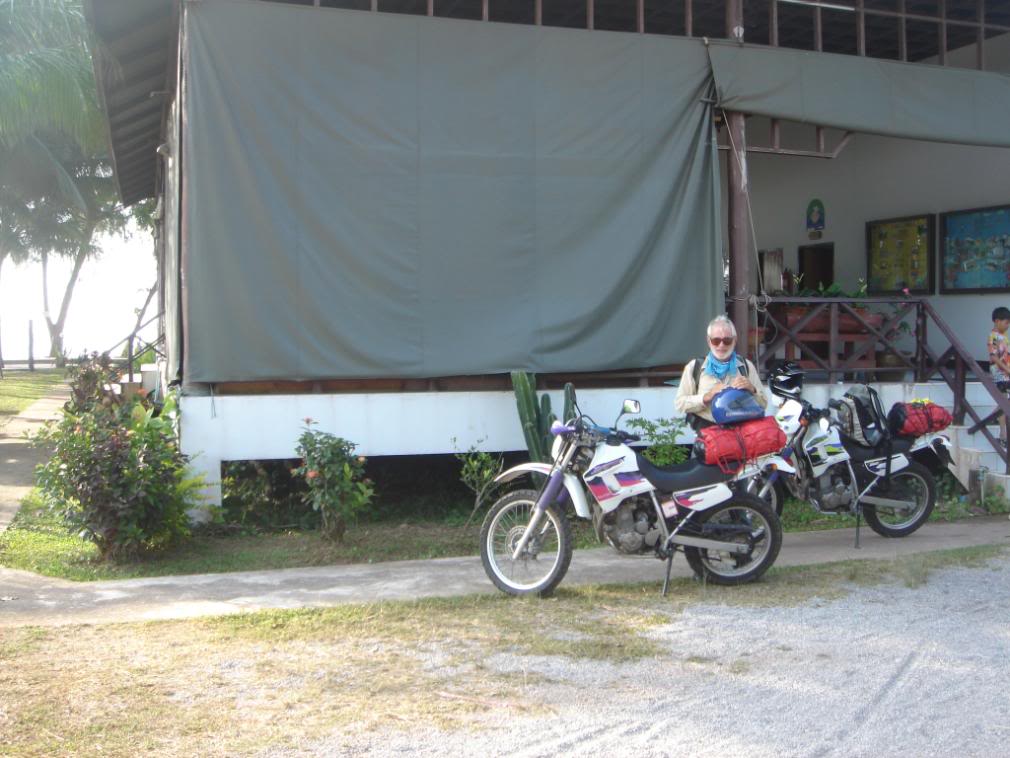 Early ,hung-over breakfast..and found we were right on the beach, no clue the night before. Decided we need to come back here and check it out, local expat said the beaches just north run for miles with no-one around..
Ok, we need to make Bkk to catch 1430 train to CNX- no worries.
Good early start; vaguely remember the road back up to H'way, then bashing to Bkk.
Missed the new H'way into Bkk, first trip! Kept following signs and were heading in right direction, TJ's claim no traffic lights for last 100km in Bkk not happening…must be on wrong road. Still heading into Bkk…time running out- go faster …good idea when lost and in heavy traffic! Getting closer….big storm ahead….stop at lights-going on theory all old roads into big towns usually lead to the station. The heavens opened ass we crossed the river in Bkk turned off our road….big mistake…drowned, lost and about15mins for train…Ahhh..Cop shop..they'll know . Very helpful members of Bkk constabulary gave a few different editions of directions….F&%k…Tuk Tuks were either having a no English day or just amusing themselves with bum directions.
Found it…screeching in under very serious glare of cops…found freight guy…need tickets first…ok…tickets in a flash…miracle…ahh…no freight space left….5 mins to train!!! F&#k,
[email protected]
$k, F&$k !!!
No problem…another train 1800….need to change tickets..yeah right…another quick as a flash…Noel is now ticket guy for the rest of the trip!....bikes booked….receipt and requested amounts don't add up….beyond caring……now 3 hrs to kill and bikes to look after…and soaking wet….
No worries, leave right here we're told….really? Ok then time for a beer…. Noel having AFD….woos!
1730…go back to bikes all is well under the attentive care of porters eyeing large tip….great blokes…loaded bikes up into the freight car…wouldn't want to be doing this with big bikes…its quite a height.
All tied down and sleepers found….too easy…what was the panic about…should be in CNX 0710….really?
Train was good fun, very clean, expensive food and bevy but hey….All tucked by about 2100…bloody AFD's….
Daylight…where's Cnx then? About 2 hrs…..2 hrs later…..about 2 hrs…Ok must be the new time zone…North Thailand Time!
Got in a mere 3 hrs late…positively on time!
The cameras only came out once we hit Chang Mai- more to follow.