myself and my accomplice set off for a razz around doi suttehp at about 3 pm, we left from behind huay tung tao and made our way upto the hmong village that coincides with various forks in the road, the way upto here is extremely dusty making the corners very slidy combined with all the ruts in the road, however if you are a competent dirt rider unlike myself then i guess they were ideal conditions!
uopn reaching the village we asked if there was a way down to doi sutthep main road other than the normal route straight up the nature trail to the village at doi pui. the villagers were off split opinion as they said the way was blocked by numerous trees felled across the path, i told them that we were strong westerners and could lift houses if we needed to and they said yep no worries for you giants lifting a xr would be no problem.
i once again asked them if there was definiely a connecting path dwon to the main rtoad and if it was accessible by motorbike this time a resounding yes sent us on our way.
as we set off on this track it became bery clear that it had hardly been used as there were pine needles strewn all over the path and there were no obvious motrobike tracks, however we plodded along with the odd fall from grace, we had to stop maybe 5or 6 times to lift our bikes over trees that were blocking the way, they were pretty high as we could not wheelie over them as i found out much to the discomfort of my nuts. the cr125 2 -smoker was easy to lift over but by the time we had to lift the xr 250 the 5 th time we were beginning to wonder how much more of this is there.. some instances we could ride of the path and go around the trees..
after around 45 mins of riding, we came to a sign that said montathan waterfall 2 kms,
i know tyhat this waterfall is next to the main road so i was quick to demand that we follow the path dwon to the waterfall and bingo bango we would be at the main road job done. however this devil of a path turned out to be no more than a pretty bloody difficult footpath, we went down about 600-700 meters down very steep single paths and at times had to drive through the undergrowth as the main path was too steep.....
we soon realised that a slight mistake had been made and that this path was defintiely not for motorbikes, i dont think even a bicycle would ahve made it as there were sheer climbs and desents down boulders and parts of the waterfall..haha we were ina spot of bother here as the time now was abotu 5.30 and we has to turn the bikes around on a bad incline this proved abslutely exhausting as it required the bikes to be lifted and dragged up the path as we could ride up them, i found this out by looping the bike twice trying to get back up the hill....
to even turn ther bike around took us nigh on 20 mins, and with darkness coming in i knew there was no way we could get these bikes back up the 500meters we had just come down in time before dark came.
so we made the decision to leave the bikes in the jungle and walk down to the waterfall, we dumped them on the side of the path safe in the knowledge that even if someone found them there was no-way they would be able to get them out of the predicament we were in....so we walked what took about an hour down the waterfall path back down to the main road along, the rnagers that were just closing up were gobsmacked to see us appear from the jungle in full off road gear but hang on no bikes!!
thankfully my friend knows some thai navy seals from his time down in songklha, and he made a call to them and they hooked us up with the local navy seals that were luckily based in chiang mai airport at that time. so at 8 the following morning we got a lift back up to the waterfall entrance and began the climb back to our bikesm once we reached them with 4 navy seals on hand the task of lifting them the path wasnt so bad we were able to ride some parts but other parts were too steep and we had to lift them, unless it was barry BBQ and goliath i dont think that with just 2 people it would have been possible.
the path to the fork thats goes of the waterfalls is actually as very enjoyable ride being mostly single track with dense vegetation, howver upon reaching this fork i would turn back and ride back to the village just like we had to do...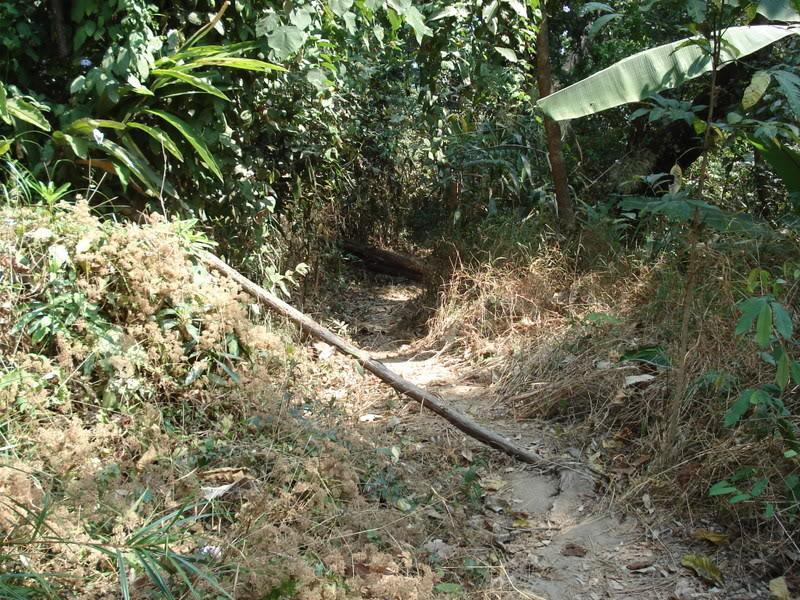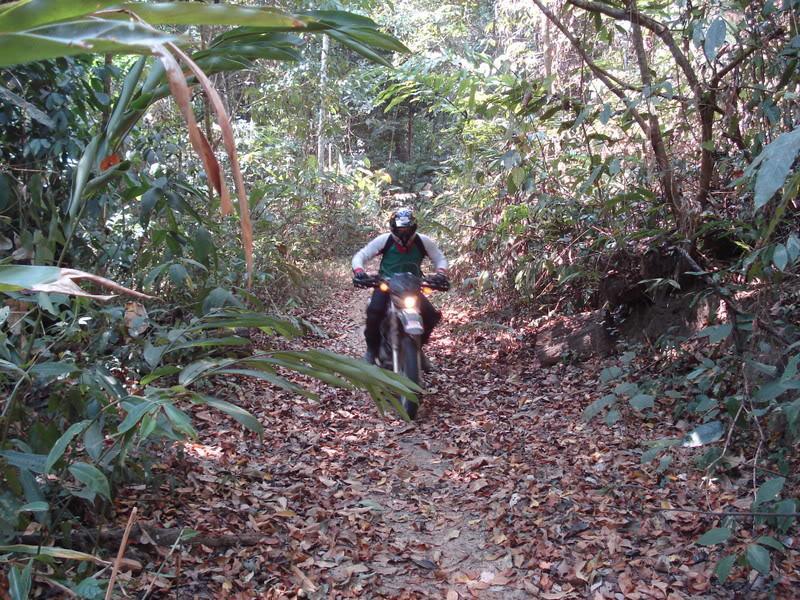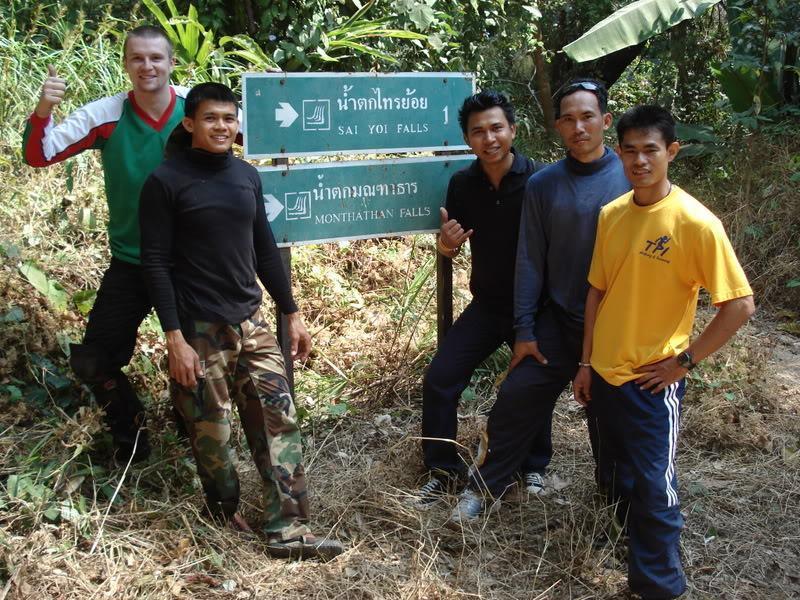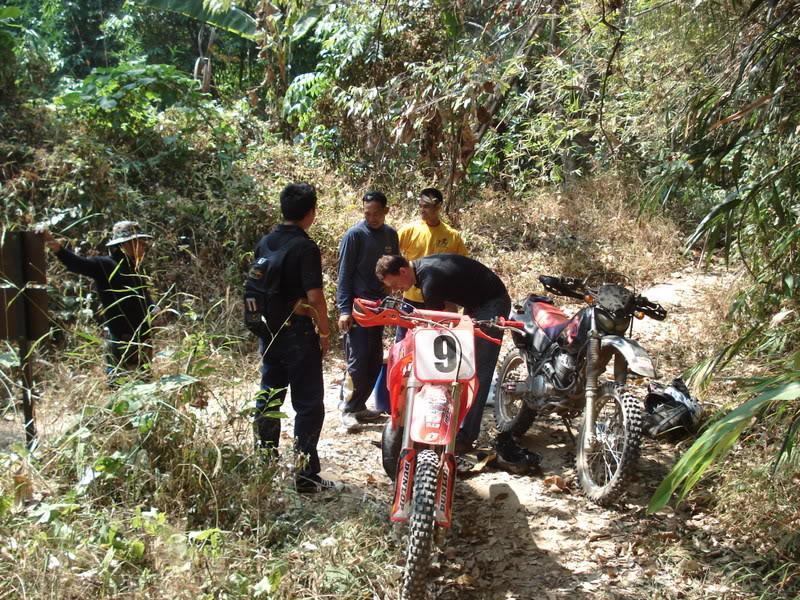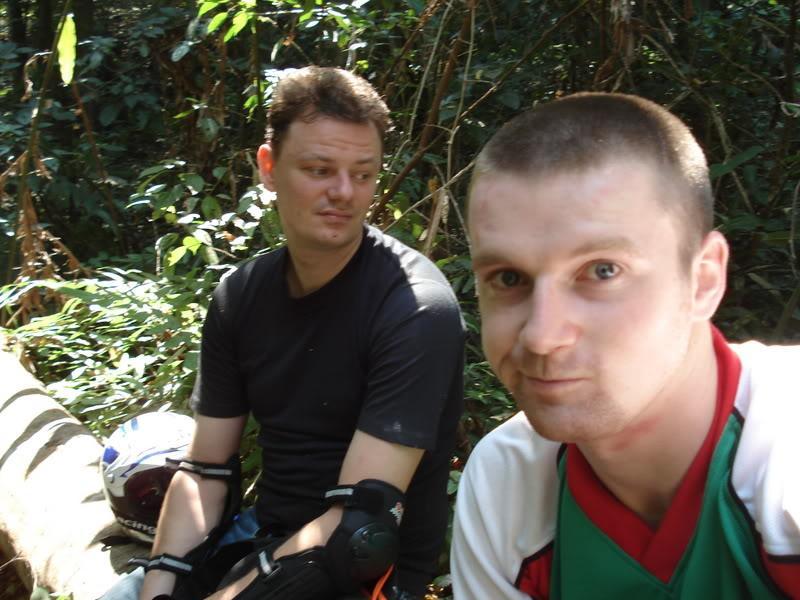 the seals refused any payment for helping out us pathetic foreigners who got stuck on the mountain so we arranged to meet them that evening and treat them to some whisky as without their help we would never have been able to get those bikes out...
have since spoken with some thai riders who upon seeing the photos recognised them and they too had to turn around and lift the bikes out however they were a 6 strong riding group and so didnt have to go crying to the seals to get them out!