This is going to be a bit of a weird/vague post as I was elected to do the initial write up but have no idea where the dirt route either started or ended! Hopefully one or more of my riding buds will chip in with names, GPS refs and/or Google Earth overlays.
OK, so last tuesday (12/12) myself, Silverhawk, BarryBBQ and Dr.G met up for a hearty breakfast at the X-centre and formulated a plan(?) to visit a temple high in the mountains and then do a dirt track which would take us back into the Mae Sa valley. Weather was glorious sunshine and about 30 degrees.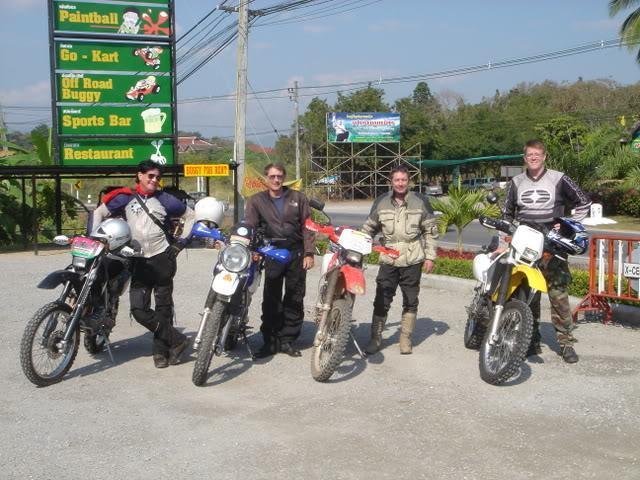 The motley crew from L to R: Dr.G, Silverhawk, Pikey & BarryBBQ.
We backtracked to the 107 and took a left for about 1km to the village of Muang Pha where we forked off left. This turn is easy to miss (right Dave? [
]) and is signposted "Prem International School" and "Buffalo Training Camp". Further along the road there is also a Buddha Footprint 15km sign signifying the temple which was our ultimate destination and these Buddha footprint signs were to crop up at various points along the route, making navigation easy (at this point at least!).
The road meanders through typical N. Thai countryside and after about 4km (my guess) Silverhawk led us to a temple he had visited previously to show us the murals on the walls which depict the building of the place. The murals were both fascinating and humourous, with one scene depicting the villagers at a party, swigging lao-lao and puking up! Unfortunately, we couldn't take pics of the murals as they are behind glass but go and check it out for yourself. The name of the temple is Wat Nong Kai and it looks like this: A mysterious thing happened whilst visiting, 2 GT-Riders were victims of a brief alien abduction but were soon returned safely, claiming not to remember anything but both complaining of soreness of the arse!
Onward and upwards, following the Buddha footprint signs. The road is concrete slab and is in good condition and is a nice ride in itself. After about 9km you hit the village of Baan Pa Tung and here you again follow the Buddha signs (left) and are faced with the "unnamed temple". Apparently this is a pretty recent construction and is huge and very ornate: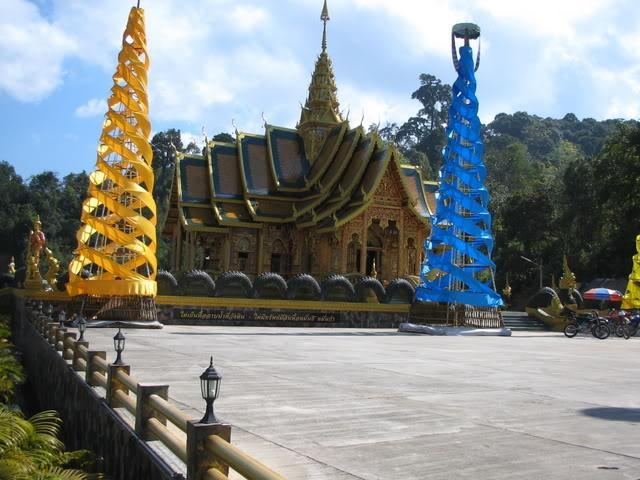 So, it was here that we should find dirt. In fact, it was here that the "navigational difficulties" started. Silverhawk prodded BarryBBQ and said, OK, over to you, go find the dirt, should be straight ahead. Barry ripped off with myself in hot pursuit as, despite my offroad inability, I'd joshed him the day before about "roosting" him. So, 2nd and 3rd gear turns through forest with Barry easily getting the better of me and after only about 5 minutes, we emerge into a clearing with no further track. Doh! Dave and Dr.G pull up and the consensus is to go back to the village and ask someone. On emerging from the forest, we met a nice Thai lady who indicated a track to the left. We went about 20 yards and the track forked. Barry took the left to no avail and i took the right under a kind of car port structure, and ended up in somebody's back garden....
Sooo, back to the village and we get conflicting info. As mentioned by others in threads, Thai people generally don't like to show that they don't know something, so rather than just say "sorry chaps, I don't know" they will point in an ambiguous direction! Eventually, a monk who spoke reasonable English got involved and we showed him our map and pointed to our sought after trail to which he said, "no no, cannot go with motorbike". Deflation all around - looked like we were going to have to backtrack all the way to the Mae Sa valley and play on Doi Suthep. Then another monk appears, little guy who didn't speak English but reckoned motorbikes could go along the trail. He tried to explain how to get to the start of the trail, but despite both Barry & Dave speaking reasonable Thai (Dr.G had sought out some shade and my Thai is veery basic), we couldn't grasp the directions. No probs, the little monk would show us he said and with that, hoisted his robes and hopped on the back of Barry's DRz400 - brilliant!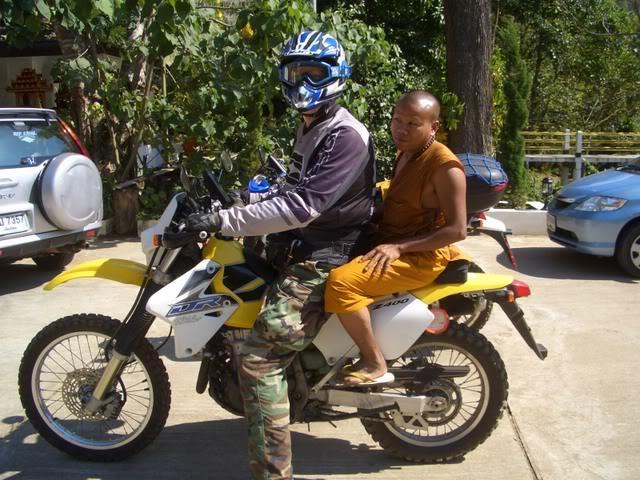 So, where did we go? Up the road with the temple on our left for 500m or so, then looking left there is the trail I mentioned earlier with the car port structure. We went through the car port, theough the "back garden" and into the jungle via a very tight trail that it's doubtful we would have picked up without the monk's directions.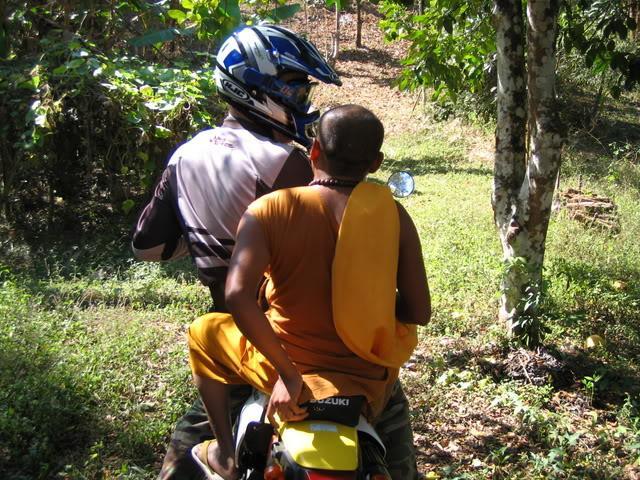 After about 3km, we stopped and dismounted and the friendly little monk proceeded to draw directions in the dirt with a stick. Much nodding from GT-Riders but secret thoughts of "erm, not sure where...." were going through all our heads. When he was ready to leave, the monk refused the offer of a lift back, insisting he'd walk. As a parting gesture, as well as a bottle of water, Dr.G gave him a couple of stickers for the temple - one of the soon to be famous "Bull Dust Bob Mekong river jump" and the other of the already famous "Motorcycle Sexpedition" which Dr.G is continually and enthusiastically researching [
]
We were on our own now and the terrain, at least for this offroad idiot, was "testing" to say the least. Very narrow (about 2m in places), very tight and mostly downhill (remember, we'd ridden UP 15km to the temple on concrete). It was here that I was to sample my first taste of jungle for the day. Watching Silverhawk slither rather ungracefully round a very sharp, very steep off camber switchback, (but keep the bike upright), I thought I'd try an "easier" line. Result?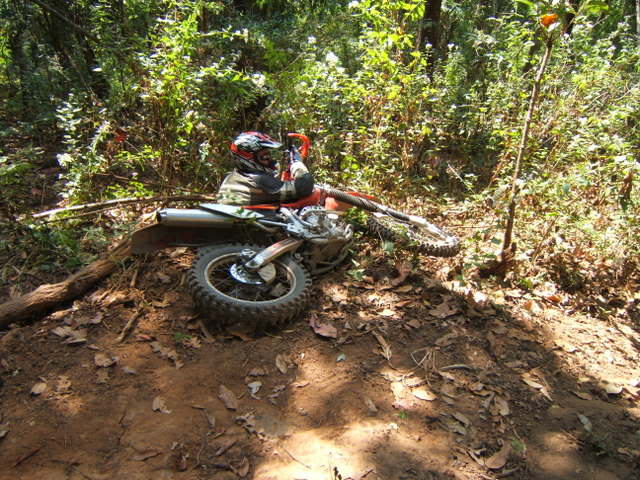 Thanks a lot to Dr.G for coming to my aid and helping me get the bike upright again but true to GT Rider form, the stuff up first had to be caught on camera for future ridicule[:I]. My XR is kick only and refused to start so I had to walk it down the trail a ways before restarting and then crashing again through incompetence on steep downhills. Meanwhile, Barry was loving it, voicing the opinion that it was "just like woods riding in Michigan, but with bamboo!" Turns out it was a fecking mountainbike trail and that I at least had should have listened to monk #1 and not gone there - talk about out of my depth! Big thanks to Dr.G for hanging behind me ensuring that I got down OK (or was it just to be there with the camera to catch Pikey firing himself into the scenery???).
I'll leave the rest to the other guys as I've waffled on enough and have no idea of the length of the trail or where we popped out onto tarmac again. Thanks guys for showing me where NOT to ride and as always, thanks for the support and the laughs [
]
Cheers,
Pikey
[:I]