Dec 9, 2008
1,070
829
113
Firstly headed up to Doi Angkang on the steep main road 1249 to the checkpoint intersection with the 1340.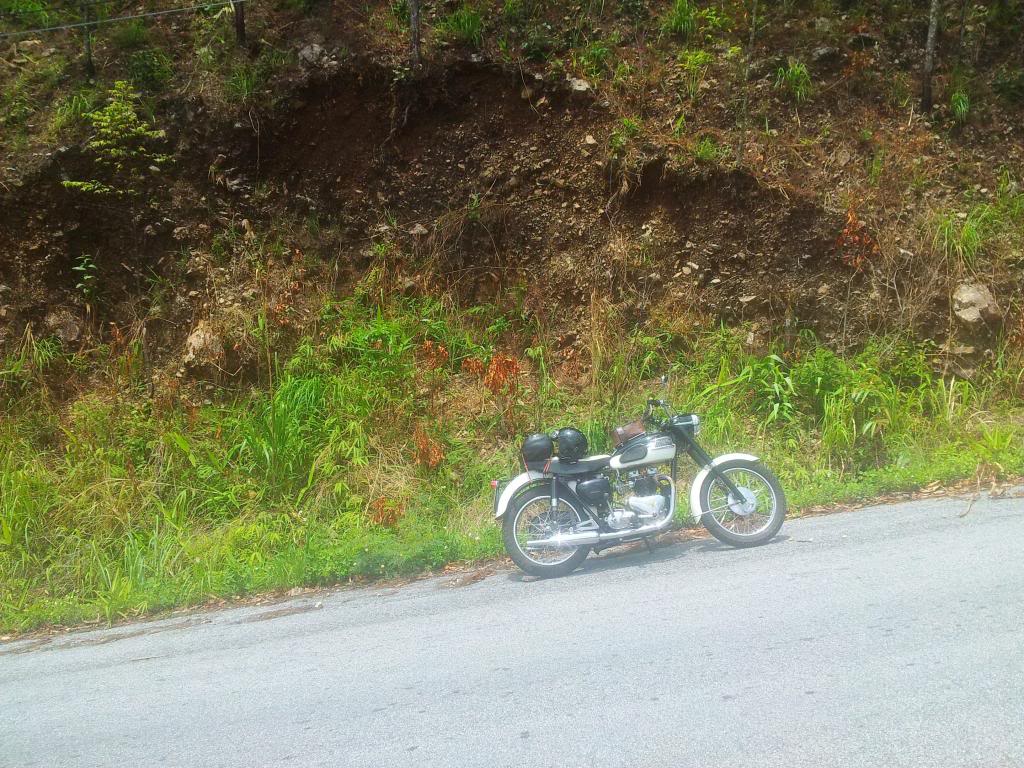 But about where it says "Caution: Very Steep" on the GTR map, the bike stopped. The old girl decided it was just too damn hot and needed a rest. The exhausts were very blue and smoke was coming off the engine.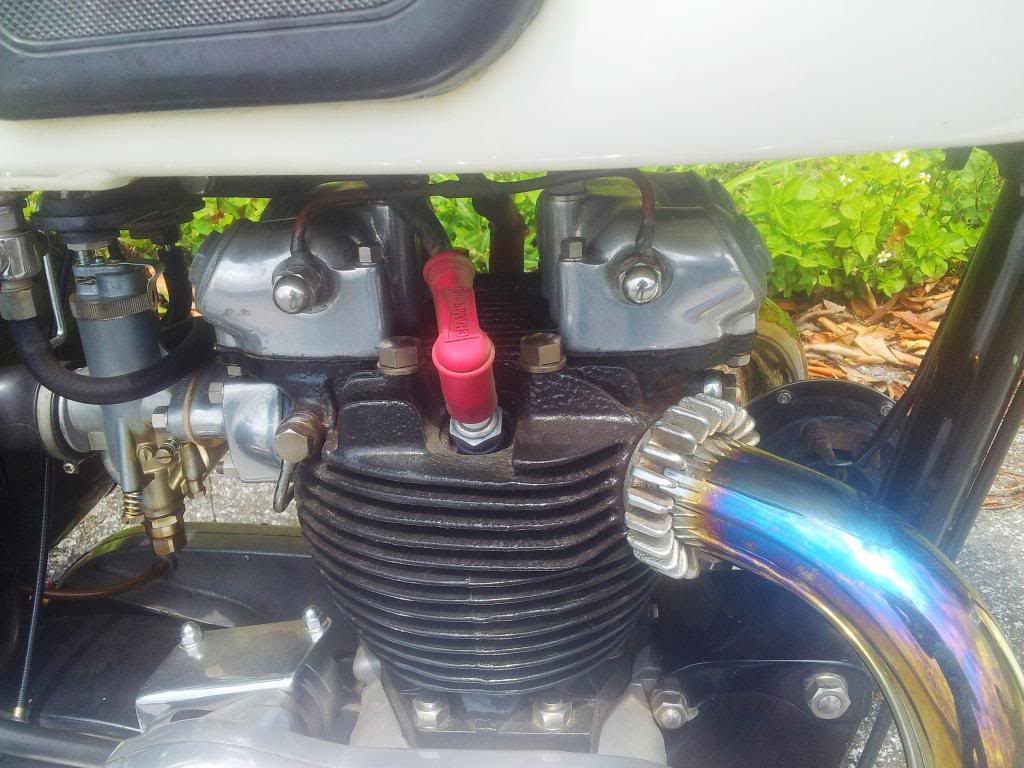 After a 10 minute rest, she was good to go again to the checkpoint at the top.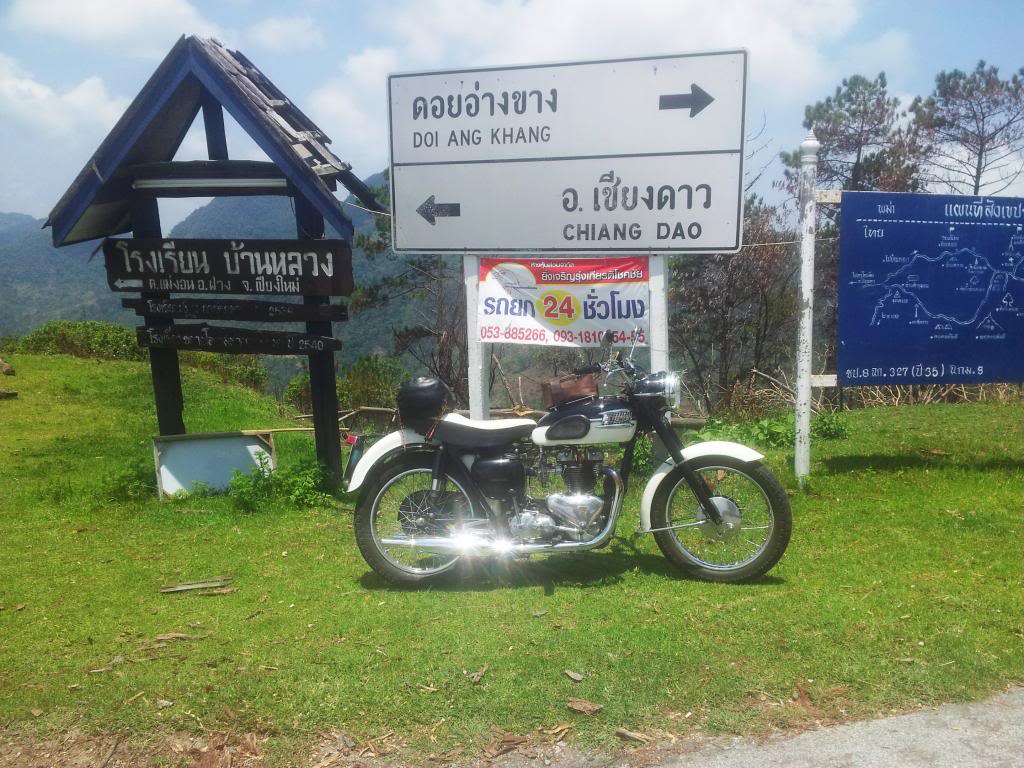 Headed down the lovely 1340 and stopped for a look around in Tham Ngop.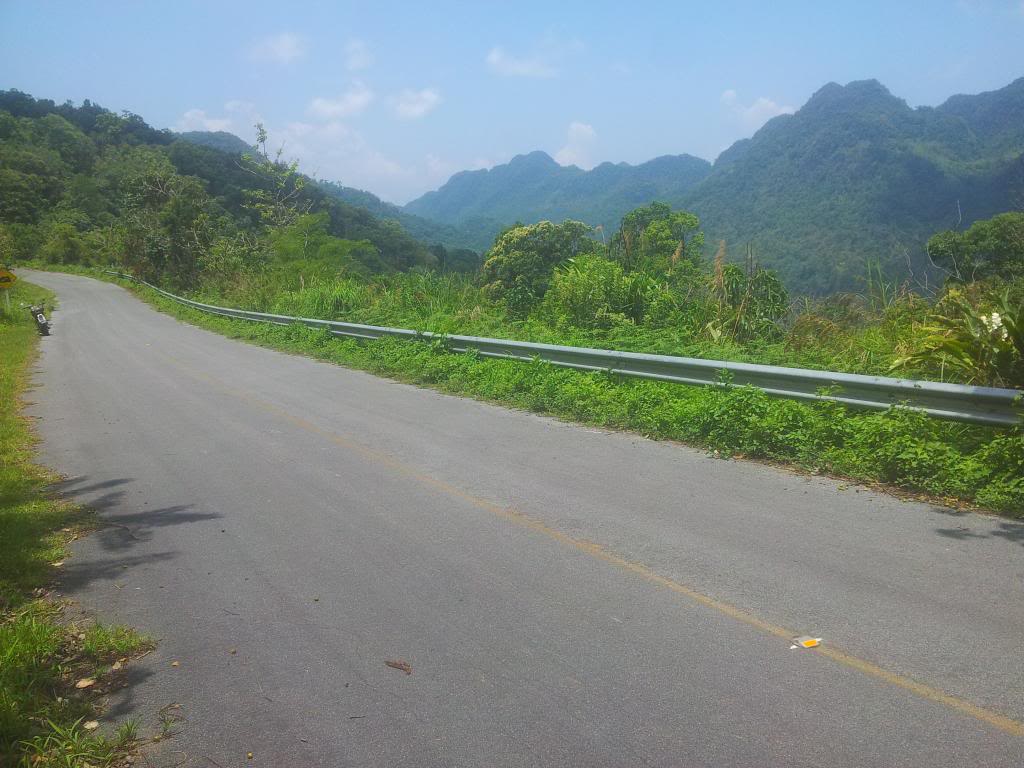 Rod Page has posted info about Tham Ngop. General Li's KMT army was based here in the 60's through the 80's. The General's house which is a museum, was closed till November, but I met his daughter and had a quick chat. She runs the place and the restaurant on the old parade ground.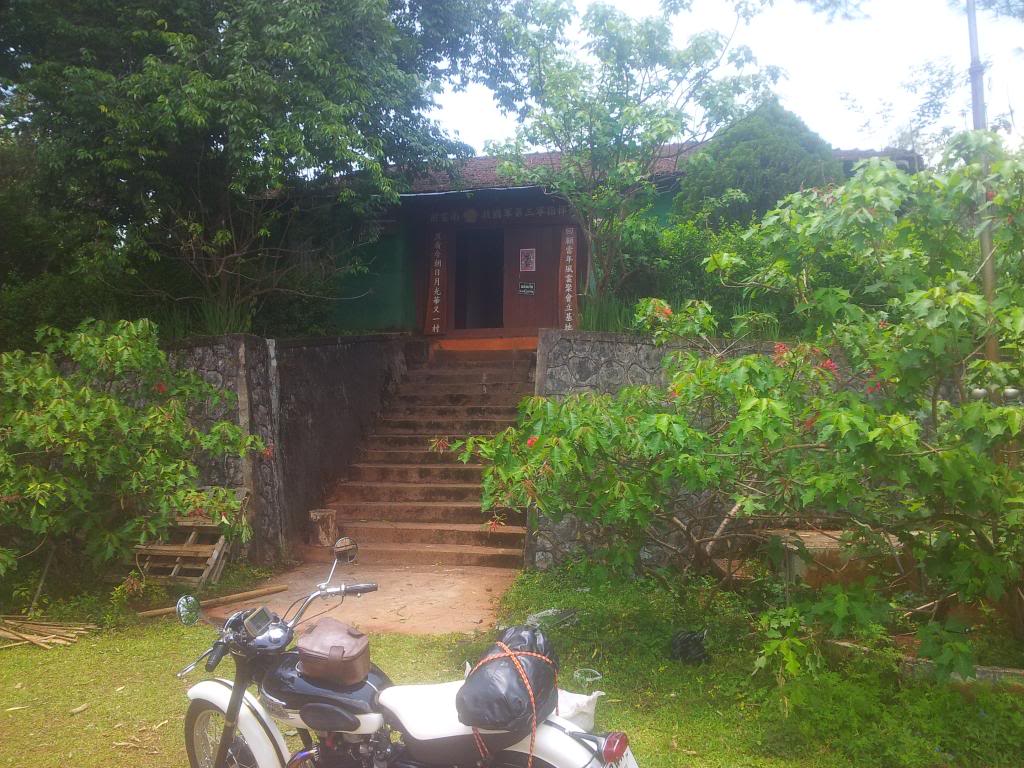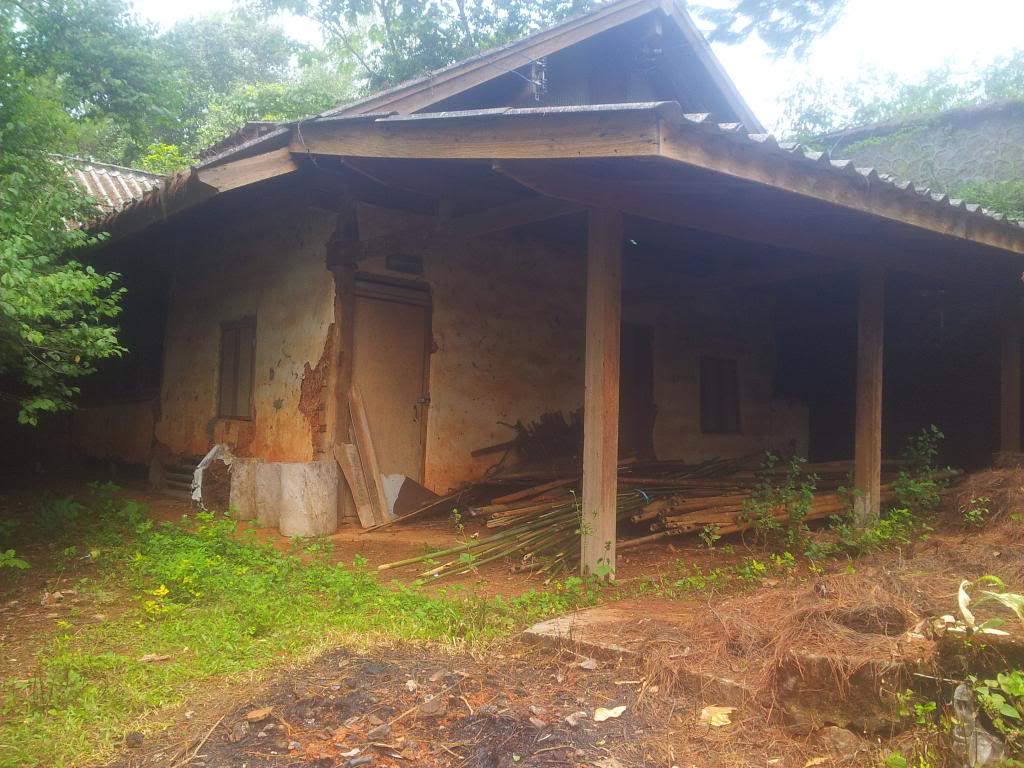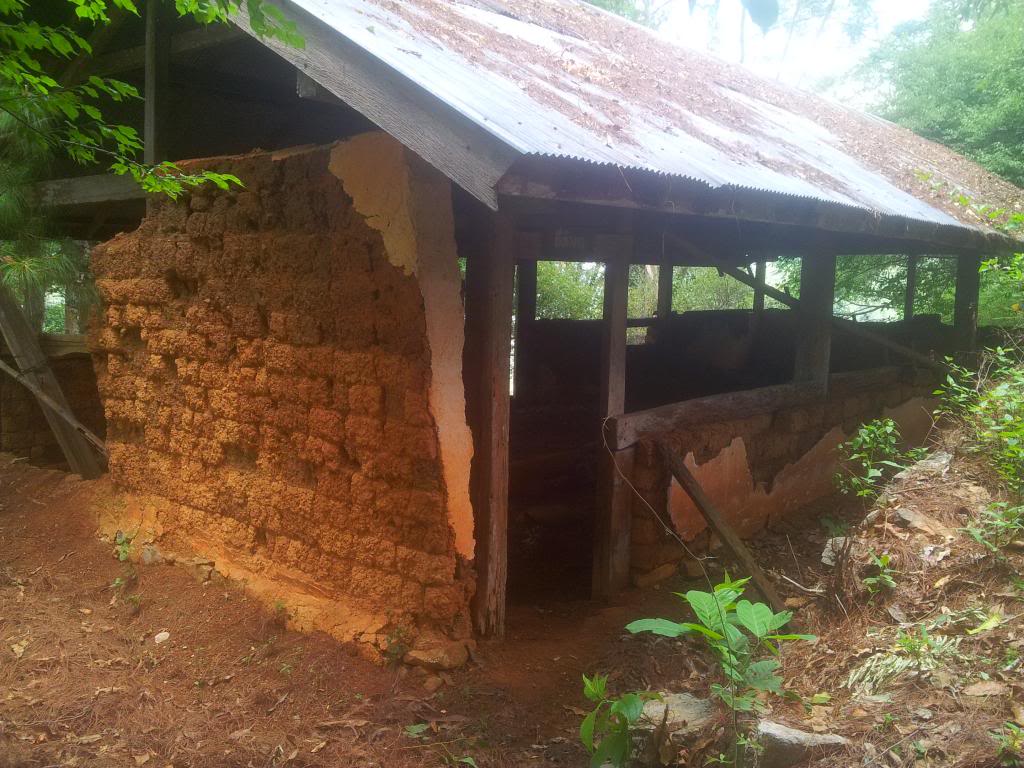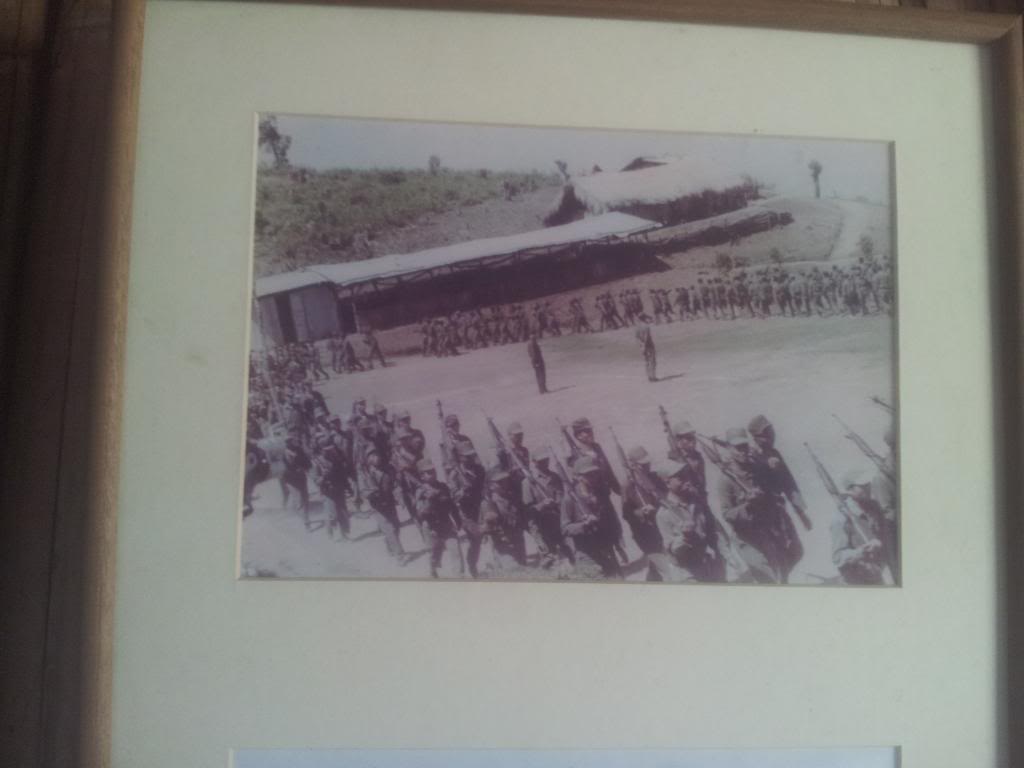 She also set up the website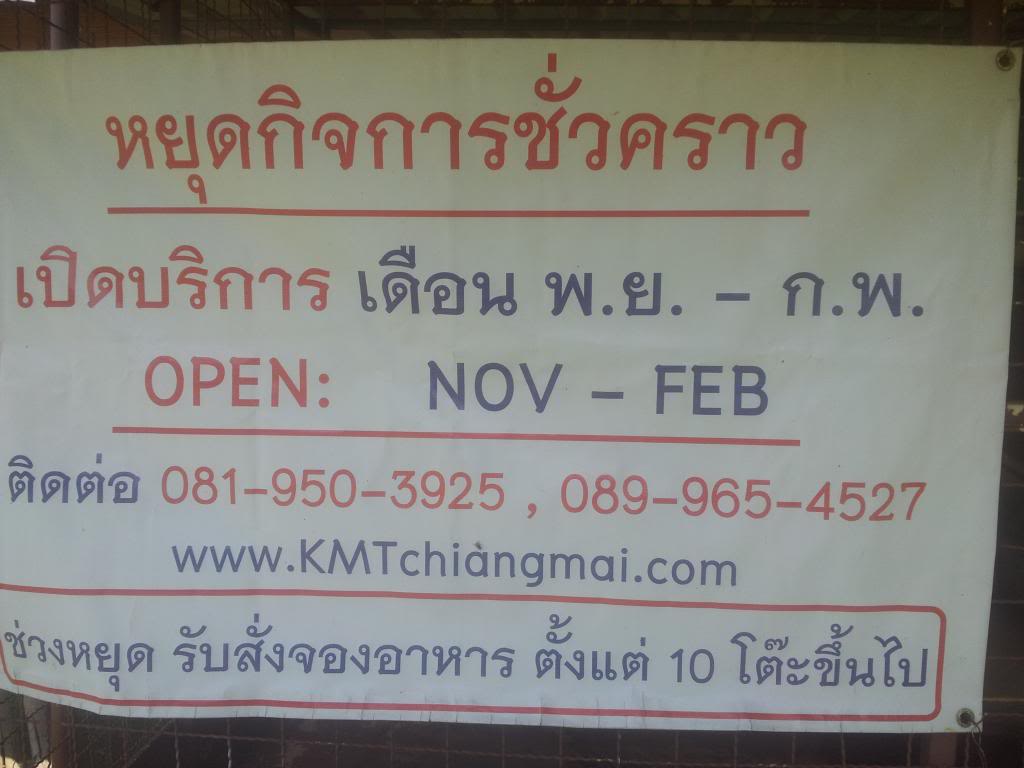 The general's tomb is an impressive structure in Ban Yang, between Sinchai and Chai Prakarn.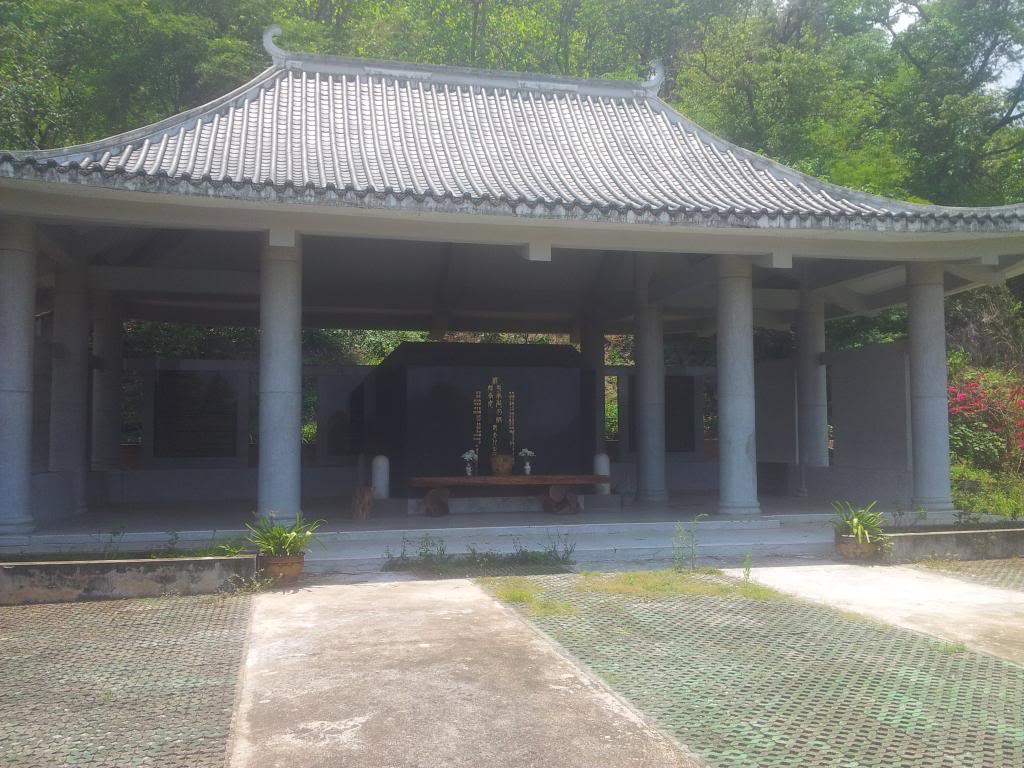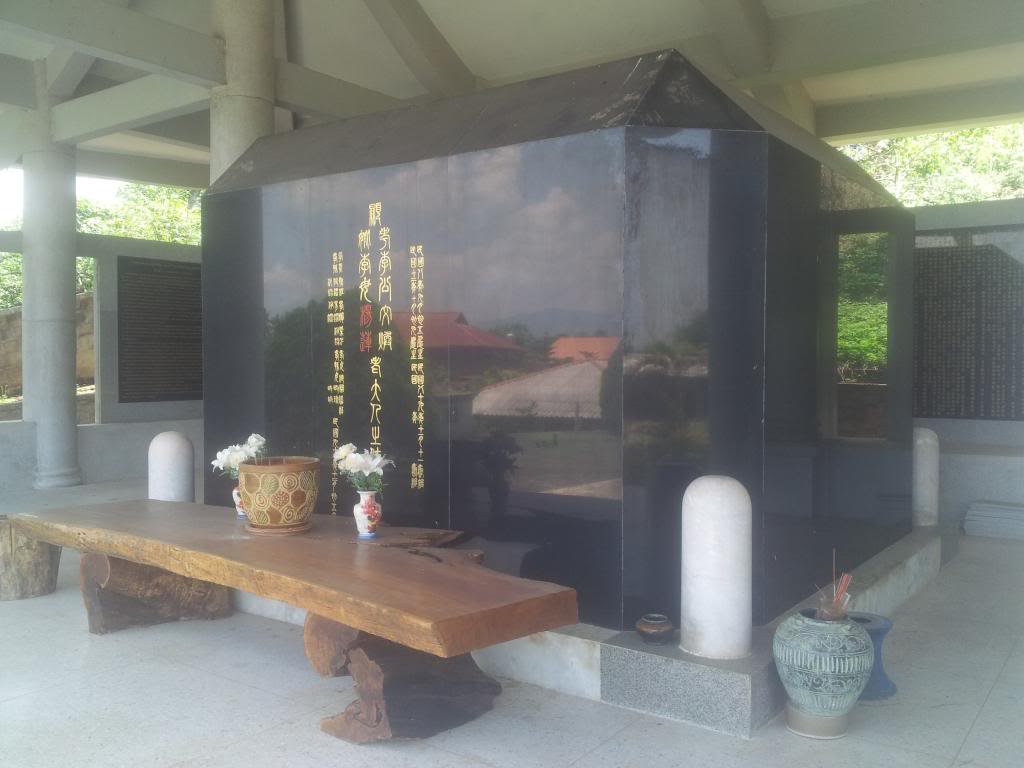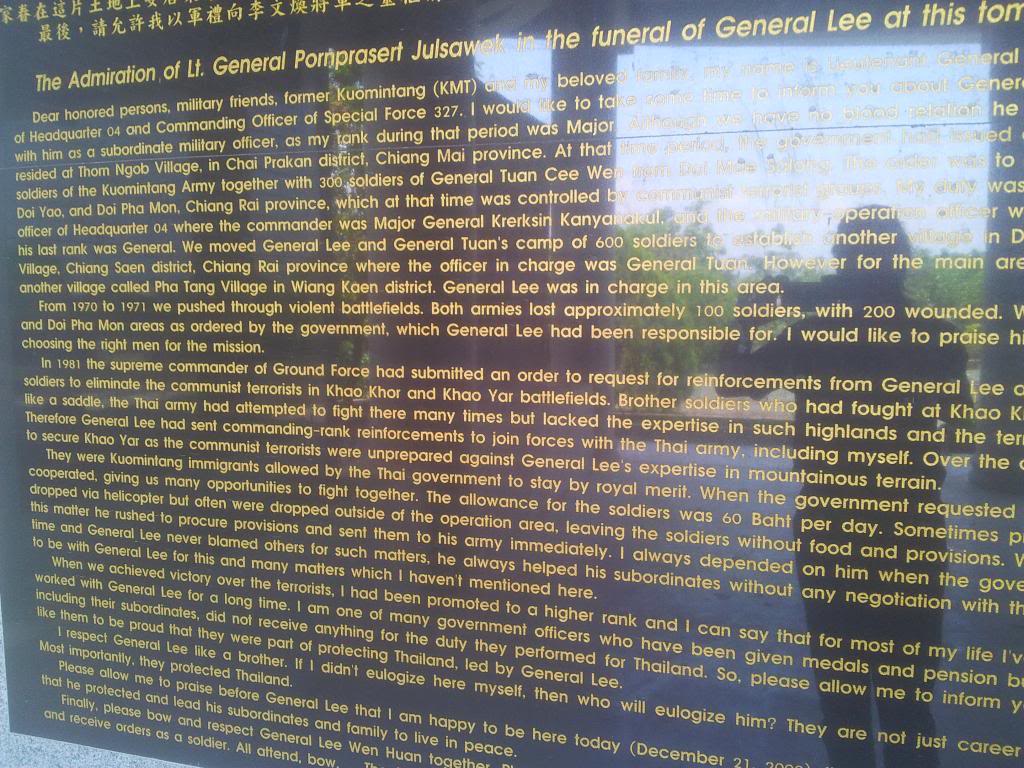 Then headed west across to Arunothai and round to Wiang Haeng. Stayed at the Bahn Suan Farm Resort, 400 baht.
Next morning, up through Piang Luang to the Lak Taeng Pass, where Moto-Rex posted about. A busy place, back in the 60's & 70's when the KMT and Khun Sa were both using this natural pass through the mountains.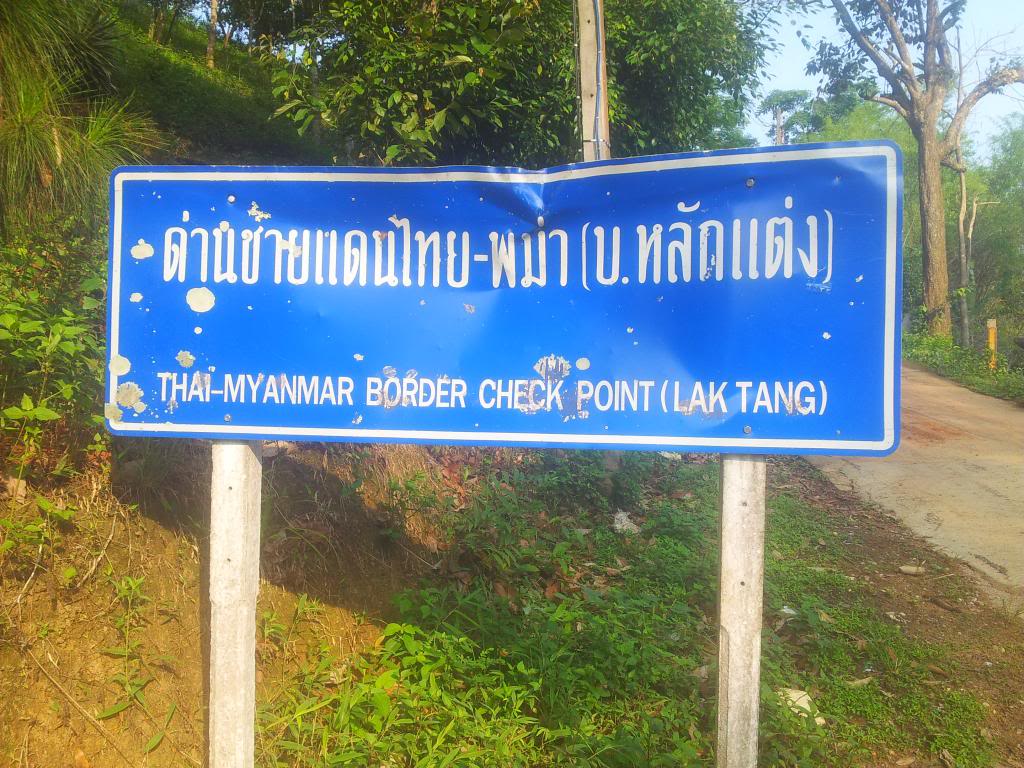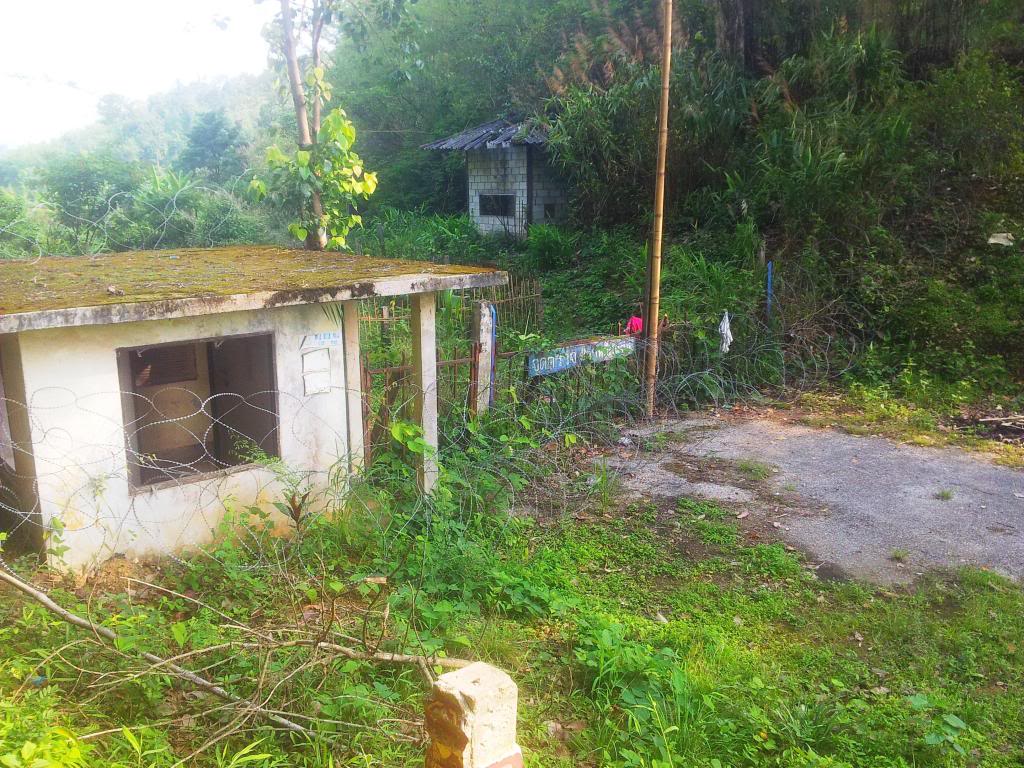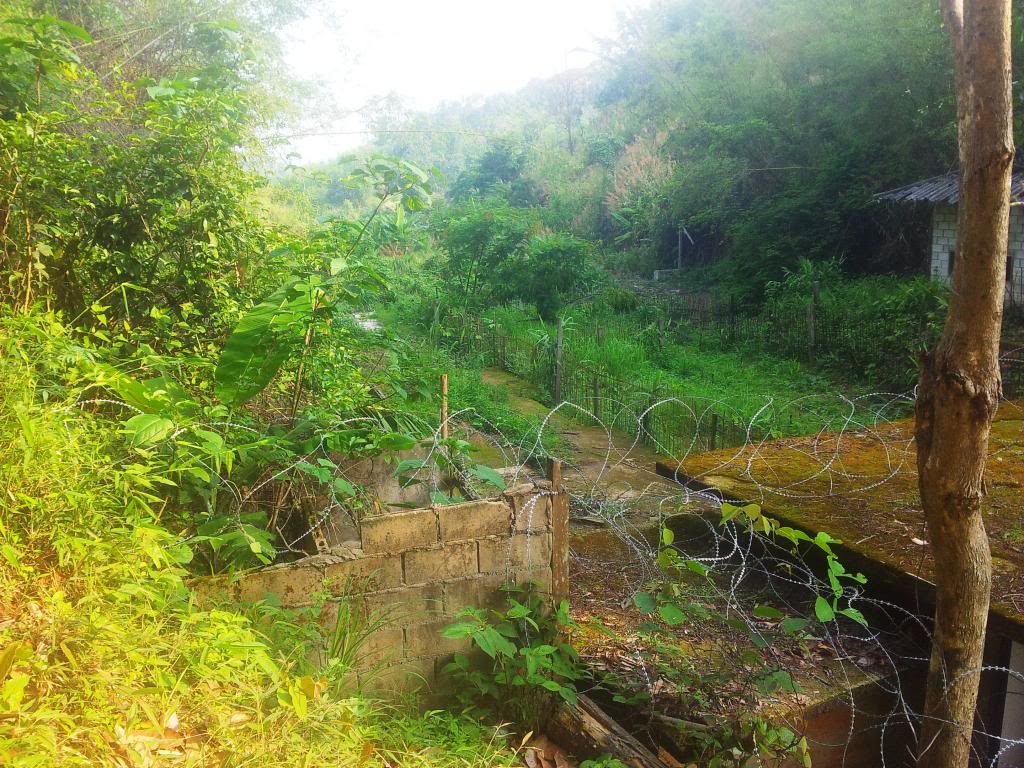 Some fantastic photos in a little gallery nearby, of times past in the Shan State. Some of these photos are also in Khun Sa's museum in Thoed Thai.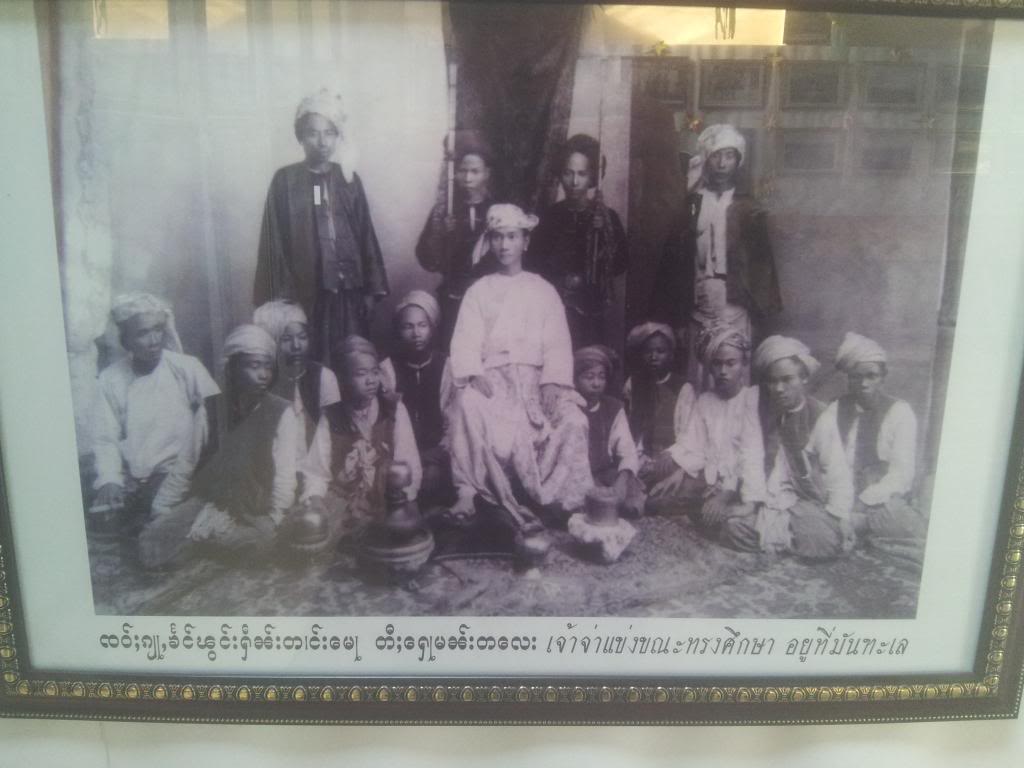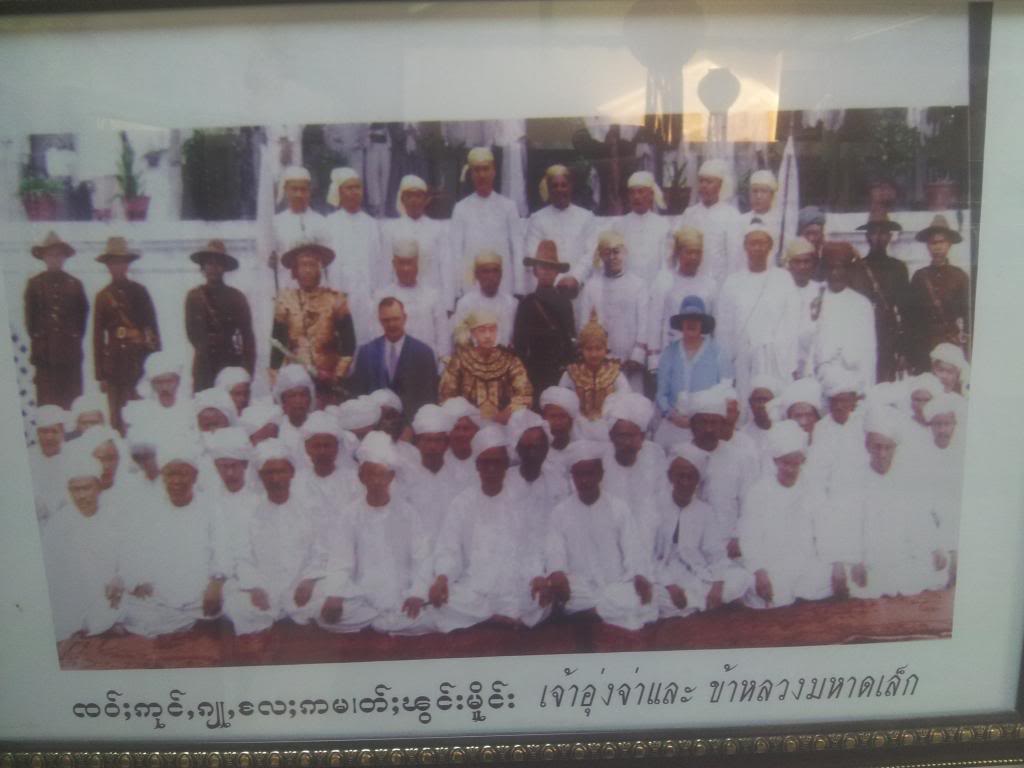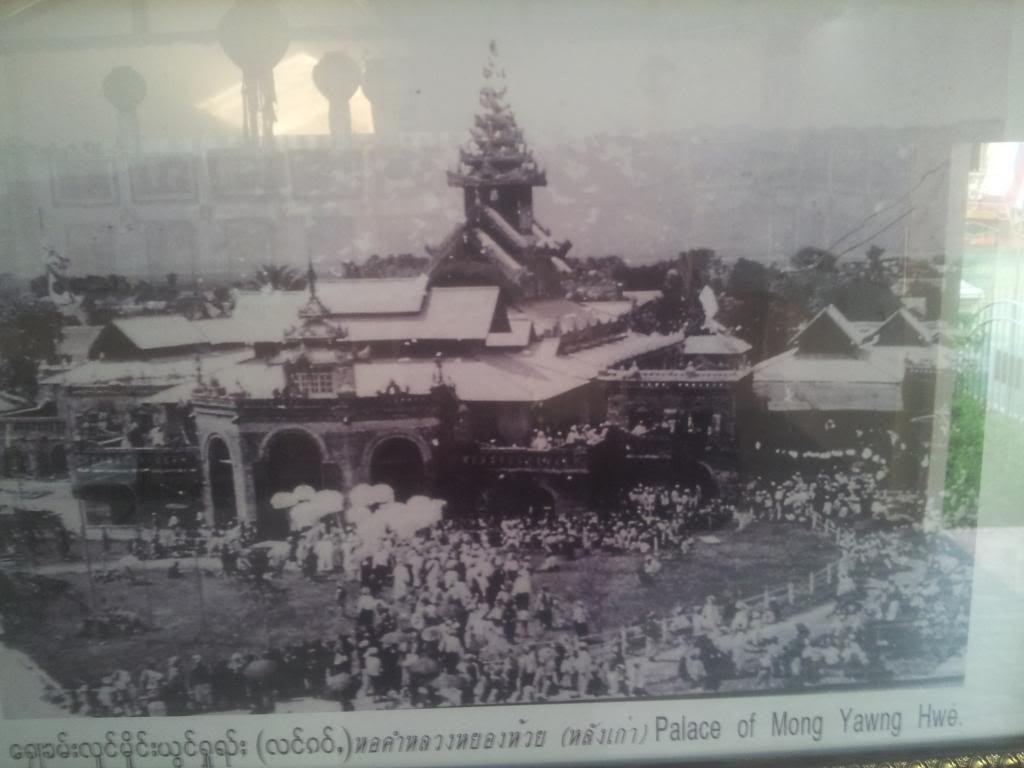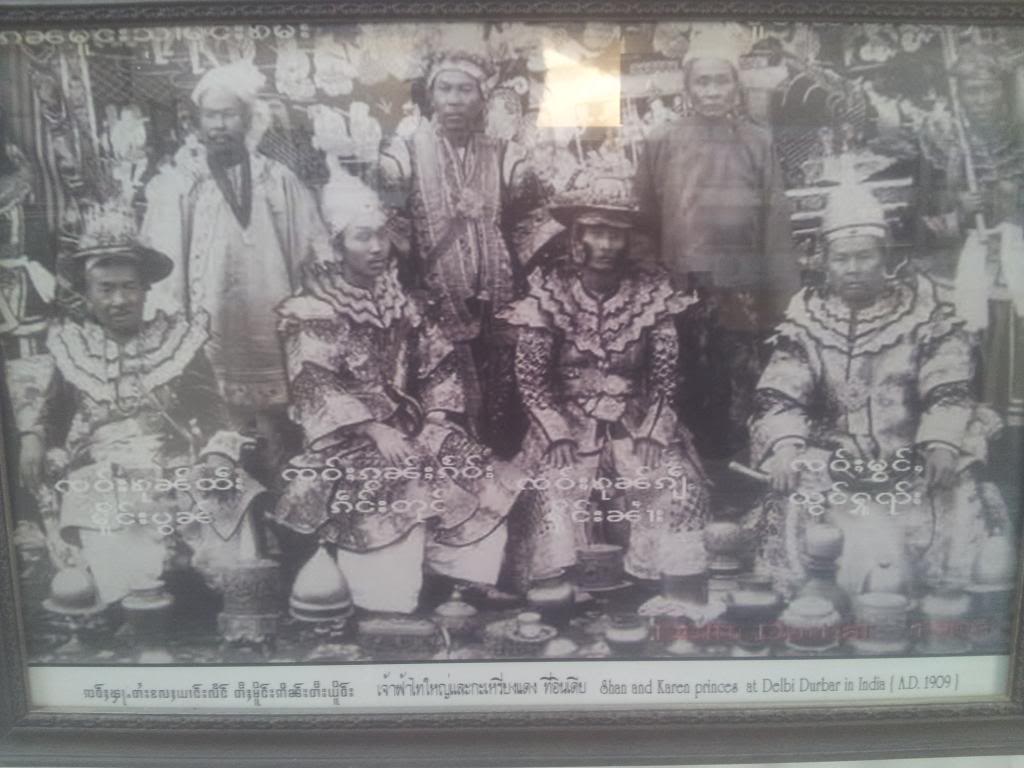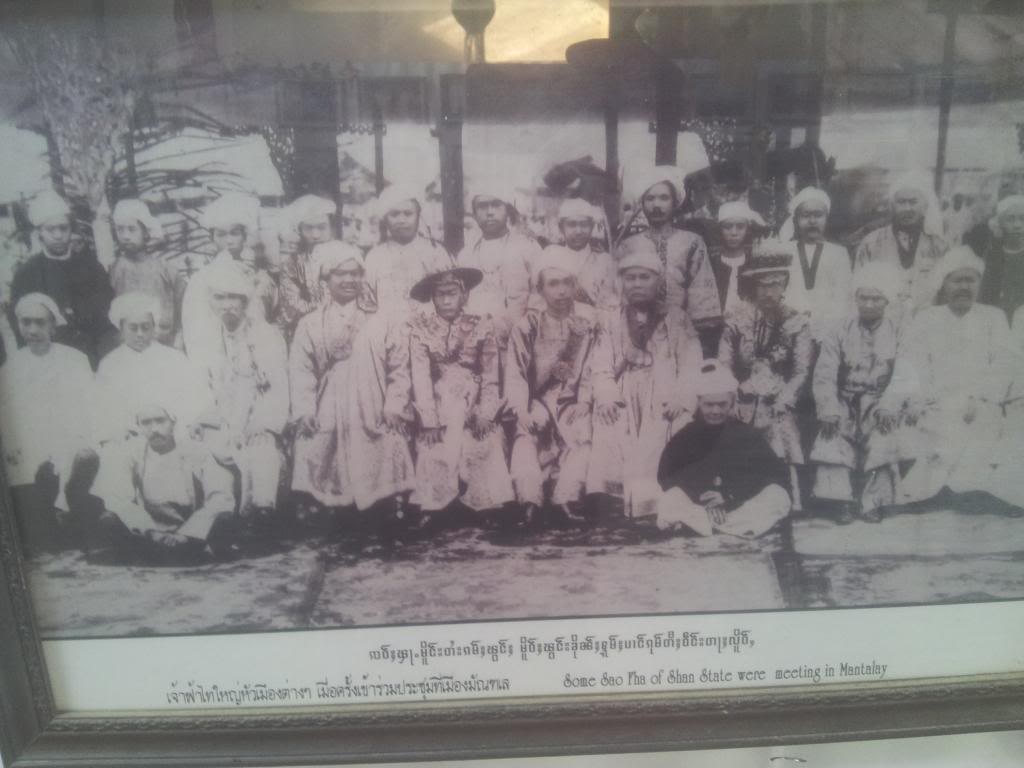 This is a better place to stay at the Bahn Suan Chomview resort, in Piang Luang.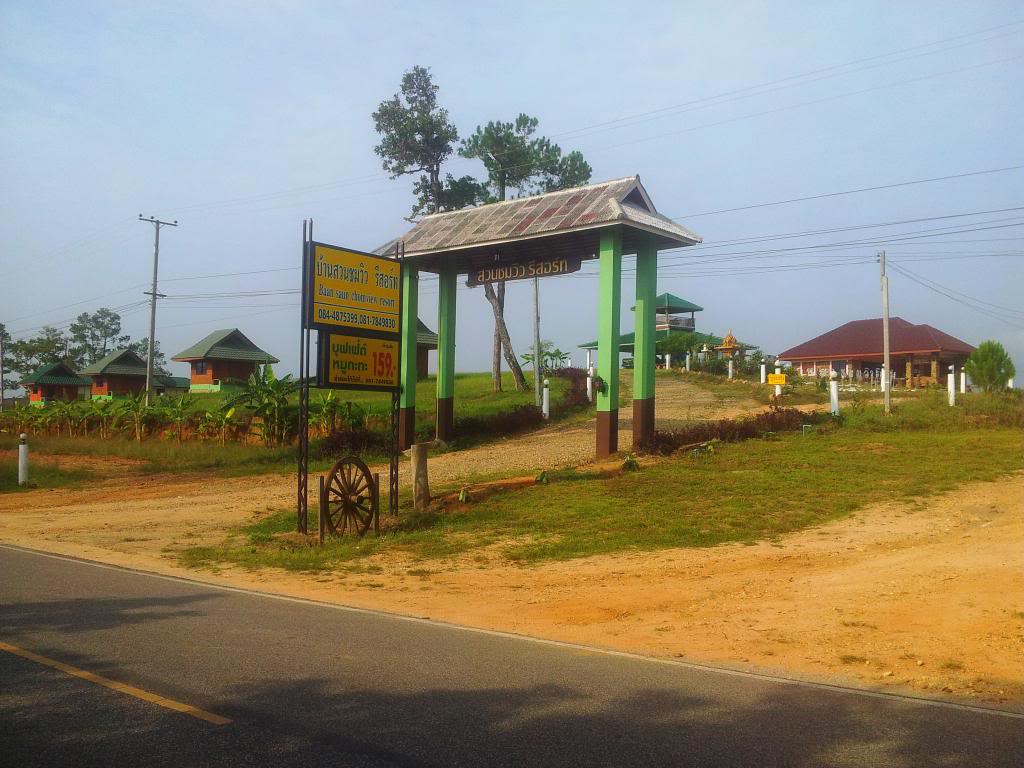 Then headed back to the 107. Doi Chiang Dao was looking wonderful.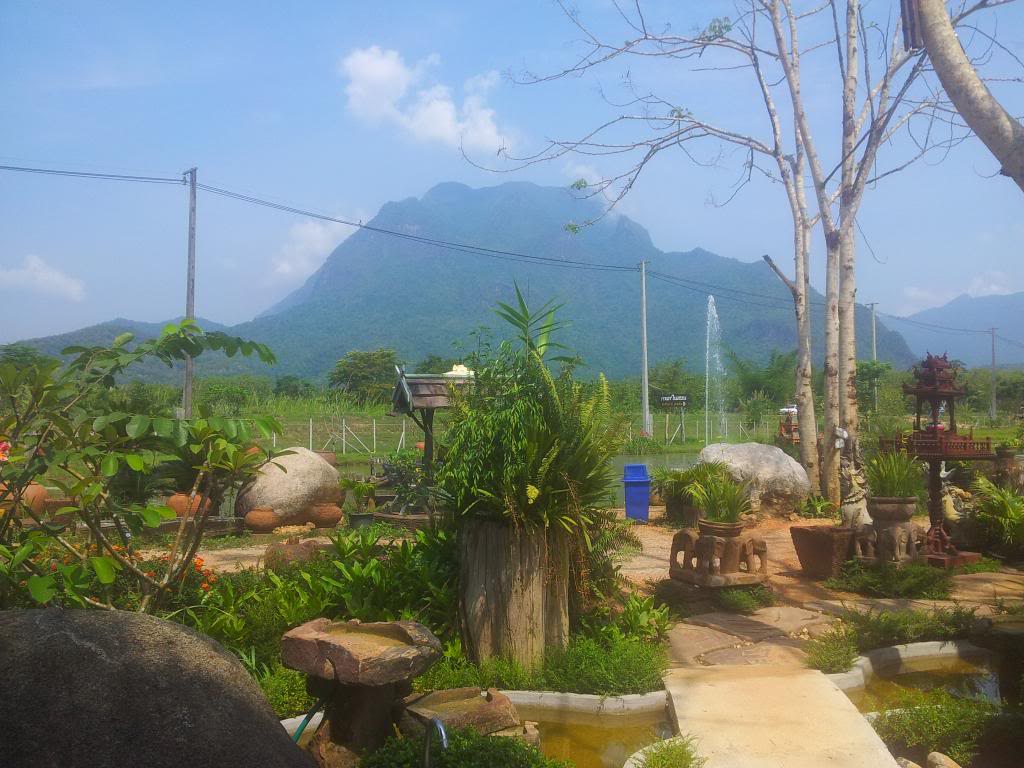 The loop was fun as usual. I didn't bother stopping in Pai, don't like the place, but continued on to Mae Hong Son. The Piya Guesthouse is a great place so I stayed a couple of nights, down by the lake.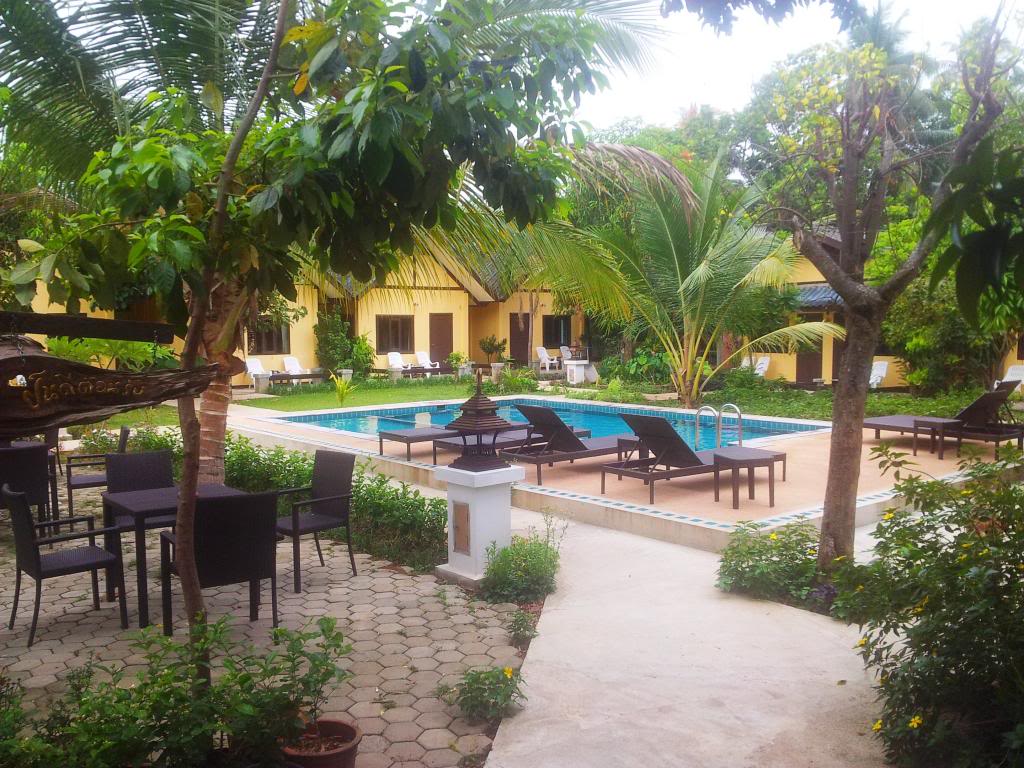 A short walk into town and you can have some great food at Herbert's Pizza Primavera. A "Must Visit" when in Mae Hong Son. Lovely pizza's and other great Italian dishes with home grown salads. They do a fantastic selection of breakfast dishes too. A level above the Salween River restaurant.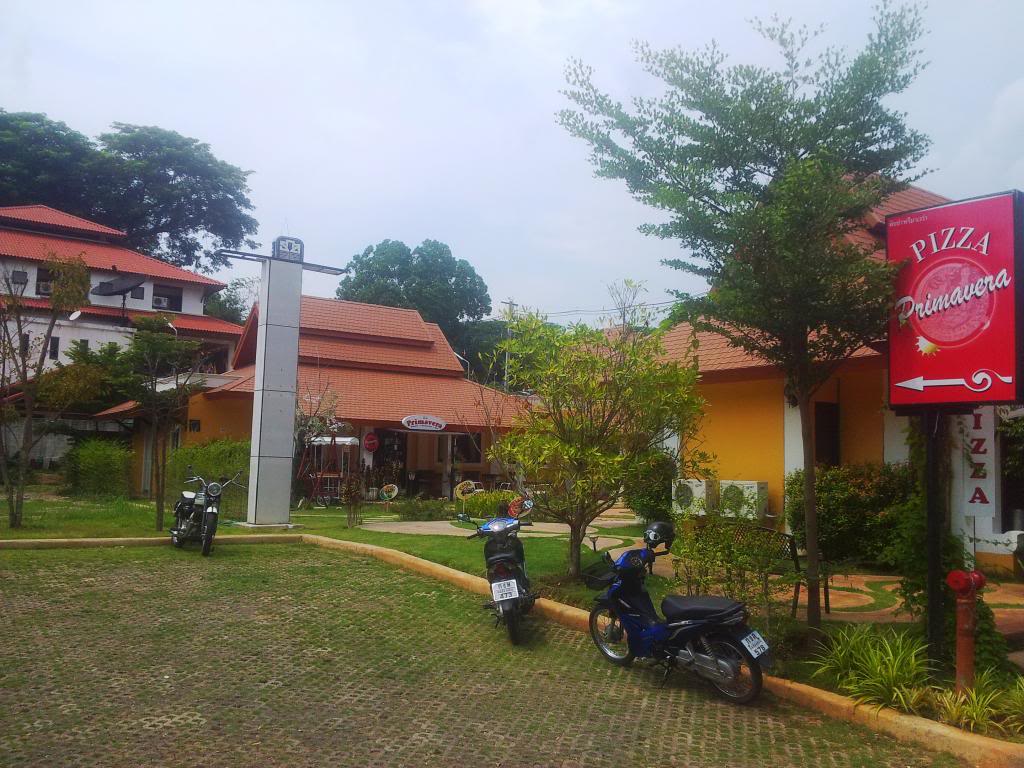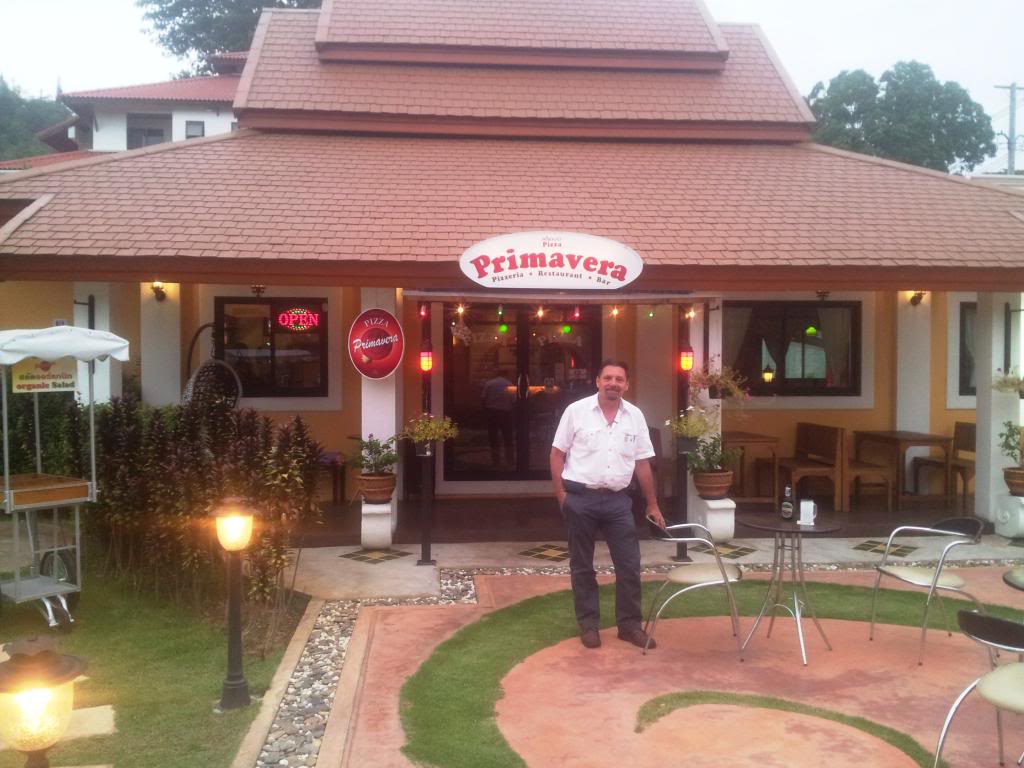 The next day, Herbert and I went for a ride up north but instead of going to the touristy village at Rak Thai, we turned off west and went to Pang Ung. This is a lovely quiet spot. A bird watching hide in the foreground and the lakes are dried up at this time of year.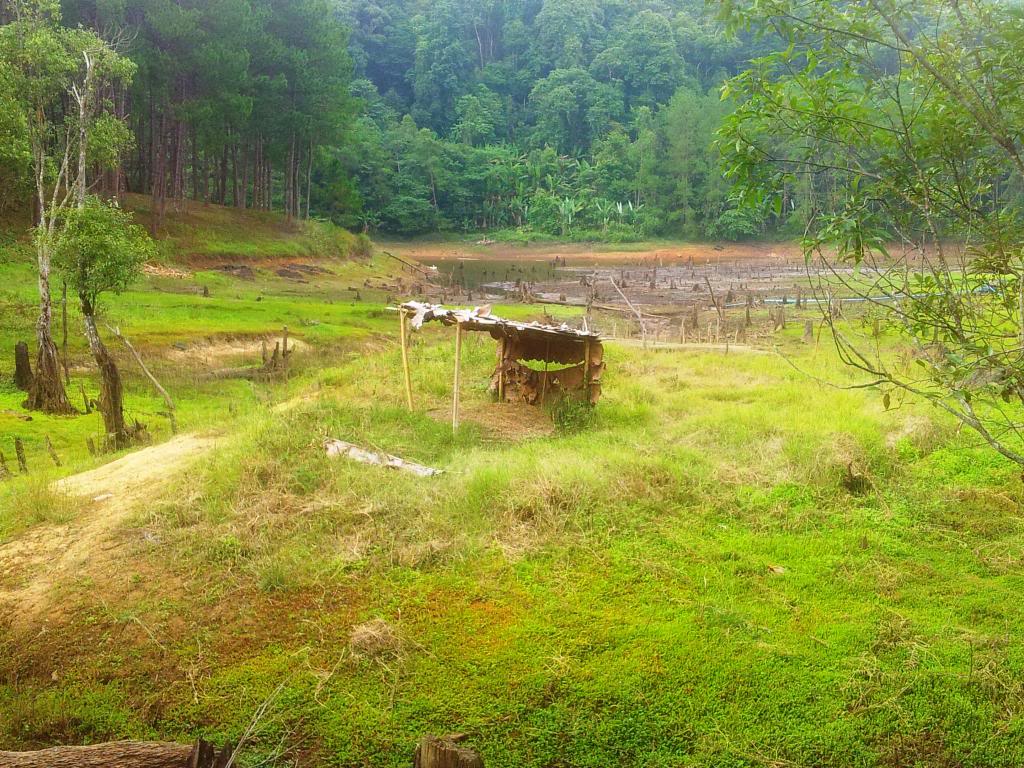 There is a Royal Project where they are breeding black swans.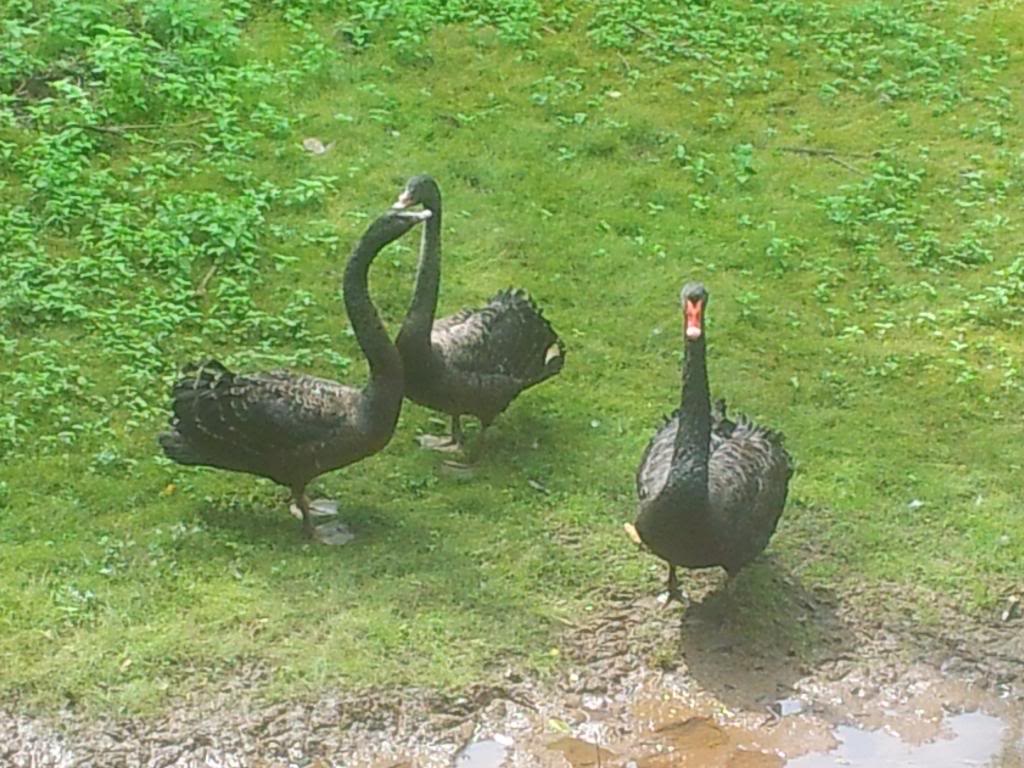 Accommodation in Pang Ung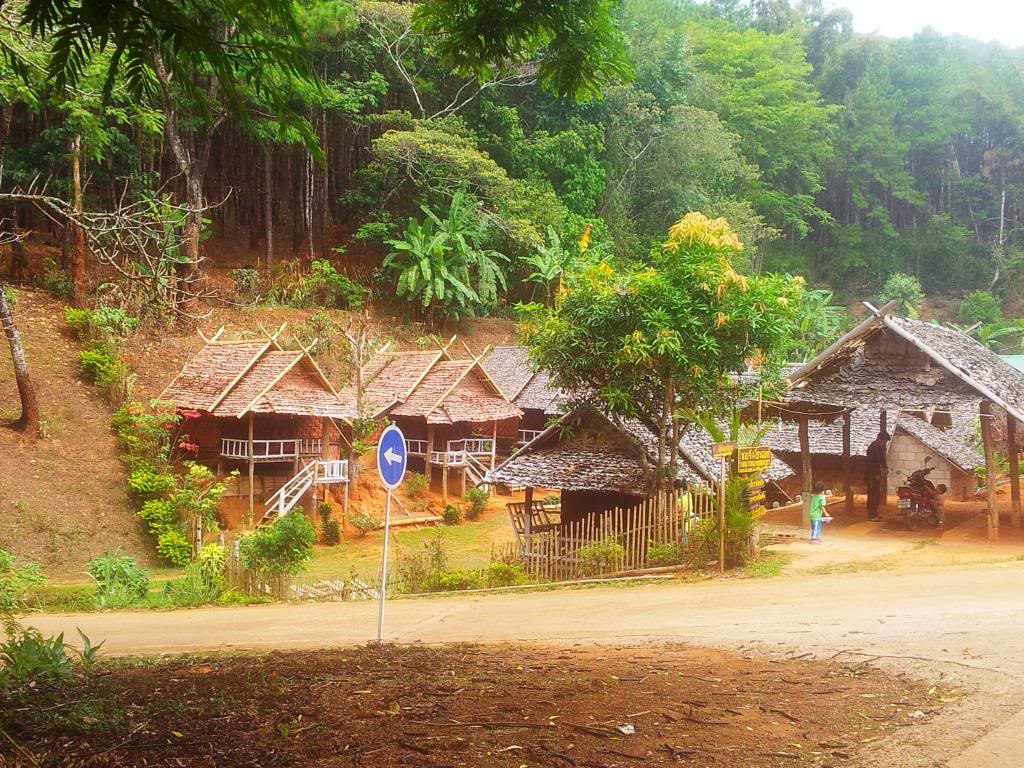 The main road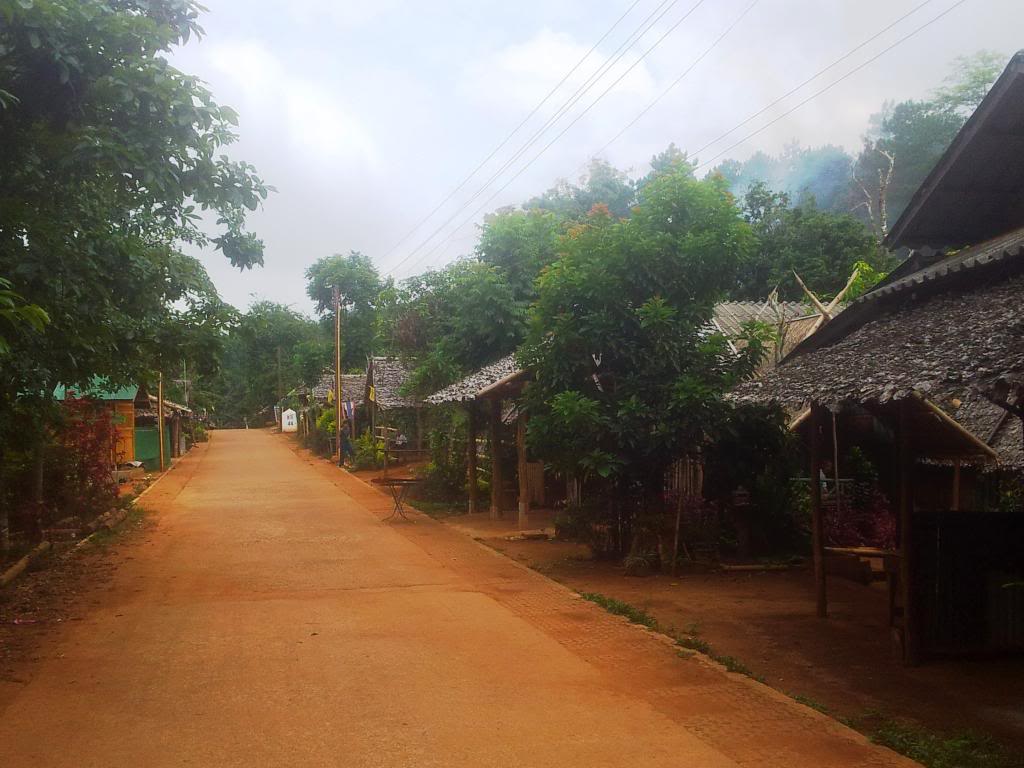 The village chief's house is also a restaurant coffee shop with some fantastic bamboo.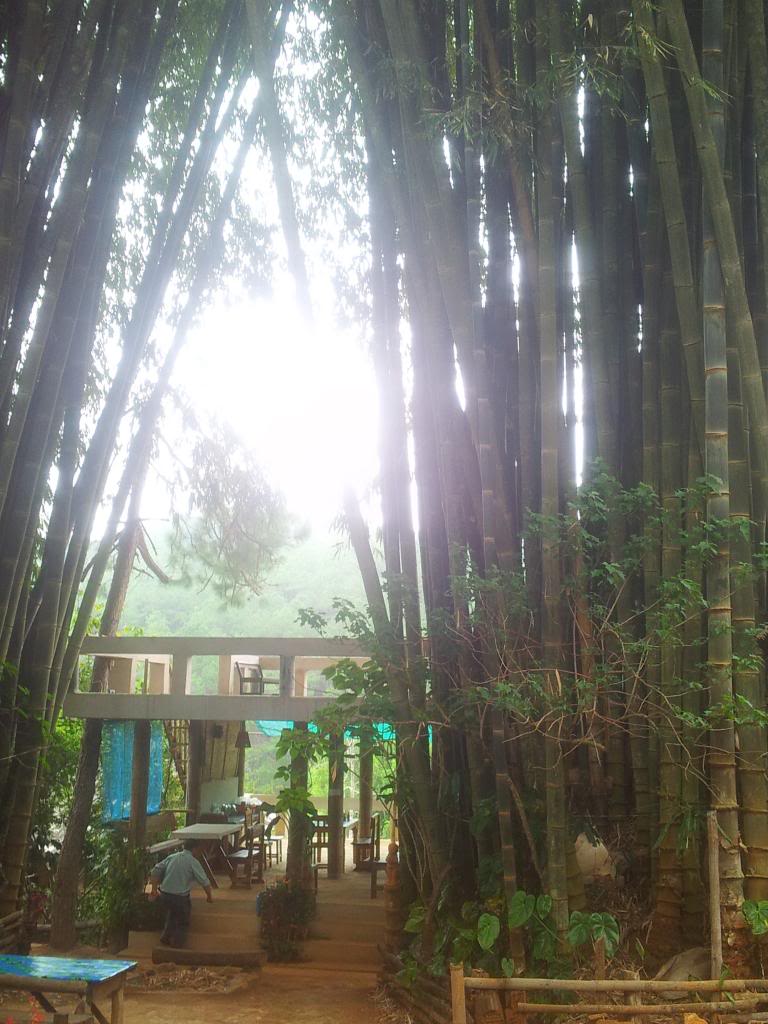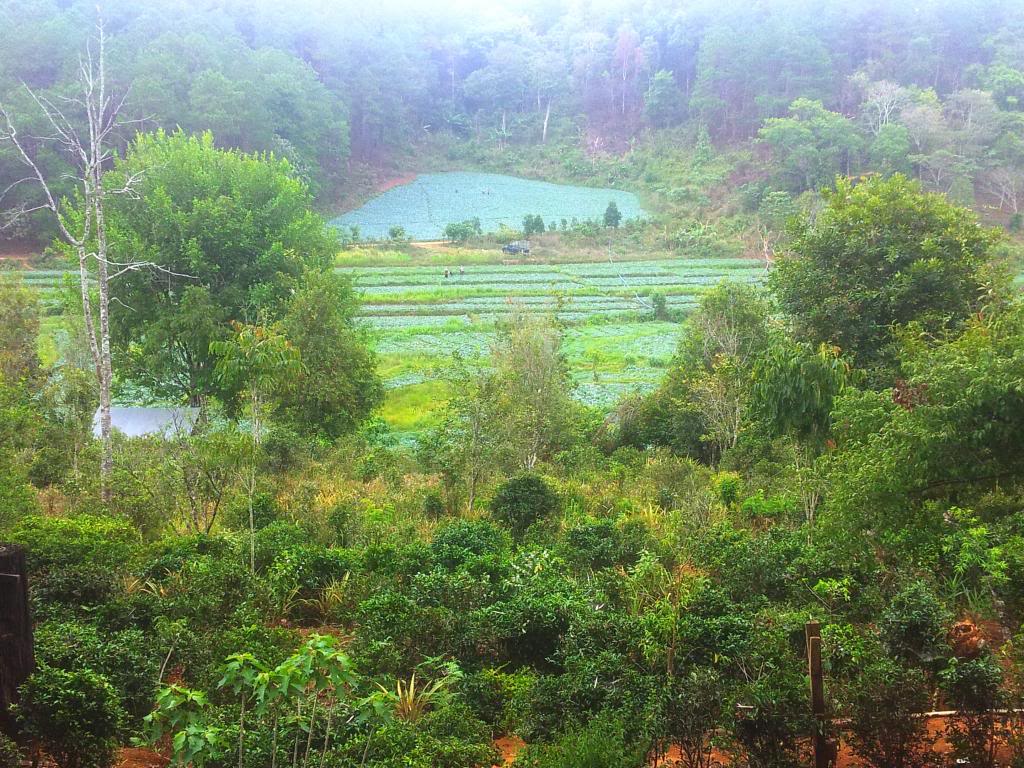 Then we headed back to Mae Hong Son and went on some of the smaller roads.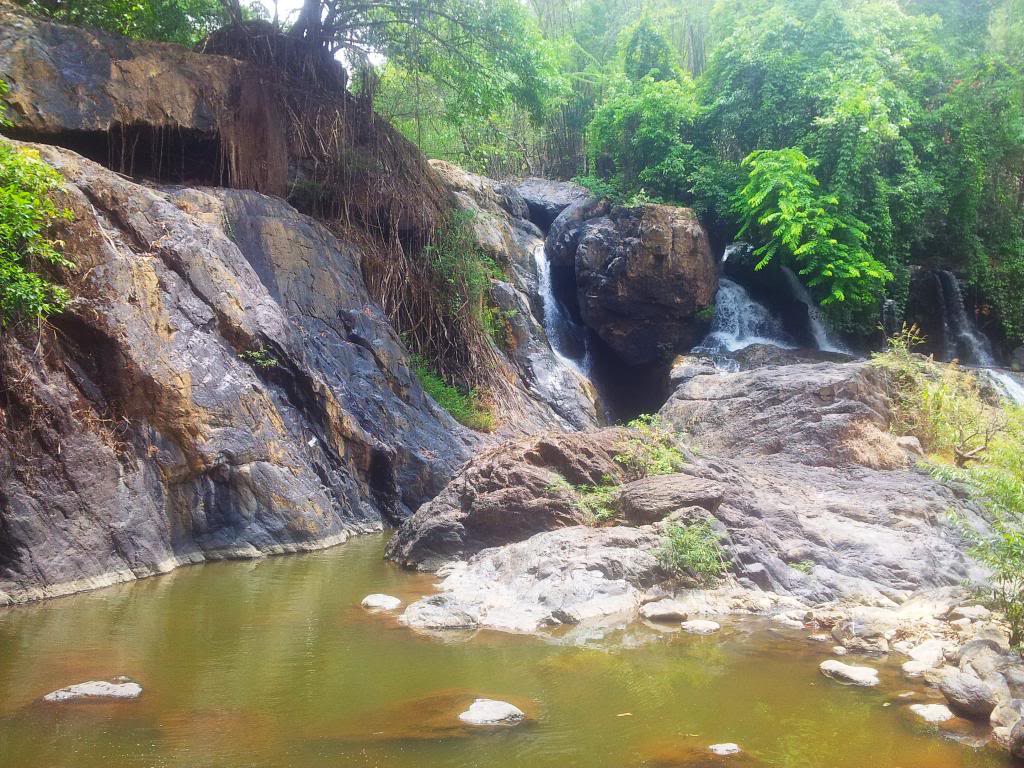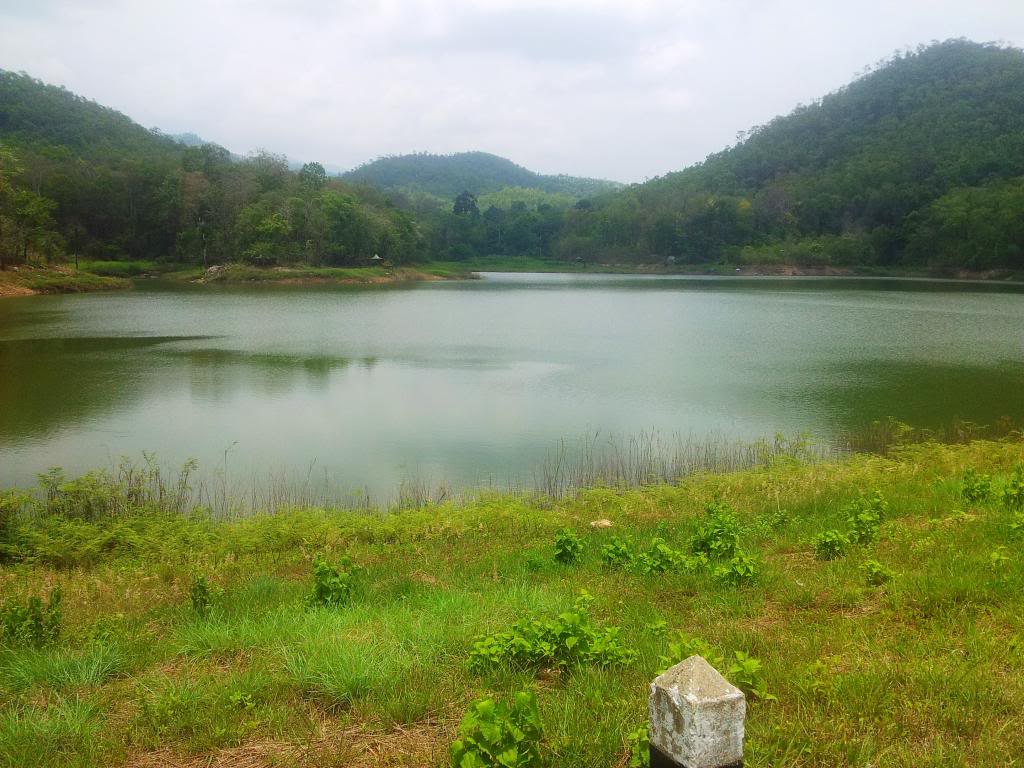 Next day, it was another lovely cool morning after overnight rain for the great road south from Mae Hong Son down to Khun Yuam with a stop at the War Museum.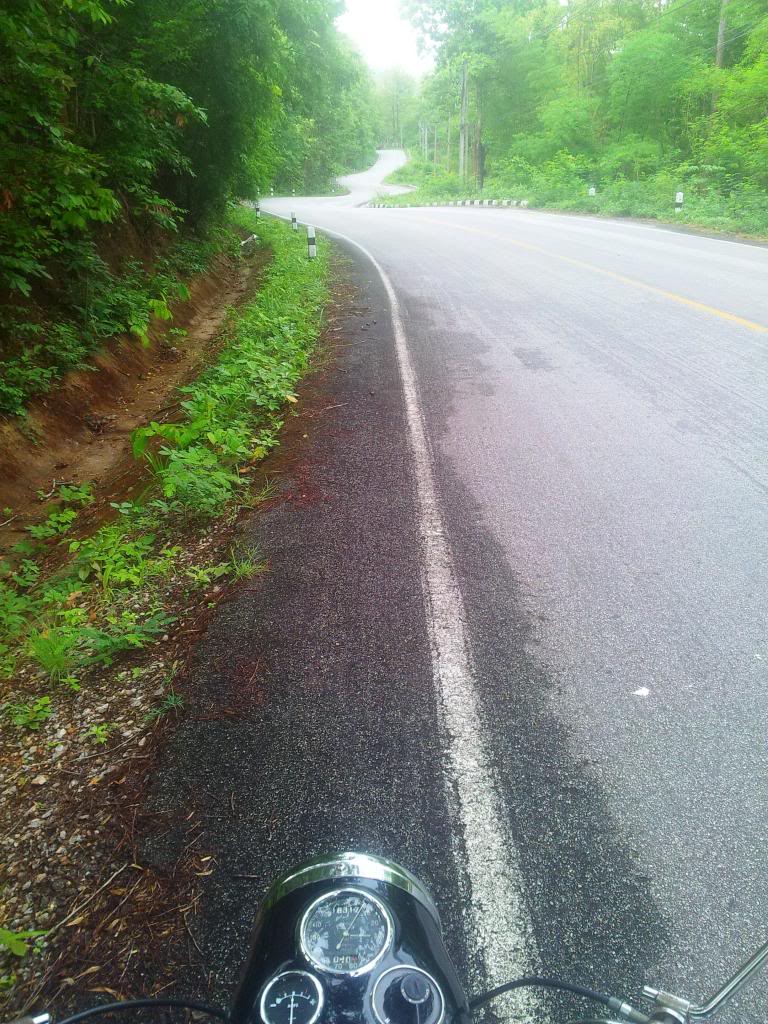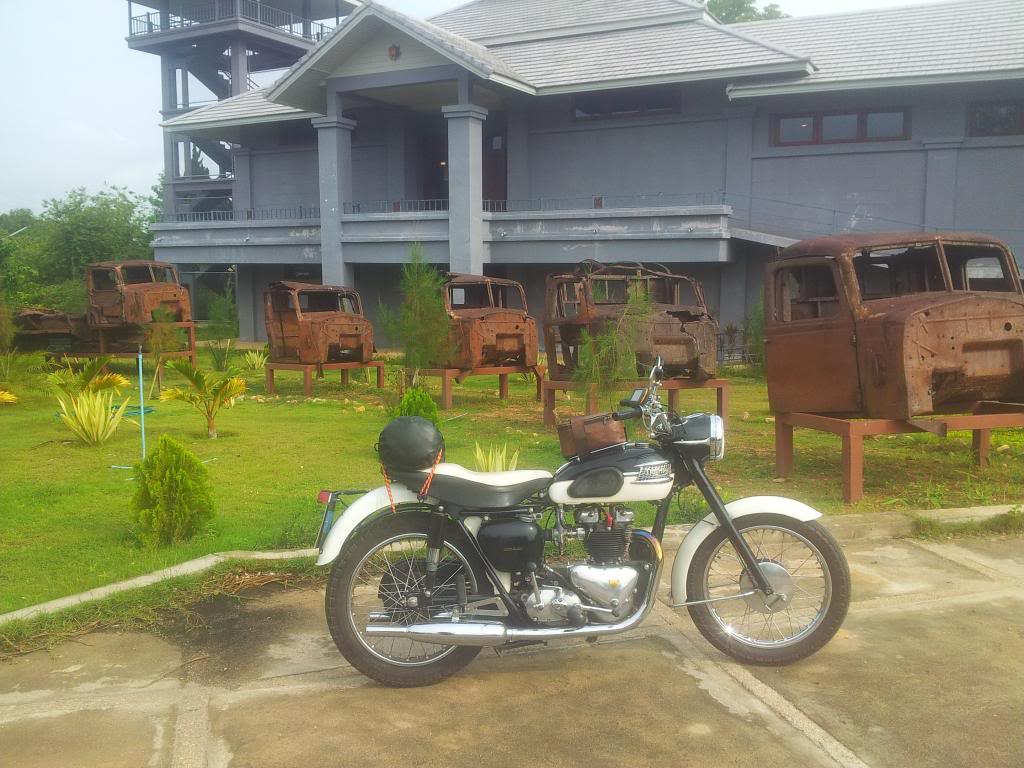 Then down to Mae Sariang and out southwest on 1194 to Mae Sam Laep. It was tarmac once.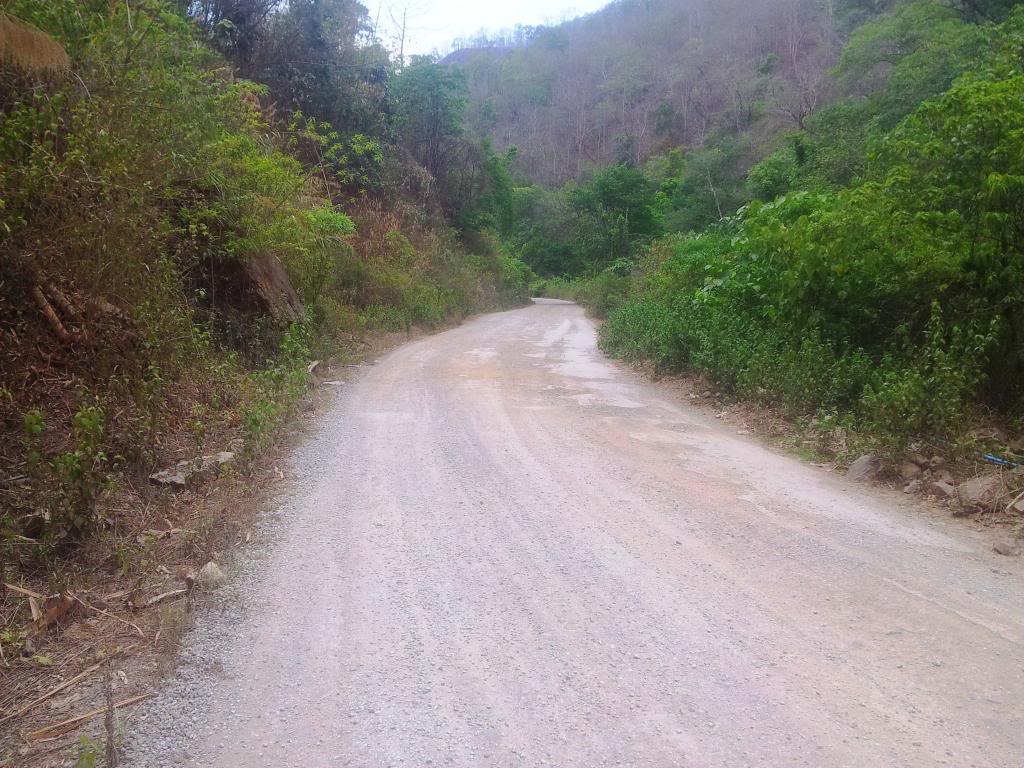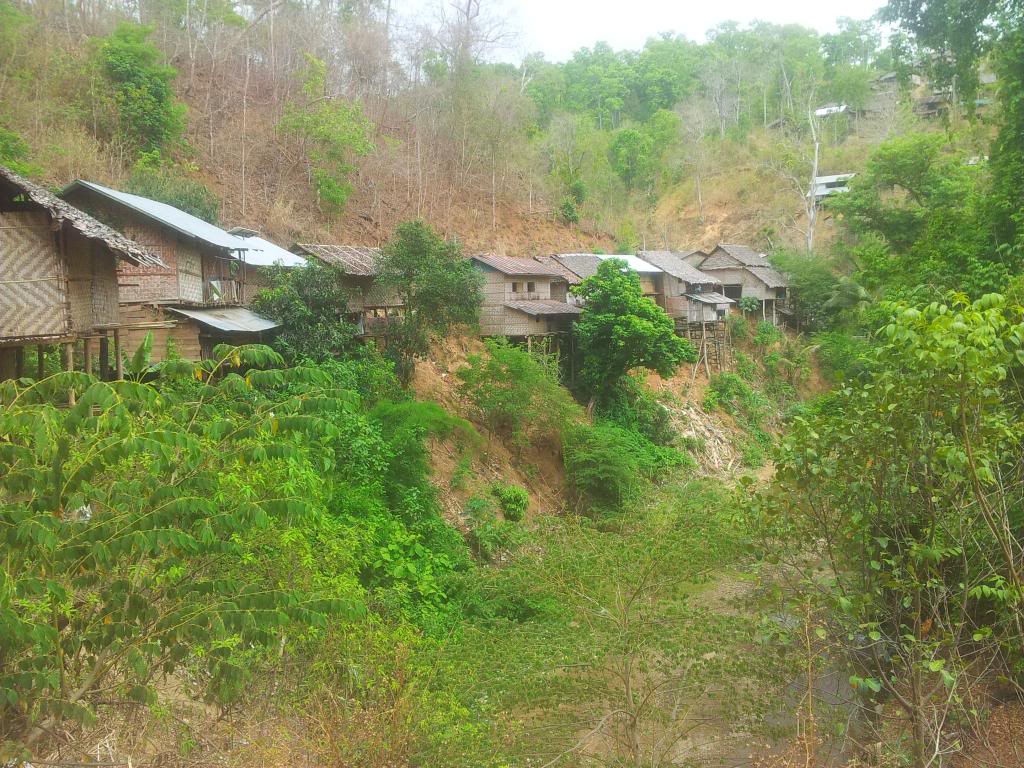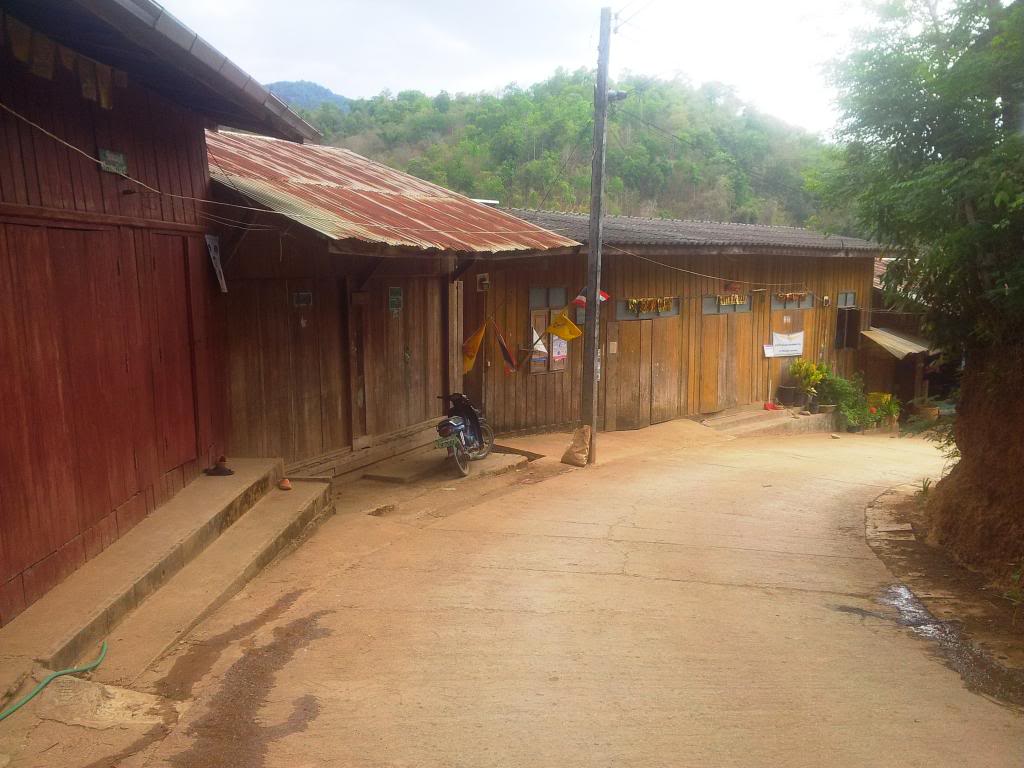 Finally made it to the Salween river, looking very low this time of year.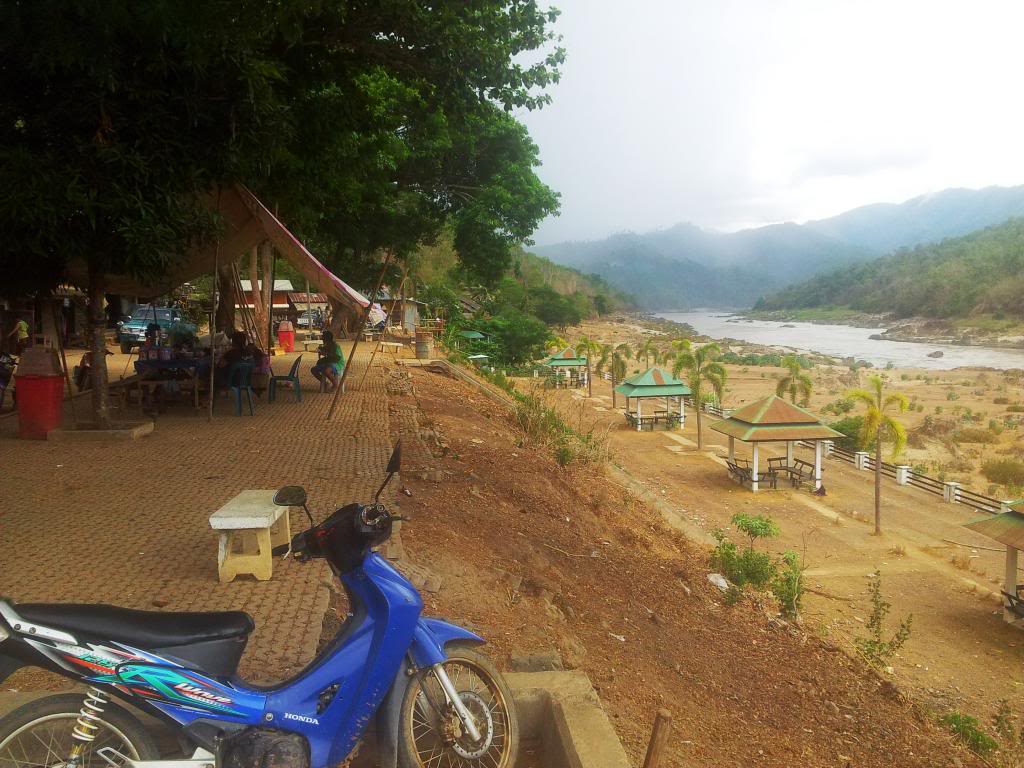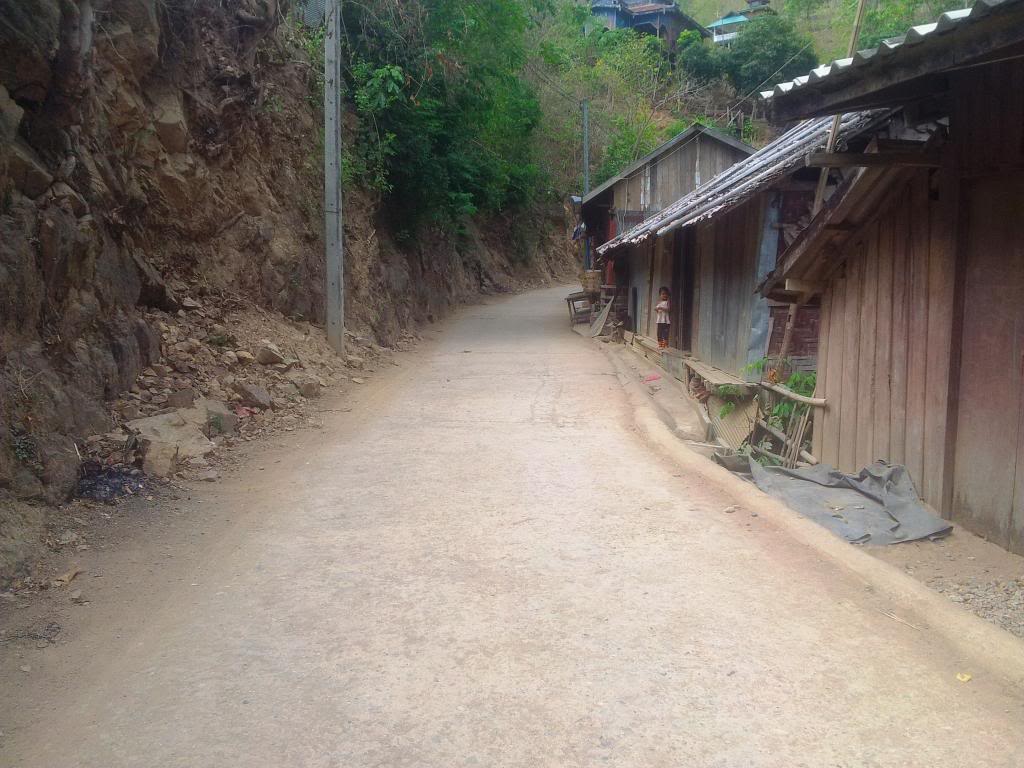 There were two GH's in the village, but no electricity that day, so I headed back to Mae Sariang for the night.
Next day, headed south again, another beautiful cool morning with some light rain, down to Mae Sot. The road started like this...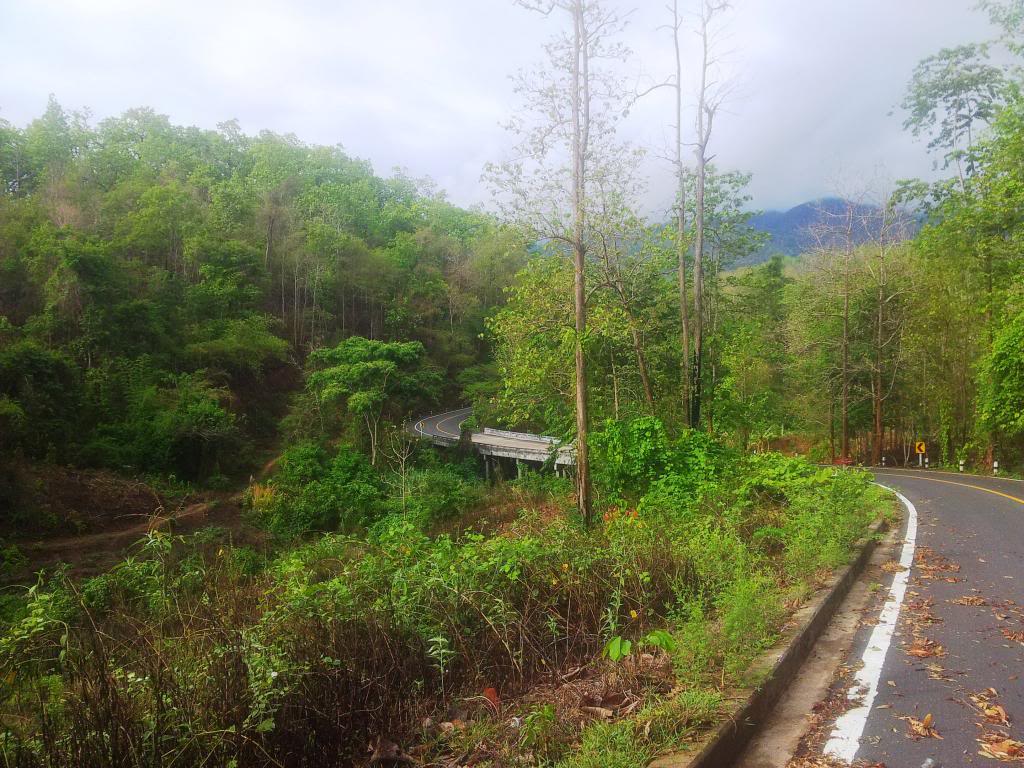 then a bit of this...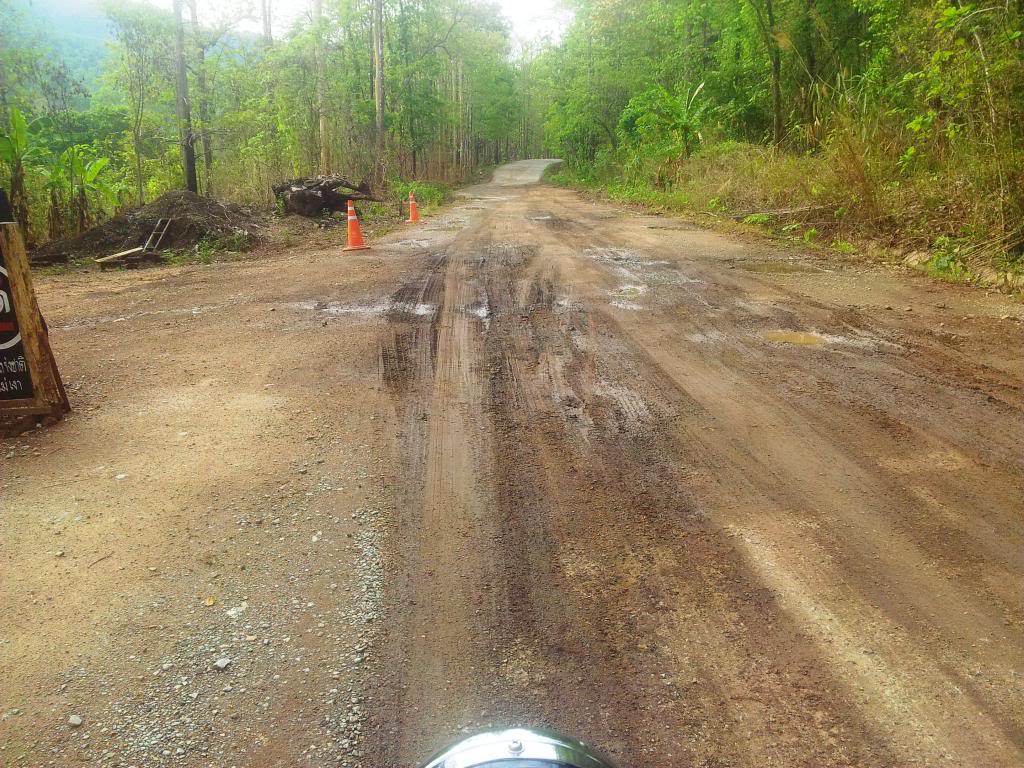 back to this..
some of this....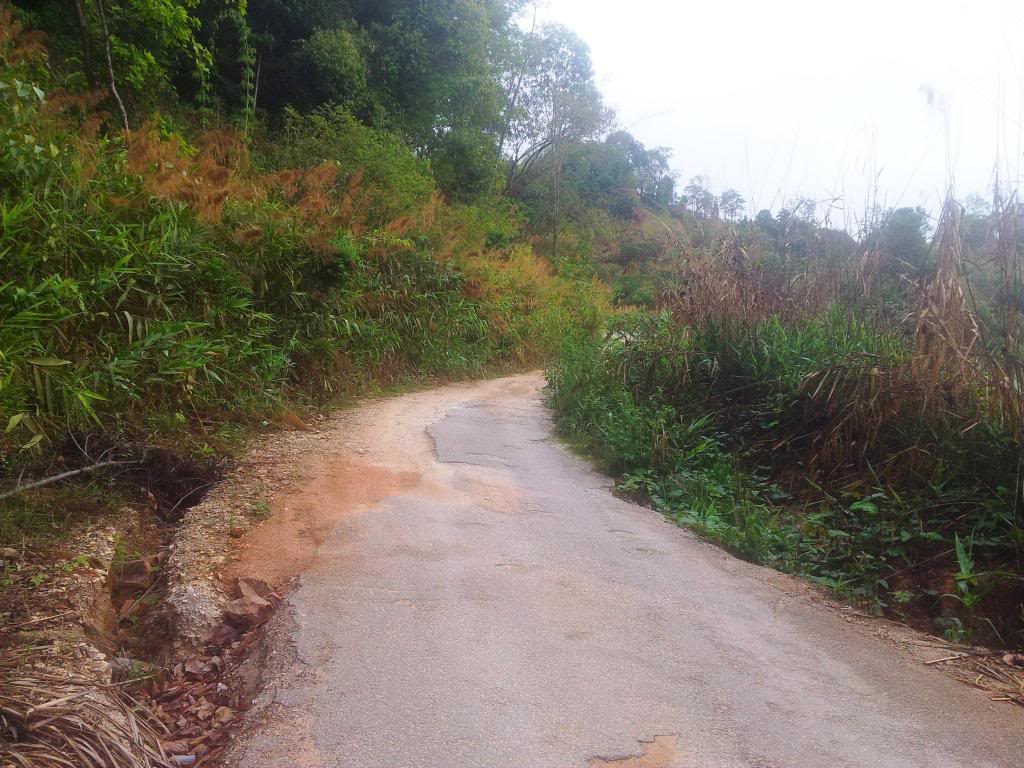 All easy stuff for the old Thunderbird. Then into some serious roadworks..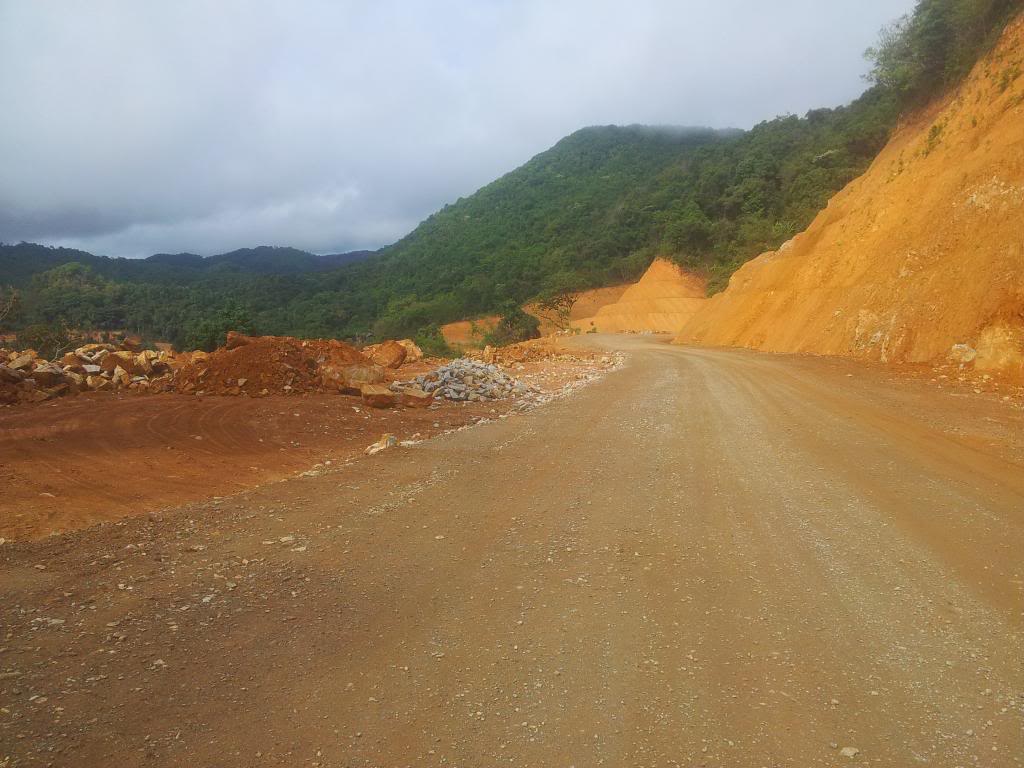 and out on to wonderful swoopy new tarmac.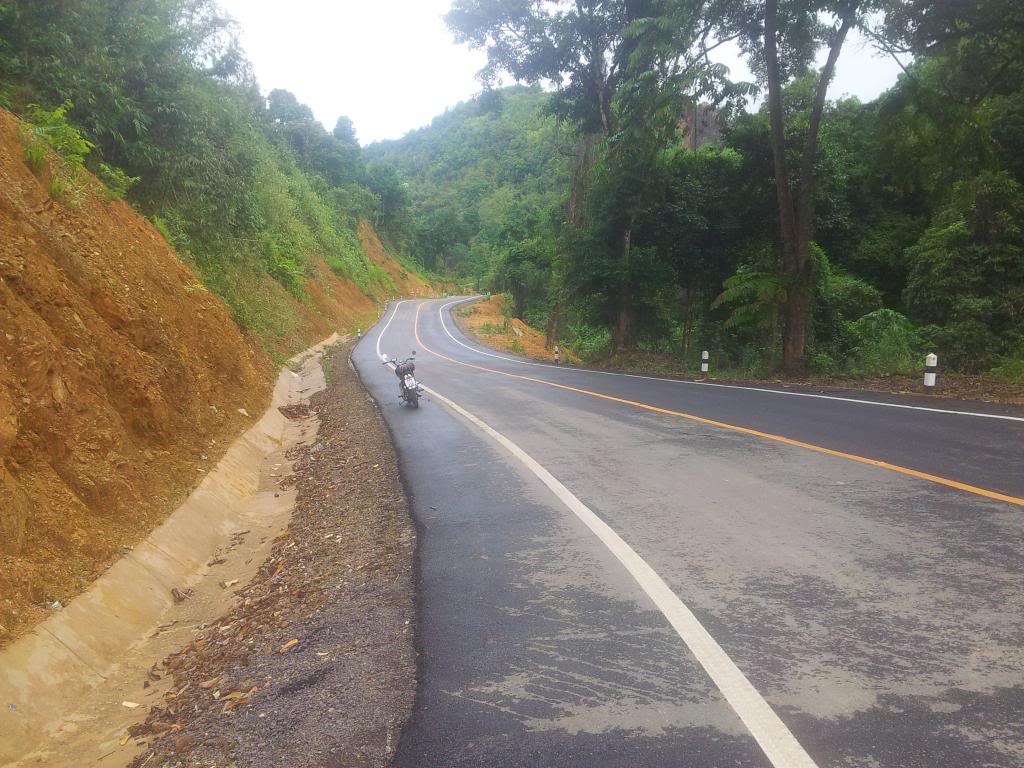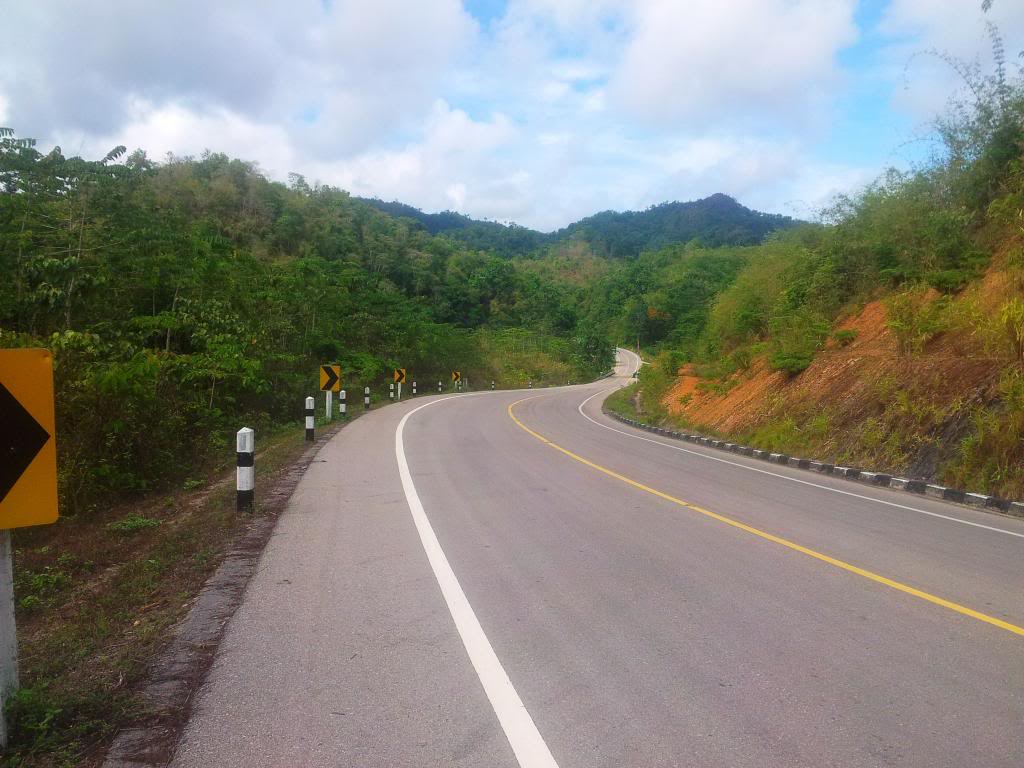 Wow........ and almost no traffic....... Sheer Joy....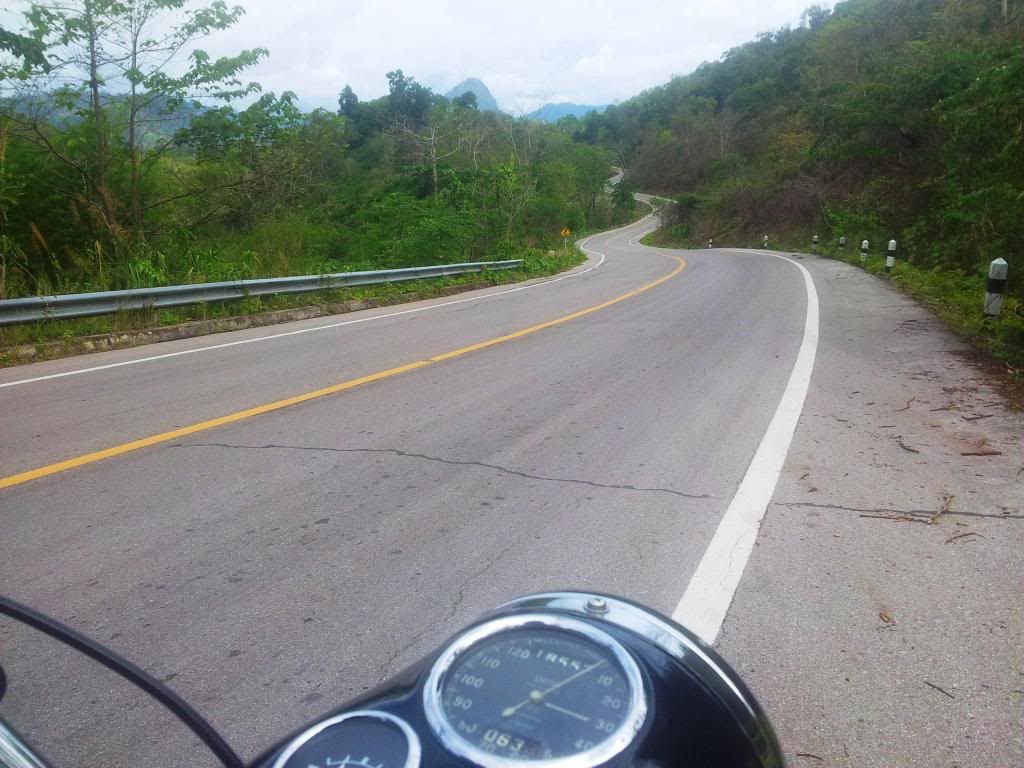 Reached the Moei river.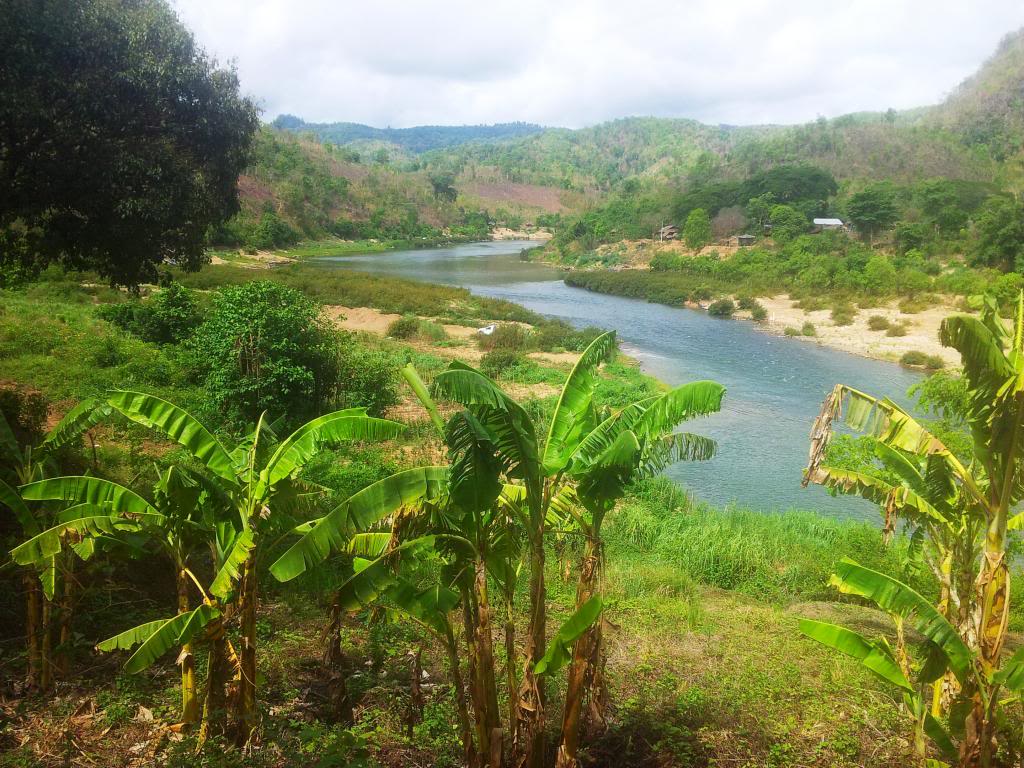 The Karen refugee camps actually look quite pretty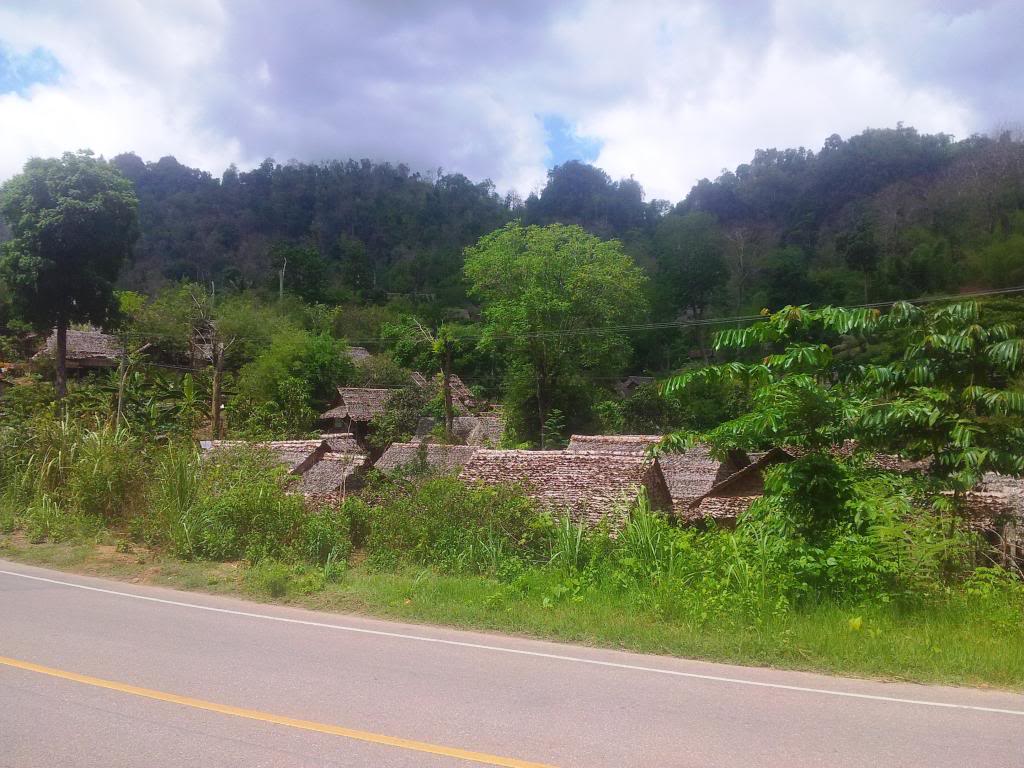 But halfway along you see a steel gate with guard and barbed wire.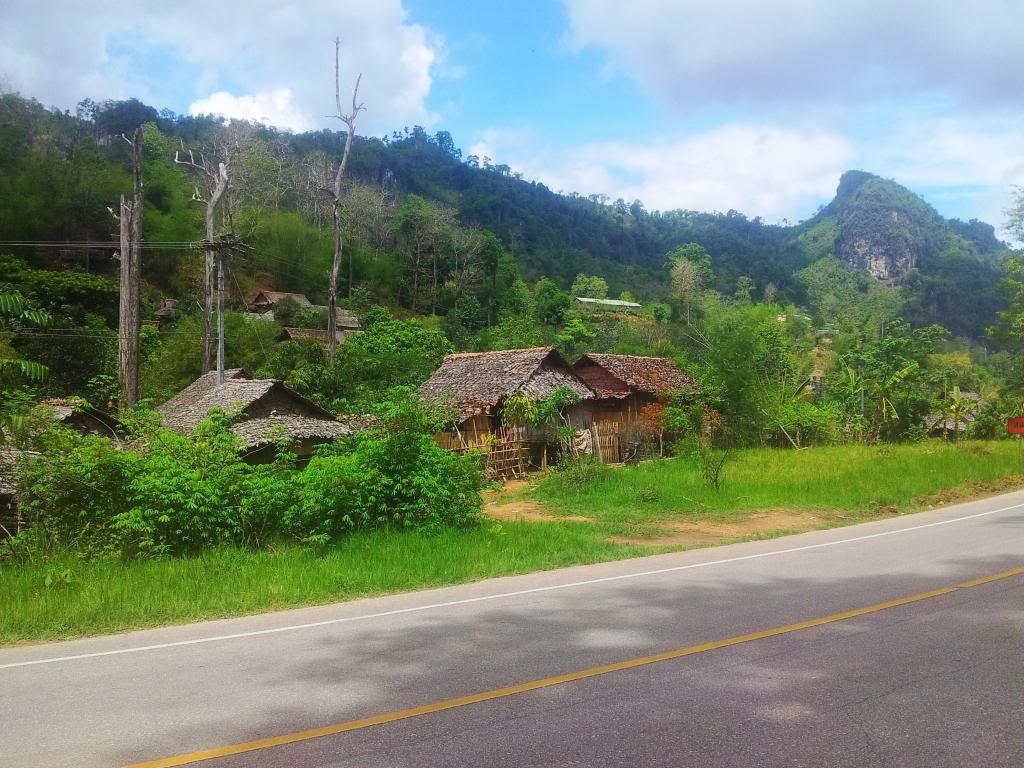 The Mae Sot Friendship bridge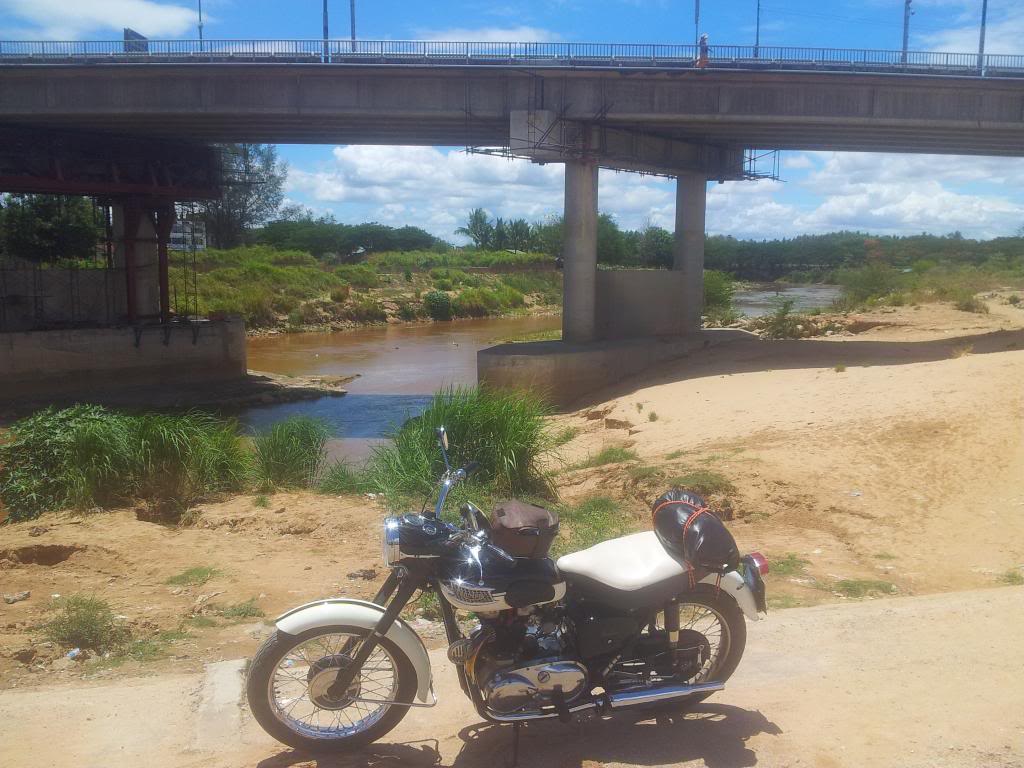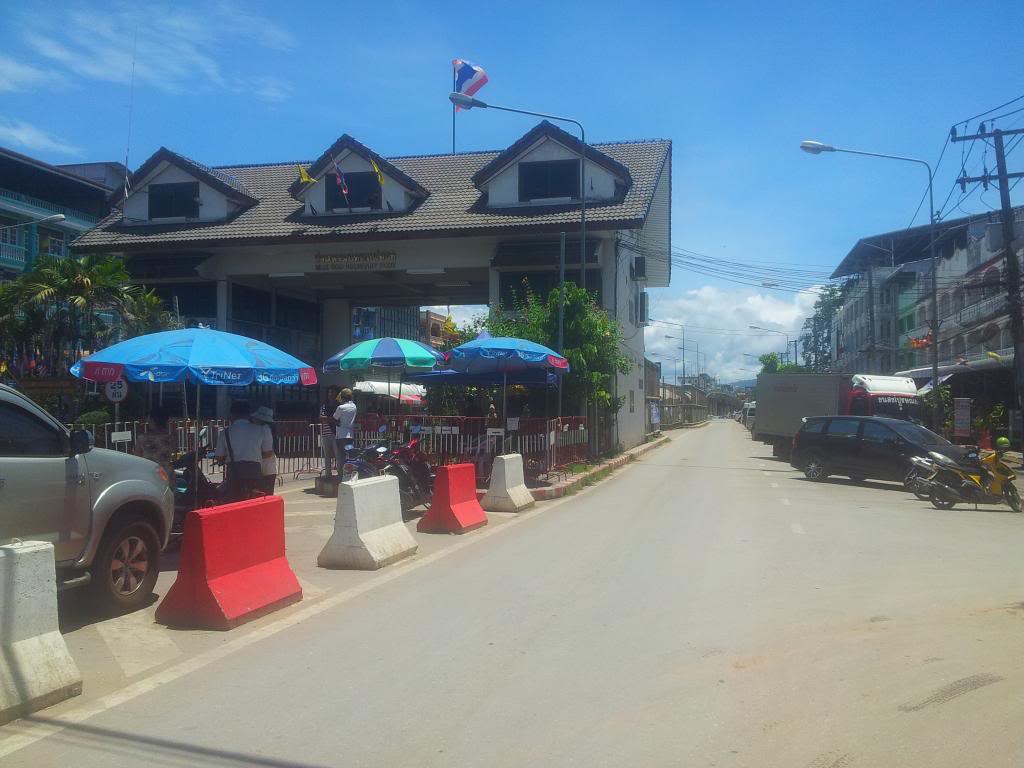 After lunch I headed out east on the horrible 105 to highway 1. Full of trucks and manic pickup drivers, sharp bends, roadworks and damaged tarmac.
However, 1/2 way along this road, I took a break and went to see the "Big Tree".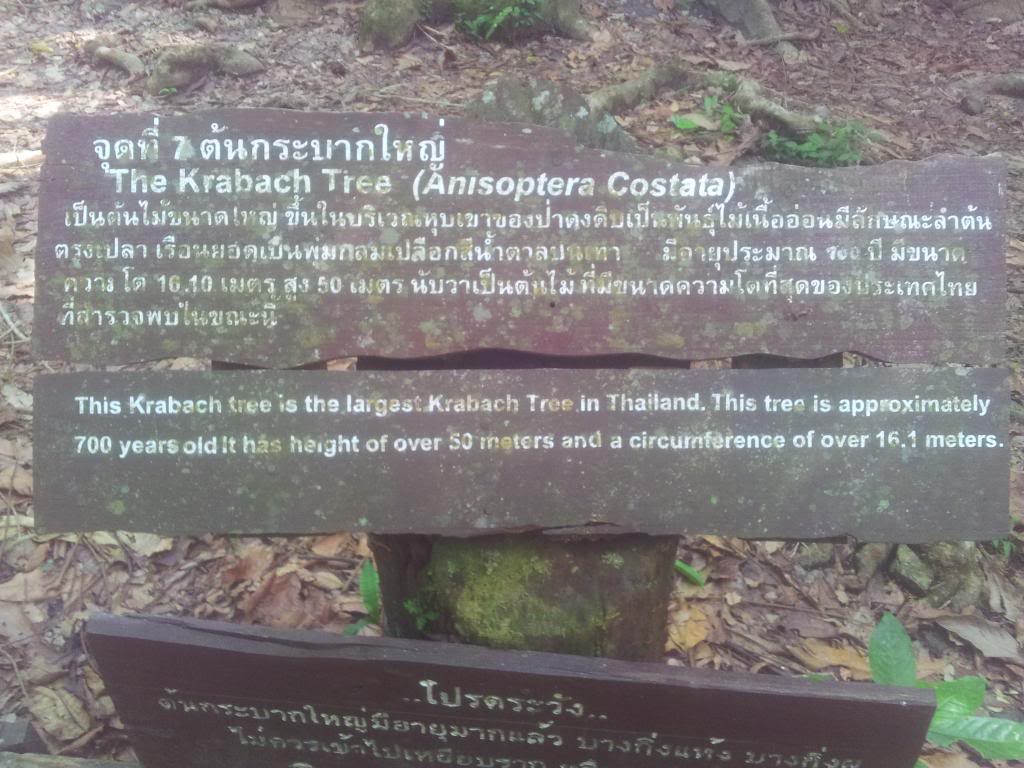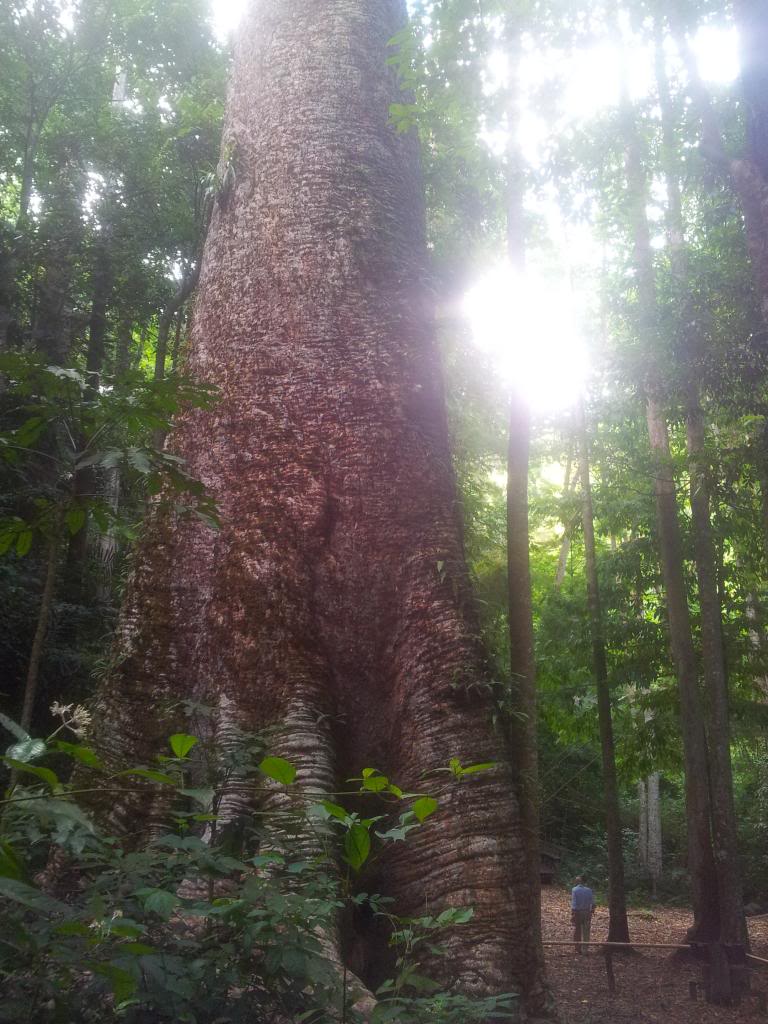 It is a beauty. But impossible to photograph.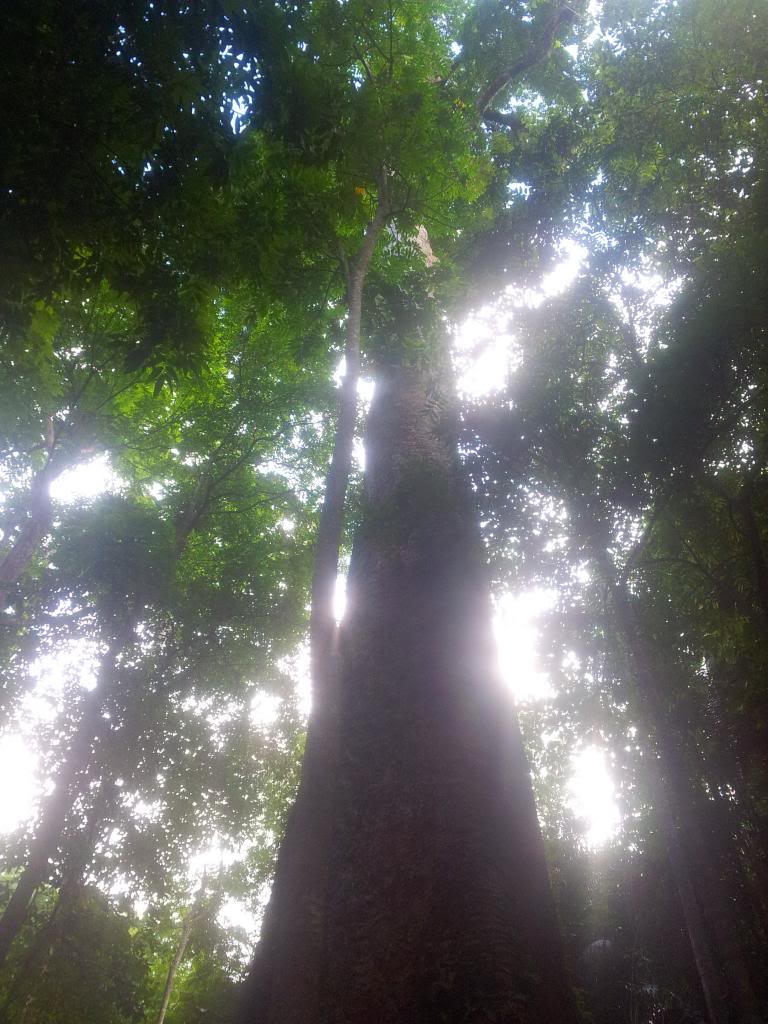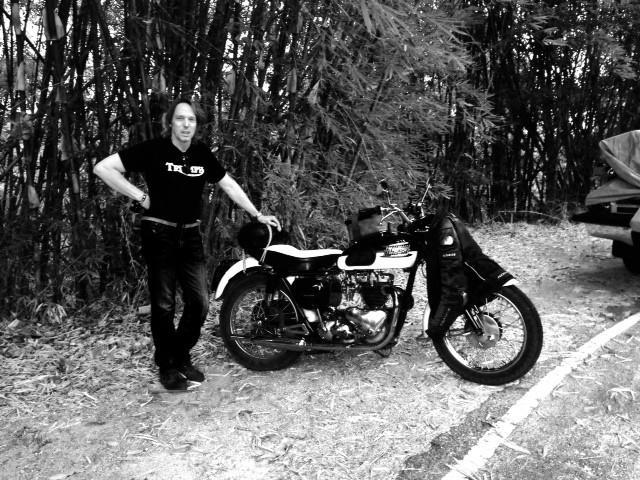 After reaching Tak, I headed north up to Thoen for the night. Dropped into the Tak Riverside restaurant which I knew from about 15 years ago as 434, on the Ping river. There is another lovely tree there shading the entire car parking area.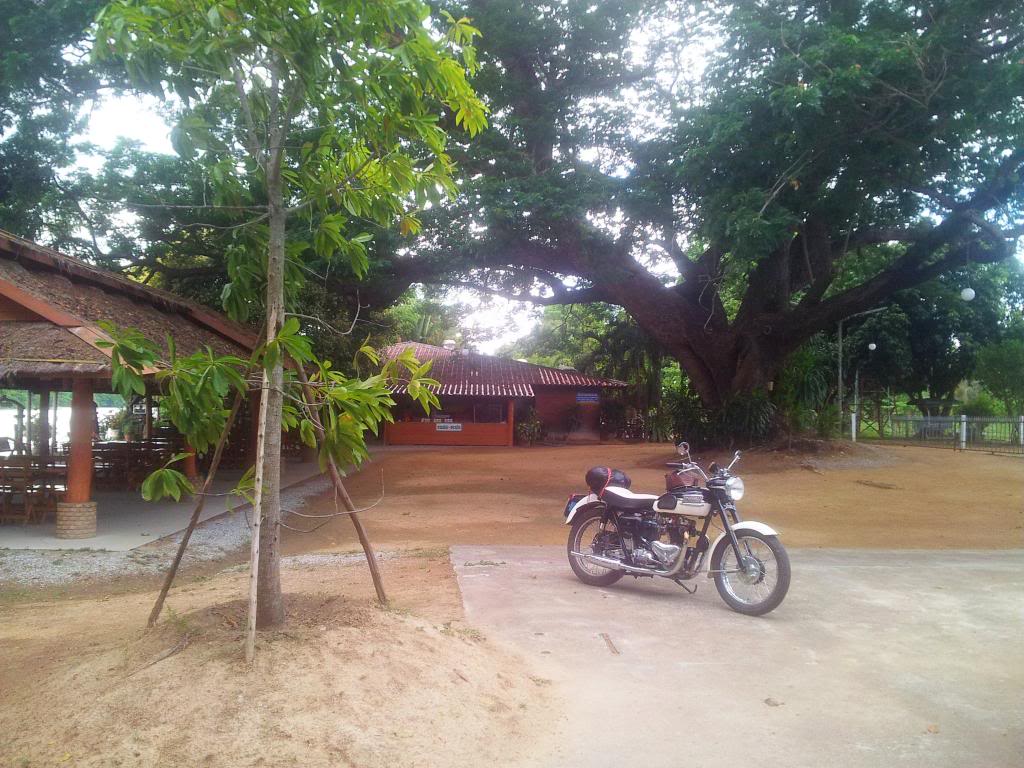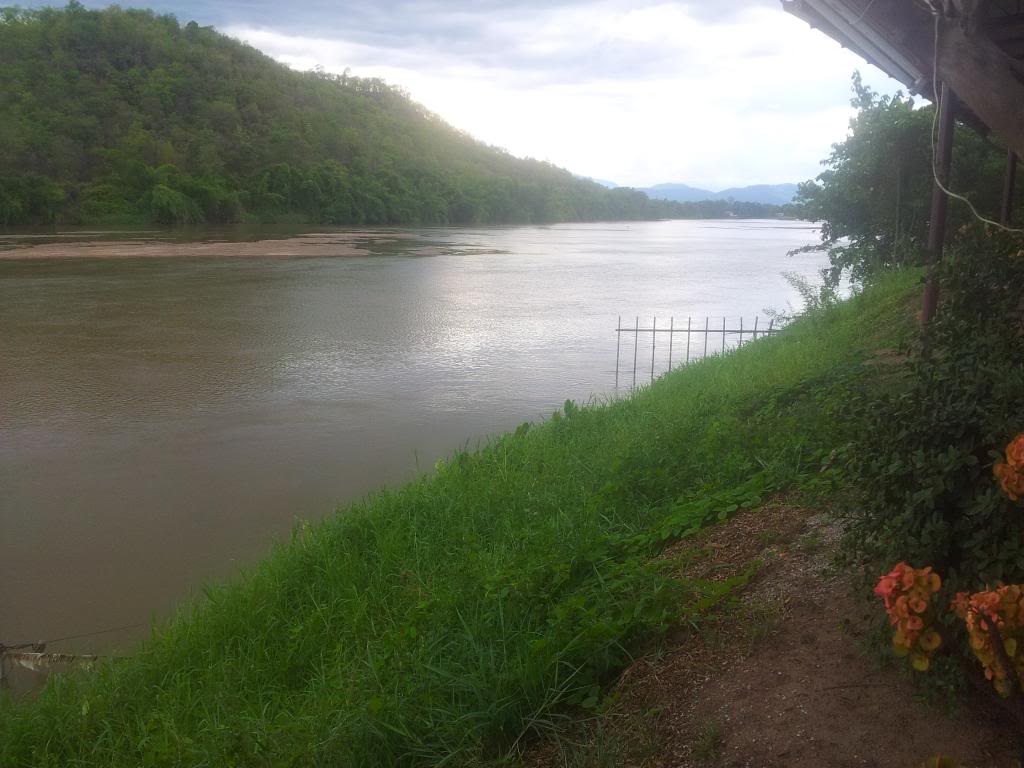 I took the smaller road off highway 1 up over the mountains and through Li
This spirit house had a full wardrobe for a family of spirits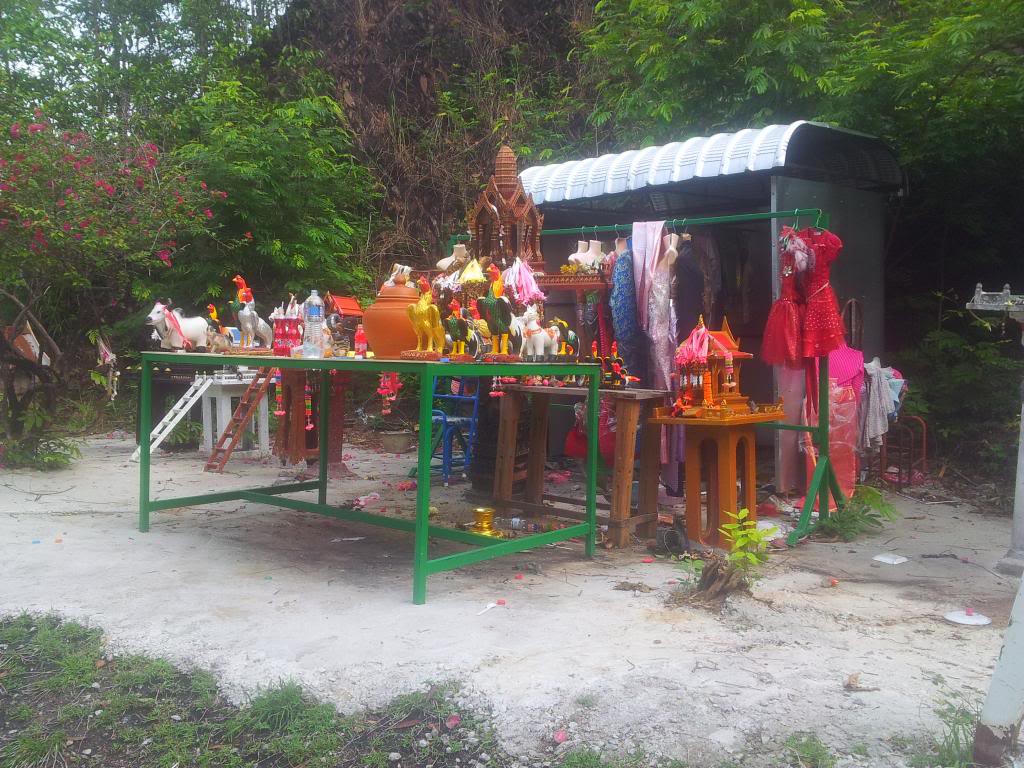 The road home.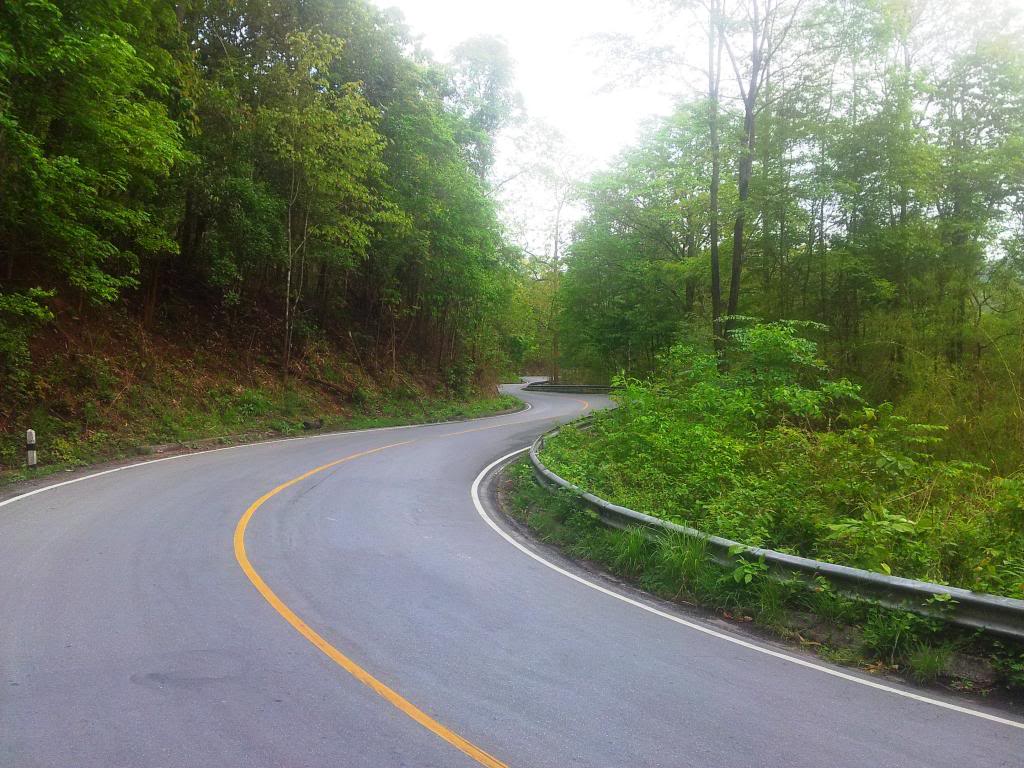 6 days & 1300 miles, out and about in beautiful northern Thailand. What could be better!
The old bike performed brilliantly and was a joy to ride as always. Burned/leaked about one litre of oil and adjusted the rear chain once.