Or,
How to Buy a Good Motorcycle Helmet
The good news. Through following some fairly basic safety principles you can reduce both the chance and the outcome of having an accident on a motorcycle. Years of research into road safety has produced a lot of information we can use.
Summary:
Helmets are important. Thailand's road are very dangerous.
Helmets need to fit. That means tight enough not to move around when you shake your head. Try on a helmet before buying it. Is it comfortable? Is it tight enough?
The SHARP motorcycle safety survey gives detailed safety information about specific brands and models of helmet.
More expensive helmets are not necessarily safer than less expensive helmets.
Forget air-vents, push your helmet visor up and use dark glasses. Much cooler!
Are motorcycle helmets really important?
Proportion of all motorcycle casualties with injuries to the head:
Proportion of all injured riders: 48%
Proportion with soft tissue injuries: 40%
Proportion with fractures: 14%
Almost one in three riders with head injuries (30%) have brain damage (Otte et al, 2002).
The Hurt report (1981) was the first to discover that many motorcyclist's helmets were insecurely fastened which meant they came off in an accident. A subsequent study in Europe (2001) found 12% of helmets came off during an accident. Make sure your helmet is a tight fit and that it is fastened for every ride! Even to 7-11.
People say that Thailand's roads are dangerous but is this true?
Recent data ranked the fatality rate per 100,000 population from road crashes in 193 countries. Thailand ranked second highest.
Rank Country Rate
1 Namibia 45
2 Thailand 44
3 Iran 38
By way of comparison, the USA and the UK have a much lower fatality rate.
Rank Country Rate
97 USA 14
180 United Kingdom 5
193 Maldives 2 (lowest)
Simply put, the mortality rate on the road in Thailand means that one is significantly more likely to die on the roads here than just about anywhere else.
Do motorcycle helmet's really save lives?
"Approximately 6% of riders were killed and 20-25% were hospitalized. Overall, unhelmeted riders were two to three times as likely to be killed, and three times as likely to suffer either death or survival with AIS > 2 brain injury. Unhelmeted survivors had three to four times as many AIS > 2 brain injuries as helmeted riders on a per-crash basis. Nearly 100% of riders with AIS > 4 somatic injuries died. Such injuries were 30% of Thailand fatalities and 57% of Los Angeles fatalities, but only about 2-3% of the overall accident population. Among the 97-98% of riders with AIS < 5 somatic injuries, helmet use could prevent about three-fourths of fatalities and brain injuries."
Conclusion:
"Helmets were extremely effective in preventing brain injury and death in 97% of the accident population in less-than-extreme crashes."
Which helmet should I buy?
The SHARP motorcycle safety survey rates motorcycle helmets. To find a helmet's safety rating go to the UK's SHARP website; Helmet Safety Scheme
http://sharp.direct.gov.uk/
The very best, top rated helmets that cost $100-$200 are available in the UK and/or USA. These include several models made by Caberg, the Duchinni D832, the HJC IS-17, the Laser Bora, the Marushin 777, the MT Revenge, and the Nitro Aikido and Nitro N1700F. The Bell M1-M3-M5-M6 series are a good choice if you can import from the USA.
Of the above I could find only the
HJC IS-17 in Thailand
. HJC IS-17 7,500.00 บาท
Note that Shark helmets are manufactured in Thailand so they cost less than in Europe. They are available from
Helmet2Home
in Chiang Mai. AGV is also available but the models are not the same as the European models.
More expensive helmets are not necessarily safer than less expensive helmets, true or false?
It's true. Thanks to a PhD student called Ben Moore who has analysed the SHARP database we know, "there's a non-zero linear regression coefficient that suggests each additional £ spent on a helmet returns 2 × 10-4 SHARP rating points. It's worth noting that this trend explains a measly 6% of the variance in helmet ratings." Quite.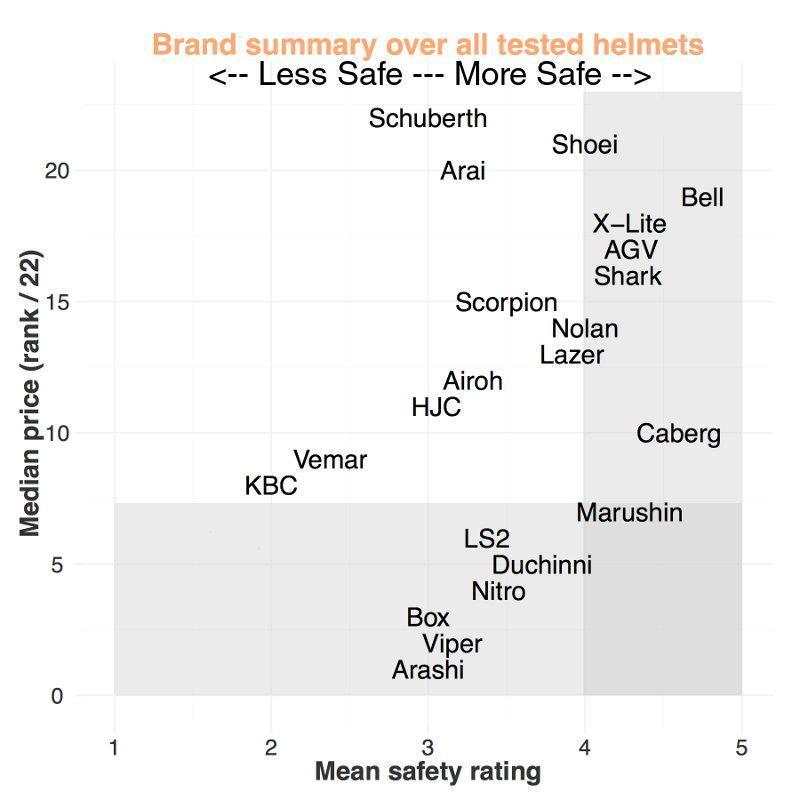 Copyright Ben Moore
According to the analysis Schuberth, Shoei, and Arai were the least cost effective helmets in the survey. Bell helmets had the highest average safety rating. Caberg and Marushin were the most cost effective motorcycle helmet brands.
How can I manage the heat wearing a helmet in Thailand?
Forget air-vents, push your helmet visor up and use dark glasses. A cost effective option are the
King's Safetywear
range of impact resistant polycarbonate clear and tinted glasses sold in hardware shops and HomePro for about 300 baht.
(FWIW, I've found the models with curved arms to be the most comfortable, specifically KY211, KY212 and KY214. Model KY712 was less comfortable since the arms were thicker and tended to be pressed against the side of the head by the helmet.)
Conclusion
Wearing a helmet in Thailand is a sensible thing to do. While the probably of injury to your head isn't as high as injury to your legs, repairing a broken head is much more difficult. Safe riding!
Disclaimer
: As part of my job creating motorcycle clothing I tend to read numerous scientific papers on motorcycle safety. For the sake of the readers of GT Riders I will attempt a few summaries, without the detailed statistical analysis, for your viewing pleasure.
Sources
:
Hurt, H.H. Jr., Ouellet, J.V. & Thom, D.R. (1981), Motorcycle Accident Cause Factors and Identification of Countermeasures, Final Report to National Highway Traffic Safety Administration, US Department of Transportation, PB 81-206443, 81-206450.
Hurt, H. H. Jr., Ouellet, J.V. & Wagar, I.J. (1981), Effectiveness of motorcycle safety helmets and protective clothing, Proceedings of the Annual Conference of the American Association for Automotive Medicine, San Francisco pp 223-235.
Source: February 2014, "Mortality From Road Crashes In 193 Countries : A Comparison With Other Leading Causes Of Death"; Michaels Ivak, Brandon S Choettle; The University of Michigan Transportation Research Institute.
Source: Traffic Inj Prev. 2006 Mar;7(1):49-54.
"Motorcycle helmet effect on a per-crash basis in Thailand and the United States."
Ouellet JV1, Kasantikul V.
http://www.ncbi.nlm.nih.gov/pubmed/16484033
Read about Ben Moore, the PhD student with a head for non-zero linear regression coefficients who analyzed the SHARP database.
http://blm.io/blog/motorcycle-helmet-safety-price/
For the rigorous and skeptical reader, here's the source code:
https://github.com/blmoore/blogR/blob/master/R/sharp_bikehelms.R
Traffic Inj Prev. 2006 Mar;7(1):49-54.
Motorcycle helmet effect on a per-crash basis in Thailand and the United States.
Ouellet JV1, Kasantikul V.
http://www.ncbi.nlm.nih.gov/pubmed/16484033
Safety Interventions - Helmets
Effectiveness in different jurisdictions
http://www.carrsq.qut.edu.au/APEC/safety_interventions/helmets.html
Motorcycle Standards Comparison - Snell and DOT
http://www.smf.org/docs/articles/dot
BS 6658:1985
Specification for protective helmets for vehicle users
http://shop.bsigroup.com/ProductDetail/?pid=000000000030140499
Helmet Efficacy to Reduce Head Injury and Mortality in Motorcycle Crashes
Published 2010
https://www.east.org/education/practice-management-guidelines/helmet-efficacy-to-reduce-head-injury-and-mortality-in-motorcycle-crashes
Which parts of your body are most at risk in a crash?
http://roadsafety.mccofnsw.org.au/a/91.html