The Team:
David - Honda Africa Twin 750
Scotty - BMW1200 GS, a screwdriver too small...
Ben - Honda Shadow 1100, with a BMW-sized screwdriver...
The Plan
: Meet at the big gas station on Highway 1, 1 km north of the Highway 120 Intersection, at 11:30am. Then, over to the start of Highway 1148 at Chiang Kham, and proceed to Nan for the night, followed by a day in the mountains on the 'big' Doi Phu Kha Loop. David sent me an SMS as he and Scotty left Chiang Mai en route for the meeting point. Flawless plan - I arrived from Chiang Rai at 11:25, and took possession of my iced coffee right at the point the boys rolled into the gas station! Excellent timing!
Phayao to Chiang Kham is a featureless blast, and we took advantage of arriving at lunch time to have lunch... Took time out to visit the large wooden temple which Chiang Kham is renowned for.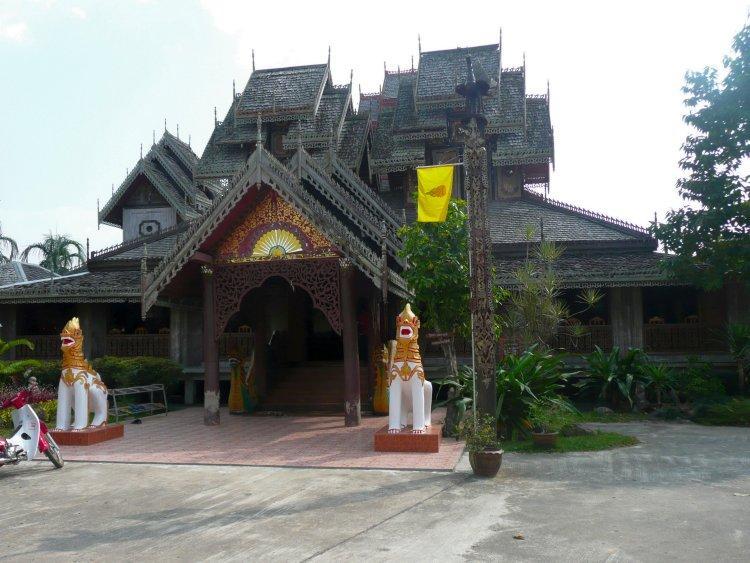 As we were leaving, a large group of school children blocked David's exit with a wall of shoes! He was a prisoner, and lucky to escape...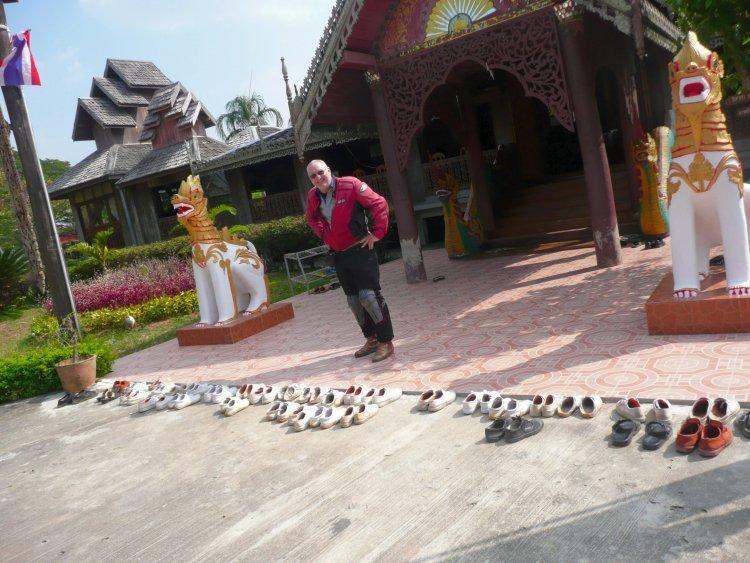 Scotty and David at the 1st 11448 marker in Chiang Kham, prior to departure.
Gassed up on the way out of town and there was a brief issue with the BMW which was pedantic about being turned off in neutral... and got sulky and refused to start if Scotty was rude enough to turn it off in gear.. Hence the screwdriver issue, alluded to earlier... the BMW one was a pathetic excuse for a screwdriver - not solid enough to disconnect and reconnect the battery - the only way the BMW electronics could be persuaded to reset the starter / neutral connections so it would fire up... The bystanders ruthless harassment and derogatory comments elicited a strained smile... Pity was eventually forthcoming, and my big-assed Big C screwdriver donated...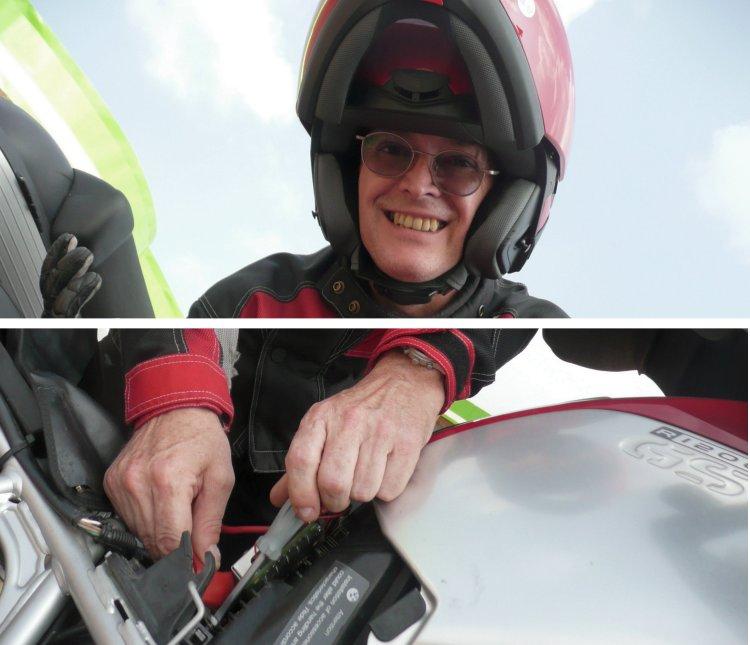 The last couple of weeks, the air quality has deteriorated, along with the visibility, as farmers burn off the rice stubble. God knows why a genius has not invented a way of disposing of this worthless biomass in more environmentally sensitive manner. The Land of a Million Rice Fields generates an incredible amount of rice stubble, and it all goes up in smoke!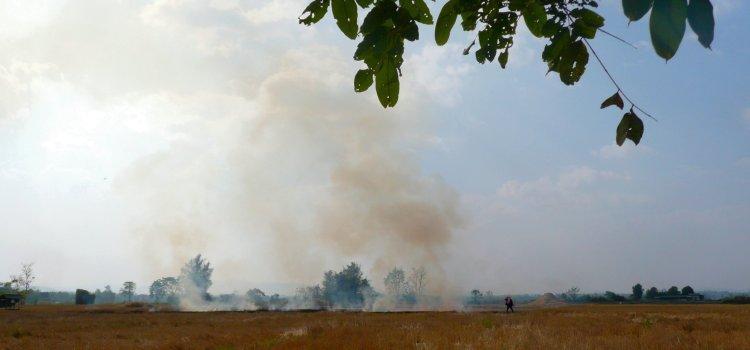 1148 - the stuff of legends... the vistas are stunning, even with the haze...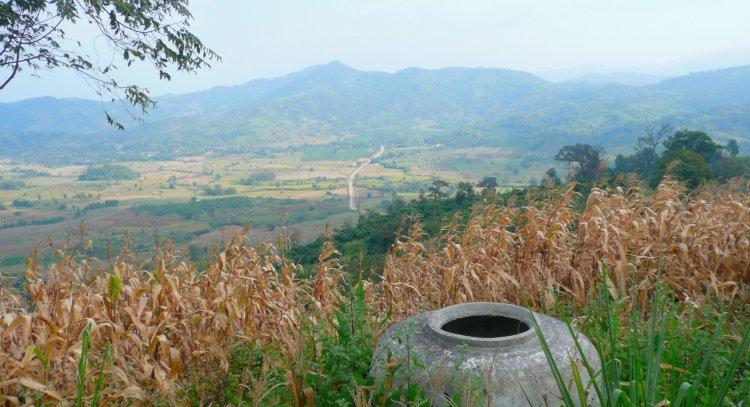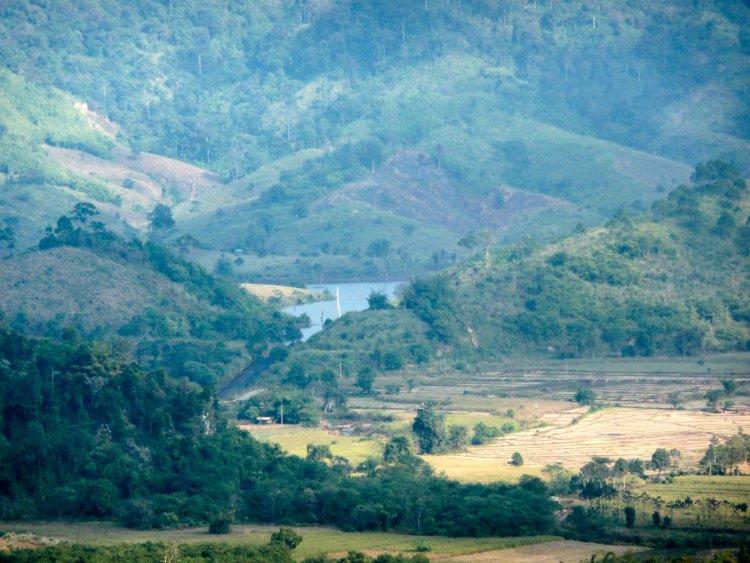 There are obvious signs of the aftermath of last rainy season...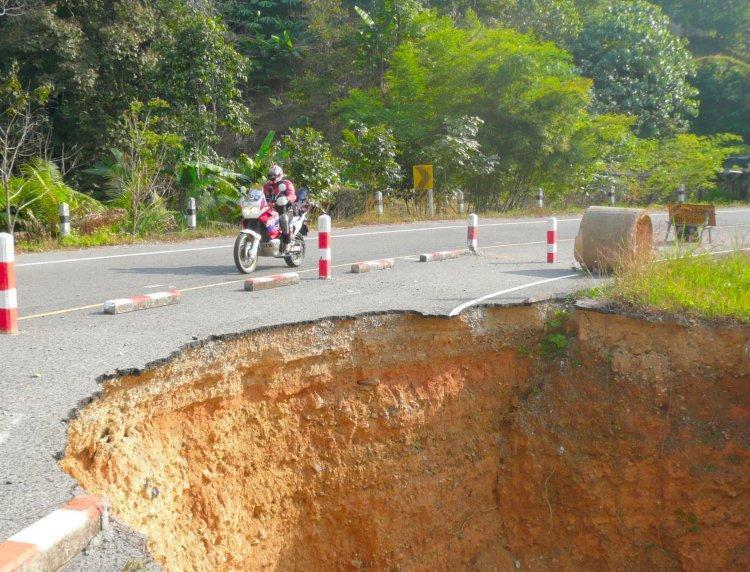 The limestone landscapes are vastly different to the Chiang Mai / Chiang Rai provinces I've grown accustomed to...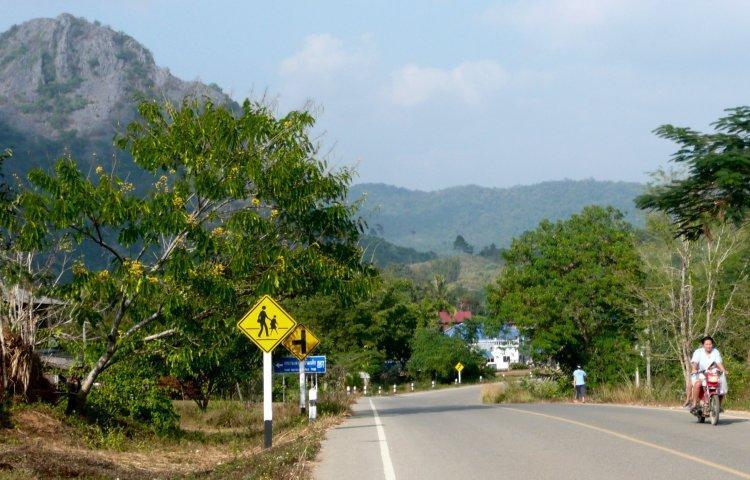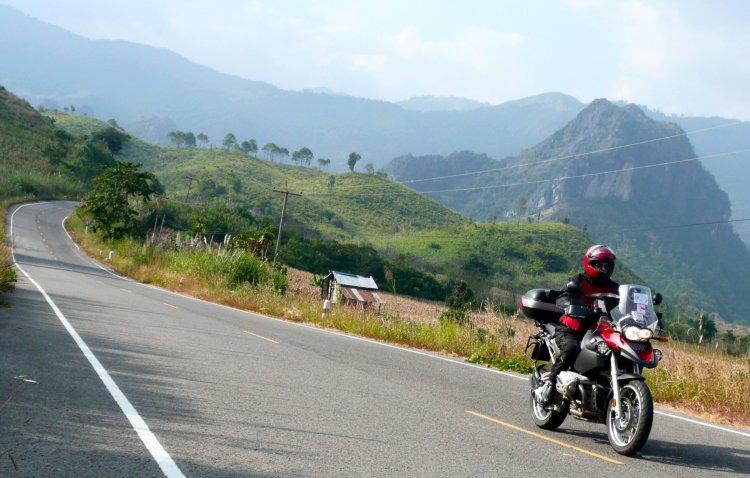 On a note of caution - 1148 is an incredible road, with lot of steep sections with endless hairpins, sweeping corners and massive elevation changes. Run out of brakes in a few places, there might not be a happy ending, as this hapless local found out.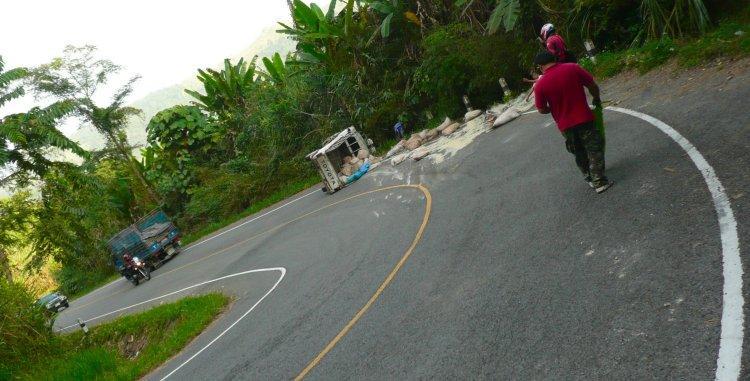 Actually, he was bloody lucky to walk away from this one! Had the truck stayed upright, he'd very likely have plunged over the edge of this or the next corner! As it was, he'd deliberately ploughed the truck into the bank on the previous corner, to bleed off some speed...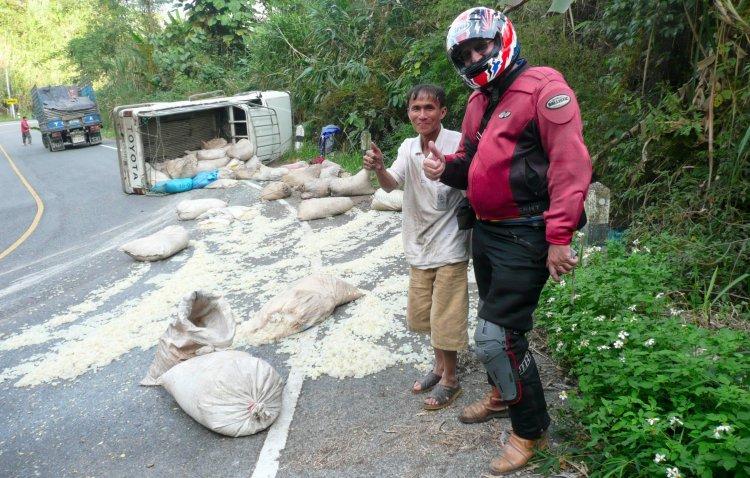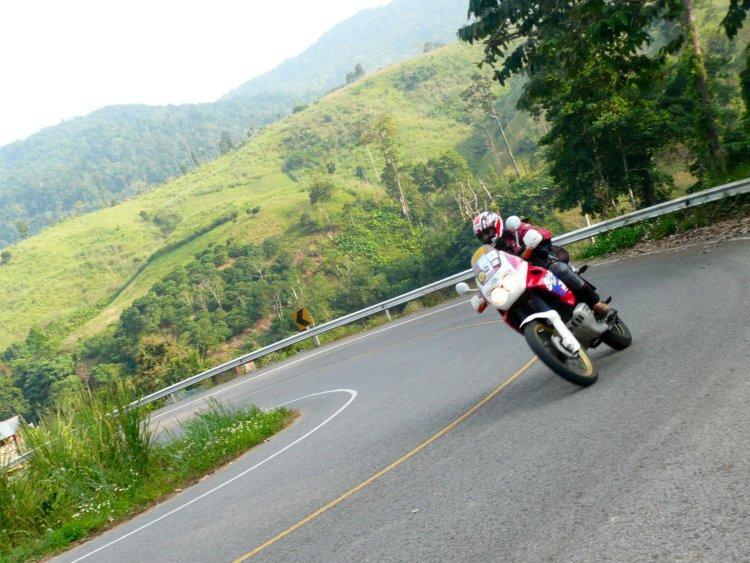 The nicest thing about Thailand is the friendliness of the country people. A brief stop for an iced coffee and a cappucino cake... the school teacher brings his senior students over for a chat with the strangers. Lots of educated people speak some English, and high school students are all required to learn.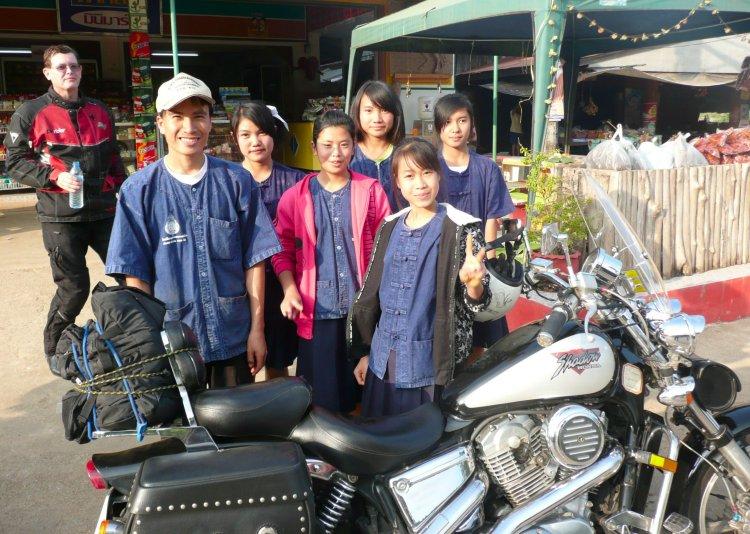 This is a beautiful little village, and the side road to the east is well worth a brief diversion.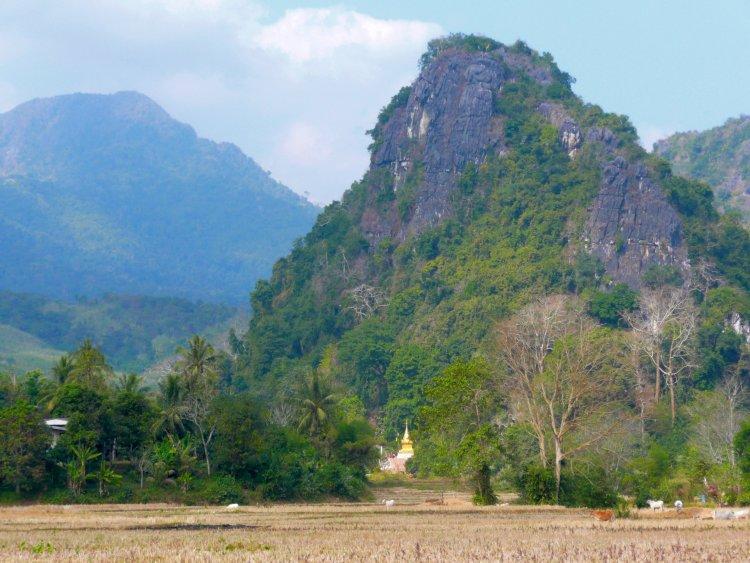 After a most excellent adventure, including a high speed blast on the last 75kms into Nan to beat the setting sun, we arrived at the Dhevaraj Hotel...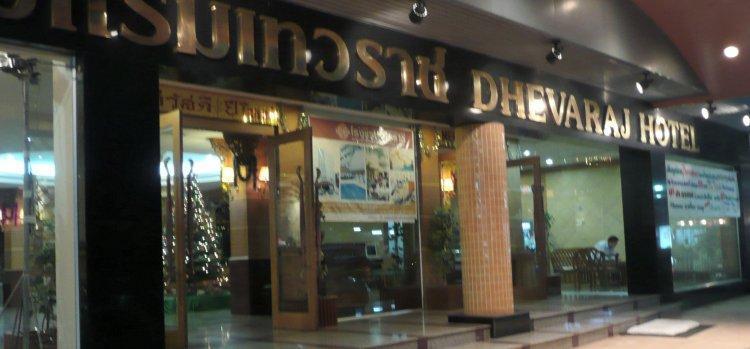 Thirsty work, riding fast into the sun. As we arrived, a beer was softly calling my name... "Ben... Ben darling..." A tall slim sexy Heineken, dressed alluringly in green... Actually, with the wiling assistance of Scotty, a brace of them were quickly dispatched while Fearless Leader was bathing in goats milk, or whatever it is he does in the shower... Never known a man to spend such a long time at ablutions... When it comes to "getting ready to go out" he's like my girlfriend... only not as attractive! Beer consumption brought the next problem to the fore - acute hunger...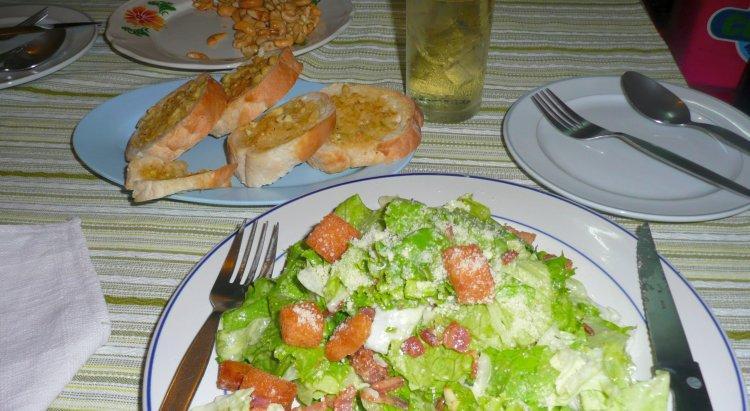 The solution to that problem was the finest Caesar Salad in the Kingdom, pursued by a delicious pizza - all too much for me - that was a sturdy pizza, and I could not do justice to it "Can't pull it off with this equipment!" coz my belly's not yet big enough! Maybe next year, I'm still growing...
Day Two: Doi Phu Kha Loop - the Big One
It gets chilly in Nan. After the typical forgettable "free" hotel breakfast, we rumbled north out of town in search of the mountain... Fortunately it was not difficult to find on account of the fact that its really, really big and sticks up really high... Finding the back way up it might be a little tricky next time, as its neither well marked nor obvious and required a u-turn off the highway, doubling back a kilometre, a left turn onto a main road going towards the mountain, followed by an almost immediate left turn and zig-zags through small sois. Still, FL is a most trustworthy guide, possessed of an unerring sense of direction... and soon we were engaged in combat with steep mountain ridges and a long climb upwards towards the summit of Doi Phu Kha.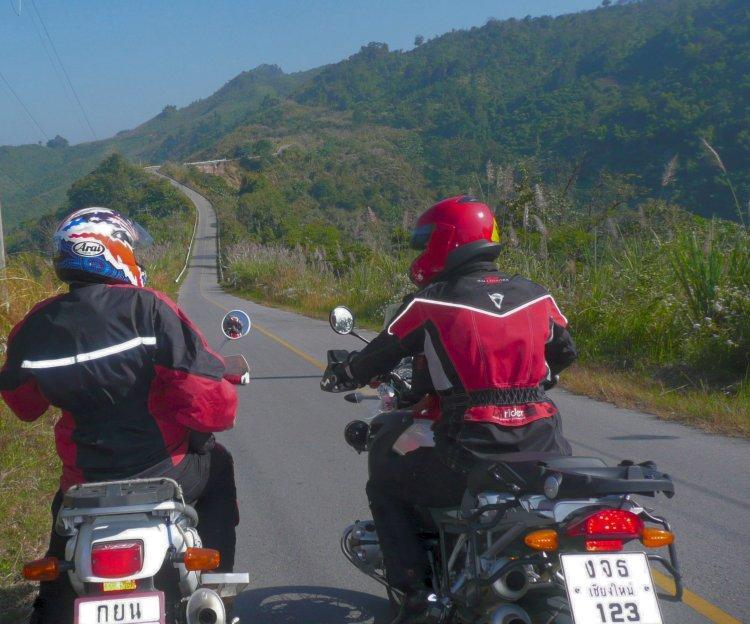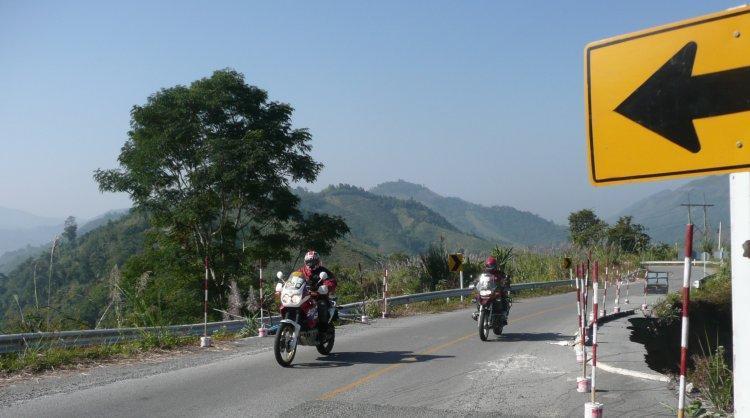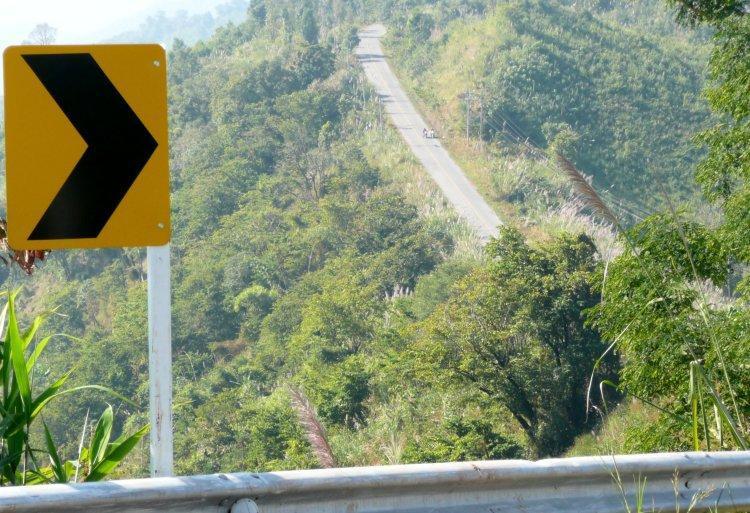 Discovering an oasis adjacent to the top was an unexpected bonus, and custard cake, cappucino cake and coffee always raises the spirits of boys on an outing...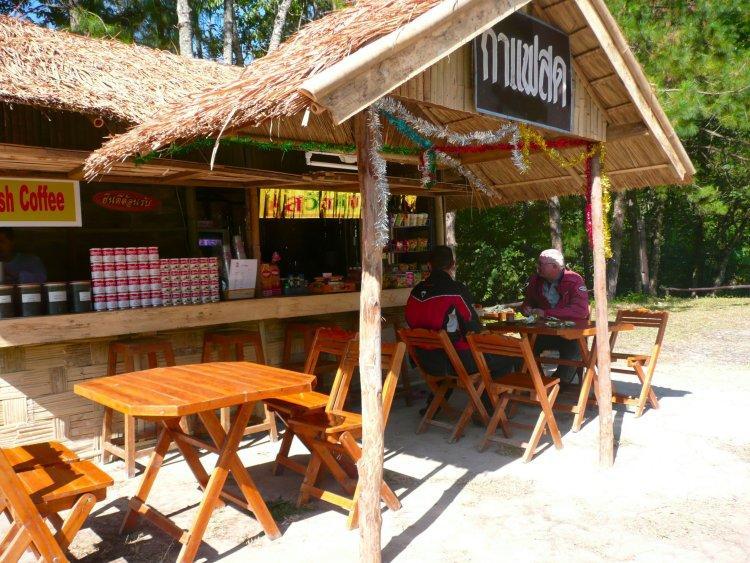 Its a sparkling good view from the lookout by the coffee shop! Even on a hazy day - and a bit of image editing can help to filter the smoke from the images.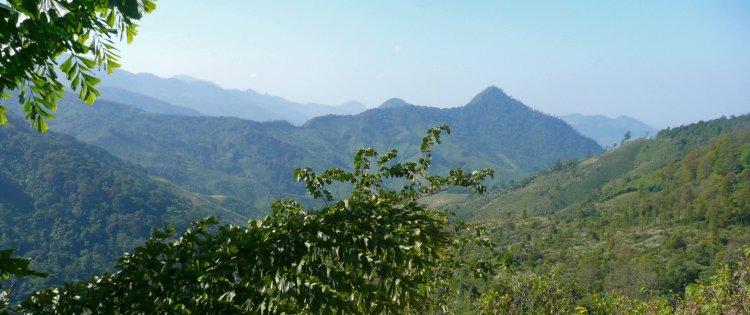 A chance encounter with a big ol' snake soon after was another unexpected bonus! David saw it, avoided it and stopped as I came tearing around the corner - I saw David braking in the shadows - but not the snake... He said "You ran it over!" in an accusing tone of voice.. WTF? I looked back and there's a bloody big snake wiggling off down the street, apparently none the worse for wear.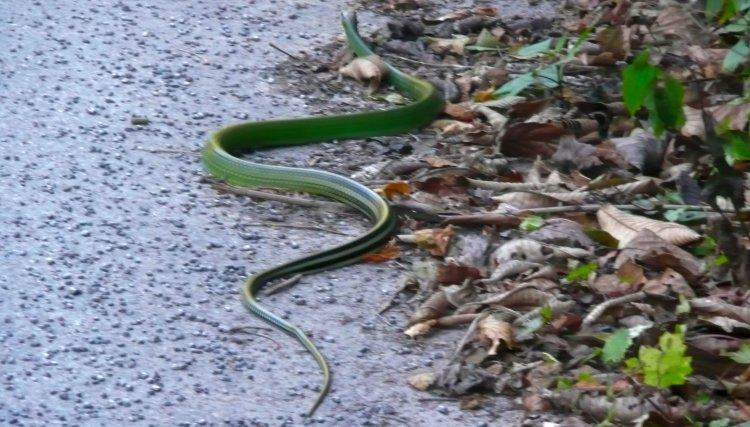 I ran after it to get in range of the camera, and used the 10x optical zoom to fill the frame - hell, those things BITE!
The view from the last summit before the long descent towards Bo Klua... looking east towards the Laos border.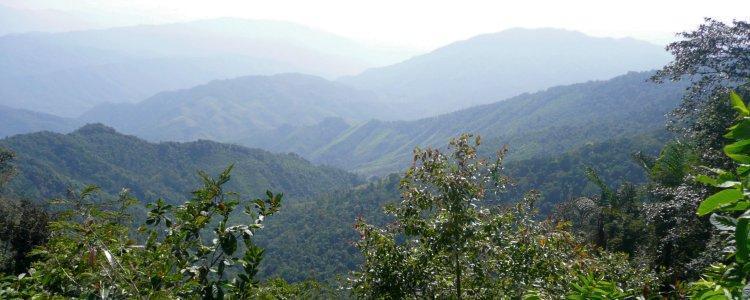 Ban Bo Klua
or "salt mine village" is located in the bottom of a valley at the intersection of Highway 1256 and 1081. A hell of a long time ago, the region was at the bottom of the ocean. Aside from limestone hills another legacy is the salt water that is extracted from wells in the village, and evaporated off to produce salt. This was on a major trading route, and visited and recorded by the earliest European visitors a couple of centuries ago...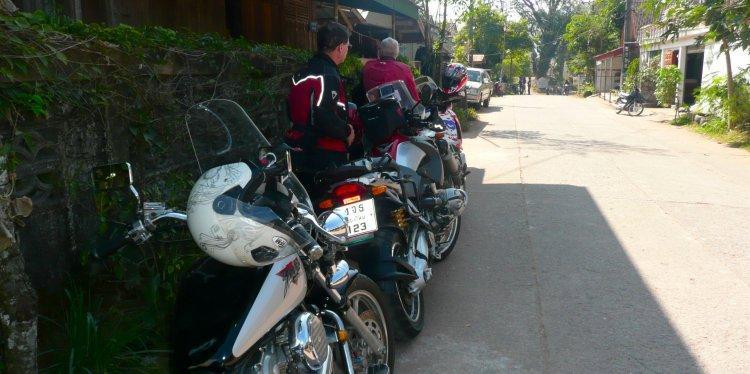 Well, well, well... 3 holes in the ground? :roll:
He never did tell me what he saw, down in the depths...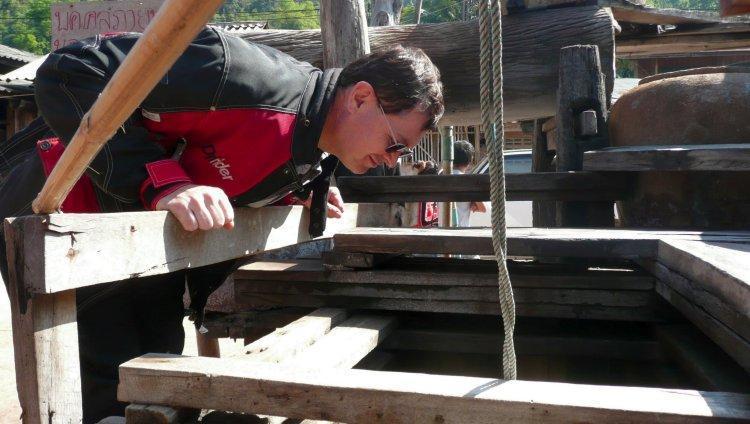 Pans of salt water being evaporated off over a wood fire. Note that lunch is cooking... dual-purpose fires save fuel.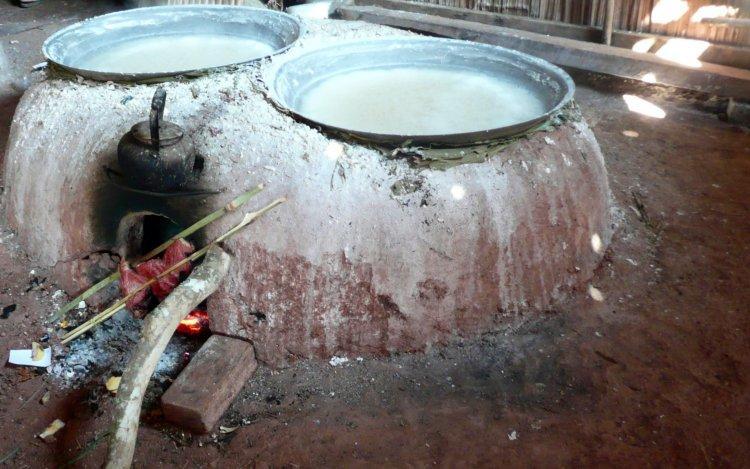 Bags of salt, packed, being labeled and available for 25 baht a bag.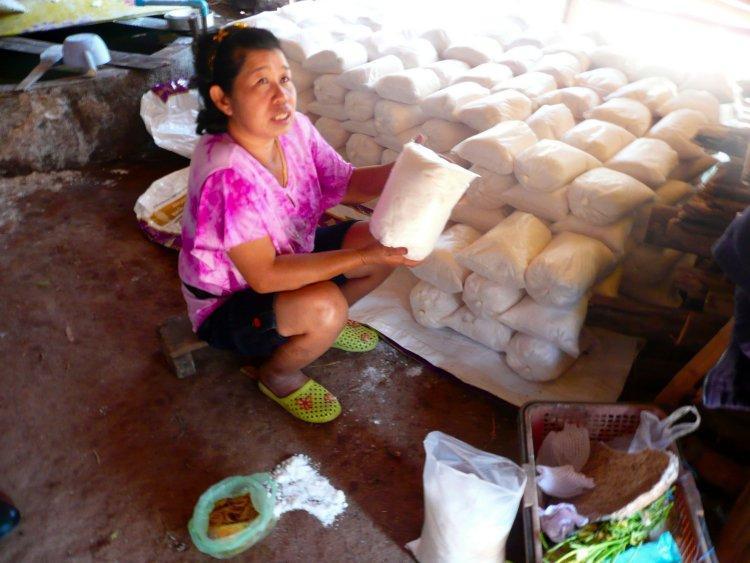 A couple of "shopkeepers" were persuaded to pose for a photo.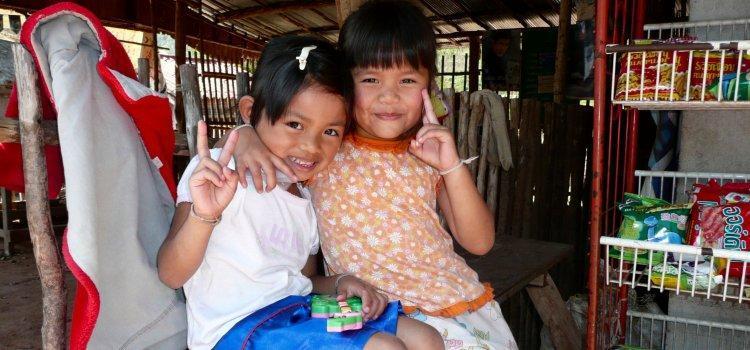 Lunch was at the salubrious
"Ban Bo Klua Bar & Grill"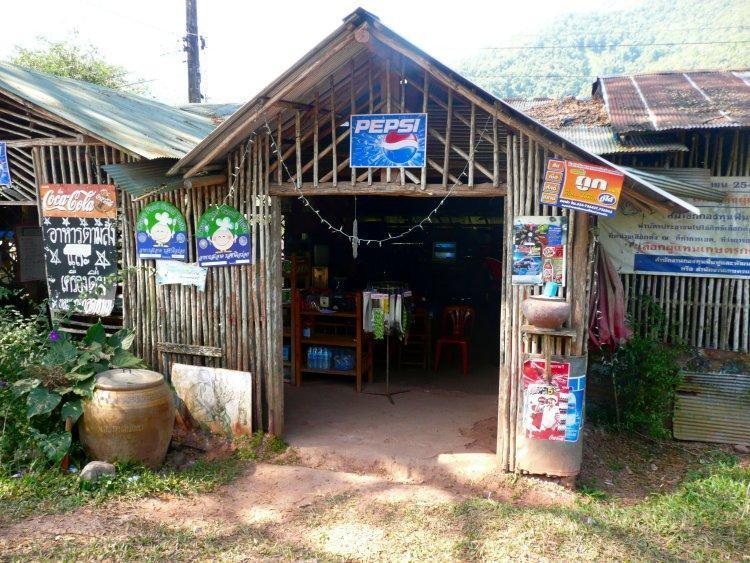 ...where the hostess whipped up a reasonable meal in rustic surroundings. There are GT Rider's whose aristocratric noses would have reared in scorn... but The League of Gentlemen fell to it with relish..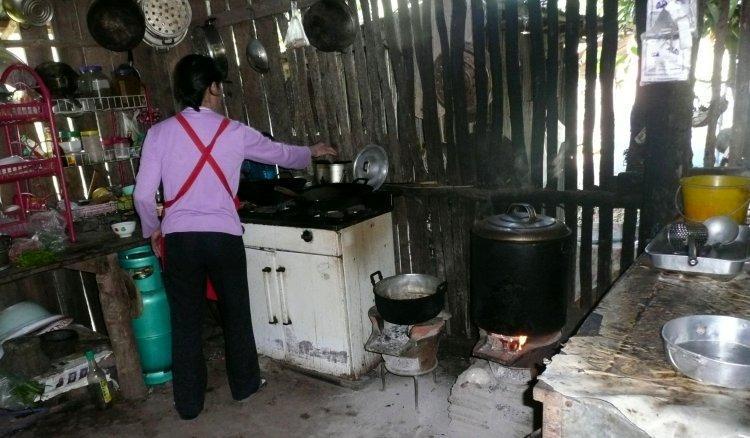 Well, actually, the lady had no relish... nor chutney, and no pickles neither, for that matter...
The scenery is pretty awesome out here in the mountains. There are also some nice streams, and as its Saturday, no school... What do small boys the world over do on a sunny Saturday? Go fishing! No idea what they were after, but the shrieks and laughter drifting down the valley brought a big grin to my face! I've 3 younger brothers, and we spent a hell of a lot of time in creeks, catching freshwater crayfish!

They were wearing face-masks and going head and shoulders into the water in search of their quarry!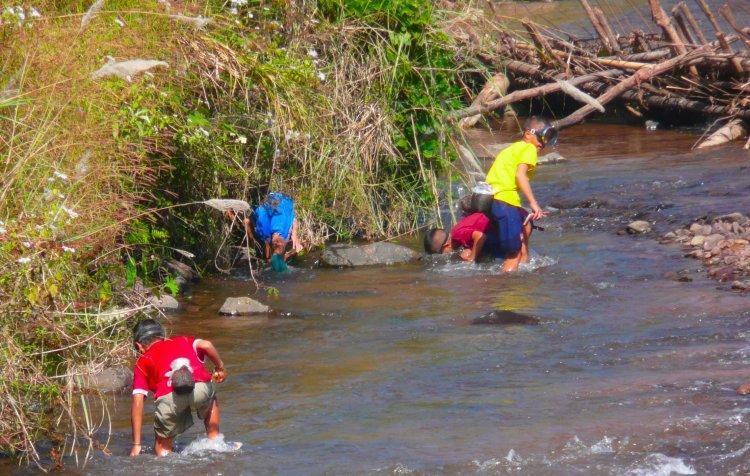 A brilliant Flame Tree provides a nice counterpoint to the AT on a corner...
We were forced to endure landscapes of extraordinary beauty all day!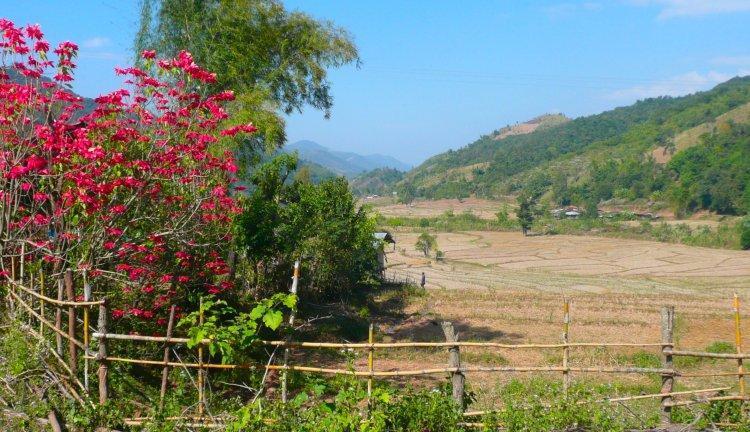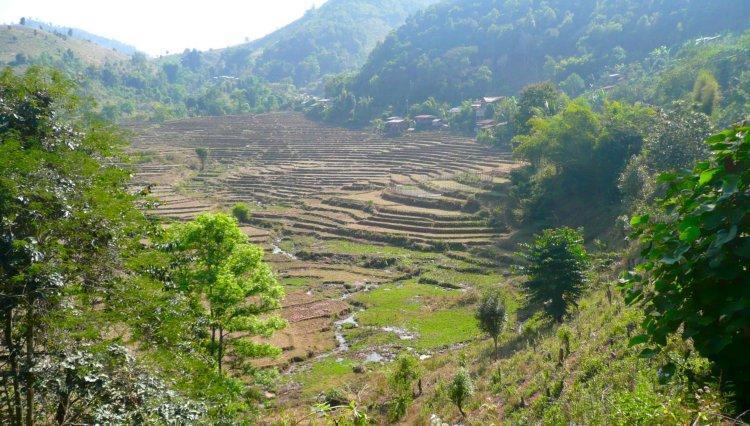 A 17km diversion was made to a small village in search of a mystery chedi and museum, erected to commemorate a battle between the Thai army and Communist insurgents in the early 1980's proved fruitless. Its there somewhere though! A well concealed, low-key royal project, tucked away... Some 17 Thai soldiers died in the engagement, plus 40-odd of the Communist rebels. We did turn around right beside a new house construction project, and were an object of some interest to the builders!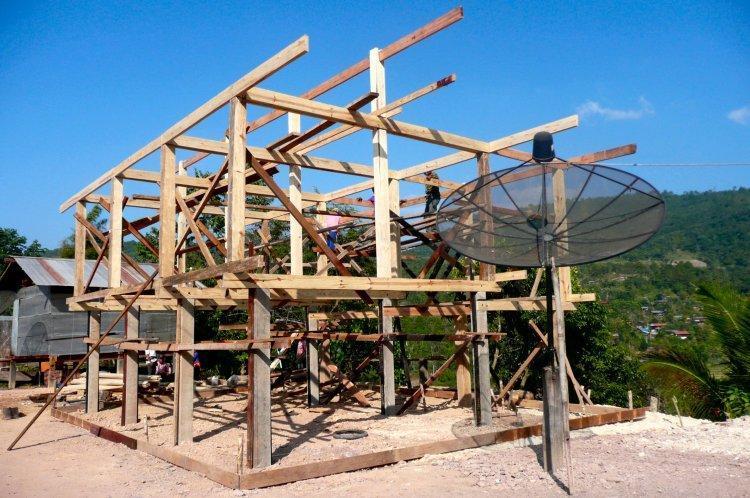 Coming down out of the mountains in the late afternoon is a real blast. By now we've been on the road for over 6 hours, and its been constant accelerate, brake, gear changes, corners, potholes, and hanging on tight. My clutch hand keeps going numb from the wrist down, and my throttle-hand thumb is hurting like hell... The descent followed the ridge line from the top of the mountain... across the gully, and up the mountain this series of photos is taken from...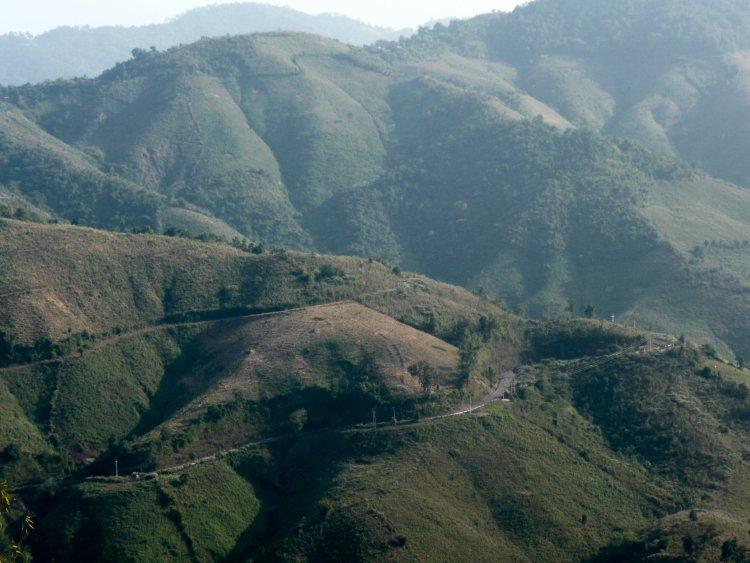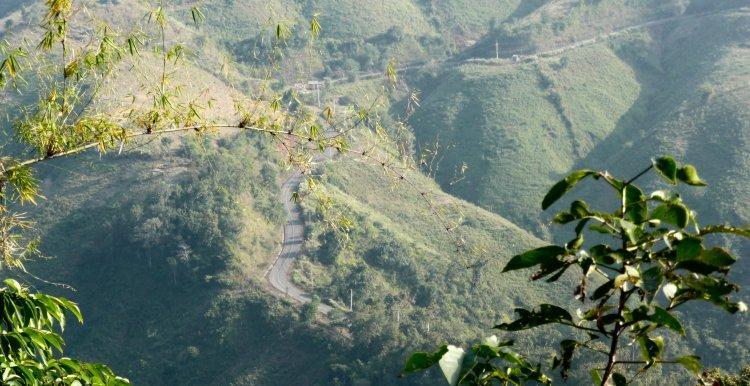 Eventually, we emerge into relative civilisation.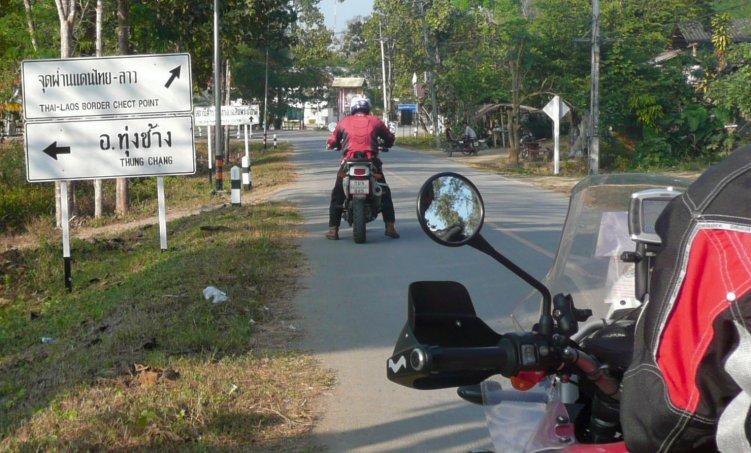 The Nan Immigration Border Post - newly built and poised to open, supposed to be "tomorrow" but the official opening has already been postponed 3 months.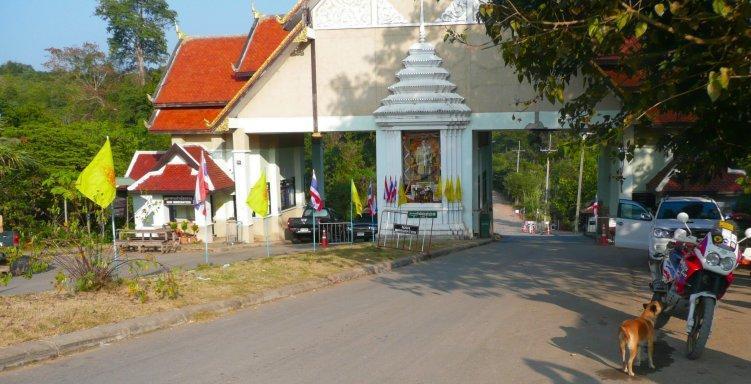 The Nan Immigration Officer remembers David from 2 years earlier when he exited at this crossing with a broken arm after a falling off. He assures us it was the bike he fell off...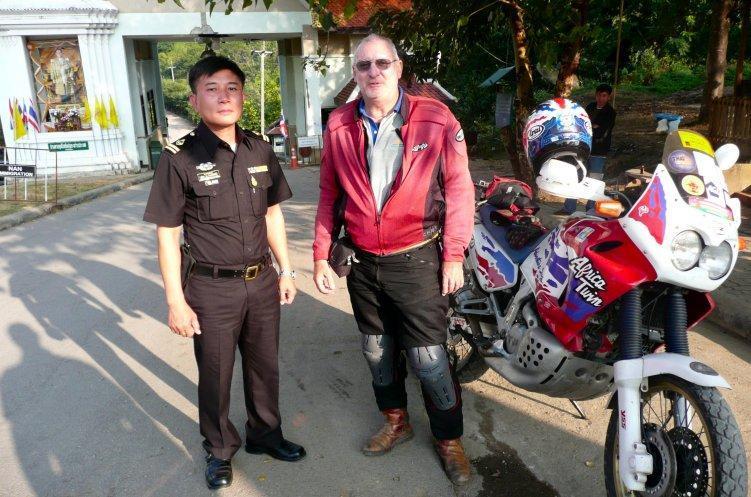 Sun's low, but we took a coffee break in Pua, where the BMW again proved recalcitrant; terse comment from Scotty - "Shoulda kept going!" This time, the BMW requires a push down the hill to start, but Scotty did not have his gear on yet... and to his dismay it turns itself off as soon as he returns and lowers the sidestand! :lol: Helmet and gloves are donned, but it fails to start with FL and I pushing it. Scotty is sure it will fire up on the long hill into town, and tells us he'll see us in Nan... He leaves... and in the distance it bursts into life, and he's gone at full noise!
We arrive back at the hotel in Nan just on 7pm, with the last hour's run in darkness. All in all, a bloody big day out! As we arrived, a beer was softly calling my name... "Ben... Ben darling..." A tall slim sexy Heineken, dressed alluringly in green... Actually, with the wiling assistance of Scotty, another brace of them were quickly dispatched while Fearless Leader was bathing... etc etc... Its like deja vu, all over again!
Day 3: The Return
A deja vu breakfast, and hit the asphalt in different directions. David and Scotty head south to CM via Lampang and a planned diversion to "check out a road" whilst I retrace 1148 on home to Chiang Rai. Damned cold heading out of town before 9am, and I'm pleased I've got the windproof liner in the Alpinestars jacket!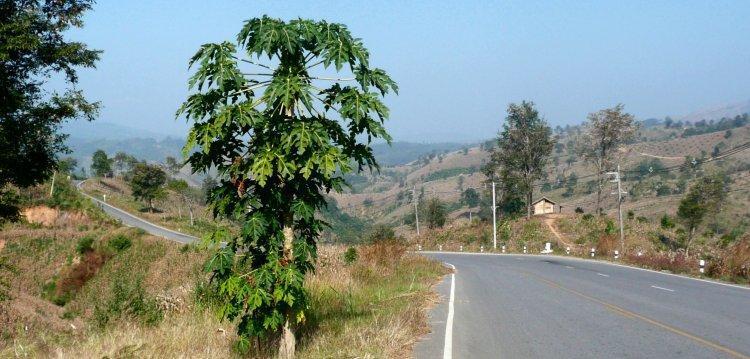 Now, its fair to say I'm not disinterested in fishing (a lifetime of it, plus a decade as professional fly fishing guide in NZ). There are some nice looking rivers in Nan Province...

This one attracted my attention on the way over, and an early start and the sun on the right angle revealed a little more of it on the way back - and being alone gave an opportunity to digress...
This sign caught my attention... a RESERVOIR as well? Sounds very promising!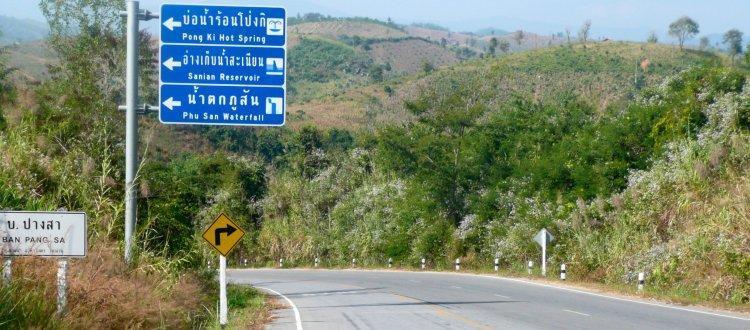 And led me to a bridge...

Where mum was doing the laundry while No.1 son propped up a log...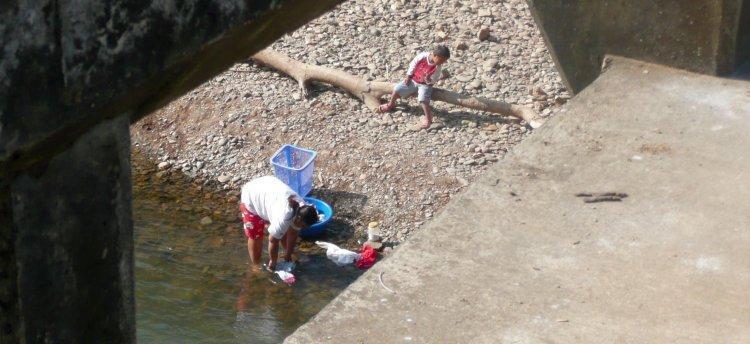 The excursion to the reservoir turned into a major hinterland exploration mission! First the road was good, that did not last - the pothole to pavement ratio becoming less than favourable! Then it became a concrete single lane.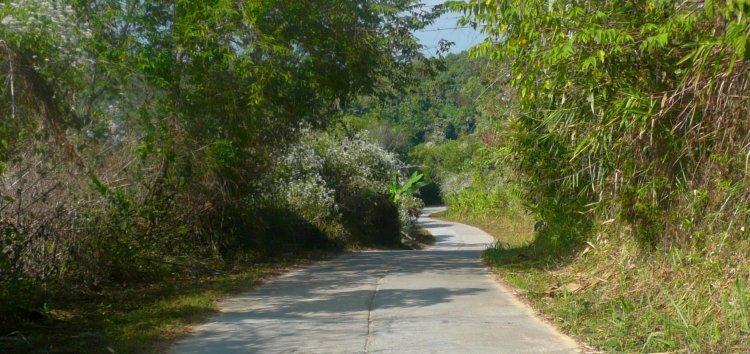 Which kept going up... giving some stunning views...

And went on and on, drawing ever-nearer to the mountain range in the distance.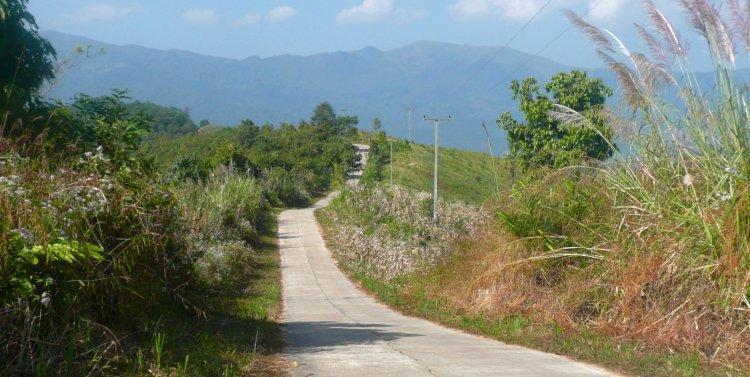 After some 20kms, the first significant signage - unfortunately bereft of English. On the basis of size, and number of arrows pointing right, I went the wrong way!
And ended up here, in a 1-horse town in the middle of nowhere, and apparently devoid of benzine - which is now becoming an issue due to the dinky little 12 litre fuel tank on the Shadow.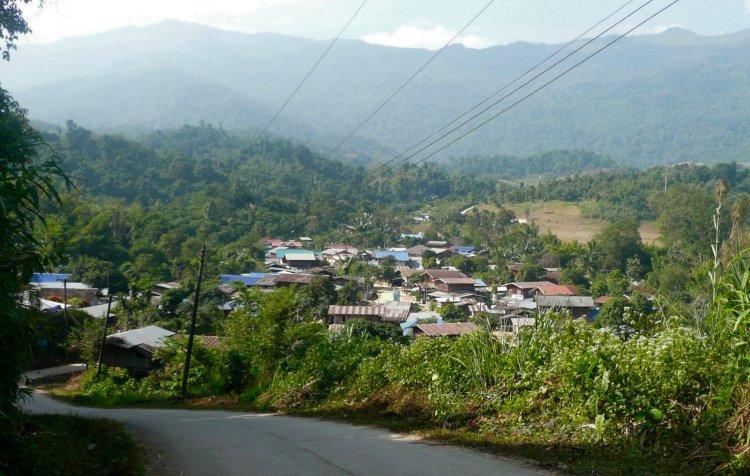 A retreat was in order, back to the main road, and back towards Nan approx 5kms to a handy little gas station. According to the goddess, the hot springs, reservoir and waterfall were on the left road - anyone been there??? My guess is Pong is just over the other side of that last ridge...
Anyway, undeterred by that interesting but unsuccessful little diversion, my attention is (briefly) refocussed on rivers;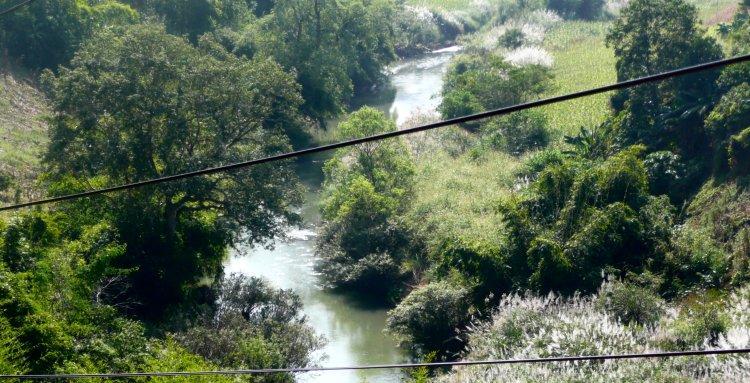 - including this little stretch at San Kaew...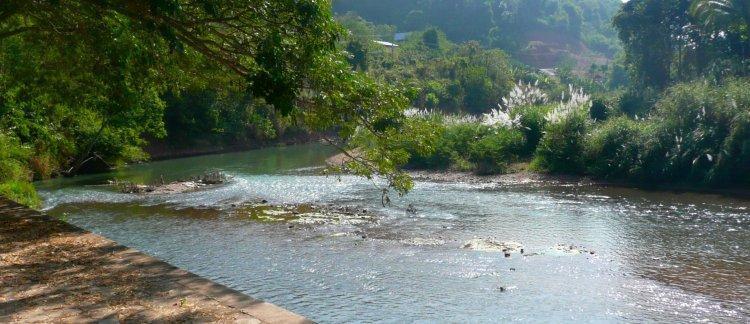 However, the repetitive "Thai - Laos Border Market" signs eventually broke my concentration, and I was tempted into turning off 1148 in search of the famous border market... Even BIGGER Mistake!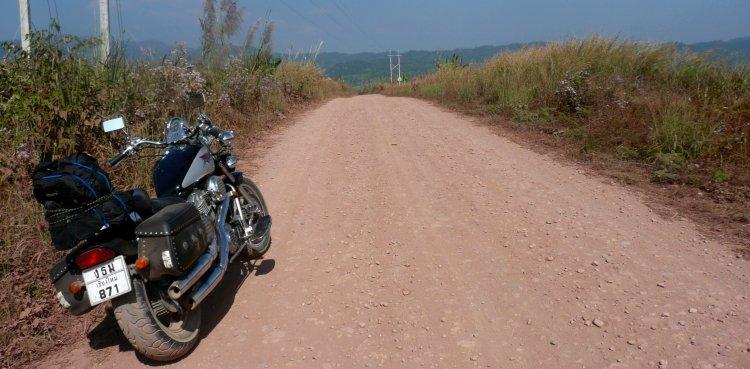 The roads starts off well enough, but grows progressively smaller at each consecutive village, and eventually becomes a dirt road after 15 or so kms... great views... Laos in the distance, no doubt...

But the conditions are growing less and less suited to the Shadows soft suspension...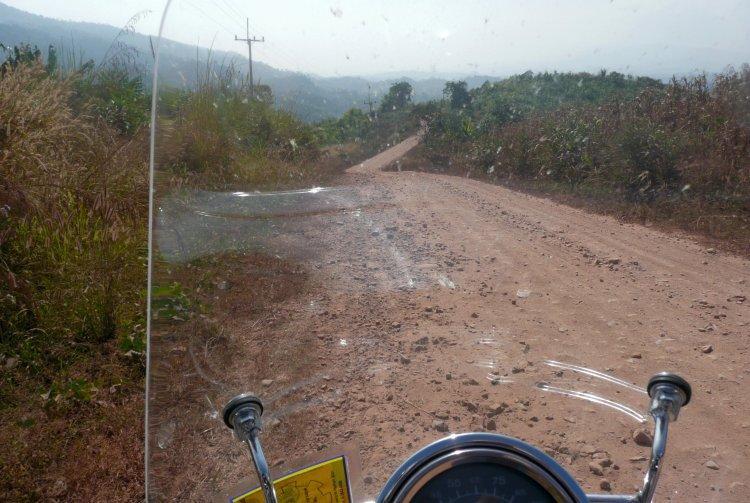 Retreated before I arsed off it and bent something expensive... Straight home for sure this time! 8)