[oops! sorry for the few improperly rotated pix; they appeared okay when viewed offline...?]
Mid May, my rental condo's Brit owner and his Thai wife were coming for their
2-week Thailand vacation. I proposed that they stay at their place,
reimbursing me for 2-weeks rent, and I'd go on a moto jaunt through Issan.
I believed that would be a Win-Win proposition: it'd be much cheaper than their
staying at a hotel and I'd have extra trip money.
I thought I'd emulate the incredible Capt Slash and focus on taking Thailand's
less traveled 4-digit roads. I normally prefer cruising through smaller
villages than large cities, which I'd previously experienced in many past
trips in Cambodia.
So, armed with my usual Roadway map as well acquiring ThinkNet maps which the
Captain's site suggested, I headed out from Pattaya. Contrary to my good
intentions of taking many pictures, as in past trips I again often failed to
take my camera out of my riding jacket, so this report will be more verbal
than pictorial, containing a list of routes, some suggested hotels and a few
pictures of some the many sights I encountered...
A very long meandering first day...
36-331-3340-3245-331-304-33 (thru Sa Kaew),3462-3485-3198-348-3382-3308-348-
218 (thru Buriram),219-2378-214 to Surin, visit a friend (Mike) and see his
restaurant. He suggested staying at the Thong Tarin Hotel. Though it's
possibly a 4-star hotel, where the region and provincial dignitaries stay, the
rooms on the top floors are scheduled for remodeling, yet are decent and can
be had for a mere 400-Bt/night with HW, TV, WiFi, and AC! I ate my friends
restaurant, the StarBeam, which I found provides both excellent western and
Thai food, and has farang musicians playing on Friday nights. They also make
excellent pizza and their own dough, so take note Capt Slash. Recommended.
There was no red-shirt activity in Surin. The city's population is middle
class and generally supports the yellows, though red-shirt supporters abound
in the smaller outlying towns.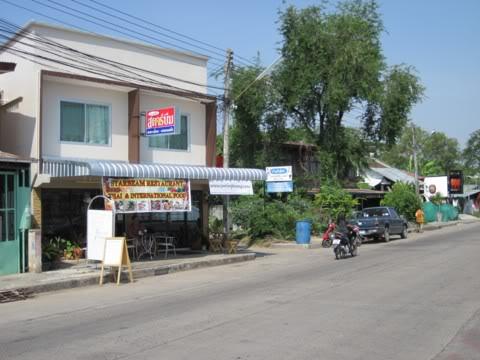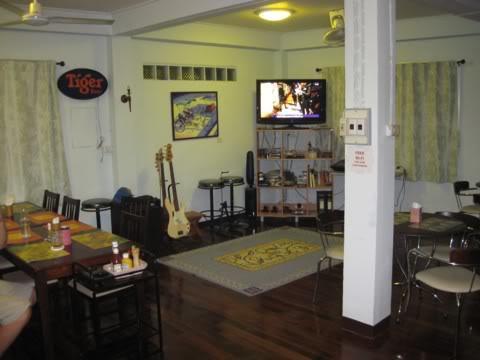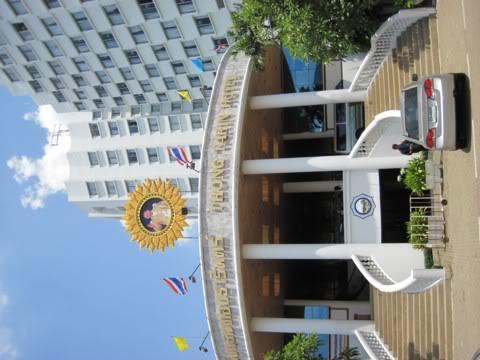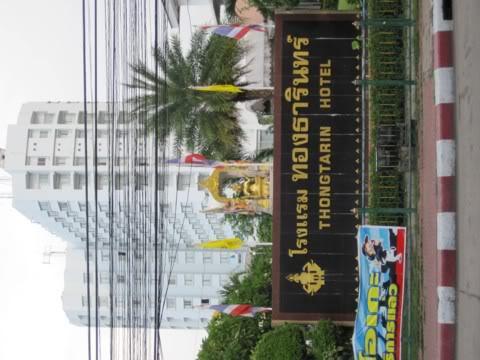 http://www.thongtarinhotel.com/
Richco Motorsports (Harley Davidson)
My next destination was Ubon where I'd hoped to find Marco recovering from his
bike accident in Khon Kean. I'd failed to keep up with the GT-R thread on
Marco's accident and didn't know he was now in a hospital in Korat. Mike had
suggested I see the 'Wat laan khuaat', on the way to Ubon. The wat is allegedly
made from a million bottles. Rumor has it that the site was originally an
ancient outpost of the British Empire and had a beer bar, hence the large
number of bottles available to build the Wat.
I first headed north on 214 (thru Tha Tum), 2076, to the tiny village of Mak
Mee off of 2076. I stopped there to briefly visit a friend's aging father then
back on 2076-2079-226, towards Si Saket, in search of the fabled wat. I never
found it, though enroute and at a dozen different stops, both locals and cops
each provided far differing locations. The wat is still on my 'to do' list.
2373-2168-2382-2408-2404-23 took me into Ubon.
A few years ago rode to Ubon to see their annual Candle Festival (highly
recommended!) and stayed at the short-time hotel located behind the Wrong Way
Cafe. The hotel was full and the Wrong Way Cafe is now run and owned by
Richards ex-wife, as Richards' philandering ways led to his ouster. A short
distance away, on the side opposite the Wrong Way is the fairly new Phadaeng
Mansion. Rooms are large (2nd floor and up) and have HW, TV, AC, WiFi, a large
bed and are 400-Bt/night, single. The hotel lobby and each room is decorated
with pictures of various historic artworks and each room has a small balcony
with a sink and clothes rack for those inclined to wash their riding clothes.
The owner, 'A-Doon' is always on hand to provide assistance and directions.
(Recommended!)
http://thephadaeng.blogspot.com/
I visited a few wats and left
Ubon, heading north along the Thai/Cambo border. While in Ubon, a number of
red-shirt started fires causing blockages to some of the major roads.
2050-2034-Mukdahan-6015 [not labeled on any map; runs north through small
villages along the Mekong]-212 Nakhon Phanom. On the way to Mukdahan, I asked
someone where I could find a tube. This is where they sent me:
I passed through Mukdahan, seeing the Friendship bridge and their Tower, which
I thought was a water storage tower, not the cultural center that it is. I
tried to visit the Mukdahan National Park. I followed the sign and even asked
directions, but every road I explored and local who assisted with directions
turned out to be another road which lead me back to the main Hwy 212. Is there
a Mukdahan Nat'l Park, is the sign a local prank, or was I likely just lost again?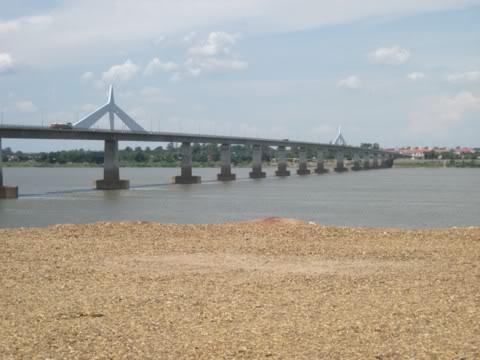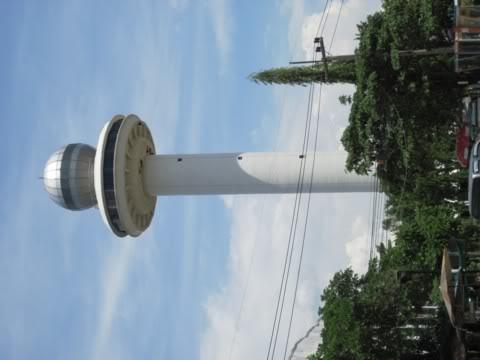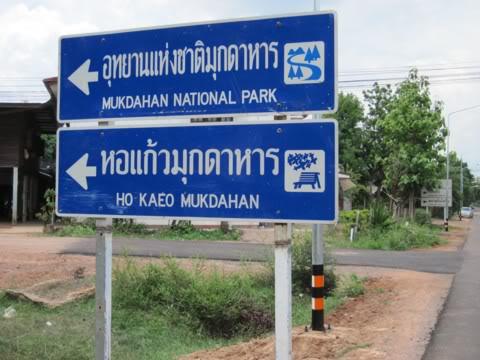 Further north of Mukdahan there is a little known historical site. Like
Phosavan, in Laos, Thailand also has their own "Plain of Jars"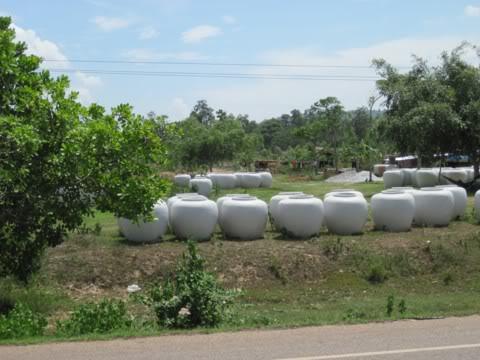 My goal was to visit the famous Prathat Phanom Wat, which is south of the
Nakhon Phanom. On the way I detoured to see the "Bi-Colored River". I guess it
was an off color day for the river, as it was only one shade of brown.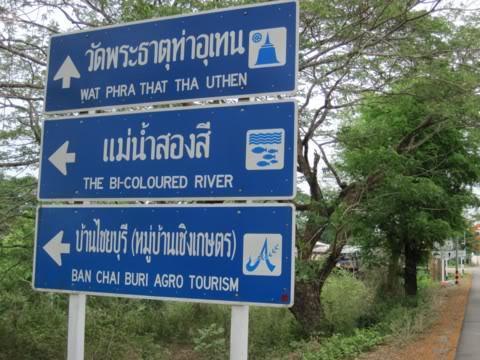 An owner and friend of a local Pattaya moto shop, who is also an amulet
collector/trader had given me an amulet from the Phanom wat, for my
'protection', when he'd learned I'd bought my first dirt-bike. No, I'm neither
Buddist nor superstitious, but wear it on trips to justify his kindness. I
wanted to give him some photos of the Wat. The wat is both enormous and
gorgeous and had at least 1000 visitors, including hundreds of school
children. Many of the structures were too large for me to get a vantage point
to take a complete picture of them.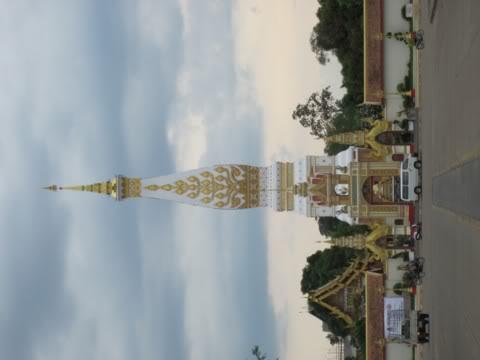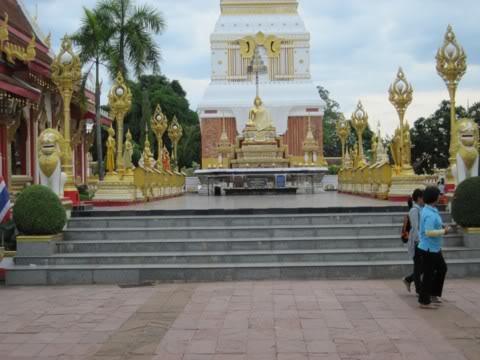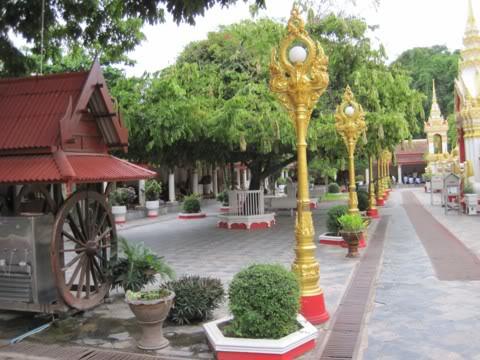 Continuing north on 212, I wanted to visit the Phu Wua Wildlife Sanctuary,
which is about 120-km north of Nakhon Phanom. Enroute, approaching the town of
Ban Paeng, in the distance I could see about 20 pick-ups and larger trucks
leaving the town and heading south on 212. The trucks were full of red-shirt
demonstrators. As I got closer to the caravan, riding my red BMW and wearing a
red riding jacket, the red-shirts started pumping fists in the air, cheering
and waving. When I was close enough for them to see it I was a farang, their
celebration quickly ceased!
After the parks' entry point, the road leading into Phu Wua had large signs
showing the various types of animals that could found in this wildlife
sanctuary. I was surprised seeing a sign for rhinoceros, not knowing they are
also found in Thailand. Turns out it's a smaller two-horned version of it's
larger cousins. However, no animals could be seen in the park, without treking
and hoping to see them in the wilderness. So far, I guess my viewing
experiences in the various 'Unseen Thailand' venues has been about half seen
and half still unseen!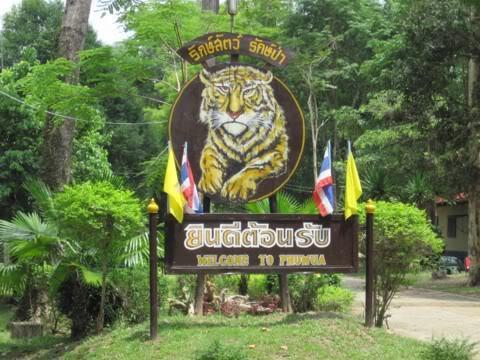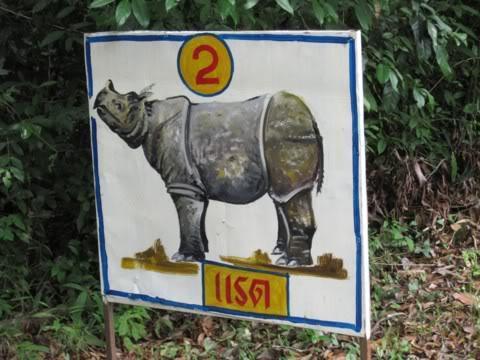 Backtracking on 212 and west on 2026-2145-2096-2230-2267(Fao Rai)-212-Nong
Khai. On 2230, in a small village before Fao Rai, I was stopped as a parade of
hundreds of Thai's were dancing and 6-sound trucks were blocking the road. Most
were wearing pink and other non-red garments. I can only guess they were
celebrating the King and the end of the siege in BKK. A half-dozen men came
over to shake my hand; one guy brought two ladies over to meet me. I've no
idea if the latter had an ulterior motive?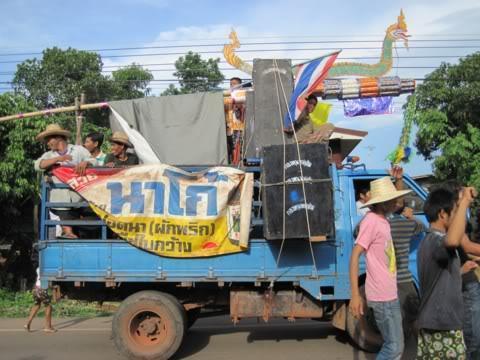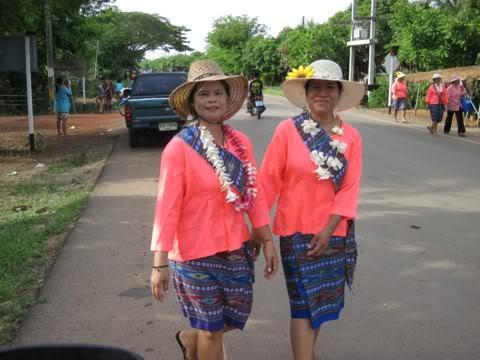 Nong Khai must be suffering from the lack of tourist blues. Every internet
cafe, prominently listed on the city's travel map was out of business. Of the
few farang bars listed, 4 were closed; only Beer Belly Billy's bar was open
for business. The Mekong was extremely low, likely due to mis-management of
water flow control by the upstream the Chinese dams. The owner of Billy's told
me that earlier this year the Chinese let so much water flow downstream that
it crested the riverfront street and the bar had a few inches of water on
their floor! That represents the river being about 60-80-feet higher than it
is at present!! On the opposite side of the river, a Lao cement company was
busy loading sand into trucks, for their inland factory.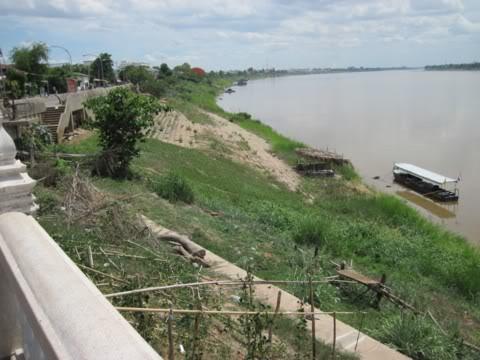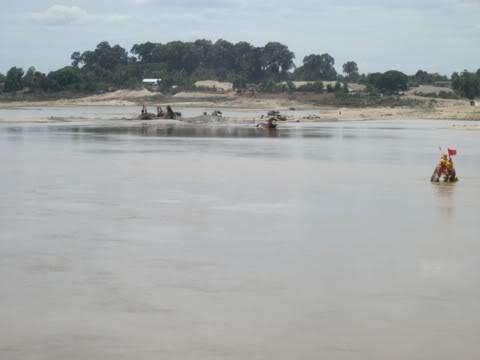 Leaving Nong Khai, I went to 'Thai Hell' Actually, it's the Wat Luang Pho
Nahk. South on 2-2022 (in error I went to Penh), then 2022-2-2021-2348 (Ban
Phoe). I took a number of pictures, but am presenting only a few, as those in
the link below are of better quality. The small village on the outskirts of
Ban Phoe contains two Wats. I stopped at the first one, which was void of
people except one lone monk. He directed me to go another 1/2-km to a second
wat...which was crowded with Thai visitors, foodstands and the desired
statuary. I think the first wat badly needs to create their own tourist lure!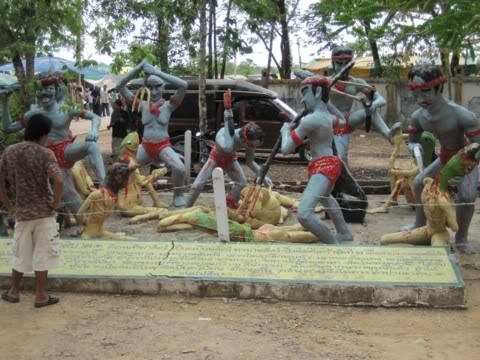 Not all of the statuary was macabre: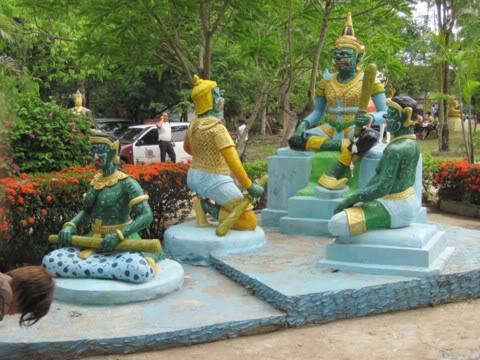 Below is a link to the Luang Pho Nahk, which erroneously indicates the Wat is
located in Penh, while it is about 60-km west of Hwy-2, on the outskirts of
Ban Phoe:
http://www.thailandstories.com/article/ ... iland.html
I was getting bored touring around [see addendum at the end] and decided to
head to Khon Kean. 2021-2098 (then missed turn and was again lost)-2352-2097-
210-2146 (lost again)-2038-12. Lucky for me, the clouds had opened up and it
pissed rain for the last 80-km of the ride, at night, to Khon Kean.
The 'Rain-X' I'd applied to the visor at the start of the trip had worn off,
making it a miserable and well soaked ride. I'd decided to stay at the Orchid
Hotel, which John Gooding had used for visitors for bike week. The Orchid was
full, but next door is the Season's Place, which had rooms with HW, TV, AC,
and excellent room lighting (if you want to read) for 400-Bt/night. No WiFi
or restaurant, but foodstands are located nearby. John Gooding had just
returned from delivering a bike to C-Mai and stopped everything on his busy
schedule and kindly lead me to some shops where I could replace my broken
rearview mirror. We then went to his house [beautiful home, nice decor],
chatted and then he lead me to a road where this lost soul could find his
way back to the hotel. Thanks, John.
http://www.khonkaenorchid.com/location.php
Location map for Orchid Hotel & adjacent Season's Place
To compensate for the wildlife I missed seeing at the sanctuaries, I could
just look at the figures on this Land Rover, which belonged to one of the
staff at the Season's Place Hotel. Weird, eh?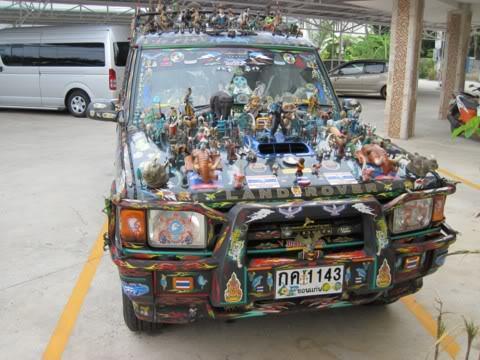 Though I was getting bored traveling, I was somewhat stuck as I couldn't
return back to my (rented) condo, until the owners vacation ended in another
few days. So back to Tha Tum and Mak Mee, and onward on 214 towards to Surin.
Enroute, I planned to visit the Ban Ta Klang Elephant Village, just west
of 214. A highway sign directed me to turn right for the Village, I followed
a dirt road a few km's and found only a ranch with unusual elephants...
it was a cattle farm! 5-km's further down 214 was another sign to the Village;
this one had elephants, and each house had an elephant parked where a car
would normally be found. Okay, but cars don't poop on the garage floor!
Near the entrance was the largest Asian elephant I've ever seen;
a 35-y/o beauty, standing about 13-14-feet tall, with a pair of
magnificent tusks.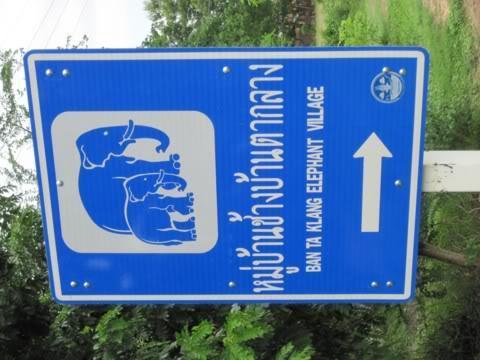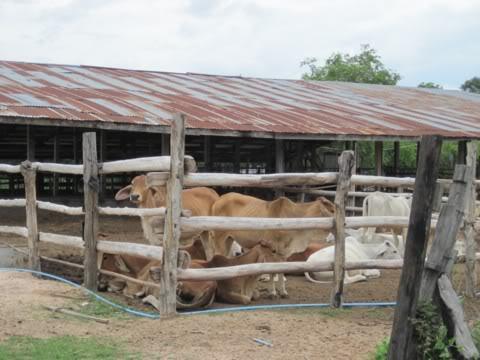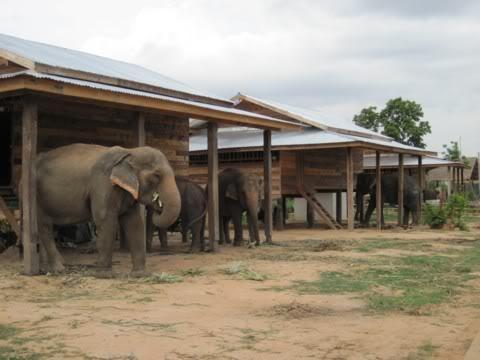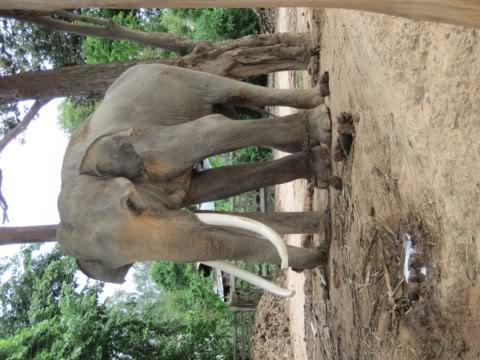 In Surin is was again a stay at the Thong Tarin Hotel and having meals at the
StarBeam. Next day, it was on to Si Saket to visit the Pang Sida Park and
waterfall. The area is home to over one hundred different butterflies from 6
different genetic sub families. Kids and adults alike were fascinated by the
colorful insects. Before I could visit the waterfall, the rain gods again
drenched me. I stopped a park restaurant for shelter and food. The rain
finally ceased, but again began pouring soon after leaving the food stand.
No need to put on rain gear if you're already soaked!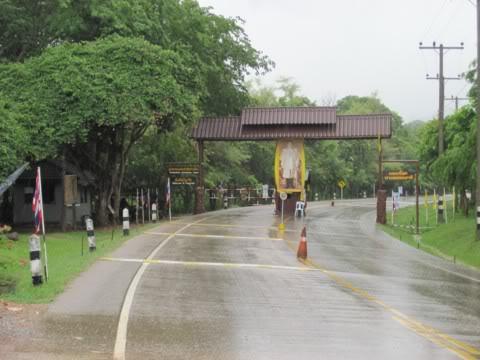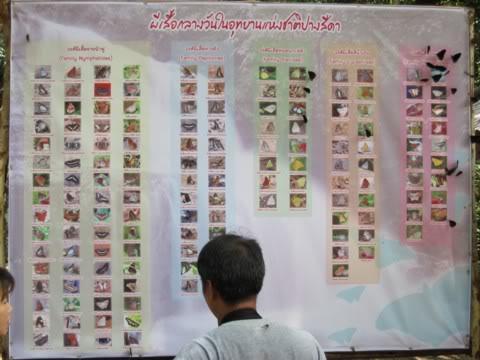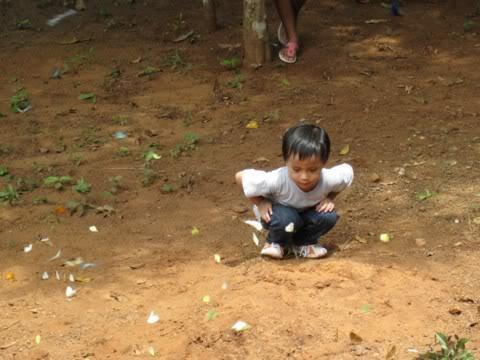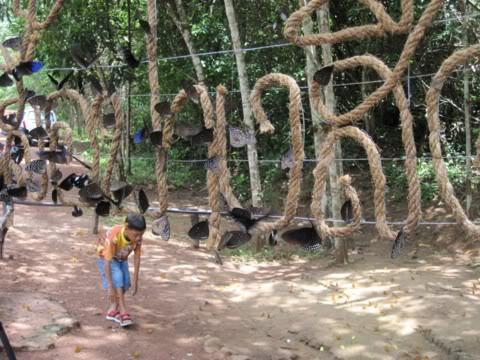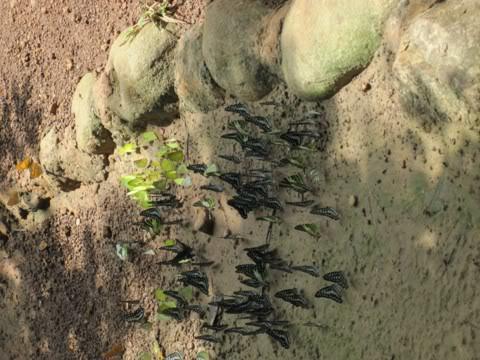 Now heading home via Chanthaburi (214-24-348-33-3395-3348-317-3). Once I
was heading south on Hwy-3395, the heavens decided to help the rice farmers
and it rained all the way to Chanthaburi. Lacking the water shedding 'Rain-X',
I was now constantly wiping off the road spray from vehicles ahead of me.
As road spray also contains dirt, my visor soon became irreversibly scratched.
Persevering in miserable conditions, I continued to brave the persistent
rain all the way to Chanthaburi, where I got a room and dried off. Next
morning it was simply a fast jaunt back home to Pattaya (3-36-3).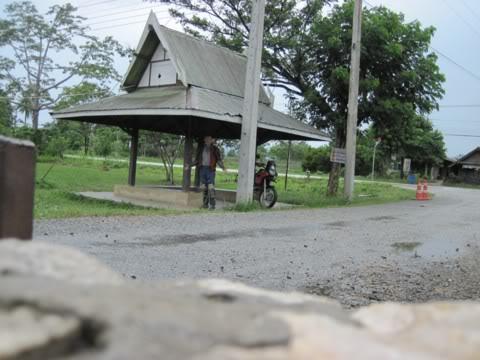 Seeking a brief rest, at a bus stop, from the fury of the rain. Predictably
the rain stopped while I was sheltered, only to begin again when I departed!
Addendum: Things I'd change for future journeys...
1-Take a "Long haired Thai dictionary" with me.
2-Not let my landlord stay at the condo, though he's a good guy;
one needs the freedom to return to the comforts of home whenever desired.
3-Go slower and use the camera more often [eh, maybe].
4-Take some Rain-X with me.
5-Bring a magnifying glass to read the tiny print on the ThinkNet road maps.
6-And, finally, accepts that I need a GPS so I can find my intended
destinations and won't wander in unintended locations [...get lost] so often!