After Tasek Bera ride in January, the group decided to spend a night at a beach resort near Kuala Linggi as February's event. This time we will cycle through more urban roads along the coast. But upon checking the GPS, this will be a relatively easy trip as the terrains are relatively flat all the way. It will be an easy 60 km of fun cycling. This time my wife Dr.tt wants to find out what cycle touring is all about, and so signed up too for this trip. Dr.tt is an avid motorcycle tourer and she has been traveling to places too on her bike, kawasaki er6.
She has a bicycle , you know the cheaper MTB for light evening cycle around the park, and it took me quite a while building the bicycle to become a reliable touring bike. The first thing that has to go was the gearing system. I had this changed to an 8-speed with shimano acera derailers and shifters. The cheap wheelsets were later replaced with a double wall type and slicker narrower tyres fitted on. Then a rear rack was fixed , for her panniers and finally I installed a pair of fenders to keep off dirt and water spray just in case it rains. A rear view mirror was also added as a safety checklist.
Come the day we are all ready to go. We will start our cycle trip from Melaka. There were 5 of us, and we will joined by 9 other cyclist from Kuala Lumpur at the destination. If you googled Kuala Linggi, you will see that it is a little village near the Linggi river mouth, just perfect for a lazy quiet nite for a weekend.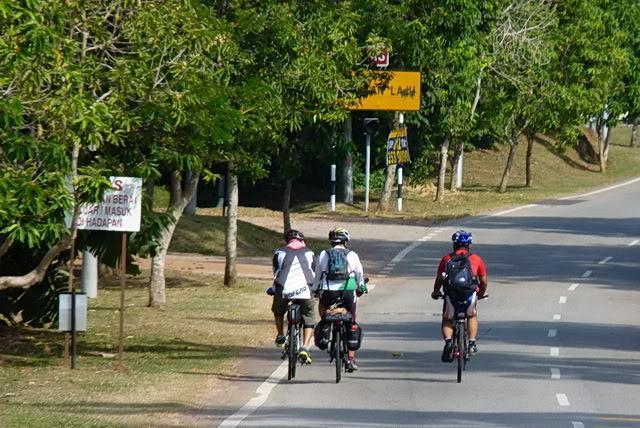 The 3 boys. Photographed just after leaving the busy city of Melaka. We travelled westward after Melaka to ride the quieter coastal road. The weather was good, a bit too sunny, nevertheless we made good progress on this road.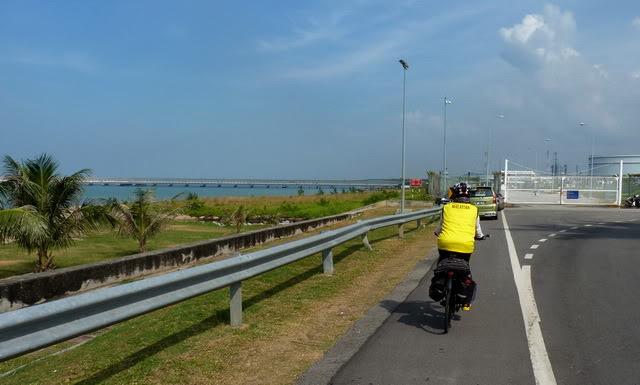 The Dr.tt, taken at a Petronas Gas Refinery . Location is at Pantai Kundur, approximate 12 kilomters north-west of Melaka. A bright coloured t-shirt proved to be a very safe way of dressing up for a tour cyclist on the road, it makes you more visible. By now the boys are no longer visible upfront, but that dont worry us as we have made arrangements for stops every 15 or 20 kilomters down the road.