Administrator
Staff member
Subscribed
Jan 16, 2003
12,810
3,320
113
67
A new pair of riding pants you say?
Nah, not really, I'm happy with what I've got – the Fieldsheer Mesh pants.
Look, give these a try will ya – I've got a banner on GTR & I reckon you've got a bit of experience under your belt to know if they are any good or not.
Oh alright then, I will give them ago. Several months later they are still sitting on the top of the cupboard waiting to be tested.......bloody hell I thought I'd better give them a go, but they're not really my style & can't be that good; so I reckoned.
It was just a simple run to Chiang Khong for a night or two.
I put the pants on easier than I thought, plus my knee guards over the top as usual.
It was bright & sunny when I left Chiang Mai & the pants worked well – not hot & surprisingly with a bit of airflow circulating – possibly cooler than the mesh Fieldsheer pants even, but that can't be right can it I thought?
Just north of Mae Suai, I made the obligatory stop at Charin Resort for some coffee 'n pie.
Back on the road it started to rain. I had no rain gear & battled on like a good soldier.
The rain got absolutely torrential, visibility was minimal, vehicles were pulling over, but I chugged on.
Charin – Chiang Khong was well over 2 hours.
Did I get wet?
Yes indeed, but I was amazed by the pants & how well they performed – hot & dry!
I thought I would have felt both a hell of a lot hotter & wetter but didn't. So what's the secret then?
According to Assero "the Cordura 1000D material has a loose weave that (1) allows air to pass through the fabric & (2) the Cordura has Durable Water Resistant coating; that whilst not waterproof is designed to dry very quickly if it becomes wet.
One of the aims of Assero is to make riding gear specifically for the tropics & my initial impression of the pants is that they've got it well & truly right.
I returned to Chiang Mai a couple of days later, threw the pants in the washing machine & put them out to dry. They scrub up like new & actually seem to dry in a flash. Very impressive. The Cordura material they are made of really is super. On another trip a week later the pants got a bit grubby from dirt off the road. Into the bathroom & out with the bum gum to give them a quick squirt to clean off the muck & they are basically dry again in minutes. You could not do this – clean & dry – so quickly with Kevlar jeans; so the Assero pants are a winner here again.
On another quick half day ride, rather than put on the heavy Fieldsheer mesh pants, I opted for the Asseros. Now I knew more - easier & quicker to put on & more comfortable to wear, plus they actually look like normal pants. I got home & hung up the Asseros & that night went out. In a hurry to go out, the Asseros were handy to put on quickly & off I went. Nobody commented that I was wearing motorcycle riding pants – because they look just like normal pants. By now feeling totally comfortable with the pants, I continued to wear them for a few days – just like normal pants & they are as comfortable as, if not more comfortable than regular jeans to wear. Only one guy, a BMW rider picked that I was swearing biker pants, when he noticed the zip attachment on the back for a jacket. I told him how good I thought the pants were & he immediately wanted a pair too.
Impressed or what? Yes I am highly impressed. And I was totally skeptical beforehand! These Assero motorcycle pants rock. And if you're like me & live riding, then you should have at least one pair of Asseros in your wardrobe – for riding or even general everyday wear. They are that good! Plus they are as comfortable as jeans, but perform better in every way. I love mine already & want a 2[sup]nd[/sup] pair.
Some facts on the Tropical Motorcycle Jeans (TMJ's) from the Assero website
· Tropical Motorcycle Jeans are designed for daily use around town, perfect for commuting to work in a hot climate. While they look like normal jeans they conceal sophisticated design.
• Five pocket, straight leg jeans style look identical to regular black jeans.
The fabric
• Cordura 1000D custom made specifically for Assero Gear for use in hot and humid conditions.
• Highly abrasion resistant, approximately five times stronger than denim.
• The loose weave allows air to pass through the fabric, rain will pill and roll off thanks to a Durable Water Resistant coating. The fabric is not waterproof, but is designed to dry very quickly if it becomes wet.
• Cordura 1000D Nylon is cooler and more abrasion resistance than denim. Includes DWR coating.
Construction
• Tropical Motorcycle Jeans uses the strongest seam in the industry. All of the main seams are triple sewn with a double-lapped seam over an inner security seam. This provides the ultimate protection against burst seams as the inner security seam is completely covered by an outer layer of Cordura 1000D.
• Nylon sports lining, more comfortable in hot weather than polyester.
• Massively strong lapped-seam construction using Coats bonded Nylon thread.
• YKK size 10 coiled zip to attach jacket.
In Chiang Mai you can get Assero Pants from Helmet2Home opposite Surawong Book Centre
Or mail order here
Assero Tropical Motorcycle Jeans
Assero pants
Assero motorcycle pants - look like ordinary pants
Regular jeans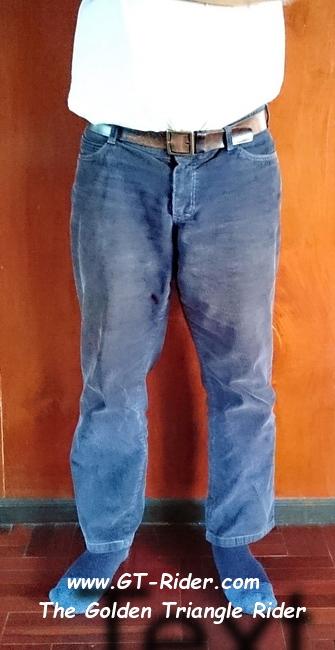 Regular corduroy jeans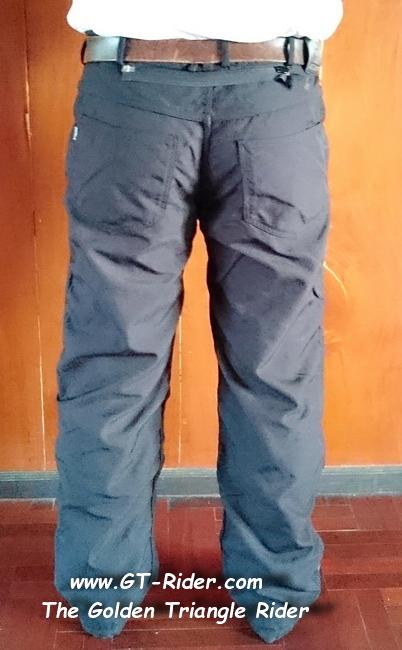 Assero motorcycle pants with regular jean pockets. Comfortable & easy to wear
Check em out. I'm hooked. Really great pants for all bikers in the tropics. Perfect riding gear for everyday use!
Last edited: