INTRO
I am finally getting some wear out of the sides of my tyres ! It's great to be doing some hill work and leaning over at last.
My brother arrived from Australia last Thursday for a motorcycling holiday and on the day before he arrived, after many false leads I was able to purchase an 8 month old Phantom with 1700km on the clock for a really good price. A fellow from England bought it but never rode it and it just sat around. So we set off with a matching pair of Phantoms. They are proving to be almost identical in fuel consumption and performance although mine with 12000km up has the higher top speed and more power on the hills
13 FEB 06. DAY 1
Sisaket-226-2076-214-2081-219-23-Mahasarakham-208-2-Khon Kaen.(326km)
Great to be on the road after all the preparation. We went from Sisaket to Khon Kaen and quite surprised to get some unseasonal light rain. We took the back roads for some more interest and rode up Highway no 219 a road I helped to build with the NZ Army engineers in 1967.
DAY 2
Khon Kaen-12- Lom Sak (Ban Meata Village). (229km)
Finally 100km out at around Chum Phae we got to lean over on some hills. Beautiful slopes and well contoured corners with a good surface makes this a delightful run and really special after the drag from Sisaket. Paul has been many years off bikes so he has now had a couple of easy days before the leaning started. Overnighted at the orphanage we help to support.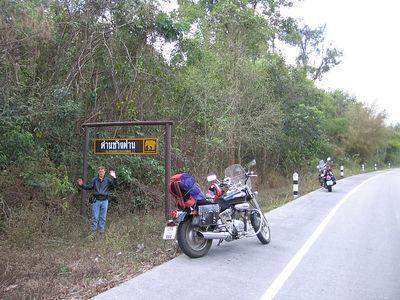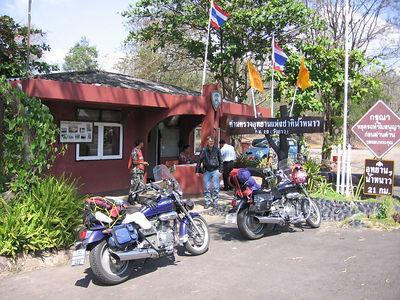 DAY 3
Lom Sak-12-11-101-11-Lampang. (394km)
Another beautiful ride through the Khao Kho Mountains then the long straight drag between Pitsanaluk and Uttaradit before finishing off with some fast mountain work. We were looking around Lampang trying to find the horse and coaches, when an old guy on a step through called out to follow him. We were lost anyway so we did and he led us to the Riverside Guest house. He disappeared but he did us a favour as it is a delightful place on the river(?) at B250 twin share for the night, and as it was around 4pm we decided to stay. Nice breakfast overlooking the river.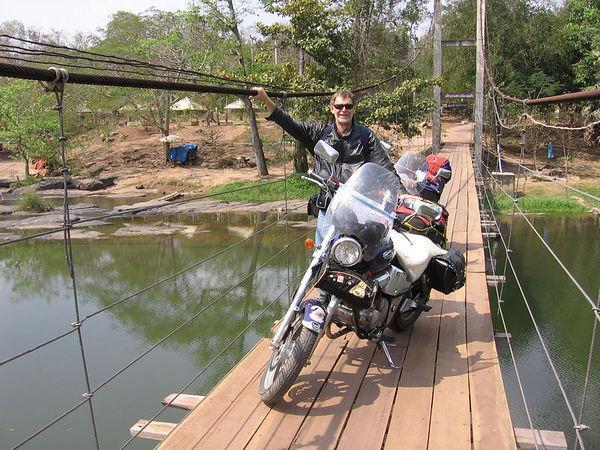 DAY 4
Lampang-11-1033-116-106-1031-1010-108-1009-Doi Inthanon-1009-108- Chiang Mai. (278km)
Because we were going close by, we decided to do Doi Inthanon on our way into CM. We photographed the beautiful Temple near the Park entrance enjoyed a drink and then entered the National Park. Paul had to pay the full B240 entry fee but I was able to plead teacher status and got in gratefully for B40. After taking a look at the Mae Klang waterfall we climbed the mountain enjoying the cool air the great curves and contours on the road and the spectacular scenery. This is really great motorbike country and we wondered if it could get any better than this. Mandatory photographs at the top and then the exhilarating run down. Funny thing happened on the mountain. Pauls horn was working at the top and then wouldn't work. Then my horn also failed. After we got off the mountain they both started working again and have not faltered since ????
Had a real beef burger at Jeff Pikes Restaurant and called at the Kafe where we were privileged enough to meet one of the founding members of the North Thai Tea Drinkers Society actually in possession of the original much photographed bottle of tea. While in CM we stayed at the Mountain View which was very comfortable at B300/day.
DAY 5
Samoeng Loop. Chiang Mai-108-121-1096-107-Chiang Mai.(128km)
As the GT Rider description suggests this is a ride every rider should do. The steep tight corners were a surprise at first and Paul almost came unstuck when the new crashbars kept scraping and causing some unpleasant drifting. Apart from this it was bikers heaven.
DAY 6
Mae Hong Son Loop. Chiang Mai-108-Hot-108-MHS. (368km)
The first thing we did before leaving CM was to get a mechanic to take the crash bars off Pauls bike. This made both of us feel a lot safer and ready for some tight corners. We were not disappointed. After the ordinary stretch to Hot and then the pleasant tree lined river for 20km – the leaning started, often swinging right to left to right as if planned that way. The road surface is quite good except for loose gravel on some corners, hard to see in the shadows of the trees. There is a new 20km stretch of black top in the middle section which is really fast. Mai Sarieng to MHS more good surfaces and great corners
We stayed at the MHS Guest House which was very quiet and pleasant at B300. We also met up with a couple of guys who had come cross country from CM on 250ccHonda dirt bikes. It took them all day and they were doing it all again by a different route on the way back.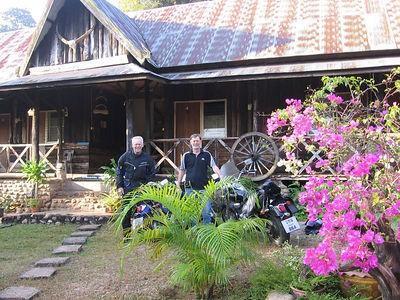 DAY 7
Mae Hong Son - 108 - Nai Soi(Long Necks)-1095-Pai-Chiang Mai.
The air was quite cool in the morning with a heavy dew on the bikes so to a good b'fast in the night market street near the lake.
We found the roads around MHS quite confusing and found ourselves going in the wrong direction a couple of times visiting Nai Soi although there are sign posts. The last approx 6km to the Long Necks is a mixture of deep dirt, steep hills and sharp rocks and we had some concern for our tyres. At the village entrance there is an Army camp with a barrier preventing access to the road they said goes to Burma 10km away.
Around Soppang there is still evidence of flood damage although new growth is beginning to hide the scars. Surprising enough the market gardens seem not to have suffered too much.
Some Bailey bridges are still in place. The mountains here are spectacular and the Phantoms handled them easily. Road works are in continuing with major bridge work and rock cutting still in progress. The surface varies but requires some care. Great views from the Viewpoint back over the road works.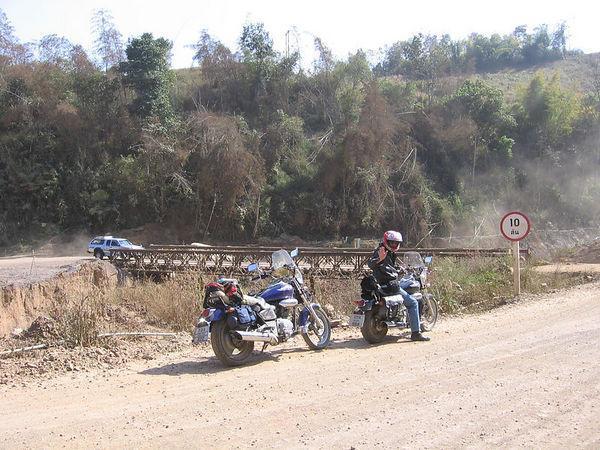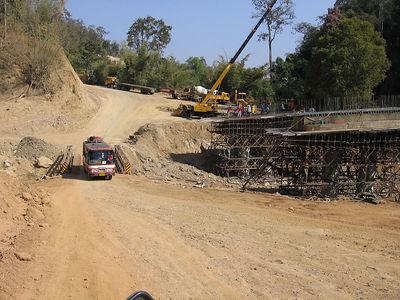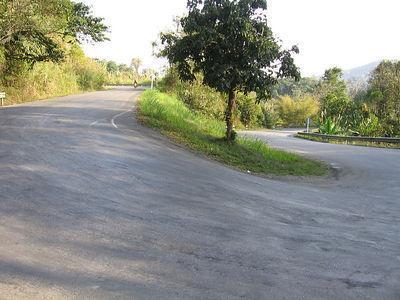 DAY 8
Chiang Mai-118-1-Chiang Rai-Mae Sai-1290-GT-Chiang Saen-1016-1-Pha Yao-Nga-103-101-Phrae. (599km)
This was our biggest day. Surprised at the size of Mae Sai and the activity around the border, also the resorts, and huge Buddha statues overlooking the Mekong in the Golden Triangle area. Lots of tourists and photo opportunities. We needed to get as far south as we could today so we could ease up a little on the last 2 days. At 6pm at Pha Yao we decided to go to Ngao but couldn't find anywhere to stay. By this time it was dark and we pressed on over the hills and ended up in Phrae at around 8pm. It was not a pleasant experience riding this unknown road at night and we were relieved when overtaken by a car which we tailed most of the way.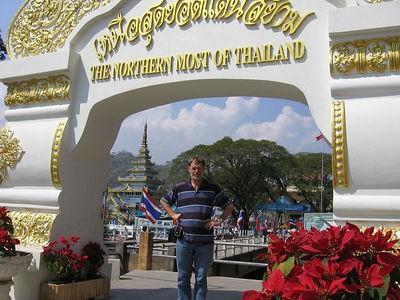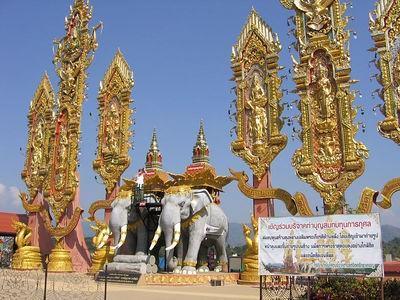 DAY 9
Phrae-101-Den Chai-11-Pitsanulok-12-Lom Sak-Khon Kaen. (494km)
Sadly the last of the mountains. We thought we were in for some rain near Pitsanulok the road was wet and there were ominous clouds all around but all we got was a few drops on our visors. We were in Lom Sak for lunch and decided to press on to Khon Kaen giving ourselves an easy last day.
DAY 10
Khon Kaen-2-208-23-Roi Et-2043-2227-2083-226-Sisaket. (275km)
Last day. Went to the Honda dealer and had Pauls rear wheel re-aligned and the chain adjusted at no charge. They were happy to see a couple of Phantoms dressed up and doing the K's. Back to familiar territory and grateful for an incident free trip.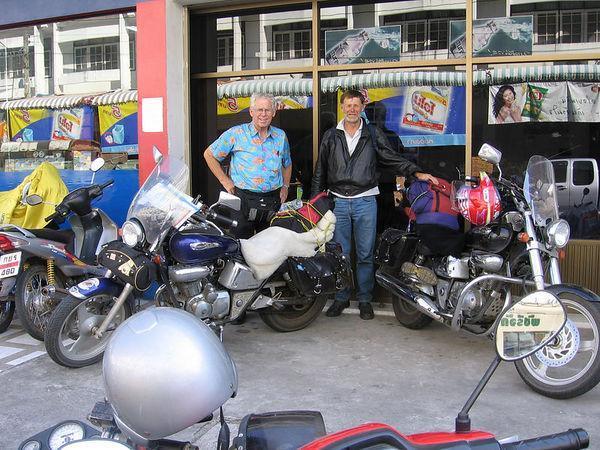 GENERAL COMMENTS
At the start of every days riding you convince yourself that you will ride sedately and sensibly and take it easy and enjoy the scenery. But then something happens and the thrill of the ride takes over. Every corner is a challenge to see how fast you can take it and disappointment sets in when you realize half way round that you could possibly have added another couple of km/hr. So hit the next corner harder and end up with that salty taste in your mouth when you find it's a bit tighter than you thought and you have to pull some K's off quickly. So on this ride over several days we were to discover around a thousand corners that you ride on the edge and alternate between too fast or too slow and end up at the end of the ride with a sore backside tortured gears hot brakes and a smile you can't suppress. I think the engineer who designed these roads must have been a bikey and he was determined that we should all enjoy the benefits of his handiwork.
Right now is tourist season for the Europeans and we saw numbers of them out on bicycles and 'step-throughs' every where we went. We met one 70+ Dutch couple at Hot on a Tandem and they we going to do the MHS Loop but had not done their homework and couldn't make it in a day between hotels. We suggested hitching on a Sontau. Many of the Farungs were two up on their 'step-throughs' and dressed for the beach, miles from anywhere. I am sure they underestimated what are very challenging roads.
This is the first long trip I have done with a second bike and really enjoyed having some company. Apart from comparing notes and reliving the day there is the safety aspect we appreciated. We oiled our chains with a spray can at the end of every 2nd day and this is also much easier with a mate. The new leather saddlebags look good but don't hold a lot because of their shape, we had one on each bike and needed an extra pack. The (Apichai Bkk) crashbar fitted to Pauls bike looks good but was a disaster on tight corners. It also cracked near the mounting bracket and so I will go for a better design. The sheepskin covers made a big difference to comfort on long days.
SOME STATS
TOTAL DISTANCE = 3449 kms. On Hwy 3376 kms. Around Towns 73kms.
FUEL: 115 Litres. COST = 2,961 baht. Consumption= 29.8Km/Ltr.
The 2 Phantoms performed almost identically with fuel consumption less than 1km/Ltr difference. Top speed was about 5km/hr different and there was only 9km difference in the speedo readings over the almost 3500km. Our normal cruising speed was 110km/hr where possible.
Cheers,
Peter
"The Journey is the Destination"