Update On The Vietnam Border Crossing Situation.
After our last December very painful (for our arses) but also very funny experience with under 175 cc to Vietnam I decided to go and give Vietnam a try again with a Yamaha Nouvo. Since all of my friends in the Nouvo Club Pattaya had left for a summer holiday or work in Finland I was more than happy to find Harrithefinn voluntary to join me on this expedition.
My intention was to drive up to Mukhadan and try the new bridge across Mthe Mekong to Savannaketh and then direct to the Bao Lao border to Vietnam. The reason for this rather far away option was that last time the Vietnam border official quite frankly told us that we can cross the border with an under 175 cc provided that we have a border crossing book. The border crossing book can be obtained at any Land Transport Office at a cost of 55 Baht. When picking up the book I was told that it is only valid for Laos, Thailand and Vietnam has not yet signed the mutual agreement but I couldn't care less. The Vietnamese customs wanted the book so this is was they get.
Early start from Pattaya just to find out that I couldn't find the border crossing book for one of the Nuovos. I had just moved into my new house and most of my belongings were still packed in boxes. So off went to the Land Transport Office to get a new book which was ready early afternoon and we were finally on the road.
We caucht the 331 North, then the road merges with 304 and we followed that until we hit the road 33 were we turned east to Aran. The reason for not continuing the 304 north to Korat was that we didn't want to cross the Korat mountains here because the road is partly, still quite bad over the mountains with slow buses and trucks and with a little scooter it can be a little scaring. Otherwise the 331 and 304 are in a quite good condition now (the 331 after 5 years road work with still a little more to be done) but they are boring roads to drive. But from Pattaya heading North East you don't have too much choice.
The sun came down just before Aran so we stayed here for the night at Mermaid. Now they charges 950 Baht per night inclusive a very simple dinner and a good breakfast, a little overpriced but it is the best hotel in Aran.,
Early next morning after the buffet breakfast off we went to Mukdahan along road 348 which is a good road to cross the Korat Mountains, not so much traffic and the road is good. When we reached the road 24 crossing we turned east and when 24 reached the 214 road we went north towards Surin continuing to Yasothom first along the 215 (which is the 214 extension) and then along the 202. From Yasothon our voyage continued along a small road nr 2169 and about 60 km later we reached the main road 212 to Mukdahan. All this roads are quite fun to ride, not so much traffic but you will need a map the first time you drive them. The roads can make some funny turns in some crossings.
Unfortunally we got some problems with Harri's bike on the small road. Harri started to complain that he thinks he has a flat tyre and when checking it was not a flat tyre but more than 20 rear spokes broken….Ok I drove in advance looking for a motorbike shop and Harri drove slowly behind. About 10 km later I found a small shop and Harri was almost able to drive all the way, only the last 500 m he had to push the bike. Good exercise for Harri…..
When the shop owner saw the problem he said that he can not do, you must go to Mukdahan but after I showed him that we had a brand new package of new spokes he very very reluctantly promised to do it.
To take off the wheel from a Nuovo is not so easy and if the shop has not done it before you must oversee the work. You must start by taking off the exhaust, loosening the lower bolt from the rear shock and take off ten other bolts. Then you take off the whole swing arm and after that the rear wheel is easily detached. I wonder who is the Yamaha engineer behind this solution and in the tool set there is not the tools to do this work. Anyhow the man got the wheel off and the spokes went off in Thai style cutting the rest of the spokes with a grinding machine…. Then he put on the new set of spokes very professionally and started to stretch up the wheel. For some reason he didn't use the wheel balancing tool he had in the shop and after making the wheel quite straight he left with the wheel to some other shop and returned half an hour later with the wheel at least quite straight.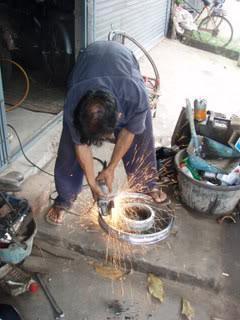 Changing Spokes Thai Style.
Now it was late afternoon and we still had 100 km to Mukdahan and we understood that we will not make it across the river before the Immigration closes. So we headed only for a hotel in Mukdahan which we found 5 minutes after the rain started to pour down. Very nice to check in with all clothes wet….
Up early morning to find a Yamaha shop which we found and when the owner came to open the shop before 8 she kindly picked up a new set of spokes for us priced 120 Baht, not so expensive.
Off we went to cross the new Friendship bridge ( only friendship for no-bikers) very optimistic because Harri had crossed the bridge a month ago with his XR650 from Laos to Thailand without problems and he even had stopped at the Thai Immigration and asked if he can cross it the other way and everybody said that that is no problem.
But now when we arrived with scooters with Border Crossing Books NO WAY, NO MOTORBIKES ON THE BRIDGE. Since there was actually no traffic now in the morning we asked and asked why motorbikes are not allowed and the only answer was that the Laos side has given instructions not to allow motorbikes. Actually we didn't see even any local motorbikes crossing. They didn't even allow us to driver over and ask the Lao immigration.
So what we do now, we can not use the Bridge and there is no car ferry anymore to Savannakhet and we didn't want to take the risk and the problems by taking the passenger boats and put the bikes on the boat. Okay off 100 km north along the Mekong on road 212 and the ferry from Nakhon Phanom to Ta Rue in Laos. A nice road but not so nice when you know that you have to drive the same 100 km south along the other side along the same Mekong…
We arrived in the Nakhon Phanom Immigration before 12 and started the paper works…Now it was complicated, they had never seen a border crossing book before and it all ended up that we had to make all the papers we have to do normally and on the top extra papers to get stamps in the border crossing books. On top of this we had to make an rental agreement in Thai from me to Harri for the bike Harri drove. Fortunally I had have the same experience once before and I had a copy of a similar agreement and very kindly the immigration made some lady in the office to make a new one with some modified info….Then next problem arrived when they saw that my old agreement had a twelve Baht Tax Stamp attached (It was made in the Klong Yai Custom House and they attached some stamps to make it look official!!) and now they also wanted to have these tax stamps. So where can we get them? Over there 200 meter the Immigration advised and over there nobody sold any stamps but we found a copy shop who know where to get them so she went off on a motorbike with our papers and came back with the stamps attached. They costed 12 baht but we gave the Lady 100 baht…
Back to Immigration and we were advised to the Customs where they couldn't find or didn't know what a Temporary Import/Export paper is….Anyhow they filled up an other paper which I never seen before and we cleared the custom before the last ferry left. On the Laos side everything went smoothly and in half an hour we were on the road again.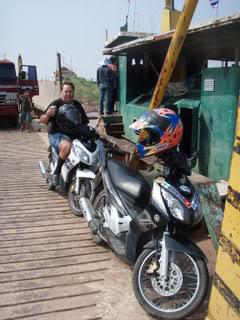 At Last On The Ferry To Laos
This was not a very surprising experience but it is very strange that Harri crossed the same border one month earlier without problems and went back over the bridge without problems and now we come by 123 cc motor scooters and everything is different . Since I'm doing tours for friends and friend's friends on a regular basis it is very unpleasant that you never know what happens at the borders, especially on the Thai side where you would suspect that everything should be easy, Thailand being a much more civilized country than Laos and Cambodia. The border procedures at Thai Borders change from one week to another and that is a very unpleasant thing that Thai Authorities should start to do something about this, if they want Tourism to speed up. Okey you have problems in Laos and Cambodia also but there is the good thing that most problems can be solved with a few extra dollars…. Vietnam is a special matter but later more about that.
Sometimes you would like to shout the words President Reagan addressed to Gorbatchov before the Berlin wall fall down( slightly modified) TEAR DOWN THESE WALLS!!!!!
100 km km back South to Savannakhet where we arrived in the dark at a motel style guesthouse riverside (Nam Soda?) which used to be good and cheap but now it was expensive and very bad.. We had a very good Pizza dinner (my first Pizza for about 5 years) at a French Restaurant which Harri knew from before.
Up early in the morning, only to find a motorbike shop where Harri could have 7 spokes changed. Probably the Thai Work had not been done correctly and Harri had broken spokes again. I knew a shop from before who carried many spare parts and even had 5 hydraulic motorbike lifters in the shop (never in use but it looks good….)
They took off the wheel but then the wheel disappeared again and it took 2 hours before it came back. It is very nerve consuming when you have your bike repaired in a shop in these countries and you cannot see what is happening and you can not get an answer when it is ready, especially for Harri since he is not very good at drinking Laos Beer already in the early morning.
Ok after 3 cans of Laos Beer we where off at eleven a clock and headed road number 9 east to the Vietnam Border about 280 km away. The road is very good and the traffic is almost zero except for some Kubota rice tractors traveling at 30 km a hours. You must also look up for plenty of cows, dogs, goats, chickens and drunk Lao males.
I've had collision experience with all these items with a big bike but with a Nuovo I have only killed a few Chickens and one dog so I don't know yet how to hit all these others with a Nuovo. Anyhow we could almost all the time run at 100 to 110 km a hour on this splendid road and catch a huge 120 km/h in the long downhills. There was only two position on the throttle on or off….Great fun for middle aged men!!!
We arrived at the border at 2 a clock and we hoped to reach Hue in Vietnam before dark. We stopped at the border town before the border to make copies of all papers they potentially could need in the Customs and drove then down to the Laos Immigration and checked out in 10 minutes. Some of the immigration people remembered me from my prior Vietnam attempts.
So Vietnam here we come but immediately in the Vietnam Immigration we were ordered first to the Customs. We showed all the papers and after 15 minutes the answer was "NO MOTORBIKES TO VIETNAM. I explained that I was here a few months ago and then I was told that I can come if I have Border Crossing Book but nothing helped so we asked to see "the big boss". He was a very pleasant young high ranked official, he listened to us, made a few telephone calls and then he very politely told us that he can not let us in because then he brakes the rules. He then showed us on the computer screens the rules (in Vietnamese) and told us that we must get a permission from the police in Dong Ha 80 km away to drive a motorcycle in Vietnam and the police cannot issue before it gets an approval from Hanoi and that takes a few weeks. We asked maybe we can telephone the police chief but he said that he already had checked up from his wife, who was a police officer that there is no way to speed up the process. I then told him that last time I was shown a paper (in Vietnamese) which said that under 175cc can be allowed without a police permission but he just said that now the rules are very easy and strict NO MOTORBIKE TO VIETNAM WITHOUT A POLICE PERMISSION FROM THE BORDER AREAS POLICE CHIEF. The guy was very polite, speaking very good English and we where out of arguments so we left his room but told him we soon come back.
Harri then remembered that he has one oil business employer in Vung Tau in the south Vietnam who has good connections to high ranking Police Officers in Vietnam and after a telephone call to him he told us that it is no problems, just wait at the border and he will arrange some police to telephone the border customs.
So we decided to wait and moved into the Duty Free Shop emptying their stock of Laos Beer…
When it got dark and no telephone call had come we decided to leave the Vietnam side and move back into Laos trying to get our visa's exit stamps nullified because we couldn't see any on arrival visa boot at the border.
Laos border, WHAT A SERVICE, one official took our passports while another official brought us chairs and two Laos Beers floating in a plastic bag full of ice. I cannot remember when I have last time been served beer in an Immigration by the officials….. After 15 minute the beer cans were empty and our passport returned and we drove back to the border village.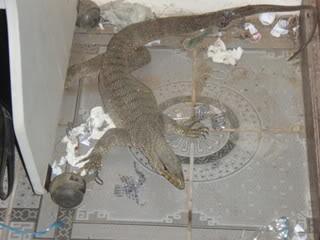 ]In the immigration office they had a 2 meter long wizard. It was unclear if it was wild or confiscated from somebody.
Our hotel decision was easy one motel was 2,5 dollar and a guesthouse 3 dollar so we choose the later, where I had stayed before. Then quickly out to find something to eat and we found a very good restaurant with Thai speaking personnel and we had a very good dinner at a reasonable price.
When eating we got a telephone call from Vietnam and the guy told us that to get an permit to the Lao Bao border will take 5 days but if we go down to the Tay Ninh border we can get it in one day. That border was South about 1200 km between Cambodia and Laos, but we decided to go for it.
Early morning, still quite cold for me in T-shirt and shorts we set off for Stung Treng in north Cambodia. First the same little boring 280 km back towards Savannakhet and then road 13 south to Paxse and further down to the Cambodia border. We skipped the idea of taking a shorter route 23 to Saravan and Paxe because we cannot cross the rivers in rainy season we were told. Just before the border we decided to make a few kilometers extra to drive to the Mekong and have a Laos beer in a restaurant overlooking the waterfalls of Mekong at the 4000 Islands. Quite impressive when you have seen the mighty Mekong floating very slowly at many many other places.
So we had to drive in the dark to the border and when we arrived at the Custom Building just before the bad 7 km road to the border there was a new asphalt road slightly right so we tried that one and arrived very quickly to the Laos immigration at the Mekong border. There they were very polite at checked us out and then they told us to go back to the crossing and take the other road to the right and drive 7 km to the Cambodian border. Ok back thecrossing and then we decided to go right on the new road the Chinese makes to the border. After 3 km on that road in the dark it turned smaller and smaller so we had to go back again and we succeeded to find the very bad old road to the border and that was 7 km long and very very bad in the dark with plenty of big potholes filled with water. Nuovos like roads like this….
We just and just saw the Laos border post who only checked that we had exit stamps. Probably they were hurry back to their Volley Ball game (I've crossed this border maybe 10 times and every time they are playing Volley Ball) Then only100 meters left of the bad road and we arrive to the Cambodian border at 7.00 Pm. Everything closed but the immigration officials were eating outside and after some "small talks" they promised to make visas and stamp us out, if we pay some overtime which we accepted. But first they told us to go to customs on the other side of the road. There everything seemed closed except a generator running outside. So we followed the cable and found a door where some light could be seen inside and nocked on the door…. and out came the Custom Boss which I know from before and he didn't look happy. Tomorrow he said, but after a while he melted down a little and told us to wait at his outside table. After a few minutes his daughter brought out a light to our table and the boss arrived. He looked at our papers and said that we must go the Customs in Stung Treng and then come back ( 140 km extra in the dark) Then started the bargaining he wanted 1000 Baht for one bike and we offered 100 Baht. The fight ended at 500 Baht for one bike, damned expensive but in the darks your alternatives are few.
Then back to Immigration where the dinner was about to end. Our passport was taken and we filled in the visa forms and arrival cards and 20 minutes later we were on the road again and damned how dark it was. The 60 km something to Stung Treng on a good Chinese made dust road ready for hard surface is funny with a Enduro bike in daytime but not with a scooter in night time.. We also had to find gasoline and there is almost nobody living along the road except the Chinese guest workers which are rumored to be inmates taking their sentences this way. They live in Camps along the road and you are not allowed to enter the camps and the workers never go shopping in the town.
After a few ten kilometers Harri's light disappeared behind and I had to turn back and found Harri outside a karaoke place were gasoline was for sale. How the hell did he see this place??? It must have been the smell from the Karaoke Girls Perfumes.
With our tanks full and after enjoying a Crown beer we were back on the road and arrived close to the Stung Treng Ferry site knowing well that no ferry service is available anymore but we thought we hire some small boat that can take us across the river and back to some kind of civilization.
Then we see the lights from the Chinese built huge bridge over the river. Totally illuminated the bridge looks like a temple in the dark. Now we can cross the river ourselves. So we started trying to find the road leading up to the bridge and found it quite easily but after entering the bridge we were stopped by a huge concrete block all over the bridge. Ready but not open yet….Some locals at the bridge told us that they were waiting for some ministers from China and Phnom Penh to come and open it officially. How stupid can they be?
Anyhow we found a group of Lao whiskey drinking locals sitting on the bridge who promised to lift our scooters over the 1 meter high concrete block at a negotiated 5 dollar price, So up they went and over and after taking some pictures of the bridge we drove over probably as the first falangs on motorbikes ever.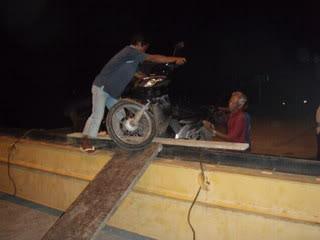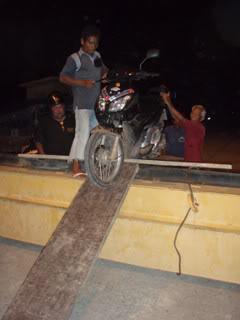 Bridge Crossing Cambodian Style.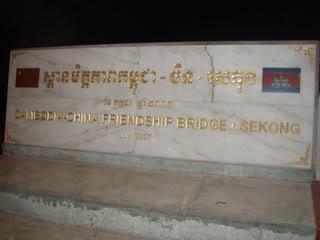 Bridge ready July 2007.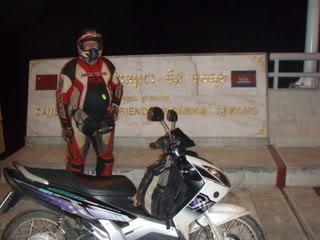 Harri With All His MX-gears.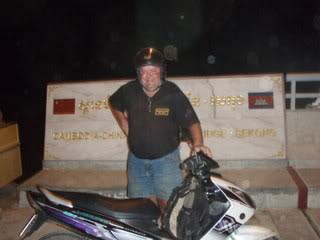 Hiko In Local Driving Gears.
At the other end of the bridge was some drunk soldiers and a smaller barrier which was opened without any bribes and we arrived for a late dinner at Riverside Restaurant which was already closed. Anyhow they opened and we ordered the food. The boss whom I know was not here but instead in his new venue in Banlung Rattanakiri. And you could see the difference. The beer was warm and Harri ordered a Cheeseburger which arrived without a burger. When complaining he was told that they have a French vegeterian group staying in their hotel so they thought Harri also doesn't like meat….
After 5 minutes a hamburger beef arrived but almost totally rear. New complaints but nothing happened and Harri was served with a normal bill even if he told them that he can not eat that beef….Harri was not happy and a pity if a good place is ruined by bad employees when the owner is away.
The night we spent in the big Hotel next to the market which used to be good. Now this has also deteriorated, unclean rooms with plenty of other "animals" in the same room.
Next morning up early again (which is easy in a Cambodian hotel) to find a motorbike shop able to put 6 new spokes to Harri's bike. We found one we hoped could do it. They took off the wheel but again the wheel was driven off to another location. Two
hours later we were off again heading for Kratie and Snuol along road 13 and then along road 7 towards Kampong Cham when the road 13 dwindles into Vietnam and Ho Chi Minh..The road being very good we were "speeding at 100-110 all the time and Harri was about 0.5 km/h slower than I was. Great fun for middle aged bikers.
We arrived at 2.00 pm to the first road going to border at Tay Ninh so we stopped here waiting for our release call from Vietnam which never came… so when the dark started to come in we drove to Kampong Cham and took two rooms for 5 dollar each at the Mekong Hotel just on the river. God value for money big clean rooms and huge areas as corridors. The city has some progress as tourist spot but both the Falang bars we found were not worth the money .
Early next morning up and heading home. No telephone calls from Vietnam. We drove the main road no. 7 heading for Skun where we took the road nr 6 towards Phnom Penh but turned off the main road 50 km before Phnom Penh at Ta Poy to catch the ferry across the Tonle Sap lake/river. This ferry service is quite convenient anytime you want to avoid Phnom Penh. The ferries are old car ferries given as a gift to the Pol Pot government by DDR (old East Germany). Just after the ferry we came to a crossing before Udong and Harri showed me to go left. Then about 40 km later on a rather bad road we came to a new crossing and then Harri remembered where we were… on the way to Sihanoukeville. So 40 km back to the earlier crossing and Harri went to see what the sign was saying. Batomung something not Battambang. Easy to drive wrong.
Then we speeded up along the very good but boring road Nr 5 to Kampong Chhnang and Pursat all the way up to Battambang. I think I slept almost all the way, except when we stopped for a beer. In Battambang we turned left/west to road Nr 10 and Palin. And now I stopped sleeping…. more than 60 km very very bad road to Pailin. I think the road could have been great fun with a good Endurobike but with a Scooter… You hear how all the plastics complain in the holes, the small wheels fits in all potholes and the street style suspension has two positions, top or bottom. And I really pity the re-spoked wheels of Harris bike. After 20 km (which I found out later) I thought that now we must have done the 60 km I memorized the km gauge and then I looked at the km going slowly slowly and we didn't stop until we arrived in Pailin 46 km later… The distance we traveled by our scooters was by far much more than the official distance because we were all the time Zig –Zacking all over the road and sometimes off the road.. Terrible but the beer in Pailin at the big Hotels garden restaurant made us forget everything. After a few beer we were ready for the last 15 km to the border and civilization. We arrived there just before dark and cleared the Laos side with no problem and also the Thai side quite quickly, the only problems being that the immigration wanted airline tickets for me and Harri both having 1 year visas. Ok another official quickly solved the problem but ….In customs they had never seen the Custom Paper we got in Nakhom Phanom. and that caused a slight delay but after a few telephone call that was also settled.
Thailand here we come!!! How fantastic smooth the roads feels after Cambodia. So we decided that we go all the way to Pattaya in the dark 250 km on roads that at least I can drive while sleeping.
Ten a clock I arrived home a little tired but not so bad. 715 km on a scooter in one day, including one time consuming border crossing and almost a 100km cruel Cambodia road with an average of 15-20 km/h
The whole trip was 3100 km done in 6,5 days. I think that this proves than even on standard scooters you can travel all over South East Asia, you do not need a one million BMW GS.
Another strange phenomena we recorded on our trip was that we didn't meet or see any motorbiking falangs during our whole trip. Not in Thailand, not in Laos, not in Cambodia. Folks out there what the hell are you doing with your bikes??? You cannot even blame the rain season because we had 5 minutes of rains during our whole tour
VIETNAM I WILL COME BACK AND ON THE BACK OF A NUOVO.
HIKO
Ps. Harri later got an e-mail from the guy in Vietnam. He had been forced to go urgently by helicopter to an oil platform for an emergency repair so he hadn't been able to fix our problem this time.