Following the previous post, I have obtained an export permit for any motorbike that I ride out of VN and the procecure is somewhat simple believe it or not. I am unsure of matters outside Hanoi as the main Customs office here did this. I imagine it is possible in HCM for crossing over to Cambodia but Mr. Dao was unsure where to go in HCM.
A letter in your native language and translation in Vietnamese stating your request to exit the country on a VN registered motorbike should be taken to Vietnam Customs and addressed to Mr. Mr. Nguyen Tri Dao. The office reception is in the center of the building at 162 Nguyen Van Cu. This is about 1km over the bridge out of Hanoi on the right side, an impressive concrete building. Mr. Dao can also be called at 0913043791
but he speaks no Englik. The letters should be in VN format and a copy of my letter is below. The letters should be on A4 and in an A4 envelope with a copy of your passport and valid visa for VN. This process took me 3 weeks but Mr. Dao said it should go faster for other people since I was the first to get an export paper.
There was no money exchanged on this! Hard to believe. Mr. Dao is an excellent man and admitted the law passed effective 01.01.06 was a mistake and worked hard to get me the export document.
Good luck
VIETNAM SOCIALIST REPUBLIC
Independence - Freedom – Happiness
Hanoi 25. 05. 2006
SUBJECT: TEMPORARY EXPORT/IMPORT
Letter to: Ministry of Vietnam Customs
Dear Sirs,
My name is James Barbush from the United States and I have lived in Vietnam since 2002 and have owned a motorcycle since the first month I lived here. I have exited Vietnam over the Lao Bao, Cau Treo, Nam Kan and Na Meo border gates into Laos multiple times for short holidays in Laos, Thailand and Cambodia. Since I have lived mostly in Hue, Hanoi and Lao Cai, I have seldom used southern border exits into Cambodia and used Lao Bao mostly to transit Laos into Thailand. I did enter Vietnam over the border 25 km south of Chau Doc with exit paperwork obtained from my exit from Lao Bao. Upon exiting Vietnam, I would be issued a temporary export paper for the motorbike by Customs which I would also use for my return to verify that I had temporarily exported the motorbike. Since 2002, I have entered and exited Vietnam over Laos on 15 different occasions with my motorbike. Up until 01.01.06, I was able to follow the law and present my passport, ownership papers for my motorbike, insurance papers and state my intentions of where I was going on my motorbike and when I might return to Vietnam.
Only one time was I refused to leave Vietnam before 01.01.06 and it was thru Moc Bai and the Chau Doc border gates. Officials there were unwilling to issue the same paperwork issued many times by customs officials in Lao Bao, Cau Treo, Nam Meo and Nam Can. I have found that even in Laos and Cambodia, there are some small differences in the exit/entry procedures paperwork due to different interpretations of the laws. Clarity of the temporary import/export rules is only the same at each border gate in Thailand where a central computerized system and paperwork is used for all vehicle entry/exit. While Vietnam does not have this at all border gates, a clear explanation of the rules to each customs official would be of great help to persons entering and exiting the country with Vietnamese registered vehicles.
Since 01.01.06, new laws have been implemented that have ended my exiting Vietnam by motorbike. I have been told by custom officials at Lao Bao and Cau Treo that I need a passport for the motorbike which I have found impossible to obtain from the Ministry of Transportation or the Vietnam Customs Ministry. What is clear is that there is no official process for the temporary export/import of private foreign owned vehicles. I am asking for a review of this new law and if there is the possibility to amend it or find a way that I am able to obtain a temporary export from the Ministry of Customs in Hanoi.
I have respect for the laws of Vietnam but feel that this new law on the temporary export is unfair to foreign residents of Vietnam. On one occasion while being rejected at Lao Bao recently, I counted over 20 motorbikes ridden by Vietnamese residents crossing the border and numerous trucks and busses leaving. Even though the customs officials have stamped my temporary export paperwork from my exit numerous times, they were unable to do so, all the while Vietnamese citizens exited freely. I understand that border passes for local citizens is important and do not have a problem with local citizens exiting to Laos with motorbikes but it seems unfair.
In addition, it is impossible for foreigners to change the name on the ownership papers from the Ministry of Transportation on used motorcycles and the motorbike of choice for the expat community is the Minsk which is many years old. This has not been a problem since we exit only for short times on our motorbikes and the frame and chassis numbers are checked upon exit and entry.
I have been over the borders to Thailand, Laos and Cambodia many times and temporary import papers are a simple process that is also used when exiting the country.
I am asking the Ministry of Customs to review this law enabled on 01.01.06 and make changes that allow for temporary export of motorcycles by foreign owners.
I have two suggestions.
1. Revert to the previous method where upon exit a temporary export paper was issued and stamped by Vietnam Customs and re-checked upon return to Vietnam. This method did work very well and the paperwork exists already at all border crossing in form CHY 2000, Vietnam Arrival and Departure Card.
2. If the law can not be changed or amended easily, the Ministry of Customs can issue temporary export paperwork valid for exit at the border. This process will be more of a burden to the Ministry and still cause some confusion at the border posts.
I understand the need for controlling the borders of the country and limiting import and export according to Vietnamese Law. I also understand that this law is in addition to laws about the new transportation agreements between Thailand, Laos, Cambodia and Vietnam but with respect, the other countries have temporary import and export procedures in place that are similar to what Vietnam had before 01.01.06 with some differences.
In this case, I wish to state that the law is very limiting and needs a review. I also understand that things take time and await your reply.
This will be the first letter you receive and early next week you should get many more letters of review of the new law from the expat community in Hanoi making a similar request. We obey and respect the laws of Vietnam and will do so with this law but request a review of it.
I thank you for your attention, time and consideration of my request. Please contact me as you can at the contacts listed below.
[email
[email protected]
]
[email protected]
[/email]
Tel. 0912 794 340
James Barbush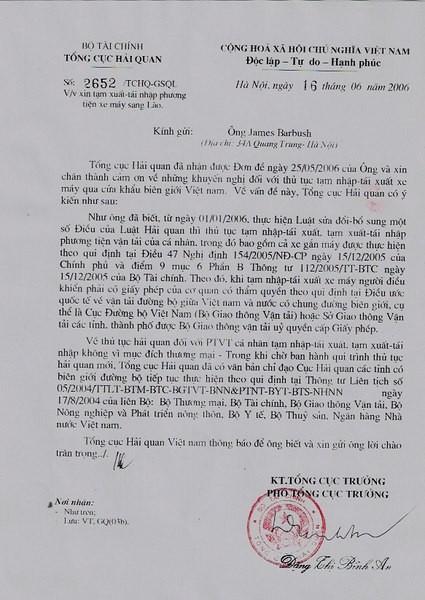 Ride Safe