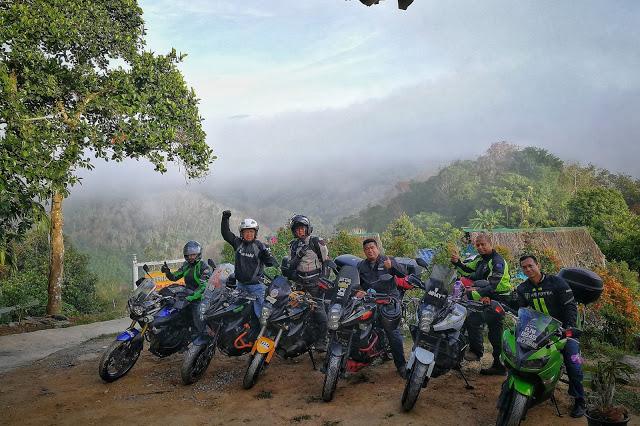 Betong is the southernmost town of Thailand and a very popular destination for Malaysian tourists. It has a lot of tourism spots and over a weekend or long holidays, you can find many Malaysian tourist outnumbered the rest in these spots.
This is the first ride for this year and it has been decided that we will ride into Betong visiting Chulabhorn Peace Village 10, one of the refuge for former guerillas of Communist Party of Malaya (CPM), then off to Aiyerweng lookout point before spending the night at a hilltop garden resort called Cool Camping Resort. On the next day we will visit Bang Lang dam and Kraseang Cave before heading towards Ban Prakop through inner roads roughly parallel to the Malaysian border.
Joining me in this ride are Ibrahim & Shukri from Bertam, Cikgu Jasni & Cikgu Joe Min from Seri Iskandar and KW Mark from Alor Setar. I'll ride alone from Rawang before joined by the rest at Kuala Kangsar and Pengkalan Hulu.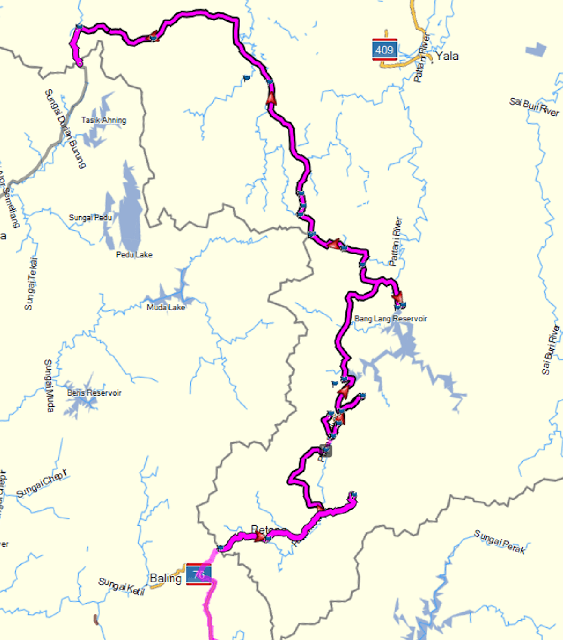 I departed at 6.45am from Rawang on Saturday and the weather was cloudy with ambient temperature around 25°C that morning. E1 highway's surface was excellent and there are not that many traffic going north at that time and the clouds was still below the limestone's hilltop around Ipoh when I arrived at Sungai Perak to refill.
I arrived at Kuala Kangsar exit around 8.40am, Cikgu Jasni with Cikgu Joe Min was already there. Cikgu Jasni has just acquired his 650cc Versys prior to this ride and was very excited to ride. We then rode to Tasik Raban for breakfast and I have nasi lemak that morning.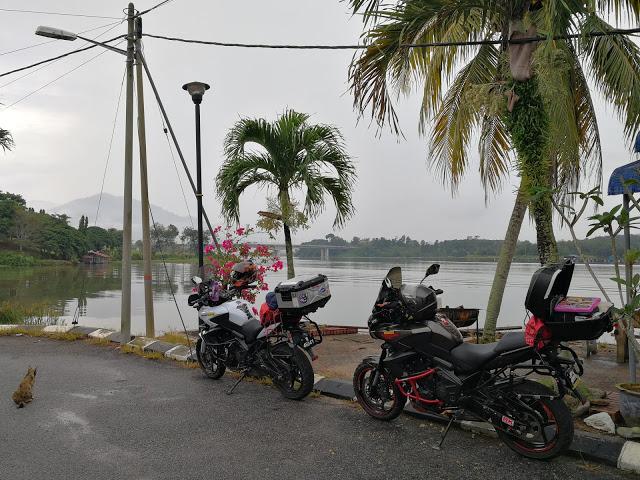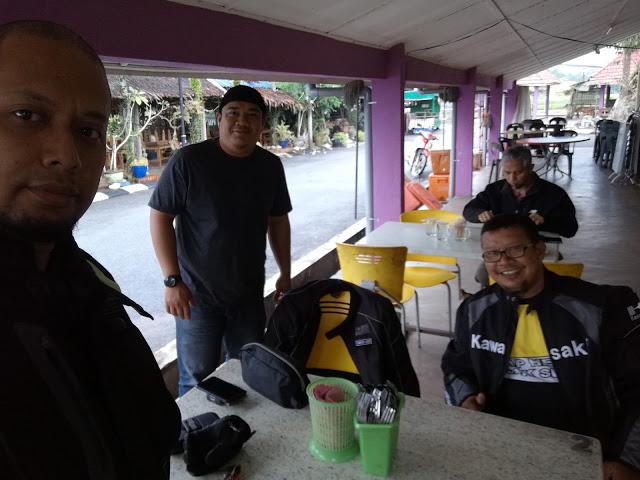 We departed to Pengkalan Hulu around 10am and the temperature was around 27°C as we passed Gerik at 10.45am. We have arrived at Custom Immigration and Quarantine (CIQ) complex at Pengkalan Hulu around 11.20am after we made a quick stop to fill up petrol at the town's petrol station. KW Mark arrived about 10 minutes later and Ibrahim with Shukri arrived around noon.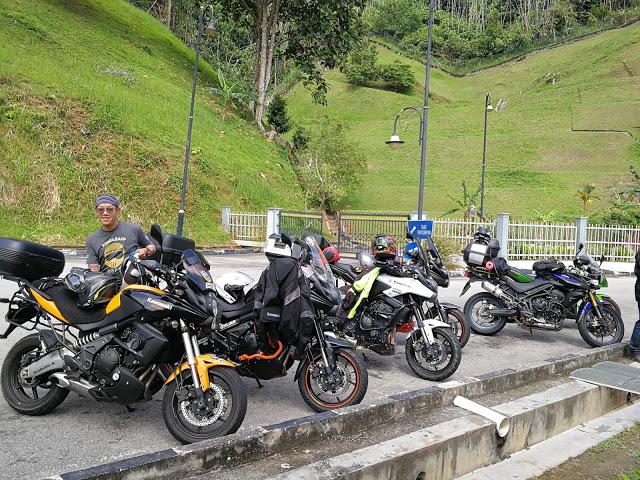 This is the first time Shukri & Ibrahim crosses Thai's land border so we took some time to explain some pointers to them before proceeding to the immigration and custom counter.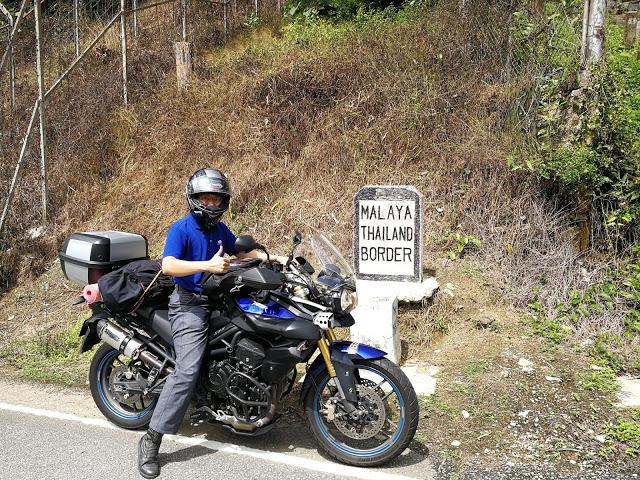 After we passed the checkpoints, we made another stop at a nearby shop to purchase insurance and it was scouring hot at the time with temperature soaring up to 34°C.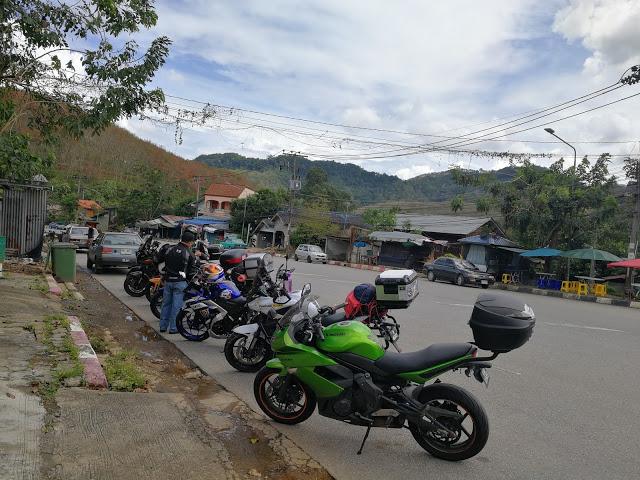 It was 12.45pm when we made a move towards the peace village and traffic around Betong town was relatively heavy towards route 4062. As we leave the town, it was raining heavily and we rode carefully on the slippery winding road towards the peace village. The view however was nothing short of magnificent.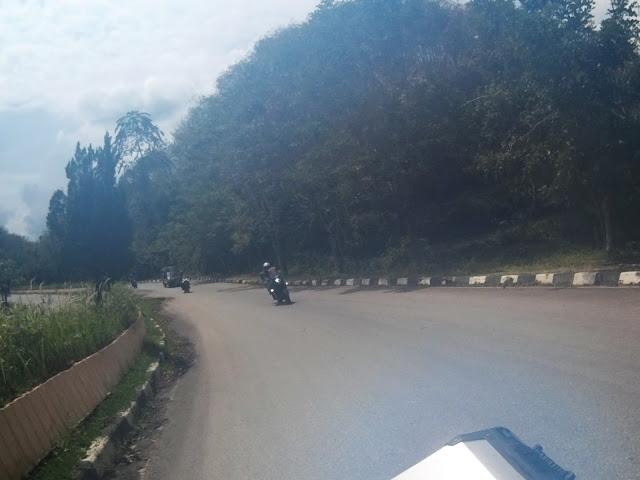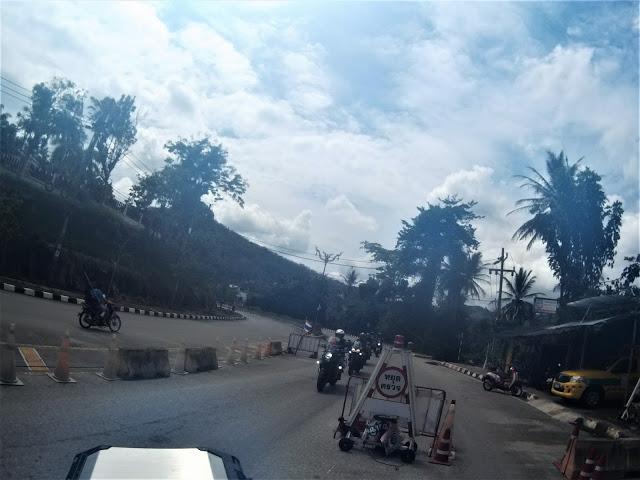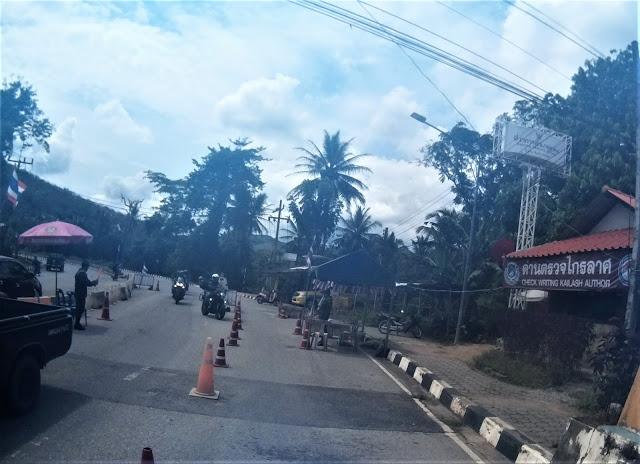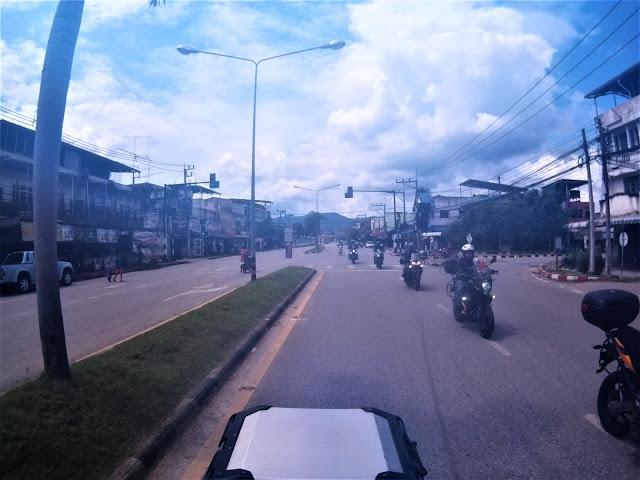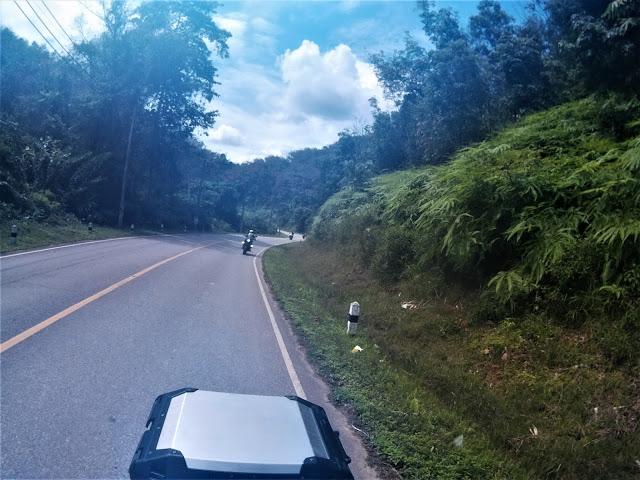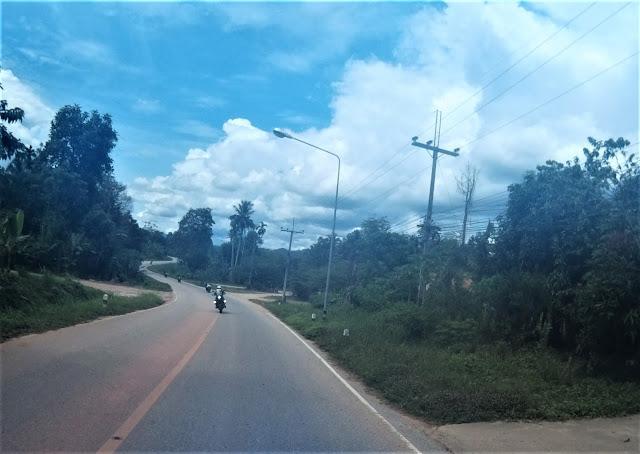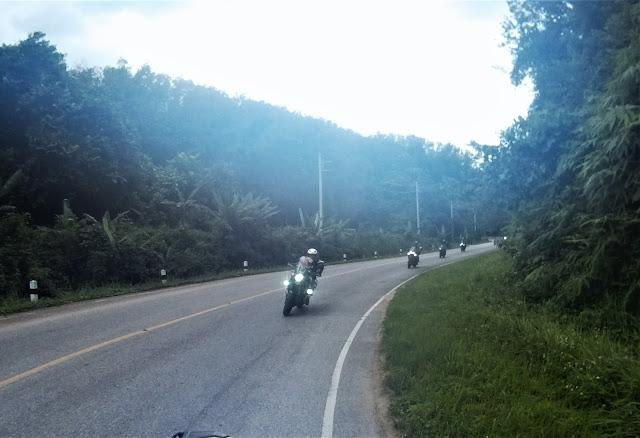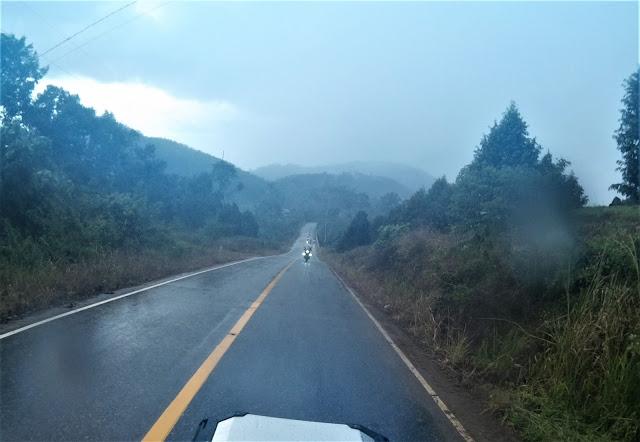 Chulabhorn Peace Village No.10
GPS 5.85644, 101.23528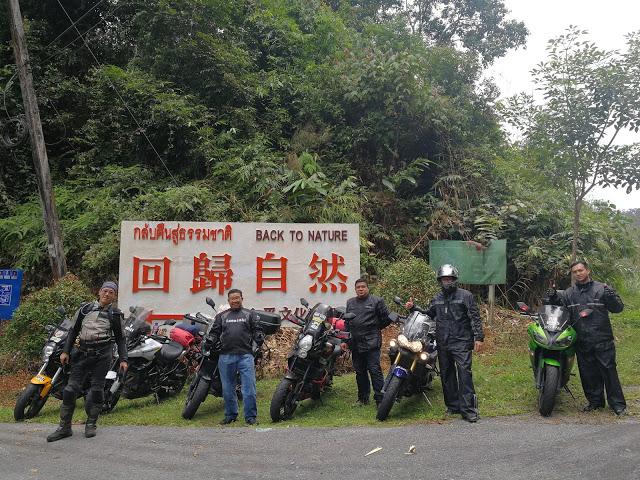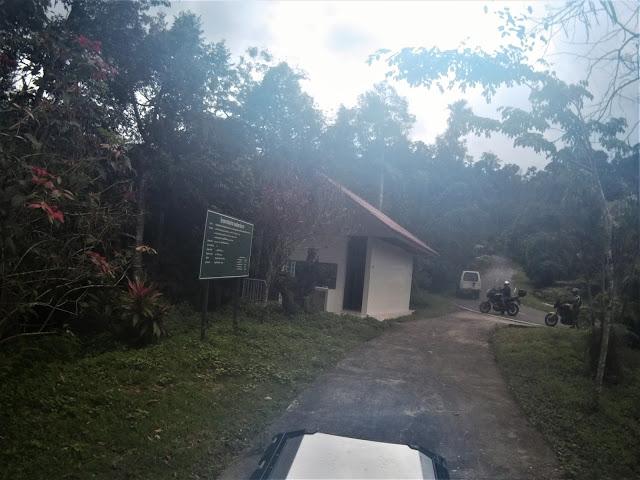 The village is the original settlement for the Former CPM Guerillas, escaping the fight with the Malaysian Armed Forces. There is a small museum erected to commemorate their story and we had a soft-spoken 70 years old lady came and became our guide with help from KW Mark.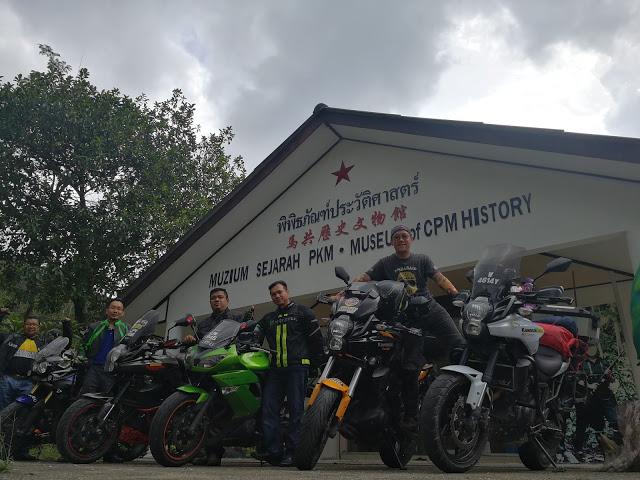 A piece of history from their side of story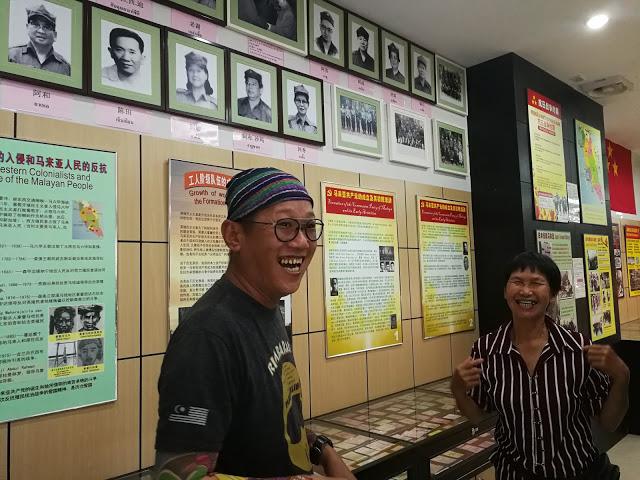 this auntie (right) is 70 years old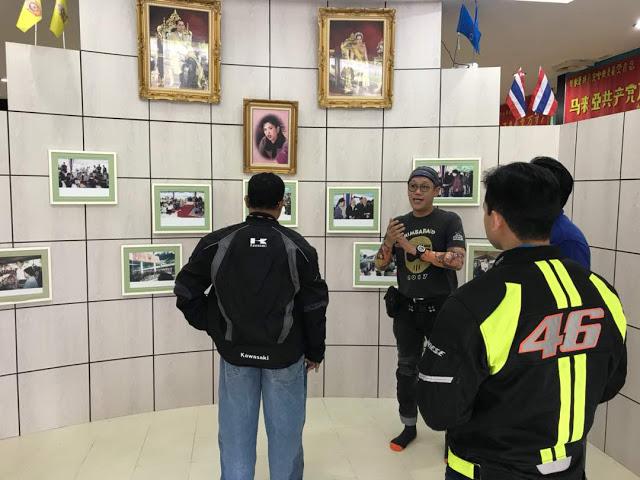 Photo Credit to Cikgu Joe Min
We planned to ride to the famous big tree but since it was raining, the plan was scrapped and we proceed directly to our lunch place at Ban Chulabhorn Phattana.
It was a grizzly ride out of the village through route 4062 and then route 410.
It was almost 4pm when we arrived for lunch and we are lucky as there was a makeshift food market nearby the lunch place.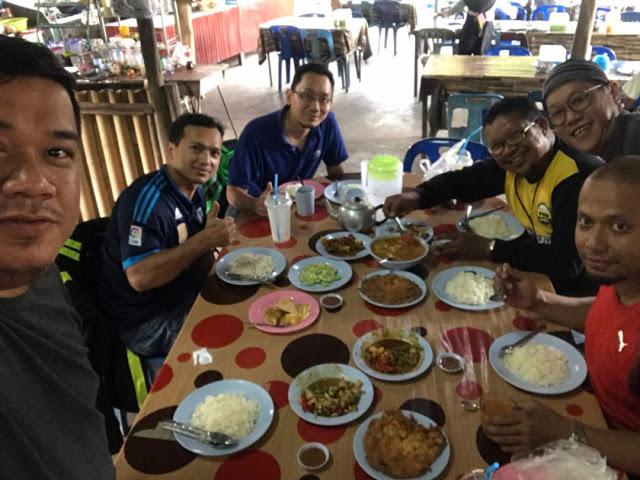 Photo Credit to Cikgu Joe Min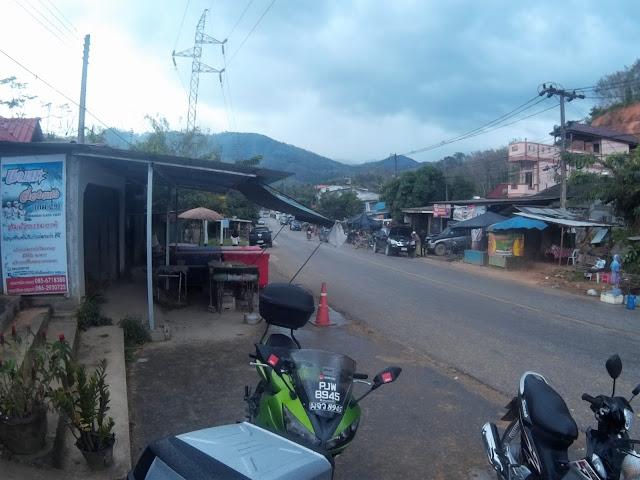 Lunch Place GPS 5.92039, 101.18076
After lunch, we made a move towards Aiyerweng Observation Tower about 15km north of the restaurant. The road up is still under construction and we rode cautiously up.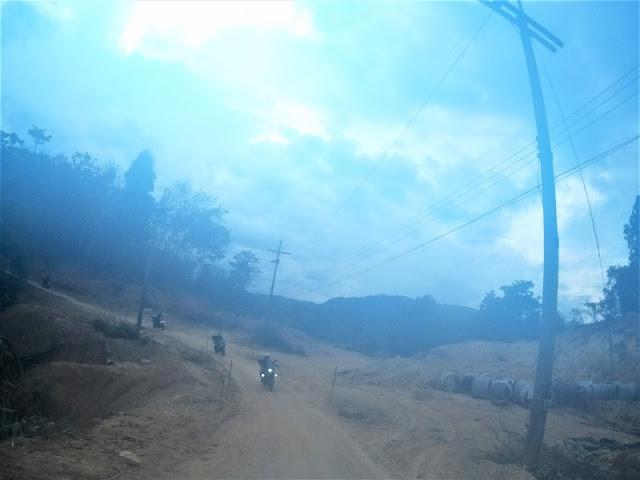 Construction is still in-progress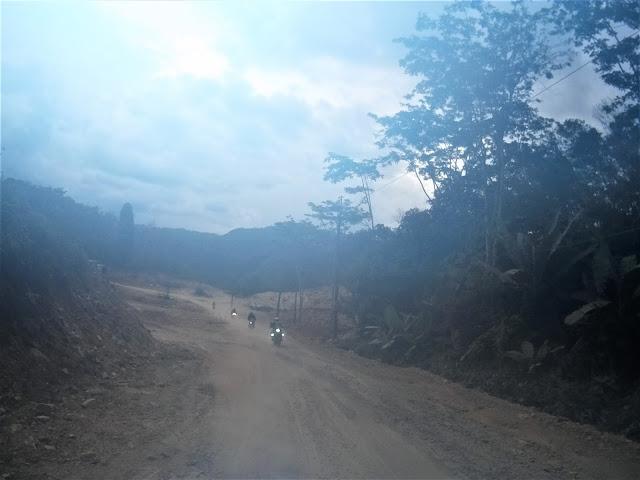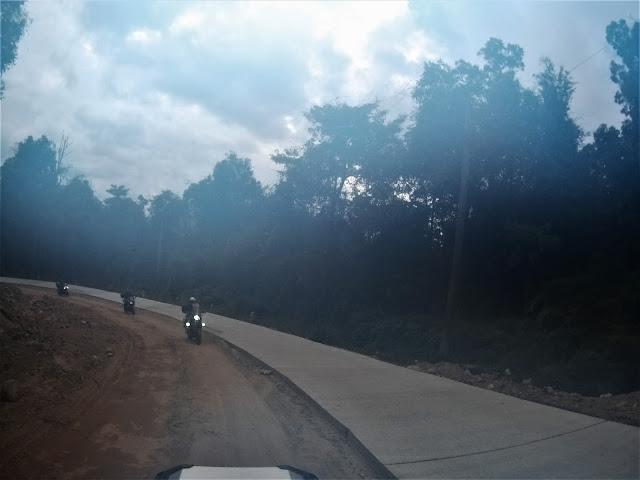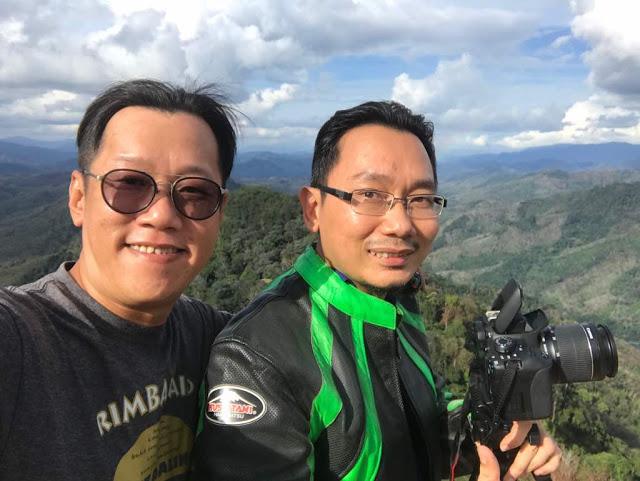 Photo Credit to KW Mark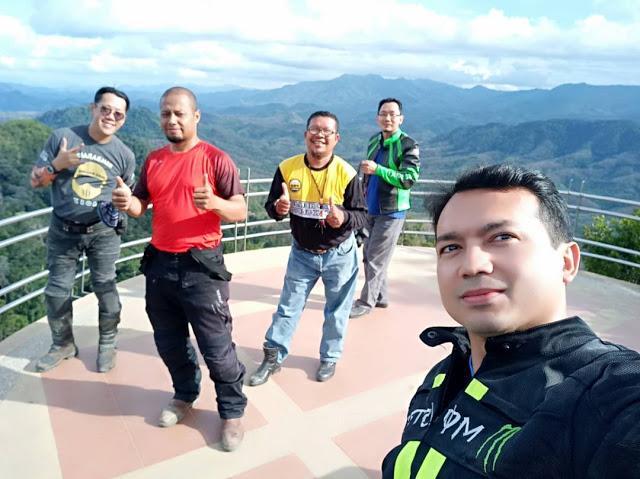 Photo Credit to Shukri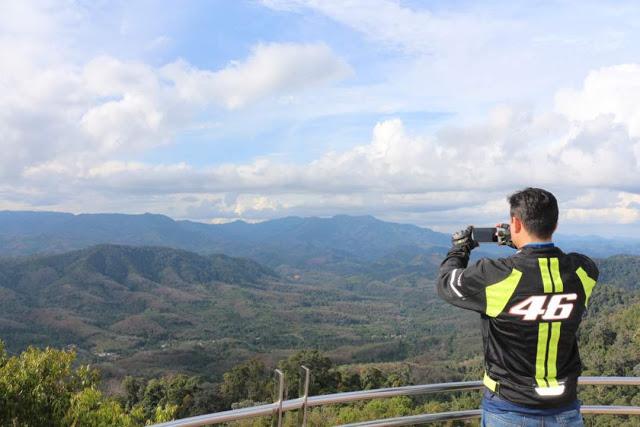 Photo Credit to Ibrahim Zulkifli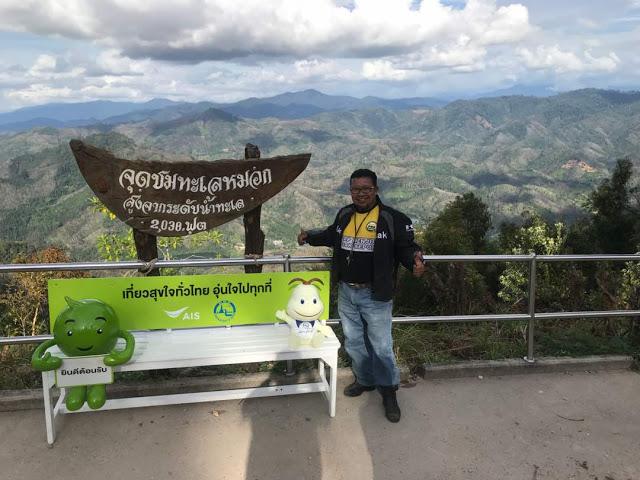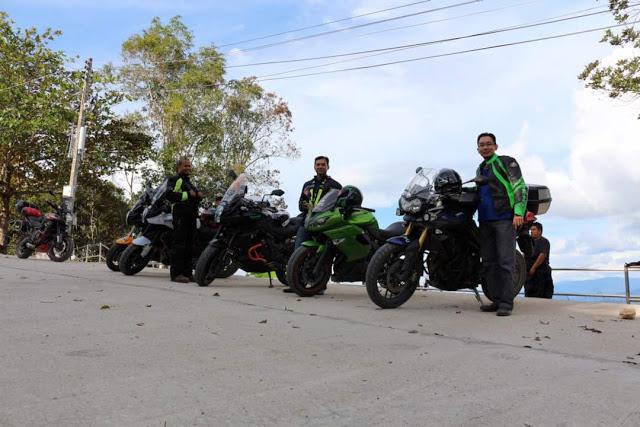 Aiyerweng Sea of Mist
GPS 5.97785, 101.18177
We went down on the same road before making a right turn on route 410 junction heading towards Yala. The weather has improved and there are road surface improvements along the way to the lake. Just after Pramuantham mosque, we made a right turn crossing Pattani River on bridge 39 towards Cool Camping Resort. We arrived at the resort around 6pm and checked into 3 tents for THB 100 per person.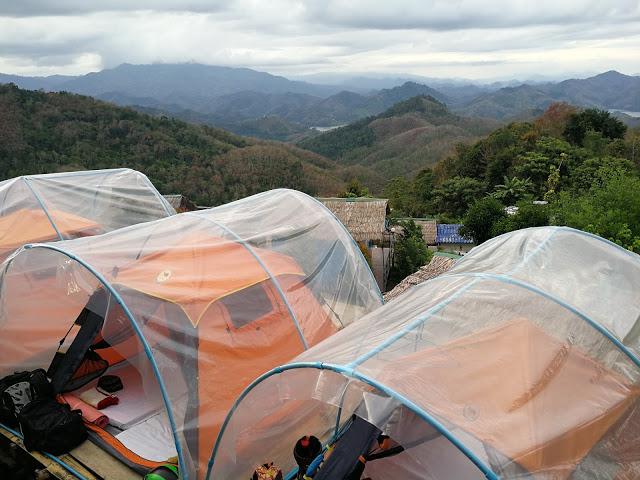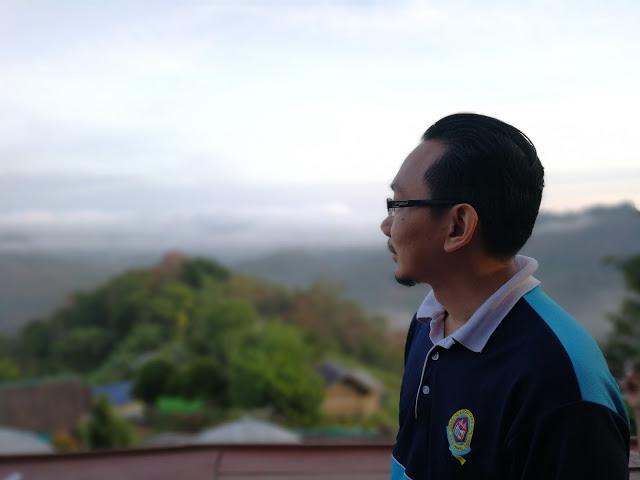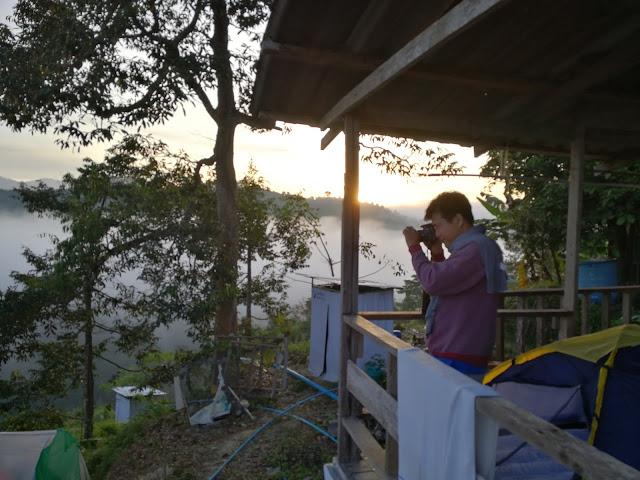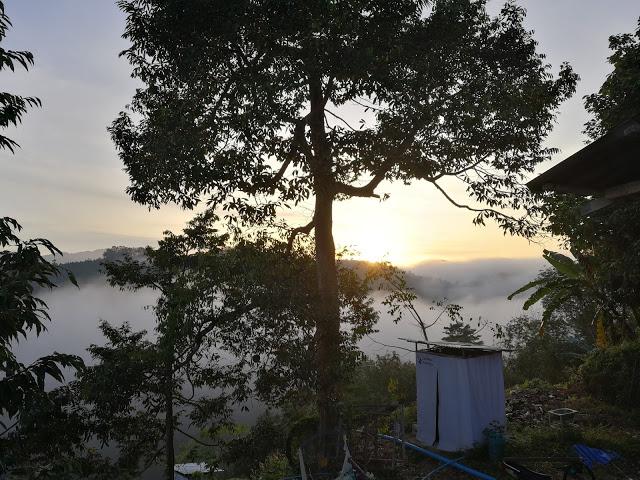 Sunrise at Cool Camping Resort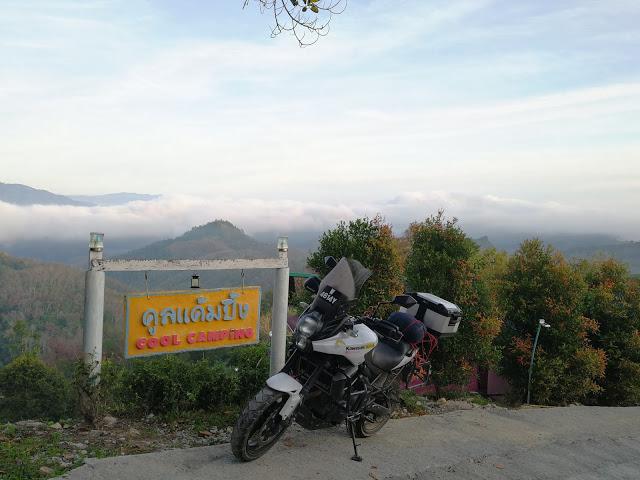 Cool Camping Resort
GPS 6.01144, 101.22999
(space is limited, please do advance booking)
We had nasi putih, spicy seafood, vegetables soup, roti canai, grilled sausages and meat slices, Lemang, and meat curry with strawberry tea for dinner and supper. The night was clear with seeable stars and the ambient temperature was around 21°C.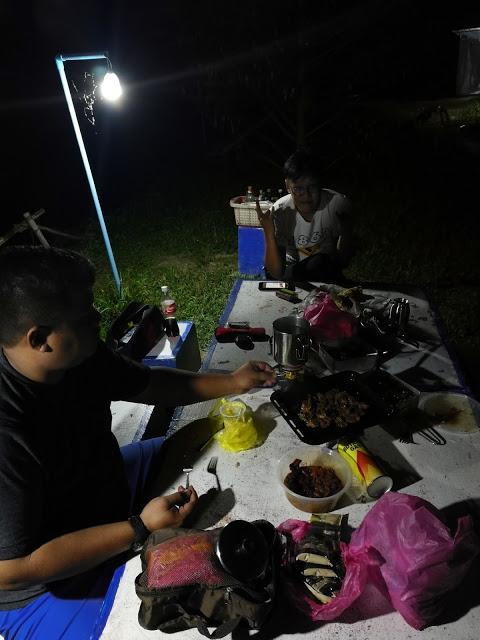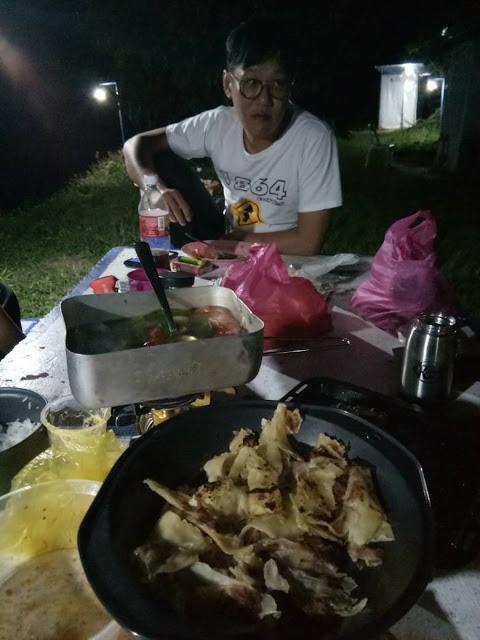 Photo Credit to Shukri
Photo Credit to Shukri
Another group of tourists arrived later that night, so they have occupied the upper deck so we had our feast in the garden. We chatted through the night and by 10.45pm I retrieved to my shared tent with Mark and called it a day.
I woke up around 5.45am and proceeded to prepare breakfast right after Subuh prayer. I prepared Fettuccini and Angel Hair spaghetti with carbonara and spicy tuna for breakfast.
Photo Credit to Cikgu Joe Min
We had breakfast while watching the sunrise around 7.20am on the resort deck with ambient temperature around 18°C.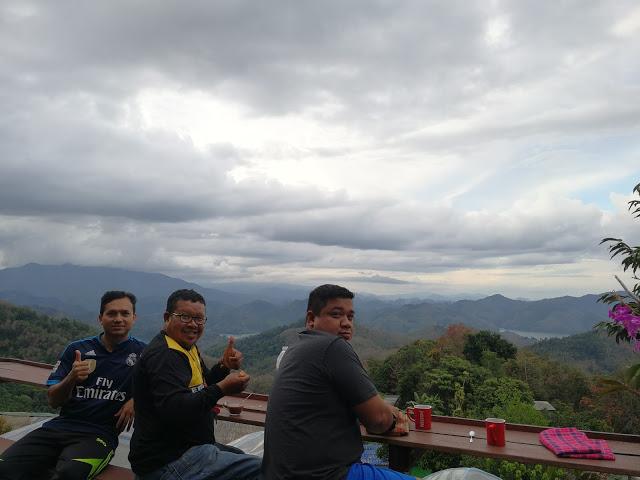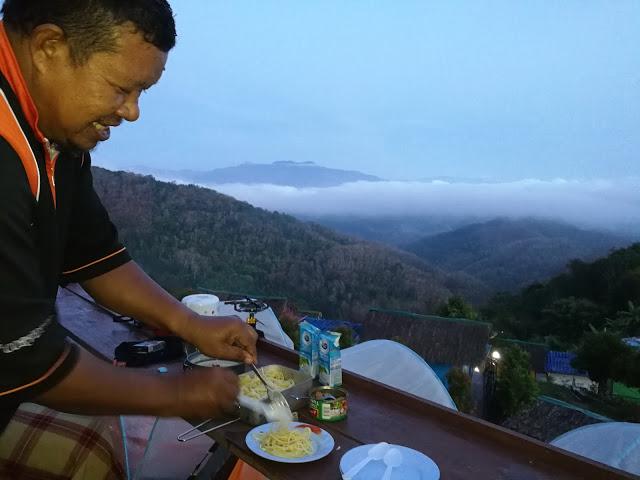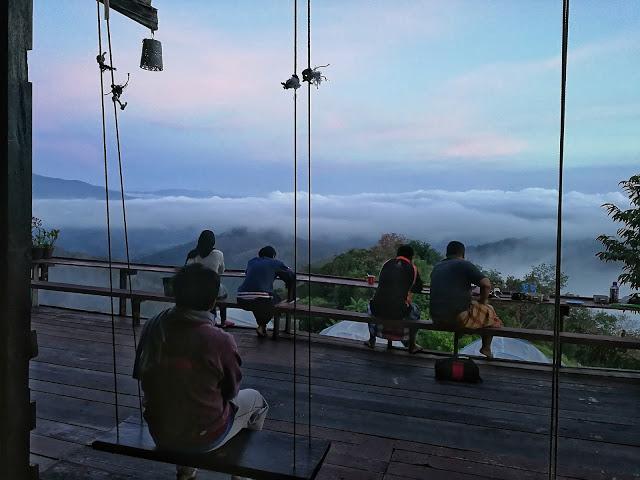 Around 8.45am, all of us are ready on the bike and we made a move towards Bang Lang Dam through route 410.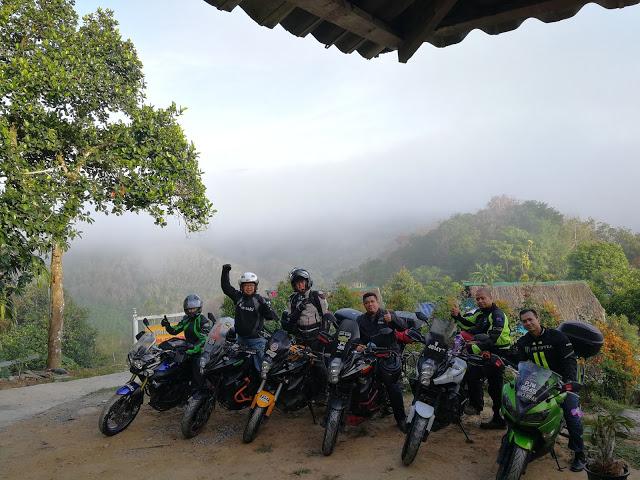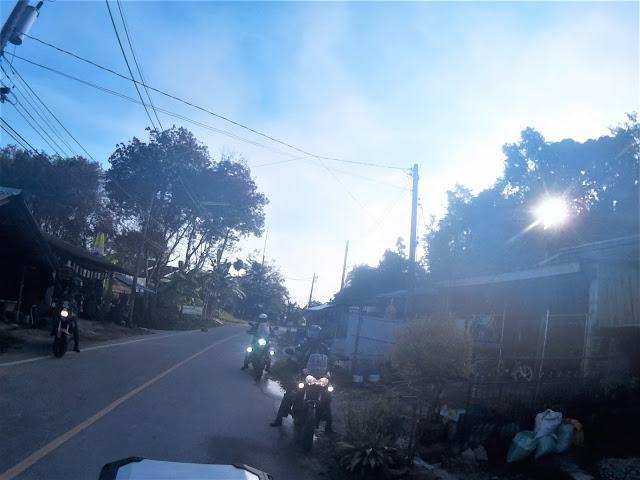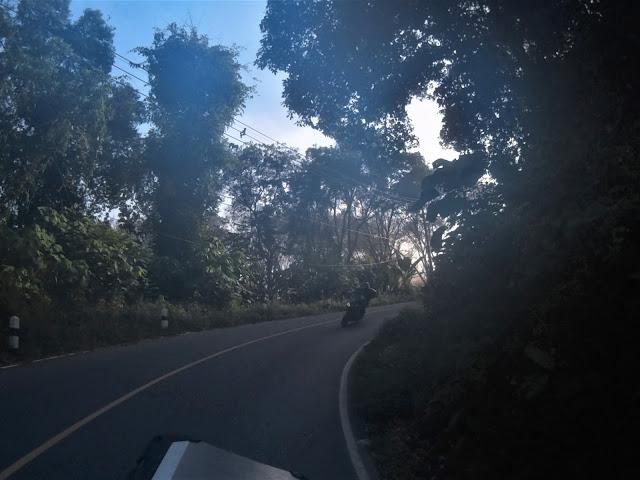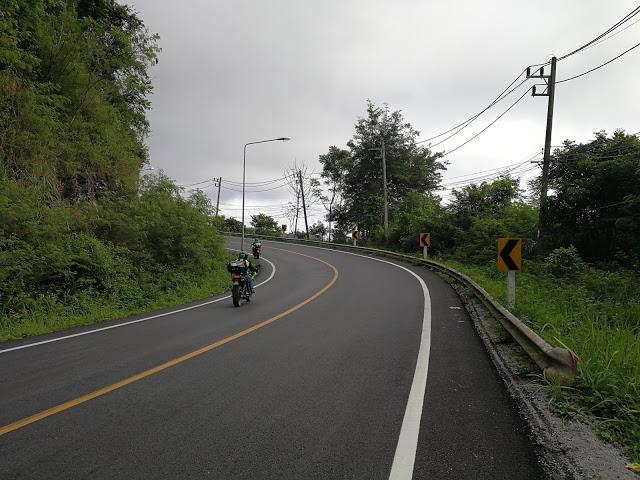 We made another stop at the Bridge of Gouache (Juan Agua) over Bang Lang reservoir.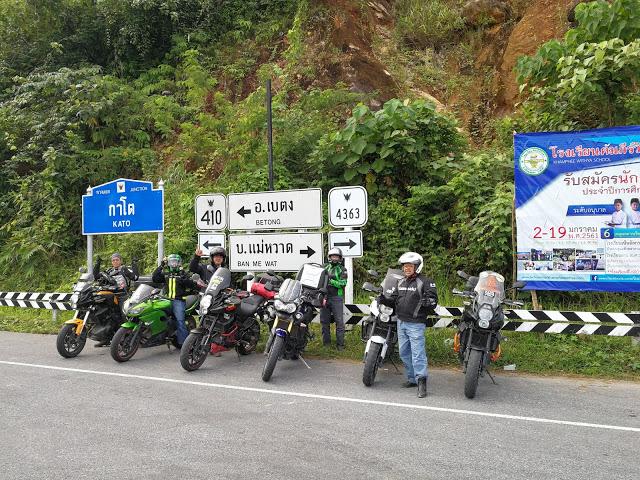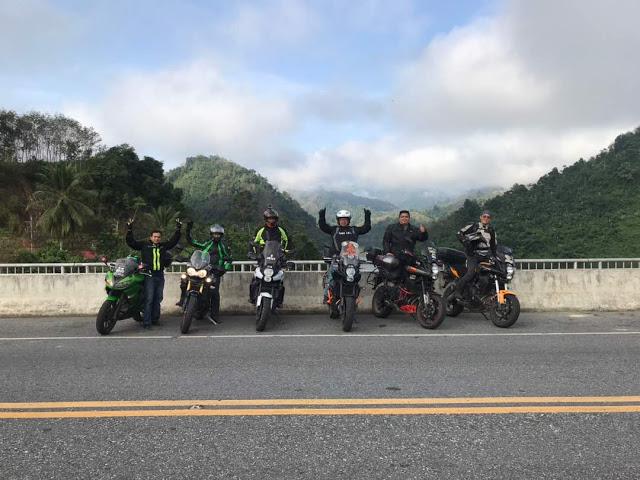 Just before Thanto, we made a right turn into small inner road towards the dam and arrived at the observation area around 10.30am.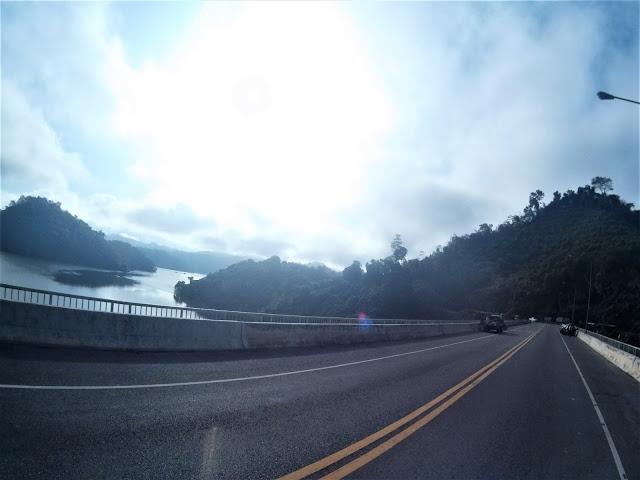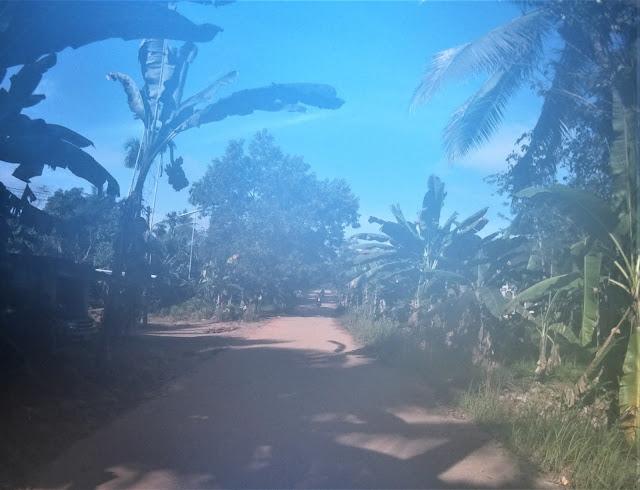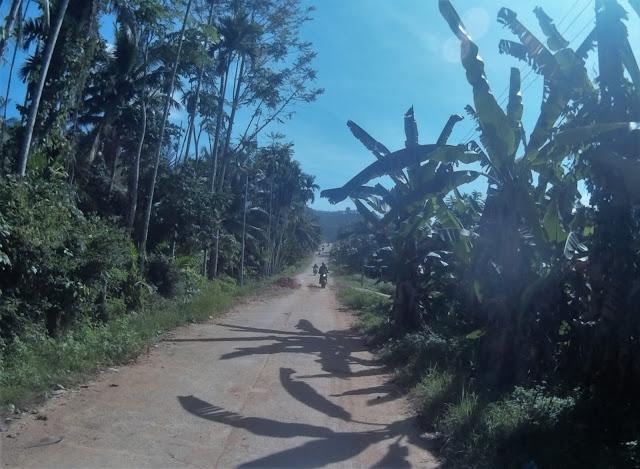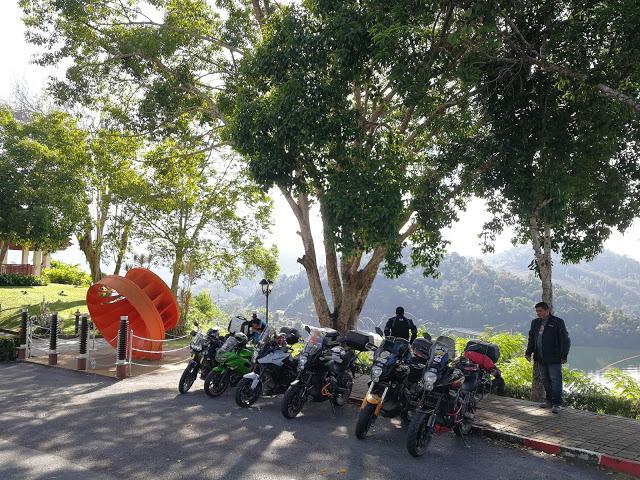 Bang Lang Dam
GPS 6.15517, 101.26892
We had a quick stop for drink at Tambon Bacho after descending from the dam's observatory area and it was scouring hot at that time.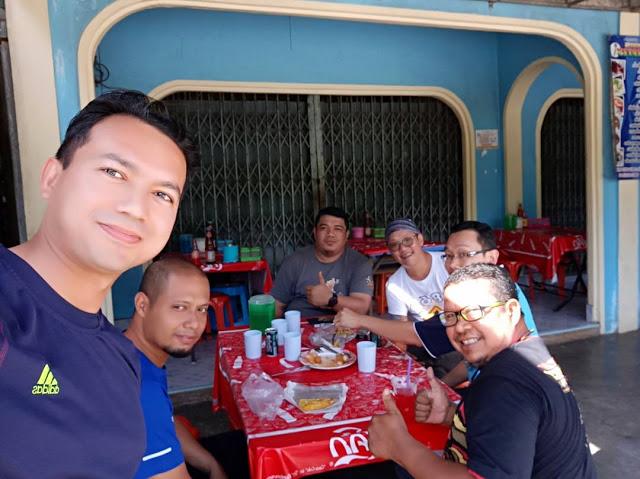 Photo Credit to Shukri
We then proceeded to Kraseang cave right afterwards, which is located about 12km from the dam. There is a good quality concrete road going through the cave. KW Mark with Ibrahim, whom has offroad background couldn't resist the water & sand temptations and decided to have some fun by river-crossing.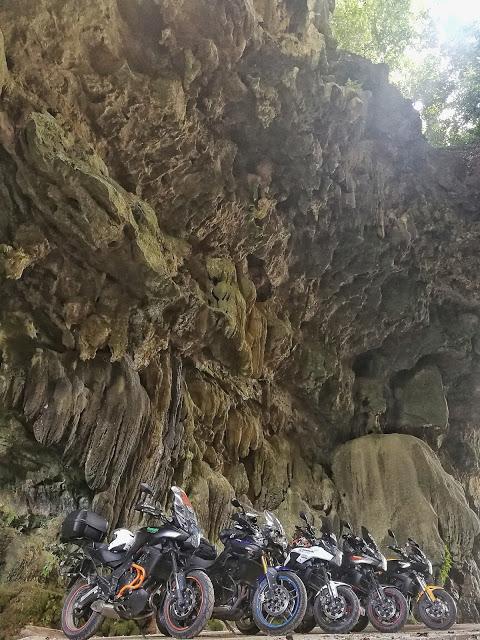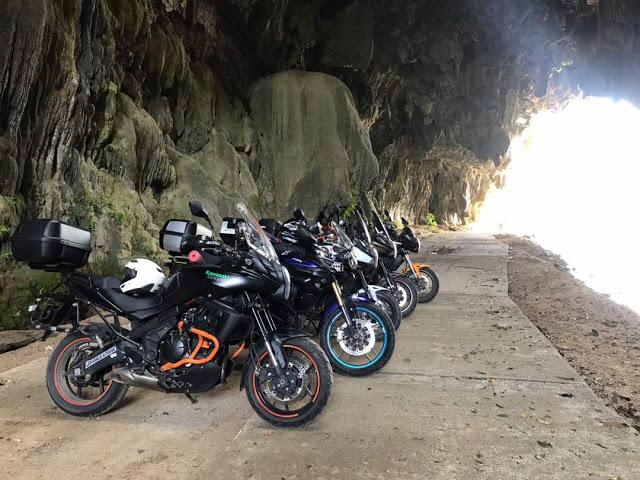 Photo Credit to Cikgu Joe Min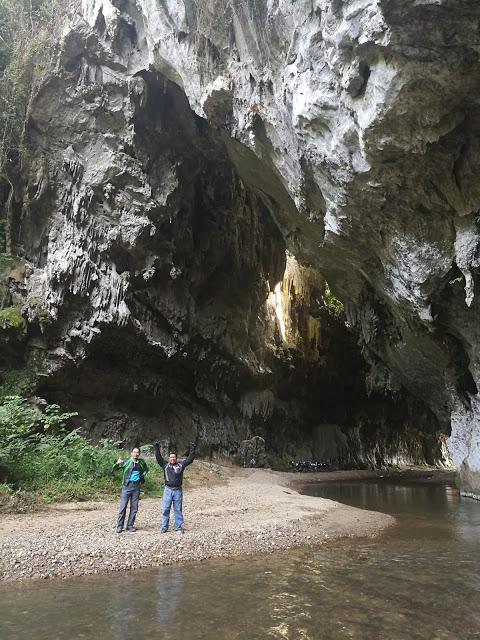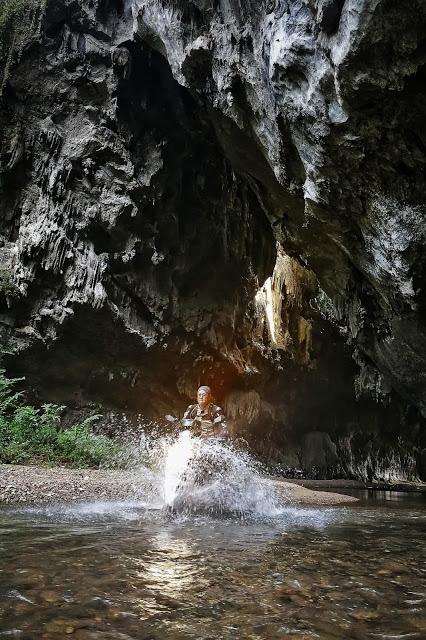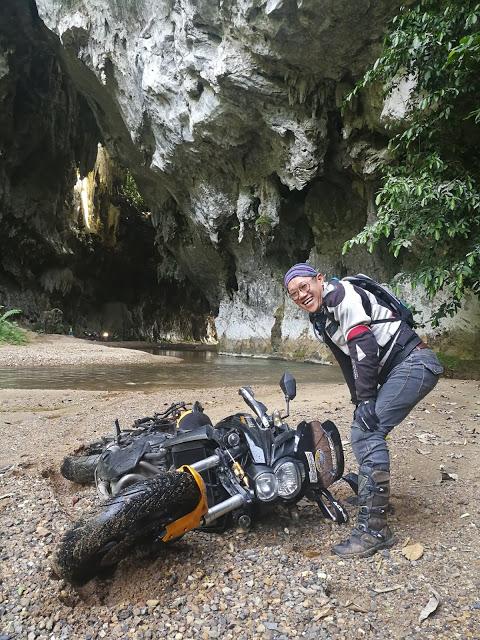 Orang lain motor jatuh sedih tapi ini orang senyum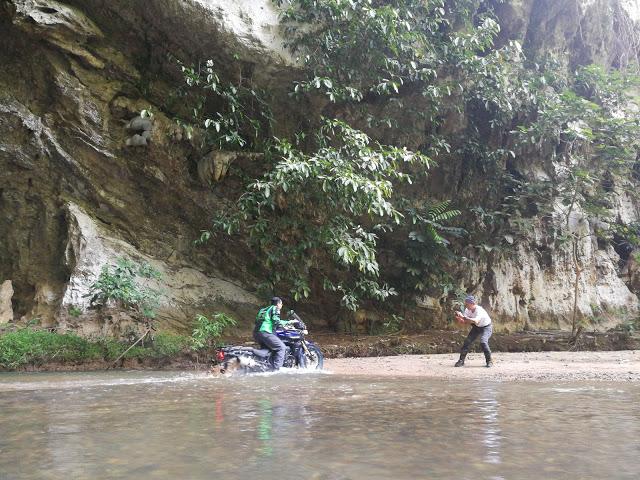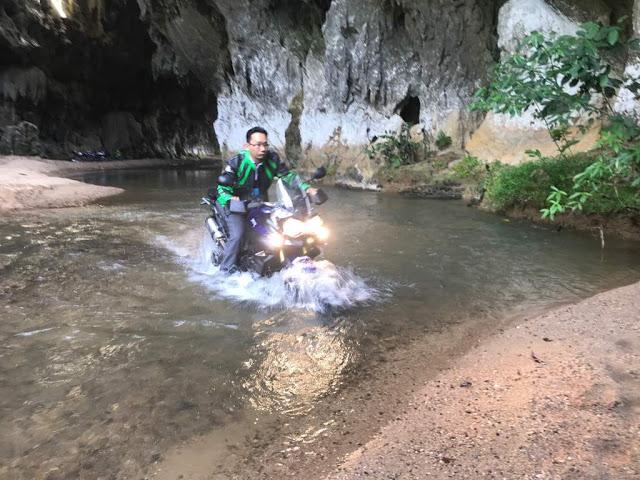 Photo Credit to KW Mark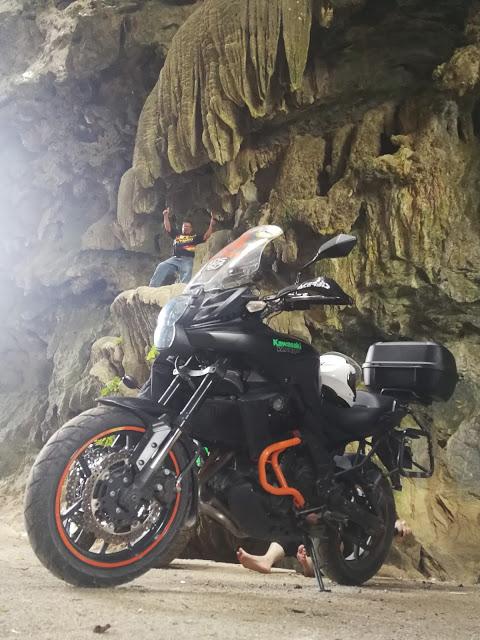 Krasaeng Cave
GPS 6.21422, 101.20397
The riverbed and bank is softer than it looks so both of them was caught in the soft ground. It is here that our team work spirit was tested and all of us helped to ensure they can get back on the road.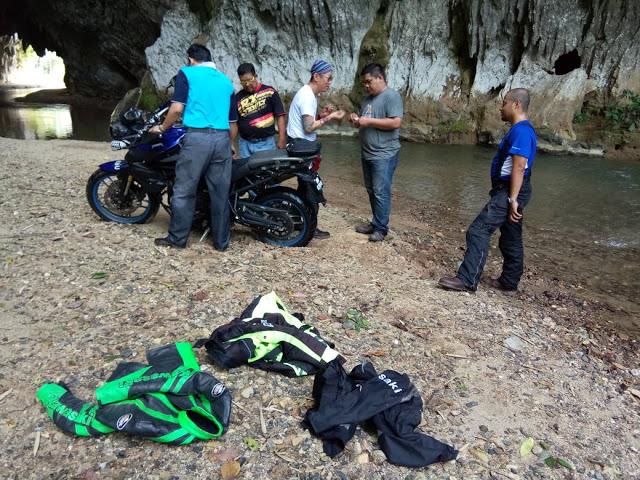 Photo Credit to Shukri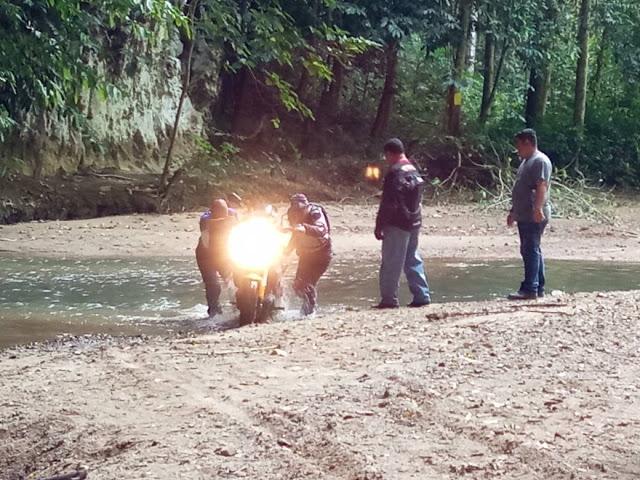 Photo Credit to Shukri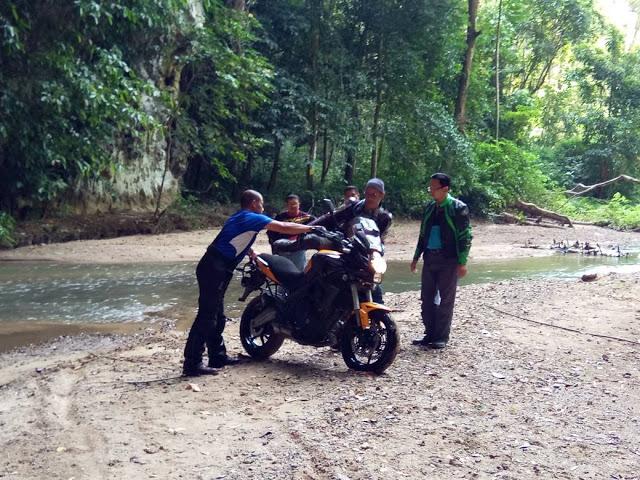 Photo Credit to Shukri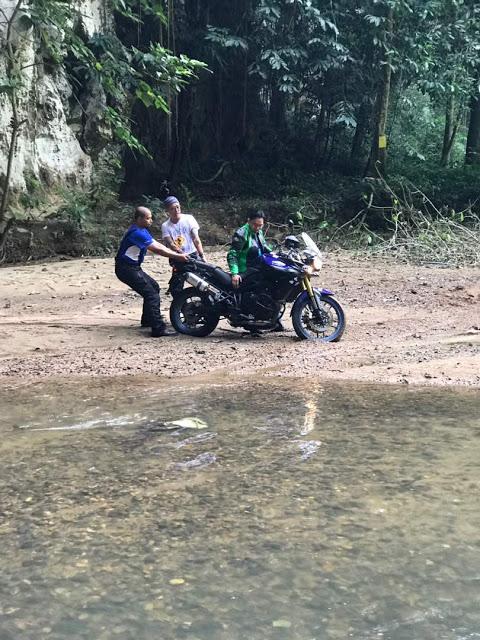 Photo Credit to Shukri
After having fun in the cave, we headed to route 3005 towards Yaha and ride parallel to the Malaysian border.
The thick black line is Malaysian border with red line indicate our ride journey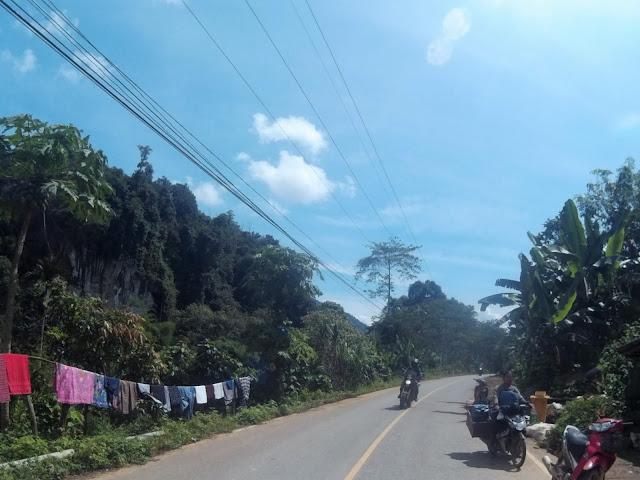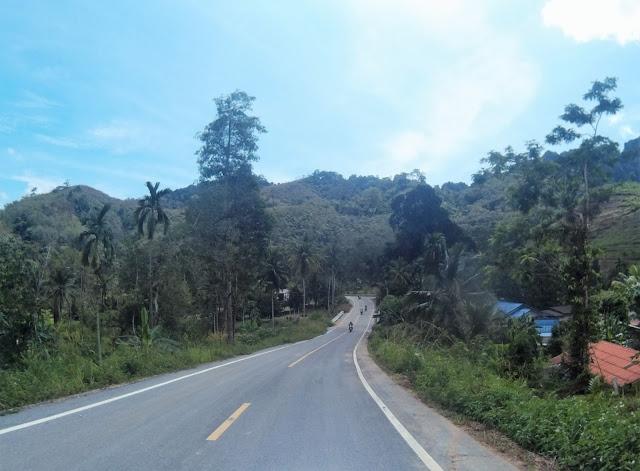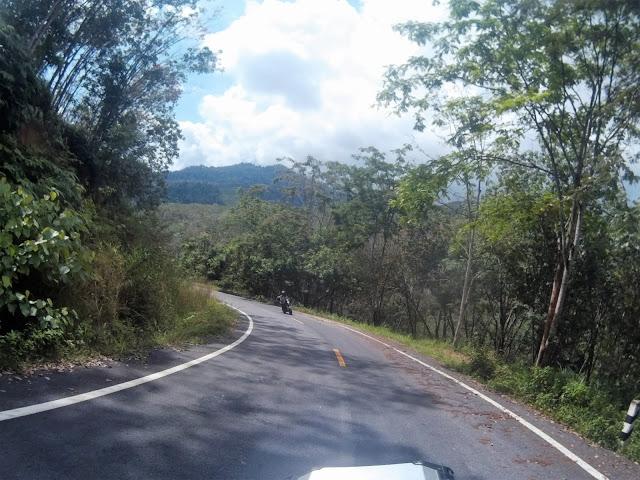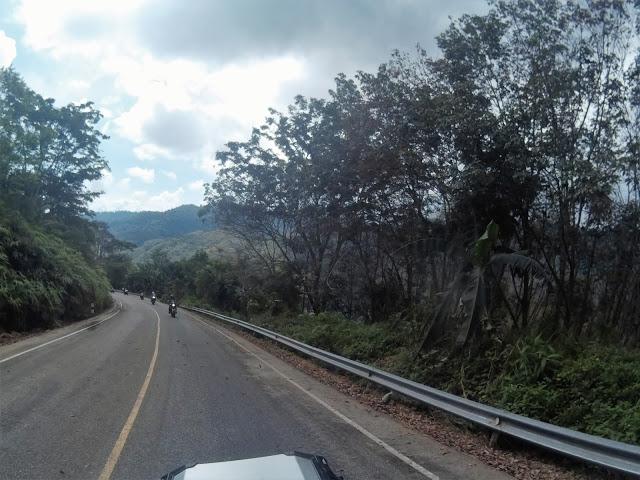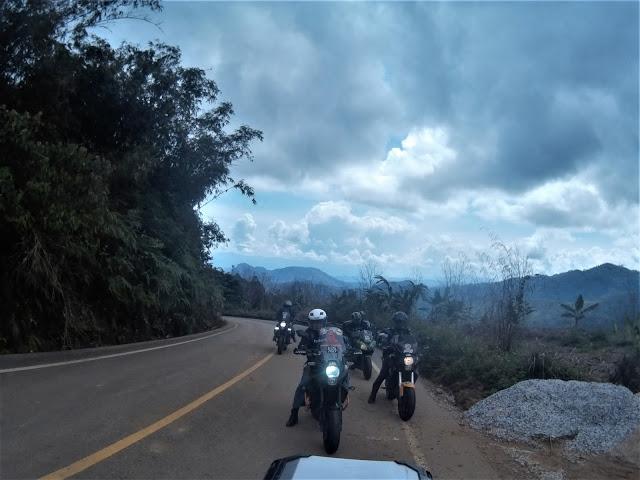 We arrived at point where it is a mere 200m from the Malaysian border.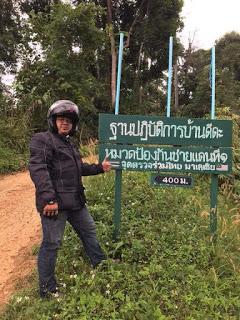 Photo Credit to Cikgu Joe Min
200m Point to Malaysia Border
GPS 6.25068, 101.11443
Route 3005 is a nice road with good amount of twist and turn in both ascend and descend condition.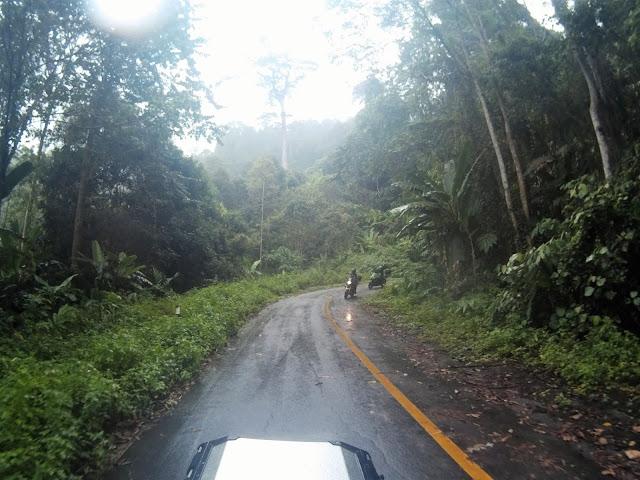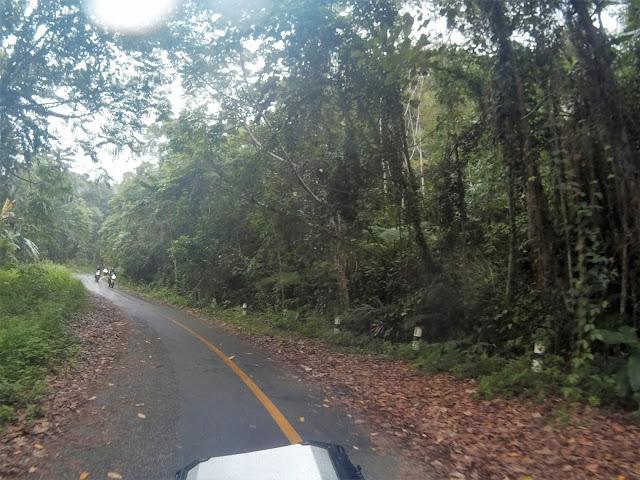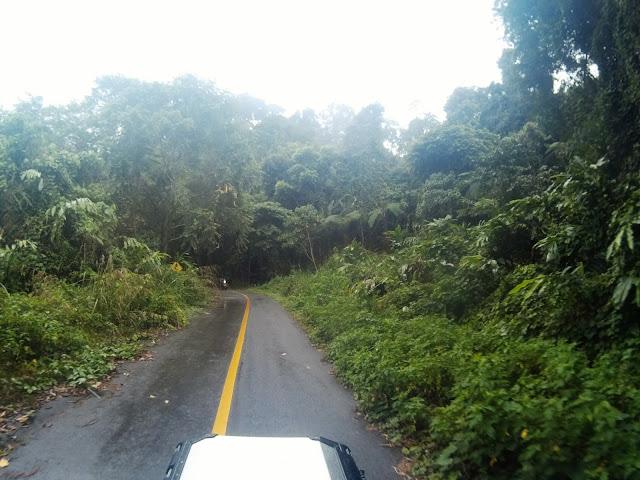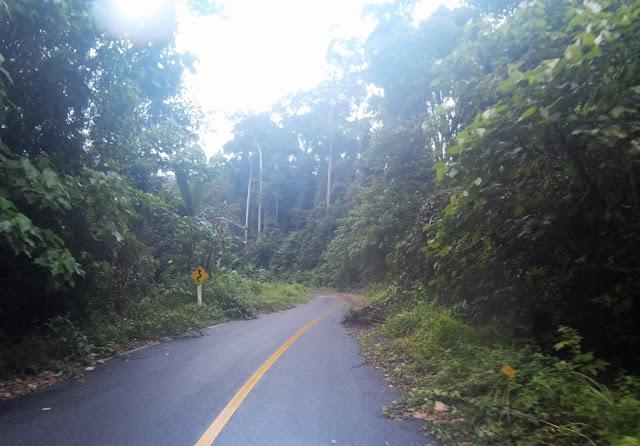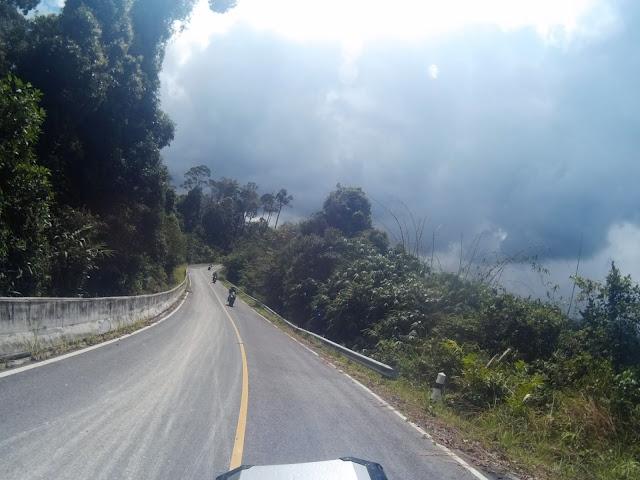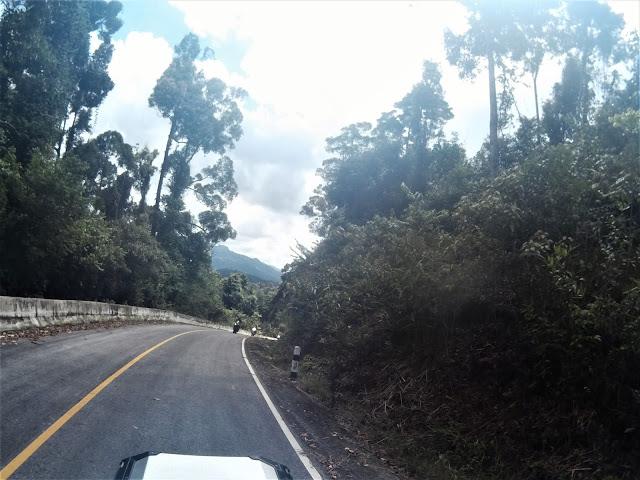 This type of route reminds me of the same sleepy road that connects Kampung Geylang to Kampung Jerjak in Negeri Sembilan (
Read here
).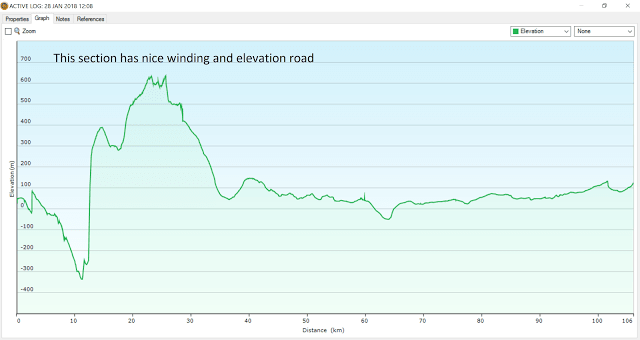 From Kraseang Cave to Ban Phruwa, route 3005 has a lot of interesting winding sections with above average elevation.. all in nice tarmac surface with jungle surrounding
It is here that I stumbled upon sunrise watching spot that could be my next campsite
Yaha Sunrise watching spot
GPS 6.31275, 101.09116
Facilities: Toilet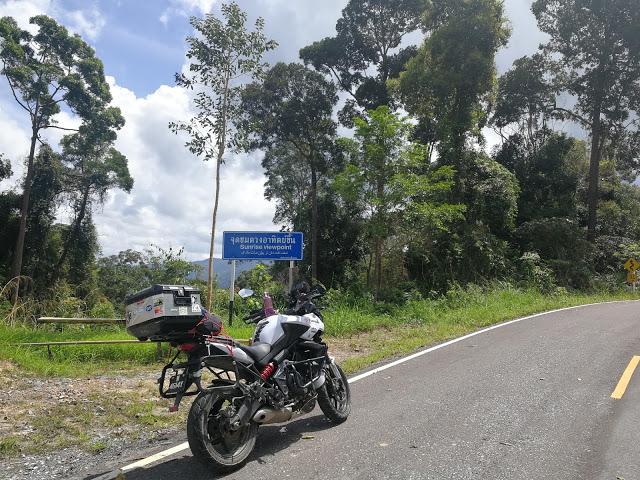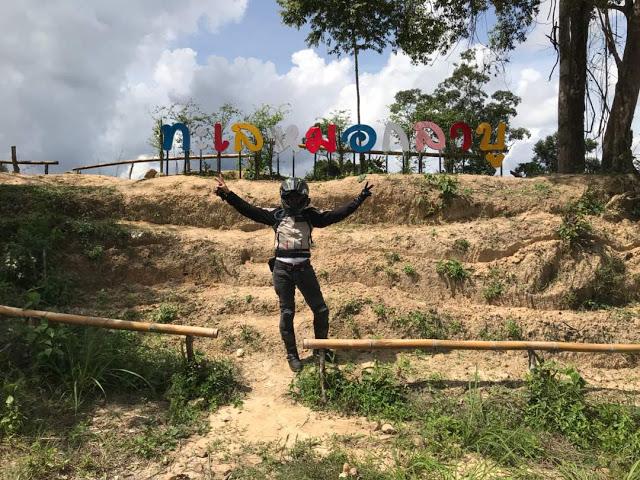 Photo credit to KW Mark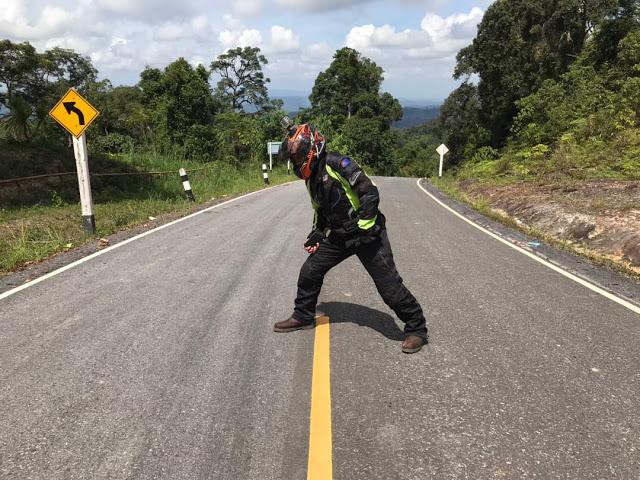 Photo Credit to Cikgu Joe Min
We continued towards Ban Prakop towards route 4176 and 4070 towards Bannang Dama then through 4085, 2042 and 4095 towards Ban Tam Talot, which has a historical temple, Wat Tham Talod. We had arrived at Ban Phruwa around 2.26pm for lunch and there a local market nearby.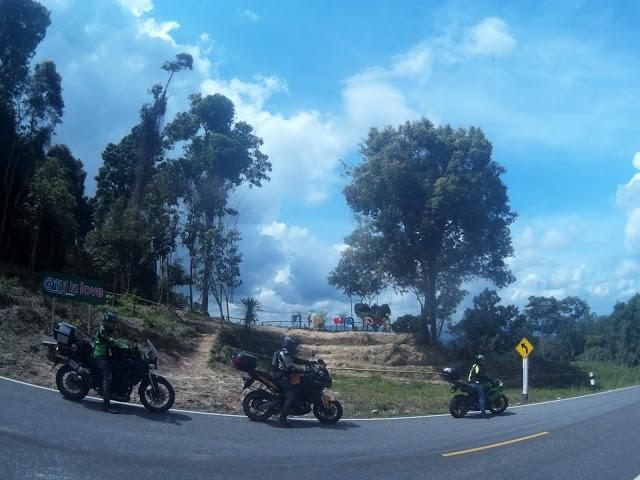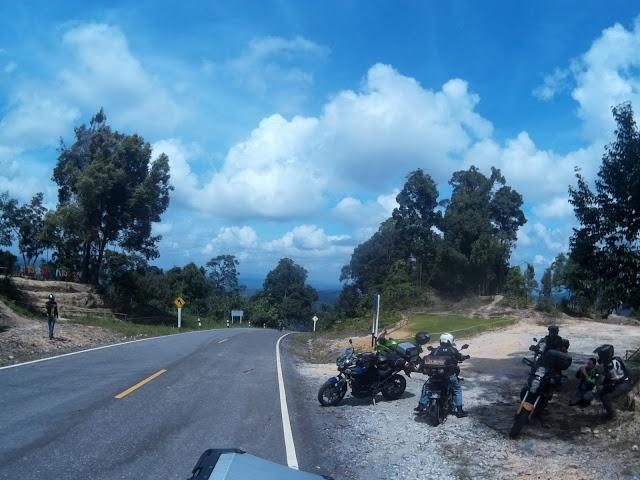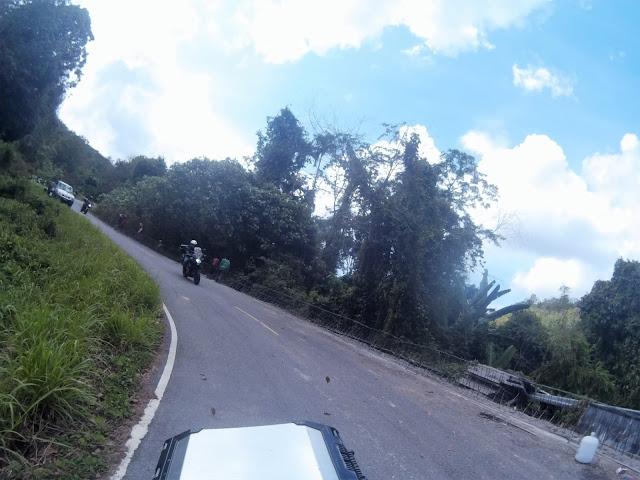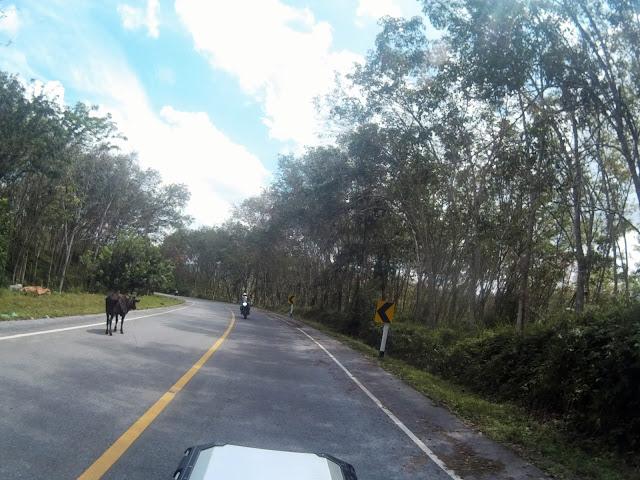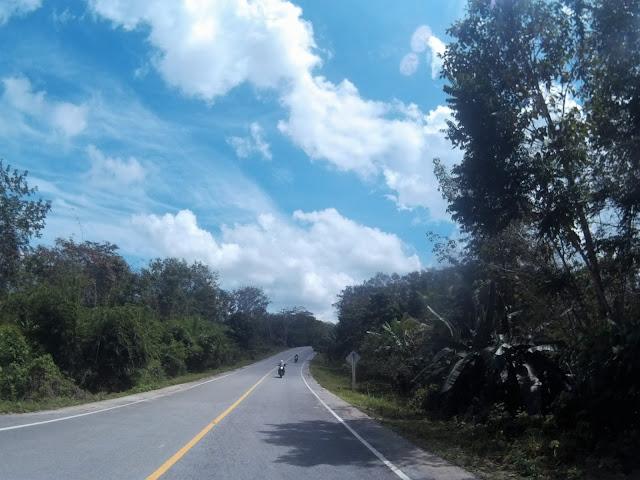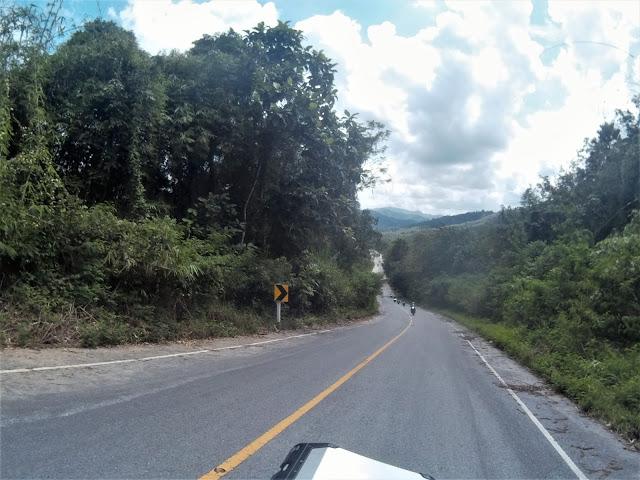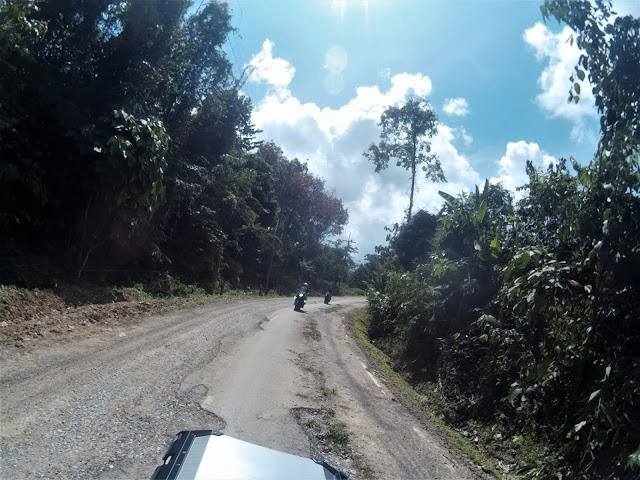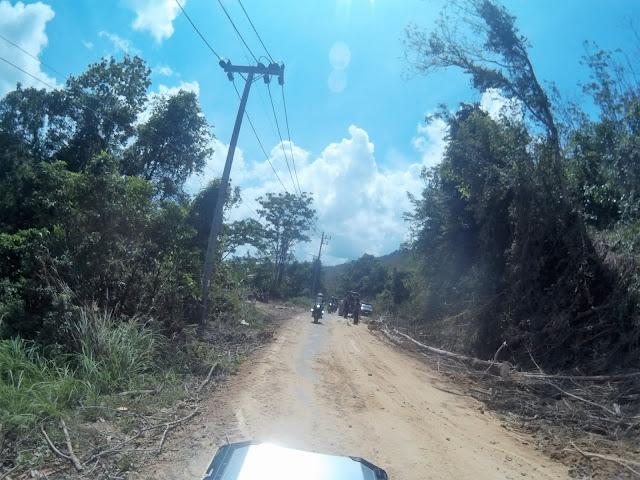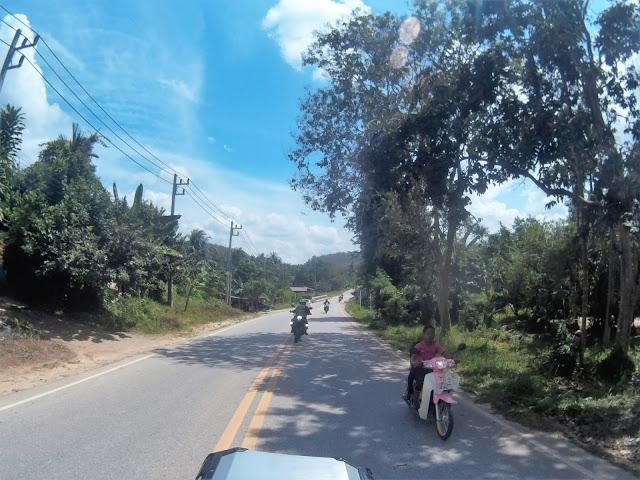 Ban Phruwa Market (Sunday)
GPS 6.52770, 100.69964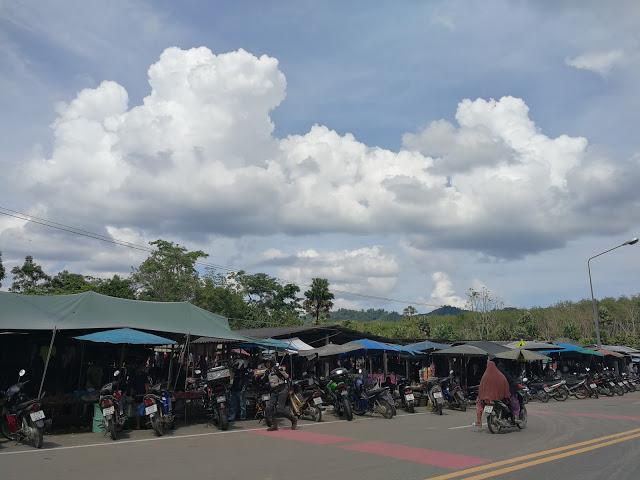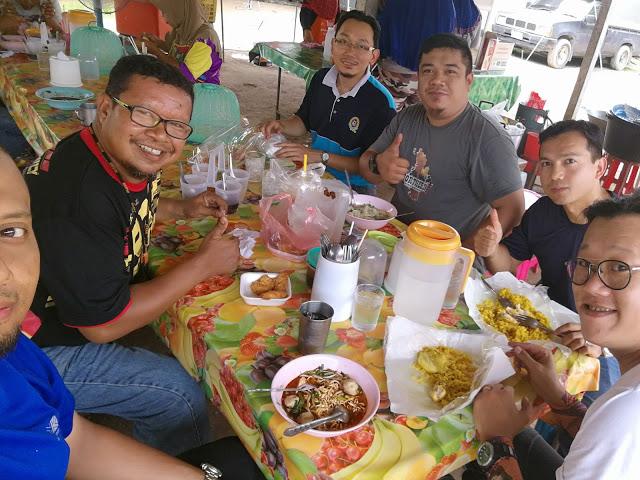 After lunch, we continued towards Ban Prakop checkpoint and crosses over to Kota Putera CIQ around 3.30pm.
It was hot but cloudy when entered back into Malaysian soil and we rode towards Kuala Nerang to fill up our petrol. We said goodbye to Mark here as he'll rode back to Alor Setar while the rest of us rode further south.
It was raining heavily as we departed from Kuala Nerang and it continues to rain when we made another stop at R&R Gurun. We said goodbye to Ibrahim & Shukri here as Cikgu Jasni, Cikgu Joe Min and I continued south towards R&R Sungai Perak. It continues to rain all the way as we arrived at Sungai Perak around 7.35pm and I continued solo towards Rawang after refilling petrol.
I arrived at rawang around 9.35pm and I was soaking wet & cold as it rain continuously from Kuala Nerang.
It was an amazing weekend filled with adventures with fellow riders, some of which are the first time I am riding with them. Nonetheless we never felt awkward and able to chat like friends that have known for a long time. I am also filled with joy discovering new beautiful routes with hairpin bends and interesting elevation right close to our own border. This is a great ride start for a great riding year.
*************************Originally posted on myridinguniverse.blogspot.com*****************************************************