As it was Election weekend, with no alcohol sales or service after 6PM on Saturday, it seemed a good enough reason for a trip out of Town.(Chiang Mai). We got away from the Kafe at 3PM sharp.
Leading us out of town was out Fearless Leader, David dressed in his new red riding jacket on his African Twin with his girlfriend Meow aboard. Dave (SilverHawk) on his TDM with his new glow in the dark windscreen, Robert (Mr.BM) on his latest BM with his just the right size girlfriend Ning and Myself on my new (and Roberts old) BM. It maybe a couple of years old, but it is still a sweet road machine.
We headed out of town on Route 118 with a small amount of confusion as to who ws waiting for who. Hand phones sure are handy. Traffic was light and the road was in good condition for a good blast up to Route 120. Nice easy going with nun of those kinda of turns that tighten up on you half way thru. I thing the technical term is decreased radius. Route 120 connects with Route 1 and into Phayao.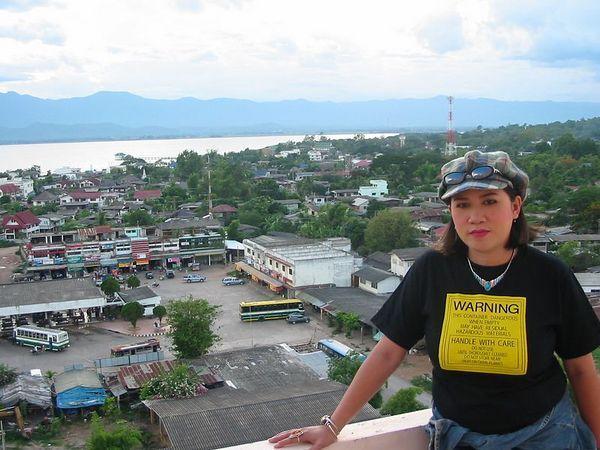 We arrived shortly before sunset and cruised along the promenade along the shoreline of Lake Phayao.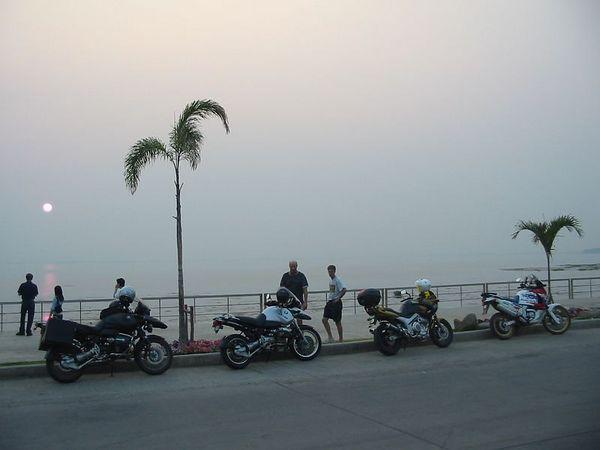 Lots of people hangout enjoying the sunset. After a quick shower at the Gateway Hotel (very good value for money at 800 baht for a large A/C room with breakfast included) we returned to the Lake to one of the many restaurants for drinks and dinner. Not much going on as it was the night before the Provincial elections. It was and early night and the Tea Drinkers would be proud.
Sunday started off with a leasurely breakfast at the Hotel. We departed about 11AM and stopped by a Wat in Phayao who's name escapes me, but the scene depicted there didn't.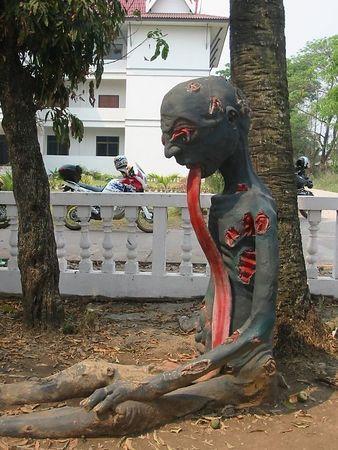 The best way I can describe it is this must be what happens in the next live if you screw up your current one.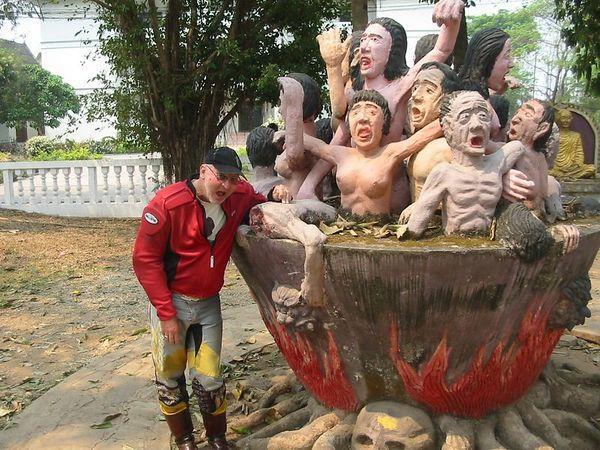 Our next stop was Wang Kaew waterfalls.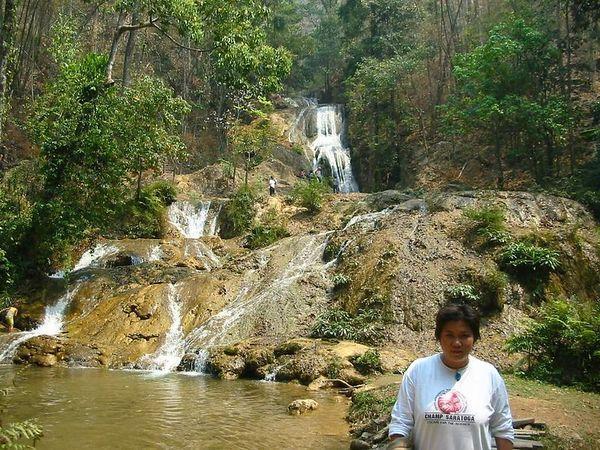 Out of Phayao on Route 1 to Route 120 down to Wang Nua and hang a right onto Route 1303. Go the the end of the road and you are at the falls. Wang Kaew is a good place to spend some time, especially on very hot days such as it was on Sunday. It is a short walk to the lower pools and a good place for a dip to cool off.
Back down Route 1303 and right onto Route 120 to start the blast back to Chiang Mai. Again traffic was light and we did keep the power on. JOHN