On Monday 12, heading north on the coast road somewhere south of Bang Saphan (Prachuap Khiri Khan Province), my CRF 250L, which is usually utterly dependable, started to fade, then the digital display blanked out and shortly after the engine died about 500m short of the district town. I'd biked down from Chiang Mai to Nakhon Si Thammarat and was now heading back, wanting to get home before interprovincial travel became 'sticky', or before I was obliged to spend weeks in a hotel as a captive guest.
The first help was a push from a security guard to a bike shop. Now I had no idea what the problem was but figured it might be the battery. It wasn't, but I found that out for sure 49 km later when the electronics and engine died again about 400m from a local bike shop in Thap Sakae. A father son team ran the shop, and the son (picture), who had worked on Kawasaki big bikes said the AC coil had probably burned out.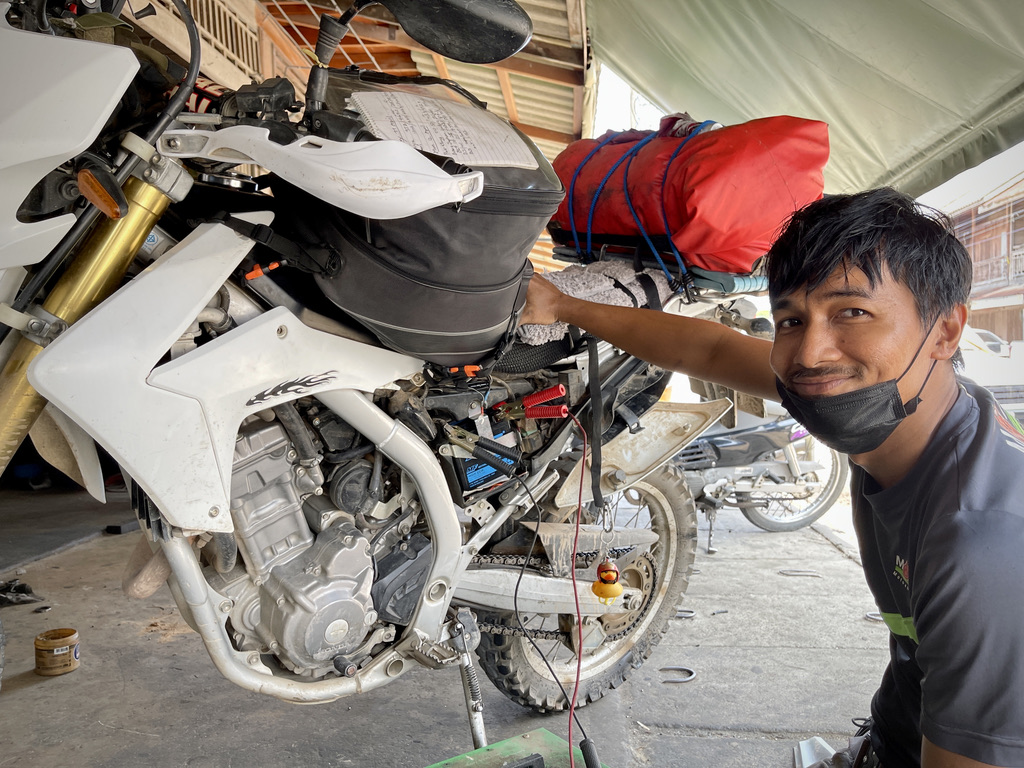 The father lent me his ancient step-through to check out the post office — it was closed. Kerry was also closed and the SRT won't take bikes bigger than 150 cc, so sending the bike to Chiang Mai was not an option, especially at around 14:30 on the eve of Songkhran.
The son, meanwhile, told me the nearest Honda bike service likely to be able to fix the problem was in Hua Hin. I googled Pornnuphap Motorbike in Hua His and got through to a very helpful lady (she turned out to be the owner's wife), who said I should take the bike to their main center in Phetchaburi, not Hua Hin. She also told me Honda Parts in BKK were closed till the 19th.
Meanwhile the son had been calling around to see if someone would step up with a pickup to run me to Hua Hin, but word was spreading that Hua Hin was seeing an outbreak of Covid and unsurprisingly no one wanted to go there. Sitting on a low stool in the bike shop I talked with a man who offered to drive down from Ratchaburi with a slider to take my bike to Phetchaburi for 7,000thb — Pornnuphap had arranged the contact.
Overhearing this, the father let out a sound implying that he too thought this was way too much to pay. I declined that option and wondered what to do next. Strange, but I wasn't feeling too concerned because something was going to work out. It was just a little logistic problem.
Sure enough it did. For 3500thb, the father and son unsolicited offered to drive me to Phetchaburi. His fuel cost was at least 1000thb and the 190km drive took three hours one way. What a generous gesture to help someone along the road!
But it didn't stop there. Pornnuphap Motorbikes were celebrating their Songkhran party with an end-of-working day bash and folks seemed pretty happy. Pornnuphap himself told me they were only closing for one day, so they could look at the bike on Wednesday. Meanwhile, he offered me a Click free of charge, ingeniously arranging for staff to mount my excessive amount of gear on the back and sent me on the way to a hotel I had booked while traveling north in the pickup on the Petkasem Highway from Thap Sakae.
After a pleasant Songkhran day in Phetchaburi, I got to Pornnuphap's at about 09:15 on Wednesday. Their mechanic came to me and confirmed the coil was burnt, that they did not have the part and that the bike would be ready on the 20th or 21st once they had the part from Honda BKK. That was fine. I could rent the Click and find a pleasant spot down near a beach.
But then Pornnuphap himself (Khun Toei) came in and showed me to a garage at back where he kept four CRF's for himself and friends to go off for a bit of dirt-biking.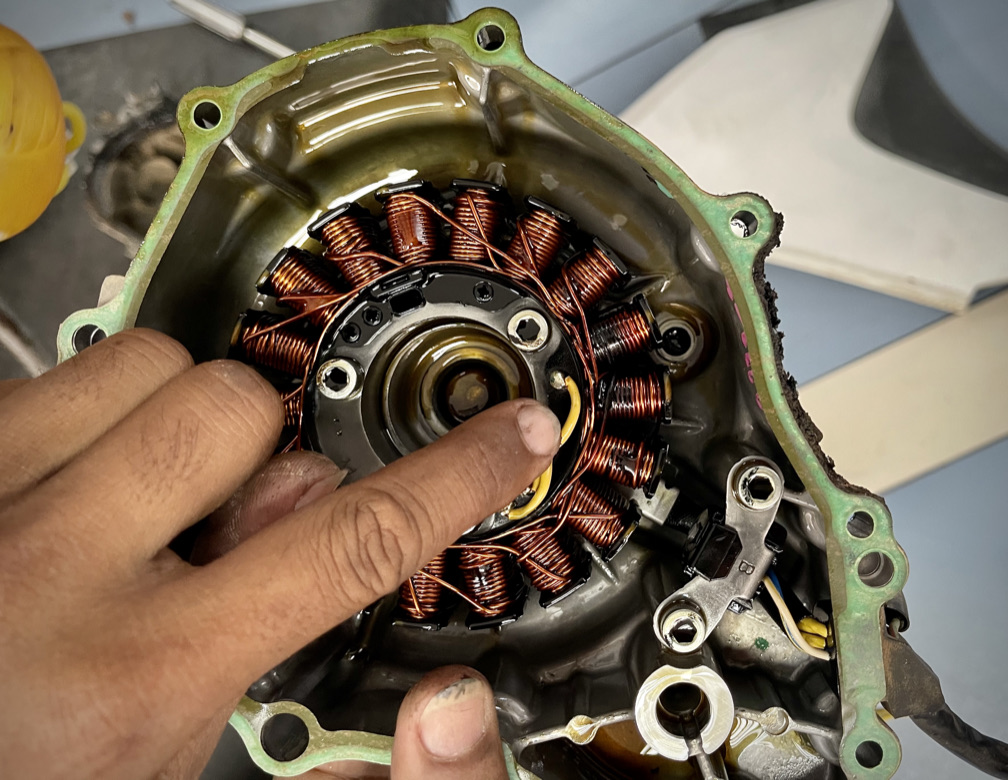 Khun Toei (photo) selected one that had done only 4,000k and ordered his mechanic to swap the coil out and put it in my bike. He also discounted the original quote of 6,100 thb (this included a new battery) to 5,300. I was ready to go at 11:45.
It's not the first time I received help from Thais that went way, way beyond the point of reasonable courtesy when I had difficulty on the road. From the security guard who was the first person to help me when he got on his Wave to push me to a bike shop in Bang Saphan to Khun Toei getting me back on the road quickly so that I could get on home, I was completely blown away by the universal kindness and generosity shown to me by Thais on this occasion.
Thank you big time!