Administrator
Staff member
Jan 16, 2003
12,519
2,943
113
67
Some of you older long term guys might be able to remember the original GT Rider (Chiang Mai Motorcycle Touring Club) rides to the Malaysian GPs in 94 & 95.
Here's a couple of happy family snaps from the 94 Ride, with ELF Oil Sponsorship...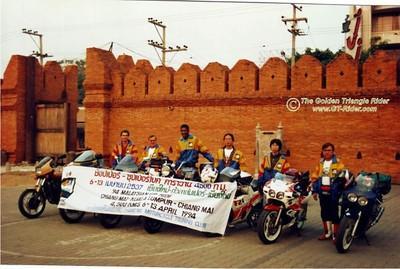 Above: The start in Cnx. Farang & Thai riders!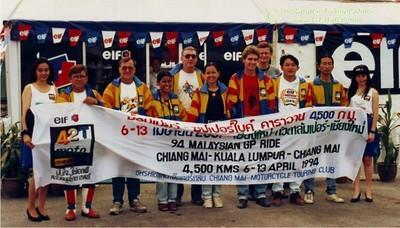 Above: The Happy guys & gals at the track in KL.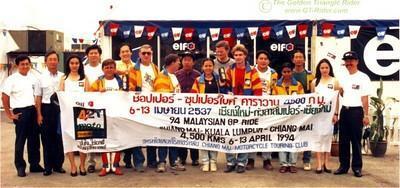 Above: With the Thai ELF OIL team.
Our fabulous host in KL then was Raymond Tan, ELF Oil rep & ex Malaysian M-X & Jet Ski Champion.
Well after a mere 13 years, the Snail & I have met up with Raymond in Cnx again.
Raymond's still a fabulous guy & still heavily involved with motorcycle & jet ski racing in Malaysia S E Asia.
He was in Chiang Mai with his mate Ron, from Petronas another ex Malaysian & Thailand King Cup jet ski champion.
For those guys from the 94 & 95 GP rides, here's a happy snap from the Riverside in Cnx in Feb 2008...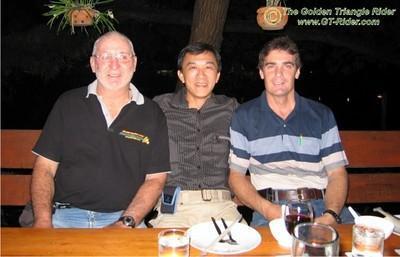 Above: Feb 2008 Raymond Tan, flanked by the Snail & the GT Rider.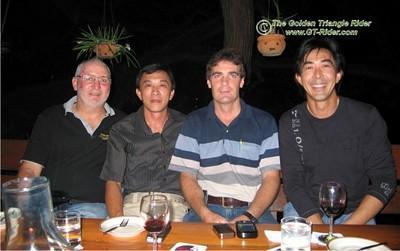 Above: Feb 2008. GT Riders with Raymond & Ron.
Should bring back a few memories for some guys.