Administrator
Staff member
Jan 16, 2003
12,521
2,944
113
67
Date: Sunday 26 July - Saturday 1st August 2009
The way: Chiang Mai - Chiang Rai - Mae Sai - Mae Chan - Doi Mae Salong - Thoed Thai - Chiang Saen - Chiang Khong - Chiang Rai - Wiang Pa Pao - Phrao - Chiang Mai.
The weather: heavy overcast, but cool 'n dry! And it's wet season. You little beauty.
The weather at the start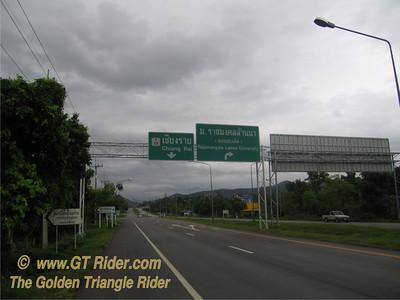 Going over the top the road was wet, but I lucked out - no rain.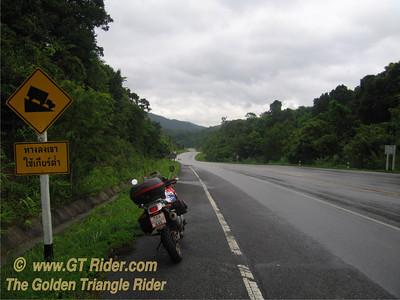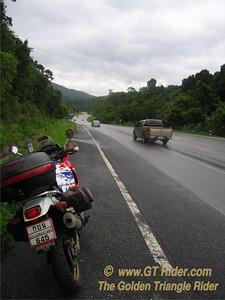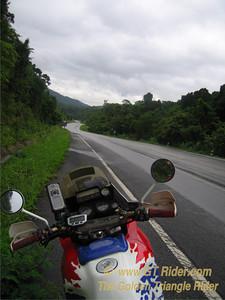 It was a break at Black Canyon in Mae Kachan for a cappuccino, then a bigger break at Charin Resort for cappu & cheese cake. Arrival time in CEI was 5.50PM & the Nimseeseng was the place of stay.
The master plan for this trip was to check out some "new" (for me) attractions in Chiang Rai.
1. Oub Kham Museum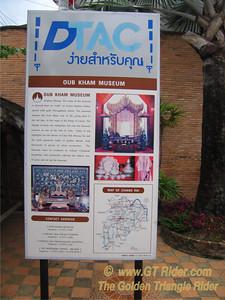 http://www.oubkhammuseum.com/
http://www.nationmultimedia.com/2009/03/02/opinion/opinion_30096948.php

A lifetime's work opens a window on past grandeur
By Pridiyathorn Devakula
Published on March 2, 2009

TWO WEEKS AGO, while in the city of Chiang Rai, I took my customers to the Oub Kham Museum and found that it was recently renovated, providing more room for more impressive presentations.

Julasak Suriyachai, the founder and owner of this museum, has collected numerous antiques belonging to the Tai. He would very much like tourists, local or foreign, to see this rare collection and learn about the Tai races.

The Oub Kham Museum is considered to have the best private collection from the Lanna Kingdom and various cities of the Tai in southern China, the Shan state of Burma, Laos as well as the city of Thaen (or Dian Bian Fu nowadays) in Vietnam.

The collectibles include silver ornaments such as hairpins, necklaces, earrings, bangles, belts and crowns, which were crafted with delicate patterns.

Also on display are the costumes of various Tai races, especially those worn by the nobles in the old days, which were made of cloth woven with silk or gold thread, the kind of clothes that are no longer made.

These costumes are well preserved, still look elegant and are ready for use in any important ceremony. There are also personal utensils such as golden boxes to keep ornaments and other small belongings, silver containers for Buddha's relics, sacred water bowls crafted with finely perforated designs, silver sets for betel nuts and side dishes, and a small pavilion housing a Buddha image for worshipping at home.

Most spectacular are the rare Buddha images from various ancient periods, some older than a thousand years. They are made of metal as well as gemstones such as topaz, ruby, emerald, jade and rock crystal.

It can be said that this is the biggest collection of gemstone Buddha images under private ownership. Looking at some, which are made from a sizeable chunk of gemstone, one cannot even judge the value of the stone itself.

On the altars set up for worshipping visitors is a complete set of important Buddha images from the Chiang Saen period - Singha One, Singha Two and Singha Three - and many others in Chiang Saen style. The antiquary will definitely be contented if they see this set-up.

Besides, Julasak also put some important Buddha images from the Oothong and Sukhothai periods on the altars. This is a perfect set-up of a pedestal for a Buddha image called Oo Saen Suk (Oothong, Chiang Saen, Sukhothai) which has the very good meaning of the most comfortable dwelling.

Another Buddha image worthy of note is the Tai Yai, made of marble, sitting on top of the pedestal.

Bigger pieces from the Lanna Kingdom include the Sattaban, which is normally placed in front of the principle Buddha image in the main chapel and used for holding seven candles to worship the principle Buddha image.

Others are the carved wood ceiling of the chapel and Oub Kham, a utensil similar to Toke but with a big lid, made of bamboo covered with black lacquer plastered with gold leaves, and decorated with coloured stones or gemstones, for those belonging to nobles.

Beside Sattaban and Oub, another piece of Lanna art is the woodwork of an animal in heaven, according to the belief of the Lanna people, called Panjaroop (Five Figures), which is composed of the important features of five animals formed together to become one sacred animal.

The features are the trunk and tusks of an elephant, the body of a dragon, the wings of a bird, the tail of a fish and the legs and feet of a deer. The one in the museum was made of carved wood covered with gold foil and decorated with mirrors and coloured glass. It is now still in perfect condition.

There are a lot of sacred things that were the personal belongings of royalty in the old days including crowns, ornaments, betel nut sets, golden boxes and royal costumes.

You will be surprised to also see the thrones of the prince and princess of the ruler of one city in Shan. They are two sizeable armchairs made of wood, carved with a delicate pattern, coloured in gold and decorated with coloured stones and gemstones. They were placed next to each other - one for the prince and the other for the princess.

The most spectacular piece is the golden throne, which is a grand chair with a wooden panel standing elegantly on the back.

The wooden panel is a masterpiece of craftsmanship, magnificently engraved, coloured in gold and decorated with coloured stones.

This golden throne was brought from one of the important cities in Shan by the offspring of the ruler of that city when they immigrated to Thailand after General Newin seized power and attacked various cities in Shan.

The chair and background panel, which are quite spacious, were disassembled and hidden in a cart. They were reassembled after they reached the destination in Thailand.

As for the exhibition rooms that were renovated, one was converted into a cave, which in ancient times was used for hiding valuables during wars in order to retrieve them for use when things settled down.

A lot of good antique pieces are well displayed including many golden Oubs in perfect condition. Another renovated room is used to display costumes worn by various Tai races - Maow, Pujee, Yah, Lee, Yai, Lue, Yi, Tong, Juang, Dam, Sum Nuea as well as Palong, Kachin and Pai, which are also Tai races.

Some Chinese costumes with connections to Tai costumes and the costumes worn by the Mong tribe in Laos are also displayed for comparison.

The most outstanding one was worn in the court of Chiang Tung, which looks very elegant. Julasak has studied these costumes of the Tai races in detail and arranged this display to impress visitors on the dressing culture of the Tai races, which has been well developed for quite some time.

If any of you should ever travel to Chiang Rai, I recommend that you to spare about an hour to visit the Oub Kham Museum. Apart from admiring rare antiques, you can learn about the Lanna culture as well as Tai races in various places.

It is also a good opportunity to worship and admire rare Buddha images as explained above.

Once you see them yourself, you will understand why I appreciate the perseverance and dedication of Julasak in constructing this place to exhibit his lifetime collection for other people to appreciate and admire without being possessive.
Unfortunately no photos are allowed in the museum, but I did manage one with Ajarn Julasak Suriyachai outside his museum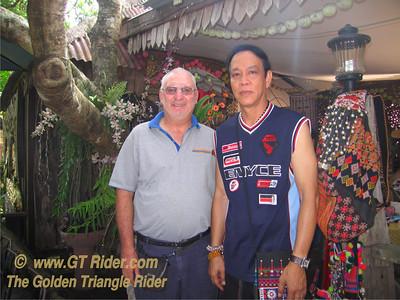 The museum is a truly amazing place & could be one of the North's best kept secrets? But it shouldn't be.
Everyone should check out this place in Chiang Rai!
2. A couple of hill top wats south of the Kok River.
Wat Doi Incee.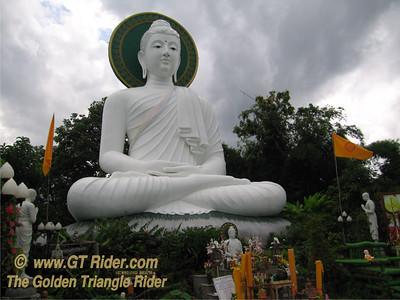 The view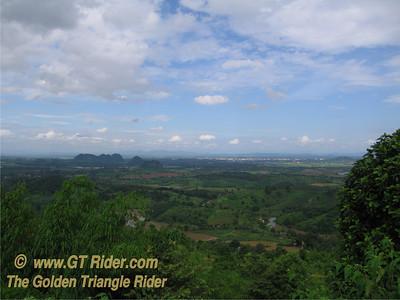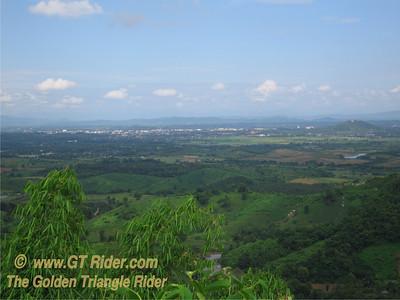 Wat Mae Aep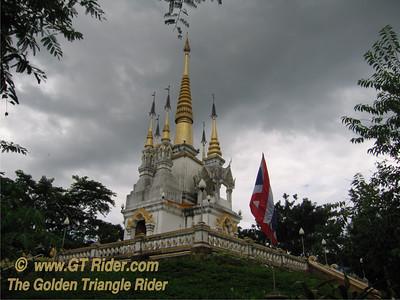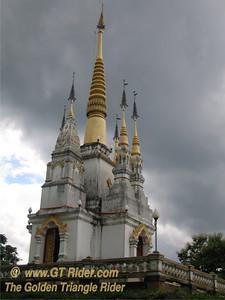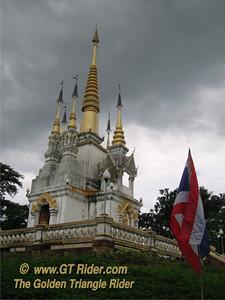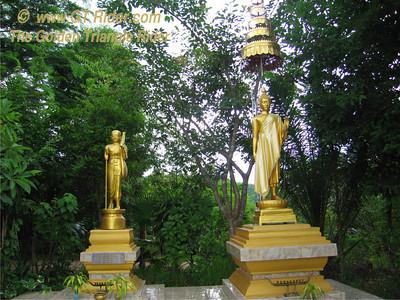 3. Huay Mak Liam Hot Springs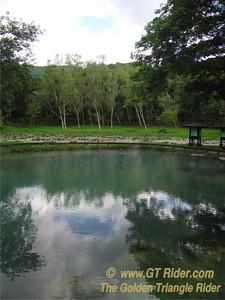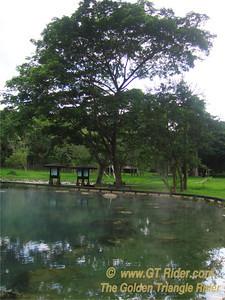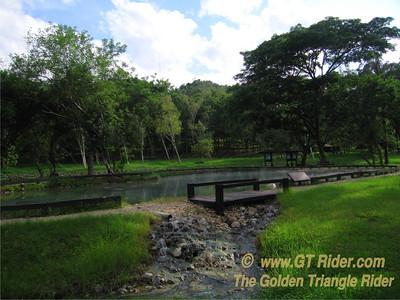 The Huay Mak Liam springs are right beside the Kok River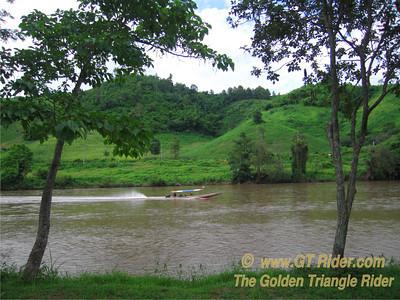 to be continued...