0
Staff member
Subscribed
Jan 16, 2003
14,088
5,081
113
69
A short exploratory trip, looking for new attractions, some old roads & some new ones (if possible.)
4 NIGHTS 5 DAYS. DATES: 5th - 9th July 2010.
THE WAY:
Chiang Mai - Doi Saket - Mae Kachan -Wang Nua - Phayao.
Routes: 118 - 120 -1
Phayao - Dok Kham Thai - Wiang Lo - Chun - Pong - Chiang Muan - Nan
Routes: 1021 - 4006 - 1202 - 1091 - 1228 - 1188 – 1091
Nan south-east
Routes: 101 – 4005 – 1243 – 1168
Nan –Thawang Pha – Chiang Kham – Chun – Phayao – Wang Nua – Mae Kachan – Chiang Mai.
Routes: 101 – 1148 – 1021 – 1091 – 1 – 120 – 118
THE WEATHER: Hot & Hot & steamy, but a dry ride; there & back = unbelievable!
DAY 1: CHIANG MAI - PHAYAO
Got away from the super 40 minutes behind schedule at 3.45PM to rendezvous with the Kiwi Cruiser at Black Canyon at Mae Kachan. Ben was on time, but not I. (And what a surprise some of you might say.)
It was a glorious run R118 into Mae Kachan. The clouds threatened, but there was no rain…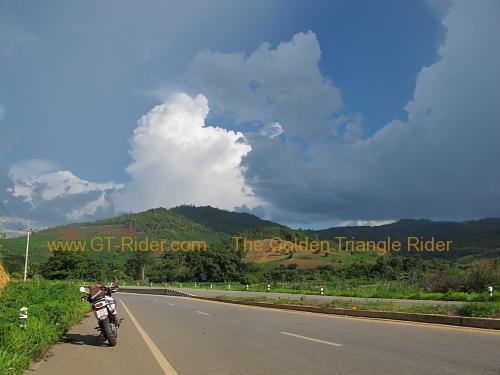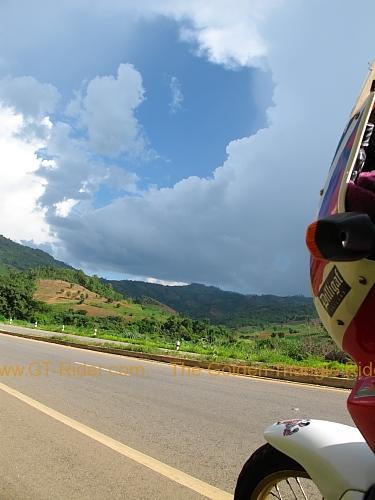 From Mae Kachan it's a right turn onto R120 & a then usually quick blast over the mountains to Phayao.
But not today. First stop is at Wiang Kalong ceramics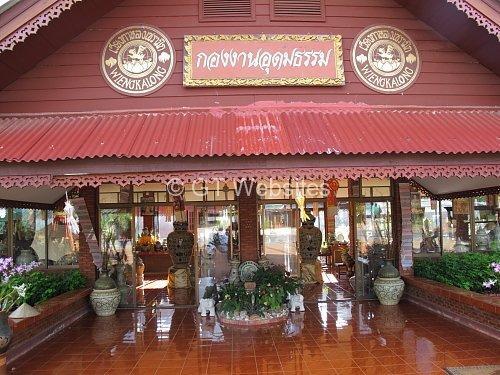 This is to look at a place I have raced past numerous times, but never bothered to check out.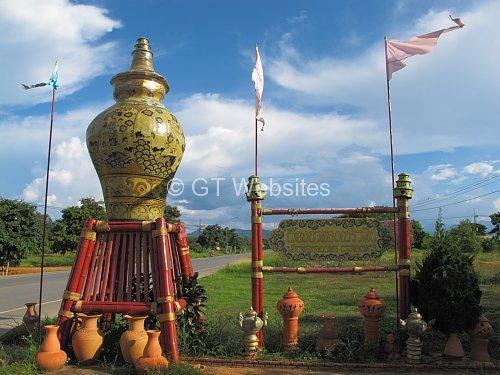 Wiang Kalong is actually a famous town from 1,400 years ago that was renowned for its ceramics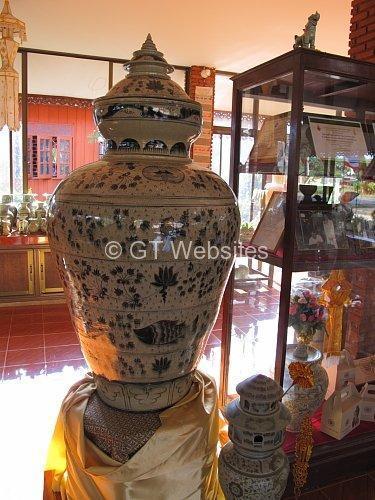 Supposedly the clay soil from the area is of a particularly fine quality, that allows for very light weight ceramics.
Once upon a time there was believed to be 3,000 kilns in the immediate area, but most of these were looted once word got out overseas.
The story of Wiang Kalong goes like this…
The name Wieng Kalong which means "The town where the crow got lost" and derives from the legend of The Five Lord Buddhas.
In the legend a white crow leaves five eggs to look for food in Wieng Kalong and during a thunder storm loses her way home. Returning home to her nest the following day she discovers that all of her babies have fallen into the river. The white crow searches in vain for her babies, and dies with great sorrow. The five eggs left, contained five boys and the eggs were separated by the storm. However later in life, but they join up as young lads when they study with the same Rikshi. They eventually become the Five Lord Buddhas after they have entered the monkhood.
A peaceful town, ancient Wieng Kalong was far removed from the war zone of the Lanna Kingdom, and the Wiang Kalong people were inspired to create Wieng Kalong ceramics from the legend of the Five Lord Buddhas and the White Crow.
The premium grade ceramics production is divided into three periods of early, middle, and final ages. The unique designs of painting related to Buddhism distinguish the Wieng Kalong ceramics from others and are much sought after by collectors around the world.
The well preserved painting designs depicting the crow (Mae Ka) and the crow's flower called "Buppha Kalong" are considered as sacred designs, and the ceramics featuring " Mae Ka "and "Buppha Kalong" paintings can not be positioned at lower levels as these designs only adorn decorative vases and worshiping trays .
Others are the Himmabhan (crossed species) animals, the floral and plant design, and the Gaan Kod (vine) design.

Inspired by their strong faith and devotion in Buddhism and with peace in mind, the villagers were able to constantly create these art pieces. This tradition has been passed on from generations to generations until the present day. To earn and make merit, the villagers go to offer alms early in the morning then chant and practice meditation at the village's Meditation Monastery. The villagers also believe that there is a sacred pot called "Mhor Buarana Kata", a ceramic pot containing holy relics and jewelries buried somewhere in Wieng Kalong but no remains of the Mhor Burana Kata have ever been found.
http://www.muantae.com/index.php?option ... iew&id=123
I've never been terribly interested in ceramics, but the items on display at Wiang Kalong are beautiful.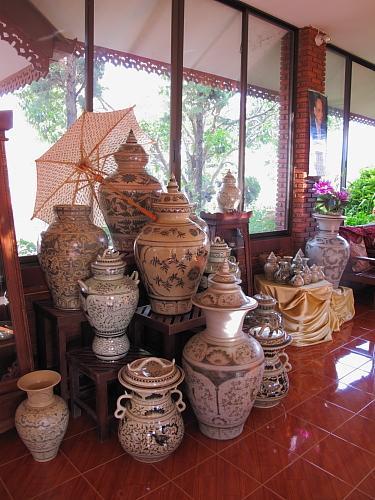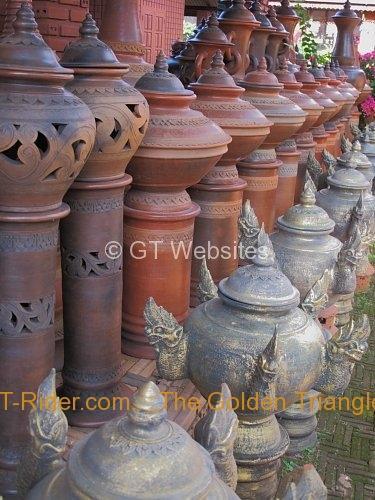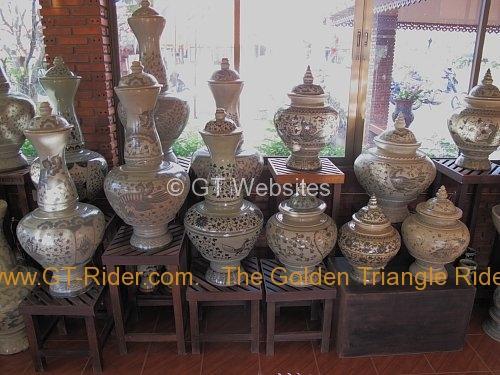 Old syle kiln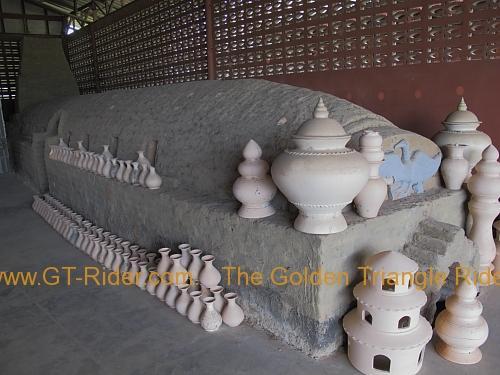 New style for today, the easy way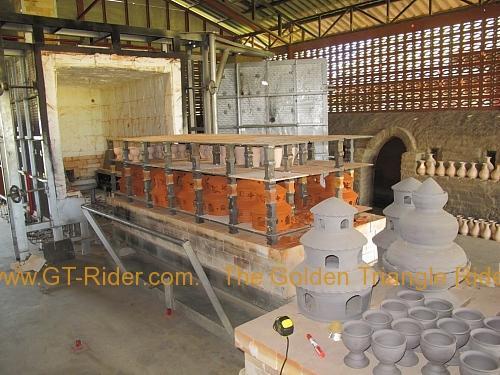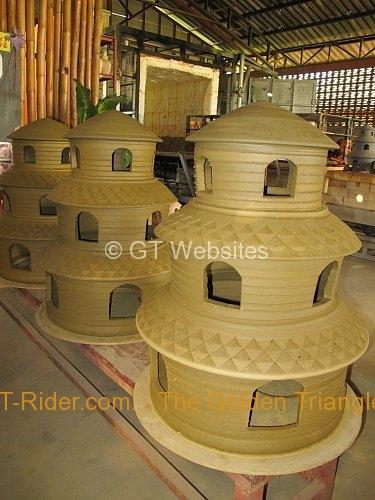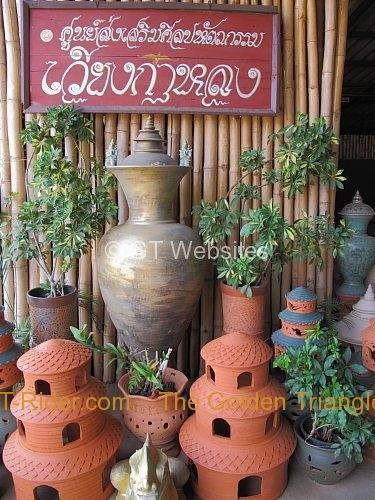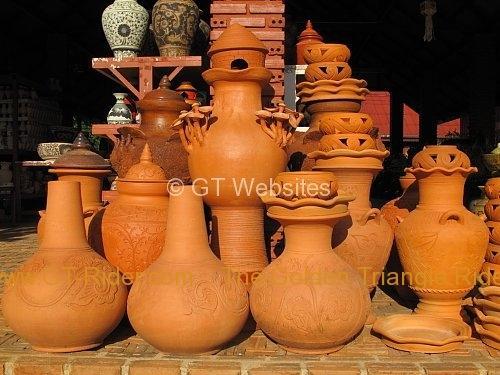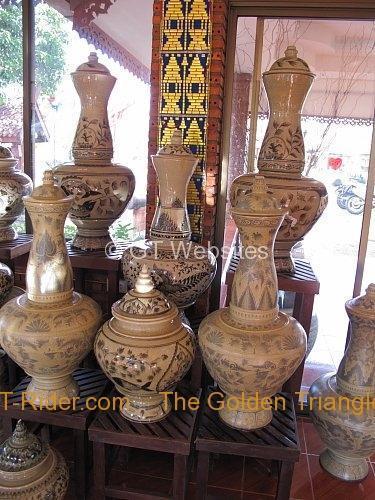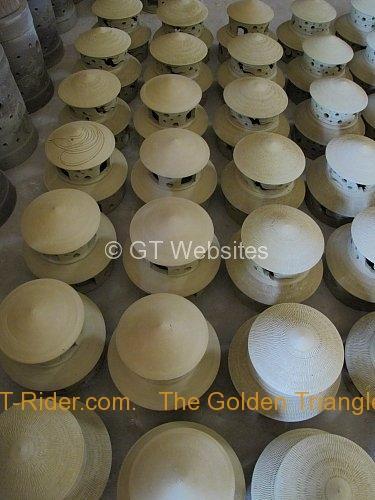 more coming..
Last edited: