Phi Ta Khon 2008 - Dan Sai - Loei Province
Day 1: Thurs 25th June: Chiang Mai to Dan Sai - SH11, 1246, 1143, 2013
Day 2: Fri 26th June: Dan Sai
Day 3: Sat 27th June: Dan Sai - Loei - 2013
Day 4: Sun 28th June: Loei - Chiang Mai
The Riders:
David Unkovic - Africa Twin 750
Ben Kemp - HiLux Tiger D4D 4WD - yeah, I KNOW its got 4 wheels!
The Annual Phi Ta Khon Festival in Dan Sai is a clarion call to those who like big events in small places. I had so much fun last year, I've been dying to get back and renew old acquaintances - and to make some more! This simply must be one of the most colourful, photogenic events in the country, and these guys (below) agree with me...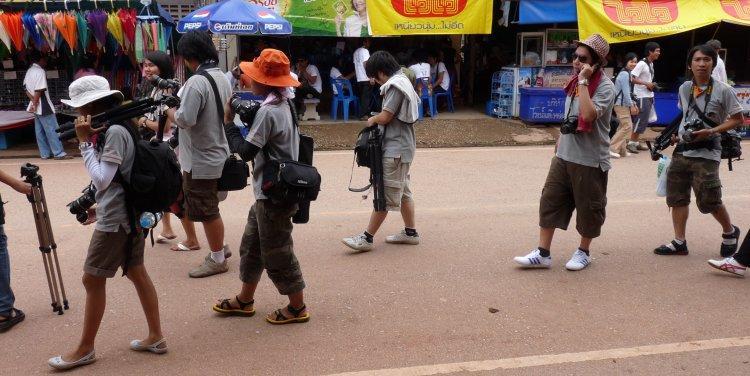 - if it's not, can someone please tell me what beats it?
I'm an early riser and had planned an 8am departure, well ahead of David on the AT which is more than bit faster than the Hilux. However, I'm rather later getting up than anticipated due to a minor indiscretion. Meeting FL for breakfast at the Kafe is therefore a feasible option. We eat - I leave while he goes home to finish some work. I've got to stop and buy some crockery at the ceramics market 20kms before Lampang.
I get to have a leisurely cruise on the first 200km section and eventually, we meet up at Den Chai for a coffee, and set off down SH11 for the 1246 turn off to Chat Trakan and Nakhon Thai. I get a little head start and hammer the Hilux and beat him on the 35 km run from Uttaradit to the turnoff - I got green lights, he got red lights - what a difference that makes!
We had a dry run all the way to Dan Sai, not a drop of rain all the way. Thats a stark contrast to last year when it bucketed down for 200 of the 400 kms! No complaints though! We arrived in Dan Sai at 5pm and found a quick snack down near the food court by the Seven 11. Got accommodation sorted, showered up and then headed back to the food court with a thirst... There's a bit of an opening ceremony, complete with fireworks etc.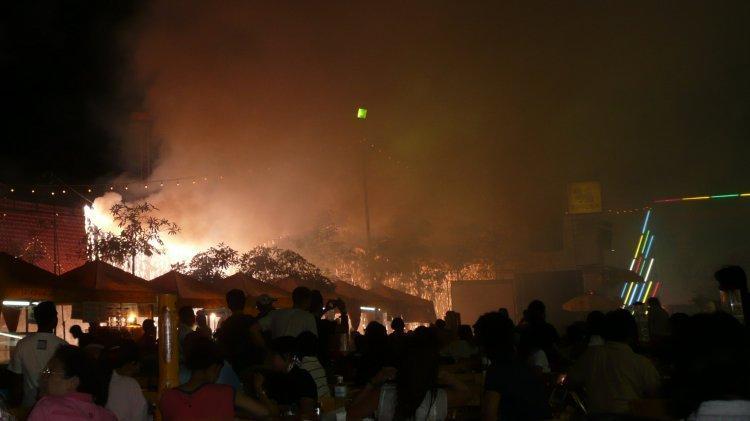 Friday is an early start for me - hunting for sustenance at 8am I head for raan ahaan Soso. She said she had coffee - our definitions obviously differ markedly and I could not face a 2nd one - and I'm a tough cookie when it comes to drinking coffee, life's always been too tough without it! What surprised me most was that my teeth did not dissolve...
The pork and egg on rice with pickled cabbage was bloody good though!
Being there a day ahead of the main event is good - things are building up, there's an air of excitement, but its not yet overcrowded. A ceremony at the temple mid-town is good - lots of old folks out and about and the various ethnic origins and diversity is always fascinating. Not only that, but its possible to get some unobstructed photos!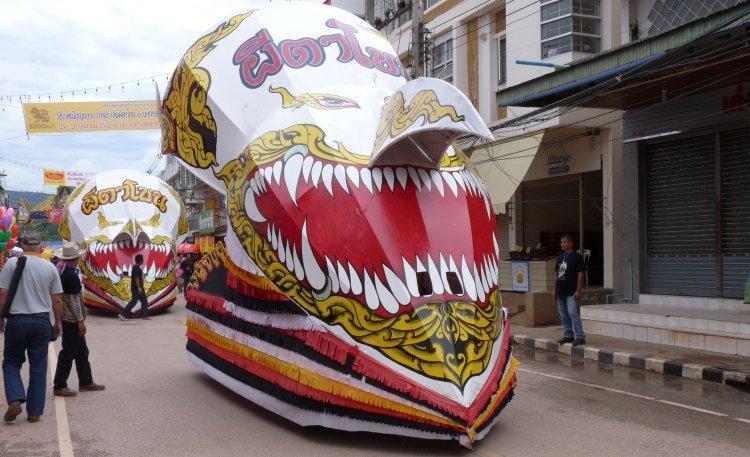 One of the interesting aspects of Dan Sai is the large number of people who make it home for this special weekend. Everyone is friendly, and having a good time, and you get to meet lots of locals... well, if you make an effort to respond to shy smiles and say hello, you do!
The food court is awesome - caters for a hell of a lot of people and was pretty much packed on both Thurs and Friday night. The Chiang Mai Stars were a new item on the agenda too!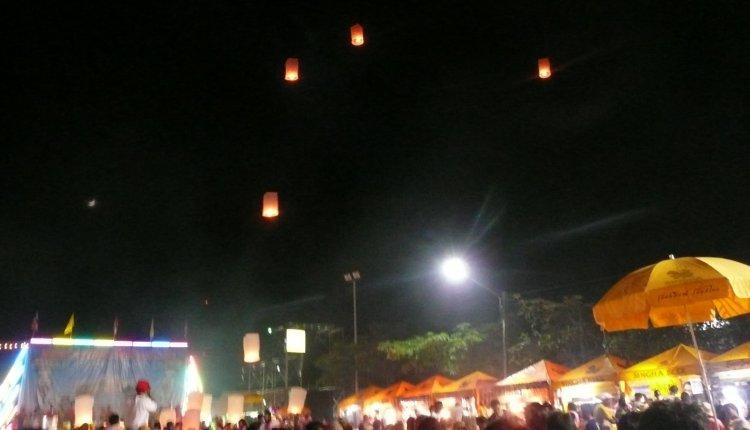 A significant departure from past year is the MC giving summarised English versions of the opening speeches, and the English language event programme. There's also a lot more multi-media happening with a big screen projection system etc.(lower left, next image)
The other difference is the lack of overt beer bar sales in the main street this year! There is a preliminary parade on Friday, a little dress rehearsal that allows some decent photos to be taken.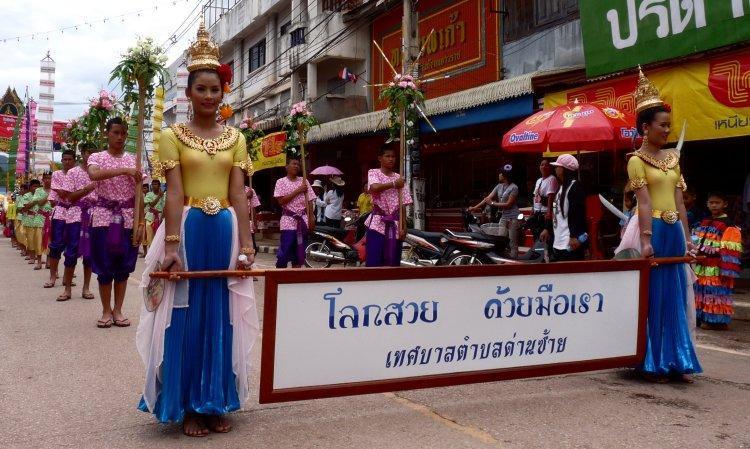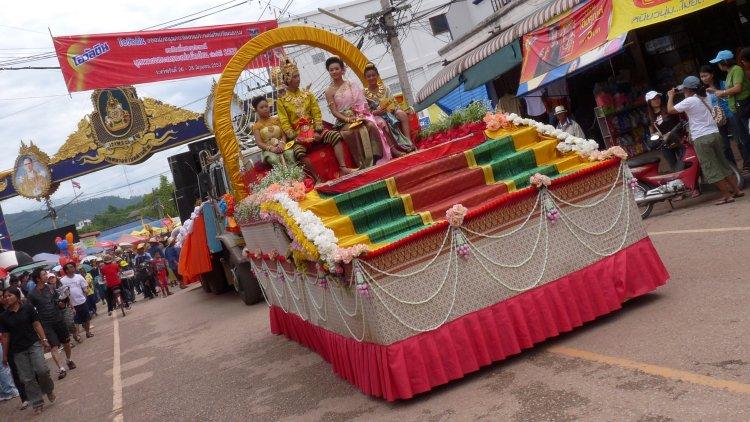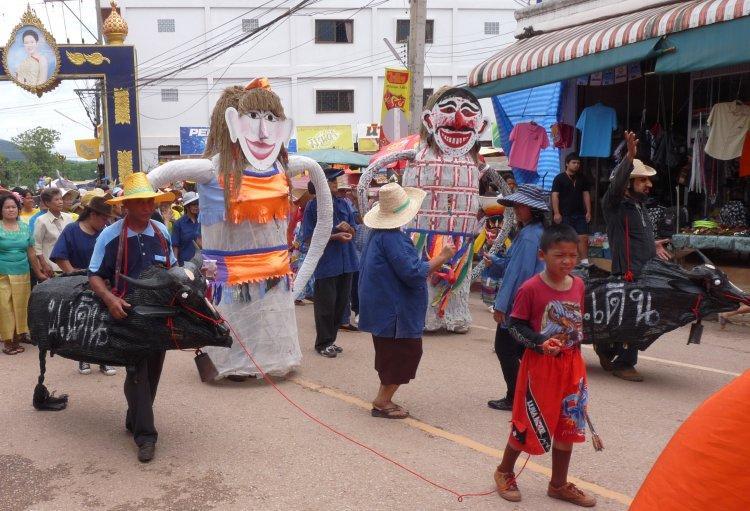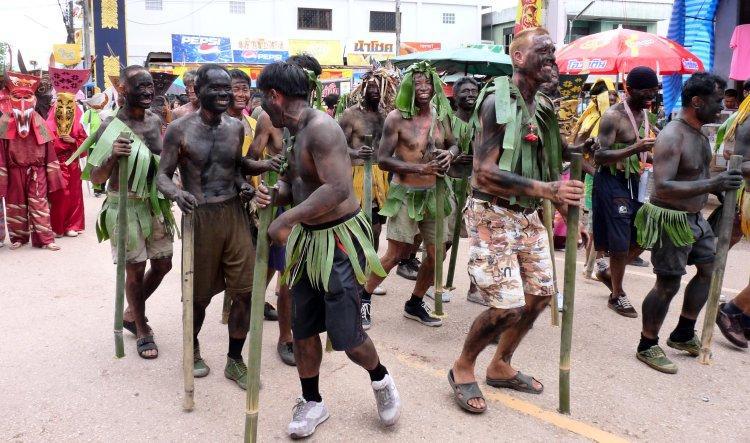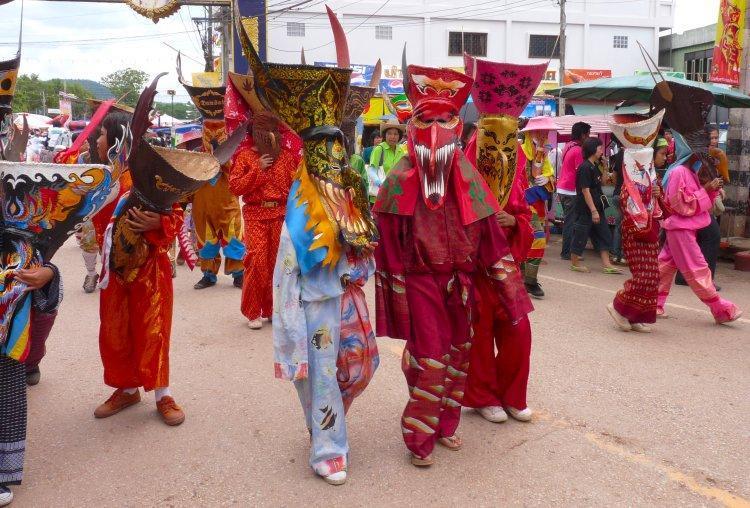 All in all, a big day out, and a good nights sleep required. Saturday we are up early - because parking the Hilux is a pain in the proverbial, I go hide it down back of the hotel car park on the corner of main street - 40 baht fee. Fortunately, I had the presence of mind to clear the room and throw all my kit in the back before leaving our accommodations.
We meet up at the coffee shop in mid-town, I was lucky enough to get the pole position on the best two seats! Breakfast on the menu was listed as "Breakfast" and on that basis, one assumes its probably the psuedo-American breakfast... It was an interesting variation on the theme - cold pre-cooked sausages and ham, but at least the eggs were hot... no butter for the toast... and I'm not a strawberry jam guy but I manfully consumed it all. The cappucino was ordered, but they use the term rather loosely in Dan Sai... however, it was possible to drink more than one cup...
The programme said the main Parade was due to start at 10am... hence our 8:30am departure from the room to get a good vantage point... the start time was little more flexible than the programme indicated, and it was well into lunch time before anything much happened. There were a series of false starts that raised expectations... unicycles being another new item!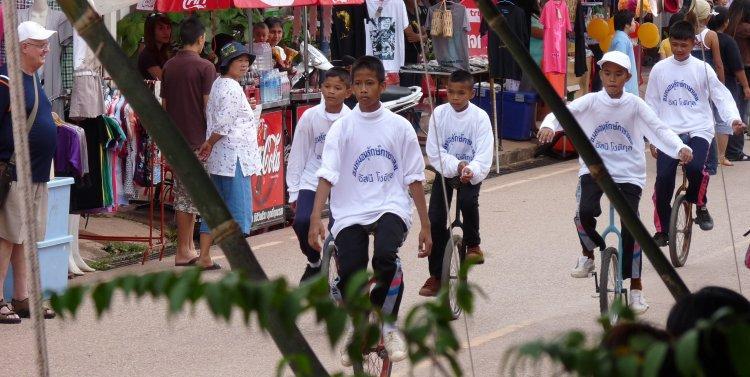 The crowd was significantly bigger than last year - almost impossible to move in some parts of the street. Some people had imprisoned themselves for the day but at least they could see...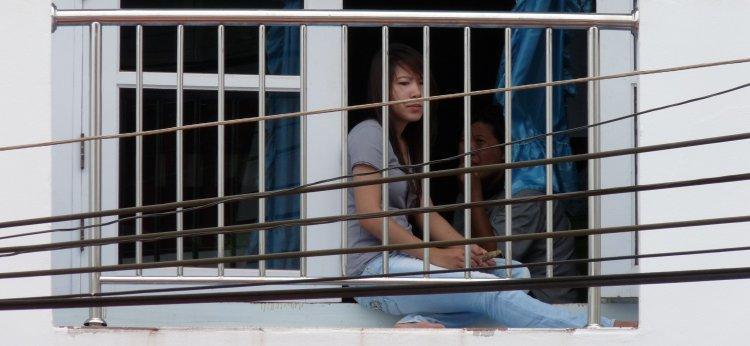 The leading edge of the main parade - the village elders and dignitaries precede the floats...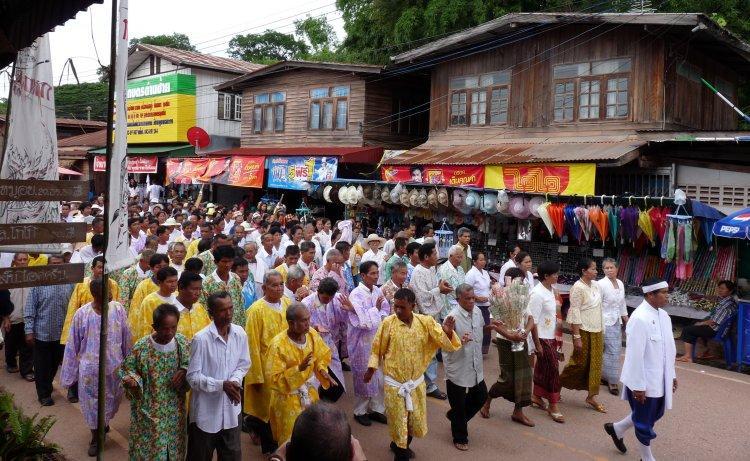 Also very difficult to get any parade photos - a moving mass of people in front of, beside and behind every section! And it was hot on the street, no wind at all!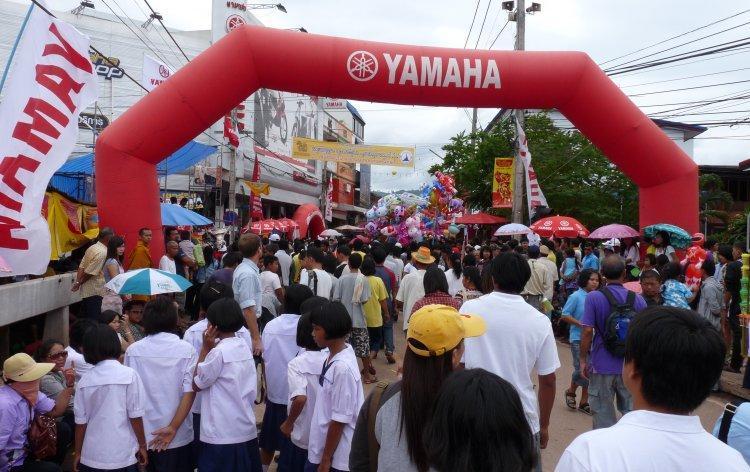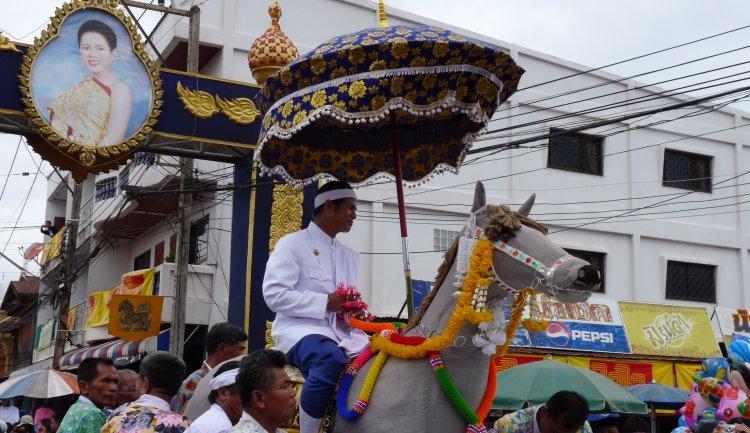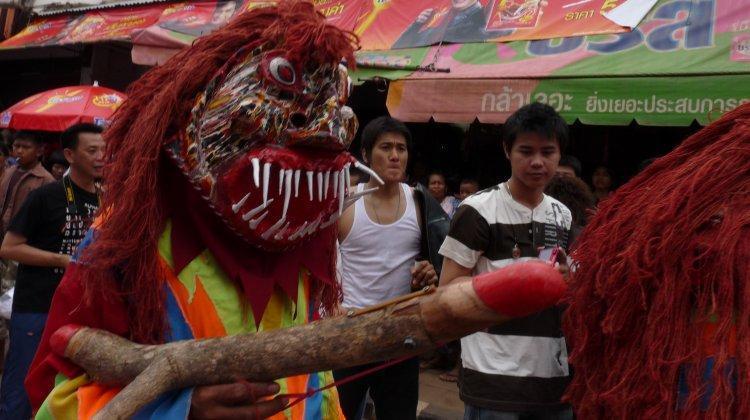 The phallic symbolism is far from subtle...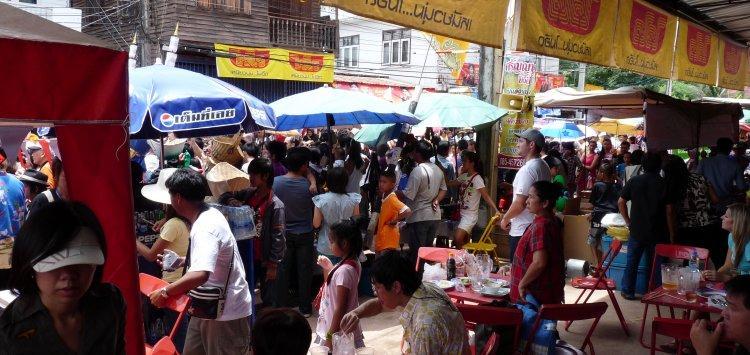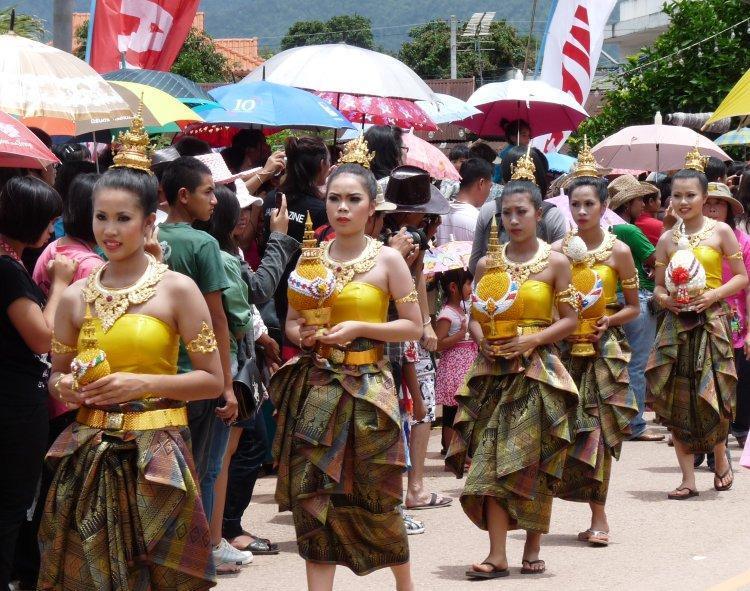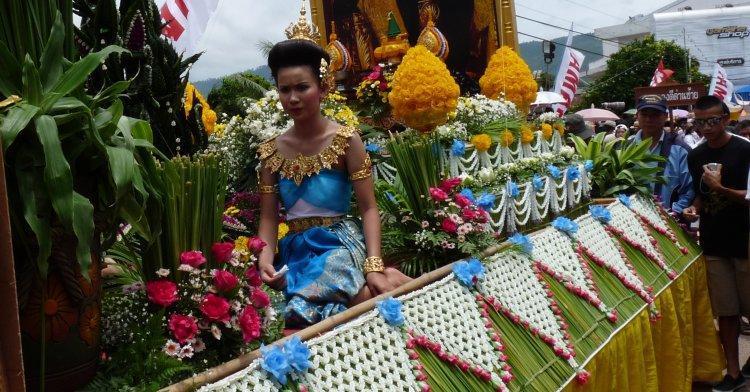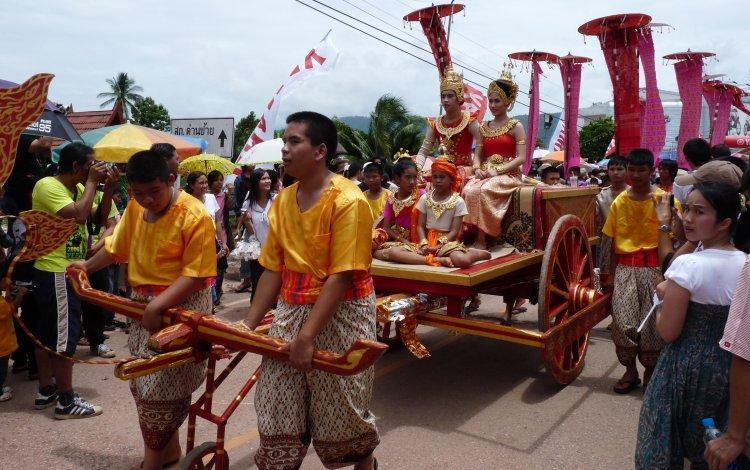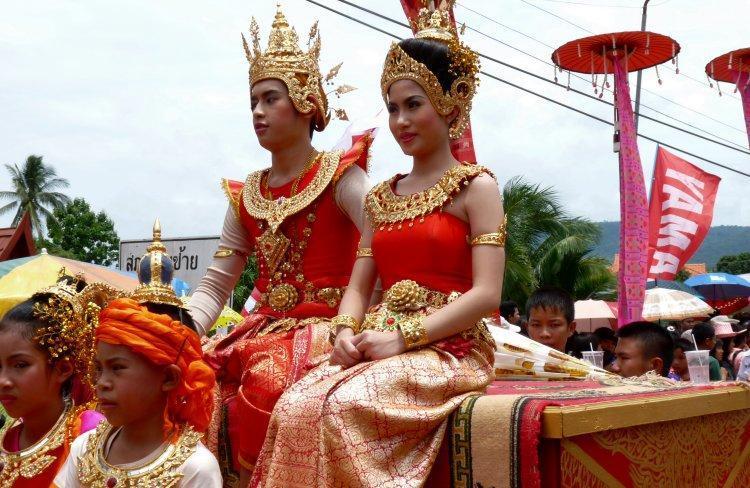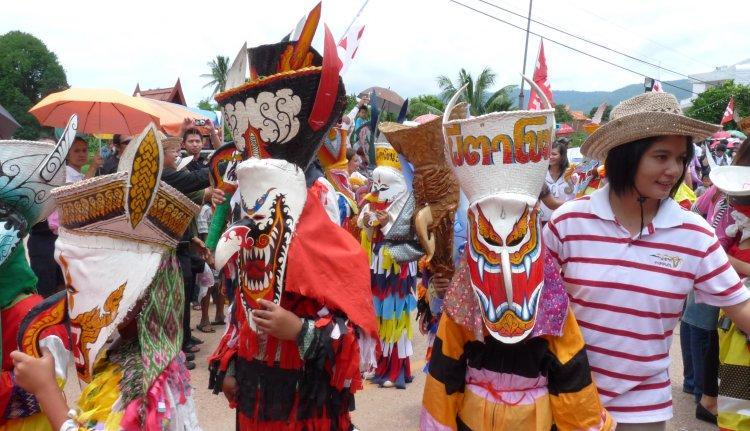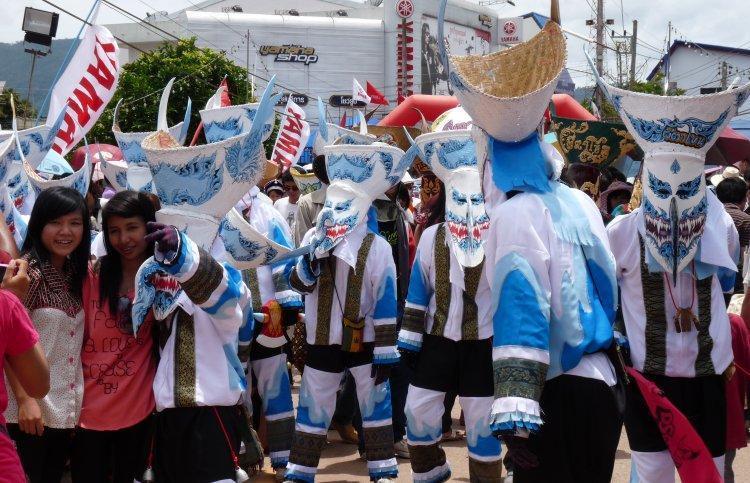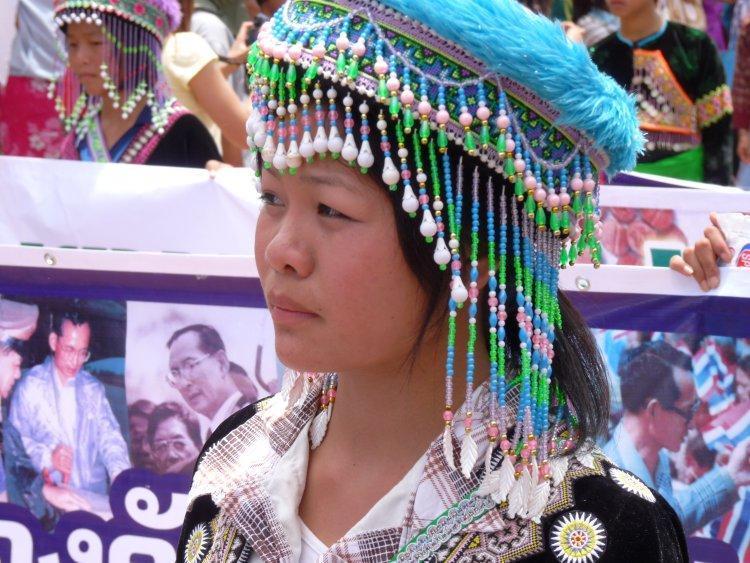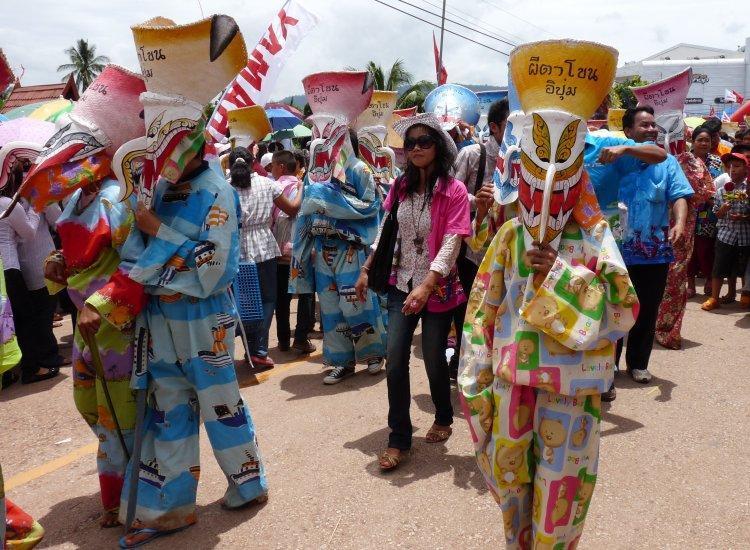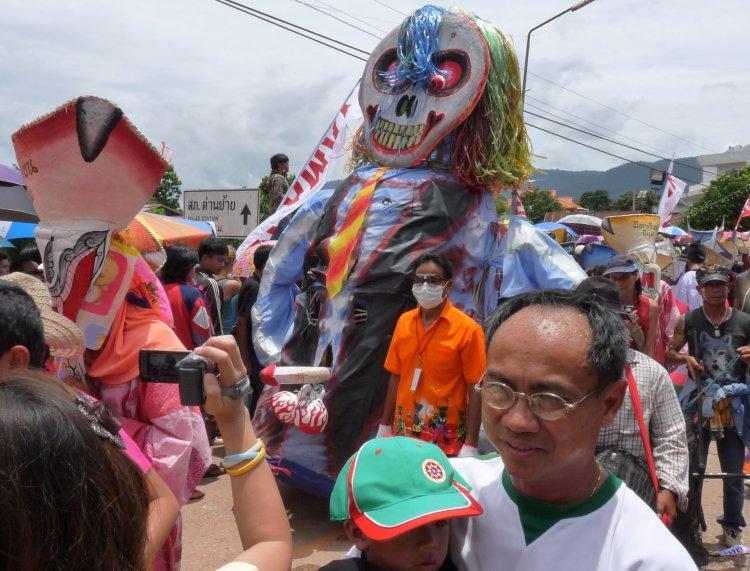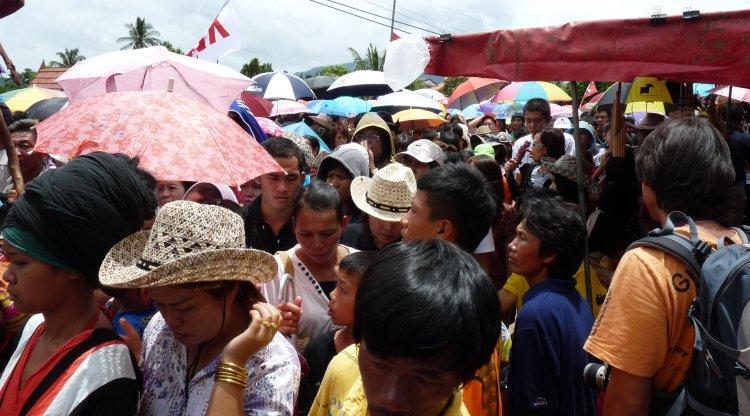 Eventually, we gave it up and made our way out of the mayhem. My accidental clearing of the room proved a bonus because I exited the hotel carpark into a traffic gridlock that completely precluded a right turn! Getting out of town on 203 took ages, traffic was jammed up for almost 2kms in both directions!
Luckily the 2pm exit from town put me on the leading edge of the exodus and after working through some heavy scooter traffic, I finally got a clear road. Although we left almost simultaneously, David had an extra kilometre of town traffic to fight his way through, and I arrived in Loei almost 10 minutes ahead of him.
I liked Loei the last couple of times I've been there, staying at the King Hotel is good - friendly service, great rooms. Lower ground floor rooms at 450 baht are exceptional value. There's an excellent coffee shop with superb food in the hotel. They also have a Thai massage facility, to the right of the reception area.
The town has some nice pubs and restaurants, and Robots disco is certainly the best I've ever been to anywhere in Thailand. The acoustics are excellent but not overpowering and you can still have a conversation. They also have nice dance shows and good live bands.
We briefly met up with some other gentlemen from Chiang Mai in the coffee shop, and then adjourned to a nearby pub / restaurant to watch the MotoGP. At the conclusion of the bike racing on tv at 9pm, there was an exodus along the river to a steak house, and on to a biker bar or party, not sure where the guys ended up. Last years experience of a similar program raised no interest in a repeat for me. Standing around looking at motorbikes and drinking beer is not my scene at all. I decided I might be best to go off alone and explore town without impediment, let or hindrance.